Heading to Costco for the first time and you're looking for the best deals for low carb and keto products? Costco is full of keto items, and shopping there is a great deal if you're on a ketogenic diet! This store is full of great options. Here you will find our top picks for the low-carb diet at the best price.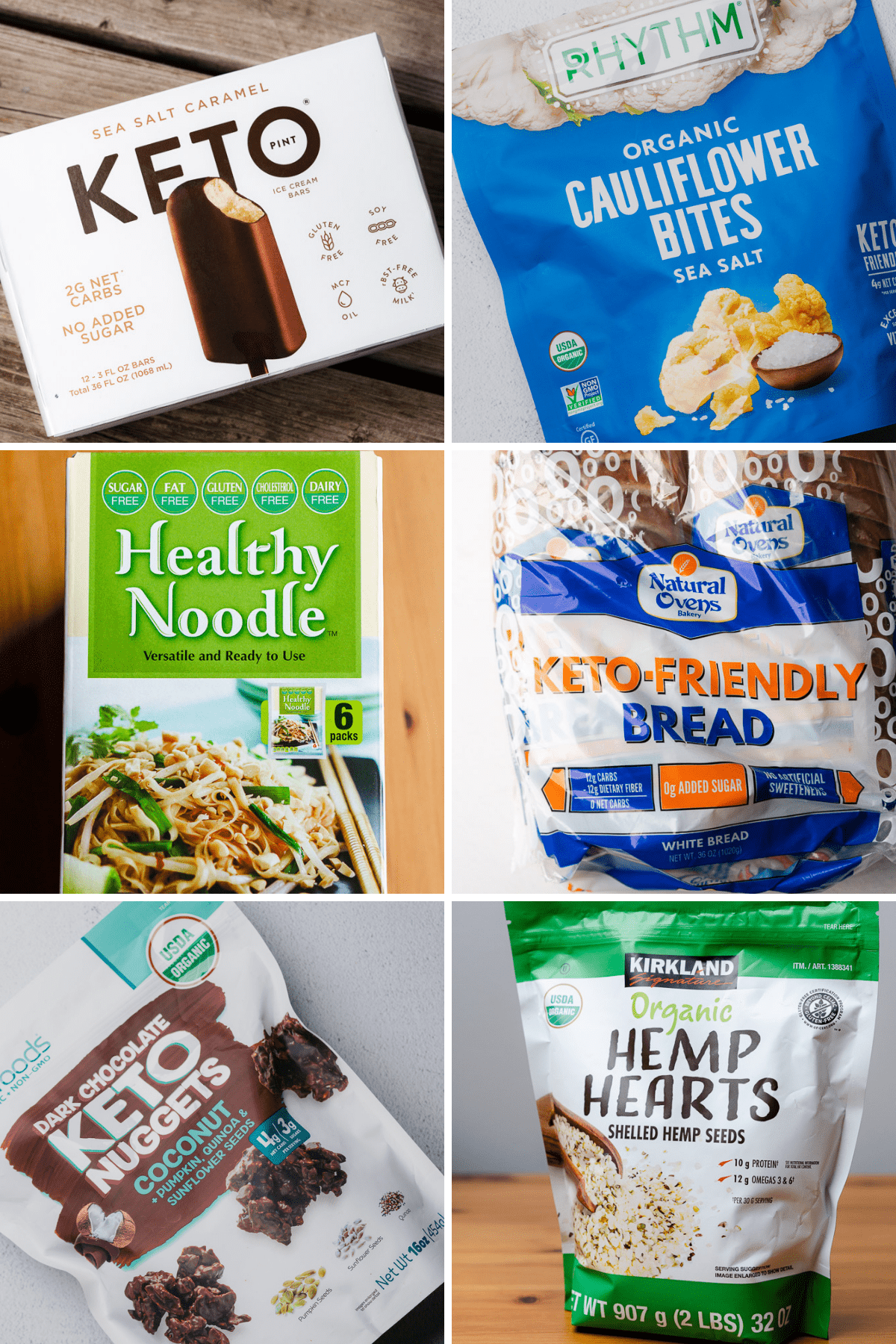 Note: We originally posted this Costco keto shopping list in January of 2020, and we work hard to update the post every few months.
Keto dieters rejoice, Costco is absolutely packed with keto-friendly foods. You will certainly save money buying Costco keto foods in bulk vs. shopping for everything at your local grocery store.
It's always a good idea to get certain items in bulk at a great price for your favorite recipes! Buying in bulk is also a great way to help you stay on track, so you always have keto snacks, protein sources, and more on hand.
On this list, you will find our top picks for nuts, seeds, shelf-stable items, frozen and fresh produce, prepared meats, eggs, dairy, and more. There are honestly endless options beyond those we have listed as Costco, but we've only included products we have tried and love ourselves.
Please leave a comment and let us know if there are products we are missing! Costco gets new products all the time, so there are always exciting new things to try!
Grab a pen and paper, we'll help you create your keto Costco shopping list!
Jump to:
💭Frequently asked questions
How much is a Costco membership?

Costco has two different membership tiers in terms of pricing and benefits for both individuals and businesses.

First is the most common, the gold star membership at $60 per year for both businesses & households. The gold star membership gives you one household card to shop for your home and family. The business gold star membership allows you to shop for your household, for your business, and for resale (with restrictions).

The executive membership is $120 per year for both businesses and households. It follows the same structure that the gold star membership does with benefits, but you also get 2% cash back on all of your purchases, with a limit of a $1,000 reward annually. There are also lots of other benefits to consider.

A few things to note, membership is renewed annually, and can be done online, at the customer service desk, or simply while at checkout.

Also, you cannot shop at Costco, or use the gas station or any other services without a membership.

Is a Costco membership really worth the price?

In our opinion, a Costco membership is absolutely worth it depending on your average shopping list or what you're looking to buy.

We save an average of $288 dollars a year on ground beef alone, so regardless of which membership you're going for, you can see how just how great the savings really are!

If you're planning on making some big purchases at Costco and/or shopping there often, you may want to consider the executive membership for the 2% cash back benefit.
Are the prices and products on this list accurate for all Costco locations?

No, prices and availability at Costco will vary a lot from location to location. We are located in Chicago, Illinois, and have tried our best to include pricing information whenever possible, but we cannot guarantee the accuracy.

Product availability at Costco varies a lot by location and sometimes changes without warning. Brands switch out and prices fluctuate.

Most of our shopping is done in the Costco warehouse, so the prices are reflective of that, for any prices we have listed. We try our best to update this list at least twice per year.
Can I get Costco delivered?

Not quite, or at least not all directly through Costco.com. Costco does has free two-day delivery on non-perishable items if you're shopping on their website, and if you meet the delivery minimum.

If you want access to nearly everything in the warehouse and you want it delivered, you can use Instacart. (At least in the Chicago area).

You can use Instacart to get keto foods at Costco delivered the same day for an additional fee per item. Basically, membership prices do not apply here, so just know that you will be paying a delivery fee on top of increased prices for items and a tip for your shopper and delivery person. If you don't mind that, our Instacart sign up code can get you for $10 off your first Instacart delivery!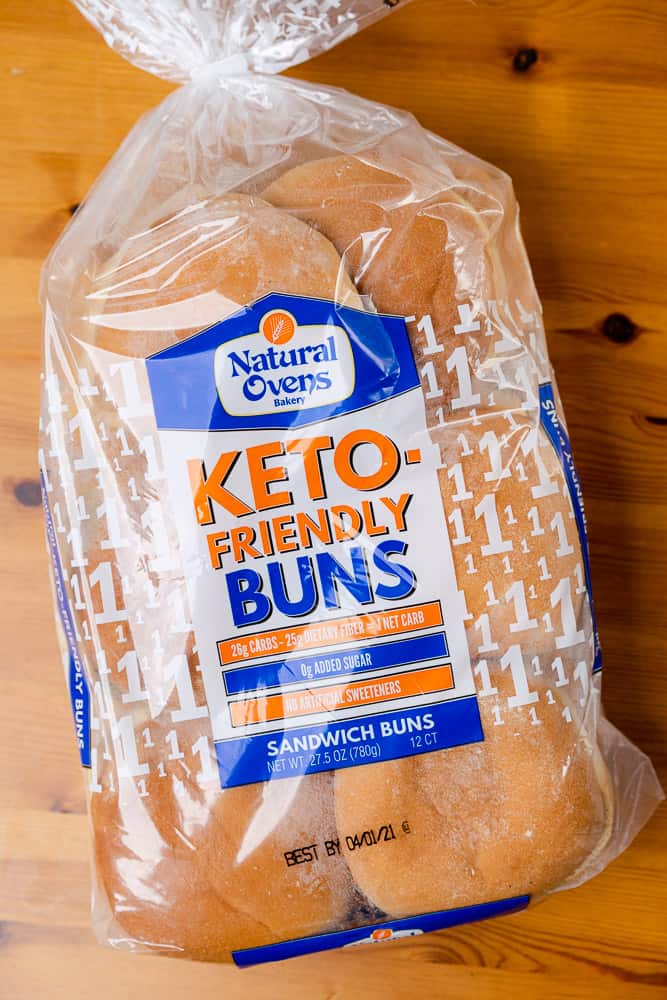 🛒Tips & reminders
Costco only accepts Visa credit cards! Costco has an exclusive arrangement with Visa, so you cannot shop with Mastercard, Discover, American Express, in the warehouse. You can shop with Mastercard and Discover online and on the app, and you can shop using any payment method on Instacart.
Avoid weekends and holidays to miss the large crowds and long lines. Costco is best to shop at off hours, like weekday mornings and afternoons.
Bring containers to carry your groceries or use store provided boxes. We like to put storage bins in our car for carrying our groceries into the house later, since Costco doesn't provide bags. You can use store provided boxes, but they vary in size, shape, and availability depending on how busy the store is or when they last got a shipment of new products.
Items that are priced ending in .97 cents are always on sale.
🥩Beef and lamb
Organic grass fed ground beef
This Kirkland Signature brand tastes delicious. We usually buy a couple of packages and freeze some so that we're never out of it. At $19.99 for 4 pounds, the price for the quality is hard to beat! It might be a little confusing, but each vacuum sealed package is 1.34 pounds. So many of our favorite keto recipes are made with this organic grass fed ground beef. Conventional ground beef is also very affordable.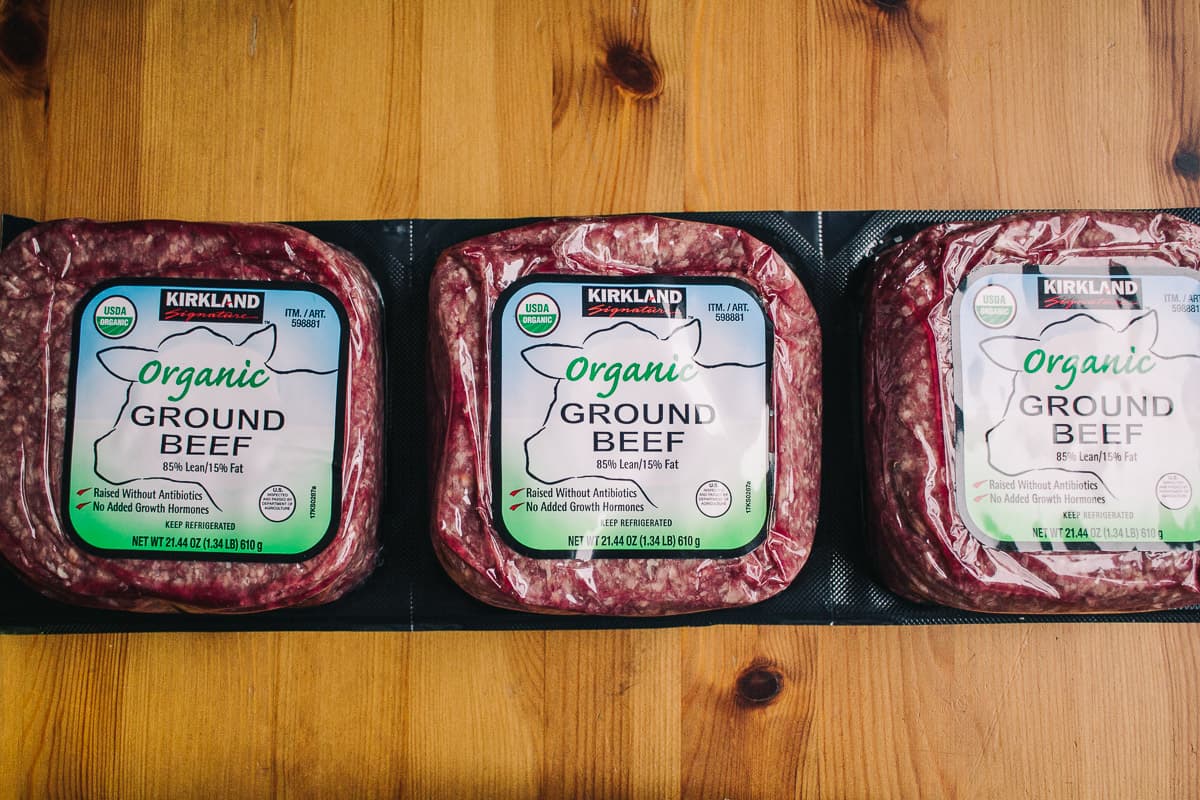 Steak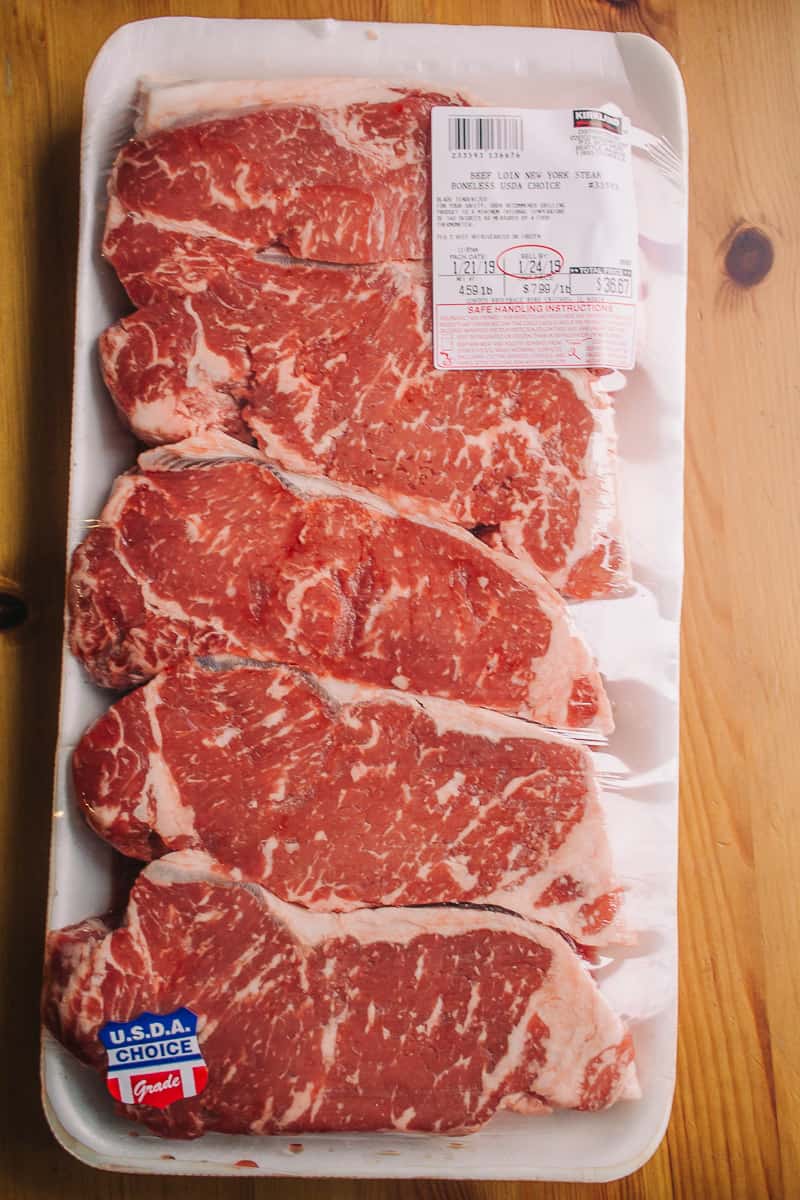 Corned Beef
Ahhh corned beef. One of our favorite proteins of all time. We love to cook it in our Instant Pot, then make this Low Carb Reuben Skillet with it. Now this item might be more seasonal at some Costcos (think March for St. Patty's Day) but the last time we got one, it was $4.69 a pound.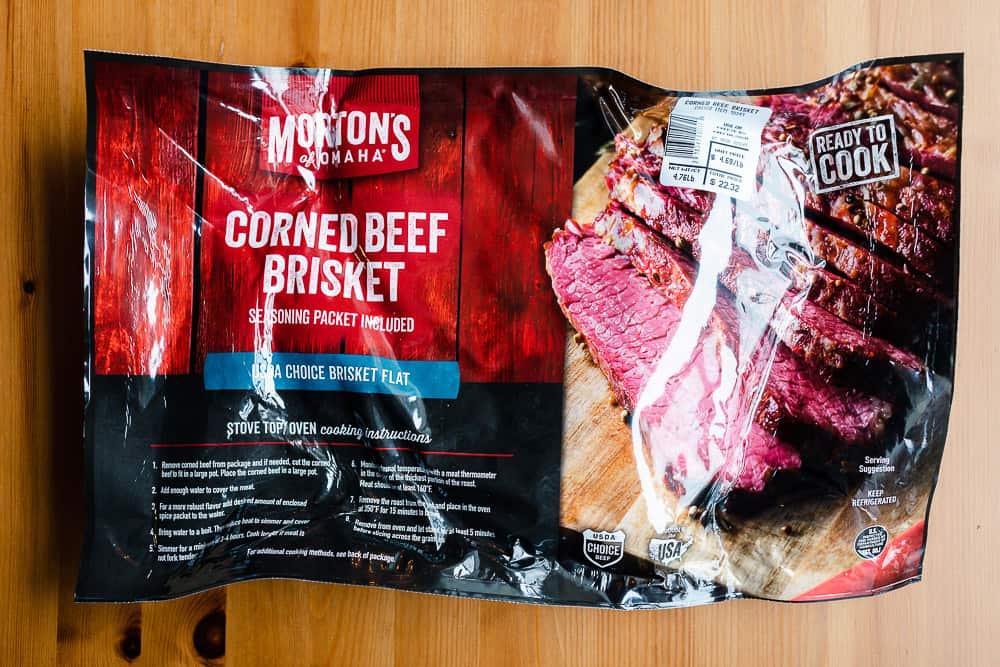 Smoked sausages
These sausages are a total game-changer. Absolutely delicious, and ready for an easy dinner. They are so flavorful and of great quality. Plus, it feels great to support a small, family-owned company. These sausages aren't the cheapest thing you can find at Costco, but they are very high quality and worth every penny. *Kiolbassa sausages are beef smoked sausage in a pork casing.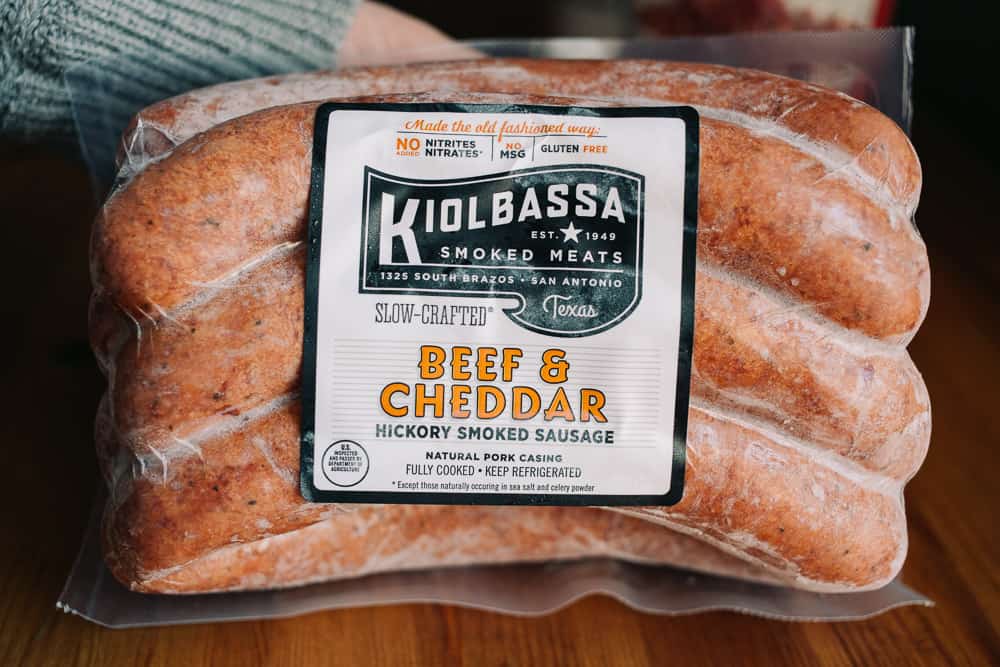 Lamb leg boneless roast
We buy these occasionally and let us just say WOW. They are absolutely delicious, easy to make, and of great value! It has been a while since we last bought one, but if we remember correctly, they should be $4.99 and pound, and that's all meat (no bone!) That's a really great deal for lamb.

You can also occasionally find rack of lamb at Costco as well.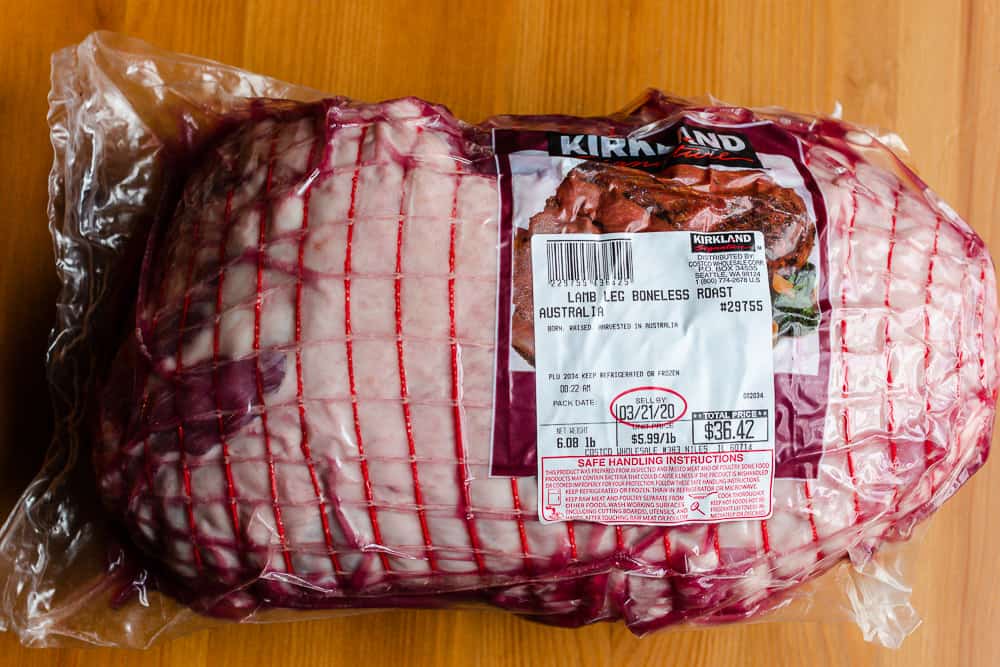 Other beef & lamb products
Flank steak
Brisket
Shabu shabu
Beef tenderloin
Sirloin cap
Ground bison
Eye of round
Stew meat
Chuck roast (pot roast)
Short ribs
🐖Pork
Chorizo
You can purchase three 14 ounce tubes of V&V Supremo pork chorizo for $8.49 per package. Chorizo and eggs? Yes please! We love this high fat and flavorful stuff. V&V Supremo is a really solid brand we have always trusted as well.
Pork shoulder, pork belly, pork loin, and pork ribs
Love pork? Buy it at Costco! We love making big batches of pulled pork, oven baked keto ribs, making stir-fries with pork belly, and making pork loin roasts.
You can get Swift premium pork vacuum-sealed, which makes for easy freezing. The shoulder will run you $2.99 a pound, whole tenderloin $3.49 a pound, and ribs are $4.29 a pound. Pork belly will run you $3.99 a pound. There are of course plenty of other cuts like chops, etc. but we tend to stick with these four, so we don't have a running total of the other cuts.
Bacon
Both the regular and thick sliced Kirkland brand bacon is a great buy. The thick cut is an unbeatable price, at $12.99 for 4 pounds. Add it to this sweet and savory brussel sprout skillet or really anything! The possibilities are endless!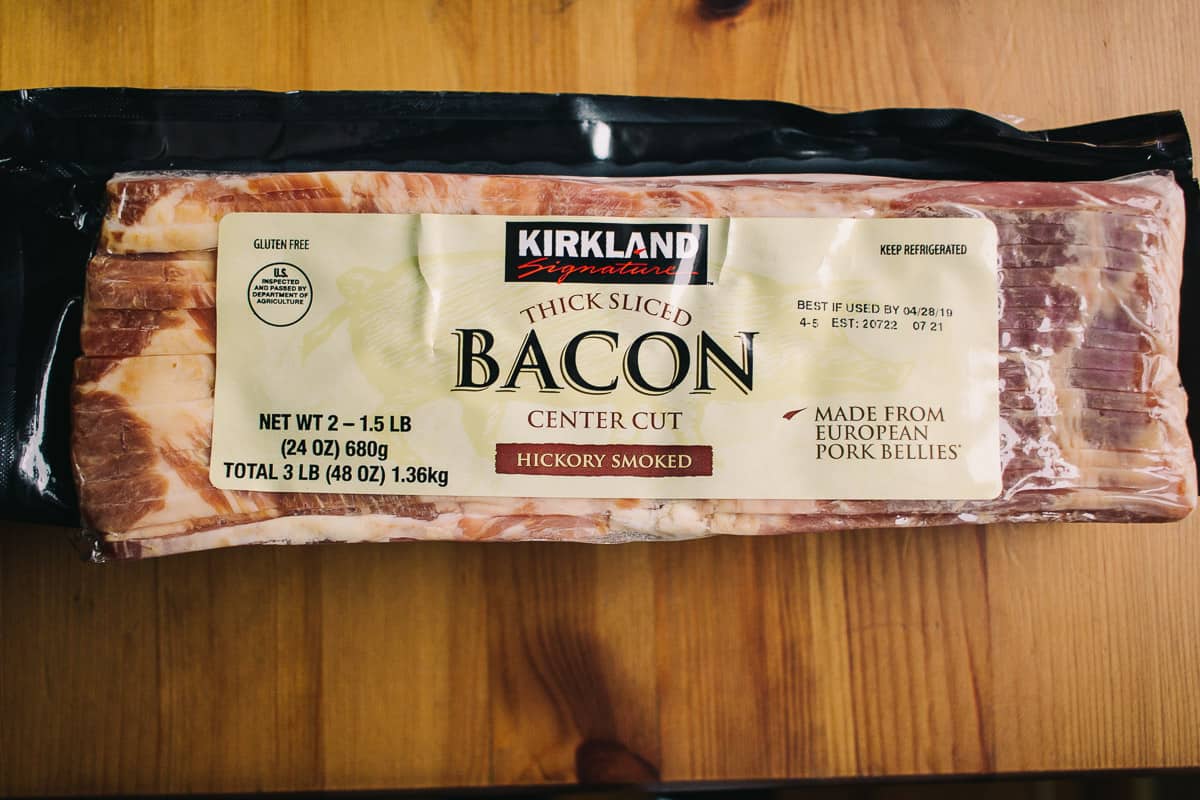 Kirkland brand bacon bits
These bacon bits are such a time saver when you need bacon but don't want to go thru the hassle of making it on the stove or in the oven. They're $9.69 for the bag, and they taste fantastic. We like to crisp them up a bit in a pan a lot of times before adding them to omelettes, on top of cream cheese, and even to our salads. Find them in this bacon cheddar and green onion dip, or this jalapeno popper chicken skillet.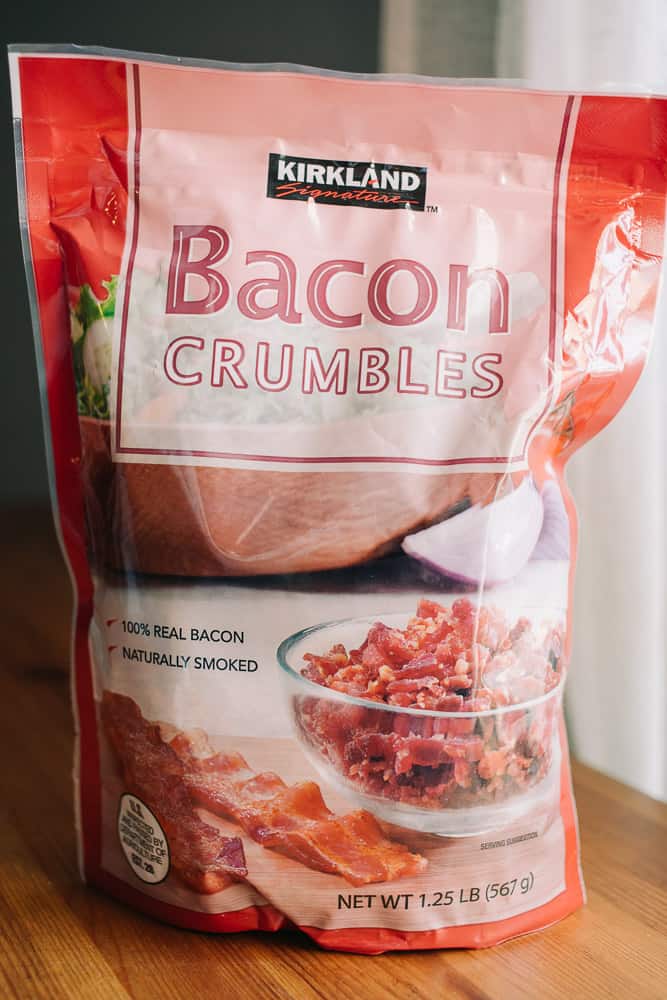 Italian sausage
This is one of our all-time favorite buys. We absolutely love Premio Italian Sausage, and you can get 5 pounds of it for $13.99 at Costco. It freezes really well too. If you're looking for some easy low carb meal ideas to use this Italian sausage in, try this Italian sausage soup.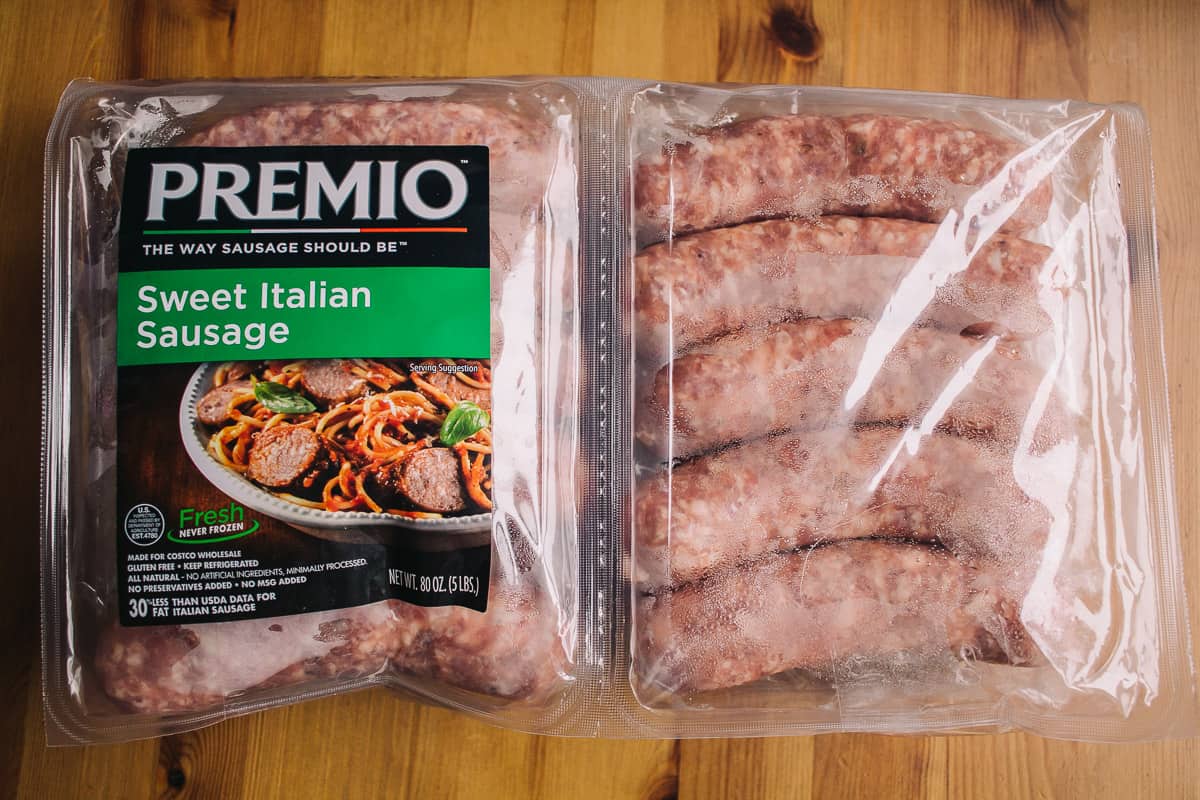 Other pork products
Pulled smoked pork - This prepared pulled pork is very easy to make for an easy keto dinner. It's $10.99 for 2 pounds, not bad at all, all you have to do is heat it up and eat it however you like!
Jones Dairy Farm pork breakfast sausage - A huge frozen package of these breakfast sausages will make your morning so much easier. These sausages are great quality too. $10.99 for 3.5 pounds. You can pop these guys in the microwave for a part of a quick breakfast.
Spam- Ahh Spam. We have honestly grown to love this stuff, and the ingredients are honestly very straightforward. It's high in fat, tasty, and can sit in your pantry, so that's pretty nice for quick meals! We love to serve it as a stir fry, in an omelette, or alongside eggs and kimchi. These come eight 12-ounce cans, and cost $18.99.
Salami - We love buying this Cittero salami, it's less than $7 for both of the packages! It's perfect as a snack with some cream cheese and pickles, or on top of some keto bread at Costco as a part of a sandwich! We'll talk more about Costco's keto bread later on in this post.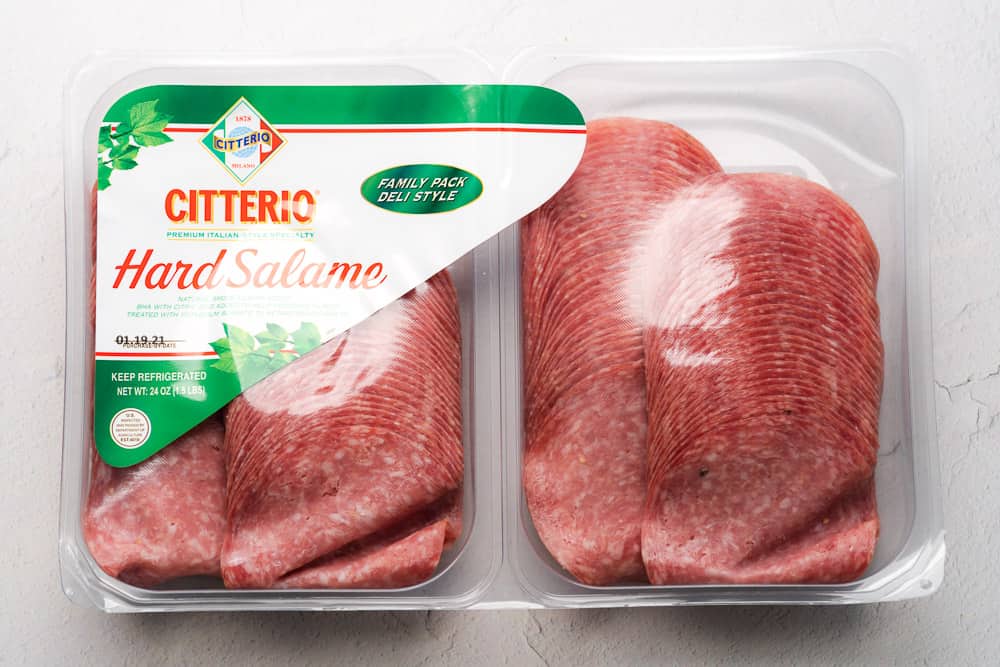 Prosciutto - Another one of our favorite cured meats! It's a great deal to get prosciutto di parma at Costco. It's roughly $1/ounce, which is a steal!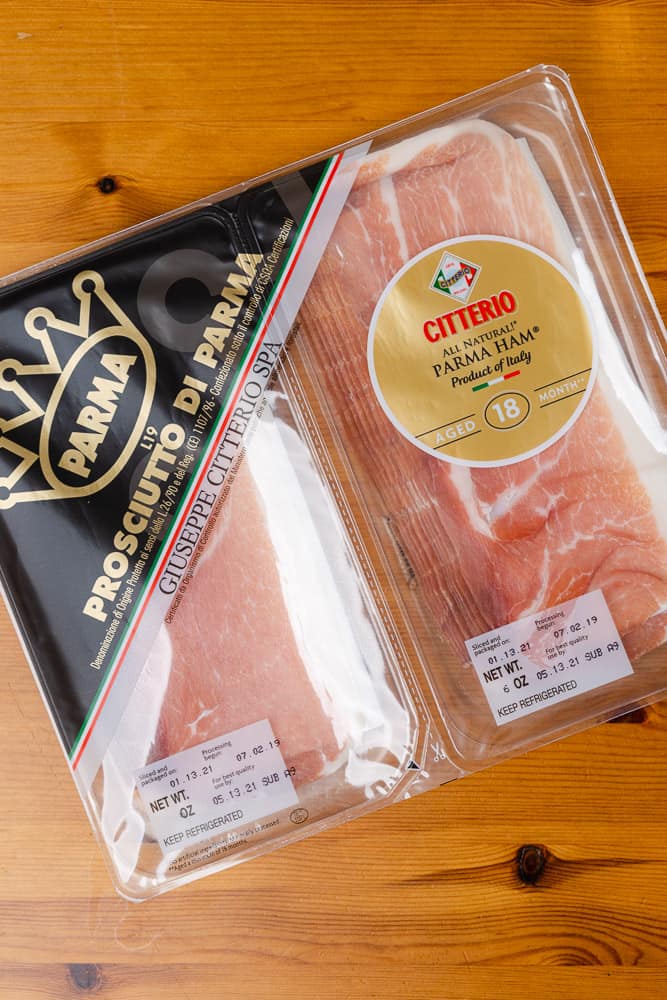 🐔Poultry
Organic chicken thighs, breasts, and whole young chicken
If you want to buy organic chicken, Costco offers some of the toughest prices to beat. Organic chicken thighs will run you $4.49 a pound, organic chicken breasts are $4.99 a pound, and you can buy a whole organic young chicken for $2.99 a pound. Conventional chicken is also incredibly competitively priced, but we don't know those prices currently.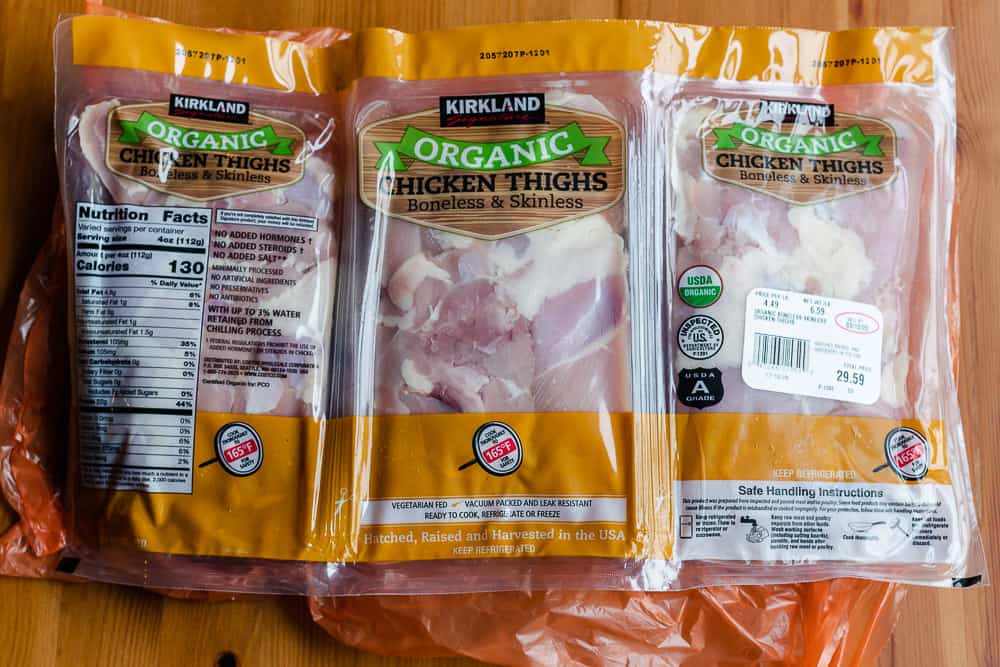 Ground turkey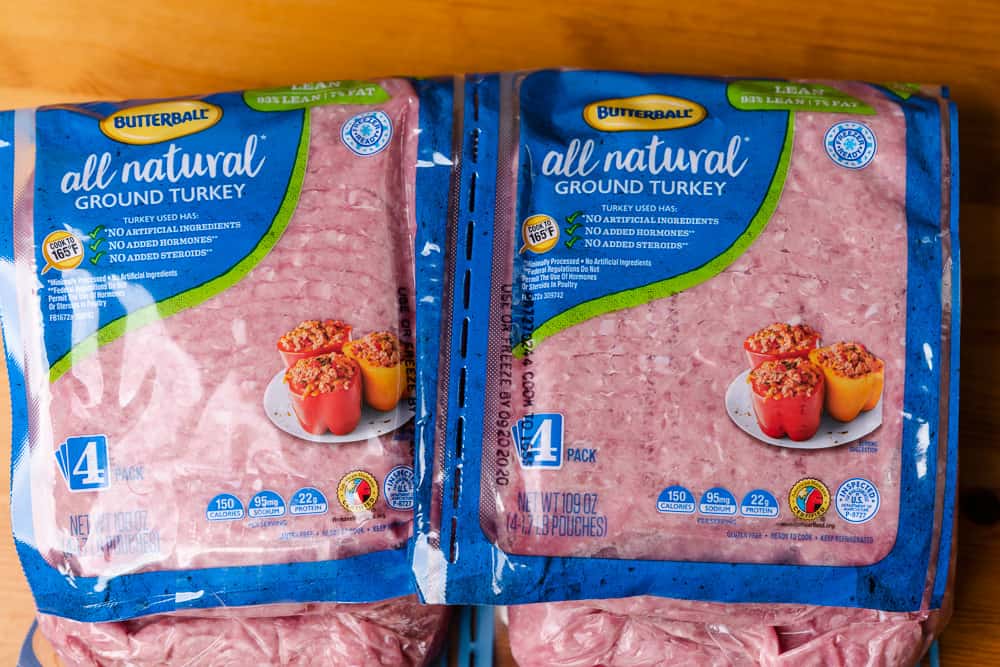 Other chicken products
Rotisserie chicken - One delicious chicken will run you $4.99, and we understand why it's everyone's favorite. Did you know that Costco actually loses 40 million dollars a year on their chicken? It's so good, that people come to Costco for it specifically, so Costco keeps the price low to encourage more food traffic in the store, even when it means losing money on that line item. They make it up elsewhere, since the average purchase price is around $150 at Costco.
Canned Chicken- Six 12.5 ounce cans of canned chicken costs $9.89, unless they are on sale, which is often! We love making chicken salad and chicken melts. It's just an easy dinner or a snack.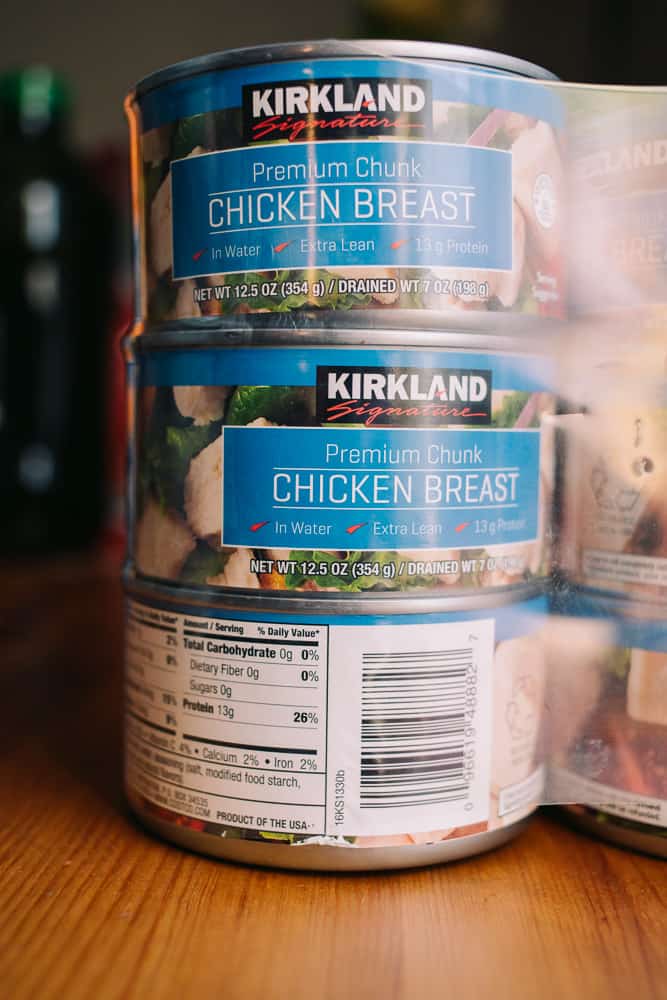 Miscellaneous
Deli meat- There are tons of options for deli meat here at Costco. One of our favorites is the Kirkland Brand Roast Turkey Breast, because it comes packaged in 3 separate containers, so you can be sure to use all of it before it spoils, since you can open the packages individually. 1.5 pounds of the Kirkland brand Roast Turkey breast will run you $9.99.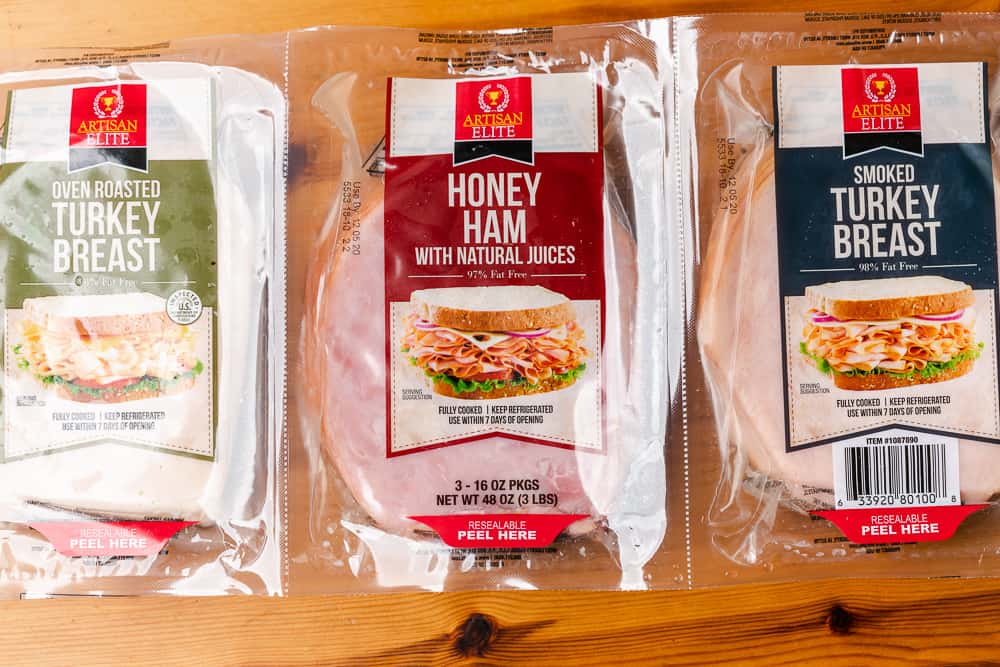 🍤Seafood
Salmon
Fresh & frozen salmon - Salmon is definitely one of our favorite fish options. Costco has a few options, but we generally opt for the Atlantic Salmon which will run around $8.99 a pound. Try our low carb citrus glazed salmon or this pesto butter salmon.
Norwegian smoked salmon - Who doesn't love smoked salmon, especially when it's a great deal?! $19.99 for 24 oz sounds great to us. We love snacking on this stuff, eating with with low carb crackers and bread, like with these smashed eggs on toast, on top of a low carb cracker, with cream cheese, avocado and everything but the bagel seasoning.
Lump crab meat
Premium lump crab meat is definitely not cheap, but when it's around $15 for 8 ounces at other stores, and under $20 a pound at Costco, you can't beat it! You should try these keto crab cakes by our friend Michael!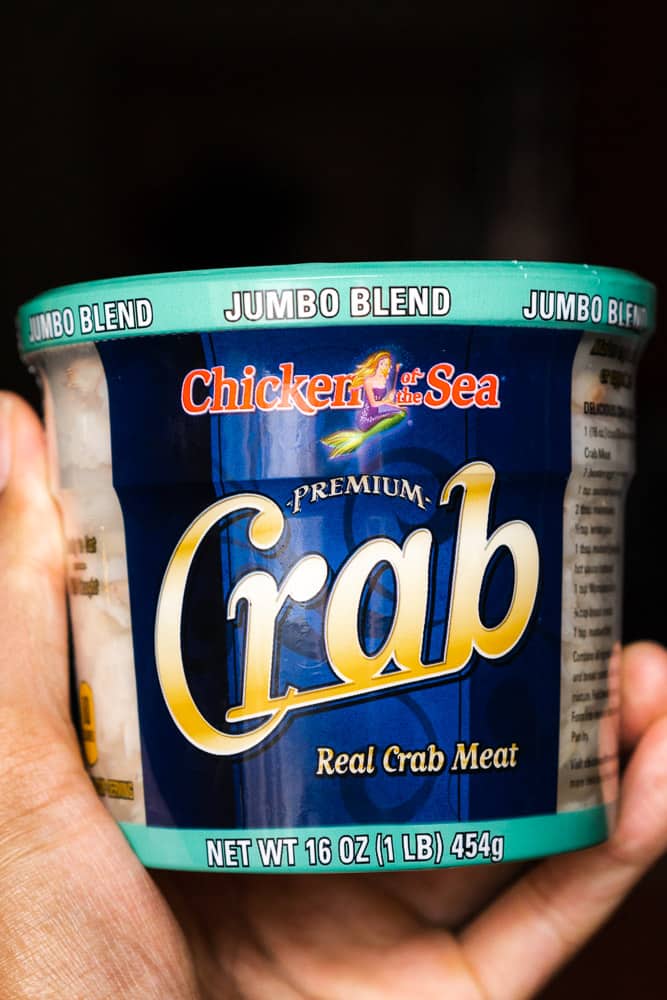 Shrimp
Seafood is always a great deal at Costco, and shrimp is one of our favorites. We love adding it to our low carb jambalaya or this shrimp bisque. Prices vary depending on the size of the shrimp, but you can expect to pay under 50 cents an ounce.
Canned tuna
Tuna has forever been one of the best deals at Costco, and sometimes the brands change. Right now, they are carrying Wild Planet and its a delicious, sustainably sourced tuna, and it's $15.99 for six 5-ounce cans. We also love the safe catch tuna option, it comes in packets! We don't know the price right off the top of our heads, but it's a great price for sustainably caught seafood.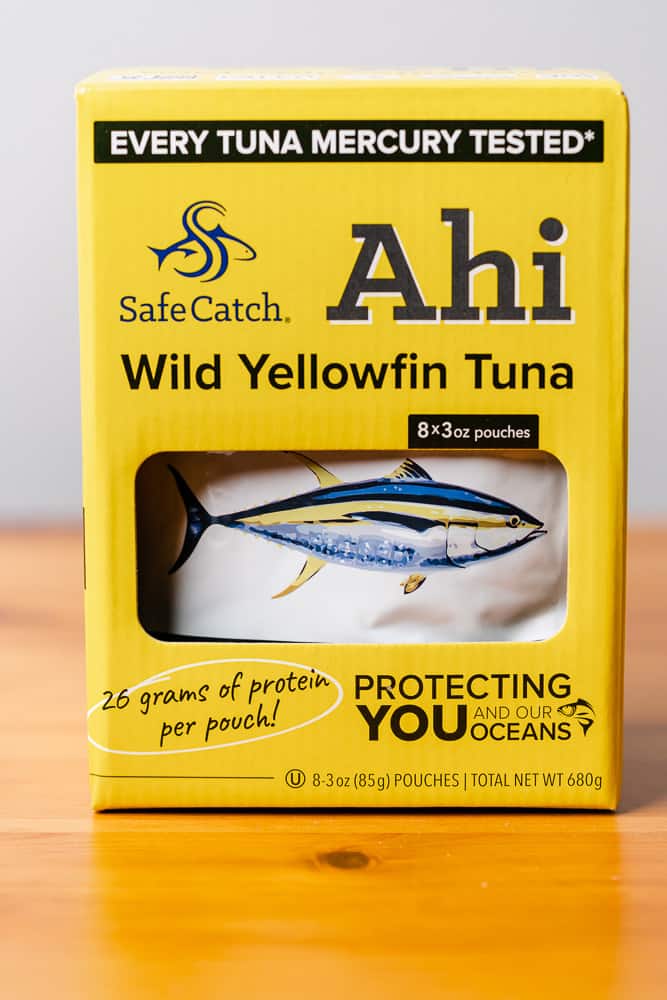 Other fish & seafood
Crab legs
Lobster tails
Cod
Sea bass
Salmon burgers
Ahi tuna steaks
Langostino
🧀Dairy
One of the things we stock up on most when we go to Costco is dairy products. We are total dairy addicts, and it often makes for a great snack and ingredient in many keto recipes. It can also be expensive, especially when it's high quality. Save money by stocking up on products you use often!
Shredded cheese
The shredded cheese at Costco has to be one of the greatest deals of all time. You can get 5 pounds of pre-shredded cheese that will last forever! Prices have been fluctuating a lot lately, and the last time we got some, cheddar Jack was $13.99. You can expect the mozzarella and Mexican shredded cheese to be around the same price. There are about a million ways you can use shredded cheese, as you know, but one of our favorite ways to use it is in these low carb cheddar biscuits.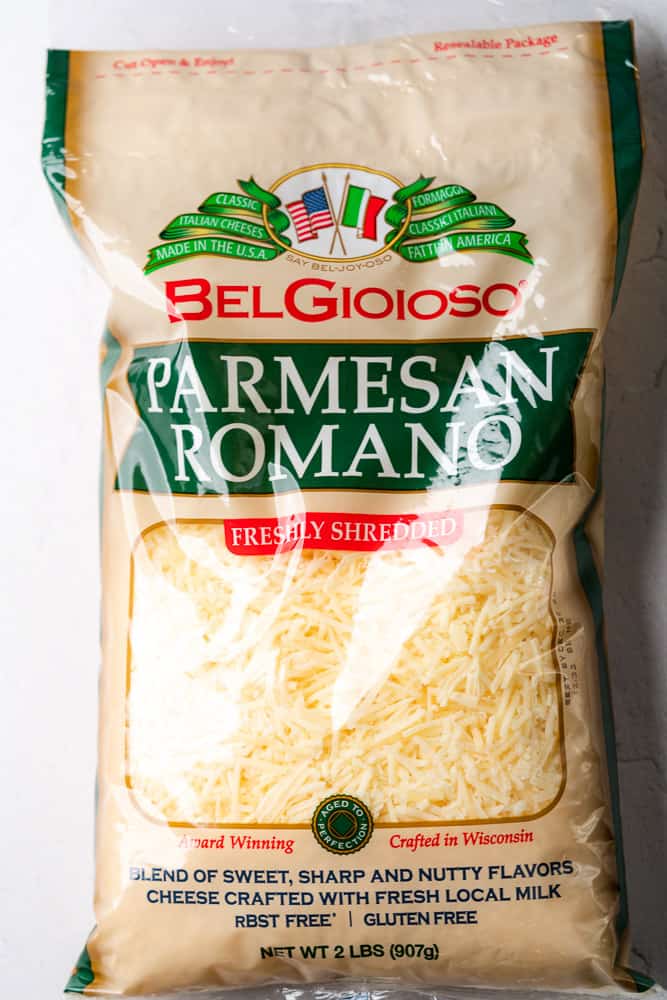 Sharp cheddar block cheese
If you're looking for block sharp cheddar cheese, you're also in luck, because 2 lbs costs $5.79. Great for snacking, and obviously, shredding.
Heavy whipping cream
We are partial to the Horizon Organic brand of heavy whipping cream, and it's a good thing, cuz you can get a half a gallon of this stuff for $10.99. Helloooo homemade keto ice cream!
Half and half
Another Horizon Organic product, it's $5.99 for half a gallon. You can pretty much swap this stuff out for anything you would use heavy whipping cream for if you don't want something as calorie-dense or that's just what you have on hand. Just be aware that doing so will increase carbs.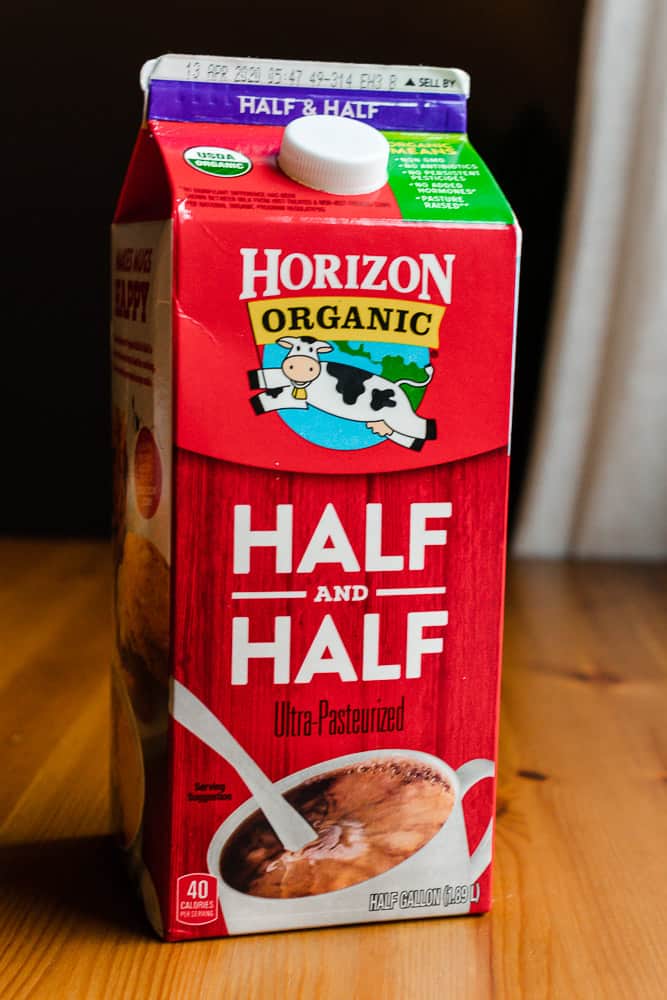 Cream cheese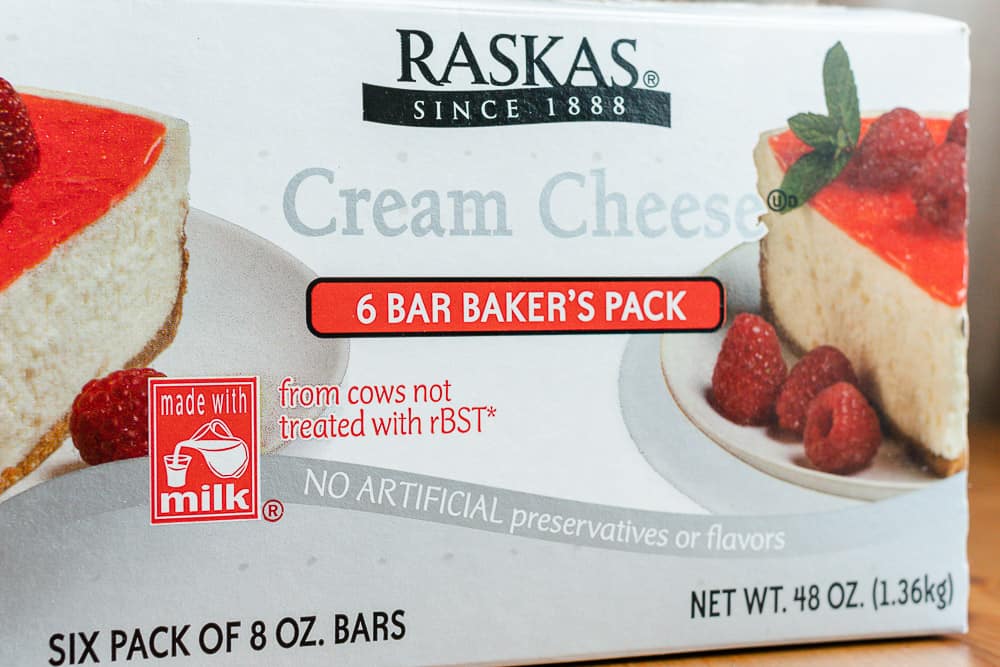 Goat cheese
It's right around $6.59 for two 10.5 oz logs of creamy goat cheese. Hard to beat that price.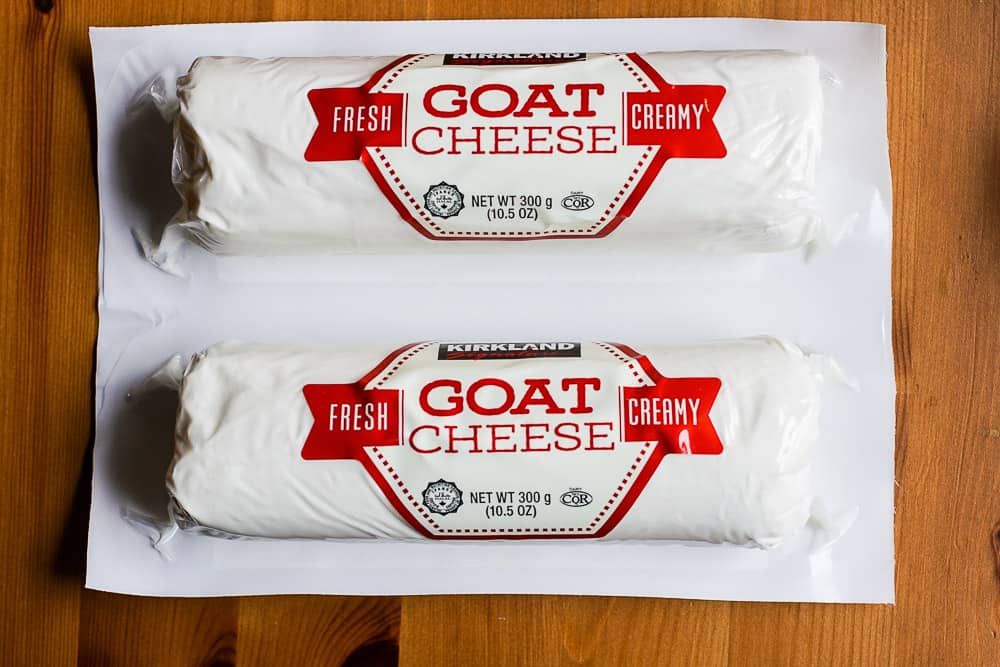 Organic cage free eggs
There are a lot of affordable egg options here at Costco. We often buy the 2 dozen organic, cage-free eggs for $5.99. That's a great deal, and we like that it is a higher quality option.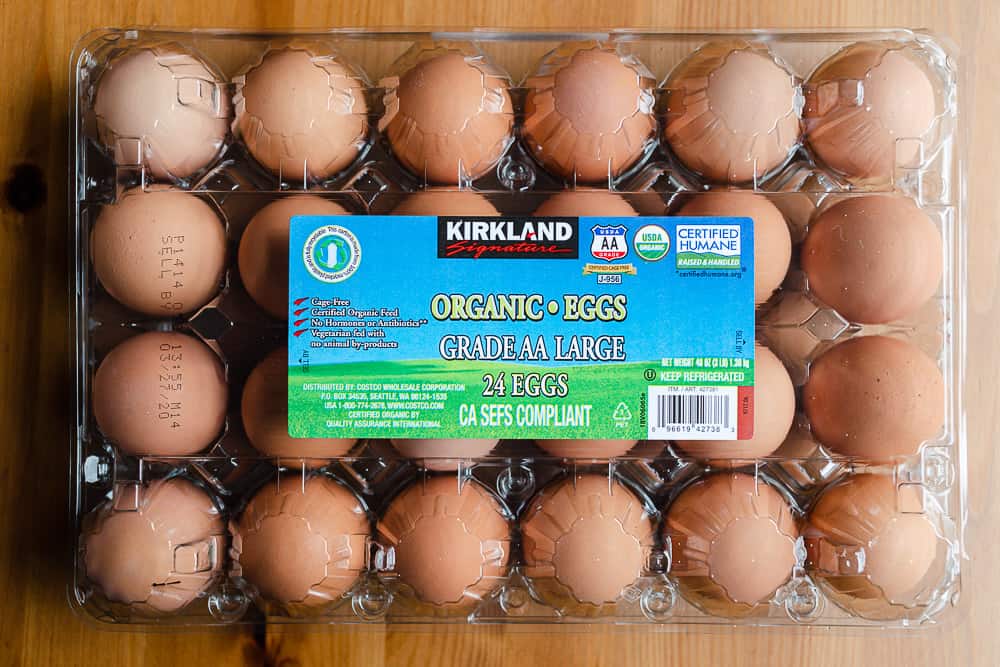 Cheese slices
There are so many different options for sliced cheese at Costco, so we aren't going to list them all out, but one of our favorite options is the Roth Cheese Variety Pack! It comes with Monterrey Jack, Swiss Cheese, Colby Jack and Cheddar Cheese. It's perfect for a quick snack, or rollups with deli meat, pickles, cream cheese, etc. It's $8.99 for 2 lbs of cheese. Can't beat that.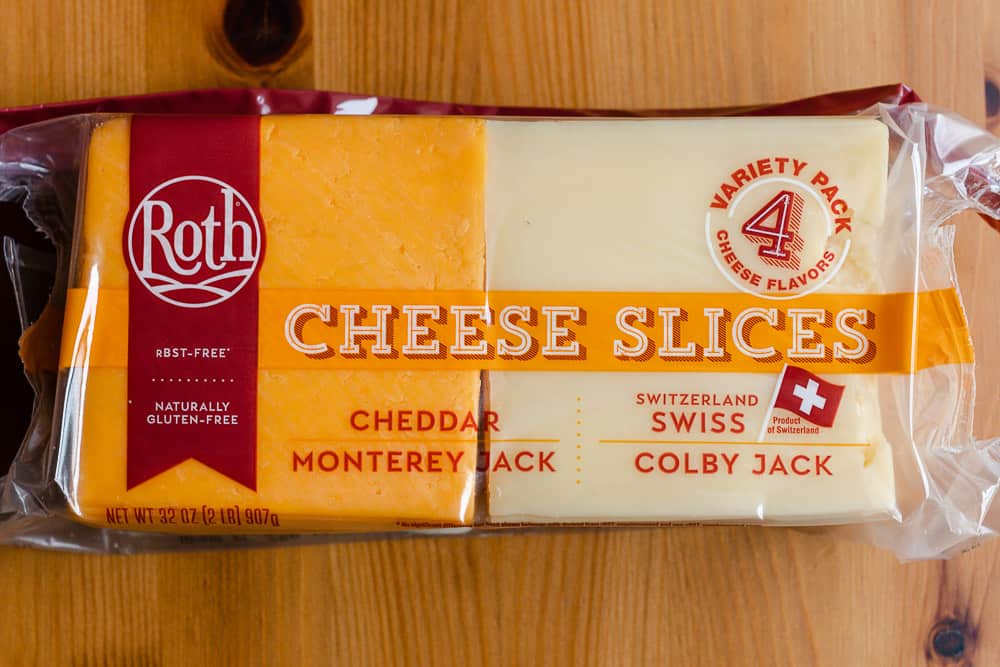 Kirkland butter
We use a lot of butter on the keto diet, so for cooking, baking, and everyday needs, we opt for the Kirkland brand! It's $10.99 for 4 pounds of butter. That's a lot of butter! We buy both salted and unsalted here a lot!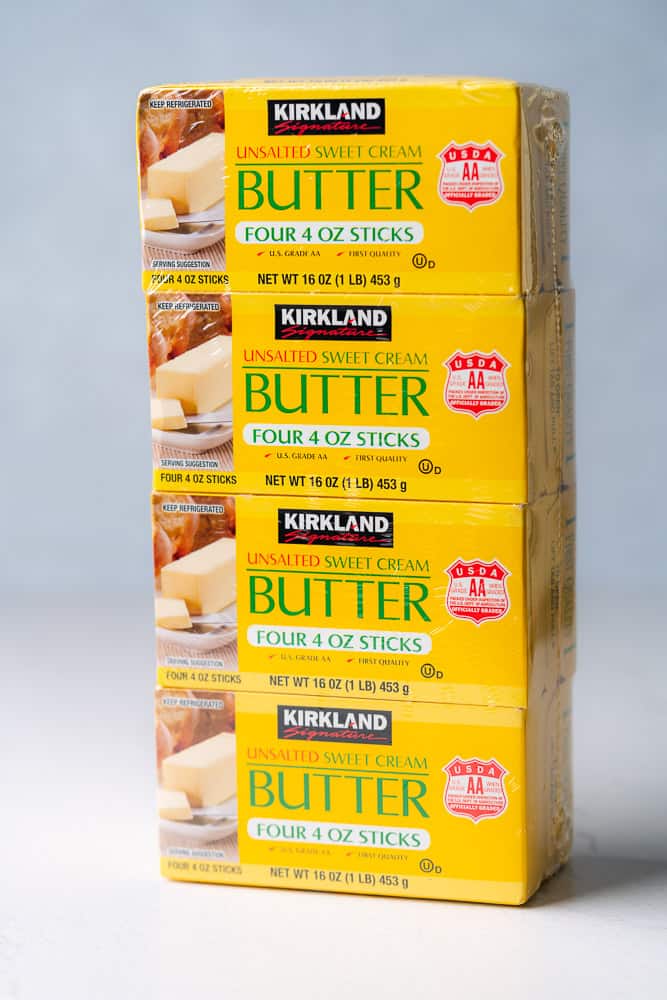 Kerrygold salted butter
$12.99 for four 8 ounce blocks of this buttery goodness is a great deal for this buttery gold! We love using Kerrygold for more *special* occasions, like finishing a steal or making a bulletproof coffee.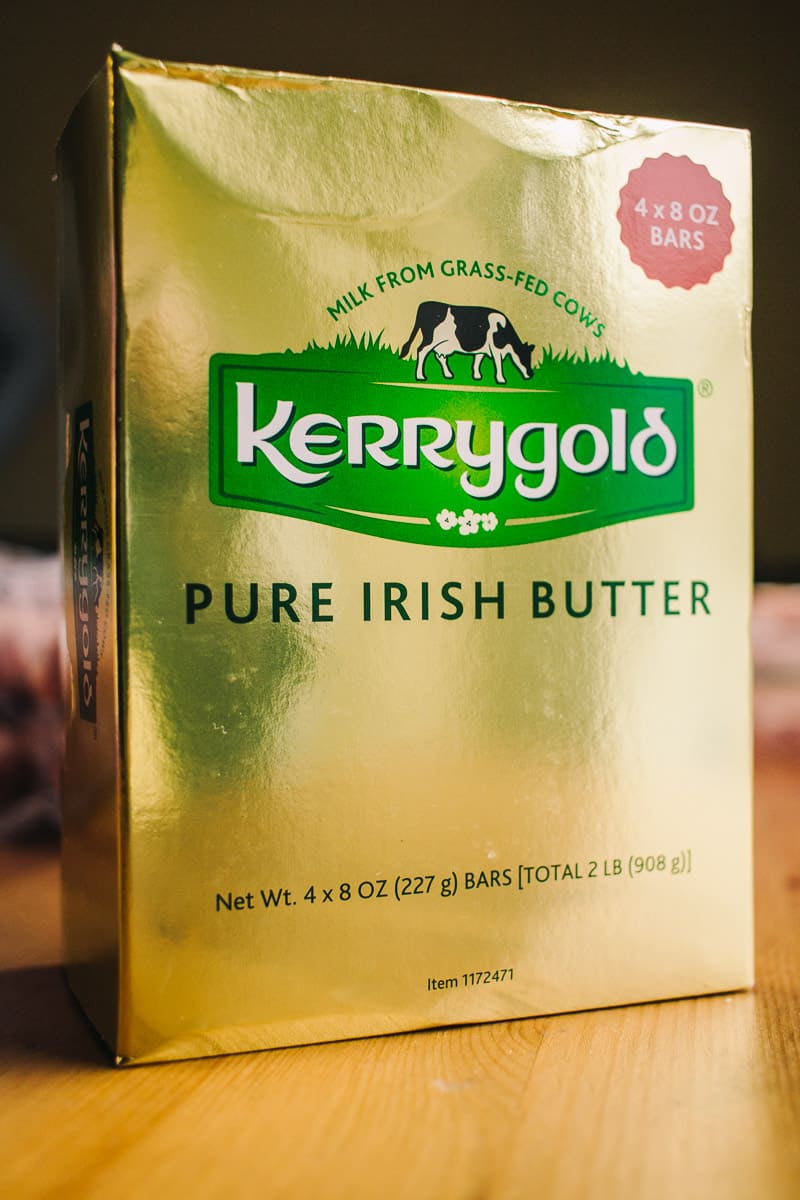 Sour cream
We love Daisy brand sour cream! We go through a lot of it too, so for $3.99 for a huge 3 lb tub, it's a great deal.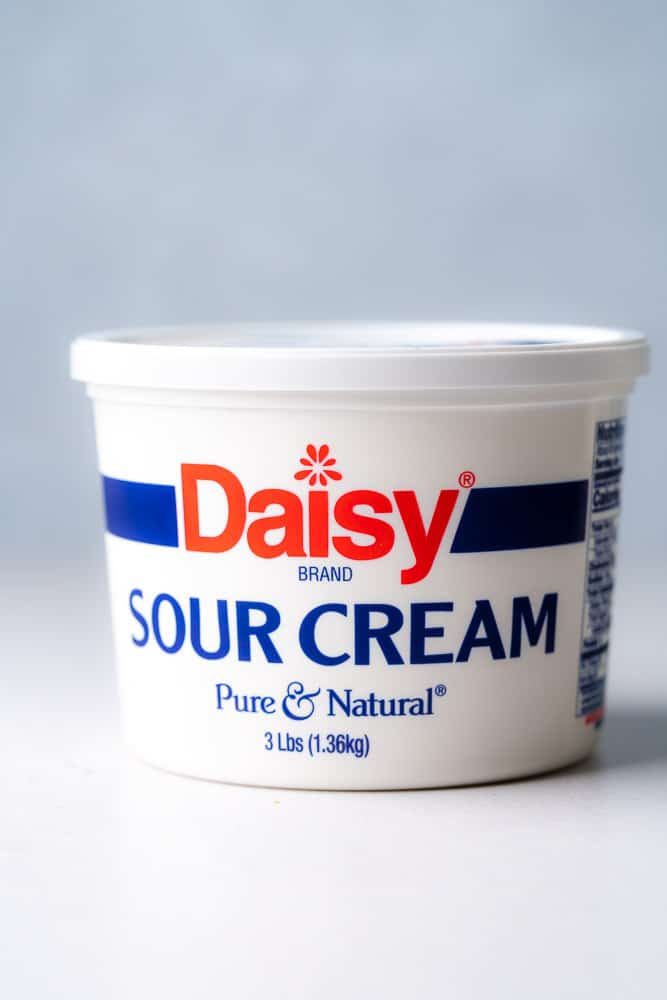 Cello organic fine grated parmesan cheese
This stuff is great quality, tasty and easy for quick weeknight meals and snacks! An 18 ounce container costs $8.99. Perfect for topping bolognese sauce!
Good Culture cottage cheese
This stuff tastes incredible, and this cottage cheese is of the highest quality. You will always find these in our cart from now on. They come individually packaged, which can be nice for grab-and-go high protein (and low carb) snacks.
Conventional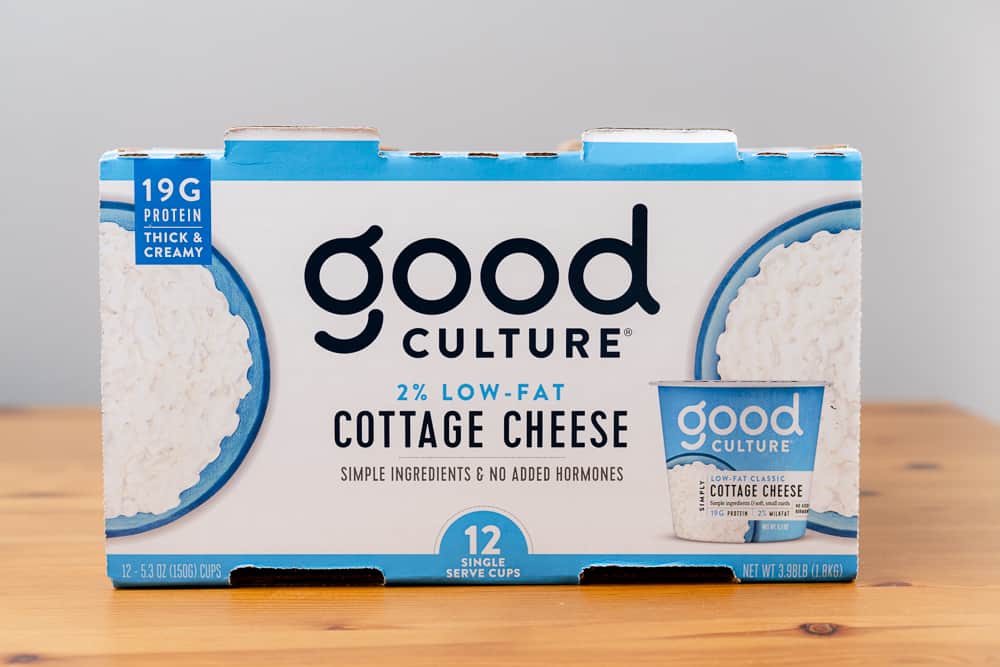 🥜Snacks & Meal Replacements
Costco keto snacks and meal replacements are essential when shopping for keto foods at Costco. There are so many more snack and meal replacement items than we have listed here, but here are some things we often buy!
Red's egg'wich
These are AMAZING. We've been eyeing them for a while, and we're so glad we finally picked them up. They're truly great. Great quality ingredients, with 17g of protein per sandwich. They're $12.89 for 8 sandwiches.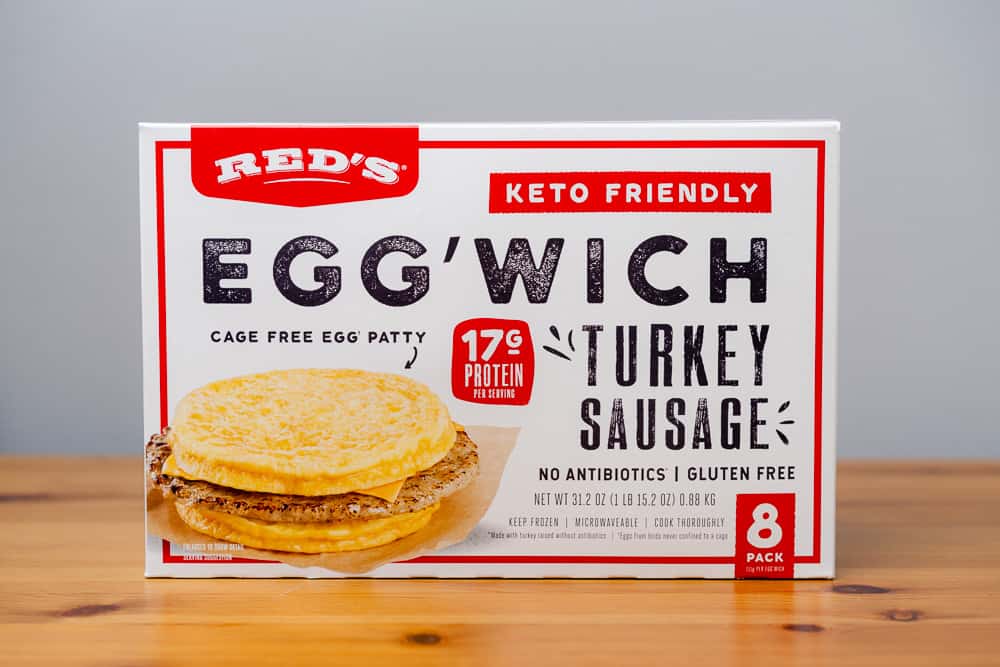 Whisps
There are a couple of different options for Cello Cheese Whisps at Costco, and both usually hover around $9.79 for 9.5 ounces. Use it to dip in a variety of dips like creamy guacamole or this bacon cheddar and green onion dip.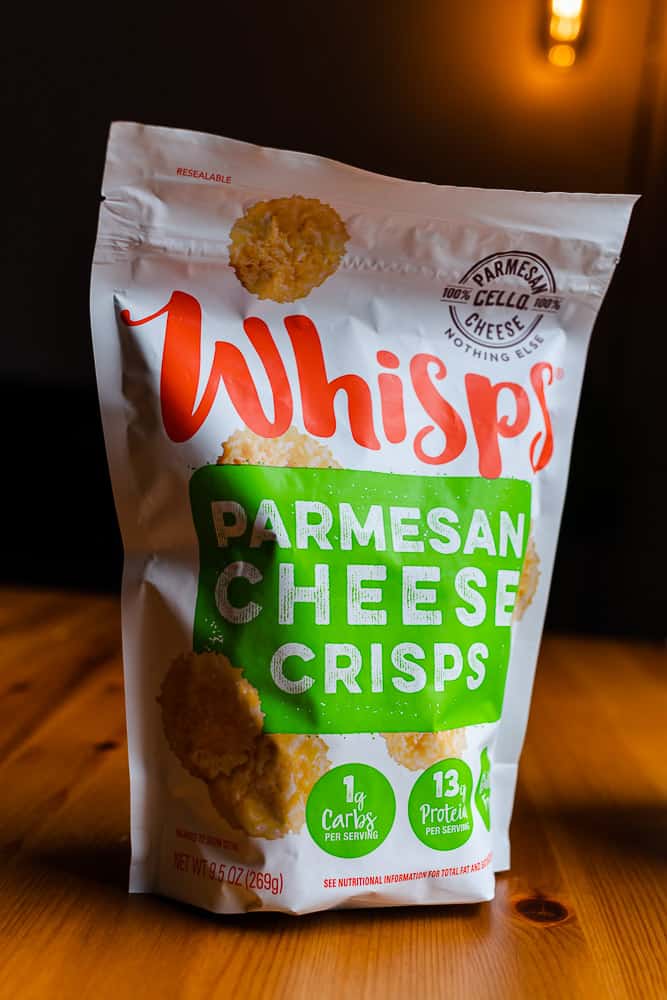 Rhythm Foods organic cauliflower bites
These crispy and crunchy cauliflower bites are absolutely delicious! You can get a large bag (5.75 ounces) for under $7! You can't beat that when the average 1.4 ounce bag runs around $3.99 at most grocery stores.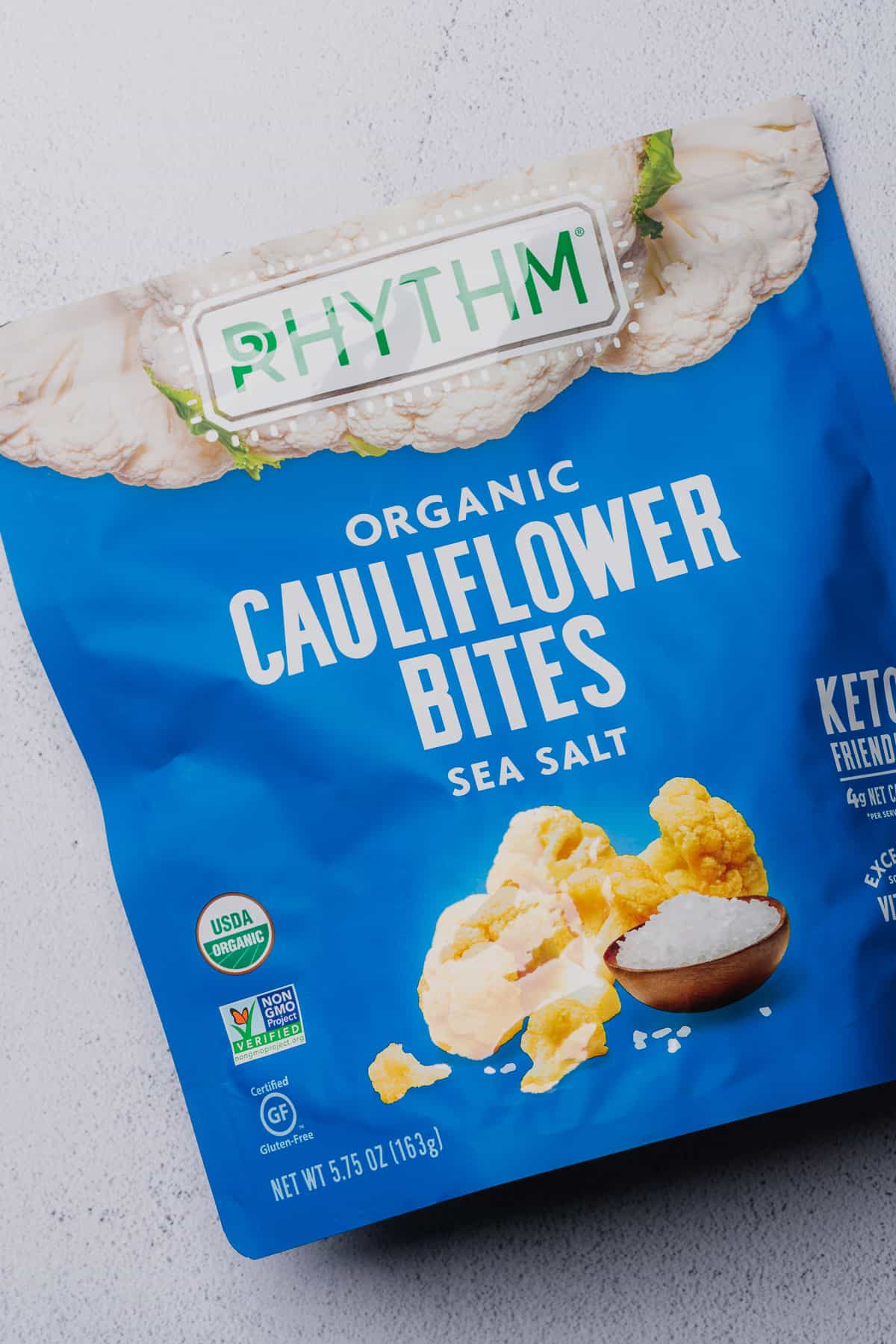 Tillamook Zero Sugar Beef Jerky
These are awesome, we're a huge fan! Beef jerky is often made with tons of sugar, which is a shame, since it's so high in protein. Not anymore! Tillamook to the rescue. We have to say, it's really good too.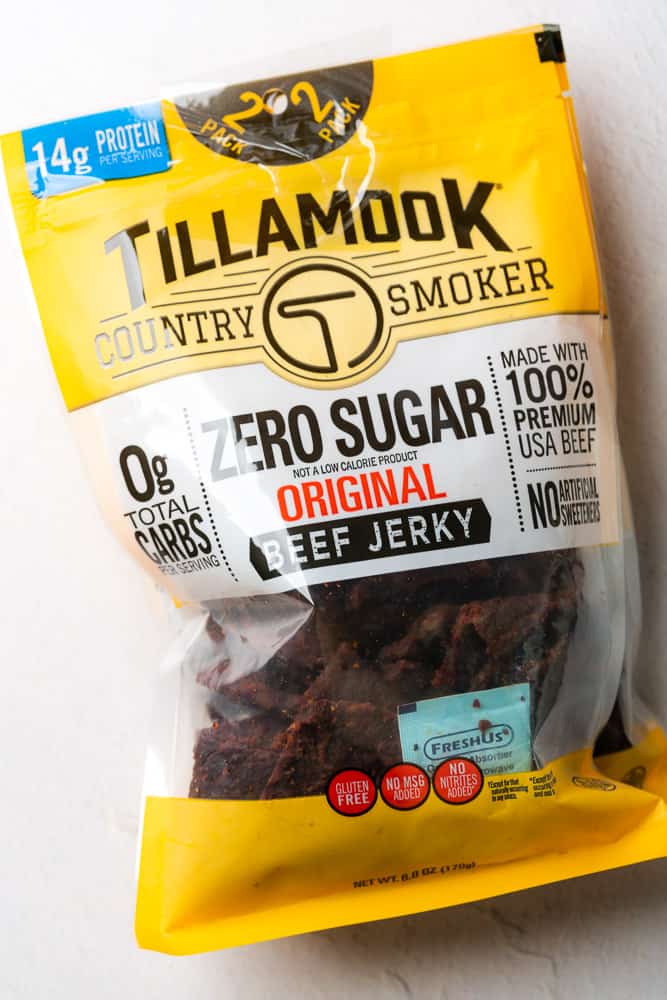 Smokehouse almonds
A 2.8 pounds bag costs around $13.99, unless you can get them on sale. These almonds are roasted, salted and smokey, making for the perfect snack. Only 2 net carbs per serving too, with plenty of fat. Nice!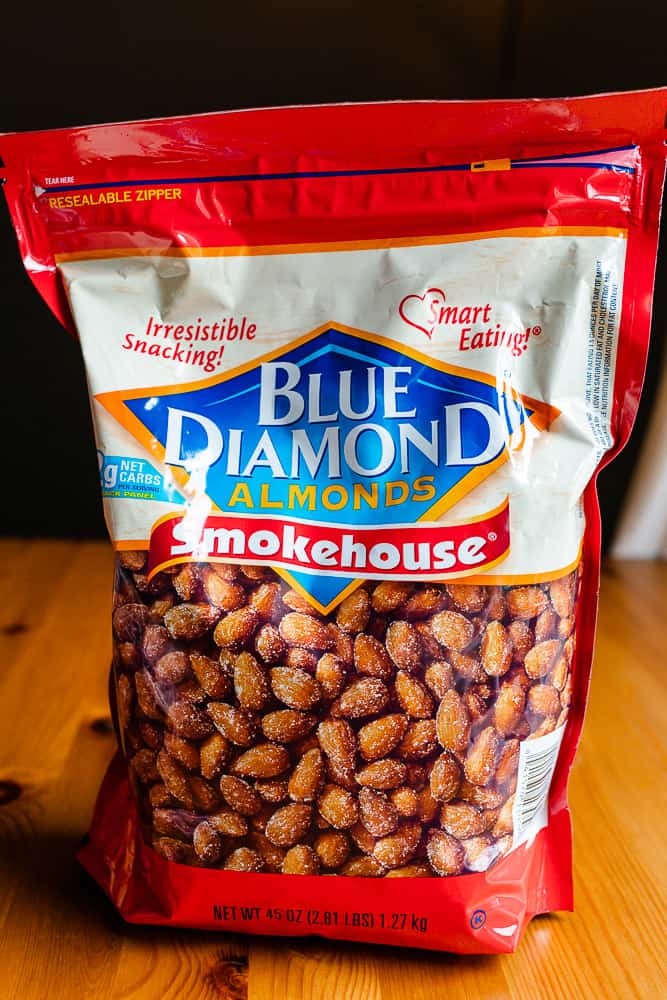 Duke's sausages
Some of the best snacks around with their clean, simple ingredients. They are high in fat and protein. Occasionally Costco will carry a specialty flavor, but usually it's just the original flavor, for $10.99 for 16 ounces is way cheaper than buying it anywhere else.
La Terra Fina spinach artichoke dip
La Terra Fina makes some seriously delicious dips. They have a couple different flavors that you can find at Costco, but one of their mainstays is the spinach artichoke dip. A 31-ounce container costs $7.99. Heat it up before eating it with some Whisps or pork rinds, it's delicious!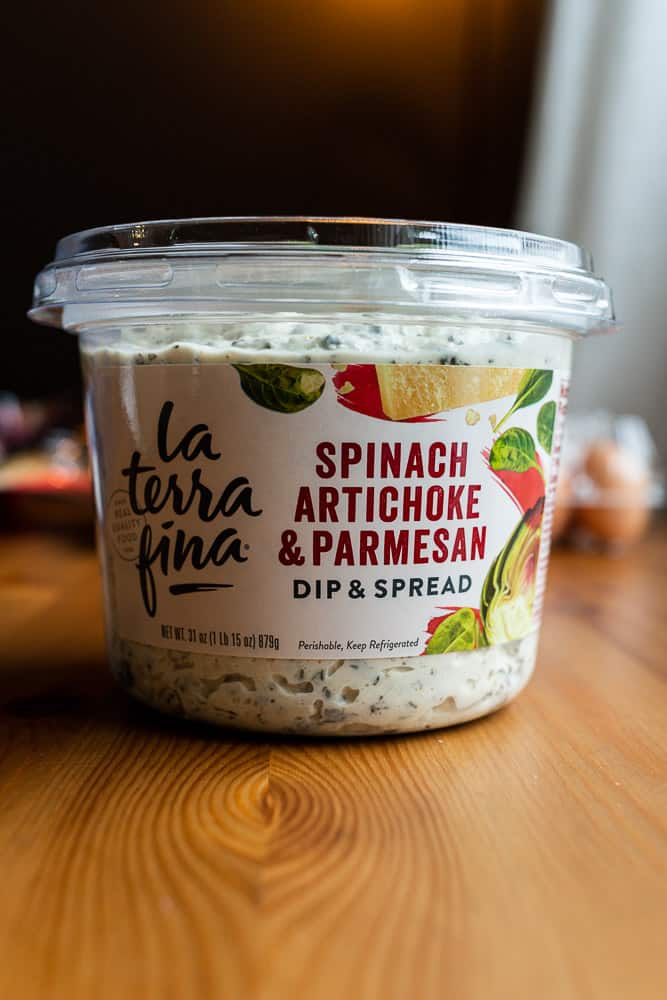 Fairlife Protein Shakes
Now these were a "new to us" find at our local Costco, but wow, they're really great! Not only are they more affordable than Premier Protein shakes, the ingredients are cleaner too. So far we only have a chocolate flavor. They're $22.99 for 18 units. Do you have any other flavors at your Costco location?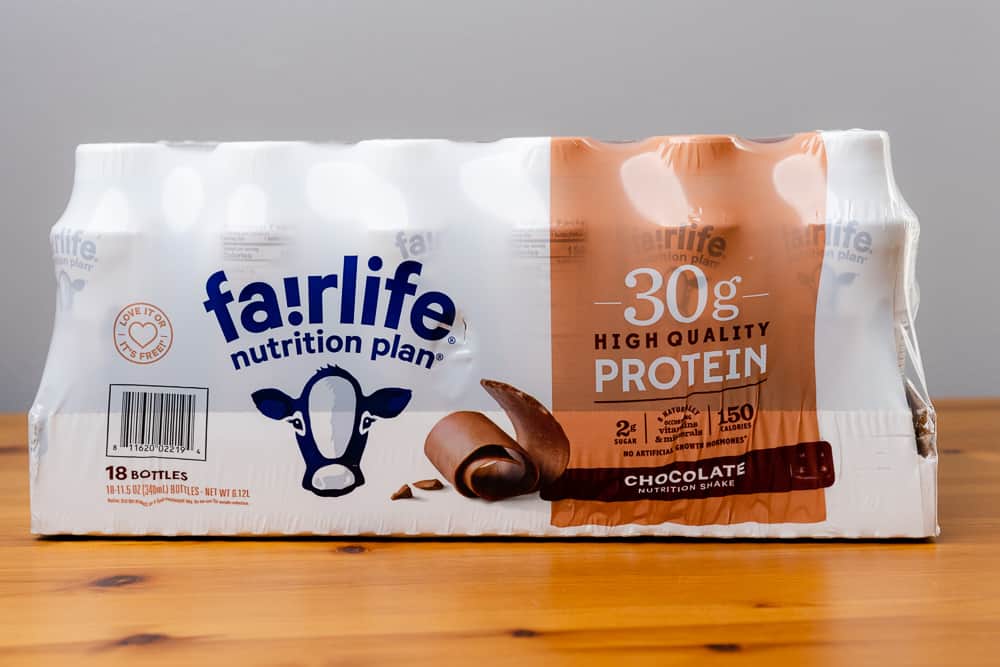 Premier Protein shakes
We are unsure of the current price, but these are certainly a deal at Costco, an 18 pack of 11-ounce containers is under definitely under $2 a unit. A great meal replacement when you're on the go!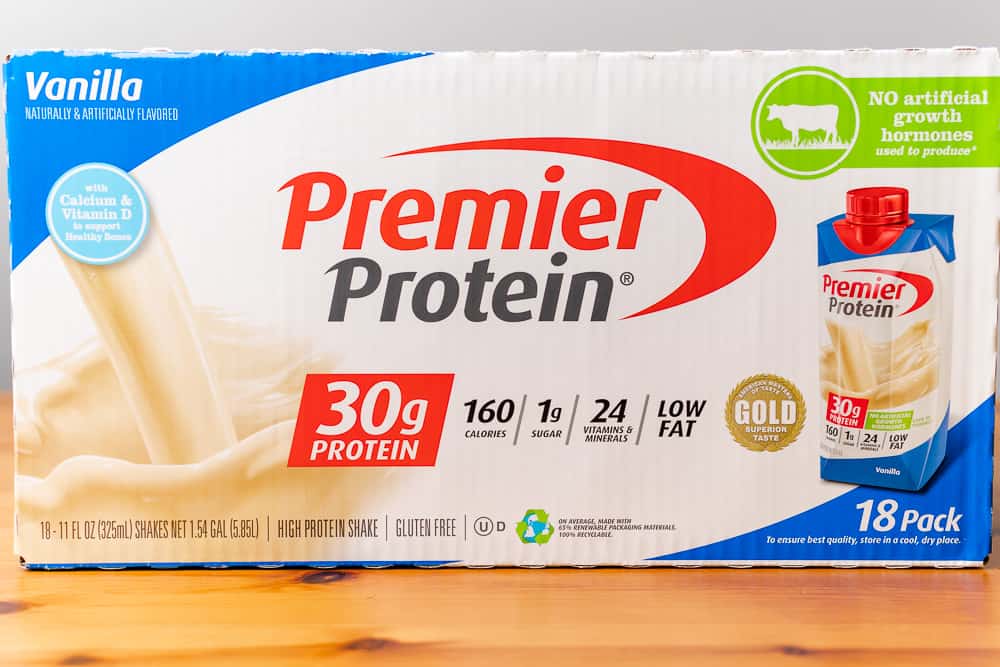 Keto snack mix
This is a newer item at our Costco, and it's by Nature's Garden. This Keto snack mix includes cheddar cheese, pepitas, almonds, macadamia nuts, and pecans. Only 2 net carbs per serving and it will certainly fulfill that salty snack craving! Get a 24 ounce bag for $13.79.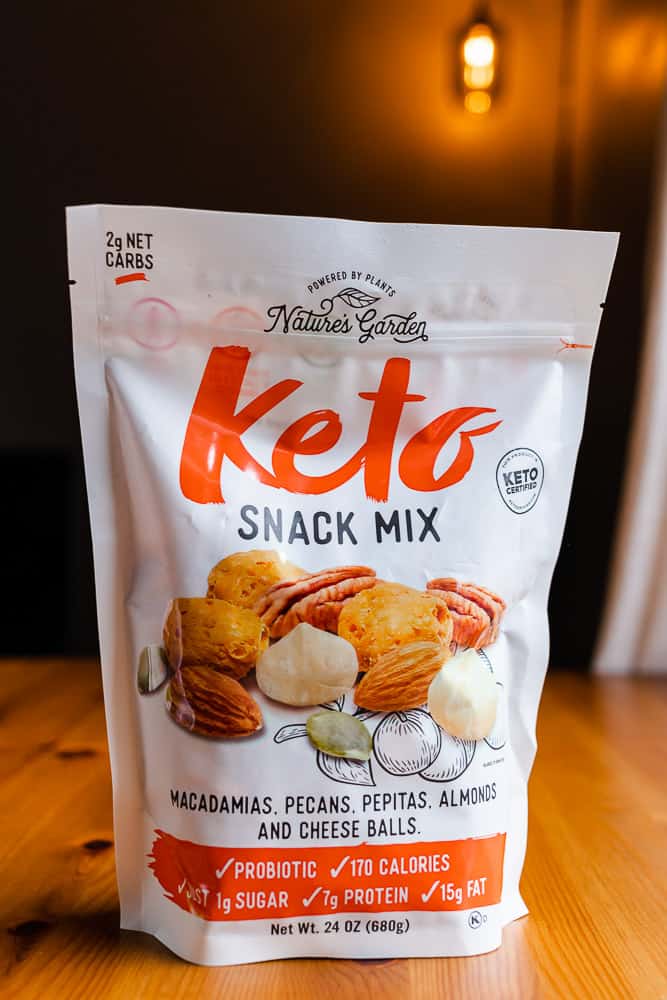 Shelf stable cauliflower rice
This is a nice idea for shelf stable veggies, and it's pretty decent in a pinch! We do prefer frozen, but again, it's really great that this exists.
Other protein & snack options
Protein bars
Protein powder (including whey & plant based)
Collagen powder
🍞Bread and starch replacements
Everyone needs something to replace typical high carb items like noodles, bread, buns and more on the keto diet. Luckily, Costco has a ton of options! Whether it's zero net carb Costco bread, keto friendly buns, wraps, or healthy low carb noodles, you will find what you need! (Please note that availability depends on the region.
Keto bread at Costco
We've heard that some Costco locations carry different brands, but most Costco locations have keto bread. YAY! Our Costco store carries this Natural Ovens zero net carb bread, and it's very good. It will really hit the spot. We'd like to note that it isn't gluten free, but hey, it's bread, and it's quite tasty. Plus, it's only $7.89 for two whole loaves!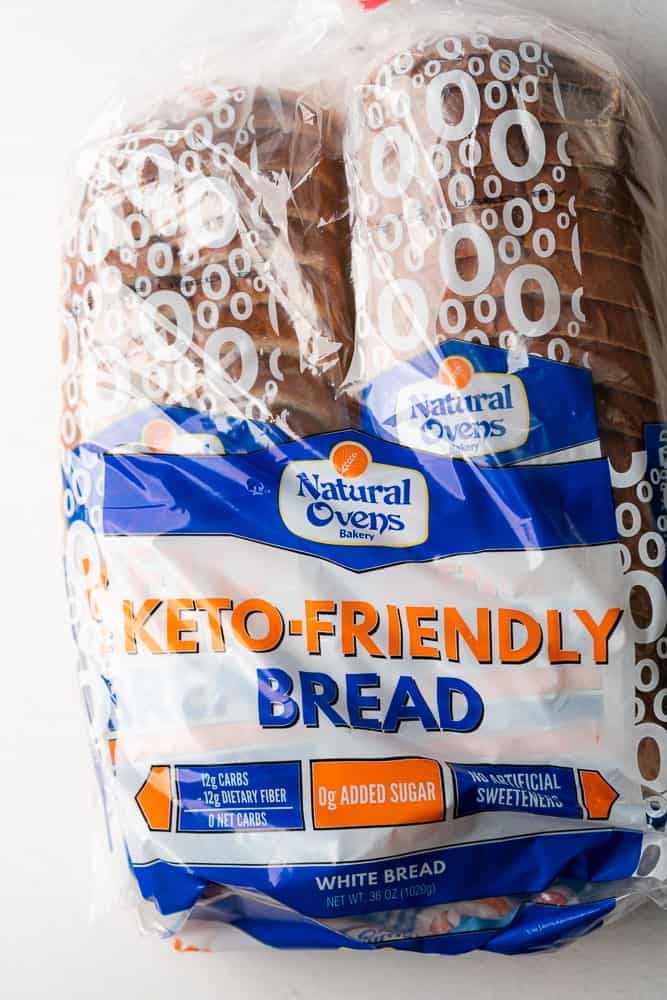 Keto buns at Costco
These keto buns are by the same brand as the keto bread, and for 12 buns, you will pay $6.79 at Costco. It's incredible how good these taste, for 0 net carbs! Definitely add this to your next Costco keto shopping list!
This brand also makes keto friendly hot dog buns available at Costco!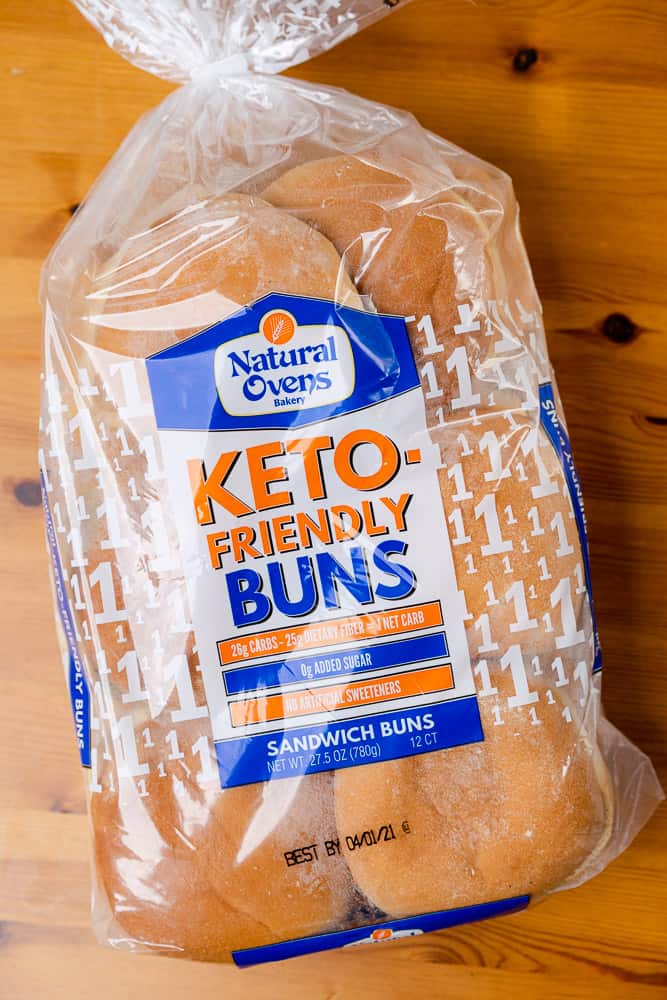 Healthy Noodle
People raved about these, and we finally found them at our Costco! Look for them in the refrigerated section near the meats and cheeses. This item isn't exactly a meal replacement, but a starch replacement rather. These are shirataki noodles, and they are only 1 net carb per serving. Amazing!! They fit with many different styles of food. Six, 8-ounce packages will run you $14.99. Try this caramelized shallot pasta with shrimp with the healthy noodles. It's delicious!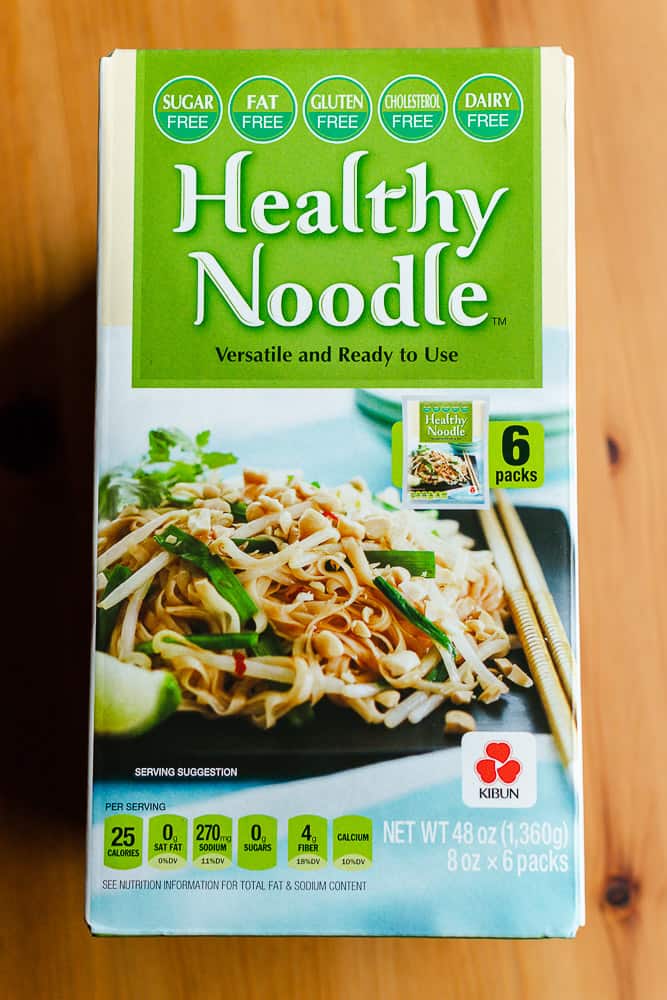 Crepini Egg Thins
We love using these super thin and low calorie wraps for a quick snack! They are super tasty, with clean ingredients and they are perfect to make wraps with meat and cheese. We also like to fry them up with some butter, cheese and eggs for "breakfast pizza". Three 12-packs cost $7.99. They freeze well too when unopened, so go for it!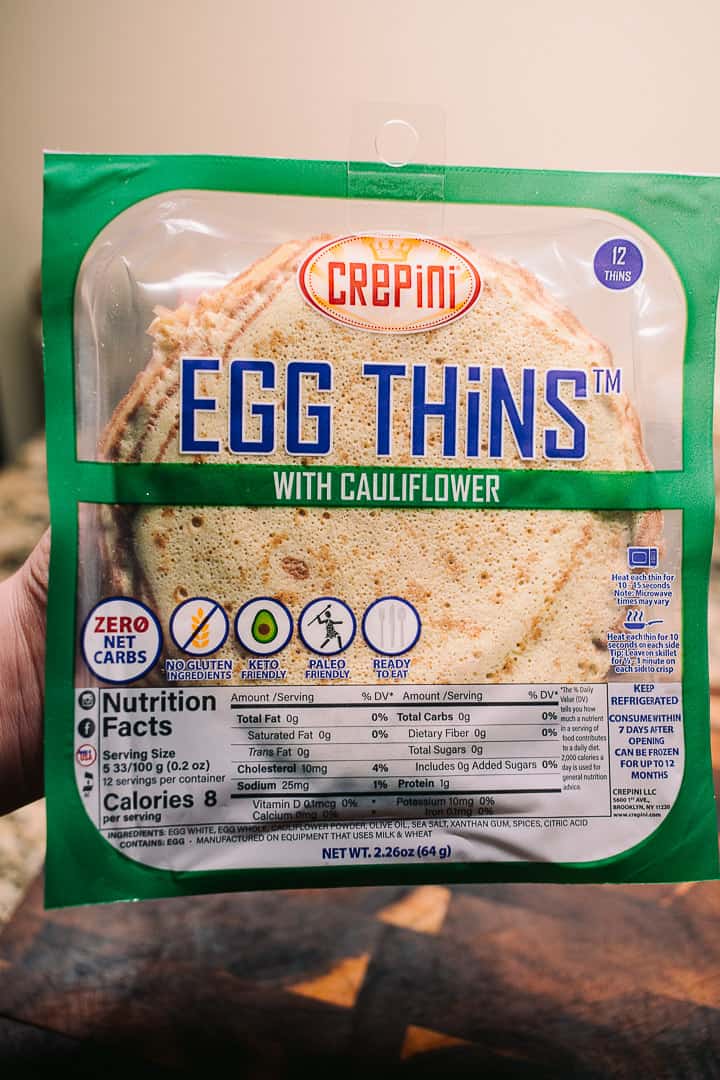 Other starch replacements
Mission low carb tortillas
Inno foods keto crackers
🍦Sweet treats & snacks
You're in luck if you have a sweet tooth, and you've sweet snacks on your costco keto list. Costco has a variety of sweet snacks that are perfect for the keto diet.
Keto Pint bars
Keto friendly ice cream bars - it feels like keto food options just keep getting better and better! These keto pint bars are one of the tastiest things on the market, seriously. WE're so glad we can grab them in bulk now at Costco!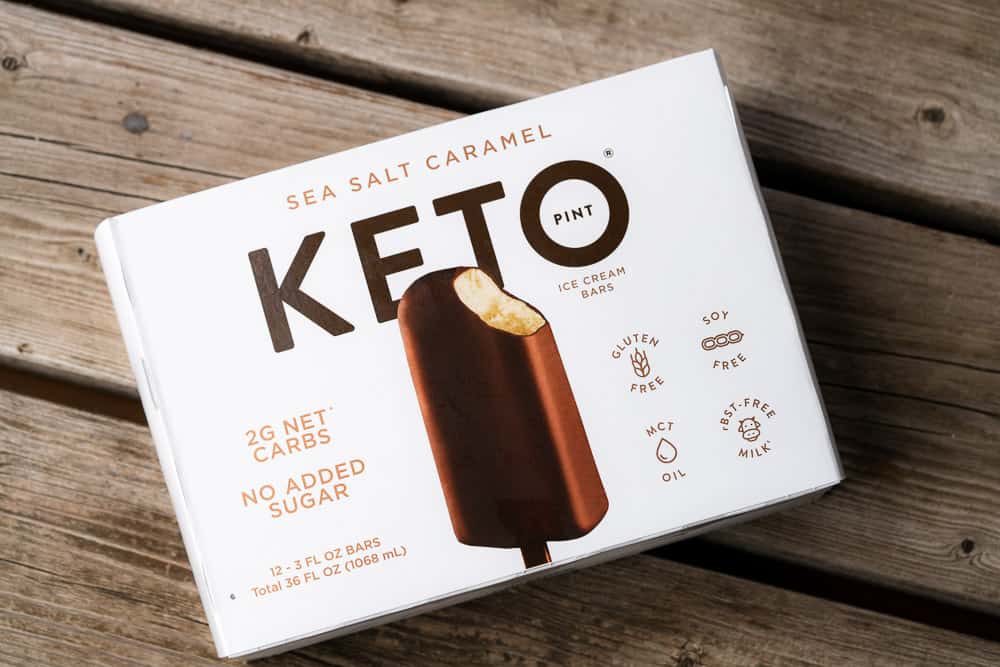 Dark chocolate nuggets
Another delicious creation by Inno foods, these dark chocolate granola nuggets are seriously amazing, and only 4 net carbs per serving.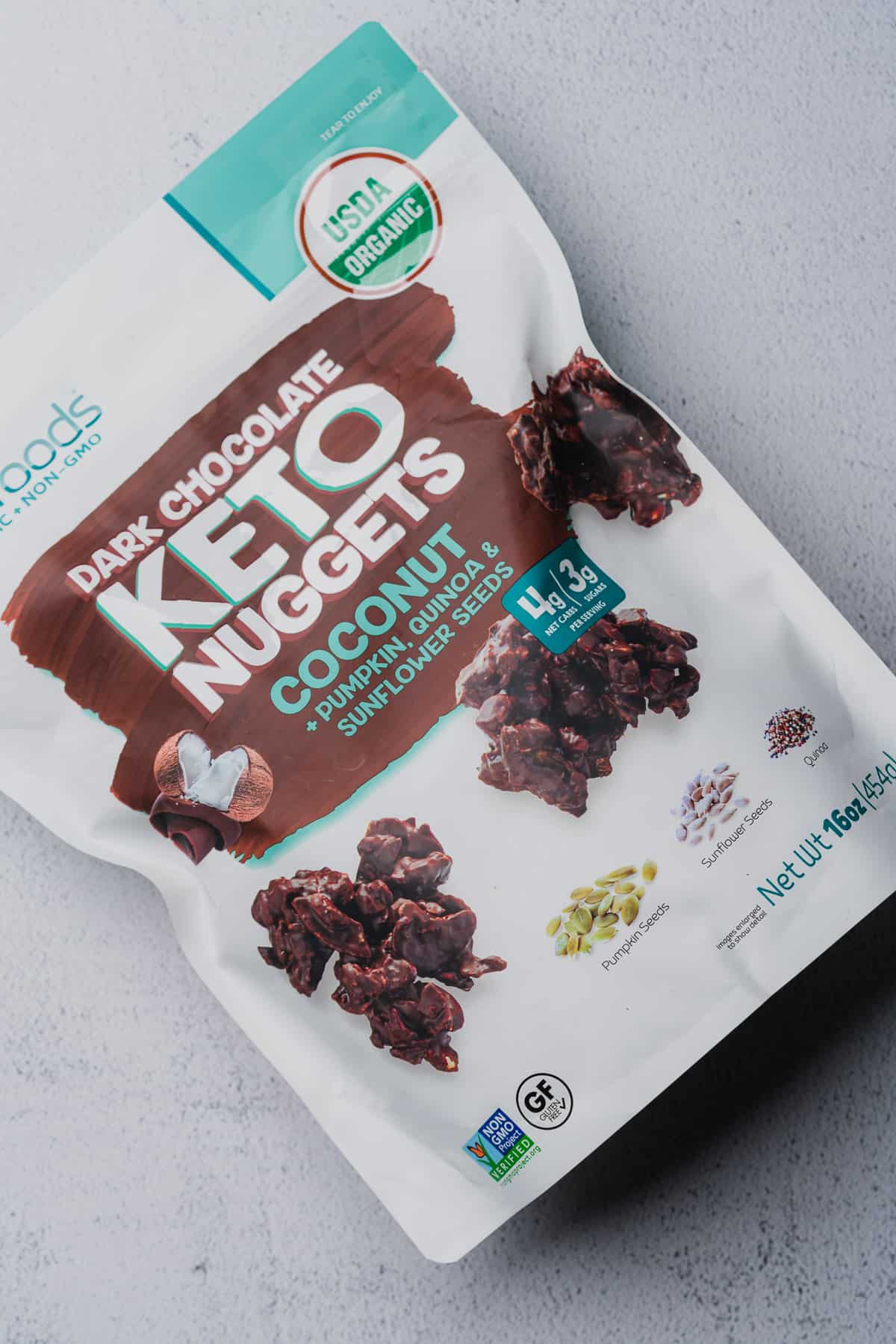 Coconut clusters
These generally run about $9.99 a bag, and they're some of our favorite store bought keto sweet snacks we've ever tried! The ingredients are a little questionable, but if you don't mind that, you're going to love these.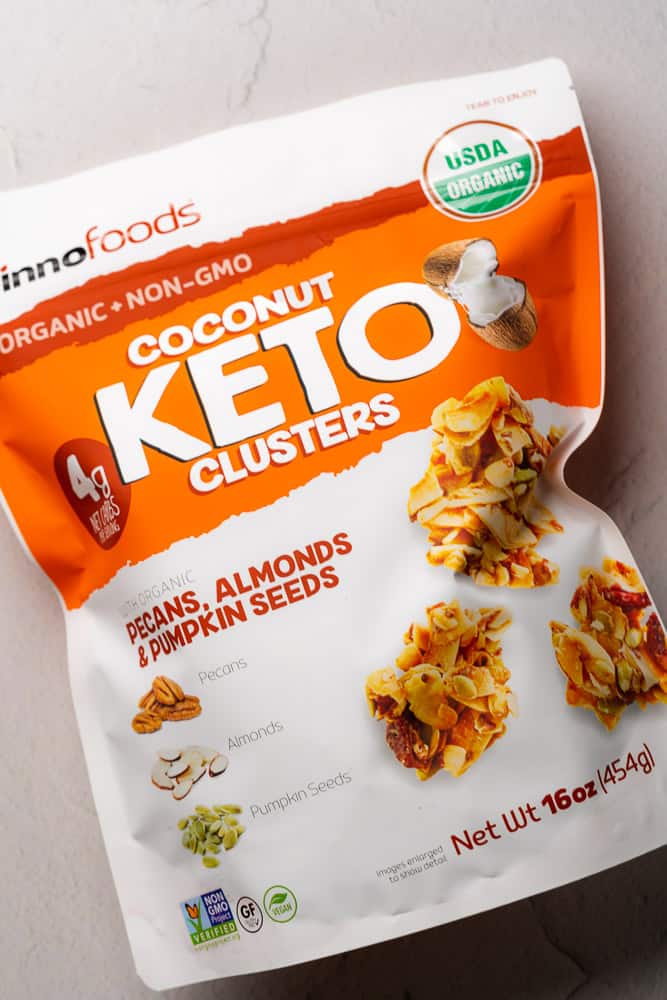 Keto blueberry cinnamon granola
This nut granola is a really great and quick snack if you have a little bit of a sweet tooth. Put it on top of some yogurt with chocolate chips and fruit and boom, perfect! It's also great as a cereal replacement.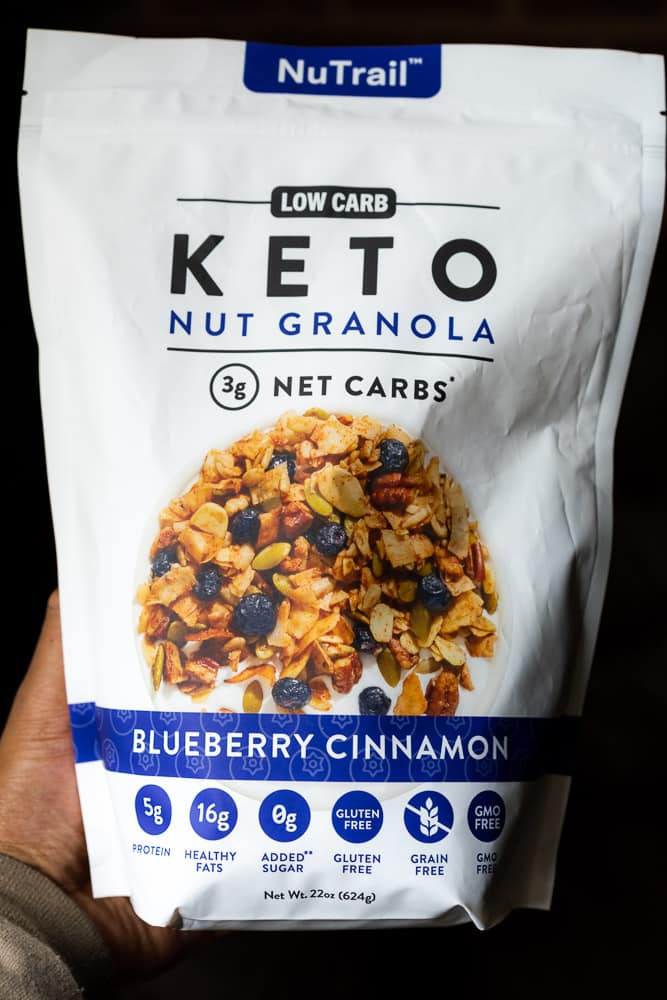 Inno foods coconut granola
Inno foods is rolling out all kinds of new products, and we love them! This keto coconut granola is quite similar to their coconut clusters, and it's highly delicious.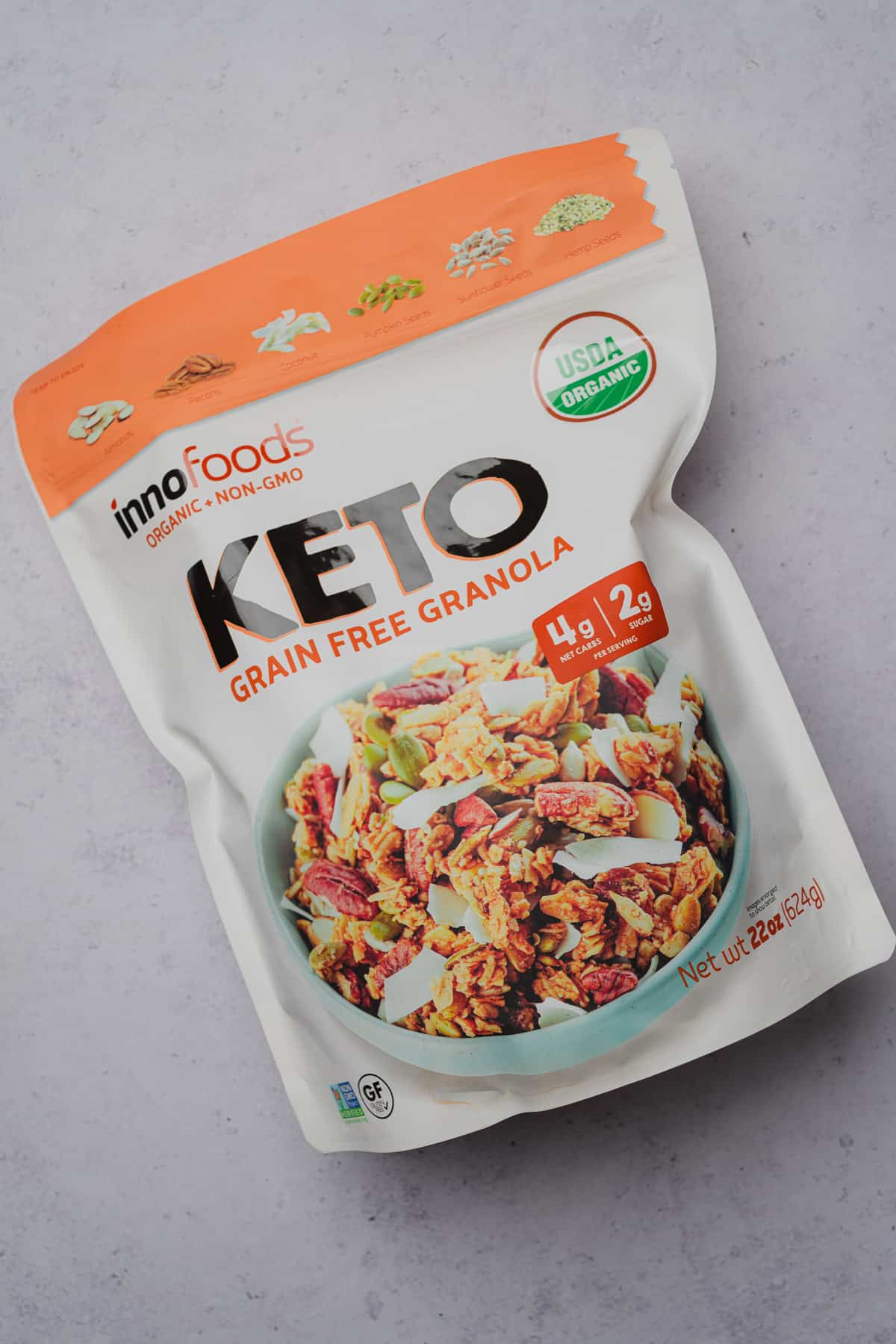 Keto chocolate bites
These chocolate bites are perfect for dark chocolate lovers. They are almond, sea salt and coconut flavored, and they come pre-portioned which helps us keep our snacking in check. It's only $8.99 for a bag and there are 30 pieces in a package.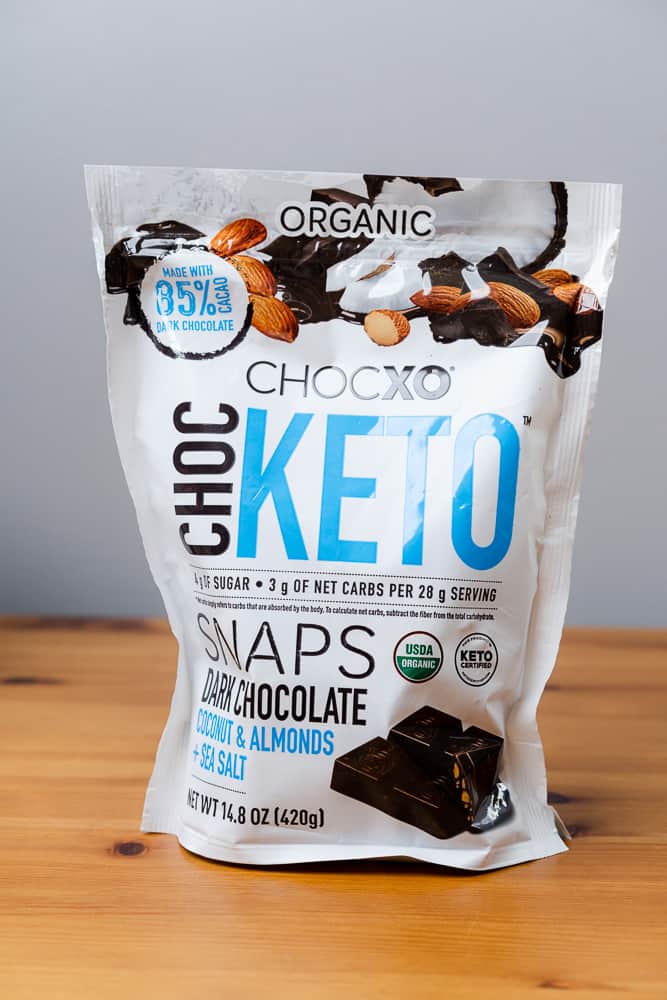 🥜Nuts, Seeds & Nut Butter
Nuts, seeds and nut butter are so expensive at other stores! Especially when you are looking for clean options. Buy in bulk and save, majorly!
Hemp hearts (shelled hemp seeds)
Hemp hearts have become such a game-changer for us. We add them to salads and to our scrambled eggs, and keto granola! They are a nutrient-dense super food full of fat, protein, and minerals. Read more about the benefits of hemp hearts here. Hemp hearts are great toasted and are wonderful on salads, or as the base of this keto 'noatmeal'! A bag of Kirkland Organic hemp hearts is only $10.99 at Costco, which is the best deal we have found so far!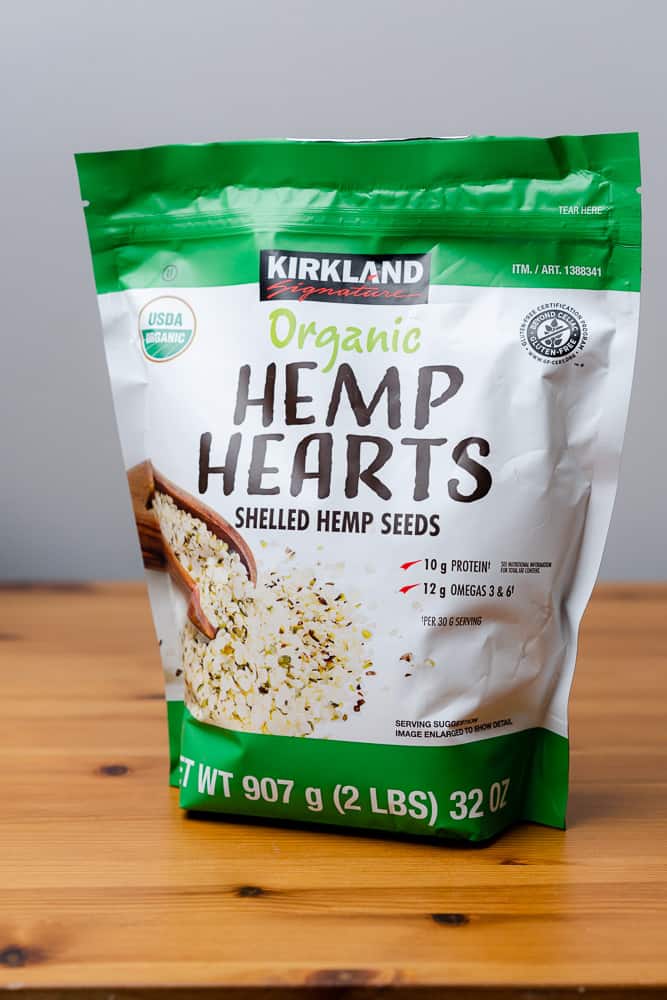 Pepitas
We love adding pepitas to salads, this keto granola, and more. It's a superfood full of potassium and magnesium. You can enjoy them in sweet or savory applications. Get a 23 oz bag for $8.89.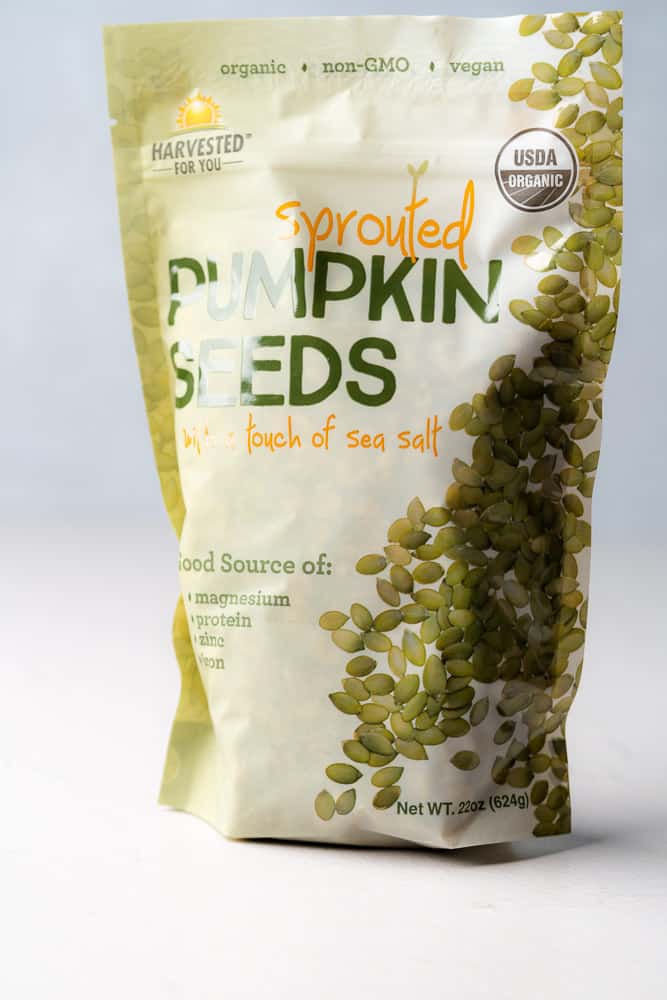 Macadamia nuts
We're pretty sure this 1.5 pound bag will only run you $19.99, which is such a wonderful deal when it comes to macadamia nuts!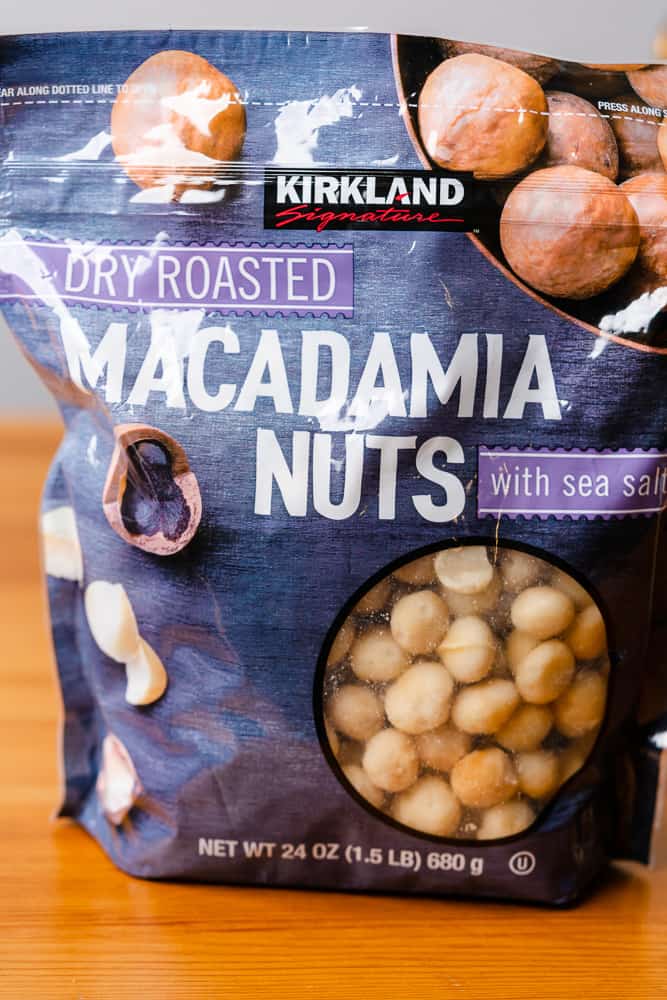 Organic peanut butter
Peanut butter has long been one of my favorite foods. Good thing Costco offers an organic and no sugar added version to help us keep on track! Two 28-ounce containers cost $9.99.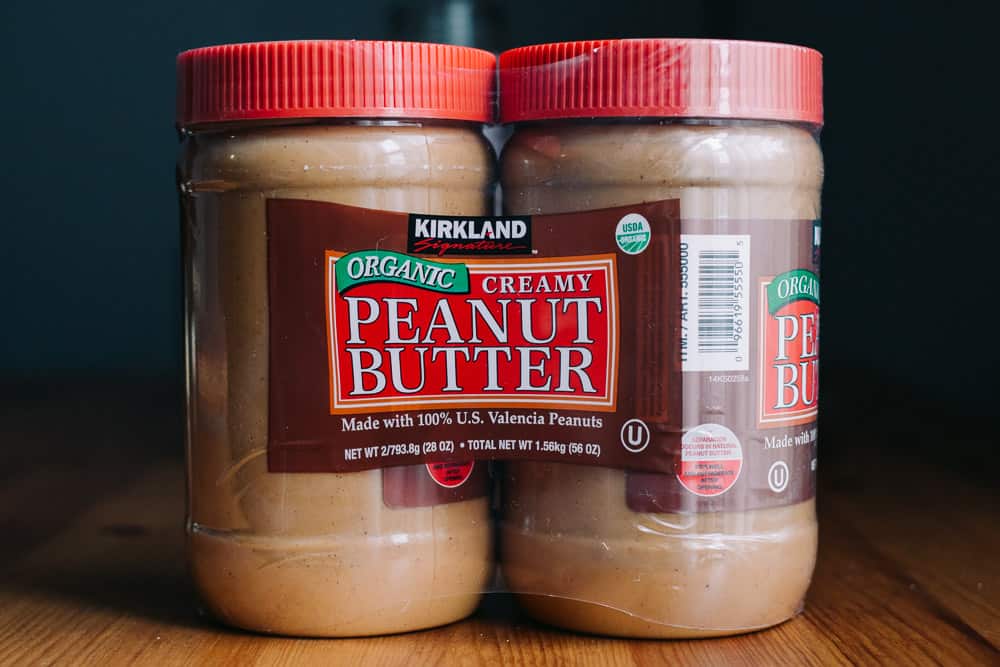 Organic almond butter
A little lower in carbs than peanut butter is the organic almond butter! We love this too, and often spruce it up a little bit by adding some sweetener and cinnamon to it for a delicious treat. It's $7.49 for a 27 ounce container.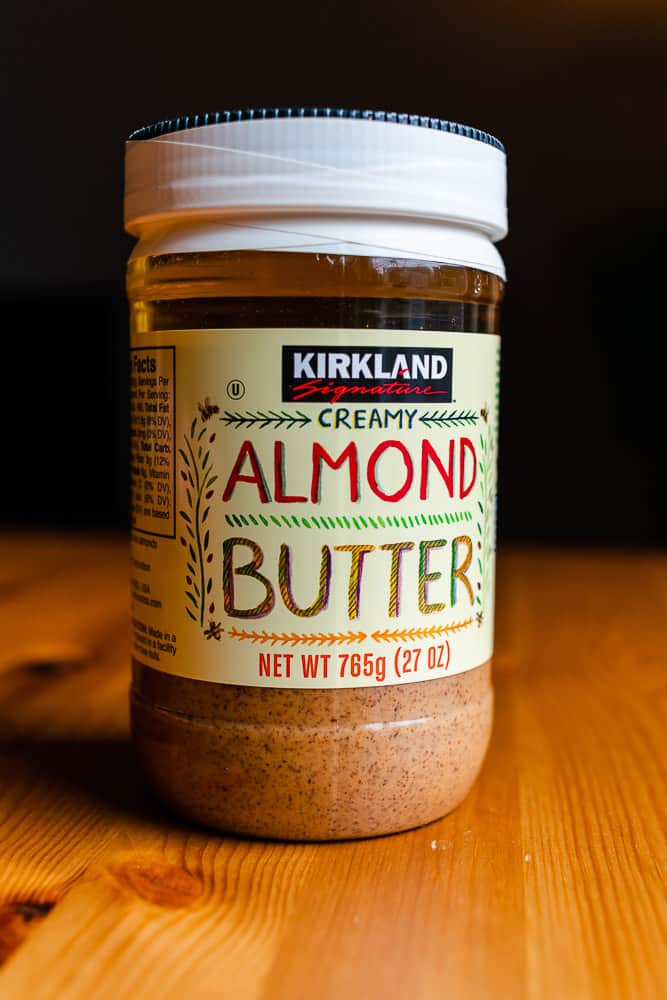 PB Fit peanut butter powder
We love adding PB Fit to smoothies, and baked goods, like these low carb dark chocolate nut bars! We love this powdered version for on the go. If you want to use it like a traditional peanut butter, you simply add some water when you're ready to consume it. It's a great solution for busy people. Grab a 30-ounce container at Costco, it will last forever! We will have to check on the current price, since it's been so long since we last bought any.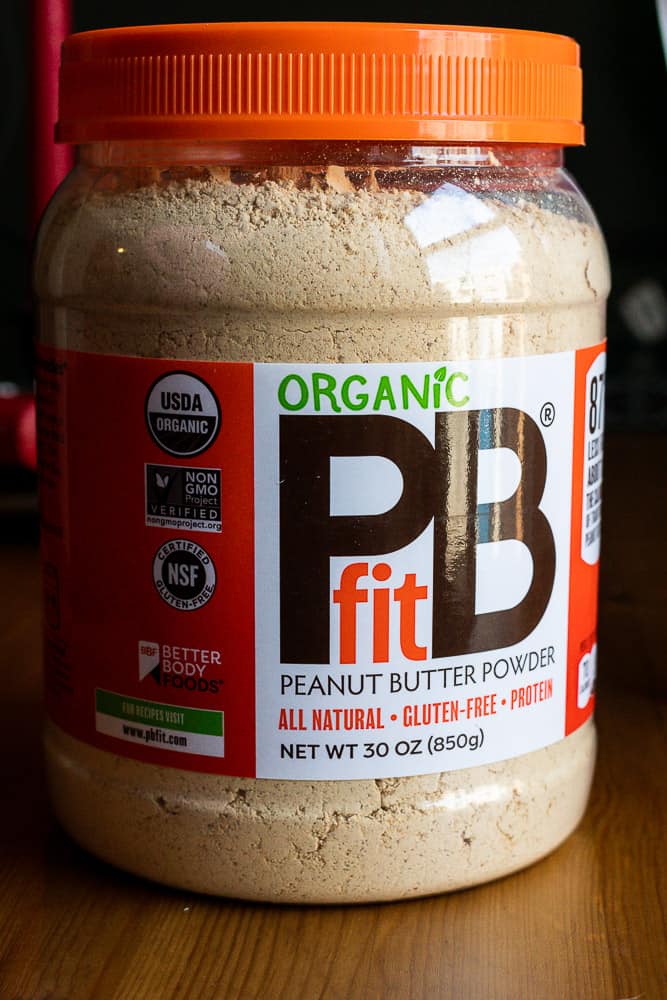 Almonds
A keto staple in our house. $11.99 for 3 lbs of raw almonds is a fantastic deal. We add it to our trail mix (mentioned above) and snack on them.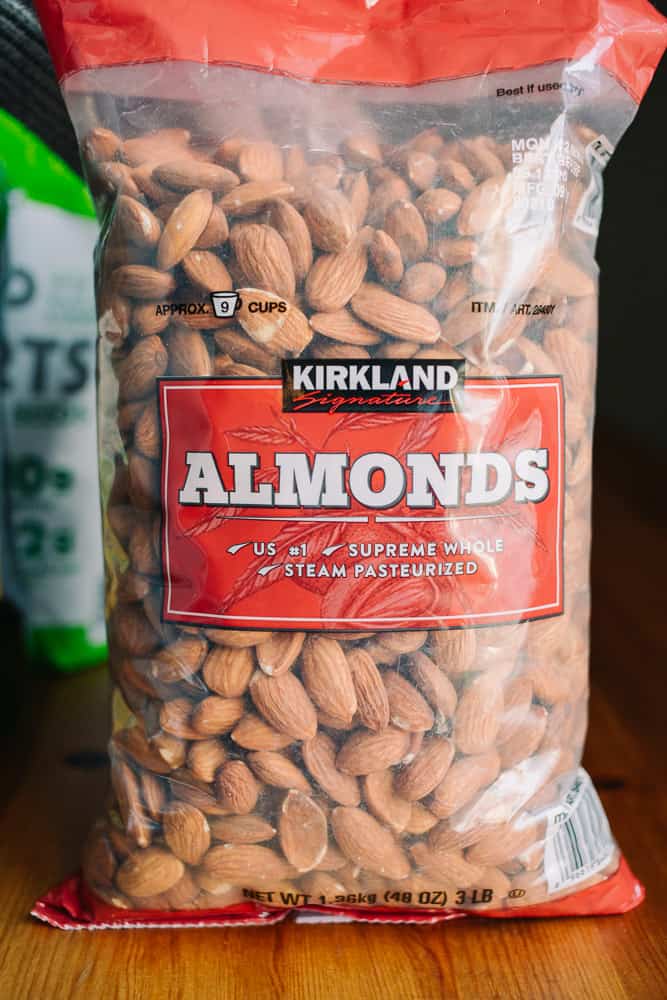 Walnuts
Another keto superfood, high in fat. A 3 lb bag costs costs $11.99. Aside from trail mix and salad toppers, try these low carb carrot cake cupcakes.
Pecans
Pecans have to be our favorite nut of all time. We absolutely love them, and for $12.99 for 3 lbs, you can make tons of low carb candied pecans to eat on their own, or this harvest salad.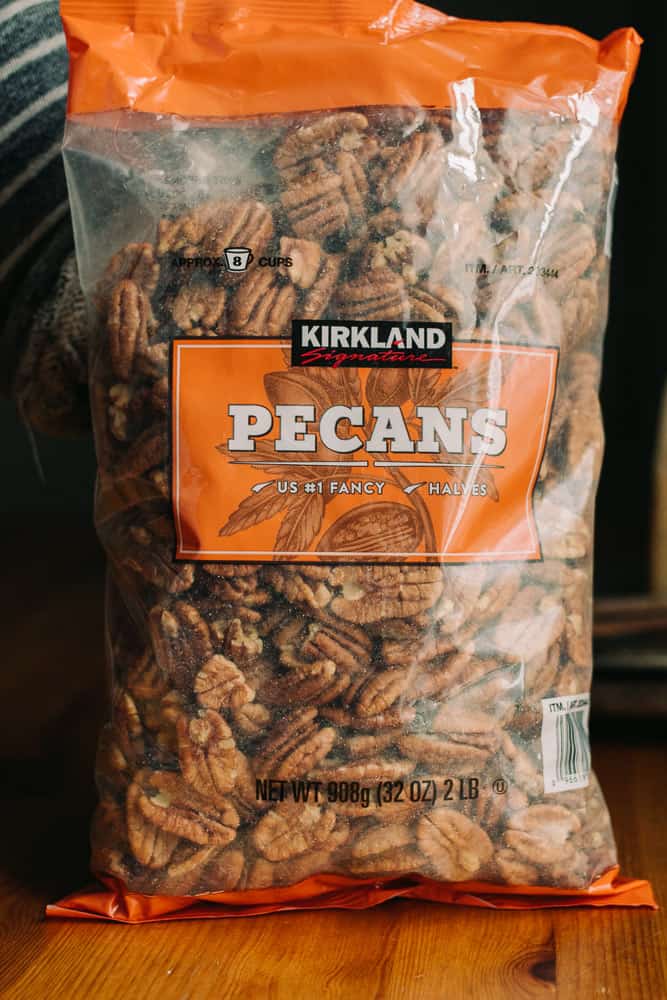 🧂Salt & seasonings
Costco has some great bulk spices options. We recommend only buying things you think you can use in 6 months or less, because spices do tend to lose potency after that time period. Here's our top buys.
Pink Himalayan salt
It's so high in nutrients and will make your food better for you. It's been a while since we last bought some, but we are pretty sure it's $5.99 for 5 pounds.
Ground black pepper
$4.79 is such a great deal for 12.3 ounces.
Ground Saigon cinnamon
It's 10.7 ounces for $3.79. (we think).
Smoked paprika
We love the smokey flavor of this paprika, and find that it goes well with so many things! It's $3.79 for 8.5 ounces.
Granulated garlic
One of our favorite and most used seasonings is $5.99 for 18 ounces.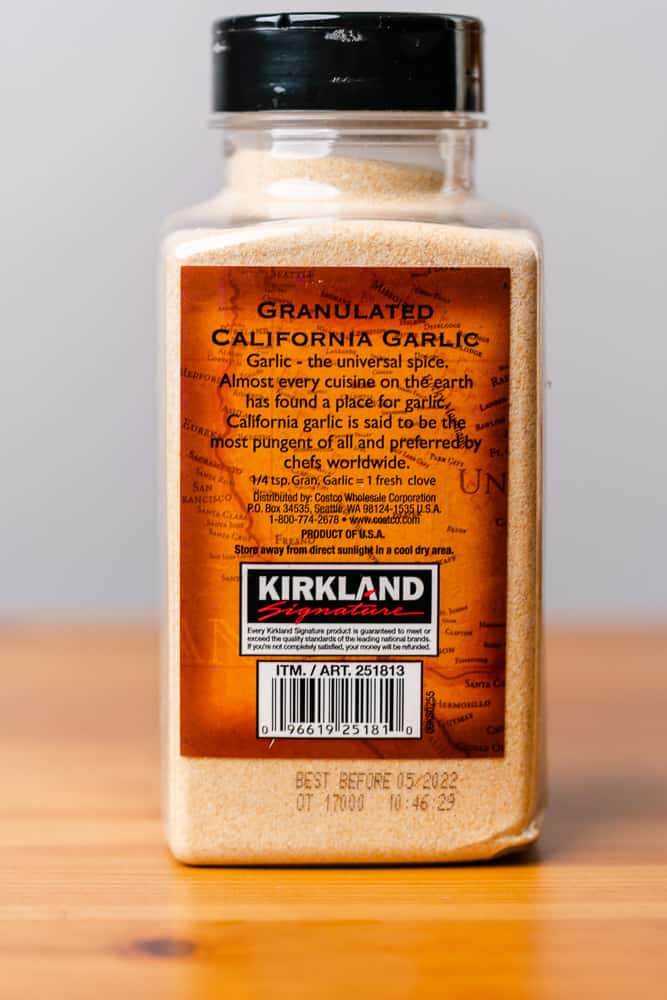 🍅Canned & jarred food
Organic diced tomatoes
We love the Kirkland brand organic diced tomatoes. An eight pack of 14.5-ounce cans costs $5.99. Use them in everything!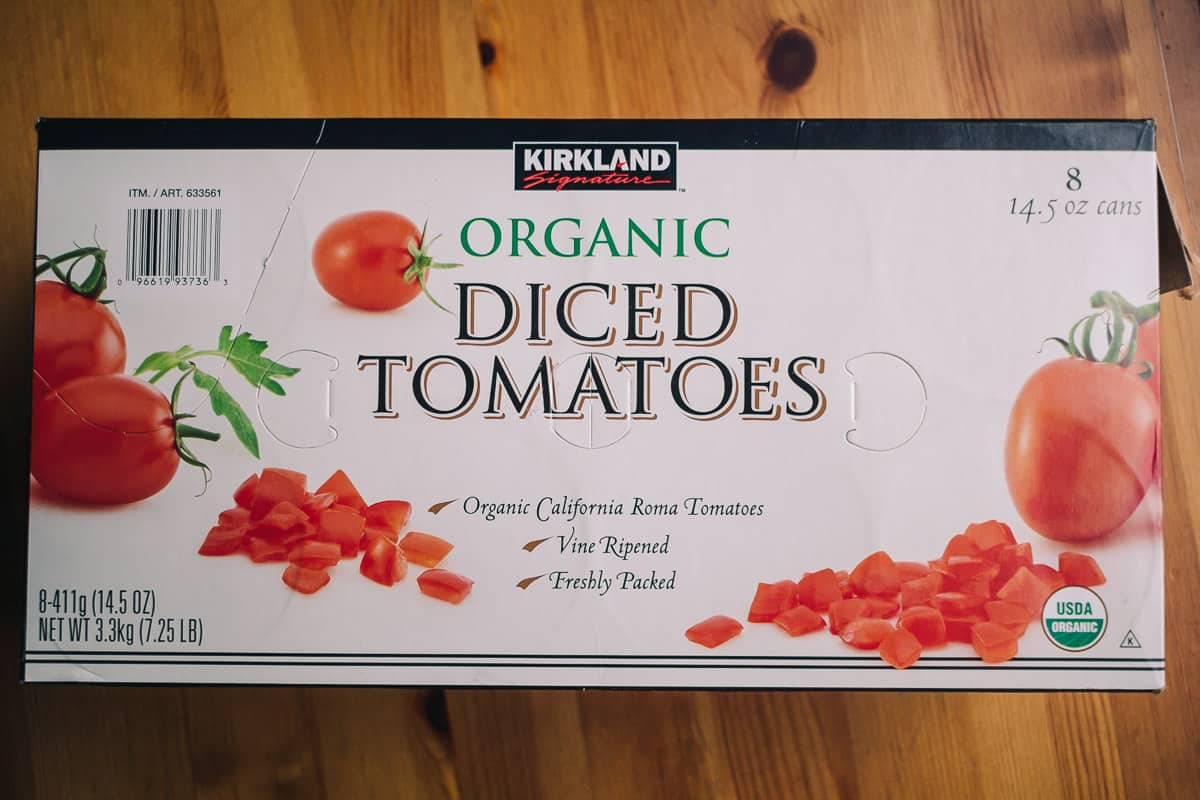 Artichoke hearts
Olives
We love these fatty, plant-based morsels with some Italian meats and cheeses! Costco offers a bunch of different options, and they are all affordable.
Pickles
We eat a TON of pickles in our house, so it makes a lot of sense to buy them in bulk at Costco! Buy some to make our keto and gluten free fried pickles!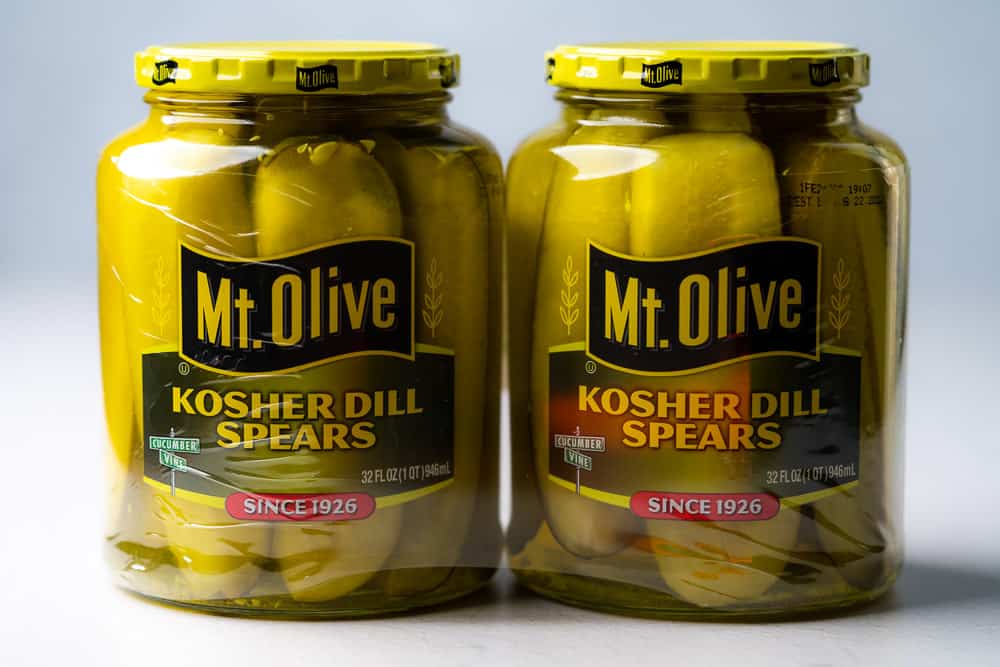 Giardiniera
Nothing says Chicago like Giardiniera. It's an Italian style (and Chicago style) condiment of mixed pickled vegetables in oil. If you've ever had a Chicago style Italian beef, you would have needed to try it with this!! Okay, we know this container is huge, but we're obsessed with Giardiniera, and we add it to our burgers, omelettes, hot dogs, you name it!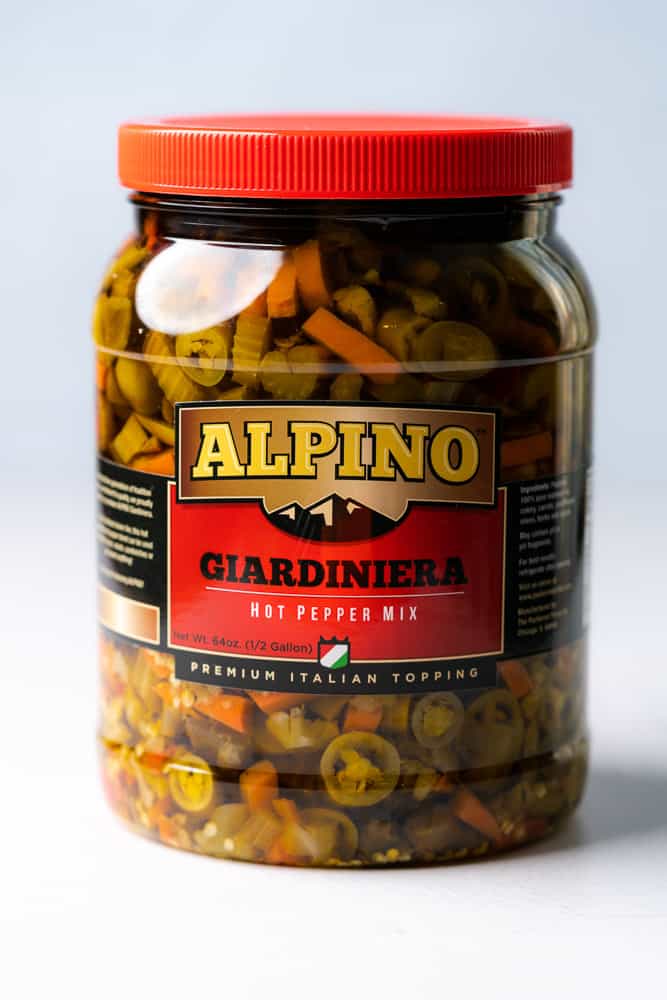 🥥Oils, Sauces & Condiments
Clean oils are part of a healthy keto diet, and can help you get into ketosis faster so they should be on your list. Buy them at Costco to save money! We've also included some of our favorite ready-made sauces.
MCT Oil
MCT oil is one of those things that is really great for helping some people get into ketosis! You can add it to bulletproof coffee or a smoothie to help kickstart your brain power in the morning. We will have to double check the price the next time we go to Costco, but it's the best deal we've found so far.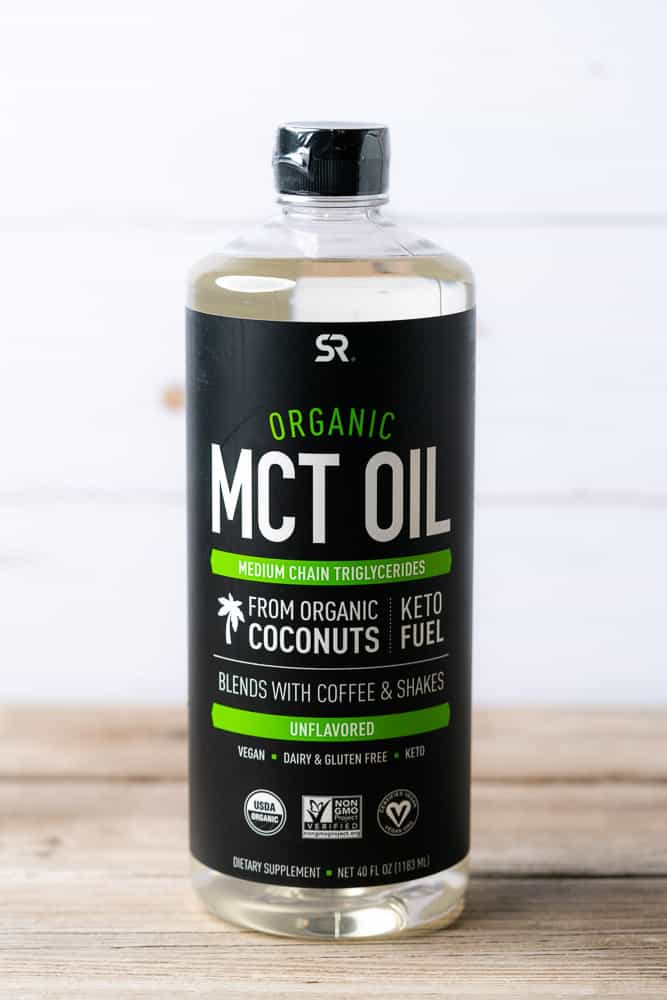 Avocado oil
One of our very favorite clean keto oils! We love frying in avocado oil for its neutral taste. Costco used to carry our favorite brand, Chosen Foods, but has since switched. It's still a good deal, and you can get nearly 68 fluid ounces for just under $17 (we think).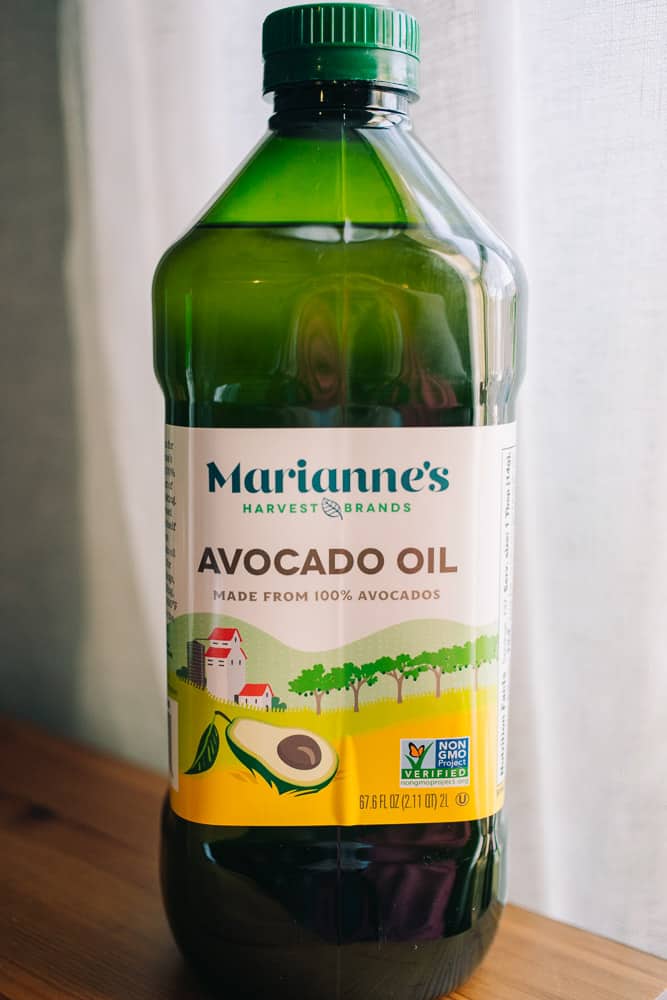 Avocado oil spray
A two pack of these super convenient sprays from our favorite brand, Chosen Foods can be purchased for $5.89. We love to use it to seal our Lodge Cast Iron skillets, and for quick egg dishes, lining baking tins, etc.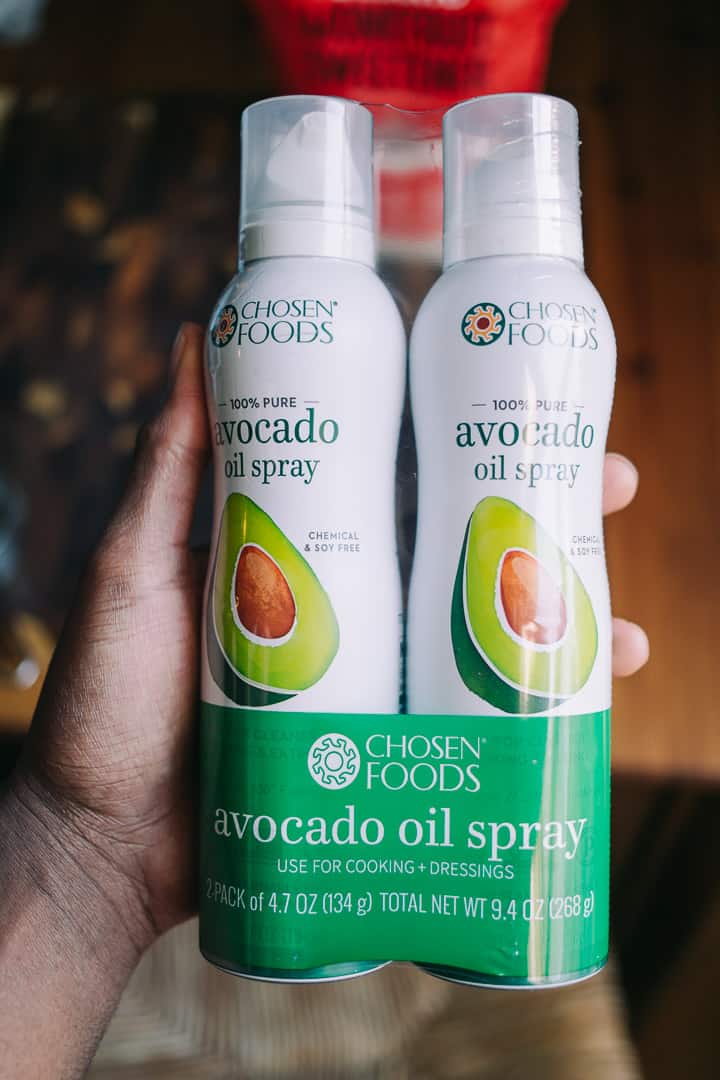 Organic extra virgin olive oil
This is a great deal for some really great quality organic olive oil. We are pretty sure it's $12.99 for 2 liters!
Coconut oil
Another excellent clean keto oil is coconut oil. A 2.48 liter container costs only $13.99.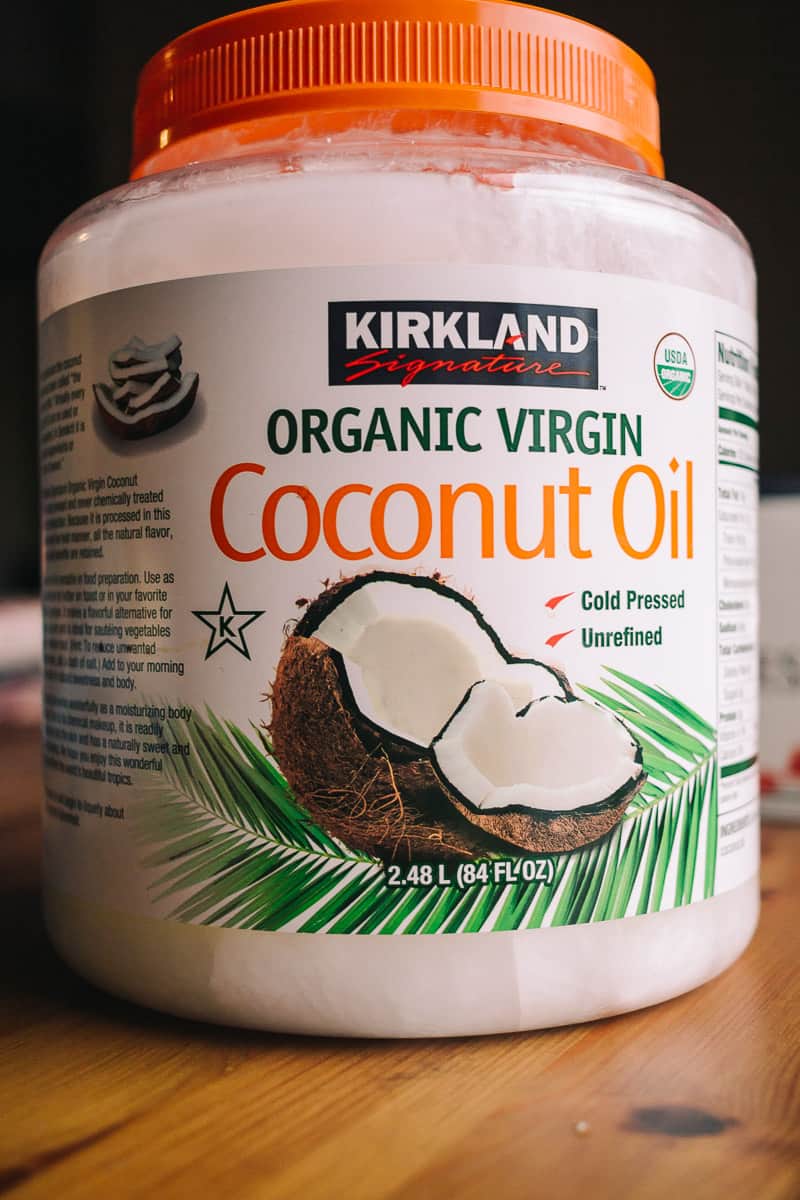 Organic apple cider vinegar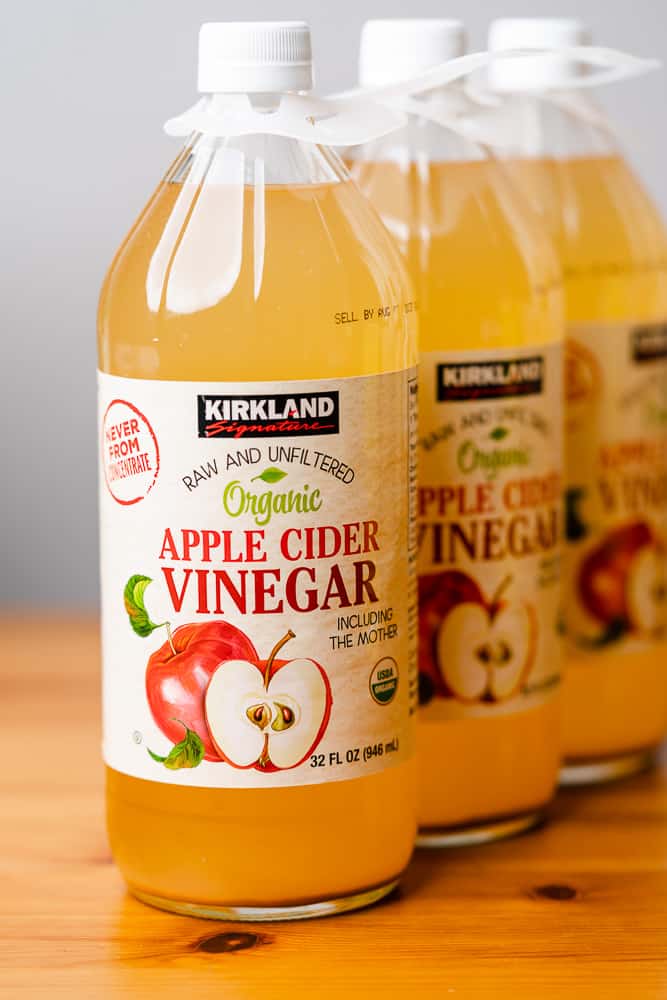 Rao's Homemade marinara sauce
Two 28-ounce jars of this delicious sauce will run you $9.99.
Sir Kensington's avocado oil mayonnaise
We love Sir Kensington's! They make so many delicious low carb, sugar free, paleo and Whole 30 friendly sauces and condiments. This avocado oil mayo is tangy and delicious, with super clean ingredients and no added sugar! Awesome! It's $8.99 for a 32 ounce container.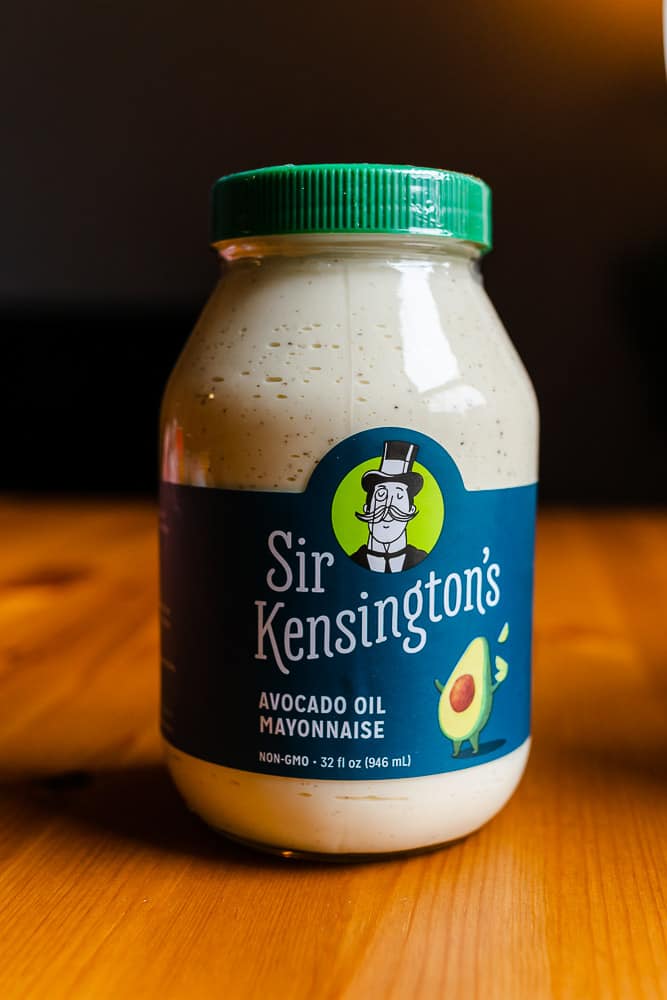 Hot sauce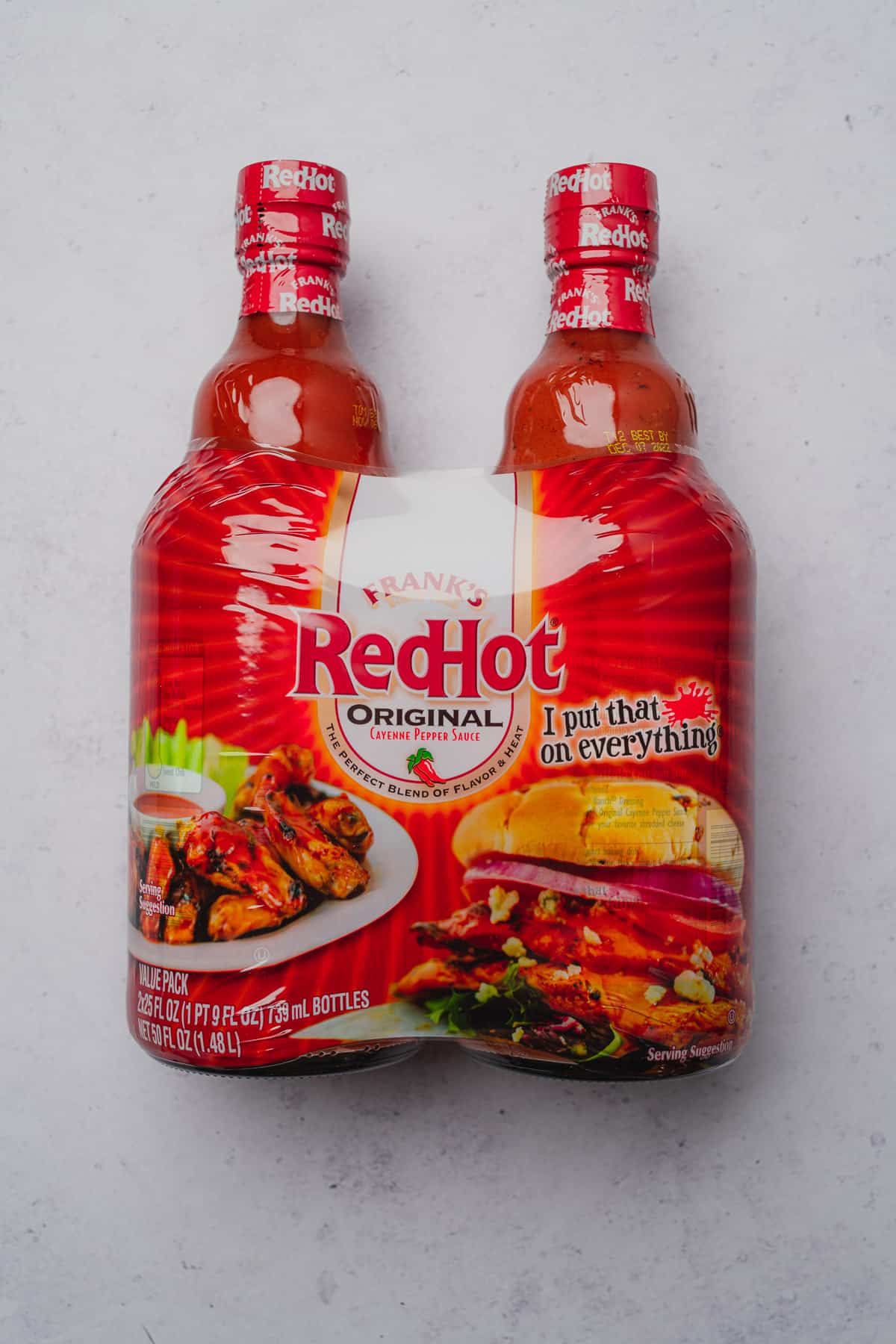 🍫Baking supplies & sugar free sweeteners
Baking delicious keto and gluten free treats just got a whole lot easier, thanks to Costco. You truly can't find these amazing prices anywhere else, trust us.
Almond flour
The amount of things we use almond flour for is kind of insane. Yes, it's way more dense than regular flour, but it still somehow works pretty darn well as a replacement. Try these delicious keto apple crumble bars, and these low carb savory waffles. We believe it's currently $12.99 for a 3 lb bag.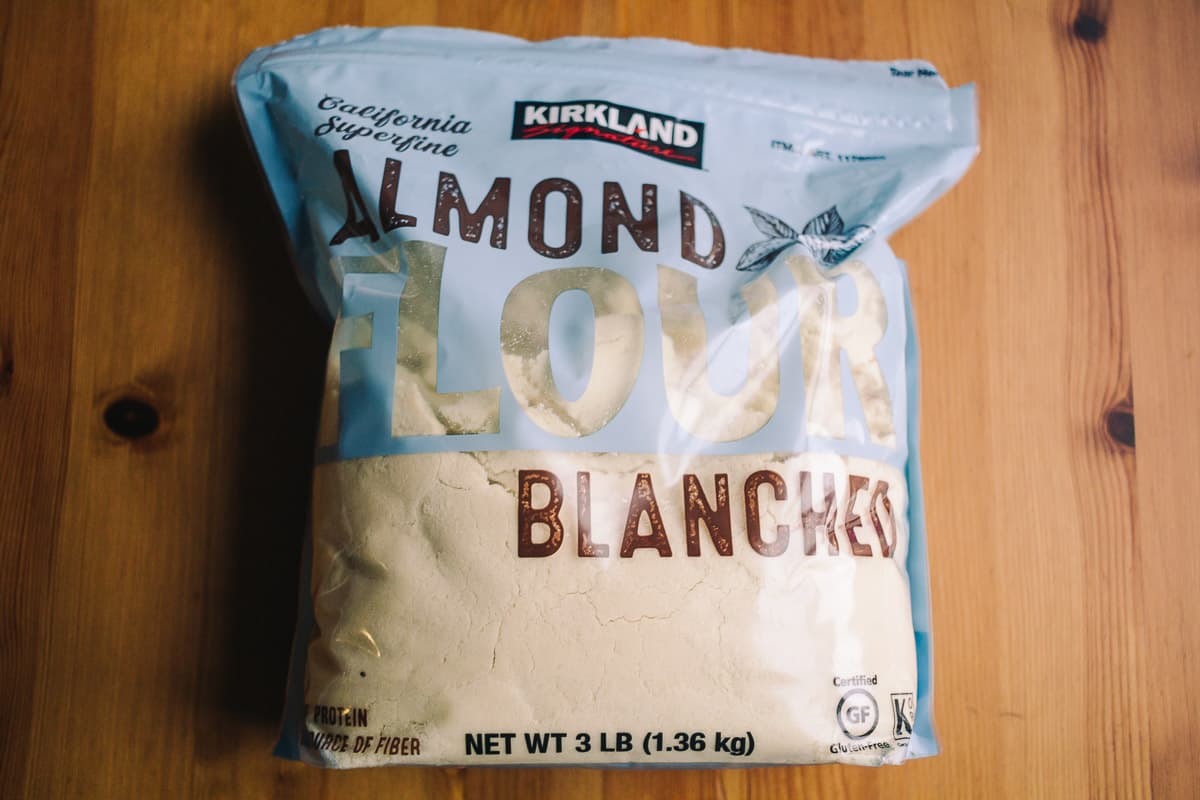 Lakanto sweetener
Try finding a better price for Lakanto Sweetener anywhere else. Costco carries 1.76 pounds bags of this delicious monk fruit sweetener for $8.99, so stock up!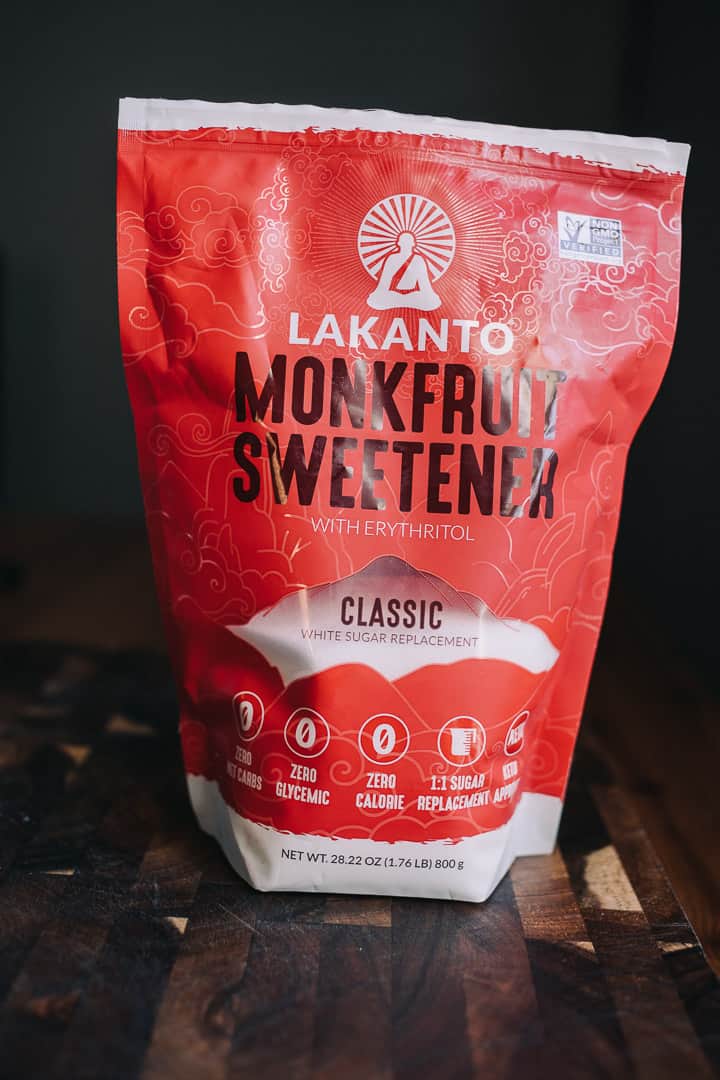 Rodelle baking cocoa
Never underestimate the powder of a high quality baking cocoa. This stuff is not your average, run-of-the-mill baking cocoa. This 25 ounce bag costs $5.99. It's Rodelle Dutch Processed Cocoa and this stuff is rich and tastes delicious. Elevate chocolate desserts and dishes with this stuff. Try these death by chocolate pumpkin brownies. You won't be disappointed!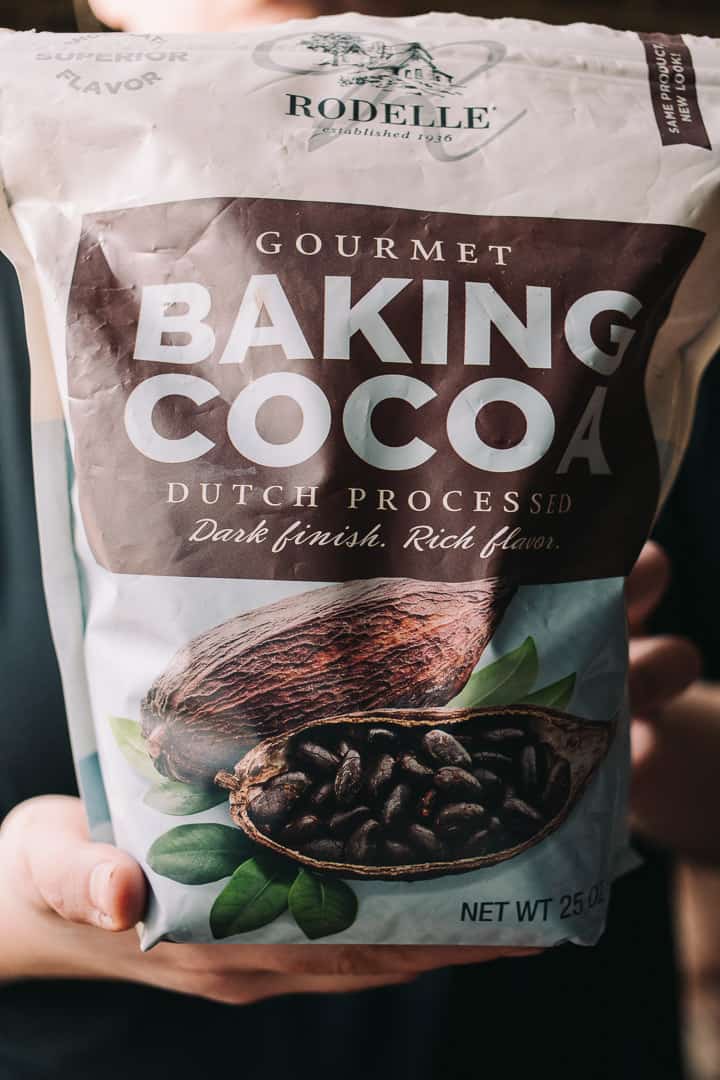 Stevia sweetened chocolate chips
When we saw these sugar-free dark chocolate chips at Costco, we were SHOCKED! We nearly screamed, to be honest. This is such a game-changer for people who bake or have a sweet tooth, you guys. You can now get 2 pounds of dark chocolate sugar-free chips for only $9.79! Although Lily's Sweets are always our top choice, you just cannot beat the price of these chips. Try making our keto pumpkin chocolate chip cookies or these keto peanut butter chocolate chip cookies with them!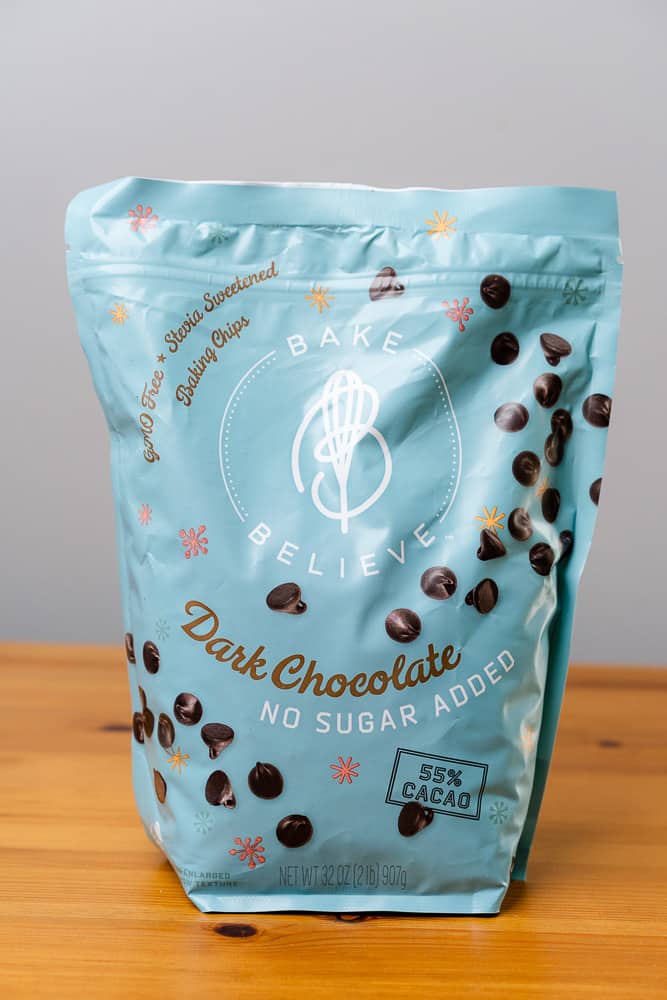 Pure vanilla extract
As many of you may have noticed, the price of vanilla has skyrocketed over the last few years. In the past we've noticed that Costco had the lowest prices, so buy it in bulk if you plan to do a lot of baking like we do. The last time we bought some, we only paid $19.99!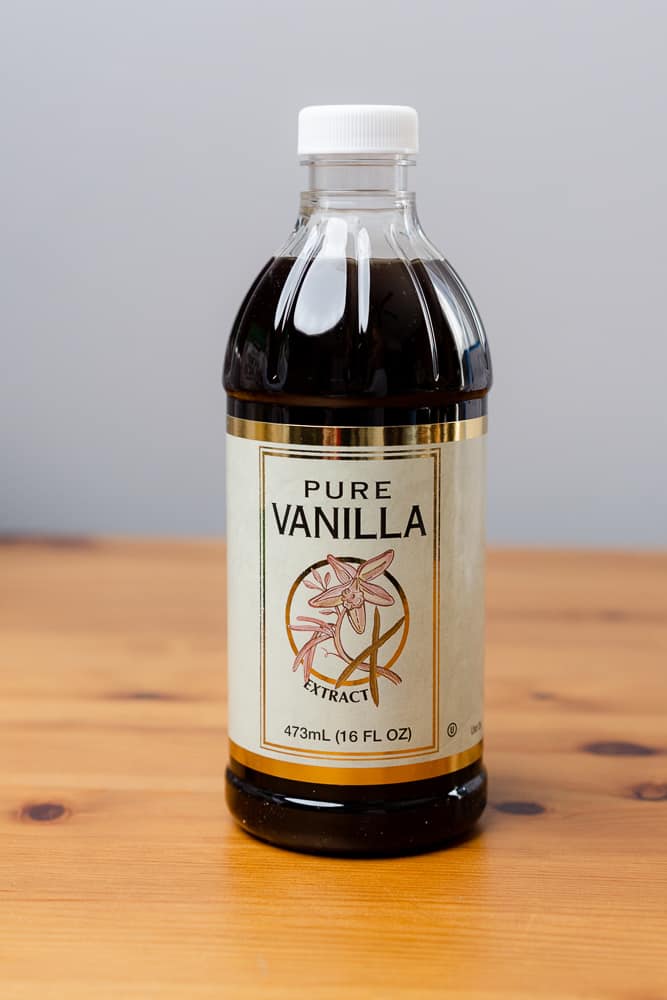 🥦Keto produce & fermented foods
At this time we aren't giving an extensive list of products that can be found, mostly because the offerings and prices change constantly. We've included our staples when it comes to veggies and fermented food items!
Wild Brine sauerkraut
One of our favorite sauerkrauts can be found at Costco, Wildbrine! It's perfect for our Reuben Skillet, and just a great thing to eat overall. It's raw and organic. We add it to salads too. Treat your gut right with this fermented goodness, and its $6.99 for 50 ounces.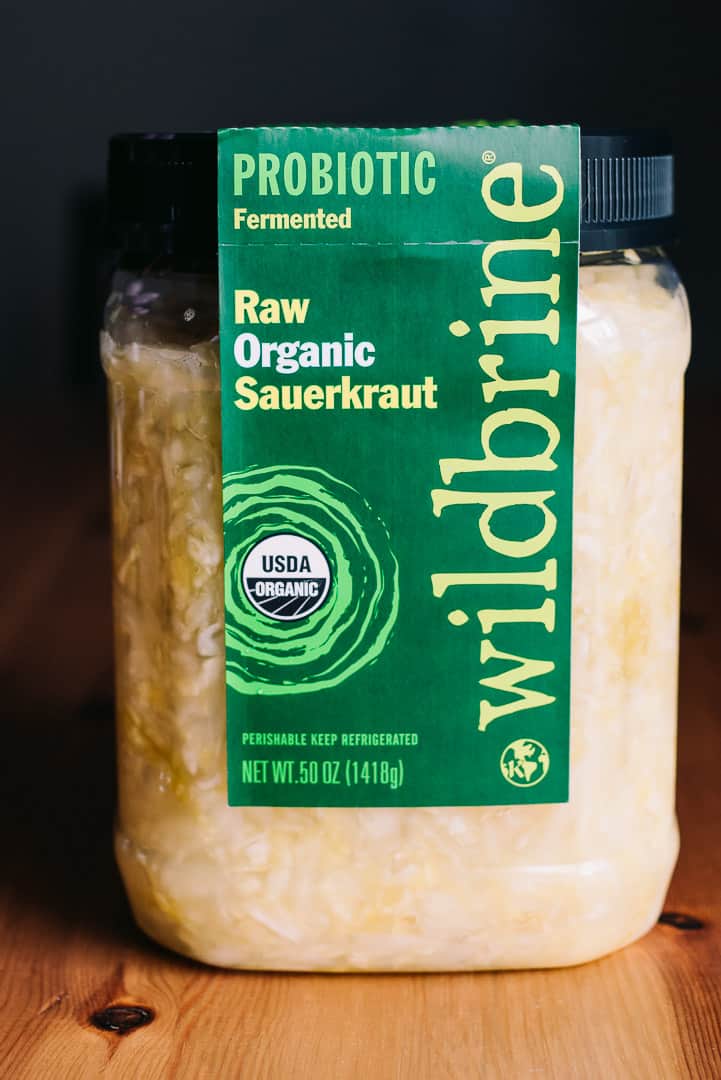 Mushrooms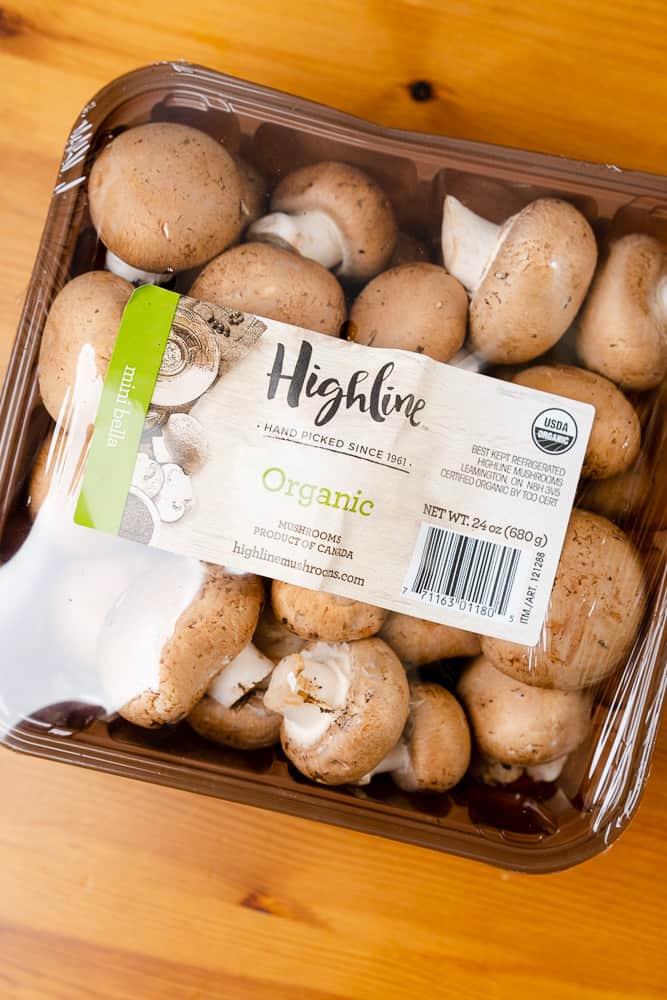 Blueberries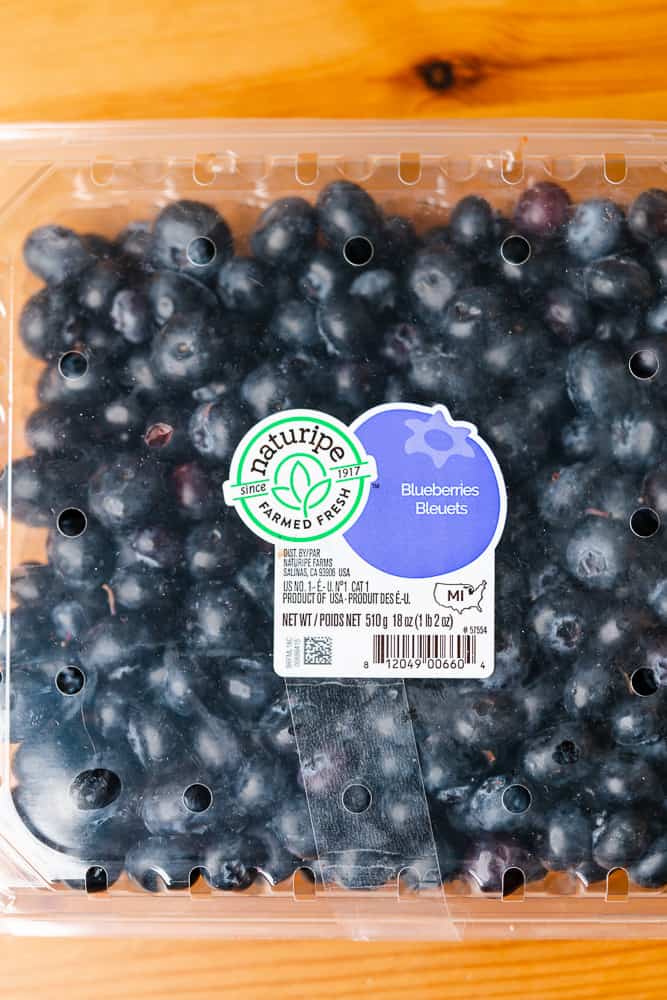 Avocados
Avocados are a great deal at Costco! Don't worry about stocking up. You can always let them ripen at room temperature, and then transfer them to the fridge as soon as they are ripe to keep them from spoiling. Hope that avocado hack helps!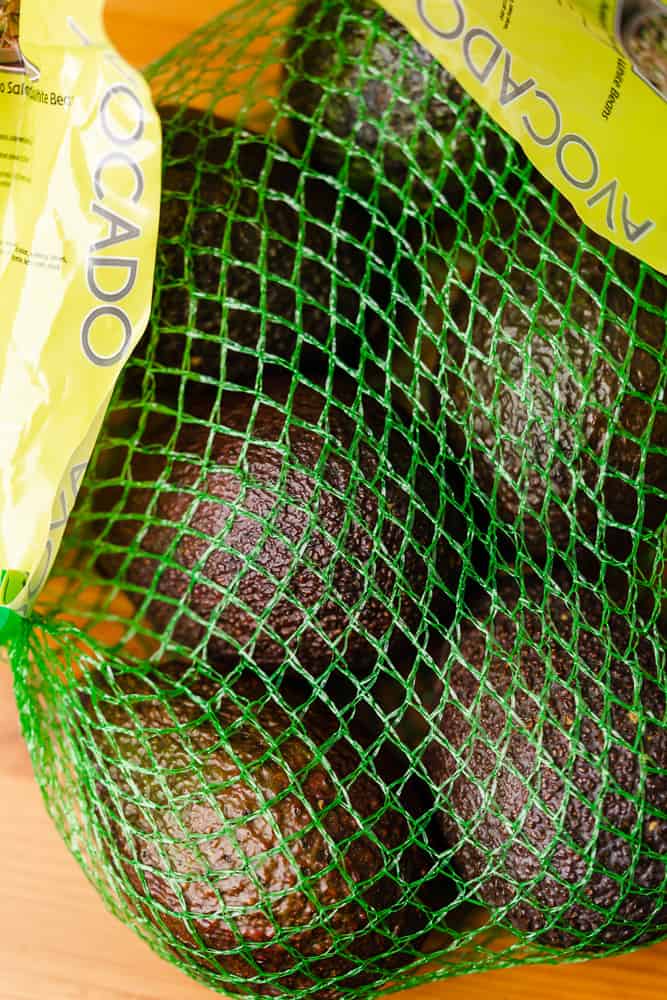 Kimchi
Kimchi is great for your gut, and we happen to find it to be very, very tasty! Get a 58 ounce container for $7.99, usually.
Earthbound Farm power greens
Making salads and smoothies just got a lot easier with this Power Greens mix. It's $5.89 for 1.5 lbs and it comes in a resealable bag for easy storing.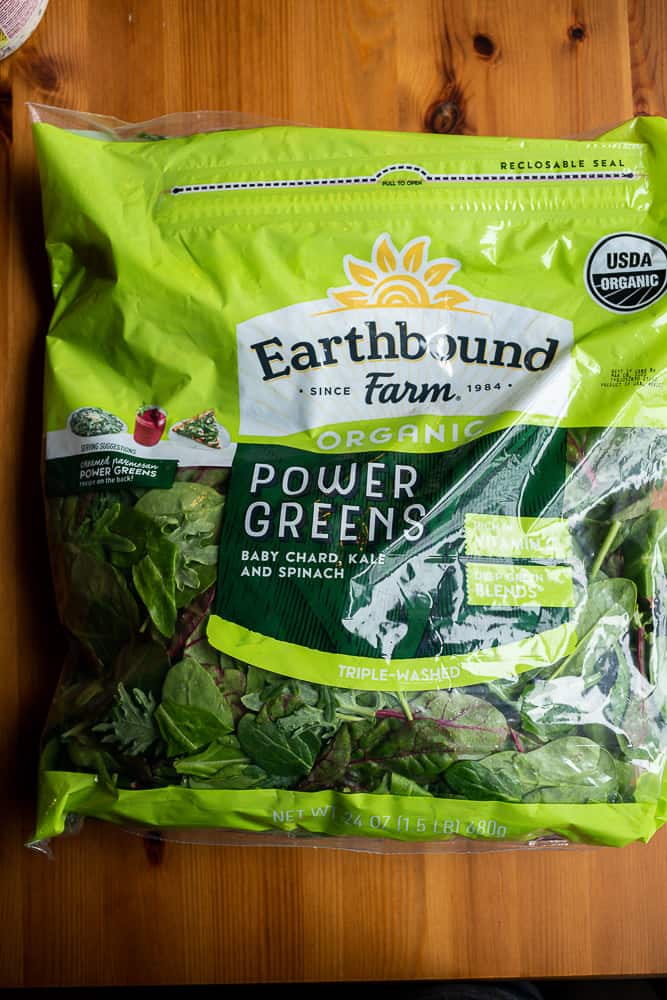 Organic frozen cauliflower rice
These 5-pound bags of riced cauliflower are separated into 1 pound bags which is really convenient and it only costs $7.99. Use this rice in all kinds of dishes, but it's perfect for this low carb jambalaya or these chorizo stuffed poblanos.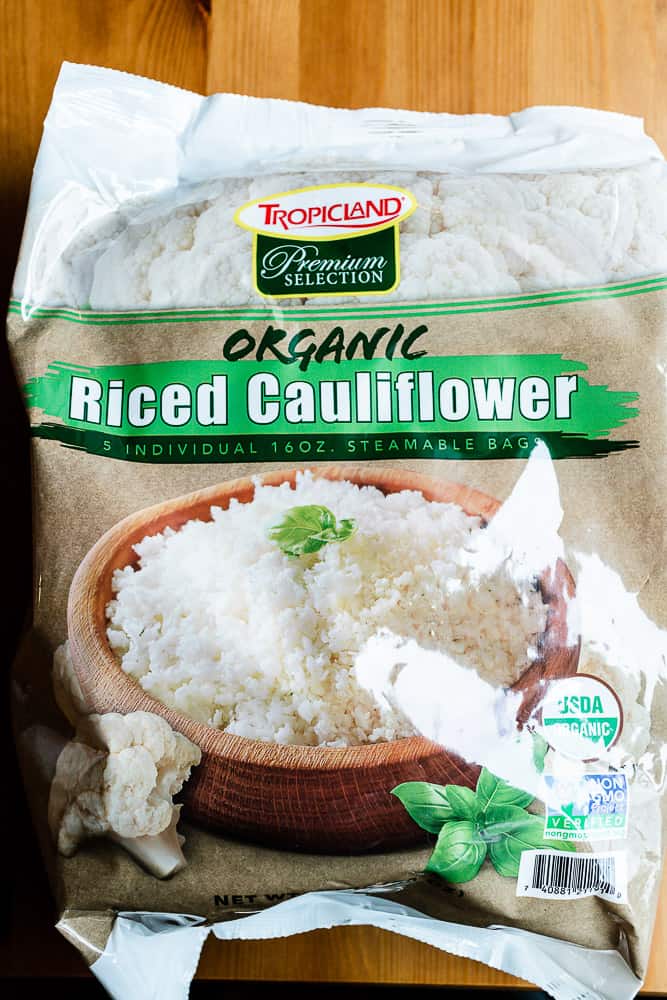 🍷Keto drinks
Who wants to spend more than you need to on things like Sparkling water, and the occasional low carb friendly drinks? We don't! Here's a list of our favorite drinks You can find at Costco.
Liquor & wine
Any liquor and wine is a complete steal at Costco! Grab your favorite brands and start mixing, cuz you're not going to find prices this low anywhere else. Try some of our favorite low carb cocktails, like this spiced apple cider spritzer, or red wine whiskey sangria!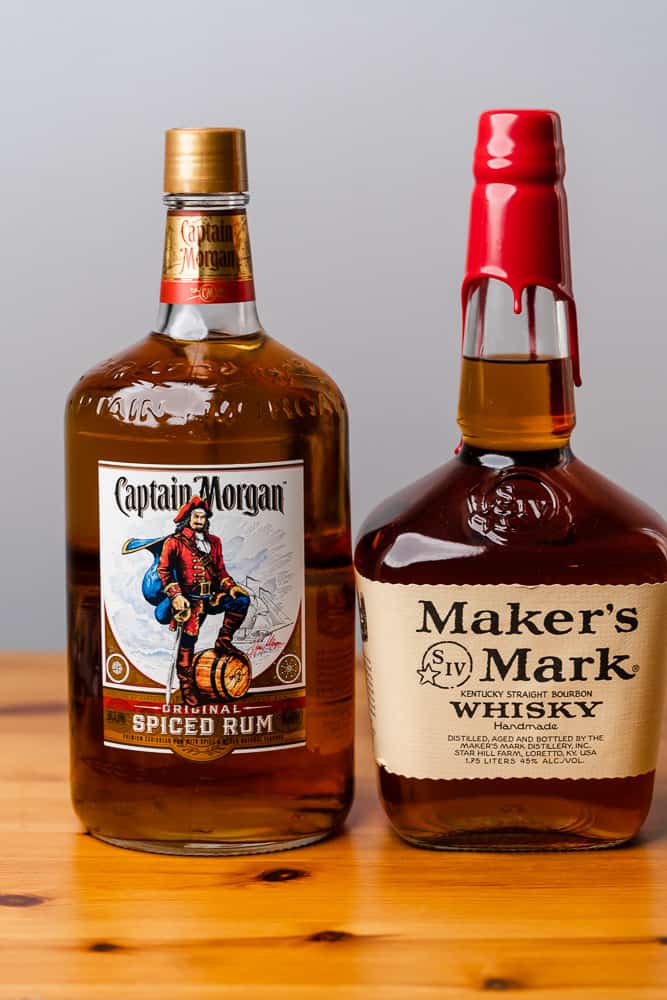 Kirkland cold brew
We're really into these cold brew cans lately! They're perfect for an afternoon pick me up, if you're as reliant on caffeine as we are. For 12 cans that are 11 ounces each, you will pay $13.99.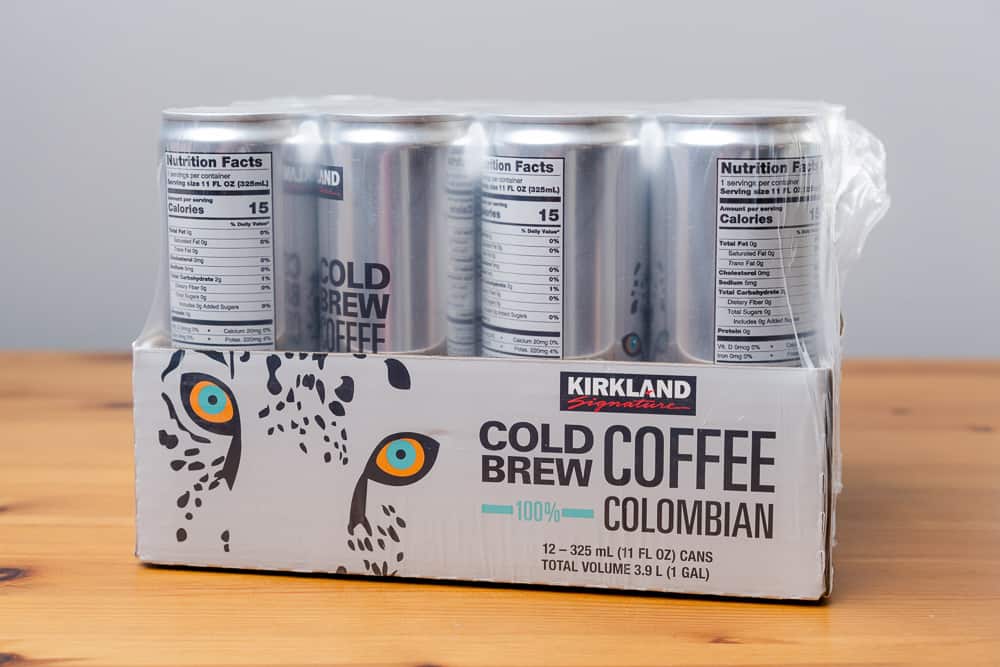 Sparkling water & La Croix
The Kirkland brand sparkling water tastes great, and comes at a fraction of the cost of La Croix. But if you're a die hard La Croix fan, Costco is definitely the place to buy it. They often run sales, and they have all kinds of variety packs. But in general, you can find a 36 pack of the Kirkland brand for $8.99, and a 24 pack of La Croix for $6.99.
Kirkland brand sparkling flavored water
We love the name brand Sparkling Ice, but the Kirkland brand is just as good, and it's $8.99 for a 24 pack of 17-ounce drinks.
Monster Zero
This is definitely a more "dirty" keto or low carb option, but if you want to buy Monster in bulk, you will save a ton of money. We don't know the current price in a Costco warehouse, but we are fairly positive it's under $1.60 a can for 24 16-ounce cans.
Bai Coconut drinks
These drinks are tasty and a great boost of electrolytes! They are sweetened with erythritol, and you can generally get some kind of variety pack for under $1.50 a unit.
Unsweetened vanilla almond milk
If you drink a lot of unsweetened almond milk, this is a great deal for you. $6.99 for a 6 pack of 1 quart cartons!
Milkadamia Unsweetened Macadamia Milk
This is by far our preferred nut milk, although it is a bit more expensive than the almond milk. It's incredibly creamy and tasty. It's $13.99 for six 32-ounce containers.
We hope you found what you needed on this ultimate Costco low carb and keto grocery list! If you like this list, can you do us a solid and share it with your friends? Make sure to follow us on Instagram to watch our Costco Grocery hauls on our Instagram stories! We plan to update this list often, so check back again soon! Happy eating.

Until next time,
Briana & Chamere