---
Looking for a keto spicy turkey chili recipe? Look no further than this low carb chili recipe that will please everyone, every time! This easy to make, hearty dinner is gluten free, low carb, keto and totally delicious. Let this turkey chili simmer on the stove for a while for the best flavor, and warm up in the cooler months with this bowl of happiness.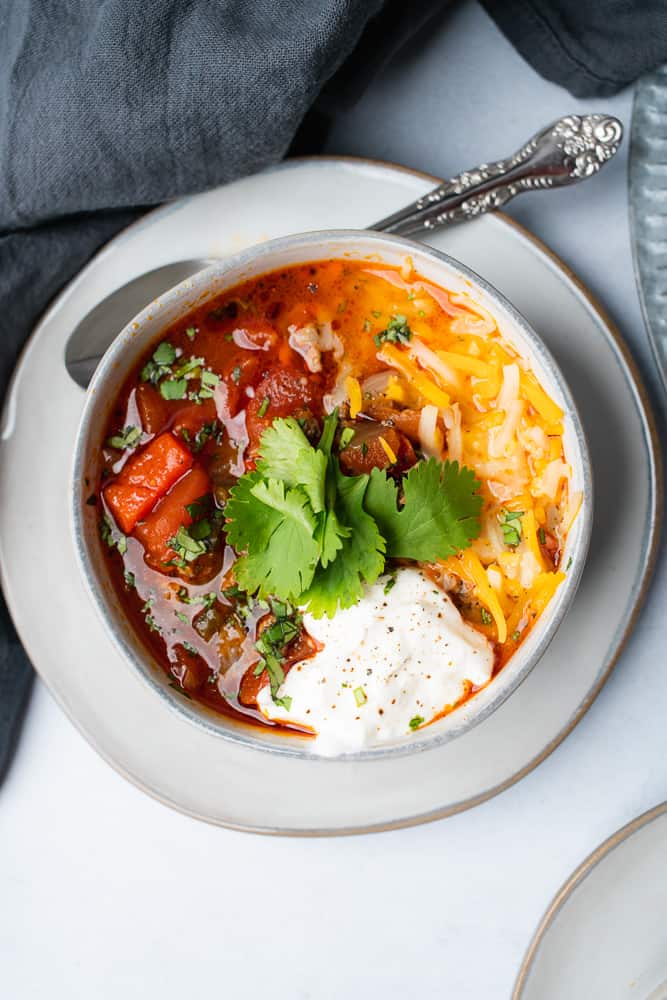 Chili has long been one of our favorite foods. Truthfully, we eat it year round, but when it starts to cool down, we eat it a lot! We live in the Midwest, so it's chilly a large portion of the year. In the cooler months, we make chili at least once a week. Back before we started cutting carbs, our chili's were loaded with beans. Since starting a low carb way of eating a couple of years ago, we said goodbye to the beans, but most definitely not the flavor! We are pleased to say that this chili is so good, you won't even miss them! So if you're looking for a way to use up some of that ground turkey in your freezer, don't hesitate.

Now, when we say this recipe is spicy, we mean it! It is a little higher in carbs due to some of the different seasonings in here. We also leave in all the seeds of the jalapeño too, so yeah, it's pretty hot. This recipe is slightly spicier than our classic Beanless Low Carb Chili made with beef. You can lower the spice level by omitting some of the spices, or just adding less of them. Leaving out the jalapeño seeds will also drastically reduce the spice level. But just take this as a fair warning. This chili is on the hot side, so adding sour cream and shredded cheese is a good idea!
Looking for more chili recipes? Try our dutch oven chili and this keto beanless chili.
Here's What We Used For This Low Carb Keto Spicy Turkey Chili Recipe:​
For the optional seasoning blend:
If you don't have all of these spices, just use what you have! The only truly essential ingredients would be the chili powder, sand the cumin. Salt and pepper are also a given. Season to taste, this is just our signature chili spice blend.
For the chili:
Butter or oil
Bell pepper of choice
Yellow onion, diced
Jalapeños, diced
Garlic cloves, minced
Ground turkey
Chicken broth
Top with: Sour cream, shredded cheese, cilantro, green onion, diced onions, jalapeños, pork rinds, cheese crisps, or keto crackers.
Is This Keto Chili Spicy?
Honestly? Yes, but it's also just right. To be honest, we always season from the heart. By the time we actually measured how much of each spice was going into this chili, we realized it was perfectly hot. Both Chamere and I are spice enthusiasts, with Chamere being on the more extreme end of "I will order the hottest thing on the menu just to do it" type. So, picture that level of spice, and then there's me, who I would say, is more of your average spicy food enthusiast.

Long story short, we think think it's perfect, buy maybe start with less, (like half of the amount of our suggested spices) then add more from there if you're nervous about it. One other sure way to reduce the heat in this keto turkey chili recipe are by removing the jalapeño seeds, where a lot of the heat is held. The other thing we'd like to add is basically the only essential seasonings in this chili are after salt, pepper, chili powder and cumin. Everything else is technically optional. It does also add carbs if you are looking to cut back the carbs a bit. We are more about flavor around here, that's number one. Add what you like!

What Are Some Low Carb and Keto Friendly Snacks You Can Eat With This Chili?
The topping selections when it comes to this keto spicy turkey chili are just enormous. Try it with a dollop of sour cream, and some bacon bits or these amazing pork rinds by Epic Provisions. We looooove to top it with Whisps Parmesan Cheese Crisps in it. (You can use our code '20afullliving' for 20% off on Amazon!) Don't forget shredded cheese, hot sauce, a wedge of lime, some raw onion or jalapeño, cilantro, and the green onions! We're sure there are loads of great options we are missing. Go nuts! Do tell us about your wildest chili topping dreams.
Can I Make This Chili in a Pressure Cooker or Instant Pot?
Yes, 100%! We love using a pressure cooker to speed up the process a bit once in a while. One it comes to full pressure in the Instant Pot, allow it to cook for about 30 minutes. Your chili will be so tender! Usually though, our Lodge Dutch Oven is what we use for this most of the time while we let it bubble away on the stove. The longer this chili simmers, the better! The flavors just get better over time. This is especially true with leftover chili, which gets even better by the next day, as everyone knows!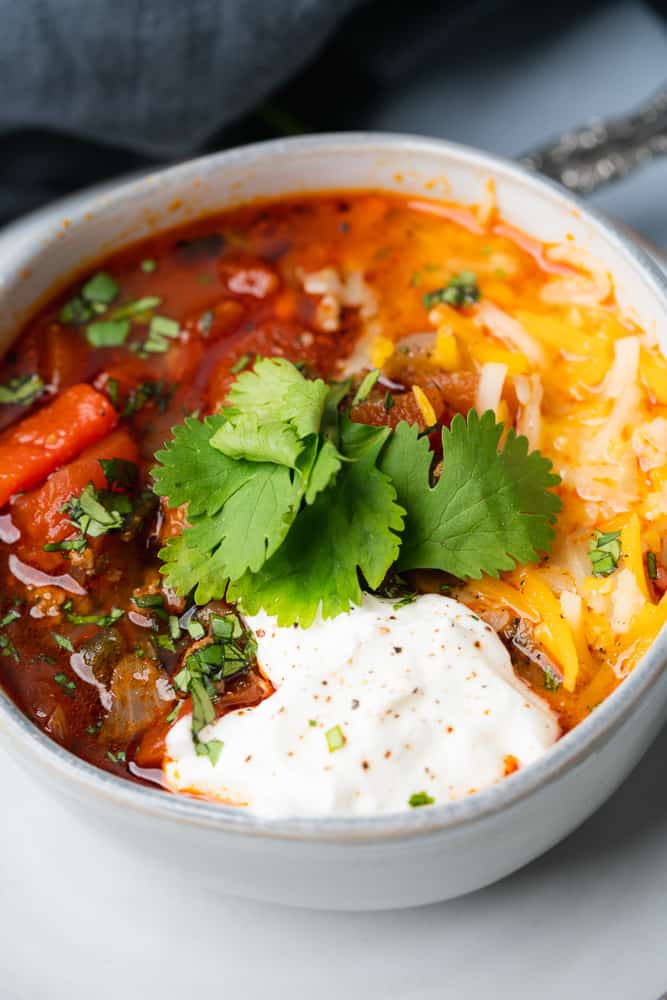 Do I Need To Have Beans in This Keto Turkey Chili?
For this recipe, we don't use much broth, since we are lacking the beans and we want our chili to thicken up. Beans definitely soak up the excess liquid in traditional chilis. But don't worry! You don't need beans in this turkey chili. There's plenty of veggies and toppings to create a thicker and more substantial feel! Add some cauliflower rice for a more full bite if you want! You won't taste it much, but it will add some extra vegetables and taste really great.
How Long Can I Save This Keto Spicy Turkey Chili?
You should store this leftover chili in an airtight container for up to 5 days. At that point, you can freeze it for 3-4 months and reheat by defrosting in the fridge, then warming up on the stovetop. We will say, next day chili is always better than first day chili, and third day chili is the sweet spot, if it can last that long! Maybe make a double batch. The flavors develop so nicely over a few days.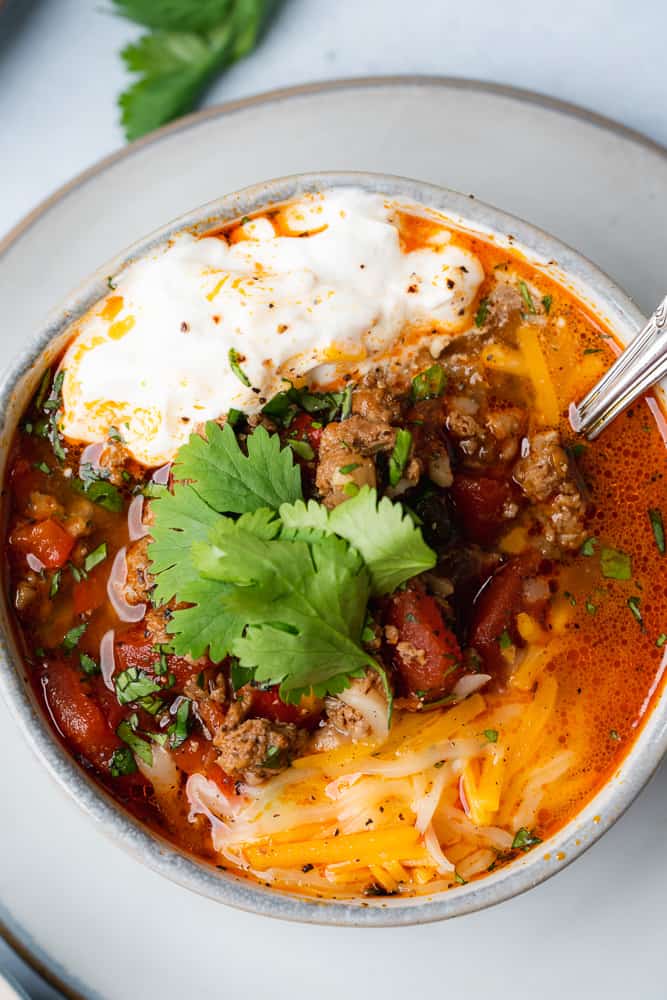 Tools We Used For This Recipe: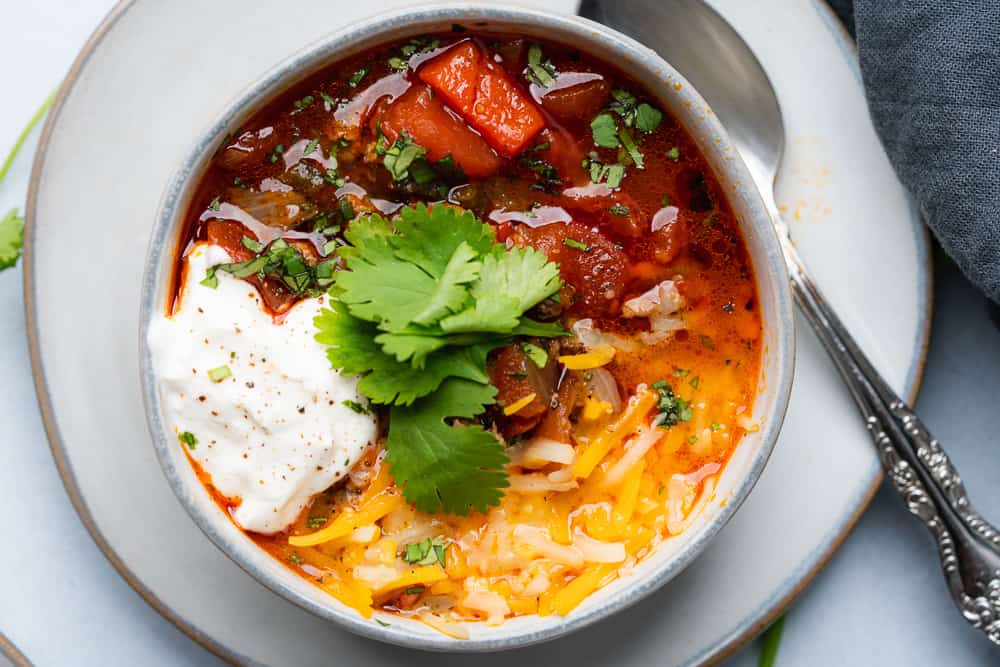 Want to get supplies for this recipe or shop our keto kitchen or pantry? We've linked our favorites above and right here in our Amazon Store! A Full Living is a participant in the Amazon Services LLC Associate program, an affiliate advertising program designed to promote a means for sites to earn advertising fees by linking products to amazon.com. We only share products we use and love. It doesn't cost you anything extra to shop using our links, but we earn a small commission that helps us keep this site going!
Here's More Recipes You Will Love:
---
How to Make This Keto Spicy Turkey Chili:
Prep all of your ingredients ahead of time. It will make your life a lot easier when it all comes together. Preheat your dutch oven over medium heat. When it's warm, add in half the oil, then brown your meat with a large pinch of salt and some pepper. Cook through, then set aside.

Add the remaining oil to your dutch oven, then add your peppers, jalapeños, onion, and a pinch of salt. Cook until softened, about 5 minutes. Then, add in your garlic, and your seasoning blend. Cook until fragrant, about 30 seconds.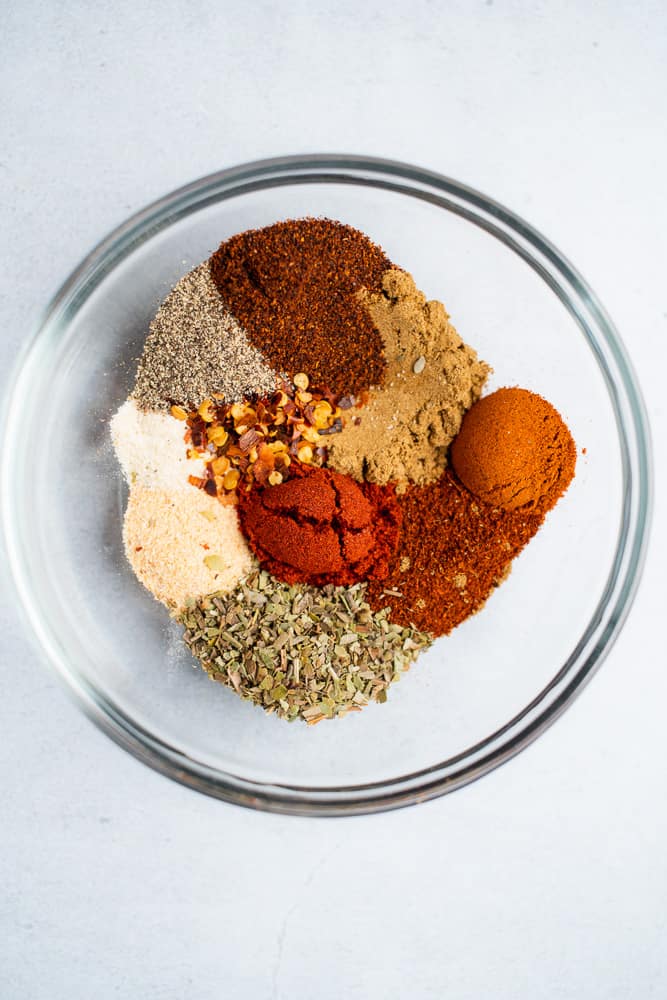 Add back in your cooked turkey, then your diced tomatoes, chicken broth, and your bay leaves. Bring to a boil, then immediately reduce to a simmer, cover, and let simmer for at least an hour on the stove. When finished, remove bay leaves and discard. Taste, adjust seasonings, then serve!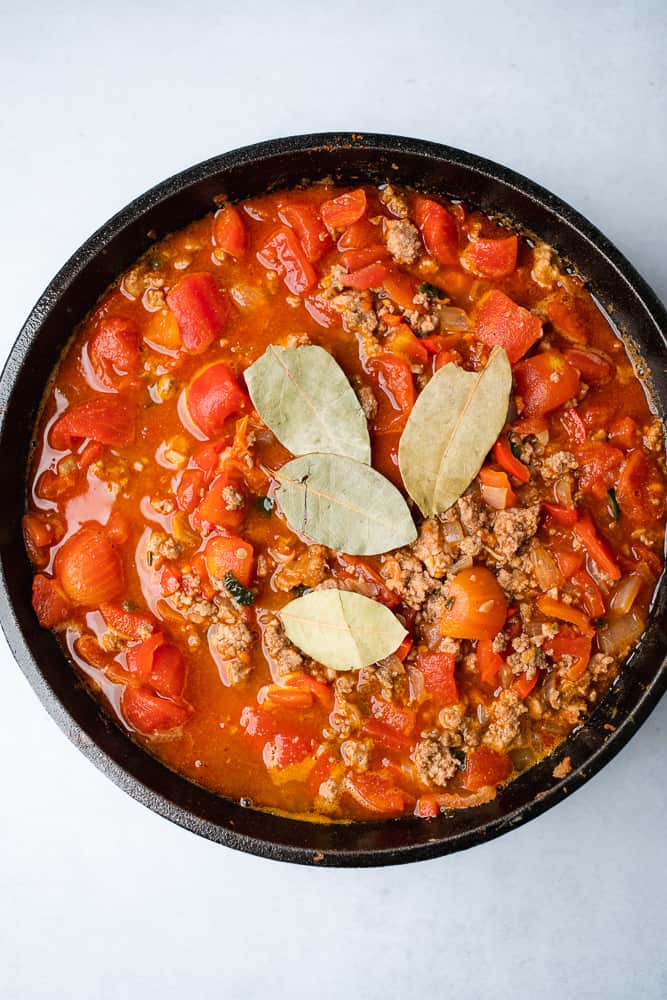 That's it! Just serve and enjoy!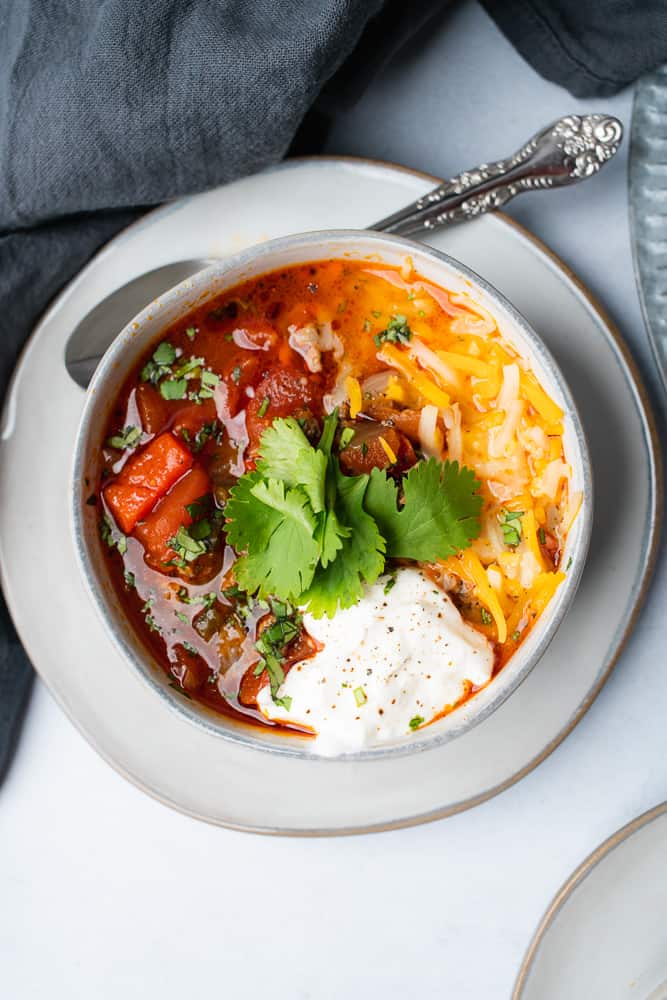 If you get a chance to try this recipe, let us know what you think, would ya?! Leave us a comment, or catch up with us on Facebook or Instagram, or pin to your favorite Pinterest board for later. We love sharing your versions of our creations over on Instagram @afullliving!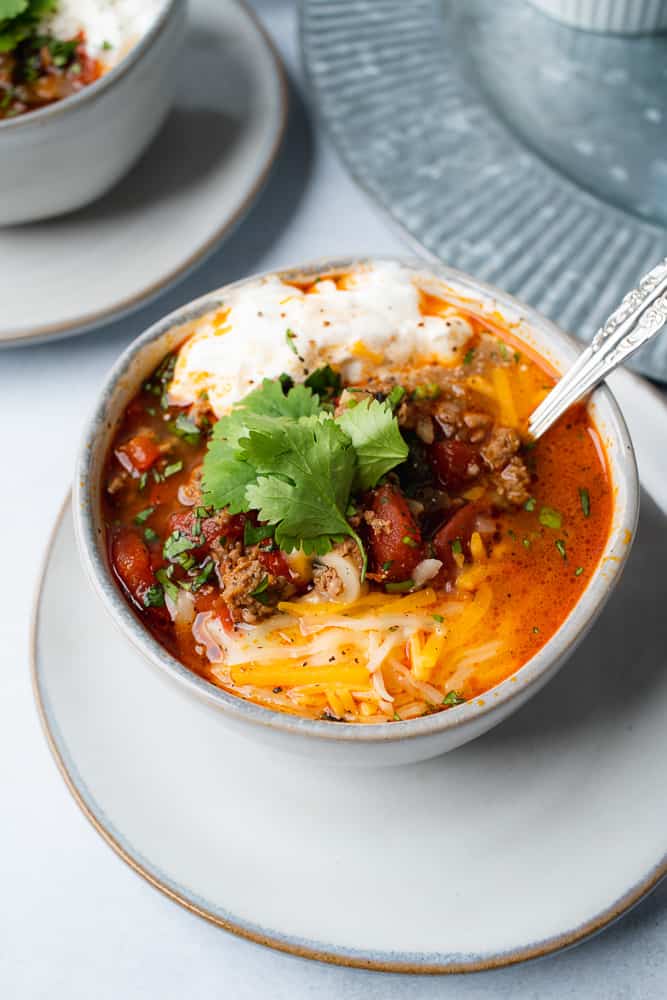 Thanks for stopping by! Be sure to subscribe to our email newsletter so you're the first to know about new recipes we post on our blog.

If you love this recipe, please consider sharing it with a friend and also leaving a rating and comment so others can find this recipe. Thank you for your support!
Until Next Time,
Briana & Chamere
📖 Recipe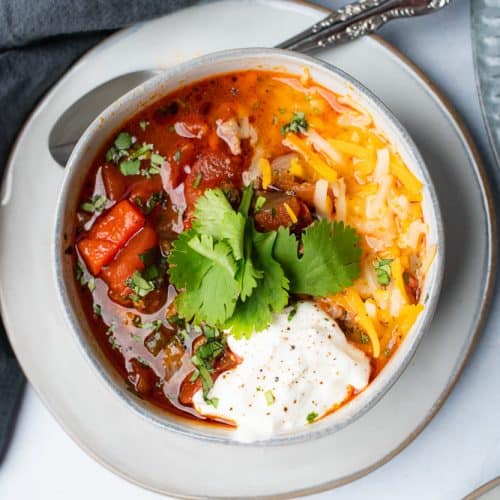 Low Carb Keto Spicy Turkey Chili
Looking for a spicy turkey chili recipe? Look no further than this recipe that will please everyone, every time and have dinner on the table in an hour or less. Warm up the party this fall with this flavorful, easy to make, spicy turkey chili.
Ingredients
2

whole

bell peppers

1

whole

onion

2

whole

jalapeño

(with seeds for more spice, can leave out seeds)

3

tablespoon

olive oil

5

cloves

garlic

1.5

lbs

ground turkey

2

cans

diced tomatoes

(14.5 oz cans)

2

cups

chicken broth

1.5

tablespoon

kosher salt

(or to taste, added gradually)

1

tablespoon

chili powder

1

tablespoon

cumin

1

teaspoon

onion powder

1

teaspoon

garlic powder

1

teaspoon

oregano

1

teaspoon

smoked paprika

½

teaspoon

red pepper flakes

½

tsp

ground pepper

½

teaspoon

cayenne pepper

½

teaspoon

chipotle pepper

2

whole

bay leaves
Instructions
In a dutch oven, saute your onion, jalapeño, and bell peppers in some oil with a pinch of salt. Cook them until they are nice and soft, about 5 minutes.  

Next, add in your seasonings and your minced garlic. Stir and cook until your garlic is fragrant, about 30 seconds. 

Add in your ground turkey with a generous pinch of salt and brown the meat. This should take 5-7 minutes. Then add in your chicken broth, diced tomatoes and bay leaves. Bring to a boil, then reduce to a simmer immediately and cover. Cook for at least 1 hour, but the longer it simmers, the better!

After an hour, give it a taste, adjust the seasonings and then dig in. Garnish with sour cream, cheese, cilantro, green onions and more!
Notes
Nutrition facts do not include any additional toppings. Nutrition information is for the chili only. 
Nutrition
Calories:
177
kcal
Carbohydrates:
7
g
Protein:
22
g
Fat:
8
g
Saturated Fat:
1
g
Trans Fat:
1
g
Cholesterol:
47
mg
Sodium:
1735
mg
Potassium:
557
mg
Fiber:
2
g
Sugar:
3
g
Vitamin A:
692
IU
Vitamin C:
15
mg
Calcium:
62
mg
Iron:
3
mg