Lohikeitto is a creamy Finnish Salmon Soup Recipe, rich and hearty with heavy cream, plenty of salmon, leeks, potatoes, and fresh dill. This traditional fish soup is easy to make, but also incredibly comforting and filling. It comes together quickly for a delicious meal.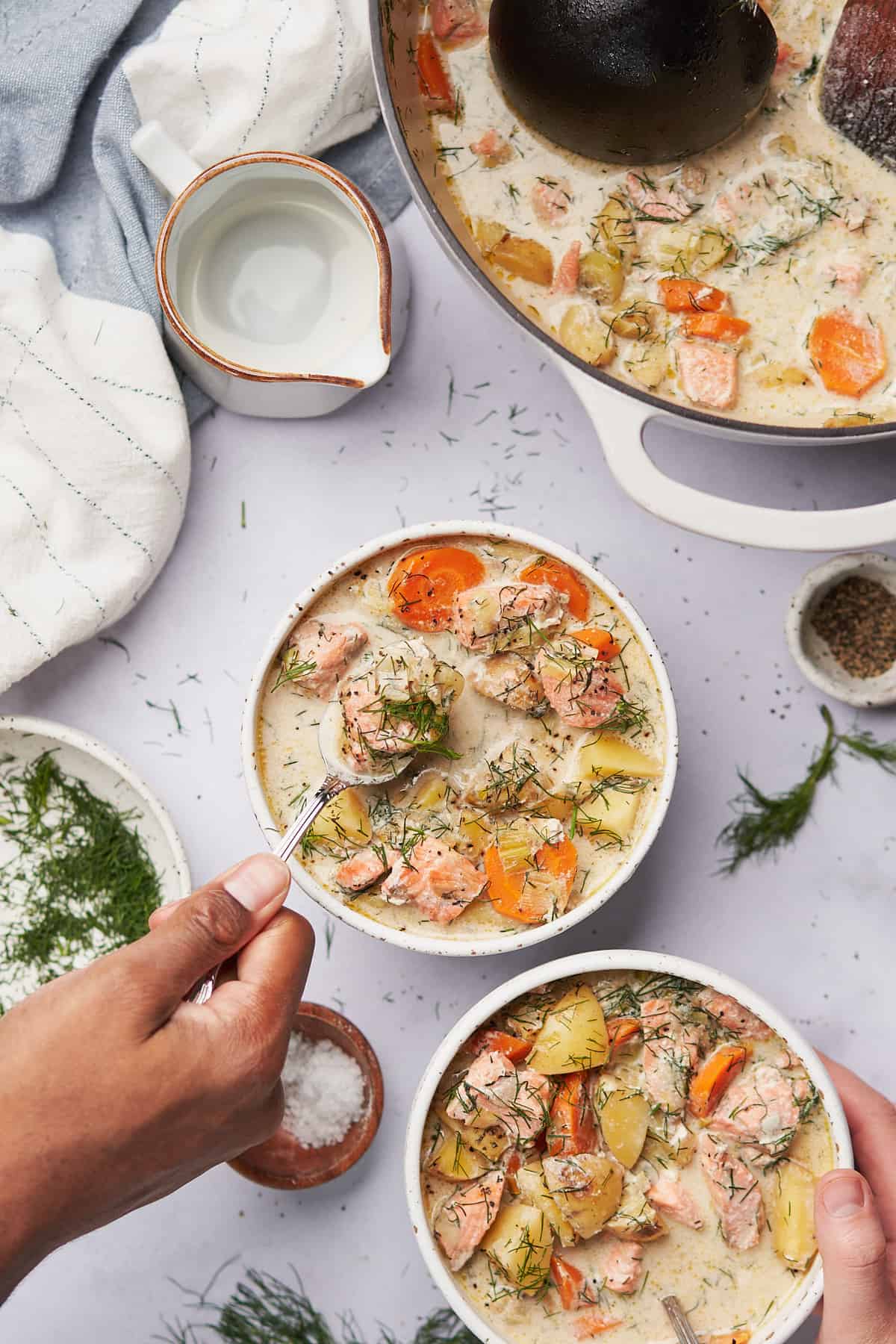 Please note: This recipe was originally published in January of 2021. We have improved the recipe as well and created new photos. We hope you love it!
This creamy salmon soup is popular in Finland, and you can find similar variations in other Nordic countries. It's a traditional dish in Finnish cuisine, with warm, comforting flavors. You'll love this delicious yet unpretentious and authentic recipe.
If you're looking for more Scandinavian recipes, make sure to check out our keto Swedish meatballs, or this agurksalat (cucumber salad), or this delicious sugar free lingonberry jam! If you want another hearty comforting soup, our chicken potato soup is what you need.
Jump to:
❤️Why we love this recipe
Perfect for busy weeknights - Don't have much time? Make the perfect weeknight meal in under 45 minutes. Truly it's perfect for anytime you're not wanting to spend a lot of time cooking, but craving something really satisfying.
Made with fresh, simple ingredients - This recipe is made with only 12 ingredients, and that's if you're going to make your own fish stock! You can find everything you need at nearly any grocery store, or in your fridge or pantry.
Hearty, comforting, and nostalgic taste - Hearty, creaming, and somehow still light with all of the dill, this soup is truly a winner. The nostalgic part may not fit for everyone, but the warming allspice and cream is reminiscent of Scandinavian recipes Bri grew to love as an exchange student in Norway in high school, as well as dishes her Finnish grandmother made when she was a child.
Naturally gluten-free - The ingredients in this recipe are naturally wholesome and gluten-free!
🥔Ingredients
Here are the ingredients used to make lohikeitto soup. You can find full quantities and nutritional information in the recipe card.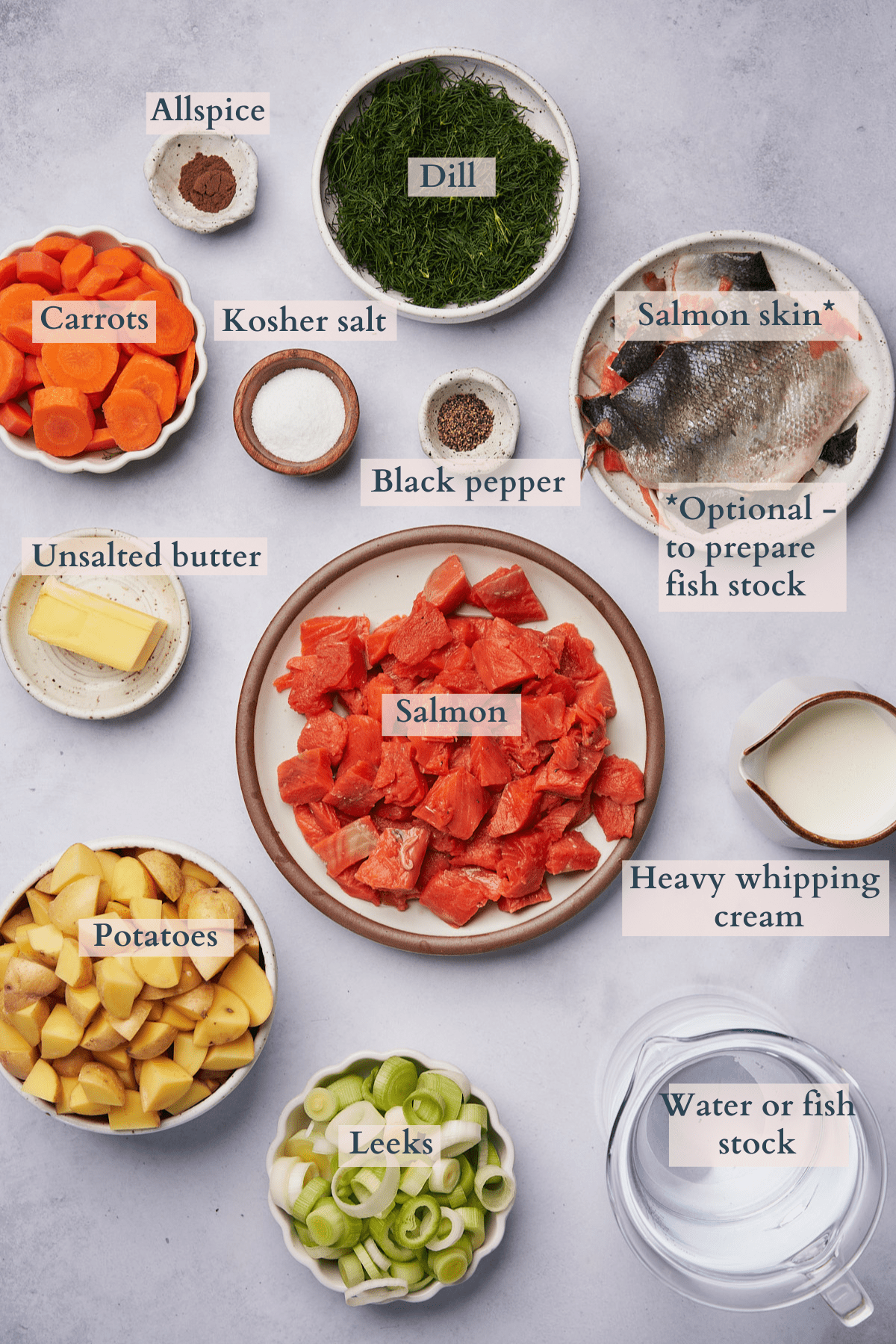 ✏️Ingredient notes
Fresh salmon filet - You will need to remove the skin, then use it to make your own fish stock. Alternatively, you can buy seafood or fish stock. You can also use frozen salmon if you prefer.
Reserved salmon skin & water - To make your own seafood or fish stock. It's very easy and reduces food waste. You can also buy seafood stock (affiliate link) to skip this step if you prefer.
Unsalted butter- A key component for that rich and creamy flavor we are going for. You could substitute for your favorite cooking oil if desired, but it's worth noting that butter is a traditional ingredient.
Leeks - A traditional ingredient in this recipe. Don't skip this! Just make sure they're properly cleaned, as leeks tend to carry a lot of trapped dirt between the layers.We use the light green and white parts only.
Kosher salt & black pepper - Make sure to use enough salt at all stages of preparing this recipe to ensure everything is seasoned well.
Allspice - This is a common ingredient in many Scandinavian countries, and it adds such a lovely, earthy warmth to the dish. We highly recommend trying it, but you can leave it out if you don't have any on hand.
Carrots - Peeled and cut into rounds.
Potatoes - Use something low in starch, since they will hold their shape better in the soup. Stay away from things like russet potatoes, as they will crumble in a soup. We love using new potatoes, as they have thin skin, and a lovely sweet flavor with low starch. We don't bother peeling them at all.
Fresh dill- This is a key flavor component. There is truly nothing like fresh dill, we think you're going to love the flavor it adds if you aren't already familiar. You could use some dried dill, but fresh is best for this recipe.
Heavy whipping cream - This is the essential ingredient for making this soup creamy.
📖Instructions
📋Prep work
Very carefully cut off the skin on the salmon. Set the skin aside and save to make for fish stock. If not making your own fish stock, you can discard or cook and enjoy as a snack.
Cut leeks into thin rounds, discarding the dark green part. Set the light green and white parts into a bowl with water. Allow to sit for 5 minutes or so to loosen the dirt from between the layers, and rinse again. Set aside to dry.
Peel carrots and cut into thin rounds.
Chop potatoes into bite-sized pieces. Peel if desired. We chose new potatoes since they hold their shape well and have a thin skin that doesn't need to be peeled.
Chop dill.
Step 1 - Make the fish stock (skip this step if using store-bought fish stock)
Add 5 cups of water and the reserved fish skin to a large saucepan or dutch oven.
Bring to a boil, turn down the heat and simmer gently for 10 minutes. Strain the broth and discard the skin. You can also crisp up the skin with a little oil and salt on the stovetop for a crispy snack.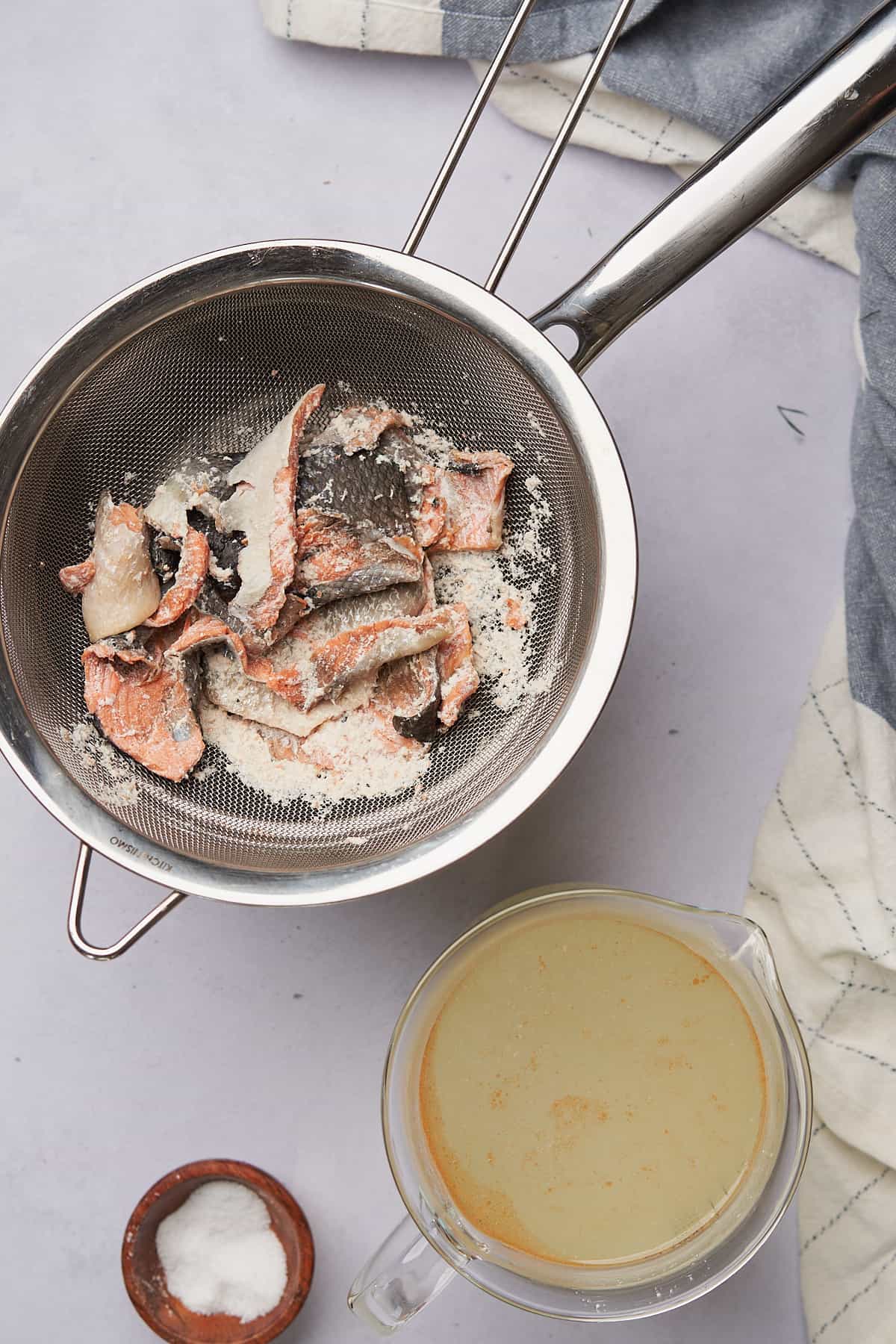 *Traditionally, this stock is made with both skin and fish heads. If you happen to have any of those on hand, you can add those in with the skin for a more intense fish flavor.
Step 2 - Cook the aromatics
Heat a dutch oven or stockpot over medium heat.
Heat butter, then add leeks to a dutch oven with butter and a pinch of salt. Cook until softened, about 5 minutes. Then add some pepper and allspice, and cook for another 30 seconds.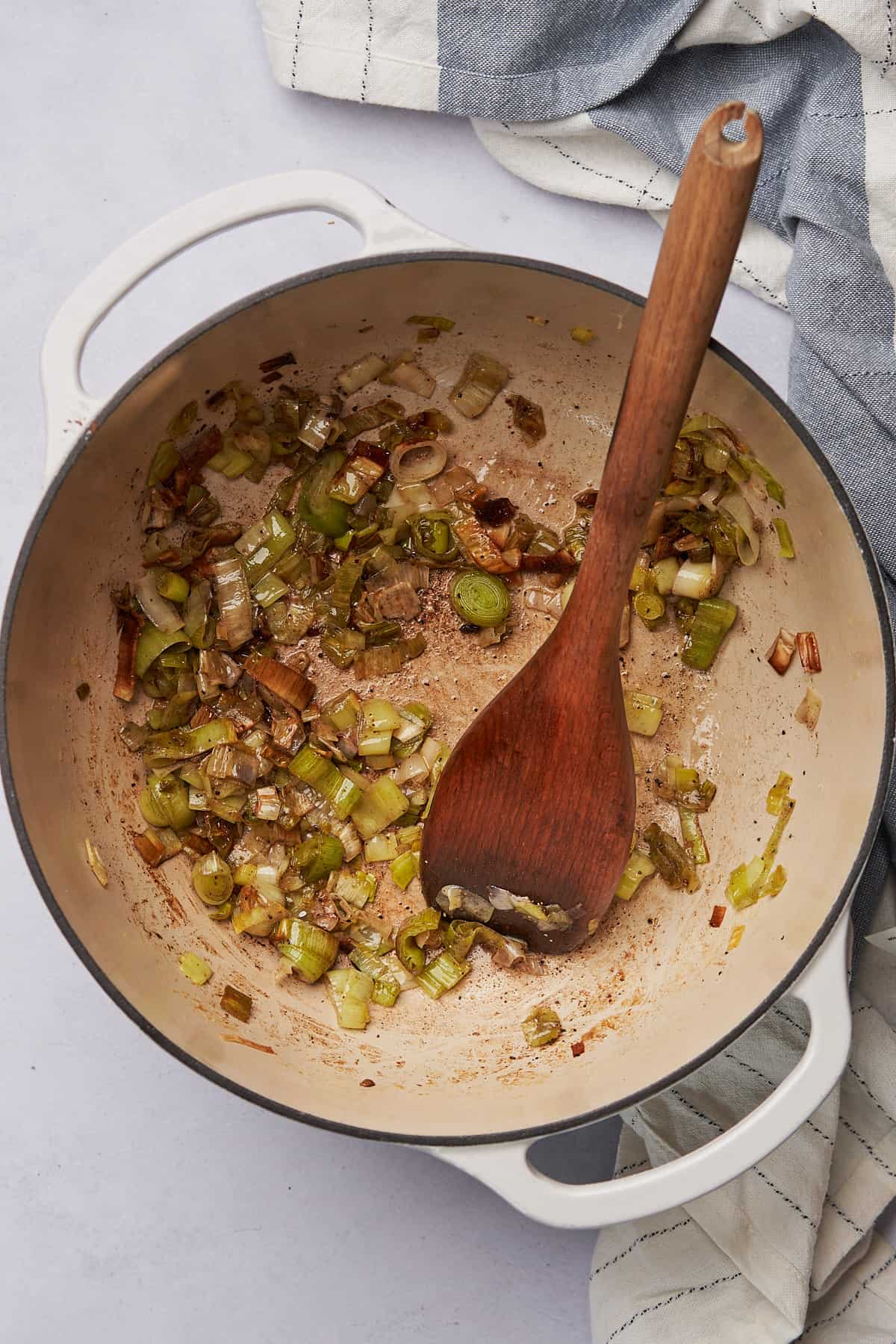 Step 3 - Add the veggies and dill
Add potatoes, carrots, about half of the fresh dill, and lots of salt to the dutch oven.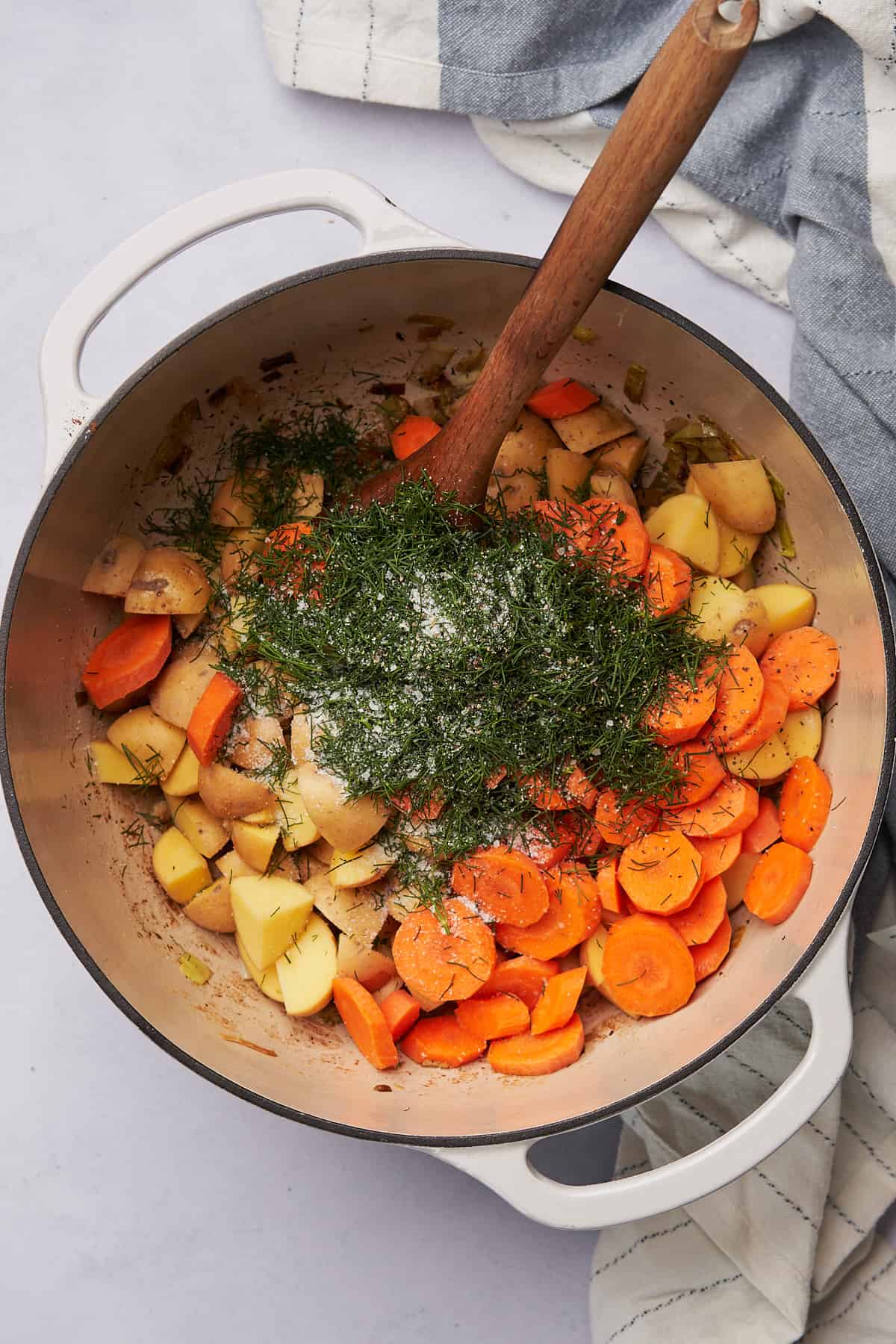 *Pro tip - We always recommend salting in stages to ensure each part of your dish is properly seasoned, and to keep the salt level under control. At this stage, we recommend salting a little more heavily than at other stages, because the potatoes will need a lot of the salt!
Step 4 - Add the liquid
Add the fish stock to the pot, and bring the mixture to a boil. Reduce immediately to a simmer and cover. Cook for about 10 minutes, until the potatoes have softened considerably.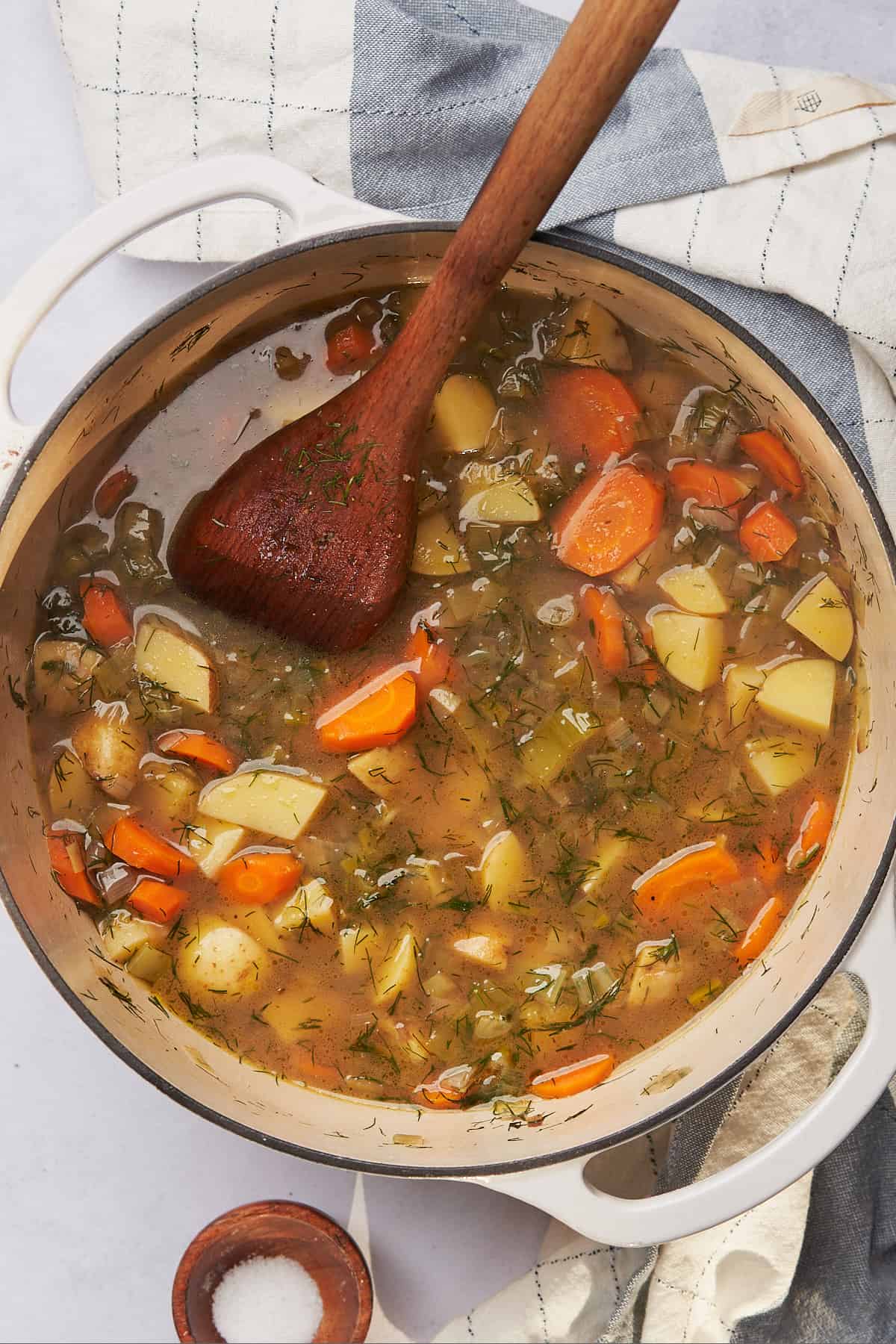 Step 5 - Add the cream and salmon
After the potatoes have softened, reduce the heat to low, then add in the cream, and salmon chunks with more salt.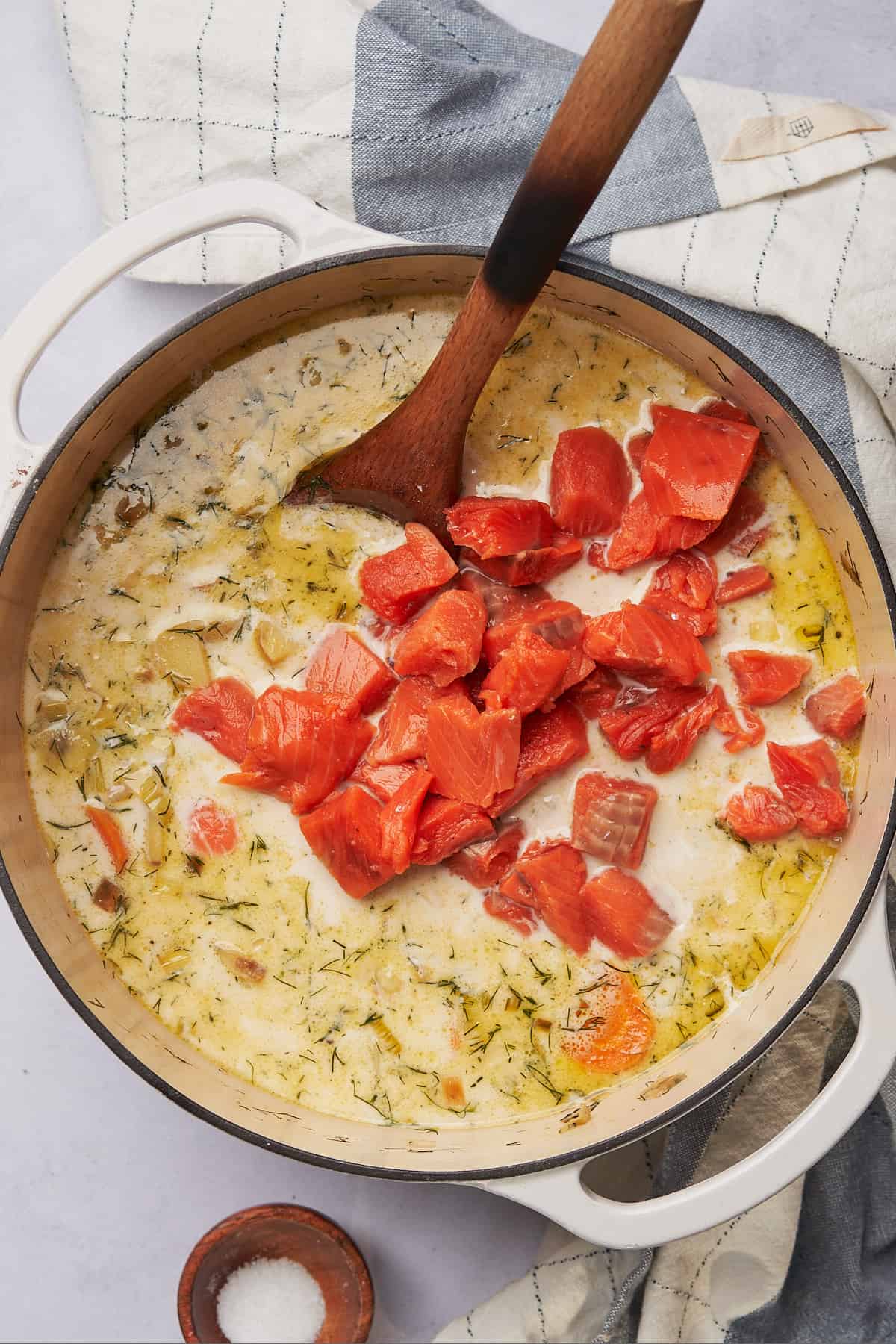 Cook over low heat to allow the salmon pieces to cook through completely. This should only take only 3-5 minutes.
*Pro tip - Do not allow the mixture to boil at all, as this will cause the cream to curdle.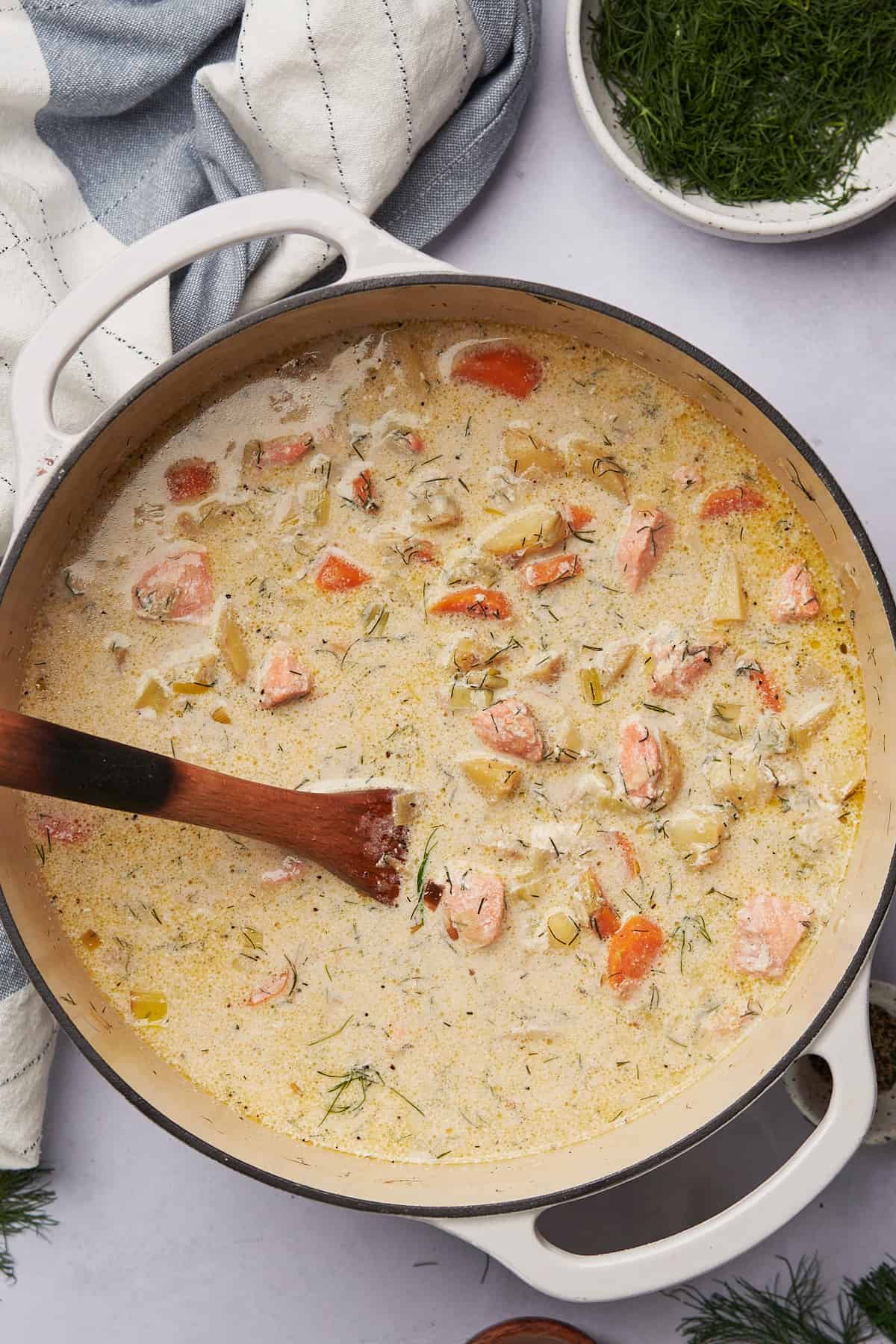 Step 6 - Serve and enjoy
Serve this creamy soup nice and hot with salt and pepper to taste, plus plenty of fresh dill. Enjoy!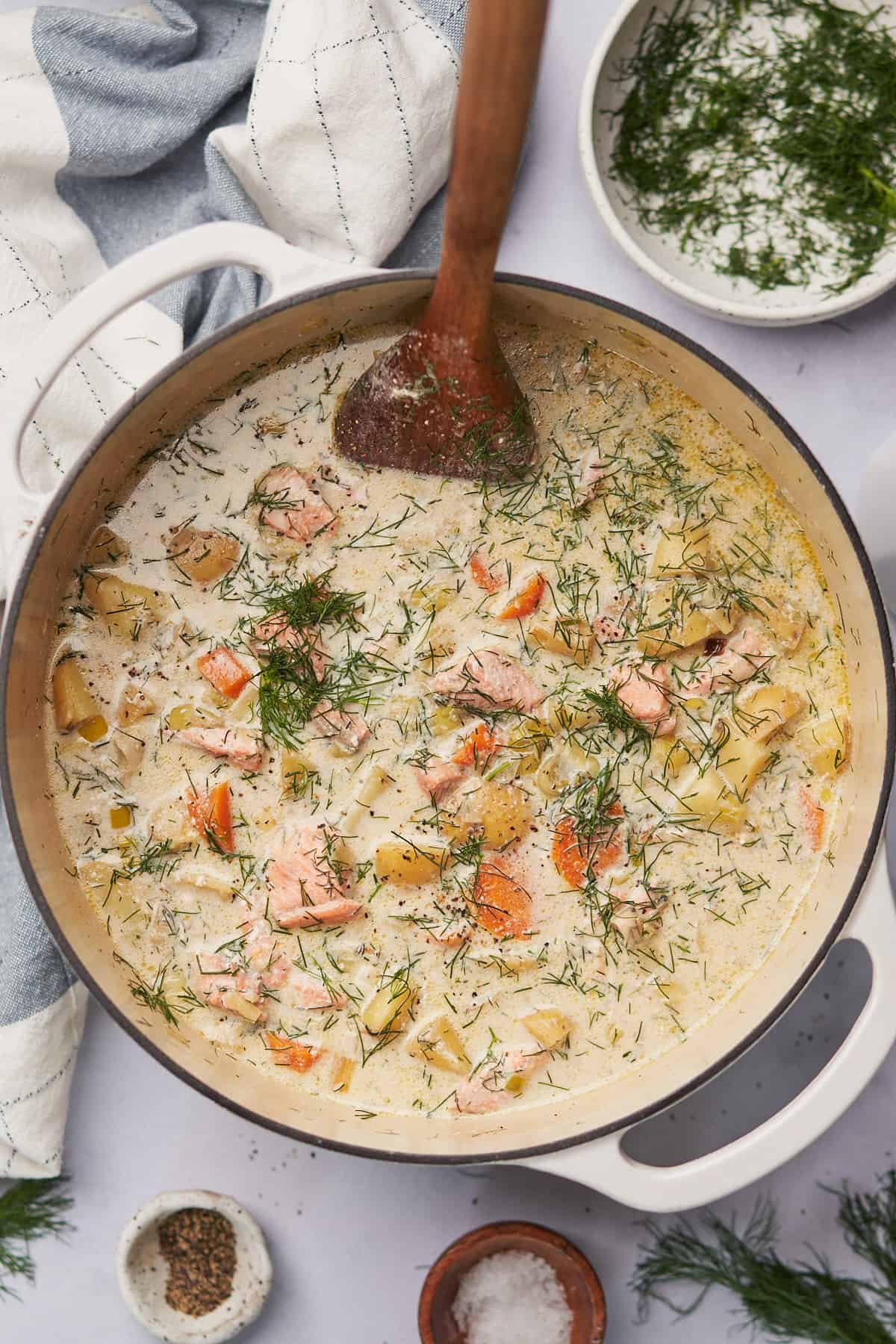 ✨Tips & tricks
Use fresh, high quality ingredients. There are definitely times we think that short cuts in recipes can be just as tasty, but using the freshest and highest quality ingredients you can will make all the difference here. This recipe has very few ingredients, so each one makes a big impact.
Don't overcook the salmon. Since the salmon is cut up into really small pieces, it will cook incredibly quickly in the hot liquid. Keep a close eye on it, stirring often and remove it from the heat once it's done.
Don't be shy with the salt! This soup contains lots of hearty ingredients, and it will need quite a bit of salt to make all of the flavors shine through properly.
Don't curdle the cream. Make sure to go low and slow the last few minutes of bringing this soup together. If the heat is too high, the cream will curdle. Once the cream is added, we don't want to boil anything at all!
✏️Substitutions & variations
The main ingredients in this dish are all very straightforward, so we recommend not making any substitutions if possible for a more authentic flavor. However, here are a few things you can do.
Dairy free - Use a dairy free or vegan butter or olive oil instead of butter. You can replace the heavy cream with full-fat coconut milk.
Use onions in place of leeks - Though admittedly leeks make the soup, you can use yellow onions if you don't have any leeks.
Low carb - To make a low carb version of lohikeitto, use turnips or cauliflower in place of potatoes. Everything else in this soup is already naturally low carb.
Substituting for fish stock - You could use chicken stock, or vegetable stock if you prefer. We highly recommend using fish stock, as it adds another layer of umami to the soup.
Dried dill for fresh - We highly recommend using fresh if possible, but if you only have dried dill on hand, you can use that instead. For everyone one tablespoon of fresh dill, you use one teaspoon of dried dill.
⏲Equipment
Luckily, this recipe is pretty standard and you really don't need much to make it.
We love our enameled cast iron dutch oven, as it's super easy to clean, but you can use any skillet you'd like to bring this dish together.
If using enameled cast iron, make sure to use silicone or wooden utensils, so you don't scrape the bottom of the pan.
You will need a sharp knife for chopping veggies and cutting the skin off the salmon. We love this self-sharpening knife set!
🛒Shop this recipe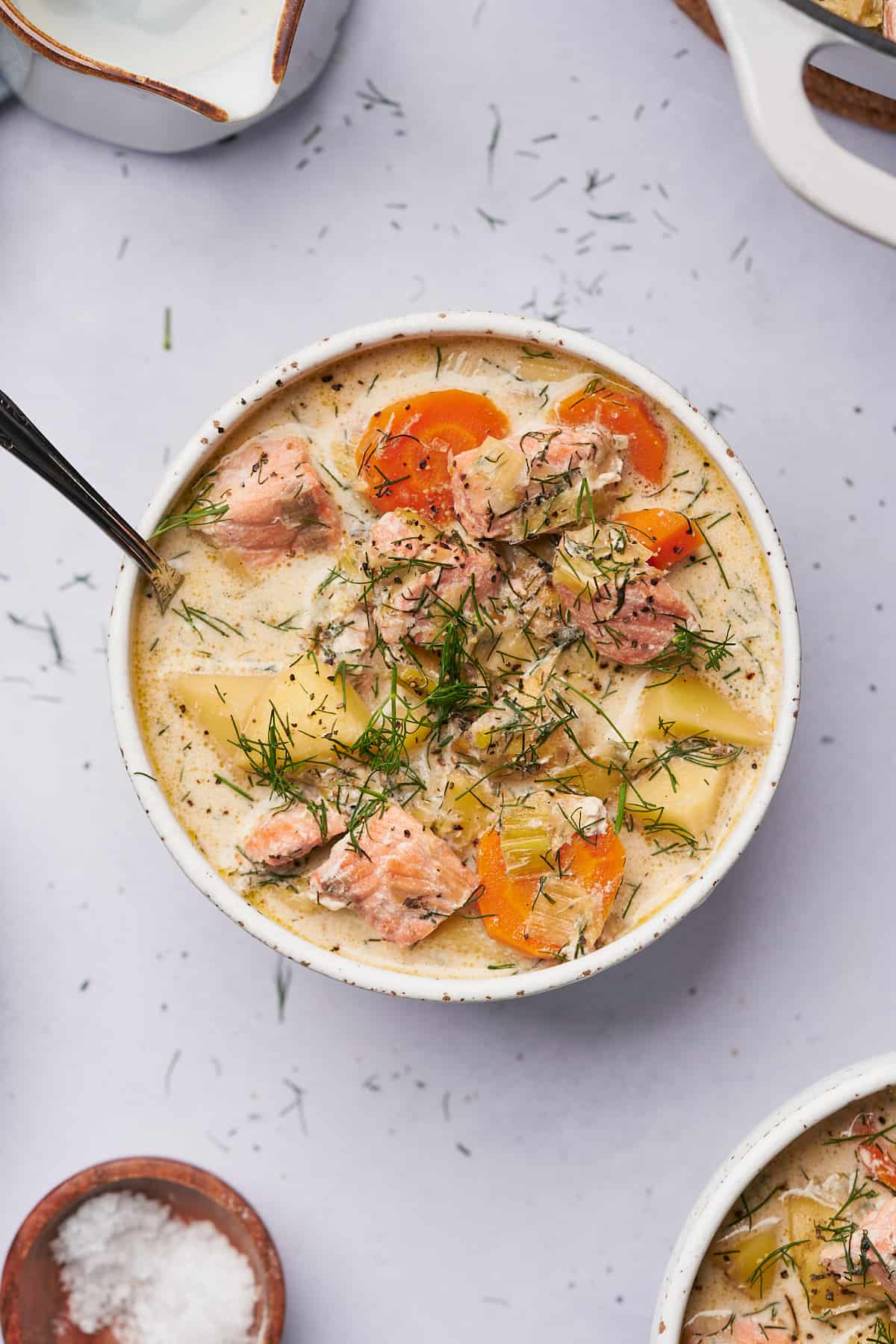 🥣Storage
Consider doubling this recipe to reheat and eat throughout the week, it's just so good! It's almost better the next day when the potatoes have a chance to absorb some of the flavor.
Store in an airtight container in the fridge for up to 3 days. This soup doesn't freeze well.
♨️Reheating
To reheat on the stovetop, simmer very gently (do not allow the cream to boil) until the soup is warmed through. This will take about 5 - 10 minutes.
In the microwave, reheat at 50% power until warmed through. This should take roughly 3-4 minutes.
🌟Leave a review!
Make sure to leave a 5-star review below! This helps other readers find our recipes via Google, and encourages them to try them. Also be sure to leave a comment with your experience!
Take a photo and share with us by tagging us on Instagram or follow along on Pinterest for more ideas!
📖 Recipe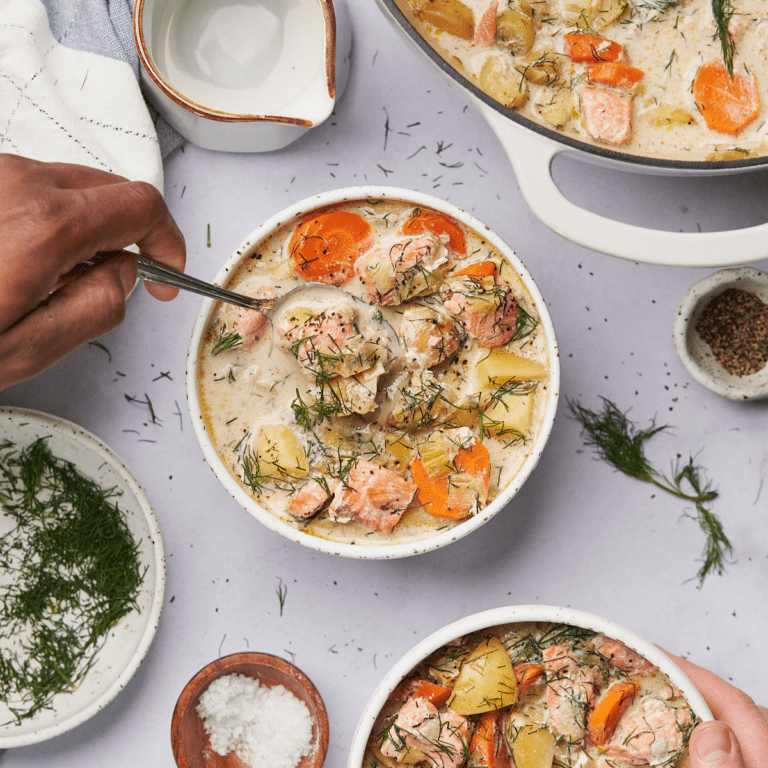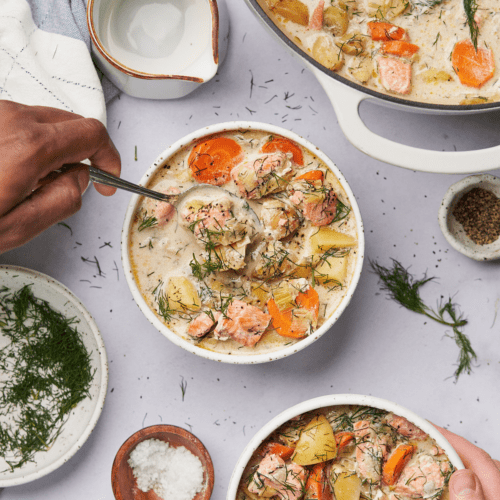 Lohikeitto (Finnish Salmon Soup)
This delightful Lohikeitto, a creamy Finnish Salmon Soup has a wonderful, authentic Nordic flavor! Made with just a handful of ingredients, it's hearty and comforting, plus it's ready in no time.
Ingredients
1.5

pounds

salmon, skin removed and cut into bite-sized chunks

4

cups

water

(can be substituted for seafood stock)

salmon skins from salmon filets

4

tablespoons

unsalted butter

3

medium

leeks, white and light green parts only, cut into small rounds and cleaned

1

tablespoon

kosher salt, divided

(or to taste)

¼

teaspoon

allspice

(optional)

½

teaspoon

black pepper

(or to taste)

1.5

pounds

baby potatoes, quartered

2

whole

carrots, peeled and cut into rounds

1

cup

fresh dill, loosely packed & divided

(could substitute for dried if desired)

8

ounces

heavy whipping cream
Instructions
Skip this step if using seafood or fish stock. Add salmon skins and water to a saucepan. Boil for 10 minutes, then strain the broth. Discard skins and reserve the fish stock.

In a dutch oven, melt butter over medium heat, then add in leeks with a pinch of salt until softened, about 5 minutes. Add in allspice and some pepper, and cook for about 30 seconds.

Add in potatoes, carrots, a big pinch of salt, and about half of the dill. Pour in the broth or stock. Bring to a boil, then reduce to a simmer and cover for about 10 minutes, until potatoes are softened.

Add in heavy whipping cream, and your salmon chunks and simmer for around 3-5 minutes until salmon is cooked through. Add in fresh dill, salt, and pepper to taste. Enjoy!

Store leftovers in an airtight container in the fridge for up to 3 days.
Notes
To reheat, gently simmer on the stove or heat gently in the microwave. 
You can substitute half and half for heavy cream. 
You can use onions instead of leeks, but leeks are the traditional ingredient. 
Skip step one if using store-bought seafood stock. 
Do not boil the soup once the cream is added, or it will curdle. 
Nutrition
Calories:
481
kcal
Carbohydrates:
28
g
Protein:
27
g
Fat:
29
g
Saturated Fat:
15
g
Polyunsaturated Fat:
4
g
Monounsaturated Fat:
8
g
Trans Fat:
0.3
g
Cholesterol:
127
mg
Sodium:
1253
mg
Potassium:
1215
mg
Fiber:
4
g
Sugar:
4
g
Vitamin A:
2267
IU
Vitamin C:
35
mg
Calcium:
105
mg
Iron:
3
mg