---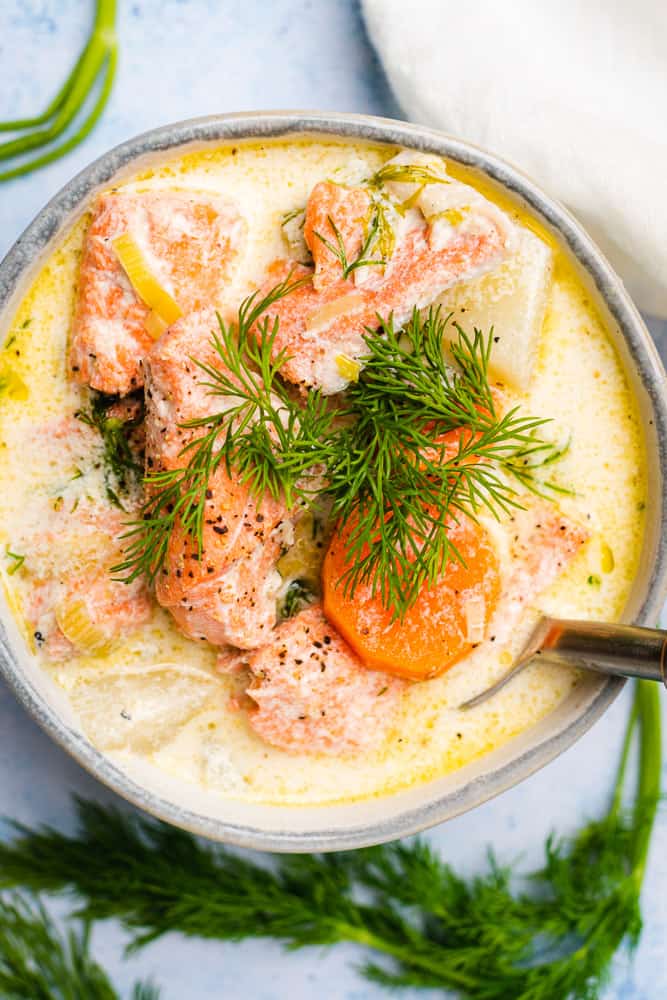 Nordic food is truly one of our favorite cuisines. It's simple and unpretentious, but has loads of flavor and uses simple ingredients that you can find in many households. Bri is also of Finnish and Swedish heritage, as well as spent about 8 months in high school living abroad in Norway as an exchange student.
Scandinavian cuisine brings back feelings of nostalgia from childhood, as well as her days as an exchange student cooking and learning about Scandinavian cuisine from her host family and friends. We hope to continue making Scandinavian inspired recipes every now and again, and we will share our favorites with you.

One of the things we love most about this Finnish Salmon soup are the simple ingredients. While most Scandinavian countries have some version of a creamy fish or salmon stew, this Finnish version is truly too easy (and tasty) to pass up!
A luscious broth starts with a base of butter and leeks, then you add carrots, turnips in place of the traditional potatoes, and fish or seafood stock with a few bay leaves. Add in salmon, cream, plenty of fresh dill and a little salt and pepper to bring it all together for a comforting and decadent bowl of protein packed (and low carb) soup!
We'll share the tips, tricks and simple substitutions for this crazy easy bowl of happiness below. Keep reading! This recipe is also now available as a web story here!
Ingredients:​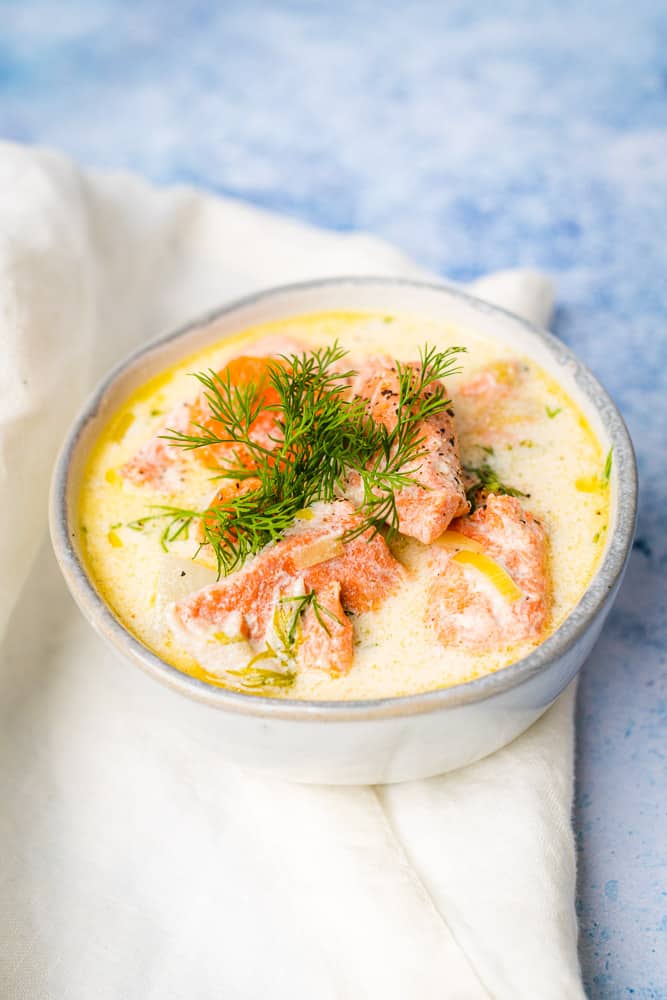 Salmon - You will want to make sure it's skinless (or you can take the skin off yourself and make the fish stock with it), de-boned and cut into chunks for easy cooking and plenty of salmon in every bite.
Leeks - You could substitute for onions in this if you'd like, but leeks are the traditional ingredient here. Leeks are essentially like a mild and sweeter version of an onion. For this finnish salmon soup we only use the white and the light green parts. Just make sure to clean properly since leeks often have dirt between the layers. We'll explain more on this later.
Carrots - While not traditionally considered a "keto" ingredient, we like to use small amounts to get an authentic flavor. You use just one carrot in this recipe, so it's not much when divided across 6 servings. Besides, keto is not a food, but rather a metabolic state. Everyone is a little different with their carb allotment, and we tend to allow some carrots here and there.
Turnips - This is the ingredient that makes this soup low carb and keto friendly, but it is not a traditional ingredient! We are using turnips as a substitute for the traditional ingredient of potatoes. Turnips are micronutrient powerhouses, and they taste very mild and neutral. They make a wonderful potato substitute. You could substitute for cauliflower florets if you prefer, but turnips (to us) make the best potato substitute. If you do substitute with cauliflower, just make sure to update the nutrition facts. Admittedly, cauliflower would be the lowest carb choice here, but we truly just prefer turnips.
Fresh dill- This is a key flavor component! There is truly nothing like fresh dill, we think you're going to love the flavor it adds if you aren't already familiar. You could use some dried dill, but fresh is best for this recipe.
Kosher salt - Diamond Kosher Salt is our new favorite salt source. It's much easier to control (in terms of saltiness) when it comes to various types of salt, compared to different types of salt! Not all salts are created equal, and different types of salt are waaaay saltier than others. We love the diamond crystal shape. The texture is amazing it dissolves really well, and it's perfect for seasoning food gradually.
Fish stock - You could substitute for seafood stock, or even clam juice with water, or even quickly make your own. Don't be freaked out by a "fishy" smell or taste, everything tastes perfectly balanced! Seafood stock or fish stock gives the soup a lovely and subtle umami flavor! It is a salmon soup anyway, so seafood stock would be a logical choice. Alternatively, you could use water instead, but you will need to add some more seasoning to make up for the lack of seasoning
Bay leaves- This is technically optional, but we add bay leaves to most of our soups, stews and anything we braise for added flavor. They may not look like much, but they definitely add a subtle flavor similar to oregano and thyme to your food. Just make sure to remove and discard the leaves before serving, they're not fun to eat!
Heavy whipping cream- This is the essential ingredient for making this finnish salmon soup soup creamy! We'll add it at the end, to avoid the soup curdling. If you're dairy free, you could substitute for full fat coconut milk (we think!) although we haven't tried this ourselves.
Black pepper- Not much to say about this but fresh cracked black pepper just makes everything more delicious, doesn't it? Add to taste!
Unsalted butter- Another key component for that rich and creamy flavor we are going for. You could substitute for your favorite cooking oil if desired.
How to Make This Keto Lohikeitto - Finnish Salmon Soup:
1. Cook The Leeks:
In a large dutch oven or stock pot over medium heat, melt your butter, then sauté your leeks with a little salt until softened. This should take around 7-10 minutes.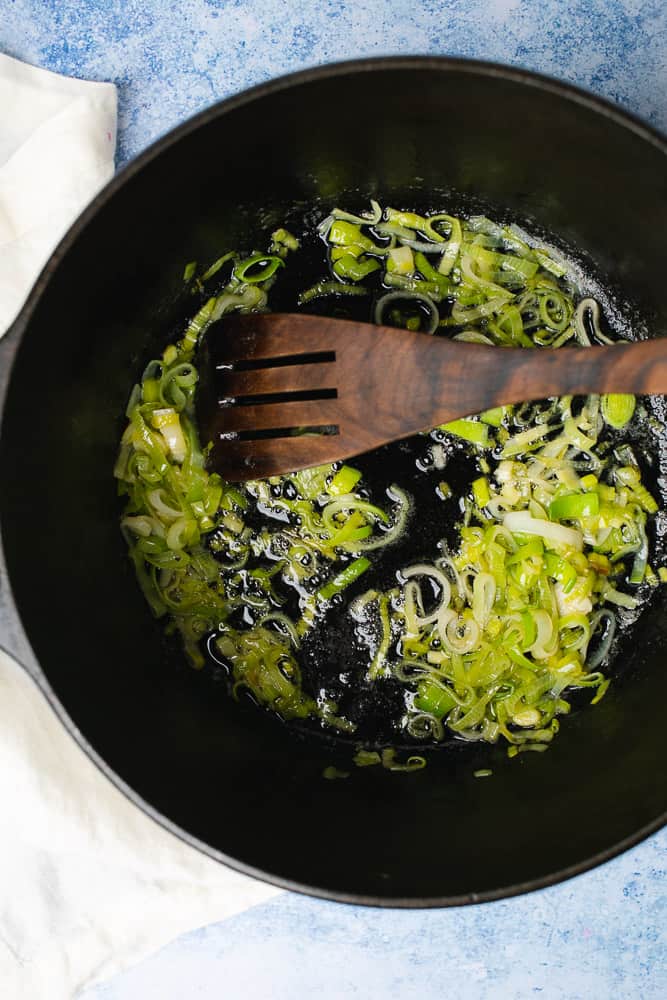 2. Add The Vegetables & Stock:
Add in your carrots, turnips, seafood stock, and bay leaves with a bit more salt. Bring to a boil, then reduce to a simmer.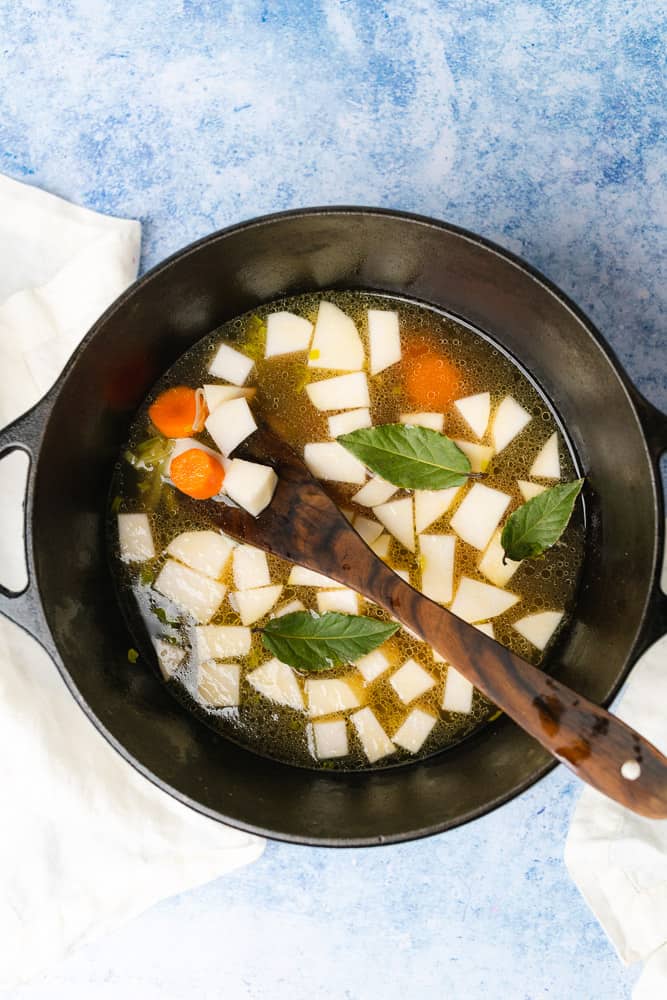 The turnips should be fork tender after about 12-15 minutes.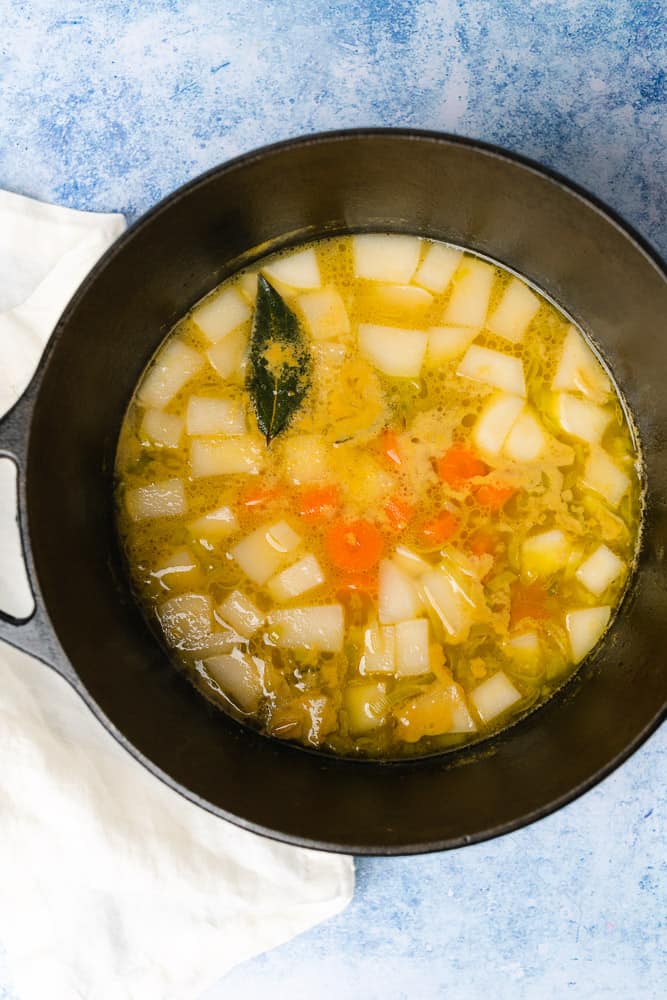 3. Cook The Salmon:
Add in your heavy cream and chunks of salmon. Cook on low heat until salmon is cooked through, around 5-7 minutes.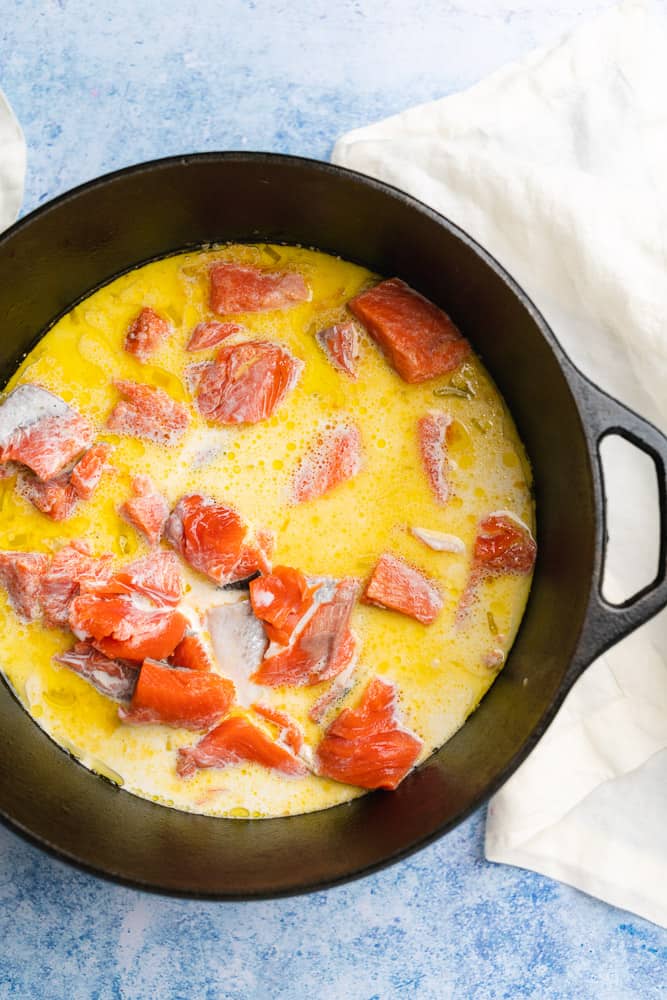 4. Finish Up:
Season with salt, pepper, and fresh herbs to taste. Your lohikeitto Finnish Salmon Soup is ready to be served.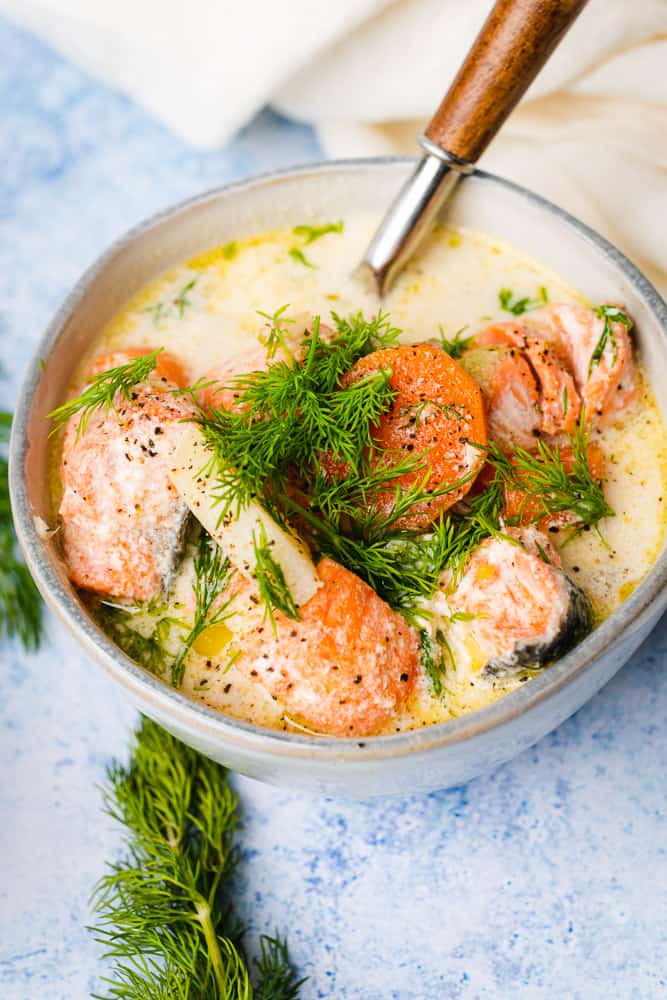 How Do I Prepare the Leeks?
You will want to start by cutting off the green fibrous tops cut the green top off of your leek. Discard them, or save to make a stock for later. The dark green part is not a great texture for consuming, as it's chewy and fibrous, but it still hold a lot of flavor. You can boil it with other vegetables and herbs to make a broth, or even if you decide to make your own fish stock. We'll share how to make your own fish stock later.
After you've removed the dark green tops of the leeks, slice the white part (and light green part) of the leek into very thin rings. Now, you will want to soak the leeks in a bowl of water, and let the dirt drop to the bottom of the bowl, then rinse a few more times.
Leeks are often full of dirt, so this step is very important. Now, simply strain the water away after rinsing. After prepping your leeks this way, you'll be free of dirt and ready to use these! If you don't have leeks on hand, you could substitute for some yellow sweet onion. Leeks are the most traditional ingredient for this Finnish Salmon Soup recipe however.
Can I Use Frozen Salmon For This Finnish Salmon Soup (Lohikeitto)?
Yes, you can! You will just want to thaw it before using it so that you can cut it into bite sized chunks. We always have frozen salmon in the freezer since it's one of our favorite proteins, so we do often use originally frozen salmon as opposed to buying it fresh.
How To Make Your Own Fish or Seafood Stock:
Truth be told, we don't usually make our own fish stock. Blame it on our lack of kitchen space if you will, but we like to keep plenty of seafood stock in the pantry for when we need it. You can make fish/seafood stock fairly easily if you want however, by combining some shrimp shells, or any fish bones, skin, or heads and adding in some garlic, onion, celery, carrots, a little white wine, water, salt and pepper. Check out the full instructions here on the Food Network website.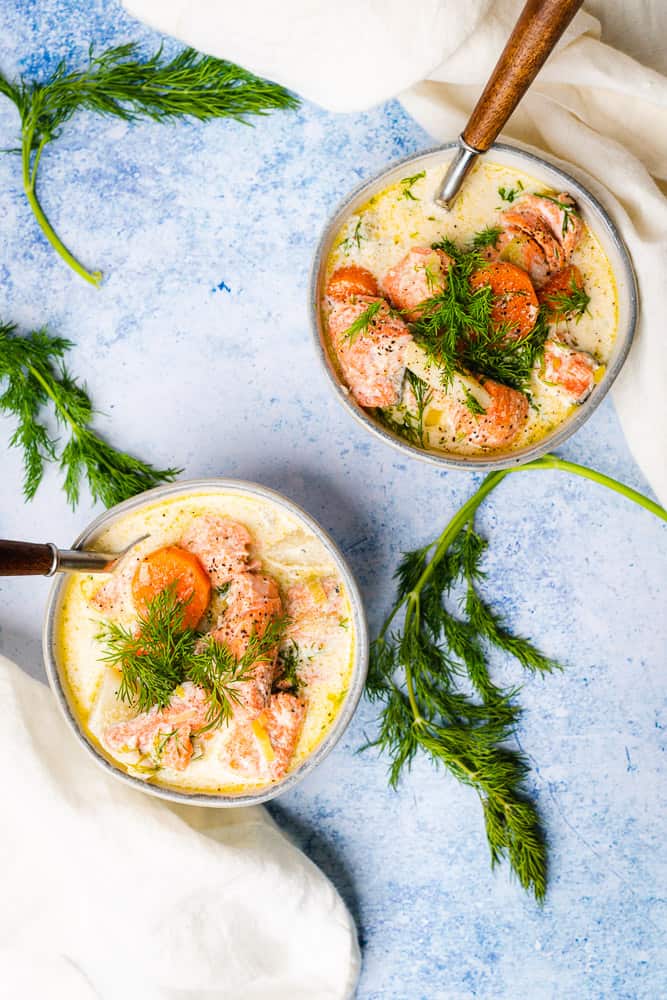 How Do I Substitute Fresh Dill For Dried Dill?
Honestly, we HIGHLY suggest using fresh dill if you can, it is going to bring the best flavor out in your lohikeitto! However, if you only have dried on hand, that will work just fine. For everyone one tablespoon of fresh dill, you use one teaspoon of dried dill. You can read more about substituting here on this article by the Spruce Eats. We use a ton of dill in this recipe, for us, the more the better, but make-do with what you have.
Are Turnips A Traditional Ingredient in This Soup?
No, the turnips are used to replace potatoes in the traditional version of lohikeitto, and they are currently our favorite potato substitute, aside from rutabagas, but rutabaga is more like a sweet potato. Traditionally this lohikeitto soup is loaded up with potatoes for substance, but potatoes are pretty high in carbs and actually surprisingly low in nutrients as we recently discovered.
If you like, you could use cauliflower in place of the turnips in this finnish salmon soup recipe if that's what you have on hand or prefer. If you do substitute with cauliflower, just make sure to update the nutrition facts. Cauliflower definitely does have the lowest carb choice when going head to head over turnips, but we truly just prefer turnips, so we take the few extra carbs that come with them.
We do actually have a loaded keto 'potato' soup that uses a mixture of turnips and cauliflower for the ultimate combo of low carb and velvety luscious texture and great flavor.

We love using young turnips that are high in nutrients and low in carbs. When picking out turnips, be sure to choose the smallest ones you can find, as those will be the least bitter. Sometimes, turnips are bitter, and this happens when they grow old (and large). Basically, the larger the turnip, the older it is, and more bitter too. We try to avoid any bitter flavor as much as possible!
Here's Some More Recipes You Will Love:
If you're looking for more Seafood Recipes or Nordic Inspired Recipes, we have a few that you'll love!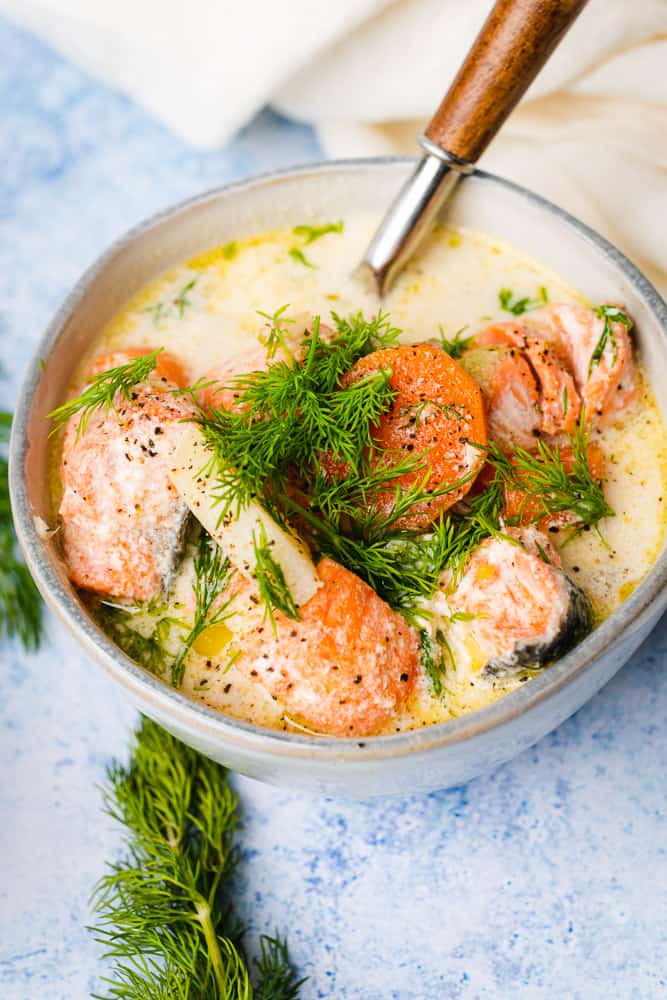 Shop This Recipe!
Want to get supplies for this finnish salmon soup recipe or shop our keto kitchen or pantry? We've linked our favorites above and right here in our Amazon Store!
A Full Living is a participant in the Amazon Services LLC Associate program, an affiliate advertising program designed to promote a means for sites to earn advertising fees by linking products to amazon.com. We only share products we use and love. It doesn't cost you anything extra to shop using our links, but we earn a small commission that helps us keep this site going!
---
If you get a chance to try this lohikeitto recipe, let us know what you think, would ya?! Leave us a comment, or catch up with us on Facebook or Instagram, or pin to your favorite Pinterest board for later. We love sharing your versions of our creations over on Instagram @afullliving!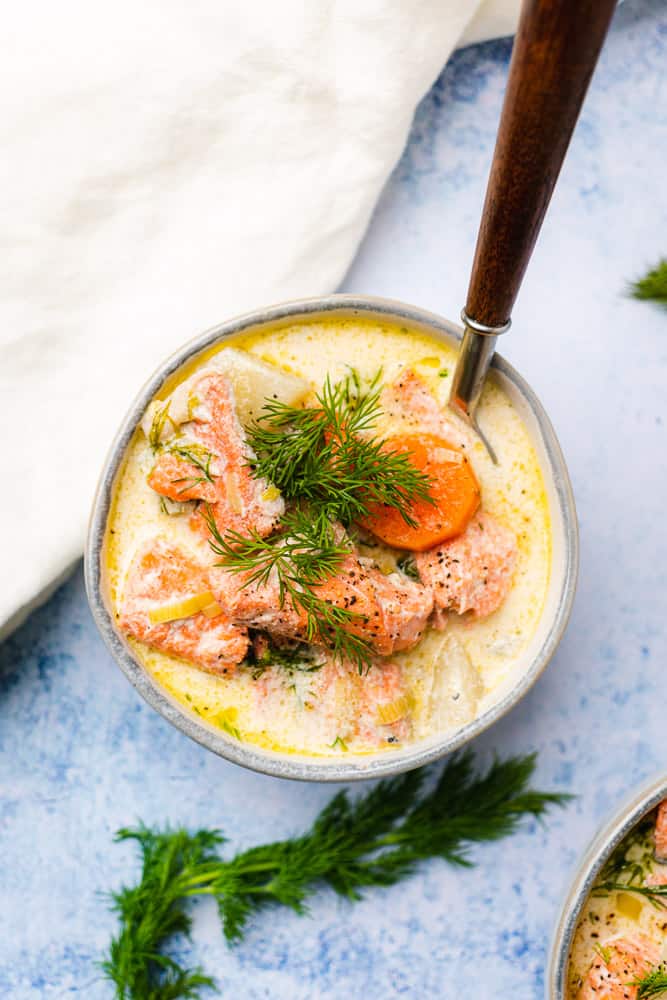 If you could please leave a comment and/or a rating if you loved this recipe, we would be forever grateful! (Ratings helps users find our recipes, since users say that they like them!)
Thanks for stopping by! Be sure to subscribe to our email newsletter so you're the first to know about new recipes we post on our blog.
Until Next Time,
Briana & Chamere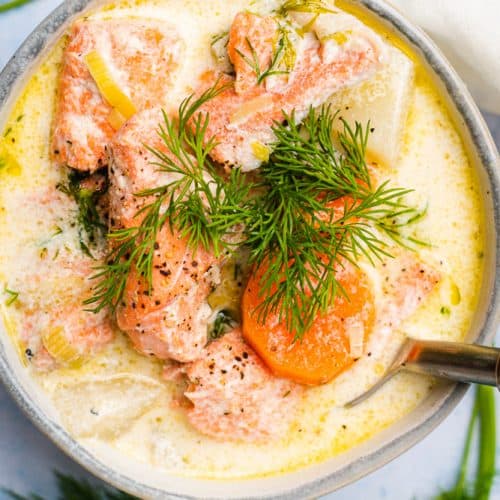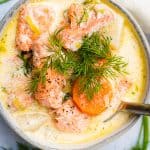 Finnish Salmon Soup - Lohikeitto Recipe (Keto)
This Keto Lohikeitto is a delightful Finnish Salmon Soup Recipe, made low carb! It's creamy, decadent and incredibly simple to make in 30 minutes. Swap turnips for potatoes in this classic soup, and you're left with a keto friendly version of a comforting Finnish favorite. Most Nordic countries have a version of a creamy salmon stew, but you're going to want to try this simple Finnish version!
Print
Pin
Rate
Ingredients
4

tablespoon

unsalted butter

100

grams

leeks, white and light green parts only, cut into small rounds and cleaned

(discard the tough dark green tops or reserve them for stock)

8

oz

young turnips, peeled and cut into bite sized pieces

(about 1 medium sized turnips)

1

whole

carrot, peeled and cut into rounds

4

cups

seafood stock

3

whole

bay leaves (optional)

1

cup

heavy whipping cream

1.5

lbs

salmon, skinless and de-boned, cut into bite sized chunks

Lots of fresh dill to taste

(could substitute for dried if desired)

salt and pepper to taste
Instructions
In a dutch oven, melt butter over medium heat, then add in leeks with a pinch of salt until softened, about 7-10 minutes.

Add in turnips, carrots, seafood stock and bay leaves, and bring to a boil, then reduce to a simmer until turnips and carrots are softened, about 12-15 minutes.

Add in heavy whipping cream, and your salmon chunks and simmer for around 5-7 minutes until salmon is cooked through. Add in fresh dill, salt and pepper to taste. Enjoy!
Notes
To reheat, gently simmer on the stove. 
You can substitute half and half for heavy cream, but it's not a traditional preparation method.
You can use onions instead of leeks, but leeks are the traditional ingredient. 
Nutrition
Sodium:
612
mg
|
Calcium:
112
mg
|
Vitamin C:
10
mg
|
Vitamin A:
1174
IU
|
Sugar:
2
g
|
Fiber:
1
g
|
Potassium:
830
mg
|
Cholesterol:
137
mg
|
Calories:
412
kcal
|
Trans Fat:
1
g
|
Saturated Fat:
15
g
|
Fat:
31
g
|
Protein:
27
g
|
Carbohydrates:
7
g
|
Iron:
2
mg
These nutrition facts are provided as a courtesy and are only estimates. We cannot guarantee the accuracy.
Did you love it?
If you made this recipe, make sure to show us on Instagram at @AFullLiving or tag #AFullLiving! We love to see what you guys are making!