This homemade Low Carb Granola Recipe will satisfy your cravings and is so easy to make. It's incredibly delicious, and packed full of healthy fats, and nutrients. Naturally gluten free and vegan, plus it's easy to customize. Eat as a part of your breakfast on some yogurt, on top of a salad, or just as a keto snack. This perfect snack has a toffee like taste and texture, without unnecessary sugar!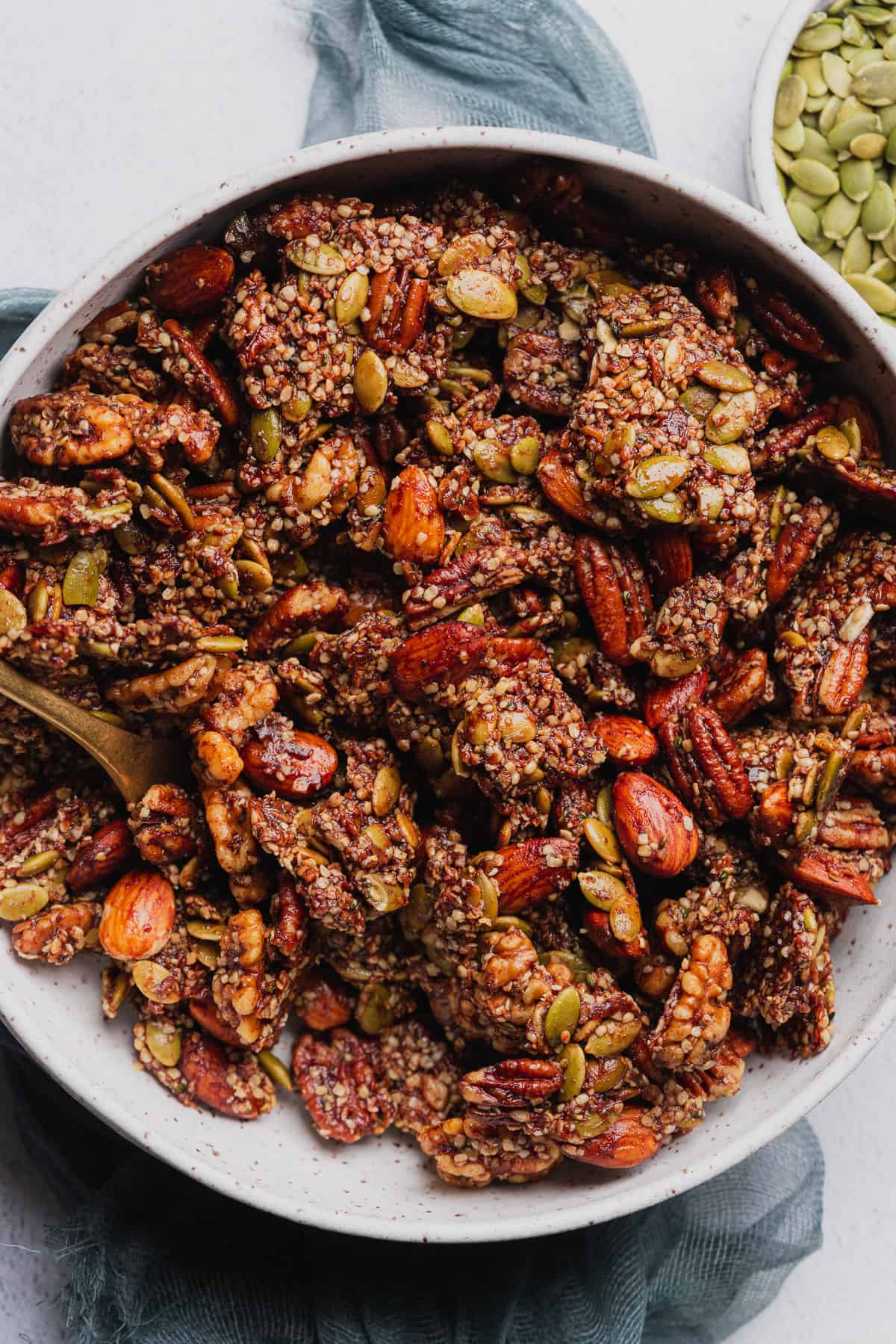 Please note: This recipe has been updated multiple times for clarity and improvement with new photos and recipe tweaks since it was created originally in August of 2018. We appreciate the feedback from our readers over the years that have helped make this keto-friendly granola (formerly known as trail mix) what it is today!
Make a big batch of these keto granola clusters! They're perfect any time of day when hunger strikes. It's great as keto cereal or an easy snack. Unlike traditional granola which is packed full of added sugar and high-carb ingredients, this snack will help keep your blood sugar levels even, with only 2 grams of net carbs per serving.
Homemade keto granola is seriously easy to make. It goes great on these Greek yogurt bowls, on a salad, on protein overnight oats, or even as a topping on this keto acai bowl!
If you're looking for similar recipes, be sure to try these keto candied pecans or these low carb dark chocolate nut bars!
Jump to:
❤️Why we love this recipe
Great for meal prep - Need a quick healthy breakfast? Skip the traditional granola bars or traditional cereal options that are full of added carbs. This recipe has just 2g net carbs. Serve it with some almond milk or coconut milk like a bowl of cereal. You can also add it to some low carb yogurt with almond butter and fruit, and more.
Gluten free, vegan, and keto - These grain-free granola clusters suit many diet types naturally. It's with whole ingredients that you can feel good about.
Made with pantry staples - If you need a great way to clean out the pantry without a trip to the grocery store, this recipe is great. It's made with ingredients you probably already have on hand.
🌰Ingredients
You can find quantities and nutrition information in the recipe card.
We'd also like to make a note that these are our top choices for what to include, but you can customize with amounts to suit your preferences. We will also include some ideas for additional add-ins!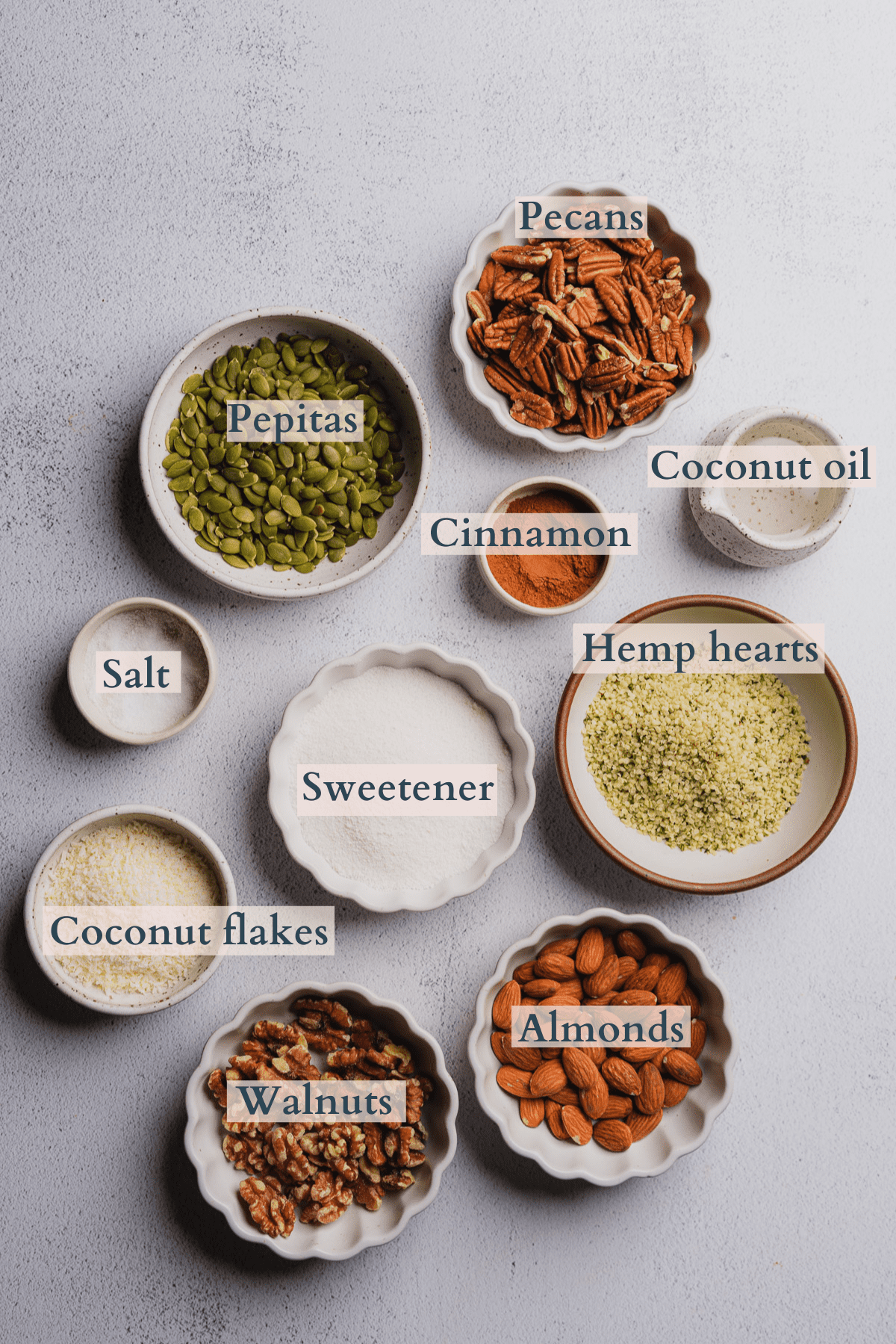 ✏️Ingredient notes
Hemp seeds - Also known as shelled hemp hearts, these are a main component of this granola. They are packed full of protein, healthy fats, and nutrients. One serving of hemp hearts is zero net carbs, with 3 grams of fiber, 10 grams of protein, 12 grams of fat, and a wonderful source of both iron and potassium!
Raw pumpkin seeds - Also known as pepitas boast a similar nutritional profile to hemp hearts, and are also an incredible source of magnesium. They add a lovely crunch to the mix.
Nuts of choice - Use your favorite low carb nuts. We love using almonds, walnuts, and pecans.
Unsweetened coconut flakes or chips
Coconut oil - Melted, to help hold the mixture together and create big crunchy clusters.
A little bit of kosher salt - To enhance the flavor and balance everything out.
Ground cinnamon - Technically optional and to taste, but highly recommended!
More additions to consider - sesame seeds, chia seeds, flax seeds, hazelnuts, peanuts, macadamia nuts, sunflower seeds, sugar free chocolate chips, and more.
📖Instructions
🔪Prep work
Preheat the oven to 300°F. Place parchment paper on a large baking sheet.
Chop your pecans, walnuts, and almonds to your liking. You could also lightly pulse the nuts in a food processor to create a finer texture if desired.
In a large mixing bowl, add melted coconut oil, sweetener, salt, and cinnamon (if using). Mix to combine so the mixture can coat the nuts.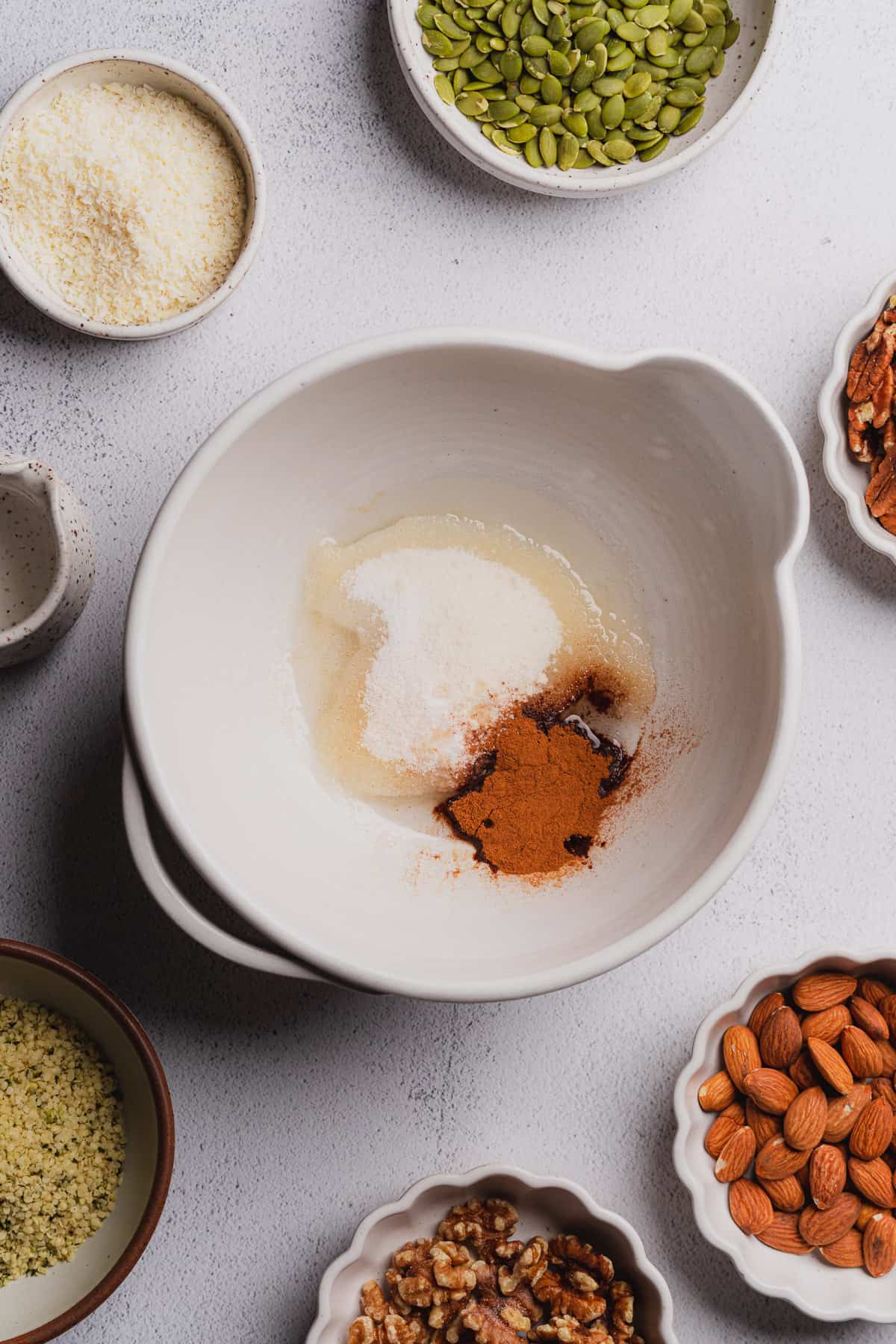 Add in the remaining ingredients (hemp hearts, pepitas, nuts, and coconut flakes) to the bowl and toss to combine all the ingredients. Make sure everything is well coated.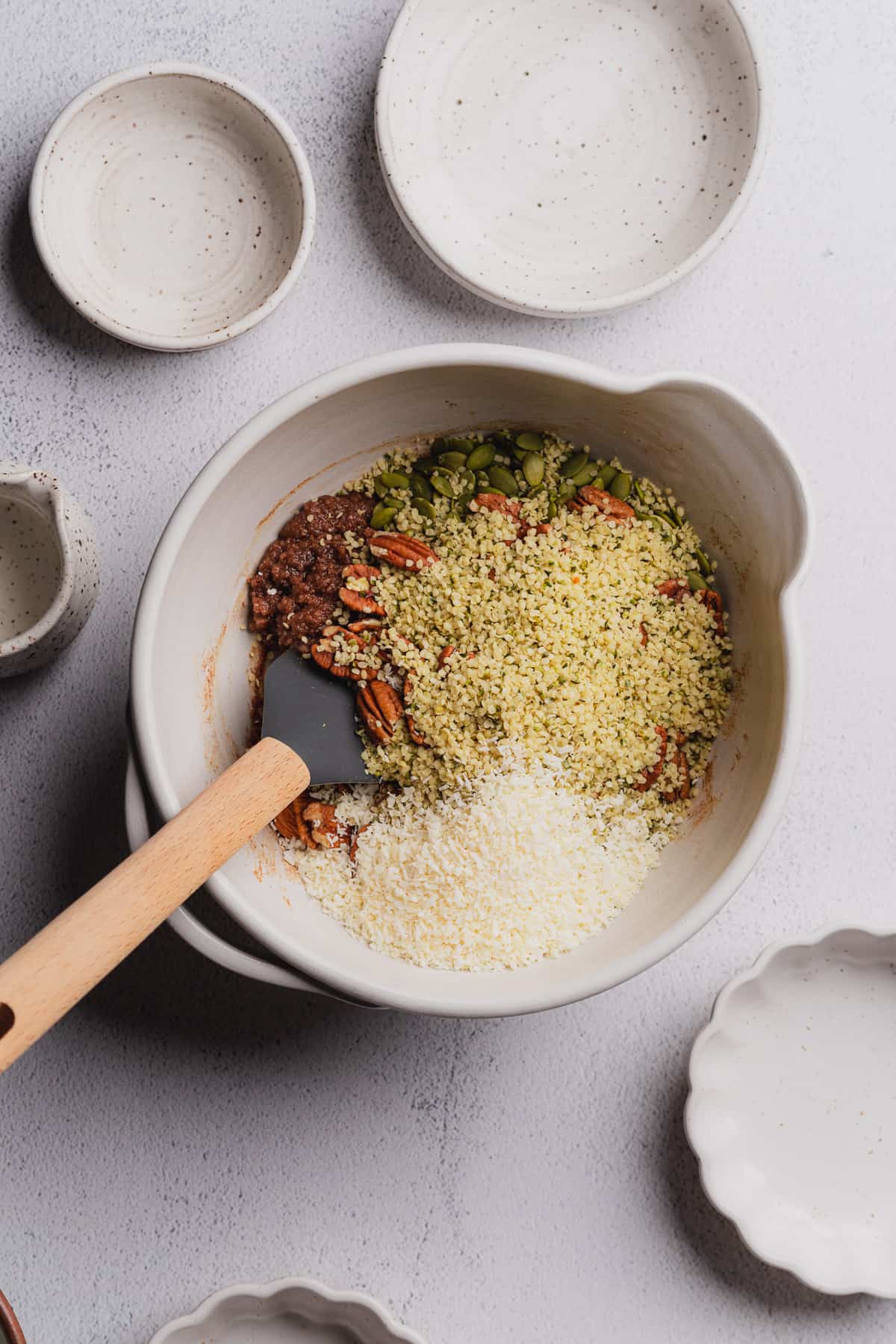 Add the mixture in a single, even layer to your parchment-lined baking sheet.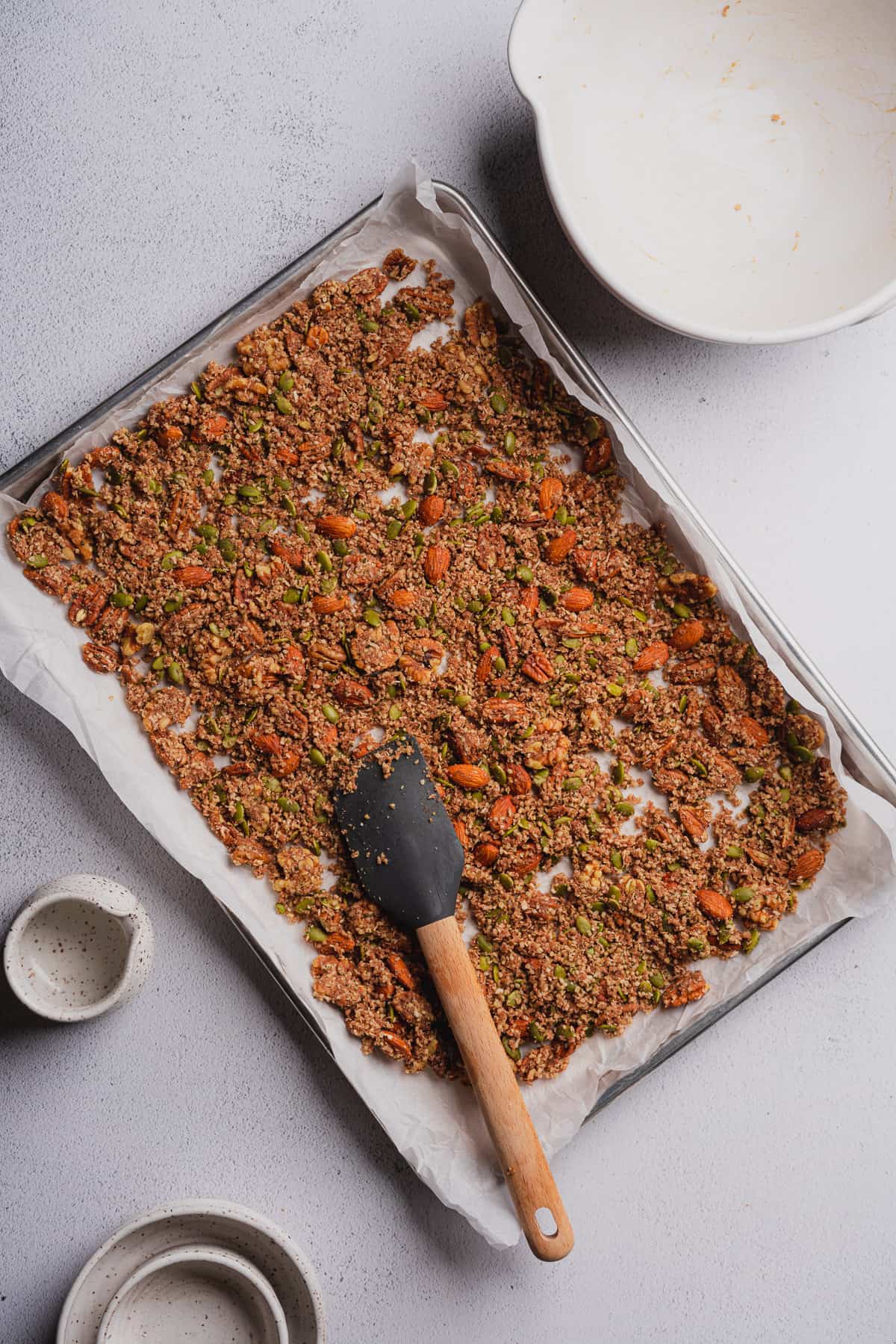 Bake for 25-30 minutes, tossing around halfway to ensure even cooking. When the mixture is golden brown, remove it from the oven.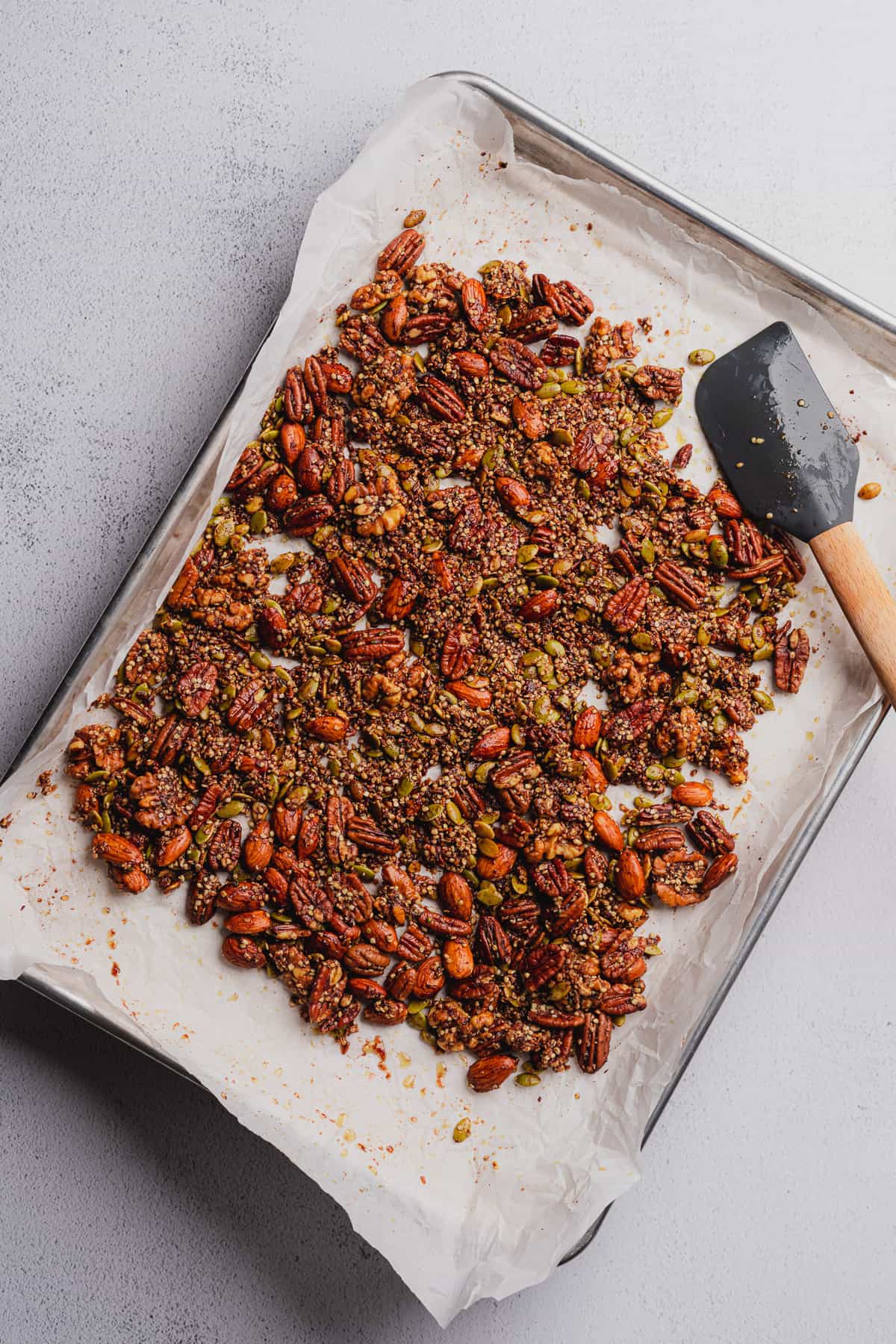 Allow the mixture to cool completely, so the clusters can form. Once they have hardened and you can snap the granola into pieces, it's ready to eat!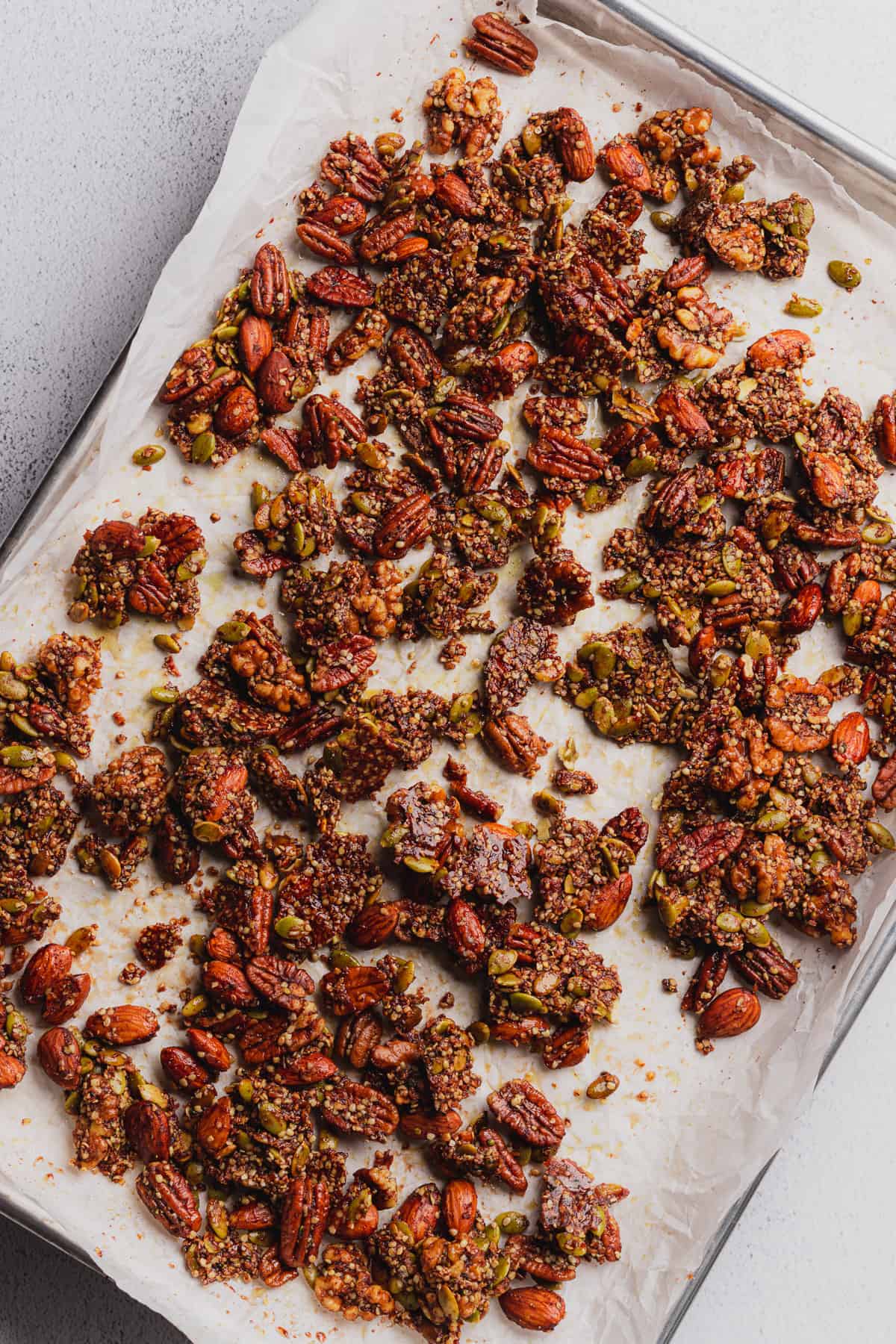 Add to yogurt bowls, serve with fruit, a drizzle of peanut butter, some keto maple syrup, or whatever you like. Enjoy!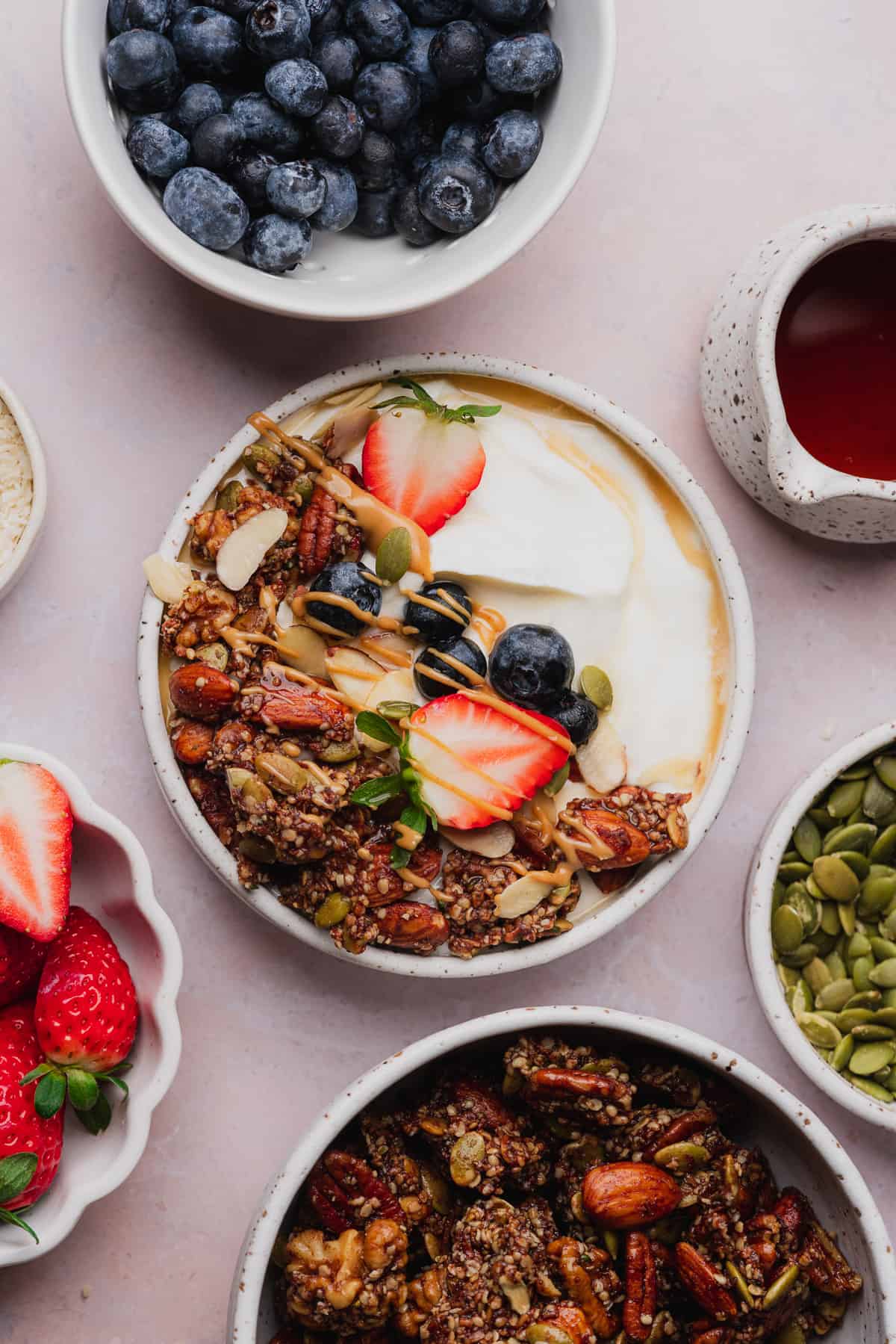 💭Frequently asked questions
What are the best natural sweeteners to use for this recipe?
We'd like to start by saying that we have made this recipe many times! It's a staple in our house year-round, so we have tried all of the methods.

For this recipe, it's best to use a sweetener that will become a little crunchy when baked. For this reason, we cannot recommend using allulose sweetener. Allulose is great for many applications, but it won't give you a crisp edge that we're looking for. Allulose becomes sticky and syrup like.

Liquid stevia will work for this recipe, just add it in with the melted coconut oil to distribute it evenly.

Granular sweeteners like monk fruit or granular erythritol work best for this recipe. Our preferred sweetener is Swerve!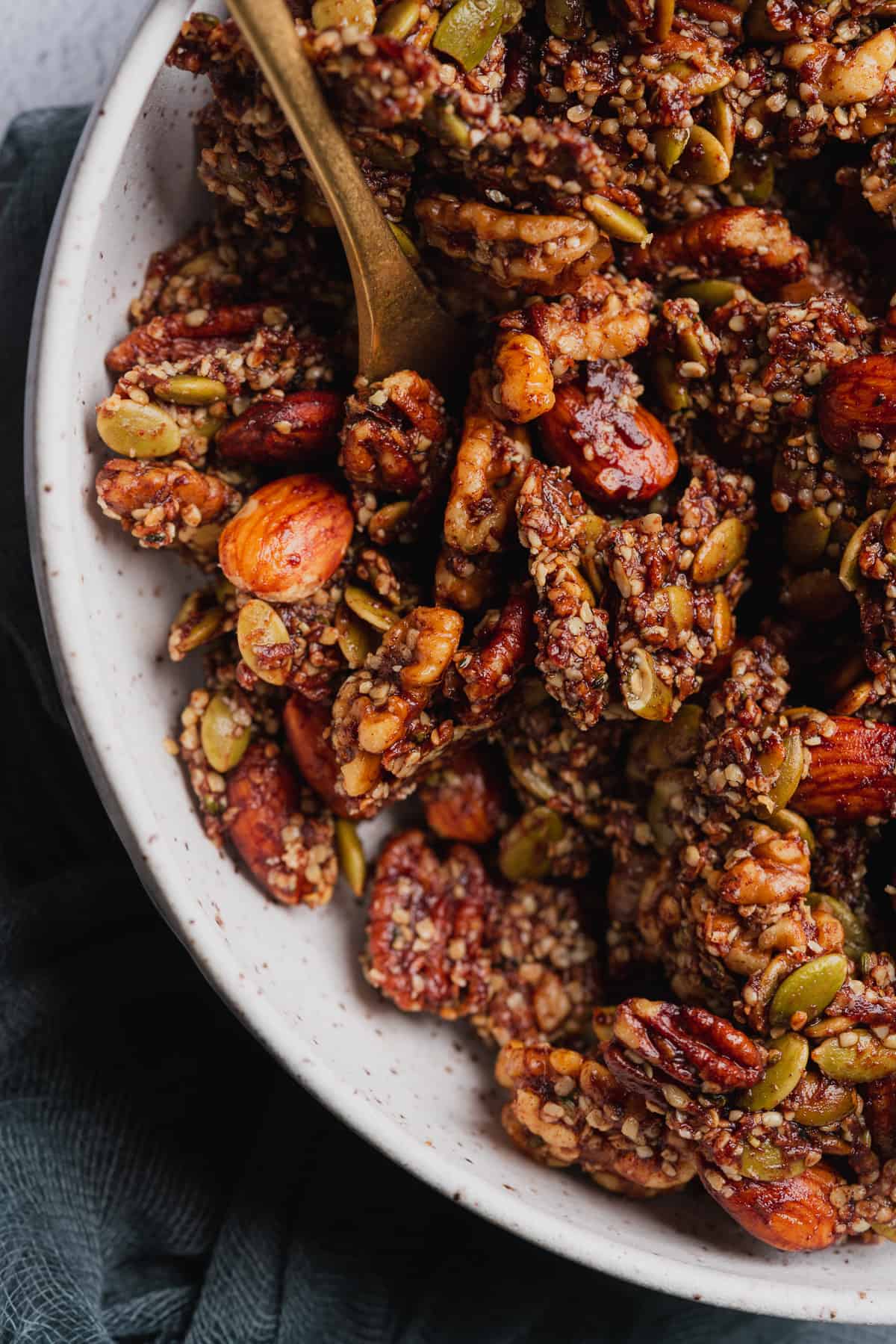 Can this recipe be modified with traditional sweeteners?

Yes, absolutely. Feel free to use granular sugar (either white sugar or brown sugar) if you are not looking to cut out sugar.

You can also feel free to use coconut sugar, honey, maple syrup, or agave.
🛒Shop this recipe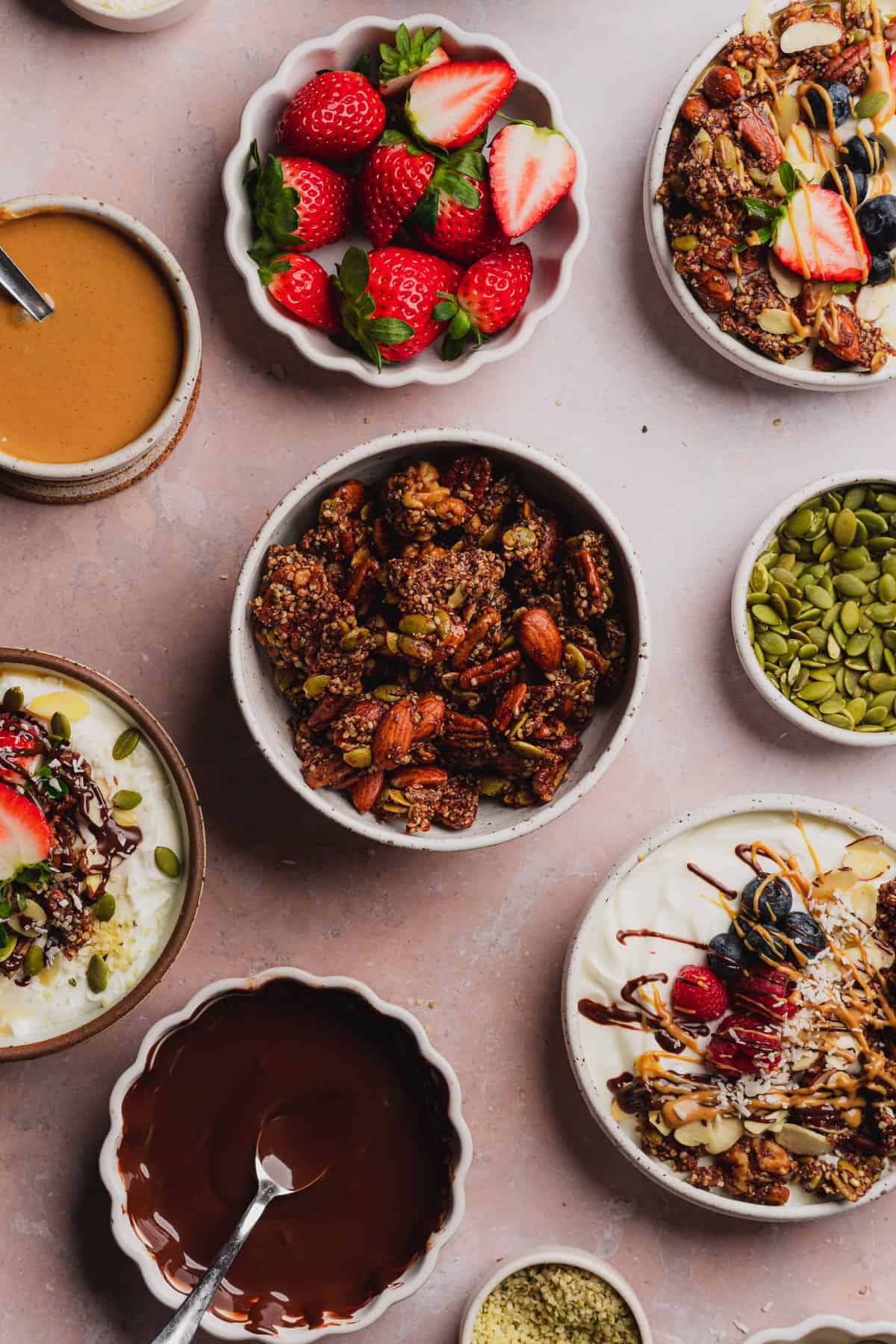 🥣Storage
This recipe can be stored indefinitely at room temperature in an airtight container and does not need to be refrigerated. If the mixture begins to smell off, it's possible the nuts have gone rancid, so toss them.
🌟Leave a review!
Make sure to leave a 5-star review below! This helps other readers find our recipes via Google, and encourages them to try them. Also be sure to leave a comment with your experience!
Take a photo and share with us by tagging us on Instagram or follow along on Pinterest for more ideas!
📖 Recipe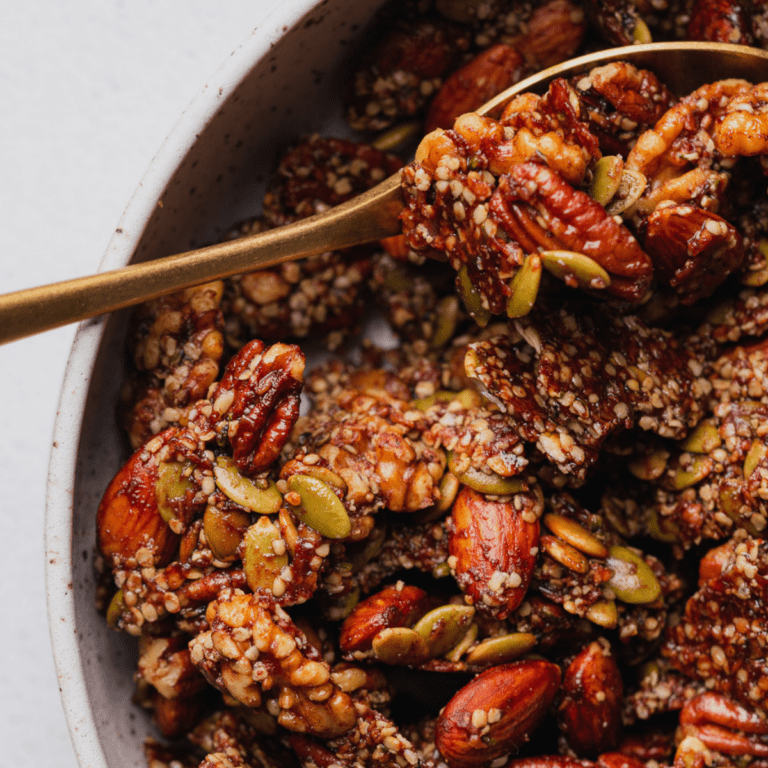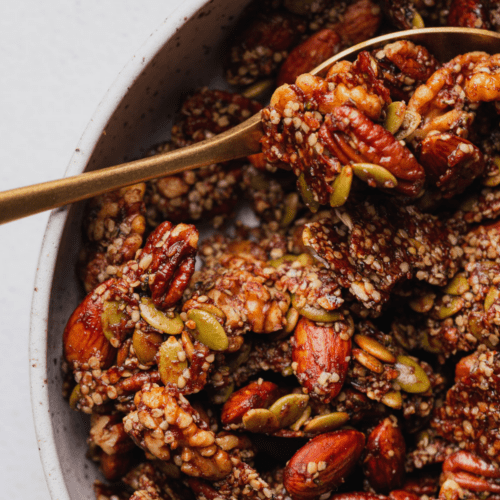 Keto Granola Recipe
This Homemade Keto Granola Recipe will satisfy your cravings and is so easy to make. It's incredibly delicious and packed full of healthy fats and nutrients. Perfect for keto, gluten free, and vegan diets! Eat as a part of your breakfast on some yogurt, on top of a salad, or just as a keto snack.
Instructions
Preheat the oven to 300°F. Line parchment paper on a baking sheet.  Chop your pecans, walnuts, and almonds to your liking, or use a food processor to lightly pulse and get a finer texture.

Add melted coconut oil, cinnamon, sweetener, and salt to a bowl, and mix to combine. Add in the nuts, hemp hearts, pepitas, and coconut flakes. Toss to coat. Add to the baking sheet in a single layer.

Bake for 25-30 minutes, flipping halfway through to ensure even cooking. Once golden brown, remove from the oven and allow to cool completely before enjoying. The granola is ready when you can snap it into chunks.

Now, just serve and enjoy! Keep in an airtight container and you can enjoy this for weeks to come. You don't need to refrigerate it, just keep in a cool, dark place. 
Notes
Substitute with your sweetener of choice, but we don't recommend using allulose. 
Feel free to add your favorite nuts and seeds to this mix. You can also add chocolate chips! 
Cinnamon is technically optional, but recommended. 
Nutrition
Calories:
244
kcal
Carbohydrates:
5
g
Protein:
7
g
Fat:
24
g
Saturated Fat:
7
g
Polyunsaturated Fat:
8
g
Monounsaturated Fat:
7
g
Trans Fat:
1
g
Sodium:
195
mg
Potassium:
157
mg
Fiber:
3
g
Sugar:
1
g
Vitamin A:
41
IU
Vitamin C:
1
mg
Calcium:
43
mg
Iron:
2
mg