Enjoy the flavors of autumn with this apple cider mimosa! It's low carb since it's made with our low carb sugar free spiced apple cider with our homemade sugar free keto grenadine, spiced rum, and prosecco. This easy to mix up is the perfect recipe for the entire fall and holiday season.
---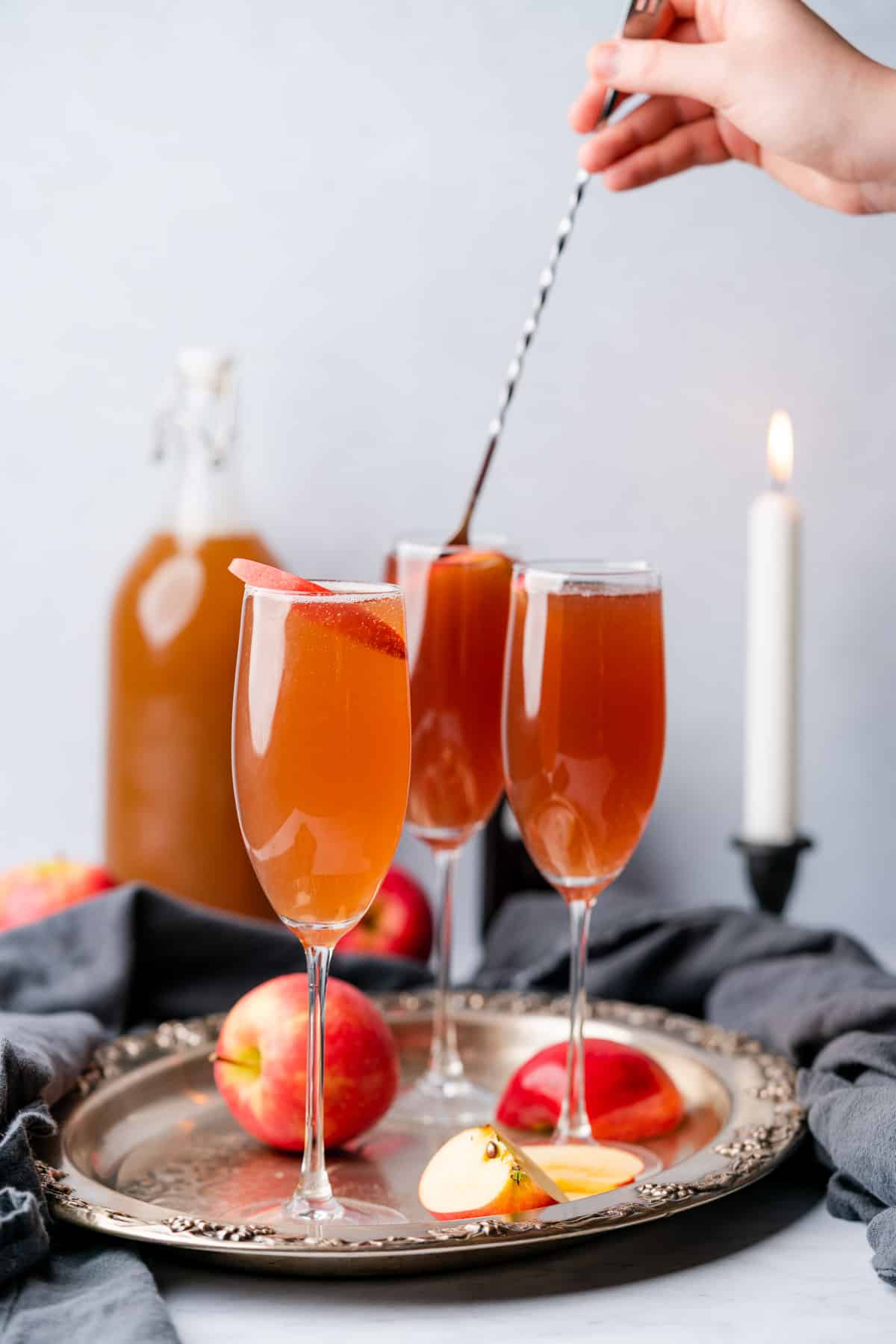 Fall is truly our favorite season, and it's so fleeting here in the Midwest, so we try to take full advantage of it! We can't get enough warm fall flavors, and this drink is a sure hit. Truthfully this apple cider spritzer is great from the second September hits, until New Year's Eve, so you can be festive for a large portion of the year! 😉
Making some of the components for this drink lowers the carb and sugar count pretty significantly. This makes the holidays a little healthier, without sacrificing flavor.
Feel free to skip to the recipe card if you want to jump right into it. but we do recommend reading the instructions in full if you have questions about this drink. This post is now available as a Google Web Story.
Ingredients:​
Homemade sugar free low carb spiced apple cider - We make a low carb spiced apple cider with just a few simple ingredients. It's super low in sugar since its sweetened with brown sugar Swerve. It's too easy to make your own, it's so much healthier than store bought, and you can add as much or as little whole spices and aromatics (like ginger) to the cider as you want. Plus, it makes the whole house smell amazing!
Sugar free keto grenadine - Our grenadine is just a few simple ingredients and it's truly amazing. There's no sense in using store bought grenadine that is absolutely loaded with sugar, unnecessary carbs and weird chemicals. This recipe is just too easy to make, and it adds sweetness and a lovely color and flavor to this spiced apple cider spritzer. Make a batch and then hang onto it because we have a ton of cocktail recipes that use this grenadine recipe. Keep scrolling to find out more!
Spiced rum of choice- Any spiced rum you prefer here. Plain dark rum would be fine as well.
Sparkling white wine of choice- Since we have so many sweet elements going into this drink, it's good to use something really dry and sparkly to cut some of the sweetness. Plus, we love the bubbles! 🥂 We opt for brut prosecco.
Garnish with: apple slices (optional)
How to Make A Fall Mimosa Recipe:
Prep all of your ingredients ahead of time. It will make your life a lot easier when it all comes together. This cocktail is actually quite easy to make, but you will need to make your homemade apple cider and keto grenadine ahead of time. You can make it up to 10 days in advance.

In a champagne flute, add in your apple cider.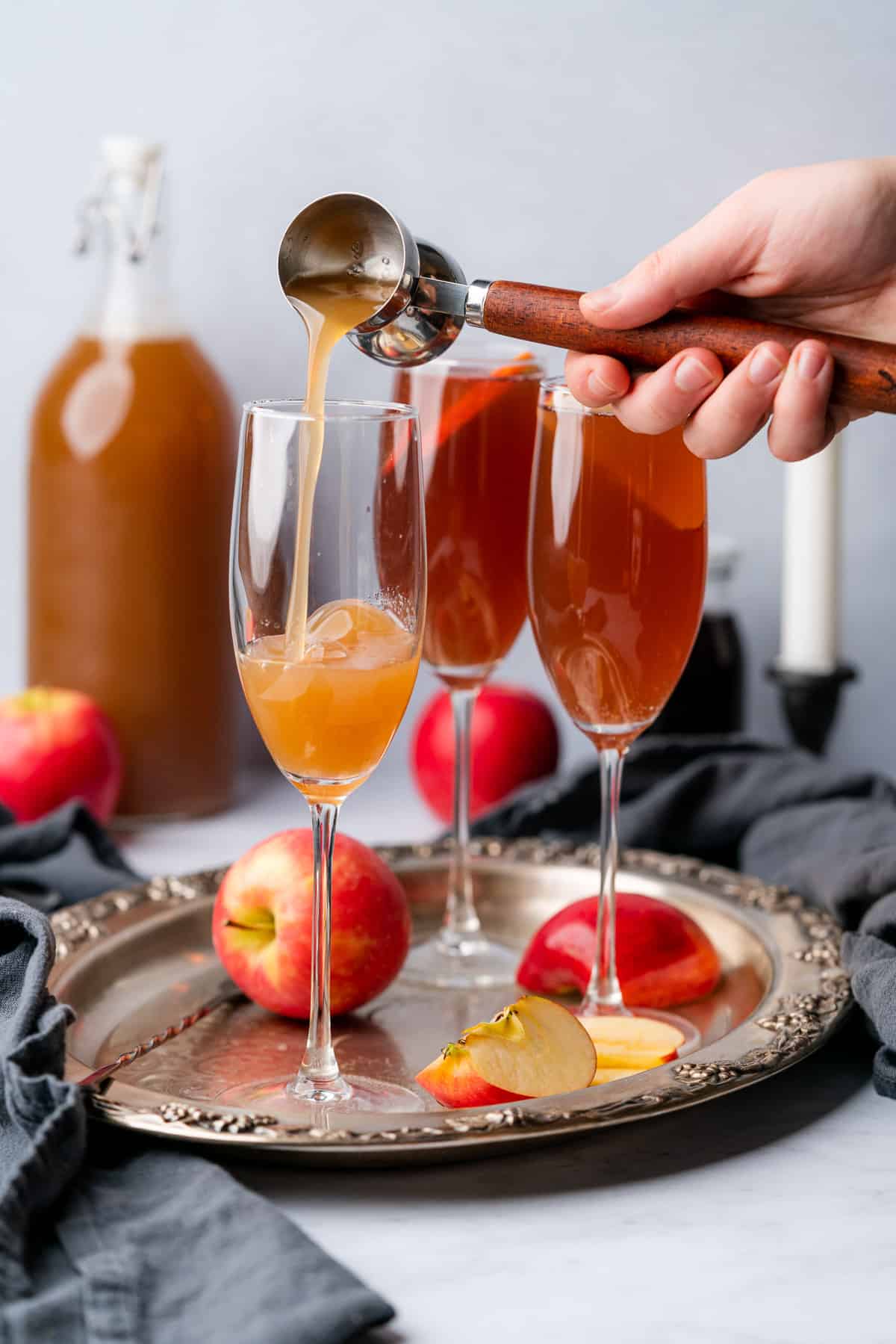 Add spiced rum.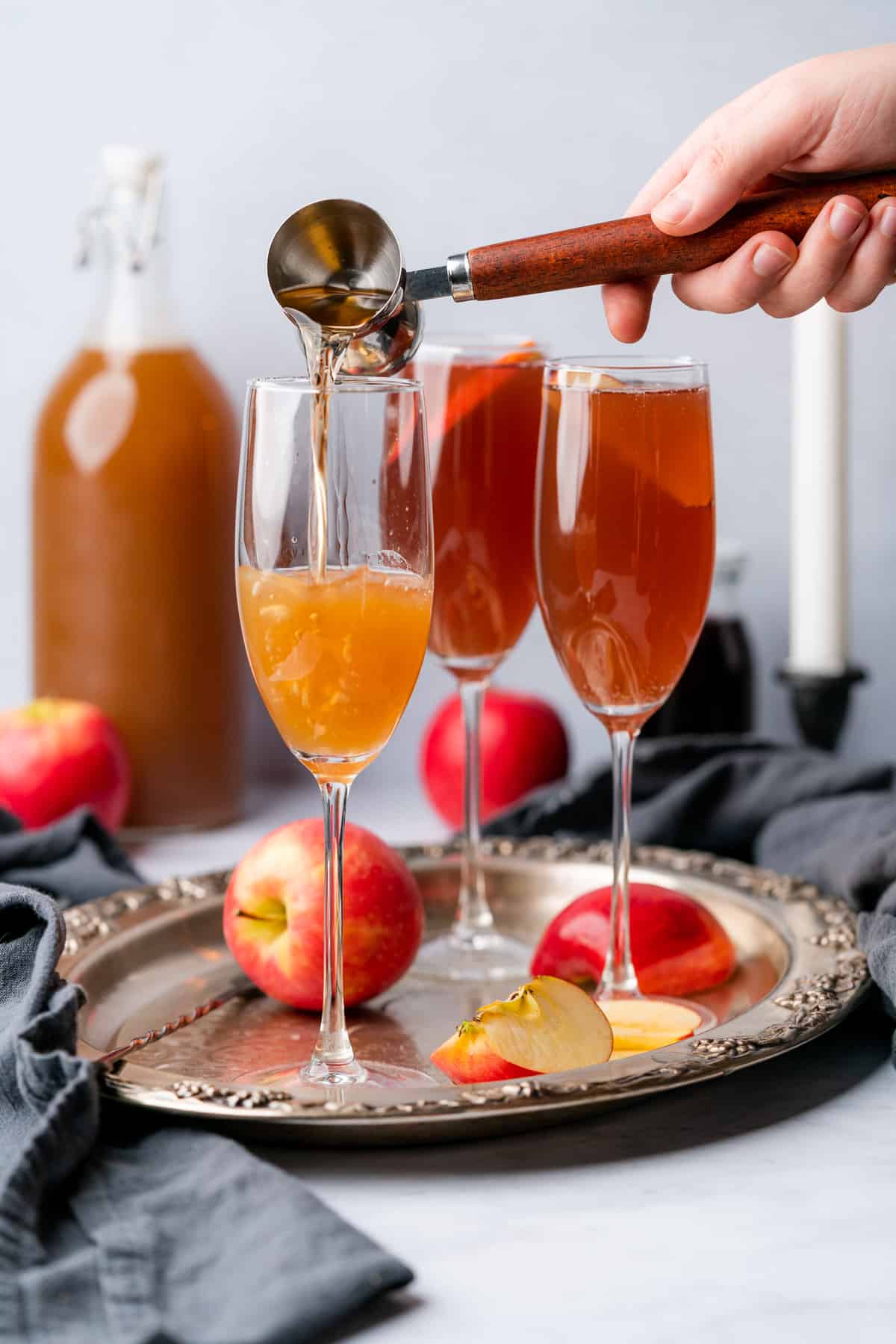 Add in the keto grenadine.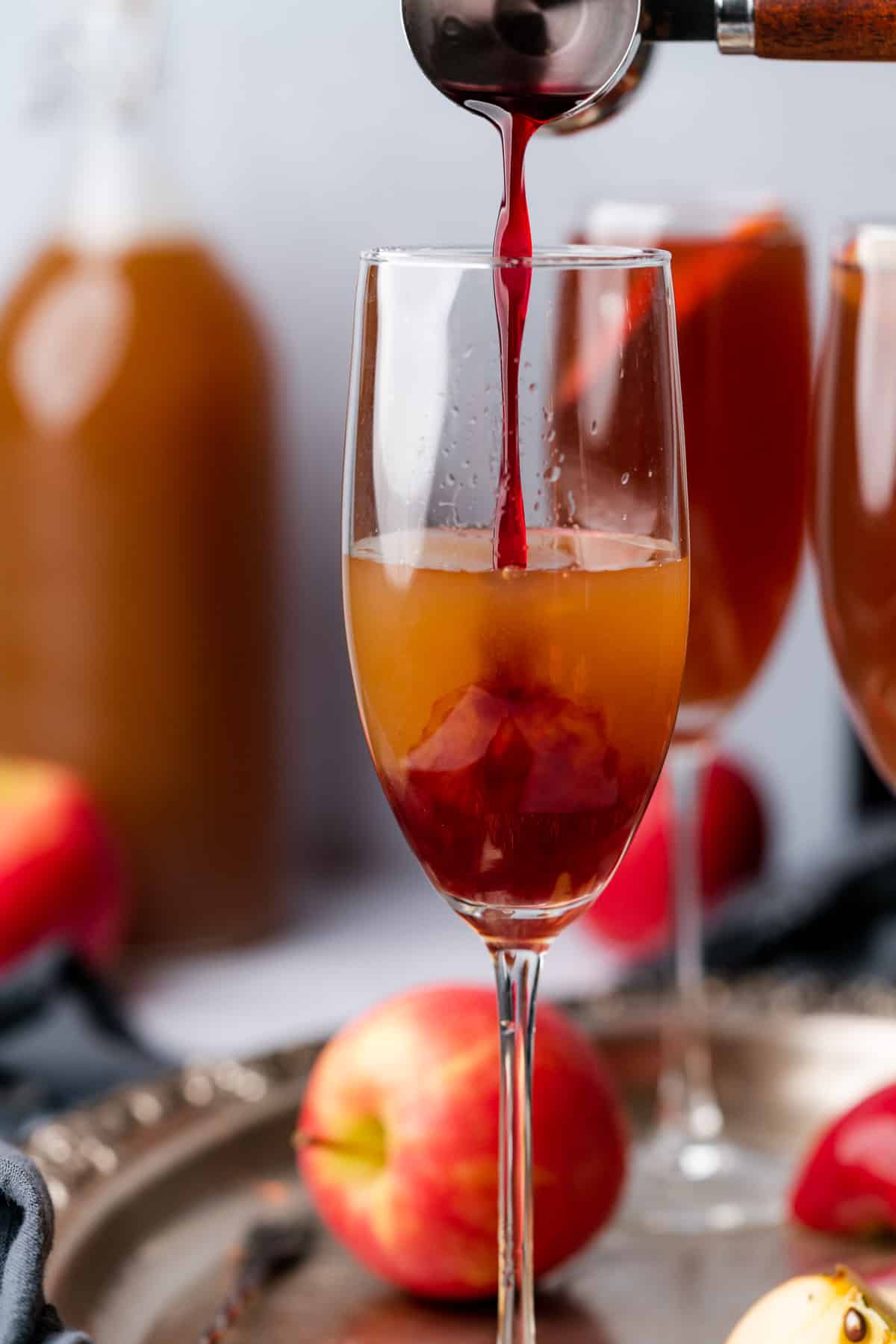 Top with sparkling wine of choice.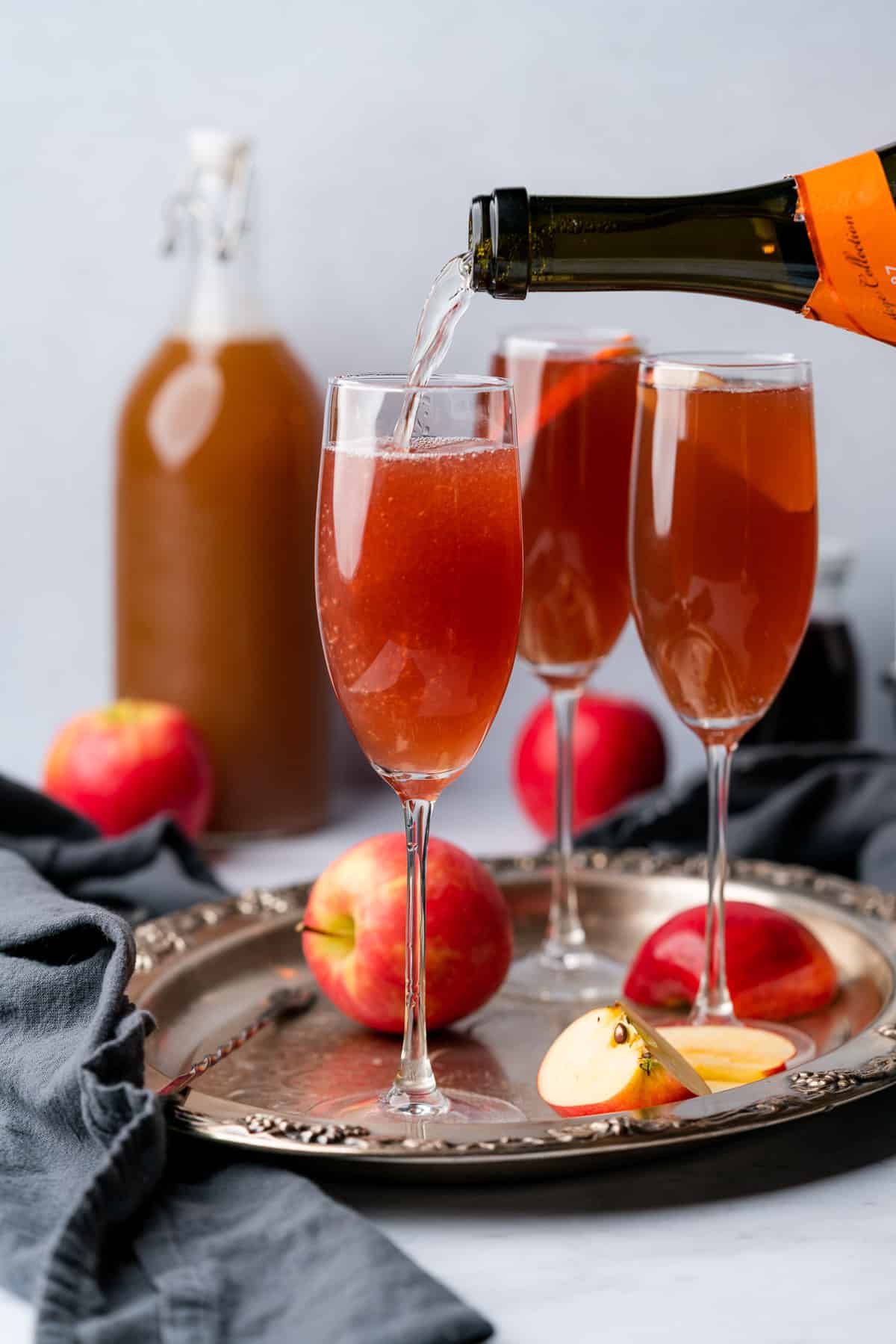 Stir!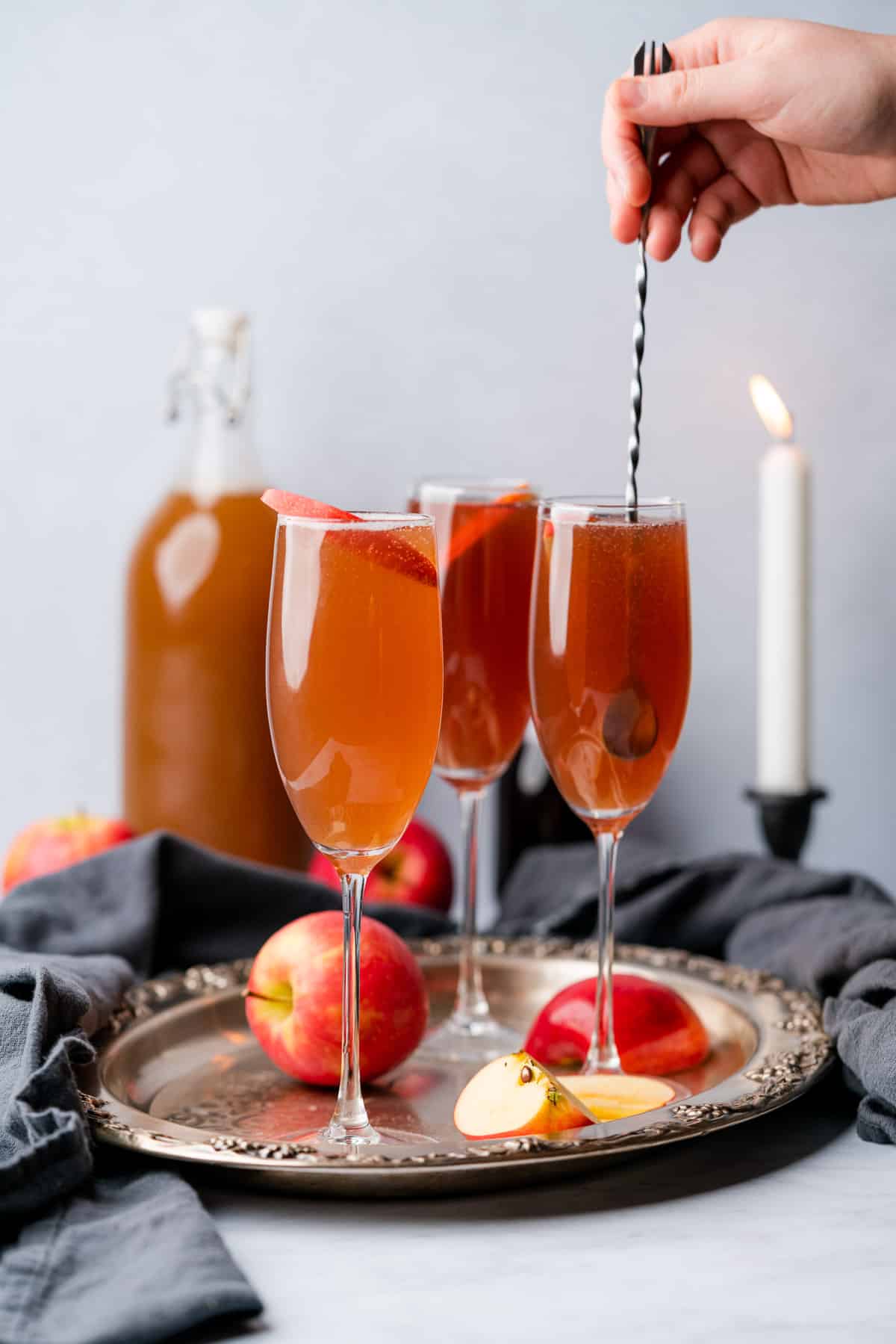 Garnish with an apple slice or cinnamon stick. A rim of cinnamon "sugar" or sugar replacement would also be a great touch as well!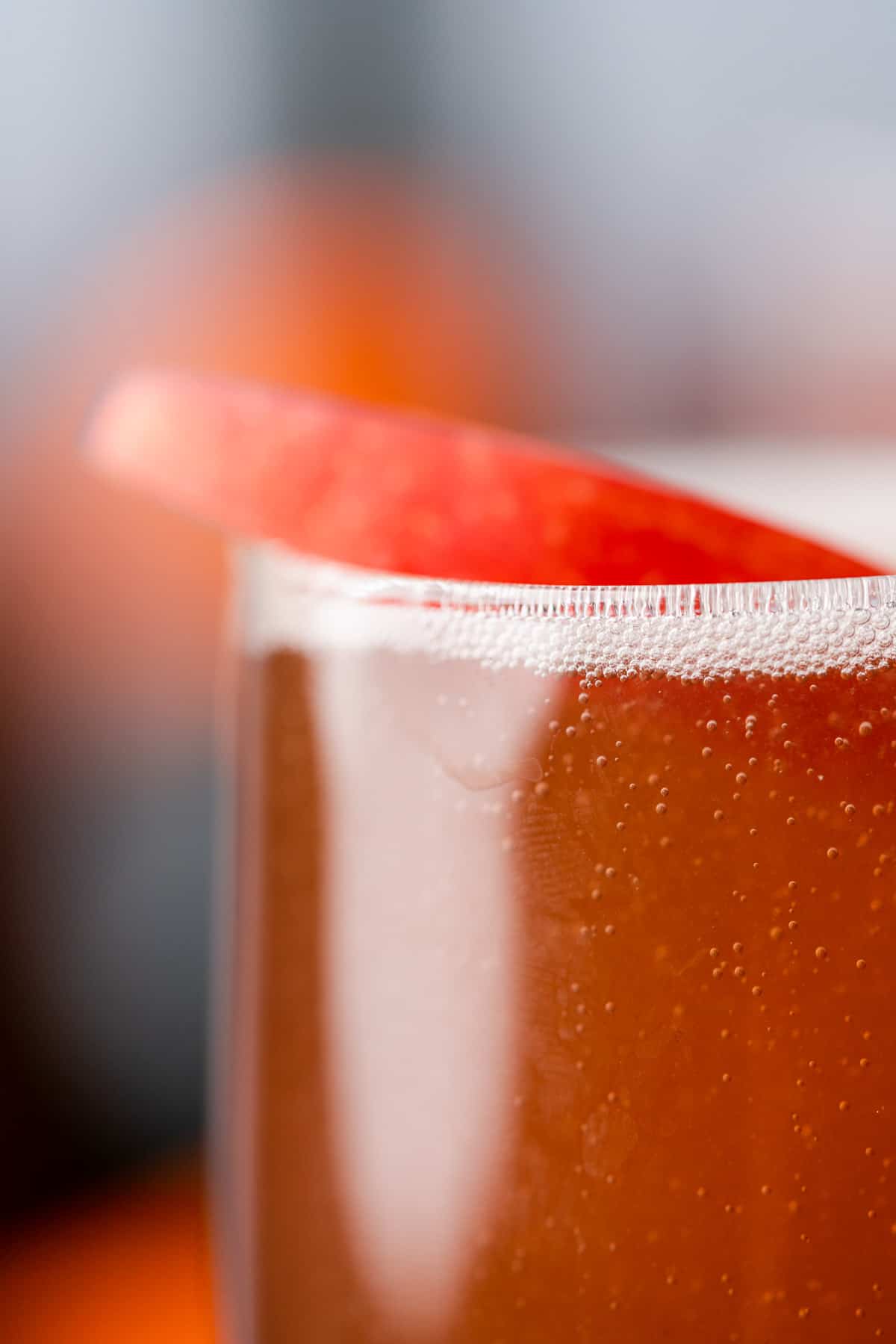 FAQs:
Is Spiced Rum Keto?

Honestly, this is a hard question to answer, since keto is a metabolic state. Keto isn't a food! Ketosis is basically the absence of carbs and sugars, and using fat for fuel in your body. While some foods are higher in carbs and sugar than others, we believe in eating what you want to an extent.

When you're first starting out with a low carb lifestyle, it might be easier to limit some things, but in time, we have found that moderation for us is key.

Alcohol in general can be known to kick people out of ketosis, because alcohol will be used for fuel before any other food source. After alcohol, your body will turn to carbs for fuel, and then lastly, fat burning!

Basically, on nights of heavier drinking, your body is running off of alcohol before anything else. When you add extra sugars and carbs to the mix with your alcohol, things can get a little tricky. Many spiced rums have tons of extra sugar, so keep an eye out for that.
What Sparkling Wine is Best For This Apple Spritzer?

This is more of a personal preference thing, and it will vary a lot from each person's taste buds.

For us, Prosecco in general is one of our favorite alcoholic beverages, with it's crisp and refreshing flavor, and often complements apple flavors very well.

The other components of this drink are pretty sweet and bold in flavor, so having something pretty dry is a great choice to avoid making this drink overly sweet.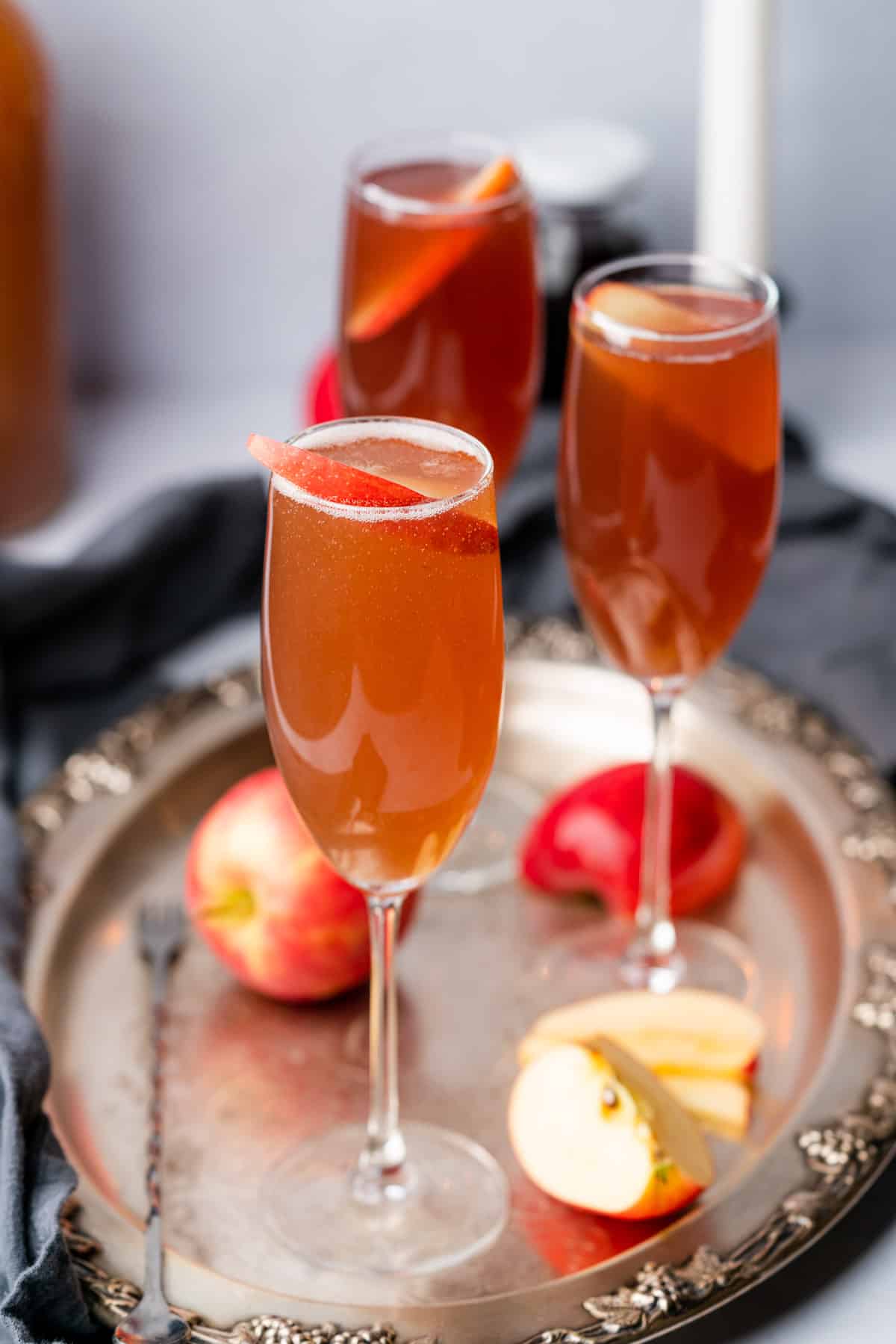 Can I Make A Large Batch of This Drink?

Yes, you can! Get a larger batch ready to go so you don't have to spend the whole night mixing and pouring. If you are making a large batch in a punch bowl, just be sure to leave out the prosecco until right before serving, since it will go flat pretty quickly.

Even better would be to mix up a bowl with the grenadine, apple cider and rum, then have guests ladle some of the mixture into their champagne flutes, then topping off their drinks with some prosecco.
What Alcohol Mixes Best With Apple Cider?

Spiced rum as as good as a match as it gets! Usually, you'll find apple cider with dark liquors like bourbon or rum. If you don't like either of those things, you can try this with vodka, too!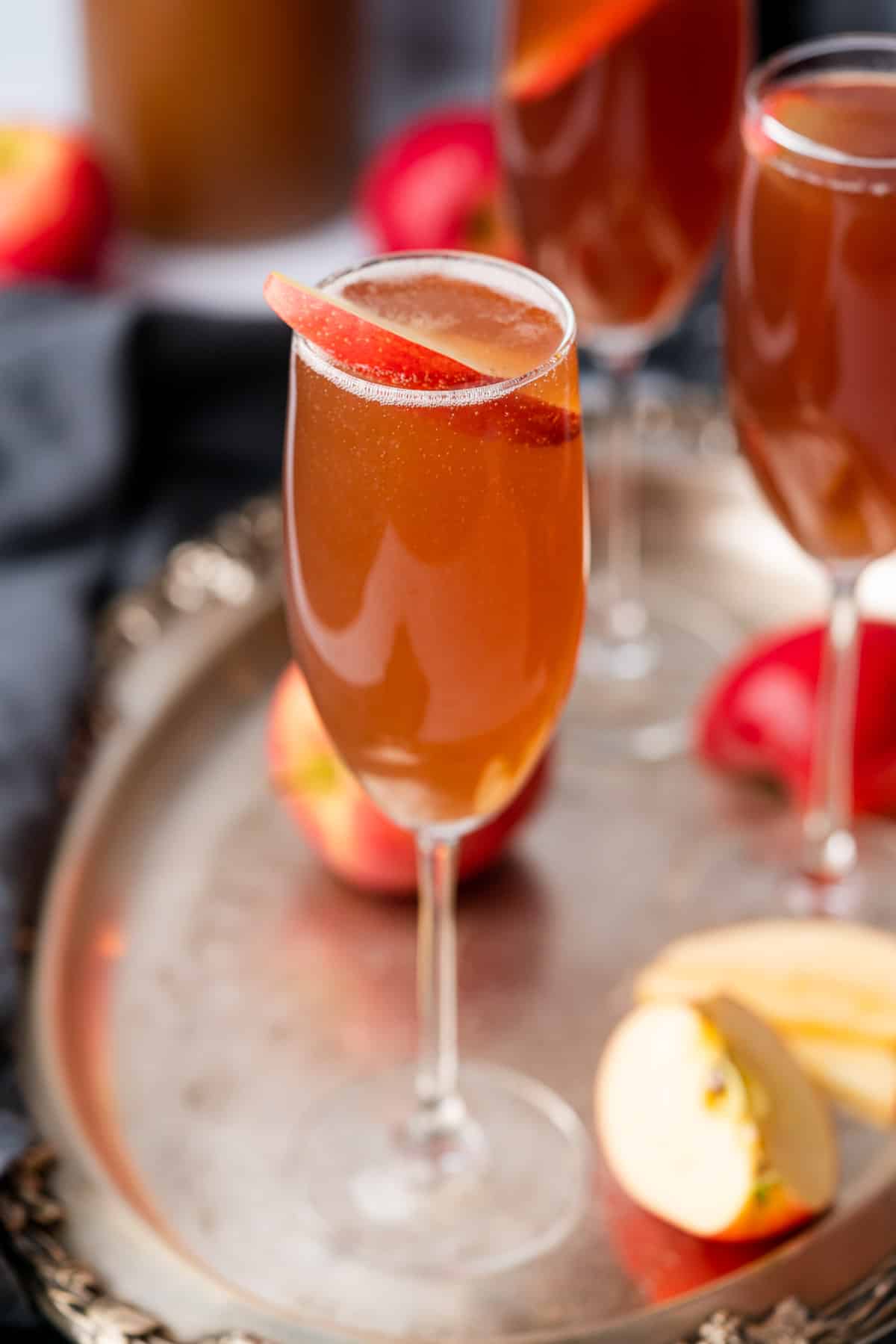 More Fall Cocktails To Try: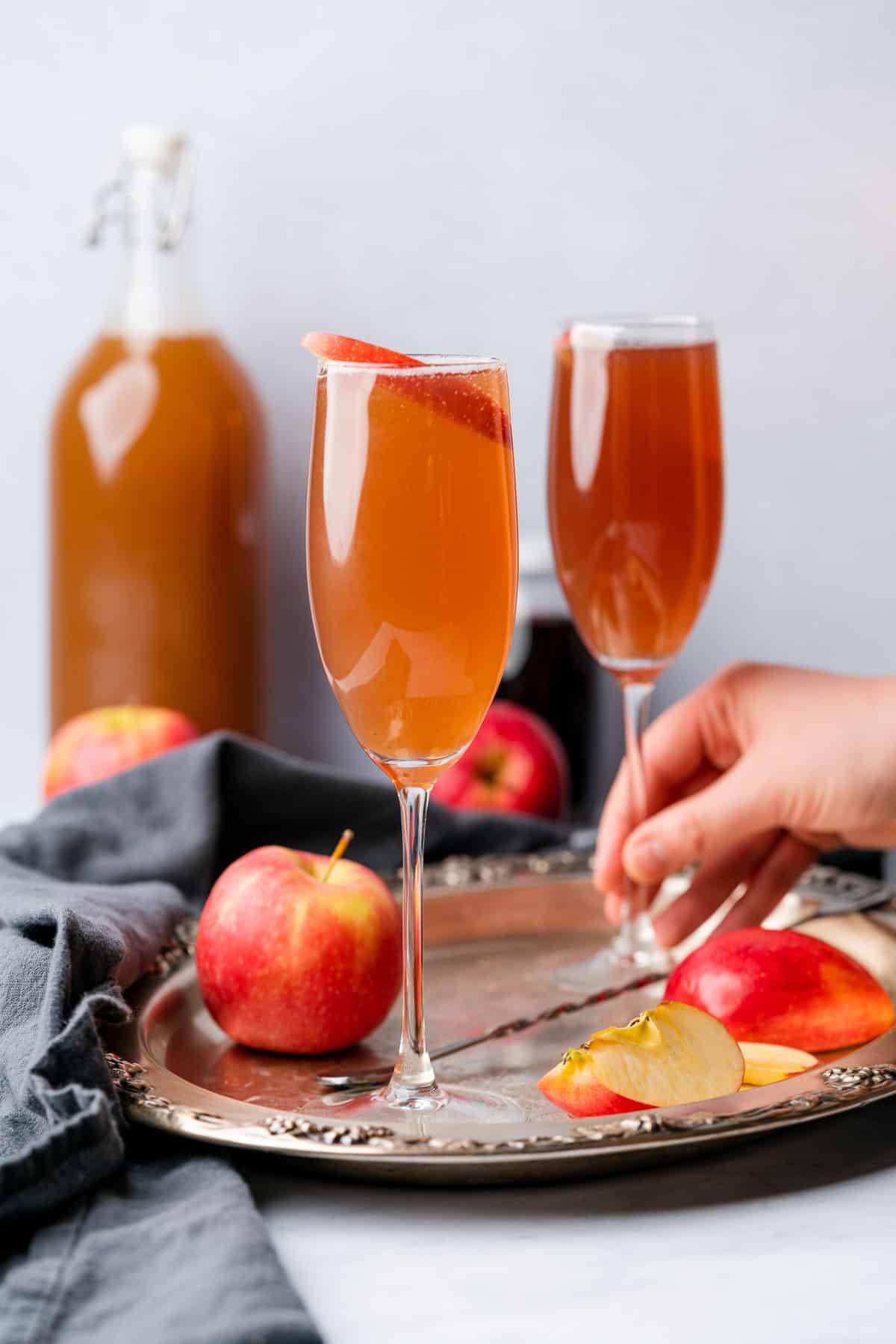 Shop This Recipe:
Want to get supplies for this recipe or shop our keto kitchen or pantry? We've linked our favorites above and right here in our Amazon Store!
A Full Living is a participant in the Amazon Services LLC Associate program, an affiliate advertising program designed to promote a means for sites to earn advertising fees by linking products to amazon.com. We only share products we use and love. It doesn't cost you anything extra to shop using our links, but we earn a small commission that helps us keep this site going!
---
If you get a chance to try this recipe, let us know what you think, would ya?! Leave us a comment, or catch up with us on Facebook or Instagram, or pin to your favorite Pinterest board for later. We love sharing your versions of our creations over on Instagram @afullliving!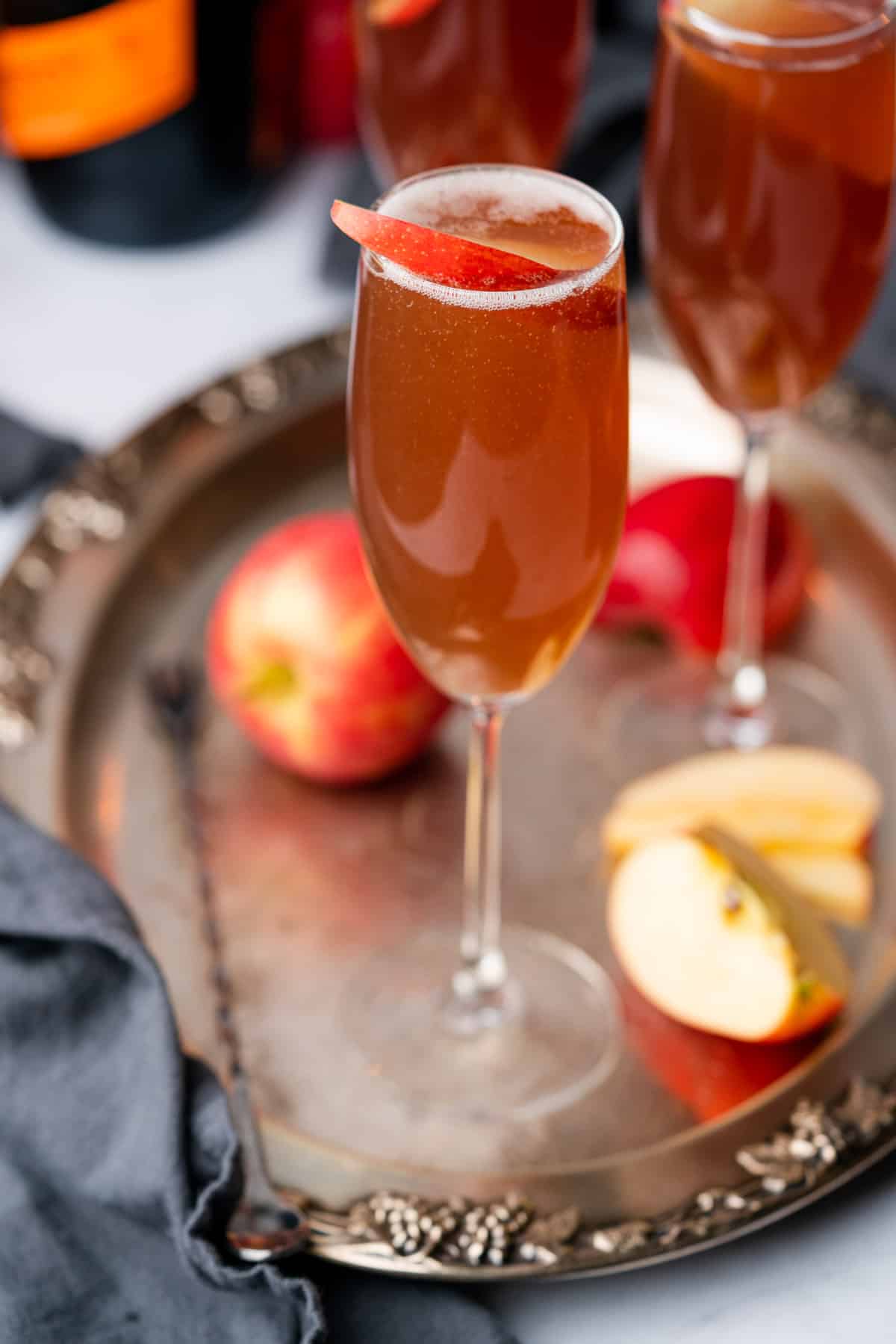 If you could please leave a comment and/or a rating if you loved this recipe, we would be forever grateful! (Ratings helps users find our recipes, since users say that they like them!)
Thanks for stopping by! Be sure to subscribe to our email newsletter so you're the first to know about new recipes we post on our blog.
Until Next Time,
Briana & Chamere
📖 Recipe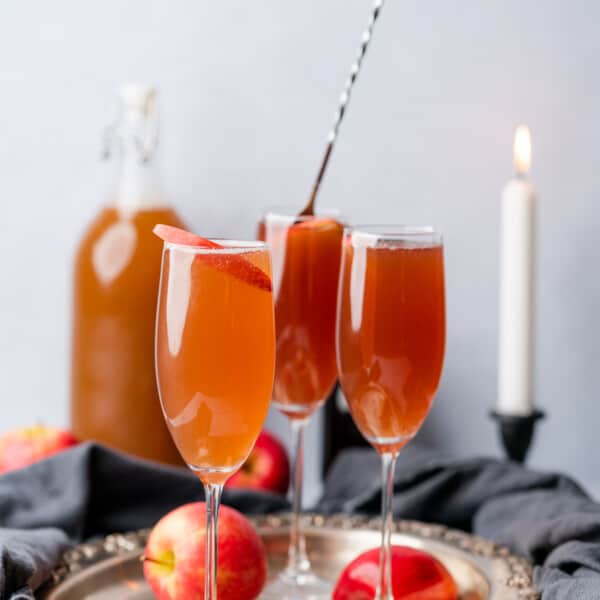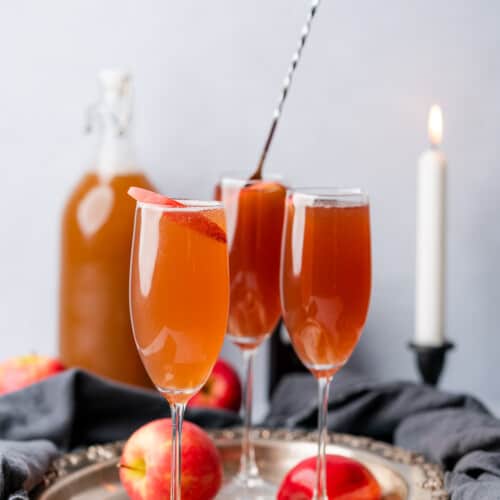 Apple Cider Mimosa with Spiced Rum (Low Carb)
Enjoy the flavors of autumn with this apple cider mimosa recipe with spiced rum! This easy to mix up is the perfect recipe for the entire fall and holiday season. Making the components on your own lowers the sugar content, making the holidays a little healthier, without sacrificing flavor. Combine our low carb sugar free spiced apple cider with our homemade sugar free keto grenadine, spiced rum, and prosecco for a wonderful low carb spiced apple spritzer!
Instructions
In a champagne flute, combine chilled apple cider, chilled grenadine, spiced rum, and top with chilled prosecco.

Stir with a bar spoon and garnish with a slice of apple.
Notes
We used our apple cider and keto grenadine in this recipe which greatly lowers the carb count. Please keep note if you want to use store bought versions, because there's a ton of sugar in those. 
To make a large batch (like in a punch bowl) mix the grenadine, rum and apple cider and chill until time to serve. Pour into a punch bowl and fill with chilled prosecco. Serve right away! 
Nutrition
Calories:
115
kcal
Carbohydrates:
6
g
Protein:
1
g
Fat:
1
g
Saturated Fat:
1
g
Trans Fat:
1
g
Sodium:
9
mg
Potassium:
112
mg
Fiber:
1
g
Sugar:
5
g
Vitamin A:
27
IU
Vitamin C:
3
mg
Calcium:
12
mg
Iron:
1
mg