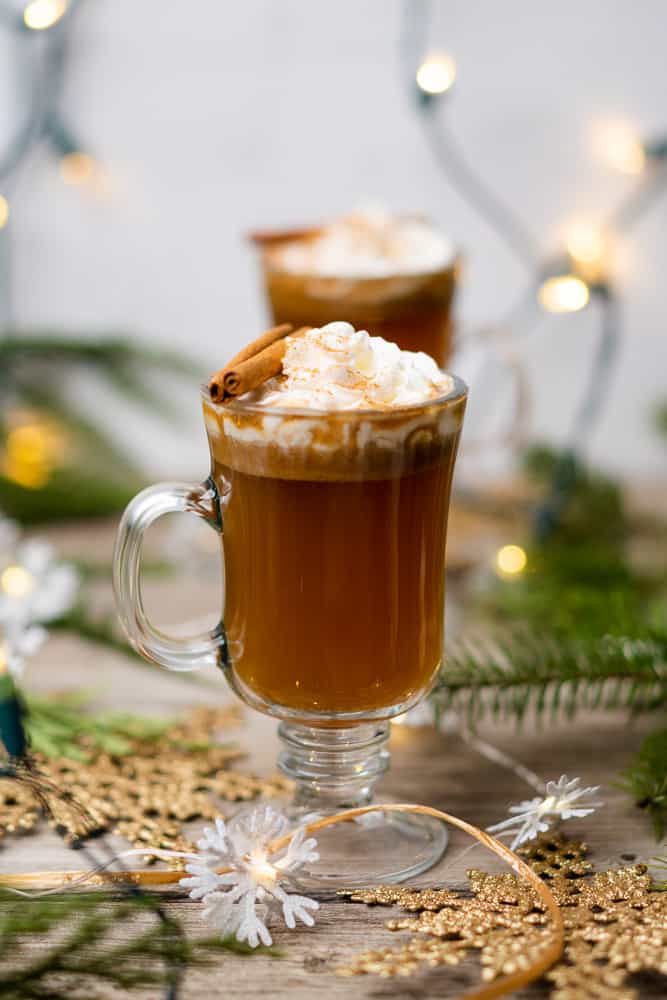 We can't get enough of this Keto Hot Buttered Rum at Christmas time. It's warming, luscious flavors are perfect for chilly nights curled up on the couch. Our version takes just a few simple swaps from sugar laden version, and creates a wonderful, nostalgic drink for only 1 net carb per serving. Use your favorite spiced rum to make this classic Christmas cocktail. Be warned, that not all spiced rums are created equal, and some have a lot more added sugar than others. We used Bacardi Spiced Rum for this, but more on that later.

The only other things that you need for this recipe are some hot water, butter, a brown sugar replacement, sugar free maple syrup, a pinch of salt, some vanilla extract, and your favorite warming spices! We used cloves, nutmeg and cinnamon for ours, but we do know that sometimes people add allspice too. Keep reading for all of the tips on how this drink comes together!
Ingredients:​
Unsalted butter
Brown sugar replacement (Swerve Brown)
Sugar free maple syrup (ChocZero - use our affiliate code 'AFullLiving' for 10% off on choczero.com!)
Spiced rum of choice (we used Spiced Bacardi)
Garnish with: whipped cream, cinnamon sticks, ground cinnamon, nutmeg and cloves (optional)
Keto Hot Buttered Rum Recipe:
This recipe is honestly very simple. To make it, first start by preparing the "batter" which is essentially the butter, sweeteners, and flavorings. Start with room temperature unsalted butter so it's easy to work with. In a mixing bowl, combine butter, brown sugar Swerve, salt, cinnamon, cloves, and nutmeg. Combine with a rubber spatula.

Next, add in your sugar free maple syrup and vanilla extract. Combine again until smooth. Set aside.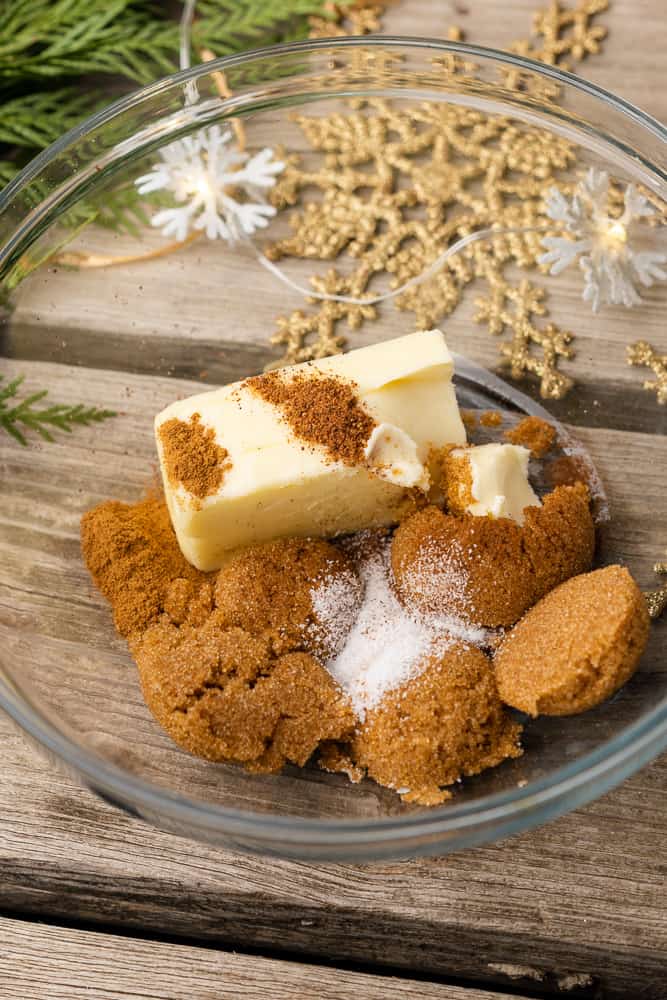 Add in spiced rum to the bottoms of the Irish coffee mugs. Now, add in a quarter of the buttered rum batter to the bottom of each mug (there is enough batter for four drinks). Add in the hot water.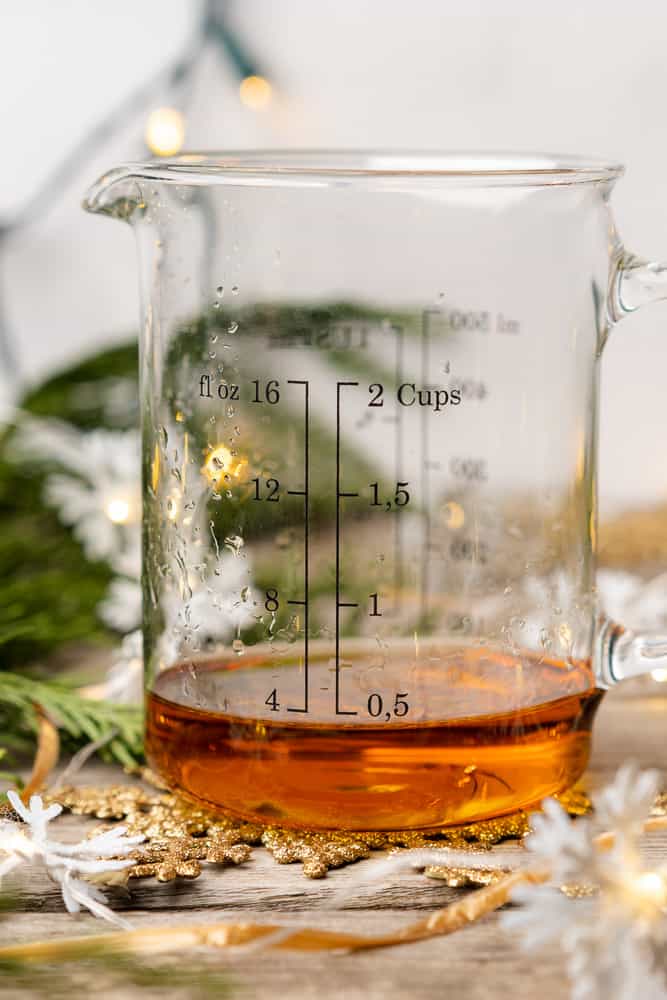 Stir until everything is dissolved. We use a cinnamon stick! Top with whipped cream if desired, then dust with cinnamon, cloves and nutmeg and garnish with a cinnamon stick. Keto Hot Buttered Rum is ready!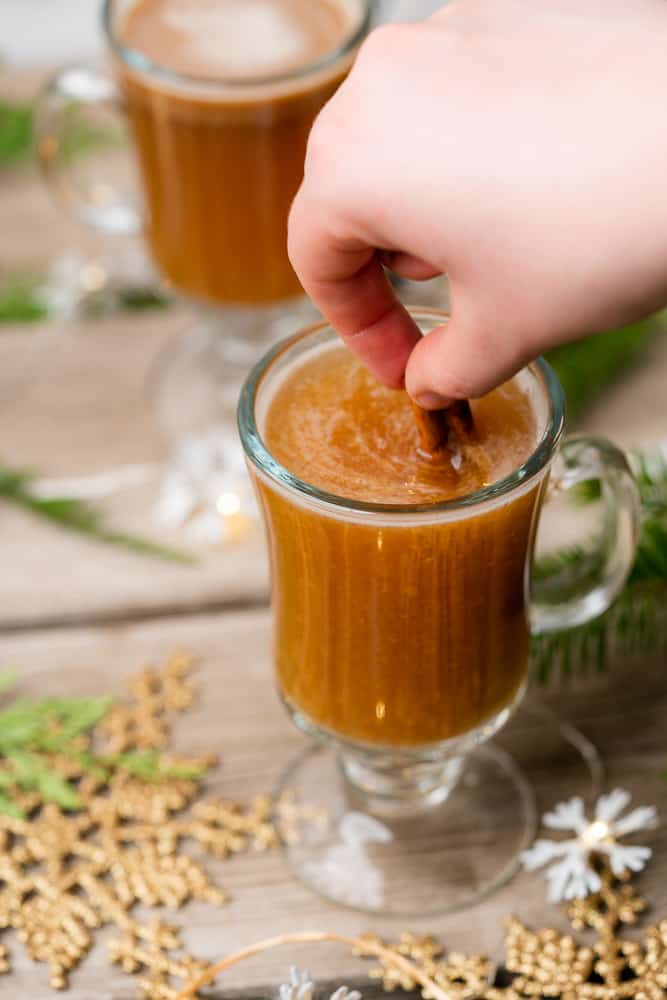 Is Spiced Rum Keto?
Honestly, this is a hard question to answer, since keto is a metabolic state. Keto isn't a food! Ketosis is basically the absence of carbs and sugars, and using fat for fuel in your body. While some foods are higher in carbs and sugar than others, we pretty much believe in eating what you want to an extent. When you're first starting out with a low carb lifestyle, it might be easier to limit some things, but in time, we have found that moderation for us is key.

Now, onto the rum. Alcohol in general can be known to kick people out of ketosis, because alcohol will be used for fuel before any other food source. After alcohol, your body will turn to carbs for fuel, and then lastly, fat burning! Basically, on nights of heavier drinking, your body is running off of alcohol before anything else. When you add extra sugars and carbs to the mix with your alcohol, things can get a little tricky. Many spiced rums have tons of extra sugar. Not Bacardi spiced rum though! It has only 0.5 grams of sugar and 0.5 carbs per every 1.5 ounce serving. Not bad at all! That's why we chose it for this hot buttered rum recipe. It has a lovely warming and smoky flavor.

*We'd like to thanks Bacardi for gifting us this rum to try. It was formerly known as Bacardi Oakheart (which we LOVED). We were not compensated other than the free product to create this recipe, but once we had a bottle in hand, we knew we needed to create a buttered rum recipe!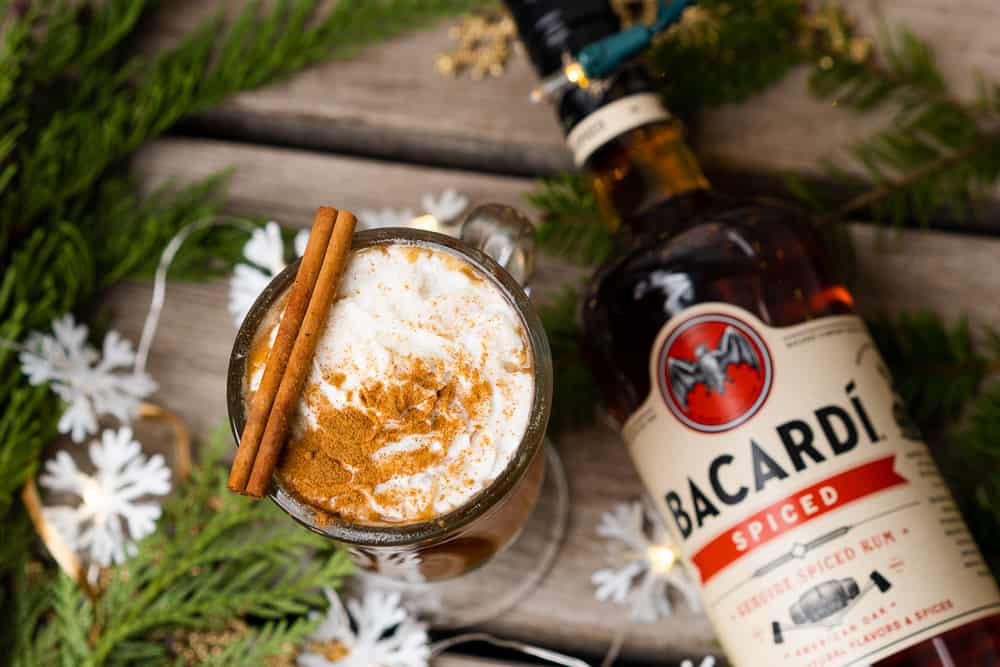 What Does This Buttered Rum Taste Like?
Hot buttered rum in general sort of tastes like a spiked Christmas cookie in a glass! This keto friendly version is no different. We just swap out the brown sugar for a brown sugar replacement. Some other recipes call for honey, and we substitute our favorite sugar free maple syrup for that (we love ChocZero), and you can use our affiliate code 'AFullLiving' for 10% off! Buttered rum drinks are served warm, and they are of course buttery and creamy (without tasting like actual butter), sweet, and warm from the spices and extracts used!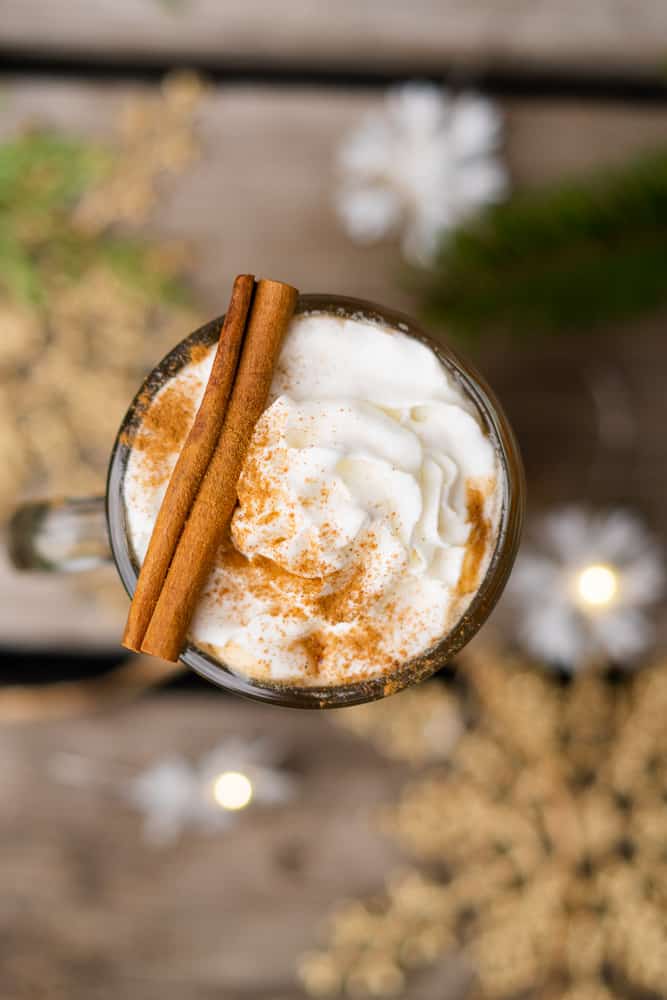 Do I Need To Warm The Rum?
Nope! The rum gets warmed when you add the hot water. Speaking of, your water should be quite hot when you first add it. We don't like to add the water completely boiling, mainly because it would likely burn the butter, as well as potentially cook off some of the alcohol content, but it should be pretty hot so that it can dissolve the sweetener and spices. This will warm the rum plenty.
Can I Make The Hot Buttered Rum Batter Beforehand?
Absolutely, yes, just leave out the rum and the water. You can store the butter "batter" in an airtight container in the fridge for about a week. You might want to let it sit out at room temperature for about an hour before serving though, this makes it easier to scoop. When it comes time to serve this, pour in your spiced rum, and some hot water. You just want to stir until everything dissolves, and there you go! We like to top ours with some whipped cream and sprinkle with the spices used in the drink.
Love Rum Try Our Favorite Rum Drinks!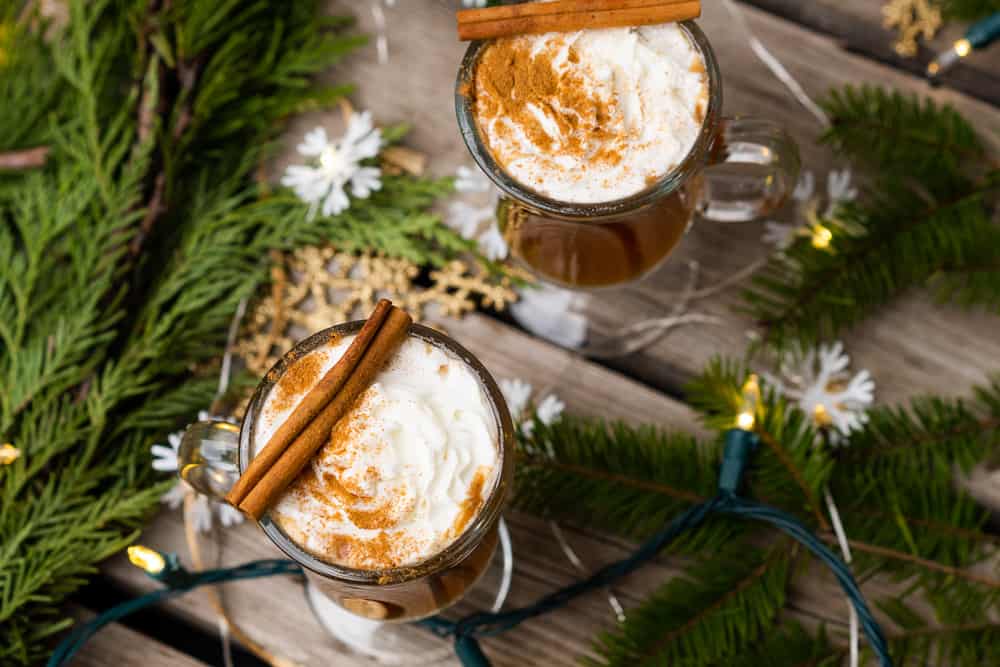 Shop This Recipe:
Want to get supplies for this Keto Hot Buttered Rum recipe or shop our keto kitchen or pantry? We've linked our favorites above and right here in our Amazon Store! A Full Living is a participant in the Amazon Services LLC Associate program, an affiliate advertising program designed to promote a means for sites to earn advertising fees by linking products to amazon.com. We only share products we use and love. It doesn't cost you anything extra to shop using our links, but we earn a small commission that helps us keep this site going!
Check Out Other Most Festive Holiday Low Carb Cocktails:
---
If you get a chance to try this recipe, let us know what you think, would ya?! Leave us a comment, or catch up with us on Facebook or Instagram, or pin to your favorite Pinterest board for later. We love sharing your versions of our creations over on Instagram @afullliving!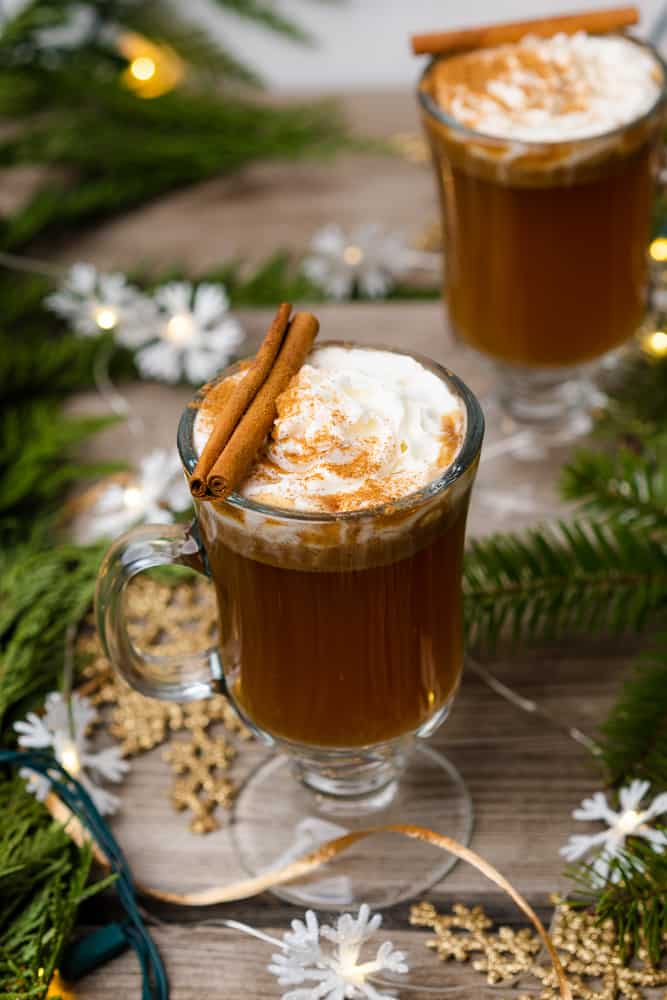 Thanks for stopping by! Be sure to subscribe to our email newsletter so you're the first to know about new recipes we post on our blog.

If you love this recipe, please consider sharing it with a friend and also leaving a rating and comment so others can find this recipe. Thank you for your support!
Until Next Time,
Briana & Chamere
📖 Recipe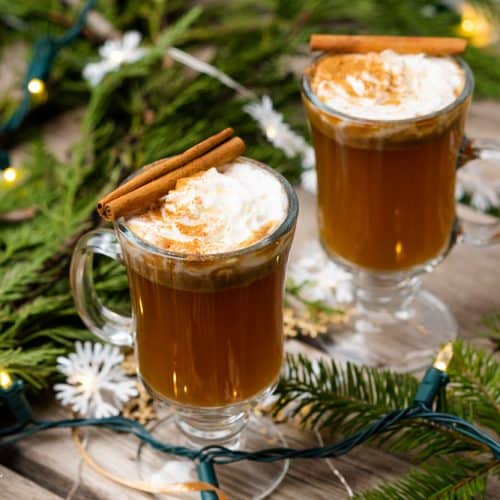 Keto Hot Buttered Rum Recipe
This Keto Hot Buttered Rum Recipe is just 1.2g net carbs per serving, and totally delicious! It's easy to make with butter, a brown sugar replacement, sugar free maple syrup, spiced rum, vanilla extract and your favorite warming spices. Top with whipped cream garnish with a sprinkle of cinnamon that truly tastes like the holidays. Curl up with a glass of this low sugar deliciousness this holiday season.
Instructions
In a bowl, combine your butter, brown sugar Swerve, salt, cinnamon, nutmeg and cloves. Combine with a rubber spatula. Now, add in your vanilla extract and sugar free maple syrup. Combine until smooth.

Add spiced rum in equal parts into your Irish coffee mugs, followed by your buttered rum batter. Top with hot water, and stir to dissolve.

Top with whipped cream, a cinnamon stick, and ground cinnamon, nutmeg, and/or cloves if desired.
Notes
You can prepare the butter mixture ahead of time and store in the fridge. Once mixed up, serve immediately. 
Nutrition
Calories:
220
kcal
Carbohydrates:
8
g
Protein:
1
g
Fat:
11
g
Saturated Fat:
7
g
Trans Fat:
1
g
Cholesterol:
30
mg
Sodium:
148
mg
Potassium:
15
mg
Fiber:
8
g
Sugar:
1
g
Vitamin A:
351
IU
Vitamin C:
1
mg
Calcium:
6
mg
Iron:
1
mg