This Cranberry Coconut Mojito is festive, rich, decadent and vegan too! Made with classic mojito ingredients like lime juice, white rum, mint leaves and sweetener in place of sugar, we added a few extras to make it truly special like this time of year. Mix in some coconut extract, full fat coconut milk, and some diet cranberry juice for a gorgeous Christmas cocktail that's low carb, and low calorie.
---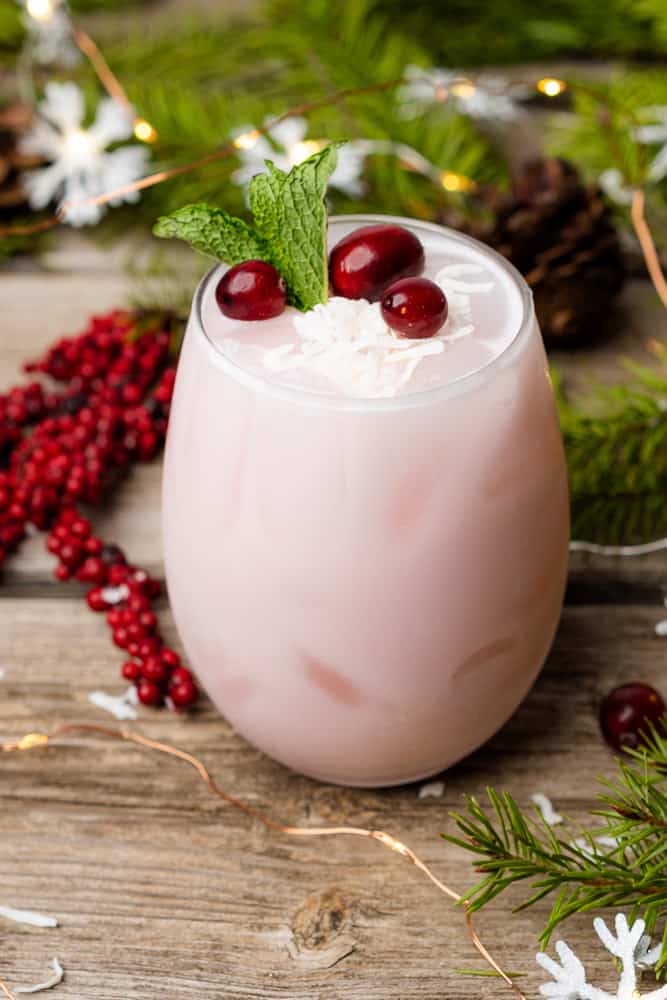 We love coming up with delicious and fun cocktail recipes that will get you excited to imbibe a little bit, without all of the sugar! Whether or not you eat a low carb diet, we think many people would enjoy recipe ideas that are completely refined sugar free. Sugar just adds pointless calories, and makes your hangover worse! We love this Cranberry Coconut Mojito is creamy, rich and decadent, all while being vegan and super flavorful. Unwind this holiday season, this drink is a festive way to indulge a little bit, with minimal impact to your blood sugar.
Ingredients:​
Lime juice - This is a classic and the most essential ingredient when making a mojito! Fresh squeezed is obviously best.
Fresh Mint Leaves- Again, we definitely couldn't call it a mojito if it didn't include mint! Although its final form ends up in your cocktail shaker, and as a garnish rather than at the bottom of your glass!
Granular Sweetener- We used our favorite, Swerve Granular as the traditional white sugar replacement in this drink. It measures like sugar, and won't give you a tummy ache, with 0 calories and carbs. What's not to love?
White Rum - The other main component of a mojito is white rum. Our favorite is Bacardi!
Coconut Rum - This ingredient is optional and it does add sugar, you can leave it out if you want, or sub for coconut extract.
Diet Cranberry Juice - This adds your cranberry flavor, and color of course! It also provides a little bit of sweetness, with minimal calories and sugar.
Full Fat Coconut Milk - It comes in a can and will give this drink it's luscious, creamy texture!
Seltzer Water - You could sub for club soda, this just ties everything together!
Ice - In the cocktail shaker, and the glass. To chill the drink!
Garnish with: lime slices, cranberries, mint leaves, coconut shreds, get creative and festive!!
How to Make This Cranberry Coconut Mojito Recipe:
In a cocktail shaker with no ice, add in your freshly squeezed lime juice, mint leaves and sweetener of choice. Gently muddle, then add ice.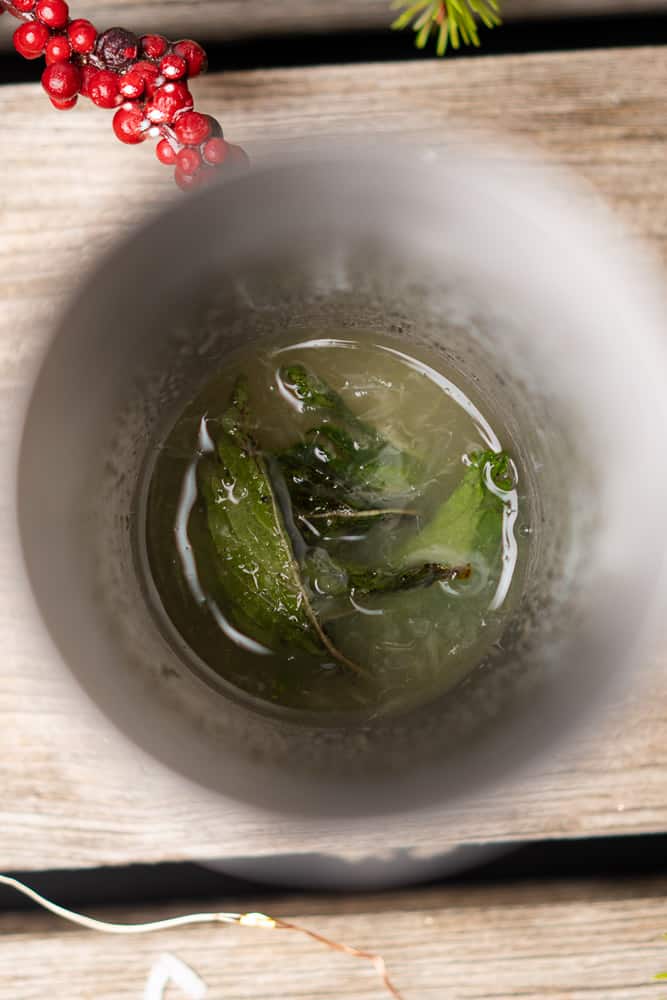 Add in your diet cranberry juice, rums and/or coconut extract, and full fat coconut milk. Shake vigorously until chilled.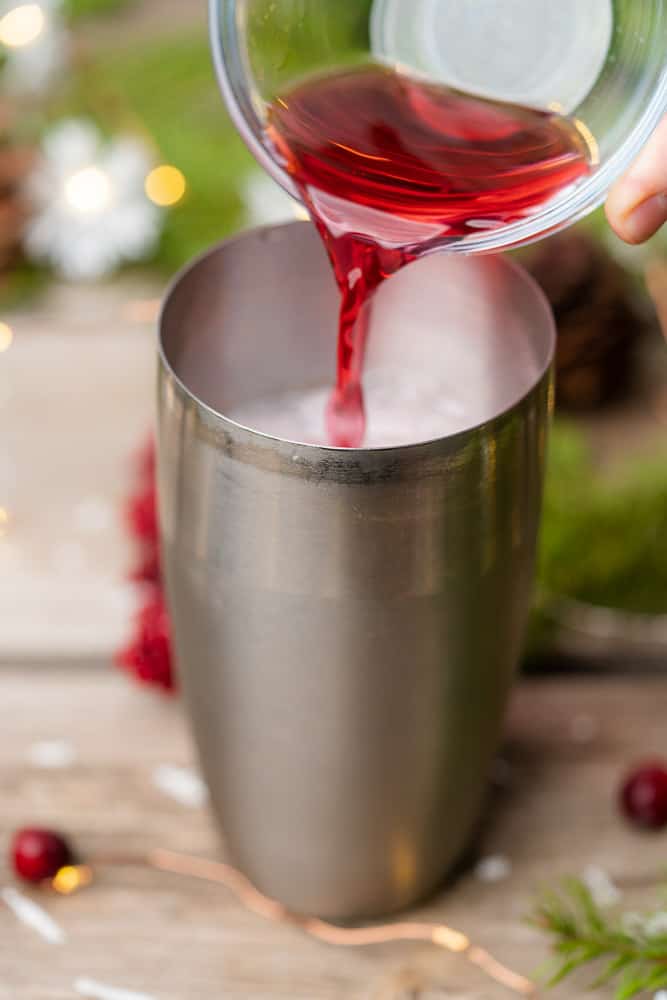 Strain into a chilled glass filled with ice, then top with seltzer water or club soda.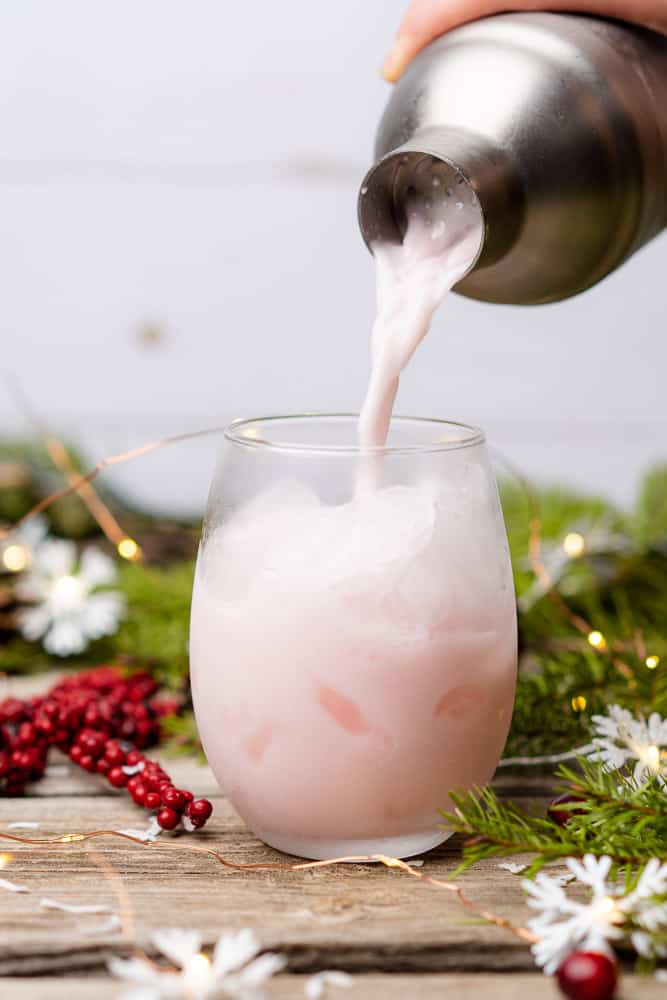 Top this Cranberry Coconut Mojito with cranberries, shredded coconut, a lime wheel and mint leaves.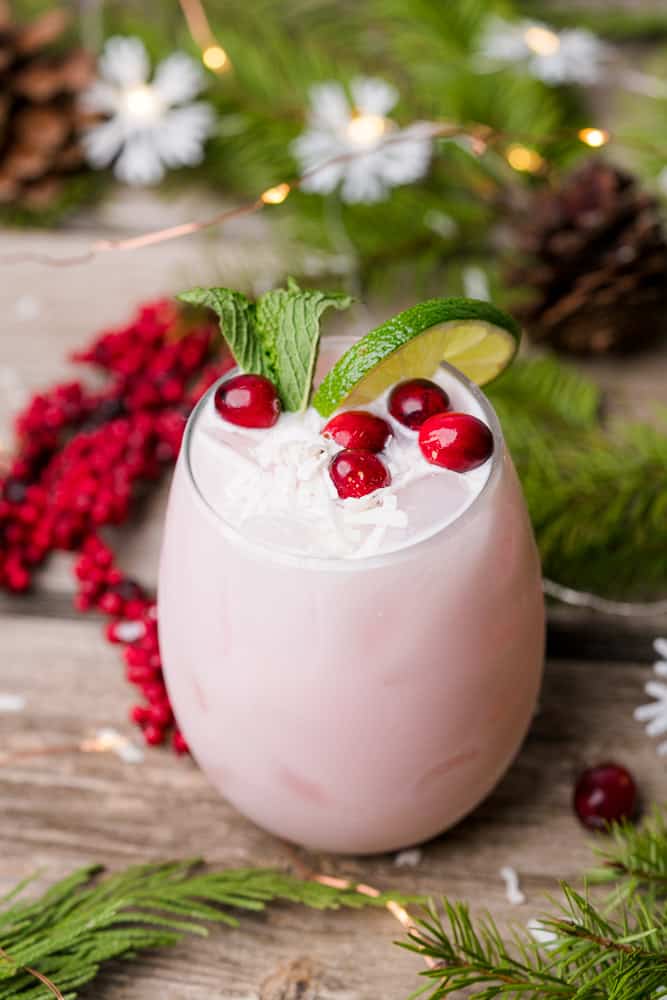 Coconut Extract vs. Coconut Rum:
Coconut rum is an addition to this Cranberry Coconut Mojito that does have some real sugar, and it effects the carb and sugar count of this drink. The main component that is adding carbs is honestly the coconut rum. In general we like to keep our drinks under 10 net carbs per serving, but we understand if you're looking to keep it lower than that! That's where the coconut extract comes in. You can swap out the coconut rum for the coconut extract, then just add about 1 ounce more of white rum. Coconut rum in general has less alcohol in it than just your standard white rum, so it's not quite a one-to-one swap. That is of course unless you love a really boozy drink! Be our guest!

If you're wondering just how much this will affect the overall nutrition of the drink, the version with coconut rum contains 9.2 grams of carbs, and 6.7 grams of sugar. The version with only coconut extract has 5 grams of carbs, and 2 grams of sugar. We will share more details about the full nutrition breakdown in the recipe carb below.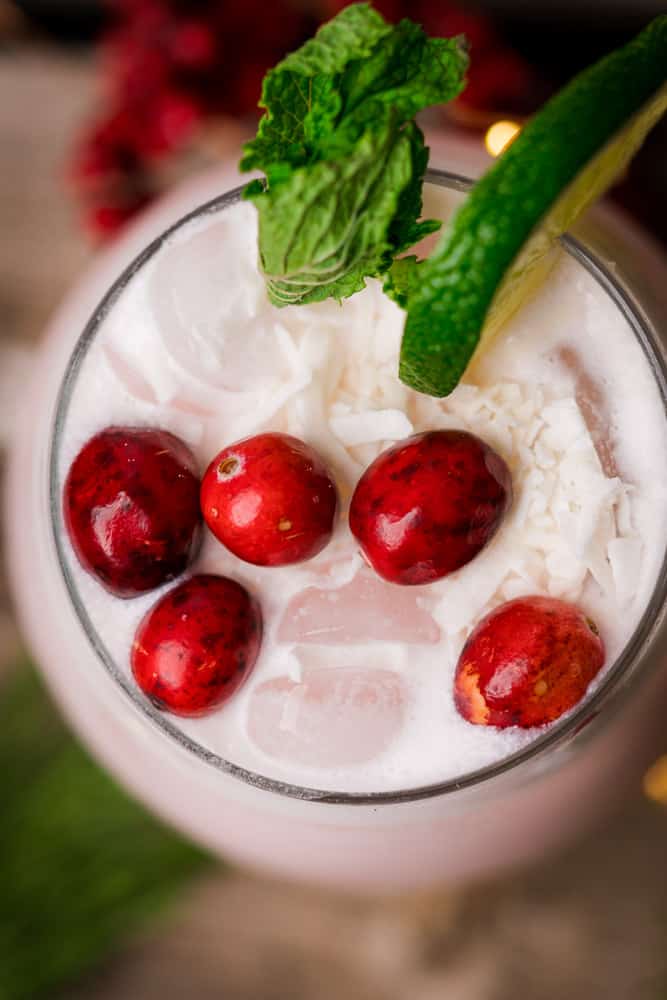 What's The Best Way To Sweeten This Cranberry Coconut Mojito?
We love Swerve granular for this drink. It's a great sugar replacement, and doesn't add any calories, sugar, or carbs! You can obviously use your sweetener of choice, and add it to taste. A traditional mojito uses granular sugar, so this seems like the easiest replacement!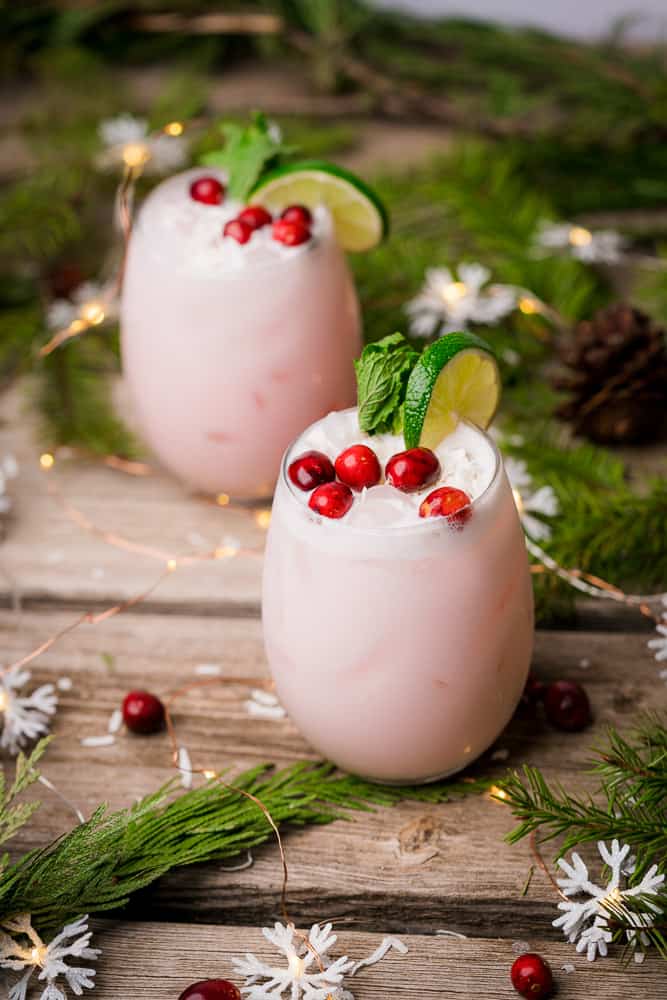 Do You Have More Suggestions For Low Carb Friendly Cocktails?
If you're looking for a healthier way to indulge this holiday season, let us point you in the direction in some of our most favorite holiday cocktails that are all under 10 net carbs per drink!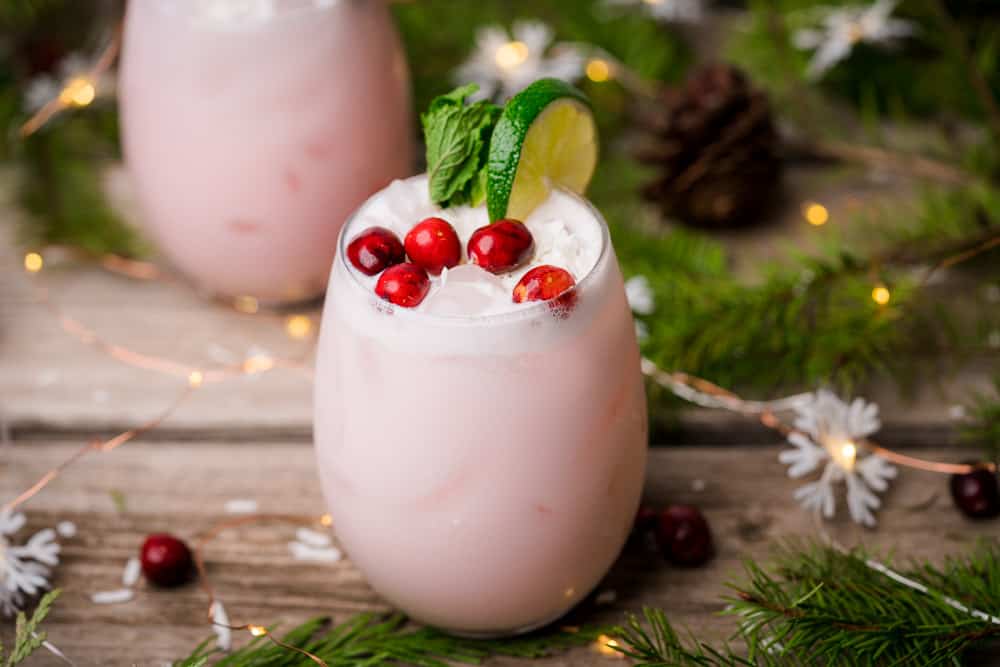 Shop This Recipe!
Want to get supplies for this Cranberry Coconut Mojito recipe or shop our keto kitchen or pantry? We've linked our favorites above and right here in our Amazon Store! A Full Living is a participant in the Amazon Services LLC Associate program, an affiliate advertising program designed to promote a means for sites to earn advertising fees by linking products to amazon.com. We only share products we use and love. It doesn't cost you anything extra to shop using our links, but we earn a small commission that helps us keep this site going!
---
If you get a chance to try this recipe, let us know what you think, would ya?! Leave us a comment, or catch up with us on Facebook or Instagram, or pin to your favorite Pinterest board for later. We love sharing your versions of our creations over on Instagram @afullliving!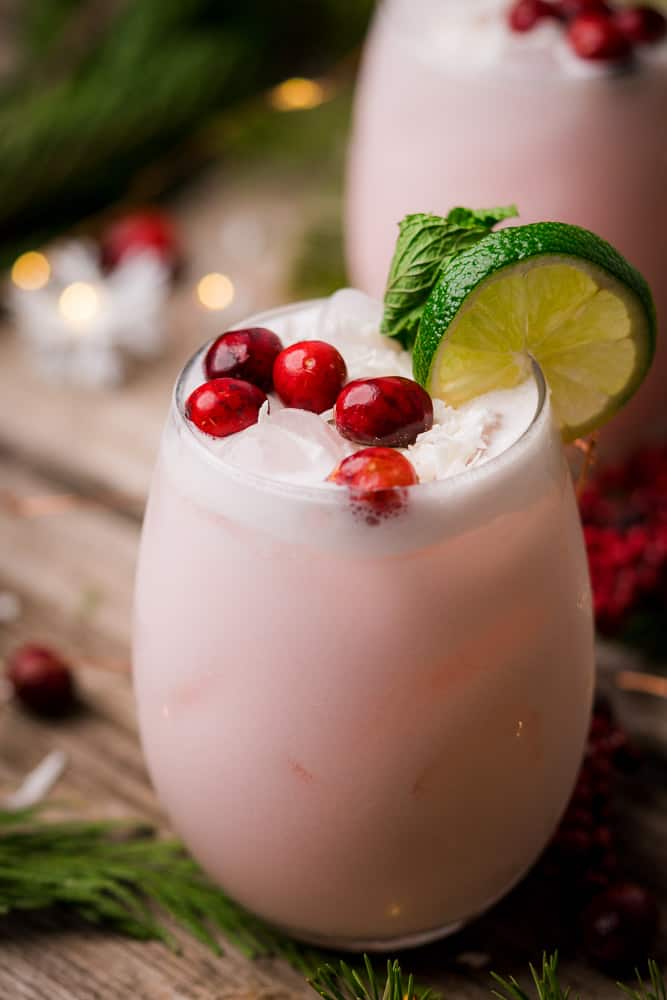 Thanks for stopping by! Be sure to subscribe to our email newsletter so you're the first to know about new recipes we post on our blog.

If you love this Cranberry Coconut Mojito recipe, please consider sharing it with a friend and also leaving a rating and comment so others can find this recipe. Thank you for your support!
Until Next Time,
Briana & Chamere
📖 Recipe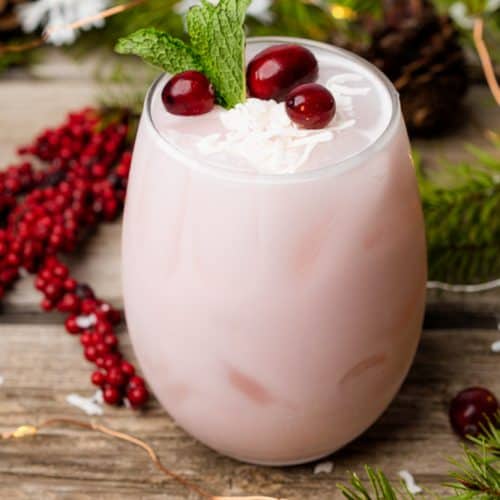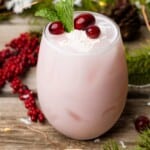 Cranberry Coconut Mojito Recipe
This Cranberry Coconut Mojito is festive, rich, decadent and vegan too! Made with classic mojito ingredients like lime juice, white rum, mint leaves and sweetener in place of sugar, we added a few extras to make it truly special like this time of year.
Print
Pin
Rate
Save
Saved!
Ingredients
16

whole

fresh mint leaves

2

oz

fresh lime juice

¼

cup

sweetener of choice

4.5

oz

white rum

1

teaspoon

coconut extract

4

oz

full fat coconut milk

2

oz

diet cranberry juice

Ice

mint leaves, lime wheel, coconut shreds, cranberries to garnish
Instructions
In a cocktail shaker, muddle mint leaves, lime juice and sweetener. Cover with ice.

Add in coconut milk, rums and cranberry juice. Shake until shaker is cold. Strain into ice filled glasses, top with seltzer water, garnish with lime wheel, shredded coconut, cranberries and mint. Enjoy!
If forgoing coconut rum and using white rum instead:
The rest of the drink is the same, but when adding rum, skip the coconut rum, and instead add a total of 4.5 oz of white rum to the cocktail shaker. Add in 1 teaspoon of coconut extract. (This is meant for two drinks). Shake, and top with seltzer and garnishes.
Notes
For this version, we removed the coconut rum, and supplemented with more white rum. This lowers the carb count. 
Nutrition
Calories:
279
kcal
|
Carbohydrates:
6
g
|
Protein:
2
g
|
Fat:
12
g
|
Saturated Fat:
11
g
|
Sodium:
11
mg
|
Potassium:
208
mg
|
Fiber:
1
g
|
Sugar:
1
g
|
Vitamin A:
354
IU
|
Vitamin C:
12
mg
|
Calcium:
34
mg
|
Iron:
2
mg
These nutrition facts are provided as a courtesy and are only estimates. We cannot guarantee the accuracy.
Did you love it?
If you made this recipe, make sure to show us on Instagram at @AFullLiving or tag #AFullLiving! We love to see what you guys are making!