Here's the Best Sugar Free Keto Grenadine Recipe that's so easy to make! This pomegranate juice based cocktail mixer is made with only a few ingredients, and will take your keto cocktails up a notch.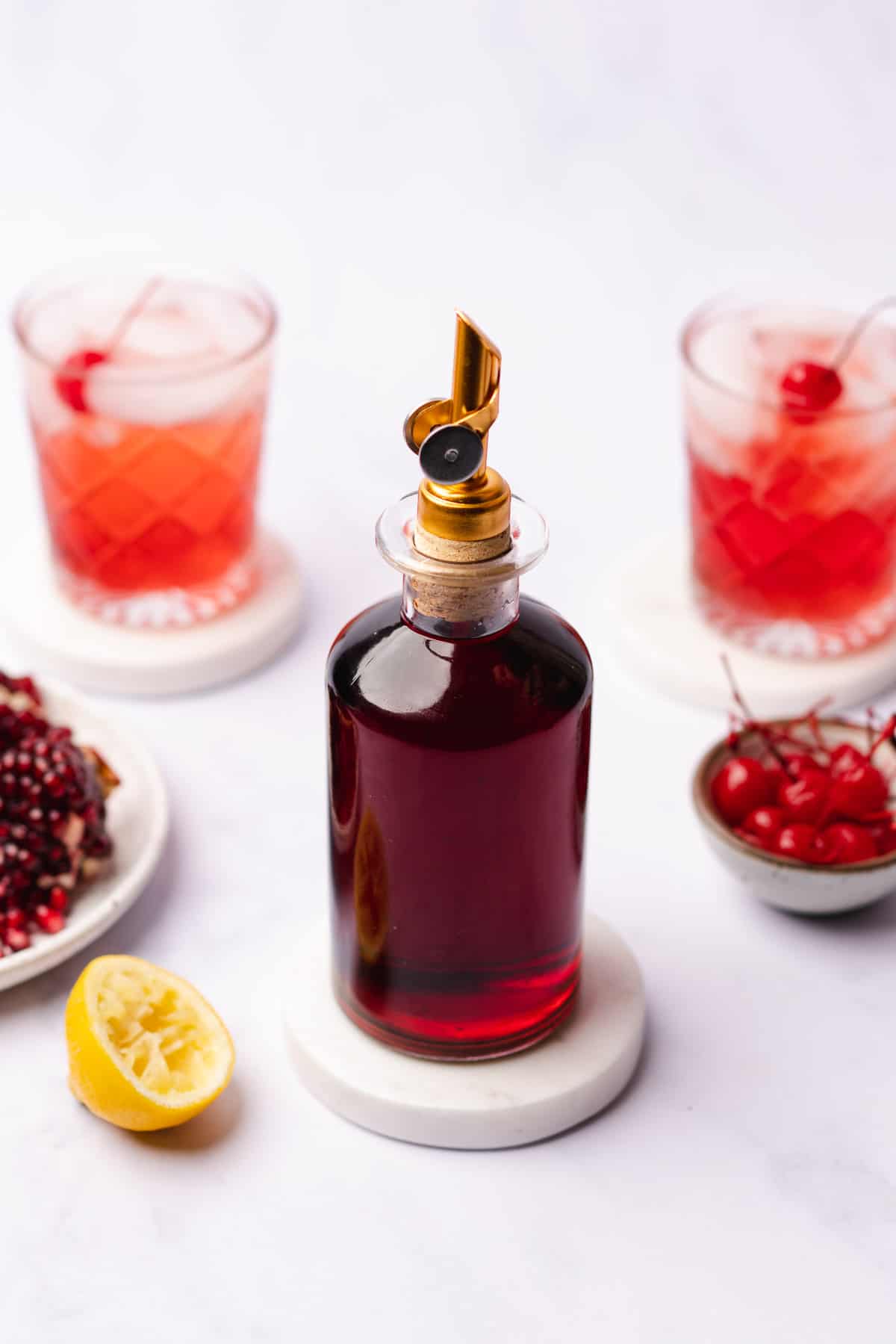 Forget store bought grenadine that is laden with sugar, harmful chemicals and dyes! Use this delicious keto grenadine in a variety of low carb cocktails, or to make tasty mocktails. It's vibrant color and flavor will enhance any drink. You won't believe how easy it easy to make this incredibly simple sugar free, keto grenadine recipe!
Ahhhh grenadine! We are huge fans of this stuff. You can find it in so many of our cocktail recipes! It's great for mocktails too. This common mixer has such a wonderful tart and sweet flavor. You only need a little pomegranate juice, your favorite granular sugar free sweetener, some optional fresh squeezed lemon and orange juice, and that's it!

As a kid, I loved a splash of grenadine in my sprite with a maraschino cherry when my mom ordered a cocktail at dinner. Shirley Temples were my first real "mocktail" experience, and it made me feel included and grown up. Looking back, each drink probably easily contained easily around 66 grams of sugar, for just one! As a kid, and probably like most kids, I could throw those things back.

The sugar content that is regarded as acceptable in a standard American diet is absolutely crazy. We aim to change that. We're hoping to change how you view a sugar free lifestyle. You don't have to follow a strict keto or low carb diet, or count macros. But, we think paying attention to the amount of sugar you consume can make you feel a lot better. It's tasty and fun too! To be quite honest, a few small swaps can make all the difference. Cue the best sugar free keto grenadine recipe!
Ingredients:​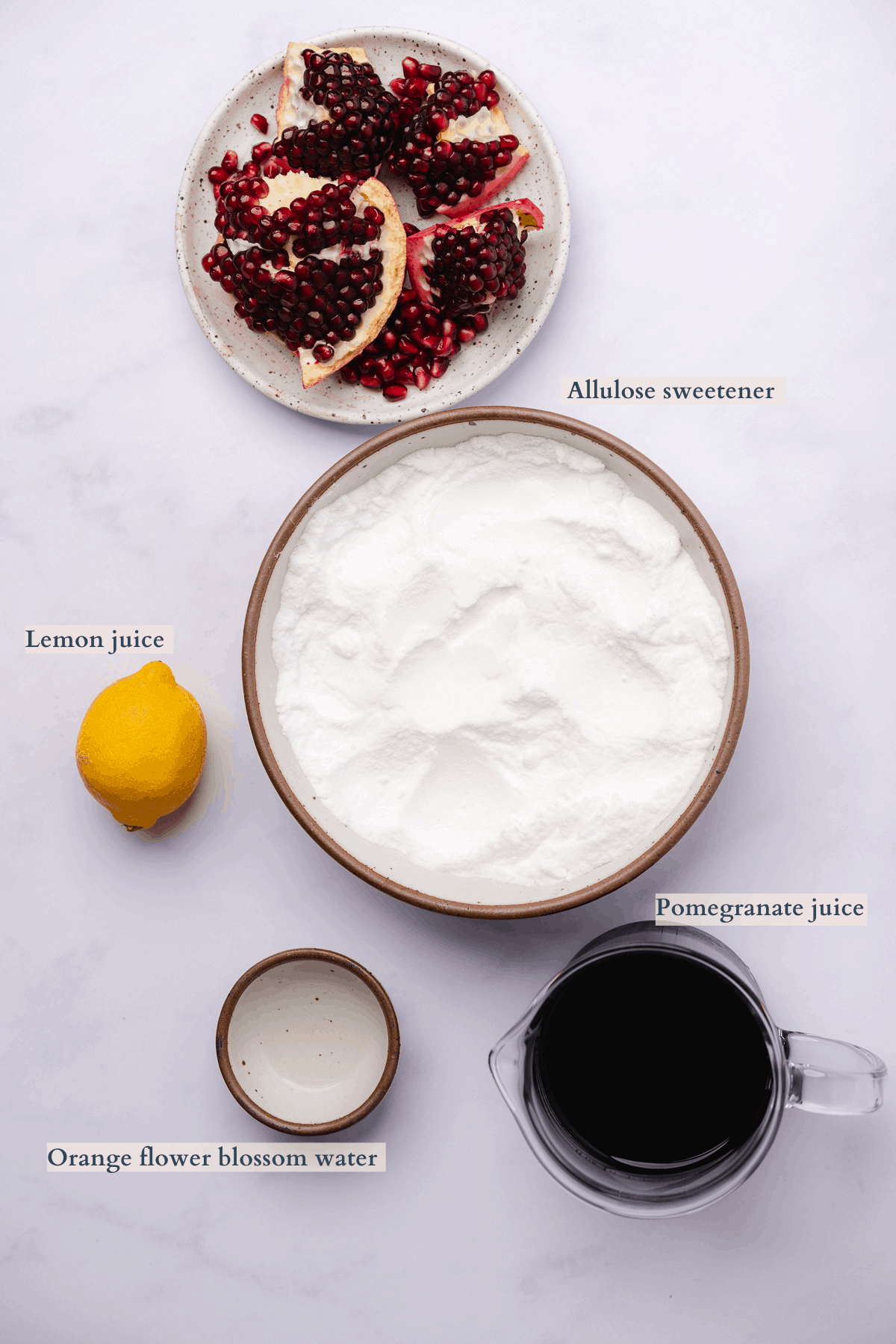 100% pomegranate juice
Fresh squeezed lemon juice (optional, but adds a nice flavor and preserves freshness & life in the fridge)
Orange flower blossom water (optional)
Granular sugar replacement of choice, we use allulose for syrup applications because it doesn't crystallize
Is There Maraschino Cherry Juice in Sugar Free Grenadine?
Contrary to popular belief, there is no maraschino cherry juice in grenadine! The store bought version actually has zero real ingredients, which is pretty sketchy if you ask us. The natural flavors in store bought, shelf stable grenadine are meant to mimic pomegranate juice! Any homemade grenadine syrup you make contains pomegranate juice, sweetener (or sugar), and often, something called orange blossom water. We aren't familiar with that particular ingredient ourselves, but we substituted for fresh squeezed orange juice instead.

We imagine the misconception that maraschino cherry juice is the same thing as grenadine probably comes from, for one, Shirley Temples. Since those drinks come with a cherry on top, it would make a lot of sense that the misconception comes from there. Also, the color of grenadine really does look a lot like maraschino cherry juice. The flavor as well is also cloyingly sweet, so if you add those things up, you can see why people get it confused.
Is Store Bought Grenadine Sugar Free and Keto Friendly?
Store bought grenadine that's shelf stable is definitely not sugar free, and it's very keto friendly if you ask us. Rose's a popular brand (you probably recognize it from most bars and restaurants around the US) is 2 tablespoon (33 ml) per serving, and a whopping 80 calories, 20g carbs, and 20g of sugar. Wow. No thanks! They other thing about this brand (and many other store bought varieties) is that it's made with corn syrup, and harmful chemicals and dyes. No thanks. We prefer to go a more natural route.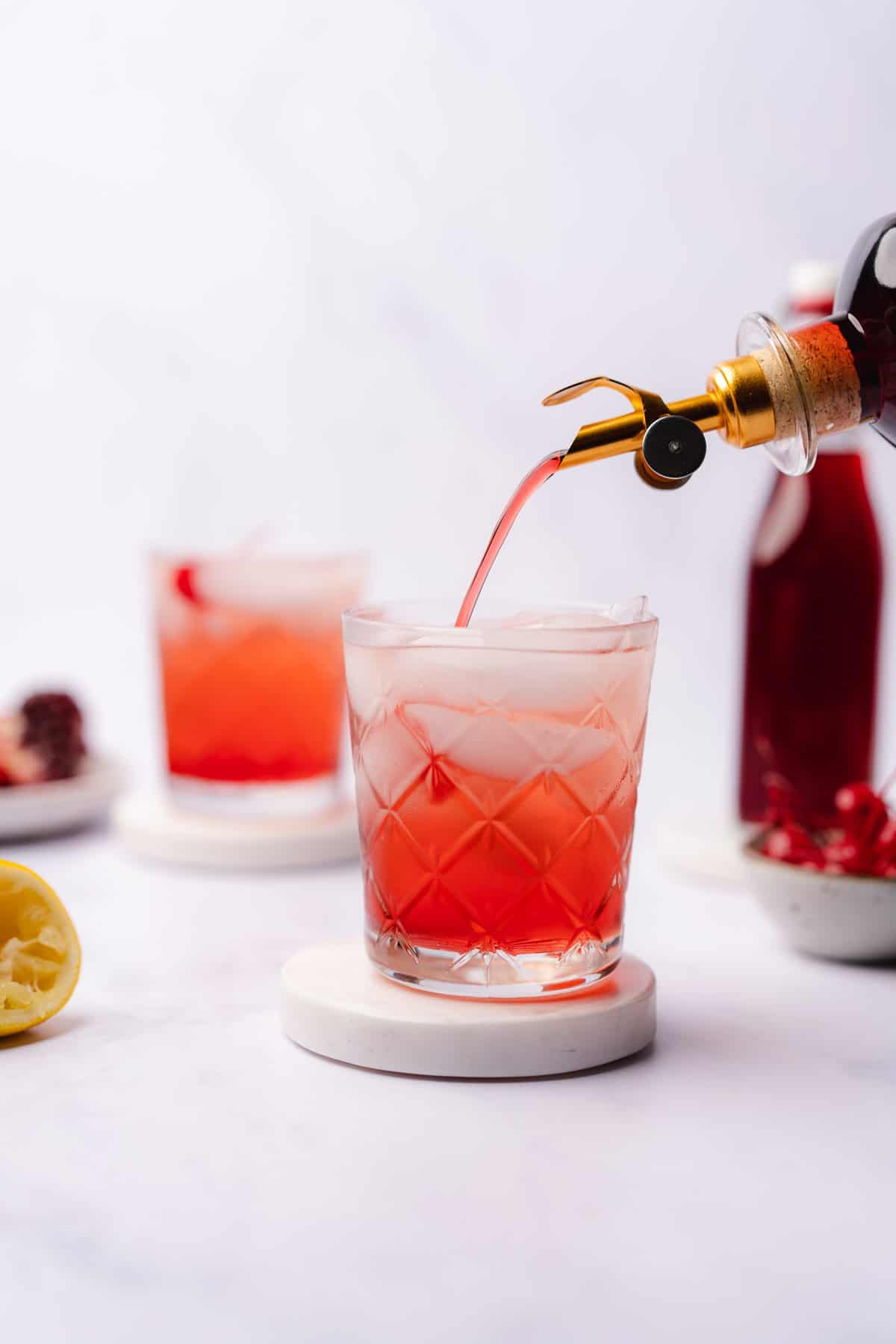 What Is The Best Sweetener To Use In This Sugar Free Grenadine?
We live a sugar free lifestyle, therefore, we use sugar free sweeteners/sugar replacements. While for most recipes, we use our beloved Swerve granular, it won't be the best option for this particular recipe if you plan to have leftovers and store it in the fridge. It's not to say it can't be done, but it will crystallize when cooling. You can always warm it back up before use if it crystallizes tho. Allulose is our preferred choice for a syrup application, because it doesn't crystallize. We will say though, that recently we noticed Bri has a bit of a sensitivity to allulose if consumed in large amounts. It does cause a bit of an upset tummy if I consume a lot of it basically. Our beloved Swerve won't do this to you! So you choose. 🙂
What Recipes Can I Use Grenadine In?
Aside from just adding a splash to your favorite sugar free or diet pop for a little shirley temple action, try it in our pomegranate and ginger gin bennett, or our fall harvest whiskey sangria. Our most recent cocktail featuring this yummy keto grenadine is this fall harvest whiskey sipper apple cider bourbon cocktail. Don't forget to check out this apple cider spritzer - a spiced apple cider cocktail with rum, this Halloween inspired purple people eater cocktail, or this yummy raspberry and pomegranate cocktail!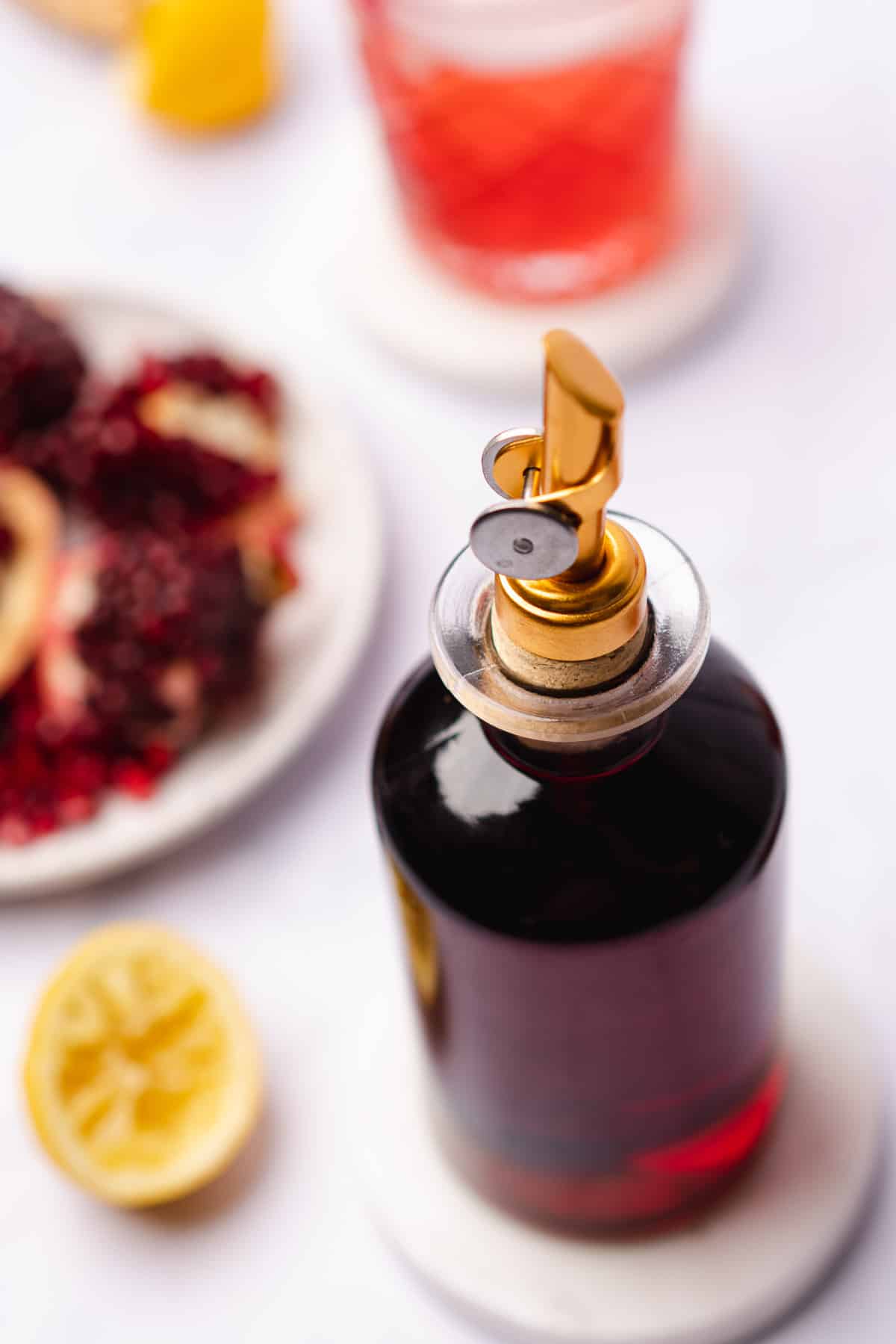 How Long Can I Store This Sugar Free Keto Grenadine?
You should store this sugar free grenadine in the fridge in an airtight container (we prefer a glass swing top bottle for easy pouring) and it will last a few weeks if you add some lemon juice! Lemon juice will help prevent the growth of bacteria, so will keeping the grenadine in the fridge. We aren't experts on this subject. Basically, as long as it smells okay and there's nothing growing in it, it's probably fine to consume.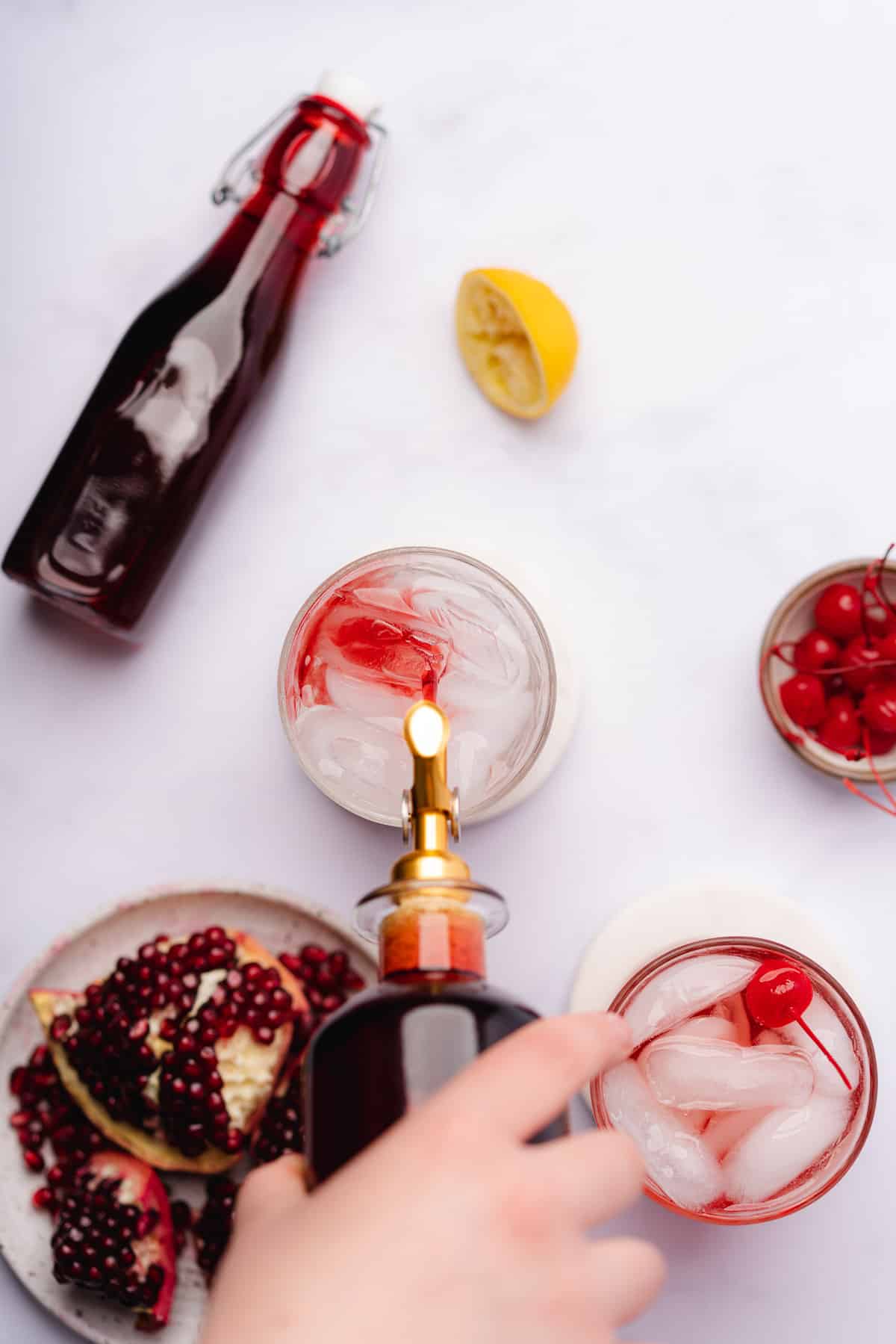 Tools We Used For This Recipe:
Want to get supplies for this recipe or shop our keto kitchen or pantry? We've linked our favorites above and right here in our Amazon Store!
A Full Living is a participant in the Amazon Services LLC Associate program, an affiliate advertising program designed to promote a means for sites to earn advertising fees by linking products to amazon.com. We only share products we use and love. It doesn't cost you anything extra to shop using our links, but we earn a small commission that helps us keep this site going!
---
How to Make The Best Sugar Free Keto Grenadine:
To start, juice your lemon and orange juice and set aside. We like to use a citrus reamer over a small strainer to maximize the amount of juice yet make sure we don't get any seeds or pulp in there.

Over medium heat, add your pomegranate juice and warm it until very hot, but not quite boiling.
Add in your allulose sweetener, whisking vigorously until sweetener is dissolved, then remove from heat. Add in your fresh lemon and orange juice. Whisk again.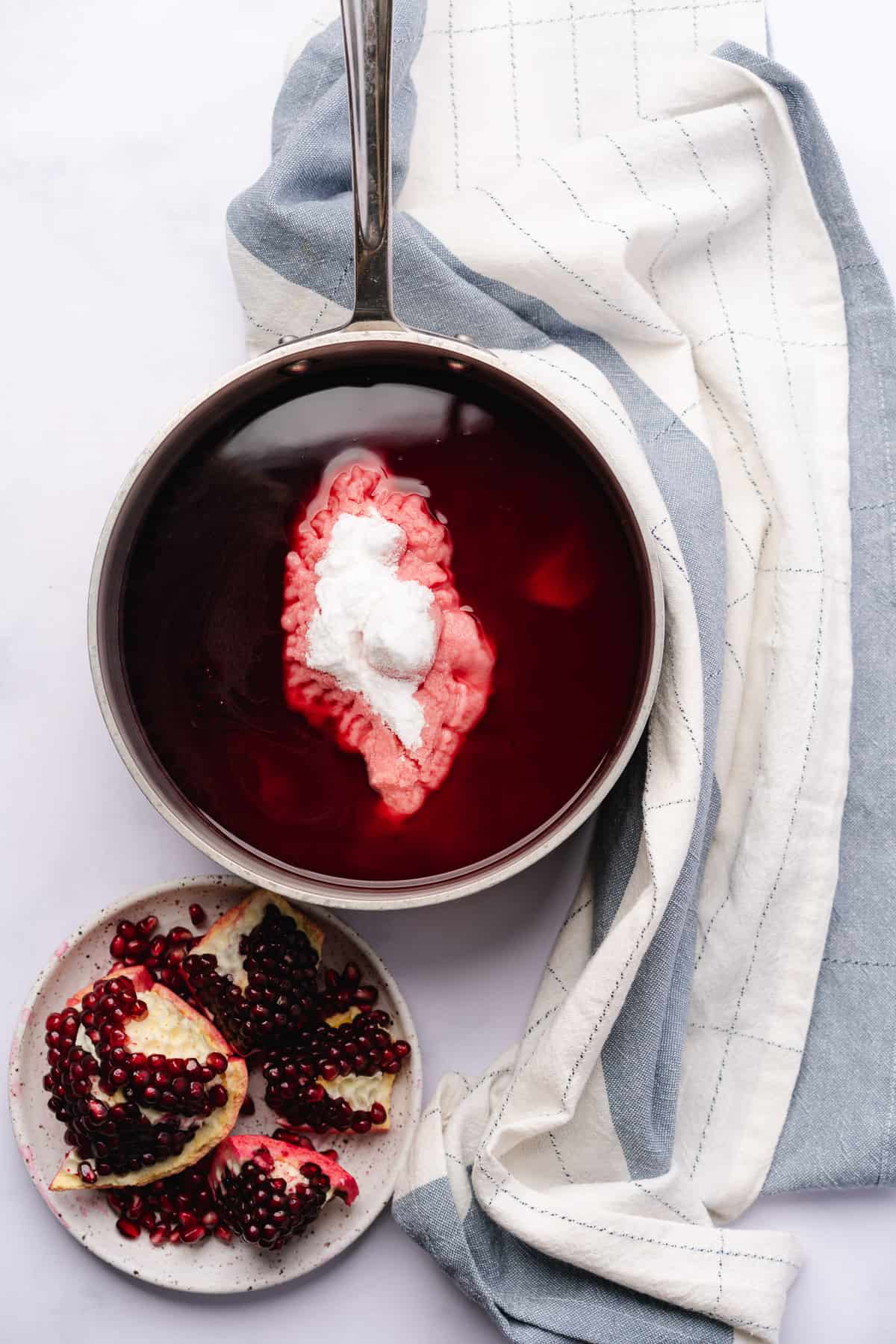 That's it! Now just use a funnel to transfer it to a glass bottle. Cool before using and store in the fridge. Add to cocktails, mocktails, and more. Enjoy!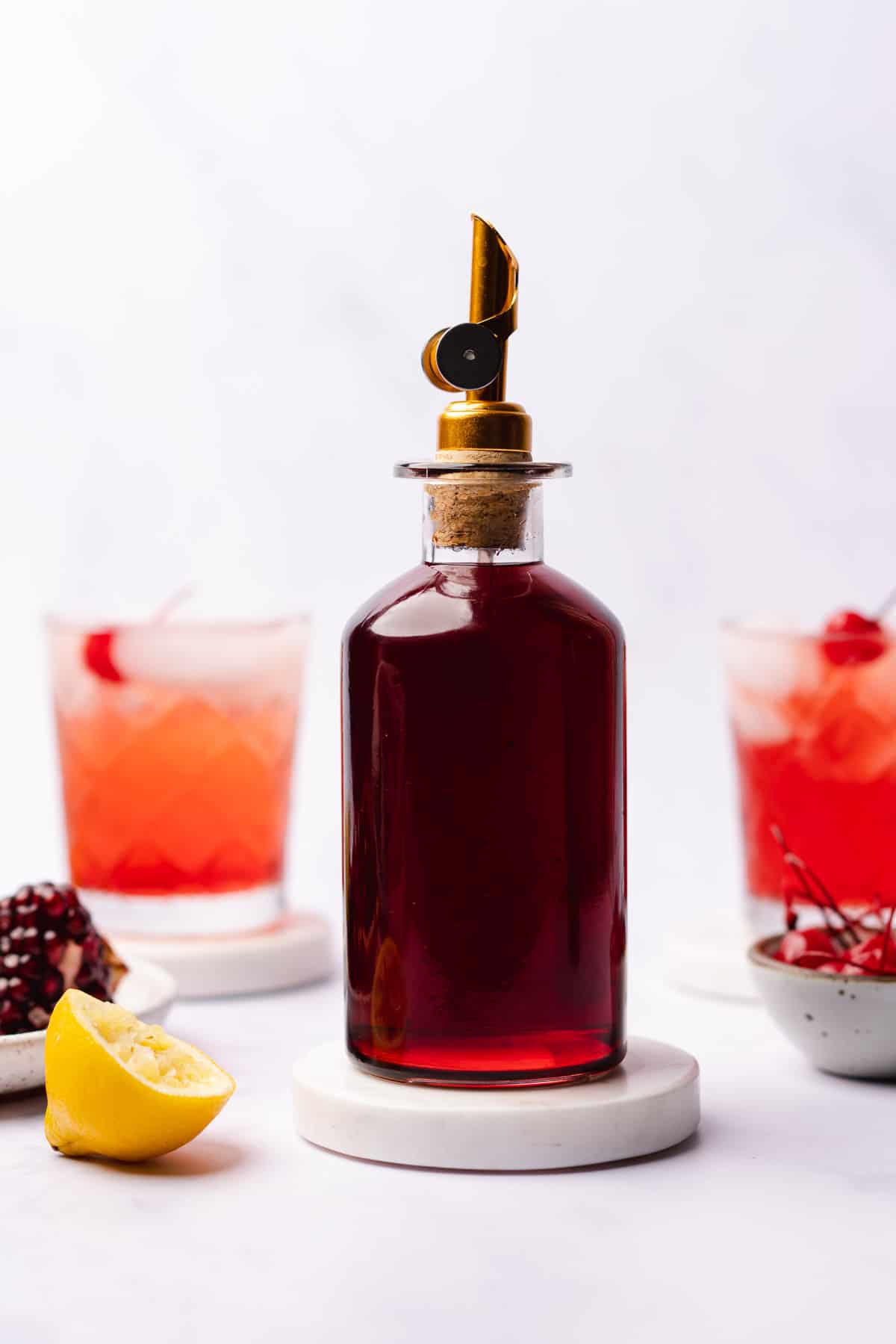 If you get a chance to try this recipe, let us know what you think, would ya?! Leave us a comment, or catch up with us on Facebook or Instagram, or pin to your favorite Pinterest board for later. We love sharing your versions of our creations over on Instagram @afullliving!
Thanks for stopping by! Be sure to subscribe to our email newsletter so you're the first to know about new recipes we post on our blog.

If you love this recipe, please consider sharing it with a friend and also leaving a rating and comment so others can find this recipe. Thank you for your support!
Until Next Time,
Briana & Chamere
📖 Recipe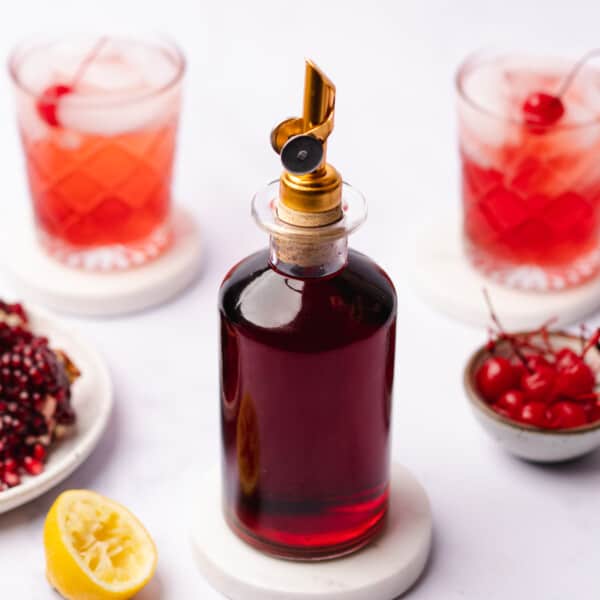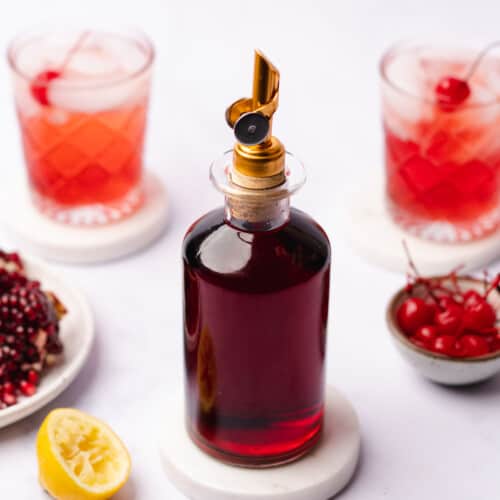 Best Sugar Free Keto Grenadine
Here's the Best Sugar Free Keto Grenadine Recipe that's so easy to make! This pomegranate juice based cocktail mixer is made with only a few ingredients, and will take your keto cocktails up a notch.
Ingredients
16

ounces

100% pomegranate juice

2

teaspoons

fresh squeezed lemon juice

½

teaspoon

orange flower blossom water

(optional)

384

grams

allulose sweetener

(about 2 cups)
Instructions
In a medium sauce pan, warm your pomegranate juice over medium heat until very hot but not quite boiling.

Whisk in your allulose sweetener and your fresh squeezed lemon and orange juice until dissolved. Transfer to a glass storage container.

Allow to cool before mixing into cocktails. Store in the fridge for 2-3 weeks.
Notes
 These nutrition facts do not include calories or carbs from allulose, because it is not known to cause blood sugar spikes and is not digested by the body.
You can substitute allulose for your favorite sugar free sweetener, but just know that many sugar free sweeteners will crystallize in the fridge. 
Orange flower blossom water is an optional ingredient, though it is a traditional one. Feel free to leave it out. You can use a bit of fresh orange juice (about 2 teaspoons). 
Lemon juice will help keep the mixture fresher for longer. 
Nutrition
Calories:
15
kcal
Carbohydrates:
4
g
Protein:
1
g
Fat:
1
g
Saturated Fat:
1
g
Polyunsaturated Fat:
1
g
Monounsaturated Fat:
1
g
Sodium:
3
mg
Potassium:
61
mg
Fiber:
1
g
Sugar:
4
g
Vitamin A:
1
IU
Vitamin C:
1
mg
Calcium:
3
mg
Iron:
1
mg