This easy Apple Cider Bourbon Cocktail Recipe really embodies the spirit of the season. It's the perfect autumn cocktail recipe for a bourbon drinker! Serve at your next fall gathering, or when the cool weather starts to roll in.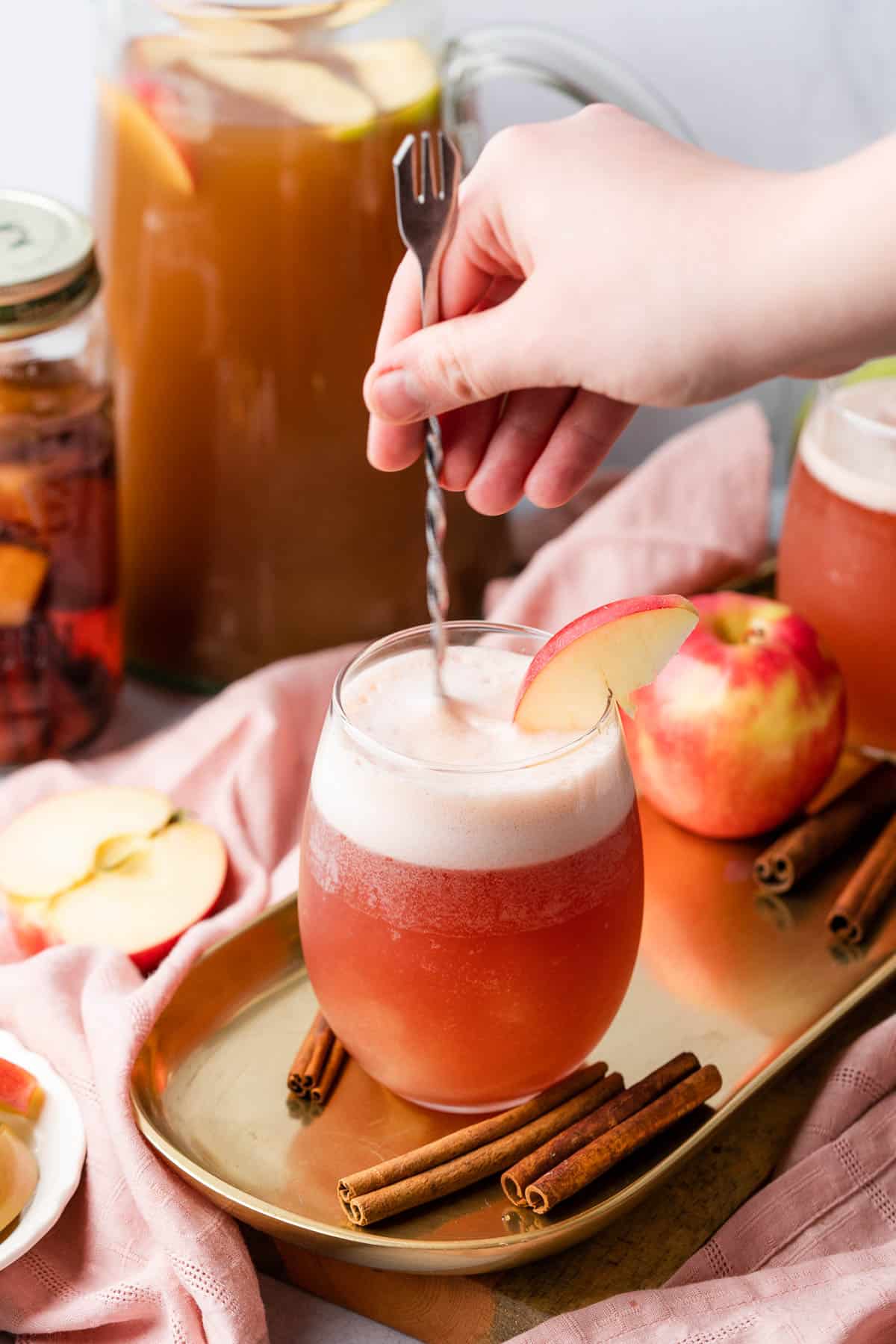 If fall is your favorite season, this is the perfect cocktail. With its stunning apple-like hue, and warming flavors like spiced cider and fresh apples, this drink is the perfect cozy cocktail, though it's served cold. It's like spiced apple cider with a grown-up twist!
Looking for more fall cocktails? Try our bourbon whiskey sangria, this apple cider mimosa with spiced rum, or this slow cooker mulled wine.
Jump to:
❤️Why we love this recipe
Made with fall staples - The simple ingredients used are widely available in many grocery stores (or cider mills!) in the fall.
Can be made low carb - If you're looking to cut out some of the sugar, you can use some homemade versions of the mixers used in this drink. We've added in our homemade sugar-free apple cider, sugar-free grenadine, and diet ginger beer to bring the carbs, sugar, and calories down significantly, which can be a big win!
Great fall flavors - From the sweetness of the cider and the lovely apple flavors, to the tartness from the hint of lemon and apple cider vinegar, to the warm spiced flavor, you're in for a treat with this great cocktail.
🍎Ingredients
Here are the ingredients we used for this recipe. You can find full quantities and nutritional information in the recipe card.
Bourbon whiskey of choice - For an extra layer of flavor, we infused our whiskey with fresh apples and cinnamon sticks. It's a super simple process that only takes a couple of days, and you have something super flavorful. You can of course use regular bourbon if you like!
Grenadine - Adds sweetness to the drink, as well as a lovely color. We use our homemade sugar-free grenadine to lower the sugar in the drink, but traditional can be used as well.
Fresh apple cider - You can try our homemade sugar-free apple cider to lower the sugar, or use whatever you like here.
Fresh lemon juice & apple cider vinegar - To balance the sweetness in this drink, we add a few sources of acidity. Both add flavor too!
Edible gold glitter - This is totally optional, but it's so fun!! We love adding edible glitter for a fun effect. Don't worry, it's food grade so it's totally safe to consume. You can definitely leave it out, as it doesn't add any flavor to the drink. We add it to the cocktail shaker to that we can get that swirling effect in the drink. It will settle like dust after a while, so we use a bar spoon while we are drinking it to continue swirling the glitter.
Ginger beer - We opt for diet ginger beer to lower the sugar in the drink but feel free to use regular.
Ice - To shake with the cocktail. You don't really need to add any more ice to your cocktail glasses when it's time to serve however.
📖Instructions
📋Prep work
If infusing your whiskey, do this a few days in advance.
If making your own grenadine and apple cider, make those up to 10 days in advance.
Cut apple slices, and juice lemons.
Chill cocktail glasses.
Step 1 - Infuse the whiskey (optional)
To make it, you simply add 1 apple cut into chunks with about 6 - 8 cinnamon sticks to a jar. Pour in your favorite bourbon whiskey, put the top on, and give it a good shake.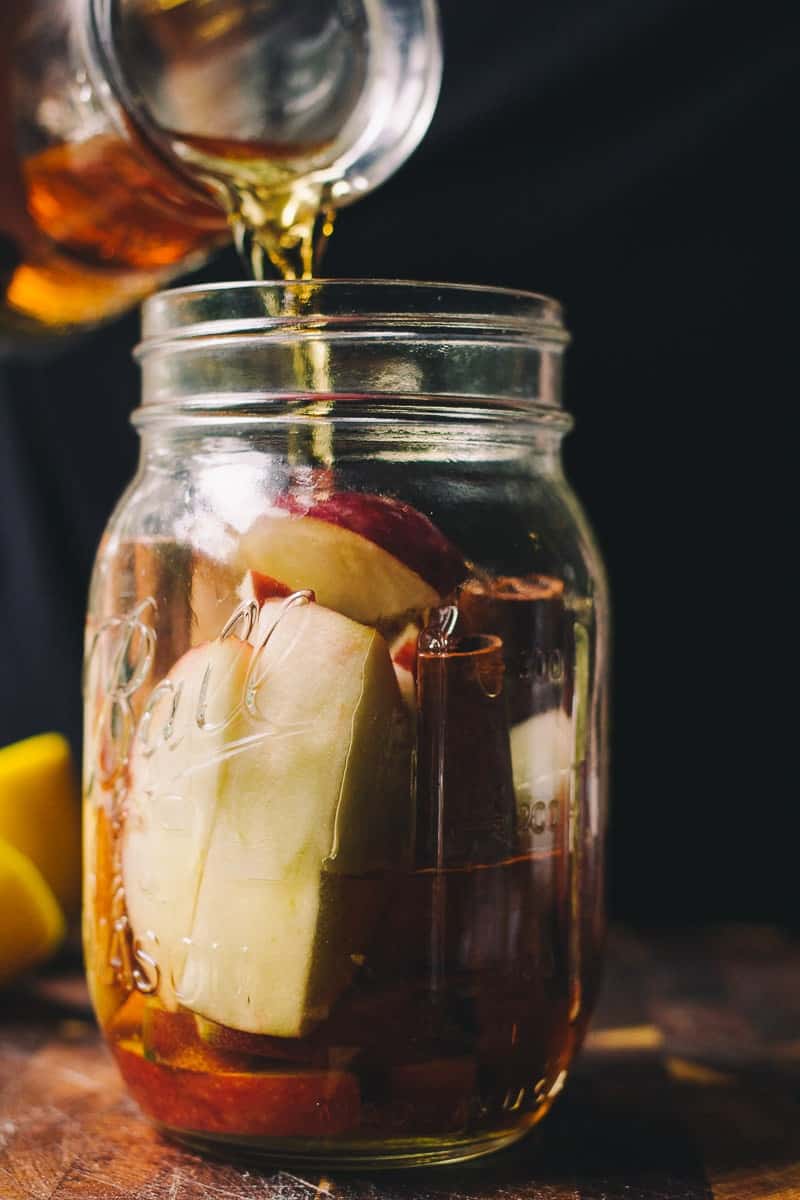 Store in a cool dry place, and give it a good shake once every 24 hours. Let it sit for 2 - 5 days before using it. You can strain before using and discard the apples and cinnamon sticks. Voila!
Step 2 - Add lemon juice and grenadine to a shaker
In an ice-filled shaker, add lemon juice and grenadine.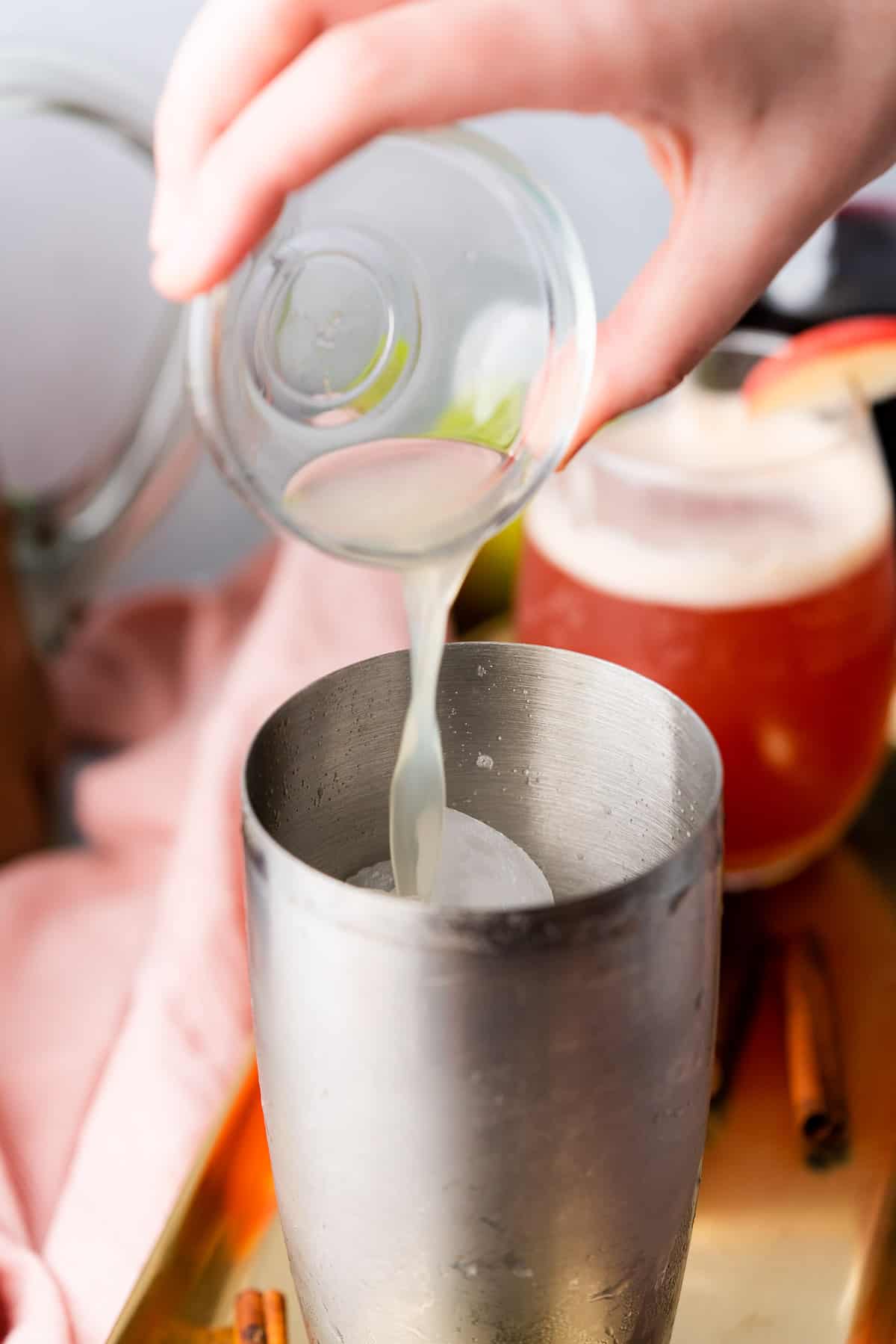 Step 3 - Add apple cider and bourbon
Add apple cider, and bourbon.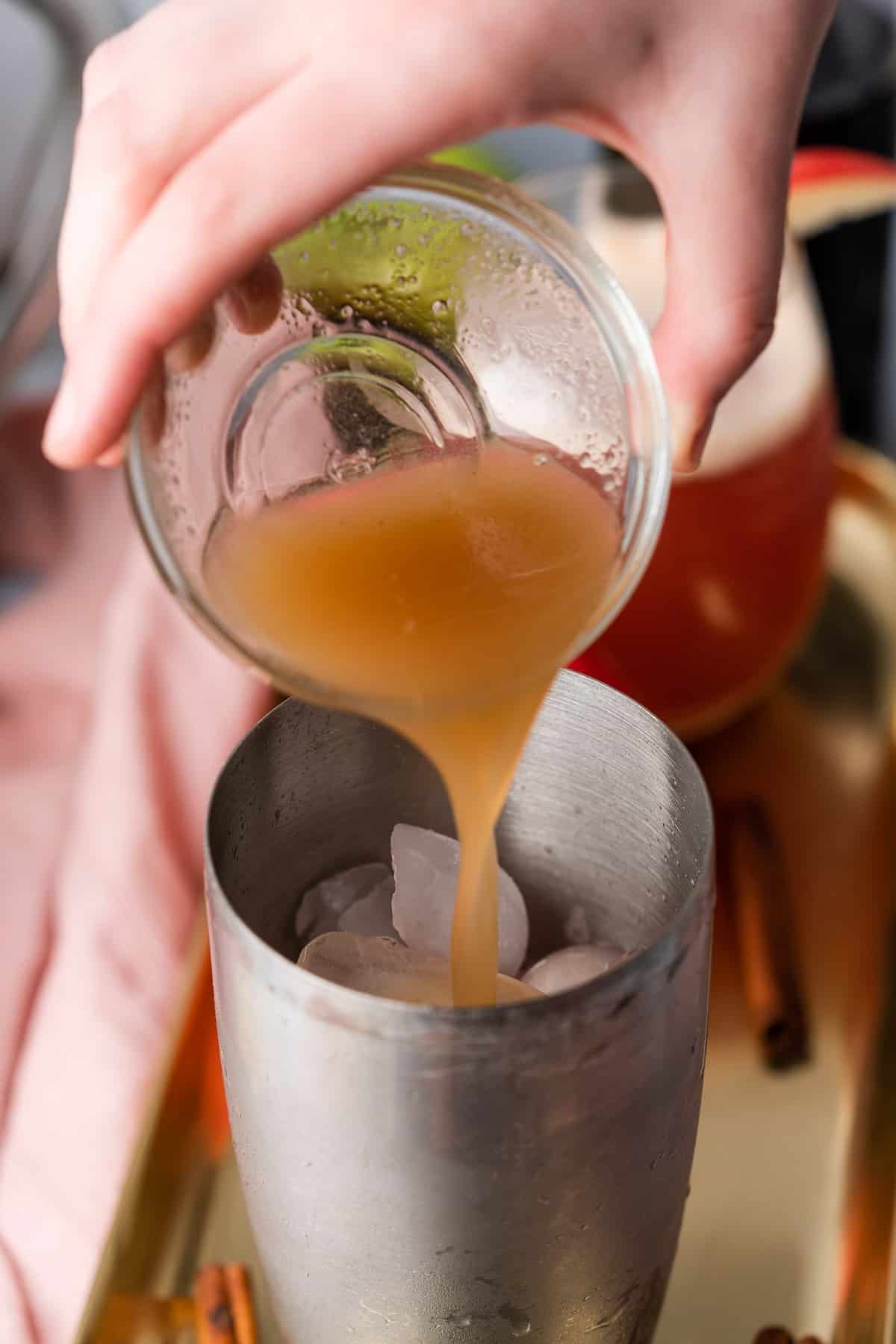 Step 4 - Add the optional edible glitter
Now, add the optional edible gold glitter, then shake!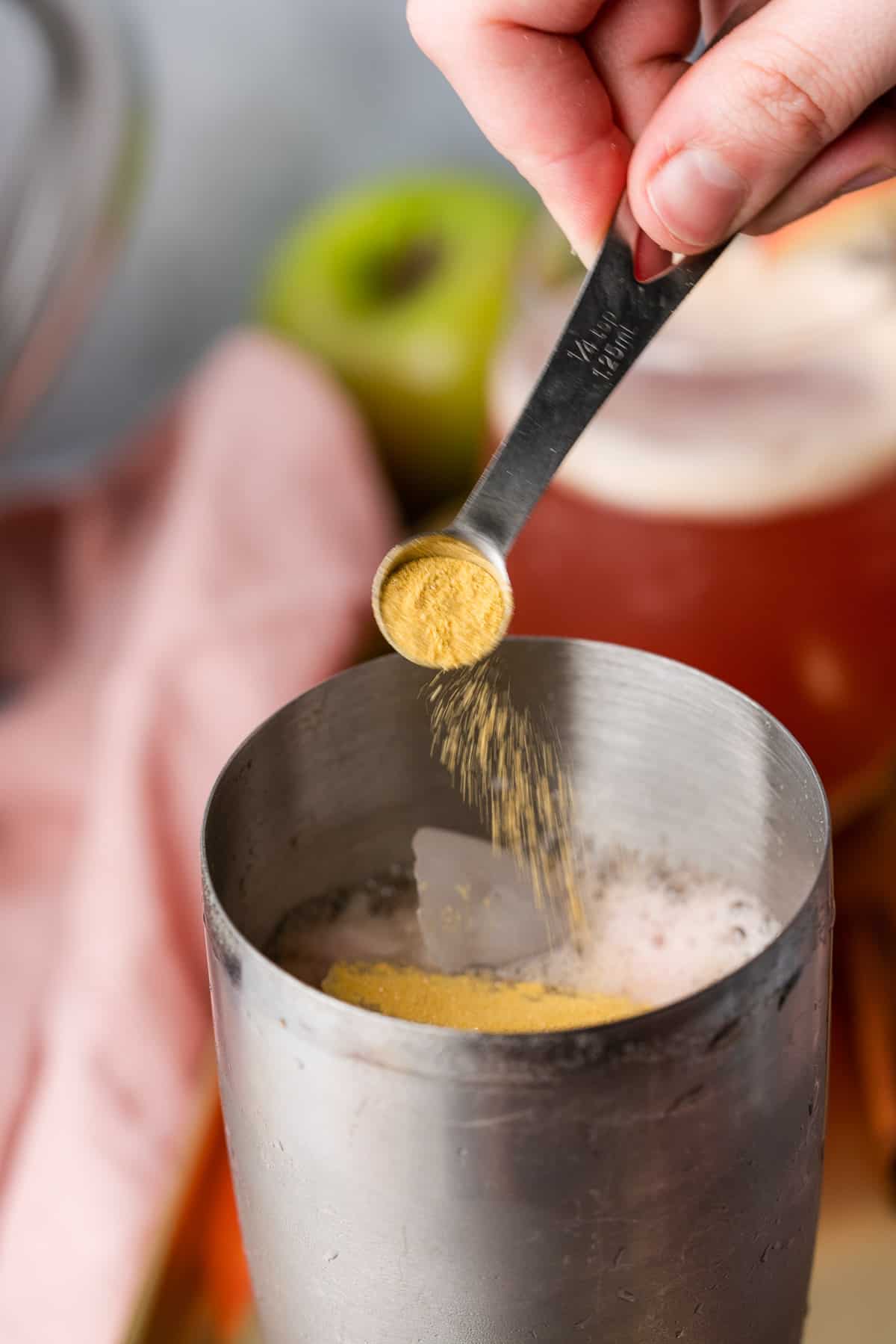 Step 5 - Pour
Pour into a chilled cocktail glass.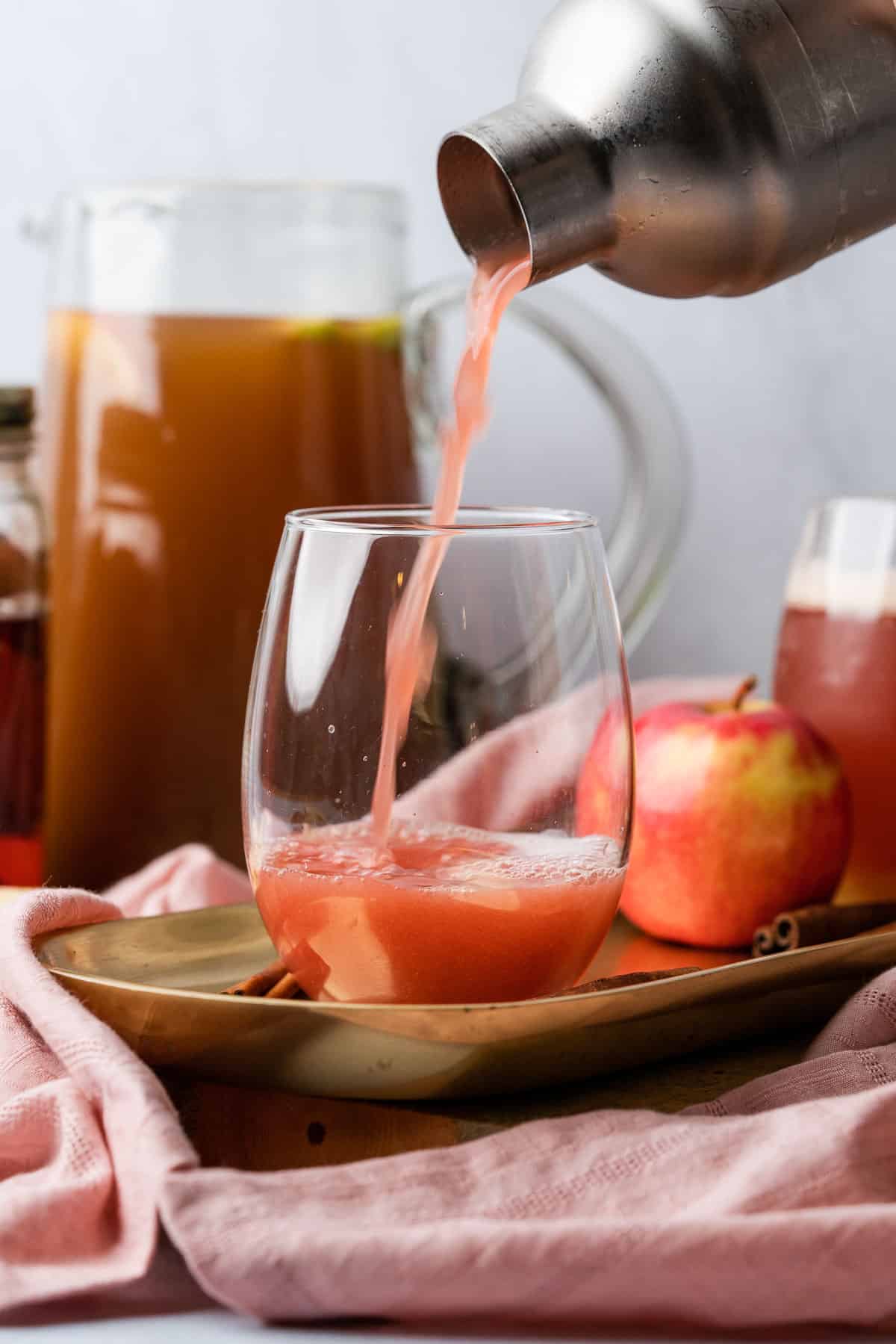 Step 6 - Top with ginger beer
Add ginger beer to top.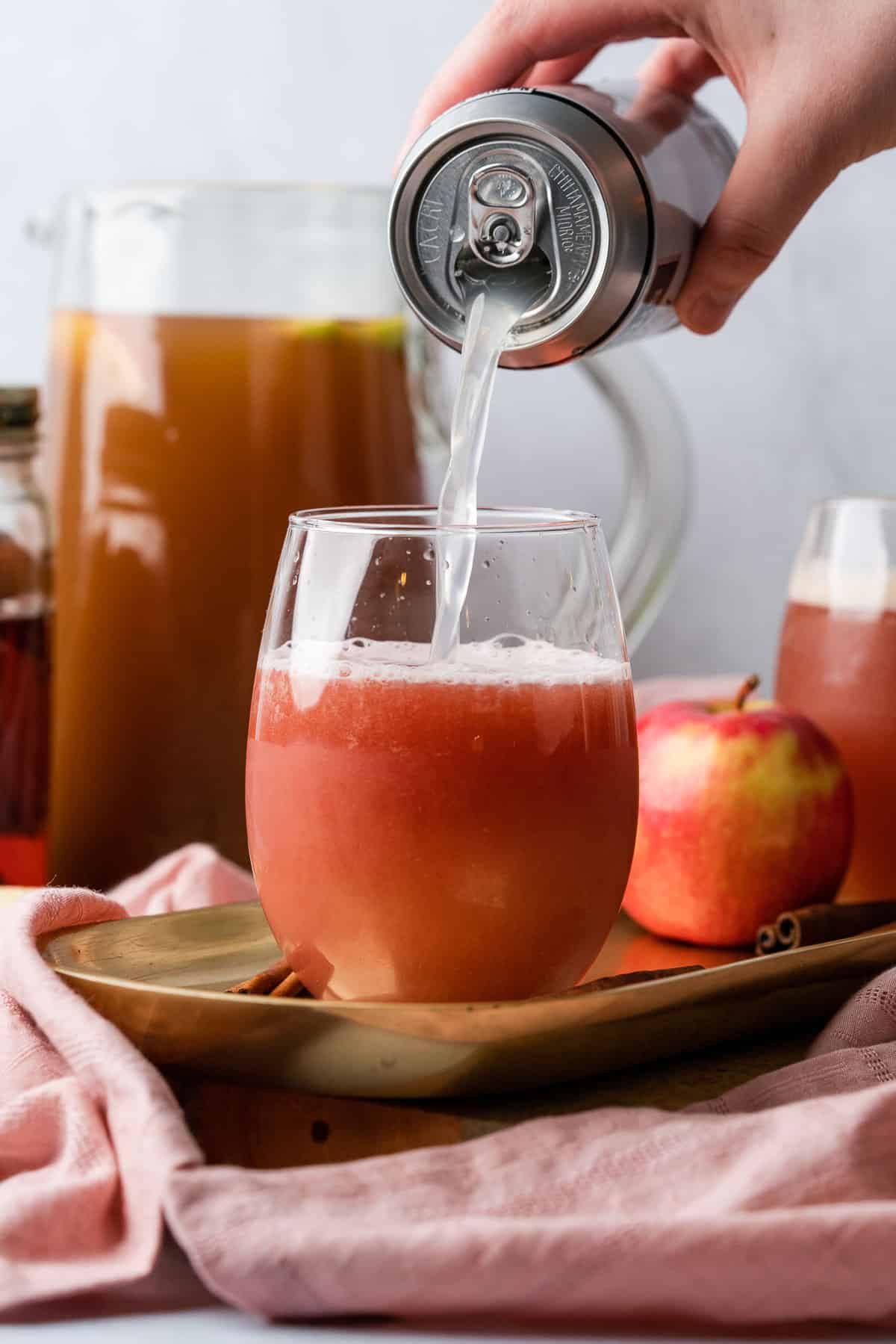 Step 7 - Stir, garnish and serve
Stir to show the lovely gold glitter, and garnish with fresh apple slices. Enjoy!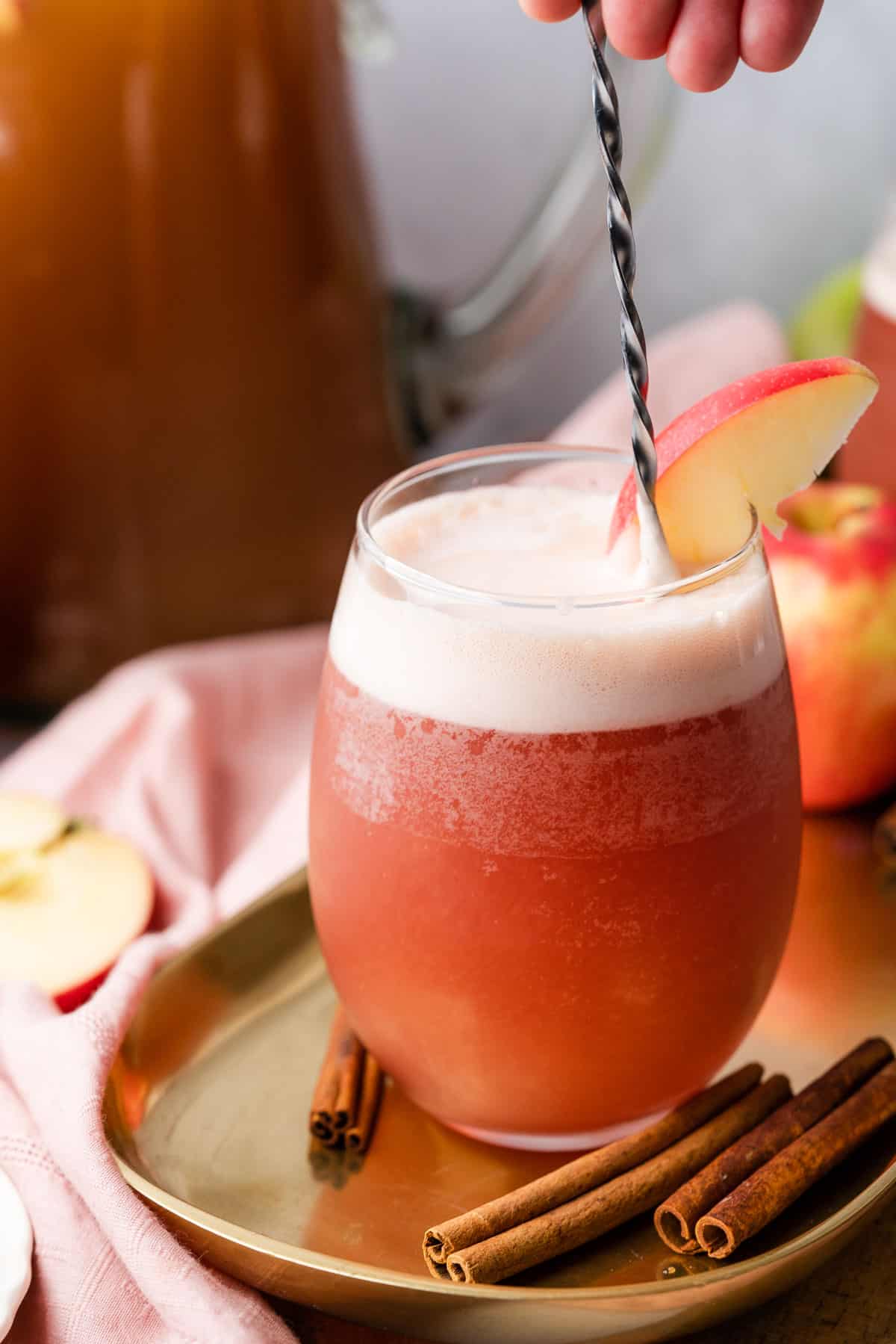 ✨Tips & tricks
Sweeten to taste. This cocktail is more on the sweet side, so make sure to add more or less of the sweeter elements as you see fit.
Serve right away. This drink is best enjoyed immediately and doesn't keep well.
✏️Substitutions & variations
The ingredients are pretty straightforward, but here's a few simple swaps you can make.
Swap the ginger beer - No ginger beer? Try adding more apple cider if you like it sweet. You can also try ginger ale. Try some club soda if you're looking for fizz but no added sweetness.
Pomegranate juice instead of grenadine - Sweetened pomegranate juice is grenadine, so you can simply add a little bit of the plain juice.
Use simple syrup - If you're in a hurry, you can use a little plain or sugar-free simple syrup to sweeten the drink instead of making your grenadine.
Use maple syrup - If you don't have simple syrup or grenadine, try using some maple syrup to sweeten this drink!
Add orange juice - This is another simple way to sweeten this cocktail. Try adding some orange juice in a 1:1 ratio (or a little more if you like) to swap out the grenadine.
Unfiltered apple juice - You can swap apple juice 1:1 for real apple cider.
Add fun garnishes - If using something like orange juice in this recipe, try adding an orange slice as a garnish. You could also add a cinnamon stick, star anise, or a thyme sprig for lovely finishes.
Use a dash of Angostura bitters - This drink is overall quite sweet, so feel free to add in a dash of bitters to round out the flavors a bit.
💭Frequently asked questions
Do I need a cocktail shaker?

It would be the easiest route to take, but you can also use a mason jar. You want to combine all of the ingredients (except for the ginger beer) with ice in the cocktail shaker or jar. This will chill the drink, as well and water it down just a touch so that it's perfect to drink.

Just don't make the mistake of adding the ginger beer to the shaker or jar! You will end up with a gigantic mess. Just top each drink with ginger beer later.
What is edible glitter and how do I use it?

We used edible gold glitter as a nice touch to add a gorgeous, shimmery gradient to our cocktail. It's totally optional, but it's festive! This food grade edible gold glitter is definitely fun to work with.

You do need to shake edible glitter in a cocktail shaker or mason jar however. You may also need to periodically stir your cocktail once strained so that the glitter doesn't all settle at the bottom of your glass. It's so pretty and fun to watch!

Since this food grade, it's totally safe to consume. It doesn't taste like anything either, so it's just for fun. The gold glitter in this drink makes this apple cider bourbon drink so fun to look at. Great for any holiday celebrations!
Can I make a large batch?

Yes, you can, but we recommend omitting the gold glitter if you choose to do so.
To make large batch, add ice to a punch bowl, and add lemon juice, grenadine, apple cider, apple cider vinegar, and bourbon. Stir to combine.

Ladle into cups and top with ginger beer. Just don't mix the ginger beer in with the punch, it will go flat.
🛒Shop this recipe
⏲Equipment
Luckily, this recipe is pretty standard and you really don't need much to make it.
A cocktail shaker or mason jar will be needed for this drink.
You'll also probably want a bar spoon to stir the drink.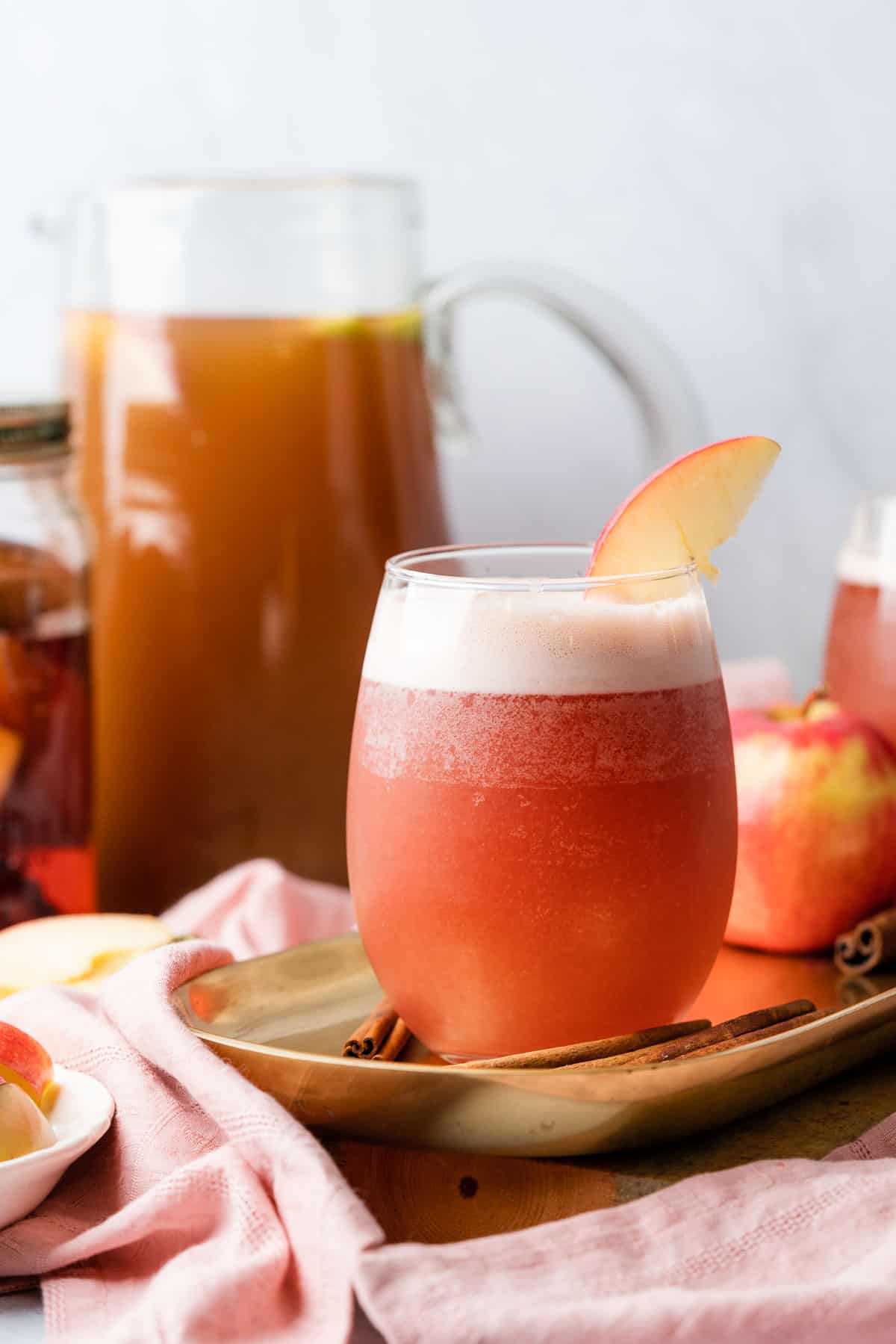 🥣Storage
This drink is best enjoyed right away, and we don't recommend mixing anything together ahead of time. You can store separate components pre-prepped in the fridge if you like, just be sure to mix it up right before it's time to serve!
🌟Leave a review!
Make sure to leave a 5-star review below! This helps other readers find our recipes via Google, and encourages them to try them. Also be sure to leave a comment with your experience!
Take a photo and share with us by tagging us on Instagram or follow along on Pinterest for more ideas!
📖 Recipe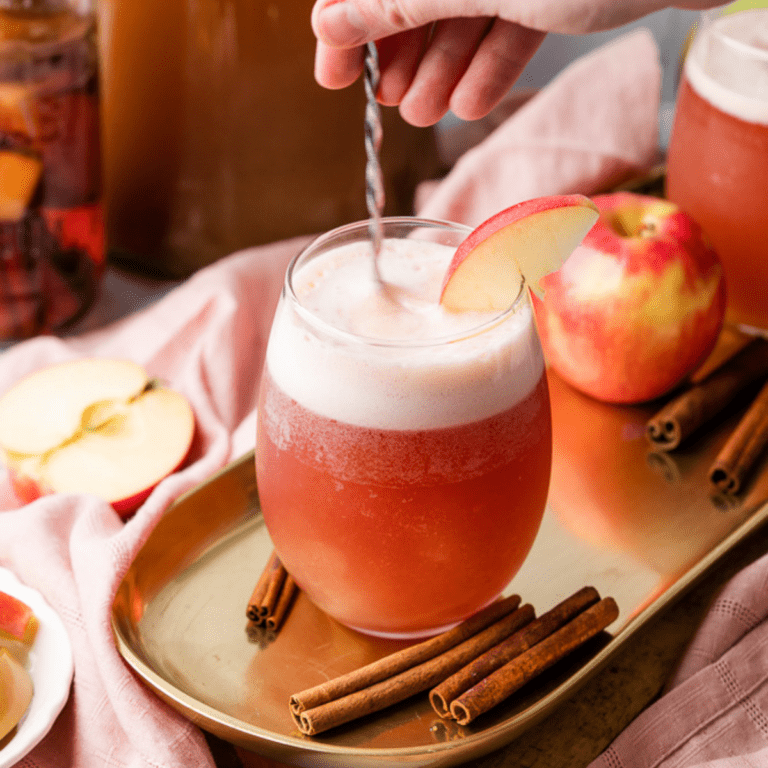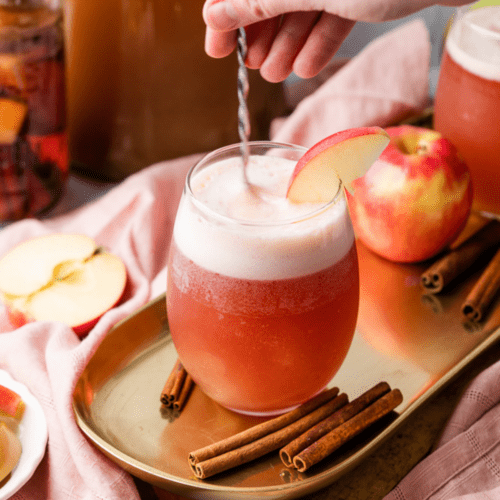 Apple Cider Bourbon Cocktail
This Apple Cider Bourbon Cocktail is the fall harvest cocktail of your dreams! Combine apple cider with grenadine, apple cider vinegar, apple cinnamon infused whiskey, and lemon juice, and top with ginger beer. Add a little edible glitter for a fancy feel.
Ingredients
4

ounces

apple cider

or to taste

2

ounces

grenadine

or to taste

2

ounces

fresh squeezed lemon juice

2

teaspoon

apple cider vinegar

4

ounces

homemade apple cinnamon infused bourbon whiskey

could use regular bourbon instead

½

teaspoon

edible glitter

optional but beautiful!

1

can

ginger beer

to top drinks

ice

apple slices for garnish
Instructions
In a cocktail shaker filled with ice, add lemon juice, apple cider, grenadine, apple cider vinegar, bourbon, and edible gold glitter.

Shake vigorously for 30 seconds, then strain into a glass. Top with ginger beer. Stir with a bar spoon for the best gold glitter swirling effect. Enjoy!
Notes
Please note, that diet ginger beer, our low carb homemade apple cider and homemade sugar free keto grenadine can be used for this recipe to make it sugar free, and that is how we make it at home! We included standardized store-bought versions in the nutrition information to show the sugar and carb content if you don't want to make any of the components at home.
If you use our homemade versions, you will lower the calories to 179 calories per drink, with 10g total carbs, 2g fiber (making 8 net carbs), and 7g sugar. 
Feel free to use regular bourbon instead of infused bourbon for this recipe! 
Nutrition
Calories:
313
kcal
Carbohydrates:
43
g
Protein:
0.2
g
Fat:
0.1
g
Saturated Fat:
0.02
g
Polyunsaturated Fat:
0.03
g
Monounsaturated Fat:
0.01
g
Sodium:
23
mg
Potassium:
100
mg
Fiber:
0.2
g
Sugar:
36
g
Vitamin A:
2
IU
Vitamin C:
11
mg
Calcium:
14
mg
Iron:
0.5
mg