This Fall Bourbon Sangria Recipe is a true autumnal treat. It combines bourbon whiskey with red wine, homemade low carb apple cider and homemade sugar free keto grenadine with plenty of amazing fruit and warm fall spices to create a stunning drink!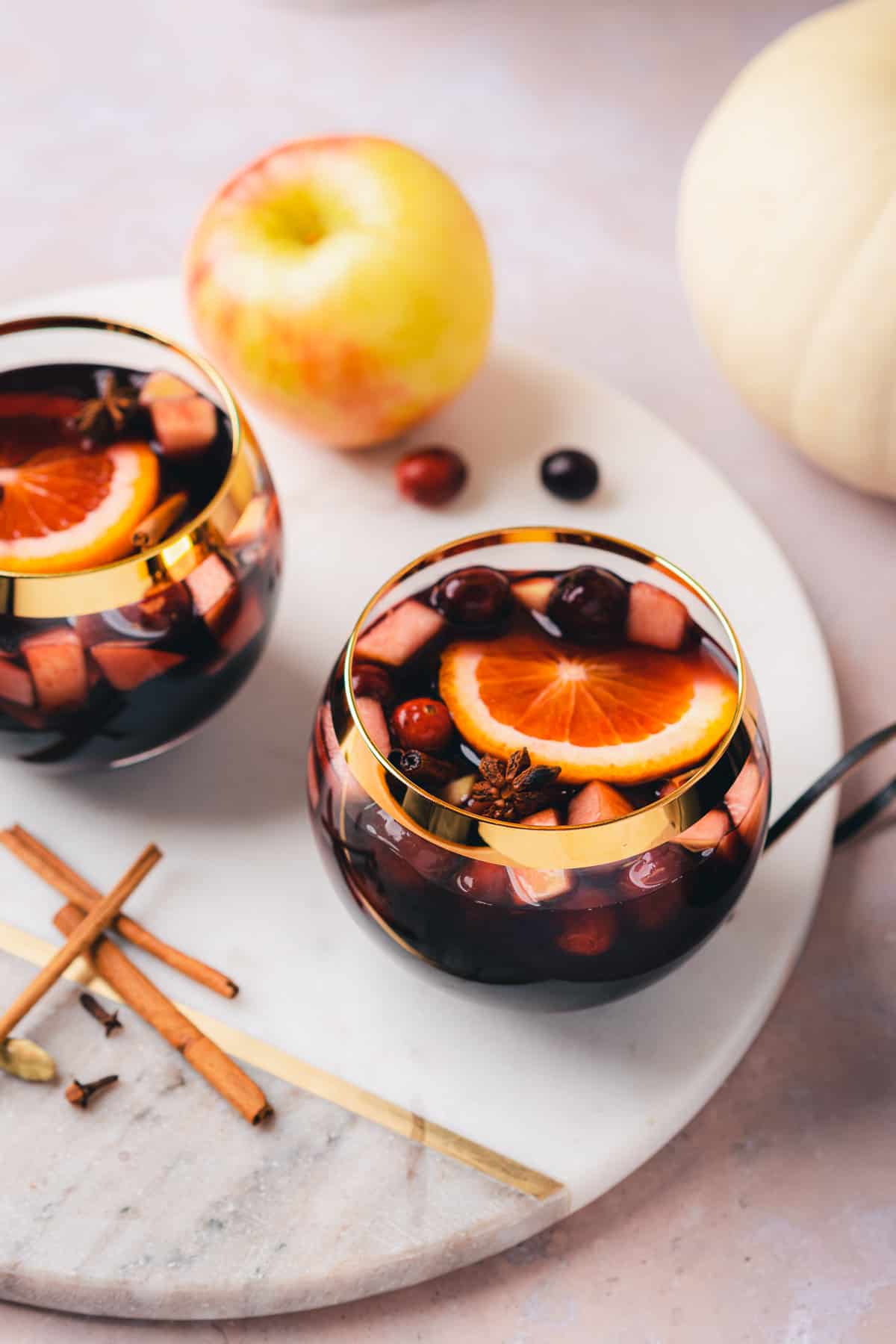 Please note: This recipe has been improved, and re-photographed since we initially posted it in November of 2019. We hope you enjoy the new look!
This fruity, spiced cinnamon whiskey sangria is easy to please a crowd and whip up ahead of time for holiday festivities. The sugar content is greatly reduced by making your own apple cider and grenadine, but you can always opt for store-bought versions if you're not looking to limit sugar.
Looking for more tasty fall cocktails? Try this slow cooker mulled wine, this apple whiskey sour, or this apple cider bourbon cocktail!
🍎Ingredients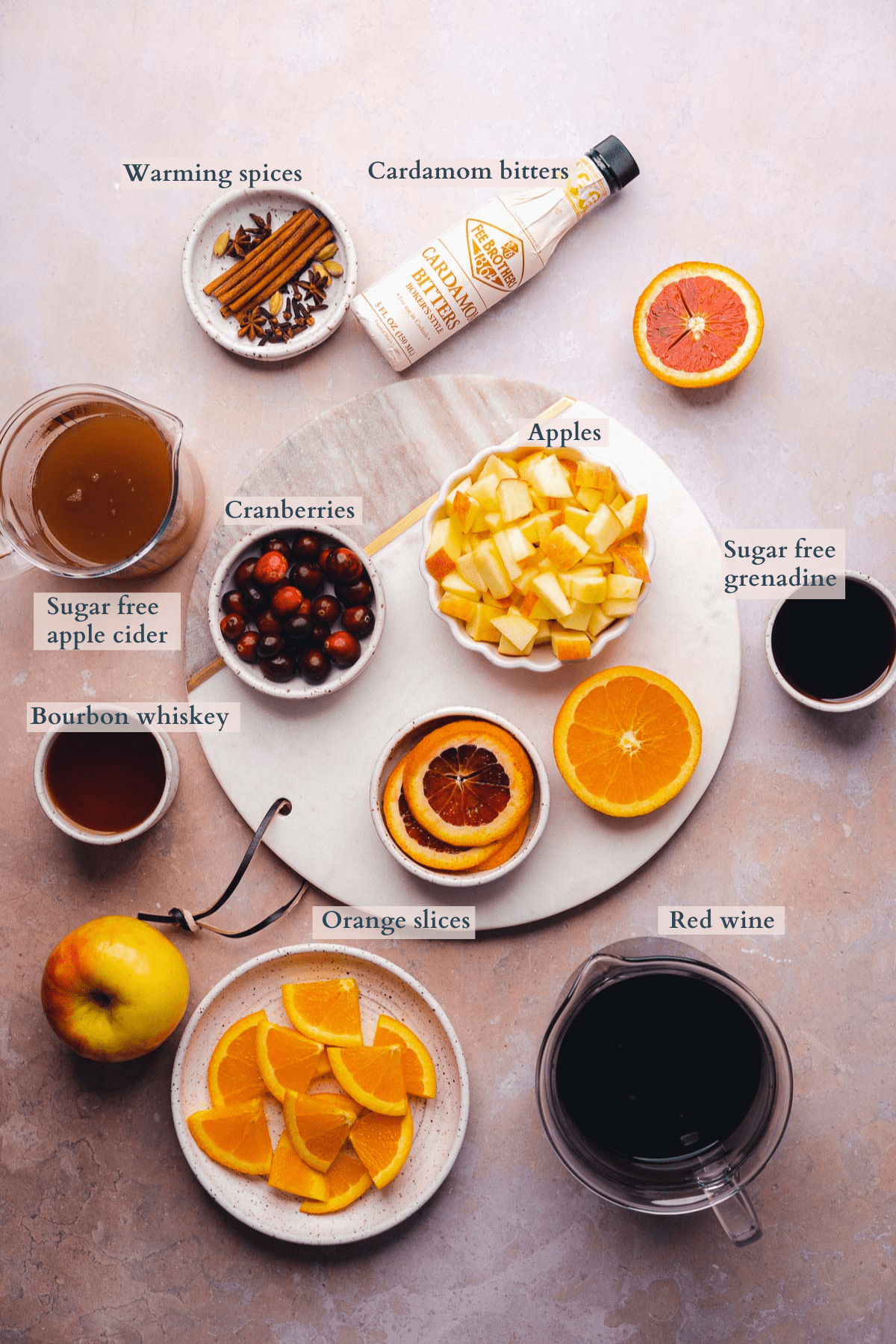 Red wine - Choose something not too sweet that you actually want to drink!
Bourbon whiskey - Your favorite variety. Sometimes we even add some homemade apple cinnamon infused whiskey if we have some on hand. If you don't like bourbon, feel free to use your favorite Irish whiskey or anything you like.
Homemade sugar free grenadine - So delicious! You can also use plain pomegranate juice instead, but you may need to add some sweetener to the drink, as the grenadine and apple cider are the main components that add sweetness to the drink.
Homemade low carb apple cider - Our sugar free apple cider is truly delicious and easy to make. and can be made over a week in advance. It's nice and spiced so it adds an incredible flavor profile to the sangria.
Cardamom bitters- Optional, but really subtle and delicious. We recommend it.
Orange - We used two different types of oranges, including blood orange and a navel orange.
Apple - Cut into your desired shape. We used a honey crisp apple.
Cranberries - Fresh or frozen
Whole fall warming spices - We used cinnamon sticks, star anise, cardamom pods and whole cloves. This adds a subtle spiced flavor profile to this drink as it sits.
Garnish with: more fresh fruit and dried spices
📋Instructions
A few days before, you can make some apple cinnamon-infused bourbon if you want! This step is totally optional.

To make, add cinnamon sticks and apple slices to a mason jar and cover it with your whiskey of choice, and let it infuse for at least 3-4 days. Strain before use and discard the fruit and cinnamon sticks. You can also just use regular bourbon in the sangria.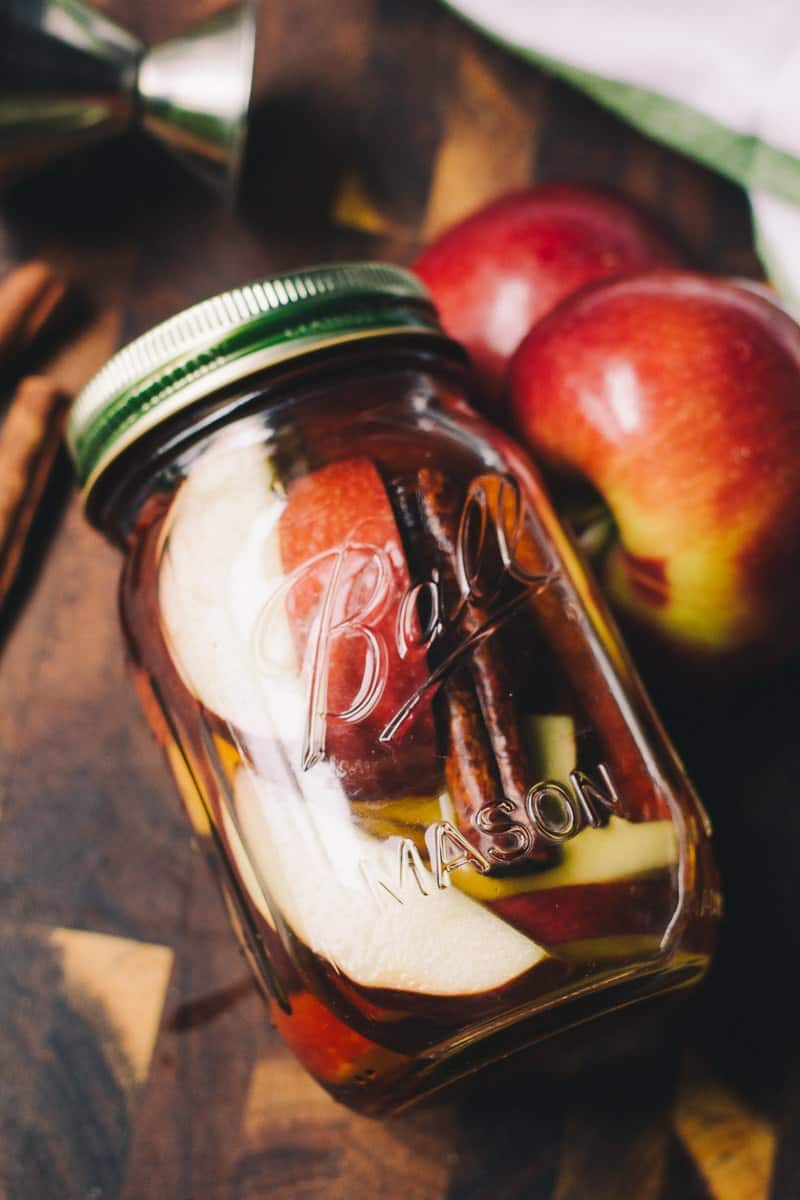 In a large pitcher or bowl, add the red wine.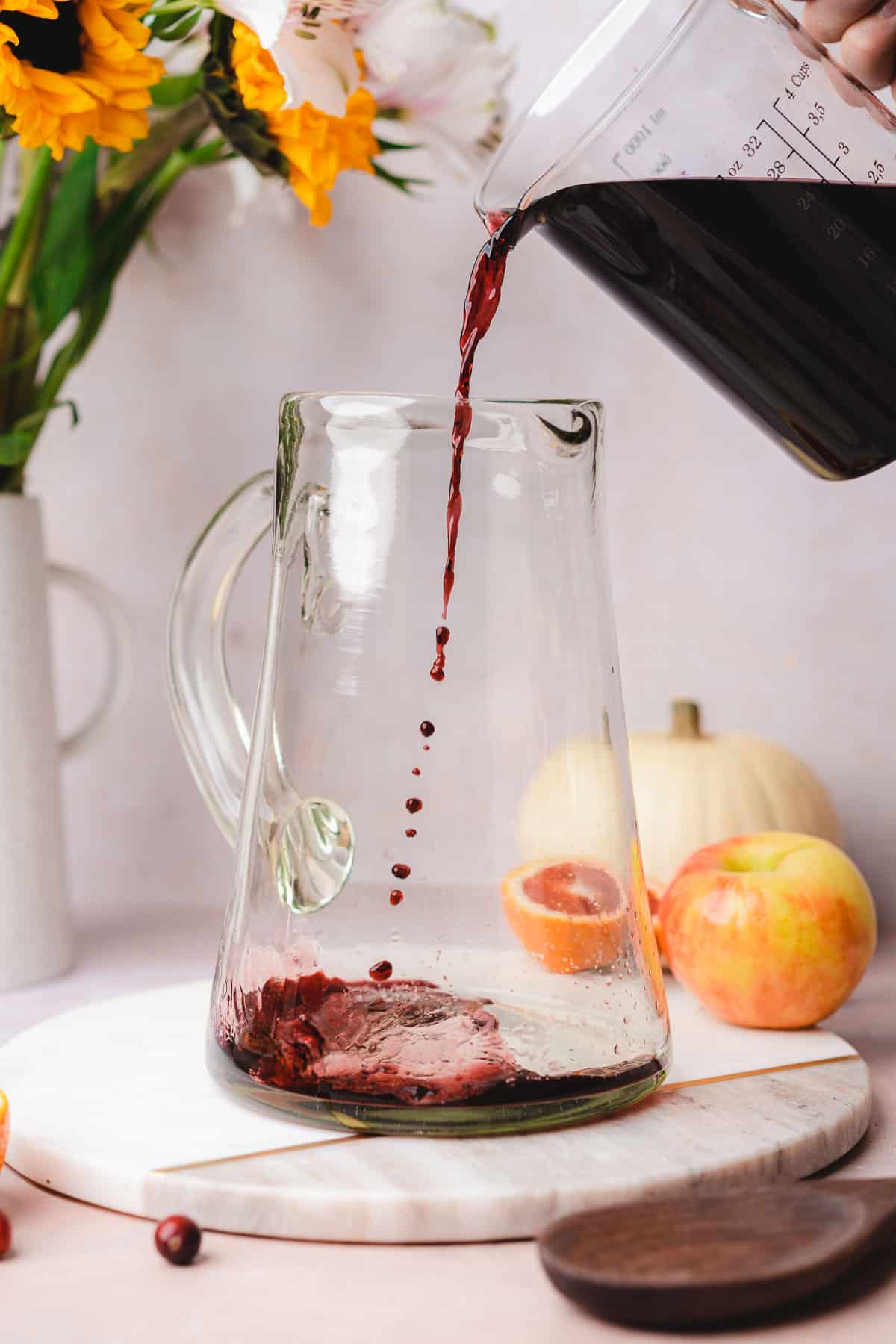 Add in apples, and apple cider.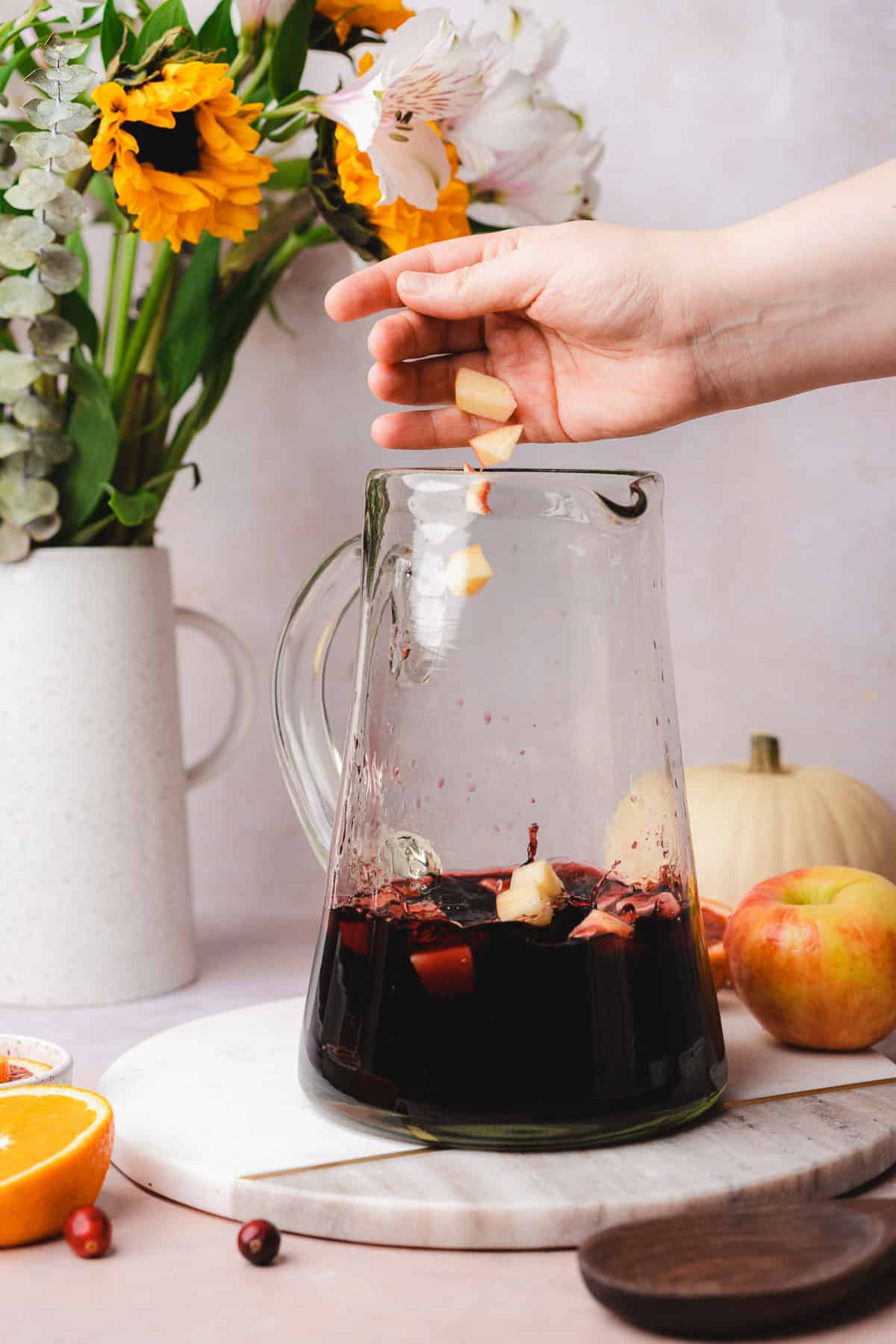 Followed by cranberries.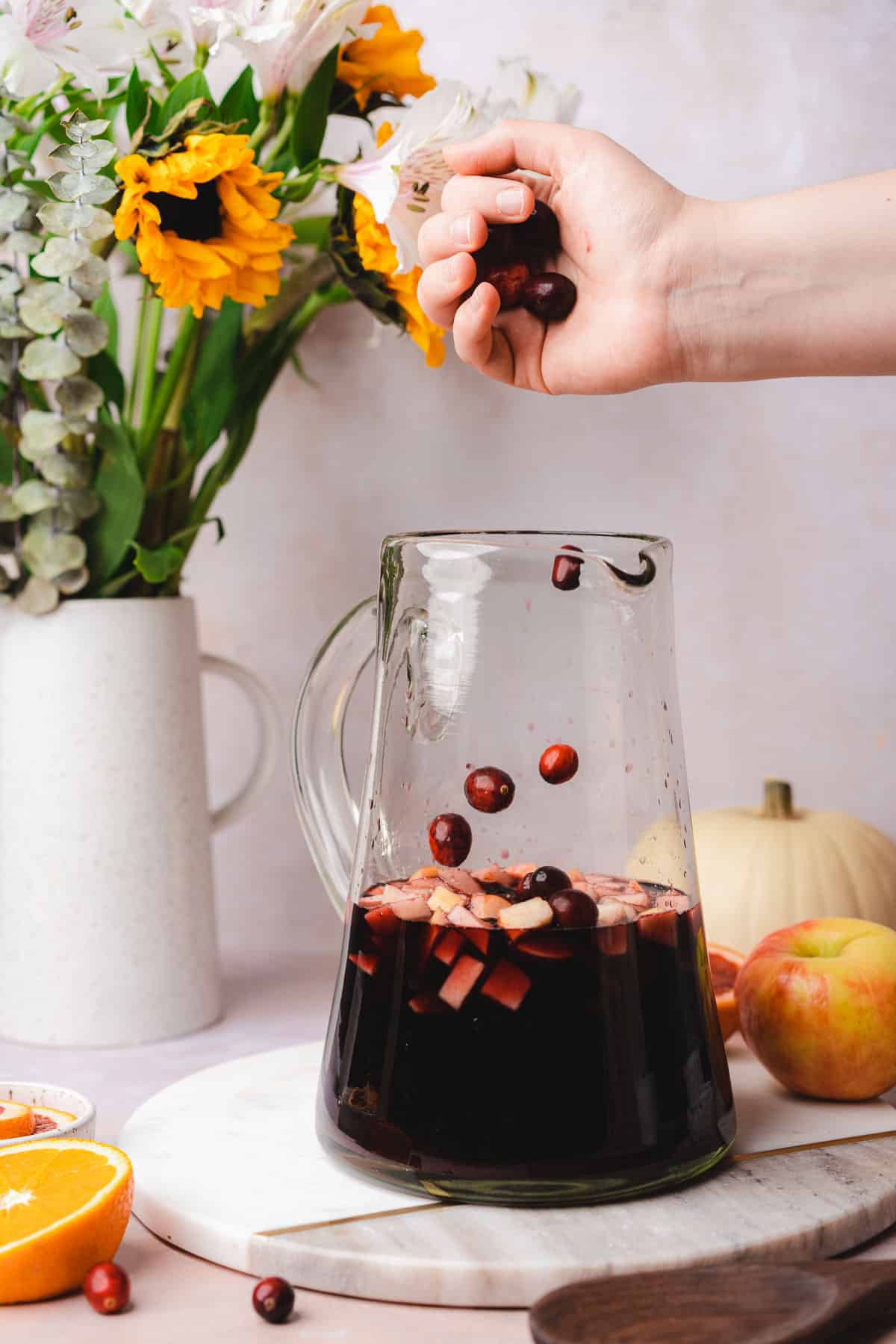 Add in bitters if using, and keto grenadine.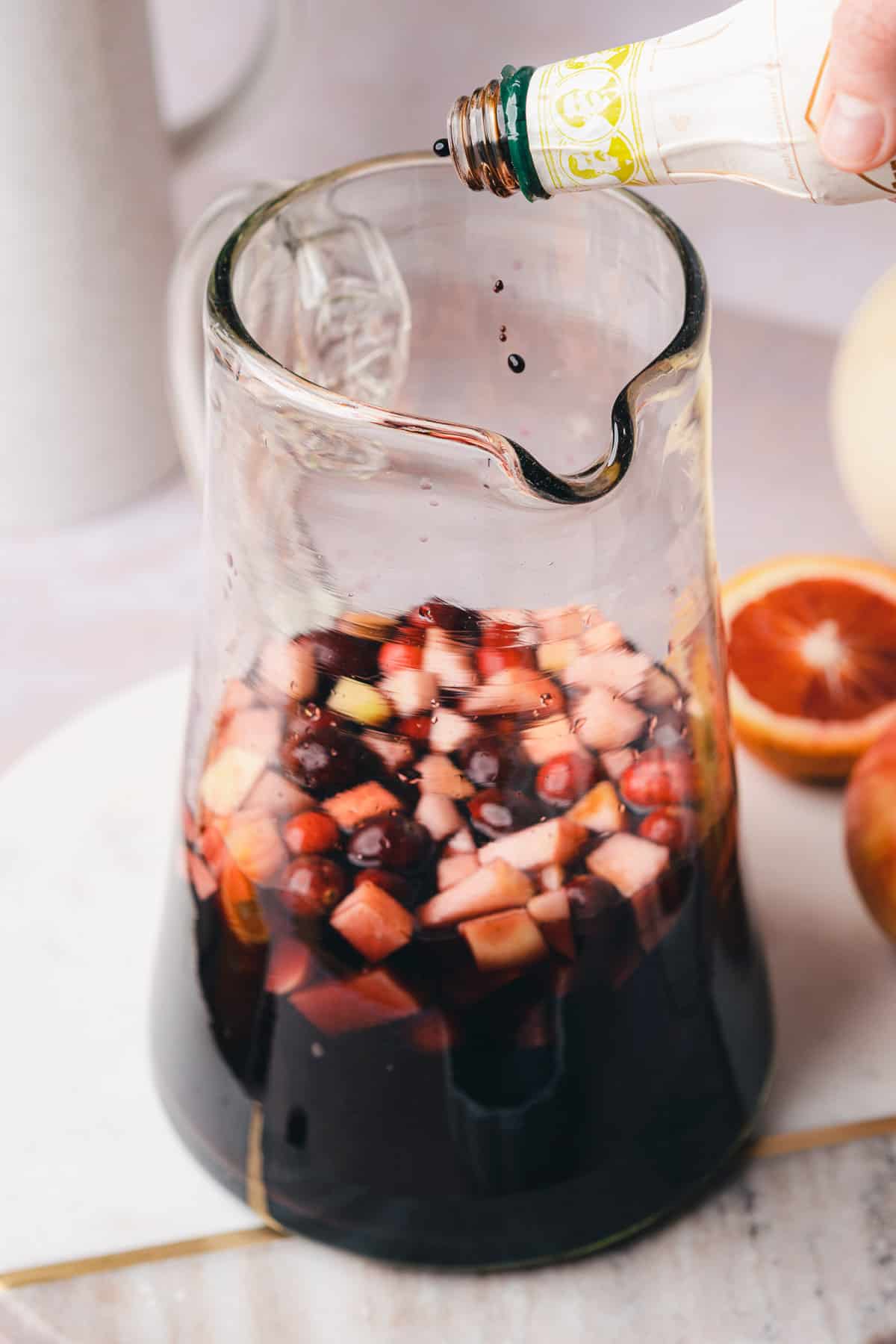 Stir in whiskey, but start with about half, then taste and add more if desired.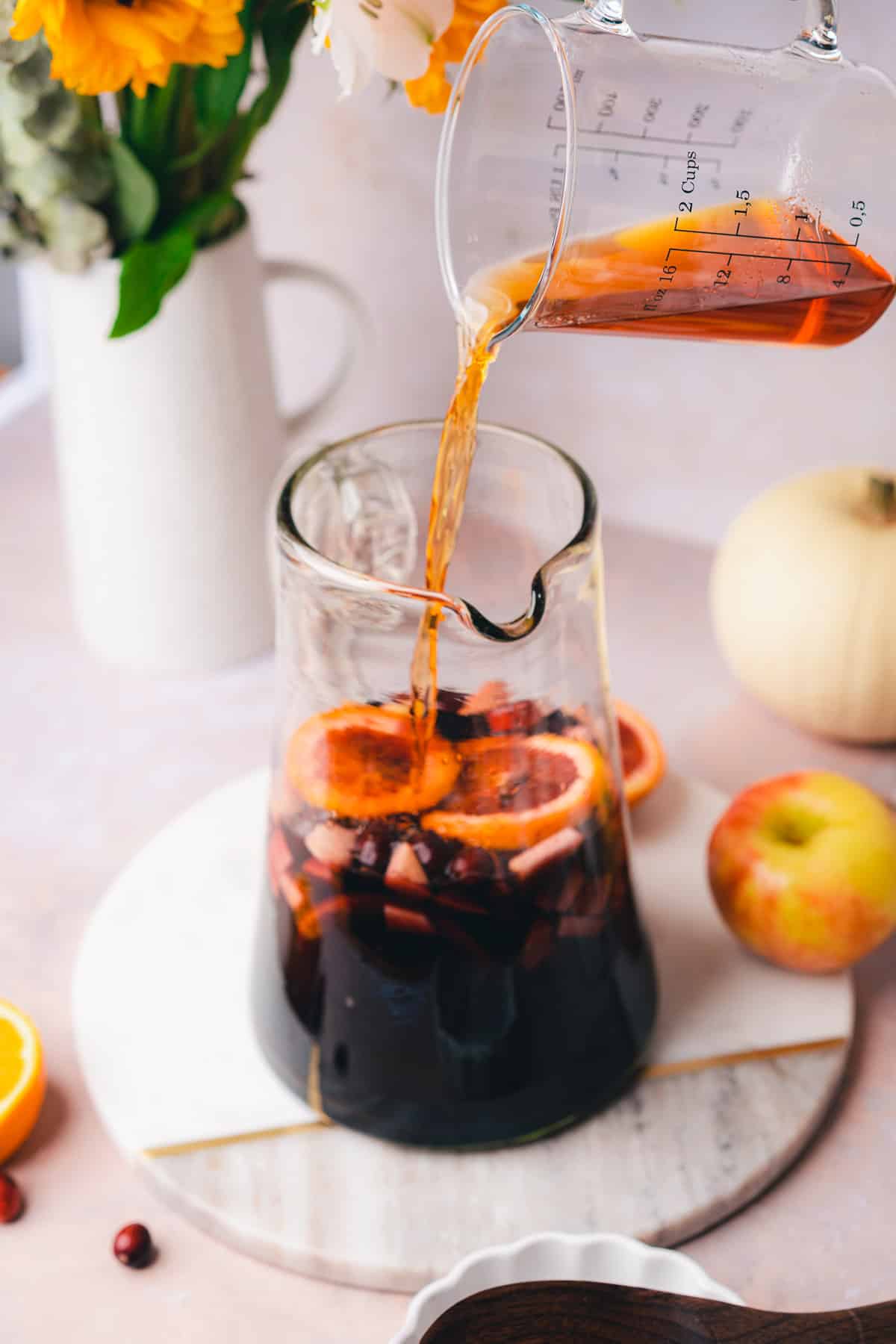 Drop in orange pieces and slices.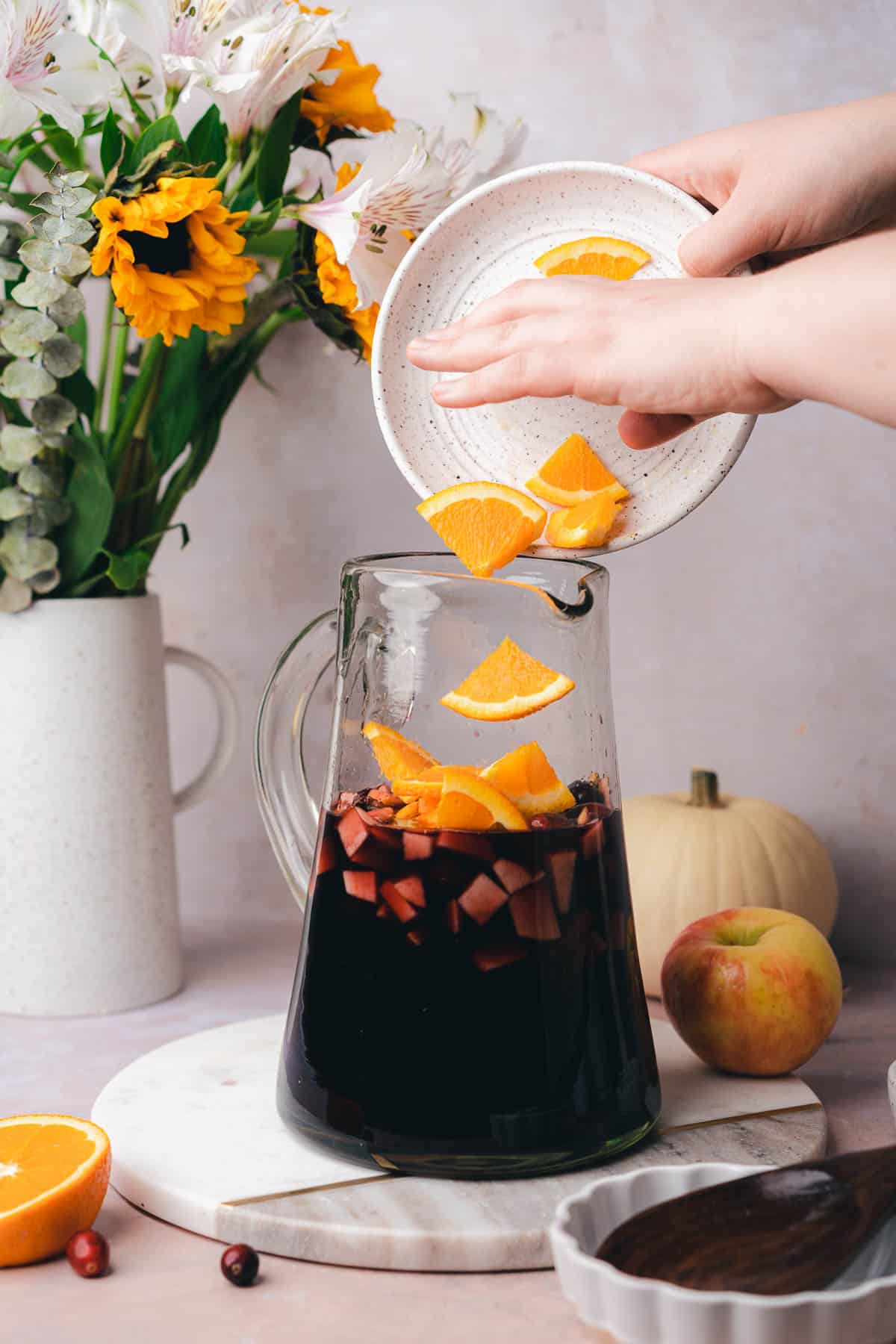 Add in cinnamon sticks, cloves, cardamom and star anise, then give the mixture a stir. Refrigerate, covered, for a minimum of 2 hours to let the flavors meld together. We recommend letting this sit for 6-8 hours if you can!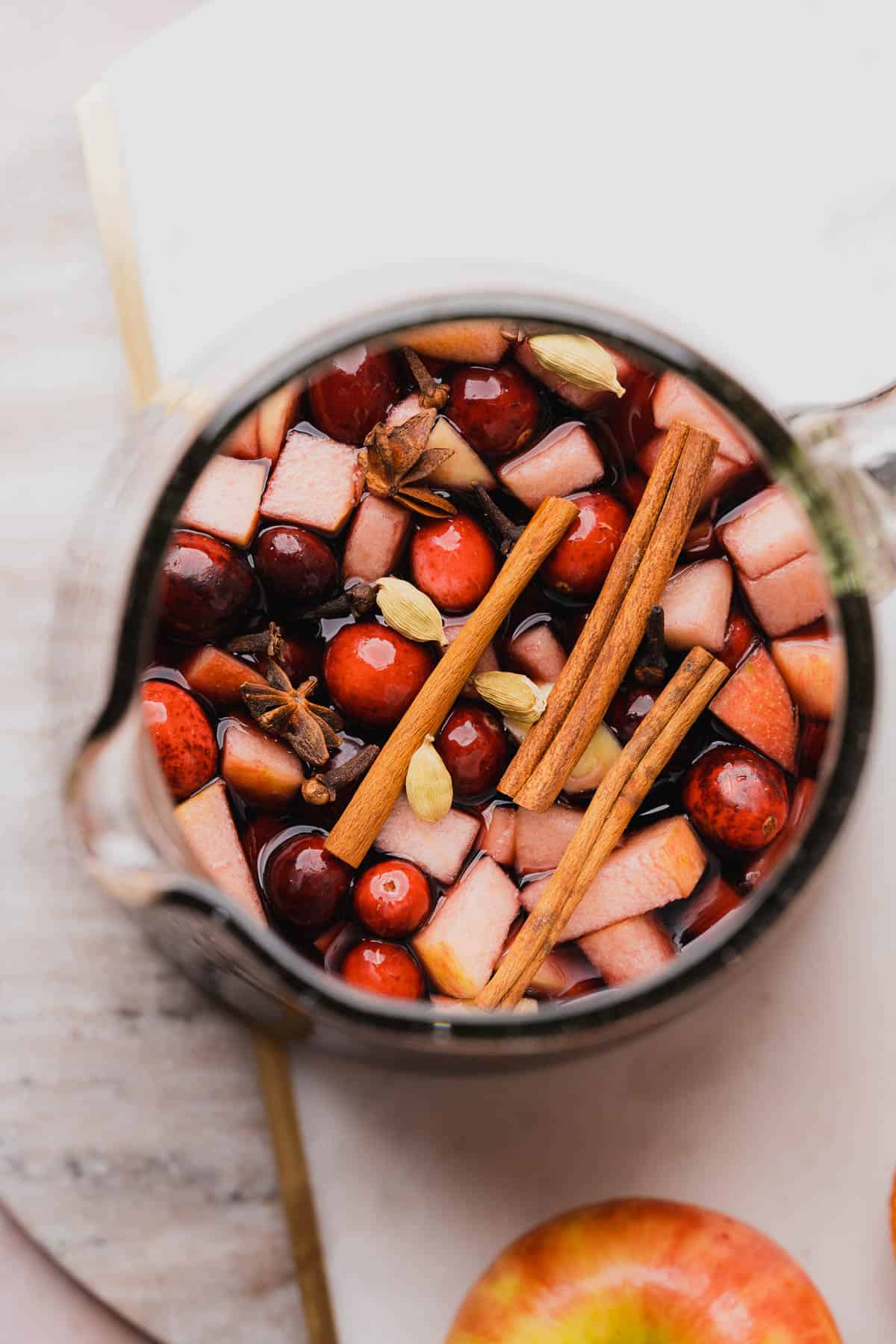 To serve, pour into glasses and garnish with more fresh fruit and spices. Enjoy!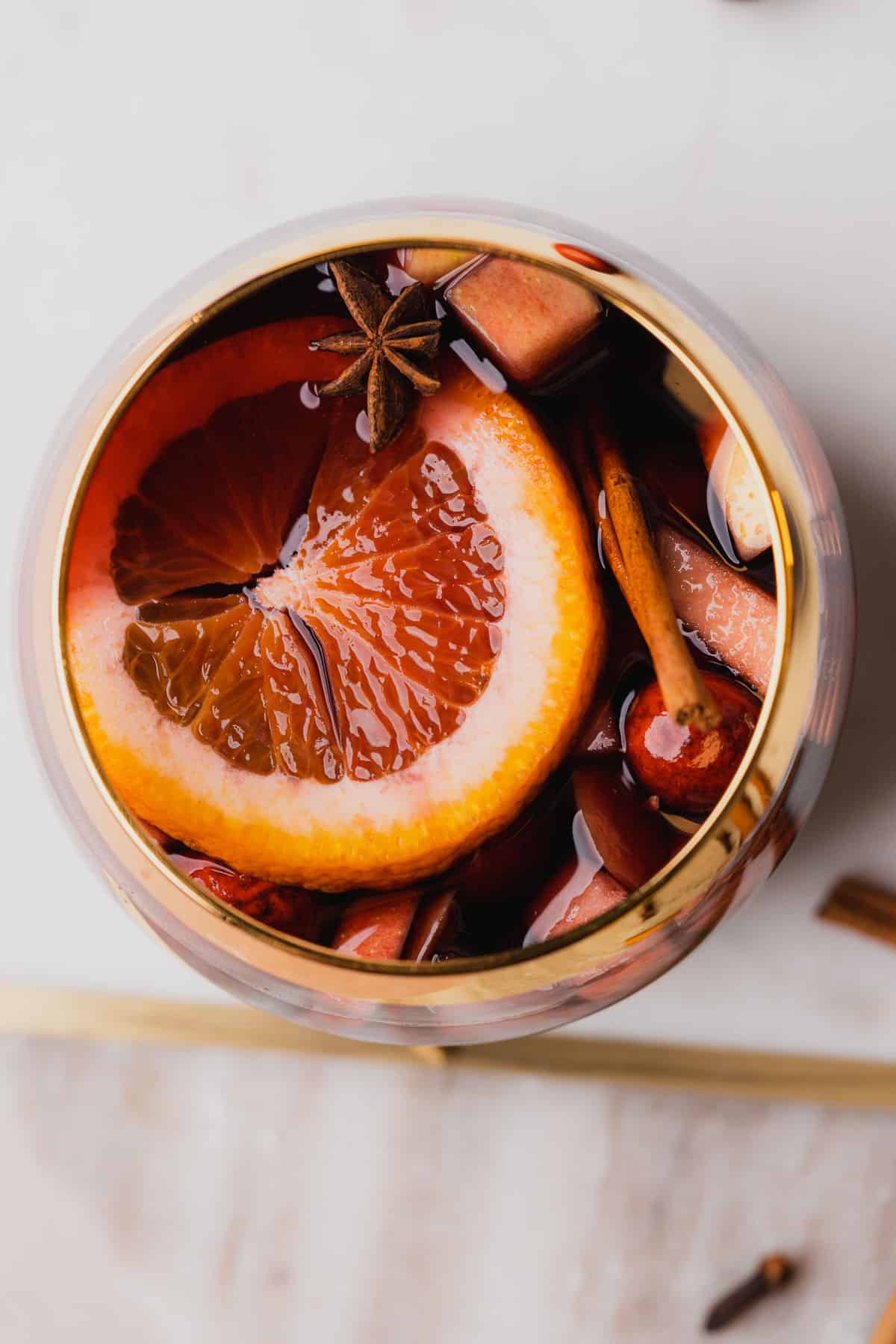 Frequently Asked Questions:
How Long Should I Let This Sangria Sit?

We recommend allowing the fruit to sit in your sangria mixture for at least a few hours before serving to help infuse the flavors. You can even let the mixture sit over night. The longer the better, but we do recommend consuming the whole batch within 3 days.
What Can I Substitute for Homemade Apple Cider?

This recipe uses our homemade low carb apple cider, which significantly reduces carb and sugar count if you stack it up to regular sugary versions. You can always use a store bought version however. If watching carbs and sugar, make sure to read the labels to watch out for added sugar.

Low sugar or no sugar added apple juice is also a great idea as well.

Another idea would be to add some orange juice, which you can't go wrong with!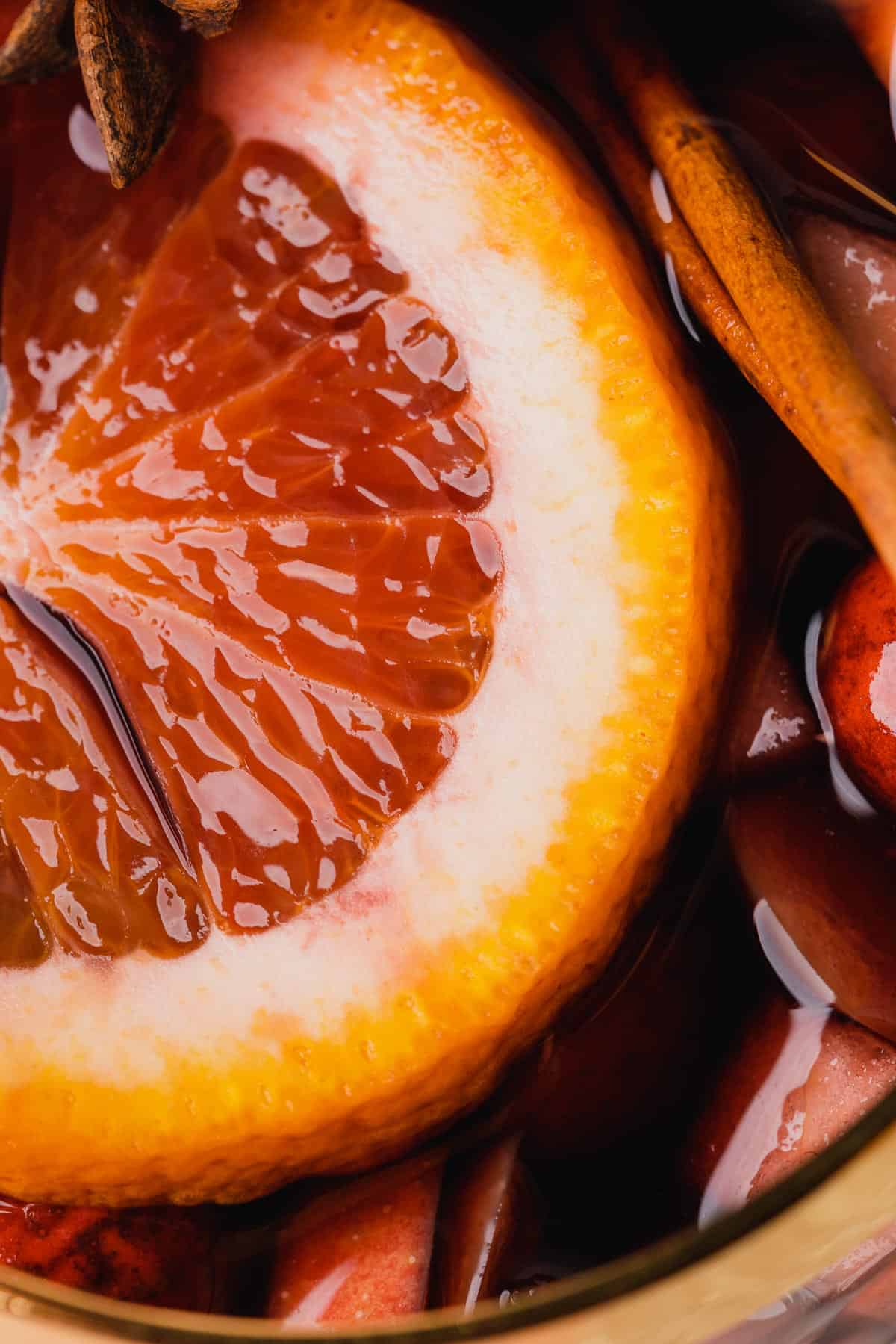 Is the Fruit Included in the Nutrition Information?

We don't add in calorie information for the sliced fruit. We're not food scientists and we simply don't know how something like this would be calculated. While we aren't entirely sure, we feel that it's probably a pretty negligible amount of carbs added.

Personally, we so we don't worry about the carbs that the fruit adds. Just be aware that it adds probably a small amount of carbs and calories to your drink that are not included in our nutrition information. You should also add whatever fruit you like, it's really up to you!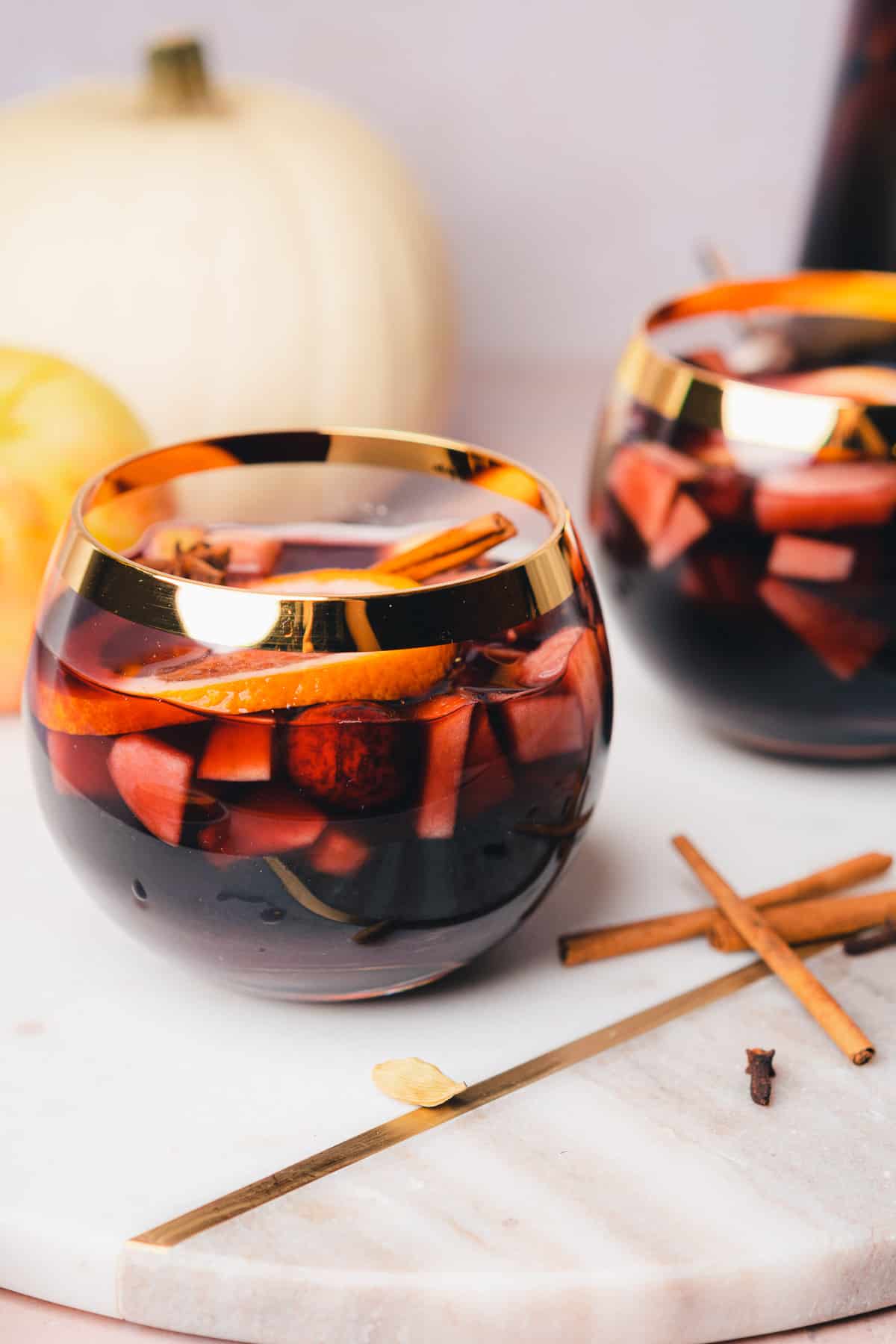 Are There Good Substitutes for Homemade Grenadine?

If you're not watching carbs or sugar, feel free to use store bought grenadine.

You could also just use pure pomegranate juice, which is essentially what real grenadine syrup is! If you add juice only, you may want to add some additional sweetener.

Another option would be cranberry juice, either diet or regular. While it's not quite the same, it's close enough and it adds sweetness to the drink.
Is There Sugar Free Simple Syrup in This Recipe?

No, there isn't! At least, not in this recipe version. We used to include it, but there's no need with some other sugar free sweetening elements we included in this recipe.

If you are altering the recipe and need simple syrup to sweeten it, it's so easy to make.

To make your own simple syrup you will want to combine equal parts sugar and water. We'd recommend about 1 cup sugar to every 1 cup water. Simply heat the water until boiling, then remove from the heat and stir in the sugar until dissolved. That's it!

If making a sugar free version, we'd recommend using allulose in place of regular sugar. It's really tasty and it won't crystallize when refrigerated. You will need 1 and ⅓ cup to replace every 1 cup of sugar in regular simple syrup.
Here's More Seasonal Cocktail Recipes You Will Love: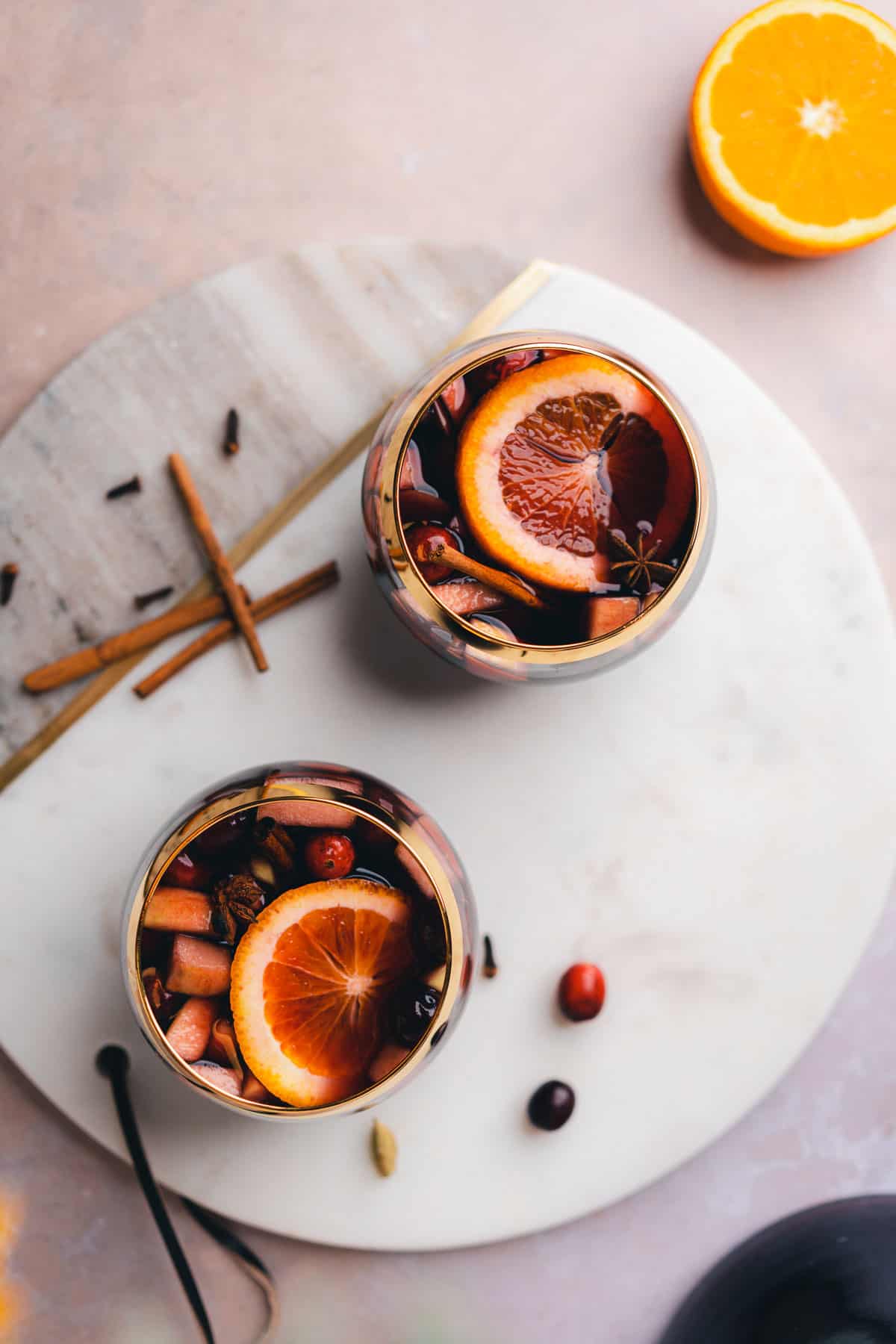 Shop This Recipe:
Need supplies for this recipe? We've linked our favorites above and right here in our Amazon Store! A Full Living is a participant in the Amazon Services LLC Associate program, an affiliate advertising program designed to promote a means for sites to earn advertising fees by linking products to amazon.com. We only share products we use and love. It doesn't cost you anything extra to shop using our links, but we earn a small commission that helps us keep this site going!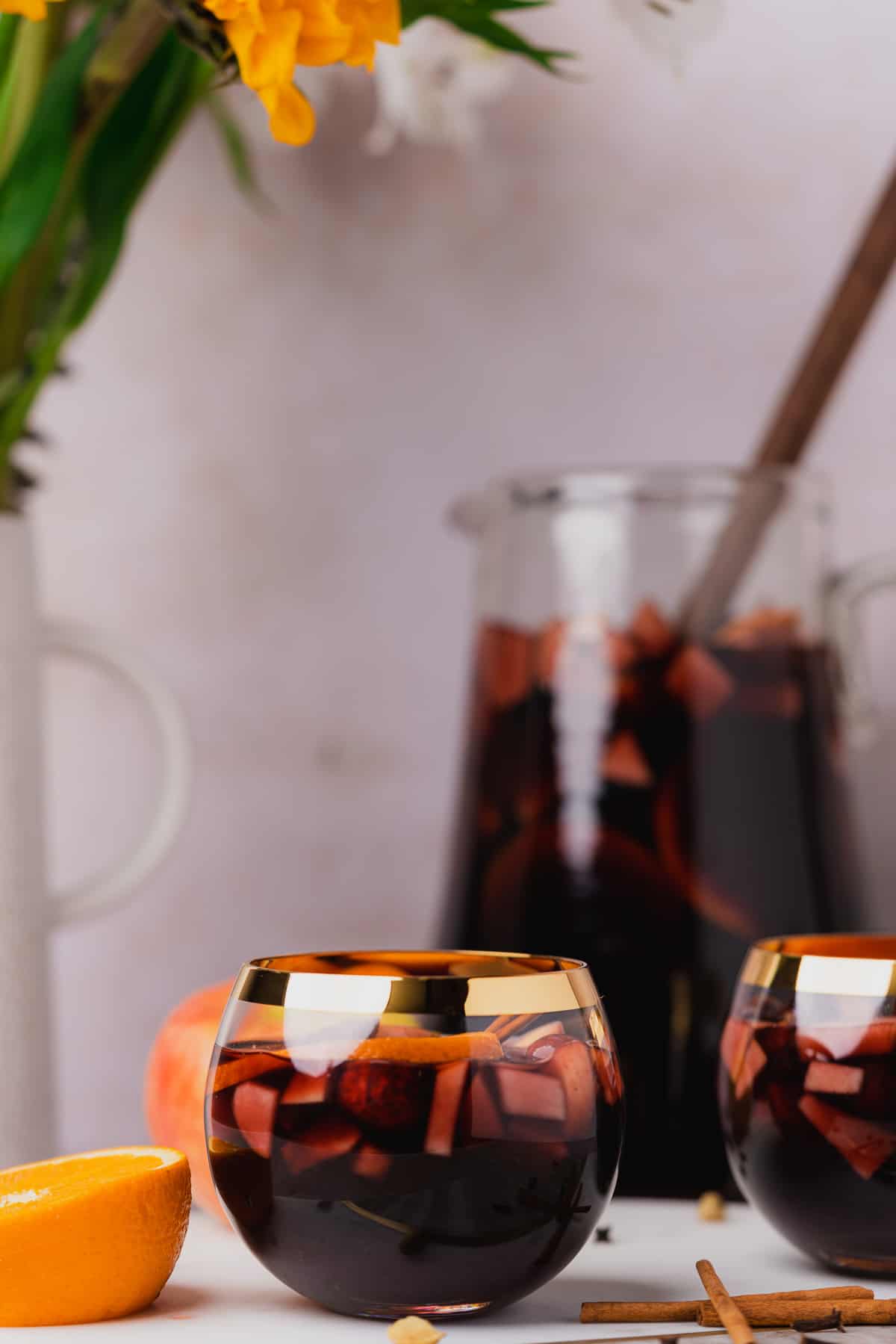 📖 Recipe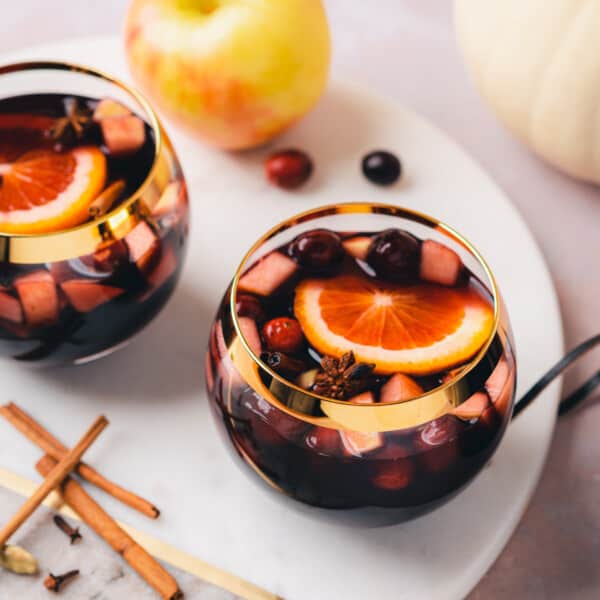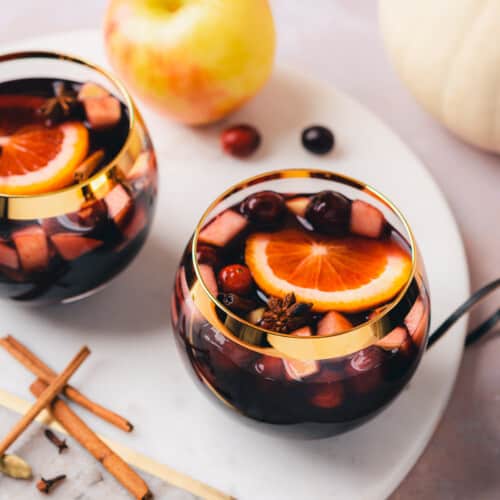 Bourbon Whiskey Sangria Recipe (Low Carb)
Ingredients
1

bottle

red wine of choice

8

ounces

bourbon whiskey

(or to taste, we recommend starting out with 4 ounces and then adding more)

8

ounces

sugar free keto grenadine

16

ounces

homemade low carb apple cider

½

teaspoon

cardamom bitters (optional)

1

medium

apple, cut into pieces

1

medium

orange, cut into pieces

½

cup

fresh cranberries

6

whole

cloves

3

whole

cinnamon sticks

3

whole

green cardamom pods

2

whole

star anise

Fresh fruit & whole spices for garnish (optional)
Instructions
In a large bowl or pitcher, add wine, apple cider, grenadine, oranges, cranberries, apples, and whole spices. Stir, then taste. Add whiskey to taste.

Allow the mixture to chill in the fridge for a few hours before serving to infuse the fruit. Before serving, you can garnish with more fresh fruit and dried spices if desired.

Serve and enjoy! Feel free to make this a day or so ahead of your get together. This will keep in the fridge in an airtight container for up to 3 days.
Notes
This drink is made with our homemade keto grenadine and homemade sugar free spiced apple cider. 
To make an OPTIONAL infused apple cinnamon infused whiskey: 

A few days before making the bourbon sangria, you can make your Apple Cinnamon infused whiskey. You can simply add 4 cinnamon sticks and 1 cut up apple to a mason jar and cover it with 16 oz whiskey of choice, and let it infuse for at least 3-4 days. Strain before use and discard the fruit and cinnamon sticks.
Nutrition
Calories:
174
kcal
Carbohydrates:
10
g
Protein:
1
g
Fat:
1
g
Saturated Fat:
1
g
Trans Fat:
1
g
Sodium:
6
mg
Potassium:
94
mg
Fiber:
2
g
Sugar:
7
g
Vitamin A:
38
IU
Vitamin C:
3
mg
Calcium:
9
mg
Iron:
1
mg