This spooky and fun Purple People Eater Drink is the best purple gin cocktail to make this Halloween. Combine beautiful purple gin with fresh lemon juice, grenadine, ginger beer, and top it off with a lychee and blueberry "eyeball"!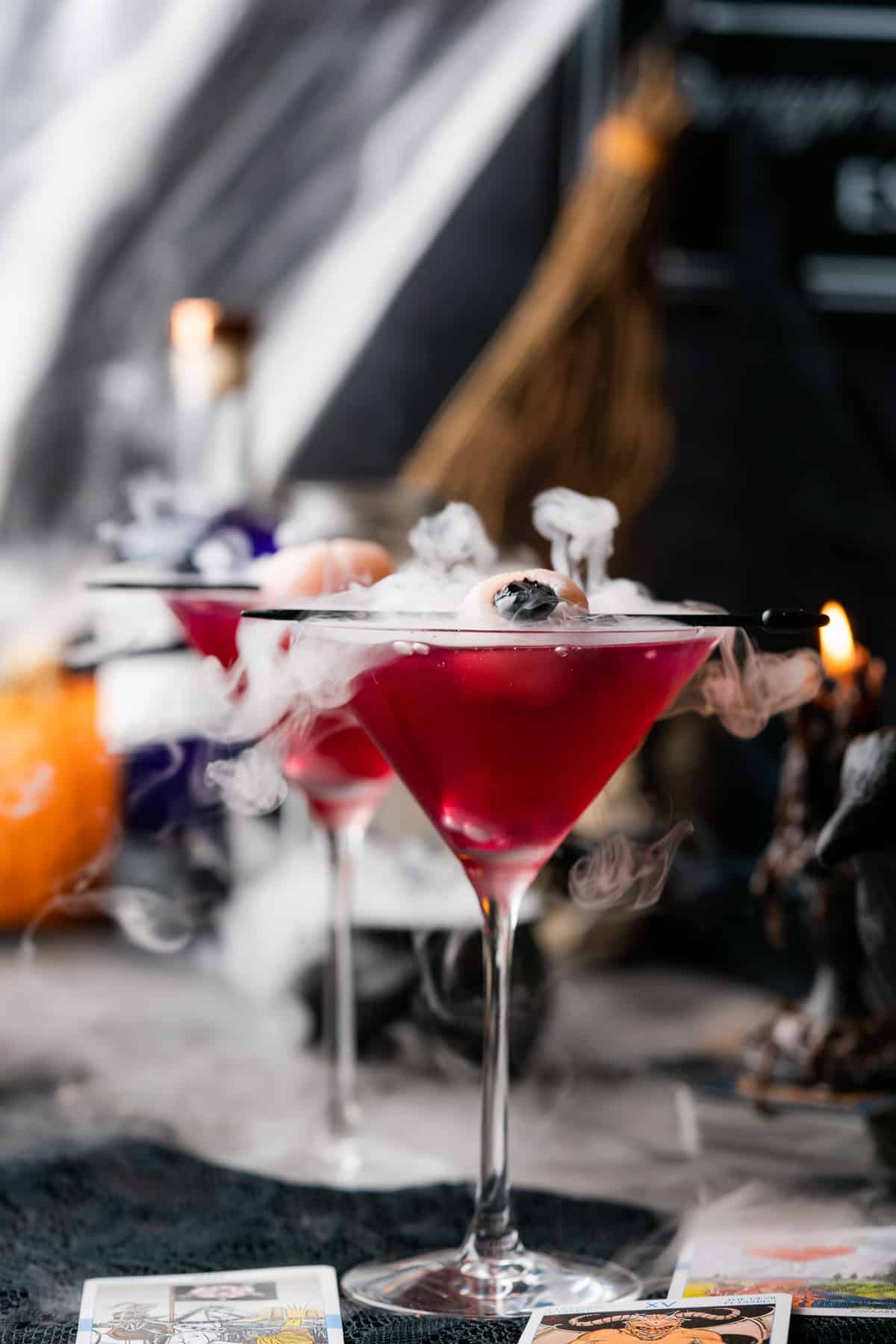 This drink will have you singing 'one-eyed, one-horned, flying purple people eater this Halloween! If you're also looking for an easy way to enjoy something pretty simple to make, and super festive, you're going to need this recipe.
It's really simple to make and even has directions to make an eyeball lychee 'eyeball' stuffed with a blueberry. It's the perfect Halloween cocktail recipe.
Looking for more fun and spooky items to add to your Halloween party menu? For more Halloween cocktails, try this black blueberry gin cocktail, this vampire's kiss cocktail, this love potion cocktail, and this Halloween dry ice punch!
Be sure to include this spooky spaghetti and meatball eyeballs, or Halloween charcuterie board for something savory.
You may want to include this Halloween bark or this Halloween snack mix for tasty snacks, or these black velvet cupcakes or black velvet cake for dessert.
Jump to:
🖤Why we love this recipe
Can be made sugar-free and low carb - Looking to cut back on a few calories? This recipe was made for a low-carb lifestyle if you opt for using our homemade sugar free grenadine, and diet ginger beer! If you go the more homemade route, you're looking at only 4 net carbs per drink.
Quick and easy recipe - This recipe only has 6 ingredients, and that's including what's needed to make the spooky lychee eyeball.
Perfect for a Halloween party - This lovely (and creepy!) Halloween drink with the purple hue is the perfect addition to your spooky Halloween festivities. Top it off with a lychee "eyeball" and some dry ice for the perfect cocktail this Halloween.
👁Ingredients
Here are the main ingredients needed for the recipe. Full quantities and nutritional information can be found in the recipe card.
Purple gin. The main component of this purple cocktail with Empress 1908 gin. Empress is botanically flavored and is the lovely indigo color because of the butterfly pea flowers infused into it. If you don't have this gin, we're sorry to say that we're not sure of a simple swap to make your drink purple. You could potentially experiment with this lavender and butterfly pea simple syrup in place of the grenadine or something, but we're not sure!
Grenadine. You can use store-bought or homemade. We like using our own homemade sugar free grenadine.
Fresh squeezed lemon juice. For a little acidity, and to change the hue of the gin ever-so-slightly.
Ginger beer. To top the drinks, and to add flavor, sweetness, and a little fizz. We use diet ginger beer to cut down on the amount of added sugar. You can use traditional if you prefer.
Ice
Lychee and blueberry "eyeball". A simple and creepy garnish. You can order canned lychees if you can't find them at the store.
✏️Instructions
🔪Prep work
If making your own, prepare your sugar free grenadine first on the day of if you don't have time to make it in advance. You can prepare it up to 10 days in advance and store it in an airtight container in the fridge. It will need to be completely chilled before adding to the drink or it will melt your ice too much.
Squeeze fresh lemon juice.
Prepare the lychee eyeball garnishes. All you need to do is place a blueberry inside the center of a hollowed-out lychee fruit.
Step 1
In a cocktail shaker filled with ice, add lemon juice.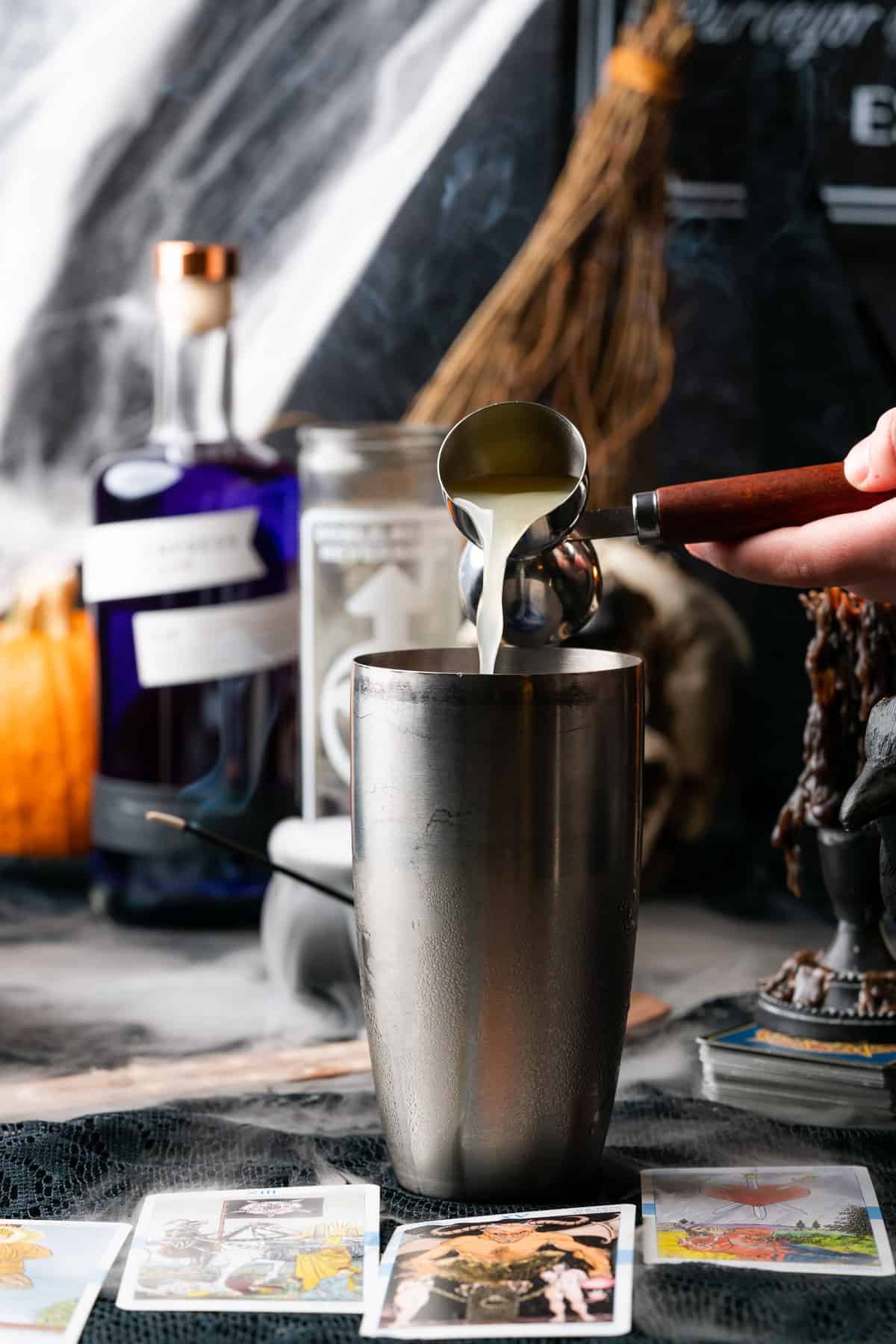 Step 2
Pour in the grenadine, and purple gin.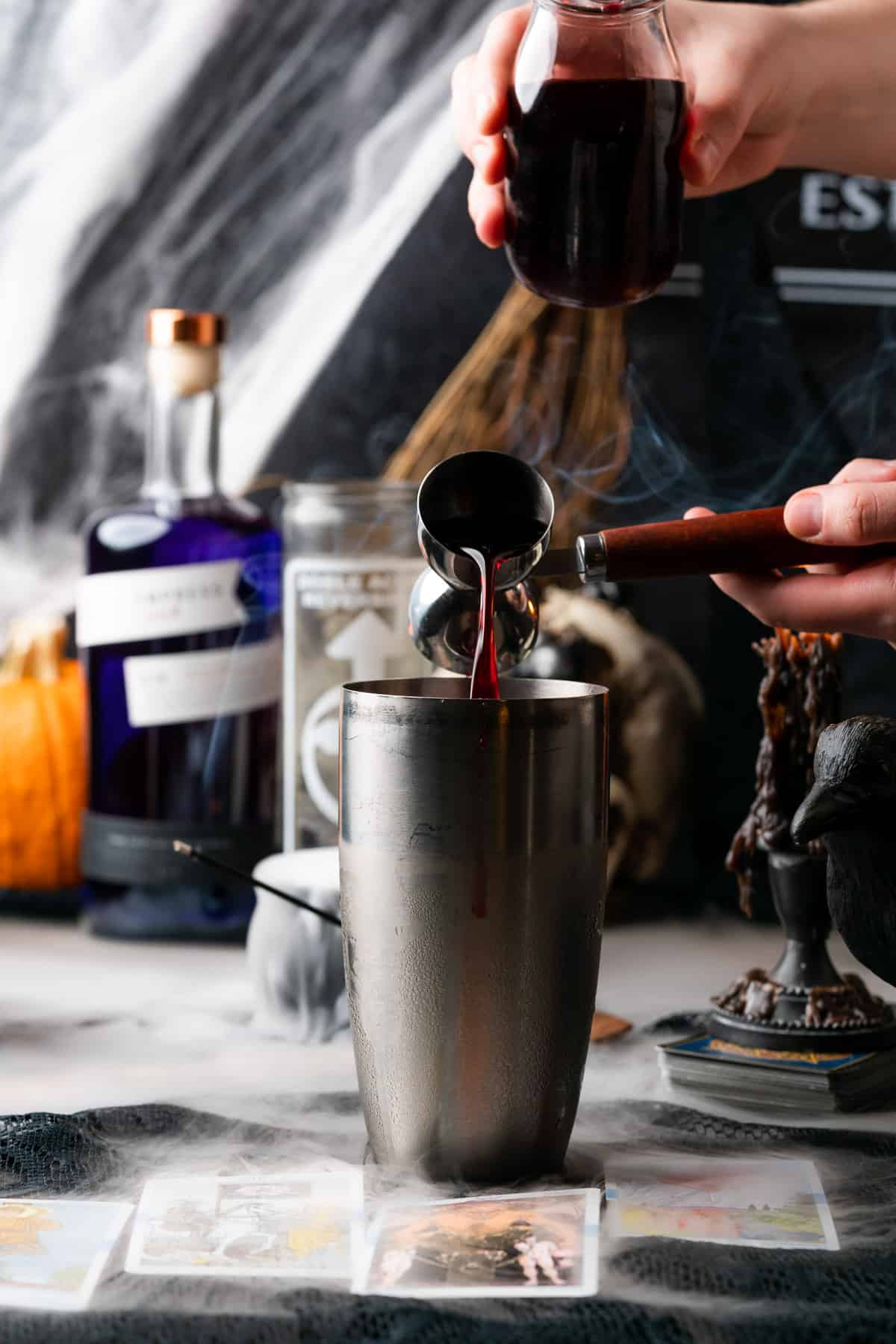 Step 3
Shake for 30 seconds or until shaker is very cold. Strain into a glass of choice.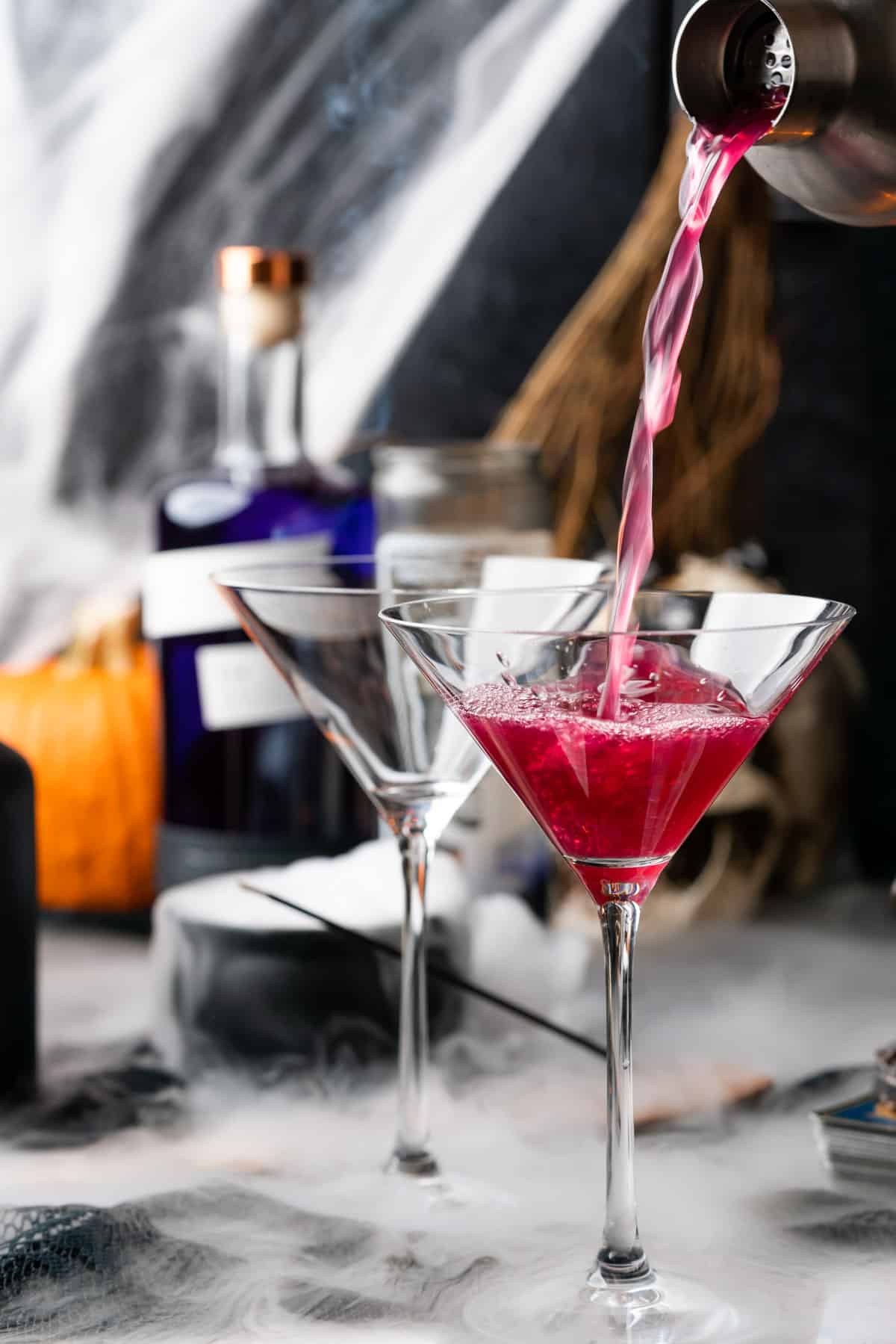 Step 4
Top with ginger beer.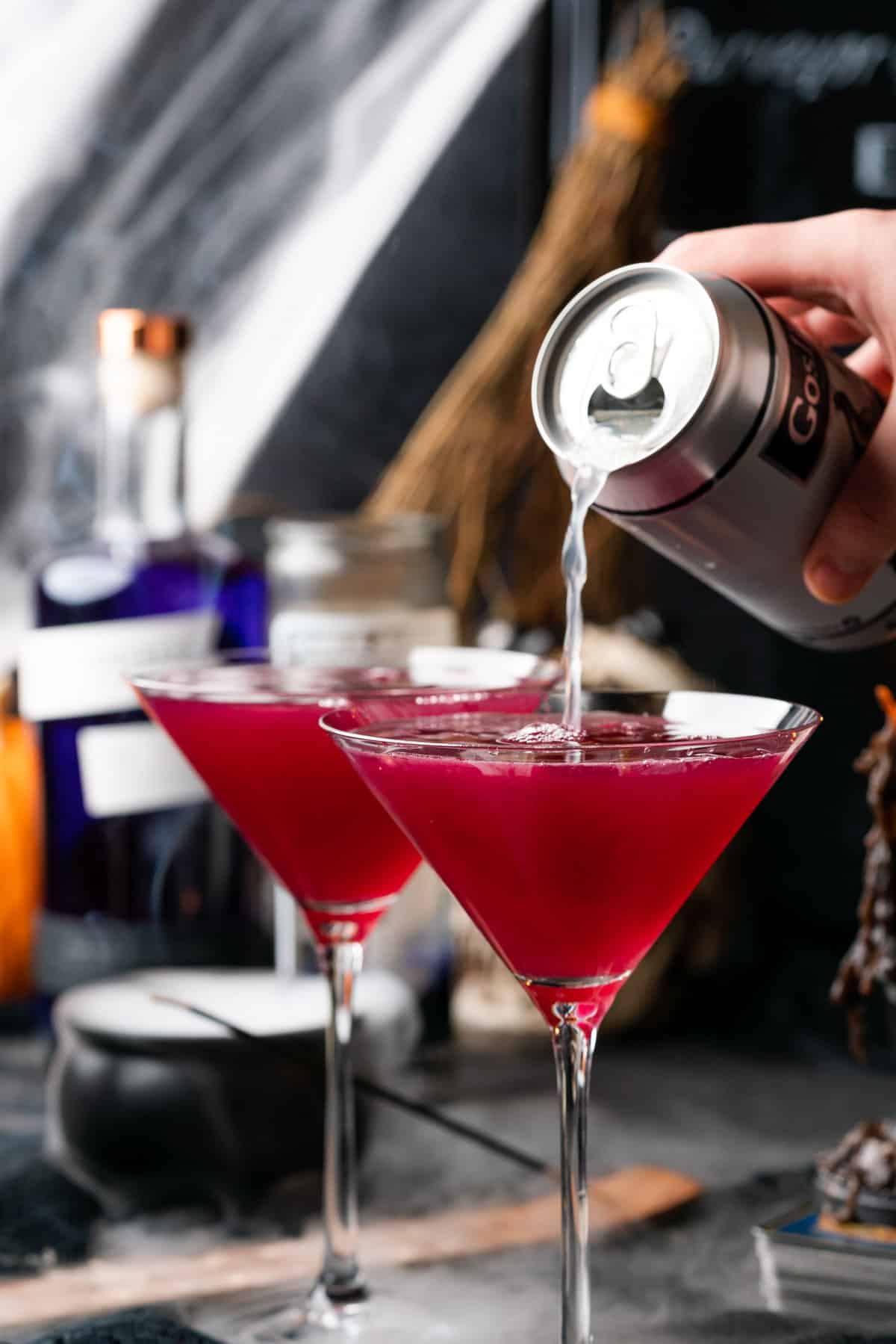 Step 4
Don't forget the lychee and blueberry eyeball, and some dry ice for an extra spooky effect!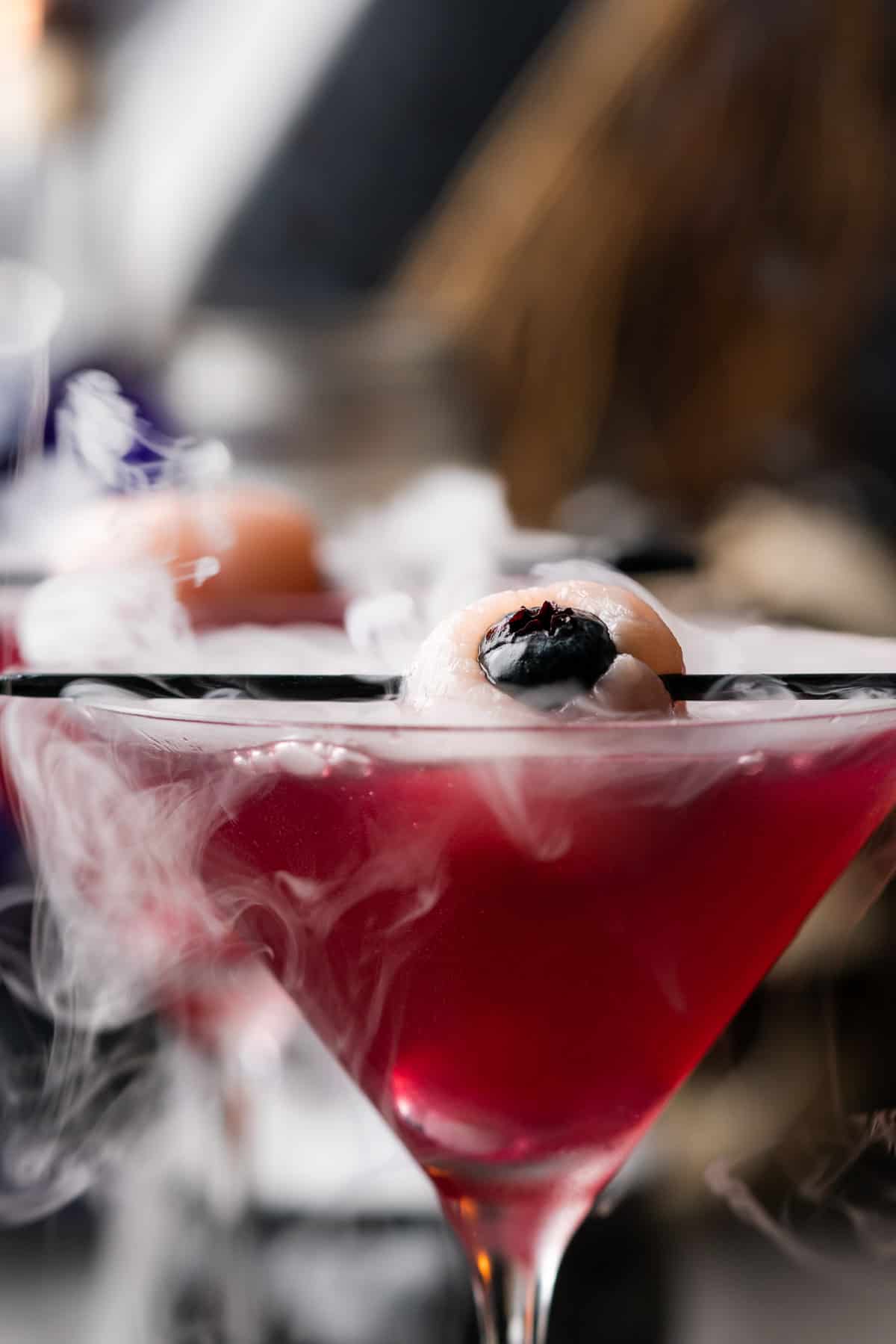 🧊How to make dry ice "smoke" in the cocktail
To make your dry ice "smoke" pour in boiling hot water into your container with the dry ice to maximize the smoking effect. The hotter the water, the more the ice will smoke.
Once the smoking starts to slow down, pour out the excess water. Cold water in the container will lessen the smoking reaction.
If you want to put some dry ice in this drink, simply place a small chunk in there and watch it bubble for a truly fun effect!
👁How to make the lychee "eyeball"
These "eyeball" garnishes are super simple to make, and they look pretty spooky! To make one, take one lychee fruit (either canned or fresh) and put a blueberry in the middle to resemble a pupil. That's it!

We used a cocktail pick to hold it together, but sometimes they fit in just right and you don't even need to do that.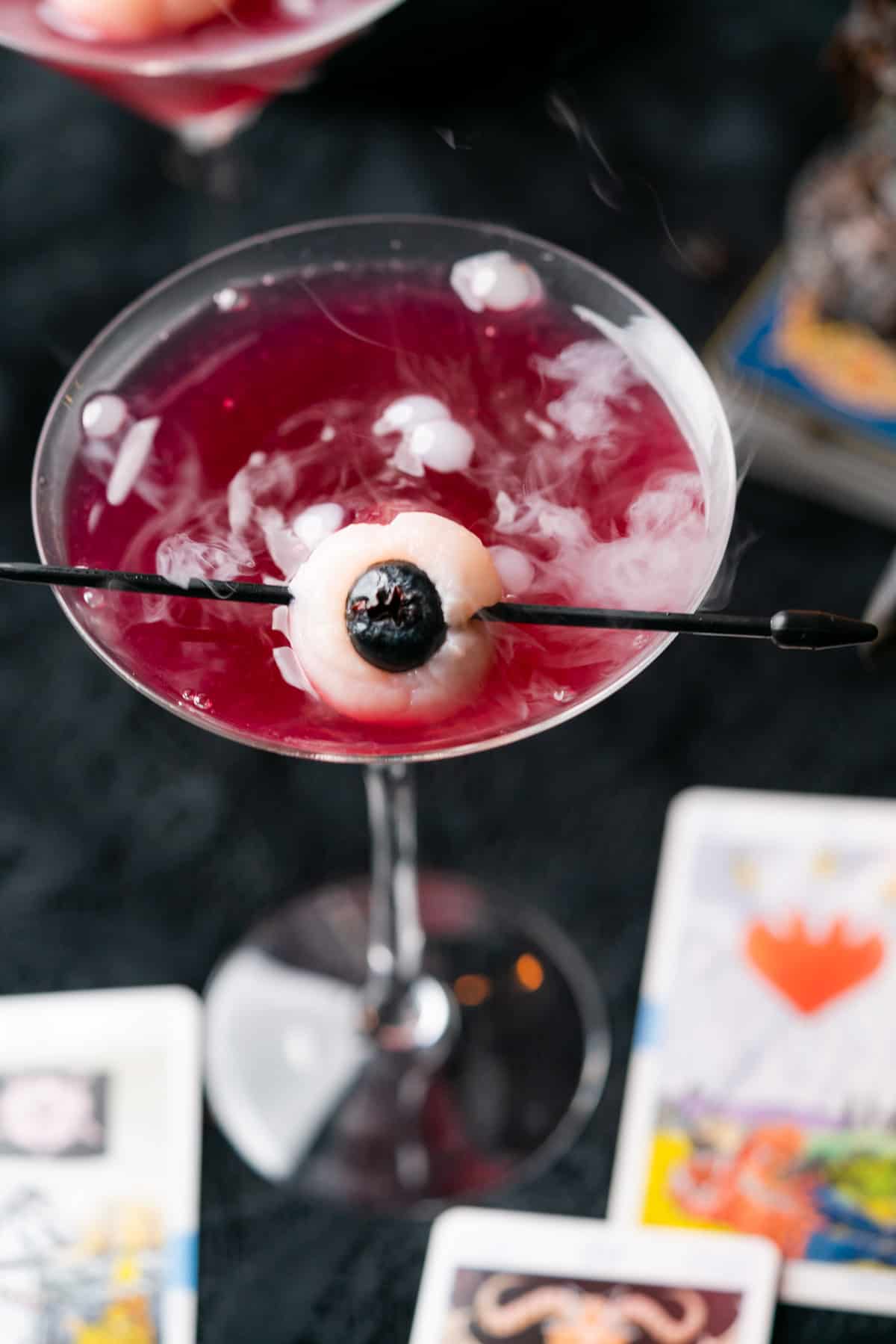 ❓Frequently asked questions
How to handle dry ice safely:

NEVER touch dry ice without gloves on. Seriously. Don't do it. It will literally burn your skin because it is so cold!

DO NOT store dry ice in the freezer or fridge. Again, it's too cold! It will damage your freezer or fridge.

To handle dry ice, grab an ice pick or hammer and carefully break off small chunks of it. Place it in a small container that won't crack or burst when exposed to heat or cold.
Is dry ice safe for cocktails?

Dry ice is totally safe to put in your drink, as long as you don't actually ingest it. Basically, if you want to use it, make sure to allow it to stop smoking before drinking it. Dry ice also will not alter the taste of your drink, so don't worry!

Just make sure to wait until all of the dry ice is evaporated before consuming. Seriously, this stuff is dangerously cold and it will burn you, your insides included!
How long does dry ice last?

Dry ice only lasts roughly 24-32 hours before it's gone. The more dry ice you buy, the longer it will all keep. You should keep it in a styrofoam cooler so that we can maximize its life.
Can this be made into a large batch?

Yes, simply combine grenadine, lemon juice, Empress gin in a large punch bowl with some ice. We're not sure if the lychee eyeballs will sink or float, but you could probably add those to the punch bowl as well.

Pour into cups, and top with ginger beer right before serving each glass.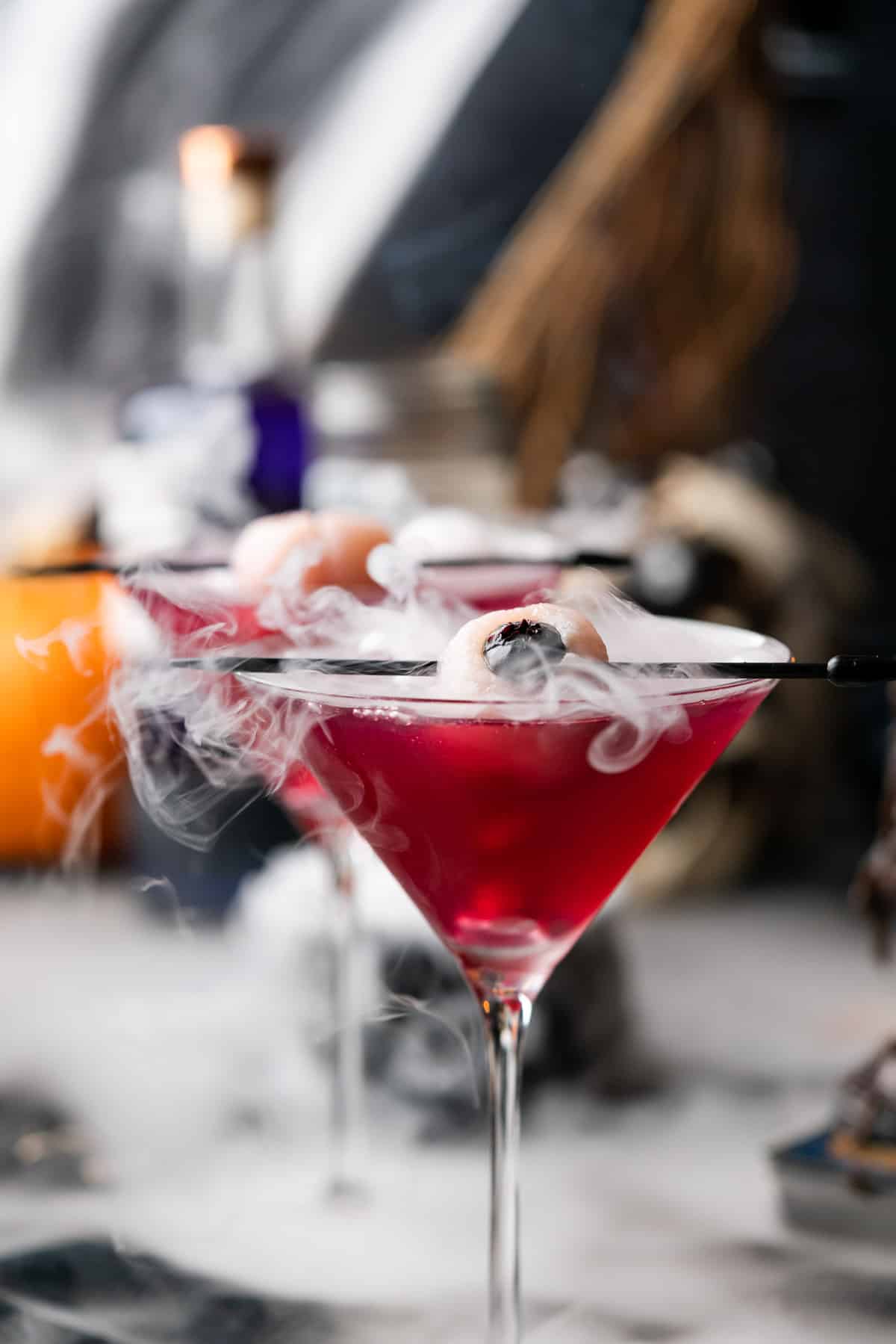 💭Substitutions and variations
Here are a few swaps you can make for this perfectly purple cocktail.
Low carb and sugar-free - As mentioned, you can use homemade sugar free grenadine and diet ginger beer to lower the carbs, calories, and sugar significantly.
No ginger beer - If you don't have any ginger beer, try topping with ginger ale instead.
Lemon-lime soda - You could also mix in some lemon lime soda instead of ginger beer for a fizzy, sweet element to the drink when topping it off.
⏲Equipment
Luckily, this recipe is pretty standard and you really don't need much to make it. You really only need a cocktail shaker, but a mason jar with a lid can also be used.
🛒Shop this recipe
Want to get supplies for this recipe or to shop our kitchen or pantry? We've linked our favorites above and right here in our Amazon Store!
A Full Living is a participant in the Amazon Services LLC Associate program, an affiliate advertising program designed to promote a means for sites to earn advertising fees by linking products to amazon.com. We only share products we use and love. It doesn't cost you anything extra to shop using our links, but we earn a small commission that helps us keep this site going!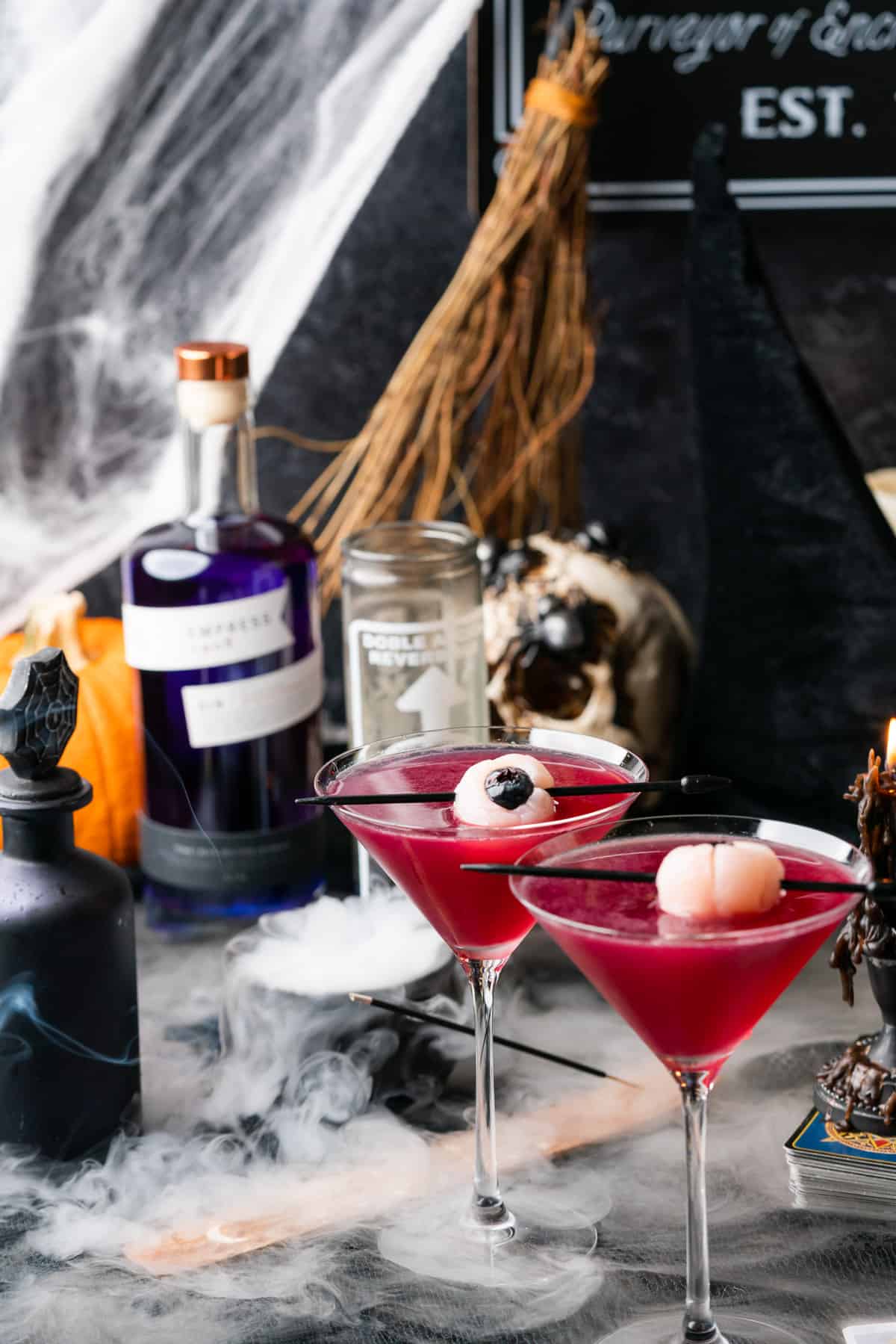 🥣Storage
This drink is best enjoyed right away, and we don't recommend mixing anything together ahead of time. You can store separate components pre-prepped in the fridge if you like, just be sure to mix it up right before it's time to serve! We don't recommend freezing.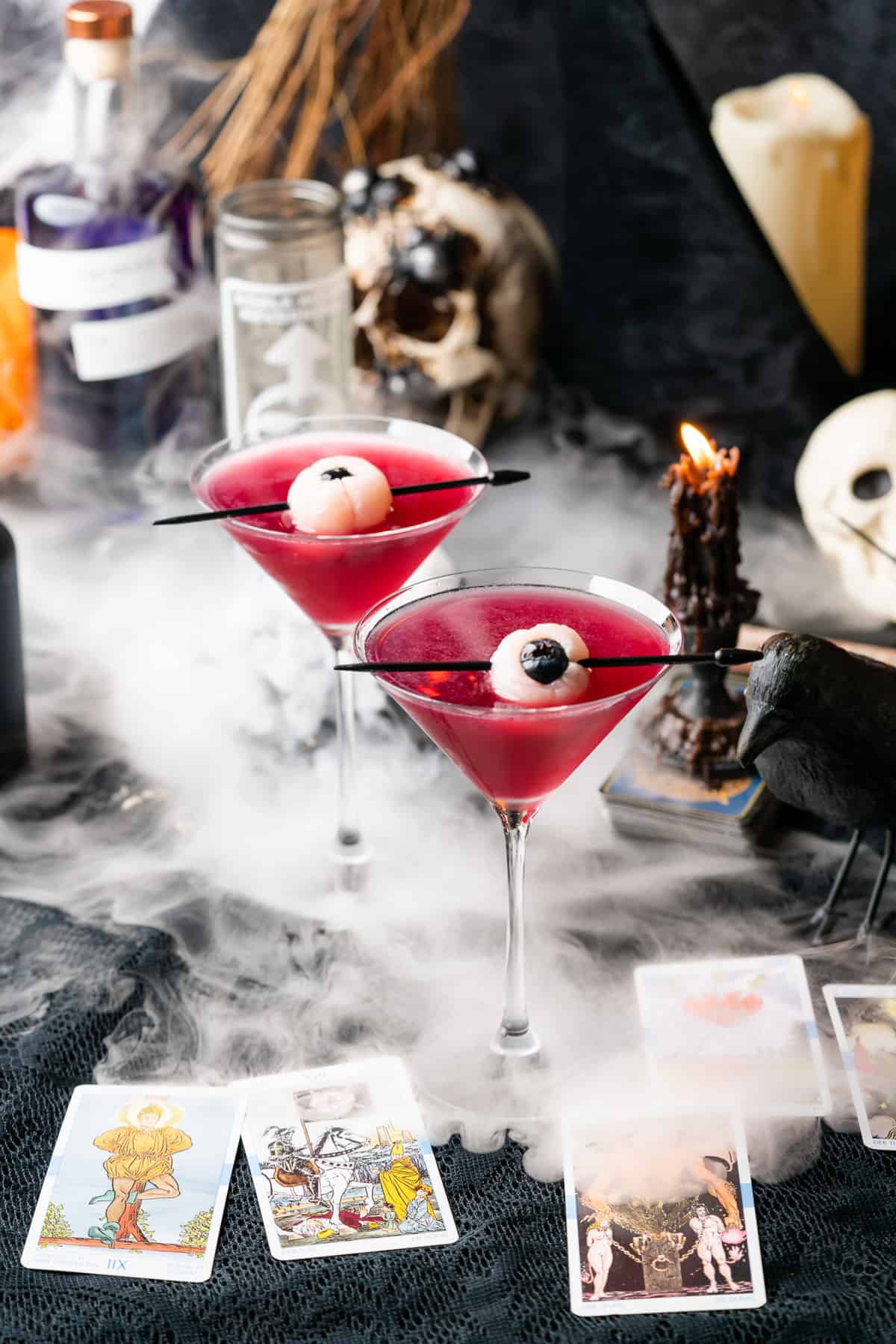 🌟Leave a review!
Make sure to leave a 5-star review below! This helps other readers find our recipes via Google, and encourages them to try them. Also be sure to leave a comment with your experience!
Take a photo and share with us by tagging us on Instagram or follow along on Pinterest for more ideas!
📖 Recipe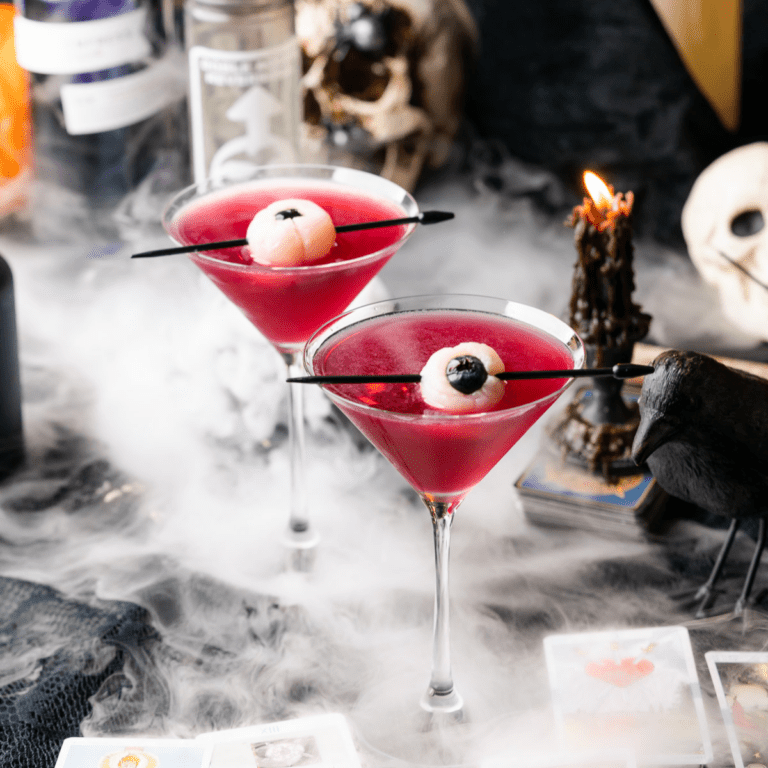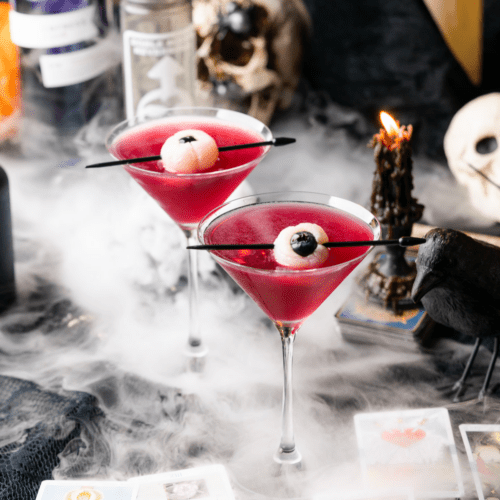 Purple People Eater Drink
This spooky and fun Purple People Eater Drink is the best purple gin cocktail to make this Halloween! Complete with a lychee "eyeball" and smoking dry ice, this recipe is perfect for Halloween get-togethers!
Equipment
1 cocktail shaker

(a mason jar with lid can also be used)
Instructions
In a cocktail shaker filled with ice, add Empress gin, lemon juice and grenadine. Shake until the shaker is very cold, about 30 seconds.

Strain into a cocktail glass of choice, top with ginger beer.

Garnish with a lychee stuffed with a blueberry to look like an eyeball.

Enjoy right away! Happy Halloween!
Notes
Please note, that diet ginger beer and our homemade sugar free grenadine can be used for this recipe to make it sugar-free, and that is how we make it at home. We included standardized store-bought versions in the nutrition information to show the sugar and carb content if you don't want to make any of the components at home.
If you use our homemade versions, you will lower the calories to 150 calories per drink, with 5g total carbs, 1g fiber (making 4 net carbs), and 4g sugar.  The lychee and blueberry "eyeball" adds 10 calories add 2 total carbs. The eyeball garnish is optional and not included in the nutrition facts. 
Be very careful if handling dry ice. Always wear gloves, and wait til your drink stops bubbling to enjoy it. You don't want to ingest dry ice!  Please visit the body of this post for more tips on handling dry ice. 
Nutrition
Calories:
229
kcal
Carbohydrates:
25
g
Protein:
0.1
g
Fat:
0.03
g
Saturated Fat:
0.01
g
Sodium:
12
mg
Potassium:
24
mg
Fiber:
0.04
g
Sugar:
19
g
Vitamin A:
1
IU
Vitamin C:
5
mg
Calcium:
4
mg
Iron:
0.1
mg