This spooky and fun Purple People Eater Drink is the best purple gin cocktail to make this Halloween. It also happens to be low in carbs! Combine beautiful purple gin with fresh lemon juice, our homemade sugar free keto grenadine, diet ginger beer, and top it off with a lychee and blueberry "eyeball"! At only 5 net carbs per cocktail, these purple people eater cocktails taste great, without giving you a horrific hangover, or blood sugar spike.
---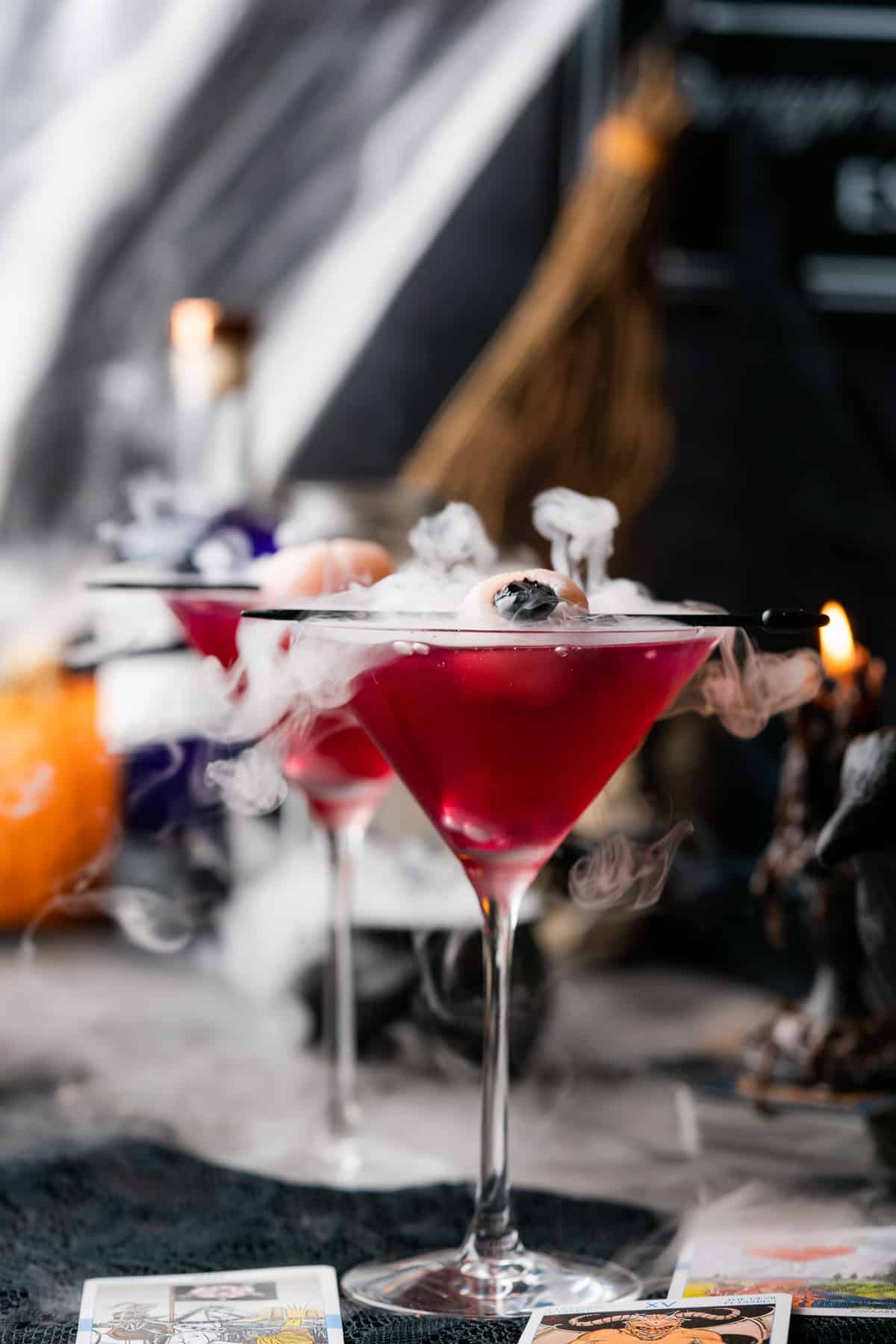 This drink will have you singing 'one-eyed, one-horned, flying purple people eater this Halloween'! If you're also looking for an easy way to enjoy something pretty simple to make, and super festive, you're going to need this recipe.
It's really simple to make, and even has directions to make an eyeball lychee 'eyeball' stuffed with a blueberry. Perfection! Best part about this drink is that the spookiest thing about it is how it looks, not how many grams of sugar are in it!

As are many of the other recipes on this website, this cocktail is low carb friendly, and refined sugar free. If eating a more standard diet, there are easy swaps to make to have this drink fit to your preferences. We hope you find this creepy purple drink to be the perfect addition to your spooky Halloween festivities!
Feel free to the recipe card to get right into it. Or, you can keep reading for all the tips, tricks, and spooky process shots! 👻
This post is also available as a Google Web Story!
Ingredients:​
Purple gin - So, it is true that this gin is made so easy with Empress 1908 gin. Empress is botanically flavored and is the lovely indigo color because of the butterfly pea flowers infused into it. We do use it for festive drinks, but it also just tastes amazing.

If you don't have this gin, we're sorry to say that we're not sure of a simple swap to make your drink purple. You could potentially experiment with this lavender and butterfly pea simple syrup in place of the grenadine or something, but we're not sure!

Homemade sugar free keto grenadine - So this sugar free grenadine will need to be prepared first, or better yet, in advance. This component is only a few simple ingredients, but it will take a bit of time to cool down before adding it to your drink, so plan ahead a bit.

Fresh squeezed lemon juice - For a little acidity, and to change the hue of the gin ever-so-slightly!

Diet ginger beer- To top the drinks, and to add flavor. You can substitute for ginger ale if you like.

Ice

Lychee and blueberry "eyeball" - A simple and creepy garnish. You can order canned lychees if you can't find them at the store. All you need to do is place a blueberry inside of the center of a lychee. They are hollowed out and perfect to replicate an eyeball!
How to Make A Purple People Eater Drink:
Prepare your sugar free keto grenadine first if you are making it the day of. You can prepare it up 10 days in advance and store it in an airtight container in the fridge. Squeeze some fresh lemon juice.

In a cocktail shaker filled with ice, add your lemon juice.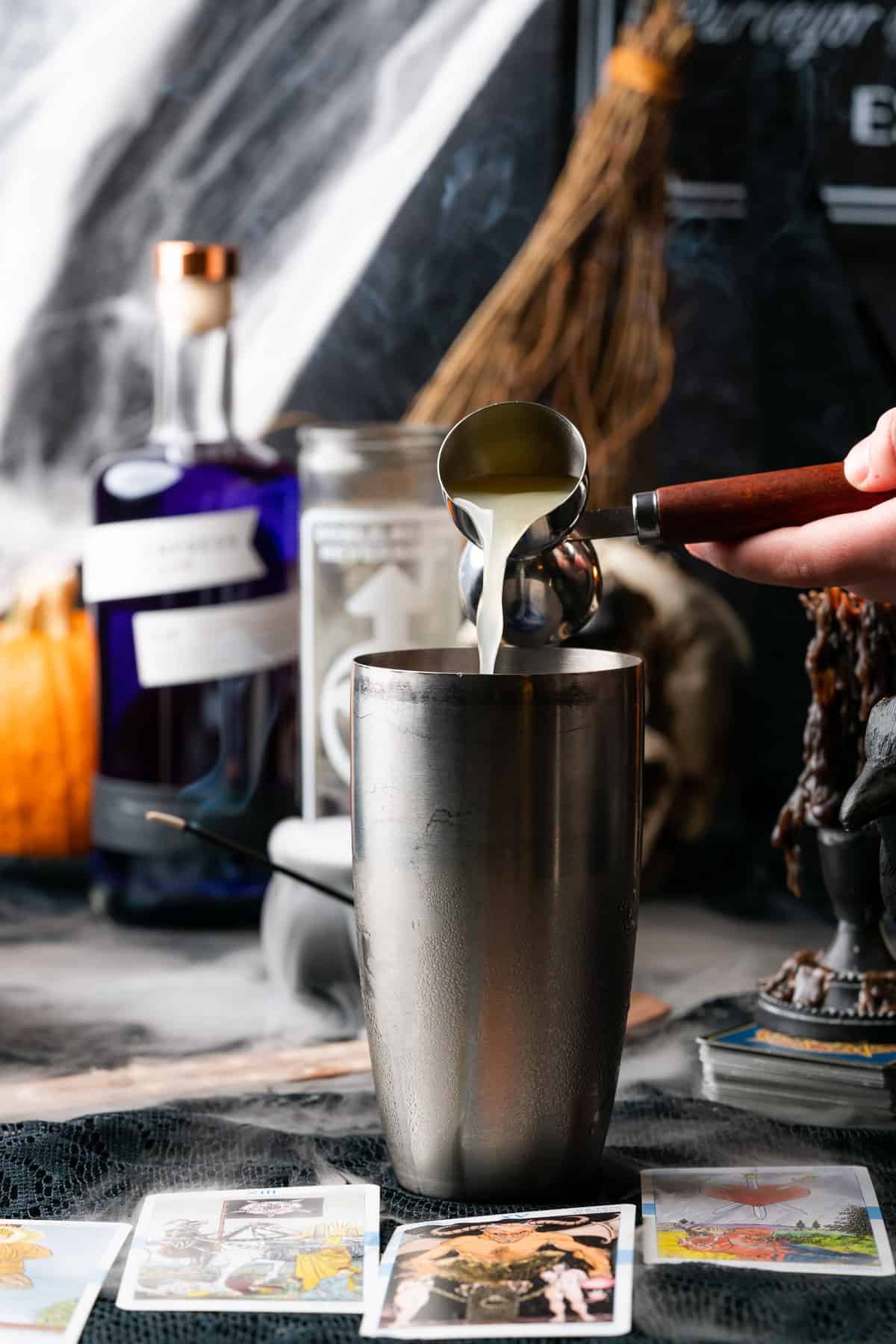 Pour in the grenadine, and purple gin.
Shake for 30 seconds or until shaker is very cold. Strain into a glass of choice.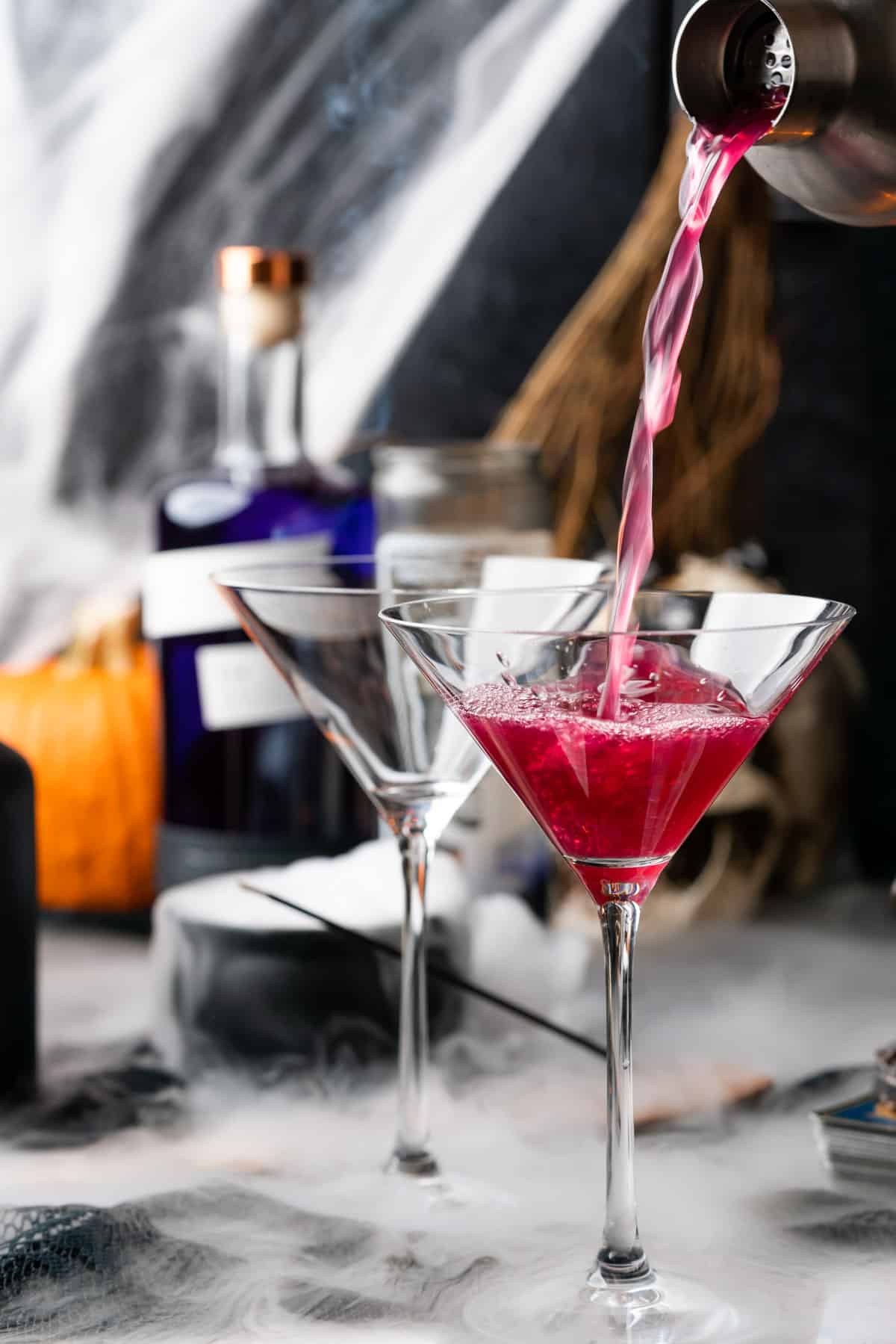 Top with ginger beer.
Don't forget the lychee and blueberry eyeball, and some dry ice for an extra spooky effect!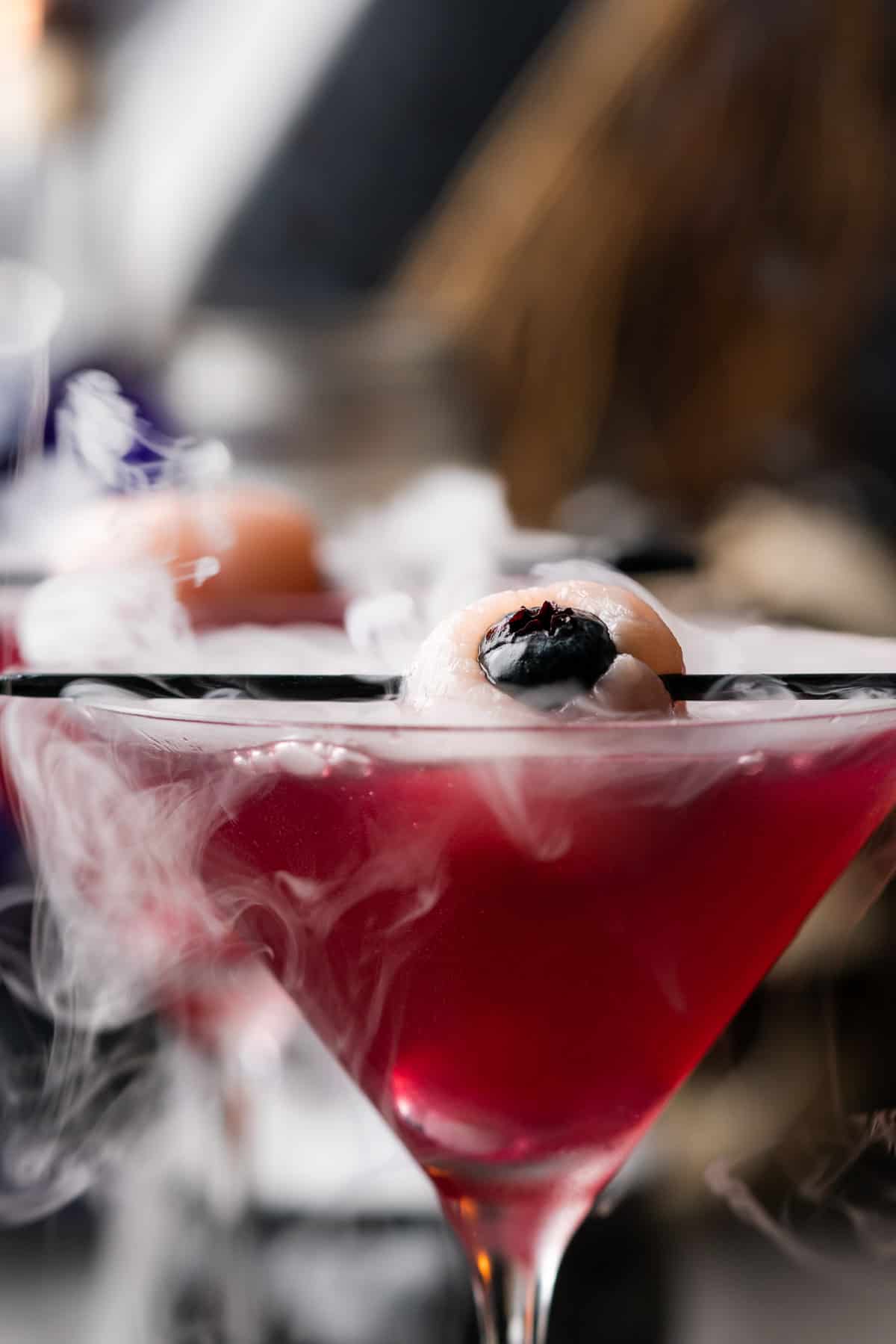 What is Empress 1908 Gin?

Empress is a small batch gin made with butterfly pea blossoms that create that lovely indigo hue. It's fun to experiment with, because it changes colors to a slightly pink-ish color when you add tonic or citrus. You can see that the color changed when we added citrus, as well as the grenadine.

We used Empress 1908 Gin for the gin base in this cocktail. Empress has a lovely earthy and botanical flavor. It's made with the butterfly pea blossoms, fairmont empress tea, juniper, grapefruit peel, coriander seed, cinnamon bark rose petal and ginger root!

The color is another huge plus for this cocktail. You can order it online or buy it in stores. You could also probably infuse some regular gin with butterfly pea blossoms to create the lovely indigo color. We're not entirely sure about the method though, it's just a thought!
Is Dry Ice Safe for Cocktails?

Dry ice is totally safe to put in your drink, as long as you don't actually ingest it. Basically, if you want to use it, make sure to allow it to stop smoking before drinking it. Dry ice also will not alter the taste of your drink, so don't worry!

Just make sure to wait until all of the dry ice is evaporated before consuming. Seriously, this stuff is dangerously cold and it will burn you, your insides included!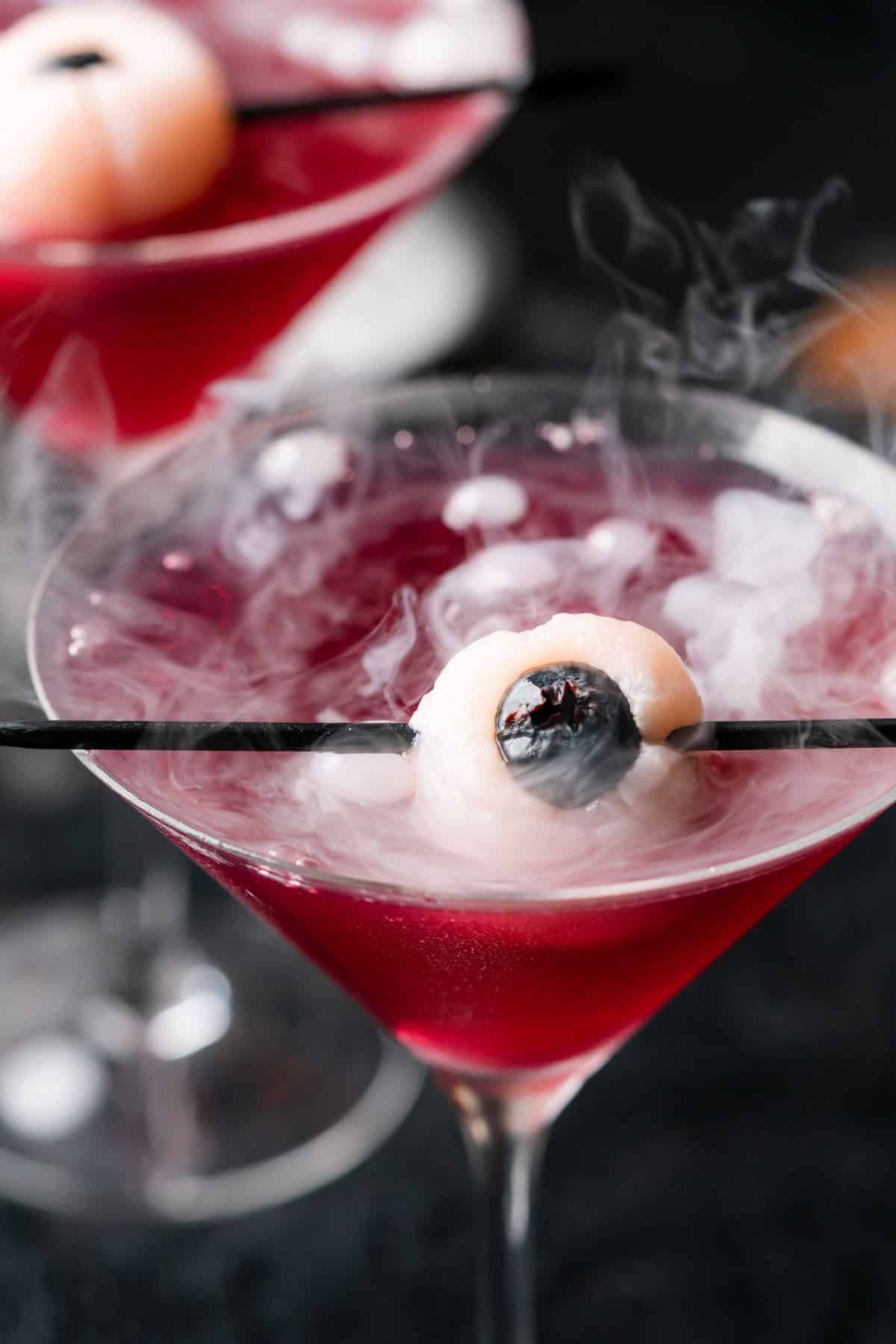 How Long Does Dry Ice Last?

Dry ice only lasts roughly 24-32 hours before it's gone. The more dry ice you buy, the longer it will all keep. You should keep it in a styrofoam cooler so that we can maximize the life on it
How to Use Dry Ice for a Smoking Effect in a Cocktail:

To make your dry ice "smoke" pour in boiling hot water into your container with the dry ice to maximize the smoking effect. The hotter the water, the more the ice will smoke.

Once the smoking starts to slow down, pour out the excess water. Cold water in the container will lessen the smoking reaction.

If you want to put some dry ice in this drink, simply place a small chunk in there and watch it bubble for a truly fun effect!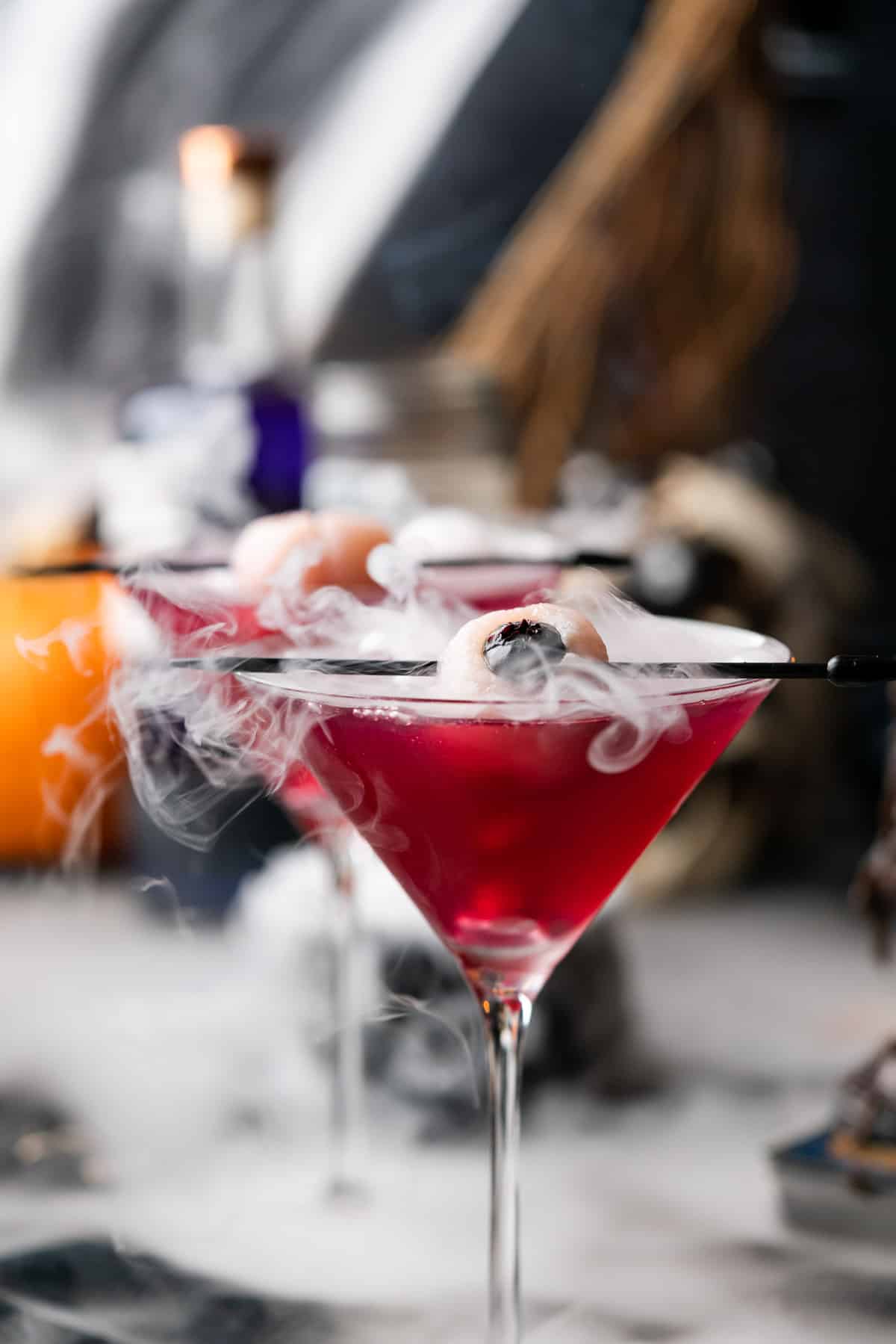 How To Handle Dry Ice Safely:

NEVER touch dry ice without gloves on. Seriously. Don't do it. It will literally burn your skin because it is so cold!

DO NOT store dry ice in the freezer or fridge. Again, it's too cold! It will damage your freezer or fridge.

To handle dry ice, grab an ice pick or hammer and carefully break off small chunks of it. Place it in a small container that's won't crack or burst when exposed to heat or cold.
Do I Need to Make Sugar Free Grenadine for the Drink?

Yes and no. Is that a good answer? Haha, we know it's not really. The thing is, you can do whatever you want. If you want to skip making the keto grenadine entirely, feel free to just use some fresh pomegranate juice instead.

Since the grenadine is combined with allulose sweetener, it does add sweetness, without the calories.

This grenadine can be made up to 10 days in advance if stored in an airtight container in the fridge. It's truly super easy to make, so give it a try! We use it in a ton of our cocktail recipes, or just to make a keto friendly Shirley Temple with sugar free lemon lime pop.

If you opt for using regular store bought grenadine, be warned, 1 ounce of regular grenadine has 22g of carbs, all of that coming from sugar. If you ask us, we'd much rather make our own!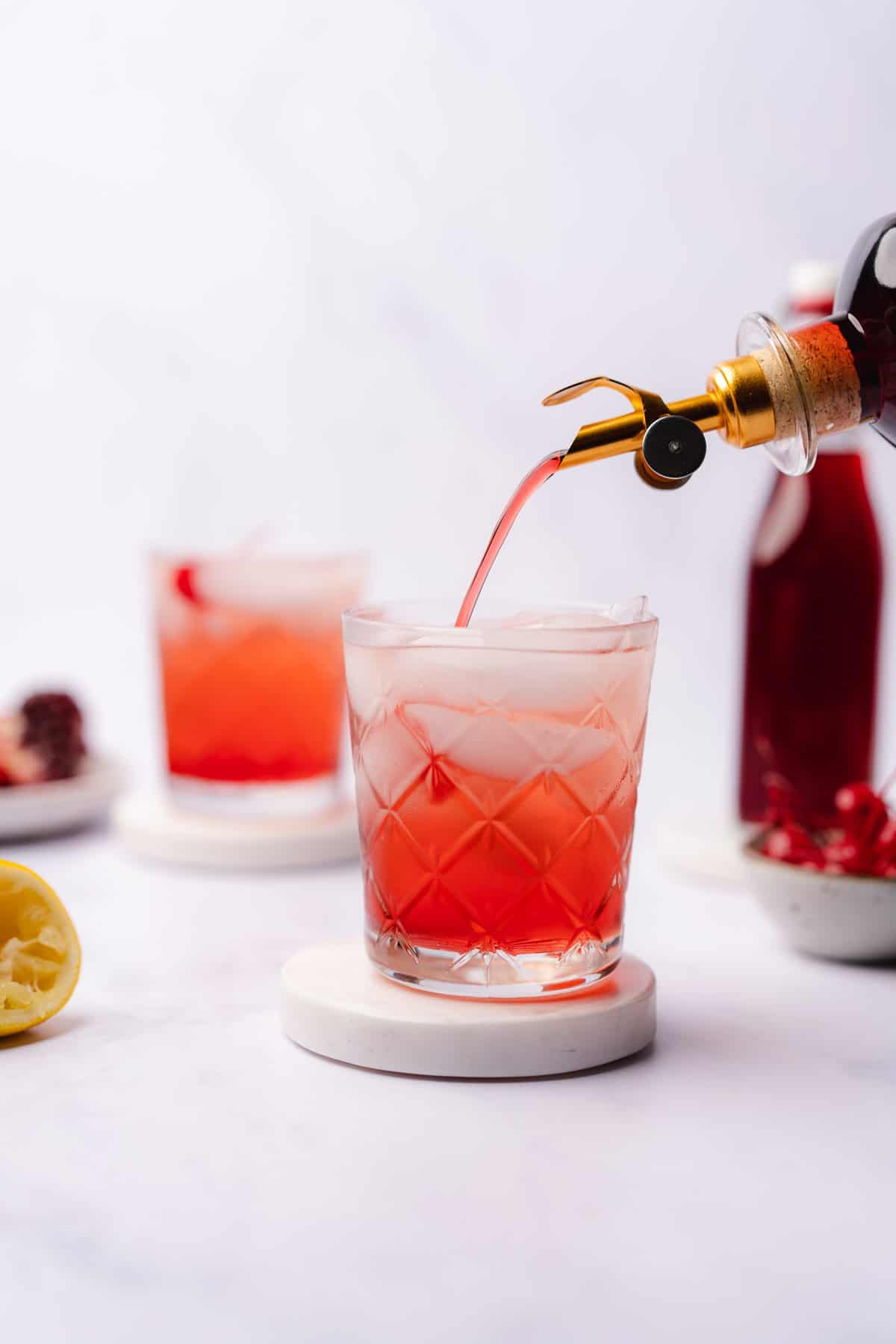 How To Make the Lychee "Eyeball" Garnish:

These "eyeball" garnishes are super simple to make, and they look pretty spooky! To make one, take one lychee fruit (either canned or fresh) and put a blueberry in the middle to resemble a pupil. That's it!

We used a cocktail pick to hold it together, but sometimes they fit in just right and you don't even need to do that. Try to find fresh lychees if you can, or look for something with no added sugar. Many canned lychees come in a heavily sweetened syrup. Each lychee eyeball garnish (with no added sugar) adds about 2.5 net carbs per drink, just a fair warning!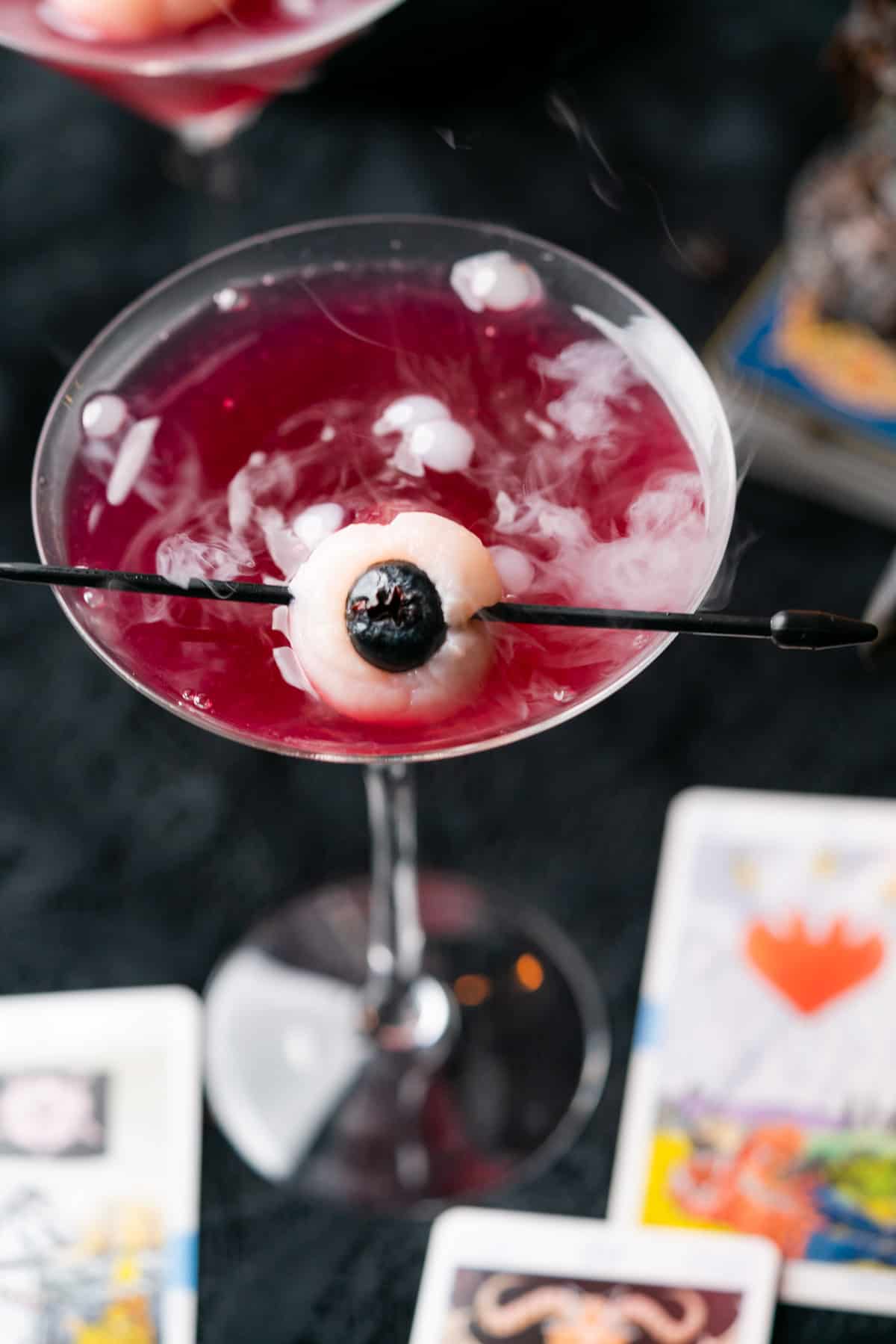 Try These Other Fun Low Carb Spooky Cocktails!
Shop This Recipe!
Want to get supplies for this purple people eater recipe or shop our keto kitchen or pantry? We've linked our favorites above and right here in our Amazon Store! A Full Living is a participant in the Amazon Services LLC Associate program, an affiliate advertising program designed to promote a means for sites to earn advertising fees by linking products to amazon.com. We only share products we use and love. It doesn't cost you anything extra to shop using our links, but we earn a small commission that helps us keep this site going!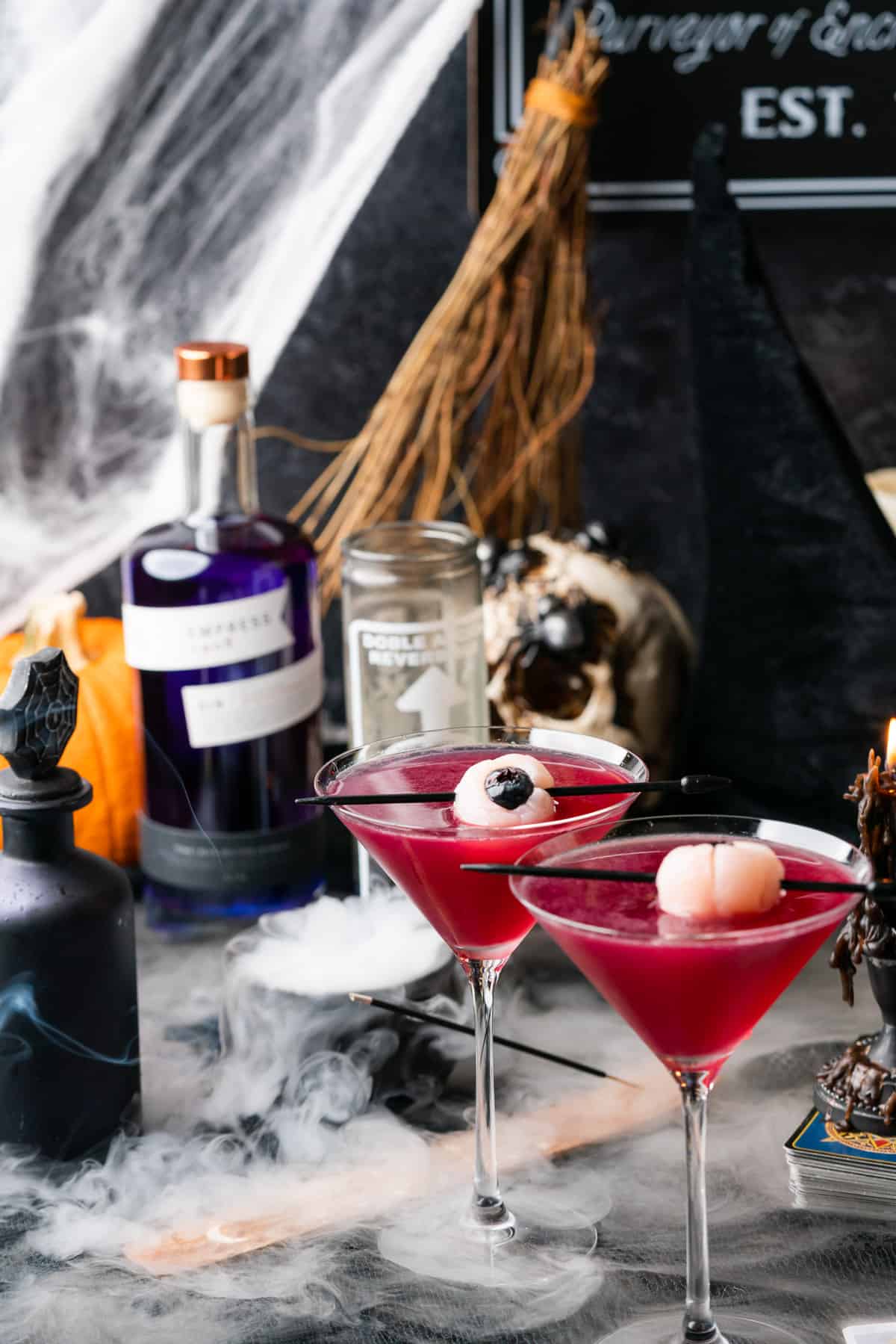 ---
If you get a chance to try this recipe, let us know what you think, would ya?! Leave us a comment, or catch up with us on Facebook or Instagram, or pin to your favorite Pinterest board for later. We love sharing your versions of our creations over on Instagram @afullliving!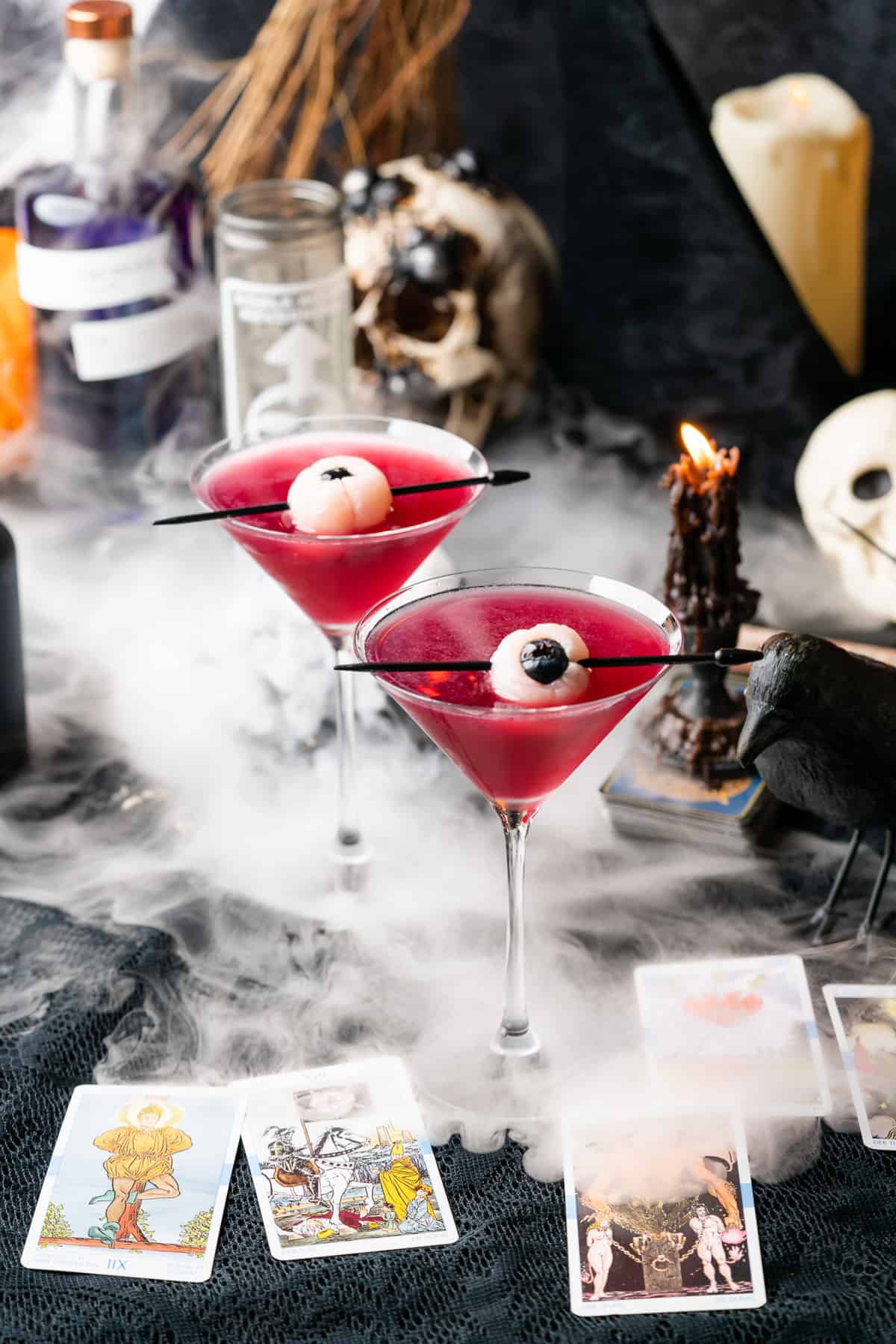 Thanks for stopping by! Be sure to subscribe to our email newsletter so you're the first to know about new recipes we post on our blog.

If you love this purple people eater cocktail recipe, please consider sharing it with a friend and also leaving a rating and comment so others can find this recipe. Thank you for your support!
Until Next Time,
Briana & Chamere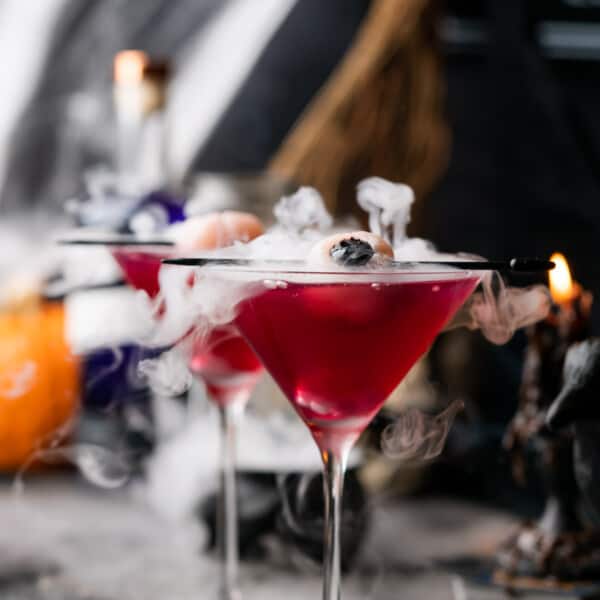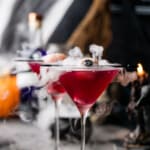 Purple People Eater Drink (Purple Gin Cocktail)
This spooky and fun Purple People Eater Drink is the best purple gin cocktail to make this Halloween! At only 5 net carbs per cocktail, these purple people eater cocktails taste great, without giving you a horrific hangover.
Print
Pin
Rate
Instructions
In a cocktail shaker filled with ice, add your Empress gin, lemon juice and your homemade keto grenadine. Shake until shaker is very cold, about 30 seconds.

Strain into cocktail glass of choice, top with diet ginger beer.

Garnish with a lychee stuffed with a blueberry to look like an eyeball.
Notes
We used our own homemade sugar free keto grenadine. You can substitute with regular versions of these ingredients, but it will drastically increase the carb and calorie count of this drink. 
The lychee and blueberry "eyeball" adds 10 calories add 2 total carbs. 
Be very careful if handling dry ice. Always wear gloves, and wait til your drink stops bubbling to enjoy it. You don't want to ingest dry ice!  
Nutrition
Sodium:
4
mg
|
Calcium:
4
mg
|
Vitamin C:
6
mg
|
Vitamin A:
22
IU
|
Sugar:
4
g
|
Fiber:
1
g
|
Potassium:
79
mg
|
Calories:
150
kcal
|
Saturated Fat:
1
g
|
Fat:
1
g
|
Protein:
1
g
|
Carbohydrates:
5
g
|
Iron:
1
mg
These nutrition facts are provided as a courtesy and are only estimates. We cannot guarantee the accuracy.
Did you love it?
If you made this recipe, make sure to show us on Instagram at @AFullLiving or tag #AFullLiving! We love to see what you guys are making!