Looking for a fun Halloween cocktail? This Vampire's Kiss Cocktail Recipe is a fun and spooky red drink that mimics fake blood, and is perfect for Halloween parties! Learn how easy it is to make this fruity vodka cocktail.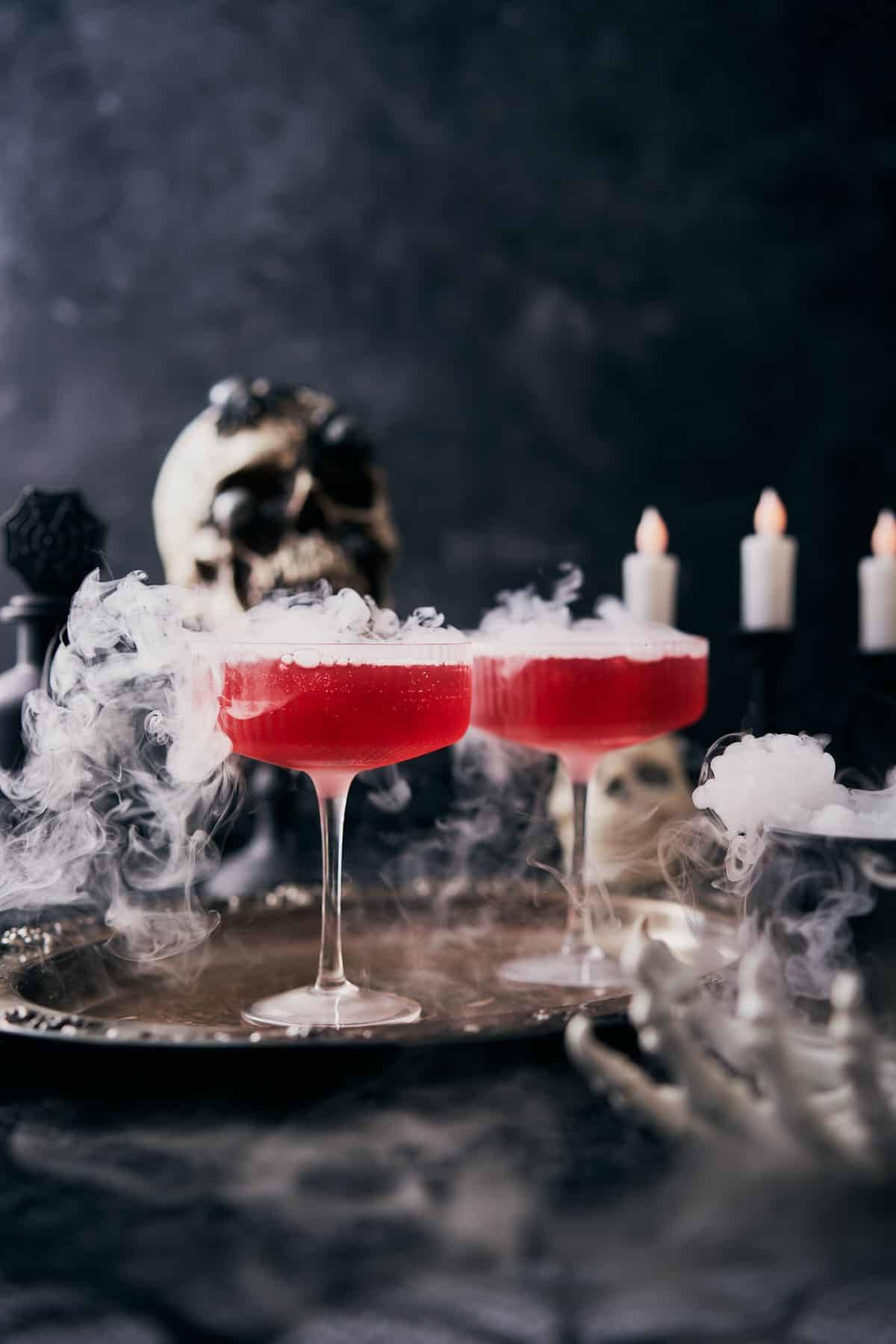 Looking for more Halloween Cocktails? Be sure to try our purple people eater drink, this spooky blueberry basil gin cocktail, or this Halloween punch recipe! Happy Halloween!
Jump to:
❤️Why we love this recipe
Made with simple ingredients - Anything you need for this drink can be found at any grocery store. There are no weird additives like red food coloring either. Just a few fruit juices, raspberries, a little sparkling wine, and that's it.
A great drink for any occasion - It's fizzy and sweet, and bursting with flavor. This fruity cocktail has the perfect spooky vibe, especially if you add a cube of dry ice! It's ideal for a Halloween party, but the stunning red color also lends itself nicely to Valentine's Day as well. What's not to love?
Easy to make sugar-free - This recipe is very customizable, and can be made free of any added sugar if you use our homemade sugar free grenadine, and diet cranberry juice. While many similar cocktails call for a sugary black raspberry liqueur like Chambord, we prefer using real raspberries to add tons of flavor without the calories.
🧛🏻‍♂️Ingredients
Here are the ingredients you'll need for this fun and spooky Halloween drink. You can find the full quantities and nutritional information in the printable card. More information about substitutions are below.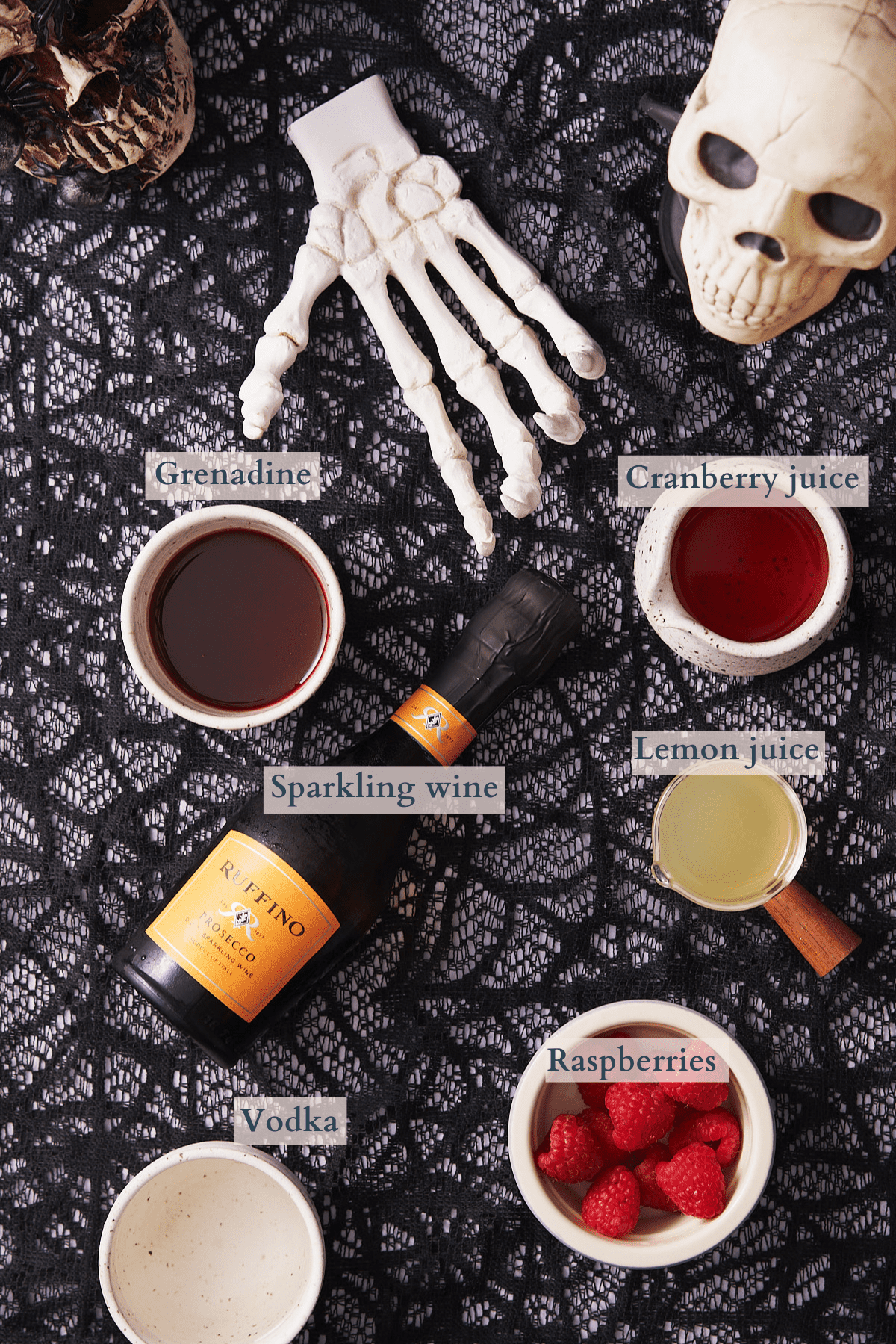 ✏️Ingredient notes
Raspberries - Fresh or frozen, this adds such a lovely raspberry flavor to the drink.
Cranberry juice - We opt for diet cranberry juice as it adds a little sweetness without extra categories. You can use traditional cranberry juice for a sweeter-tasting cocktail as we did, or unsweetened cranberry juice if you like things less sweet tasting.
Grenadine - You can use store bought, or try our super simple sugar free grenadine.
Lemon juice - Freshly squeezed.
Vodka - We opted for plain vodka since we are sweetening the drink with other elements.
Sparkling wine - To top the drink for some extra fizz. We recommend using something drier like prosecco.
📖Instructions
📋Prep work
If preparing your own sugar free grenadine, do this up to 10 days in advance and store in the fridge. You want your homemade grenadine to be completely cooled off before adding it to the cocktail.
Wash your raspberries (if using fresh). If using frozen, you can let them sit out at room temperature to thaw. This will make them easier to work with.
Squeeze lemon juice.
*Please note, in the images, we made two cocktails at once, so the cocktail shaker looks quite full. Making two drinks at once is as much as you can do in a standard cocktail shaker.
Step 1
In a cocktail shaker, add fresh raspberries and muddle very well.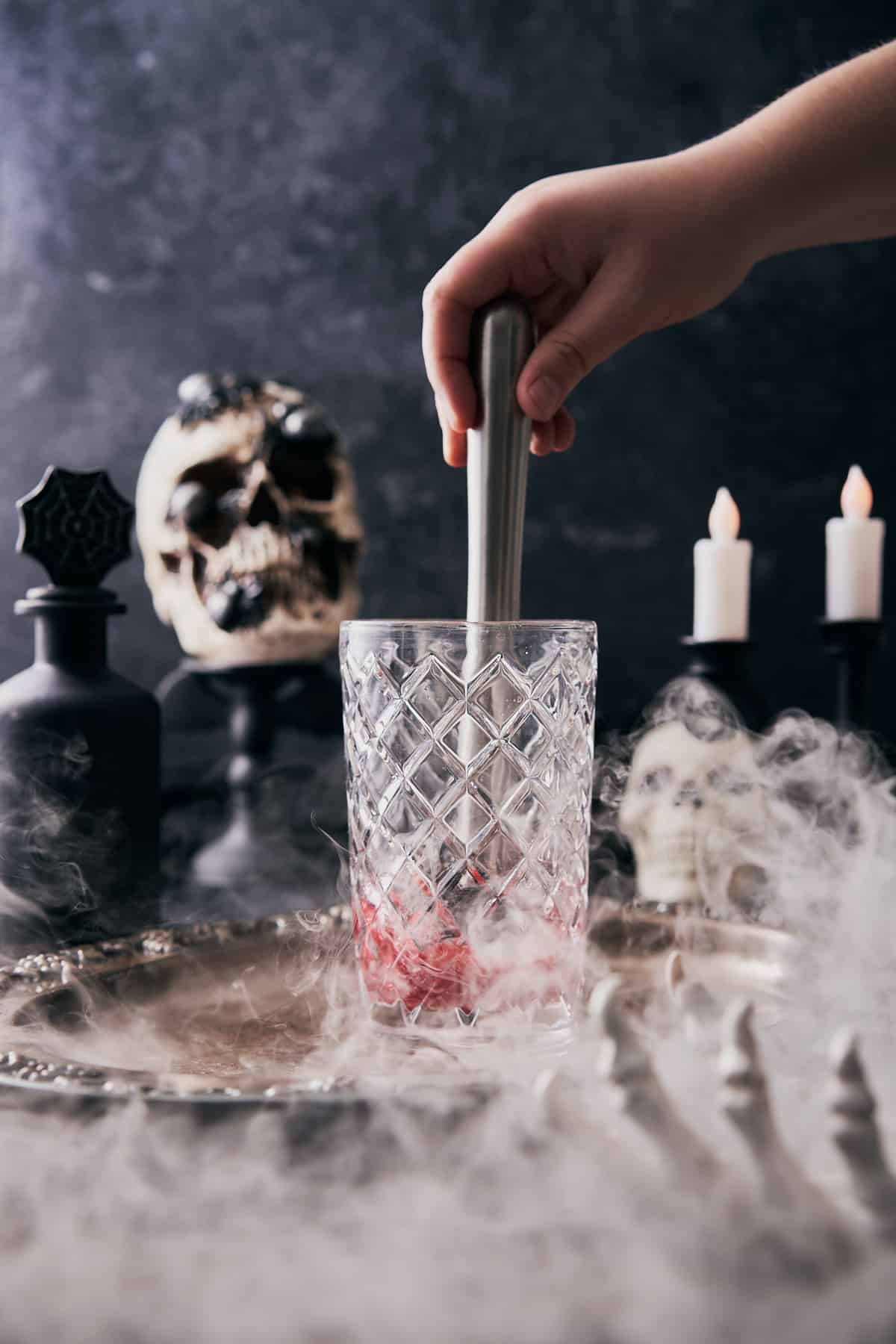 Step 2
Fill the shaker with ice. Pour in cranberry juice.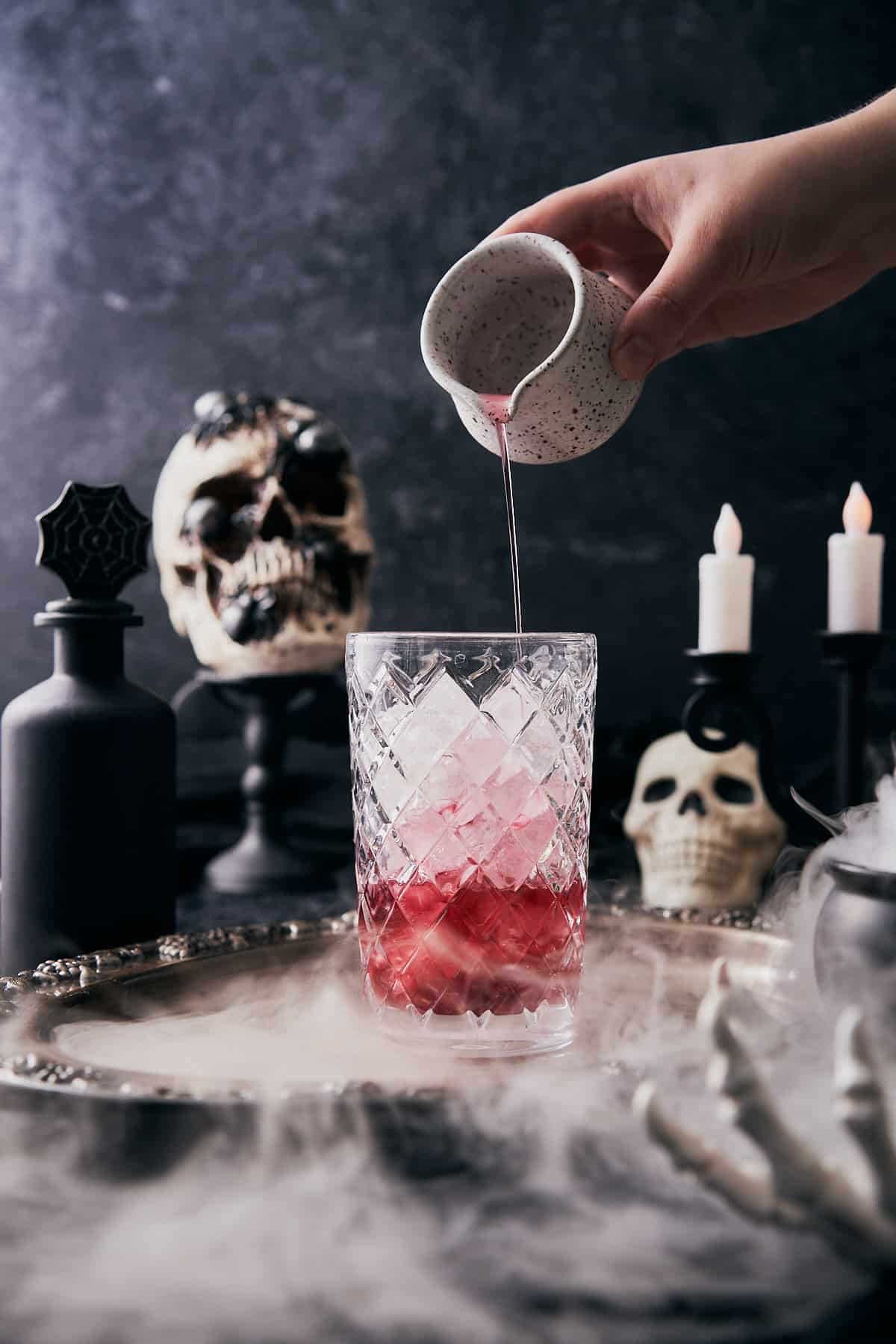 Step 3
Add grenadine.
Pro tip: If you have a transparent cocktail shaker, it's very fun to watch the blood-red color present itself as ingredients are added!
Step 4
Add lemon juice.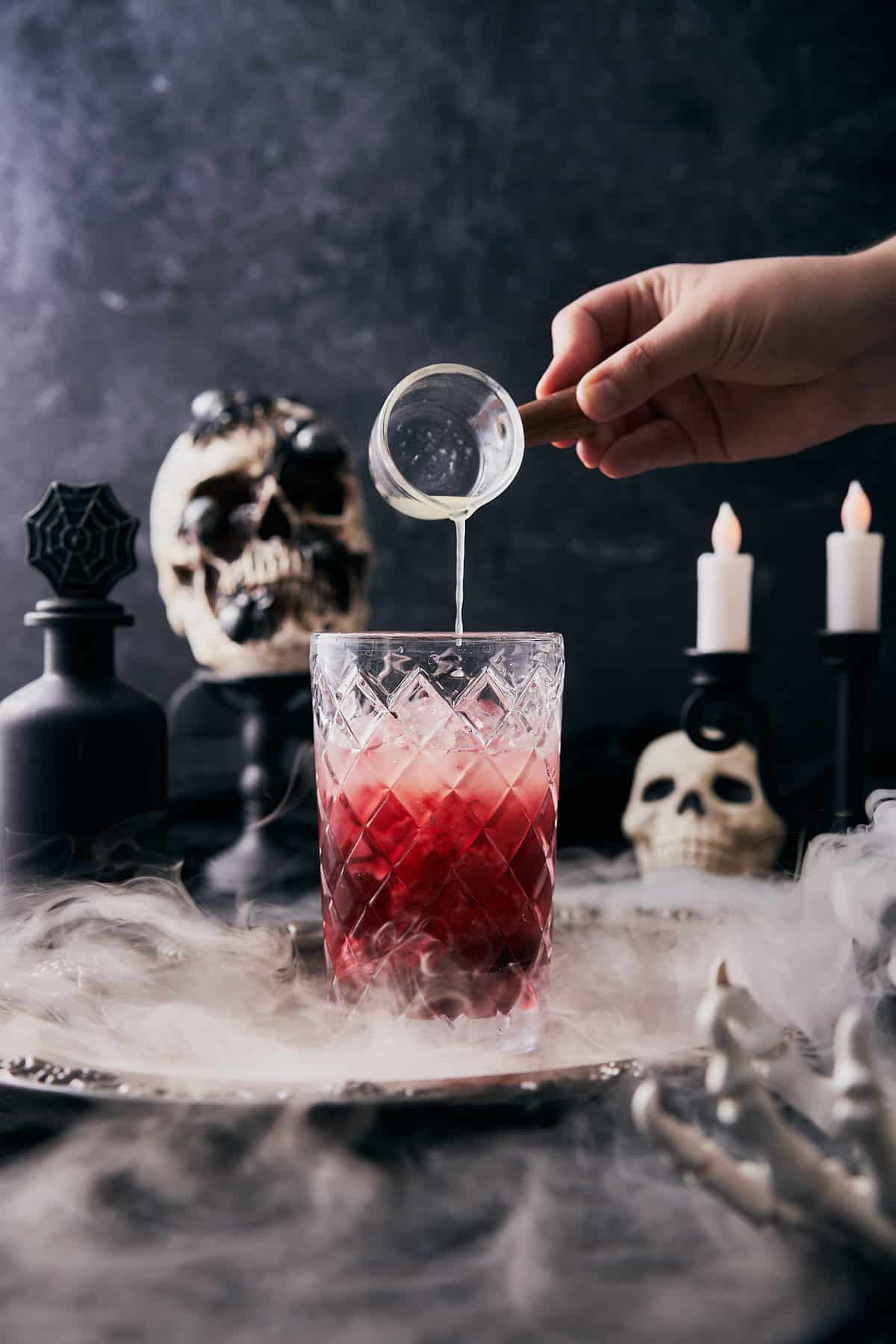 Step 5
Finally, add vodka. Add the lid and shake really well for 30 seconds to chill.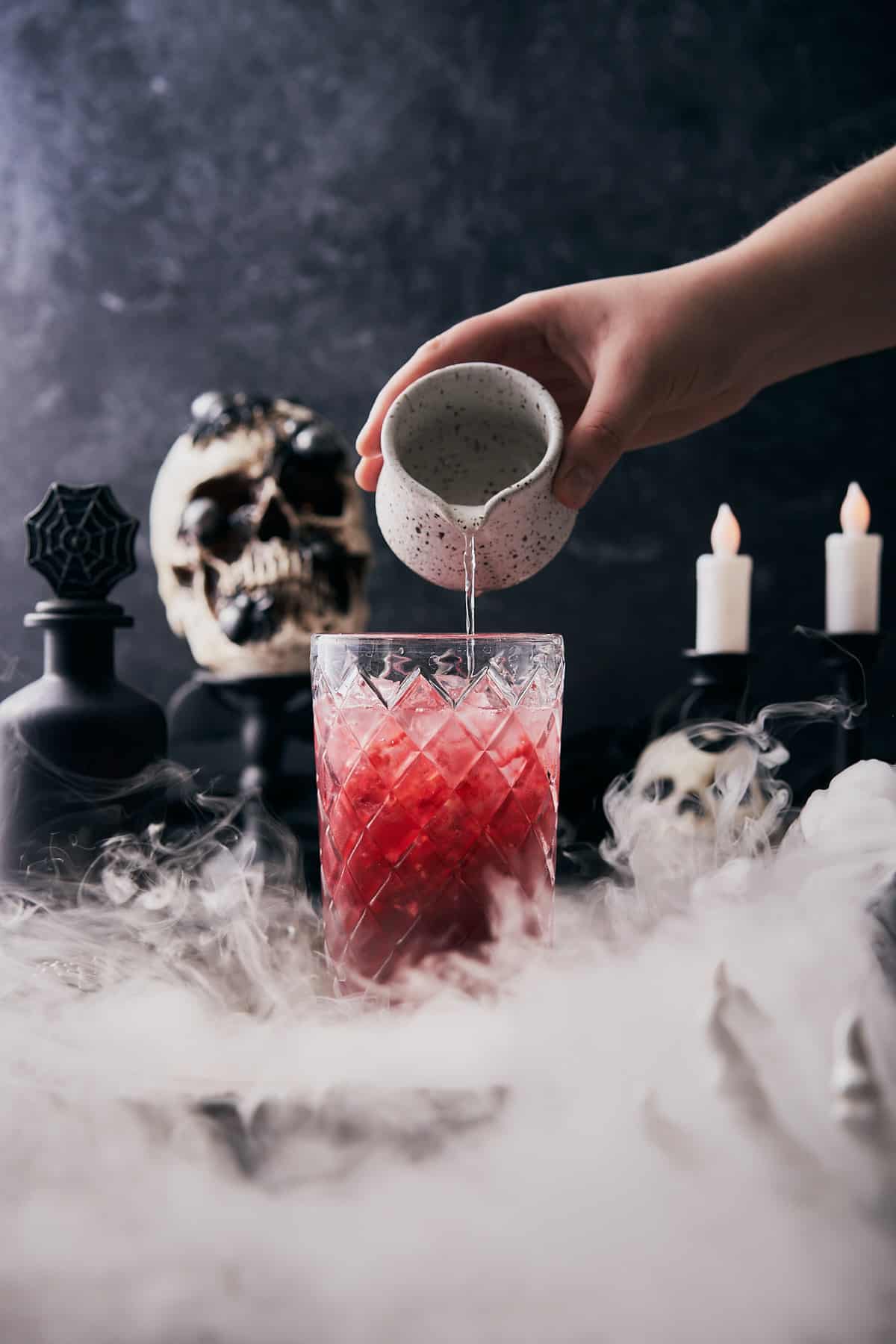 Step 6
Double strain into a chilled coupe or martini glass.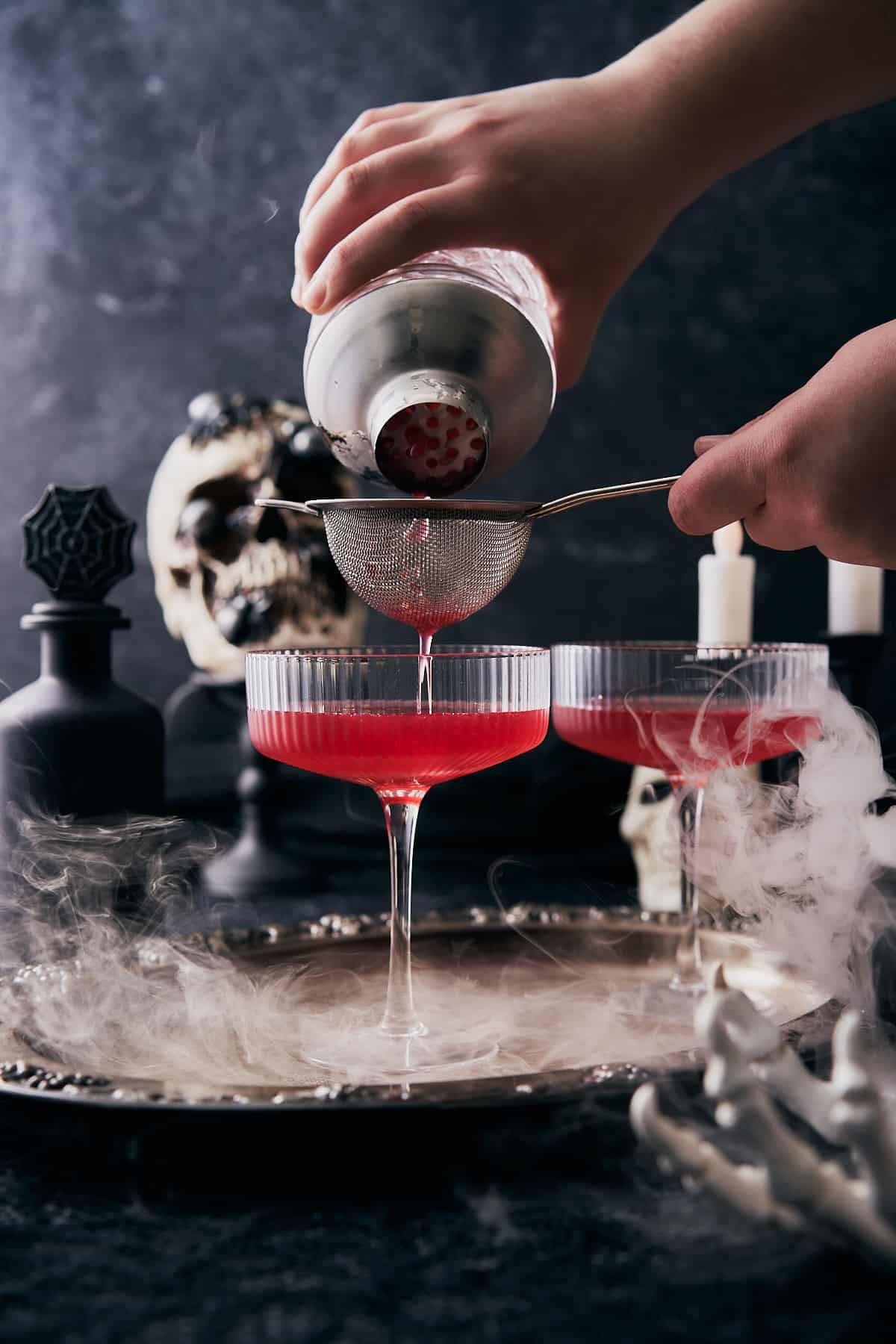 Step 7
Top with sparkling wine.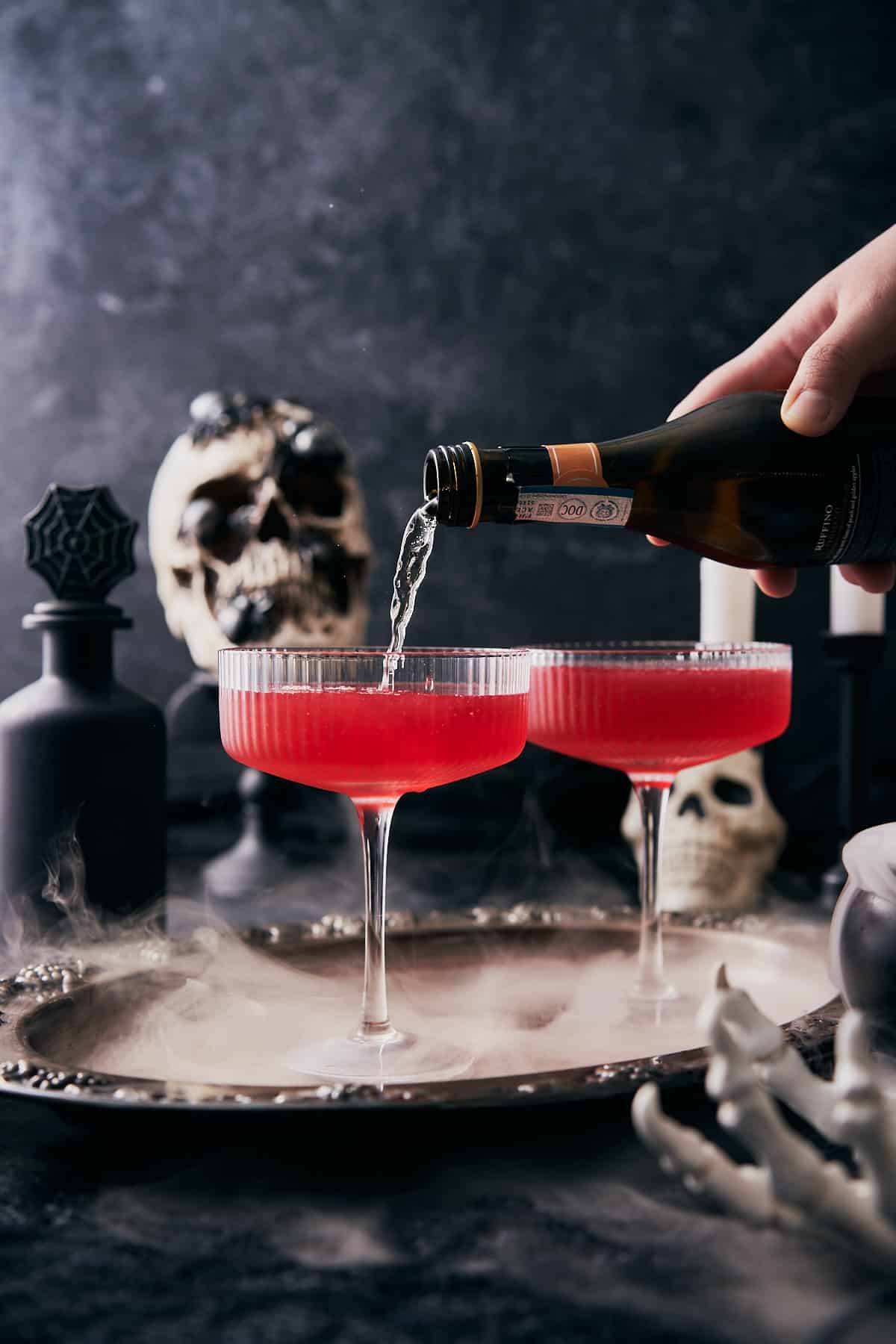 Step 8
Add dry ice using tongs if using. Enjoy right away (after the dry ice has evaporated!)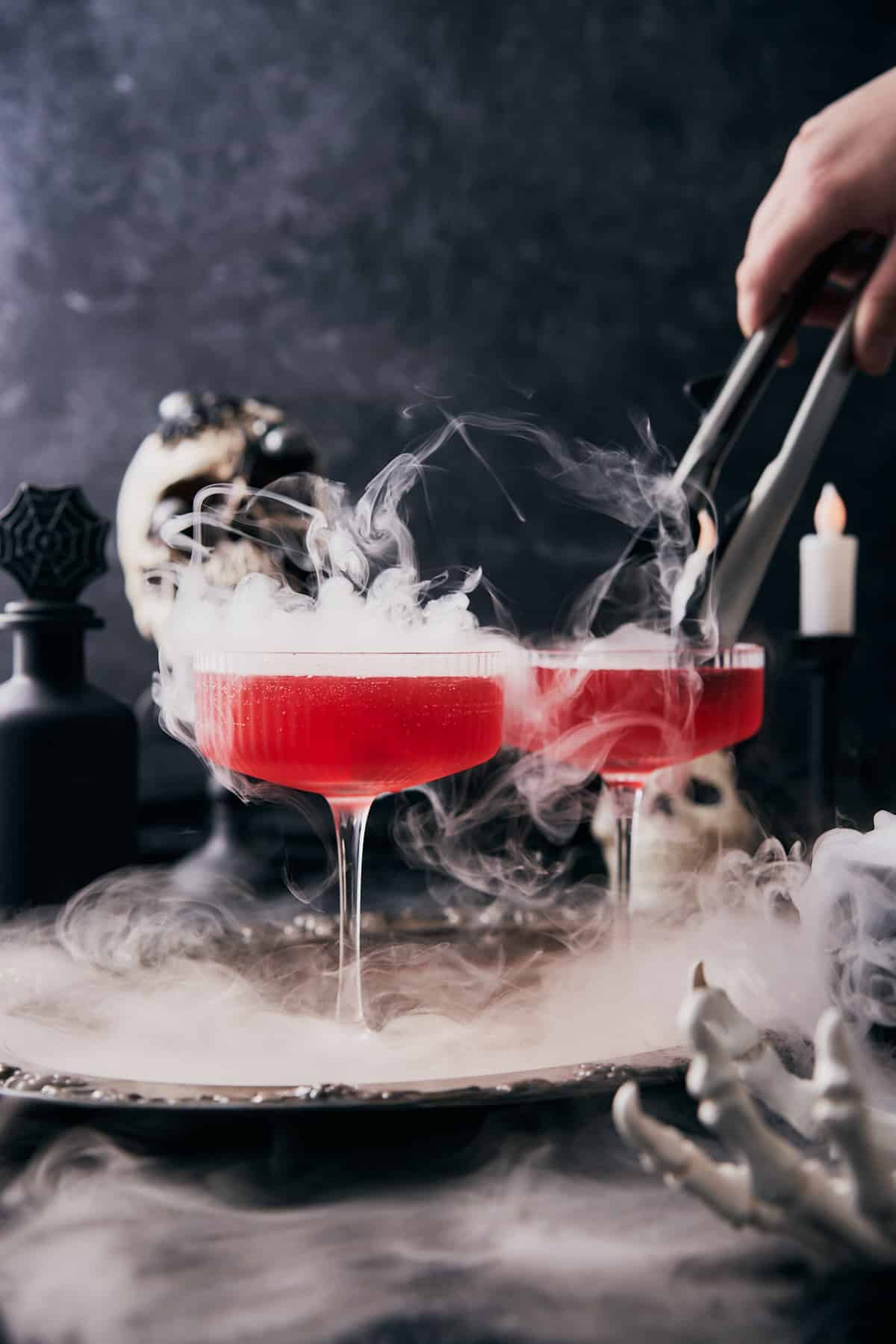 ✨Tips & tricks
Use fresh lemon juice. There are definitely times we think that short cuts in recipes can be just as tasty, but using fresh lemon juice is going to be your best bet here - trust us!
Add ingredients in the order listed. Okay so, maybe if it's your first time making it. After that, add them in whatever order you like. We recommend adding juices first, so you can taste as you go if you like and adjust your tastes before adding in the most expensive ingredient, which is the alcohol.
Don't add sparking wine to the shaker! This is one of those things that seems obvious, but it has definitely happened to us when we were moving too fast. Only add sparkling ingredients AFTER shaking the cocktail.
Chill your glasses. This will help keep your drink cold, since there's no guarantee that you will be using any dry ice to keep it cold.
Double strain. Use a fine metal sieve to ensure no raspberry seeds end up in your drink.
For a show-stopping presentation, serve with dry ice. Of course this is an optional step, but serving with dry ice can make for an incredibly spooky presentation. Just be sure to read our dry ice safety tips below!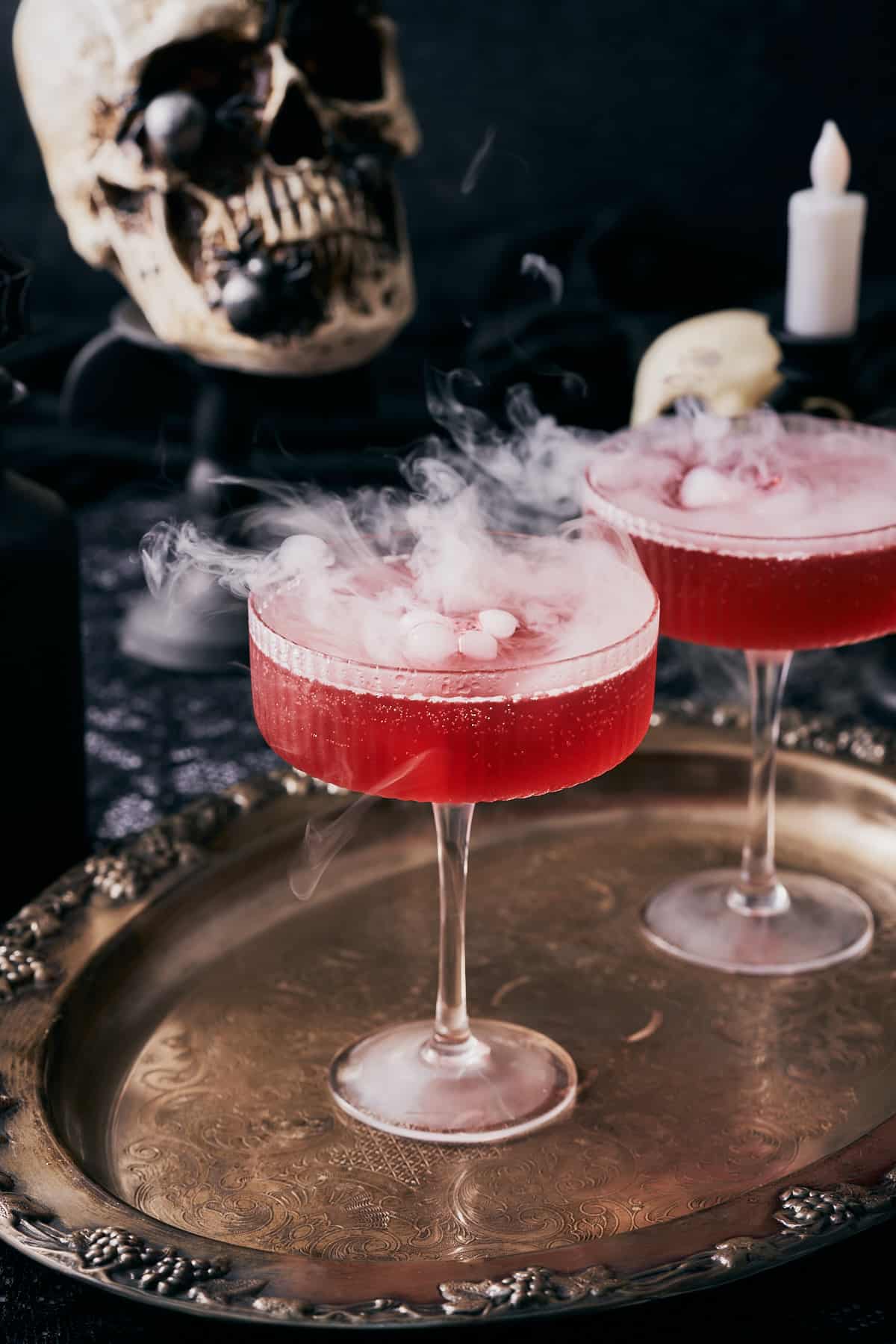 🧊 Dry ice safety
NEVER touch dry ice without gloves on, or without tongs. Seriously, don't do it! Dry ice can burn your skin instantly.
DO NOT store dry ice in the freezer or fridge. Again, it's too cold! It will damage your freezer or fridge.
DO NOT ingest dry ice! Again, it's way too cold. Ingesting can seriously harm you.
🥶Dry ice tips and tricks
Dry ice only lasts roughly 24-32 hours before it's gone. The more dry ice you buy, the longer it will all keep when stored together. You should keep it in a cooler to maximize its life, with the lid off to help vapors escape. If possible, store in a well-ventilated area or open a window if the dry ice will be used in large amounts or for an extended period of time.
To handle dry ice, grab an ice pick or hammer and carefully break off small chunks of it wherever you're serving it. Always use gloves, and eye goggles if you have them.

If using dry ice on your serving table: Place it in a small container using tongs that won't crack or burst when exposed to heat or cold. Bonus points if you can keep the ice in a self-draining container. Add water. For lots of bubbling, add boiling water. Please note that boiling water will create an intense bubbling effect, the hotter the water, the more the ice will smoke. Cold water will create longer-lasting, more mellow smoke. Once the smoking starts to slow down, pour out excess water.
Using dry ice in your cocktail glass: If you want to put some dry ice in this drink, simply place a small chunk in there and watch it bubble for a truly fun effect! Don't drink anything until the dry ice has completely evaporated.
✏️Substitutions & variations
The ingredients are pretty straightforward, but here are a few simple swaps you can make.
Cherry flavored - Use pure cherry juice in place of grenadine in this recipe. You could also top with cherry lemon-lime soda, like Cherry 7-UP.
Use different citrus juice - Swap the fresh lemon juice for fresh lime juice or orange juice instead!
Sweeten to taste - If making this drink for the first time, we recommend tasting as you go and sweetening to taste. Start with less of the mixers (cranberry juice and grenadine) and then add more to suit your tastes.
Use flavored vodka - You can use some raspberry vodka or liqueur, or even vanilla vodka in this recipe for a fun and sweet twist. If you use flavor vodka, you may want to dial back on some of the mixers as many flavored vodkas have added sugar.
Swap sparkling wine - Feel free to omit the sparkling wine and replace it with ginger ale, or lemon lime soda. You could also use plain club soda.
Ginger flavored - Swap sparkling wine with ginger beer for a sparkling and ginger flavored drink.
Make it sparkly! We love using edible glitter (affiliate link) in our cocktails from time to time for a truly mesmerizing effect. Just be sure to add it to the shaker so it can get incorporated into the drink. Check out this apple cider bourbon cocktail for more details.
Swap liquors - If you're not a fan of vodka, feel free to swap it out for your favorite spirit. Our top recommendations would be light rum, tequila, or gin.
Low carb or keto - Want to make this low carb? No problem, that's our preference and it's such a delicious drink either way! Just use our homemade grenadine recipe, and use diet cranberry juice or unsweetened cranberry juice.
Mocktail - If you want to skip the alcohol all-together in this festive drink, simply omit the vodka and sparkling wine. Top with kombucha, soda, or club soda instead of sparkling wine.
💭Frequently asked questions
Can I make a large batch of this recipe?

Yes! To make a large batch, add raspberries to a large bowl and muddle. Add juices and vodka. Stir to combine and strain through a metal sieve into a punch bowl or pitcher. Chill in the fridge until just before serving. When it comes time to serve, add ice, then top with sparkling wine.

🛒Shop this recipe
⏲Equipment
Luckily, this recipe is pretty standard and you really don't need much to make it.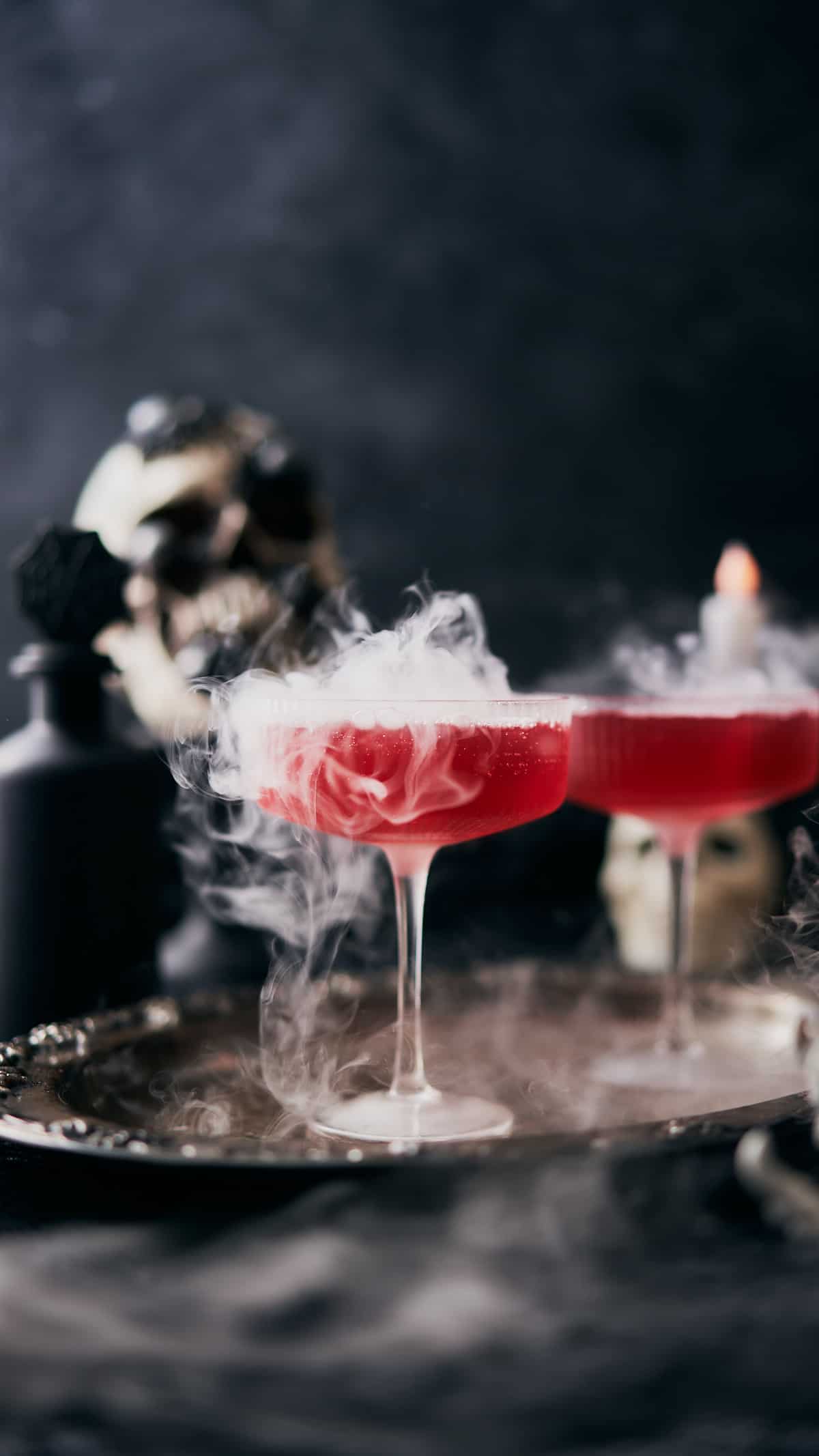 🥣Storage
We don't recommend making this drink ahead of time, instead, you should serve it right away.
You can squeeze lemon juice 24 hours in advance, and store in an airtight container in the fridge. You can also make grenadine up to 10 days in advance and store in the fridge.
We don't recommend freezing this drink.
🌟Leave a review!
Make sure to leave a 5-star review below! This helps other readers find our recipes via Google, and encourages them to try them. Also be sure to leave a comment with your experience!
Take a photo and share with us by tagging us on Instagram or follow along on Pinterest for more ideas!
📖 Recipe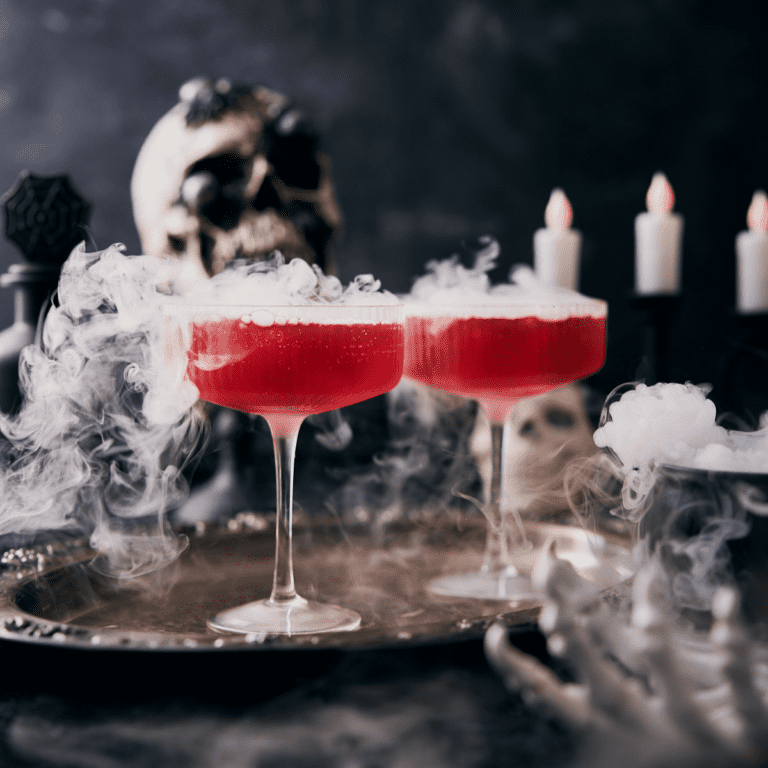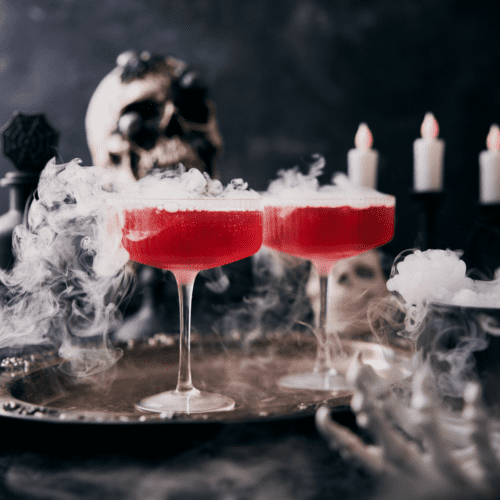 Vampire's Kiss Cocktail
This blood-red spooky Vampire's Kiss Cocktail is a deliciously fruity vodka cocktail. It's made with 6 simple ingredients that you probably already have on hand. Serve with dry ice, and it's a fabulous cocktail to serve at a Halloween party!
Ingredients
10

whole

raspberries

(fresh or frozen)

2

ounces

cranberry juice

(can use diet or unsweetened for low sugar, see notes.)

3

ounces

grenadine

(to taste, and our homemade version can eliminate lots of extra sugar, but store-bought can be used, see notes.)

1

ounce

fresh lemon juice

3

ounces

vodka

1.5

ounces

sparkling wine

(to top, and we'd recommend something dry like prosecco.)

Serve with a dry ice cube

(optional, and do so carefully, see notes.)
Instructions
Muddle raspberries very well at the bottom of a cocktail shaker.

Add ice, followed by cranberry juice, grenadine, lemon juice, and vodka. Shake for 30 seconds to chill.

Double strain into a chilled coupe or martini glass. Top with sparkling wine, and garnish with optional dry ice. Once dry ice is done smoking in your drink, enjoy!

Enjoy right away, we don't recommend freezing.
Notes
This recipe is written to make two drinks in a standard-sized cocktail shaker (one that holds 28 ounces).  It can easily be halved to make one drink. 
If making this recipe for the first time, be sure to add the ingredients in order to ensure it suits your tastes before adding in the most expensive ingredient, the liquor!
Please note, that diet cranberry juice and our homemade sugar free grenadine can be used for this recipe to make it sugar-free, and that is how we make it at home. We included standardized store-bought versions in the nutrition information to show the sugar and carb content if you don't want to make any of the components at home.

If you use our homemade versions, you will lower the calories to 144 calories per drink, with 8g total carbs, 0.5g fiber (making 7.5  net carbs), and 7g sugar.  

Be very careful if handling dry ice. Always wear gloves, and wait til your drink stops bubbling to enjoy it. You don't want to ingest dry ice!  Please visit the body of this post for more tips on handling dry ice, as well as more information on variations for the drink. 
Nutrition
Calories:
285
kcal
Carbohydrates:
45
g
Protein:
0.1
g
Fat:
0.1
g
Saturated Fat:
0.01
g
Polyunsaturated Fat:
0.03
g
Monounsaturated Fat:
0.01
g
Sodium:
15
mg
Potassium:
67
mg
Fiber:
0.4
g
Sugar:
33
g
Vitamin A:
12
IU
Vitamin C:
20
mg
Calcium:
10
mg
Iron:
0.2
mg