We'll show you how to build the Ultimate Fall Charcuterie Board, in a few simple steps! This grazing board is perfect for the fall season, loaded with all of your favorite things. Mix and match to suit your preferences. It makes for a fun dinner, or a great snack board to serve a crowd or small gathering.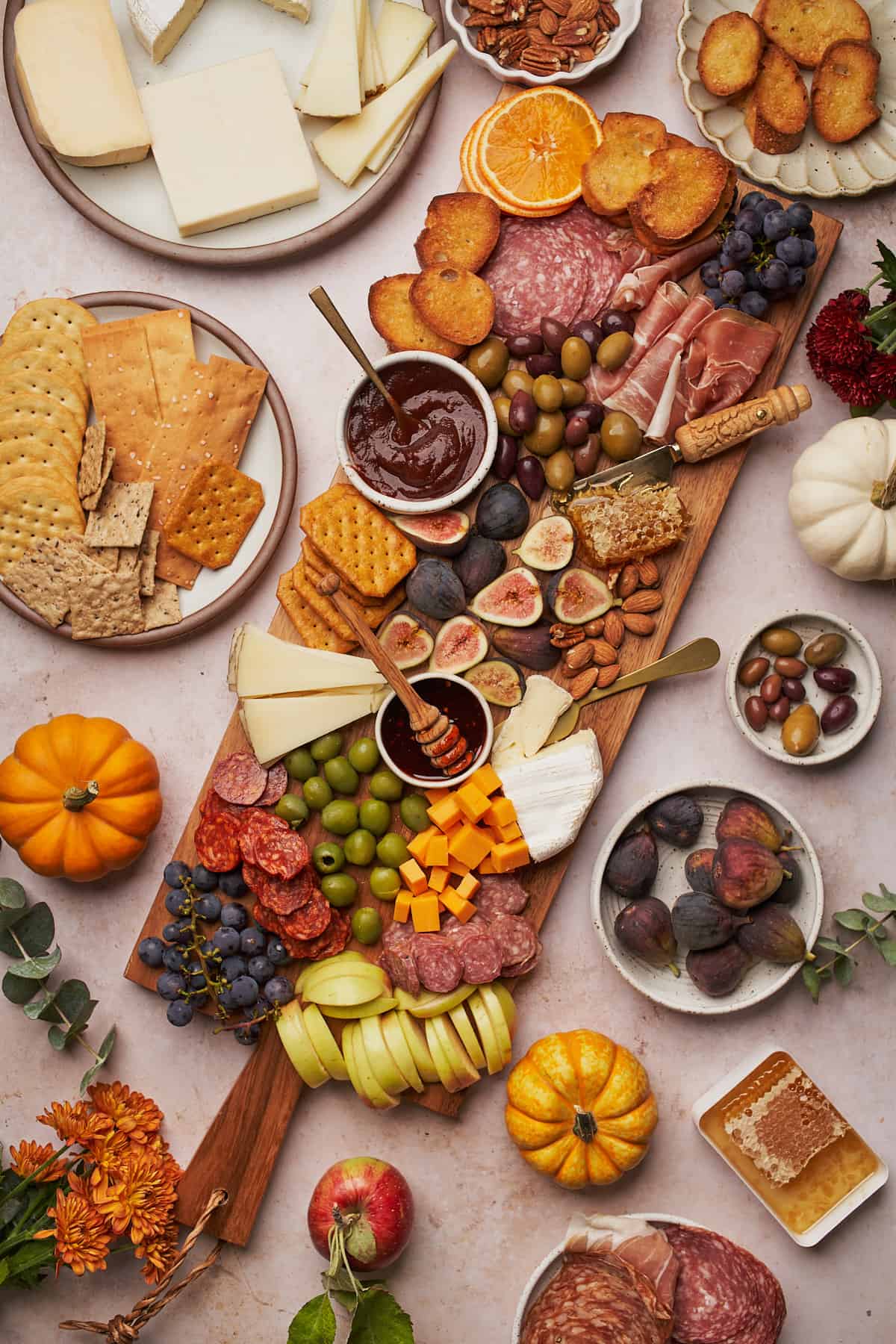 We will never say no to this easy fall appetizer. It's easy to prepare and customize, plus, it's always stunning, so impress your guests! It's the perfect way to enjoy delicious meats, cheeses, and fall produce with a glass of wine or cocktail in hand. We'll show you how easy it is to build a great charcuterie board for the fall season.
Looking for more appetizer ideas this fall? Try these blue cheese steak bites served on sweet potatoes, this baked spinach artichoke dip, or these deviled eggs! Our tuna mousse appetizer is a perfect and stunning treat too!
Jump to:
❤️Why we love this charcuterie board
Loaded with fall flavors - This board in particular is a fall board, loaded with the best produce and seasonal flavors for this time of year. The sky is the limit, so load it up with your fall favorites and have a good time with it!
Feed a crowd - Grab a large board and a few types of cheeses, meats, fresh fruit, and other snacks. It's a great way to feed people with a variety of different preferences. Food allergies? No problem, you can customize the board to suit you and your guests' needs. Make one for your next fall party this holiday season.
Prep ahead - You can do a lot of the prep work a day or so in advance, then just put it all together on the day of! We love a time saving solution.
🧀What is a charcuterie board?
Charcuterie is commonly known as an assortment of cured meats, and accompaniments. It is a French word that dates back to the 15th century (pronounced shar-koo-tah-ree) and refers to fancy pork products made by the butcher.
Thanks to social media, charcuterie boards have gained more popularity than ever. Nowadays, charcuterie boards include meats, cheeses, and extras that pair well with meats and cheeses such as fruit, olives, nuts, spreads, etc.
🍇Ingredient notes
Here are the ingredients we used for this fall board. Please note that these are only our suggestions; you can add or remove items as you see fit. The ingredients you use will also depend on what is available at your local grocery store.
When making a charcuterie board, you should concern yourself with these main things: taste, texture, and variety. When you're looking to feed lots of people, tastes vary, so it's a good idea to provide a variety of options.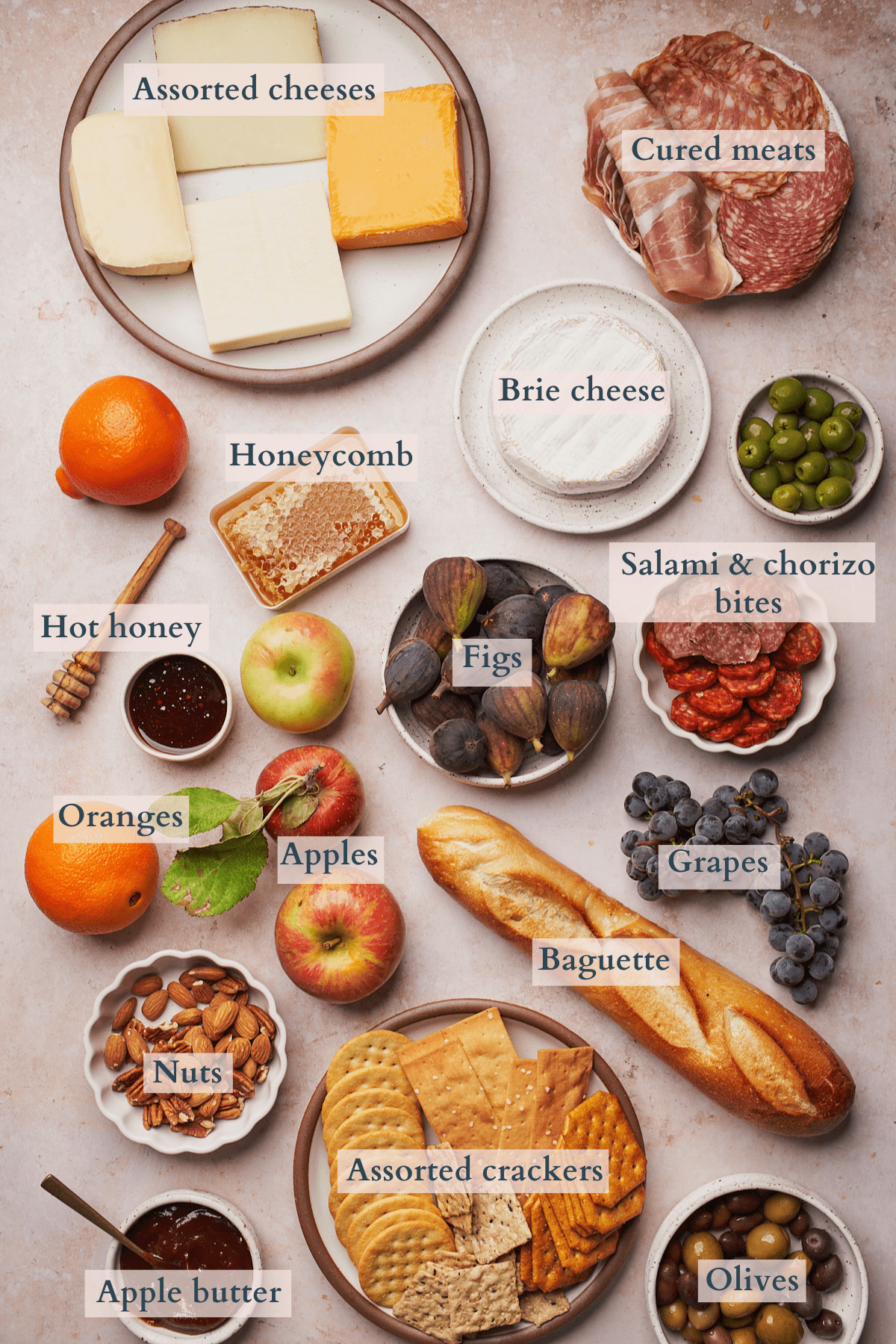 Meats
The general rule of thumb is to use between 3-5 different meats to accompany all of the other snacks. There's no magic number! We opted for a variety of meats and included prosciutto, two types of salami, capocollo, and Spanish-style chorizo.
Cheeses
Use a mixture of your favorites, keeping in mind texture, as well as taste, including sharp, mild and funky flavors. Again, use 3 - 5 varieties. We opted for brie cheese, manchego, sharp cheddar, and havarti. You will want a mixture of hard cheese, and soft cheese. Usually we add a creamy cheese like goat cheese too!
Crackers & bread
Go for an assortment of different serving vessels. We toasted up some pieces of a baguette with a little bit of olive oil. We also served a variety of crackers. Think of different shapes, sizes, and textures, seeded, whole wheat, butter crackers, etc.
Fruit
Opt for seasonal favorites, like fresh figs, black, green, or red grapes, apples, and orange slices. Other great choices would be clementine or mandarin oranges, since they're bite-sized and have the perfect fall hue. Pears, persimmons, pomegranate arils, or another citrus, like blood oranges are also great additions. Dried fruit like apricots, cherries, or cranberries would also work wonderfully here.
Spreads & dips
Use a seasonal fruit spread of your choice. We added this instant pot apple butter, along with a honeycomb, and this hot honey to mix and match with everything on the board.
A little bit of regular honey or maple syrup would also work very well. We've also used our homemade fig spread recipe, as it's seasonal and pairs well with everything on the board. A little bit of salted caramel sauce would be super tasty to dip apple slices in.
Nuts and seeds
Use a few different types of your favorite nuts. We went with pecans and almonds, but anything will do, and it's a great way to fill out extra space on the board. These keto candied pecans would go wonderfully on this board for any keto or low sugar dieters.
Pumpkin seeds or pepitas, along with sunflower seeds would also be great seasonal additions to the board.
Veggies and salty bits
Don't forget the olives! They provide a nice salty bite and accompany the meats and cheeses. You can also include veggies for dipping, or small gherkins (pickles).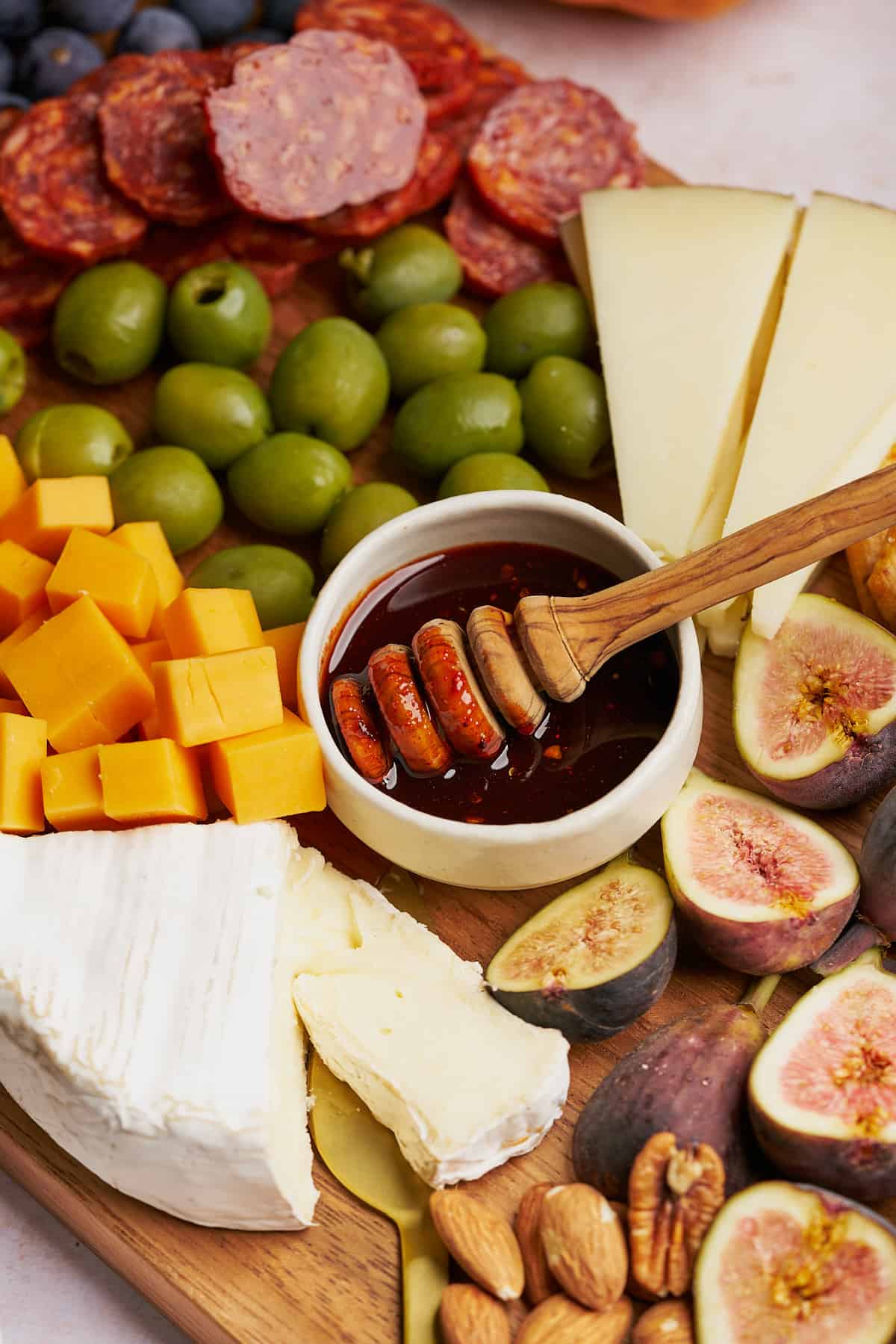 📖Instructions
📋Prep work
Allow meat and cheese to sit out at room temperature for 20 - 30 minutes before serving.
You can prepare everything the day ahead of time, and store it in the fridge in an airtight container or wrapped in plastic. We don't recommend placing nuts, crackers, or bread on the board until it's time to serve, or else they may become soggy.
Caramel sauce, apple butter, and other spreads and sauces can be made a week or so in advance.
Step 1
Anchor the board with small bowls or ramekins filled with any wet items, like apple butter, or honey.
Step 2
Add meats. It's a good idea to pair meats with any of the toppings you may enjoy with them. We like to put honey near the prosciutto.
Step 3
Add cheeses. Once again, keep in mind pairings. It might be a good idea to place the brie cheese near honey or hot honey, or manchego cheese near the Spanish chorizo for easy and logical serving.
Step 4
Now, add fruits, crackers, bread, olives, and nuts to fill in the gaps.
Step 5
For finishing touches, you can add small pumpkins and seasonal flowers for a nice pop of color. Choose items that fit the color scheme for a beautiful presentation.
You can keep extra meats, cheeses, crackers, olives, etc. on the side of the board on plates and in small ramekins for easy refilling. Add some small spoons and forks or knives to the board for easy serving. Enjoy!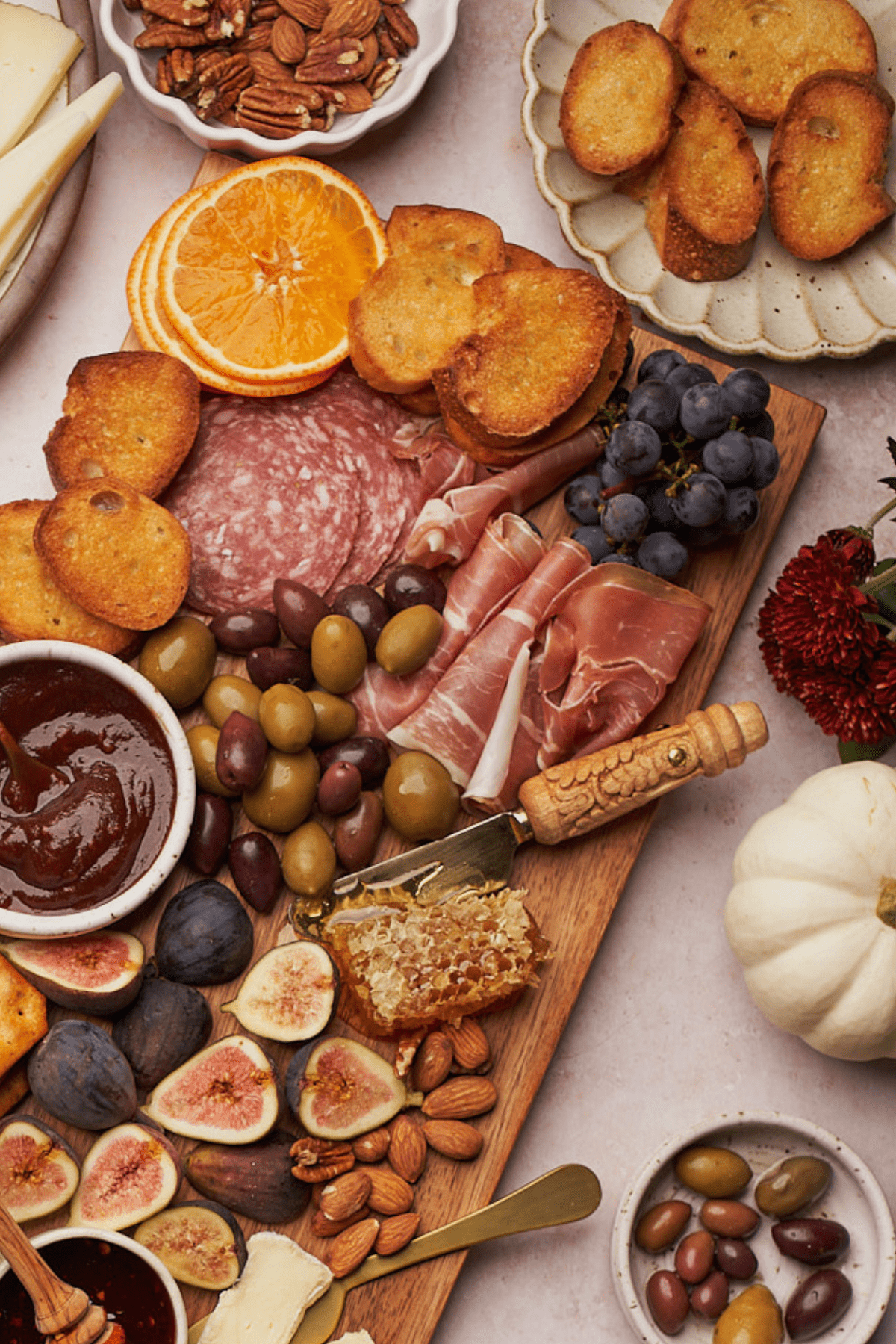 ✨Tips & tricks
Use your favorites. Having a huge charcuterie display looks beautiful, but the best board is one you'll actually enjoy! Don't feel pressure to add too many speciality cheeses/meats that you won't eat.
Use the seasons best. Fresh, ripe figs, citrus, apples, pomegranates, grapes and pears are great for fall. Using in season fruit tastes better, and is more cost effective. It's a win-win!
Shop your pantry before grocery shopping. We always have crackers, dried fruit, nuts, olives, honey, and more in the pantry. Save a few bucks by using things you already have on hand.
Prep as much as you can the day before. Hosting can be a big undertaking, so getting your charcuterie board elements ready to go a bit in advance can makes things go very smoothly.
Use parchment paper for easy clean up. If desired, you can use parchment paper on top of the board before placing items on for a super simple cleanup.
Refill the board as things run out. You may feel like you have a lot of leftover ingredients if you build the board and don't refill it as items get eaten. The truth is, it's hard to say exactly how much of something you will need for this board, so as items get eaten, refill them for a lovely presentation and to keep the variety on the board.
Make it beautiful. Consider colors, textures, and contrast when placing items on the board. Have fun, and make it pretty!
Label items for a large group. If you'd like, you can always print out small labels to show guests what is what on the board. Since everyone has different taste buds, this can help guests choose items they love.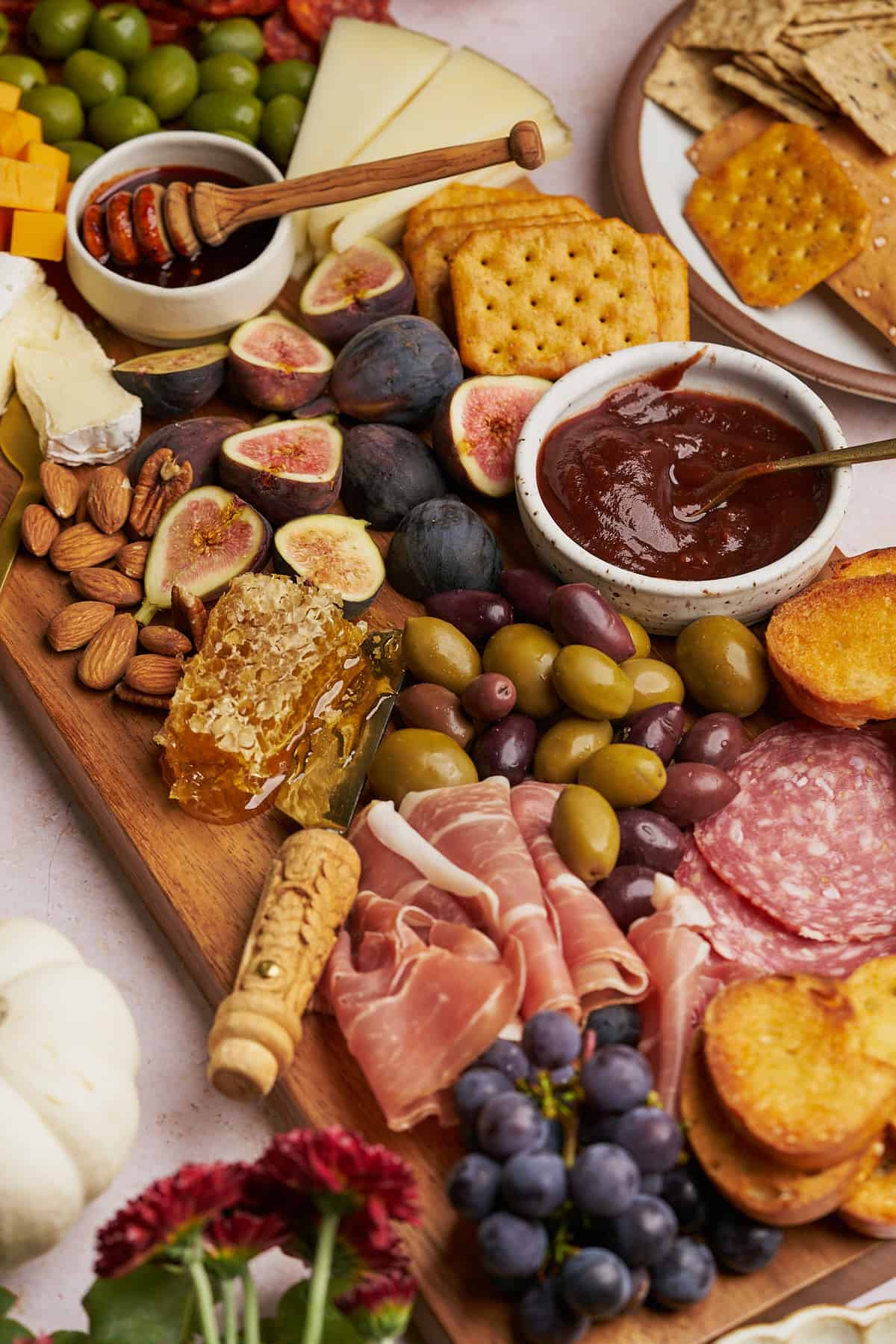 💭Frequently asked questions
Can I make a less expensive charcuterie board?

Let's face it, charcuterie isn't cheap! While it's a great way to feed a crowd, it can get pretty pricey with all the fruits, specialty meats, and cheeses.

You can buy items in bulk to keep costs down at Costco. We'd also recommend heading to ALDI or Trader Joe's for some amazing priced items, and speciality, seasonal finds.

Can I make a low carb version of this cheeseboard?

If the whole crowd is following a low-carb diet, there are a few things you can do to make this cheeseboard lower in carbs and sugar!

You can use a keto-friendly honey alternative, or maple syrup alternative for something sweet.

Use keto friendly crackers, or cheese crisps for dipping. ALDI has some really tasty and affordable low carb crackers, we love them!

Mix in some berries for lower carb fruits to add to the board.
Can this board be made gluten free?

Yes, certainly. Make sure to read the labels of any store-bought sauces or spreads you add to the board, as there may be hidden gluten. Also, opt for gluten-free bread and crackers.
How much meat and cheese per person should I use for a charcuterie board?

If serving as an appetizer, you will want roughly 3 ounces of meat and 3 ounces of cheese per person. If serving as the main course, think about 6 ounces of each per person.
⏲Equipment
Luckily, this autumn charcuterie board is pretty straightforward and there's not much needed to prepare it.
Use a large serving board. It's hard to say what size to use, as it depends on how many guests you plan to serve. We find a lot of our boards at TJ Maxx & Ross for some incredible deals and unique pieces, where the board we have pictured was found. You may like this similar style on Amazon.
You can also use a large baking sheet or cutting board in place of a wooden or marble board.
We find great sets of meat and cheese serving utensils, as well as honey drippers at Target, and World Market.
🛒Shop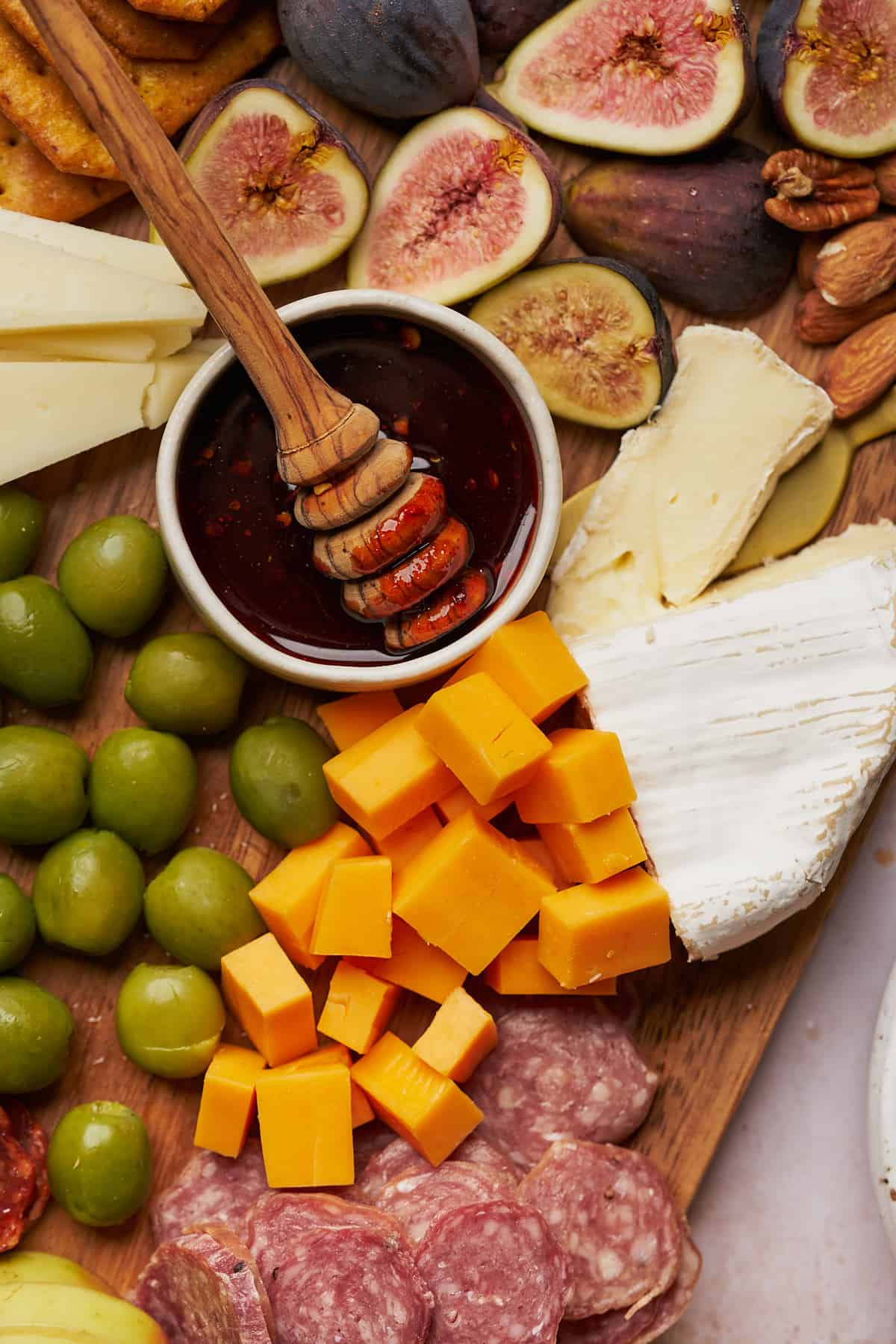 🥣Storage
Many specialty kinds of cheese and meats don't have a very long shelf life once they are exposed to the air.
Any leftovers should be stored separated by food type (cheeses, meats, fruits, etc.) and tightly wrapped in plastic wrap or in an airtight container and kept in the fridge for up to 3 days (or less depending on the types of cheeses you used). We don't recommend freezing leftovers.
🌟Leave a review!
Make sure to leave a 5-star review below! This helps other readers find our post via Google, and encourages them to try them. Also, be sure to leave a comment with your experience!
Take a photo and share with us by tagging us on Instagram or follow along on Pinterest for more ideas!
📖 Recipe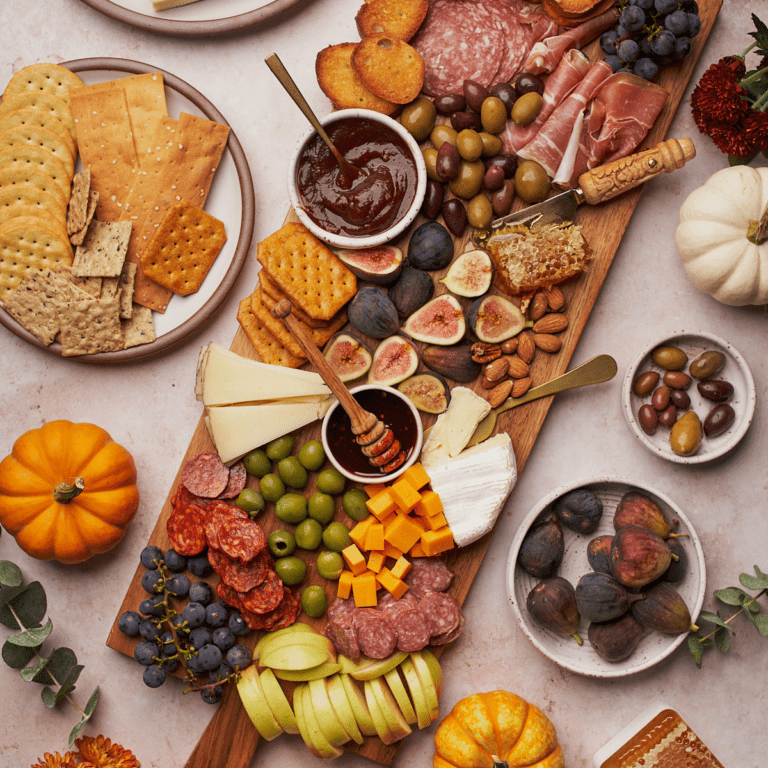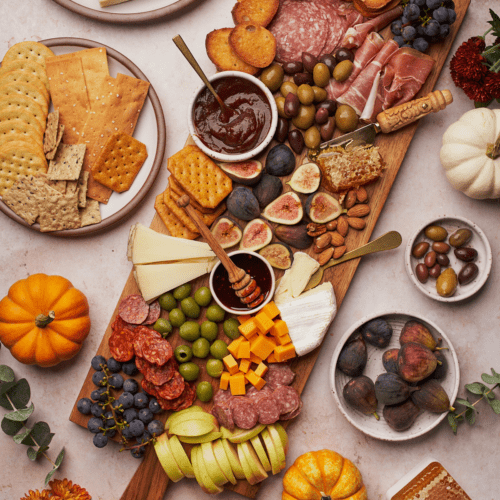 Fall Charcuterie Board
A Fall Charcuterie Board is always a stunning option for entertaining guests! This autumn, load it up with delicious fresh fruits of the season, plus your favorite meats, cheeses, and more.
Equipment
1 large serving board

knives and spoons for serving
Ingredients
Meats
8

ounces

genoa salami

8

ounces

prosciutto

8

ounces

dried Spanish chorizo

6

ounces

capocollo

6

ounces

dried salami
Cheeses
8

ounces

brie cheese

8

ounces

havarti cheese

8

ounces

sharp cheddar cheese, cut into blocks

8

ounces

manchego cheese, sliced thin

8

ounces

aged white cheddar
Fruits
orange slices

apple pieces

fresh figs, halved

grapes
Accompaniments
½

cup

assorted olives

pecans

almonds
Toasts and crackers
1

baguette, sliced into rounds, brushed with olive oil, and baked at 400°F for roughly 8 minutes until golden brown.

8-10

ounces

assorted water & artisan crackers
Instructions
Start by adding any wet items, like apple butter, honey, spreads, dips, or olives to small ramekins or bowls to anchor the board.

Next add meats, taking care to place meats with pairings whenever possible.

Add cheeses, once again keeping in mind pairings.

Finally, add crackers, breads, nuts, and any extras to finish. Serve and enjoy!

This board can be made one day in advance and stored in the fridge with plastic wrap. Leftovers will keep in the fridge, covered for 2-3 days. Store like items together, for example, cheese in one container, meat in one container, and fruit in another. Do not freeze leftovers.
Notes
For an appetizer, add 3 ounces of meat per person and 3 ounces of cheese per person. If serving as a main course, serve 6 ounces of each per person. 
We're unable to provide nutrition facts for this recipe as it is impossible to know how much of everything will be eaten and enjoyed. 
Our suggestions are merely a guide. Please use your favorite meats, cheeses, fruits, nuts, etc. 
Try to 3-5 varieties of each item on the board if possible. 
Please see the blog post for more detailed substitutions, tips, and tricks.