This Easy Keto Spinach Artichoke Dip is ready in 30 minutes in one skillet. Served warm and creamy on the inside with a crispy cheesy top, this dish is always a crowd pleaser. Savory, gooey, and flavorful. This dip is the perfect low carb, keto and gluten free appetizer! Bring to a game day tailgate, a birthday or dinner party, this super easy recipe will win everyone over.
---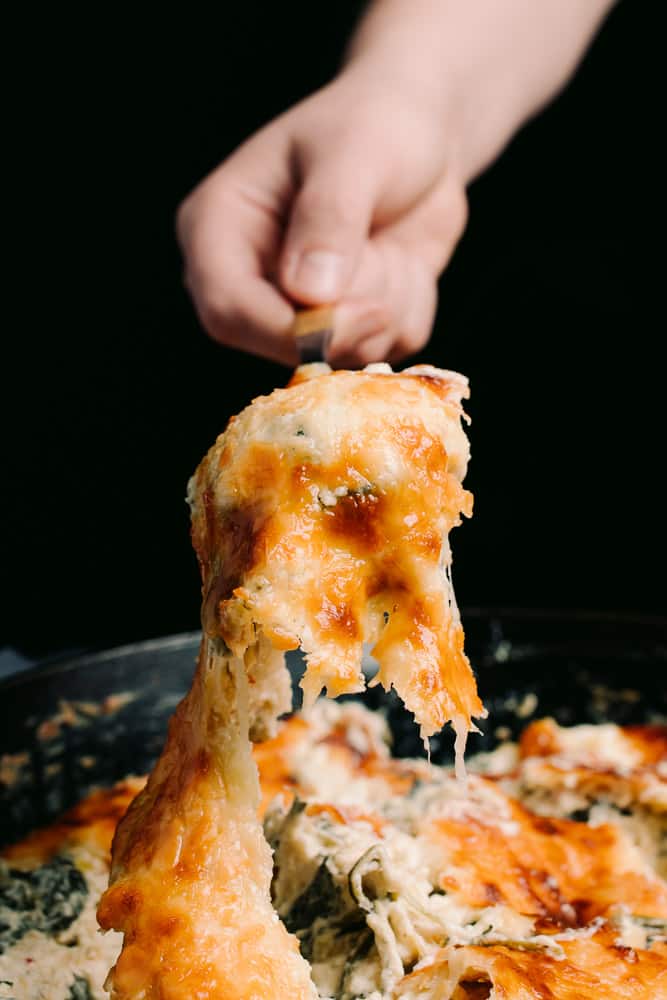 We'd like to make a note that this is one of our most popular recipes in real life, meaning that our friends and family literally always request it whenever there's a gathering! Whether you eat low carb/keto or not, everyone loves this. The best part is, you can serve this Keto Spinach Dip with a variety of different serving vessels! For low carb dieters, we like to serve it with pork rinds, veggies, or even low carb toasted bread for dipping.
Ingredients:​
Spinach, fresh or frozen
Cream cheese
Full fat sour cream
Shredded Parmesan cheese
Shredded mozzarella cheese
Serve with: low carb bread, pork rinds, veggies like celery, cucumbers or bell peppers for dipping.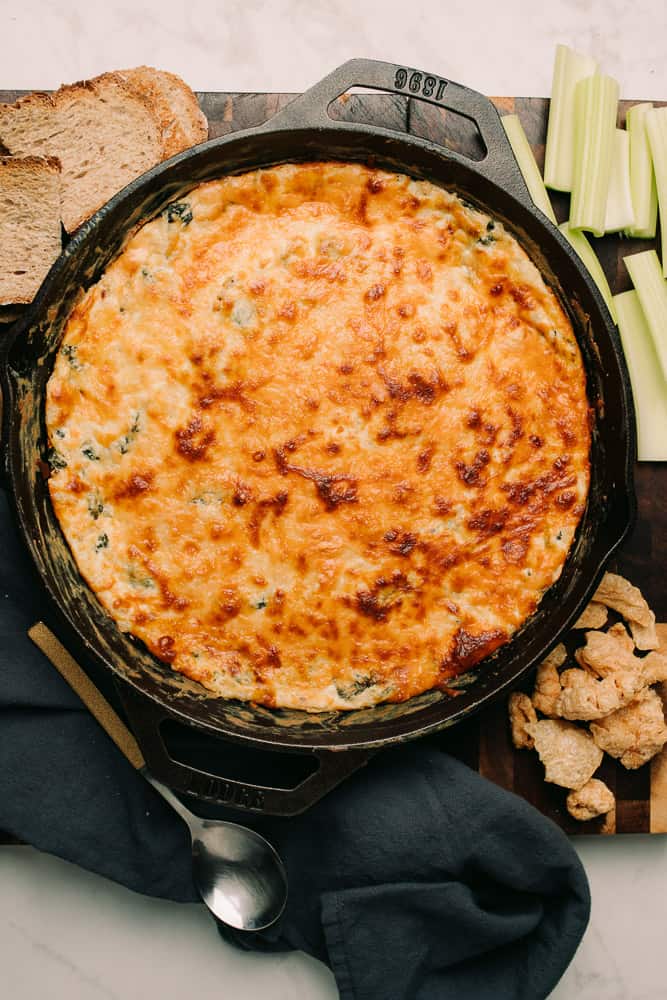 How to Make Keto Spinach Artichoke Dip:
Start by preparing the spinach. We wilt our fresh spinach in our skillet with a pinch of salt over medium heat, then set it aside. Let it cool off, then squeeze out the excess water. After removing it from the pan, add in your cream cheese, then melt it over medium heat. Add in your seasonings as well.
Stir in your sour cream, then add in half of your Parmesan cheese and mozzarella cheese.
Now, fold in the artichokes, spinach, and adjust the seasonings, then top with the remaining cheese and bake until golden brown!
Your Keto Spinach Artichoke Dip is ready to be served.
Should I Use Dry Seasonings in Spinach Artichoke Dip?
This part is entirely up to you! We use dry seasonings for a couple reasons. It helps keep the carbs down, it's less mess, it's easy, and it still tastes great! You could of course use fresh minced onion, as well as fresh garlic. We're sure this would be incredibly delicious too. It's totally optional. If you choose to use fresh garlic and onion, make sure to add them to your skillet with a little oil or butter so they can soften before making your cheese mixture.

For the red pepper flakes, if you don't like spice at all, you can omit these. So many times we have had friends and family ask, "what is that lovely hint of spice?!" so we recommend leaving it in! It's not too spicy, truly. It just adds a hint of flavor that makes our Keto Spinach Dip recipe unique. Oregano is another herb that adds a nice earthy flavor to this, we recommend using dried!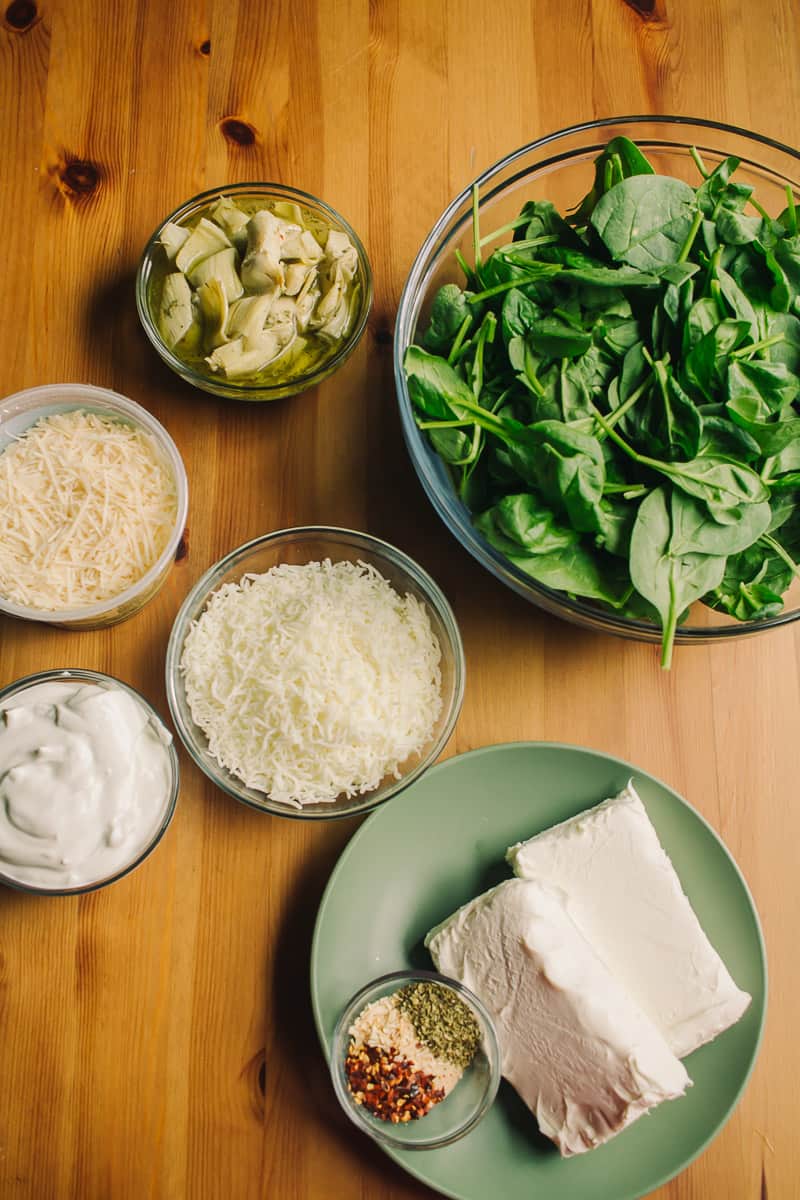 For the salt and pepper, just add it to taste. We didn't include any measurements for this because it truly depends on your tastebuds. Usually, we don't add any extra salt because of the Parmesan cheese that adds salt to the dish. Parmesan can be quite salty, so just make sure to add your cheese and taste as you go, then adjust as needed.
What Pan Should I Use?
We highly recommend using our favorite kitchen tool, a Lodge Cast Iron Skillet, to make this Keto Spinach Dip recipe. You could of course make this dip in a skillet and then transfer to an oven safe dish, but who wants more dishes when it can come together perfectly in a cast iron skillet?! Our Lodge skillets are super versatile, we use them for everything. The best part about making this dip in a skillet is that you warm it up later either on the stovetop, a grill, in the oven, or even over the fire if you want to reheat it!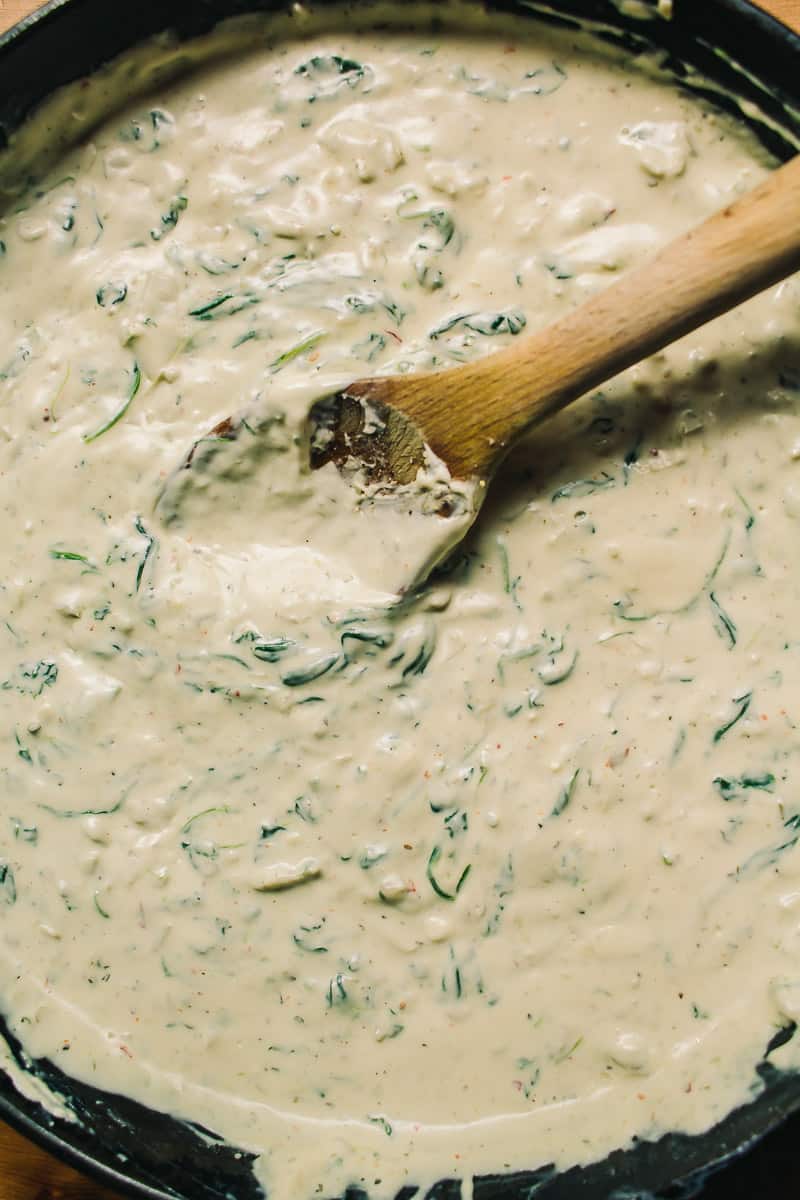 If you don't have a Lodge Cast Iron Skillet, we recommend getting one. Here's the one we used for this Keto Spinach Artichoke Dip recipe. They are super affordable, durable, and easy to love. They take a little love and care, but if you treat them well, they will literally last forever. They get better with age! Stay tuned for our upcoming cast iron care video. We will be sure to add it to this post when the content is live.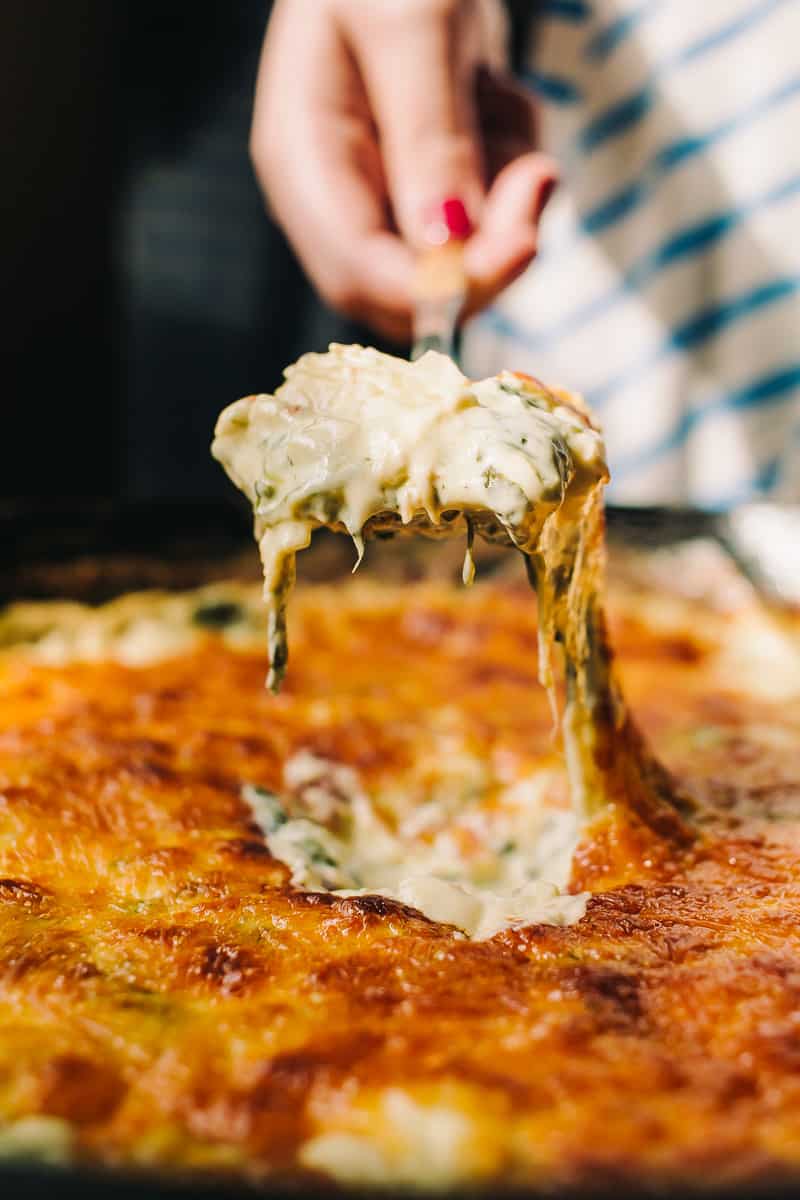 Substitutions:
Fresh or Frozen Spinach- We usually use 8 ounces of fresh spinach and then wilt it ourselves before adding it to the dip. If you want to use frozen, you will only need to use about 4 or 5 ounces, since frozen spinach is already wilted. In either case, make sure to squeeze out the excess liquid from the spinach before adding it the dip.
Seasonings- Like we mentioned above, you can use fresh or dried herbs and spices for this, it just depends on what you have on hand, and what you feel like doing!
Artichoke Hearts– You could certainly use fresh artichoke, but we feel that's quite a lot of work! We just use the jarred artichoke hearts and the liquid/oil that it comes in.
Serve With:
Your favorite low carb bread!
Veggies like celery, cucumber, or bell peppers
Shop This Recipe!
Want to get supplies for this Keto Spinach Artichoke Dip recipe or shop our keto kitchen or pantry? We've linked our favorites above and right here in our Amazon Store!  A Full Living is a participant in the Amazon Services LLC Associate program, an affiliate advertising program designed to promote a means for sites to earn advertising fees by linking products to amazon.com. We only share products we use and love. It doesn't cost you anything extra to shop using our links, but we earn a small commission that helps us keep this site going! 
More Delicious Recipes:
---
If you get a chance to try this Keto Spinach Dip recipe, let us know what you think, would ya?! Leave us a comment, or catch up with us on Facebook or Instagram, or pin to your favorite Pinterest board for later. We love sharing your versions of our creations over on Instagram @afullliving!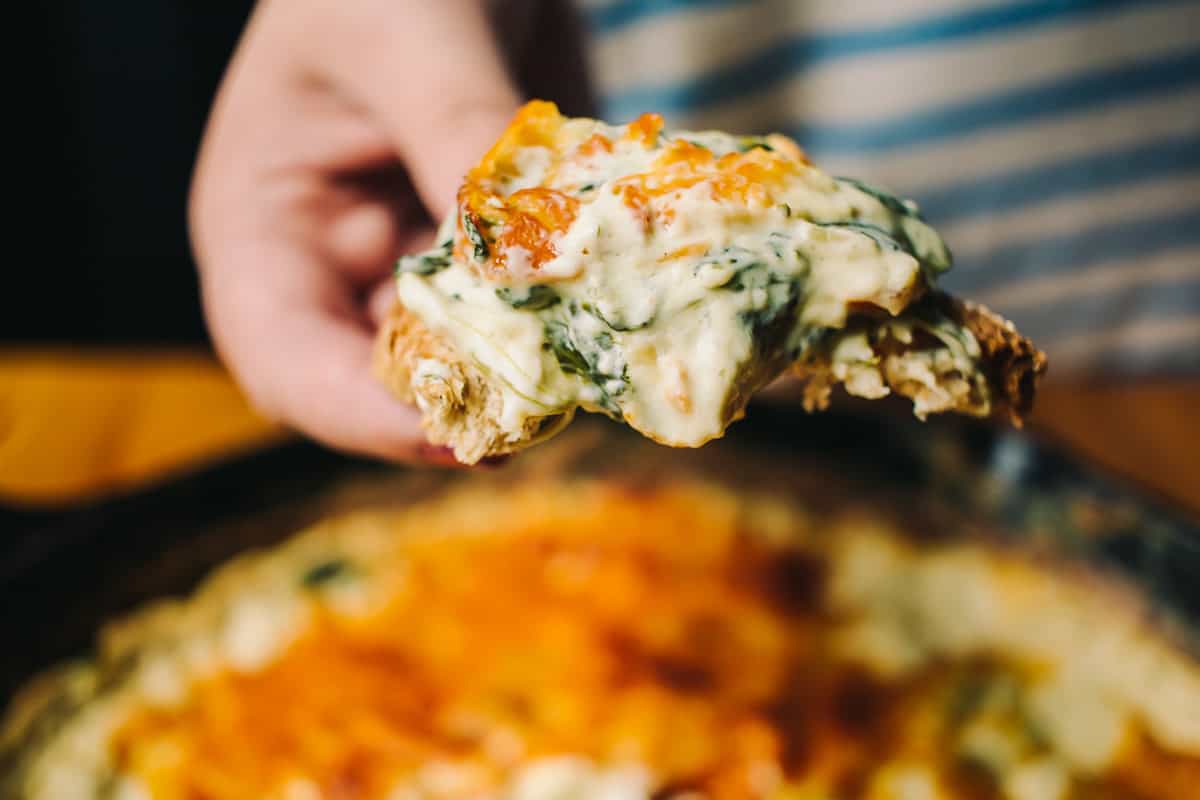 Thanks for stopping by! Be sure to subscribe to our email newsletter so you're the first to know about new recipes we post on our blog.
If you love this recipe, please consider sharing it with a friend and also leaving a rating and comment so others can find this recipe. Thank you for your support!
Until Next Time,
Briana & Chamere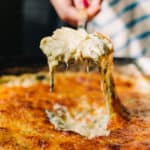 Easy Keto Spinach Artichoke Dip
This Easy Keto Spinach Artichoke Dip is the perfect thing to bring to the party. Delicious, keto and super easy to make! 
Print
Pin
Rate
Instructions
Heat skillet over medium heat. Preheat oven to 350°F. Wilt spinach in the hot pan. Set aside (even refrigerate) to cool so you can drain the liquid. Chop artichoke hearts into small bits, and discard any pieces of the skin that are too tough and you can't chop.

Add your cream cheese to the skillet, head over medium heat for 5 -7 minutes until creamy. Then add in the seasonings.

Next add in the sour cream, half the parmesan and half the mozzarella. Heat until cheese is melty and a bit sticky.

Add in the wilted spinach and chopped artichoke hearts and cook for about 5 minutes until creamy. Add in fresh black ground pepper and maybe a pinch of salt if needed.

Now, top the mixture with the remaining mozzarella and parmesan cheese. Place into the oven for 20-30 minutes until the cheese is golden brown. Serve hot!
Video
Notes
Dip with absolutely anything you like. Low carb bread, pork rinds, veggies, cheese. crisps, and more! 
Nutrition
Calories:
255
kcal
|
Carbohydrates:
5
g
|
Protein:
10
g
|
Fat:
22
g
|
Saturated Fat:
13
g
|
Cholesterol:
67
mg
|
Sodium:
507
mg
|
Potassium:
221
mg
|
Fiber:
1
g
|
Sugar:
2
g
|
Vitamin A:
2607
IU
|
Vitamin C:
6
mg
|
Calcium:
268
mg
|
Iron:
1
mg
These nutrition facts are provided as a courtesy and are only estimates. We cannot guarantee the accuracy.
Did you love it?
If you made this recipe, make sure to show us on Instagram at @AFullLiving or tag #AFullLiving! We love to see what you guys are making!