This Hot Honey Recipe is the perfect sweet and spicy sauce for a variety of uses. It's easy to make this spicy condiment at home with just a few ingredients. Enjoy as a dipping sauce with things like biscuits, chicken wings, and more!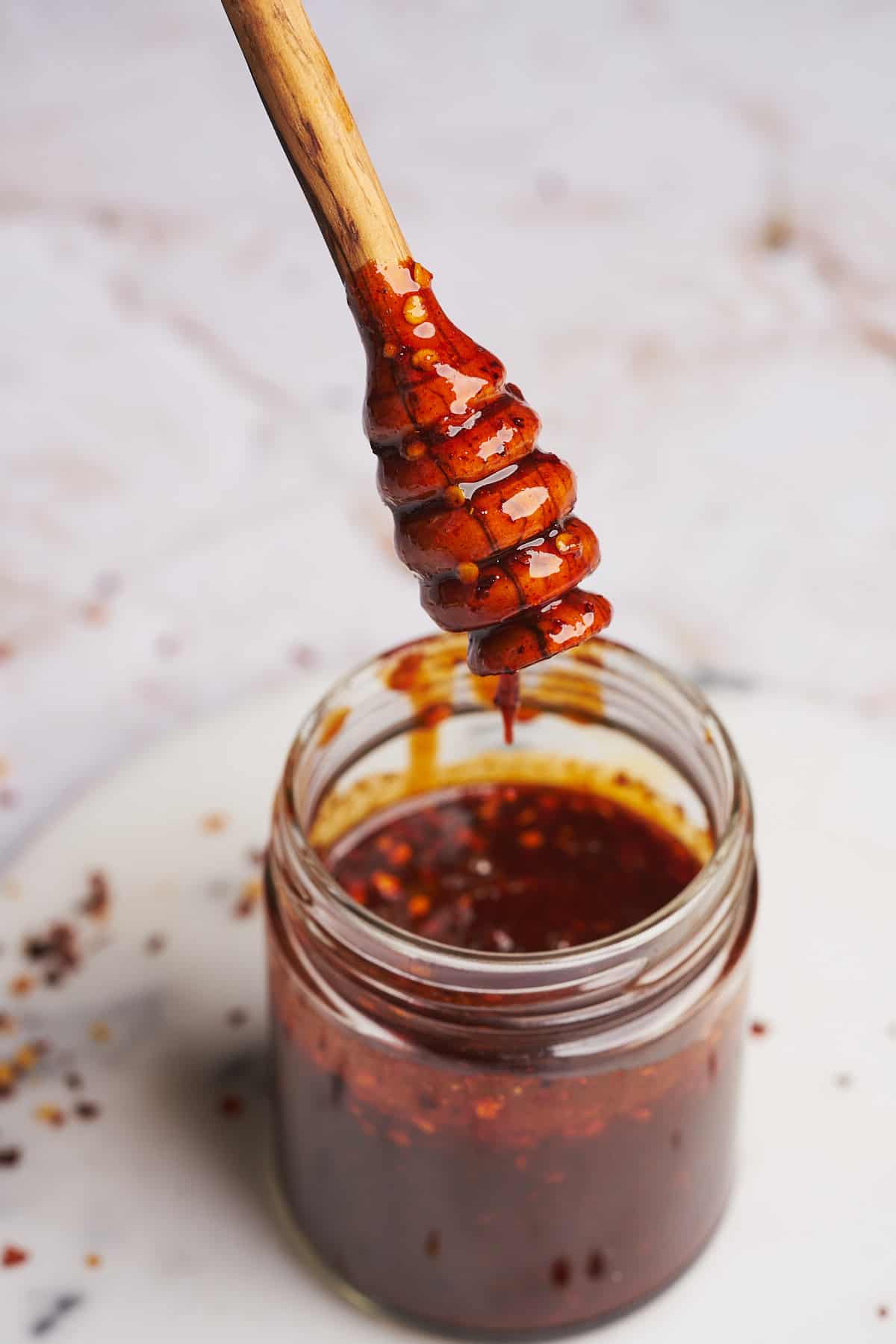 If you've seen Mike's hot honey sauce everywhere and on social media, and you're not able to get it yourself, don't worry, because you can make your own hot honey at home!
It's the perfect balance of sweet, savory, smokey, and spicy. You can control the heat level, so you can make it just how you like it!
Looking for more honey recipes? Be sure to try out this hot miel latte, or this honey lavender latte.
Jump to:
❤️Why we love this recipe
Quick and easy - This stuff is ready in just a couple of minutes on the stovetop.
Made with pantry staples - Everything you need to make this sauce is probably already in your pantry, or can be found in any grocery store!
Easy to customize - You can add as much or as little heat as you want to suit your preference. You can even use fresh chilis if you prefer. It's all up to you!
Makes a great gift - If you're looking for something with a kick of spice for the spice enthusiast in your life, this homemade version is a sweet gesture!
🍯Ingredients
Here are the ingredients we used for this recipe. Please note that the amounts of added spices are completely up to you and your personal preference. You can find full quantities and nutritional information in the recipe card.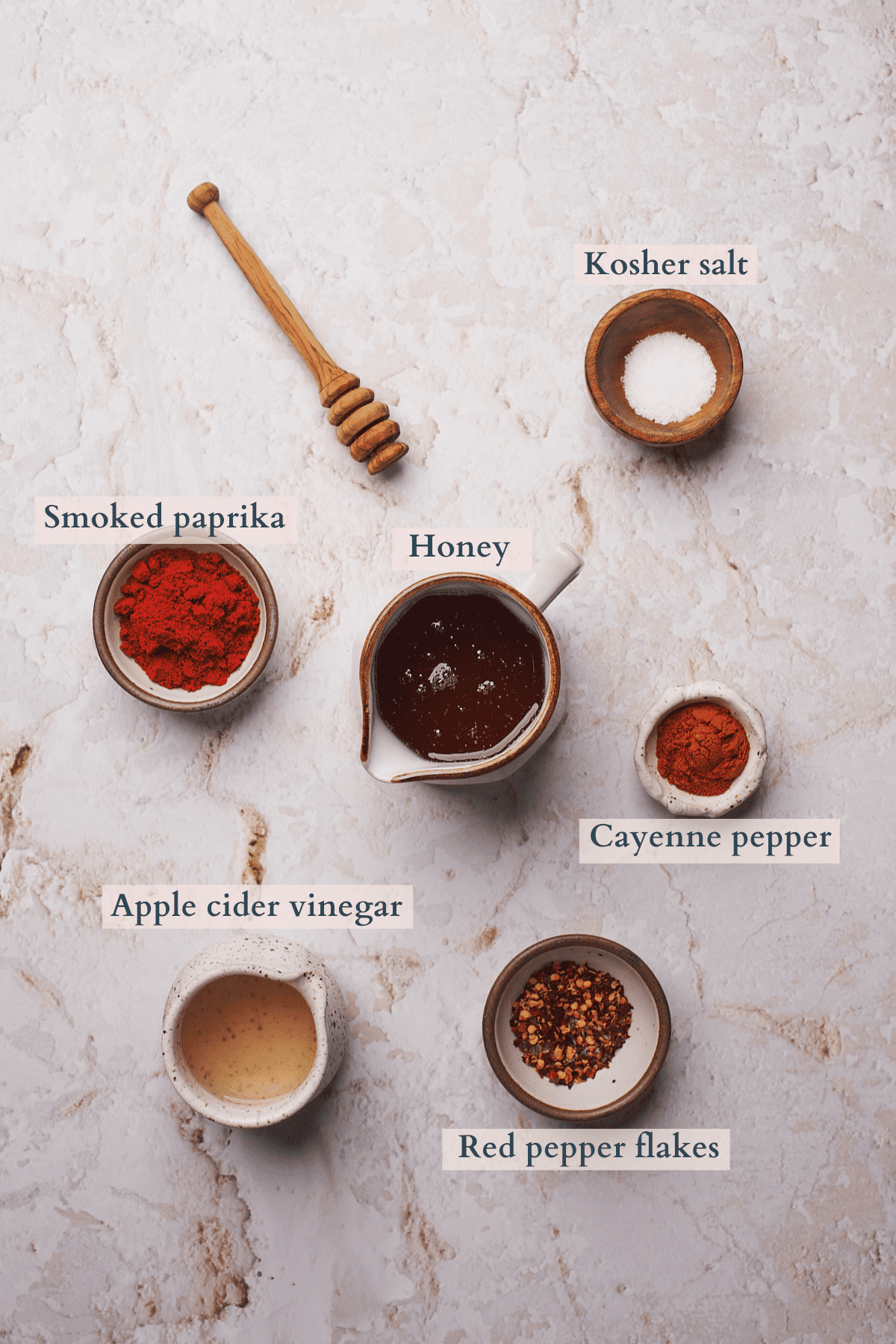 ✏️Ingredient notes
Honey - We'd recommend using your favorite local honey for this, but any pure honey you enjoy the taste of will work perfectly.
Apple cider vinegar - This balances out all of the spices and sweetness, and ties the sauce together.
Red pepper flakes, cayenne pepper, and smoked paprika - Add these ingredients to taste. Red pepper flakes and cayenne pepper for spice, and smoked paprika for color and a bit of smokiness.
Kosher salt - Add to taste.
📖Instructions
📋Prep work
Measure out spices and ingredients. You can keep a measuring spoon nearby to add more of the spices as you go. Taste and add more as needed.
Step 1 - Add honey to a saucepan
Add honey to a saucepan over medium-low heat.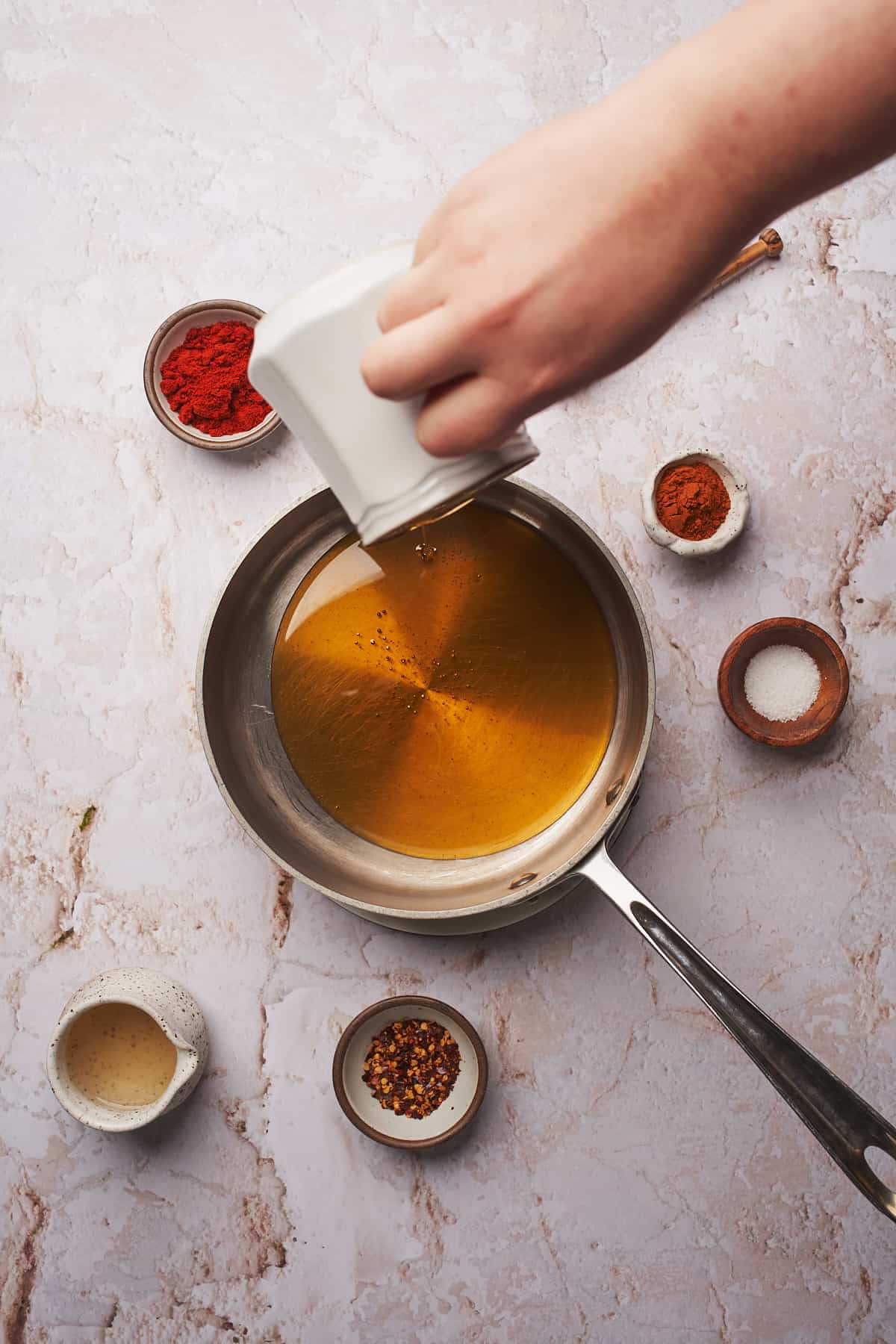 Step 2 - Add some of the seasonings
Add most of the dry seasonings and a pinch of salt. If this is your first time making this honey, add a little at a time, and add more as needed.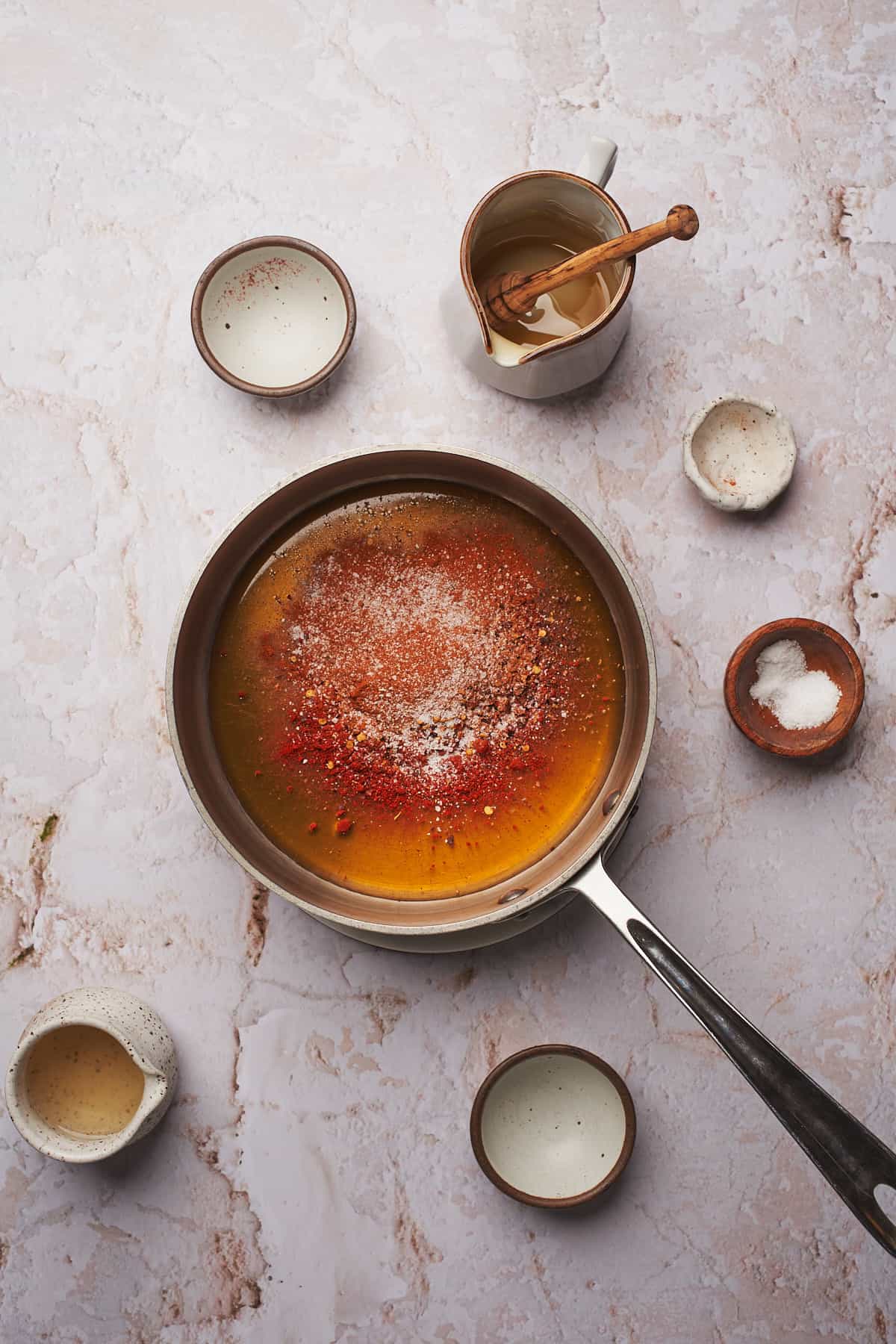 Step 3 - Simmer to combine
Simmer the mixture for 5-7 minutes, being careful not to boil it. Taste, and add seasonings as needed, stirring frequently to combine.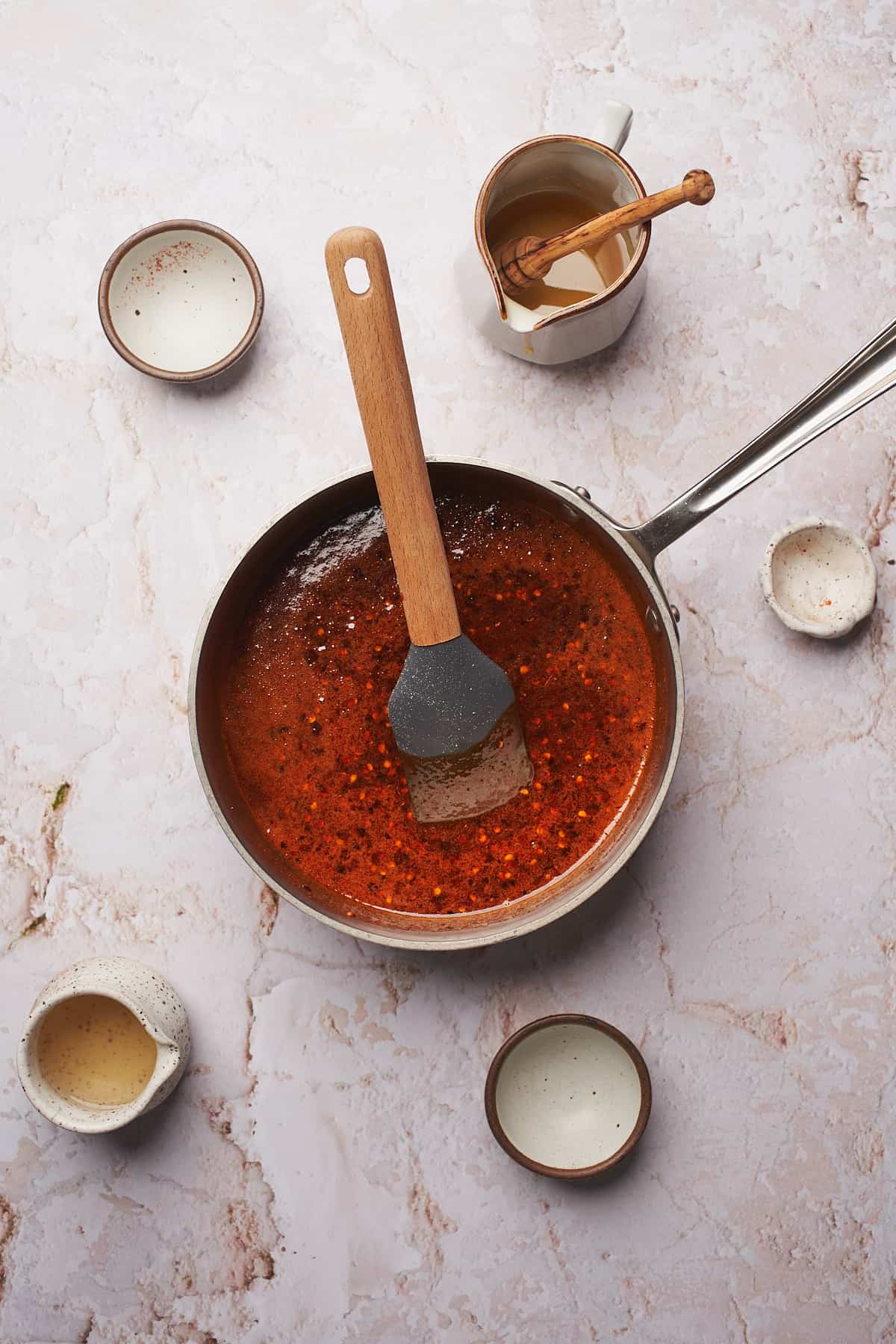 Step 4 - Add vinegar
Off the heat, pour in the vinegar, and stir.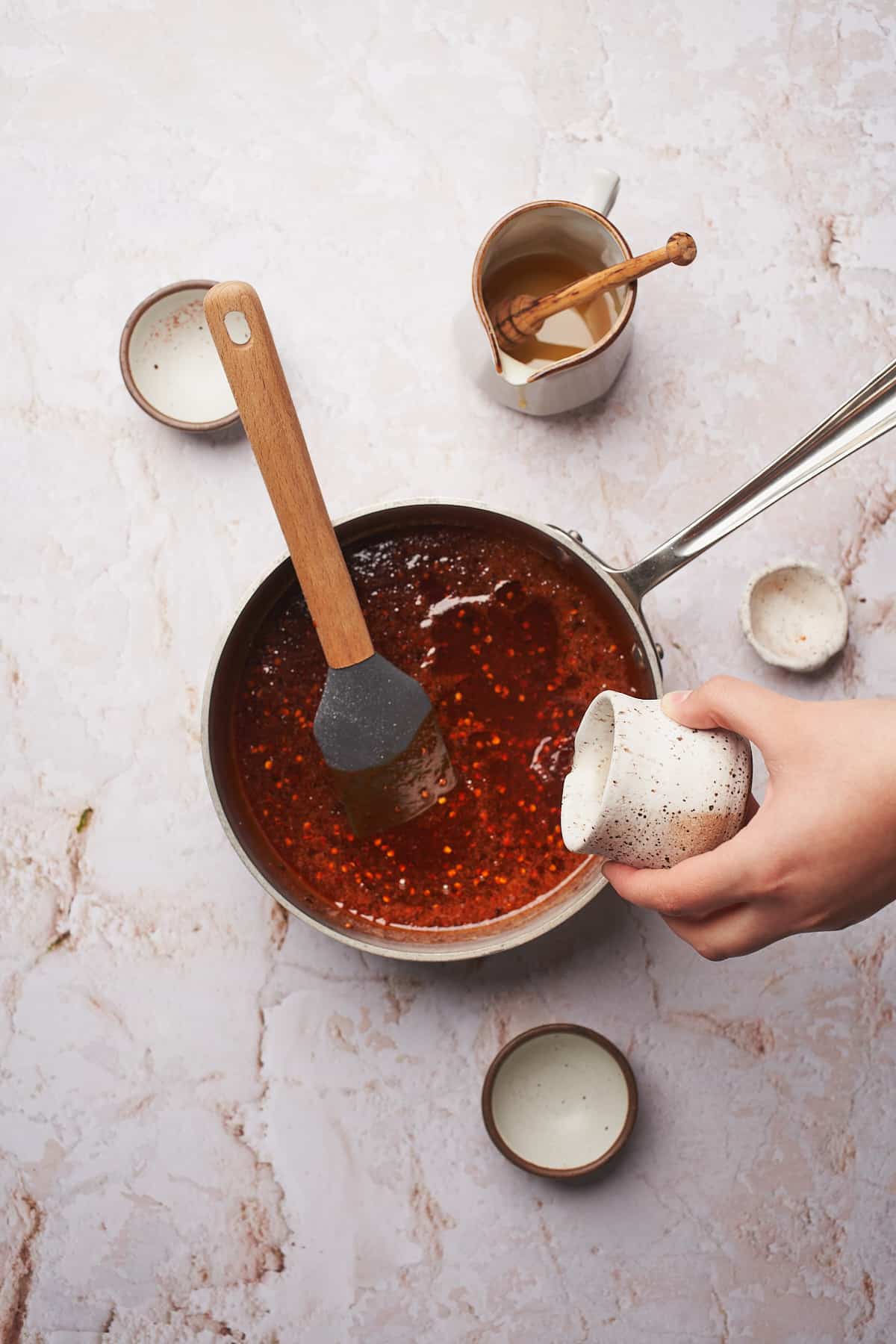 Step 5 - Transfer to a jar
Transfer to a clean, airtight jar and store in a cool dry place.
If desired, you can strain the mixture through a mesh sieve to make the mixture smooth and get rid of any powdery spices or whole chili flakes in the mix. Enjoy!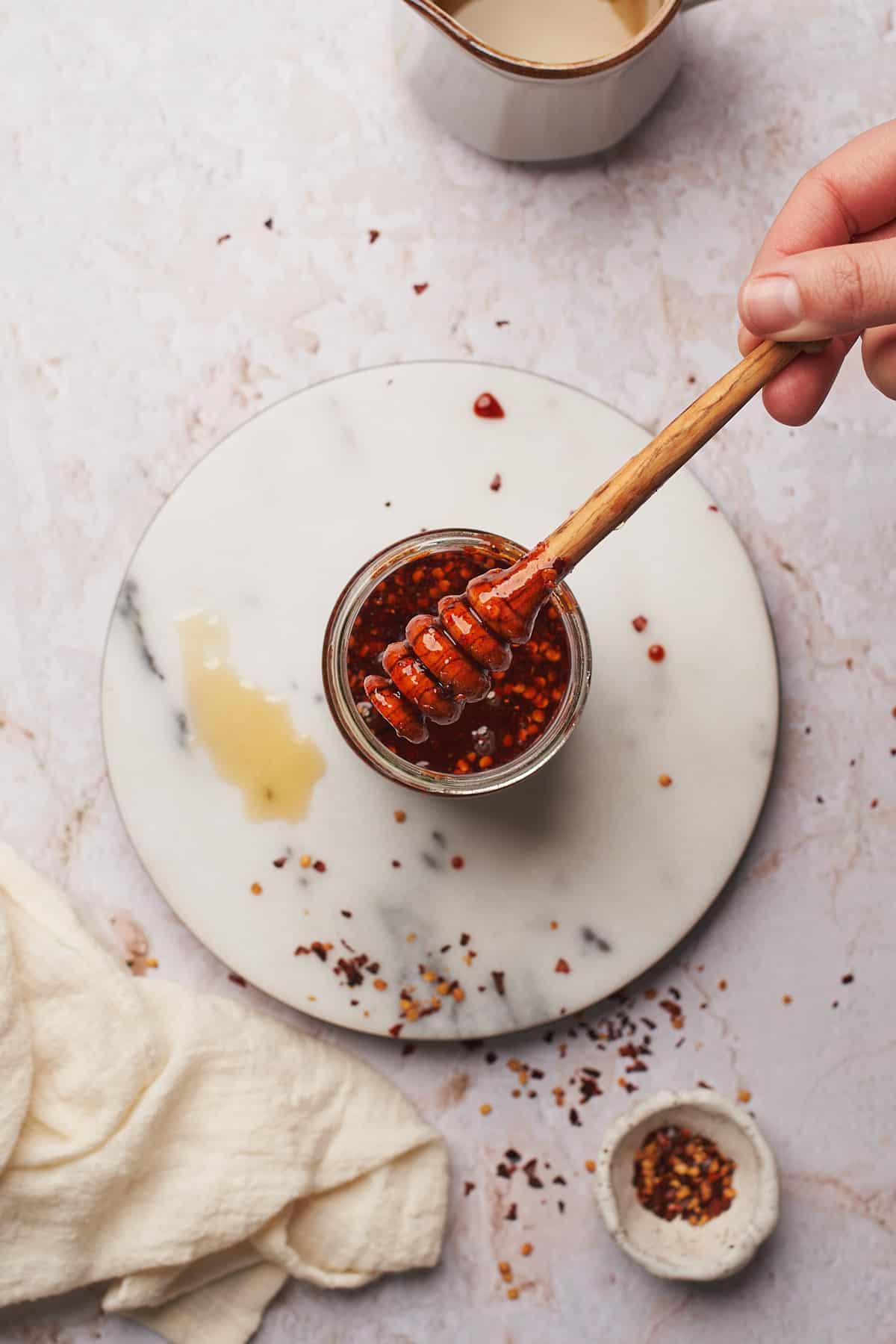 Step 6 - Serve and enjoy
Serve any way you like, like with chicken wings.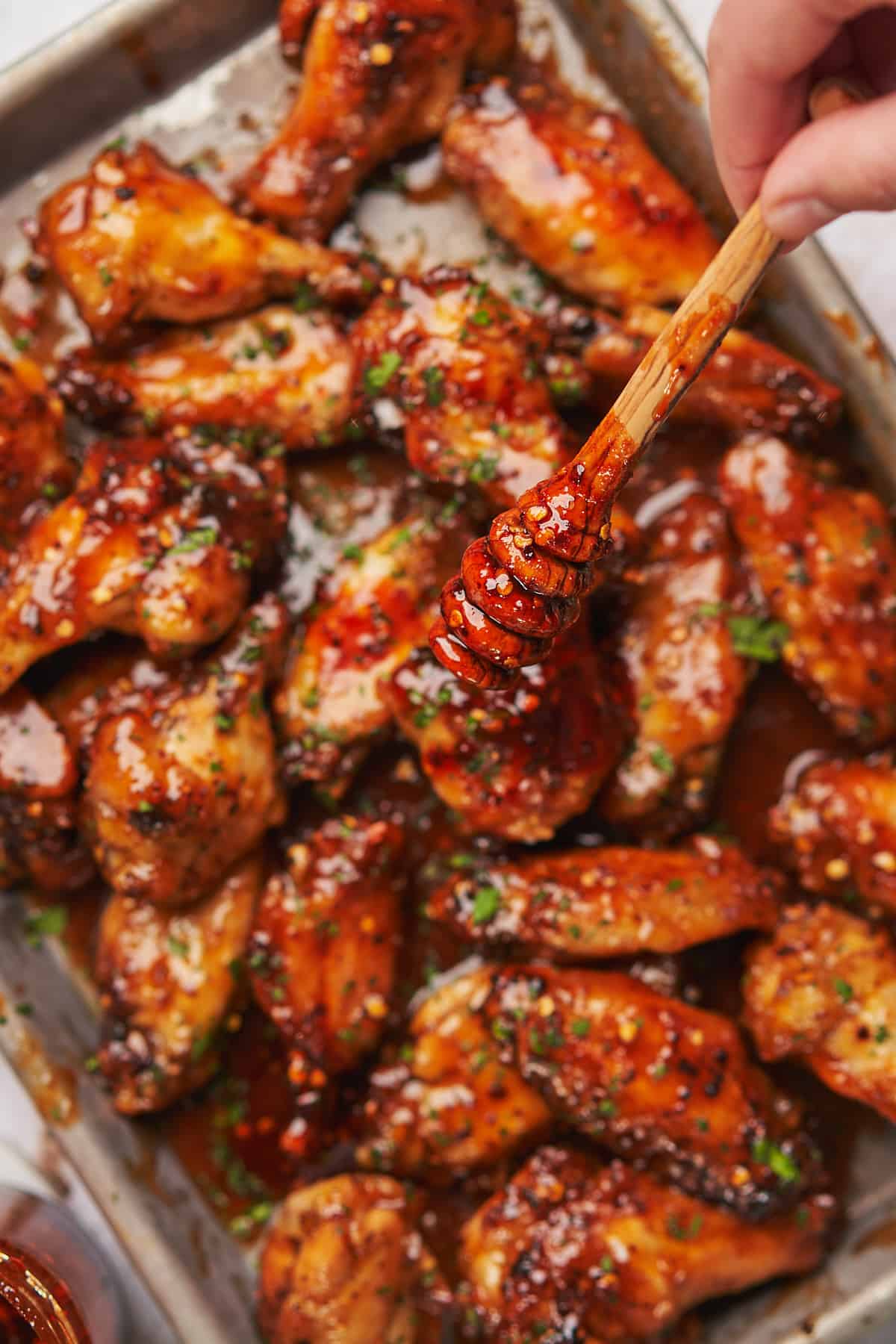 ✨Tips & tricks
Use fresh honey. If your honey is starting to crystallize, use a new bottle for this recipe.
Don't use raw honey. While we love raw honey, it's best to use something pourable for this particular recipe.
Season to taste. Add more or less of the seasoning blend to suit your personal preference.
✏️Substitutions & variations
The ingredients are pretty straightforward, but here are a few simple swaps you can make.
Add fresh garlic cloves or garlic powder - To make the honey a little garlicky.
Add fresh hot chili peppers - You can always use your favorite hot peppers, like habanero peppers, bird's eye chilis, ghost peppers, or even the ultra spicy Carolina reapers to bring this mixture together.
Use your favorite hot sauce - If you like, you can omit the dry seasonings altogether and just use a bottle of your favorite hot sauce. If using something like Frank's RedHot, be sure to omit the vinegar, as there is already enough vinegar in the sauce.
Use brown sugar - To add another layer of flavor, you can add brown sugar or a replacement to the honey mixture. This adds a molasses-like taste.
💭Frequently asked questions
Can I use fresh chilis?

Yes, you can use fresh chilis if you want. You may need to simmer the mixture a bit longer to achieve the desired flavor.

You may also want to strain out the chili bits before using so you don't wind up with big chunks of chili on things you end up eating later.

🌶What to serve with spicy honey
Drizzle on breakfast sandwiches, biscuits, and these sweet honey cornbread muffins!
Try mixing it into this whipped honey butter!
Enjoy over top of whipped ricotta.
Enjoy on charcuterie boards or a cheese plate as a spicy kick with meats and cheeses.
Make some avocado toast or smashed eggs on toast with a hot honey drizzle.
Make a spicy hot toddy!
Drizzle over pizza.
Enjoy with brussels sprouts and other roasted vegetables.
On fried chicken.
Mix with unsalted butter to take that piece of toast to the next level.
Enjoy with roasted potatoes, like these air fryer fingerling potatoes.
⏲Equipment
Luckily, this recipe is pretty standard and you really don't need much to make it.
You really only need a saucepan, and a rubber spatula or wooden spoon.
A honey dripper can be nice for drizzling!
🛒Shop this recipe
🥣Storage
Store in a cool, dry place out of the sun in an airtight container for up to 3 months.
Do not refrigerate or freeze, as this will crystallize the honey.
If the mixture begins to crystallize over time, you can add a bit of hot water to it to thin it and make it easy to drizzle again.
🌟Leave a review!
Make sure to leave a 5-star review below! This helps other readers find our recipes via Google, and encourages them to try them. Also be sure to leave a comment with your experience!
Take a photo and share with us by tagging us on Instagram or follow along on Pinterest for more ideas!
📖 Recipe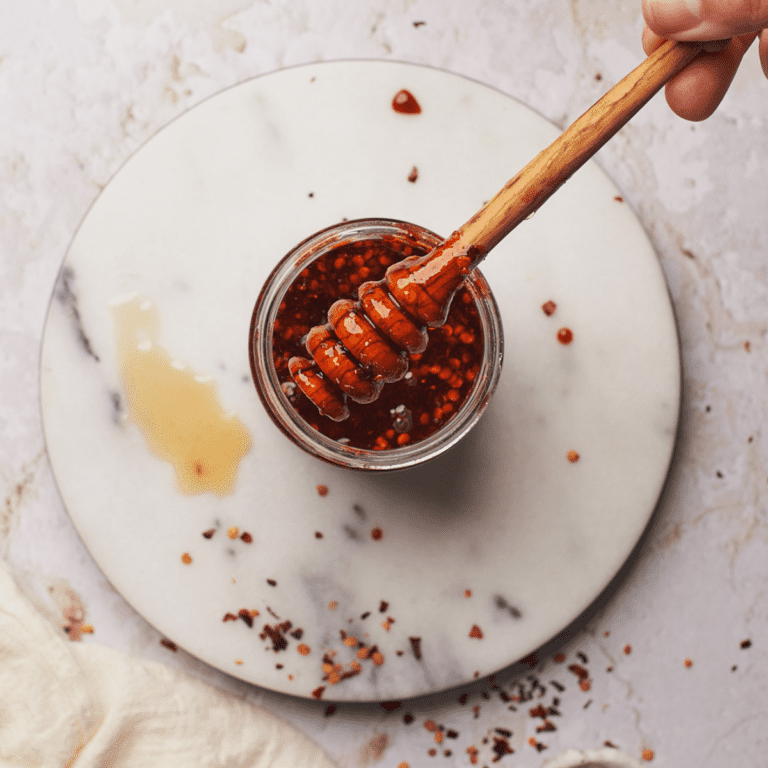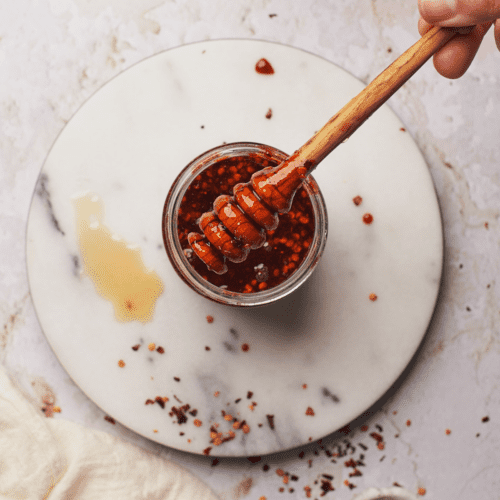 Hot Honey (Spicy Honey Recipe)
This Spicy Hot Honey recipe is the perfect mixture of sweet, spicy, and smoky. It's a wonderful condiment to a variety of dishes, and it comes together quickly and easily with just a handful of ingredients!
Ingredients
8

ounces

honey

1-1.5

tablespoons

smoked paprika

(to taste)

1

tablespoon

red pepper flakes

(to taste)

2

teaspoons

cayenne pepper

(to taste)

½

teaspoon

kosher salt

(to taste)

2

tablespoons

apple cider vinegar
Instructions
Combine honey and seasonings in a saucepan with a pinch of salt over medium heat. If this is your first time making this spicy honey, add about half the amount of each seasoning first before adding more to make sure it suits your preferences.

Simmer for 5-7 minutes, stirring often to dissolve the honey and combine the seasonings.

Remove from the heat, and stir in the apple cider vinegar. Transfer to a clean jar with a tight-fitting lid. Store in a cool, dry place (like the pantry) for up to 3 months.
Notes
Use fresh, pourable honey that has not begun to crystallize. Raw honey also isn't the best choice for this recipe. 
Add spices to taste. If this is your first time making this recipe, add spices slowly and to taste.
You can strain the mixture through a metal sieve to get any clumps of spices and chili flakes out if you prefer. 
Do not refrigerate or freeze.
If the mixture begins to crystallize, you can add a bit of boiling hot water to it before using it to loosen it up. 
Nutrition
Calories:
47
kcal
Carbohydrates:
12
g
Protein:
0.2
g
Fat:
0.2
g
Saturated Fat:
0.03
g
Polyunsaturated Fat:
0.1
g
Monounsaturated Fat:
0.03
g
Sodium:
82
mg
Potassium:
34
mg
Fiber:
0.4
g
Sugar:
12
g
Vitamin A:
468
IU
Vitamin C:
0.3
mg
Calcium:
4
mg
Iron:
0.3
mg