Want to take your breakfast toast to a whole new level? This simple yet luscious recipe for soft boiled eggs smashed on toast with a variety of toppings will inspire your morning breakfast routine with minimal effort. Load up your toast with delicious toppings like burrata cheese, avocado, smoked salmon, prosciutto, fresh herbs, and more!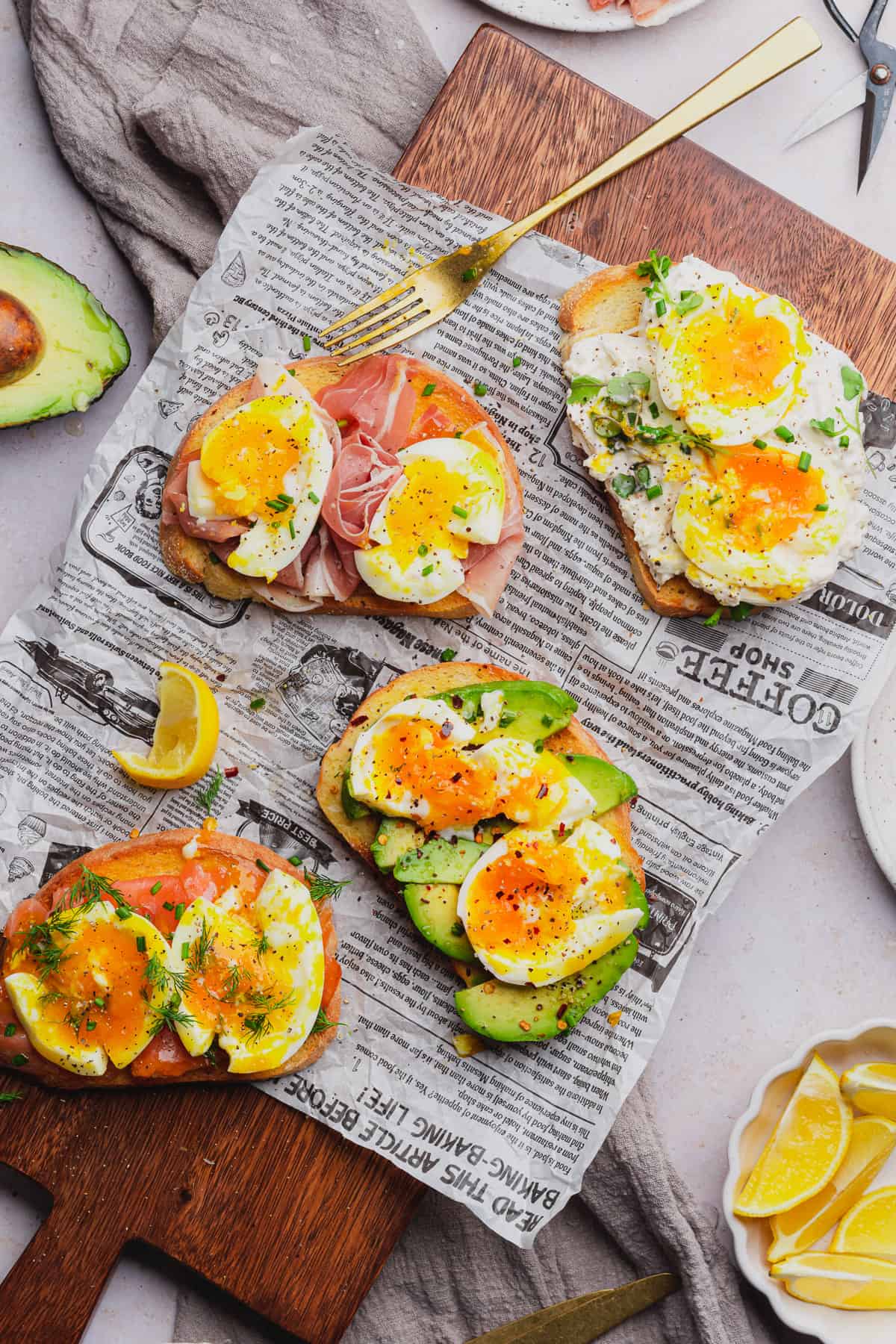 So long are the days of boring breakfast. Seriously, if you're craving the perfect soft boiled egg on top of a bed of luscious toppings, you're in luck. We will show you how to get the perfect jammy yolk with a set egg white center!
Well suggest some of our favorite toppings to help you enjoy this delicious modern comfort food meal. This delicious eggs on toast recipe is such a tasty way to start the day, or a wonderful snack or lunch!
If you're looking for more delicious egg recipes, be sure to check out these sausage and egg breakfast muffins, and this macro bowl with smoked sausage and a fried egg.
Jump to:
❤️Why you'll love this
Simple ingredients: Truly there are only 6 ingredients that are totally necessary to make this recipe. Of course, we like to doctor them up with all types of different bases that pair well with eggs, but you can truly get really creative here and use whatever you have!
100% Customizable: The possibilities of what to serve with these eggs are truly endless, and it's a great way to serve a crowd and fulfill everyone's cravings with a variety of toppings.
Quick & easy: These soft boiled eggs are cooked for 7 minutes, then chilled for 5 minutes before they're peeled. During the inactive time your eggs need, you can prepare all of toppings, and have a luscious breakfast ready in under 15 minutes!
No special equipment needed: If you have a pot to boil water in, and a way to make toast, you can make this recipe. Super simple!
Hearty, filling, and satisfying: Having these soft boiled eggs for breakfast is definitely going to help keep you full for a long time. Especially when you pair them with yummy and satiating items like meats, cheeses, avocados, smoked salmon, and more!
🥚Ingredients
Here are the ingredients you will need, plus a few extras for our serving suggestions. Please note that the ideas for toppings are just our favorites, but feel free to choose your own!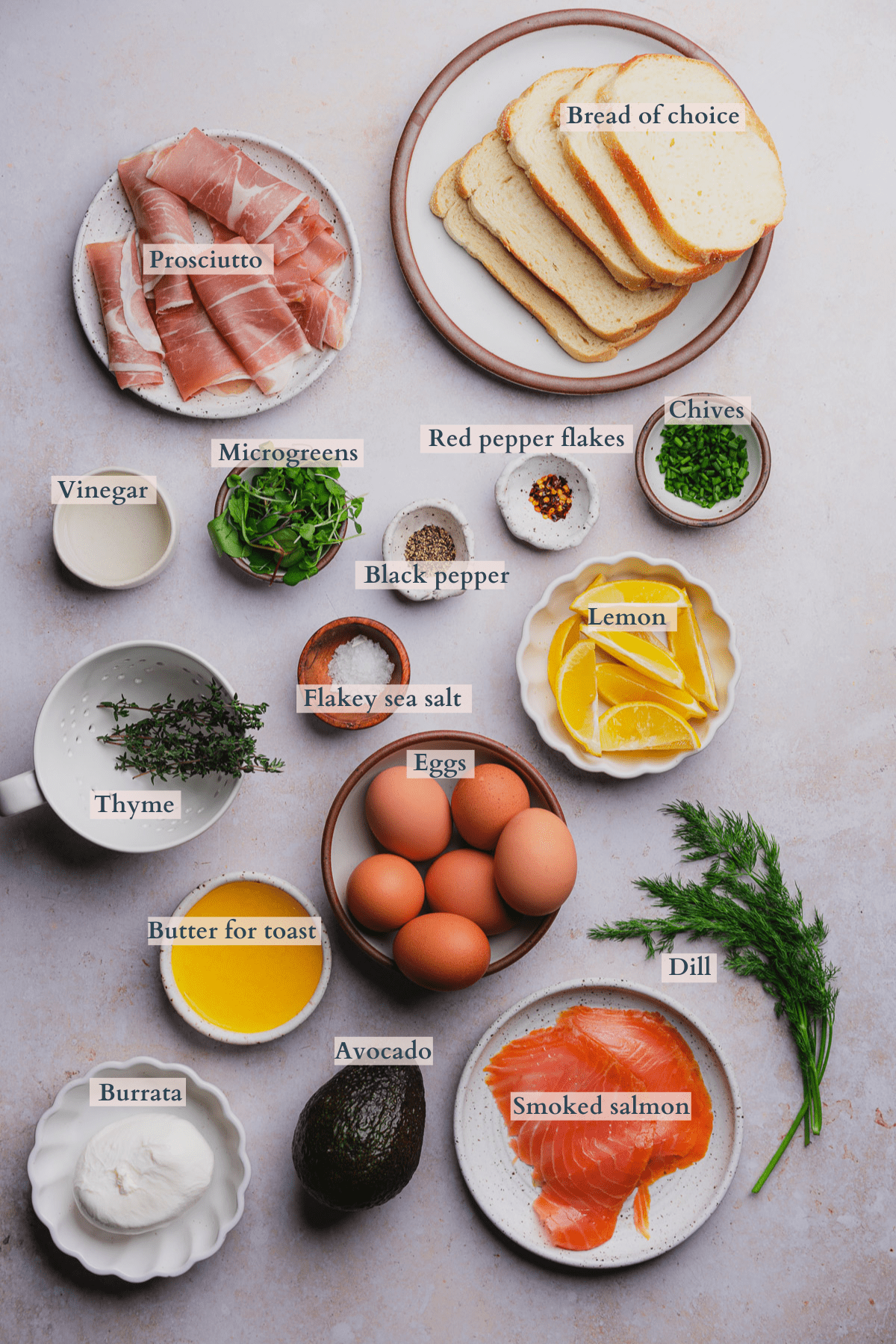 ✏️Ingredient Notes
Here is a list of ingredients, you can see the recipe card for quantities. (Toast toppings are just suggestions)
Whole eggs - The essential ingredient! Since this is the star of the show, we recommend a really high quality egg with nice bright orange yolks if possible.
Water - You will need a pot of water to boil, plus some cold water to add to a separate bowl for an ice bath.
Vinegar- White vinegar to pour into our boiling water. This helps peel the egg shells easier later, since vinegar will slightly soften the shells.
Flaky sea salt & black pepper- To top our eggs later!
Toast- Choose your favorite bread to toast! We use a low carb sourdough that is from a local bakery in Chicago. The bakery delivers to many grocery stores in the area, and I don't know how we got so lucky! Use your favorite bread, ideally something sturdy that holds up really well with some weight so you can pile on the toppings.
Optional toast toppings:
Butter - Use your favorite butter for your toast. We like salted grass fed butter for the best flavor. You can also use mayonnaise if you prefer!
Prosciutto- We love a few slices of salty prosciutto with our eggs. So yummy.
Burrata- It's smooth, creamy, and so decadent! It pairs perfectly with our soft boiled eggs. Any cheese you prefer would be great.
Smoked salmon- Salty and rich, this is a classic combo with eggs.
Ripe avocados- Another rich and creamy topping that's versatile, and perfect with eggs!
Lemon - Fresh lemon juice adds some brightness and acidity. It's especially helpful with the smoked salmon and avocado.
Microgreens & fresh herbs - Totally optional, but we love to add a little texture and flavor. Fresh dill is super great with smoked salmon especially. As are chives. Fresh thyme is super yummy as well. You can mix and match.
Red pepper flakes - Optional, but very tasty, especially with avocado and burrata.
📖Instructions
To view the instructions in a different format for these smashed eggs on toast, check out the Google web story.
Bring a medium pot of water to a boil. When water is boiling, add vinegar to the water.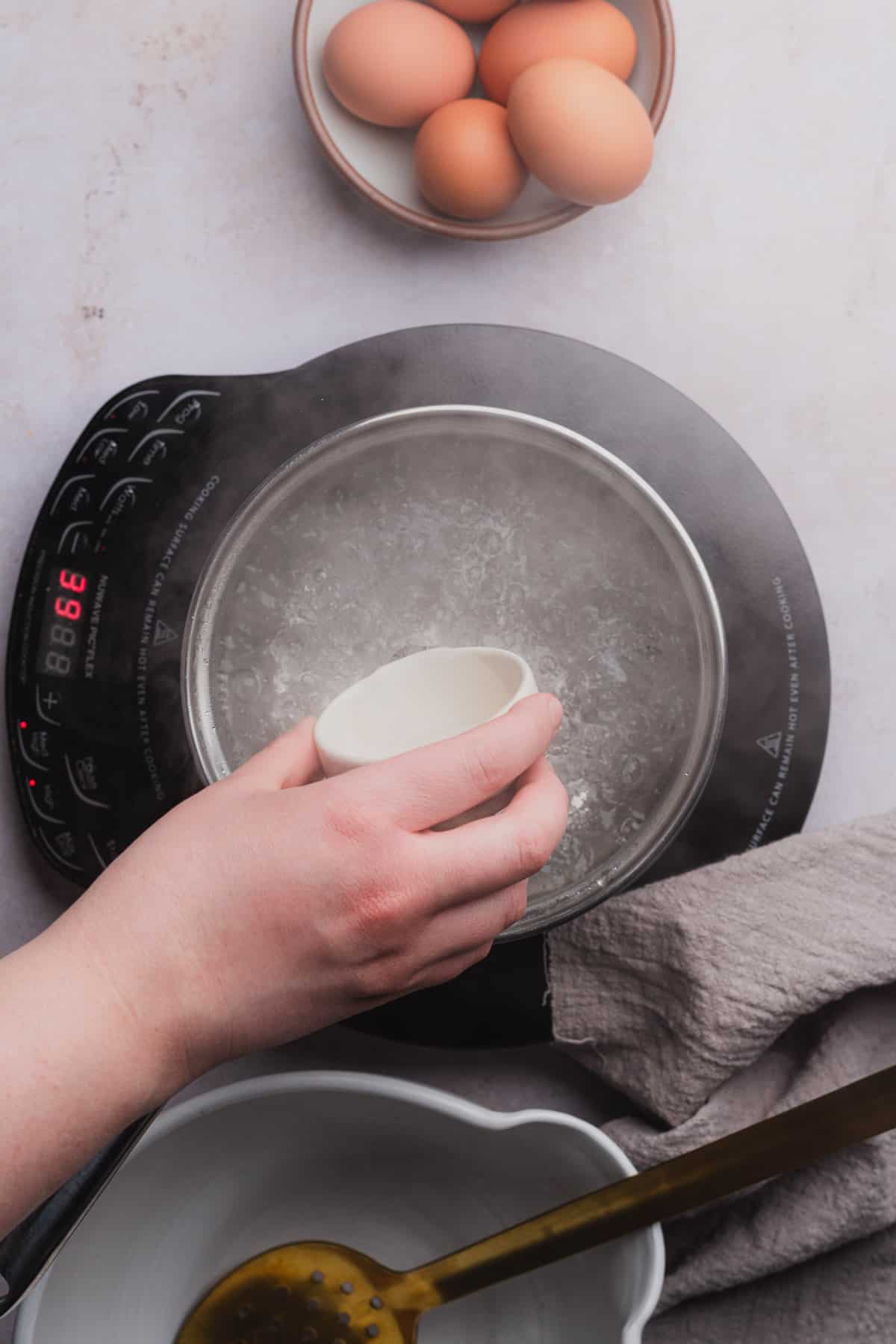 Set a timer for 7 minutes, and gently lower the eggs into the water with a slotted spoon. Do not reduce the heat.
While eggs are boiling, we recommend beginning to prepare your toast toppings. Save making the toast for right before the eggs are ready.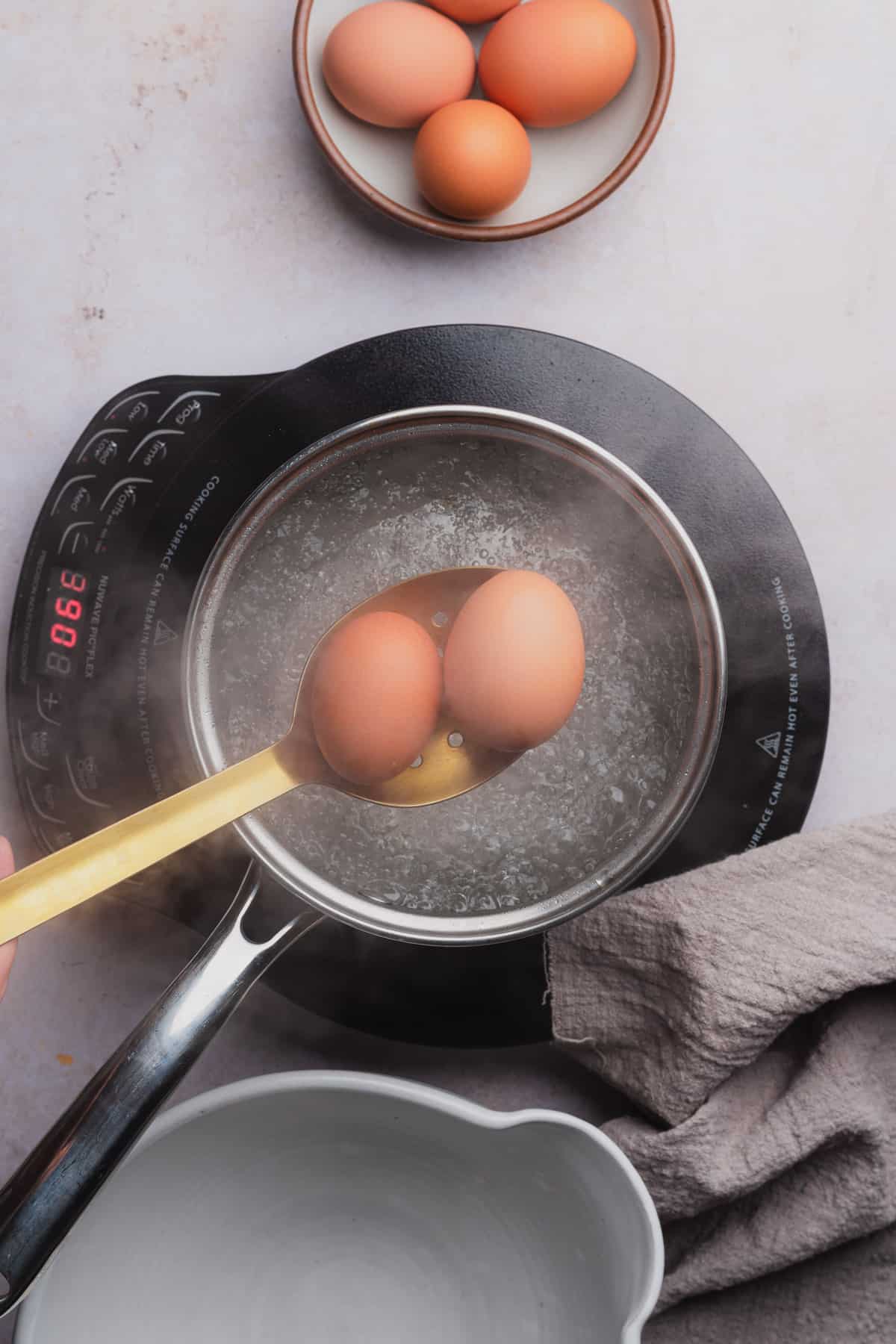 While eggs are boiling and the timer is running, prepare the ice bath. Fill a medium bowl with ice-cold water and ice.
When the timer goes off, (or even about 30 seconds before) begin taking the eggs out of the boiling water and transferring them to the bowl of ice water immediately.
Once eggs are all in the ice bath, set another timer for 5 minutes. While eggs are in the ice bath, continue preparing your toast toppings of choice and make your toast.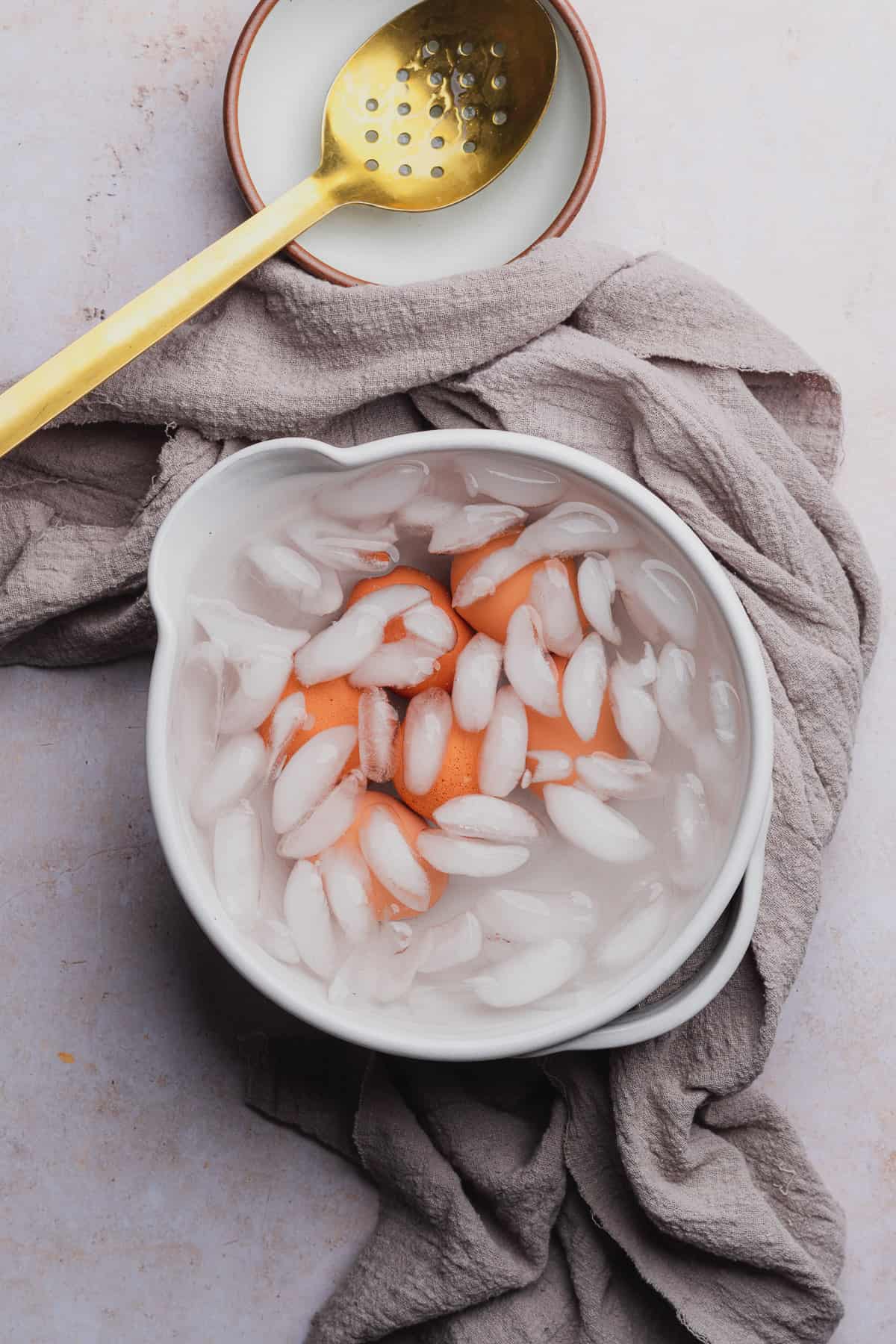 After 5 minutes in the ice bath, carefully remove the eggs using a slotted spoon, and gently peel them.
*Pro tip: dunk the peeled eggs back in the cold water after peeling to remove any bits of shell that may remain.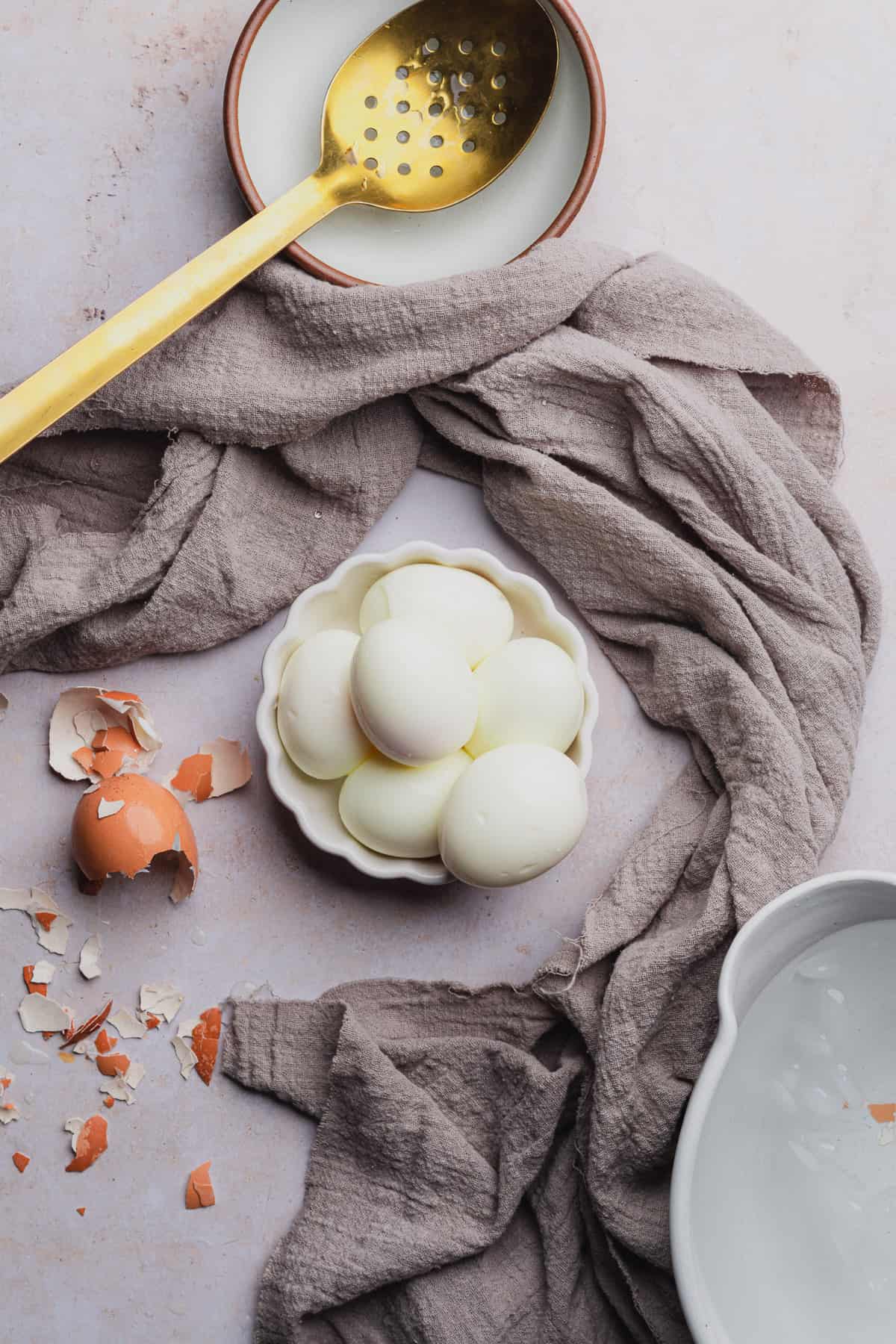 Using a butter knife or sharp knife, slice the eggs in half lengthwise, and place about 1 whole egg on each piece of toast on top of your desired toppings.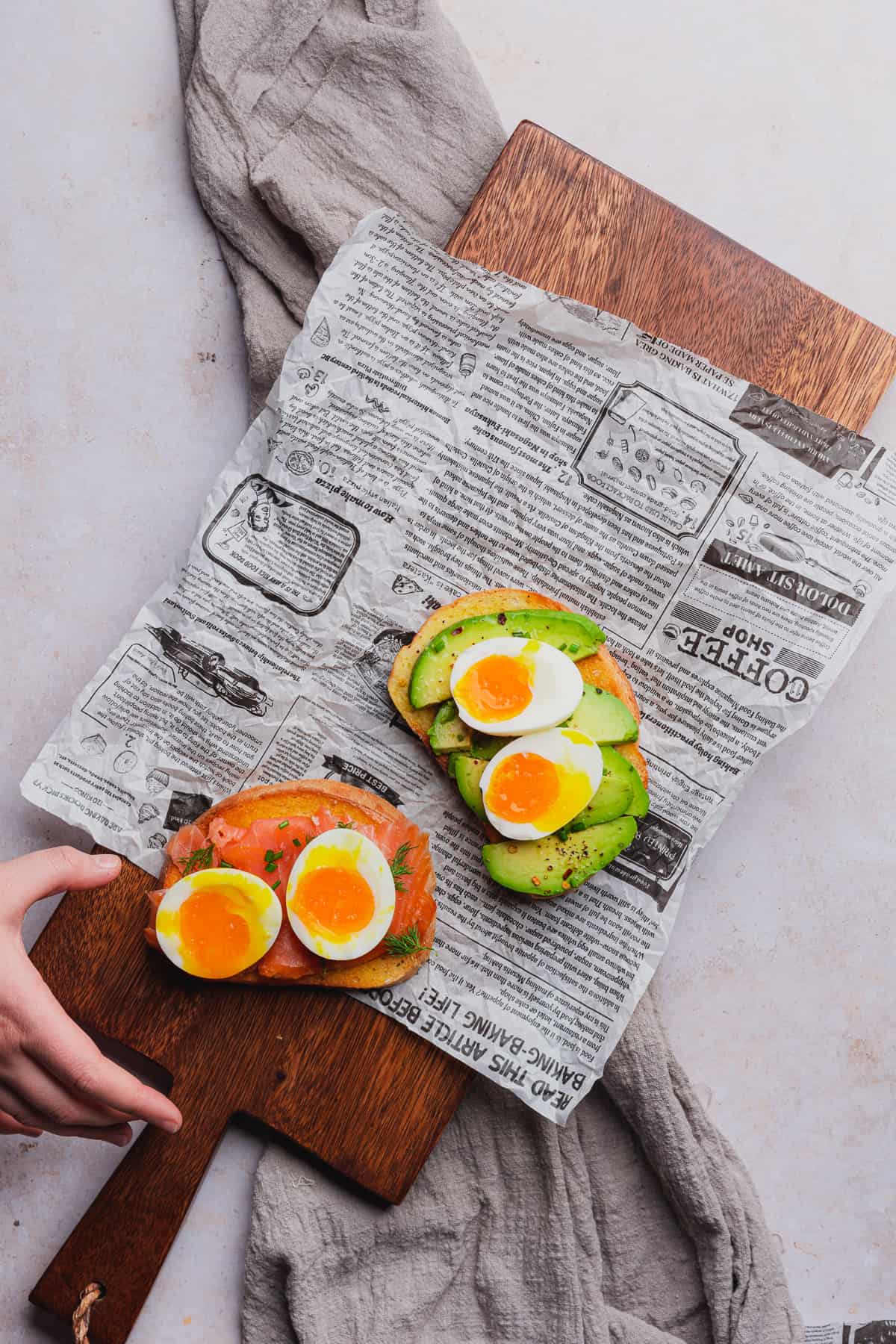 Using a fork, smash the eggs gently to disperse the yolky center.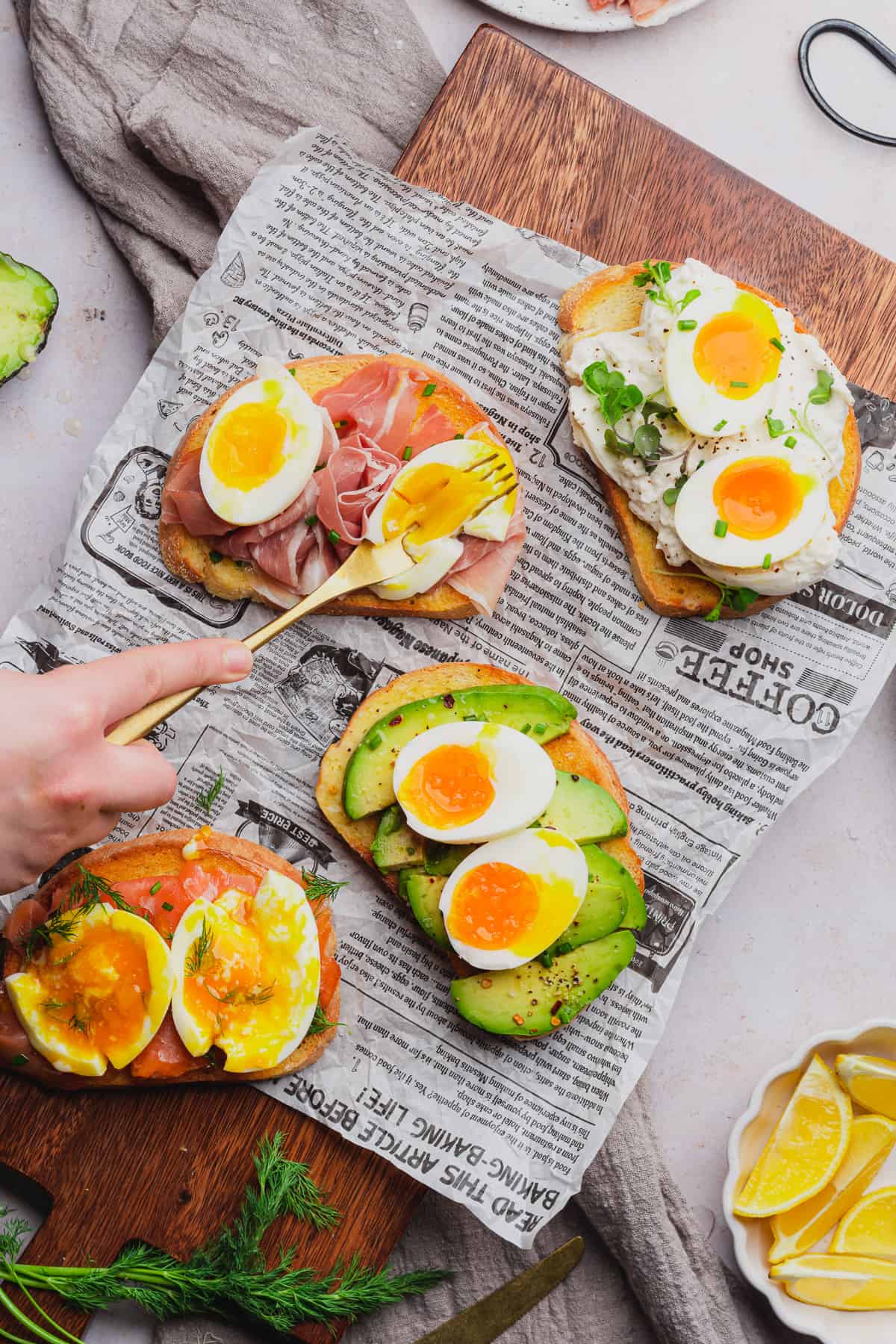 Finally, top the smashed eggs with flaky salt, pepper, red pepper flakes, fresh herbs, and microgreens. Enjoy!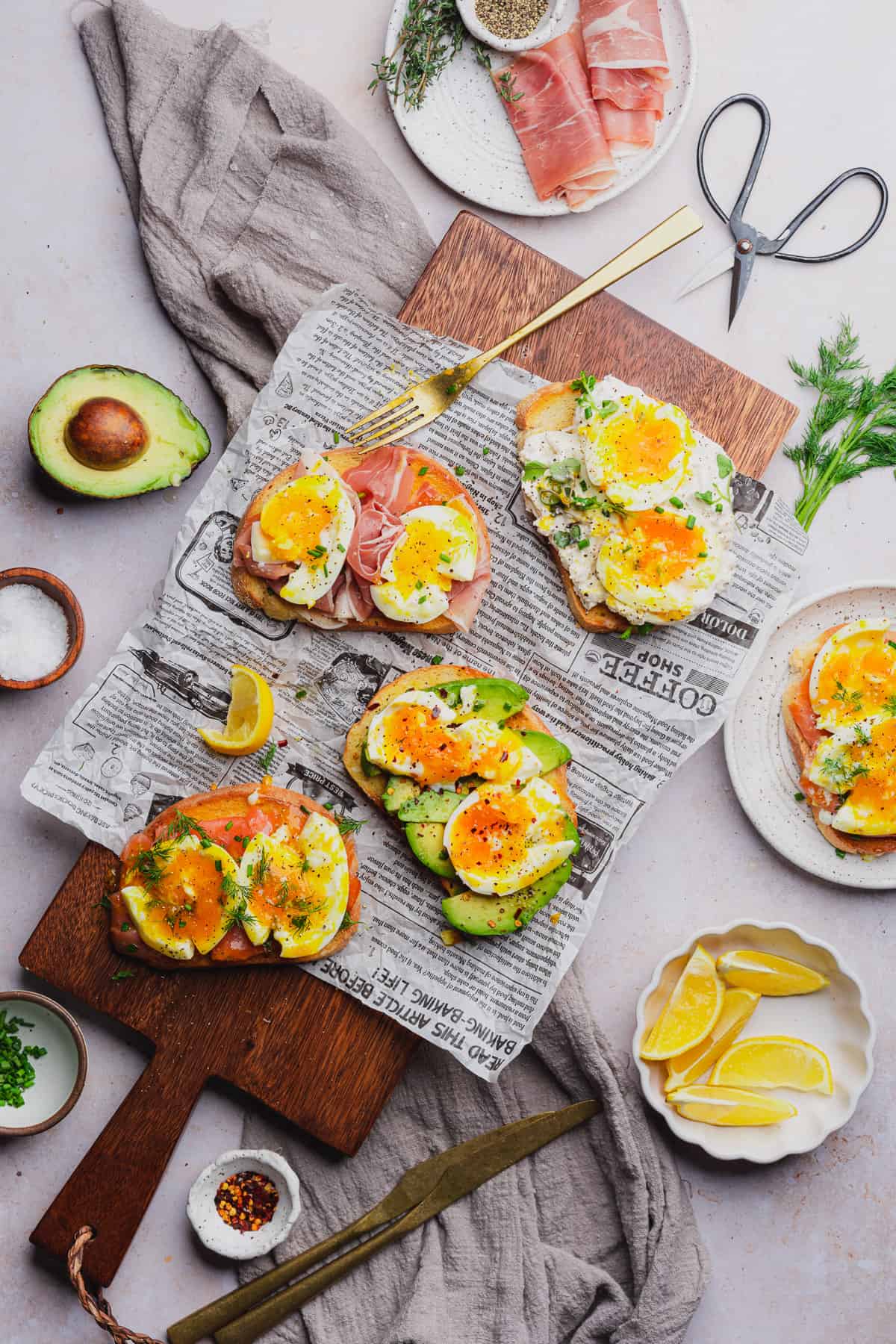 ✨Tips & tricks
If you follow a different diet type, don't worry! We have a few suggestions.
Make sure to only boil the eggs for only 7 minutes for a soft and jammy yolk. This is universal! It's probably a good idea to begin taking the eggs out a few seconds early as well.
Don't skip the vinegar, which softens the eggshells and makes them easier to peel.
Also, don't skip the ice bath! This immediately stops the cooking process. The eggs will remain quite hot when you remove them from the boiling water, and if they aren't placed in an ice bath, they will continue to cook. The ice bath also shocks the shell, making them easier to peel.
If you like your eggs more hard boiled, simply cook them for longer, probably an additional 3-6 minutes.
We have heard that kosher salt plus vinegar in the boiling water makes for the easiest eggs to peel. We haven't tried it ourselves, but will update this post when we do! If you have tried them, can you let us know in the comments?
If you can, try to use eggs that you purchased about a week prior. They will peel a bit easier.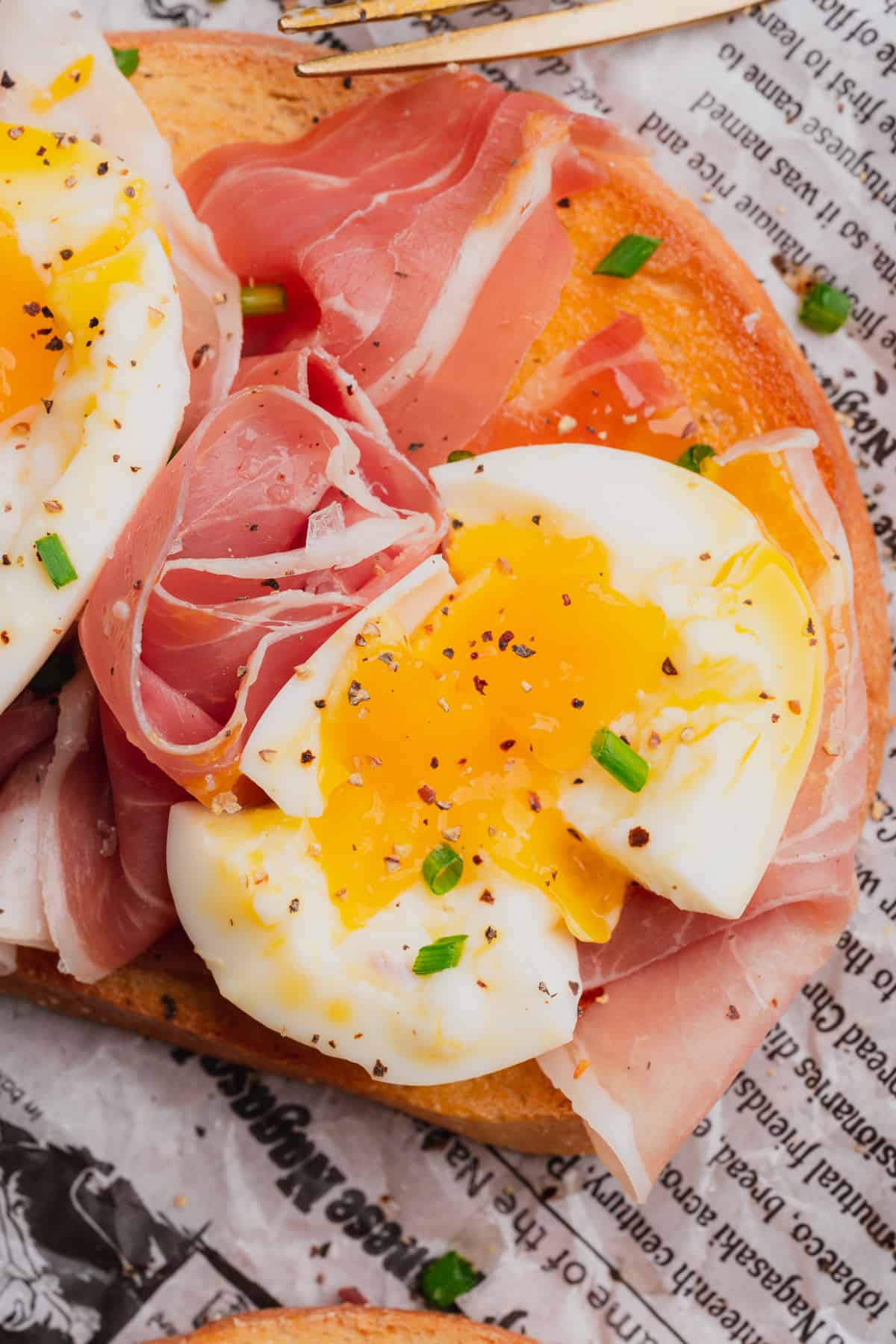 💭Variations
Don't let our topping suggestions limit you! Here's a few more ideas.
Spicy - Want to spice it up? Top a slice of bread with something spicy like harissa, or your favorite hot sauce or salsa!
Smashed avocado - No need to worry about the perfect slices of avocado, you can also just mash it up with your favorite seasonings and squeeze of your favorite citrus.
Italian inspired - Add ingredients like marinara sauce, mozzarella or parmesan cheese, fresh pesto, and fresh herbs like basil with a drizzle of olive oil. Yum!
Egg salad - Love egg salad with a twist? Cut the eggs into smaller pieces and mix them up with a little mayonnaise, a bit of salt, pepper, and any other seasonings you like for yolky egg salad!
Add other cheeses - You can use virtually any cheese you want for the toast. Maybe try Swiss, Havarti, goat cheese or feta. The options are endless!
Top with more veggies - One thing we really love to do when we have an abundance of cherry tomatoes is make this cherry tomato and garlic confit. It pairs wonderfully with this toast. You could also place the eggs on top of some peppery arugula for more greens.
Truly, the optional are absolutely endless here. We'd love to hear how you make yours!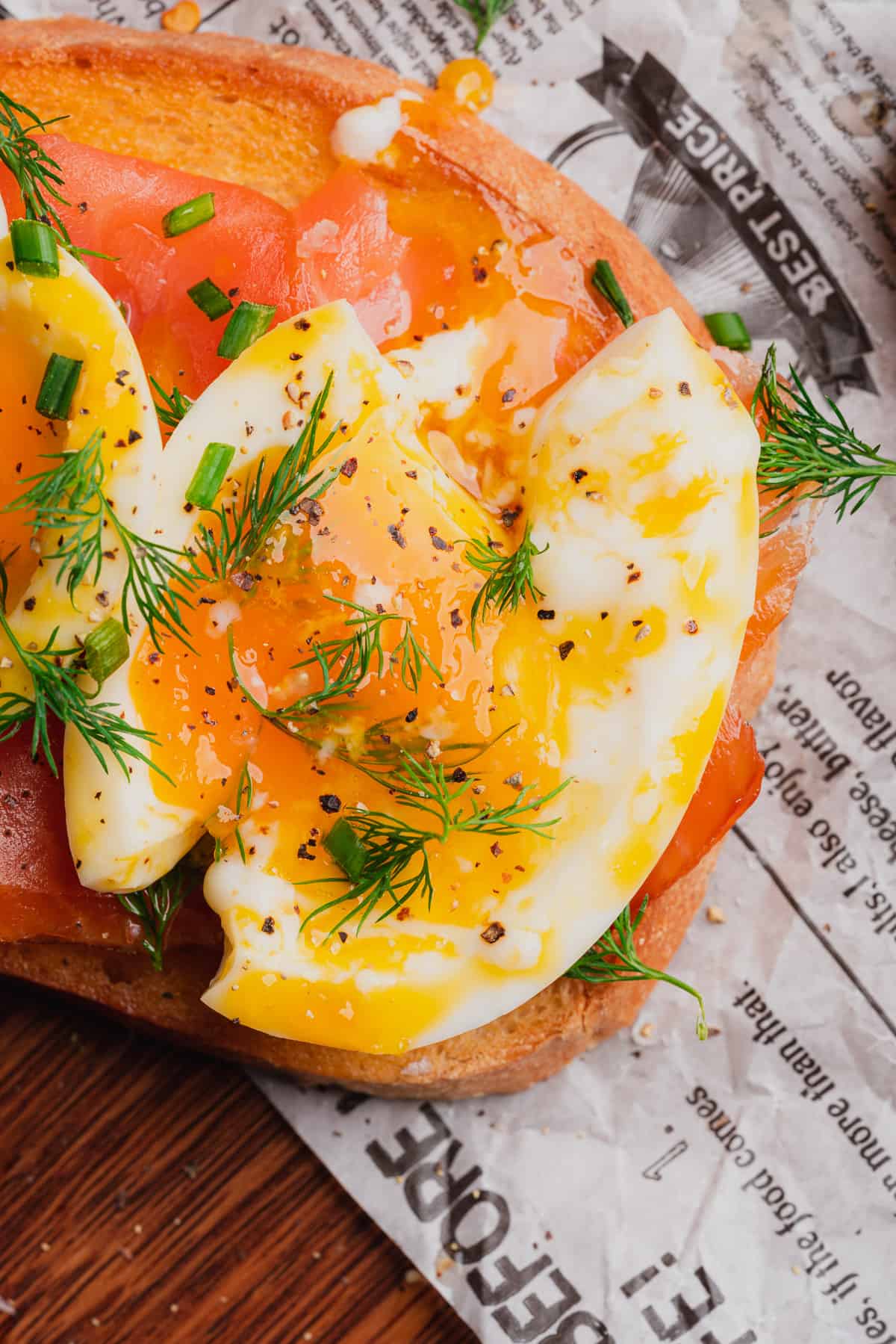 🛒Shop this post
Want more supplies for this recipe or to shop our kitchen or pantry? We've linked our favorites right here in our Amazon Store!
A Full Living is a participant in the Amazon Services LLC Associate program, an affiliate advertising program designed to promote a means for sites to earn advertising fees by linking products to amazon.com. We only share products we use and love. It doesn't cost you anything extra to shop using our links, but we earn a small commission that helps us keep this site going!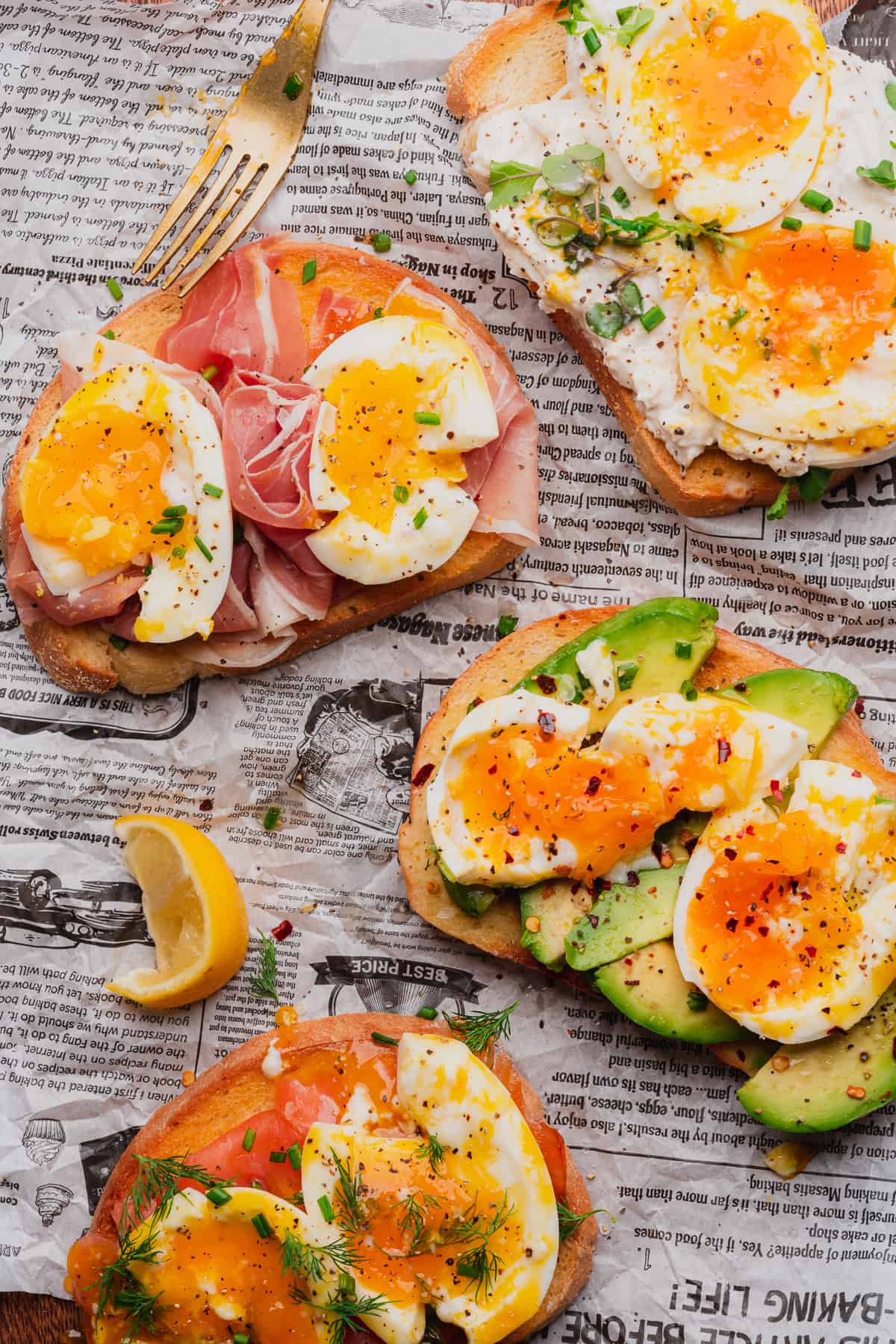 🥣Storage
We recommend enjoying right away for best results. To store leftover soft boiled eggs, just keep the shells on, and store them in an airtight container in the fridge for up to 2 days. We do not recommend freezing.
🌟Leave a review!
Make sure to leave a 5-star review below! This helps other readers find our recipes via Google, and encourages them to try them. Also be sure to leave a comment with your experience!
Take a photo and share with us by tagging us on Instagram or follow along on Pinterest for more ideas!
📖 Recipe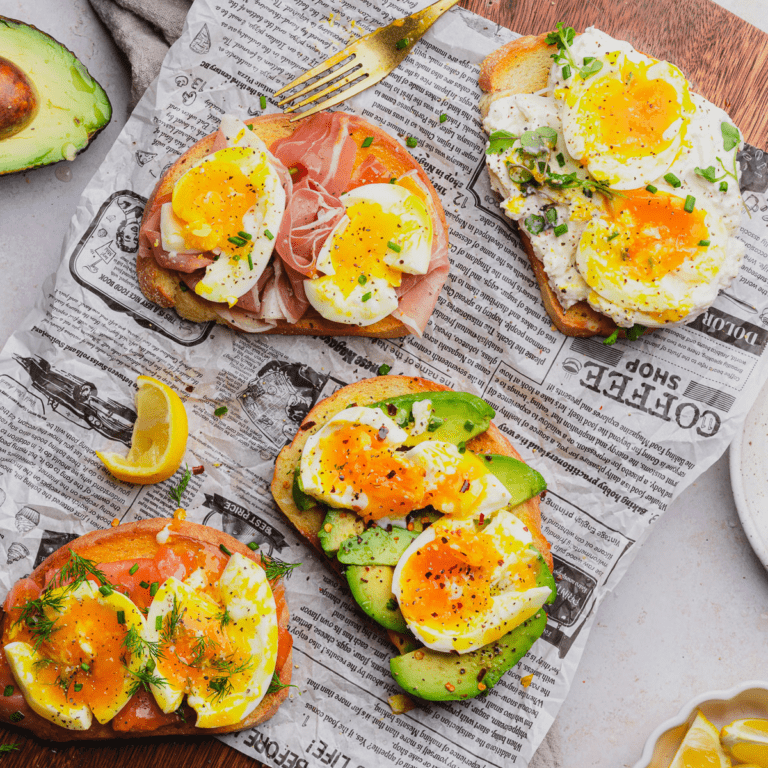 Smashed Eggs on Toast
Want to take your breakfast toast to a whole new level? This simple yet luscious recipe for soft boiled eggs smashed on toast with a variety of toppings will inspire your morning breakfast routine with minimal effort!
Print
Pin
Rate
Save
Saved!
Ingredients
For the soft boiled eggs:
6

whole

eggs

1

tablespoon

white vinegar

6

slices

bread of choice

(we used a locally made low carb sourdough bread!)

5

cups

water for boiling eggs

5

cups

ice cold water for ice bath

Ice for ice bath

Flaky sea salt + black pepper for topping eggs
Topping ideas:
salted grass fed butter or mayonnaise

avocado

smoked salmon

fresh lemon

fresh dill, chives, and thyme

microgreens

red pepper flakes

burrata cheese

prosciutto
Instructions
Bring a small pot of water to a rolling boil, then add in the vinegar. Set a timer for 7 minutes, then gently place the eggs into the water with a slotted spoon. Do not reduce the heat.

While the eggs are boiling, prepare an ice bath with ice cold water and ice. This will stop the cooking process when the eggs go in.

As soon as the timer goes off, or maybe even a few seconds before, remove the eggs from the boiling water and immediately and gently place the eggs into an ice bath with a slotted spoon. Once all 6 eggs are in the ice bath, start a timer for 5 minutes.

While the eggs are in the ice bath, prepare the bases of your toast slices. Top with butter, and any desired toppings.

After the eggs have been in the ice bath for 5 minutes, remove them from the water, and gently peel them. They should peel quite easily. You can gently dunk the eggs in the ice water to remove any small pieces of the shell. Dry the eggs off, and using a sharp knife, cut them in half on a clean cutting board.

Add the eggs to the pieces of toast with toppings, and use a fork to smash the soft boiled eggs so they spread over top. Garnish with flakey sea salt, black pepper, and any herbs, microgreens, or any additional garnishes you prefer. Enjoy!

If you plan to make leftovers, don't peel the eggs you don't plan to eat right away. While soft boiled eggs are best eaten right away, they will save in an airtight container in the fridge for up to 2 days.
Notes
Toast toppings are not included in the nutrition facts because we have no idea what you plan to top your toast with! 
The bread included in the nutrition facts is a low-carb sourdough bread, please note that the bread you use will impact the nutrition facts of your own toasts. 
Nutrition
Calories:
102
kcal
|
Carbohydrates:
20
g
|
Protein:
4
g
|
Fat:
1
g
|
Saturated Fat:
1
g
|
Polyunsaturated Fat:
1
g
|
Monounsaturated Fat:
1
g
|
Cholesterol:
4
mg
|
Sodium:
91
mg
|
Potassium:
1
mg
|
Sugar:
1
g
|
Vitamin A:
5
IU
|
Calcium:
1
mg
|
Iron:
1
mg
These nutrition facts are provided as a courtesy and are only estimates. We cannot guarantee the accuracy.
Did you love it?
If you made this recipe, make sure to show us on Instagram at @AFullLiving or tag #AFullLiving! We love to see what you guys are making!