This Halloween Pasta Recipe is an easy, spooky dinner for Halloween night! If you're having trouble coming up with a themed food idea for your Halloween party, this recipe is made with staple ingredients, with a spooky twist!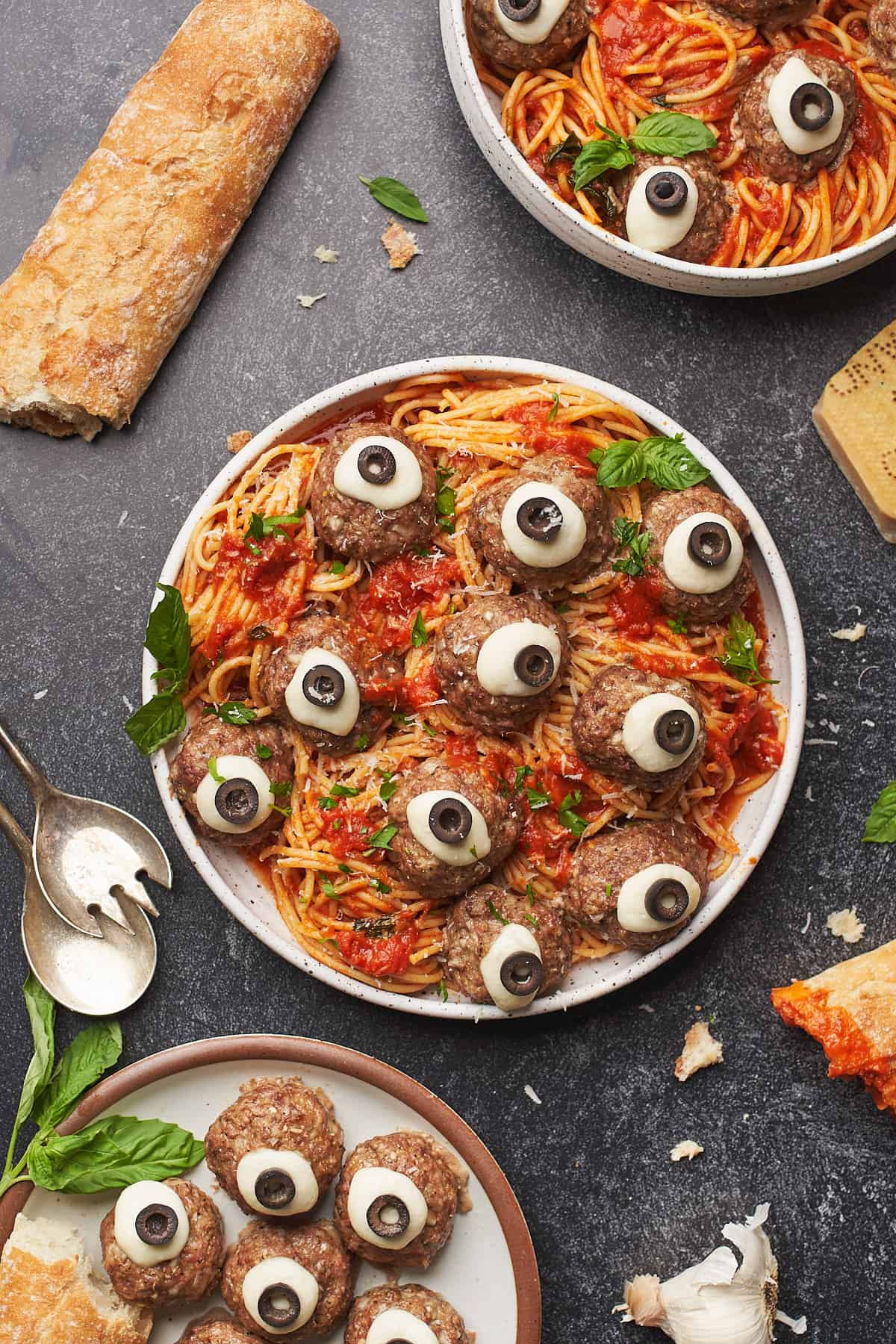 This fun Halloween dinner is the perfect main dish with familiar ingredients and minimal effort. It's Halloween spaghetti made with some meatballs that are transformed into creepy eyes thanks to mozzarella balls and a few sliced black olives.
As creepy as this spaghetti looks, it's made with tons of flavor, and standard ingredients. The preparation is easy, and everyone will love it!
Looking for more Halloween recipes for your Halloween party? Try these purple people eater cocktails or this Halloween punch recipe (for the adults!), this Halloween charcuterie board, or this black velvet cake.
Jump to:
❤️Why we love this recipe
Made with simple, fresh ingredients - Although it looks spooky, it's made with wholesome, classic ingredients. There's nothing weird in this recipe like food dye, just mostly whole foods and pantry staples.
Easy to make - This recipe is as classic as it gets. Spaghetti and meatballs, with just a few extra steps to make the meatballs look like eyeballs. You don't need to go through an elaborate effort to make a seriously fun and spooky meal.
Prep in advance - Halloween is already crazy busy, so you can mix the meatball mixture up in advance, and keep it in the fridge to save time on the day of. This will also greatly enhance the flavor of your meatballs, as it gives the onion and garlic extra time to mingle with the other ingredients.
Customizable with pasta options - You can use any pasta you like for this recipe so that it fits your diet. This recipe can suit gluten-free, keto or low carb diets. We'll share more on the simple swaps later on in this post. You may also want to use black pasta for a spookier vibe, check out this squid ink pasta recipe here!
👁Ingredients
Here are the ingredients we used for the pasta and meatball eyeballs. You can find full quantities and nutritional information in the recipe card. We will discuss substitutions and variations later on in the post.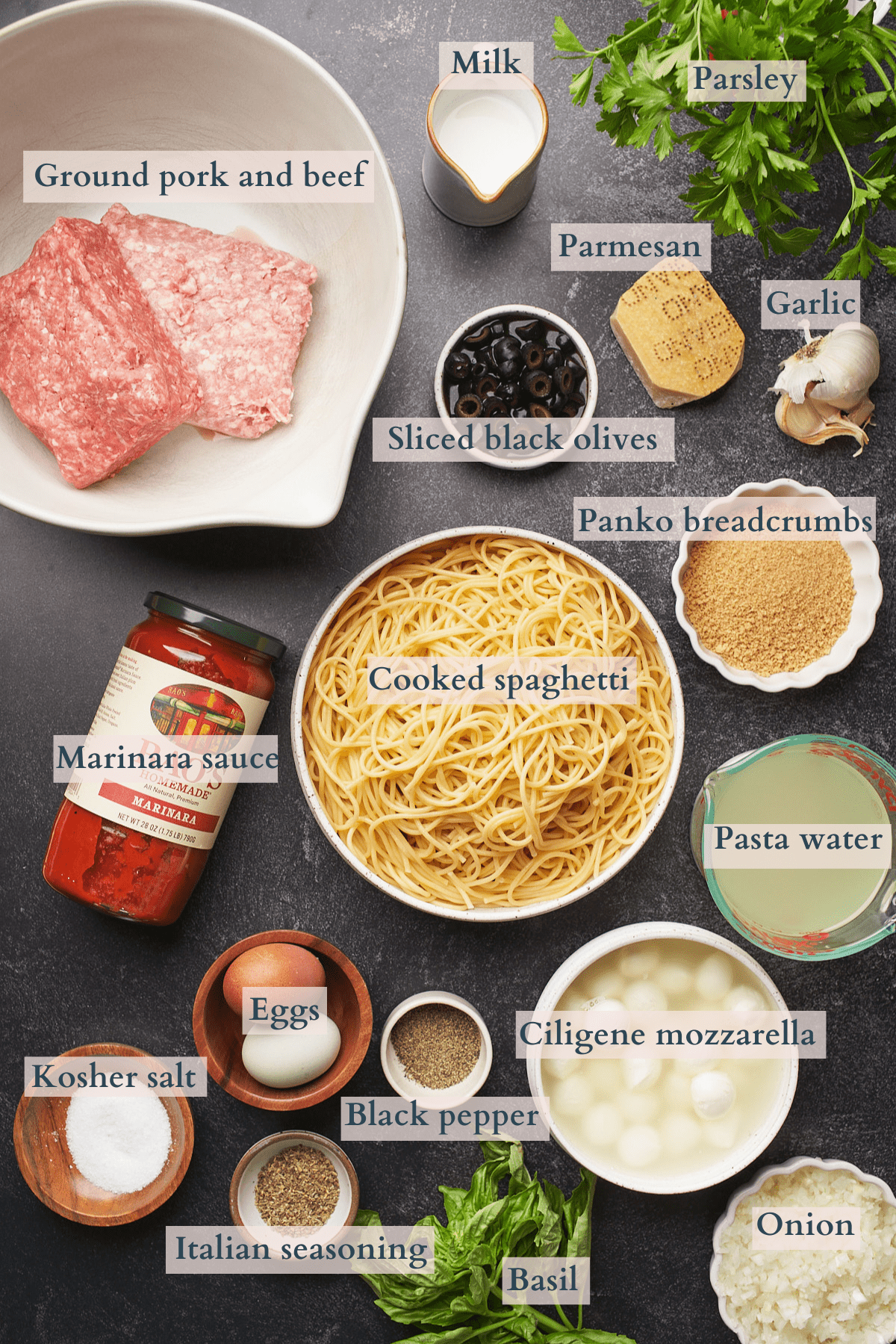 ✏️Ingredient notes
Cooked spaghetti - We went with a classic spaghetti and meatballs for this recipe, but you can go with whatever your favorite pasta is, that suits your preferences and dietary needs. You can use keto-friendly or gluten-free pasta as well if you like. Another fun option would be to use black pasta, like squid ink pasta for its natural black color. Prepare the pasta according to the package directions, and make sure to save a little pasta water.
Pasta water - Reserve some of the starchy water, as we will add it to the sauce and noodles later on.
Marinara sauce - You can make homemade, or use your favorite store bought version.
Fresh basil - Optional, but delicious and we like to add it to our sauce.
Ground pork and beef - You can use one or the other if you prefer, but generally we love a mixture of both proteins for the best taste and texture. We'd recommend using 85% lean for the best flavor.
Fresh garlic & onion - Lots of it, super finely minced for the meatballs.
Kosher salt & black pepper - Don't be shy, you'll need quite a bit of each. Make sure to add plenty of salt to the pasta water to infuse some more flavor into the dish as the pasta cooks.
Italian seasoning - To season the meatballs.
Eggs & milk - Room temperature, to help bind the meatballs together.
Breadcrumbs - We recommend using plain breadcrumbs, (we used panko)so you can control the salt and seasoning better. If using seasoned Italian breadcrumbs, omit some of the salt and Italian seasoning.
Parmesan cheese

- Freshly grated, these go into the meatballs as well as on top.

Ciligene mozzarella balls - These are a type of mozzarella pearl, but they are a little larger in size than pearls. They are perfect when cut in half to make the "white" of the eye for the "eyeballs".
Sliced black olives - To complete the eyeball look.
Fresh parsley & basil for garnish - Optional, but tasty and adds freshness.
📖Instructions
📋Prep work
Bring the meat, milk, and eggs out of the fridge about 30 minutes before beginning to help the ingredients bind better in the meatballs.
Mince garlic & onions.
Grate parmesan.
Chop parsley.
Whisk eggs in a small bowl.
Cut mozzarella balls in half lengthwise.
Prepare the pasta according to the package instructions. Make sure to set aside at least 2 cups of pasta water! After pasta is cooked al dente, run it under some cold water to stop the cooking process. You can also toss it with a bit of olive oil to help prevent the noodles from sticking.
Step 1 - Make the meatball mixture
In a large mixing bowl, combine meat with salt, pepper, Italian seasoning, breadcrumbs, milk, whisked eggs, parmesan cheese, garlic, and onions.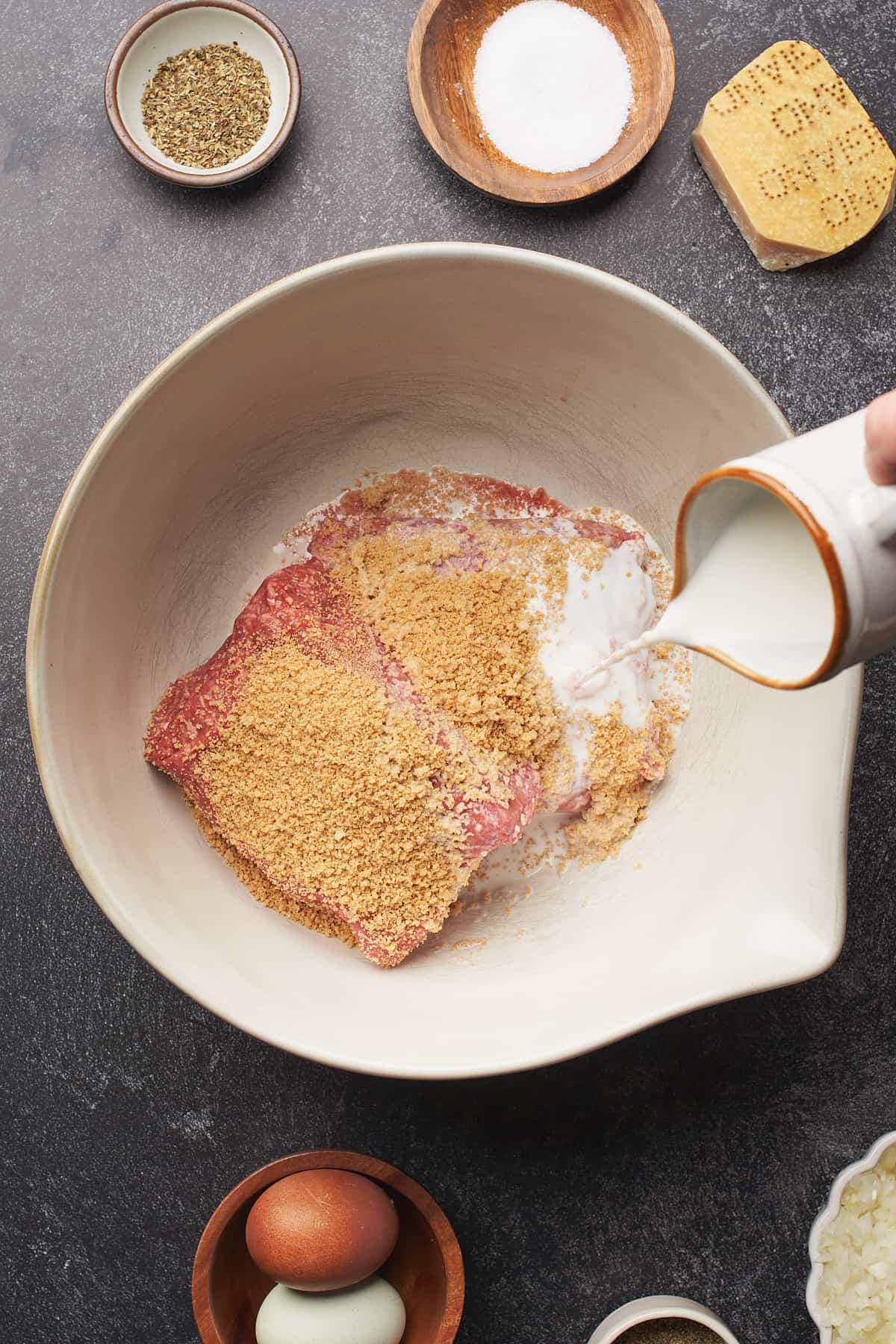 Mix until just combined. Then, if time allows, refrigerate for 10-15 minutes to make the meatballs easier to handle.
*You can also refrigerate for up to 1 day in advance to really help the meatballs become super juicy and flavorful.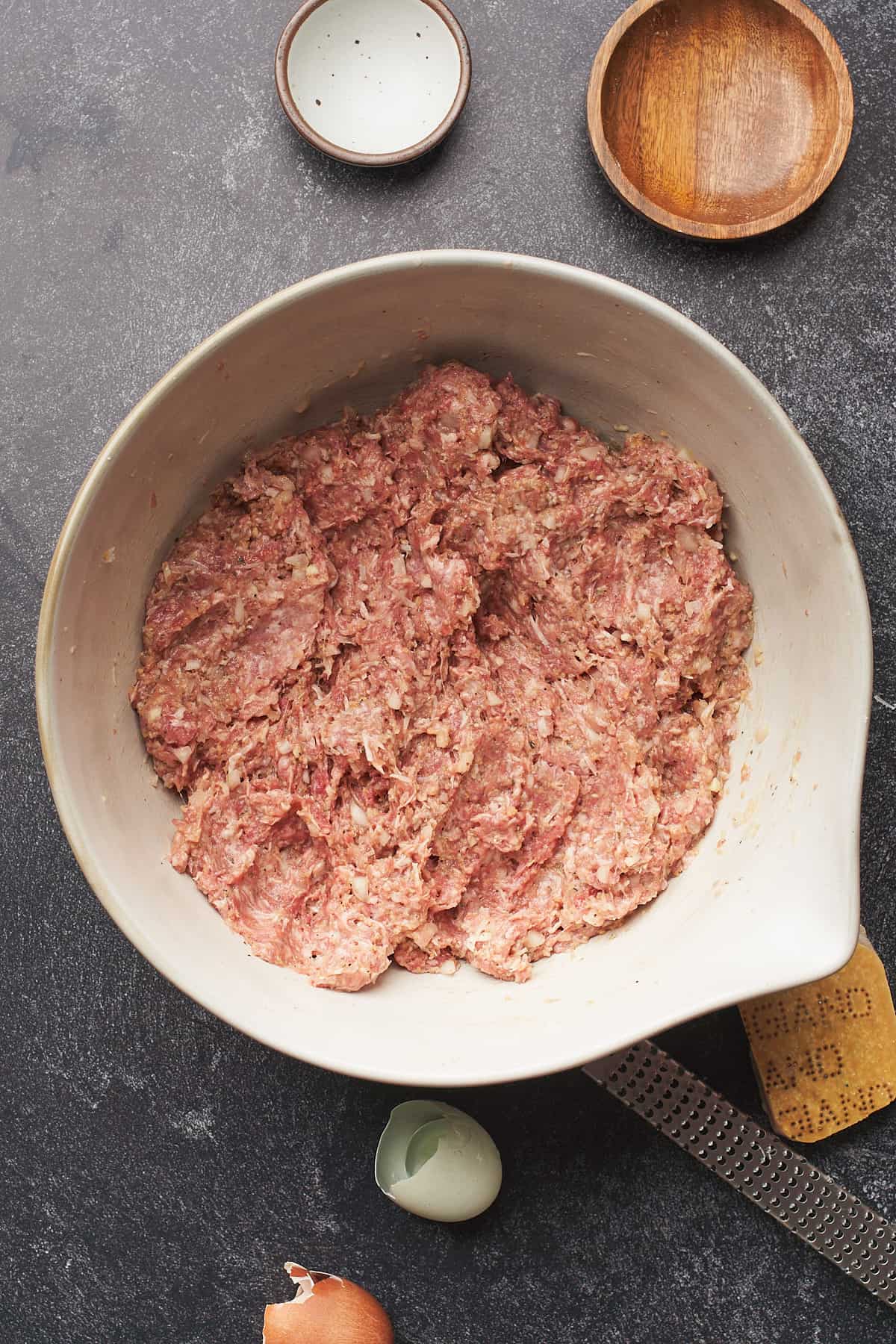 Step 2 - Roll the meatballs
Preheat the oven to 400°F, and line a baking sheet with parchment paper. Using a cookie scoop, form the meatballs, then use your hands and gently roll the meatballs into a round shape. (We like to wear latex gloves when forming the meatballs).
We made our meatballs into a medium size, and that makes about 24 meatballs. You can easily make smaller meatballs and turn this into 48 meatballs if you prefer.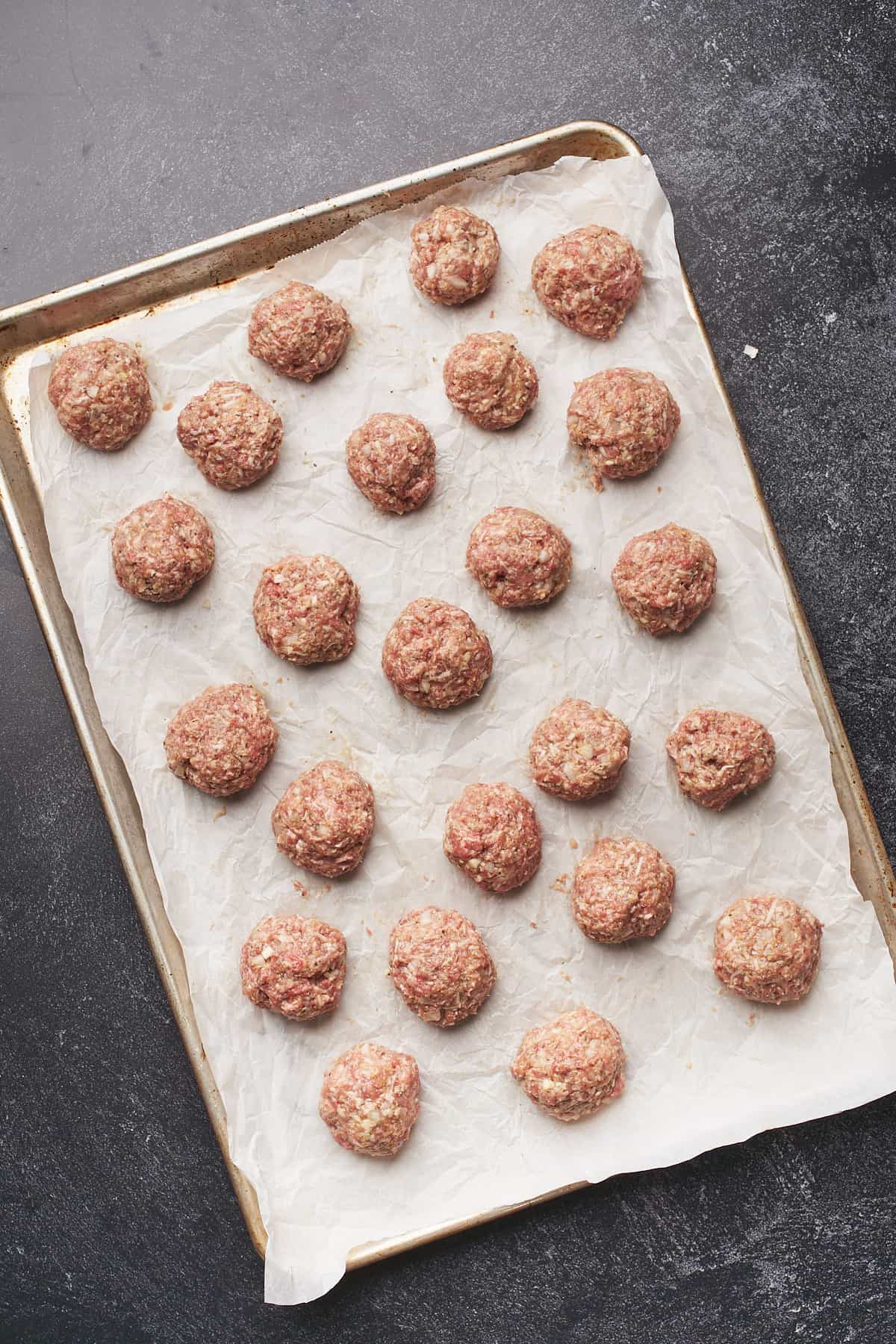 Step 3 - Bake the meatballs
Bake the meatballs for 15-17 minutes until the meatballs reach an internal temperature of 160°F.
*Please note, if your meatballs are samll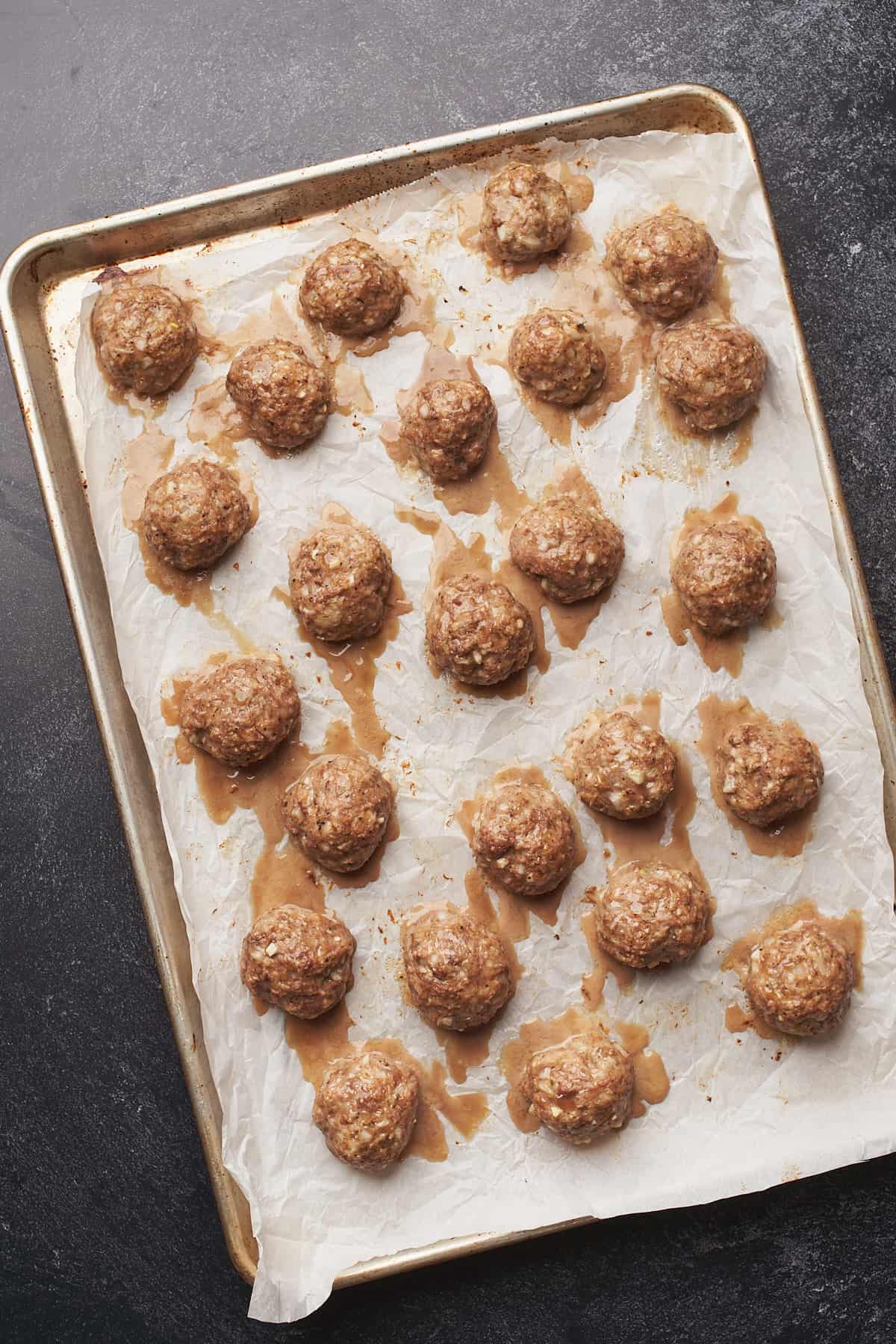 Step 4 - Add mozzarella
Now, add halved mozzarella slices to the top of the meatballs. Return to the oven and bake for 3-4 minutes to melt the cheese.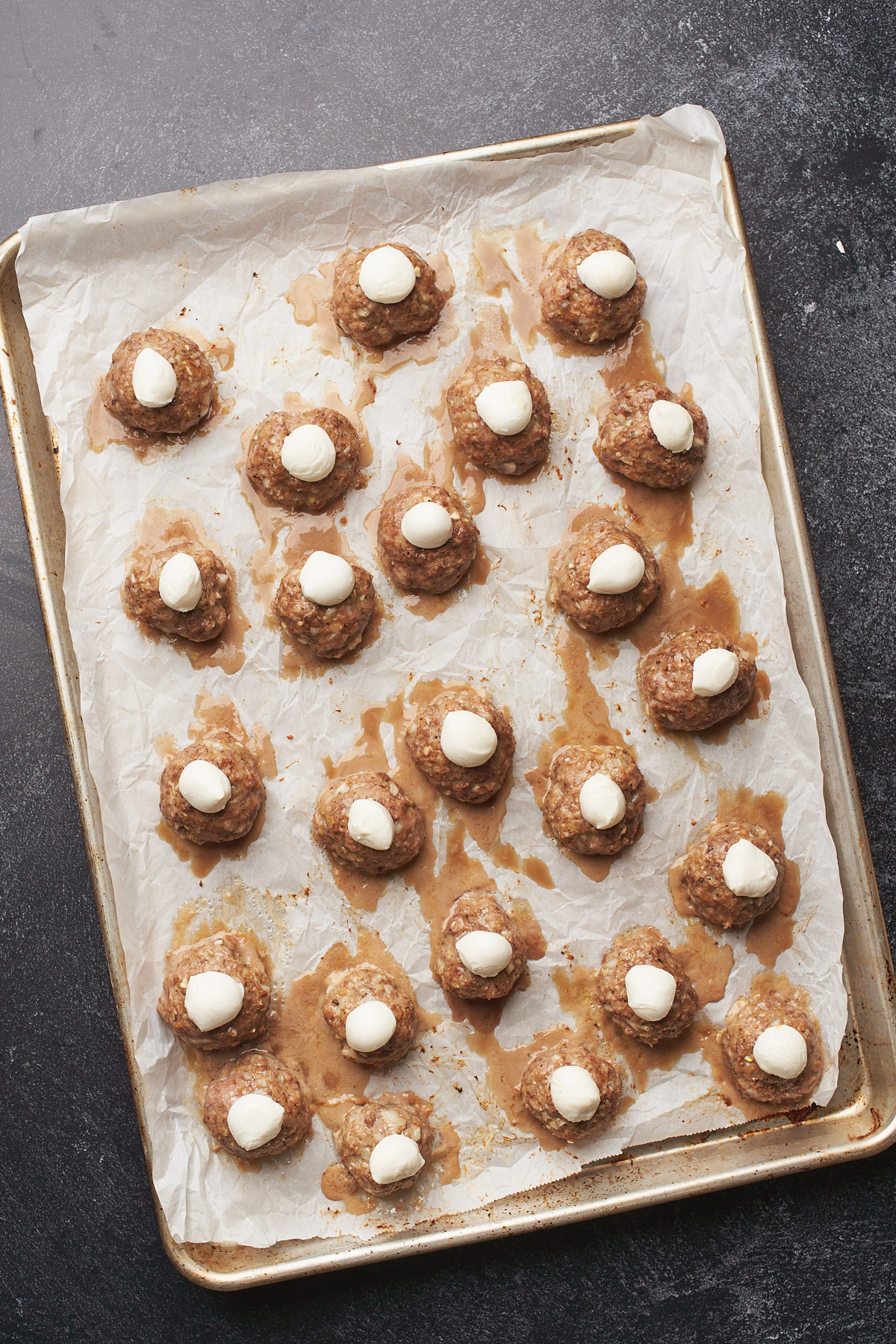 Step 5 - Add olives
Top with sliced olives to create the eyeballs.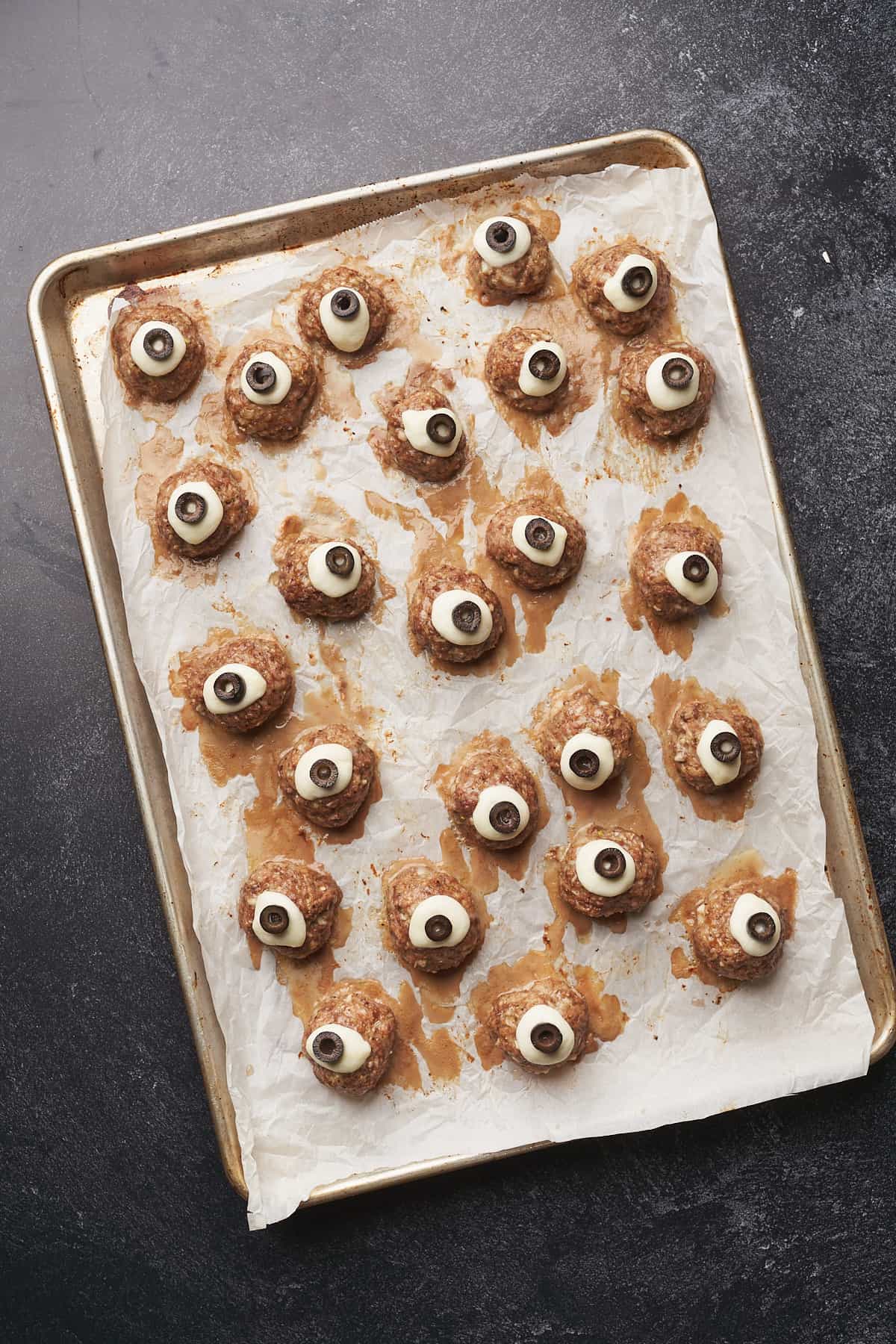 Step 6 - Make the sauce
While meatballs are cooking, add your favorite pasta sauce to a stockpot. Add fresh basil, a bit of pasta water, and a rind of parmesan cheese if you have it.
*The rind is optional and helps flavor the sauce. It also becomes nice and soft after a few minutes so you can eat it!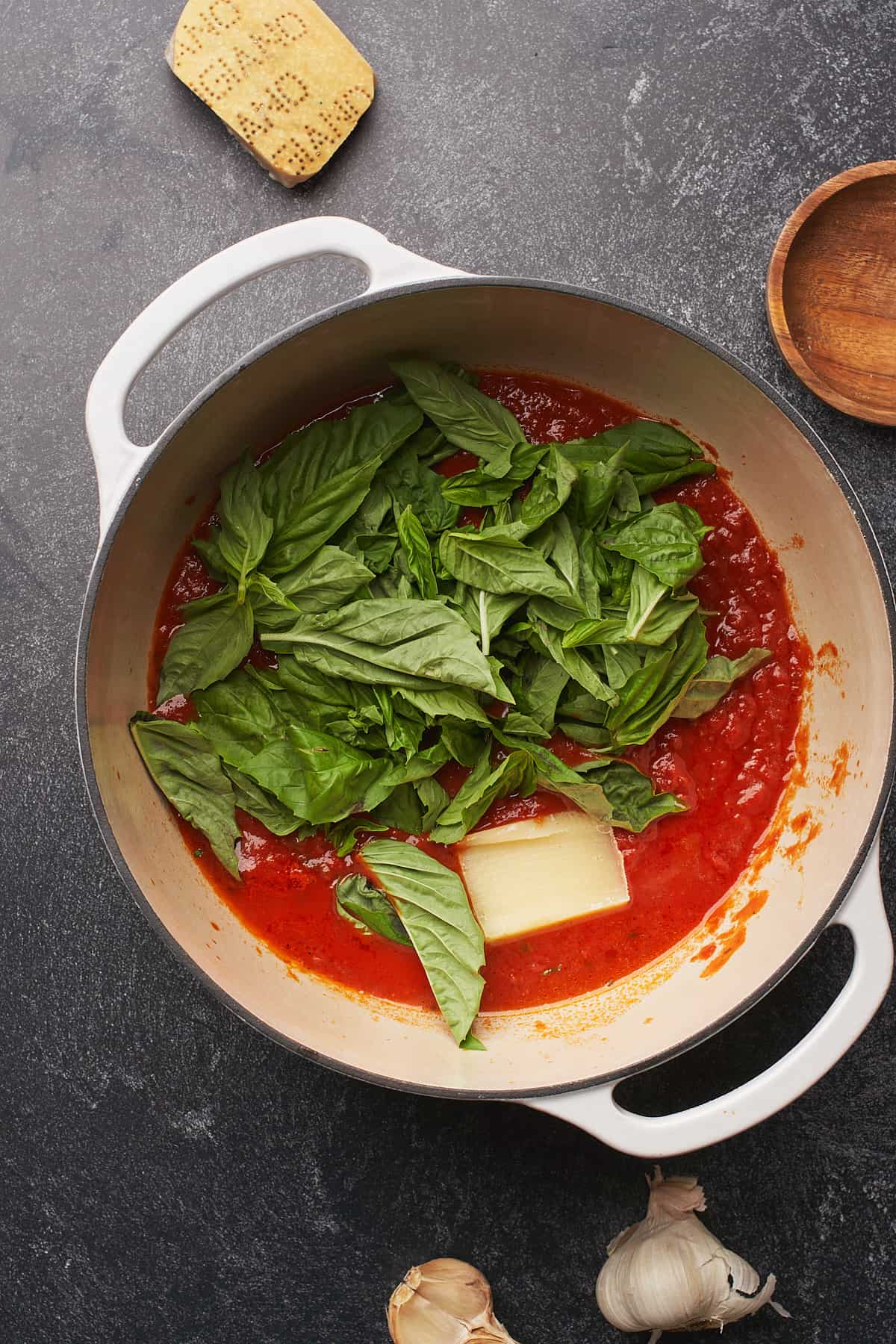 Step 7 - Add cooked pasta
Simmer the sauce, stirring every so often to help wilt the basil. After 5-10 minutes, remove the parmesan rind, add in the cooked spaghetti with a splash of pasta water and toss the noodles to coat the sauce.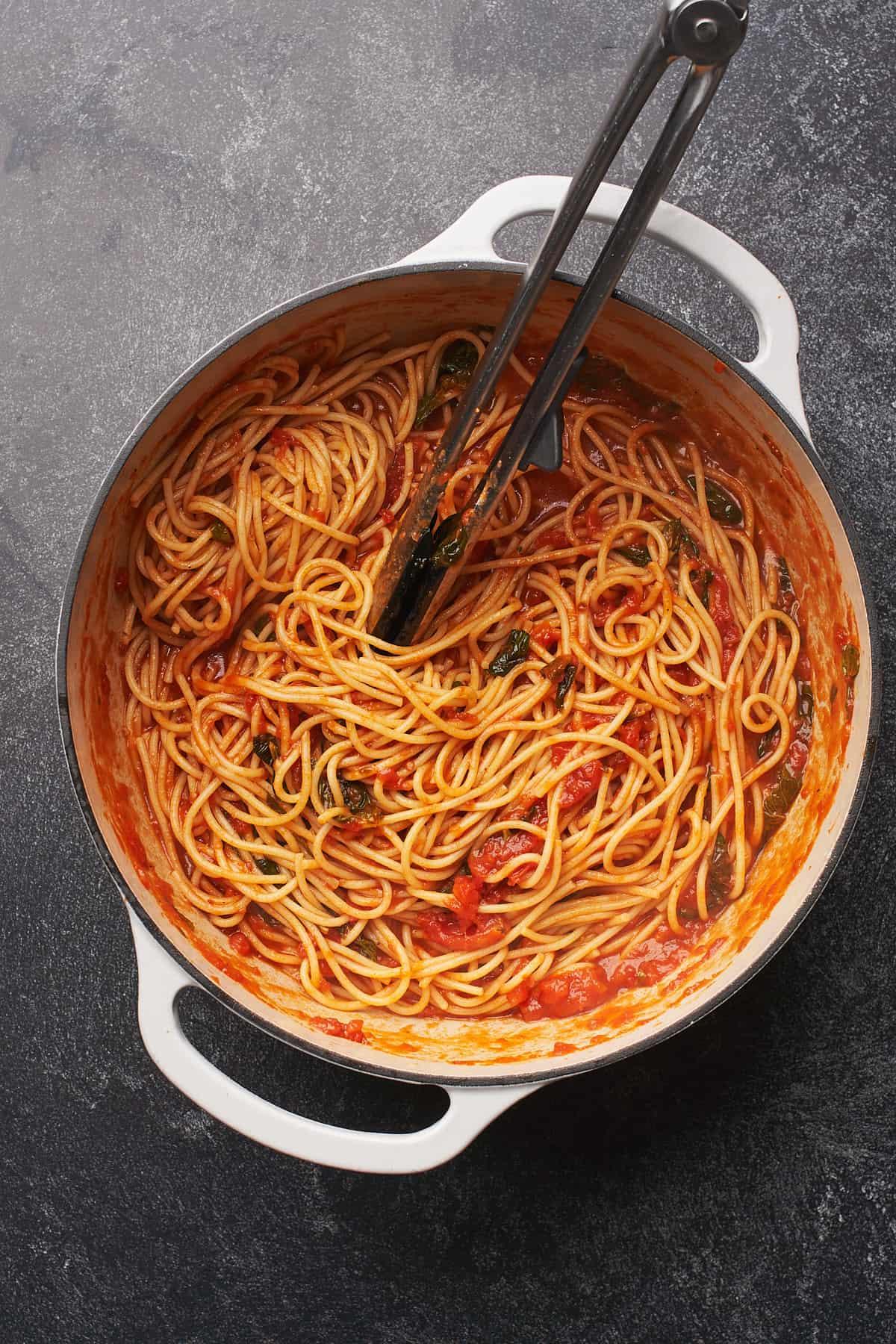 Step 8 - Plate and enjoy!
Add cooked spaghetti nests with sauce to a plate, and top with meatballs. Garnish with fresh basil, chopped parsley, and freshly grated parmesan cheese. Enjoy!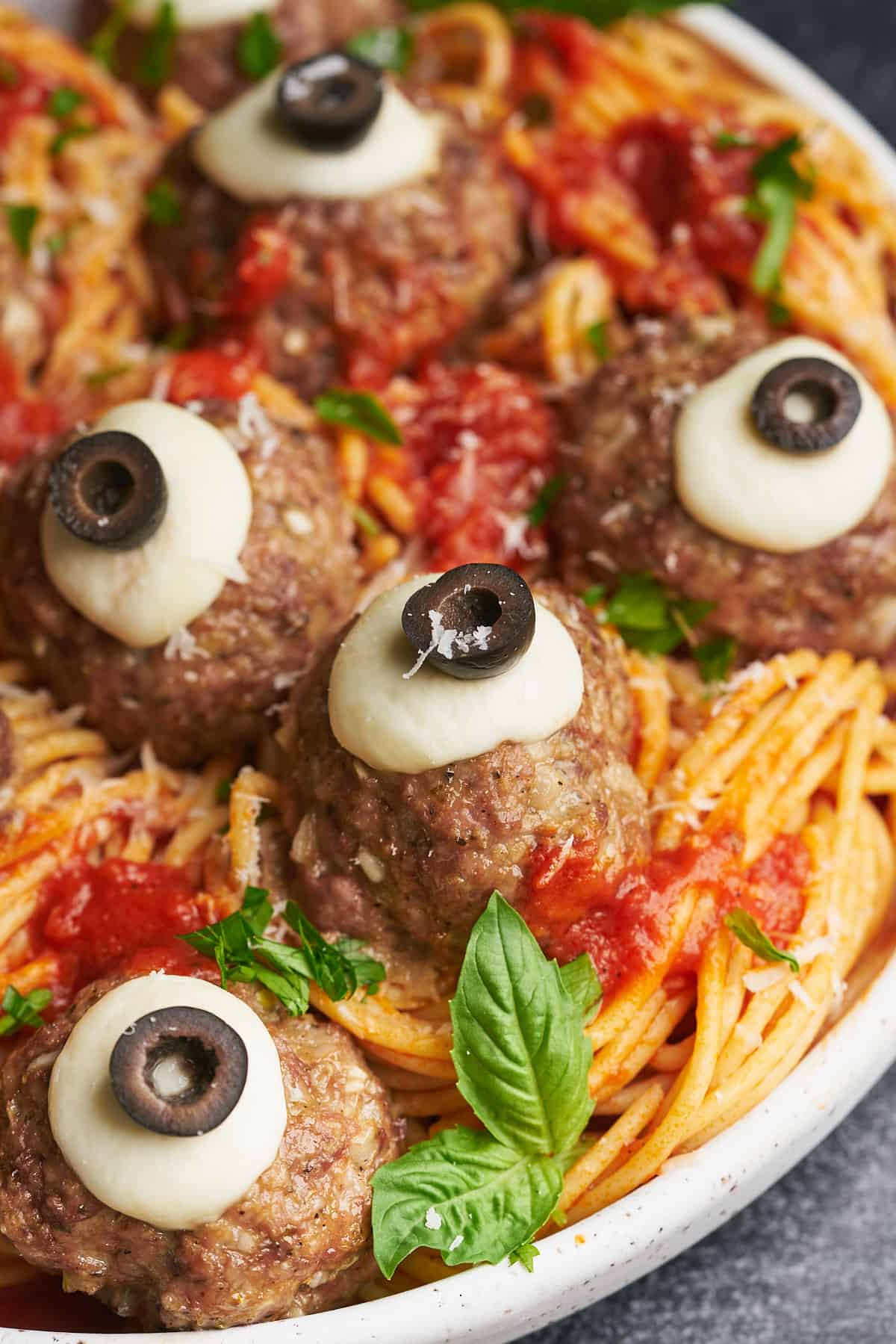 ✨Tips & tricks
Cook pasta al dente. Make sure to not overcook your pasta! No one likes soggy pasta. Cooking the pasta al dente will make sure it holds up well once the sauce is added.
Don't forget to heavily salt the water! As mentioned, this is super important to make sure your dish is as flavorful as possible.
Don't overcook the meatballs - To keep the meatballs from drying out, remove from the oven as soon as they reach an internal temperature of 160°F.
Use fresh onion and garlic. While garlic and onion powder can be used instead, the onion in this recipe especially brings a lot of moisture into the meatballs, along with amazing flavor.
Allow meat, eggs, milk to sit out for 30 minutes. This helps us combine the ingredients better. When these items are really cold, it makes it a bit more difficult to work with the meat.
Don't overmix the meat mixture. This can make the meatballs tough and less tender. Mix until the meatballs are just combined.
✏️Substitutions & variations
The ingredients are pretty straightforward, but here's a few simple swaps you can make.
Shortcut method - If you'd like, you could always buy your favorite store bought meatballs to save time. Cook according to package directions, and follow the rest of the instructions.
Keto friendly - If you're looking to make this recipe fit for low carb diets, we'd recommend using this cast iron meatball recipe in place of the one we have here. You will also need to swap out the pasta for something low carb. We adore this low carb fettuccine! For keto, try this protein packed, plant-based pasta by Kaizen.
Gluten free - Use your favorite gluten-free pasta for this recipe, as well as a gluten free bread crumb mixture.
Low carb & gluten free - If you're looking for a low carb AND gluten free option, use shirataki noodles, palmini noodles, or zucchini noodles, and swap out the breadcrumbs with your favorite gluten free version.
Chicken or turkey meatballs

- You can use ground chicken or turkey if you prefer.

All beef or all pork - If you like, you can swap out one of the proteins for another.
Spicy - Love spice? Add red pepper flakes.
Swap garlic and onion for powdered versions - While we don't recommend doing this if you can help it, you can of course do this if this if that's all you have on hand. Garlic and onion add a ton of flavor, along with moisture to the meatballs.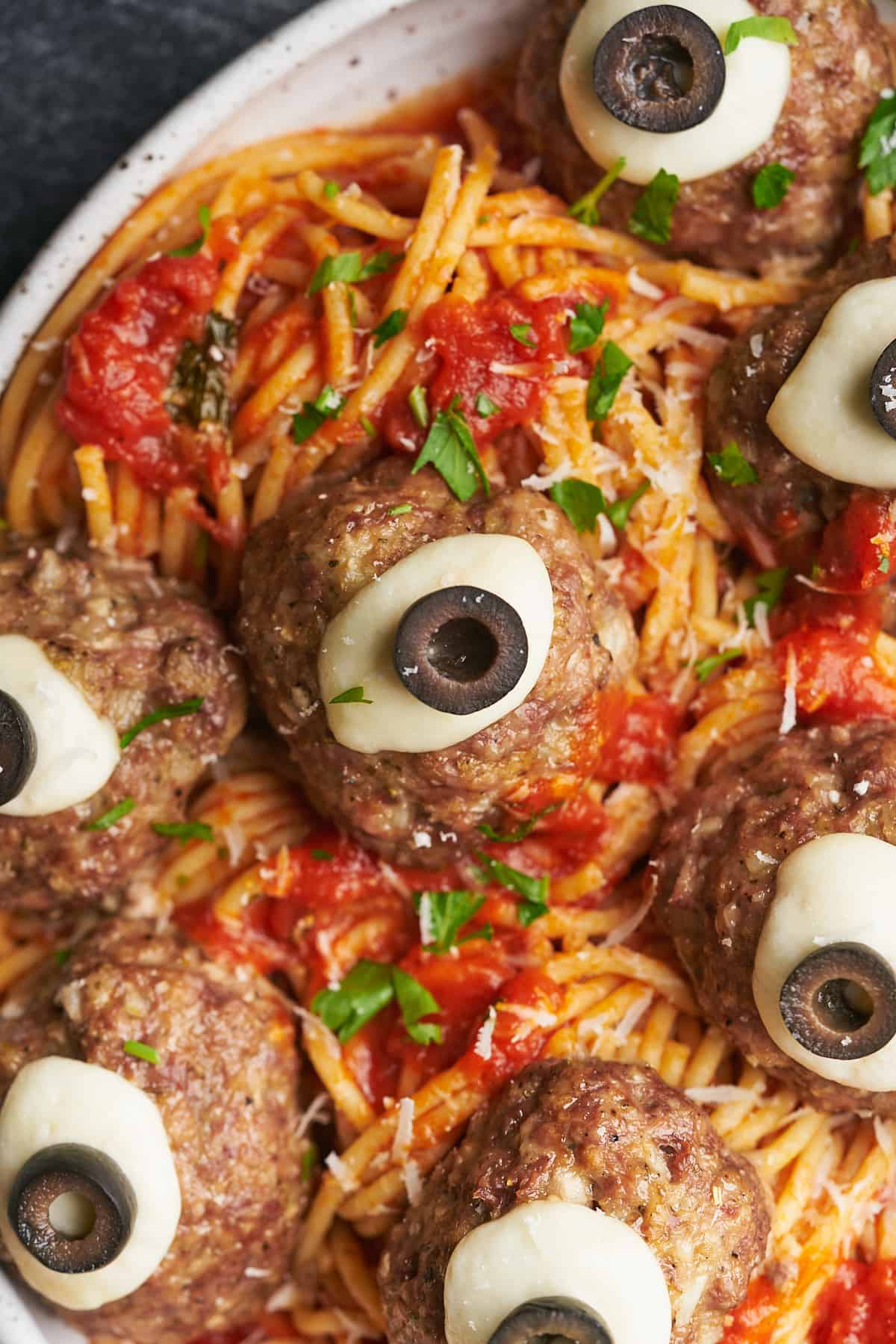 💭Frequently asked questions
Why do we salt the pasta water?

If you don't salt the water, the noodles will become bland and flavorless. Use at least 1.5 tablespoons of kosher salt per every pound of pasta. We know it seems like a lot, but since the pasta is only in the water for a few minutes, it needs to make an impact.
Why do we use pasta water in this recipe?

There are natural starches in the pasta water and salt, this flavors our pasta and sauce, as well as helps the sauce cling to the noodles.
Can these meatballs be made on the stovetop?

Yes, definitely. You will need to heat a large skillet over medium heat. Add olive oil to the pan, and cook in batches until the internal temperature reaches 160°F, about 8 minutes, browning on all sides. Don't overcrowd the pan if you choose this method.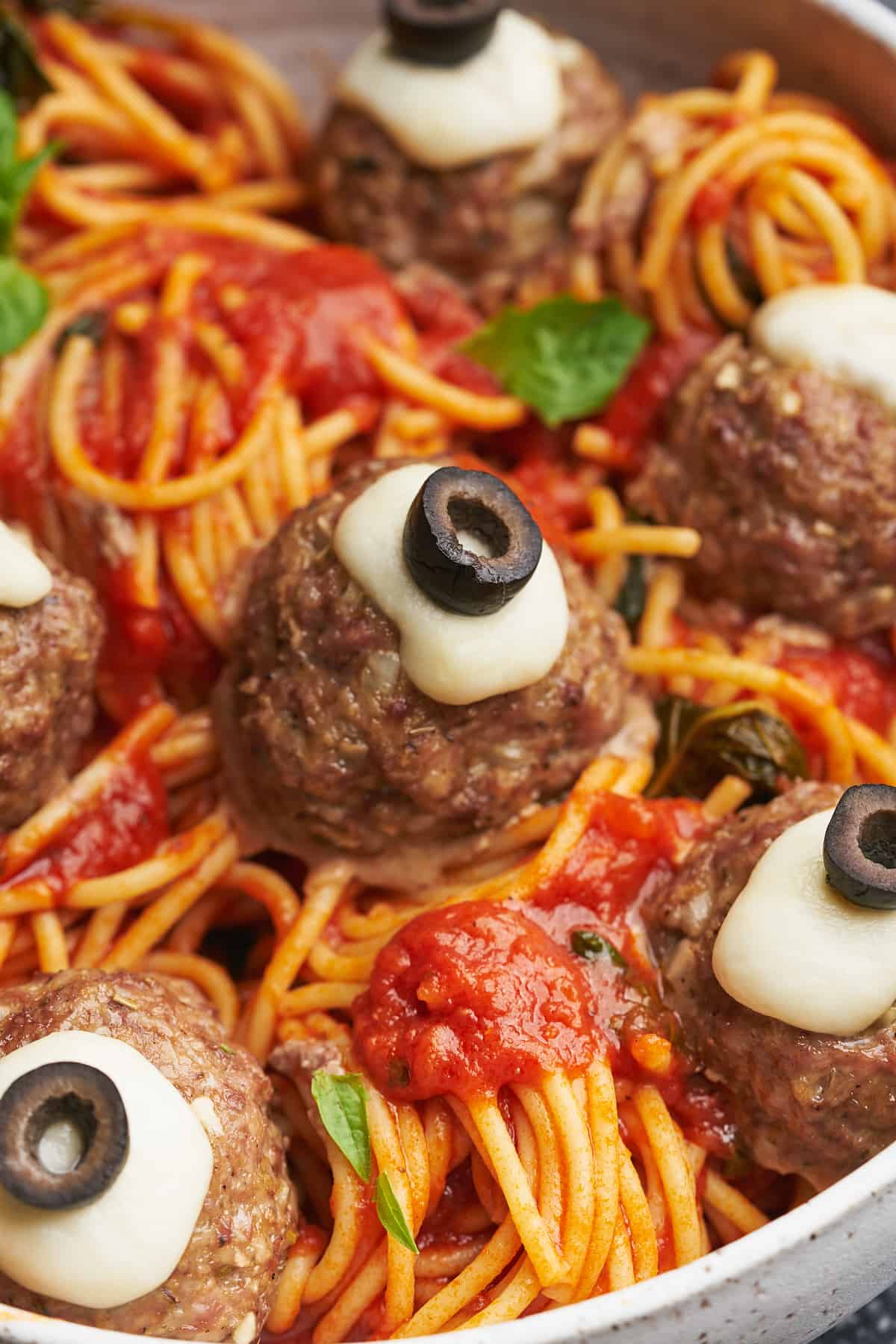 🥣Storage
This meal saves really well, so it makes great leftovers. Store in an airtight container in the fridge for up to 5 days.
To freeze the meatballs, place them on a parchment-lined baking sheet and freeze for an hour, until solid. This can be done when the meatballs are raw or cooked, but we don't recommend freezing with the mozzarella and olives on it. Transfer to a freezer-safe container and store for up to 6 months. Thaw in the fridge.
♨️Reheating
To reheat on the stovetop, we'd recommend adding a little bit of water, and more olive oil or butter with the pasta and meatballs to your skillet. Move around constantly to prevent any sticking or burning, and remove from the skillet as soon as the noodles are warmed through.
In the microwave, add a few tablespoons of water to the noodles, top with the meatballs, and reheat in 15-second intervals, stirring in between until the noodles and meatballs are warmed through.
🎃Other Halloween Recipes to Consider
🌟Leave a review!
Make sure to leave a 5-star review below! This helps other readers find our recipes via Google, and encourages them to try them. Also be sure to leave a comment with your experience!
Take a photo and share with us by tagging us on Instagram or follow along on Pinterest for more ideas!
📖 Recipe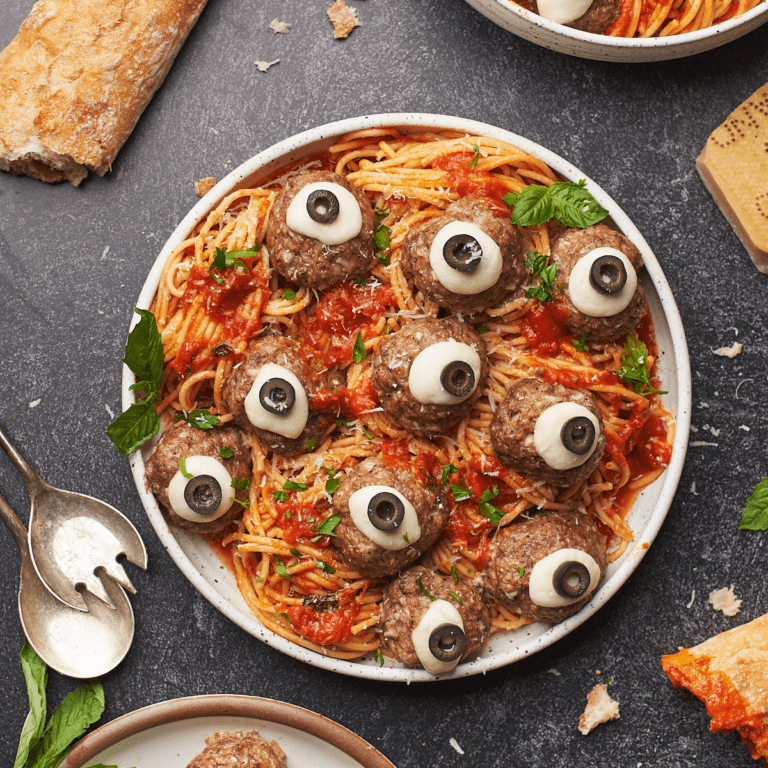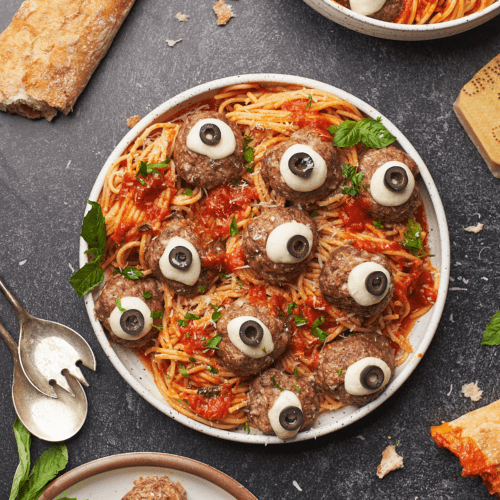 Halloween Pasta with Meatball Eyeballs
This spooky Halloween Pasta with Meatball Eyeballs is a fun, easy way to celebrate Halloween! Made with familiar kitchen staples, this spooky spaghetti and meatballs is tasty and fun!
Ingredients
For the meatball eyeballs
1

pound

ground beef, 85% lean

1

pound

ground pork

(can use all beef, or all pork if preferred)

45

grams

plain panko breadcrumbs

(can use seasoned, but make sure to reduce salt and Italian seasoning if using)

4

ounces

milk

(can substitute heavy cream)

1

tablespoon

kosher salt

(if using seasoned breadcrumbs, reduce to 2 teaspoons)

1

tablespoon

Italian seasoning

1

teaspoon

coarse ground black pepper

2

large

eggs, room temperature & whisked in a separate bowl

1

medium

yellow onion, finely minced

8

cloves

garlic, minced

2

ounces

parmesan cheese, freshly grated

12

balls

ciligene mozzarella cheese balls, cut in half lengthwise

(for the eye "whites")

24

slices

black olives

(to finish the eyeball)
For the spooky spaghetti
1

pound

cooked spaghetti

(cook in heavily salted water)

2

cups

reserved pasta water

28

ounces

marinara sauce

handful of fresh basil

(optional)

1

parmesan rind

(optional, to flavor the sauce)

parmesan, parsley, and basil to garnish
Instructions
Make the meatballs
Preheat the oven to 400°F. Line a baking sheet with parchment. Start by combining all ingredients to make the meatballs (except for the mozzarella cheese and olives) in a large mixing bowl.

*Chill in the fridge for 15 minutes to make rolling a little easier if desired. You can also chill the mixture for up to 24 hours in advance for very tender and juicy meatballs.

Using a medium cookie scoop, form 24 roughly equal-sized meatballs. Using your hands (wearing gloves if desired) gently roll the meatballs into a round shape and place on the baking sheet with a bit of room between other meatballs.

Bake for 16 minutes, or until the internal temperature reaches 160°F. Remove from the oven, and top with halved mozzarella balls. Return to the oven to bake for an additional 3-4 minutes to melt the cheese. Once they come out of the oven, press 1 black olive slice into the top of each meatball to lightly adhere.
For the sauce
In a dutch oven or stock pot, add marinara, along with 1 cup of pasta water, a handful of fresh basil leaves, and a parmesan rind if you have one on hand (this adds extra flavor to the sauce!) Gently simmer the sauce and stir often to wilt the basil.

Once the basil is wilted, remove the parmesan rind, and consume or discard. Add in the cooked pasta, along with the remaining pasta water, and toss to combine and coat the noodles.
Assemble
Twirl pasta into a nest-like shape on a plate, and top with fresh basil, parsley, and parmesan cheese. Place meatballs on top. Enjoy!
Notes
Nutrition facts are an estimate and will vary greatly on the brands and ingredients you use. 
See the blog post for a full list of substitutions and variations. 
Nutrition
Calories:
483
kcal
Carbohydrates:
31
g
Protein:
30
g
Fat:
26
g
Saturated Fat:
10
g
Polyunsaturated Fat:
2
g
Monounsaturated Fat:
11
g
Trans Fat:
1
g
Cholesterol:
134
mg
Sodium:
1653
mg
Potassium:
757
mg
Fiber:
3
g
Sugar:
6
g
Vitamin A:
610
IU
Vitamin C:
9
mg
Calcium:
161
mg
Iron:
4
mg