This Creamy Parmesan Chicken and Butternut Squash Skillet Recipe is an easy, luscious, and hearty one-skillet dinnertime favorite. This yummy butternut squash chicken dinner combines a flavorful parmesan cream sauce packed with garlic, spinach, fresh thyme, and roasted butternut squash and chicken thighs. This one-skillet meal will become a go-to dinner recipe for the fall and winter.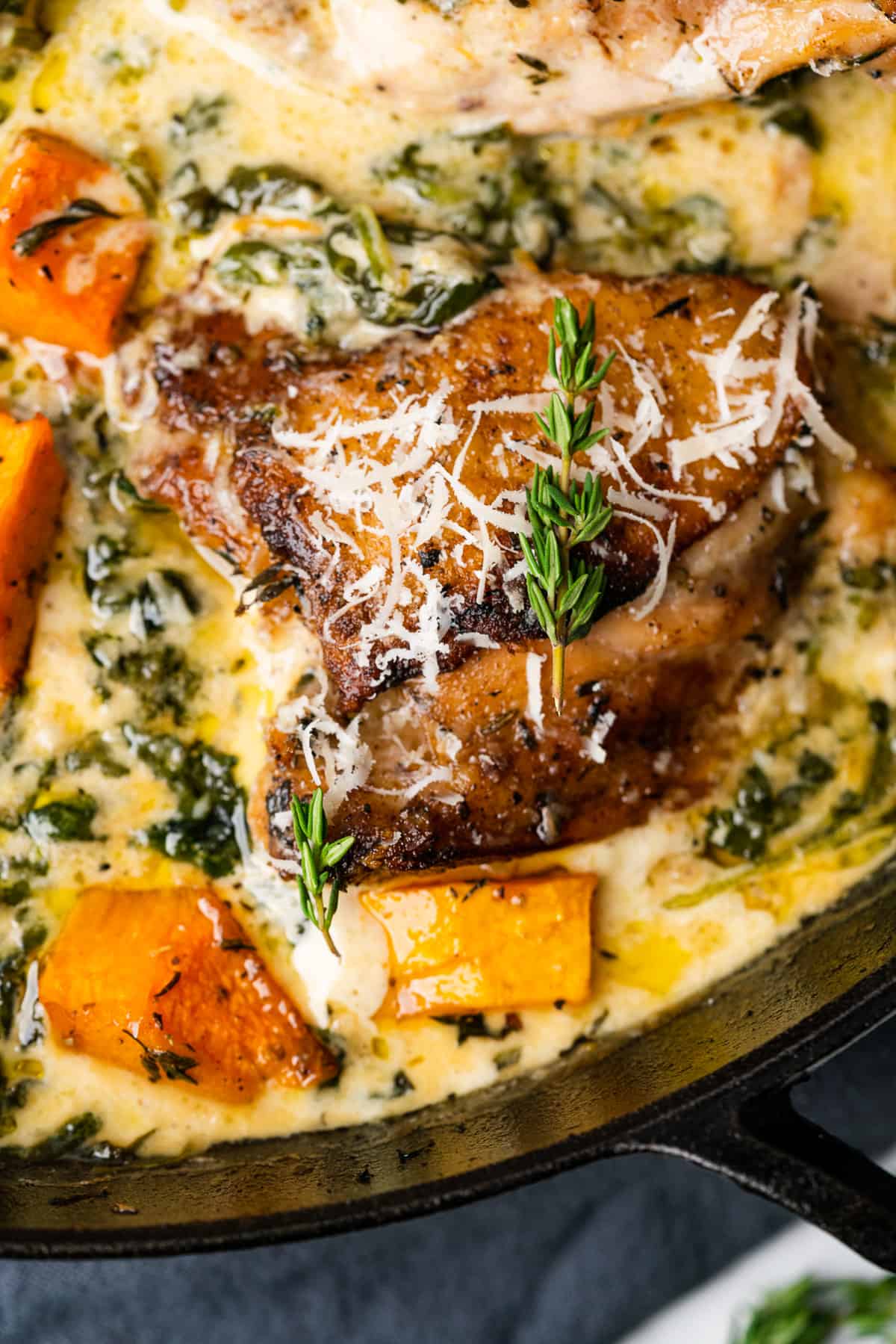 Disclosure: This post is a paid partnership with our wonderful friends at Lodge Cast Iron! As you know, we have been huge fans of their amazing cookware for years, and we use it in the majority of our recipes.
We utilized their Blacklock 12 inch skillet to make this hearty and delicious feast. Blacklock cookware comes triple seasoned, so that it's naturally non-stick. It's quite lightweight as well! This versatile skillet is now our go-to for dinners, desserts, roasted veggies, and more. Thank you for supporting brands that help us in making awesome content!
Now, onto the recipe!
This dinner recipe is simply irresistible. Chicken thighs drenched in a creamy, garlicky parmesan sauce with spinach, butternut squash, and fresh thyme. What's not to love?
This dinner is buttery, hearty, creamy, cheesy, herbaceous, savory, and just a tad bit sweet from the butternut squash. It's so easy to make all in one skillet. No mess and the whole family will enjoy this. What a way to enjoy cooler weather produce and extra veggies!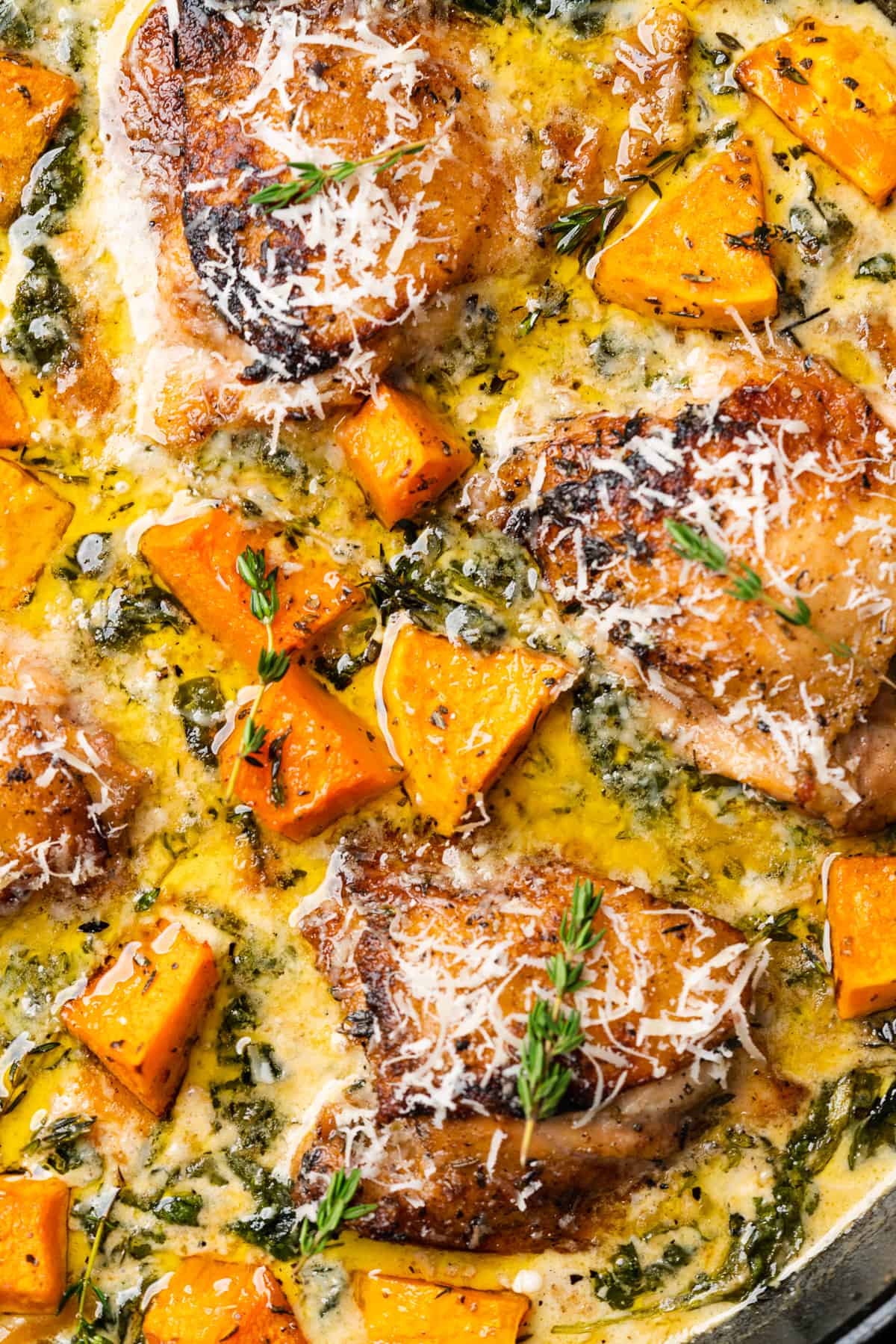 If you're looking for more tasty chicken dinners, be sure to check out this baked feta chicken sheet pan dinner, this chicken wrapped in parma ham stuffed with mozzarella, or this jalapeño popper chicken skillet.
You may also enjoy this pumpkin pasta sauce, this keto butternut squash soup, or this roasted butternut squash with brown sugar.
Jump to:
❤️Why we love this recipe
Naturally gluten free and low carb - Nothing funky about the ingredients in this recipe, and it's naturally gluten free and low in carbs!
Simple ingredients - This recipe only has 13 total ingredients including the seasonings used and the cooking oil and butter. You can find everything that you don't already have on hand at any grocery store.
Rich and decadent - This is one of those meals that is highly satisfying, super-rich, decadent, and delicious. We're sure you won't be able to get enough!
🐓Ingredients
Here are the ingredients needed for this creamy butternut squash chicken. The quantities and nutrition facts can be found in the recipe card.
Unsalted butter & olive oil - You will use a mixture of both for a complex flavor.
Chicken thighs - We love bone-in, skin on the best since the skin gets so nice and golden brown and crispy, with a tender and juicy inside from the bone! Truthfully you could use anything you want, like chicken breasts.
Seasonings - Italian seasoning, fresh thyme, kosher salt & pepper.
Garlic - Don't forget lots of finely minced garlic cloves.
Butternut squash - The star of the show! You can prep it yourself or buy it precut.
Fresh spinach - Frozen could be used as well, but you may want to drain some of the excess water first.
Chicken broth - We love using chicken bone broth for extra flavor, nutrients, and even more protein. Regular chicken broth or stock will work great too.
Heavy whipping cream - For an extra creamy and dreamy sauce.
Parmesan cheese - Freshly grated works best for making the sauce.
📖Instructions
This recipe is also available as a Google Web Story, or you can just jump to the recipe video in the recipe card!
🔪Prep work
Preheat the oven to 375°F.
Peel the butternut squash and cut it into bite-sized chunks.
Mince garlic cloves.
Prepare the seasoning blend by preparing fresh thyme, and combining it with the Italian seasoning and pepper.
Dry chicken thighs off very well with paper towels.
Grate parmesan cheese.
Use a little over half the seasoning to sprinkle over both sides of the chicken, reserving the rest for the butternut squash.

Add the chicken skin side down to a hot skillet, then cook for about 5-7 minutes on each side until golden brown.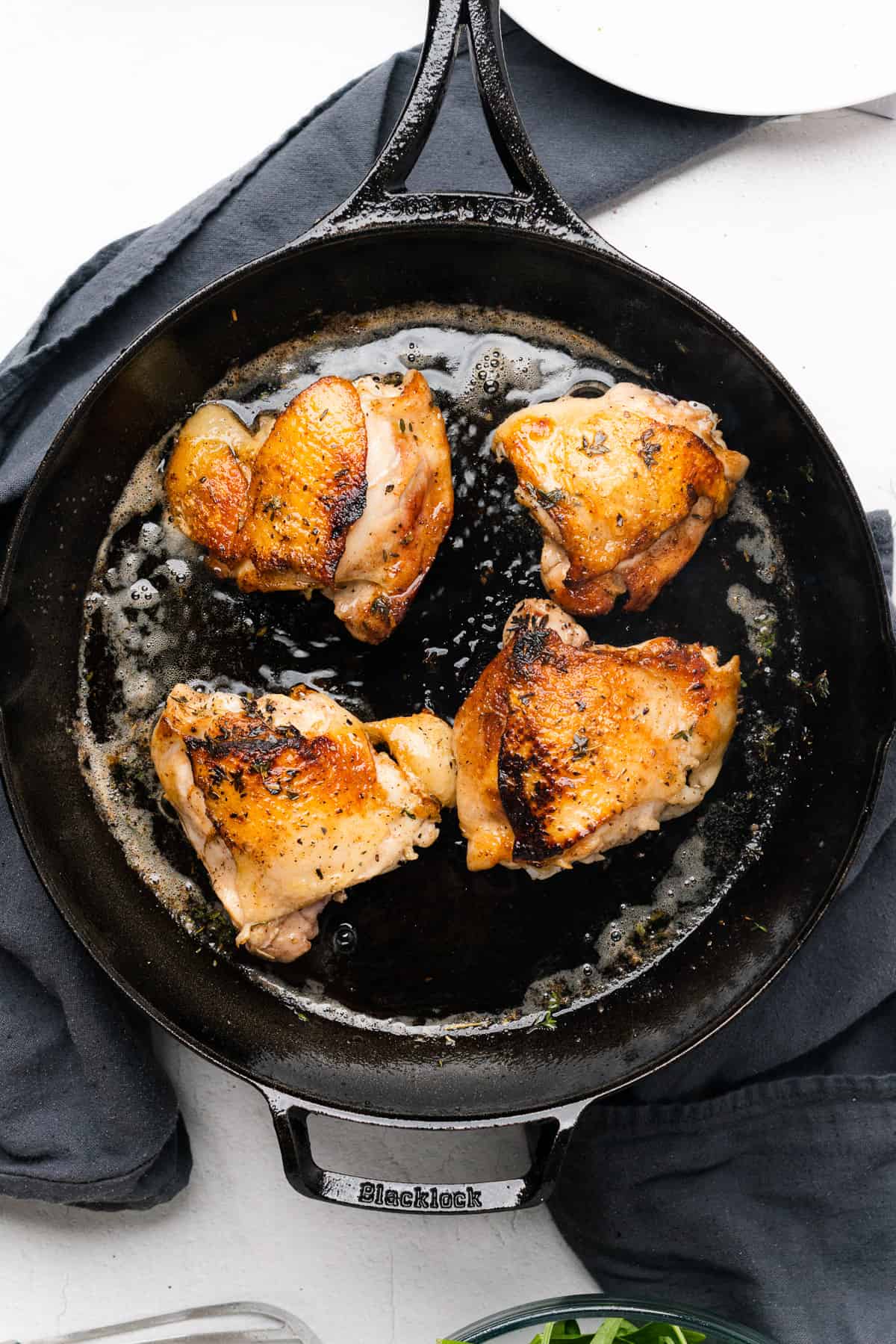 Remove chicken from the skillet, then add in olive oil and the butternut squash with the remaining seasonings. Cook for 5 minutes or until butternut squash is lightly browned. Add in your the spinach and cook until wilted. Then, add in your garlic and cook until fragrant, about 30 seconds, followed by the chicken broth.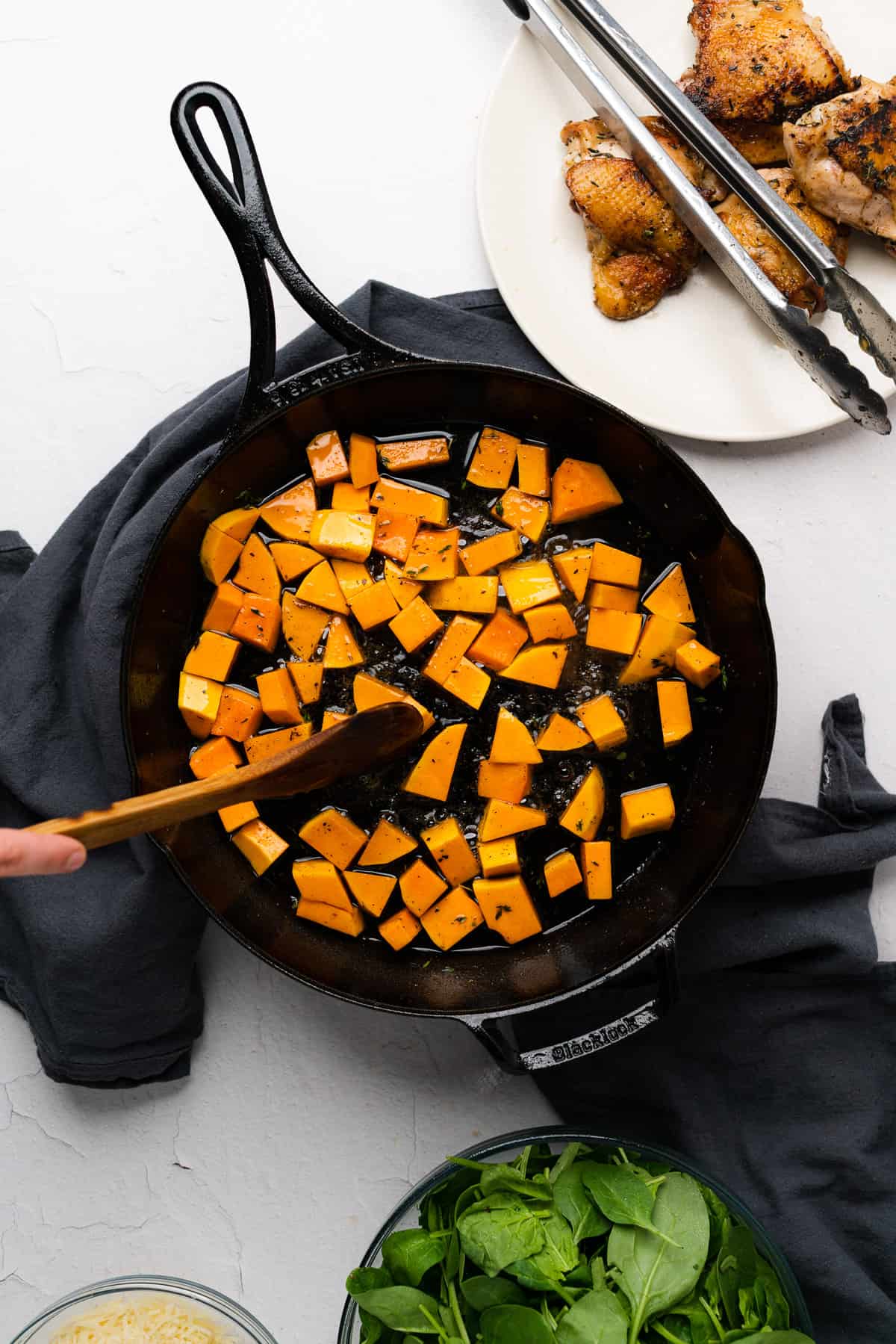 Stir in the heavy whipping cream and parmesan cheese to the skillet and cook until cheese is mostly melted, then nestle in the chicken thighs, skin side up.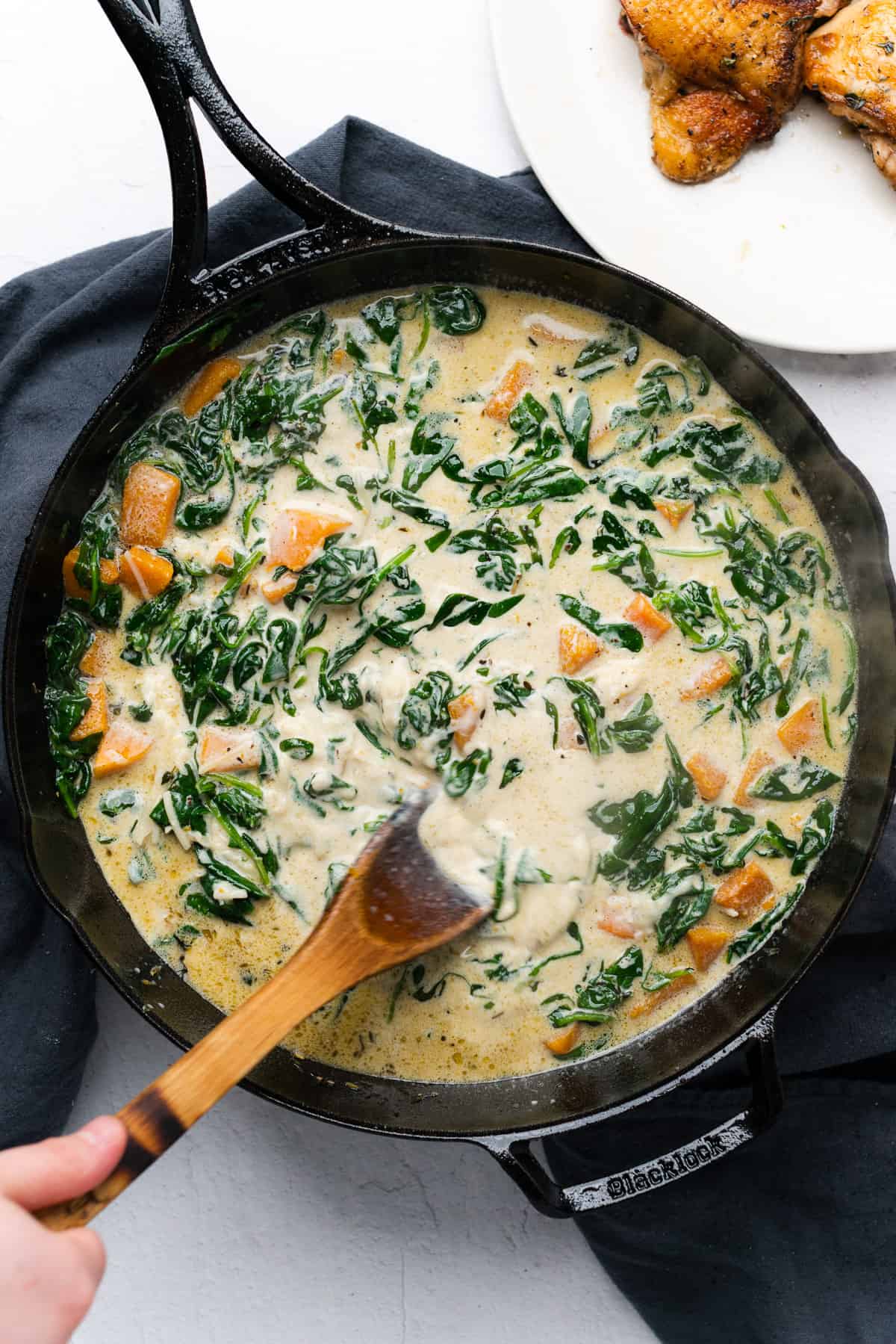 Bake for 20-25 minutes, until cheese sauce is bubbling. Garnish with thyme sprigs and freshly grated parmesan cheese. Enjoy!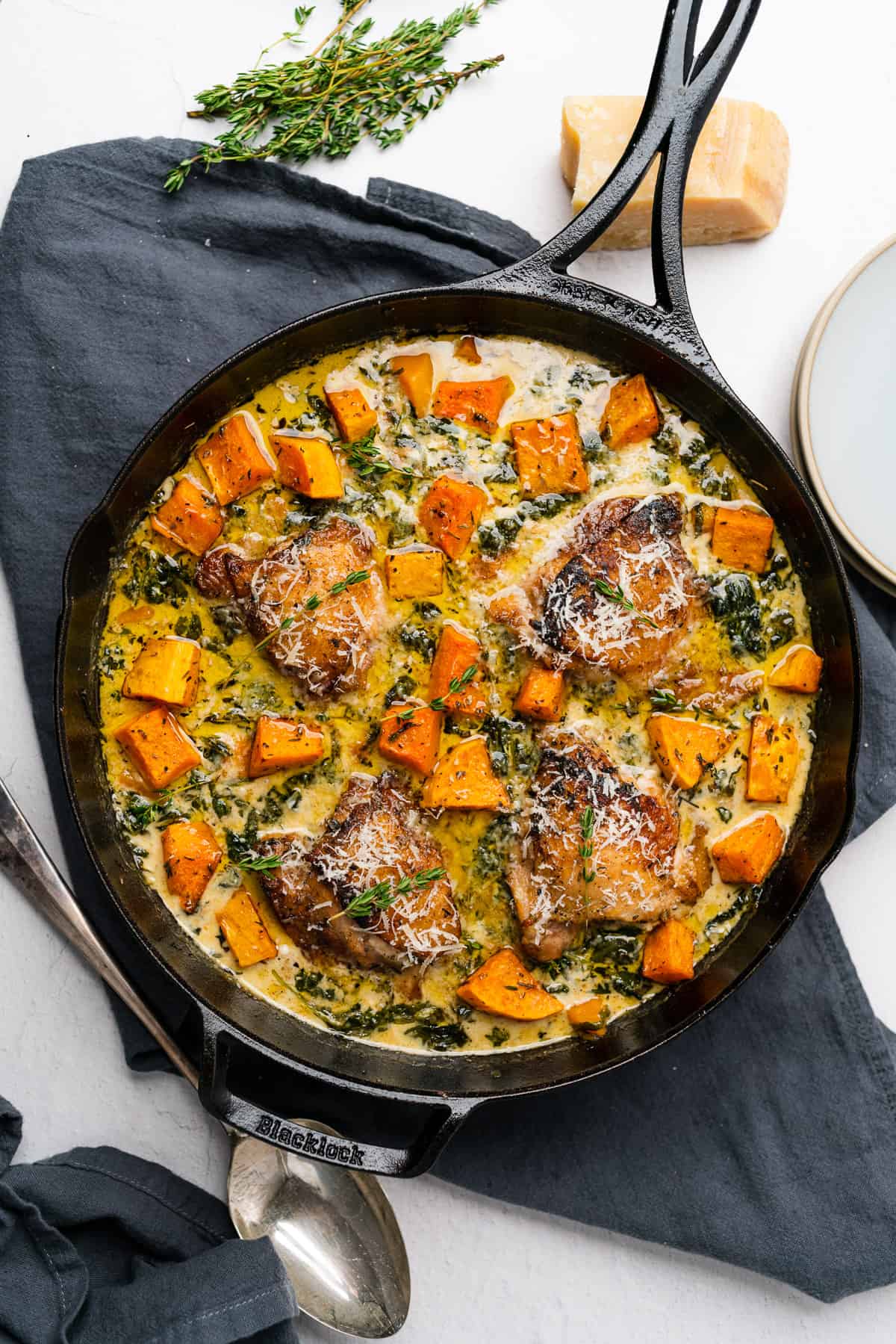 💭Frequently asked questions
What does butternut squash go well with?

Butternut squash is such a lovely winter squash with an earthy, sweet flavor. Butternut squash is the ideal fall and winter produce item, because it goes quite well with sweet ingredients, warming spices, savory herbs, and plenty of proteins and vegetables.

Basically, you can pair it with many different ingredients! We thought the savory flavor of thyme mixed with a creamy parmesan sauce were perfect. Chicken thighs are the perfect canvas for just about anything, so this butternut squash chicken dish is well-rounded and comforting with the flavor palate we chose.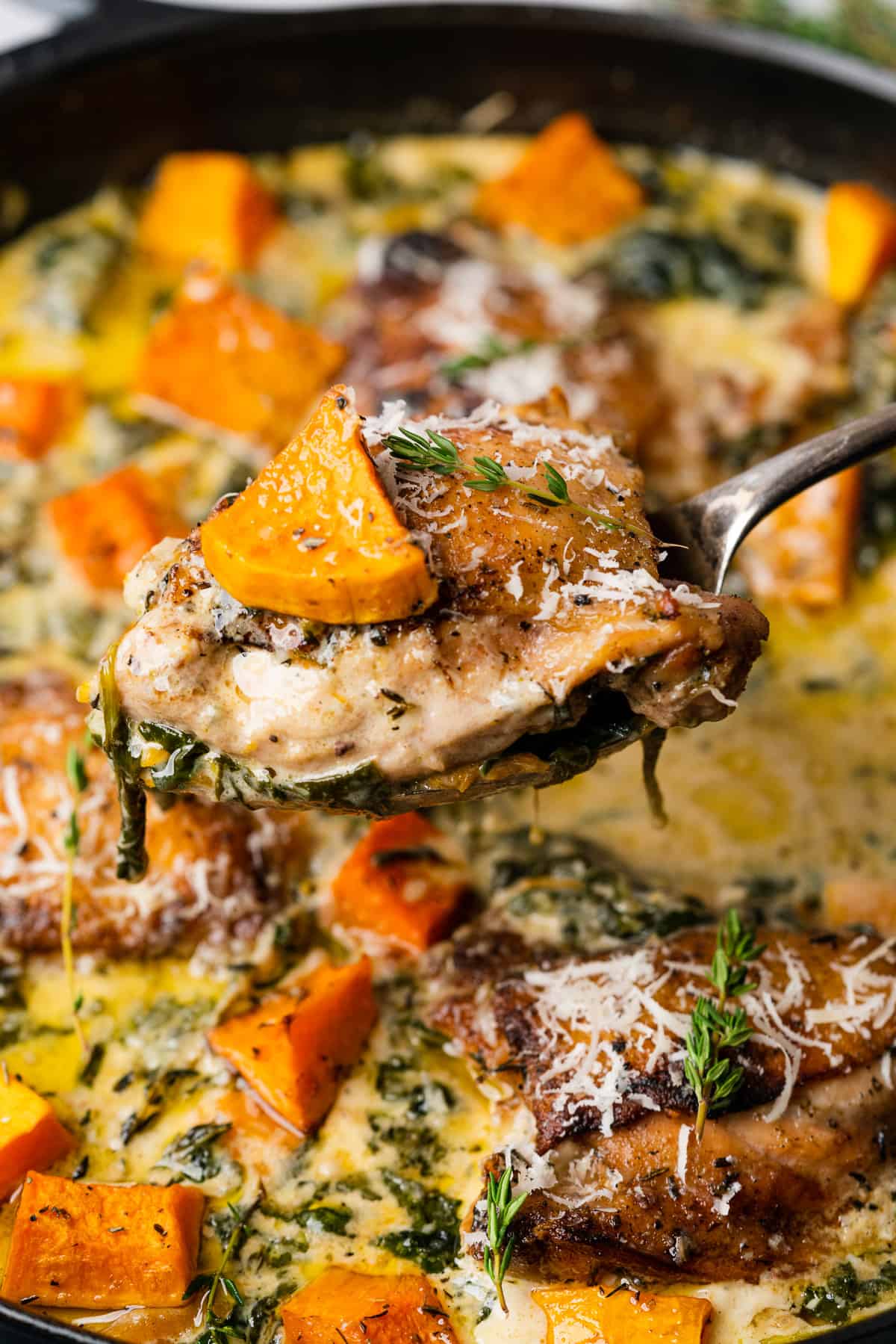 Should I de-bone the chicken thighs for this recipe?

No, you don't need to de-bone the chicken thighs but this is one of those things that is truly all about your preference. For this recipe, we prefer to leave the bone-in, because it helps keep the chicken moist and juicy while cooking.

When it comes time to dig in, the chicken will be so tender that it falls off the bone! If you prefer not to leave the bone in, check out this great guide.

Just make sure you save your chicken bones for later, you can turn them into a great stock! Simply throw the chicken bones into a freezer bag, and freeze them until you collect enough to make some homemade chicken stock. Here's some recipes and instructions for how to do that!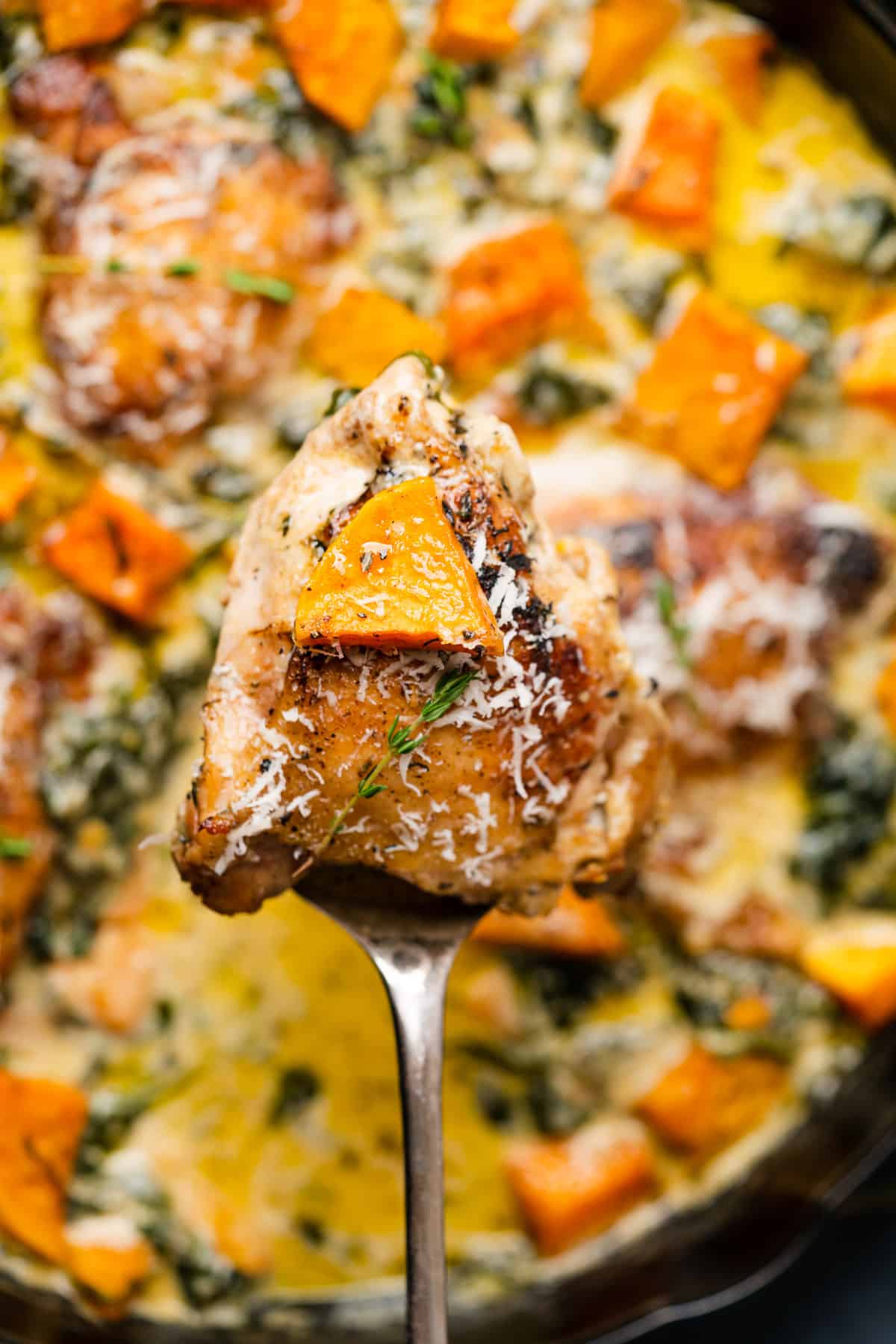 🐔Tips for crispy chicken skin
While you can technically can use any cut of chicken you want for this, we do recommend chicken thighs with the skin on for a super yummy flavor and awesome textural element.
Here are a couple of pointers for getting the chicken skin crispy (and keeping it that way!)
Make sure the thighs are dried off really well with a paper towel before cooking to soak up excess moisture.
Take the chicken out of the fridge about 30 minutes to 1 hour before cooking to come to room temperature. Getting the chicken to room temperature will help get a nice sear on the skin.
Make sure your skillet is quite hot. To do this, preheat over medium heat for about 5-10 minutes. When you drop water onto the skillet, it should sizzle and evaporate right away.
Add the seasoned chicken thighs skin side down first to a hot skillet and press them in with tongs. You want to maximize contact with the pan to ensure it gets crispy everywhere!
Leave the thighs alone for at least 3-5 minutes per side before moving them at all to create a hard sear. Fun fact, things naturally release themselves from the pan when they are ready and have achieved a nice sear. If you go to move the chicken thigh and it feels stuck, give it another minute or so before trying to move it again.
When you add these chicken thighs back to the skillet before everything goes into the oven, nestle the thighs into the squash and cream sauce mixture with the skin side up, and don't smother them with sauce. This will ensure that the meat is nice and juicy, but the skin stays crispy.
🌿Homemade Italian seasoning blend
Making your own Italian seasoning blend is so easy, plus it's cost-effective! The best part of making your own is you can always adjust herbs to suit your own personal preference. Of course you can use store-bought if you prefer.

🌿Italian seasoning recipe
2 tablespoons dried oregano
1 tablespoon + 1 teaspoon (or 4 teaspoons) marjoram
1 tablespoon + 1 teaspoon (or 4 teaspoons) dried thyme
1 tablespoon + 1 teaspoon (or 4 teaspoons) basil
1 tablespoon dried rosemary
1 tablespoon sage
*Makes 24 teaspoons or 4 tablespoons
🤤More recipes made with Lodge Cast Iron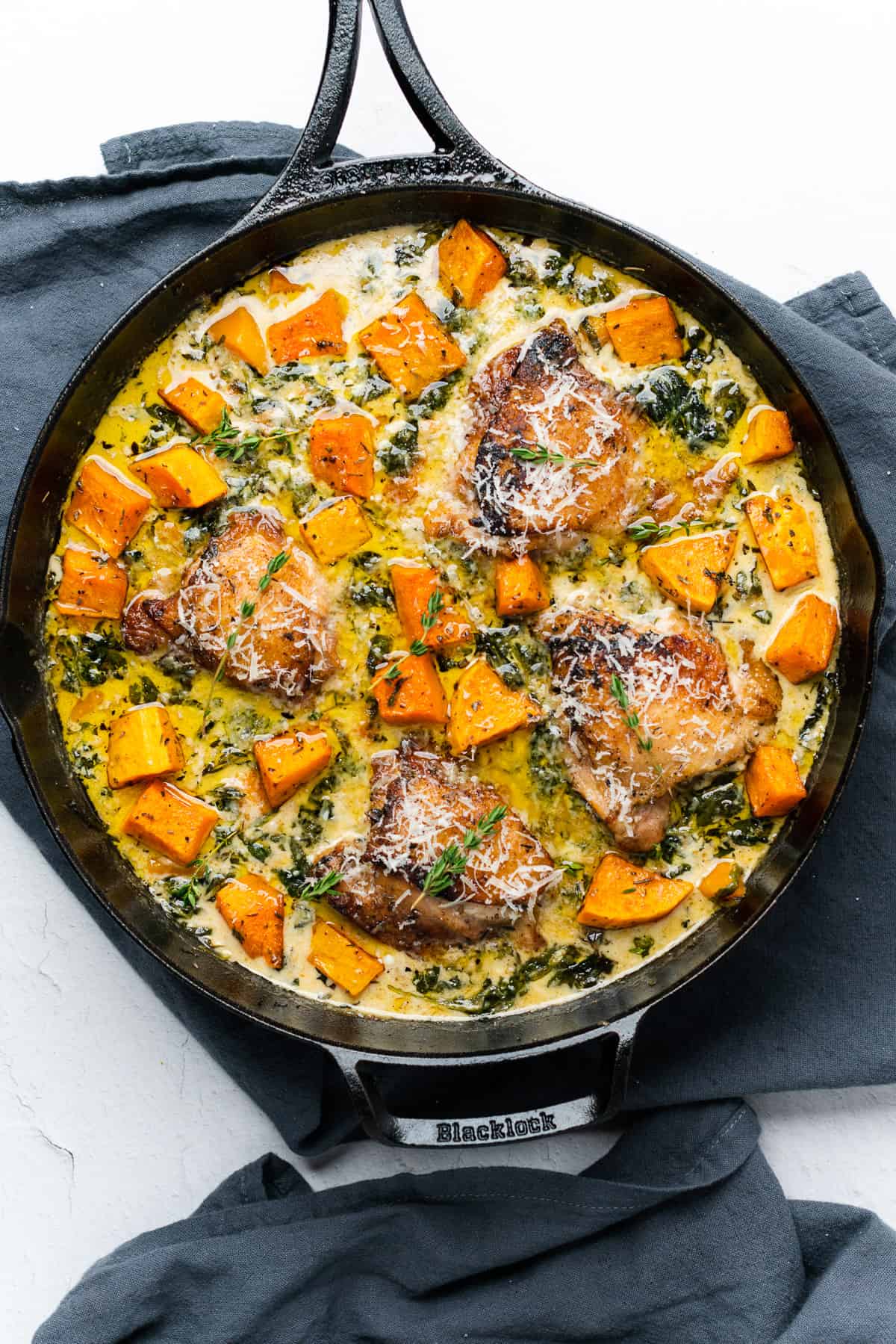 🛒Shop this recipe
Want to get supplies for this butternut squash chicken recipe or shop our kitchen or pantry? We've linked our favorites above and right here in our Amazon Store!
A Full Living is a participant in the Amazon Services LLC Associate program, an affiliate advertising program designed to promote a means for sites to earn advertising fees by linking products to amazon.com. We only share products we use and love. It doesn't cost you anything extra to shop using our links, but we earn a small commission that helps us keep this site going!
🥣Storage
Leftovers can be kept for up to 5 days in the fridge in an airtight container.
To reheat, place them back in the skillet, and cook on low for about 10-15 minutes (covered) until the chicken is warmed through.
You could gently microwave, but this makes the chicken a little tough, as well as make the skin soggy.
Alternatively, broiling on low (placing the skillet further away from the broiler), for about 15 minutes works since the skin will crisp up and everything will be warmed through.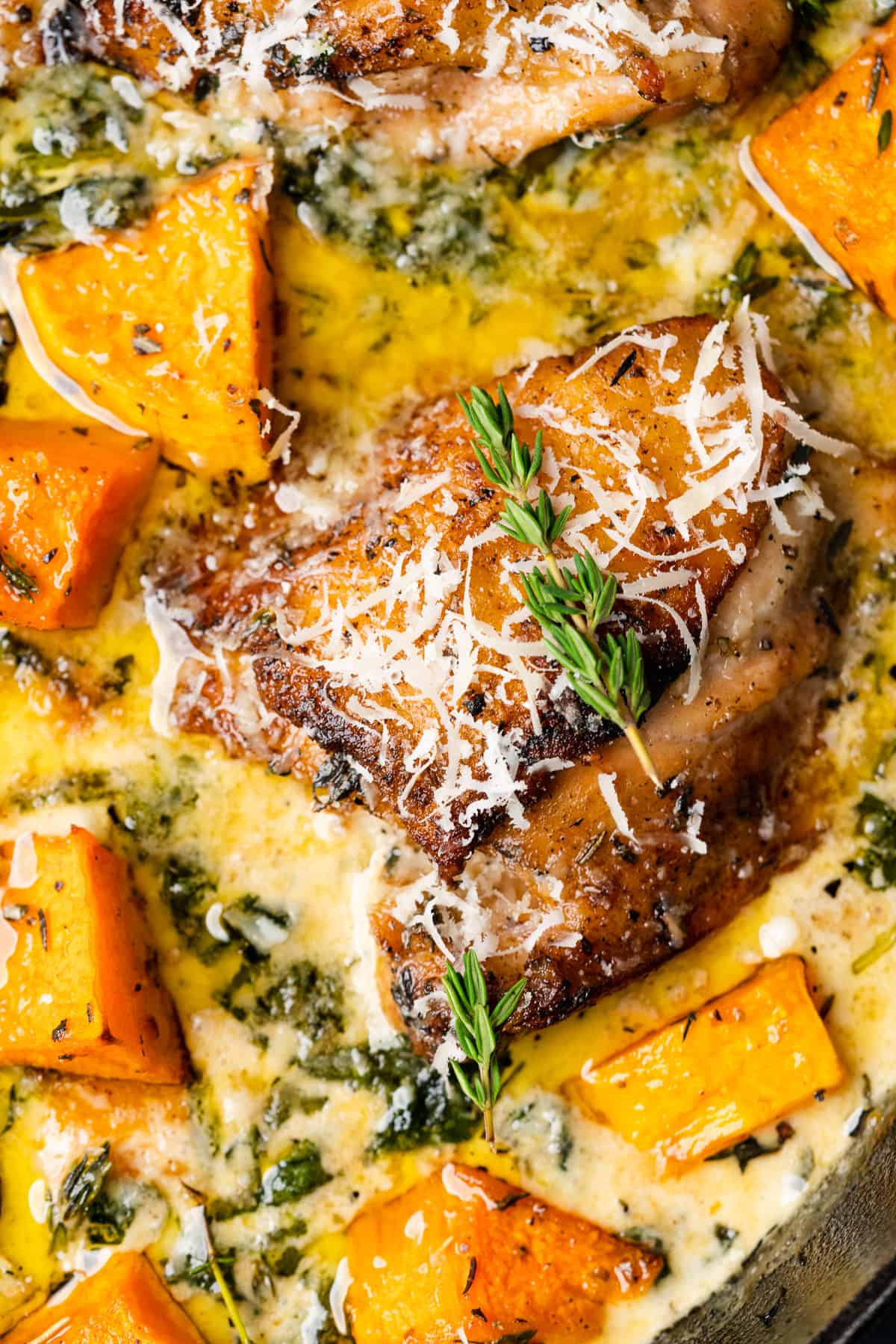 🌟Leave a review!
Make sure to leave a 5-star review below! This helps other readers find our recipes via Google, and encourages them to try them. Also be sure to leave a comment with your experience!
Take a photo and share with us by tagging us on Instagram or follow along on Pinterest for more ideas!
📖 Recipe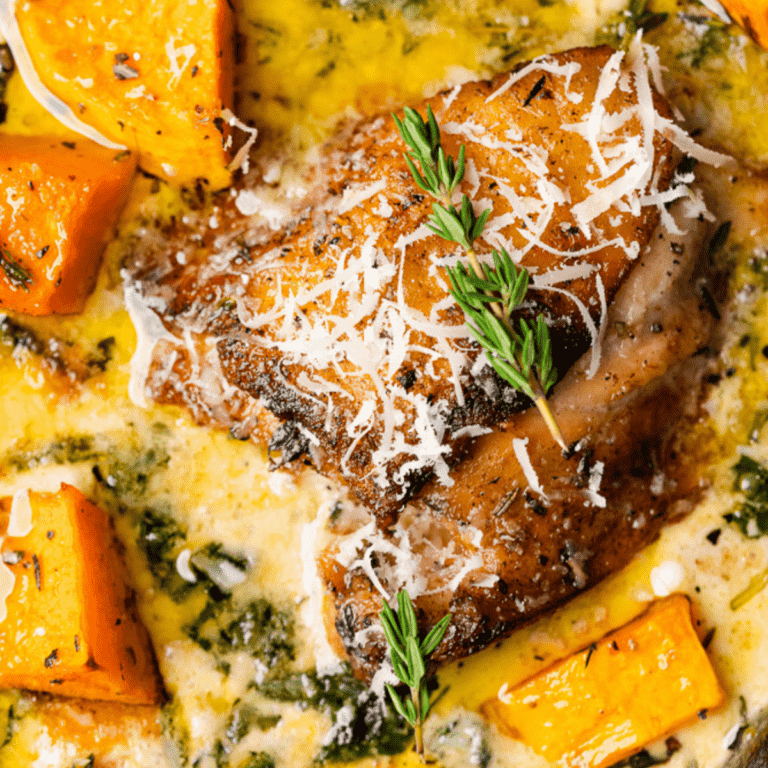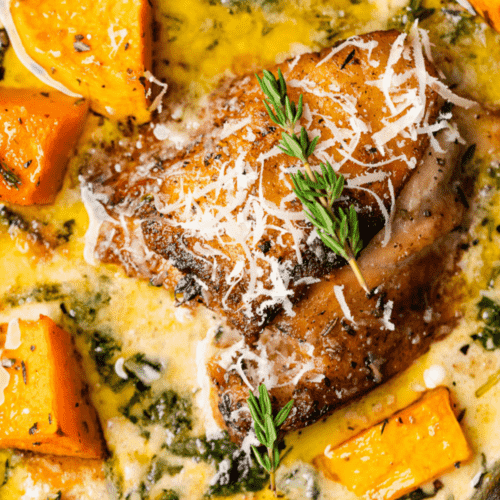 Chicken and Butternut Squash Recipe with Parmesan Sauce
This Creamy Parmesan Chicken and Butternut Squash Skillet Recipe is an easy, luscious and hearty one skillet dinner time favorite. This yummy butternut squash chicken dinner combines a flavorful parmesan cream sauce packed with garlic, spinach, fresh thyme and roasted butternut squash and chicken thighs. This one skillet meal will become a go-to dinner recipe for the fall and winter.
Ingredients
2

tablespoons

unsalted butter

2

pounds

chicken thighs, bone-in and skin-on

(can also use skinless and boneless if desired)

1

tablespoon

fresh thyme

2

tablespoons

Italian seasoning

1.5

teaspoons

kosher salt

2

tablespoons

black pepper

2

tablespoons

olive oil

300

grams

butternut squash, peeled and cubed

(about half of a medium butternut squash)

8

ounces

fresh spinach

4

cloves

garlic, minced

1

cup

chicken broth

1

cup

heavy whipping cream

4

ounces

parmesan cheese, shredded or grated

To garnish: thyme sprigs, grated parmesan cheese
Instructions
Preheat your oven to 375°F. In a small bowl, combine all of your dry seasonings, salt and pepper. Sprinkle seasoning all over the chicken on both sides. Save and set aside the remaining for the squash.

In a hot skillet, add the butter, and then the chicken thighs skin side down. Allow to cook until golden brown, about 4 minutes. Flip, and then sear for another 4 minutes. Remove from the skillet and set aside.

Add your olive oil, butternut squash, and remaining seasonings to the skillet and mix. Cook until squash is lightly browned, about 5 minutes.

Add in your fresh spinach and wilt. Once wilted, add in garlic cloves until fragrant, about 30 seconds. Reduce the heat to low. Stir in, your chicken broth, heavy whipping cream, and parmesan cheese. Stir until the cheese is melted.

Add the chicken thighs back into the skillet, skin side up. Bake for 20-25 minutes at 375°F, until the cheese is bubbling. Garnish with fresh parmesan and thyme sprigs.

Eat within 5 days and store in an airtight container in the fridge.
Video
Notes
8 net carbs per serving. 
Feel free to use chicken breasts in place of thighs if you prefer. 
Chicken bone broth, regular broth or stock will work perfectly fine for this recipe.
If using frozen spinach, make sure to thaw and squeeze out extra water beforehand. 
Grating parmesan cheese fresh is the best bet for getting it to melt in the sauce correctly. 
Nutrition
Calories:
615
kcal
Carbohydrates:
11
g
Protein:
31
g
Fat:
50
g
Saturated Fat:
21
g
Trans Fat:
1
g
Cholesterol:
207
mg
Sodium:
1161
mg
Potassium:
770
mg
Fiber:
3
g
Sugar:
2
g
Vitamin A:
9953
IU
Vitamin C:
29
mg
Calcium:
336
mg
Iron:
3
mg