Last updated on January 22nd, 2021
Jump to Recipe
This Keto Candied Butternut Squash is super simple to make, with no peeling or chopping involved! Simply cut your squash in half, scoop out the seeds, and cover it with a delicious cinnamon and brown sugar replacement mixture – then bake! In less than an hour you will have an easy and delicious side dish fit for any occasion, without all of the carbs and sugar.
---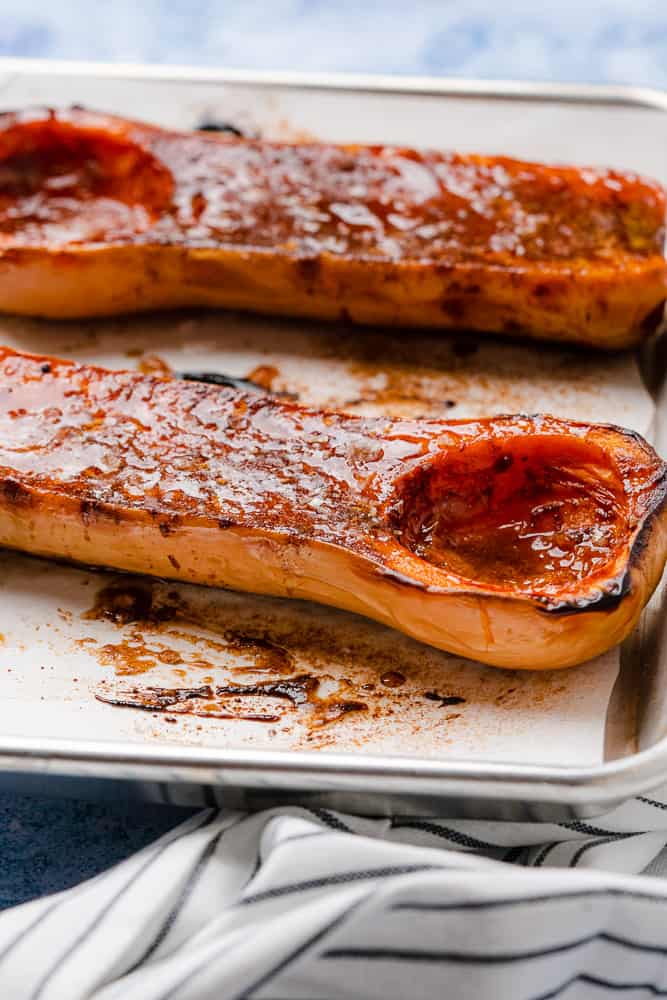 Do you love candied butternut squash, but have you said goodbye to it ever since starting a low carb or keto diet? Don't worry – we have you covered! This keto candied butternut squash is incredibly easy to make. You don't need to peel or chop anything at all. You simply need to cut a squash in half, scoop out the seeds, and cover the squash with a delicious mixture of butter, brown sugar replacement , cinnamon and a few extras. You're never even going to miss the super sugary version of this dish again – trust us!

We'll get into the details of how this super easy keto friendly side dish comes together. Make sure to read all the tips and tricks, we've answered some common questions below. Unless of course you don't need much help in the kitchen. If that's you, feel free to just skip to the recipe card. This is one of our favorite keto butternut squash recipes of all time, we hope you enjoy it!
Here's What You Need For This Keto Candied Butternut Squash:​
Butternut squash– I mean, this is pretty obvious. You will need one small – medium sized squash butternut squash, weighing in at around 600 grams. Of course, you could use whatever size you want, but you will probably need to increase the amount of the other ingredients you use if it's larger than 600 grams.
Unsalted butter- We're going to mix the butter up with cinnamon, sweetener and a little salt and pepper and then rub the squash down with it, and it's going to be amazingly tasty! Side note – we do like using unsalted butter because it allows us to control the salt level much easier. We like adding our own salt so that we can control the flavor better.
Brown sugar replacement – Technically you could use your favorite granular sugar replacement, but we love using our favorite, brown sugar Swerve because it has that lovely molasses like flavor that really adds to this yummy side dish. If you want to substitute with something like stevia, just make sure to adjust amounts accordingly, because stevia is WAY sweeter than other sweeteners. We prefer brown sugar Swerve because it measure 1:1 for regular sugar, and it's equally as sweet. We also love Swerve because it doesn't upset our stomaches like some other sweeteners like allulose. Allulose is a wonderful sweetener, but unfortunately we have a bit of a sensitivity to it and it gives us an upset stomach!
Salt – Even though this dish is mostly sweet, it needs a little salt too! Diamond Kosher Salt is our new favorite salt source. It's much easier to control (in terms of saltiness) when it comes to various types of salt, compared to different types of salt! Not all salts are created equal, and different types of salt are waaaay saltier than others. We love the diamond crystal shape. The texture is amazing it dissolves really well, and it's perfect for seasoning food gradually.
Ground black pepper – This will add just a little bit of extra flavor. Don't worry, it won't be weird with the sweet elements, and instead will create a nice well-rounded flavor. Add to taste, but don't be shy.
Ground Cinnamon – This really adds the flavor to this lovely keto candied butternut squash side! Again, add to taste. We like to sprinkle some on top after baking as well before we dig in. Basically, we can't get enough!
More Ideas For Topping This Keto Candied Butternut Squash:
ChocZero Maple Syrup – We absolutely LOVE drizzling the finished product with a little ChocZero maple syrup. It's truly the best! You could also drizzle some on in the middle of baking, but only do so for about the last 10-15 minutes or so. Since we are roasting this squash at such a high heat, we don't want to burn the maple syrup. If you'd like to save 10% on ChocZero's website, you can use our affiliate code 'AFullLiving' at checkout!
Feeling spicy? Add a little bit of cayenne pepper or red pepper flakes (or both!!) to butter mixture for a lovely little kick. Totally optional though. You can also add more fresh ground black pepper to the top!
Add nuts- Sometimes we sprinkle on some pecans or walnuts when there's about 10-15 minutes of time left for the squash to roast. Butternut squash and nuts?! Yes please, it's such a good combo!
Add bacon– Crispy bacon bits would go so wonderfully on this. The combo of sweet, salty and fatty would be amazing.
Top with savory herbs- Savory herbs like sage, thyme, and rosemary would be so delicious. If using these herbs, we would recommend cooking them a bit in some butter to avoid any pungent or bitter herbaceous flavors that won't go well with the squash.
Get cheesy- Whip some creamy goat cheese, mascarpone or ricotta and maybe even mix it with any of the ingredients we listed above. You won't regret it!
More salt! But not just any salt! Yes, you can definitely top with more kosher salt if you want, but we love some flaky Maldon sea salt flakes! It's such a nice texture and gives bites such a lovely salty flavor that isn't over the top. Just sprinkle a little bit on before serving.
Is Butternut Squash Keto?
We like to say this a lot, but many foods can be keto-friendly in moderation, and we don't really like the idea of eliminating (most) foods entirely. Ketosis is metabolic state, not a food, and the truth is, many people can handle more carbs than others. Basically, we looove fruits and veggies, but some have higher carb counts than others, so we tend to limit the amount we consume a bit.

Butternut squash is a bit on the starchier side when it comes to low carb and keto friendly vegetables, but we enjoy it from time to time with no problem. We kind of subscribe to the belief that if something fits in our macros and we want it, we eat it. It's good to get most of your carbs from fruits and vegetables anyway! While a little higher in carbs than some other foods, we eat it in small amounts along side a big meal of protein and fat (think steak!!) and we're good to go. Eating a small portion of butternut squash is totally fine (for some) on the keto diet.
What Are the Macros For Butternut Squash?
For one cup of butternut squash cubes (or around 140 grams of squash) you're looking at a total of 16g of total carbs, 2.8g fiber, and 3.1g of sugar. All in, it's 13.2g net carbs for 140 grams of butternut squash, and only 68 calories. It's also nearly 300% of your daily Vitamin A, along with almost 50% of your daily Vitamin C. You can also get a good amount of your daily Vitamin B-6 (10% of your daily value) and Magnesium (12% of daily value) from butternut squash.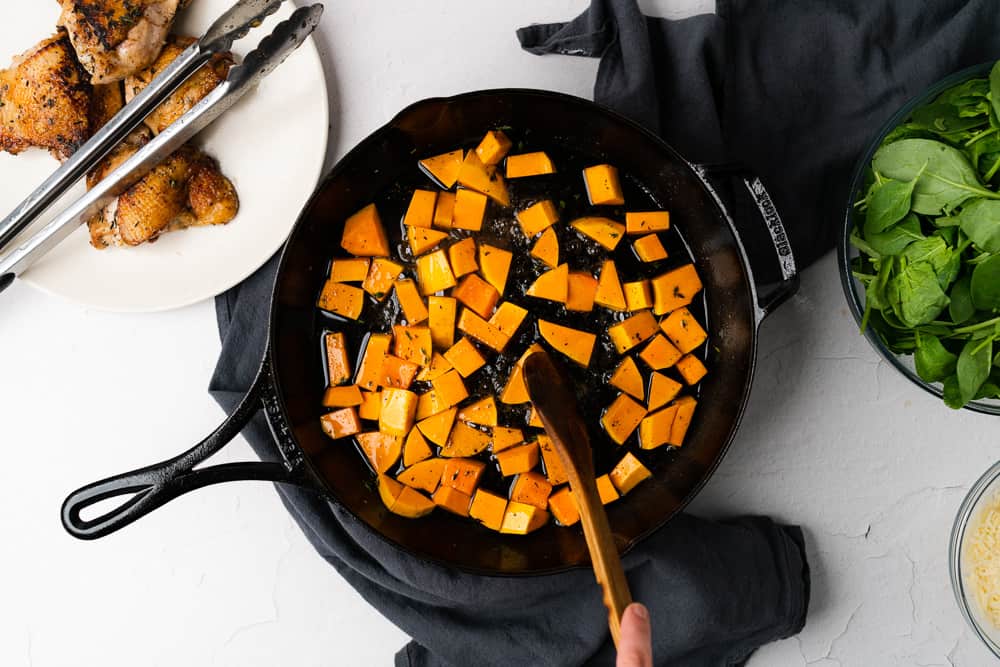 Do I Need To Use Peel The Butternut Squash For This Keto Candied Butternut Squash Recipe?
Nope! While we do often peel and cut up butternut squash (like pictured above) it's not necessary for this application. You can if you prefer that however. You can also buy butternut squash cut up into chunks already, so if that's what you have on hand, feel free to use it. Personally we find peeling butternut squash to be a lot of work, so any chance we get to just roast it while halved, we will take it.

The best part about this recipe is how little prep work it is. Seriously, just rinse off the squash, cut in half, clean out the seeds, poke with holes, and slather in a delicious sweet and buttery mixture – then bake. It doesn't get much easier than that.
What Cooking Method Should I Use?
We will cook this butternut squash at a high heat for a quite a while until it's super easy to scoop it out with a spoon. We'll roast the squash for 40-50 minutes at 425°F until nice and tender. Also, we will poke holes in the squash to help the cooking process, as well as to let the butter, cinnamon and sweetener mixture seep into the flesh of the squash. At the halfway point of cooking, around 20 minutes, make sure to take a spoon and baste the squash with the buttery, sweet mixture that has cooked off. You want as much of it as you can to seep into the squash.
What Should I Serve This Keto Butternut Squash With?
This squash is nice and sweet and savory simultaneously, making it extremely versatile. Traditionally we see this more as a super easy holiday side dish, like for Thanksgiving and Christmas, but it's great any night of the week as well. We love it with a juicy steak (medium rare ribeye for us please!!), or in this yummy parmesan chicken skillet dish, or even as a side to this citrus glazed salmon. We plan to create lots more butternut squash recipes for you guys, so check back to see what we come up with.
Here's Some More Recipes You Will Love:
Tools: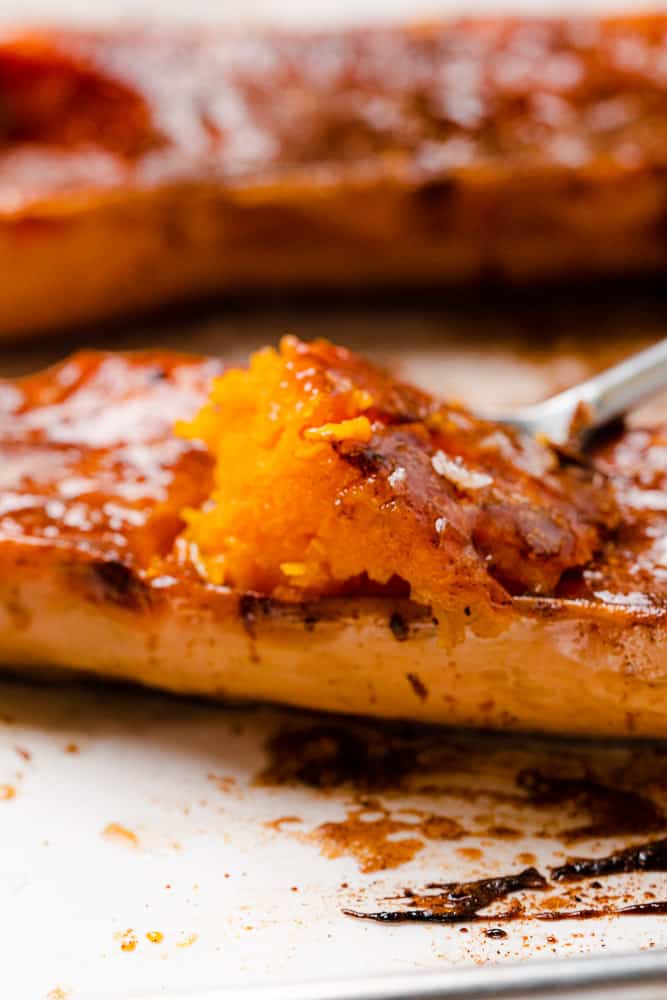 Need supplies for this recipe? We've linked our favorites above and right here in our Amazon Store! You don't pay anything extra if you shop using our link, but we get a small percentage of the sale. A Full Living is a participant in the Amazon Services LLC Associate program, an affiliate advertising program designed to promote a means for sites to earn advertising fees by linking products to amazon.com. We only share products we use and love. It doesn't cost you anything extra to shop using our links, but we earn a small commission that helps us keep this site going!
Let's Make This Keto Candied Butternut Squash!
---
Start by preheating the oven to 425°F. Cut your squash in half lengthwise, and scoop out the seeds with a spoon. You can also clean off the butternut squash seeds and roast them up too if you'd like. Poke some holes in the halves of your squash with a fork to help the butternut squash get tender faster, as well as to allow the butter and sweetener to seep into the flesh while it cooks.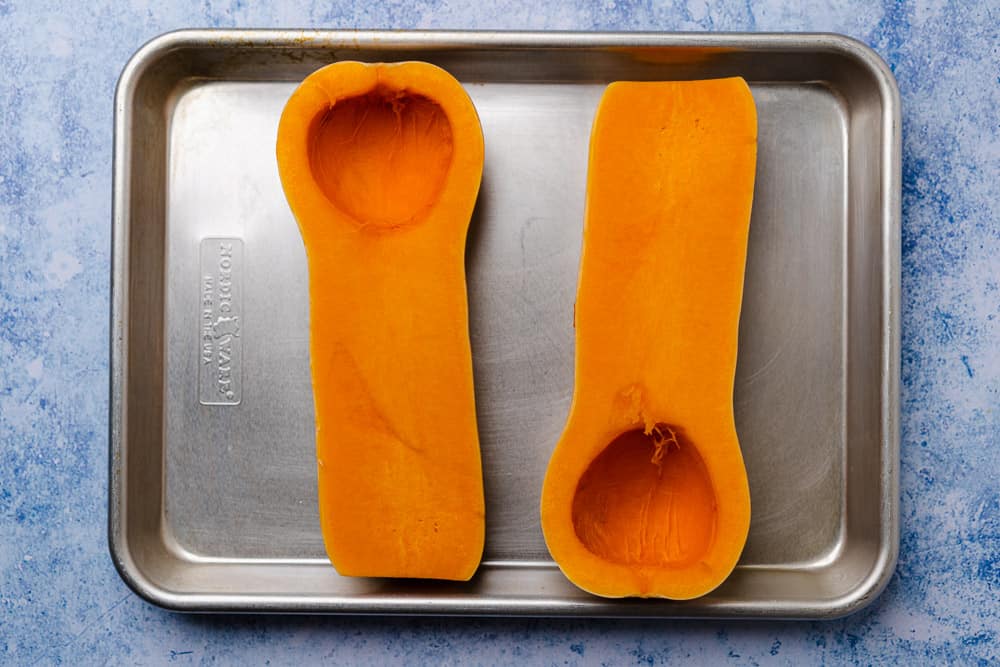 In a small bowl, mix together your butter, sweetener, cinnamon, salt and pepper. We use our hands and cold butter until a paste like mixture forms. Cover the halves of the squash with the mixture, and bake until nice and tender. This should take roughly 40-50 minutes. We do like to check the squash about halfway through, to baste it with the buttery drippings that come off while it bakes. That's it!
Serve and enjoy!
If you get a chance to try this keto swedish meatballs recipe, let us know what you think, would ya?! Leave us a comment, or catch up with us on Facebook or Instagram, or pin to your favorite Pinterest board for later.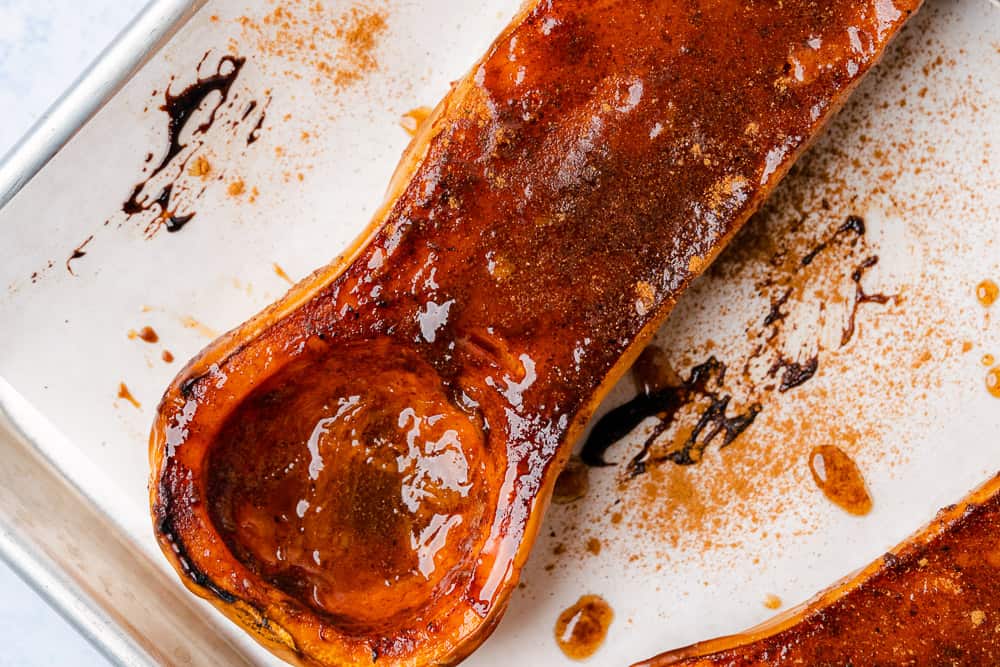 If you could please leave a comment and/or a rating if you loved this recipe, we would be forever grateful! (Ratings helps users find our recipes, since users say that they like them!)
Thanks for stopping by! Be sure to subscribe to our email newsletter so you're the first to know about new recipes we post on our blog.
Until Next Time,
Briana & Chamere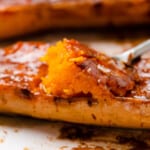 Keto Candied Butternut Squash
This Keto Candied Butternut Squash is super simple to make, with no peeling or chopping involved! Simply cut your squash in half, scoop out the seeds, and cover it with a delicious cinnamon and brown sugar replacement mixture – then bake! In less than an hour you will have an easy and delicious side dish fit for any occasion, without all of the carbs and sugar.
Keyword:
butternut squash, candied, easy keto, gluten free, low carb, sugar free
Ingredients
600

grams

butternut squash

(about one small butternut squash)

3

tbsp

unsalted butter, cold

3

tbsp

brown sugar Swerve

(or your favorite brown sugar replacement)

1

tsp

ground cinnamon

1/2

tsp

kosher salt

1/8

tsp

ground black pepper
Instructions
Preheat your oven to 425°F. Cut the squash in half lengthwise, and scoop out the seeds. Poke holes in the squash with a fork. Place on a parchment lined baking sheet.

In a small bowl, combine cold butter, sweetener, cinnamon, salt and pepper and mix together until a paste like consistency forms. Spread the butter and sweetener mixture over top of the squash. Bake for 40-50 minutes, until squash is soft and tender, checking the squash halfway though to baste with butter and sweetener mixture.
Recipe Notes
Macros: We cannot guarantee the accuracy of these macros. They are estimated and provided as a courtesy via MyFitnessPal. 
Makes 8 servings, 71 calories per serving, 4.1g fat, 0.8g protein, 1.6g sugar, 8.6g total carbs, 1.6g fiber (making 7 net carbs).  
Hungry For More? Get Recipes Right To Your Inbox.