This Creamy Pumpkin Pasta Sauce is an easy, delicious recipe full of pumpkin flavor. When it's pumpkin season and you're looking for the perfect way to use up some leftover canned pumpkin, you'll love this dish full of savory flavor.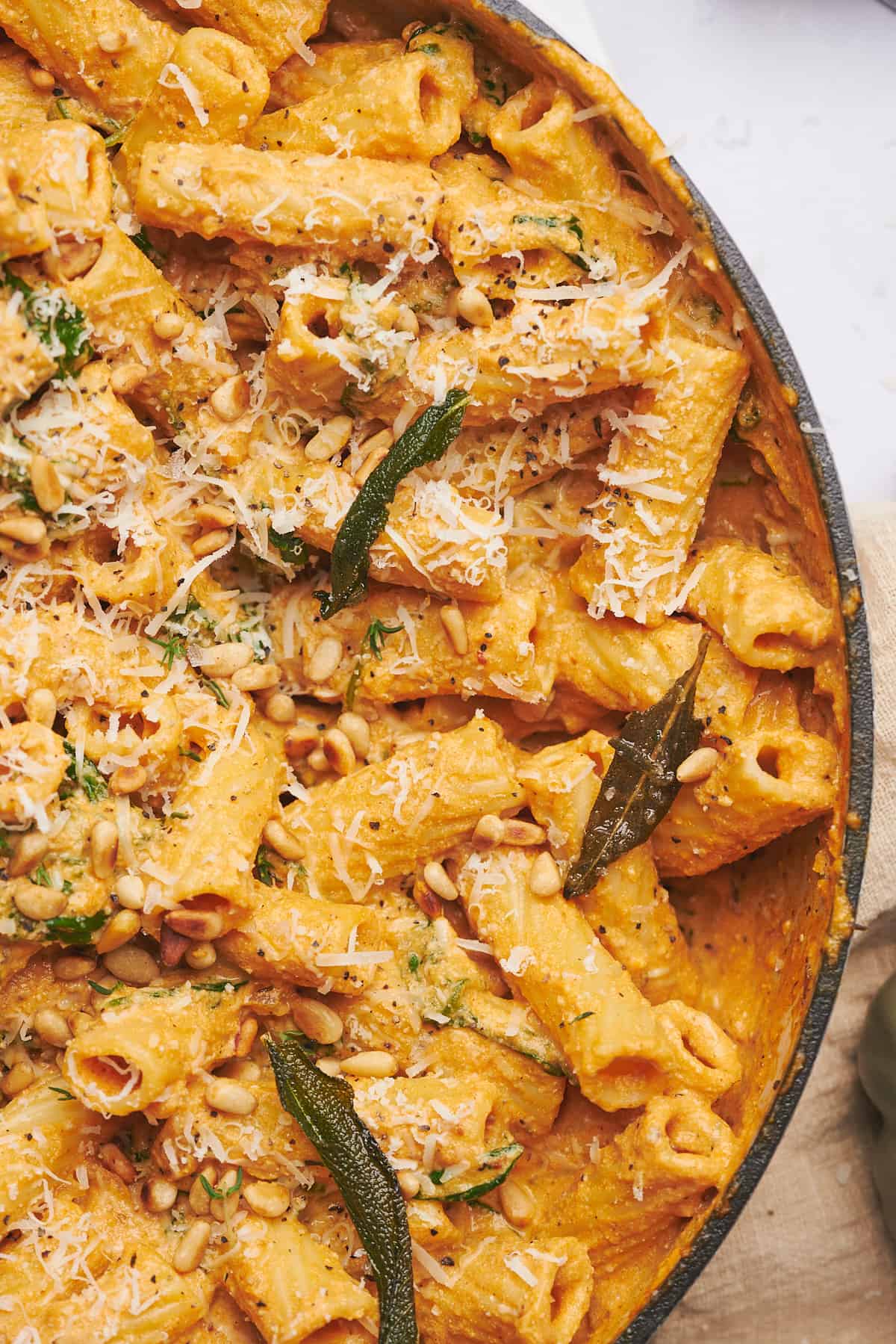 This recipe was adapted from our keto pumpkin alfredo with ground turkey! It's ultra-comforting and ready in just minutes.
If you're looking for more fall weeknight dinners, try this creamy chicken and butternut squash skillet, this beanless chili, or these pork sausage stuffed apples!
Jump to:
❤️Why we love this recipe
A great way to incorporate pumpkin into your diet - Pumpkin is so widely used in baked goods, and we understand why, but folks often overlook its savory uses! Pumpkin has quite a mild flavor, transforming with whatever you're cooking it with.
Made with simple ingredients - This recipe is truly made with pantry staples. You can find anything you don't have on hand at the grocery store.
Delicious flavor - This recipe is really truly yummy, with a creamy ricotta pumpkin sauce, savory spices, fresh spinach, and parmesan cheese. What's not to love? This delicious sauce is versatile.
Customizable to suit different diet types - This recipe is naturally vegetarian, and can easily be made gluten-free, and even low-carb if you use pasta that suits your diet type.
🎃Ingredients
Here are the ingredients we used for this pasta sauce. Please feel free to omit or modify ingredients as you see fit. You can find the full quantities we used and nutritional information in the recipe card.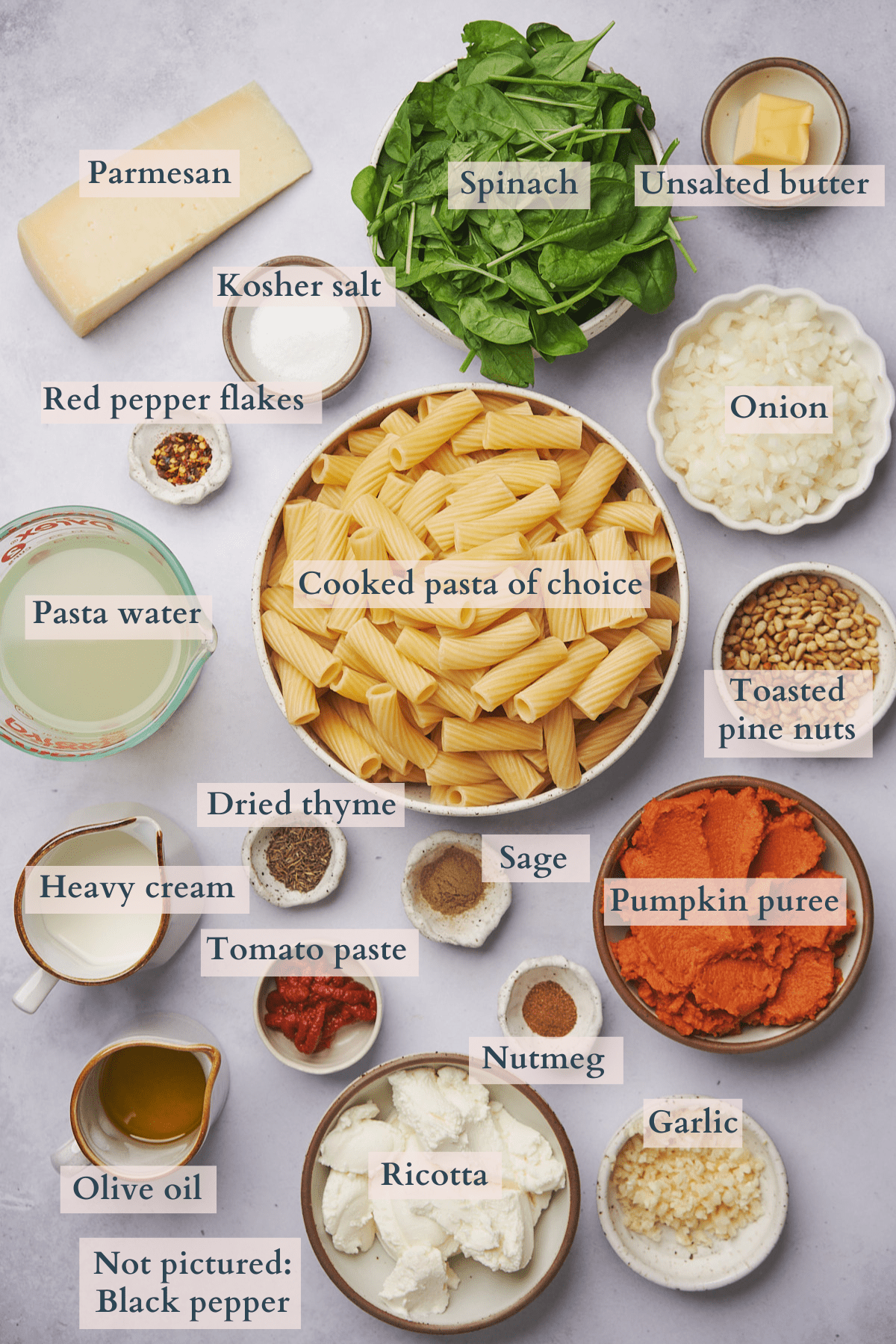 ✏️Ingredient notes
Pasta of choice - You can use any type of pasta you prefer, that suits your dietary needs. Cook the pasta al dente, so that it doesn't become too soft when putting the whole dish together.
Reserved pasta water - This helps us make a creamy sauce. If you're using a pasta alternative, you could use chicken broth instead. You may need to add a bit more salt, and maybe ricotta and/or parmesan to thicken up the sauce properly.
Extra-virgin olive oil & unsalted butter - We use both to make this sauce. You can use one or the other if you like, but we love using both to create the best flavor.
Garlic cloves - Finely minced. Fresh garlic is going to go a long way here, but you can use garlic powder if that's all you have on hand.
Yellow onion - Diced.
Kosher salt & black pepper
Seasonings - We use a mixture of dried sage, thyme, red pepper flakes (optional, for a little kick), and surprisingly, nutmeg! The combo of these flavors makes this dish something special.
Tomato paste - Adds a rich, sweet tomato flavor to the sauce.
Pure pumpkin puree - Not pumpkin pie filling that has added extra sugar and spices. The only ingredient should be pumpkin.
Heavy cream - To make the sauce rich and creamy.
Ricotta cheese - To create a supremely rich and flavorful sauce with the perfect creamy texture.
Parmesan cheese - Freshly grated.
Fresh spinach - Optional, but adds a few extra nutrients to the sauce.
Garnish with: fresh sage that has been fried in a little bit of olive oil (optional), parmesan cheese, fresh thyme sprigs, and toasted pine nuts.
📖Instructions
📋Prep work
Prepare the pasta according to the package directions. Make sure to set aside at least 2 cups of pasta water!
Mince garlic.
Dice onion.
Grate parmesan.
Step 1 - Cook the aromatics
Heat a large skillet over medium heat. Add olive oil, and butter to the skillet, along with minced garlic.
Add garlic to the melted butter and cook until garlic is fragrant, about 30 seconds. Now, add in onion, tomato paste, red pepper flakes, thyme, sage, and nutmeg with a big pinch of salt.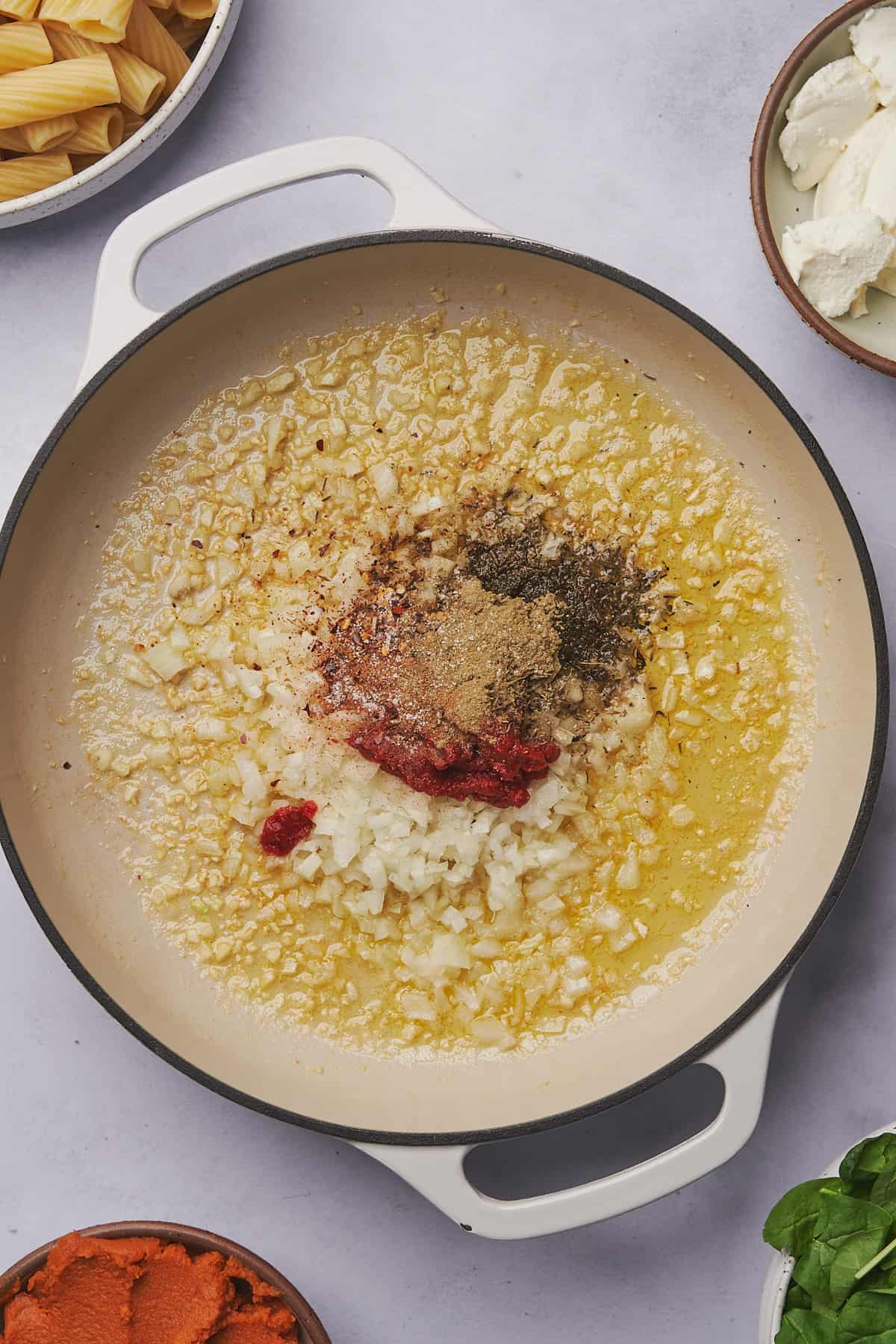 Cook until the tomato paste deepens in color, about 2-3 minutes.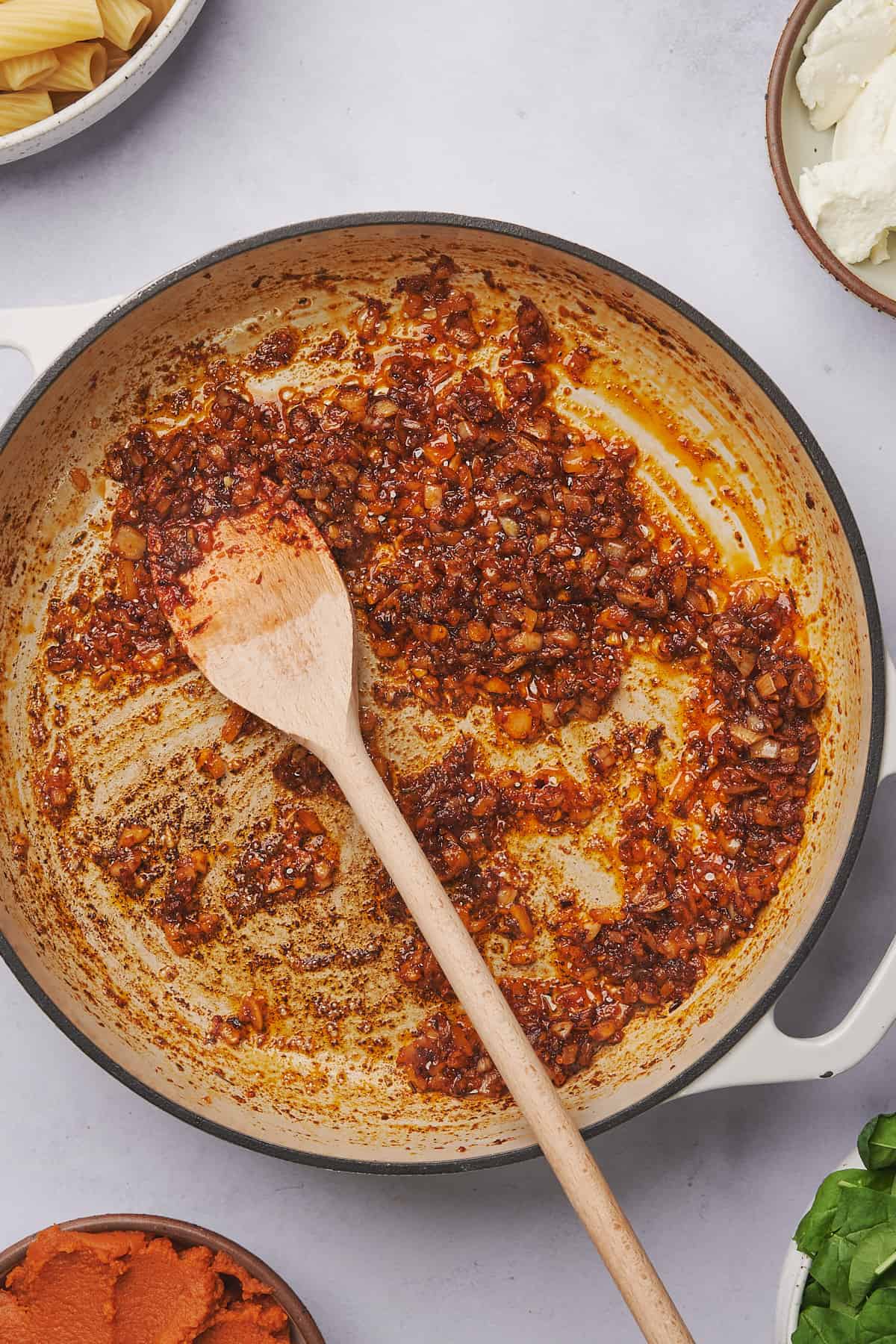 Step 2 - Add pumpkin puree and pasta water
Reduce to medium-low heat, and add in the pumpkin puree, and about 1 cup of the pasta water. Stir to combine.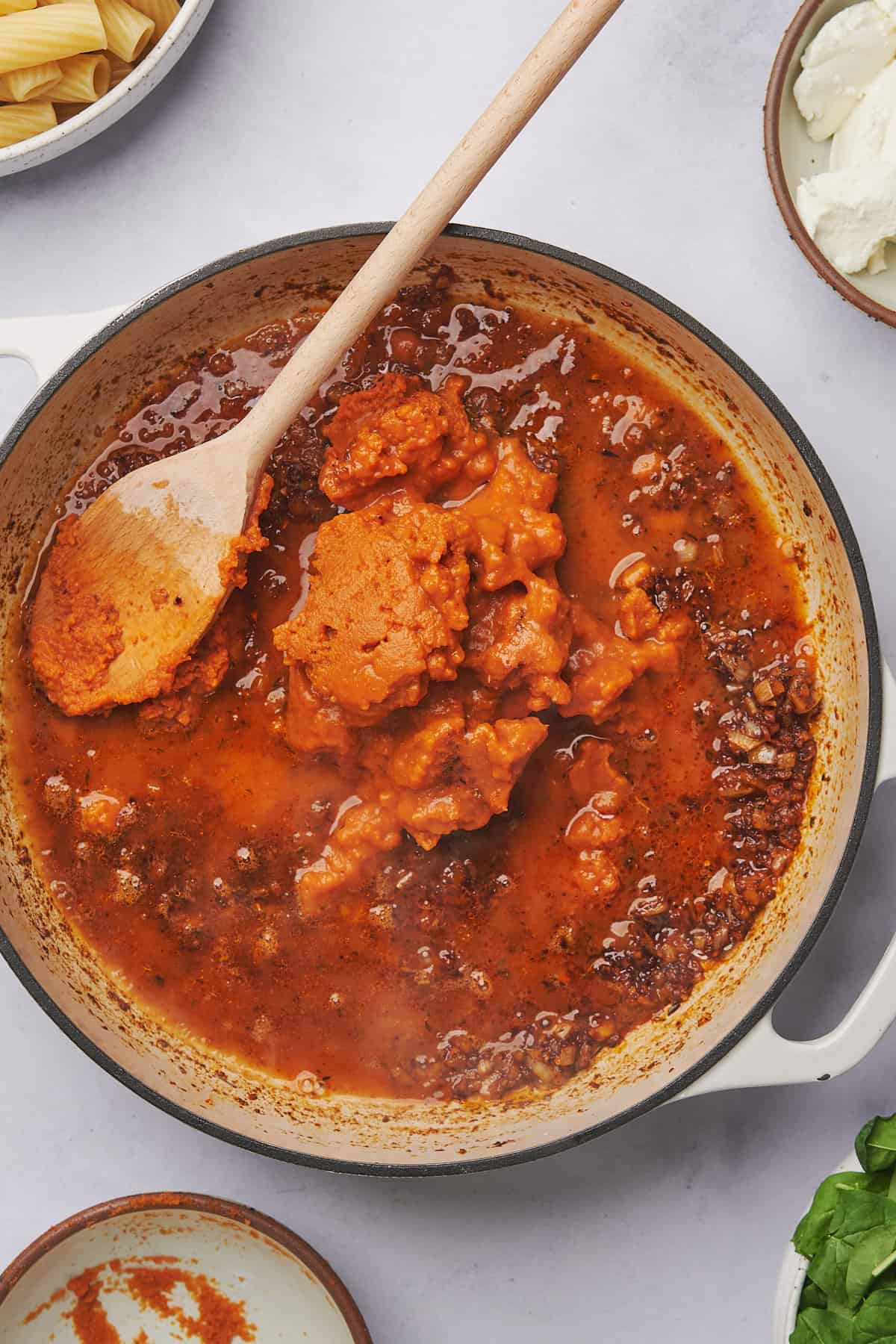 Stir constantly, until a sauce begins to form. This should take 2-3 minutes.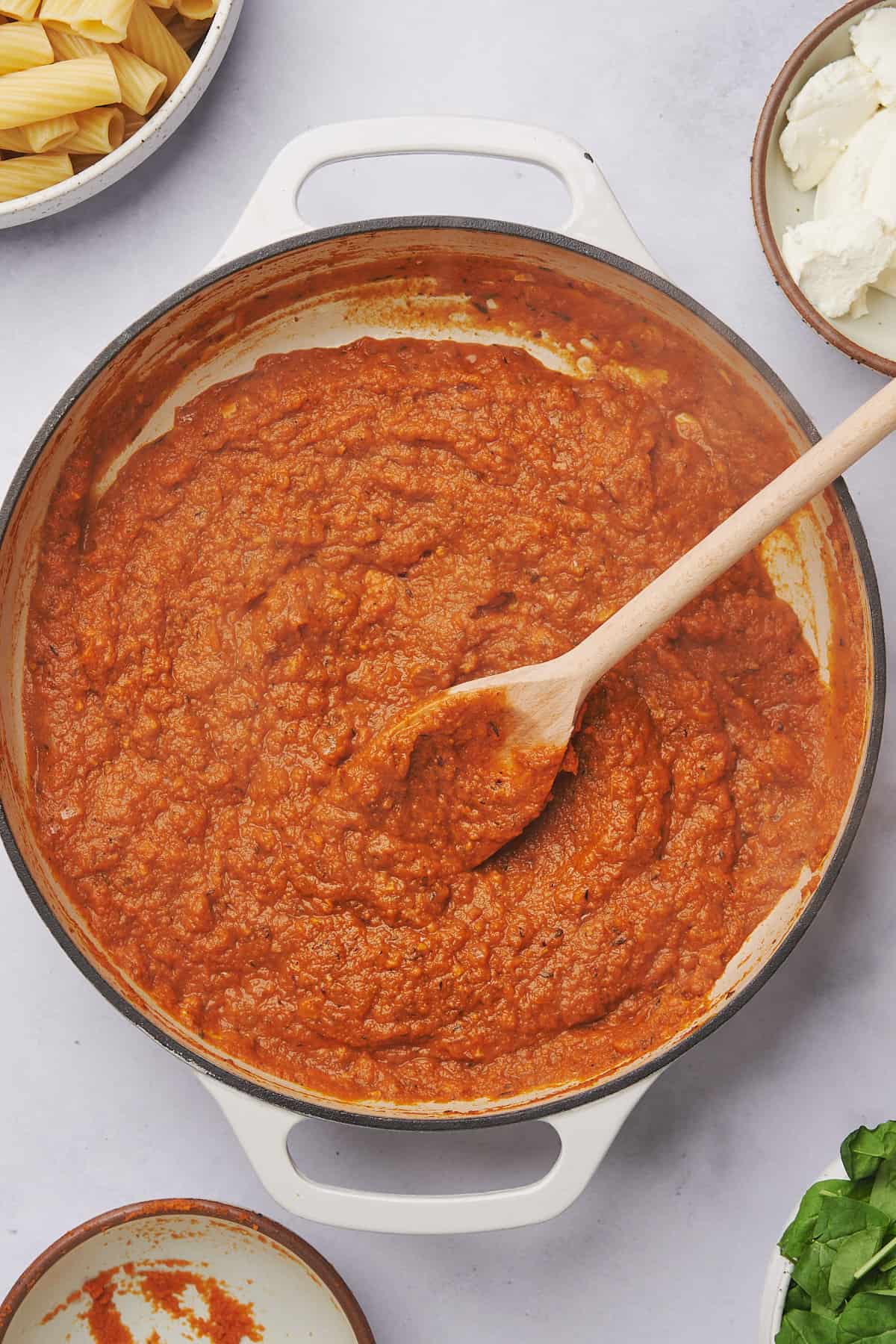 Step 3 - Add cream and cheese
Reduce to low or medium-low heat, then pour in heavy cream, the ricotta cheese, and some of the parmesan. Make sure to add the parmesan slowly for it to melt completely before adding more!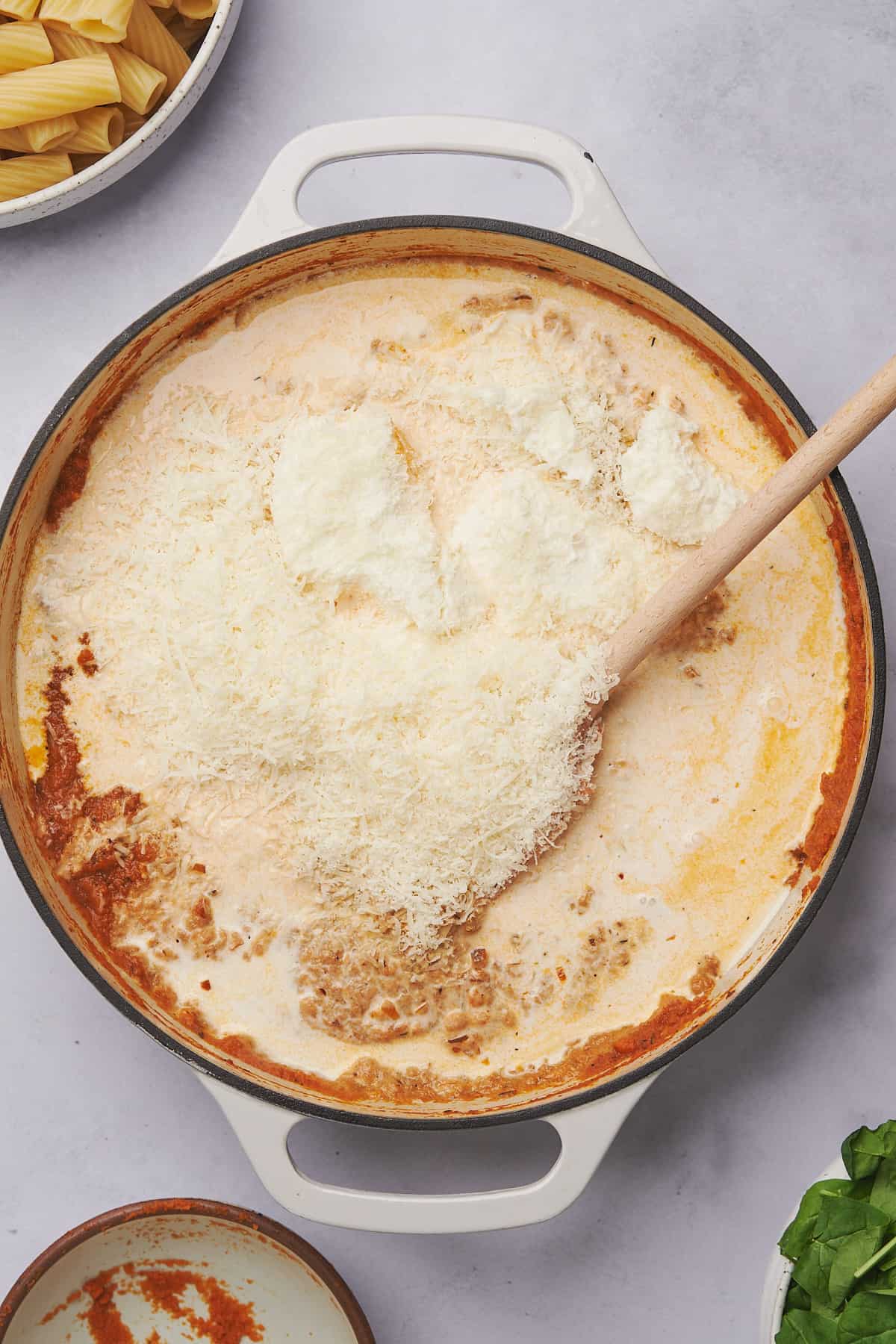 Stir constantly to make the sauce. Add more pasta water to thin, and add in parmesan in small handfuls to melt it slowly.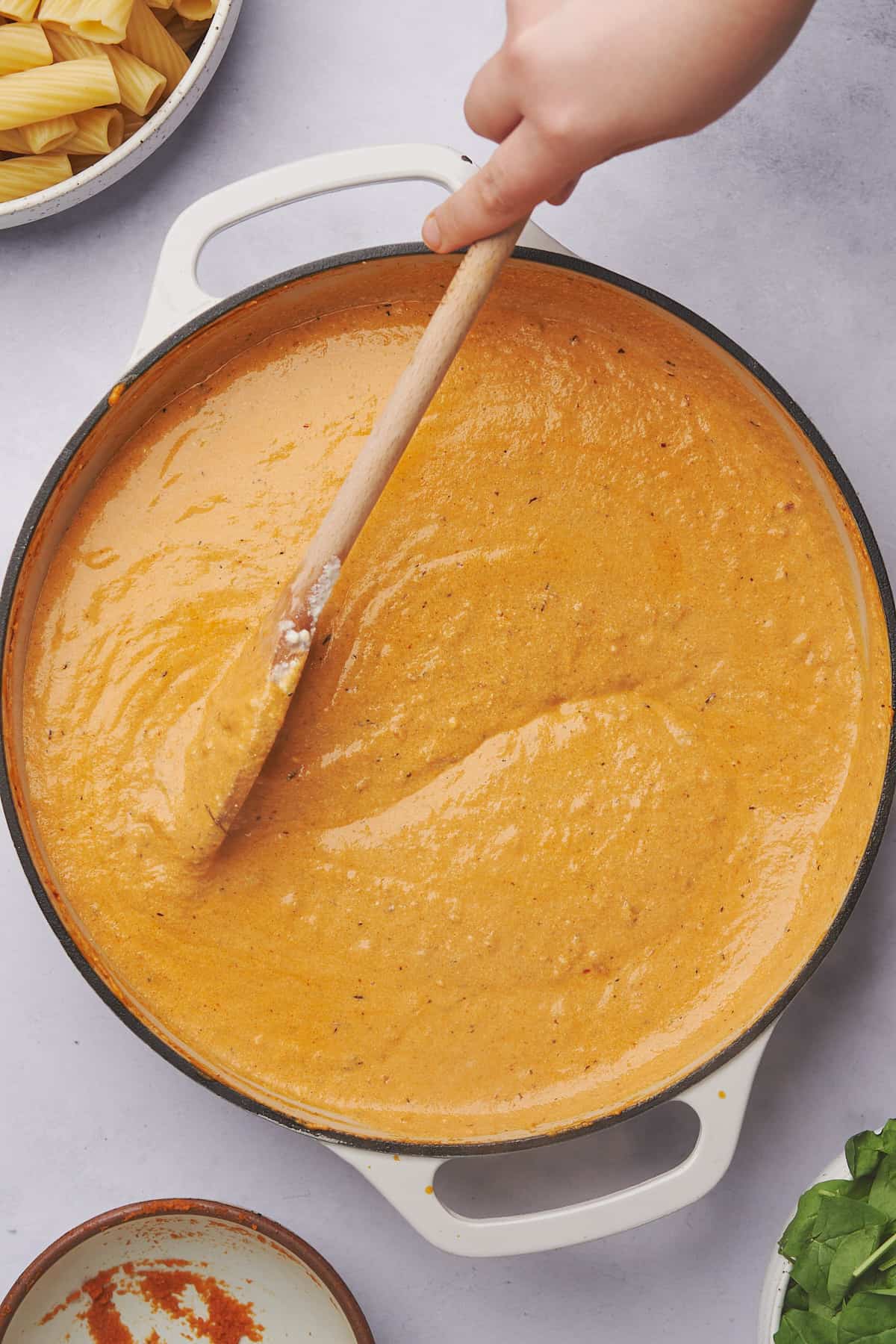 Step 4 - Wilt spinach
Add the optional spinach.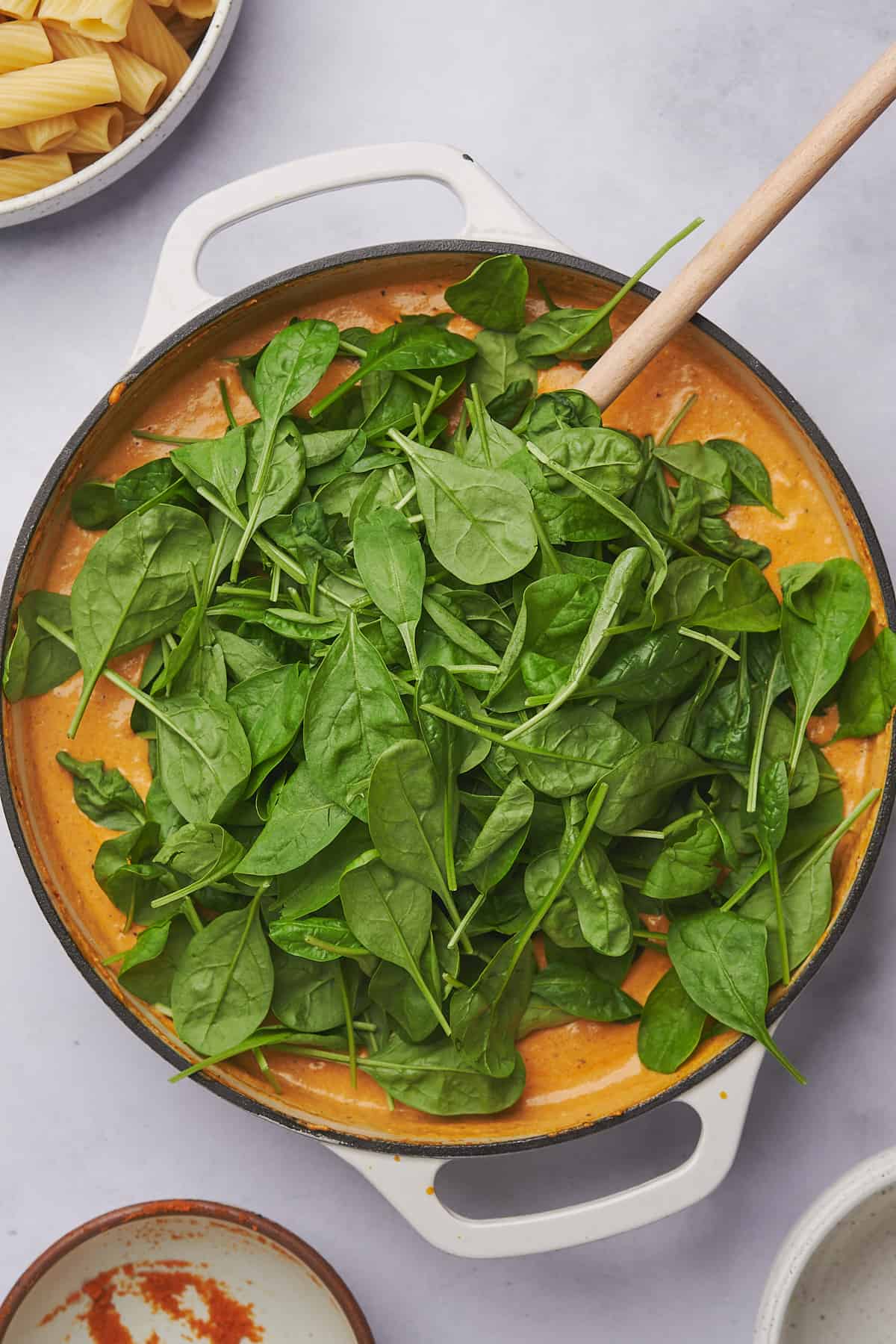 Stir to wilt.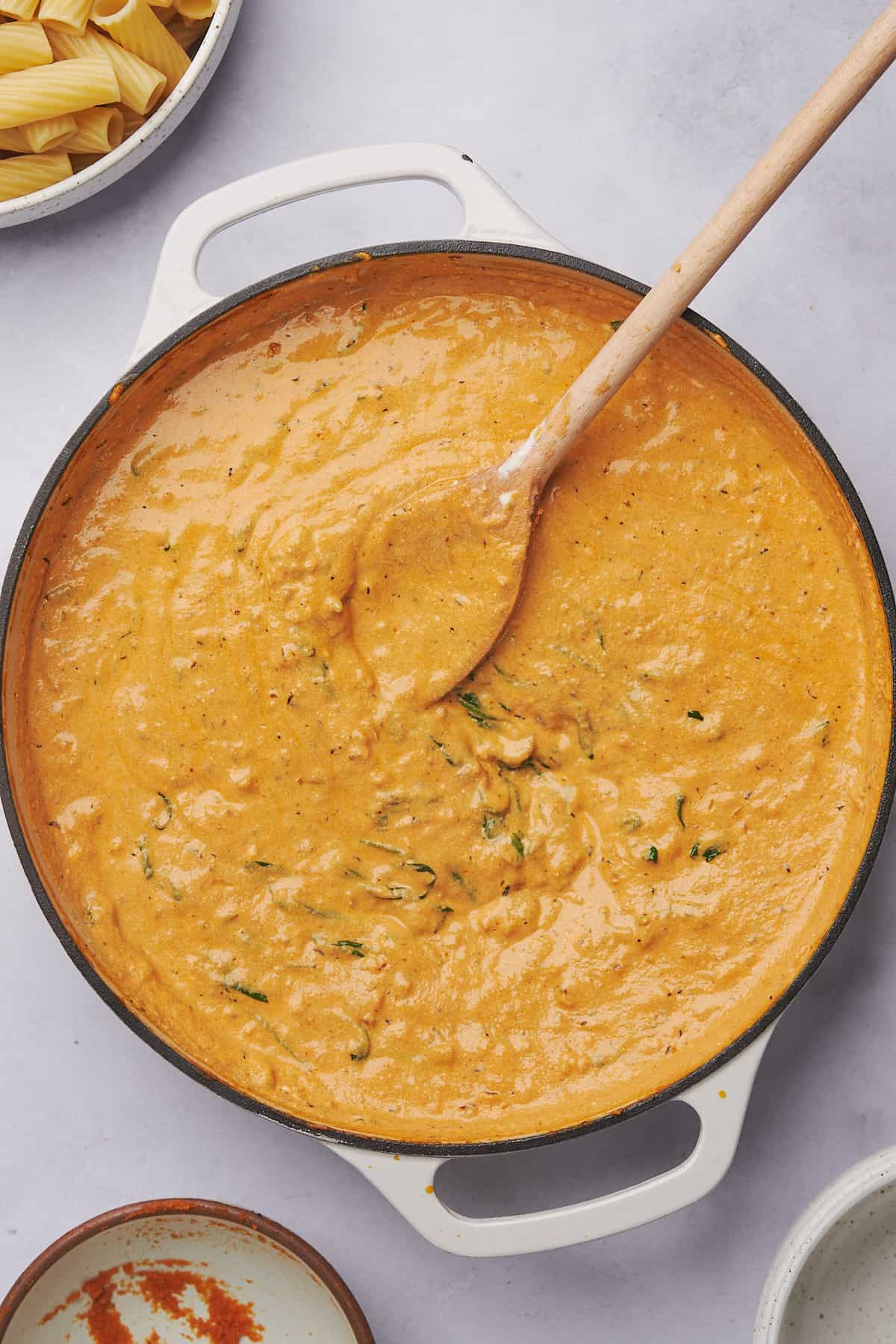 Step 5 - Add cooked pasta
Add the cooked pasta to the sauce in the skillet.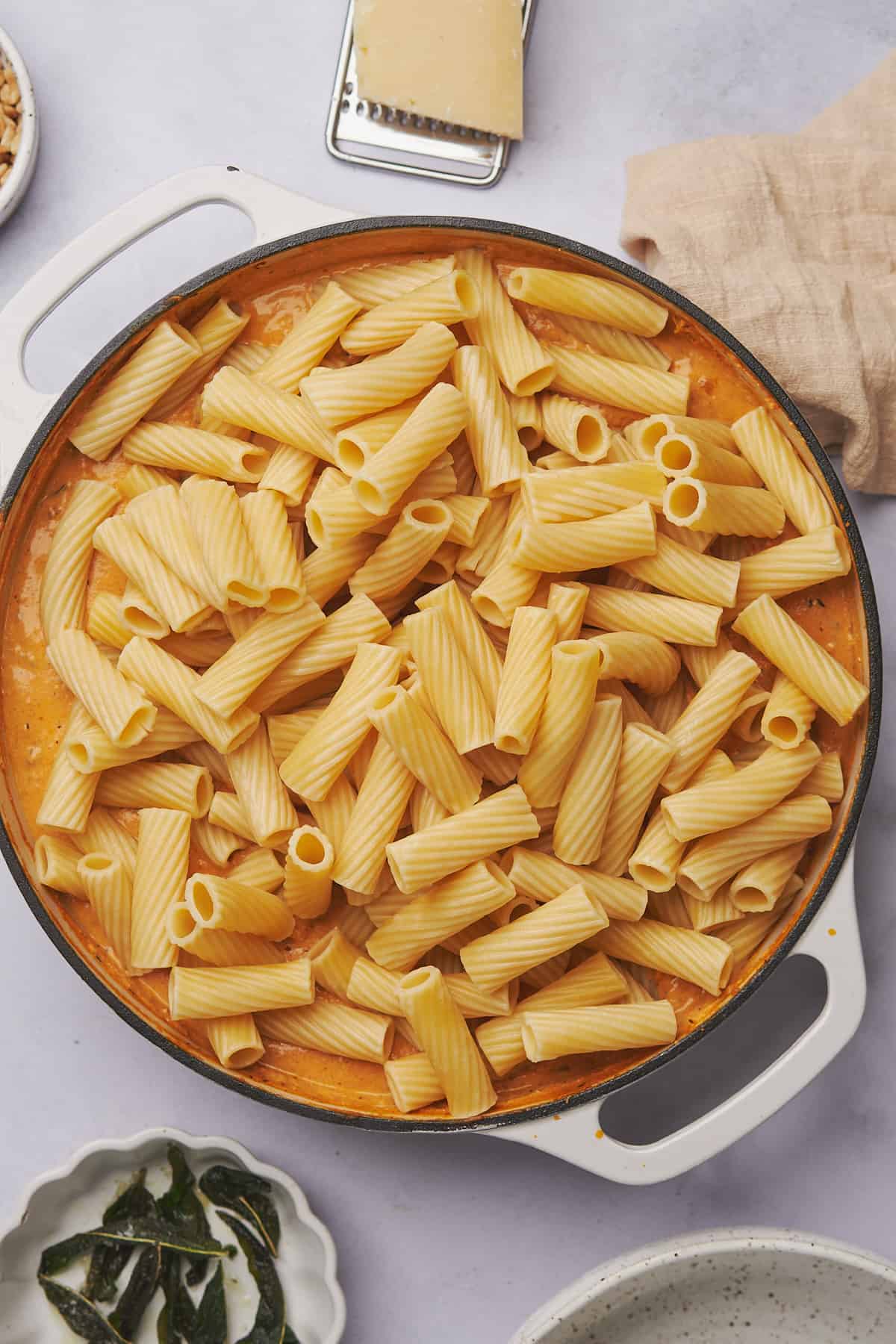 Add a little bit of more pasta water to help the sauce cling to the noodles. Toss to combine.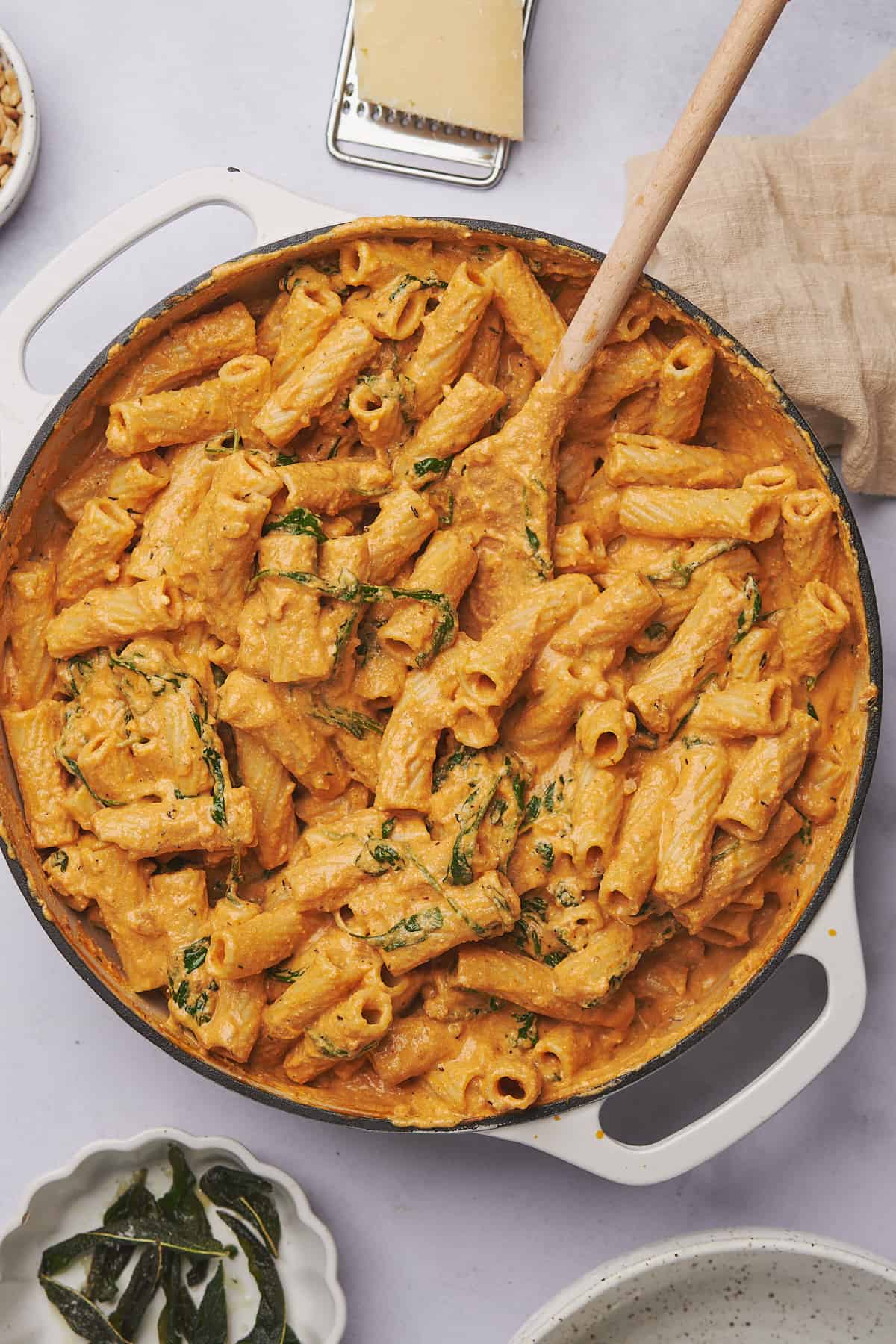 Step 6 - Garnish and serve
Top with freshly grated parmesan cheese, pine nuts, fried sage, and more seasonings to taste. Enjoy!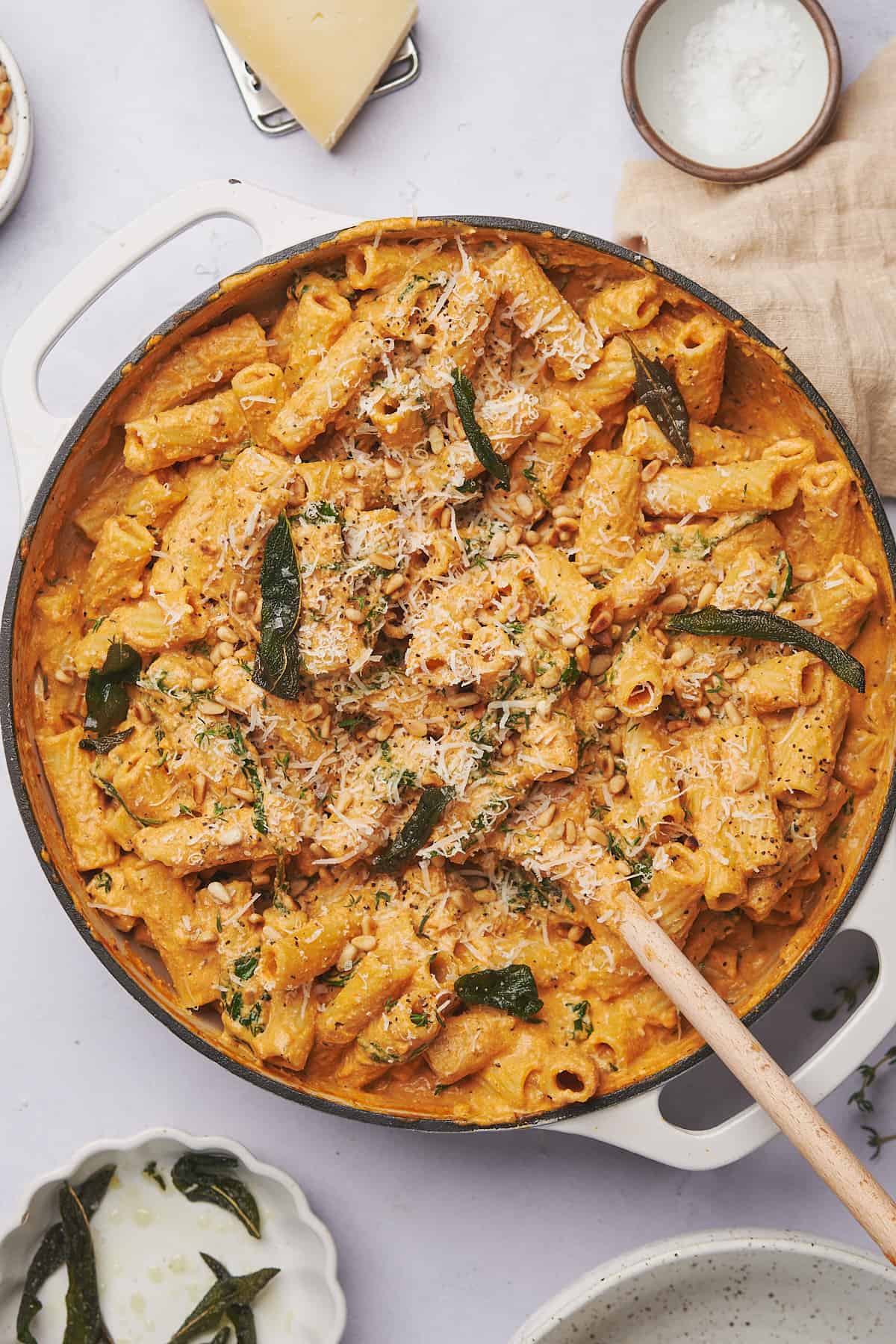 ✨Tips & tricks
Cook pasta al dente. Make sure to not over cook your pasta! No one likes soggy pasta. Cooking the pasta al dente will make sure it holds up well once the sauce is added.
Don't forget to heavily salt the pasta water! This will ensure the pasta water isn't flavorless. The salted water makes the pasta more flavorful as well.
Don't burn the garlic. This recipe is ready very quickly, so don't walk away from the skillet at all. You will need to stir the garlic constantly to ensure it doesn't burn. If it burns, you need to start over with the dish.
Use freshly grated parmesan. Pre-shredded just won't melt as well. You will want to grate it yourself to make sure it melts easily into the sauce.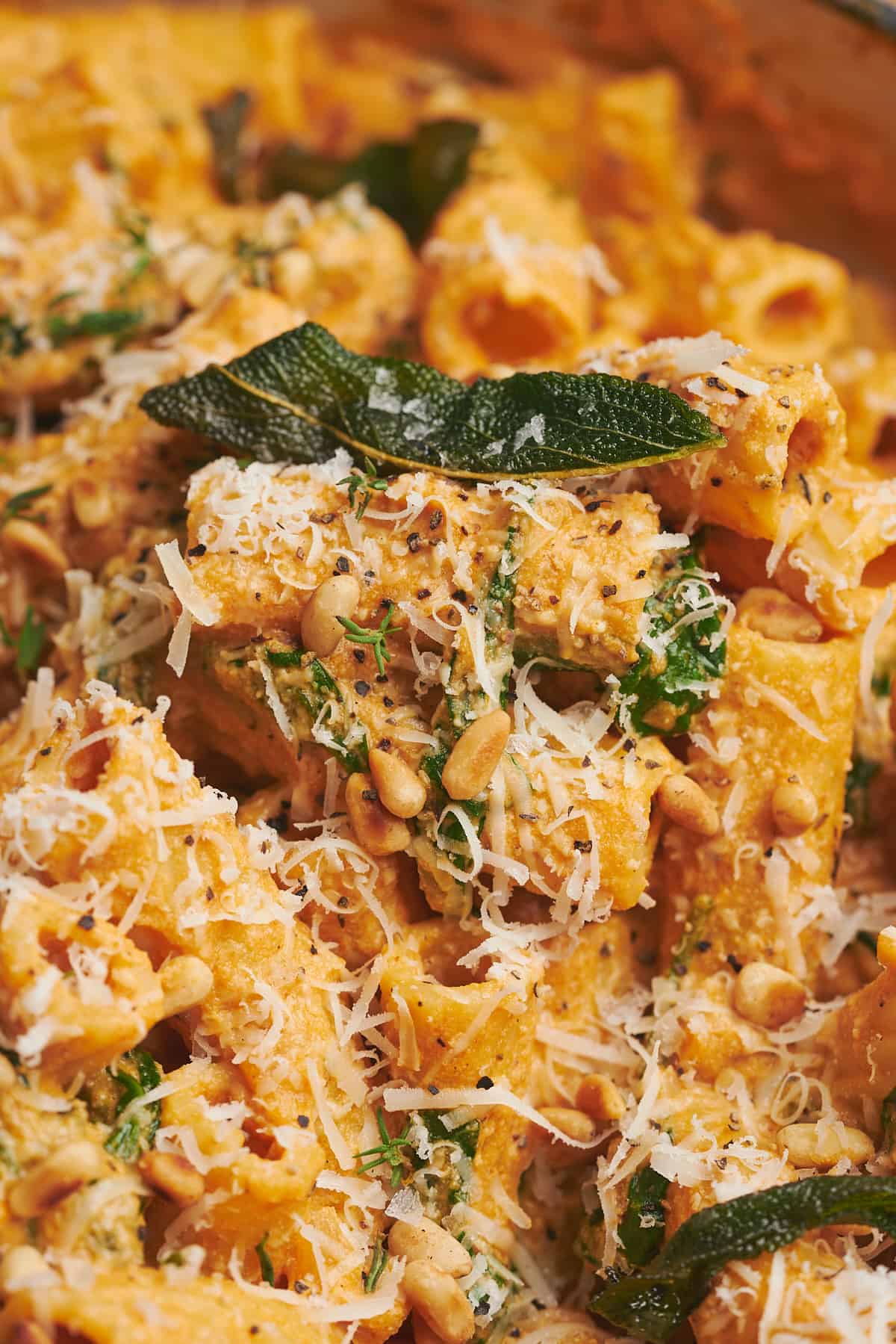 ♨️How to toast pine nuts
Toasting pine nuts are a simple way to draw out lots of flavor, and you can do it quickly and easily. Here's how to do it.
In a skillet over medium-low heat, add pine nuts to a hot skillet.
Move pine nuts around frequently, until they are golden brown and release a nutty aroma. This will take 2-5 minutes.
Set aside to cool. That's it!
You can also buy toasted pine nuts (affiliate link) at the store.
✏️Substitutions & variations
Here are a few substitutions you can make to help this dish fit your diet!
Dairy free - Use a dairy free or vegan butter, parmesan, and ricotta cheese. You will also need to swap the heavy cream for full fat coconut milk or your favorite dairy free cream alternative.
Vegan - Follow the swaps for dairy free, and just make sure you're using a vegan friendly pasta.
Spicy - Love spice? Add extra red pepper flakes, or a little cayenne pepper.
Add protein- Make it a whole meal by adding protein like shrimp, chicken, or turkey.
Herbed - You can always add more herbs! Rosemary and parsley would be perfect with this sauce.
Super creamy - If you're looking for something extra creamy, add in extra heavy cream, ricotta, and butter.
Gluten free - Use your favorite gluten-free pasta for this recipe, as the rest of the ingredients are naturally gluten free!
Low carb or keto - Want to make this low carb? No problem. Just use your favorite carb pasta. We adore this low carb fettuccine! For keto, try this protein packed, plant-based pasta by Kaizen.
Low carb & gluten free - If you're looking for a low carb AND gluten free option, use shirataki noodles, palmini noodles, or zucchini noodles.
Swap pasta water for broth - You can use vegetable stock or broth if you want to go a vegetarian option. If not vegetarian, we recommend using chicken broth.
Add veggies - The sky is the limit when it comes to adding veggies! Some of our top veggie choices would be zucchini, mushrooms, tomatoes, or butternut squash.
*Please note, if subbing for pasta water, or using pasta alternatives, your sauce may be lacking starch. Starch helps the sauce come together when we add the pasta water. So you may need to thicken the sauce with extra cheese, ricotta, or pumpkin puree. You can also try adding less liquid to the sauce.
💭Frequently asked questions
Can I use garlic powder for this recipe?

Since there are only a few basic ingredients in this recipe, we highly recommend using fresh garlic if possible.

However, you can use garlic powder if that is all you have on hand. One garlic clove is equivalent to ¼ of a teaspoon of garlic powder, so keep this in mind.
Can I use homemade pumpkin puree?

Sure! Just note that you will likely need to add less liquid, as homemade pumpkin puree usually has more liquid in it than store-bought varieties.
Why do we save some of the pasta water?

The water reserved from the pasta has some starches in it, which helps us to create a silky smooth sauce to coat the noodles.
Do I have to salt the water?

Yes and no! If you don't salt the water, your pasta noodles will become bland and flavorless. Use at least 1.5 tablespoons of kosher salt per every pound of pasta. We know it seems like a lot, but since the pasta is only in the water for a few minutes, it needs to make an impact.

With that being said, if you are using a pasta alternative (like shiraki or zucchini noodles) that don't need to be boiled in salted water, just make sure to add a little extra salt to the sauce to taste.
⏲Equipment
Luckily, this recipe is pretty standard and you really don't need much to make it.
We love our enameled cast iron skillet, as it's super easy to clean, but you can use any skillet you'd like to bring this dish together.
If using enameled cast iron, make sure to use silicone or wooden utensils, so you don't scrape the bottom of the pan.
You'll definitely need a large stock pot or dutch oven for boiling the pasta.
We use a Microplane to finely grate the parmesan cheese.
🛒Shop this recipe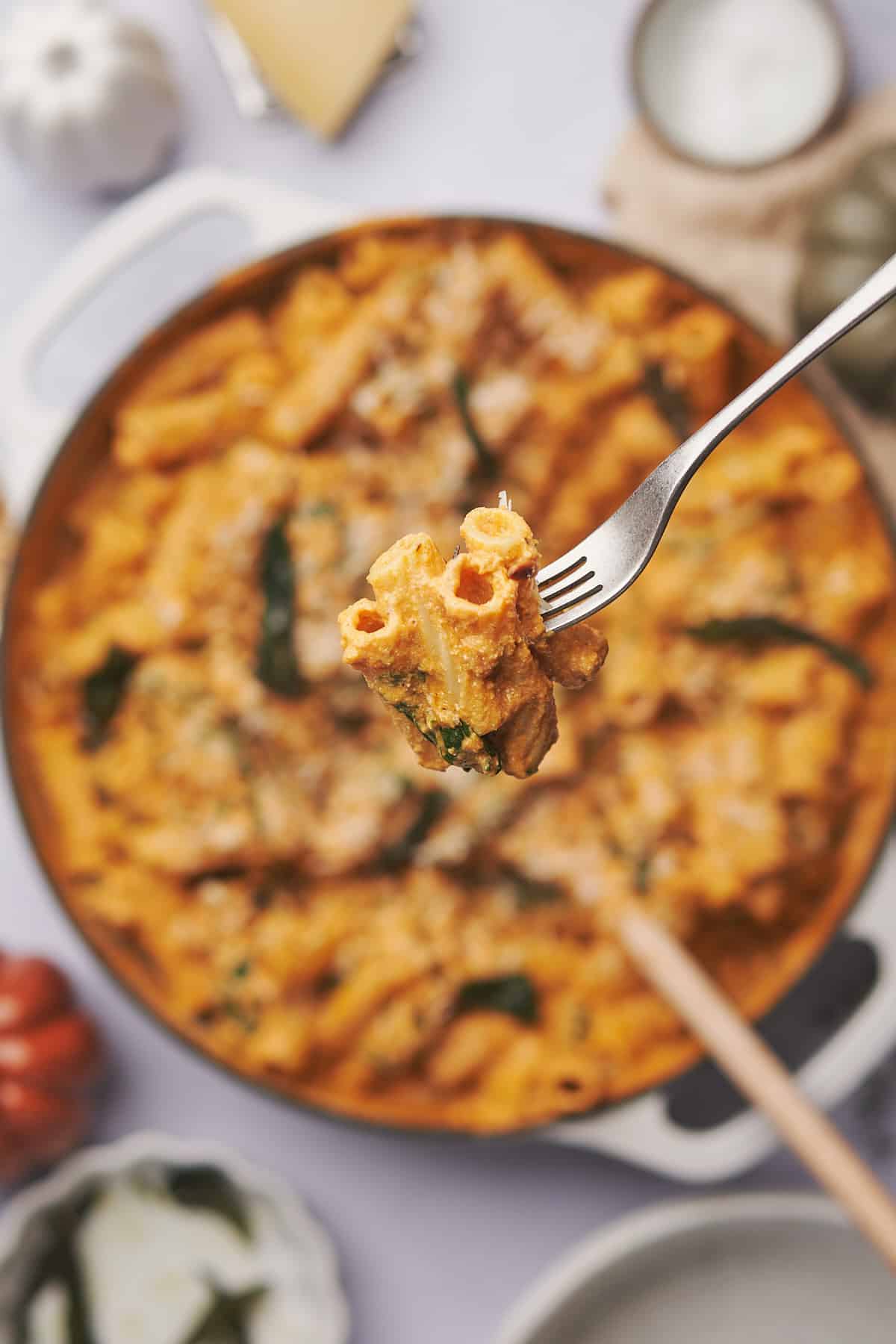 🥣Storage
This pasta is most definitely enjoyed fresh, while it's nice and hot. However, it will keep in an airtight container in the fridge for up to 5 days.
If stored separately, you can freeze the pumpkin pasta sauce for up to 6 months. We don't recommend freezing the sauce with the noodles.
♨️Reheating
To reheat on the stovetop, we'd recommend adding a little bit of water, and more olive oil or butter with the pasta to your skillet. Move around constantly to prevent any sticking or burning, and remove from the skillet as soon as the noodles are warmed through.
In the microwave, add a few tablespoons of water to the noodles, and reheat in 15-second intervals, stirring in between until the noodles are warmed through.
🌟Leave a review!
Make sure to leave a 5-star review below! This helps other readers find our recipes via Google, and encourages them to try them. Also be sure to leave a comment with your experience!
Take a photo and share with us by tagging us on Instagram or follow along on Pinterest for more ideas!
📖 Recipe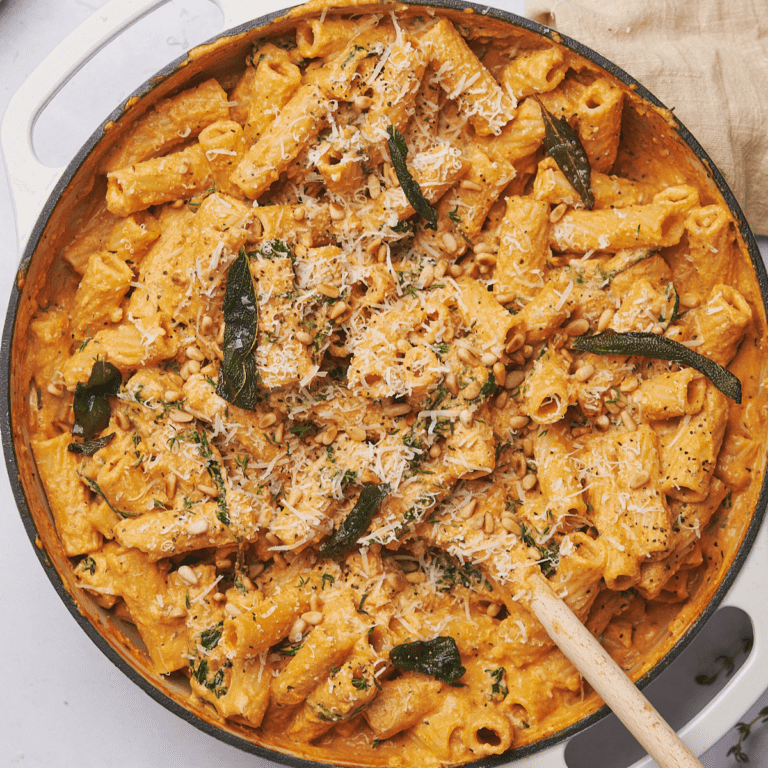 Pumpkin Pasta Sauce
This easy, creamy Pumpkin Pasta Sauce is the ultimate fall comfort food! Savory, cheesy, and luscious with plenty of herbs, and cheese. Serve with your favorite pasta, and enjoy a quick meal!
Print
Pin
Rate
Save
Saved!
Ingredients
1

pound

pasta of choice

2

cups

reserved salted pasta water

(can use chicken or vegetable broth)

2

tablespoons

olive oil

2

tablespoons

unsalted butter

8

cloves

garlic, minced

1

medium

yellow onion, diced

2

teaspoons

kosher salt, divided

(to taste, and can vary depending on if you used pasta water or not)

1

teaspoon

dried thyme

1

teaspoon

dried sage

¼

teaspoon

red pepper flakes

(optional and to taste)

¼

teaspoon

ground nutmeg

(optional)

3

tablespoons

tomato paste

15

ounces

pure pumpkin puree

8

ounces

ricotta cheese

4

ounces

freshly grated parmesan cheese

(add slowly)

8

ounces

heavy cream

5

ounces

baby spinach

(optional)

pine nuts, parmesan, fresh herbs, fried sage
Instructions
Cook pasta in salted water according to package directions. Reserve 2 cups of pasta water, set aside.

Add olive oil, and butter to a skillet, along with minced garlic. Cook until garlic is fragrant, then add in onion, tomato paste, red pepper flakes, thyme, sage, and nutmeg with a big pinch of salt. Cook until the tomato paste deepens in color, about 2-3 minutes. Over medium-low heat, pour in pumpkin puree, and about 1 cup of pasta water to thin the sauce. Allow to simmer for about 3-5 minutes.

Stir in heavy cream, ricotta, and about a quarter of the parmesan cheese at a time. Melt completely, and stir constantly before adding another handful of cheese.

Once all cheese is melted, reduce the heat to low, and stir in the spinach to wilt. Adjust seasonings to taste.

Top with toasted pine nuts, fresh parmesan, thyme, sage, salt, pepper, and nutmeg. Enjoy!

Store in an airtight container in the fridge for up to 5 days.
Notes
Nutrition facts are for the sauce only. Garnishes and pasta are not included. All garnishes are optional and to taste. 
Always heavily salt the pasta water to make sure the noodles absorb flavor. 
Cook the pasta al dente.
Add pasta water to reach your desired texture. If more liquid is desired, add in chicken or vegetable broth. 
Always use freshly grated parmesan and add in small batches so that it melts properly into the sauce. Using pre-shredded cheese can result in a lumpy sauce. 
Use fresh ingredients whenever possible for this recipe. 
For more substitutions, variations, and diet types, be sure to check the body of the blog post.
Nutrition
Calories:
299
kcal
|
Carbohydrates:
12
g
|
Protein:
10
g
|
Fat:
25
g
|
Saturated Fat:
13
g
|
Polyunsaturated Fat:
1
g
|
Monounsaturated Fat:
8
g
|
Trans Fat:
0.1
g
|
Cholesterol:
66
mg
|
Sodium:
931
mg
|
Potassium:
388
mg
|
Fiber:
3
g
|
Sugar:
4
g
|
Vitamin A:
10803
IU
|
Vitamin C:
11
mg
|
Calcium:
251
mg
|
Iron:
2
mg
These nutrition facts are provided as a courtesy and are only estimates. We cannot guarantee the accuracy.
Did you love it?
If you made this recipe, make sure to show us on Instagram at @AFullLiving or tag #AFullLiving! We love to see what you guys are making!