In the mood for fall flavors but can't let go of your iced coffees? This Homemade Iced Pumpkin Spice Latte Recipe is a great option! Made with simple ingredients, get the taste of fall wrapped up in a cold drink.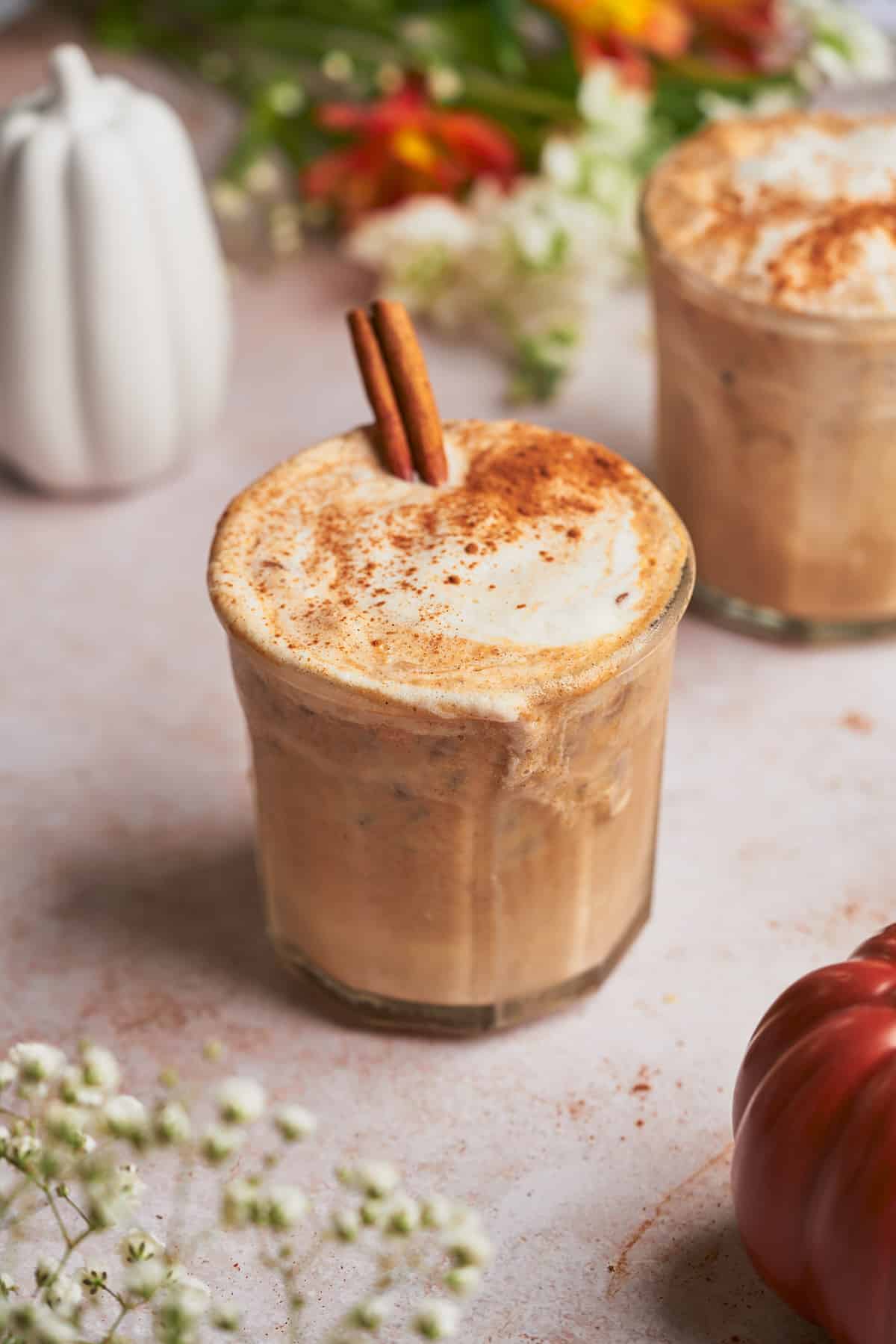 Maybe it's not yet pumpkin spice season, but you're craving pumpkin flavor drinks. We feel your pain, so we made the perfect recipe for you. This delicious drink is made with natural flavors, including real pumpkin and maple syrup, a hint of vanilla, tasty pumpkin cold foam, and a sprinkle of pumpkin spice.
Inspired by Starbucks Iced Pumpkin Spice Latte, which is essentially a cold pumpkin spice latte (PSL), this homemade version is just as good as the coffee shop version. If it's just not quite that time of year yet and you love pumpkin season, you'll fall in love with this dreamy iced latte recipe!
Looking for more Starbucks copycat recipes? Be sure to check out this vanilla sweet cream cold foam, this Spanish latte with honey, this honey lavender latte.
You may also enjoy this coconut latte, or this maple latte!
Jump to:
❤️Why we love this recipe
Quick & easy - All you need to do is pull some shots of espresso, blend it up with a few other ingredients, pour over ice, and enjoy! Ready in 5 minutes or less.
Made with pantry and kitchen staples - All you need is a few common dairy items, and pantry staples.
Refreshing and bursting with fall flavor - This drink tastes so cozy and warm, yet it's refreshing. Basically, it's really, really satisfying, especially when you're between seasons and can't decide!
Made with wholesome ingredients - If you love the Starbucks version of this drink, and you're trying to cut out some of the junk, this is perfect. Our version is sweetened naturally with maple syrup, and is made with real pumpkin.
Customizable for various diet types & preferences - This drink can be made to fit virtually any way of eating, from keto or low carb, to paleo, or vegan. Maybe you just want to make it extra creamy and sweet, and that works great too! Something for everyone.
🎃Ingredients
Here are the ingredients we used to make this drink. You can find full quantities and nutritional information in the recipe card. A list of variations and substitutions can be found near the bottom of this post.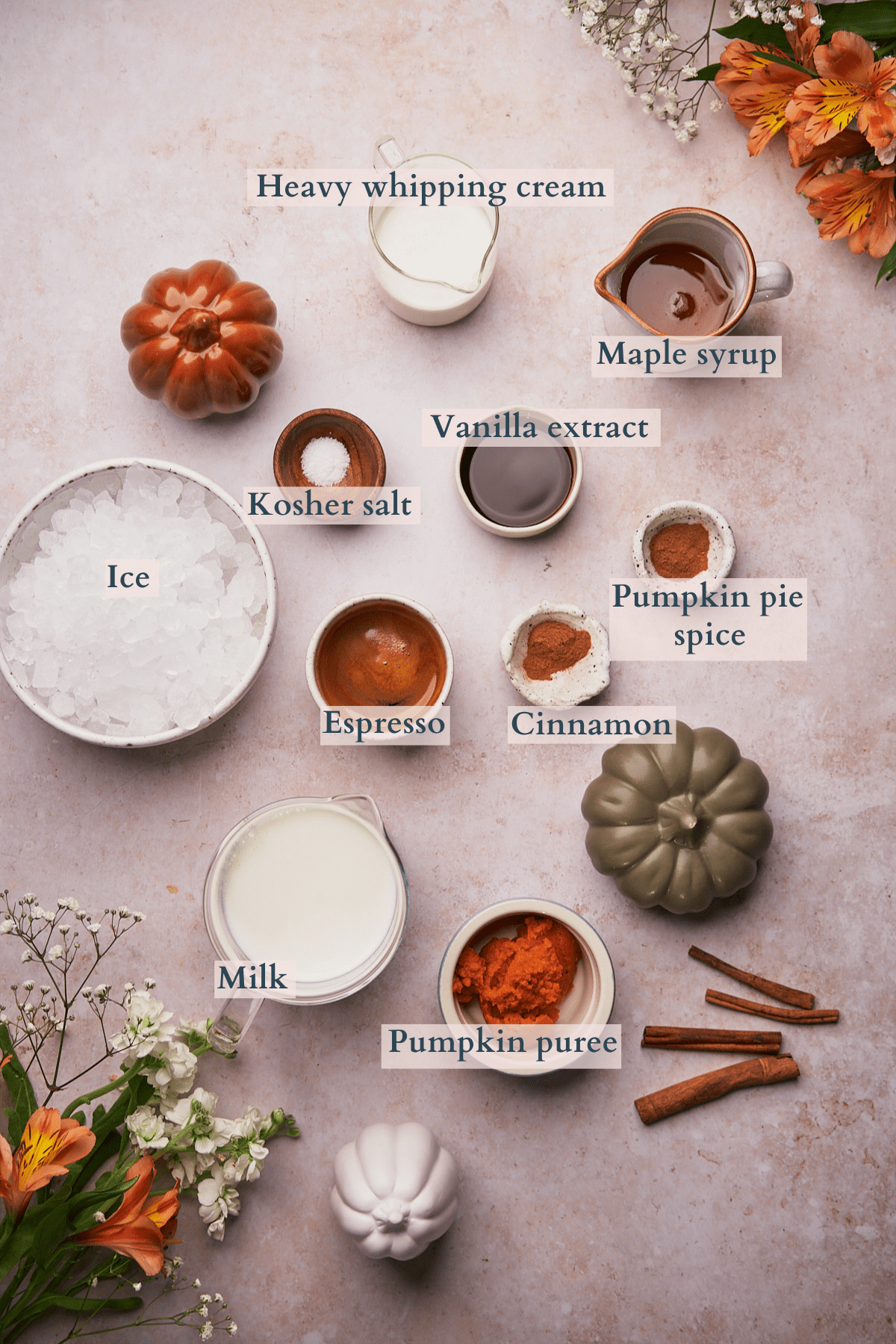 ✏️Ingredient notes
Espresso - You'll want shots of espresso for this to truly be a latte, cold brew or strong brewed coffee can be used as well if you don't have an espresso machine. Use your favorite coffee to make the espresso. We generally opt for a lighter roast, but of course anything you prefer works here.
Real pumpkin puree - Make sure to use pure pumpkin puree (affiliate link) instead of pumpkin pie filling. You want the one without the added sugar or spices.
Vanilla extract
Choice of milk - Totally customizable to suit your preferences. We used whole milk.
Pumpkin spice - We used homemade pumpkin pie spice, since it's easy to make your own blend at home. Store bought is perfectly fine as well.
Maple syrup
Salt - Balances the sweetness of the drink and ties everything together.
Ice cubes - The creamy blended pumpkin coffee mixture will get poured over ice at the end.
Heavy cream or whipped cream - We mix a little bit of heavy cream, milk, pumpkin spice, and maple syrup to make a delicious spiced cold foam topping with a milk frother. You could also top with whipped cream.
Cinnamon sticks - Totally optional, but a super fun and festive way to serve the drink. We even use the cinnamon sticks as straws sometimes.
📖Instructions
📋Prep work
Pull the espresso shots and let them set aside to chill while you gather the other ingredients. You can even place the espresso in the fridge so it can cool off faster.
Measure out all spices, salt, vanilla, maple extract, and pumpkin puree.
Step 1 - Add liquids to the blender
Add milk, espresso, vanilla extract, and maple syrup to the blender.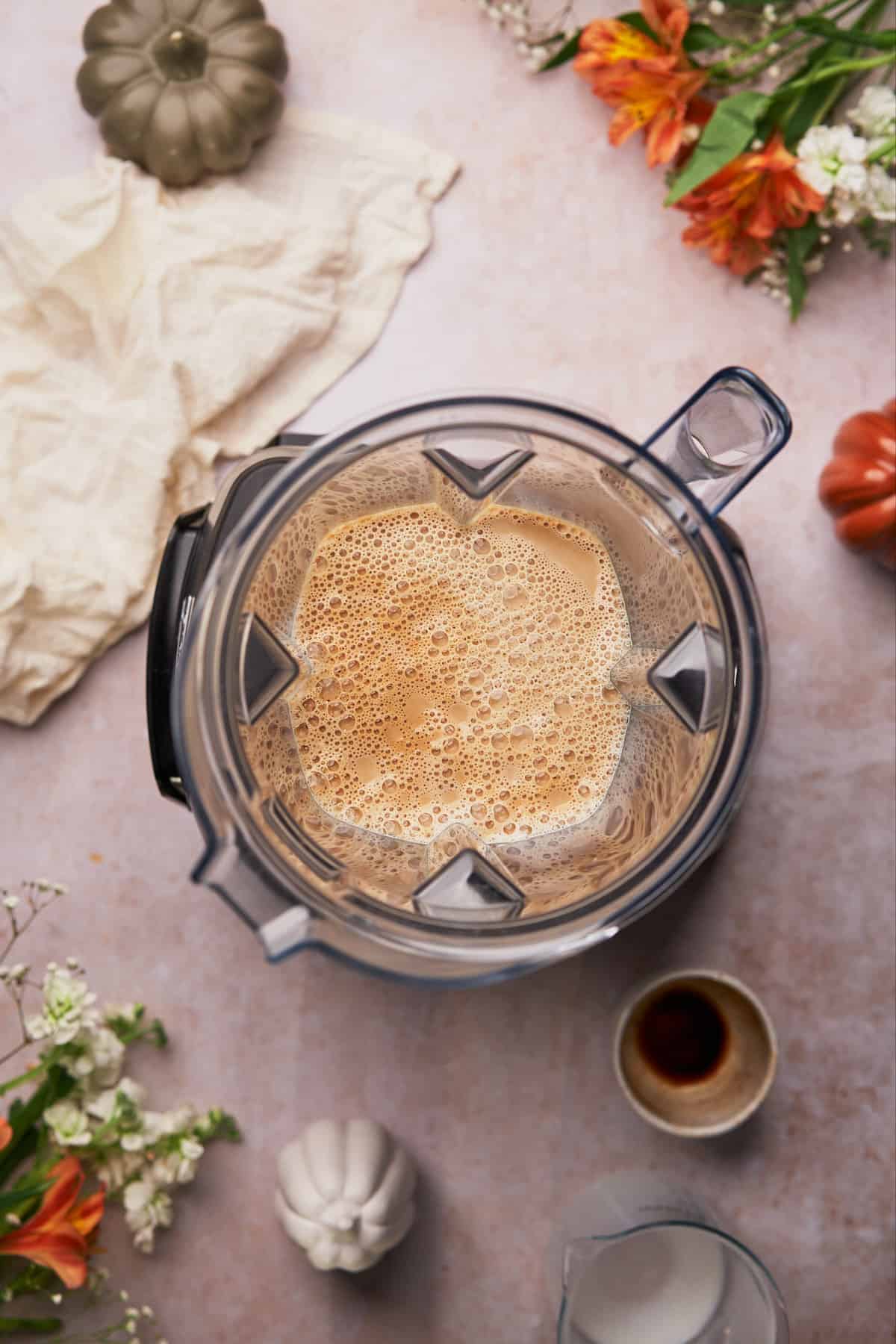 Step 2 - Add remaining ingredients
Add in ground cinnamon and pumpkin spice.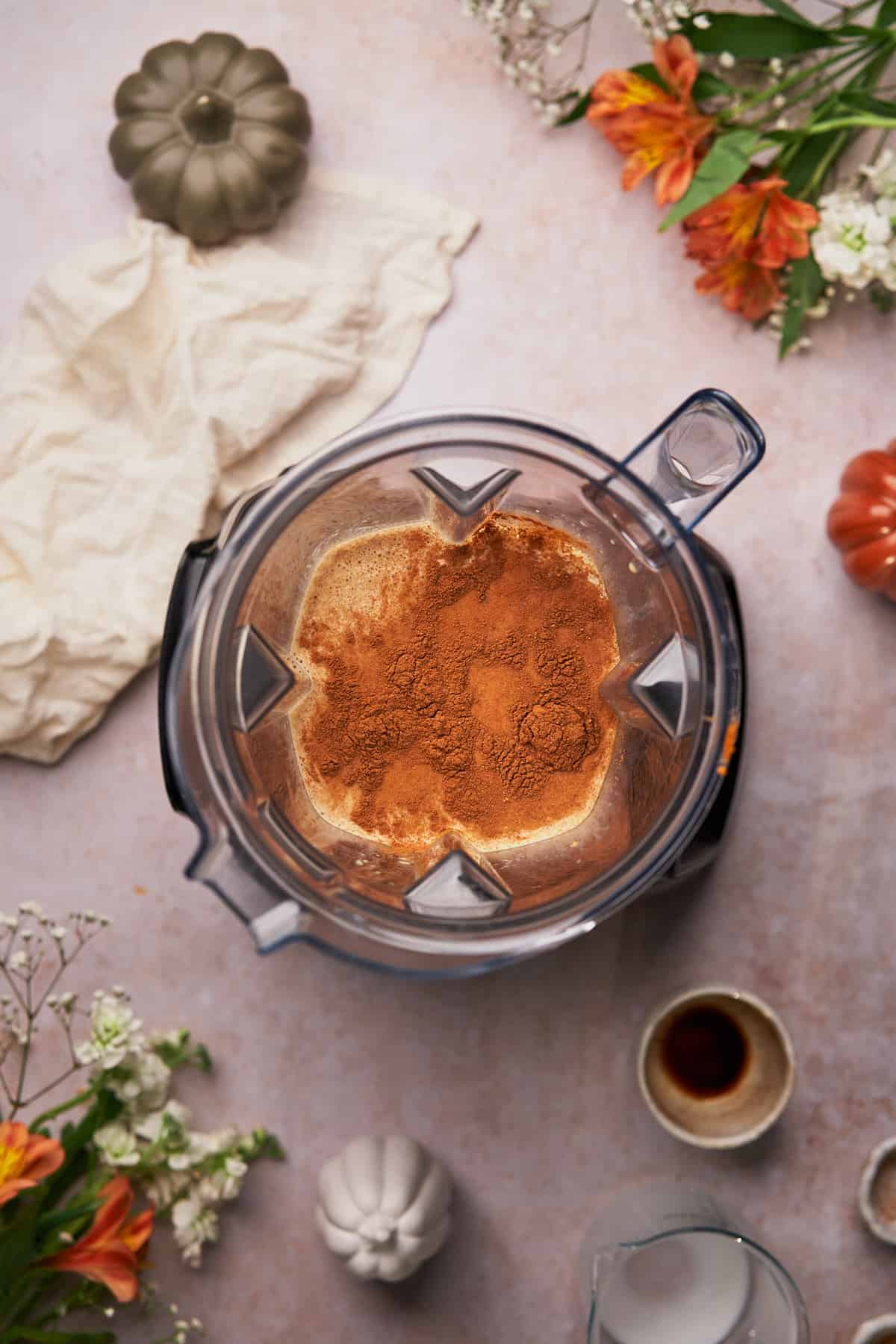 Add salt, and pumpkin puree.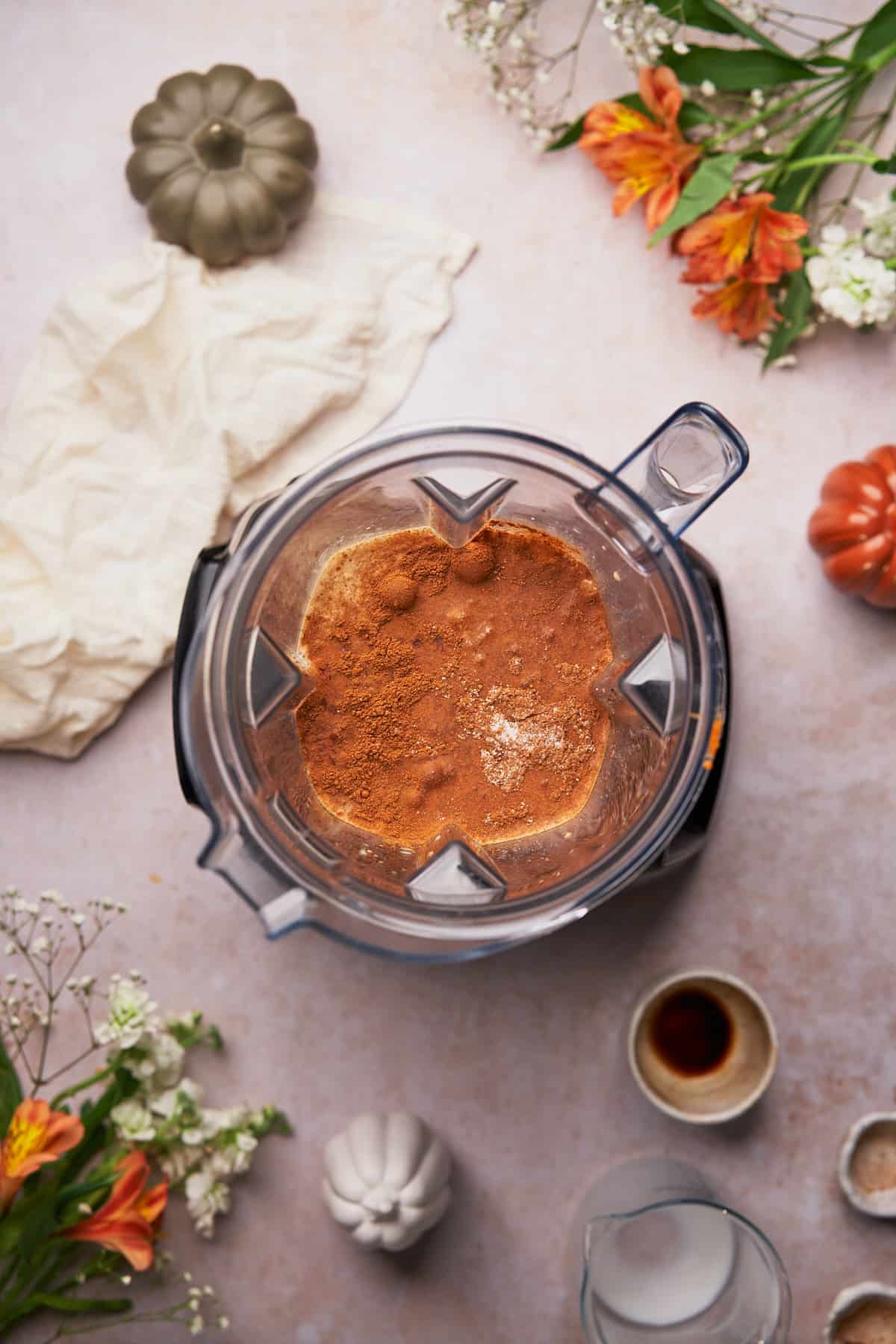 Step 3 - Blend
Blend on high speed until frothy and combined.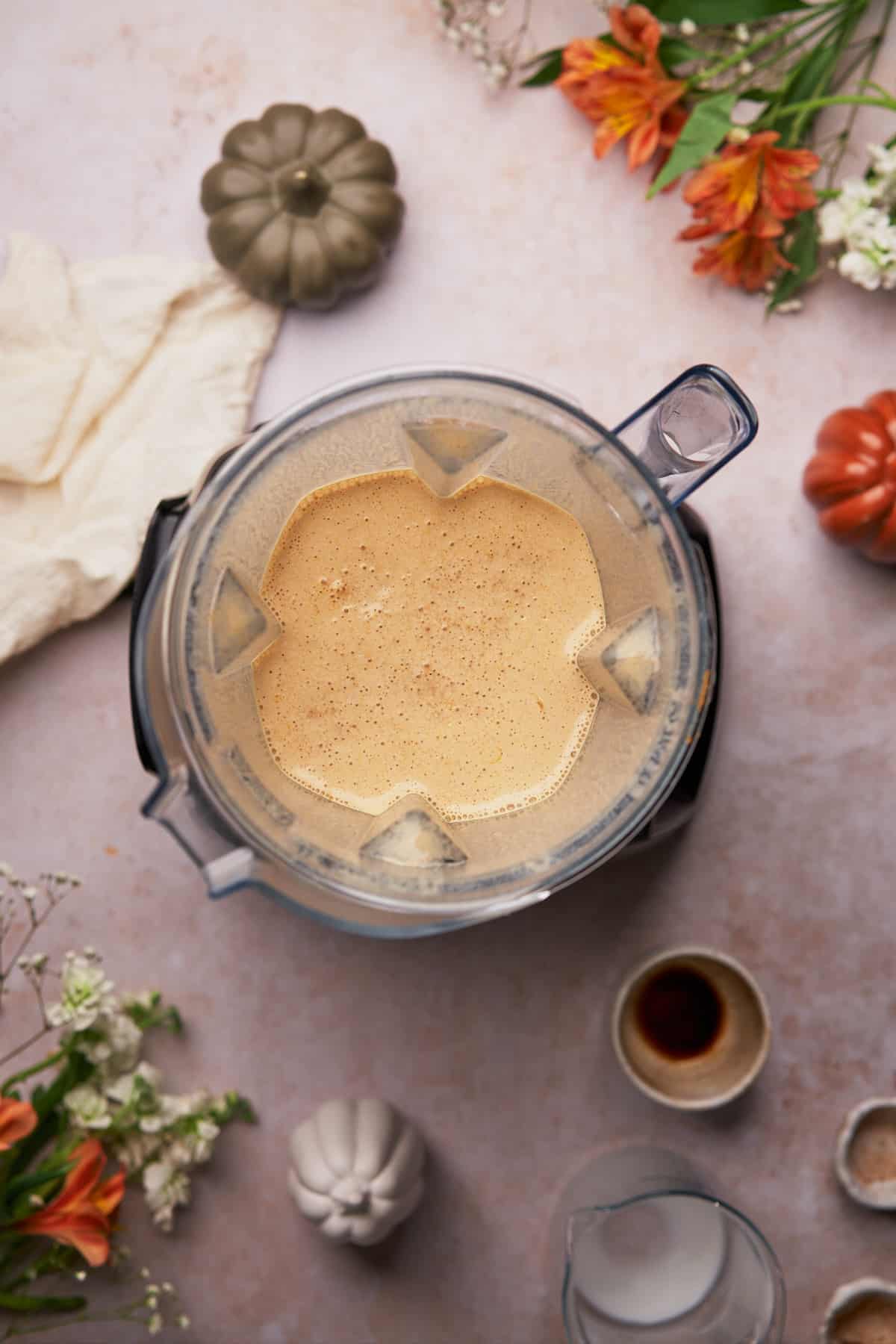 Step 4 - Make the spiced cold foam
In a separate pitcher, combine heavy whipping cream, milk, a pinch of salt, cinnamon, some maple syrup, and vanilla extract.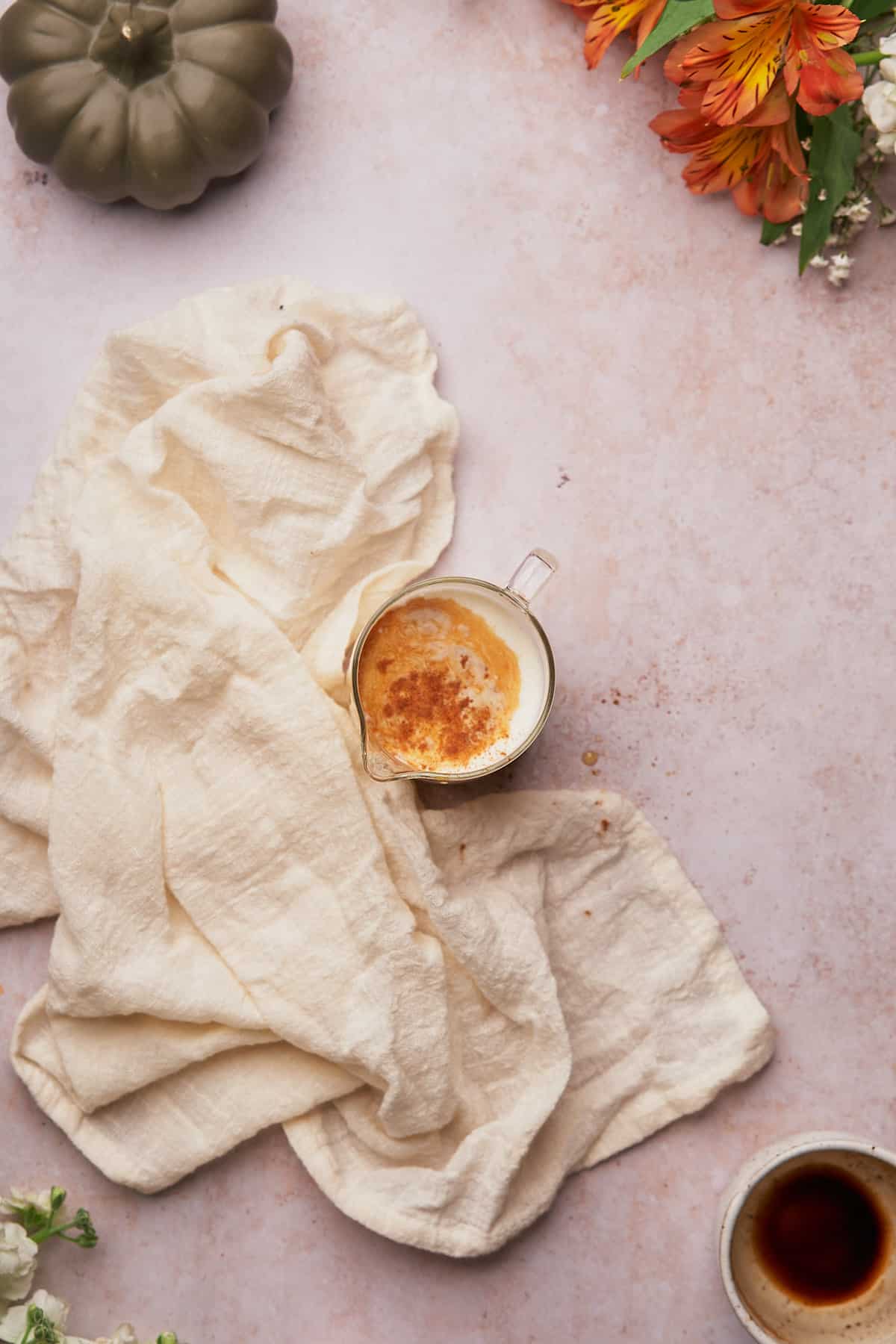 Use a milk frother to combine until it begins to thicken, but is still pourable.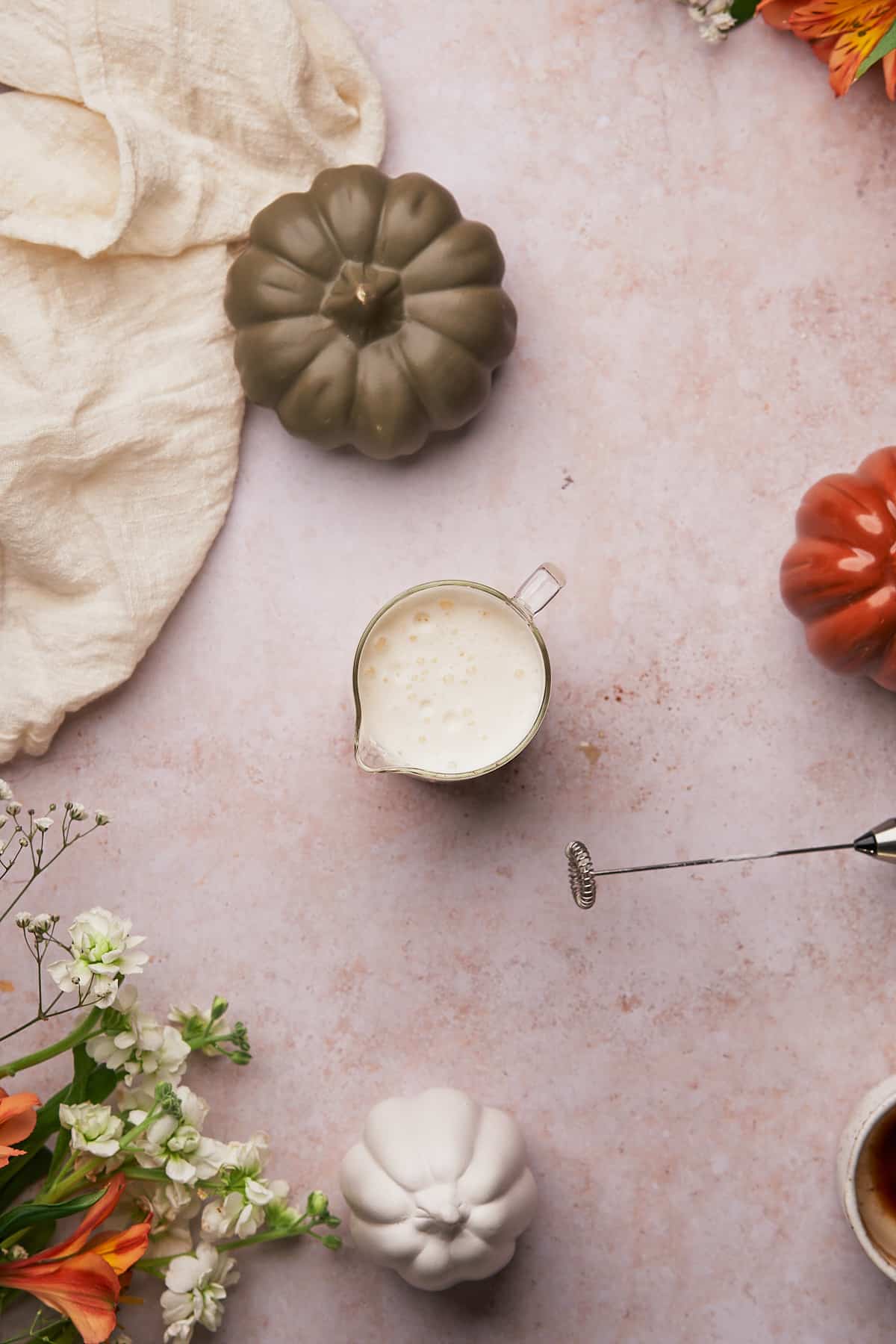 Step 5 - Assemble drink
Fill glasses with ice, then pour in the espresso and pumpkin mixture over top.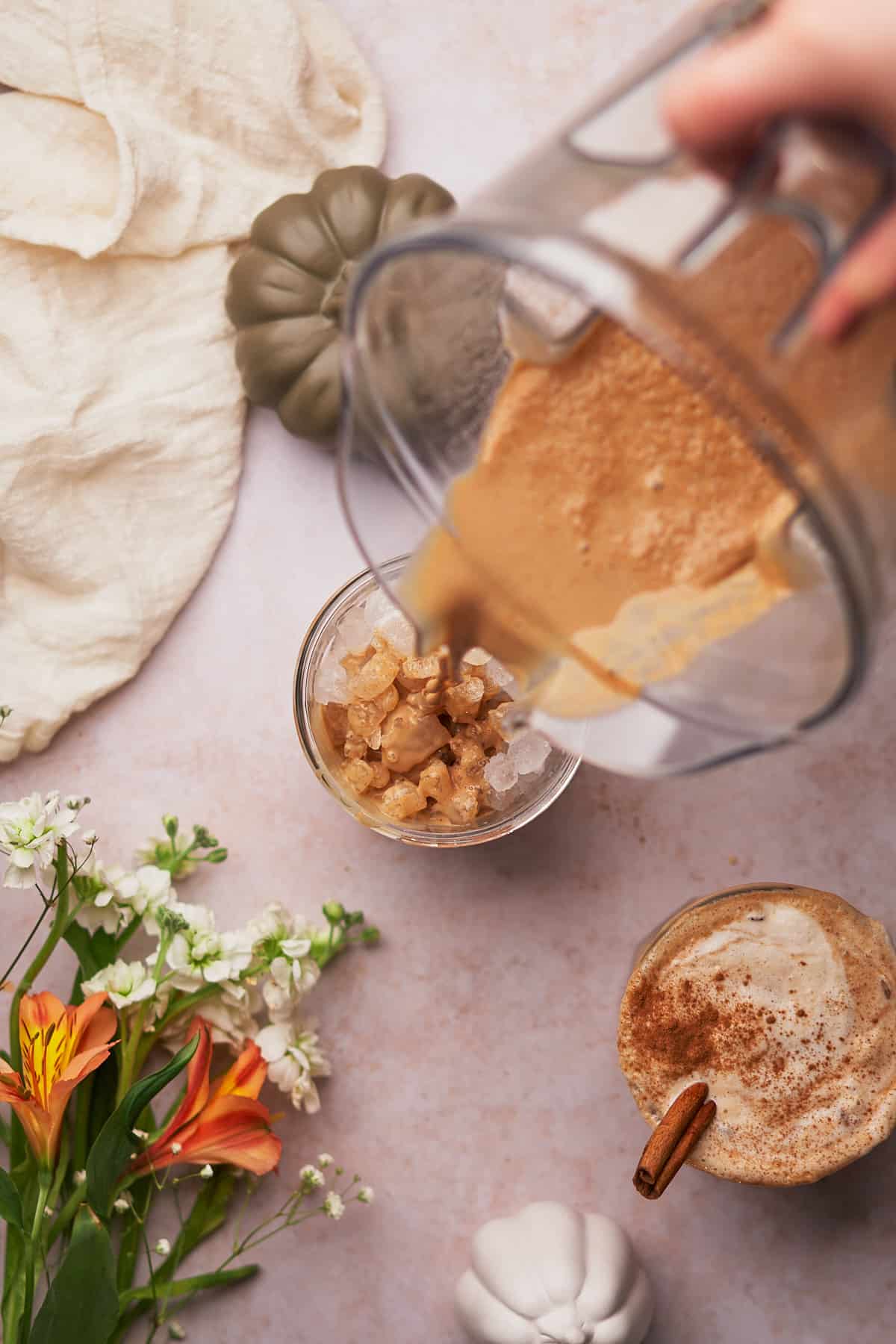 Pour on the spiced maple cold foam.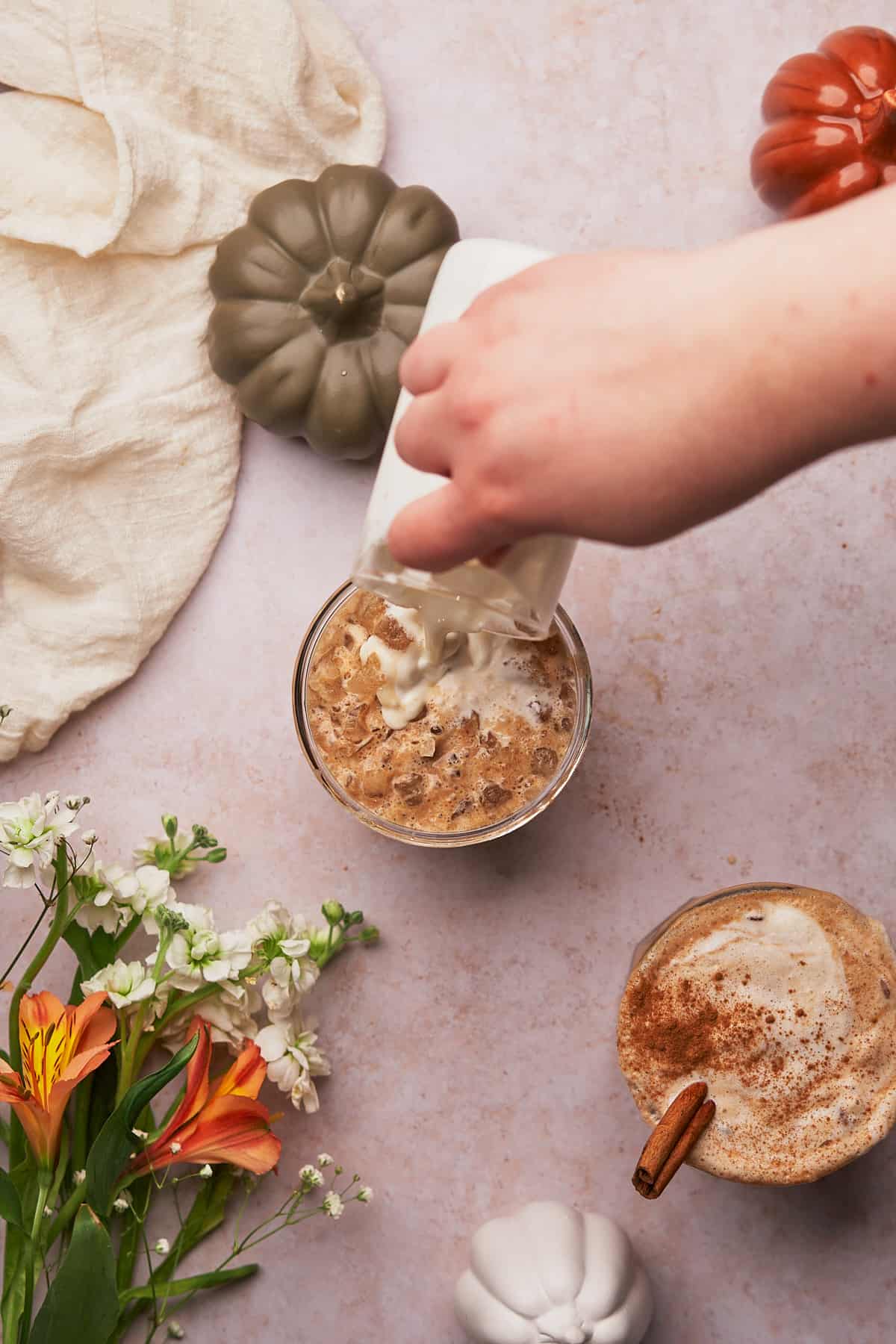 Step 7 - Garnish & enjoy!
Garnish with a cinnamon stick if desired, along with a sprinkle of pumpkin spice or ground cinnamon. Enjoy!
Now that you've got some leftover pumpkin puree, try this cauliflower and pumpkin soup!
✨Tips & tricks
Sweeten to taste - This drink is somewhere in the middle between sweet and mildly sweet, so feel free to adjust the sweetness to taste.
Use real vanilla extract & maple syrup - If possible, use the real thing of both of these ingredients for the best fall flavor!
Don't mix up pumpkin pie filling for pumpkin puree - They are generally right next to each other in the grocery store, but one has a lot of added sugar and spices, and the other one doesn't. You want the plain pumpkin puree with no additives.
Use cold espresso - For best results (since we are serving this drink cold) allow the espresso to chill before adding it to the blender.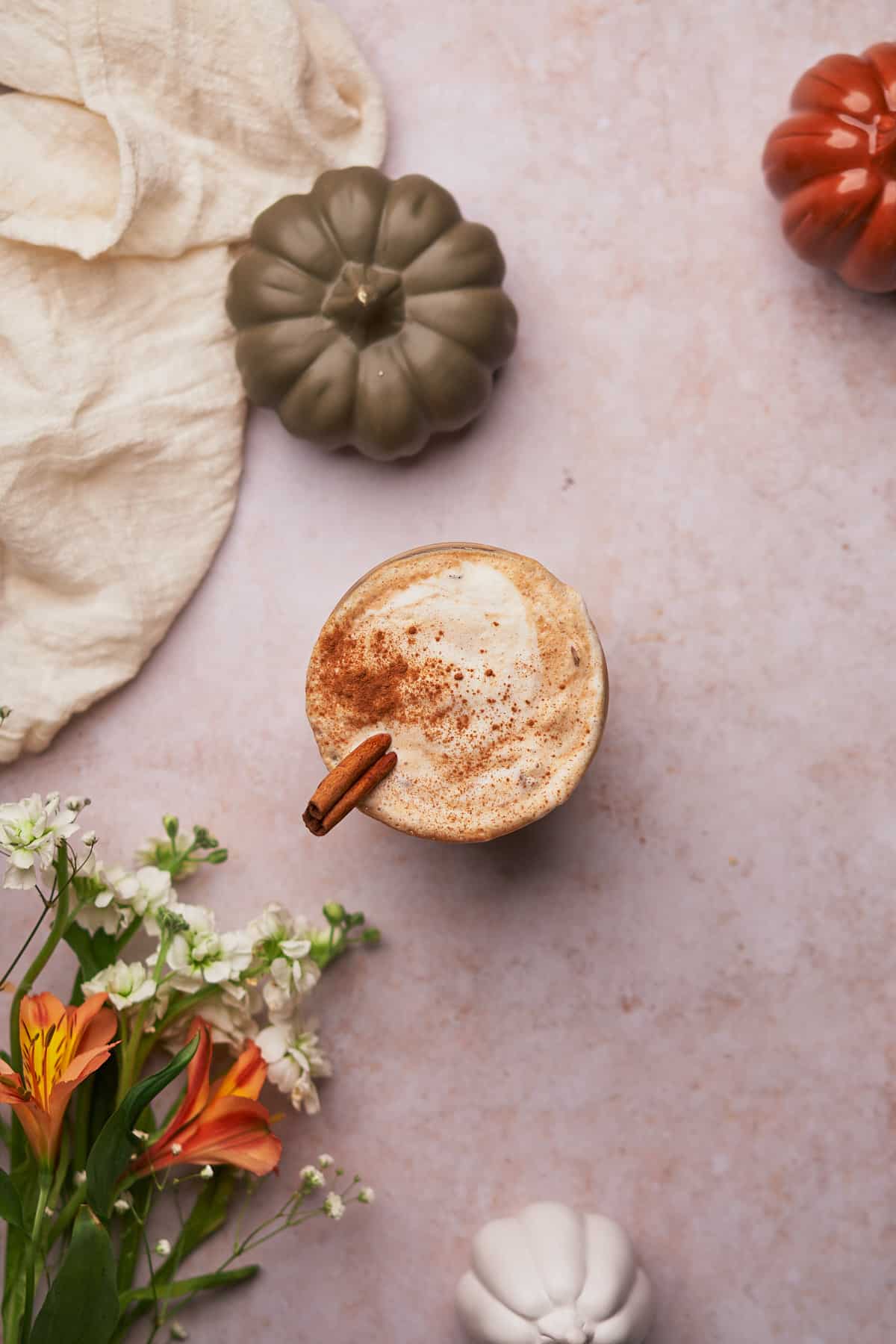 🎃Homemade pumpkin pie spice
Pumpkin pie spice is easy to make at home with just a few spices. The best part about making your own is that you can absolutely adjust the seasonings to taste. You can also buy it easily at almost any store in the fall season.
Combine:
4 tablespoons of ground cinnamon
1 tablespoon ground ginger
1 tablespoon ground nutmeg
2 teaspoons ground allspice
2 teaspoons ground cloves
& about ¼ teaspoon ground cardamom (if you want, we love cardamom!)
This makes a large batch, just under 8 tablespoons worth. Store in an airtight container in a cool, dry place and use in other recipes!
✏️Substitutions & variations
The ingredients are pretty straightforward, but here are a few simple swaps to make this drink for suitable for your diet type, or personal preferences.
Vegan pumpkin spice latte - This is an easy fix since this latte is naturally full of plant-based ingredients. All you would need to do is switch the cow's milk to plant-based milk, like oat milk, soy milk, coconut milk, or almond milk. For the cold foam, use coconut cream.
Swap the sweetener - You could use brown sugar or honey for a lovely flavor.
Make it low carb - This is an easy swap! Swap out the regular maple syrup for your favorite sugar free maple syrup or sweetener. You may also like this keto pumpkin spice bulletproof recipe!
Lower calorie - Swap for skim milk or plant-based milk to make it lower in calories. You can also skip the iced maple cold foam.
More or less sweet - Add more maple syrup to increase the sweetness, or add less for a less sweet drink.
More or less spiced - Try using about half the amount of pumpkin pie spice if you're not as big of a fan of spice.
Creamier - You can always add more milk to the drink, or scale back on the espresso.
💭Frequently asked questions
How big is this latte?

This makes roughly one 12-ounce drink.
Can I make this latte larger?

Yes, absolutely. If you'd like to make this latte for one, just keep the recipe as is, but feel free to double the batch or triple if you're serving more than one at a time. We do recommend making it fresh rather than ahead of time.

*In the step-by-step instructions we made a double batch for photo purposes.
Can I use cold brew coffee?

Yes, cold brew coffee can be used, though it's technically not a "latte" anymore, since lattes are made with espresso. That doesn't matter though, as it will still taste delicious!

To swap for cold brew, use 4 ounces of cold brew in place of 2 espresso shots.
Can strong brewed coffee be used?

If using a pour-over method or French press method, be sure to use 4 ounces of strong brewed coffee to replace 2 ounces of espresso.
⏲Equipment
We love our espresso machine. For this drink to be a true "latte" espresso is used. With that being said, you can still have a really tasty iced pumpkin drink by using other methods.
Get yourself a milk frother to make your own cold foam topping, whipped cream, or even just frothy warm cappuccinos and lattes at home in seconds!
No high-speed blender, immersion blender, or food processor? You could use a cocktail shaker or mason jar with a lid to mix the ingredients together, but just be warned the mixture will be a bit chunky. Also, be careful about shaking hot espresso with either of these methods, as the heat can cause the lid to pop off the top.
🛒Shop this recipe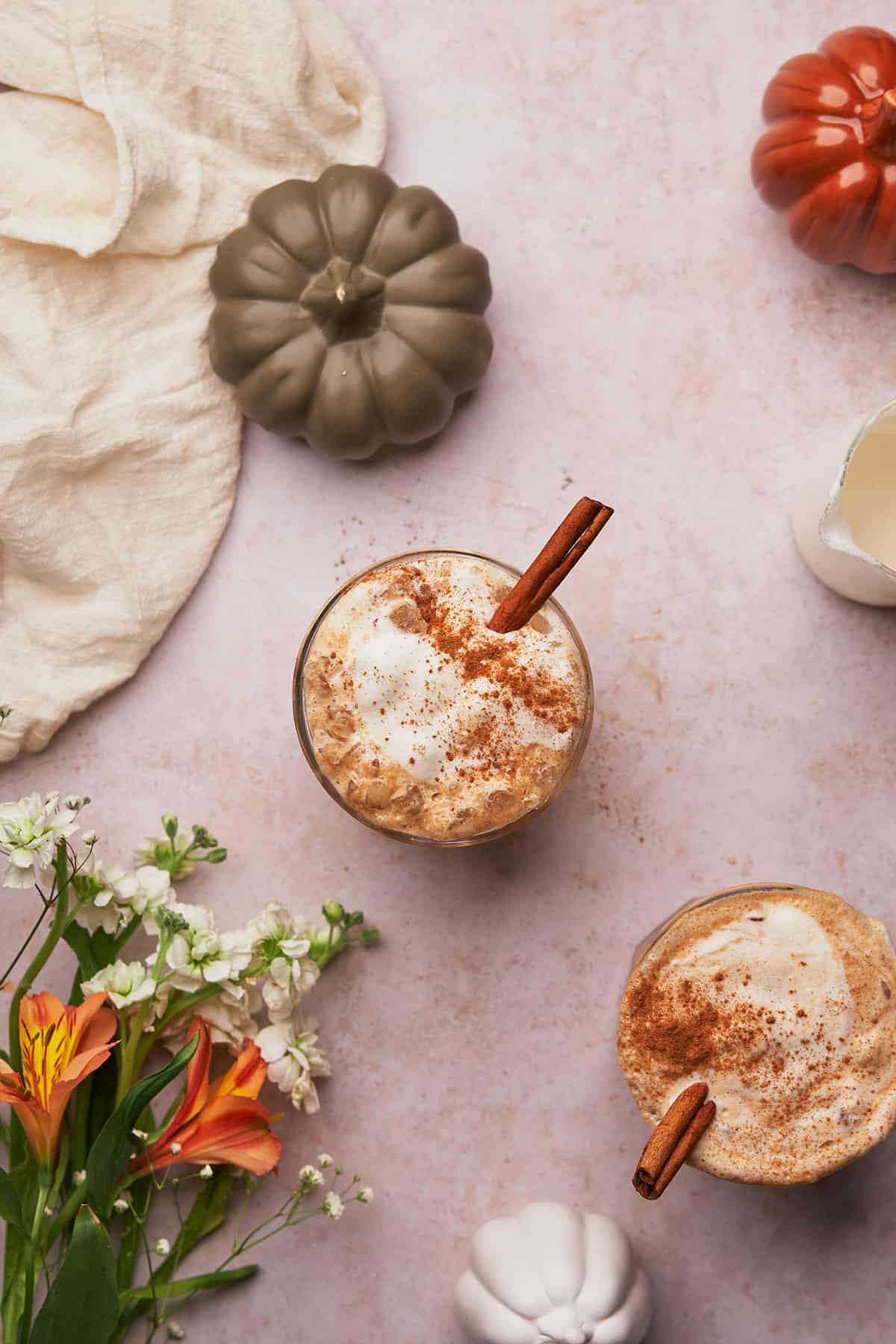 🥣Storage
This drink is best enjoyed right away but can be stored in the fridge for a few hours. We don't recommend freezing this recipe.
🌟Leave a review!
Make sure to leave a 5-star review below! This helps other readers find our recipes via Google, and encourages them to try them. Also be sure to leave a comment with your experience!
Take a photo and share with us by tagging us on Instagram or follow along on Pinterest for more ideas!
More Coffee Recipes To Try
📖 Recipe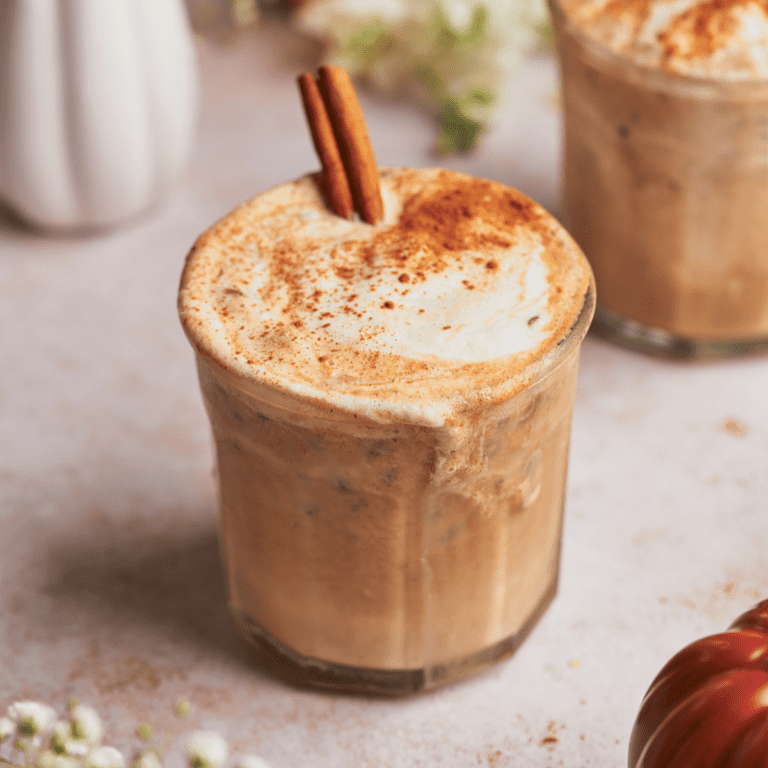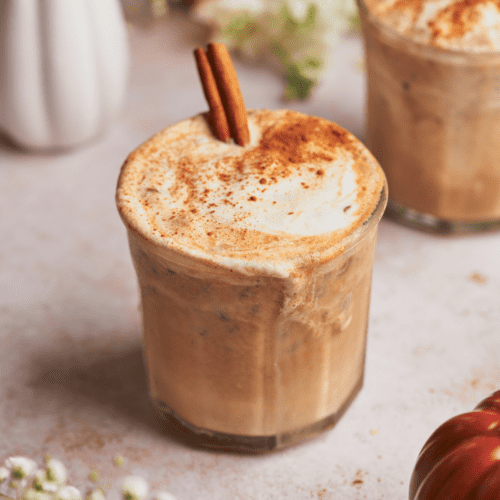 Pumpkin Spice Iced Latte
This Iced Pumpkin Spice Latte is the ideal between-season coffee drink for pumpkin spice enthusiasts and iced coffee lovers! Easy to make, with wholesome kitchen staples.
Ingredients
For the iced latte
30

grams

pure pumpkin puree

8

ounces

whole milk

(or milk of choice)

2

ounces

espresso, chilled

1.5

tablespoons

maple syrup

(or to taste)

1.5

teaspoons

vanilla extract

⅛

teaspoon

kosher salt

¼

teaspoon

pumpkin spice

¼

teaspoon

ground cinnamon

Ice for serving, not to blend
For the spiced maple cold foam
2

tablespoons

heavy cream

2

tablespoons

whole milk

1

teaspoon

maple syrup

¼

teaspoon

vanilla extract

pinch of salt & cinnamon or pumpkin spice
Instructions
In a blender, combine milk, espresso, vanilla extract, maple syrup, pumpkin puree, pumpkin spice, cinnamon, and salt. Blend on high speed until foamy and combined.

(Optional) In a separate container, combine milk, heavy cream, maple syrup, vanilla extract, a pinch of salt, and cinnamon. Use a milk frother to whisk until the mixture is thickened yet still pourable.

Add pumpkin latte mixture to a glass filled with ice. Top with spiced maple cold foam. Garnish with a sprinkle of cinnamon or pumpkin spice, plus a cinnamon stick. Enjoy!

This drink can be stored for a few hours in the fridge, but we don't recommend saving it. It's best enjoyed right away. Do not freeze.
Notes
To lower the carbs and sugar, feel free to use a sugar-free maple syrup replacement or less maple syrup. You could also omit the spiced maple cold foam.
Add spices to taste.
Make sure to use pure pumpkin puree, not pumpkin pie filling. 
Visit the body of the post for suggestions on altering the drink. 
Nutrition
Calories:
389
kcal
Carbohydrates:
42
g
Protein:
10
g
Fat:
19
g
Saturated Fat:
12
g
Polyunsaturated Fat:
1
g
Monounsaturated Fat:
5
g
Cholesterol:
65
mg
Sodium:
402
mg
Potassium:
575
mg
Fiber:
1
g
Sugar:
37
g
Vitamin A:
5529
IU
Vitamin C:
2
mg
Calcium:
393
mg
Iron:
1
mg