This Warm Baked Pumpkin Goat Cheese Dip with Bacon and Sage is the ultimate savory appetizer of the fall! Of course we know pumpkin is great for all course of sweet things, but combine it into a savory dip with garlic, onions, bacon, goat cheese, parmesan cheese and sage and you have the ultimate crave-worthy fall dip.
---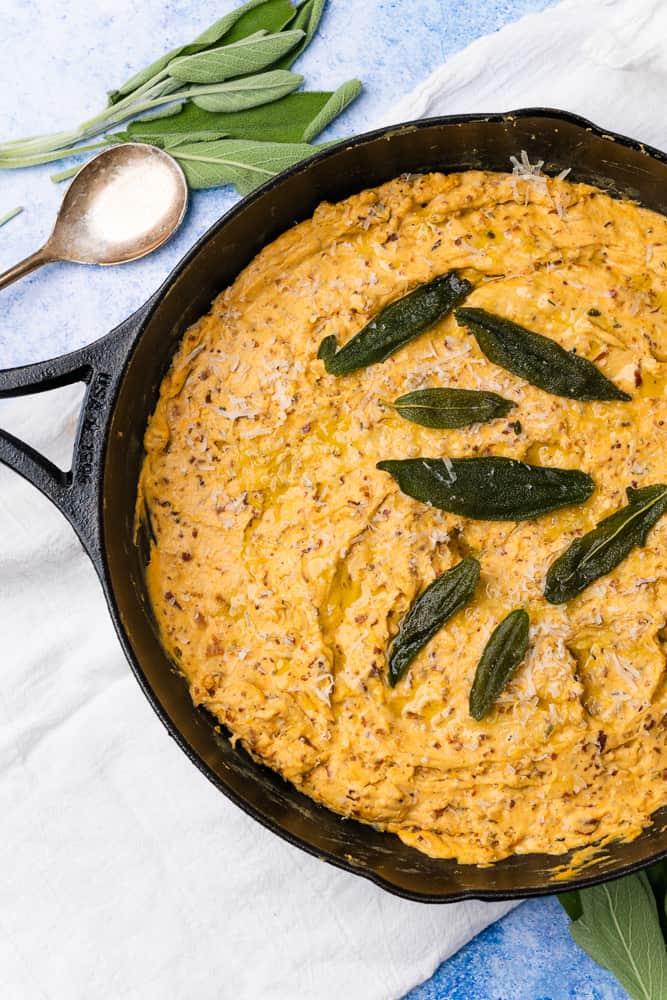 Are you a fan all of all things pumpkin like we are? If so, this one is for you! You might have seen one of our other savory pumpkin recipes, this creamy keto pumpkin alfredo with turkey and rosemary! It's rich, creamy, savory and herbaceous. The thing about pumpkin puree, is that it's a great base for either sweet or savory. It lends itself wonderfully to herbs like rosemary, thyme, and sage! Add in bacon, parmesan cheese, creamy goat cheese, plenty of garlic and onions? Oh yes. There's also a little bit of a secret ingredient you might not expect, so keep reading to find out what it is!

The best thing about this Goat Cheese Dip is that you can make it all in one skillet in about 20 minutes. Does it get better than that? Easy skillet appetizers and sides are key this time of year, when it feels like just one holiday appetizer after another. Serve this up for your family to keep them satiated while you work on the main dishes! Don't be surprised if they end up eating it all up though, because it's seriously mouthwatering. A winner for sure.
Ingredients:​
Unsalted butter
Yellow onion, diced
Garlic cloves, minced
Fresh sage leaves, minced
Bacon bits, prepared at home or store bought
Cream cheese
Creamy goat cheese
Sour cream
Parmesan cheese
Crispy sage to top (optional)
Serve with: Veggies, Fat Snax Crackers, Epic Pork Rinds, Whisps snacks cheese crisps (use our affiliate code '20AFullLiving' for 20%!)
How to Make This Warm Goat Cheese Dip with Bacon and Sage:
Prep all of your ingredients ahead of time. It will make your life a lot easier when it all comes together. Preheat your oven to 350°F and warm up your skillet over medium heat. When the cast iron is hot, add in the butter, melt it, and then add in the diced onions and minced sage with a pinch of salt. After the onions are softened and translucent, add in the garlic until fragrant, about 30 seconds. Add in your bacon bits to crisp up.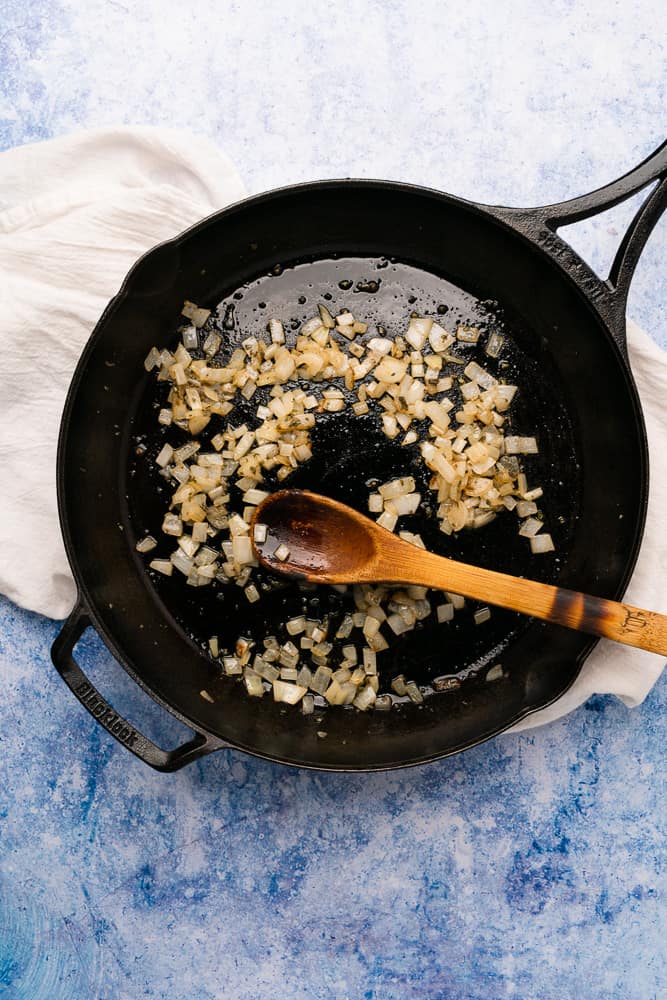 Add in your pumpkin puree, cream cheese, goat cheese, and sour cream. Stir over medium-low heat until smooth and creamy. Fold in the shredded parmesan cheese, nutmeg, and pepper and continue stirring until combined. Bake for 10-15 minutes until the Goat Cheese Dip is warm and bubbly, add salt if necessary.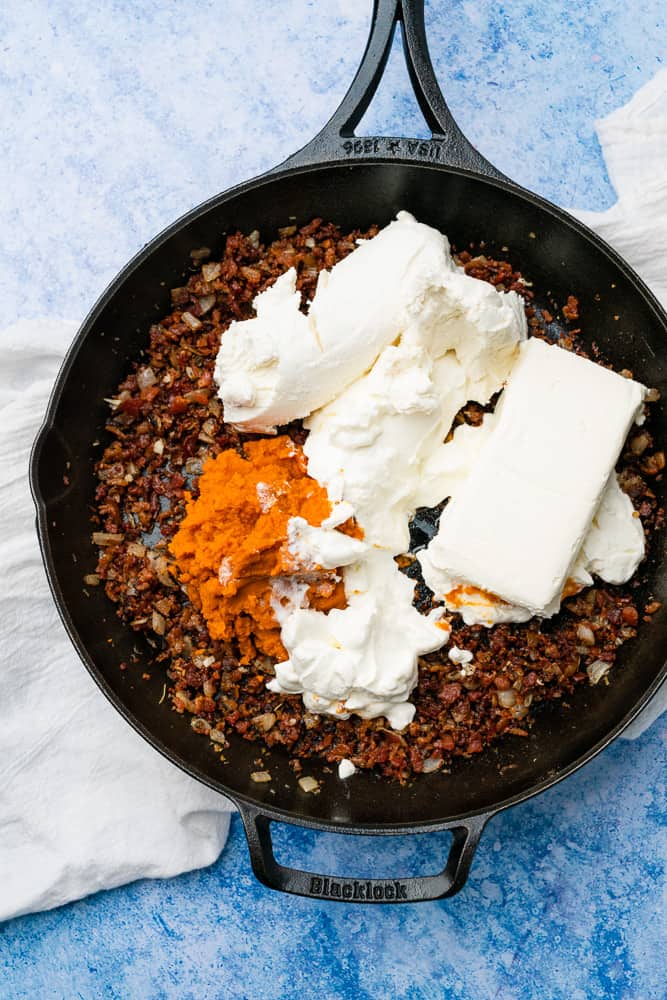 Garnish with more parmesan cheese and crispy sage if you want. Enjoy!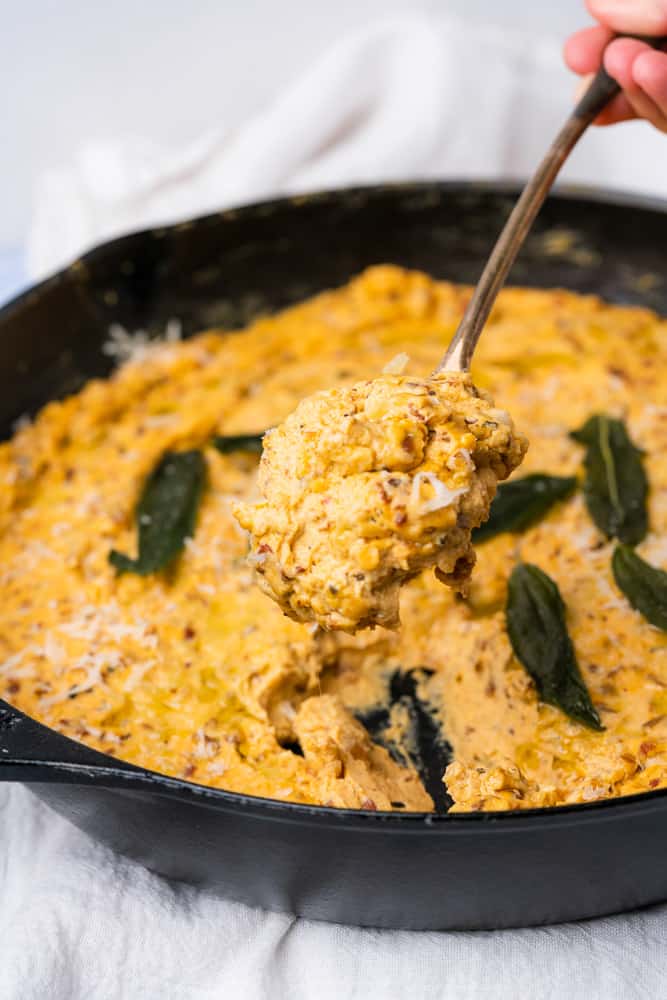 How To Make Crispy Sage:
The crispy fried sage that we used to top this Goat Cheese Dip is optional, but highly delicious! To make this fancy looking garnish (we promise it's NOT hard!!!) You just need a few minutes, and a few simple ingredients. To start, remove the leaves from the stalks. In a small saucepan, heat some olive oil over medium high heat. We will get the oil pretty hot to fry the sage leaves. You will know the oil is hot enough when you drop a little bit of water in and it sizzles up. Be careful though, it may pop and you don't want to burn yourself! We're talking just about a single drop of water, adding a lot of water will be sure way to hurt yourself so proceed with caution.

Avoid overcrowding the saucepan with sage leaves. Drop them in and let them fry up for about 15 seconds. You don't want the leaves to get browned, this will make the sage bitter. You just want them to look a like a little deeper shade of green than they were before. Using a slotted spoon, quickly scoop the leaves out, a set them aside on a plate to cool sprinkle with salt. That's it! The key to this is really just the timing. Sage tastes super amazing when fried, so we highly recommend it if you're going for a nicer looking garnish!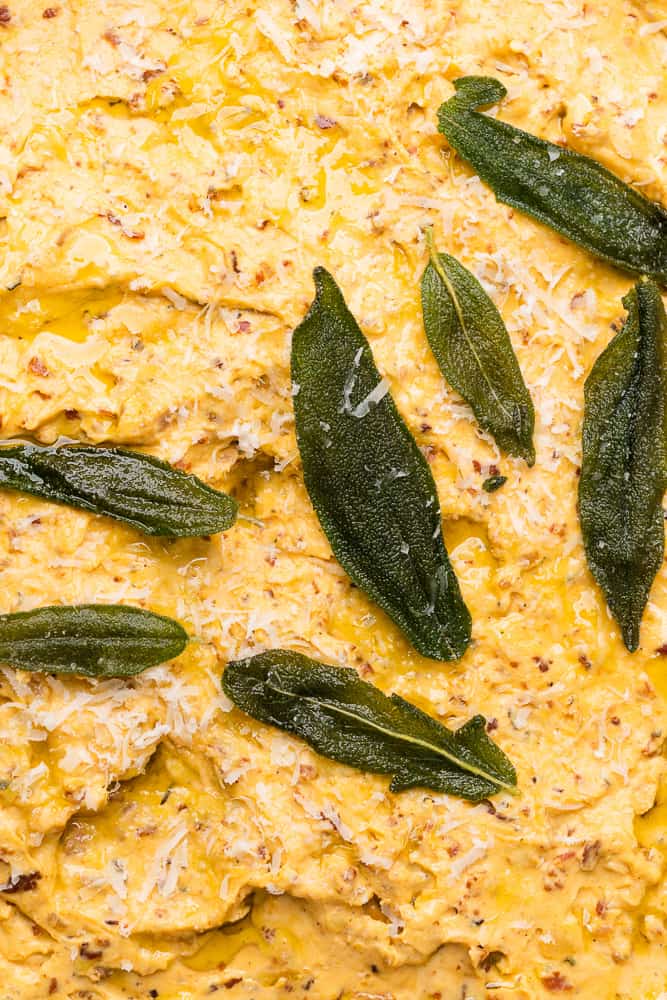 Store bought bacon bits vs. homemade:
Truth be told, you can use as much bacon in this warm baked pumpkin goat cheese dip as your heart desires. We generally add an amount that serves a good suggestion, but when it comes to bacon, is there such a thing as too much? We don't think so, so we think you should add plenty, and don't stop just because our recipe told you to! Generally we add enough to make it taste amazing, but also we kinda scale the amount back just to keep the calories a little lower. Everyone knows that more bacon will always taste amazing! Rambling aside, use as much or as little bacon as you want.

We used store-bought bacon bits since it's a lot less work and less mess, but you can definitely use homemade. Our only suggestion is if you are going to make your own bacon bits, you're probably going to want to discard some of the fat that gets rendered out or else your dip will just be swimming in pools of fat. You could substitute the butter in this dish for bacon fat though. That would honestly be really tasty.
Is Pumpkin Puree Low Carb and Keto Friendly?
We'd say so, yes, especially in small amounts. We used half a can of unsweetened pumpkin puree for this recipe. The key being that it's unsweetened. There's pumpkin pie mix sold in stores that comes with warming spices and a lot of sugar. That's not what we want, we just the plain pure pumpkin puree instead! For half a container of standard pure pumpkin puree, you're looking at about 18g of total carbs, and 5g of fiber, making 8 net carbs for the whole batch. Divide that across 16 servings of this Goat Cheese Dip, and you can see why it works so well!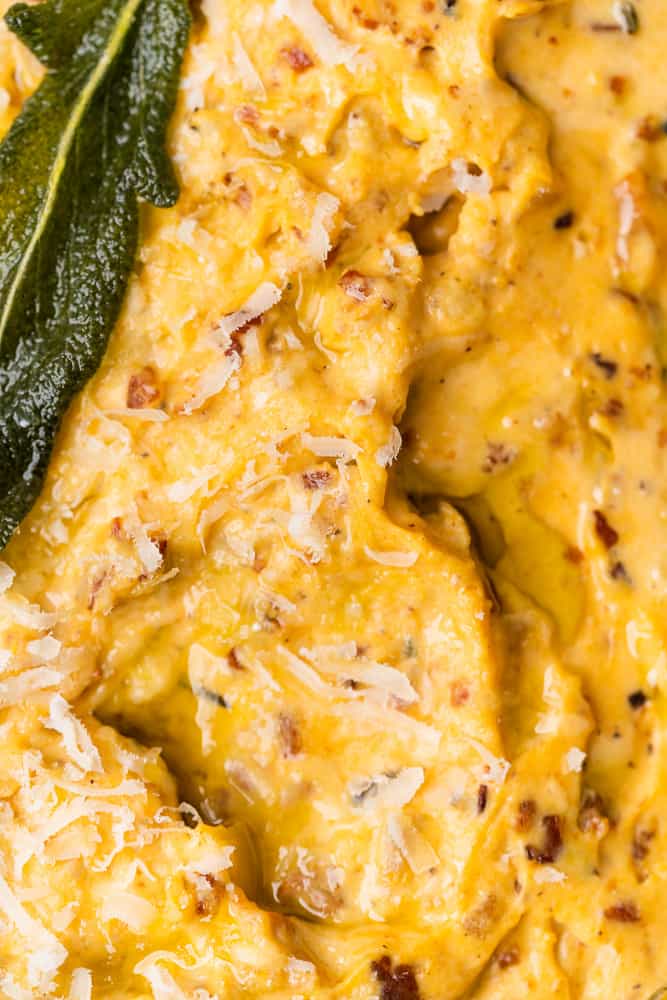 What Are Some Low Carb Options For Dipping With This Goat Cheese Dip?
We recently got to to try these Fat Snax crackers, and we are totally floored. This is not a sponsored opinion by the way, although we did receive the crackers for free, we created some content on their behalf, and were under no obligation to share about it on our page. You guys, it would have been such a horrible disservice not to share about these amazing crackers with you! They are truly SO GOOD, and really satisfy that cracker craving.

They come in three flavors, everything, cheddar, and original sea salt. We used the sea salt flavor for this Goat Cheese Dip and it was a great idea. These crackers are made with almond flour, coconut flour, some salt, seasonings, cream cheese, and a few other keto staples. Clean ingredients, and they nailed it.

Other good ideas for dipping would be Whisps cheese crisps (use our affiliate code '20afullliving' for 20% off on Amazon), pork rinds (Epic provisions), or your favorite veggies of choice.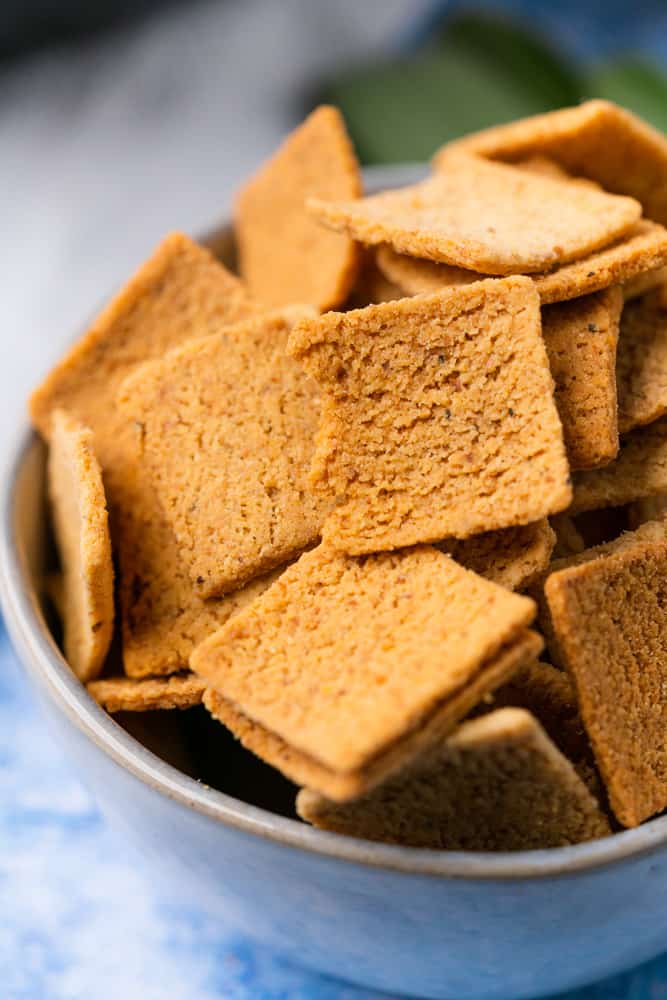 How Long Can I Save This Baked Pumpkin Goat Cheese Dip?
You can store leftovers in an airtight container in the fridge for up to 5 days. To reheat, you can microwave, broil on low, or heat in a cast iron skillet over medium on the stovetop for about 5 minutes until creamy and smooth!
Craving More Keto Pumpkin Recipes? Try These!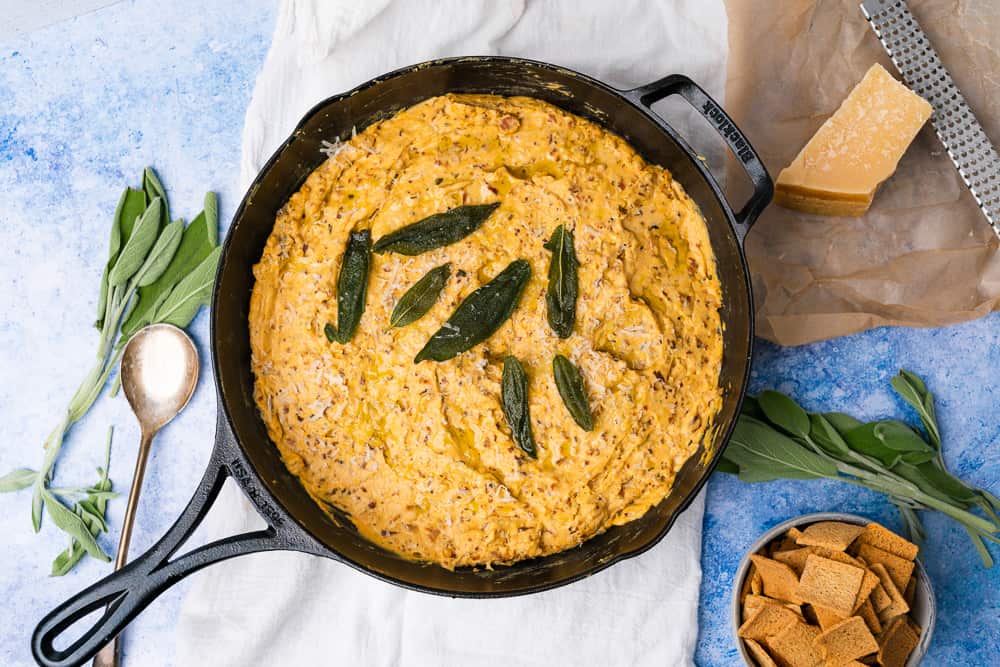 Shop This Recipe!
Want to get supplies for this Goat Cheese Dip recipe or shop our keto kitchen or pantry? We've linked our favorites above and right here in our Amazon Store! A Full Living is a participant in the Amazon Services LLC Associate program, an affiliate advertising program designed to promote a means for sites to earn advertising fees by linking products to amazon.com. We only share products we use and love. It doesn't cost you anything extra to shop using our links, but we earn a small commission that helps us keep this site going!
---
If you get a chance to try this recipe, let us know what you think, would ya?! Leave us a comment, or catch up with us on Facebook or Instagram, or pin to your favorite Pinterest board for later. We love sharing your versions of our creations over on Instagram @afullliving!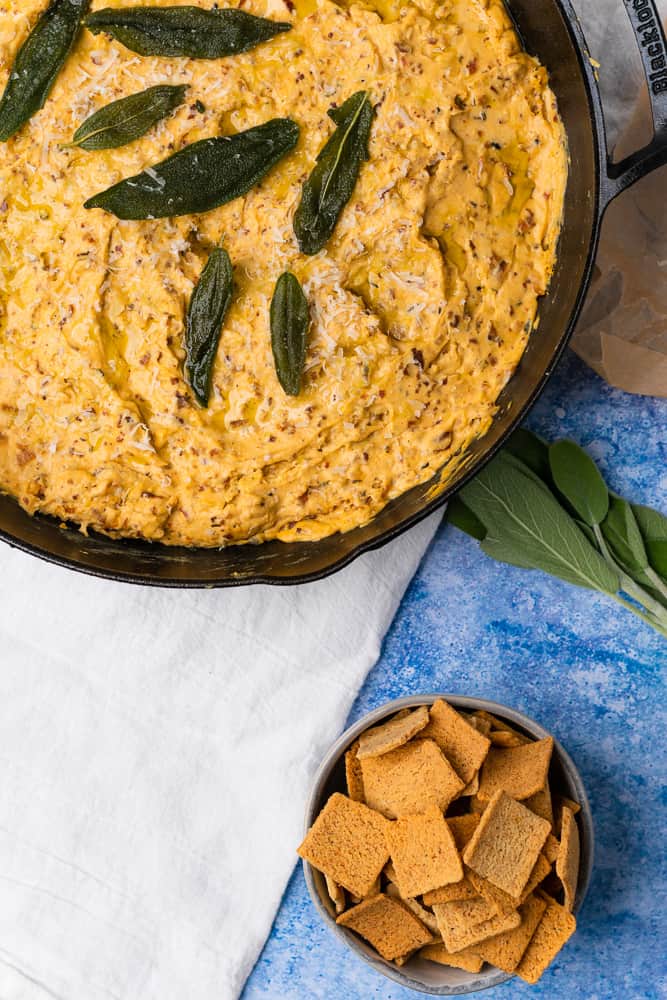 Thanks for stopping by! Be sure to subscribe to our email newsletter so you're the first to know about new recipes we post on our blog.

If you love this recipe, please consider sharing it with a friend and also leaving a rating and comment so others can find this recipe. Thank you for your support!
Until Next Time,
Briana & Chamere
📖 Recipe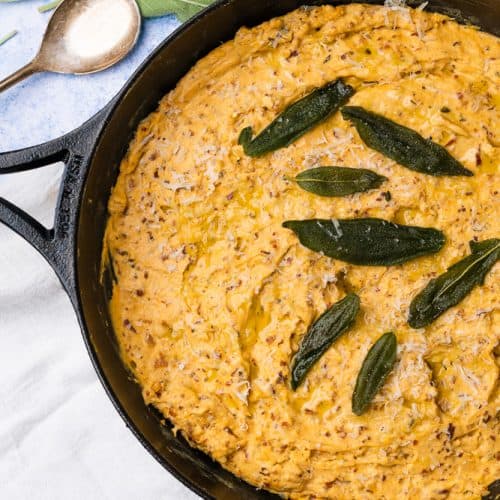 Warm Baked Pumpkin Goat Cheese Dip with Bacon and Sage
This Warm Baked Pumpkin Goat Cheese Dip with Bacon and Sage is the ultimate savory appetizer of the fall! Of course we know pumpkin is great for all course of sweet things, but combine it into a savory dip with garlic, onions, bacon, goat cheese, parmesan cheese and sage and you have the ultimate crave-worthy fall dip.
Ingredients
2

tablespoon

unsalted butter

75

grams

yellow onion, diced

(about a quarter on an onion)

4

cloves

garlic, minced

2

tablespoon

fresh sage leaves, minced

1

teaspoon

Italian seasoning

8

oz

bacon bits

7.5

oz

pure pumpkin puree

(half of a can)

8

oz

cream cheese, full fat

8

oz

sour cream, full fat

10

oz

creamy goat cheese

½

teaspoon

kosher salt

(or to taste)

¼

teaspoon

black pepper

(or to taste)

¼

teaspoon

ground nutmeg

(optional but recommended)

5

oz

shredded parmesan cheese

Garnish with: crispy sage, parmesan cheese
Instructions
Preheat oven to 350°F. In a hot cast iron, melt butter, and sweat onions and sage with a pinch of salt until onions are translucent, about 5 minutes.

Add in garlic cloves and cook until fragrant, then add bacon bits and cook until a bit crispy.

Add in sour cream, pumpkin puree, cream cheese, and goat cheese and mix throughly until combined, then add in parmesan cheese, nutmeg, and pepper. Combine.

Cook for about 10 minutes in the oven until everything is warm and baked. Add salt if necessary. Garnish this Goat Cheese Dip with more parmesan and crispy sage!
Notes
The nutrition facts don't include the crispy sage or any crackers for dipping. 
Nutrition
Calories:
247
kcal
Carbohydrates:
7
g
Protein:
12
g
Fat:
19
g
Saturated Fat:
10
g
Trans Fat:
1
g
Cholesterol:
41
mg
Sodium:
589
mg
Potassium:
116
mg
Fiber:
2
g
Sugar:
2
g
Vitamin A:
2645
IU
Vitamin C:
2
mg
Calcium:
187
mg
Iron:
1
mg