Last updated on October 16th, 2020
These Low Carb Keto Pumpkin Chocolate Chip Cookies are one of our favorite healthy sugar free treats of the fall! These soft and chewy cookies are so easy to make and are packed full of chocolate chips with plenty of pumpkin puree and hints of pumpkin pie spice. All of the flavor, without the sugar. Pumpkin lovers will be delighted with these gluten free, chocolate chip cookies
---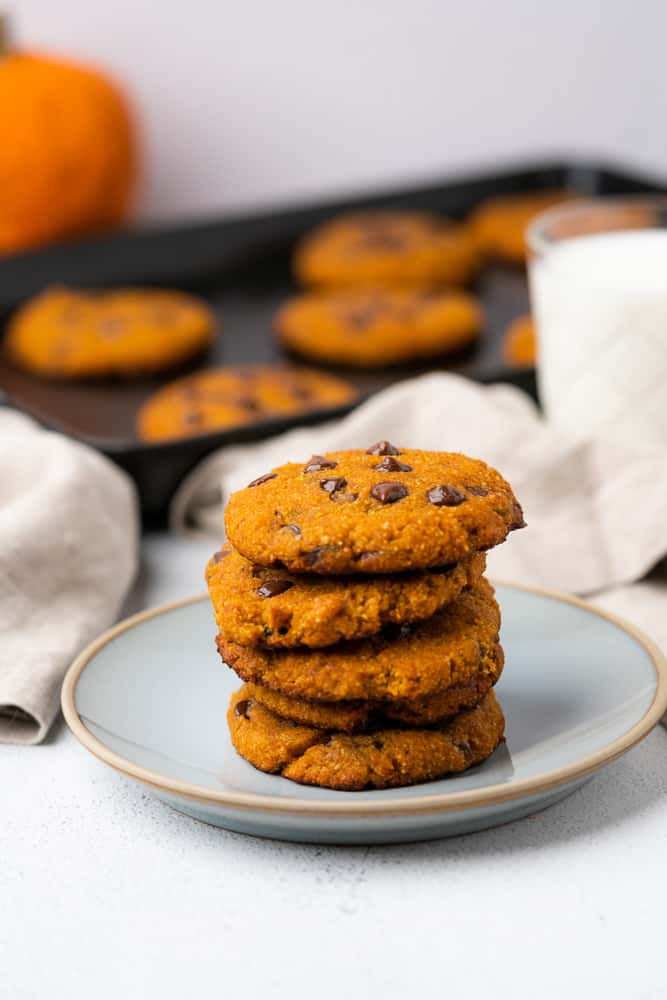 Pumpkin is one of the best ingredients of the season. Pretty sure you can't change our minds! Truth be told, Bri is the one who has always been super enthusiastic about pumpkin everything, while Chamere has always been the skeptic. Let's just say, these cookies, along with many of our other pumpkin recipes have changed his mind. He's now a full blown pumpkin fan.

These cookies are just the best. Chewy and soft, super buttery, chocolatey with the perfect flavors of pumpkin and spice. They're also only 2 net carbs per cookie. We consider them quite nutritious actually, since they are completely sugar free, gluten-free and super low in carbs. Eat them with you coffee in the morning, as a snack, or for dessert. They will satiate you, satisfy your sweet tooth and your appetite for pumpkin spice and chocolate, all at once! Let's get into it!
Here's What You Need For This Low Carb Keto Pumpkin Chocolate Chip Cookies:​
Unsalted butter (melted and cooled)
Swerve Granular (or preferred sugar free sweetener)
Eggs, room temperature
Almond flour (Bob's Red Mill)
Coconut flour (Bob's Red Mill)
ChocZero dark chocolate baking chips (use our affiliate code, 'AFullLiving' for 10% off on their website!)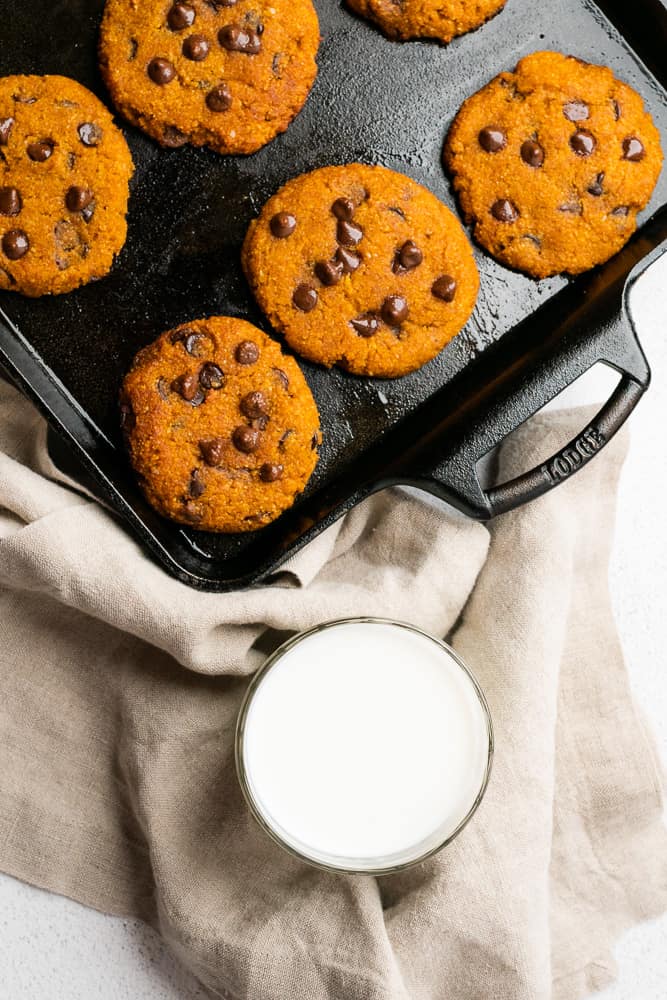 Are These Good For Halloween?
Absolutely. These cookies are the perfect Halloween treat! The color scheme is just fabulous. While we make these cookies all season long, there's a really great way to make them even more festive! Recently, our friends at ChocZero came out with these super awesome sugar free chocolate pumpkin chocolates. They're only available for a limited time, so get your hands on them while you can! We have an affiliate code that earns us a small commission, and saves you 10% on all orders plus free shipping on orders over $35! Sounds like a win for everyone! Just use 'AFullLiving' at checkout. ChocZero provided us with the pumpkins we used in this keto pumpkin chocolate chip cookie recipe, and we are super grateful to be able to try their awesome seasonal products.
Speaking of, ChocZero also just dropped their brand new peanut butter ghost truffles in time for Halloween! Is there anything these guys can't do? We truly love having spooky, festive treats that are sugar free and keto friendly. It makes such a difference for us! Okay just the packaging alone is so perfect right?
What's The Best Sweetener To Use?

We link our favorite products so you can try for yourself, but as always, this is just our suggestion and you can feel free to use whatever sweeteners are your favorite! This goes for if you are not concerned about the sugar content as well. We think Swerve Sweetener (granular) is the ideal sweetener for this cookie if you eat low carb, keto or sugar free. Swerve makes our most favorite sweetener, it's tasty, and measures just like sugar, so subbing 1:1 would work well. Swerve confectioners would also work well, but you would need to use about 25% more of it to achieve the same sweetness level.
What Flour Should I Use For These Keto Pumpkin Chocolate Chip Cookies?
We always use finely ground almond flour as the base for most of our baked good recipes.

We're also sure that coconut flour cannot be substituted 1:1 for almond flour however. For this recipe, we used a blend of almond and coconut flour for a good consistency. Coconut flour is very drying, so a small amount helped in this recipe because of all the moisture from the pumpkin puree. The drying nature of coconut flour helps soak up extra moisture and hold the cookie together. We haven't tested this recipe with a 100% coconut flour base, so we cannot recommend a proper substitute at this time. Sorry!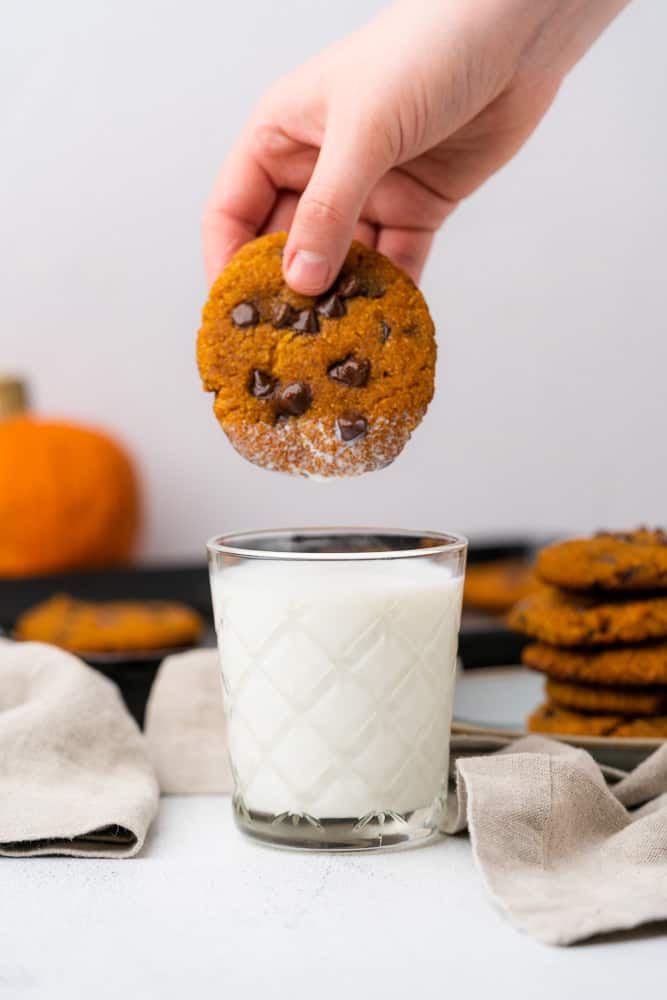 Here's Some More Of Our Favorite Keto Pumpkin Recipes:
…. and more coming this fall! Stay tuned!
Tools: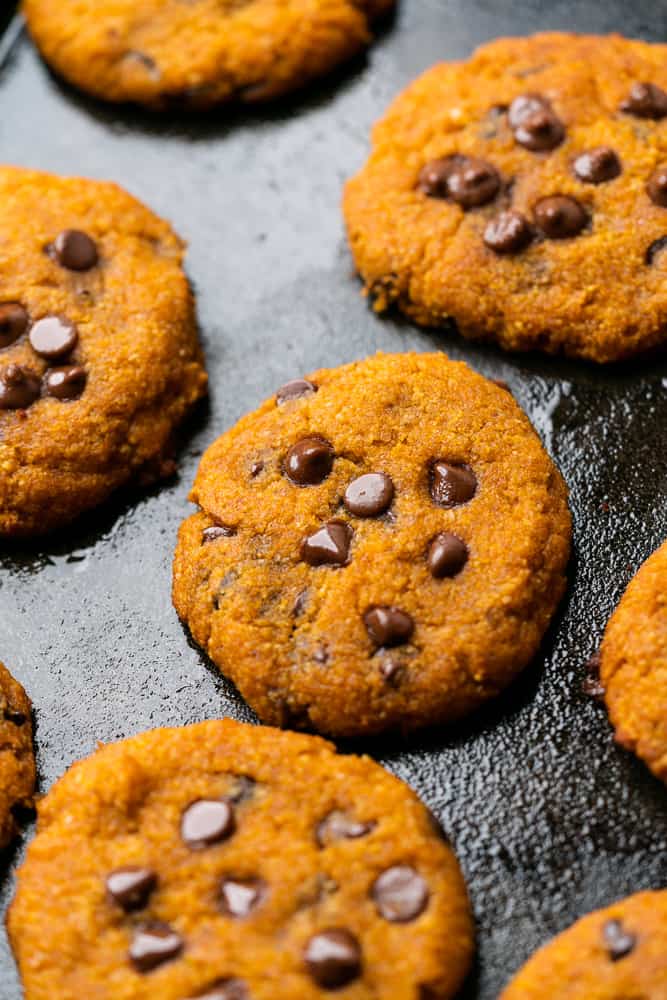 Need supplies for this these keto pumpkin chocolate chip cookies? We've linked our favorites above and right here in our Amazon Store! You don't pay anything extra if you shop using our link, but we get a small percentage of the sale. A Full Living is a participant in the Amazon Services LLC Associate program, an affiliate advertising program designed to promote a means for sites to earn advertising fees by linking products to amazon.com. We only share products we use and love. Thanks for helping support our site!
Let's These Keto Pumpkin Chocolate Chip Cookies!
---
Preheat your oven to 325°F. Line a baking sheet with parchment paper (if using a traditional baking sheet). If using a Lodge Cast Iron baking sheet, just spray with Baker's Spray. In a large bowl add your melted butter and cream it together with your sweetener for 3 minutes or so.

Add in your pumpkin puree, and vanilla extract. Cream together for 10 minutes. This will add air to the batter. Then, add in eggs until just combined.
Now, in a separate bowl, mix your almond flour, baking soda, salt, pumpkin pie spice and xanthan gum and mix well. Sifting will help get rid of any clumps. Add the dry ingredients to the wet ones and mix until just combined. Fold in your chocolate chips.
Roll your cookies into 18 equal sized balls.

Use a cookie spoon or your hands to get the cookies into a nice round shape. These won't spread very much at all while baking, so keep that in mind. Place them on the parchment lined baking sheet. You can press them flat with your hand, or by using anything to press the cookie down.

Put in oven and bake for 10-13 minutes, keeping a close eye so that they don't burn.
That's it! Just allow to cool for about 20 minutes before eating. Gluten free baked goods need time to really cool to hold their shape.
If you get a chance to try this recipe, let us know what you think, would ya?! Leave us a comment, or catch up with us on Facebook or Instagram, or pin to your favorite Pinterest board for later.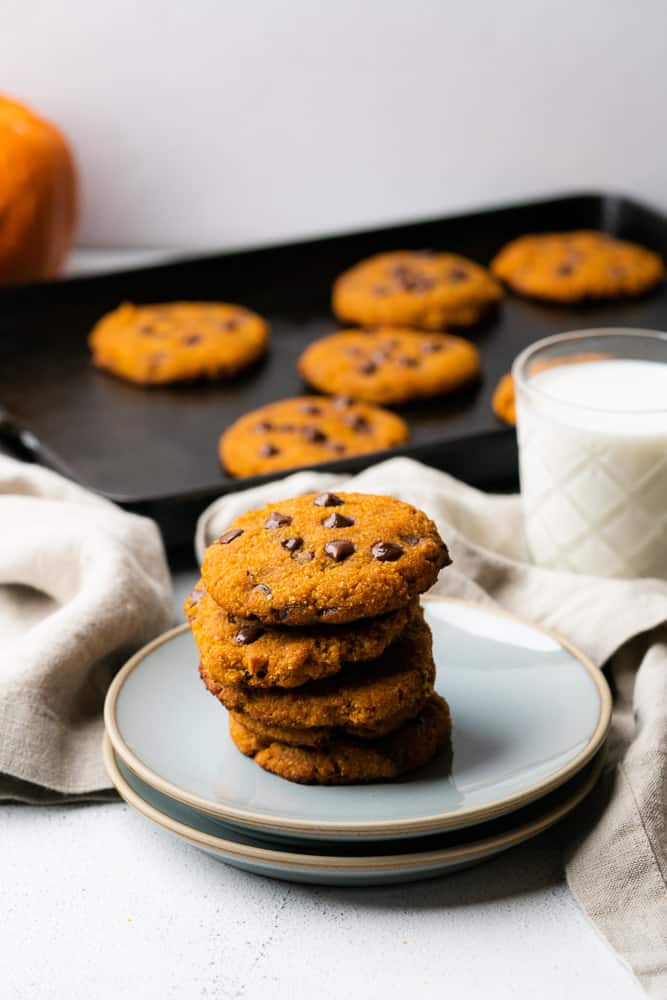 Until Next Time,
Briana & Chamere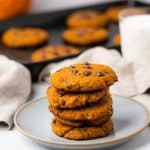 Low Carb Keto Pumpkin Chocolate Chip Cookies (Gluten-Free)
These Low Carb Keto Pumpkin Chocolate Chip Cookies are super indulgent, yet sugar free, gluten free and only 2 net carbs per cookie! Soft and chewy with plenty of chocolate, pumpkin and warm fall spices!
Keyword:
cookies, easy keto, fall, low carb, pumpkin
Ingredients
8

tbsp

unsalted butter, melted and cooled

(1 stick)

2/3

cup

granular sweetener

(128 grams Swerve)

2/3

cup

pumpkin puree

(160 grams)

2

tsp

vanilla extract

2

whole

eggs, room temperature

2

cups

almond flour, sifted

(224 grams)

3

tbsp

coconut flour

(25 grams)

1/2

tsp

xanthan gum

(optional, but recommend to keep the cookie from crumbling)

1

tsp

baking soda

1

tsp

kosher salt

1.5

tsp

pumpkin pie spice

3/4

cup

ChocZero dark chocolate chips

(132 grams)
Instructions
Preheat your oven to 325°F. Line a baking sheet with parchment paper. Cream together your melted and cooled butter with sweetener for 3 minutes.

Add in pumpkin puree and vanilla extract and cream together for 10 minutes, until the mixture is light and fluffy.

Add in your eggs one by one, mixing until just combined.

Sift in the almond flour, baking soda, salt, pumpkin pie spice and xanthan gum. Fold with a rubber spatula until combined.

Gently fold your chocolate chips into the batter.

Using a cookie scoop or spoon, form 18 equal sized balls, rolling to form a smooth, even shape. Use a piece of parchment to press the cookies flat, or leave them in a round ball shape if you prefer them denser.

Put in oven and bake for 10-12 minutes, until they no longer appear wet but are still soft. Be careful, because they can burn or overcook quickly. Let them cool for about 20 minutes before consuming them.
Recipe Notes
Macros: Makes 18 servings, 1 cookie per serving, 119 calories per serving. 11g fat,  2g protein, 6g total carbs, 4g fiber, making 2g net carbs. We cannot guarantee the accuracy of these macros, and we recommend calculating them on your own, as brands vary. These are provided as a courtesy.
Hungry For More? Get Recipes Right To Your Inbox.