This Keto Pumpkin Cookies with Chocolate Chips Recipe is one of our favorite easy & healthy sugar free treats of the fall! These soft and chewy cookies are so easy to make and are packed full of chocolate chips with plenty of pumpkin puree and hints of pumpkin pie spice. All of the flavor, without the sugar. Pumpkin lovers will be delighted with these gluten free, chocolate chip cookies.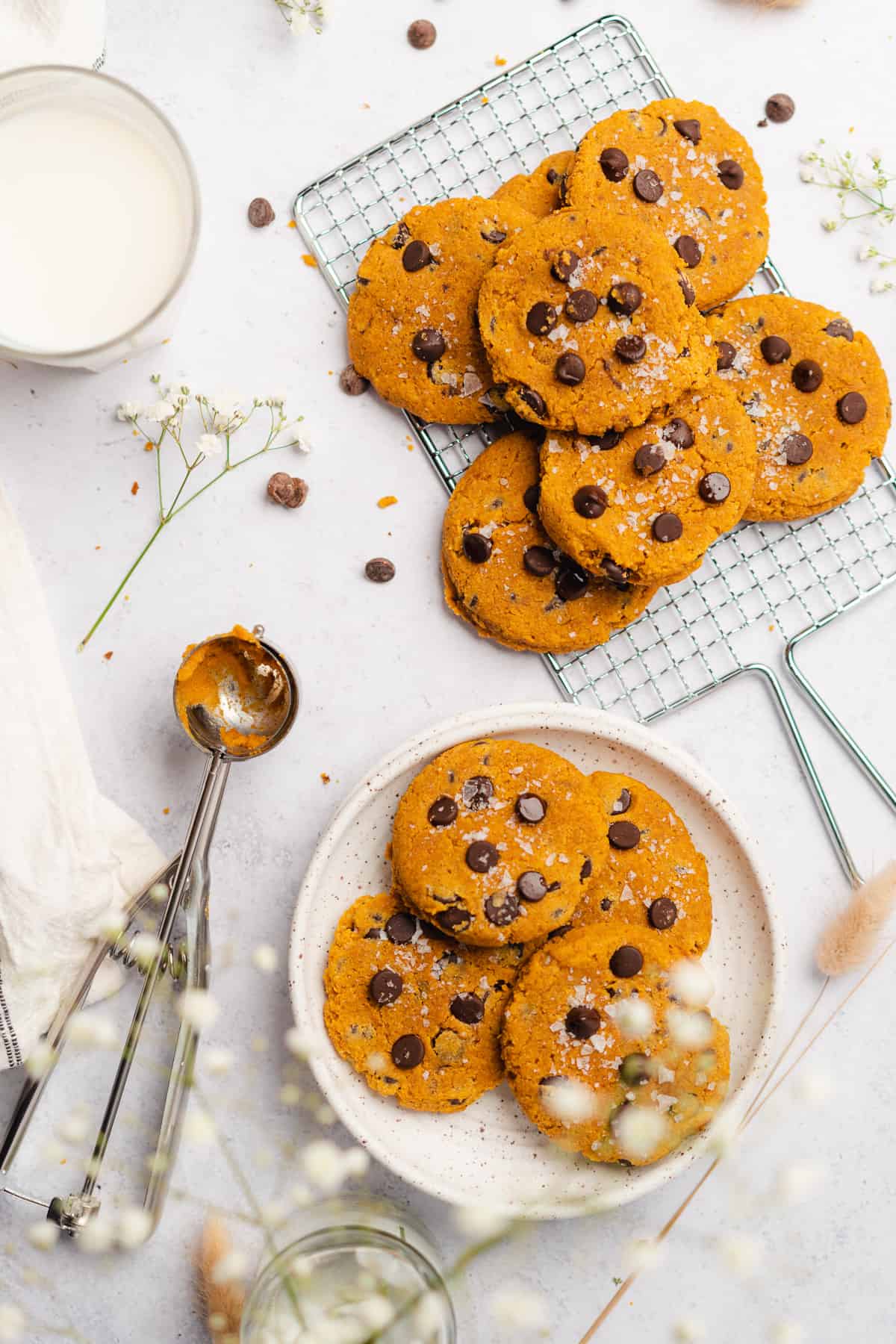 These cookies are just the best. Chewy and soft, super buttery, chocolatey with the perfect flavors of pumpkin and spice. They're also only 3 net carbs per cookie. We consider them quite nutritious actually, since they are completely sugar free, gluten-free and super low in carbs.
Eat them with your coffee in the morning, as a snack, or for dessert. They will satiate you, and satisfy your sweet tooth and your appetite for pumpkin spice and chocolate, all at once.
Love pumpkin? Be sure to check out these keto pumpkin bars, these keto pumpkin pancakes, or this cauliflower and pumpkin soup.
🎃Ingredients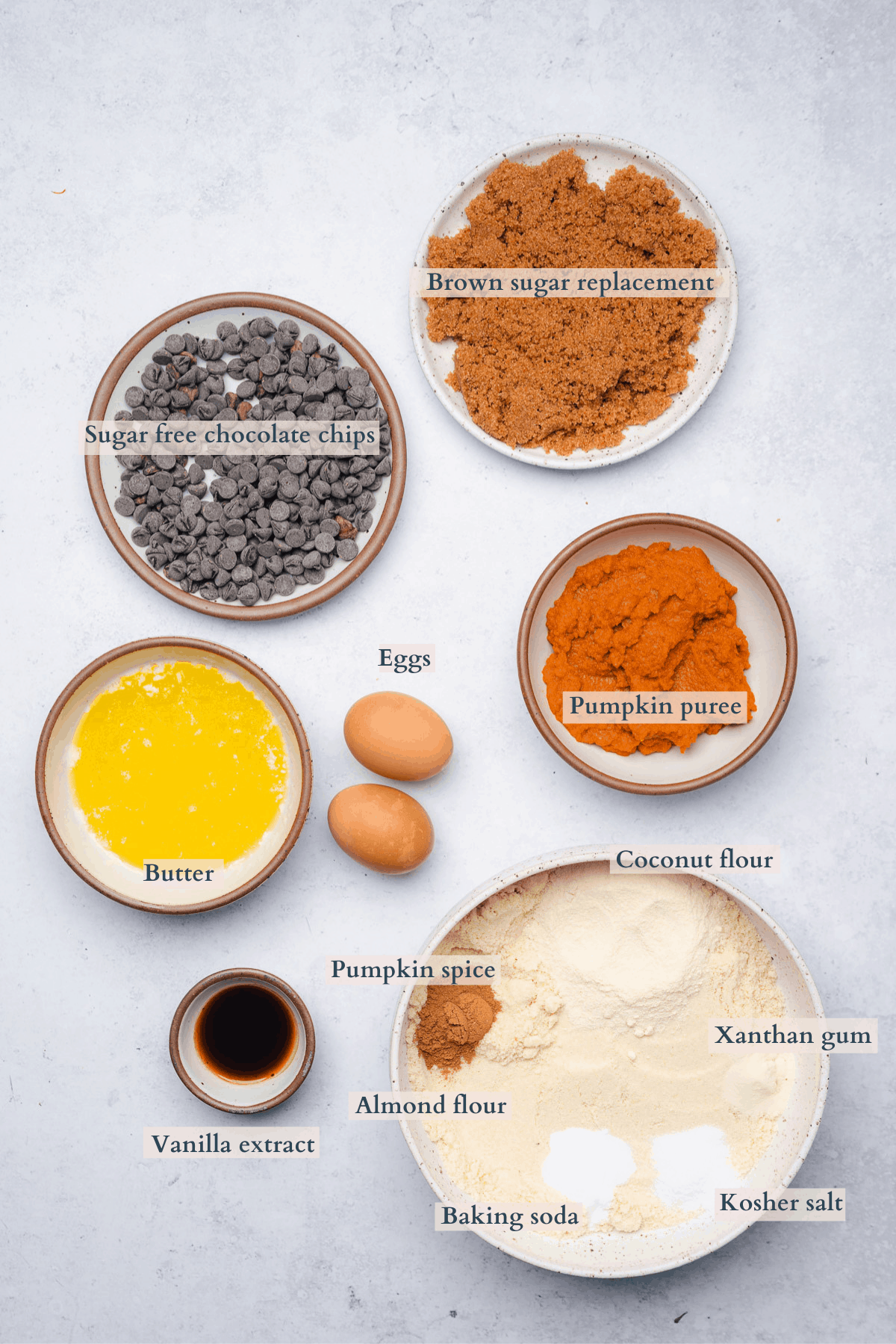 Unsalted butter - Melted and cooled.
Sweetener of choice - We like using a brown sugar replacement, it's our favorite low carb sweetener. You can use whatever you like here.
Pure pumpkin puree - Make sure it's NOT pumpkin pie mix, which contains lots of sugar.
Vanilla extract
Eggs, room temperature
Almond flour & coconut flour - Make the perfect blend for the base of the cookie.
Baking soda - NOT baking powder, which will make these cookies cakey.
Pumpkin pie spice - You could substitute cinnamon if you prefer. We'll share our homemade pumpkin spice recipe below!
Kosher salt
Xanthan gum - Definitely recommended to bind these gluten free cookies together.
Sugar free chocolate chips of choice - Anything you prefer here! Our favorite keto chocolate chips are by Lily's, and we often use their semi-sweet chips in our baked goods.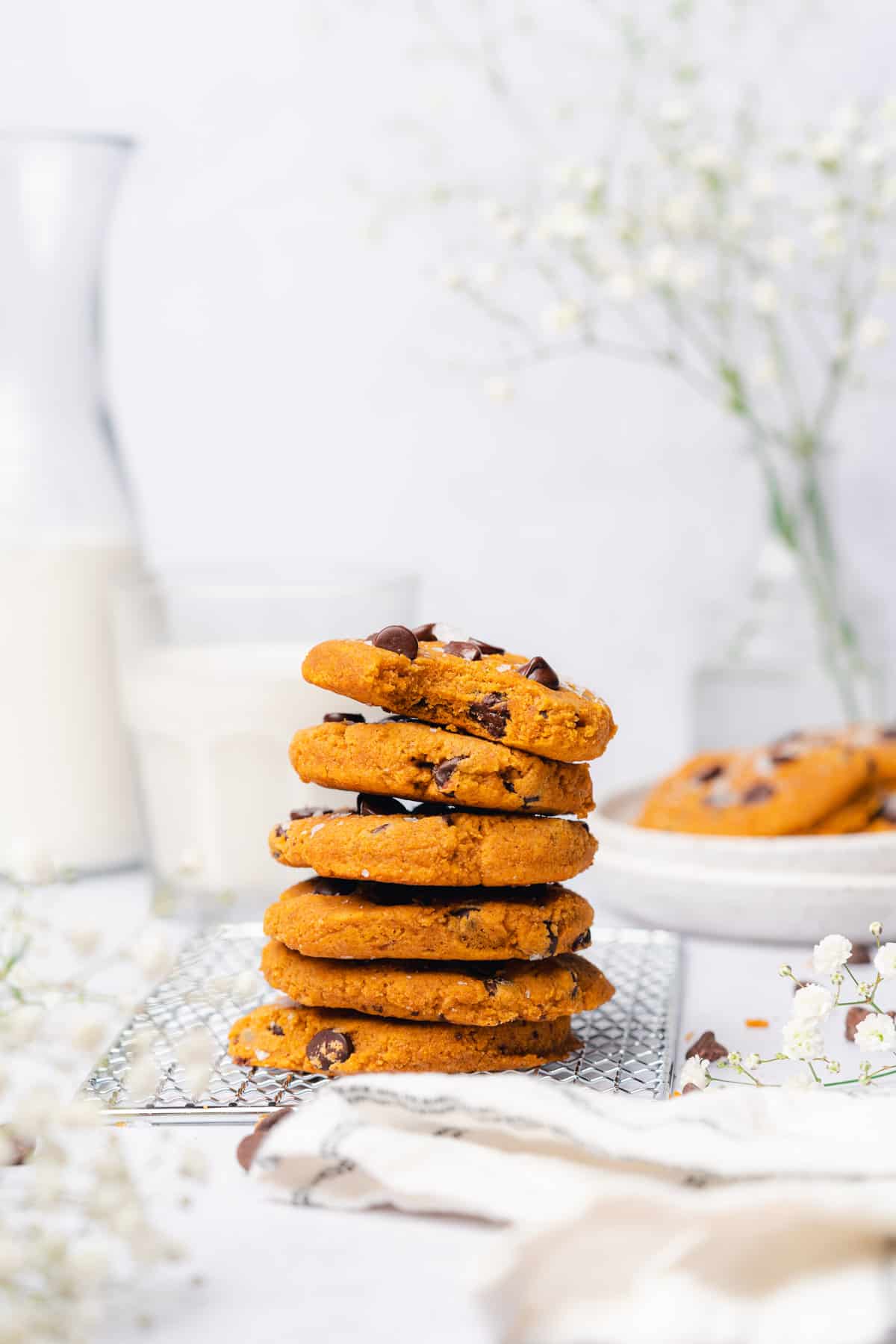 📋Instructions
Preheat your oven to 325°F. Line a baking sheet with parchment paper.

In a large mixing bowl, cream together your melted and cooled butter with sweetener for 3 minutes. add in the pumpkin puree, and vanilla extract. Cream together for 10 minutes. This will add air to the batter.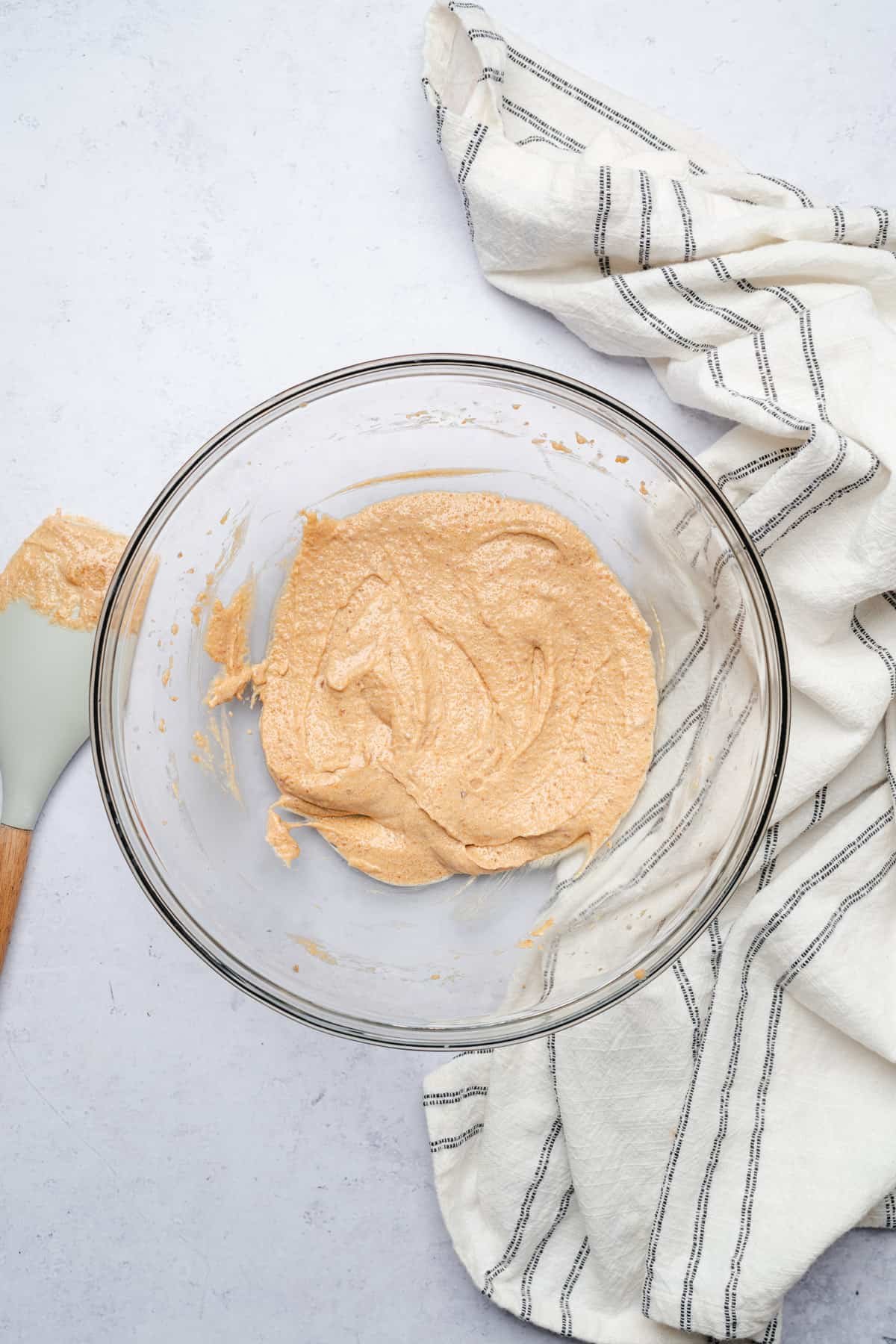 Add in eggs until just combined.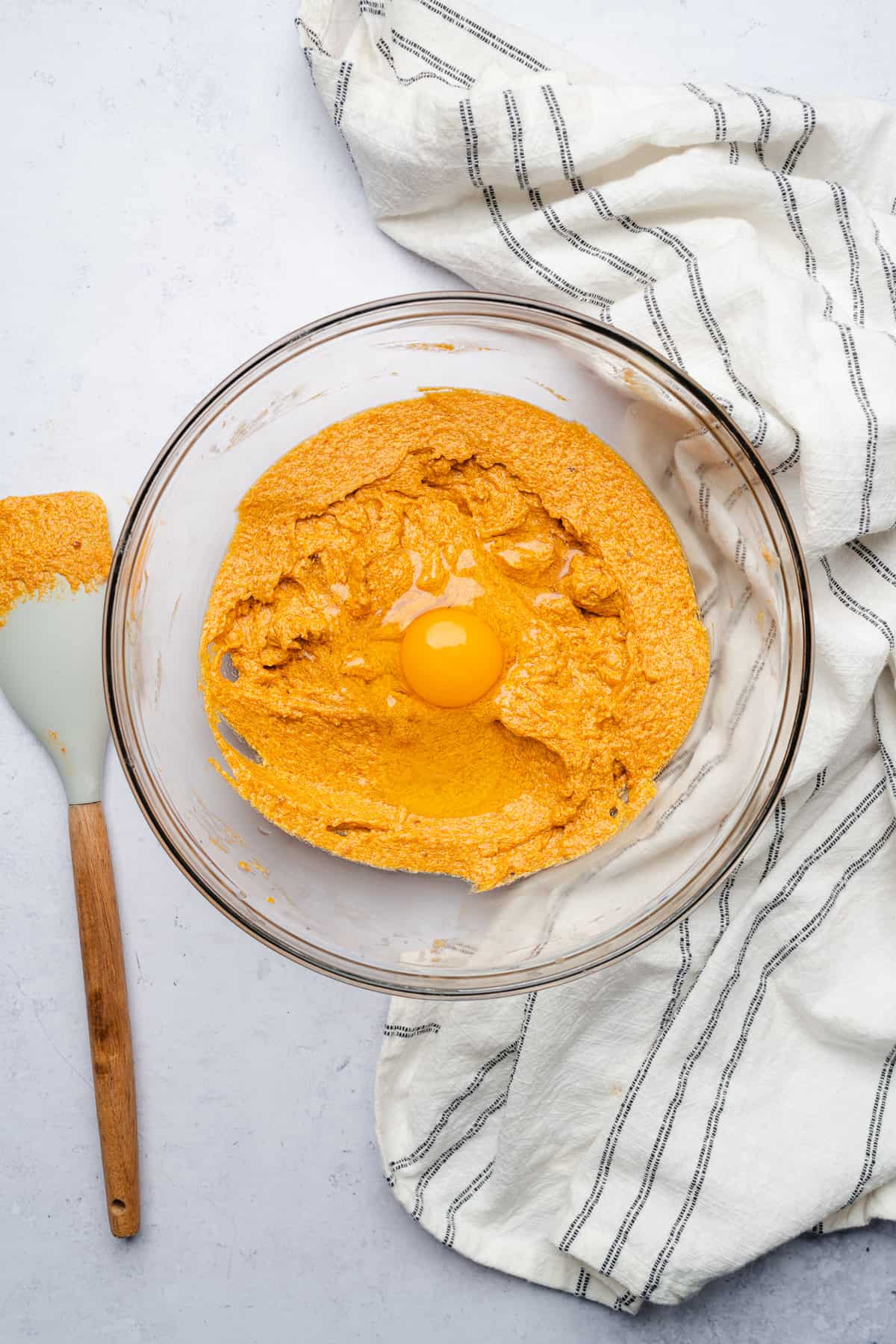 Now, in a separate bowl, mix your almond flour, baking soda, salt, pumpkin pie spice and xanthan gum and mix well. Sifting will help get rid of any clumps. Add the dry ingredients to the wet ones and mix until just combined.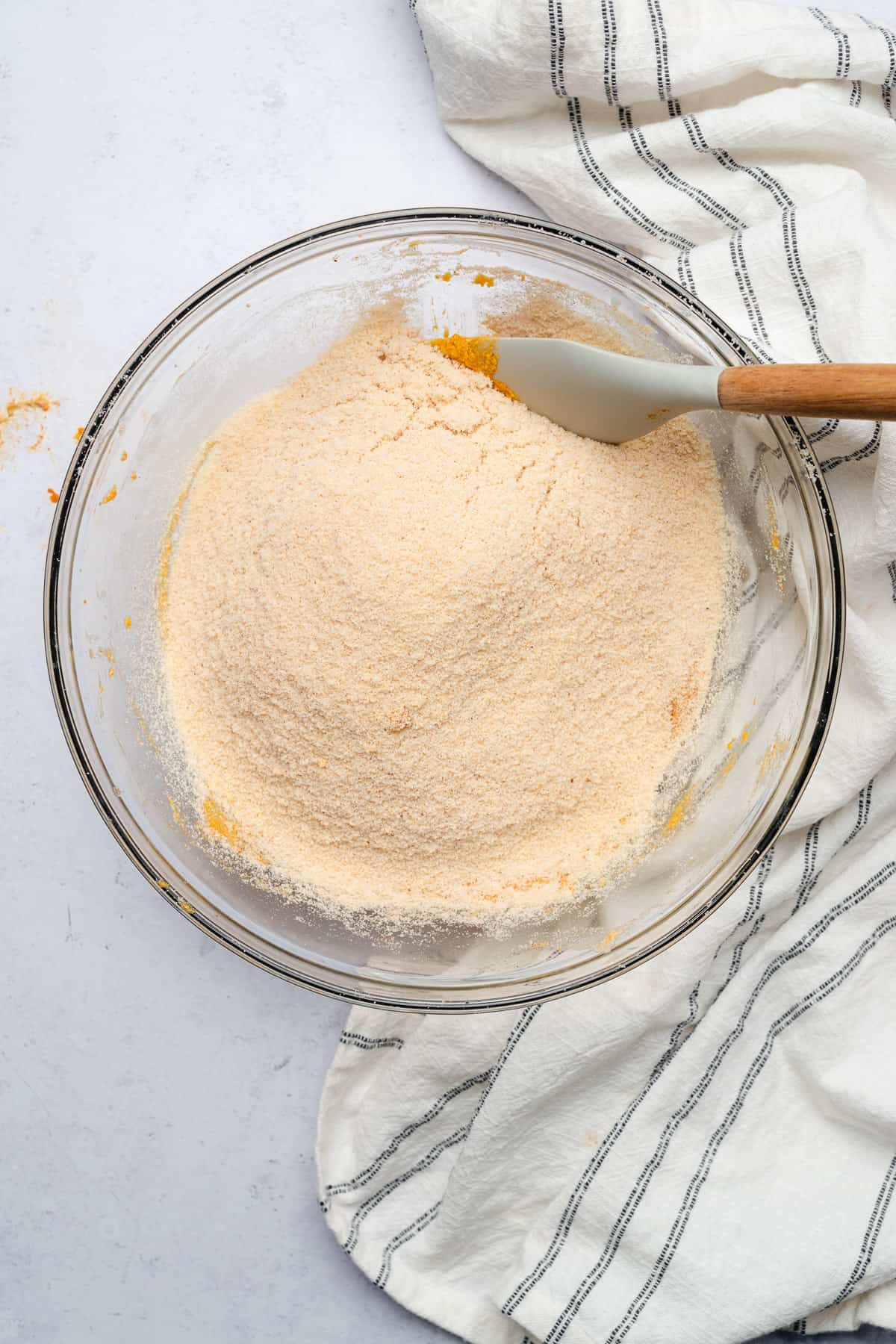 Fold in your chocolate chips, reserving some for the top.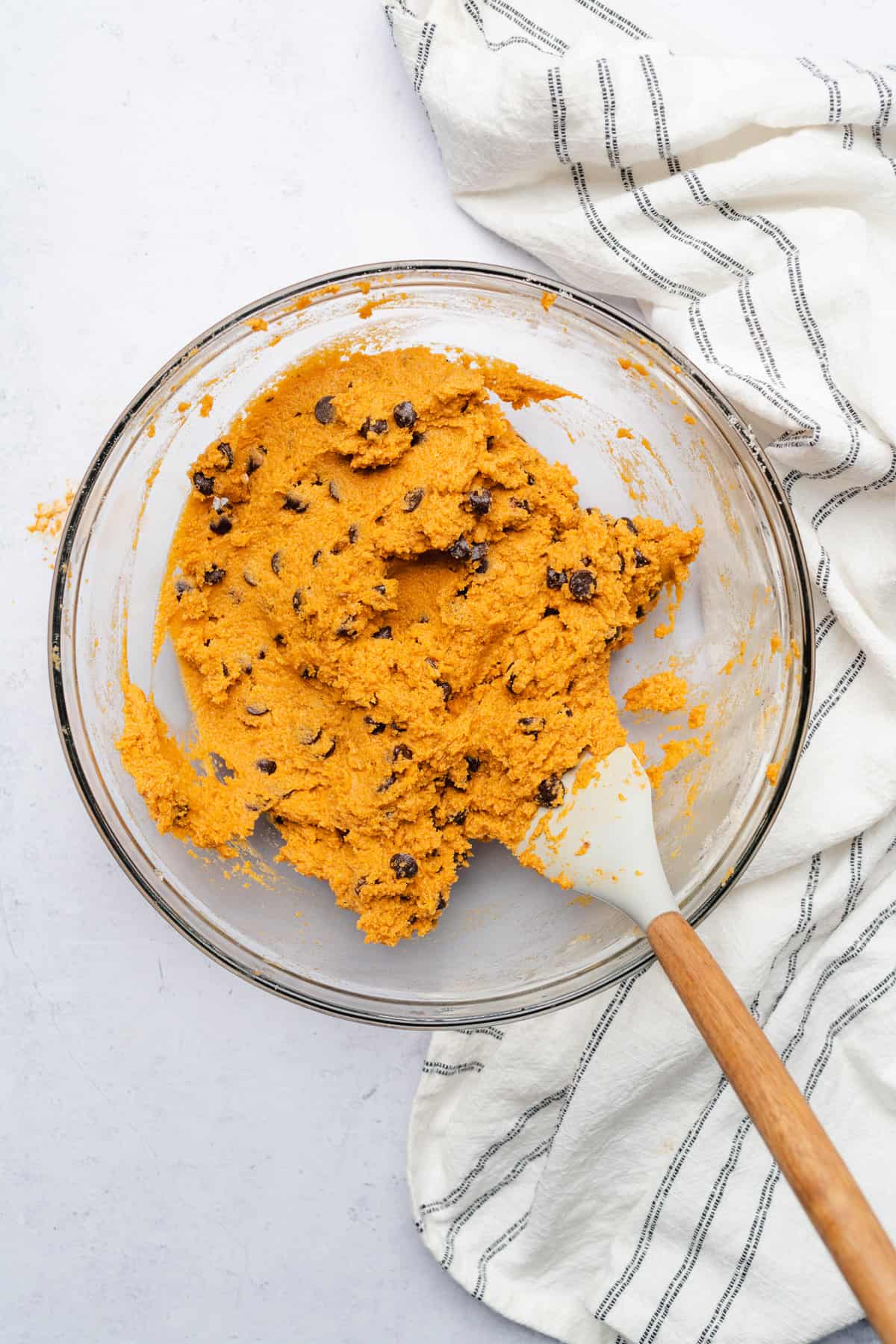 Use a small cookie scoop or your hands to get the cookies into a nice round shape. This recipe makes 18 cookies. These cookies won't spread very much at all while baking, so keep that in mind.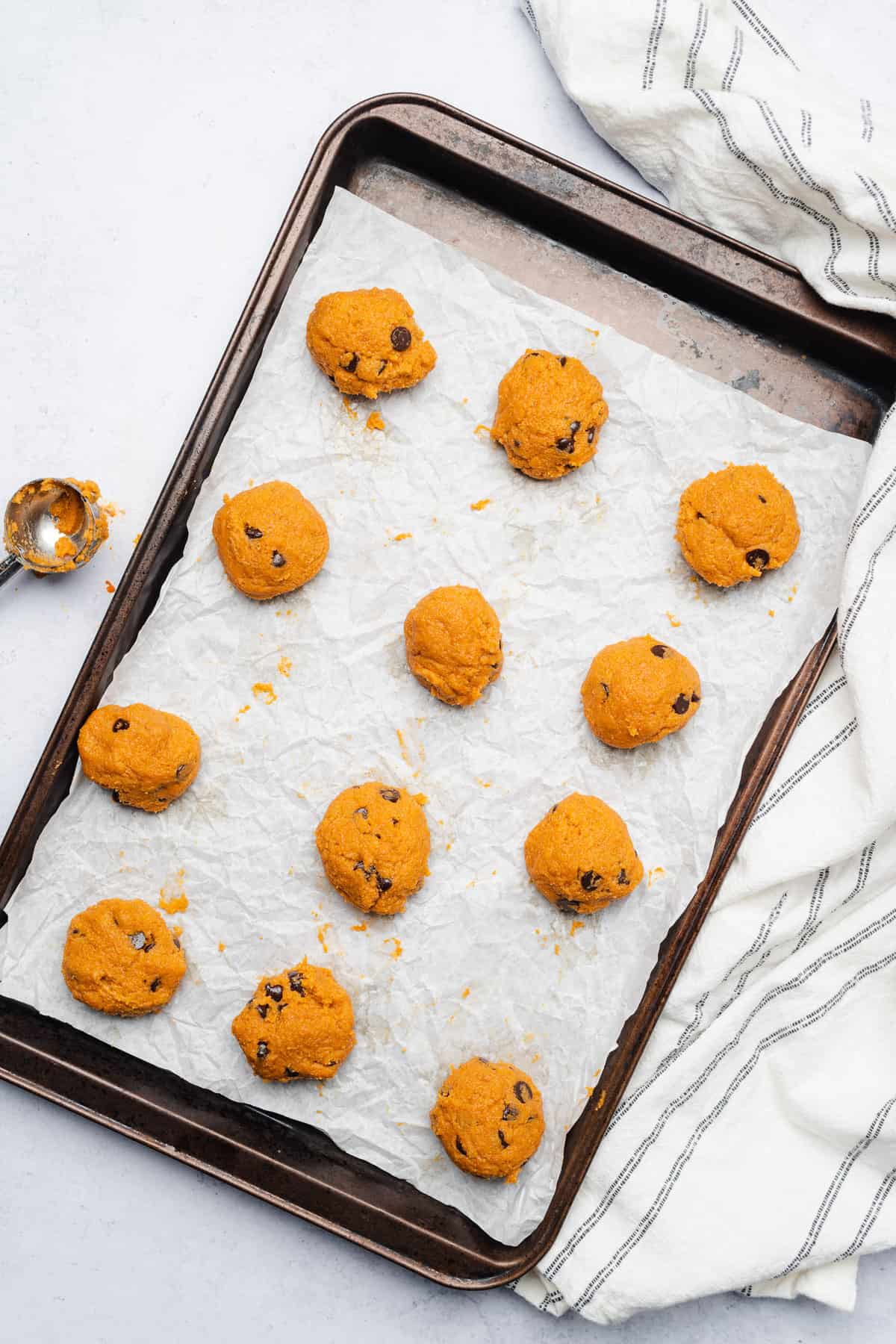 Place them on the parchment lined baking sheet. You can press them flat with your hand, or by using anything to press the cookie down.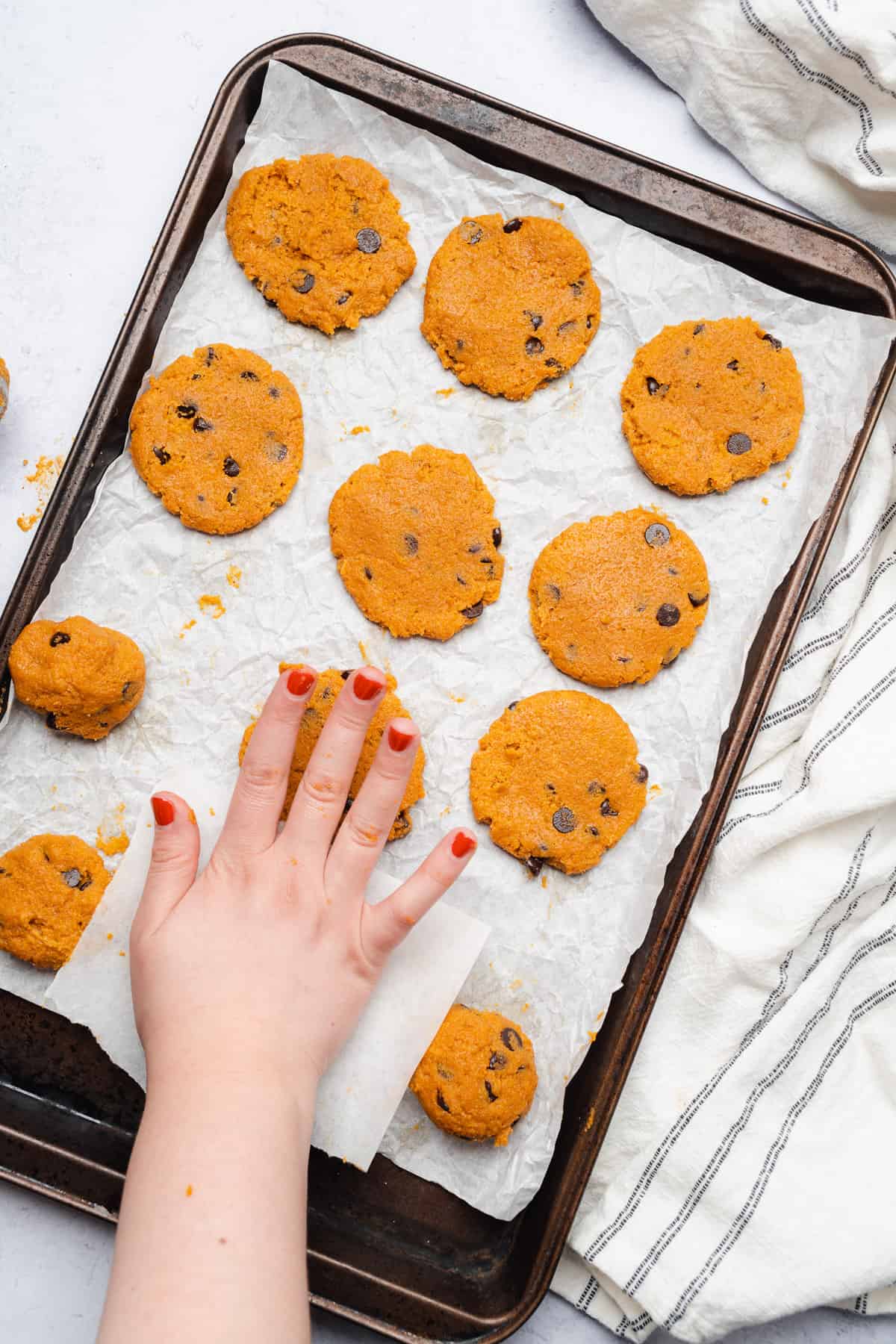 Bake for 17-20 minutes, keeping a close eye so the cookies don't burn.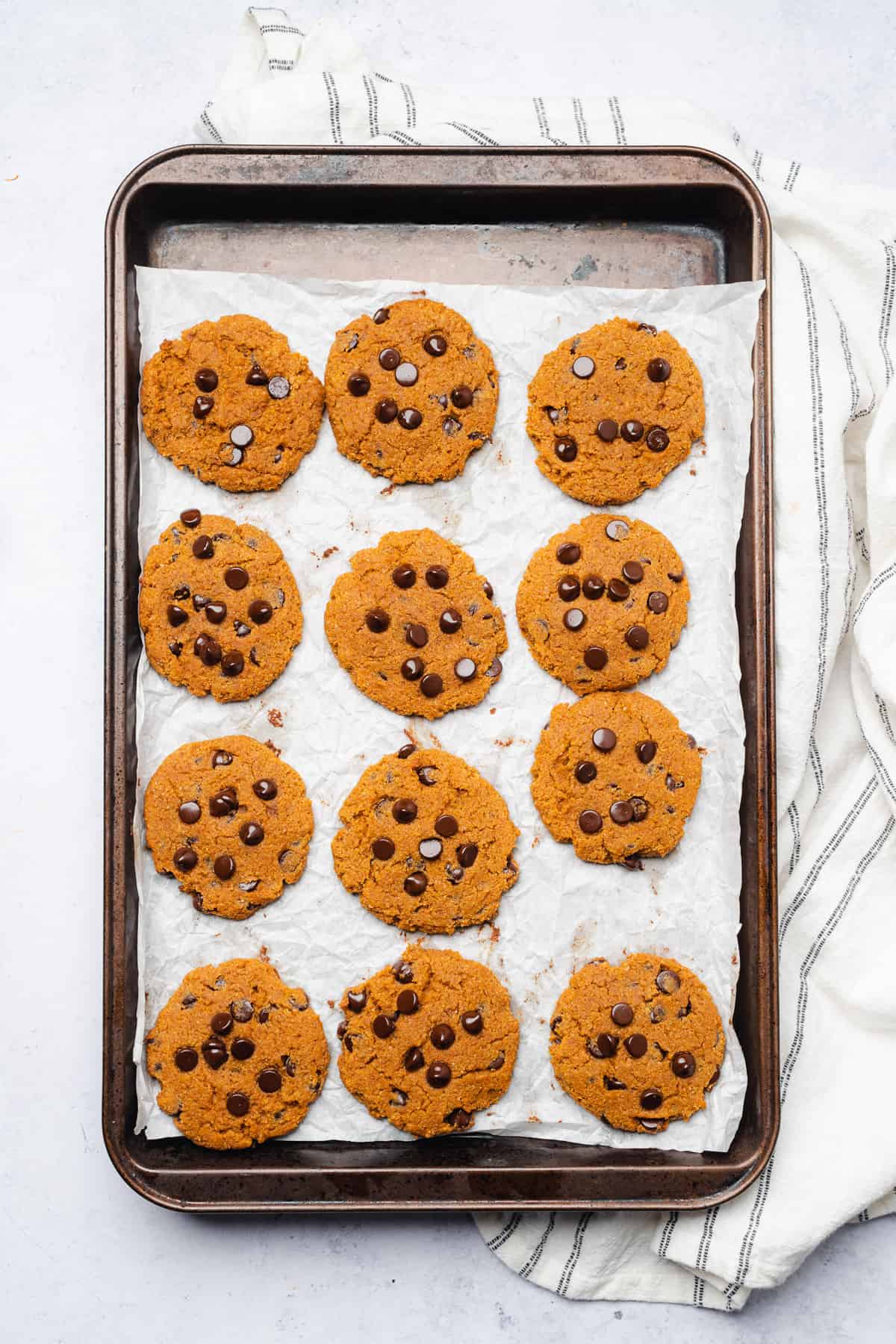 That's it! Just allow to cool for about 20 minutes before eating the cookies. Gluten free baked goods need time to really cool to hold their shape.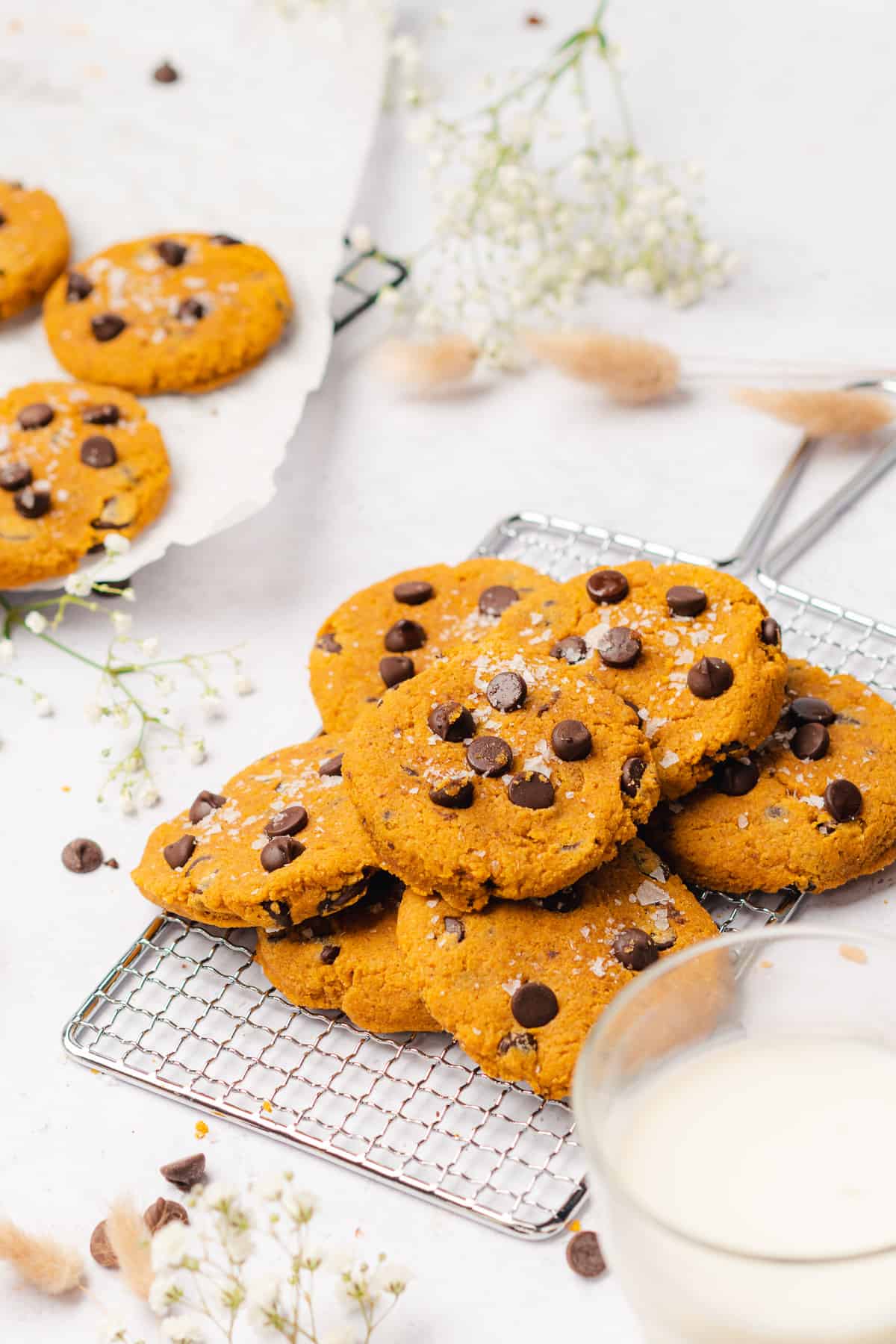 Are These Pumpkin Cookies Good For Halloween?

Yes, totally! You can even arrange some chocolate chips to make a jack-o-lantern shape if you want.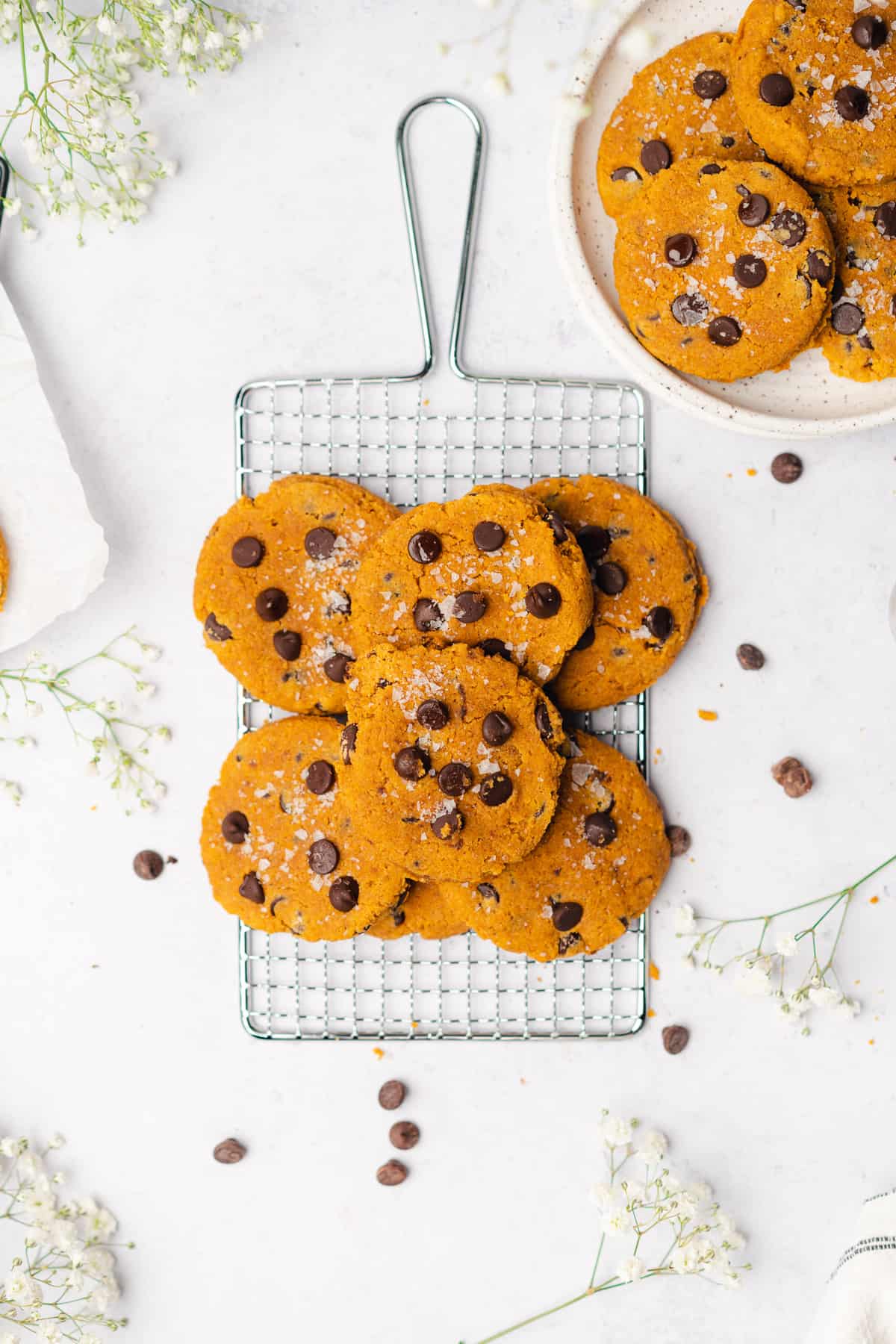 What's The Best Sweetener To Use?

We'll link our favorite products so you can try for yourself, but as always, this is just our suggestion and you can feel free to use whatever sweeteners are your favorite! This goes for if you are not concerned about the sugar content as well.

We love the rich taste of brown sugar replacement in this cookie, but you can of course use any sweetener that measures 1:1 for sugar.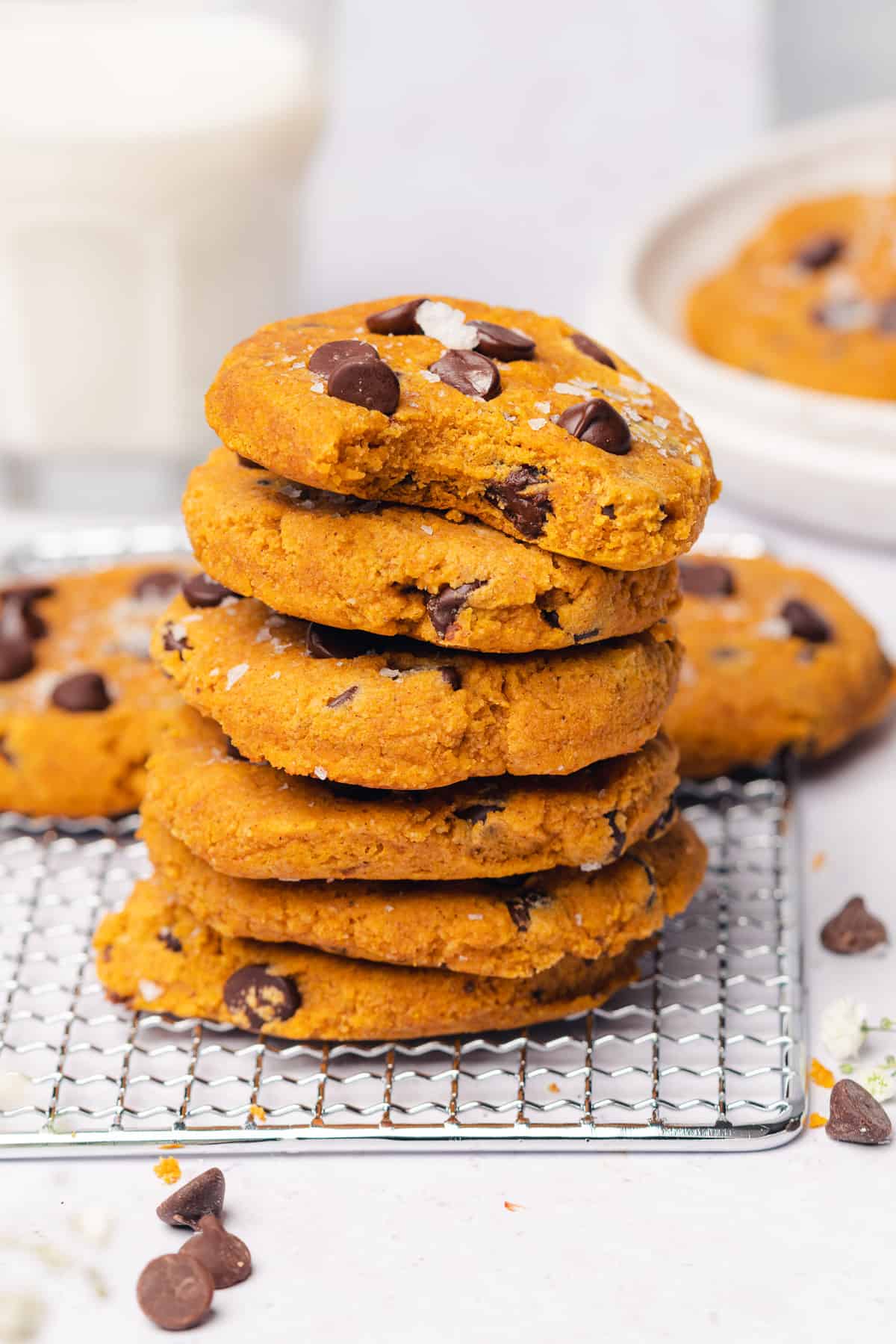 What Flour Should I Use For These Keto Cookies?

We always use finely ground almond flour as the base for most of our baked good recipes.

We're also sure that coconut flour cannot be substituted 1:1 for almond flour however. For this recipe, we used a blend of almond and coconut flour for a good consistency.

Coconut flour is very drying, so a small amount helped in this recipe because of all the moisture from the pumpkin puree. The drying nature of coconut flour helps soak up extra moisture and hold the cookie together. We haven't tested this recipe with a 100% coconut flour base, so we cannot recommend a proper substitute at this time. Sorry!
How To Make Pumpkin Spice (Or Pumpkin Pie Spice):

Pumpkin pie spice is easy to make at home with just a few spices! You can also buy it easily at almost any store in the fall season. Here's some on Amazon.

To make your own pumpkin pie spice combine:
4 tablespoons of ground cinnamon
1 tablespoon ground ginger
1 tablespoon ground nutmeg
2 teaspoons ground allspice
2 teaspoons ground cloves 
& about ¼ teaspoon ground cardamom (if you want, we love cardamom!)

As always, adjust spices to taste.
More Keto Pumpkin Recipes: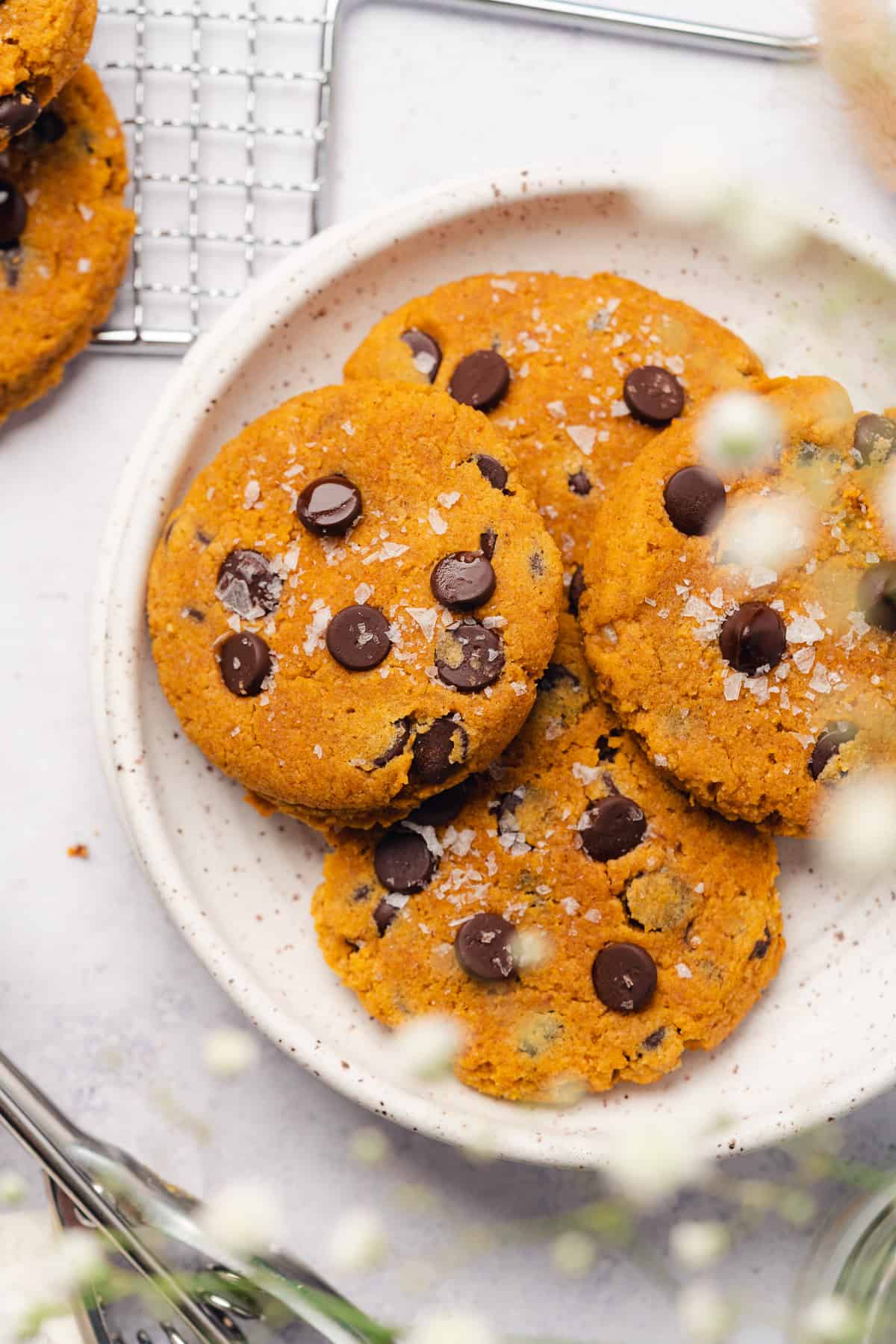 Shop This Recipe!
Need supplies for this these keto pumpkin cookies recipe with chocolate chips? We've linked our favorites above and right here in our Amazon Store! You don't pay anything extra if you shop using our link, but we get a small percentage of the sale. A Full Living is a participant in the Amazon Services LLC Associate program, an affiliate advertising program designed to promote a means for sites to earn advertising fees by linking products to amazon.com. We only share products we use and love. Thanks for helping support our site!
If you get a chance to try this recipe, let us know what you think, would ya?! Leave us a comment, or catch up with us on Facebook or Instagram, or pin to your favorite Pinterest board for later.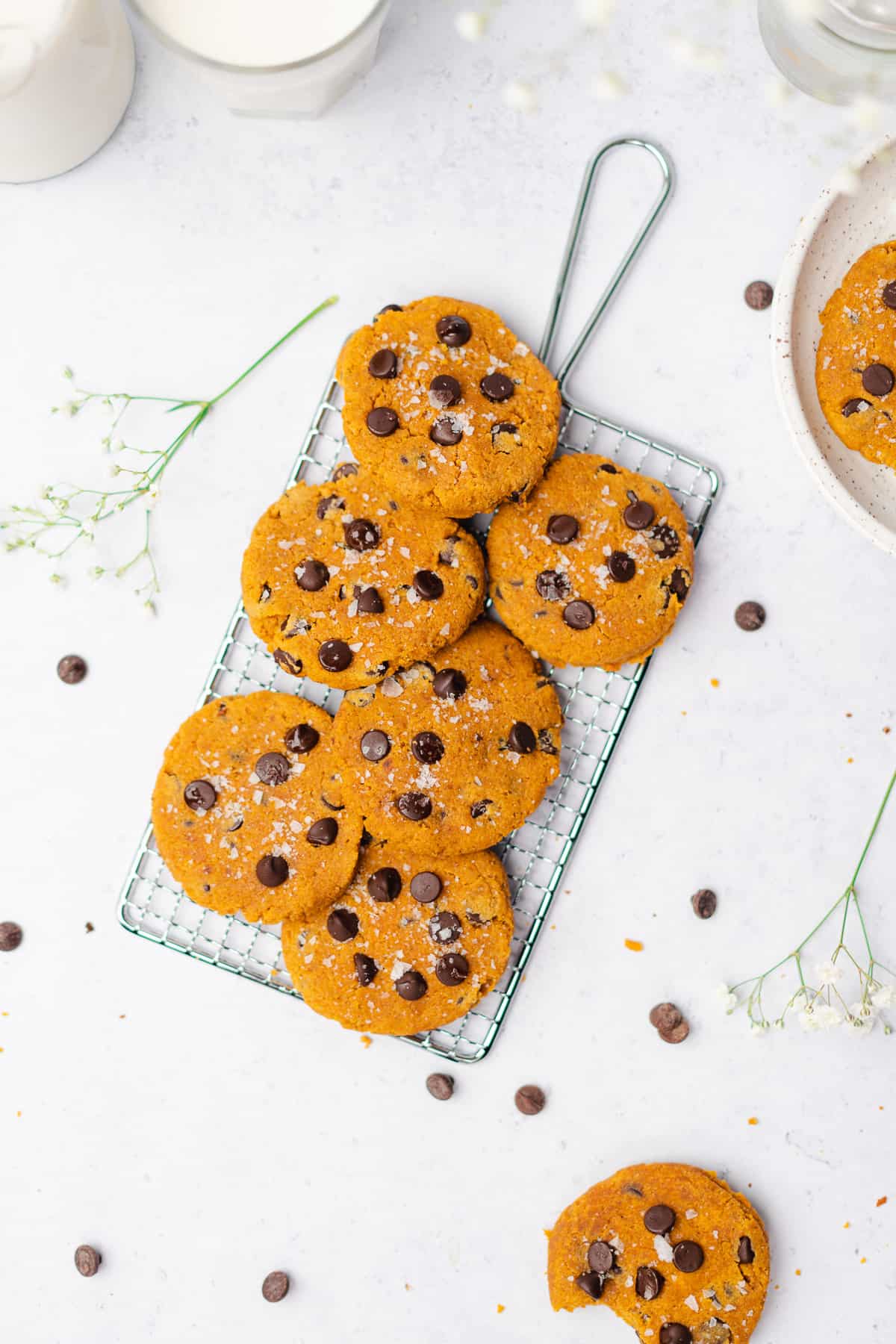 If you love this recipe, please consider sharing it with a friend and also leaving a rating and comment so others can find this recipe. Thank you for your support!
Until Next Time,
Briana & Chamere
📖 Recipe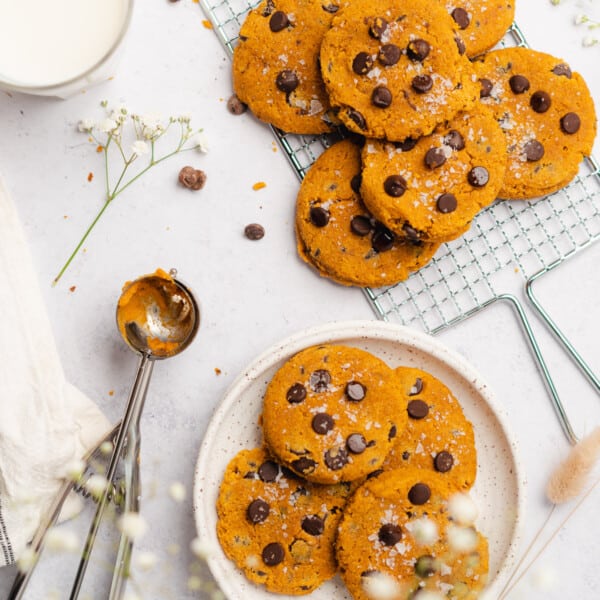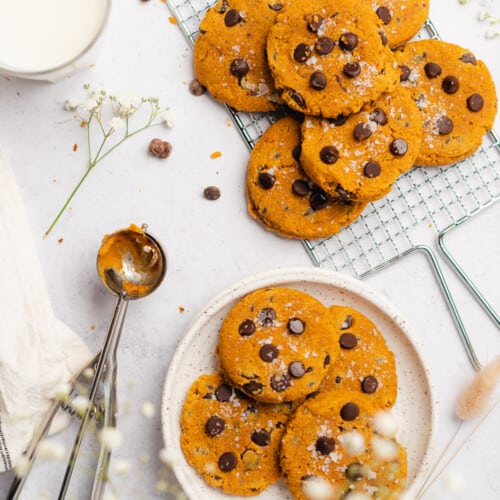 Keto Pumpkin Chocolate Chip Cookies
These Keto Pumpkin Cookies with Chocolate Chips are super indulgent, yet sugar free, gluten free and only 3 net carbs per cookie! Soft and chewy with plenty of chocolate, pumpkin and warm fall spices!
Instructions
Preheat your oven to 325°F. Line a baking sheet with parchment paper. Cream together your melted and cooled butter with sweetener for 3 minutes.

Add in pumpkin puree and vanilla extract and cream together for 10 minutes, until the mixture is light and fluffy. Add in your eggs one by one, mixing until just combined.

Sift in the almond flour, baking soda, salt, pumpkin pie spice and xanthan gum. Fold with a rubber spatula until combined. Gently fold your chocolate chips into the batter. 

Using a cookie scoop or spoon, form 18 equal sized balls, rolling to form a smooth, even shape. Use a piece of parchment to press the cookies flat, or leave them in a round ball shape if you prefer them denser.

Put in oven and bake for 17-20 minutes, until they no longer appear wet but are still soft. Keep a close eye on them at the 14 minute mark, because they can burn or overcook quickly. You can sprinkle the cookies with sea salt right out of the oven if desired. Let them cool for at least 15 minutes to allow the cookies to "set up" before consuming.

Store in an airtight container at room temperature for up to 2 days, then transfer to the fridge where they will keep for an additional 3 days. You can also solely store them in the fridge for 7 days.
Notes
Use your favorite sugar free sweetener. 
Use any chocolate chip you want, just note that it may affect the carb count. 
Xanthan gum is highly recommended, as it binds the cookies together since they are gluten free. 
Please note that these cookies will not spread much, so if you want them to be a more traditional shape, make sure to press them down with a piece of parchment and form them into a circle before baking. 
Sea salt is optional, but make sure to sprinkle the cookies when they are fresh out of the oven so the salt adheres if using some. 
Nutrition
Calories:
157
kcal
Carbohydrates:
9
g
Protein:
3
g
Fat:
14
g
Saturated Fat:
5
g
Trans Fat:
1
g
Cholesterol:
14
mg
Sodium:
204
mg
Potassium:
22
mg
Fiber:
6
g
Sugar:
1
g
Vitamin A:
1569
IU
Vitamin C:
1
mg
Calcium:
31
mg
Iron:
1
mg