When blueberry season rolls around, these Low Carb Blueberry Muffins are a must-make! Gluten-free, and only 5 grams of net carbs per muffin, so they're ideal for the keto diet! These make for a perfect breakfast or snack full of blueberry goodness.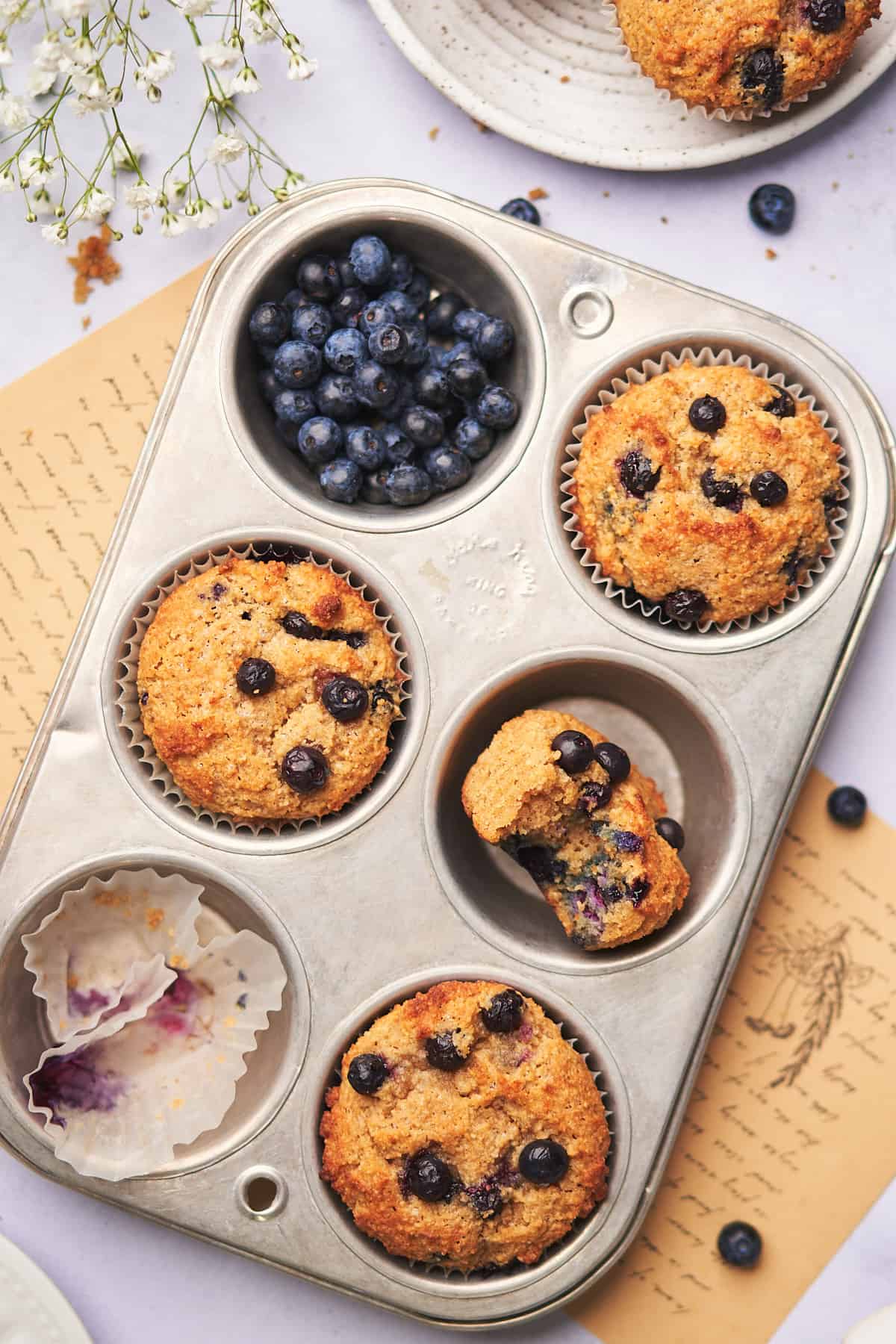 Please note: This recipe was first published in June of 2019. The recipe has been improved for clarity, texture, and flavor, and new photos (including process photos) have been added for clarity as of August 2022! We hope you enjoy!
Have some extra sweet blueberries sitting around? Make this keto blueberry muffin recipe! These decadent, moist muffins remind us of a coffee shop or bakery-style muffin.
They're perfect to make for an easy breakfast element or snack. Just as tasty as regular blueberry muffins, without all the extra sugar.
Looking for a new keto muffin recipe? You may also love these keto chocolate zucchini muffins or these almond flour banana muffins!
Jump to:
❤️Why we love this recipe
Easy keto muffins - Simple and straightforward, you'll love this simple muffin with only 5 net carbs per serving!
Naturally gluten free - Made with wholesome almond flour and coconut flour in place of regular flour.
Great for meal prep - We love having a big batch hanging around so we can grab one or two during busy days. For us keeping healthier for you sweets on hand can be a life-saver some weeks, and helps us to stay on track with our eating goals!
Freezer-friendly - Often, we freeze half of the batch right away, then thaw them as needed.
🧈Ingredients
Here are the ingredients you'll need for the muffins. You can find full quantities and nutritional information in the recipe card.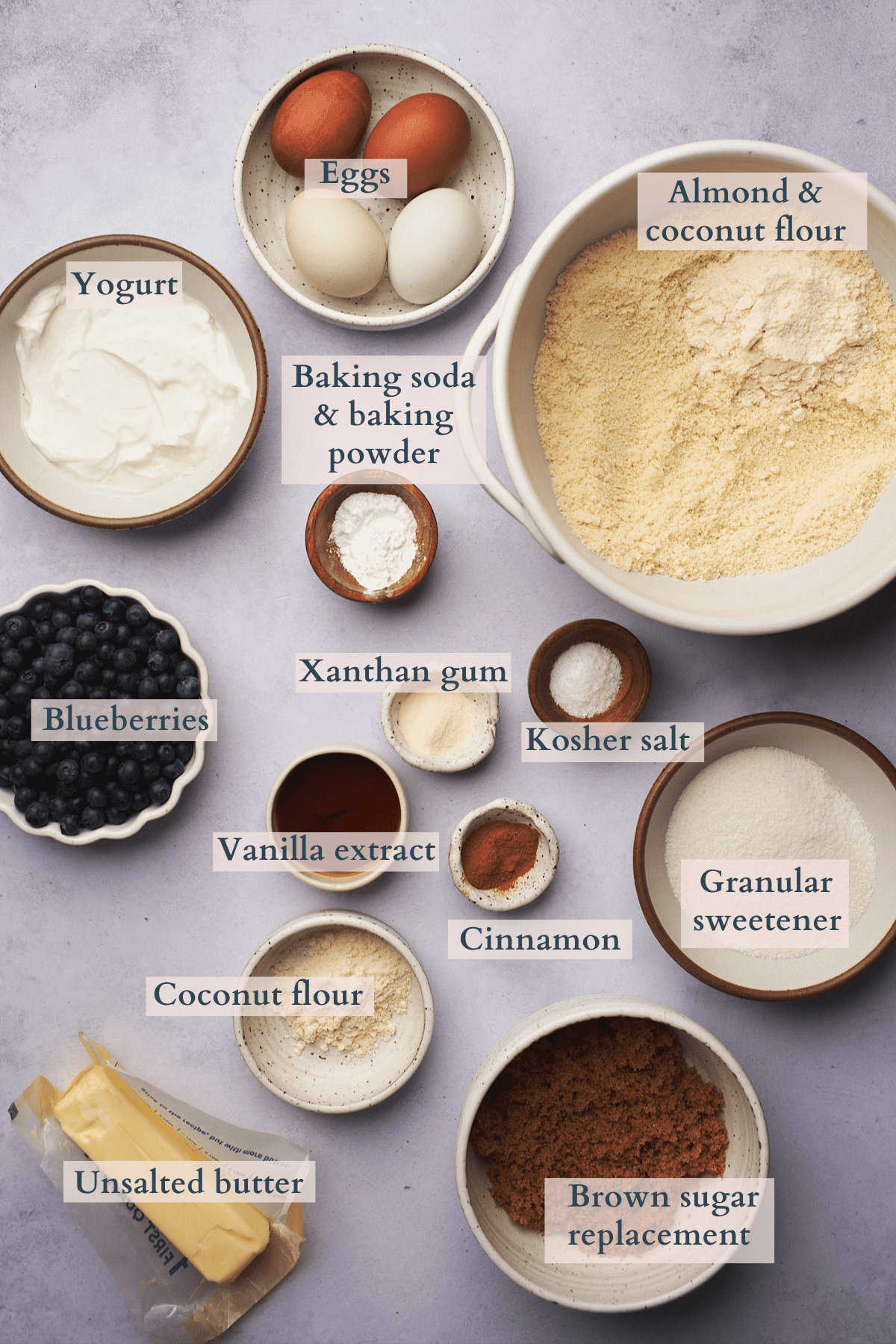 🧈Ingredient notes
Wet ingredients
Fresh blueberries - Be sure to wash them off and dry them completely before adding them to the batter. Frozen can be used, but do not thaw before adding them to the batter. We really prefer fresh for this recipe as frozen blueberries tend to "bleed" a bit more with moisture.
Vanilla extract
Eggs - Use large eggs that are room temperature.
Yogurt - Used to help the muffins nice and moist. Sour cream can also be substituted 1:1. Allow to come to room temperature.
Unsalted butter - Melted.
Dry ingredients
Brown sugar & granular sugar replacements - We use a combination of both for a lovely, rich flavor. You can also use one or the other, and use your favorite keto sweeteners. We do recommend using sweeteners that bulk like sugar, like Swerve (affiliate link), which is our top choice. Monk fruit and allulose also work if you prefer.
Blanched almond flour & coconut flour - The combination of both flours creates an awesome texture, with a tender crumb and a lovely flavor. We also use a bit of extra coconut flour to coat the fresh blueberries in before adding to the batter. This helps prevent them from sinking to the bottom of the muffin.
Xanthan gum - Highly recommended for helping the muffins rise, as well as stick together properly. The lack of gluten in these muffins calls for an additional component for the best texture. If you decide to omit the xanthan gum, just be aware that the texture will be altered and the muffins may become crumbly.
Baking powder & baking soda - Both leavenings agents are used in this recipe. Be sure they're fresh so that they rise properly.
Kosher salt - To balance the sweetness.
Cinnamon - Optional, but recommended.
📖Instructions
📋Prep work
Wash and dry fresh blueberries.
Allow eggs and yogurt to come to room temperature.
Line a muffin tin with paper liners, and spray lightly with baking spray. Pro tip: We started leaving space between the muffins, meaning we only fill half of the muffin pan with liners and batter. This helps the muffins rise more! If you don't like paper liners, you can use silicone molds instead.
Preheat the oven to 425°F.
Step 1 - Cream sweeteners and butter
In a large mixing bowl, add sweeteners and melted butter. Cream together with a hand mixer on medium speed. The butter can be warm, as this will just help dissolve the sweeteners.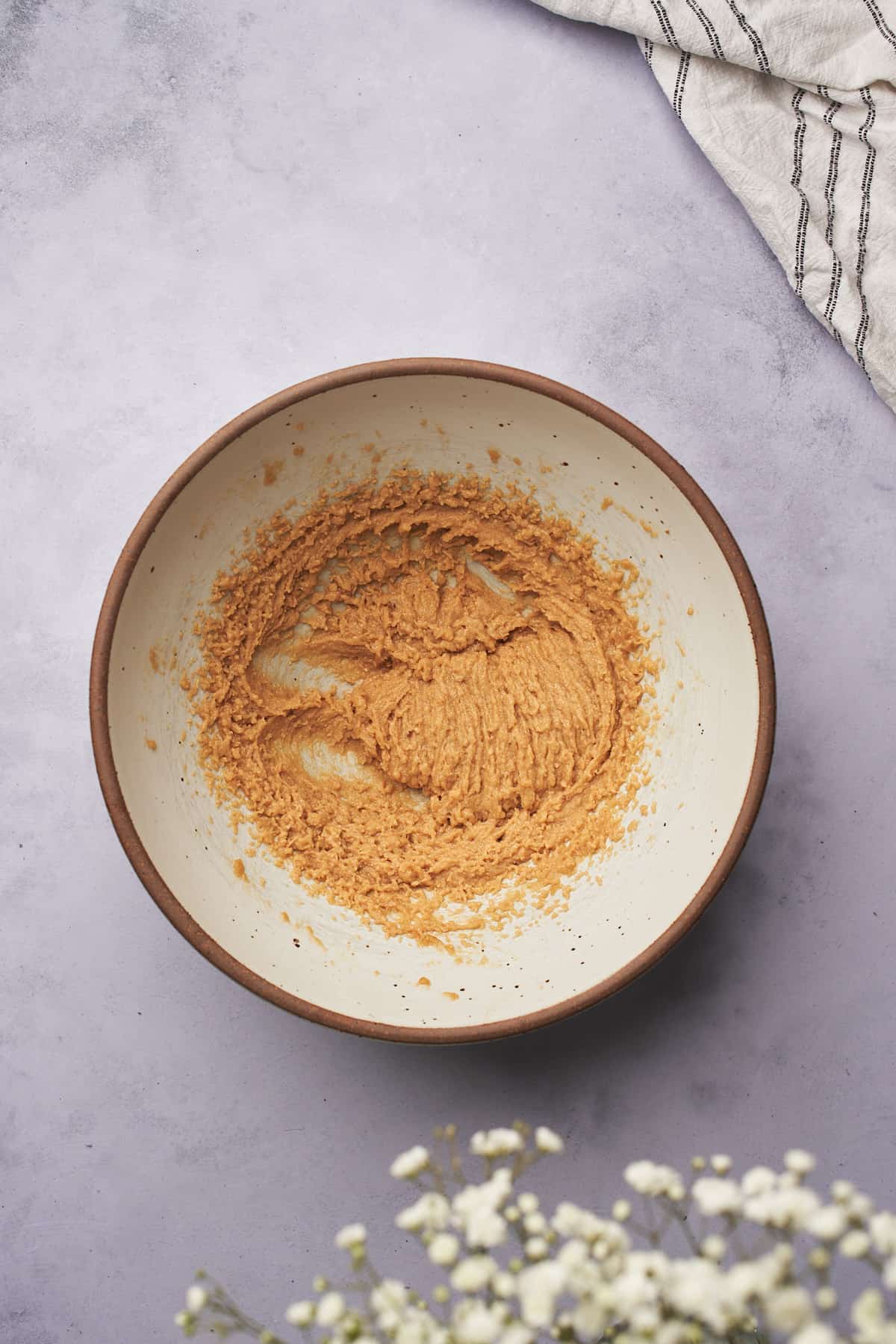 Step 2 - Add remaining wet ingredients
Add in the yogurt and mix again to combine.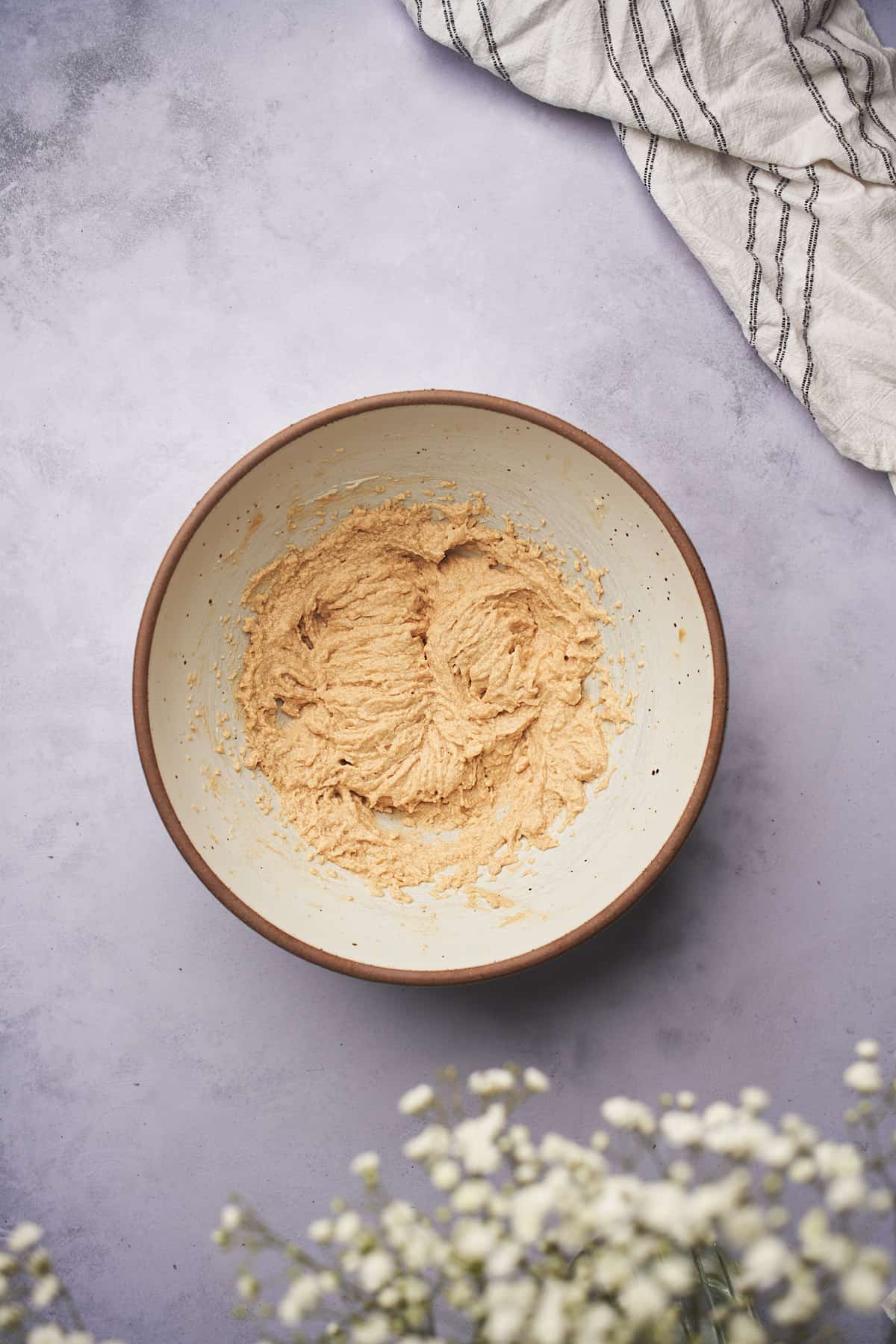 Add eggs, mixing one at a time until completely combined. The batter will become a bit lumpy and separate but don't worry, it will all come together.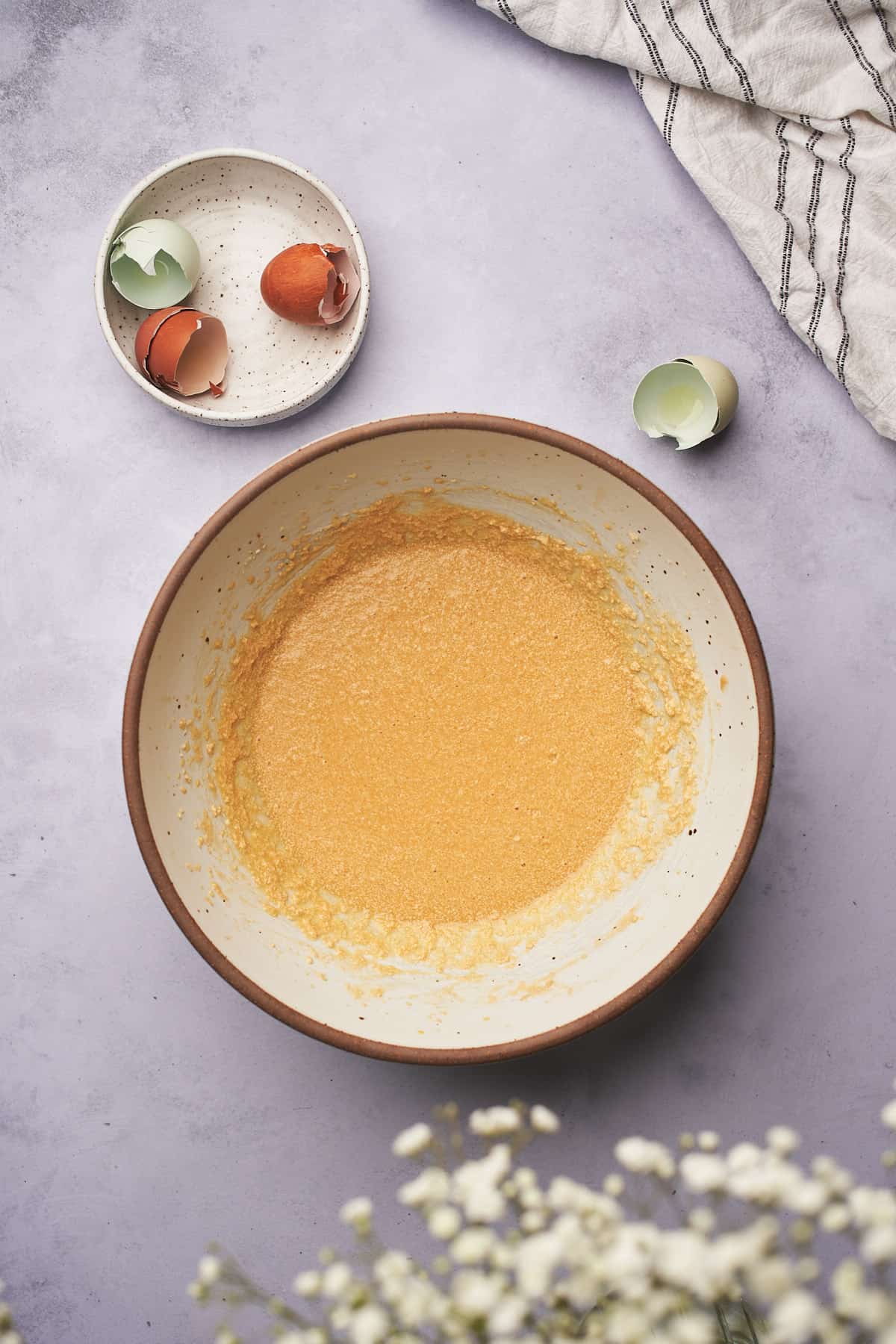 Step 3 - Sift in dry ingredients
Sift in the dry ingredients, then fold together until completed mixed.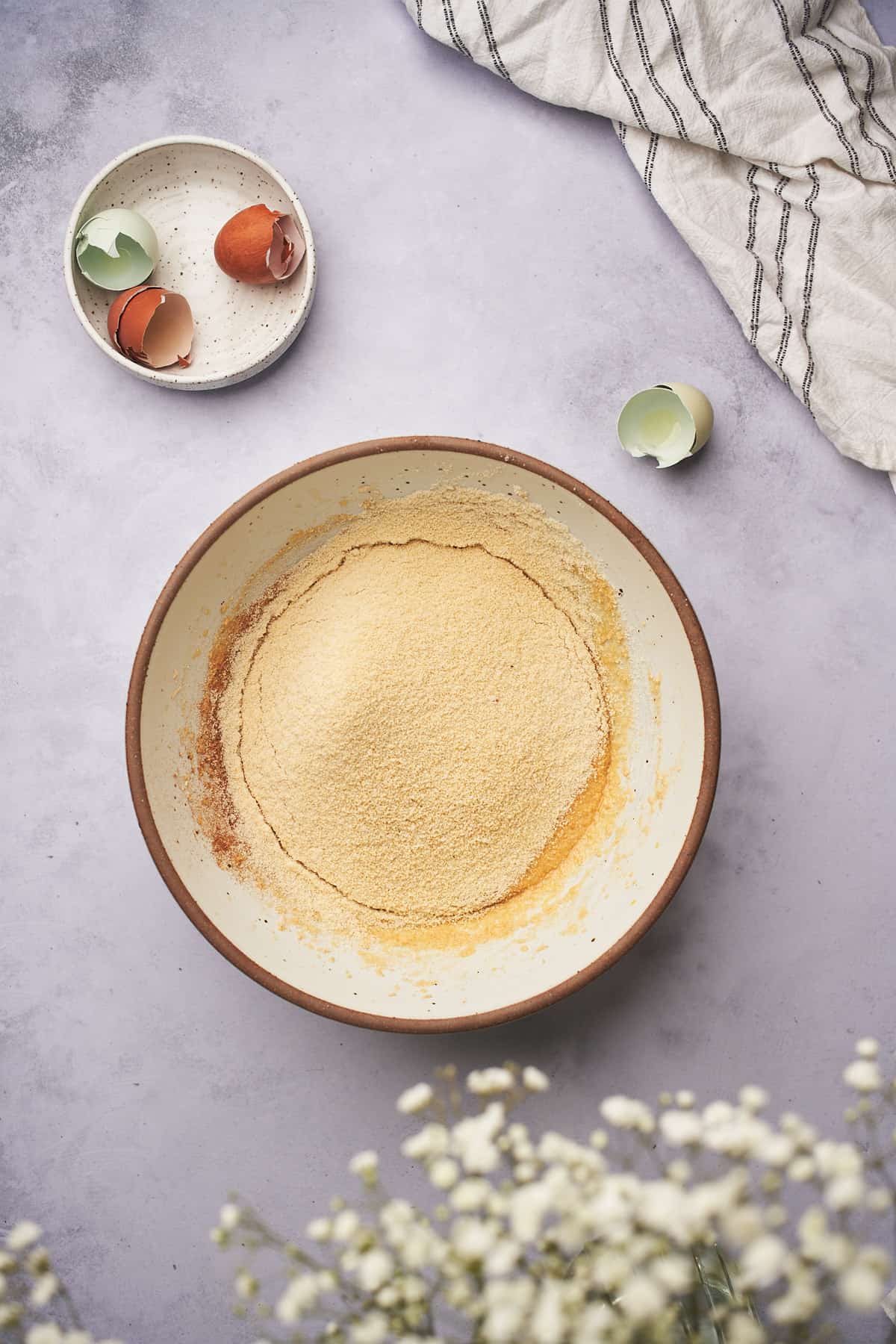 Step 4 - Fold in the blueberries
In a separate bowl, combine most of the fresh blueberries with 1 tablespoon of coconut flour. Set some blueberries aside to top your muffins later.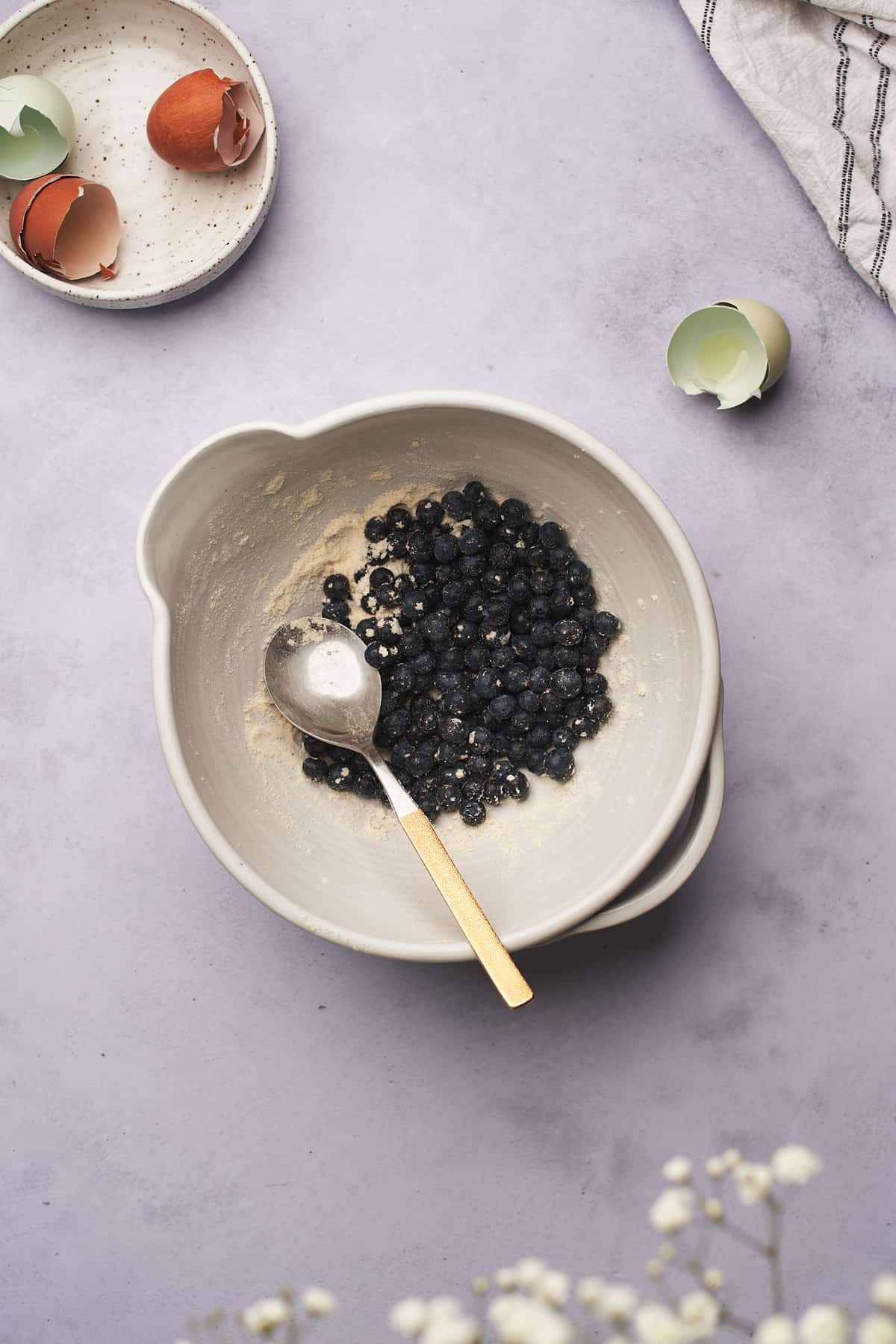 Gently fold the blueberries into the batter.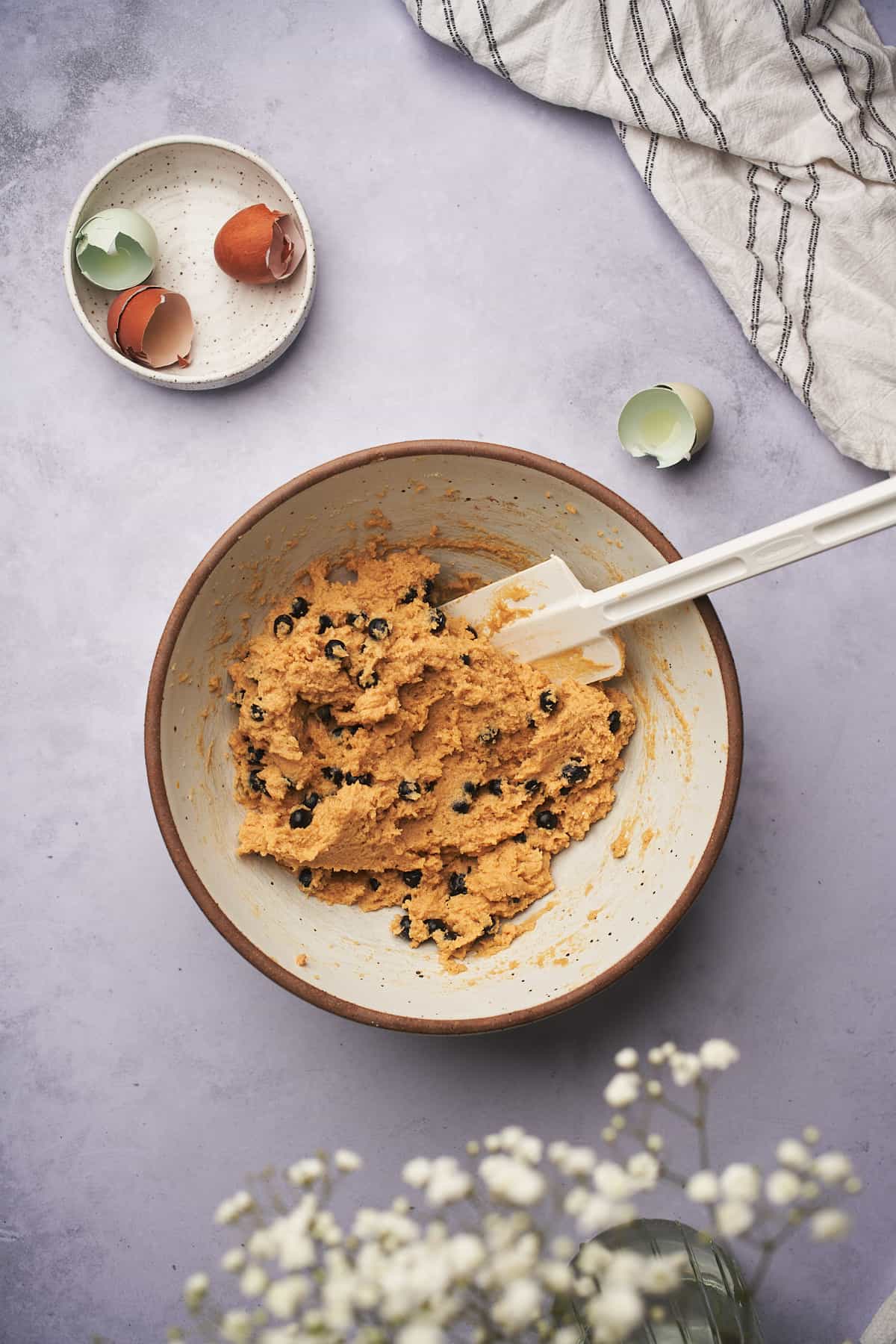 Step 5 - Add to muffin tins
Using a large (#20) cookie scoop, add muffin batter to the tins, filling the liners up most of the way.
Only filling half the tin (by alternating spots) helps the muffins rise better! Top each muffin with a few more blueberries.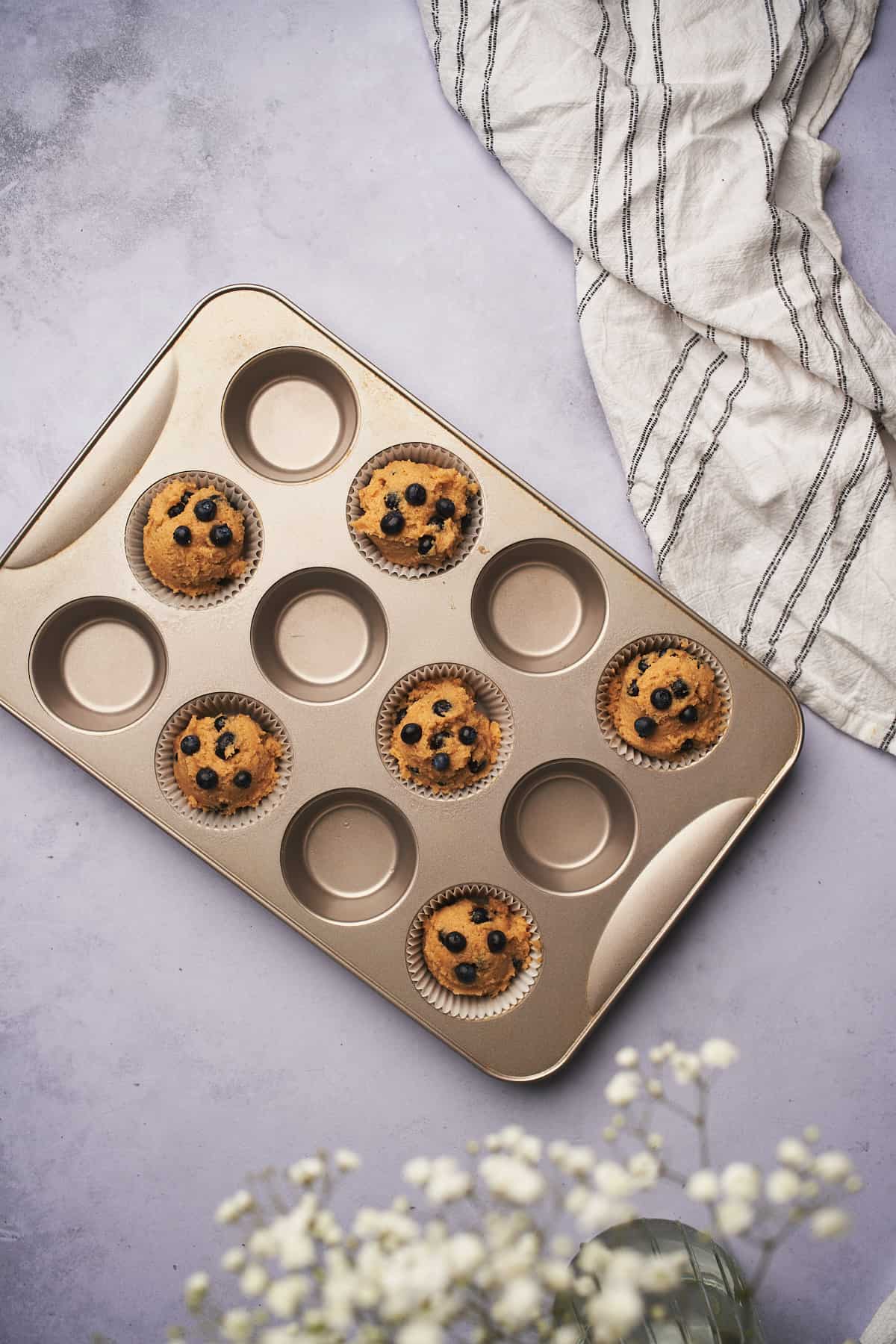 Add to the middle rack in the oven at 425°F and bake for 5 minutes, then, with the oven door closed, drop the heat to 350°F and continue baking for 15-18 minutes. You will know the muffins are done when a toothpick comes out mostly clean.
Allow the muffins to cool in the baking tin for 5 minutes, then transfer to a cooling rack to cool completely.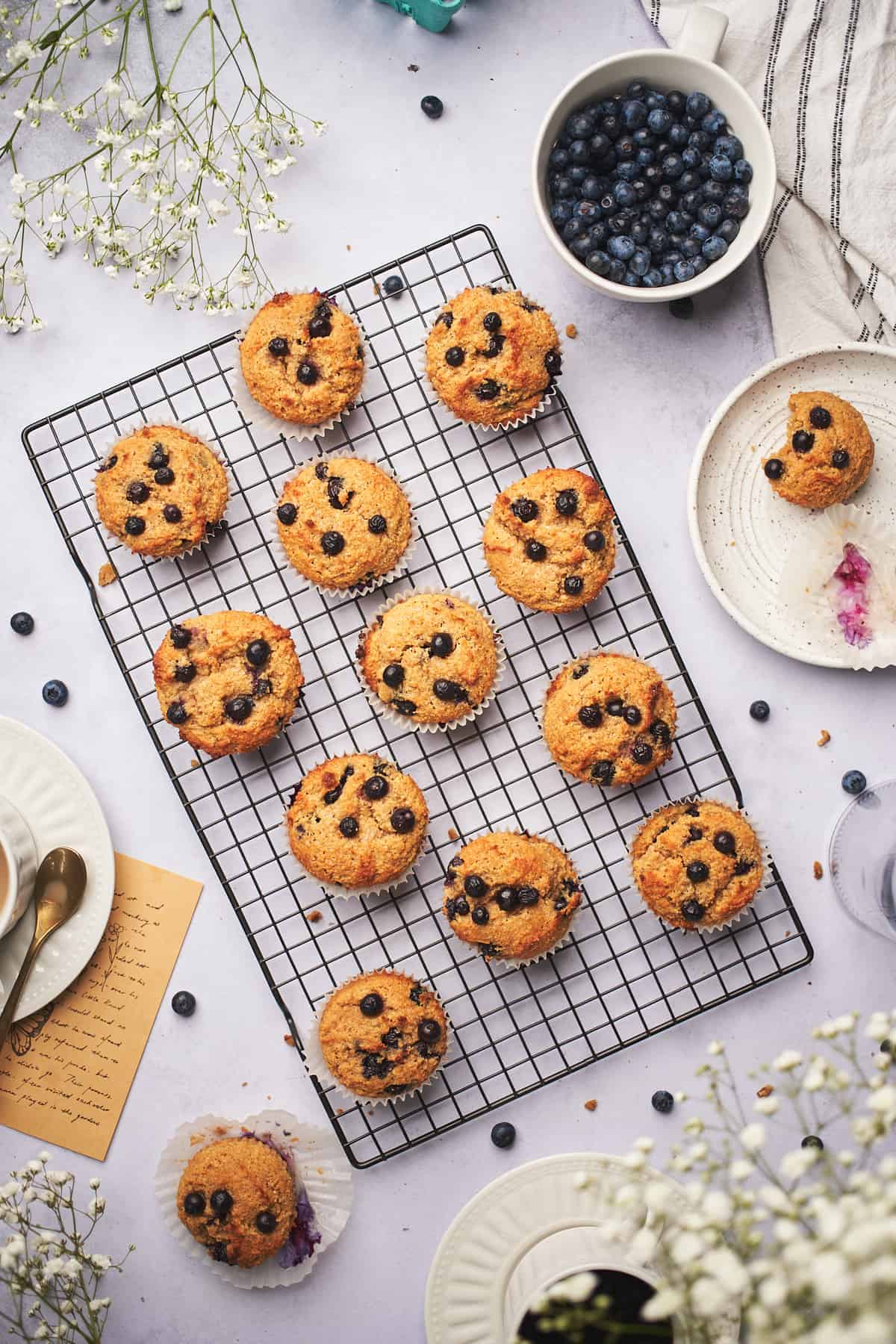 Step 7 - Enjoy!
That's it, now just serve and enjoy!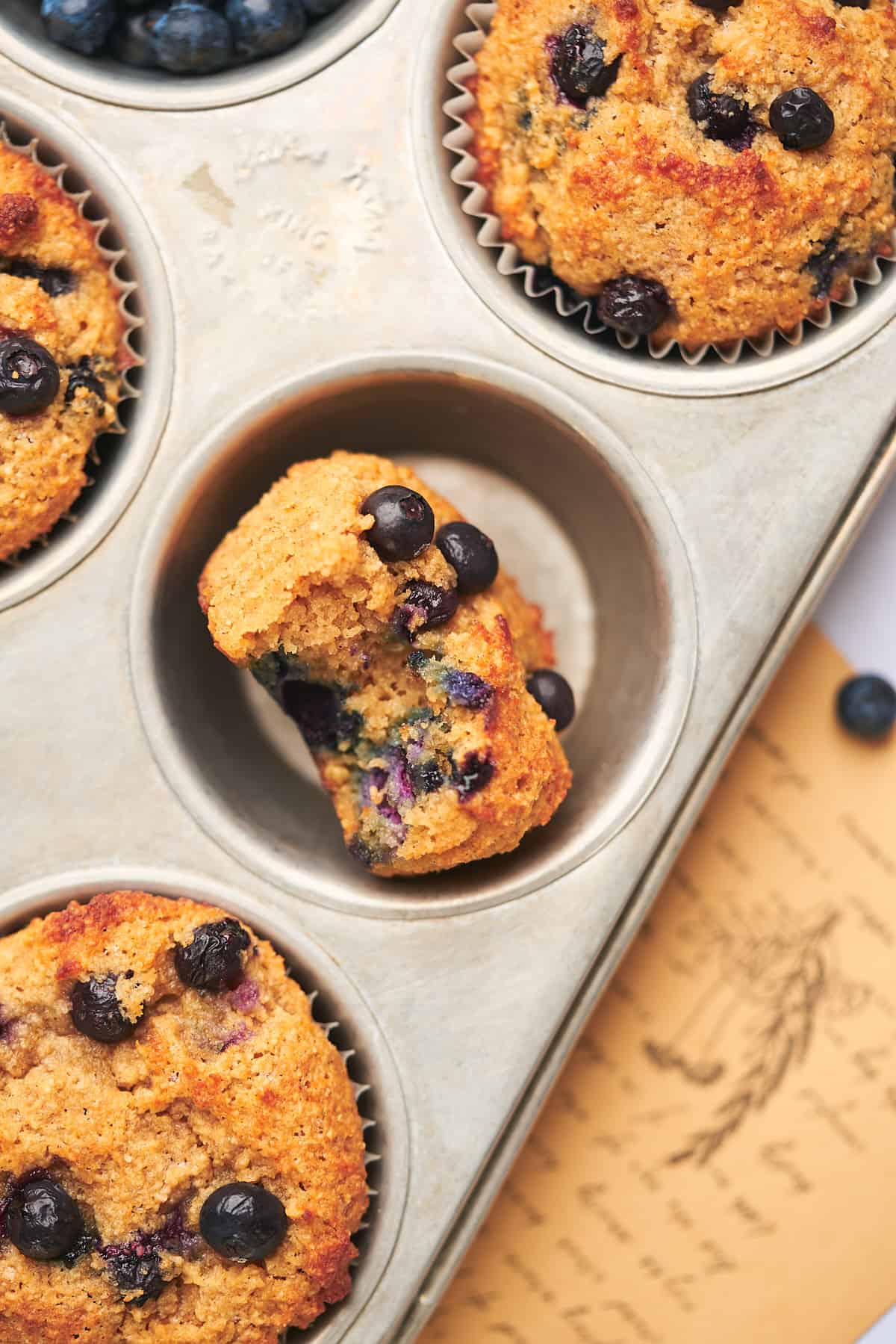 ✨Tips & tricks
Weigh your ingredients using a kitchen scale. Measuring cups vary in size. Weighing ingredients will ensure you have the proper amount every time.
Make sure your oven is at the right temperature before baking. Many ovens run hotter or cooler, so it's important to make sure it's at the right temperature before beginning.
Use muffin liners and grease them! This ensures they will come right out of the pan. If you don't have muffin liners, be sure to grease the pan really well.
Fill your liners up most of the way. These muffins don't rise as much as traditional muffins do, so you'll need to fill the muffin tin more.
Bake fewer muffins at a time! Using two 12-muffin pans seems like an extra step, but allowing the muffins more room will encourage them to rise more.
High heat to low heat creates the best muffins. Again, seems like an extra step, but the high heat allows the muffin tops to rise quickly. Dropping the temperature will prevent them from baking too much or burning, giving you the perfect muffin. Just make sure not to open the oven door!
Always use room temperature ingredients. This ensures ingredients cream together properly.
Don't let the muffins cool too long in the tin. These muffins do need an ample amount of time to cool and set up properly. Gluten free flours tend to be on the delicate side, due to the fact that they lack the gluten that all purpose flour has, so they just need longer to cool. With that being said, don't let them sit in the muffin tin after baking for much more than 5 minutes. This is because the muffins are so hot, and the tin traps the heat, making the bottoms too moist.
Use fresh baking soda and baking powder. Since this recipe uses melted butter instead of softened butter, fresh baking powder and baking soda are crucial to making the muffins rise! Both baking powder & soda should be replaced about every 30 days or so. To test if your baking soda is fresh, add about a teaspoon to a small bowl. Add in lemon juice or vinegar and if the mixture bubbles vigorously, it's good to go. For baking powder, add 1 teaspoon to a bowl with hot water. If it bubbles, it's fresh!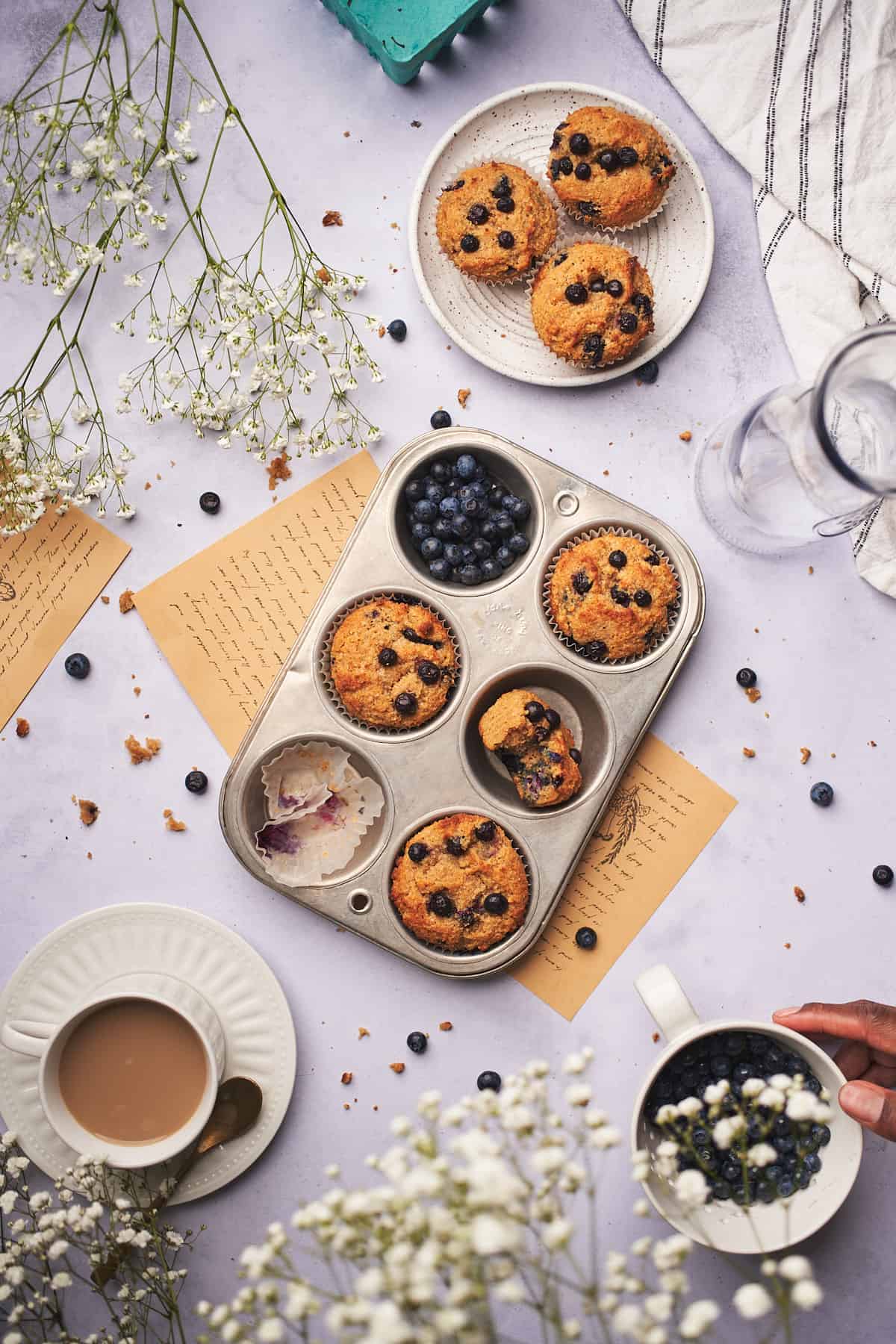 ✏️Substitutions
The ingredients are pretty straightforward, but here's a few simple swaps you can make.
Butter -To substitute regular butter, use your favorite neutral oil or butter substitute. We'd recommend using melted coconut oil, avocado oil, or a dairy free or vegan butter.
Yogurt - We use full-fat Greek yogurt or plain Icelandic skyr for it's creamy texture and rich flavor. Yogurt can be swapped 1:1 with sour cream, or your favorite yogurt substitute. For dairy free, swap the yogurt with your favorite dairy free yogurt.
Frozen blueberries for fresh - Fresh blueberries produce the best results in our opinion. Frozen blueberries will work but they may make the muffin more soggy. If using frozen, add them in right from the freezer, and do not thaw them. Thawing only releases more liquid.
Cinnamon - You can use your favorite spice or just omit the cinnamon if you prefer. We love using a little cardamom or nutmeg sometimes.
Almond flour for almond meal - You could use almond meal in place of almond flour if you prefer! The texture will be a bit "grainer" sort of like a whole wheat or seeded type of mouthfeel.
Unfortunately, we are unable to make any recommendations for swapping the flours, eggs, or xanthan gum.
💭Frequently asked questions
Are blueberries keto friendly?

Raw blueberries are full of nutrients and can definitely be a part of your low-carb diet. Though slightly higher in carbs than strawberries, blueberries are still only 21 grams of carbs and 4 grams of fiber, making 17 grams of net carbs in a 148-gram serving.

148 grams is quite a large serving, considering we have around 200 grams in whole batch of these muffins!
Why is melted butter used in this recipe?

Muffins need gently mixing once the dry ingredients are incorporated to the batter. This recipe rises due to the baking soda and baking powder, and it doesn't need creamed butter to rise.

The butter in this recipe provides flavor, moisture, and a nice golden brown color. We also love to use melted butter because it helps dissolves our low carb sweeteners easier, reducing the risk of a gritty or crystallized texture.
🛒Shop this recipe
⏲Equipment
Luckily, this recipe is pretty standard and you really don't need much to make it.
An electric hand mixer might make your life a little easier for this recipe. While you can certainly use a whisk, we're really into our cordless hand mixer. (affiliate link) It keeps a charge for a while, is high-powered, and very convenient to use.
We'd also recommend using a good oven thermometer to make sure your oven is at the right temperature before baking.
A kitchen scale is now crucial to us when baking. It ensures you will have the right amount of your ingredients, as cup sizes can vary. Plus, it saves dishes which is always a win!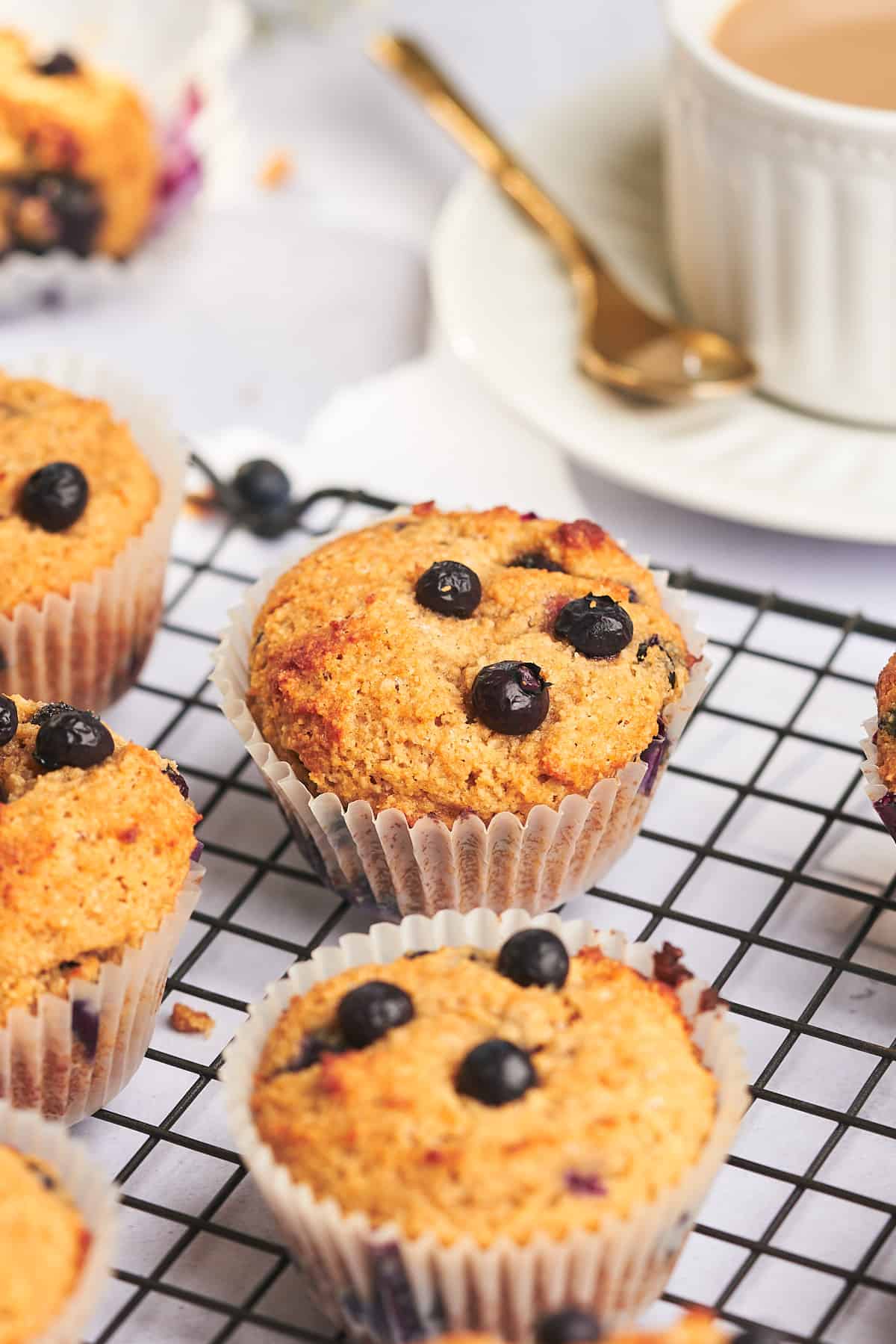 🥣Storage
These muffins will keep at room temperature in an airtight container for up to 3 days. After 3 days, transfer to the fridge for another 3-4 days.
To freeze, allow muffins to cool completely, then freeze on a baking sheet for an hour or so, before transferring them to a freezer-safe bag. They will keep for up to 6 months.
To thaw, allow to sit out at room temperature for an hour or so or reheat in the microwave.
🌟Leave a review!
Make sure to leave a 5-star review below! This helps other readers find our recipes via Google, and encourages them to try them. Also be sure to leave a comment with your experience!
Take a photo and share with us by tagging us on Instagram or follow along on Pinterest for more ideas!
📖 Recipe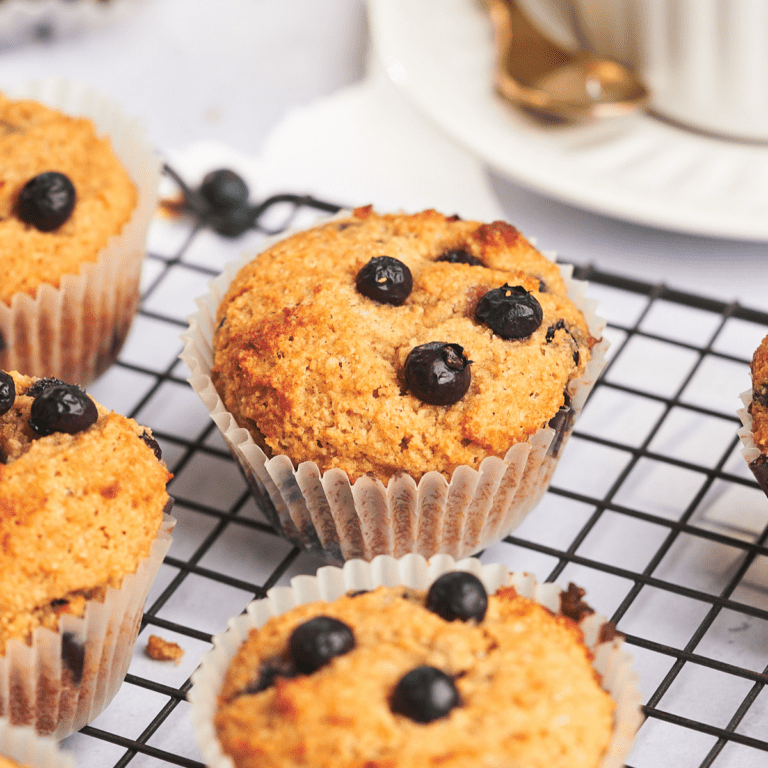 Keto Blueberry Muffins Recipe
These Keto Blueberry Muffins are simple to make, and bursting with fresh, sweet blueberries. Only 5 net carbs per muffin!
Ingredients
224

grams

almond flour

(2 cups)

35

grams

coconut flour, divided

(¼ cup + 1 tablespoon, separated)

1

teaspoon

baking powder

1

teaspoon

baking soda

1

teaspoon

ground cinnamon

(optional)

1

teaspoon

kosher salt

1

teaspoon

xanthan gum

8

tablespoons

unsalted butter, melted

(1 stick)

96

grams

brown sugar replacement

(½ cup)

96

grams

granular erythritol

(½ cup)

1

tablespoon

vanilla extract

4

large

eggs, room temperature

120

grams

greek yogurt, room temperature

200

grams

fresh blueberries, washed and dried completely

(about 1 and ⅓ cup)
Instructions
Preheat your oven to 425°F. Line the muffin tins with muffin liners, alternating to fill only 6 in each tray that holds 12. Spray liners with non-stick spray.

In a large bowl, mix together sweeteners and melted butter to dissolve. Once well mixed, add in yogurt, and vanilla extract. Continue mixing to combine completely, then mix in eggs one at a time. The batter may separate a bit, but it will be fine once all ingredients are mixed in.

Sift all of your dry ingredients (almond flour, baking powder, baking soda, salt, cinnamon, and xanthan gum) and then fold into the wet ingredients until well combined.

In a small bowl, combine most of the blueberries with 1 tablespoon of coconut flour. Toss to combine. Set the remaining blueberries aside to top the muffins. Gently fold in the blueberries with a rubber spatula, and mix until just combined.

Use a large cookie scoop to fill up the muffin liners most of the way with batter. Bake for 5 minutes at 425°F, then, without opening the oven door, reduce the heat to 350°F and bake for an additional 15-18 minutes until golden brown and a toothpick comes out clean.

Cool for 5 minutes in the muffin tin, then transfer immediately to a cooling rack to completely. Enjoy!

Store at room temperature in an airtight container for up to 3 days. After 3 days, transfer to the fridge for another 3-4 days. To freeze, allow muffins to cool completely, then freeze on a baking sheet for an hour before transferring them to a freezer-safe bag. They will keep for up to 6 months. To thaw, allow to sit out at room temperature for an hour or so or reheat in the microwave.
Notes
Sweeteners used are non-digestible by the body and have a zero-glycemic impact,  and are therefore considered zero calories.
Always work with room temperature ingredients for best results.
Leaving space between the muffins in the tin allows for them to rise much better.
Always check that your baking powder and soda are fresh before baking.
Don't let your muffins cool too long in the tin, or they may become soggy.
Use a kitchen scale and oven thermometer for best results. 
Please visit the blog post for recommendations for substitutions and more. 
Nutrition
Calories:
196
kcal
Carbohydrates:
8
g
Protein:
7
g
Fat:
16
g
Saturated Fat:
5
g
Polyunsaturated Fat:
1
g
Monounsaturated Fat:
2
g
Trans Fat:
0.3
g
Cholesterol:
71
mg
Sodium:
311
mg
Potassium:
47
mg
Fiber:
3
g
Sugar:
3
g
Vitamin A:
286
IU
Vitamin C:
1
mg
Calcium:
72
mg
Iron:
1
mg