These Low Carb Keto Chocolate Zucchini Muffins are simply the best keto zucchini muffins! Use up some of that leftover zucchini in a scrumptious way. A rich, chocolate filled keto muffin recipe, with just a few simple ingredients and steps. These gluten free keto zucchini muffins are only 3 net carbs per muffin! Enjoy them for breakfast, dessert or a snack!
---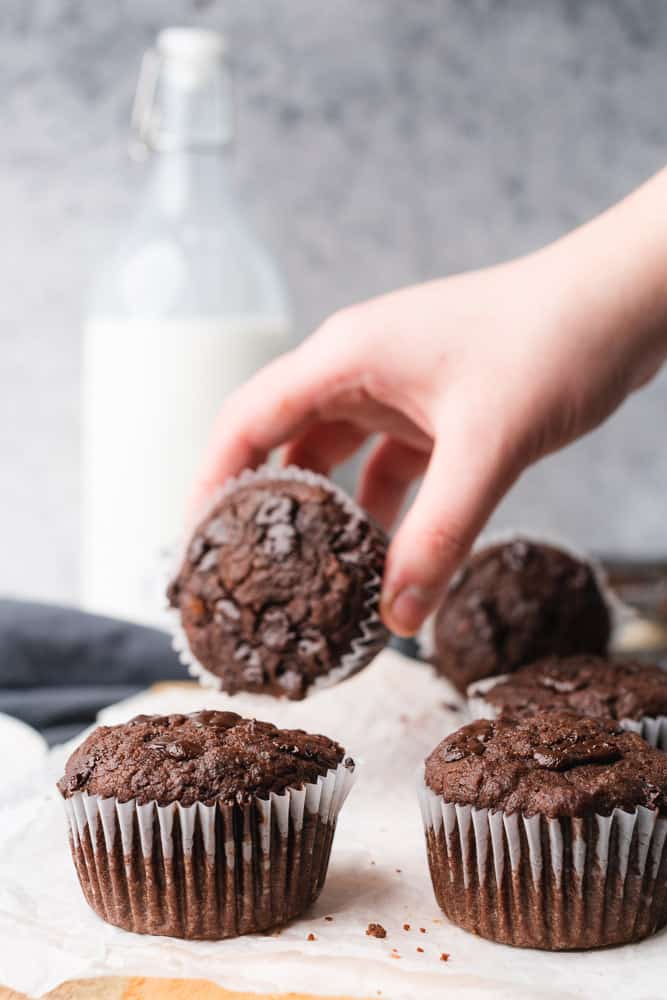 Keto baking with zucchini is something we plan to do a lot more of! It's a great way to sneak some extra veggies into your food, and it can really enhance the texture of a baked good. Don't worry, these muffins definitely don't taste like a bunch of zucchini, and instead, they just truly taste like a super rich and fudgy double chocolate muffin. These healthy keto zucchini muffins are perfect in the morning with some coffee, as an afternoon snack, or even after dinner as dessert. They're only 3 net carbs per muffin too. These keto chocolate zucchini muffins are fairly low in calories since they're completely sugar free.

If you're looking for more keto friendly or low carb recipes with zucchini that are just fantastic, we have a few! Check out this low carb lasagna soup with zucchini noodles or this sirloin steak salad with fresh mozzarella and roasted vegetables. Actually, by the looks of it, we need to get to work making some more keto zucchini recipes that are both sweet and savory! We'll get to work on that, and if there's something in particular you'd like to see on our site, please leave a comment and let us know!
Ingredients:​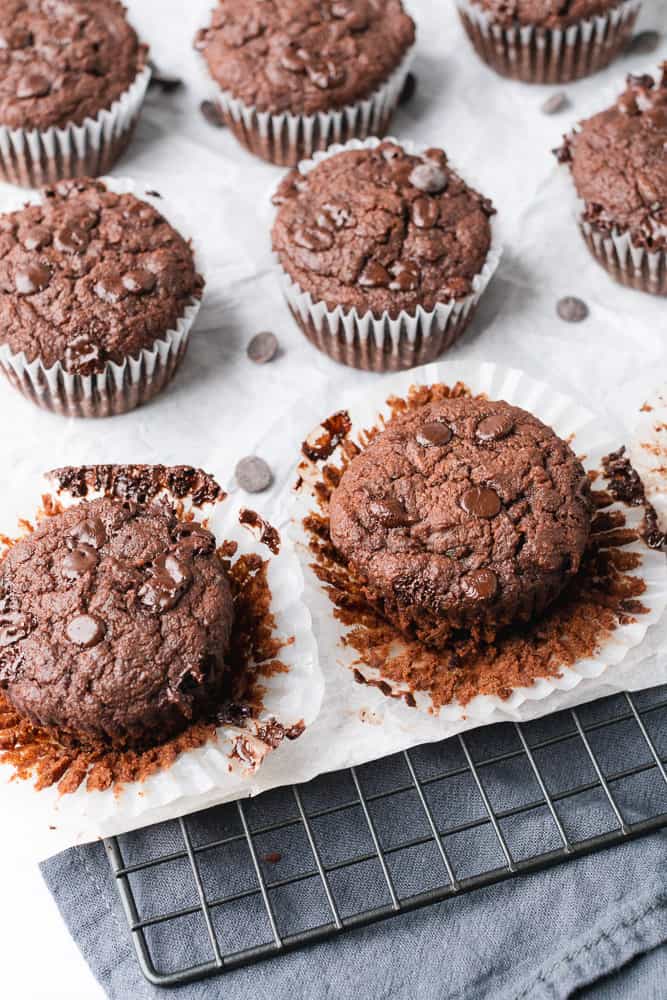 How to Make These Keto Zucchini Muffins:
First, preheat your oven to 350°F. Line a muffin tin with parchment paper liners if you have them. Otherwise, use your muffin liners and spray them a bit to grease them.

You want a wet bowl, a dry bowl, and then a bowl for your zucchini, your coffee, and your chocolate chips. In your wet bowl, cream together your butter and sugar, then add in your eggs and vanilla extract.

In your dry bowl, combine your almond flour, coconut flour, cacao powder, baking powder, salt, and xathan gum and whisk until well combine. Next, slowly combine your wet and dry ingredients until everything is well incorporated using a handheld mixer.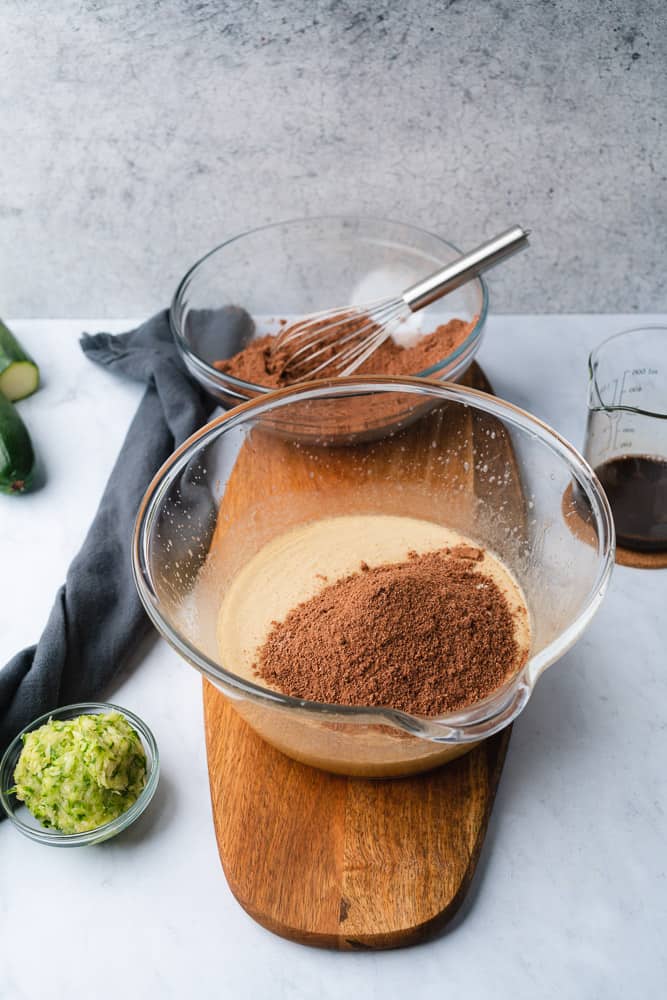 Add in your shredded zucchini, then combine. Slowly add in your coffee or water until the mixture loosens up a bit.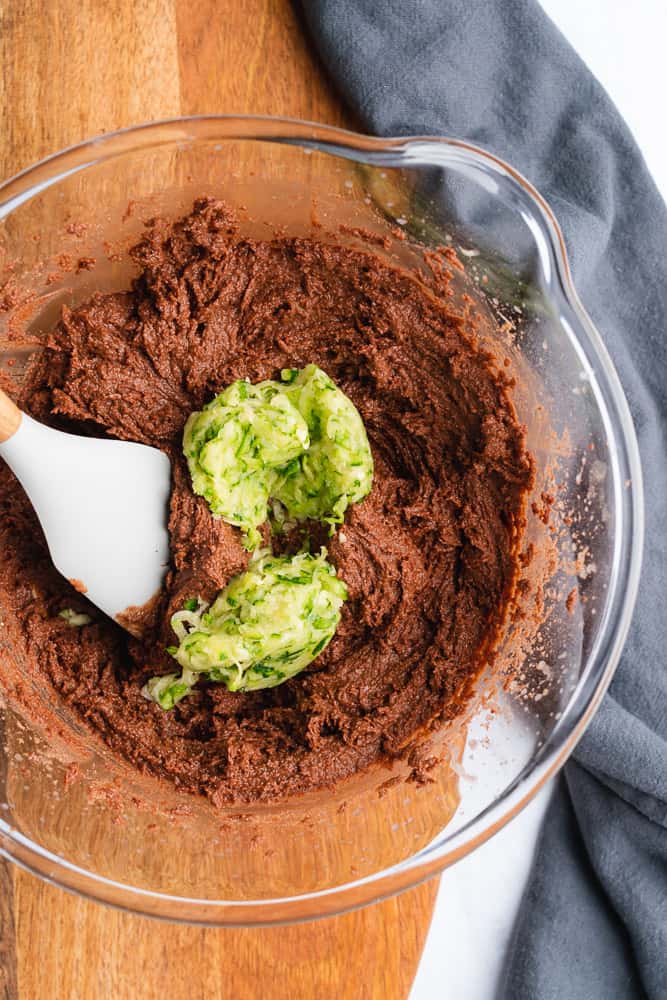 Fold in half of your chocolate chips. Then spoon the batter into your cupcake liners. This recipe makes 12-14 muffins. Top the muffins with the remaining chocolate chips, then place in the oven and bake for 20-25 minutes until a toothpick comes out clean.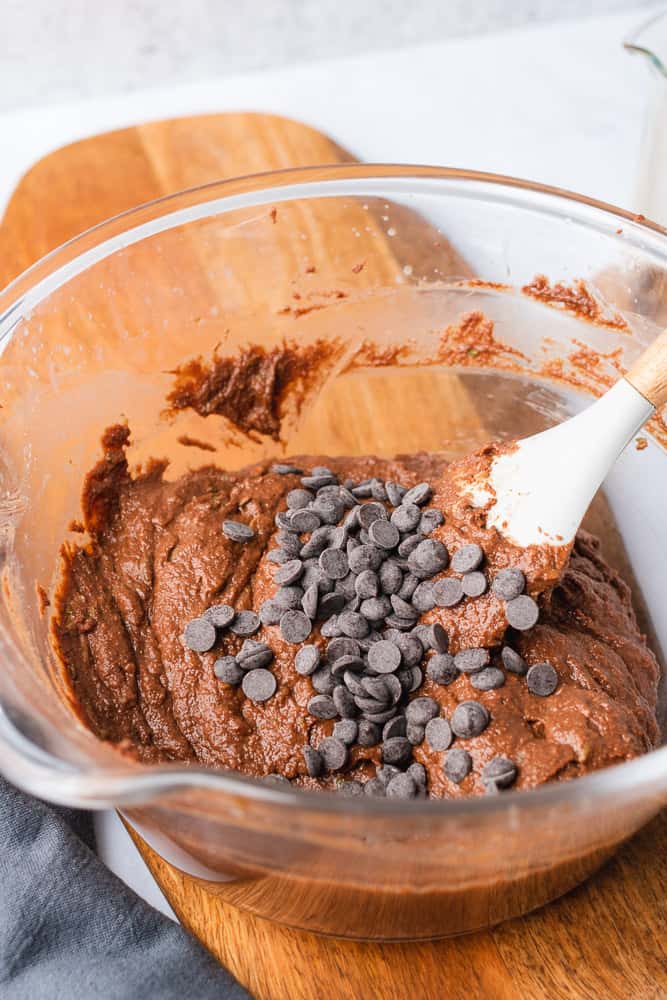 Let cool for 10-15 minutes, then dig in! These keto zucchini muffins will keep in the fridge for about a week in a tupperware container.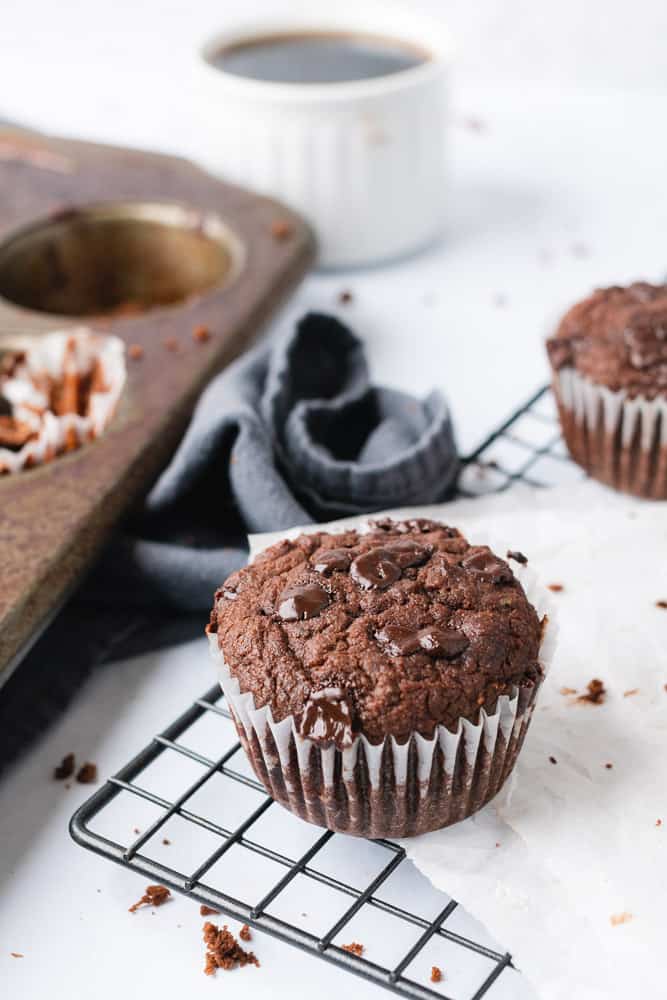 How Do I Prepare the Zucchini for These Muffins?
You don't need to peel the zucchini prior to preparing these chocolate keto zucchini muffins. Just give these zucchini a good wash to get rid of any dirt that's stuck to them. Seriously- you might want to use a scrubby end of a new/clean sponge or a rag. The last thing you want is a crunchy bite that is clearly some of the dirt that your zucchini grew in!

Cut off the ends with a sharp knife and discard. Depending on the size of your zucchini, you may need to cut it in half, or in a couple of pieces to make it more manageable whether you're grating by hand, or using a tool. For this recipe you will need about 200 grams of zucchini, which is about half of a medium sized zucchini that you would get at the grocery store.

Now, it's on to shredding. You can use a cheese grater to shred up the zucchini quite small. It's very quick to do, especially for such a small amount of zucchini. It's our preferred method, but we've also used a food processor or blender. After you've shredded the zucchini up quite small, sprinkle with ¼ teaspoon of salt. Don't worry about the salt making the zucchini salty. It will just help draw out extra moisture! Place the zucchini in a metal sieve over a larger bowl or in the sink and let it drain for about 30 minutes to an hour. Then, before adding it to your batter, use a paper towel or cheese cloth to squeeze out the extra moisture.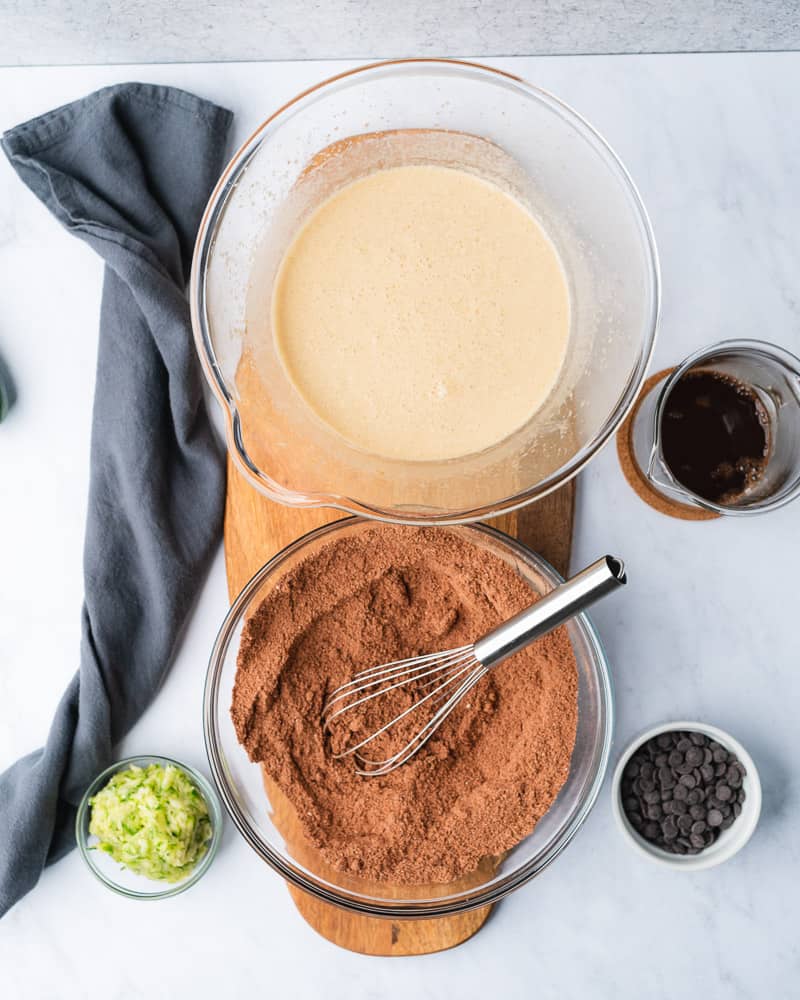 How Should I Prepare the Dry Ingredients?
It's always best to sift your flours and dry ingredients, to get out any lumps or clumps that might be in there. First, let's start with the different ingredients in the dry mix that make these muffins so good! We'd like to say that this keto zucchini muffins recipe has been revised majorly over the years, and made better and better! So now, we definitely know what each ingredients purpose is!
Almond Flour- Almond flour is super easy to work with, and we would consider a good 1:1 substitute for white flour, at least in terms of neutral flavor and texture. Extra fine almond flour definitely works best. Almond flour is dense in calories however, and doesn't quite get the lift that regular white flour does, which is why we combine it with coconut flour. We often buy our almond flour at Costco, or get Bob's Red Mill super fine.
Coconut Flour- This helps the muffins achieve a nice light texture and hold it together. It soaks up extra moisture in the batter, so don't substitute it 1:1 for almond flour! It's very drying. It's an important ingredient, but we can only recommend it in the ratio we used with the almond flour in this recipe. We love Bob's Red Mill.
Baking Powder- This is what makes our muffins rise! Don't skip this, seriously. Also, this is not a substitute for baking soda, at all!
Pink Salt - Please note that most of our recipes include pink Himalayan salt in some form, mostly because it is higher in nutrients than other salts. We'd like for you to know that the salt is a bit saltier than say Diamond Kosher Salt for example, so do keep this in mind. We use salt in two ways in this recipe. Half of it is used to draw the extra moisture out from the zucchini. We also add it to our dry mix to help balance the sweetness. Salt is often added
Cacao Powder (or Cocoa Powder) - we love Navita's Organics cacao powder because it's a 1:1 sub for cocoa powder, and a more nutrient dense version of the cocoa plant. Obviously, it's what gives these keto zucchini muffins their super rich chocolate flavor!
Xanthan Gum - This ingredient is technically optional, but we find it really helps to hold the muffin together better. If you don't mind a few crumbs, you can skip it. It's a really small that we use in this recipe, but it makes a big difference! We use the Now Foods brand. It's affordable on Amazon and works great.
How Do I Prepare the Wet Ingredients for These Keto Chocolate Zucchini Muffins?
For this recipe, and really most recipes we bake, we have a wet bowl separate from a dry bowl. The wet bowl started with our melted unsalted butter creamed together with our Brown Sugar Swerve. You could use any granular sweetener of your choice, but we love the warm, molasses-like flavor that Swerve adds! It's so amazing. Try to let your melted butter cool down quite a bit before working with it, so you don't accidentally scramble your eggs!

We'd recommend leaving your eggs out to get to room temperature before working with them. It will help the muffins get a lighter and fluffier texture. Add in your eggs one by one to the batter until everything is well incorporated. Cracking the eggs into a separate beaker helps to get rid of any shells, as well as slowly add it into the batter. Lastly, fold in the vanilla extract.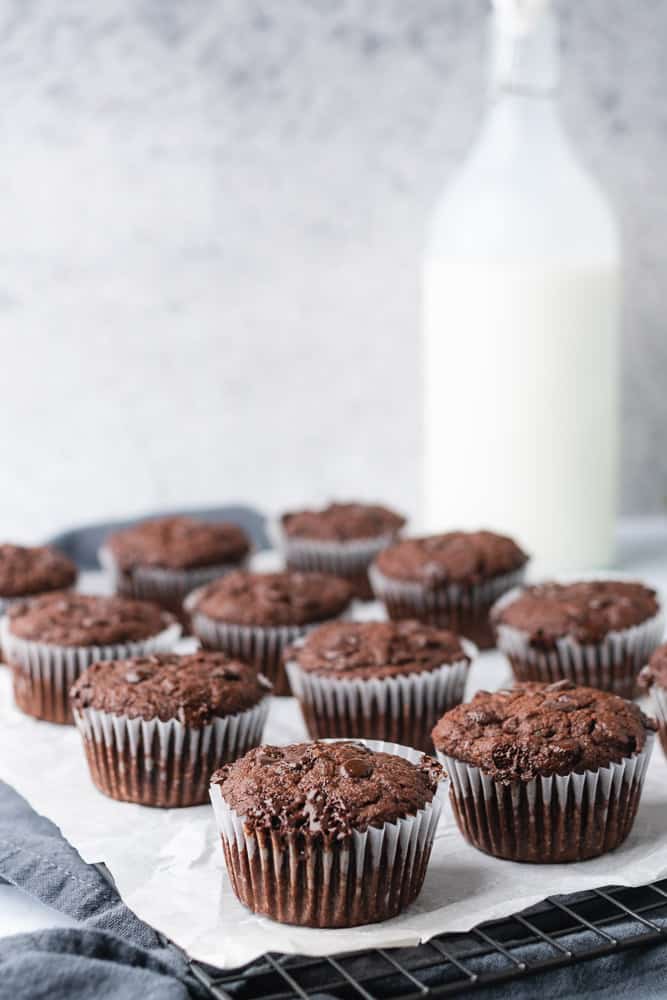 Where Does the Coffee Come In?
The coffee can be subbed for water, but honestly coffee makes a great compliment to the chocolate flavor, accentuating it! We actually used 1.5 tablespoon of instant coffee, combined with ¼ cup of boiling water, then let it cool for a few minutes in the fridge before adding it to the batter. We add it after we add the zucchini to achieve a batter that is thick, but still able to be poured. You could use leftover coffee, milk even, or water! It's simply to thin the batter.
More Recipes To Try: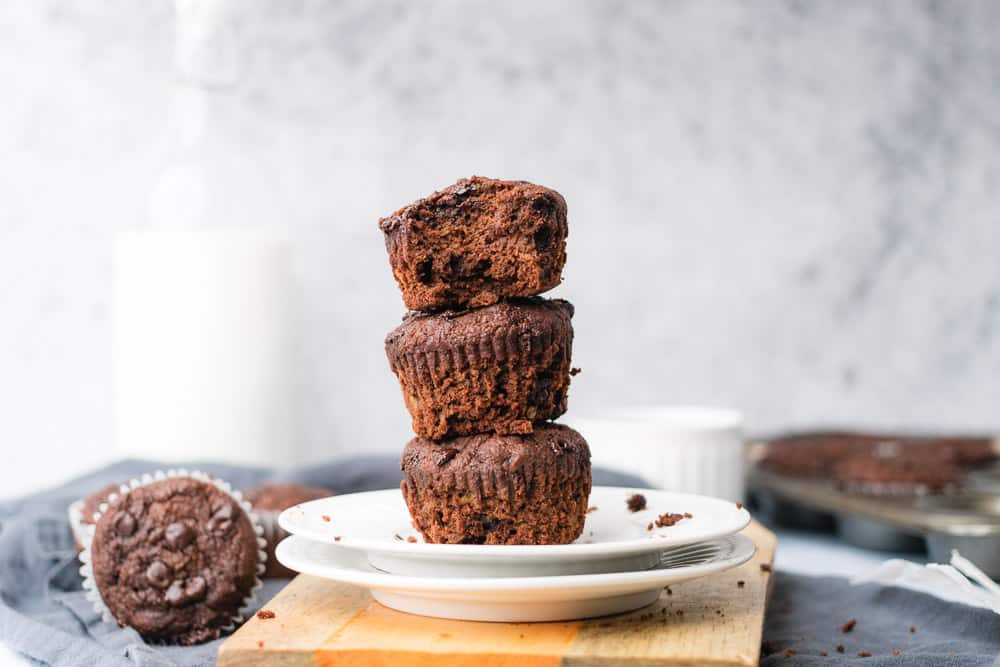 Shop This Recipe!
Want to get supplies for this keto zucchini muffins recipe or shop our keto kitchen or pantry? We've linked our favorites above and right here in our Amazon Store! A Full Living is a participant in the Amazon Services LLC Associate program, an affiliate advertising program designed to promote a means for sites to earn advertising fees by linking products to amazon.com. We only share products we use and love. It doesn't cost you anything extra to shop using our links, but we earn a small commission that helps us keep this site going!
---
If you get a chance to try this recipe, let us know what you think, would ya?! Leave us a comment, or catch up with us on Facebook or Instagram, or pin to your favorite Pinterest board for later. We love sharing your versions of our creations over on Instagram @afullliving!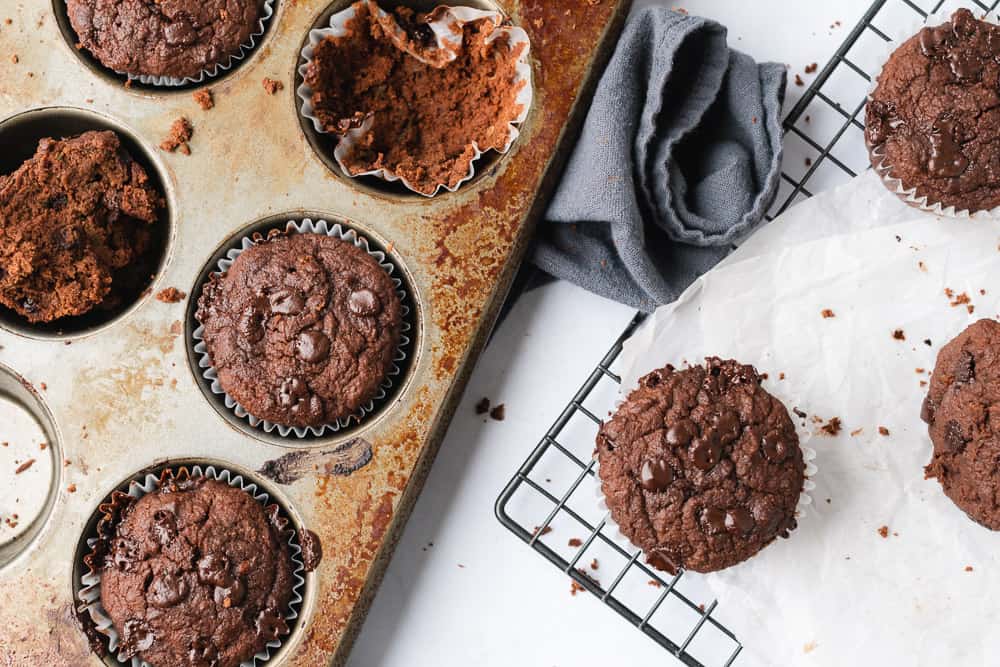 Thanks for stopping by! Be sure to subscribe to our email newsletter so you're the first to know about new recipes we post on our blog.
If you love this recipe, please consider sharing it with a friend and also leaving a rating and comment so others can find this recipe. Thank you for your support!
Until Next Time,
Briana & Chamere
📖 Recipe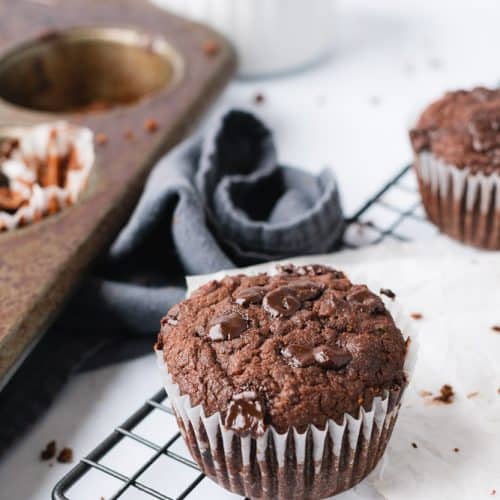 Keto Chocolate Zucchini Muffins
These Keto Chocolate Zucchini Muffins are simply the best keto zucchini muffins! Use up some of that leftover zucchini in a scrumptious way. A rich, chocolate filled keto muffin recipe, with just a few simple ingredients and steps. These gluten free keto zucchini muffins are only 3 net carbs per muffin! Enjoy them for breakfast, dessert or a snack!
Instructions
Preheat your oven to 350°F. Line your muffin tin with liners.

In large bowl, cream together your melted butter and sweetener. Add in your eggs one at a time, and then your vanilla extract. Make sure everything is well combined.

In a separate bowl, add all of your dry ingredients (almond flour, coconut flour, half the salt, baking powder, cacao powder and xanthan gum) and mix well.

Combine your wet and dry ingredients using a hand mixer and rubber spatula to scrape the sides of the bowl until everything is incorporated.

Now fold in your zucchini, then add your coffee until a thinner batter is created. Fold in half of your chocolate chips.

Spoon batter into your muffin liners. Add the remaining chocolate chips to the top. Bake for 20-25 minutes, and let cool for 10-15 minutes before eating.
Notes
Carbs from the sweetener are not included as they are not known to raise blood sugar. 
Nutrition
Calories:
174
kcal
Carbohydrates:
10
g
Protein:
4
g
Fat:
16
g
Saturated Fat:
7
g
Trans Fat:
1
g
Cholesterol:
18
mg
Sodium:
159
mg
Potassium:
52
mg
Fiber:
7
g
Sugar:
1
g
Vitamin A:
203
IU
Vitamin C:
1
mg
Calcium:
65
mg
Iron:
2
mg