This Strawberries and Cream Hemp Heart Oatmeal will be the star of your breakfast table. Low Carb 'Noatmeal', or hemp heart porridge with tons of flavor and nutrients, make a delicious low carb replacement for oats. Completely gluten and grain free, you can make this delicious and nutritious breakfast with a few simple staple kitchen ingredients, and begin enjoying this lovely oatmeal replacement right away!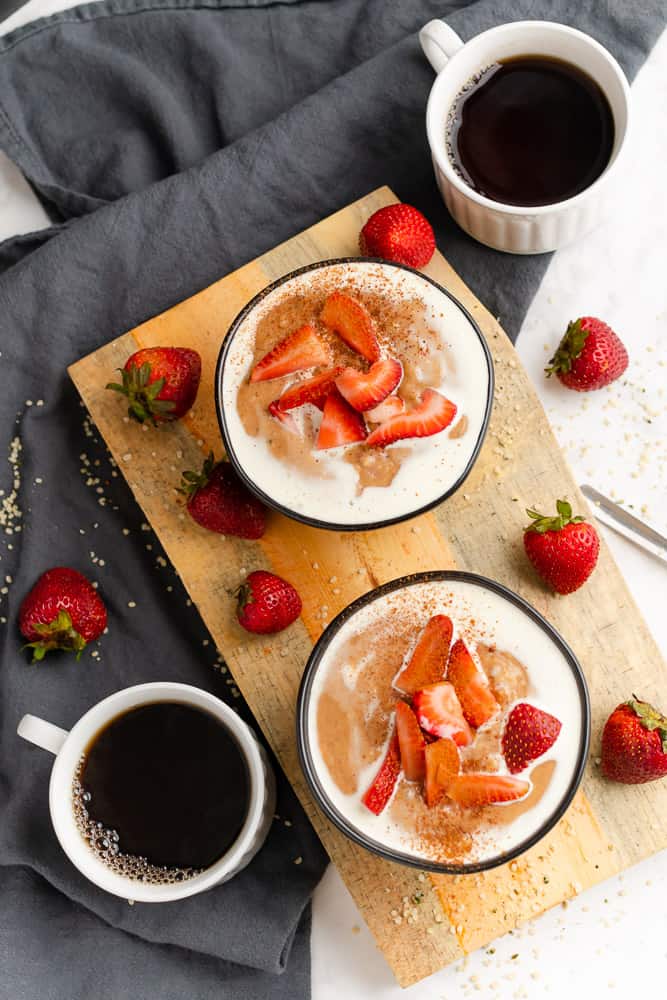 Looking for more keto friendly sweet breakfast options other than just fluffy keto coconut flour pancakes or this nutrient packed chocolate maca elixir? This hemp heart oatmeal recipe is a low carb or keto dieters dream! Since starting a low carb diet, we really missed oatmeal, but we found an alternative that's even better (in our opinion)! It's packed with nutrients from hemp seeds, that will leave you feeling full and satisfied all day.

We'd like to make a mention that Chamere actually developed this perfect recipe all on his own! We had been playing around with different variations for a couple of years, until he got the proportions of everything just right. Very proud that he did this on his own. 🙂
Here's What We Used This Strawberries and Cream Hemp Heart Oatmeal:​
Low carb milk
Collagen
Strawberries
Garnish with: more strawberries, heavy whipping cream, ground cinnamon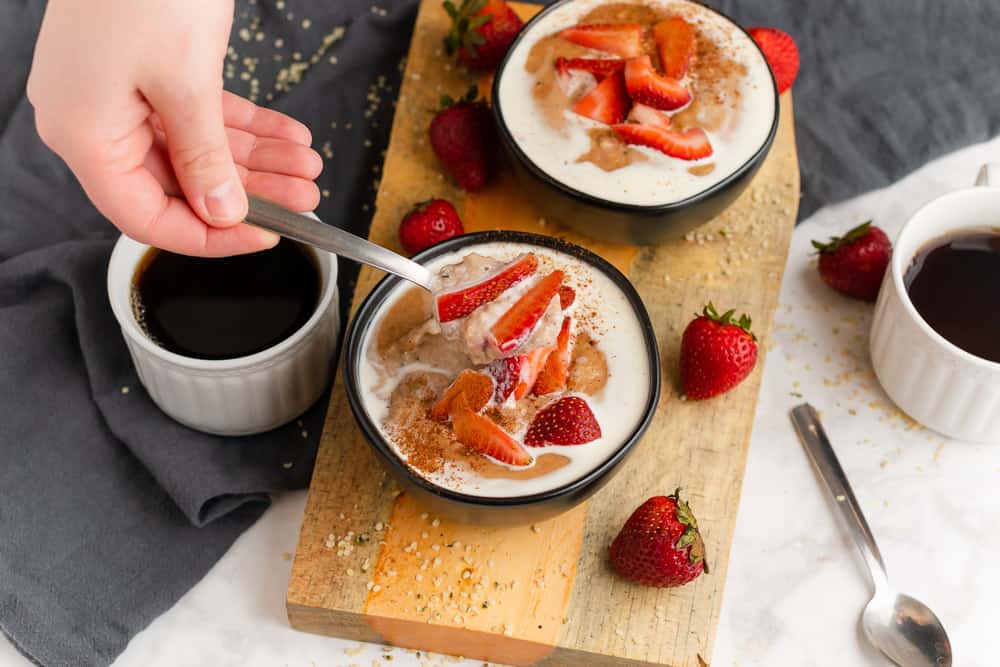 What Are Hemp Hearts and How Do I Use Them?
Hemp hearts, or hemp seeds are from the Cannabis Sativa plant, and they are incredibly nutritious. These seeds only contain trace amounts of THC, so you will definitely not get high from them, but you can certainly benefit from these nutrient powerhouses!

These seeds have shockingly amazing macronutrient and micronutrient profile. In one 30 gram serving of hemp hearts, you are delivered with 15 grams of high quality fat, in fact, 12 grams are omegas 3 & 6, which have been known to support a healthy immune system, brain health, reduce symptoms of PMS, healthy skin and more.

A serving of hemp hearts also includes 10 grams of protein, making it an excellent source of plant based protein. Hemp hearts come out to be a 0 net carb food as well, since there is only 1 total carb per serving, and 1 gram of fiber, making for 0 net carbs! Compare this to regular rolled oats, which have about 30 net carbs per serving, only 3 grams of fat, and 5 grams of protein.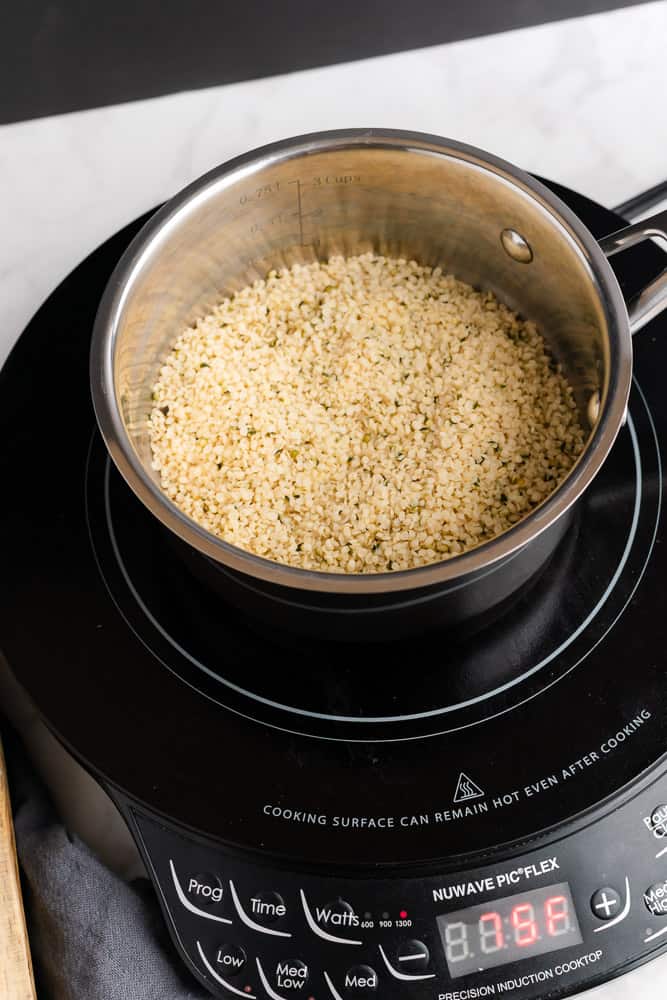 The micronutrient profile on hemp hearts is just as impressive, with 1 serving delivering 20% of your daily iron, 25% of your daily Thiamin, 35% of your daily Phosphorus, 45% of your daily Magnesium and 100% of your daily Manganese! They are also a good source of Potassium, Riboflavin, Vitamin B6 and Folate. Are you catching on to just how amazing this food is? We're kind of obsessed.

Now, onto using hemp hearts in your day to day. As you can see, these make a great oat replacement. These mild, lightly nutty flavored morsels can be enjoyed for sweet or savory applications. Think in smoothies, as a salad topper, on yogurt, in this trail mix, and more. Here's a few of our recipes that use hemp hearts! Try them out in this low carb acai smoothie bowl, strawberry fields salad, or this 15 minute low carb cinnamon trail mix.
What Are Collagen Peptides?
Collagen peptides are a bioavailable form of collagen protein, that easily dissolves into hot or cold water without turning into jelly. This protein is essential for healthy hair, skin and nails, and we much prefer it to any other protein supplement because it's easy for your body to digest. Did you know that collagen is the most common structural protein in the body, is and makes up about ⅓ of the body's protein? 1

*These statements have not been evaluated by the Food and Drug administration.  This product is not intended to diagnose, treat, prevent, or cure any disease, we are simply sharing what we have come to find out about collagen and why we prefer it over all other protein sources!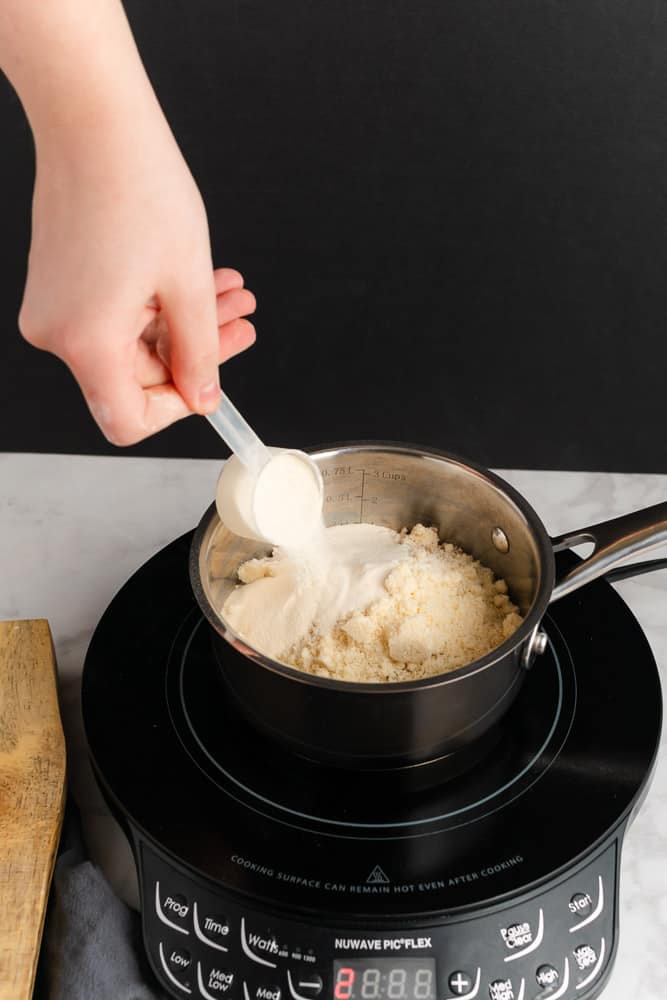 If you don't have collagen peptides on hand, just know we consider this ingredient optional, but highly recommended. It adds a nice subtle flavor, a burst of nutrients, and protein. We also feel it helps to thicken the hemp porridge. You could sub for your favorite protein powder, or just leave it out. We aren't sure that the hemp heart oatmeal will thicken quite the same however!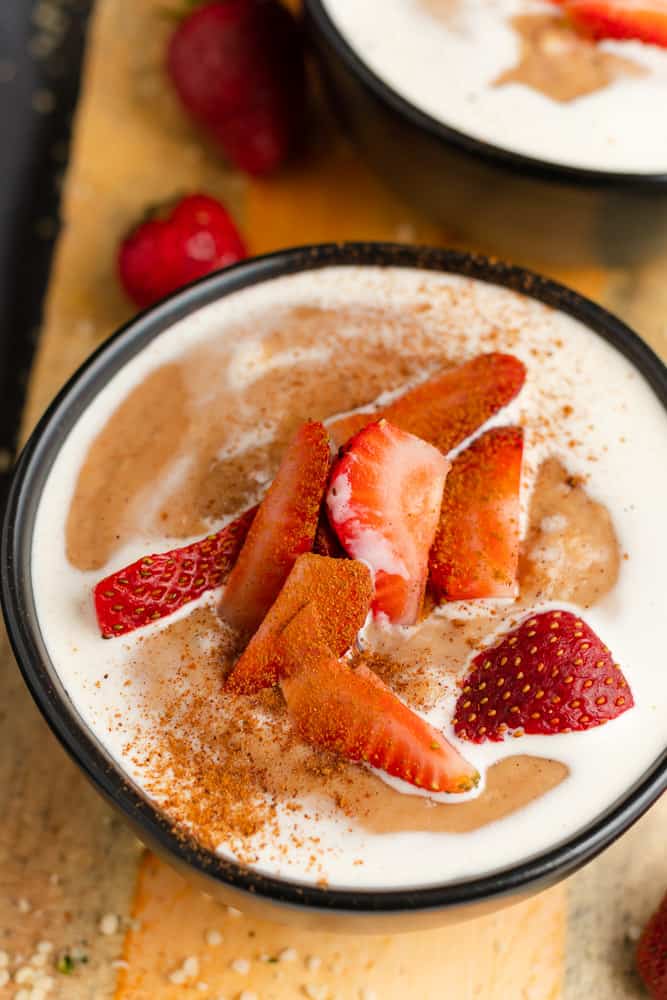 Substitutions:
Low carb milk or milk substitute- For this hemp heart oatmeal, we generally use a blend of Fairlife Ultra Filtered Whole milk combined with nut milk for extra creaminess, protein and flavor. The ultra-filtered milk has 7 carbs per cup, compared to a regular cup of milk that has 13 carbs. If you're vegan, dairy free, or just want to lower the carbs and calories in this hemp heart oatmeal, feel free to use your favorite unsweetened nut milk of choice. Our top vegan friendly pick is this Milkadamia Unsweetened Macadamia Nut Milk. It has a lovely creamy texture and great flavor.
Nut Butter- For this application, we used unsweetened peanut butter to add thickness to the oatmeal. Use whatever your favorite is. We don't think it contributes too much to the flavor in this recipe. We usually get all of our nut butter, whether it's almond butter or peanut butter at Costco, because you can find organic products with no added sugar for a great price. Here's our ultimate Costco low carb and keto grocery list, that we update regularly with new items.
Almond Flour- This is used to thicken the oatmeal. You could probably use a bit of coconut flour in place of almond flour to thicken if you have a tree nut allergy. We would suggest using about 1 tablespoon to substitute for the full amount of almond flour needed, since coconut flour soaks up a lot of moisture. These don't substitute 1:1.
Berries- If you don't have strawberries on hand, don't sweat it. You could use whatever your favorite berry is! Just make sure to adjust the carb count. You can also use fresh or frozen berries for this. Doesn't matter.
Cream- For the cream topping, you could substitute full fat coconut milk, or any plant based cream substitute.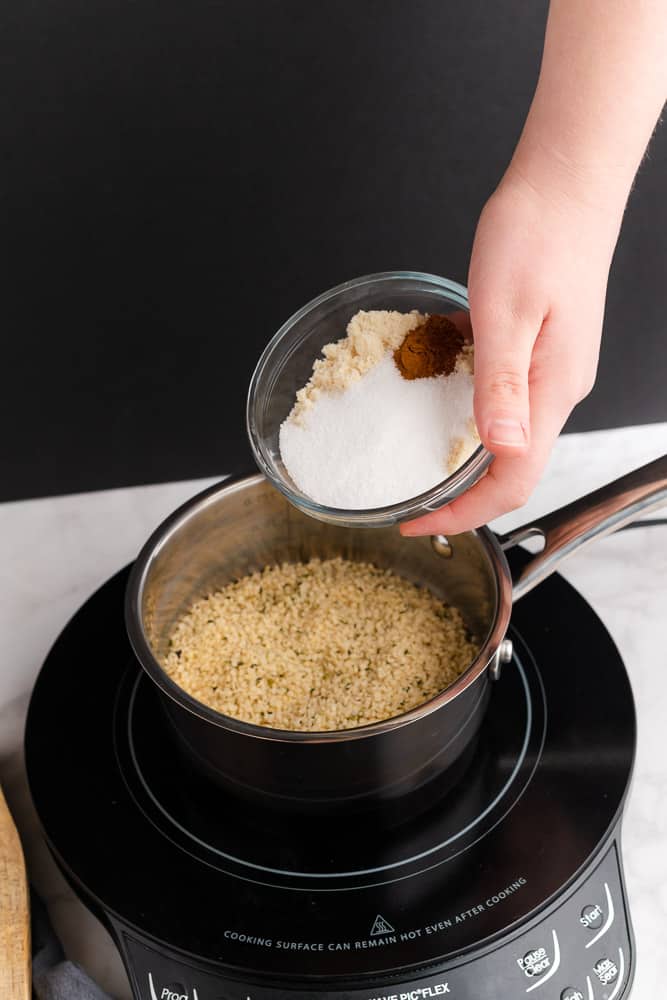 Optional Ingredients:
Collagen- Like we mentioned above, collagen isn't 100% necessary, but we love adding this nutrient powerhouse to our 'noatmeal'.
Sweetener- Use whatever sweetener you prefer, depending on your diet. Sweeten to taste!
Ground Cinnamon & Vanilla Extract- These are extras that aren't totally necessary, but they add a lot of extra complimentary flavor that we love.
Tools Needed For This Recipe: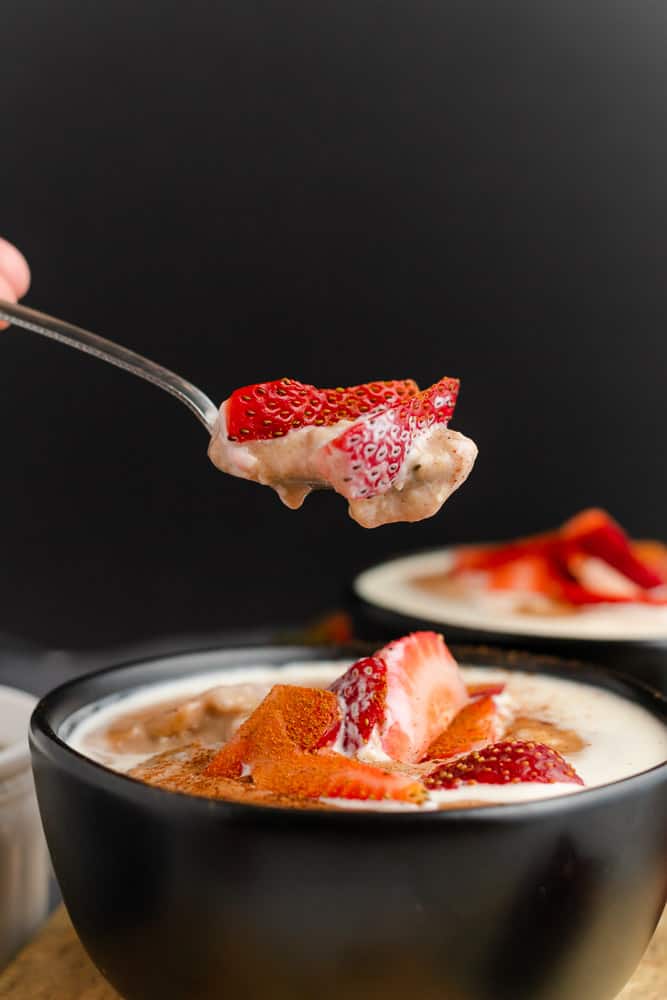 Want to get supplies for this recipe or shop our keto kitchen or pantry? We've linked our favorites above and right here in our Amazon Store! A Full Living is a participant in the Amazon Services LLC Associate program, an affiliate advertising program designed to promote a means for sites to earn advertising fees by linking products to amazon.com. We only share products we use and love. It doesn't cost you anything extra to shop using our links, but we earn a small commission that helps us keep this site going!
More Keto Breakfast Recipes:
---
How to Make Hemp Heart Oatmeal:
We recommend making it on the stovetop over medium-low heat to keep ingredients from burning, but it would probably work well in a slow cooker, instant pot, or even the microwave. As time goes on we will test out these methods so we can give you more details about cooking times. In the meantime, if you try another method, can you let us know in the comments?

On the stove top, you will want to start by adding your hemp hearts, almond flour, milk of choice, nut butter, collagen, and sweetener and cinnamon to the pan. Over medium heat, stir often to combine. As you can see, the collagen will clump up a bit, so it's helpful to stir often until all collagen has dissolved into the mixture. A whisk would be helpful at this point to make sure everything is incorporated. Allow the mixture to simmer on the stove for 10-15 minutes, stirring every so often to make sure nothing starts burning.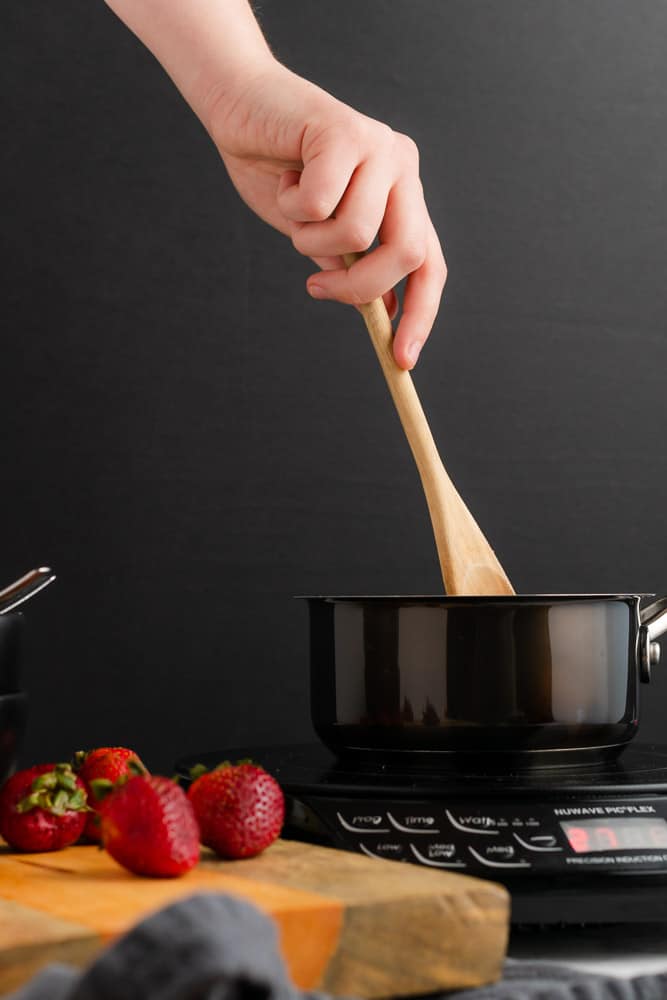 Once the mixture has started to thicken and come together, stir in some chopped strawberries and your vanilla extract. You just want the berries to soften up a bit before putting them into bowls. This will take an additional 3-5 minutes. Once the hemp heart oatmeal porridge reaches the desired consistency, put them into bowls and begin topping them off!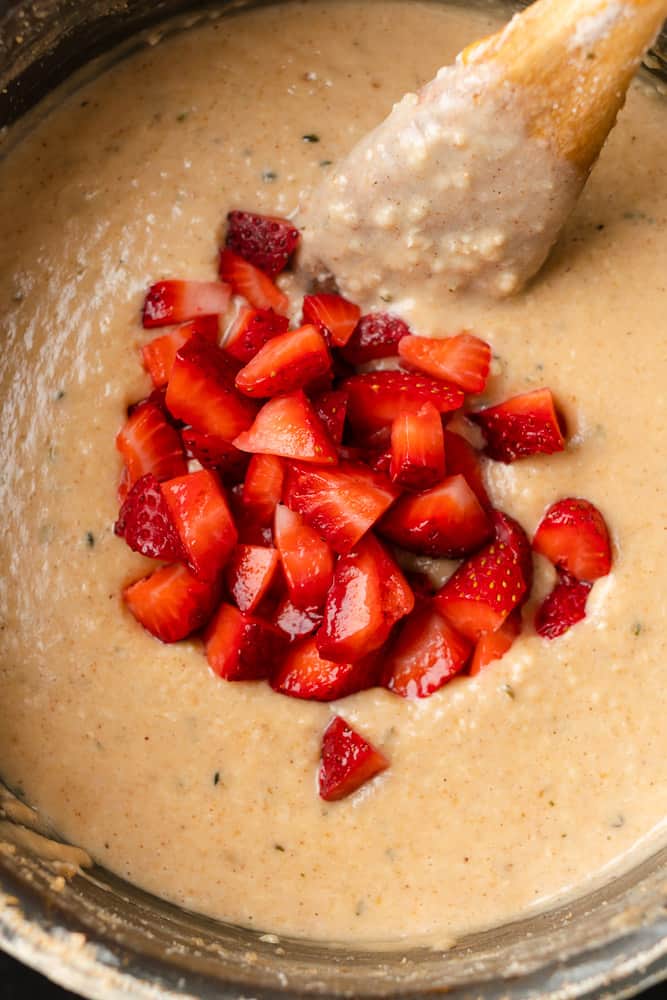 Now, simply top with more berries, heavy whipping cream, and a dash of cinnamon if you want. Enjoy!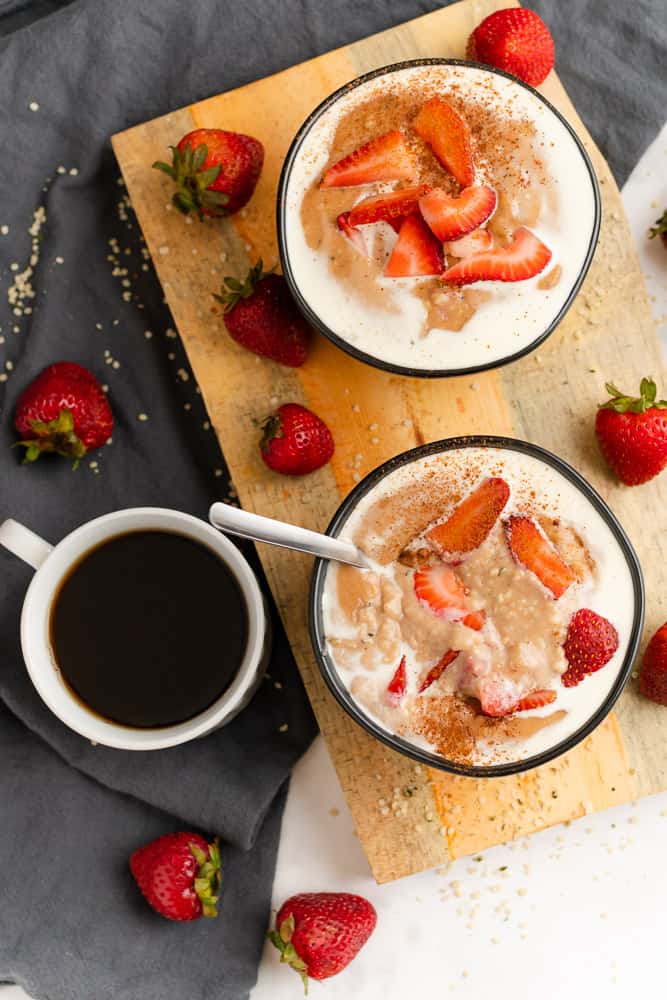 If you get a chance to try this recipe, let us know what you think, would ya?! Leave us a comment, or catch up with us on Facebook or Instagram, or pin to your favorite Pinterest board for later. We love sharing your versions of our creations over on Instagram @afullliving!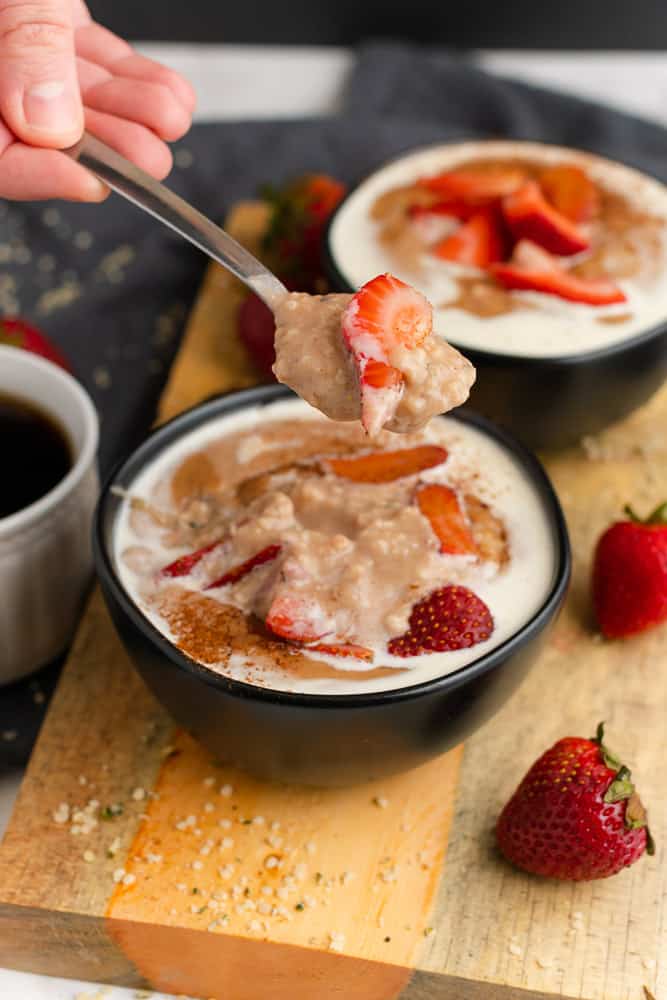 Thanks for stopping by! Be sure to subscribe to our email newsletter so you're the first to know about new recipes we post on our blog.
If you love this recipe, please consider sharing it with a friend and also leaving a rating and comment so others can find this recipe. Thank you for your support!
Until Next Time,
Briana & Chamere
📖 Recipe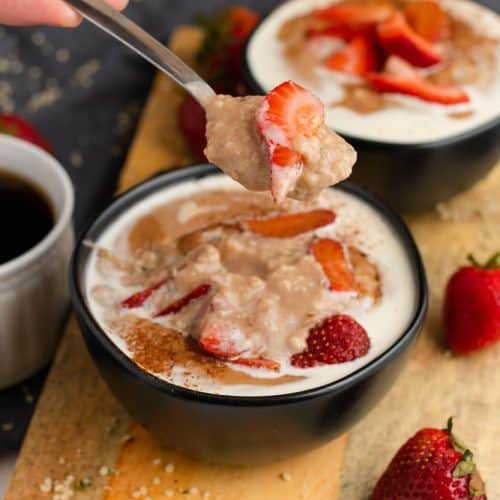 Strawberries and Cream Hemp Heart Oatmeal (Low Carb Hemp Porridge 'Noatmeal')
This Strawberries and Cream Hemp Heart Oatmeal will be the star of your breakfast table. Low Carb 'Noatmeal', or hemp heart porridge with tons of flavor and nutrients, make a delicious low carb replacement for oats. Completely gluten and grain free, you can make this delicious and nutritious breakfast with a few simple staple kitchen ingredients, and begin enjoying this lovely oatmeal replacement right away! 
Ingredients
¼

cup

almond flour

2

servings

collagen

(optional)

170

grams

strawberries, divided

(fresh or frozen)

2

tablespoon

heavy whipping cream

(optional, to garnish)

Garnish with: more strawberries, heavy whipping cream, ground cinnamon
Instructions
Combine hemp hearts, almond flour, milk, collagen, sweetener, nut butter, and cinnamon in a sauce pan over medium-low heat, stirring or whisking often to prevent from burning, and to get rid of any clumps in the mixture.

Simmer for 10-15 minutes over medium-low heat stirring every so often.

Stir in some of the chopped strawberries and the vanilla extract, allow to simmer for an additional 3-5 minutes.

Top bowls with additional strawberries and heavy whipping cream.
Notes
Nutrition facts don't include additional heavy whipping cream for garnish. 
Nutrition
Calories:
432
kcal
Carbohydrates:
13
g
Protein:
24
g
Fat:
33
g
Saturated Fat:
5
g
Cholesterol:
10
mg
Sodium:
276
mg
Potassium:
228
mg
Fiber:
4
g
Sugar:
5
g
Vitamin A:
271
IU
Vitamin C:
25
mg
Calcium:
230
mg
Iron:
5
mg