This Lemon Herb Chicken Recipe is a quick, healthy, and easy recipe that is the perfect protein for any meal, any time of the year. This flavorful chicken is perfect for the entire family, so make a big batch to eat throughout the week!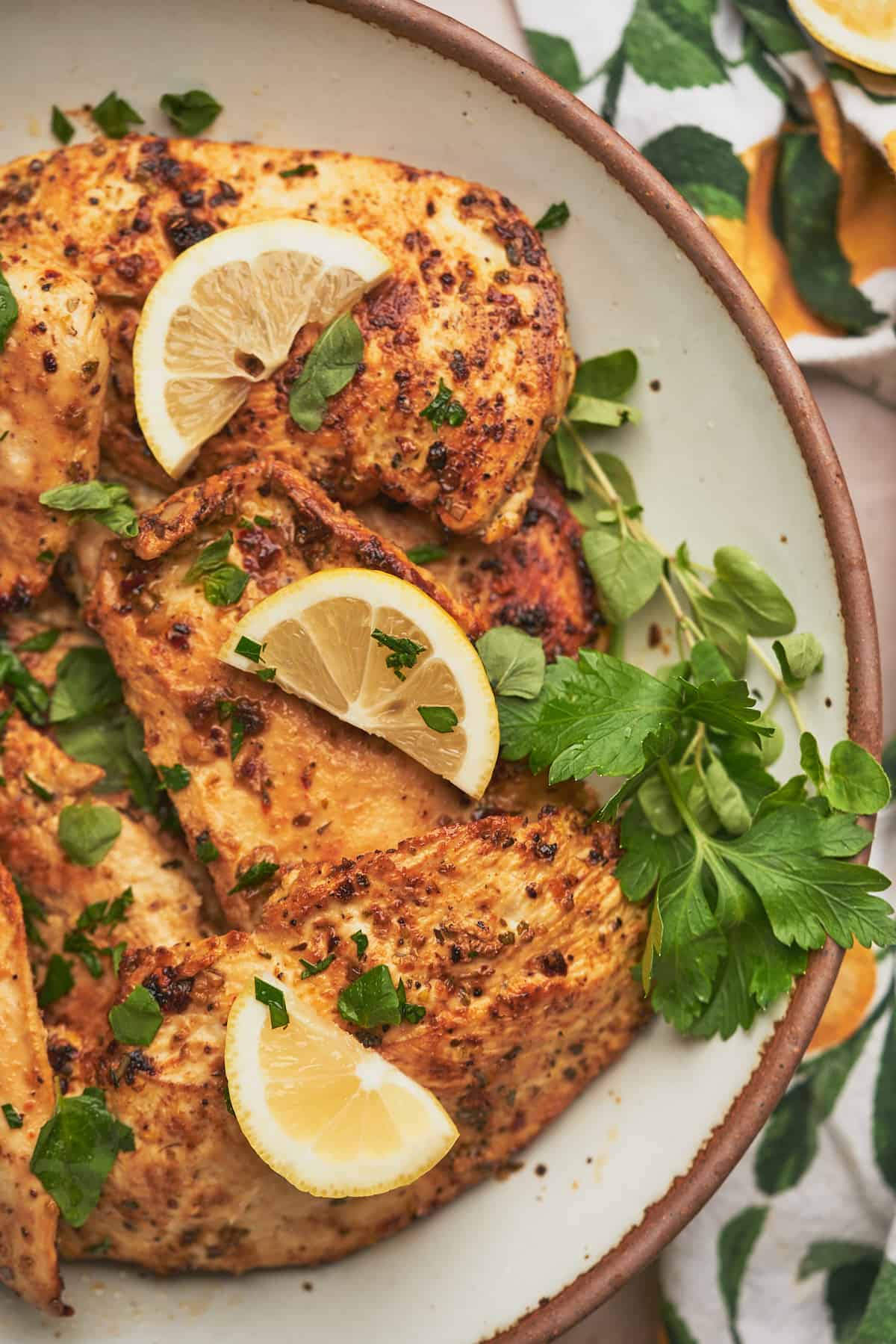 This simple recipe calls for a quick marinade that injects a ton of bright flavor. This lean meat is juicy and delicious. This easy chicken dish is the perfect main course or an addition to salads.
Looking for more delicious chicken recipes? Be sure to try this mozzarella stuffed chicken wrapped in parma ham, this jalapeño popper chicken skillet, or this chicken bacon mushroom pasta. We know you will love our chicken pomodoro recipe!
Jump to:
❤️Why we love this recipe
Made with simple, fresh ingredients - Simple, staple ingredients, and big flavors! Most of these ingredients you probably already have on hand in your pantry in fridge.
Perfect for busy weeknights - Don't have much time? Make the perfect weeknight meal in under 35 minutes. It's the perfect quick and easy protein to serve alongside roasted vegetables or a salad any night of the week.
High protein, low carb, and gluten free - This recipe fits a lot of diets, naturally, and can also be made dairy free if desired.
Great for meal prep - Just like it's great for busy weeknights dinners, it's also fabulous to pack up for meal prep during the week. It's extremely versatile and tasty.
🍋Ingredients
Here are the ingredients used for the chicken. Feel free to add or omit ingredients as you see fit. You can find full quantities and nutritional information in the recipe card.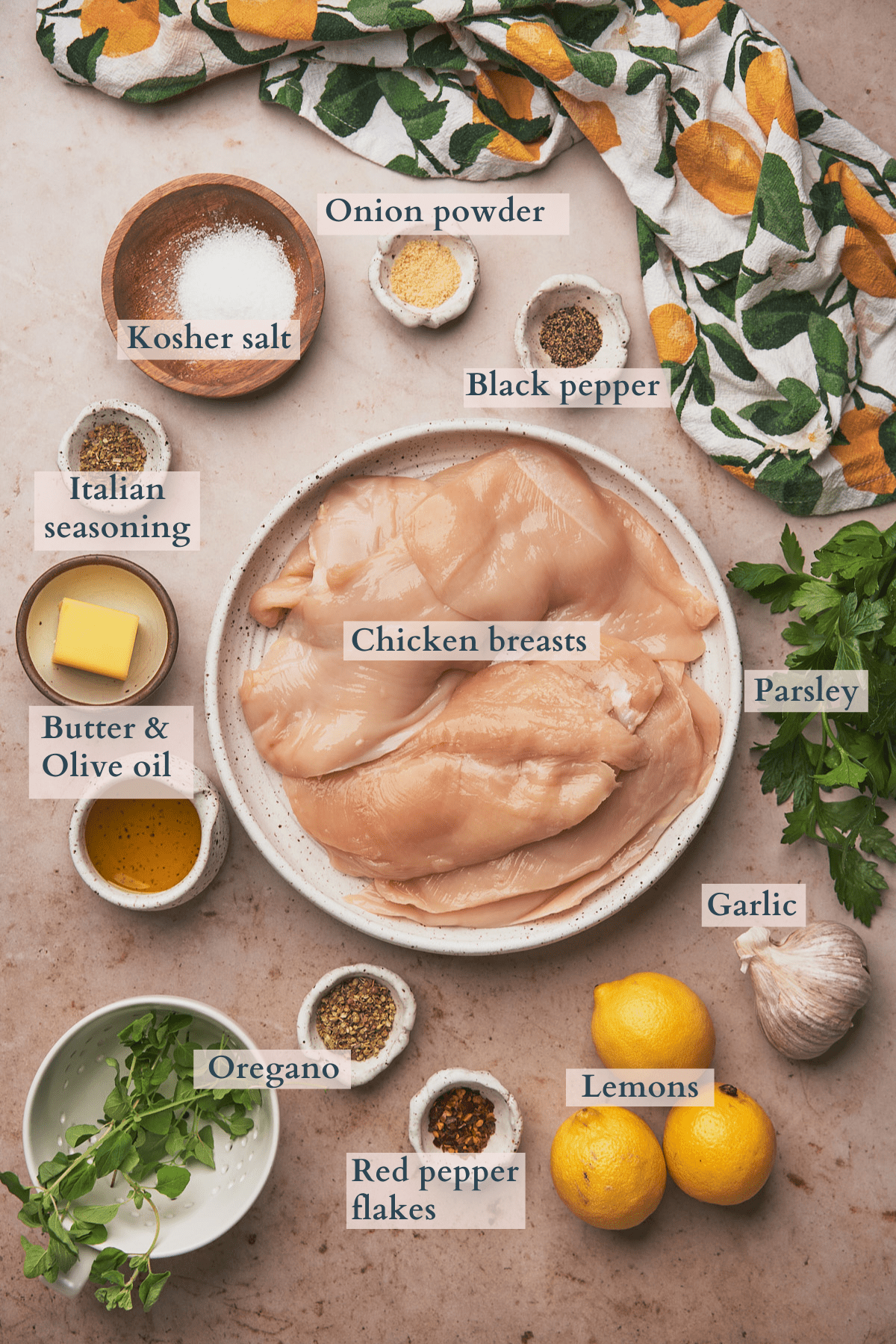 ✏️Ingredient notes
Boneless skinless chicken breasts - Chicken thighs can also be used if you prefer. We like to use thinner cut breasts, but you can use large chicken breasts if you prefer, or cut them yourself and pound them with a meat mallet at home. Just please note, that larger chicken breasts (if left uncut) will take longer to cook all the way through.
Fresh lemons - This recipe uses plenty of fresh lemon juice and lemon zest.
Italian seasoning, oregano & onion powder - For lots of savory flavor.
Red pepper flakes - Optional, for a kick of heat.
Kosher salt & black pepper
Garlic cloves - Finely minced. The fresh garlic really adds a lot of flavor, but you can use garlic powder if you prefer.
Olive oil & butter - We like a mixture of both to make the chicken really flavorful.
Fresh herbs - You can use your favorite fresh herbs for this. We garnished with fresh parsley and oregano. Basil would also be an excellent choice.
📖Instructions
📋Prep work
Dry the chicken very well on all sides with a paper towel.
Mince garlic.
Zest and juice the lemons.
Slice a few lemons into thin slices for garnish, as well as chop fresh parsley.
Step 1 - Marinate the chicken
Place the raw chicken in a large bowl or Ziploc bag. Add about 1 tablespoon of olive oil, lemon juice, and zest.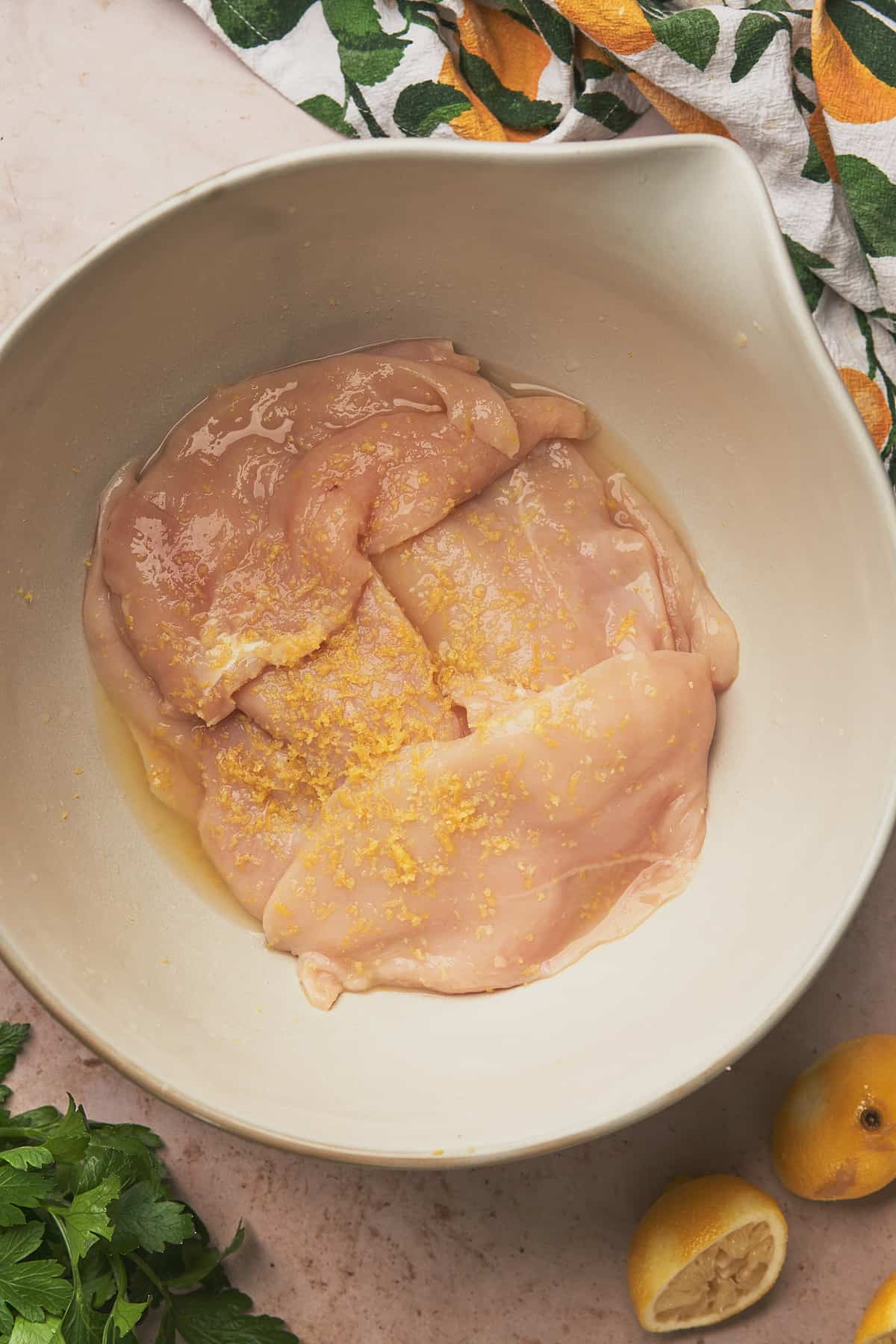 Now, add in the fresh garlic.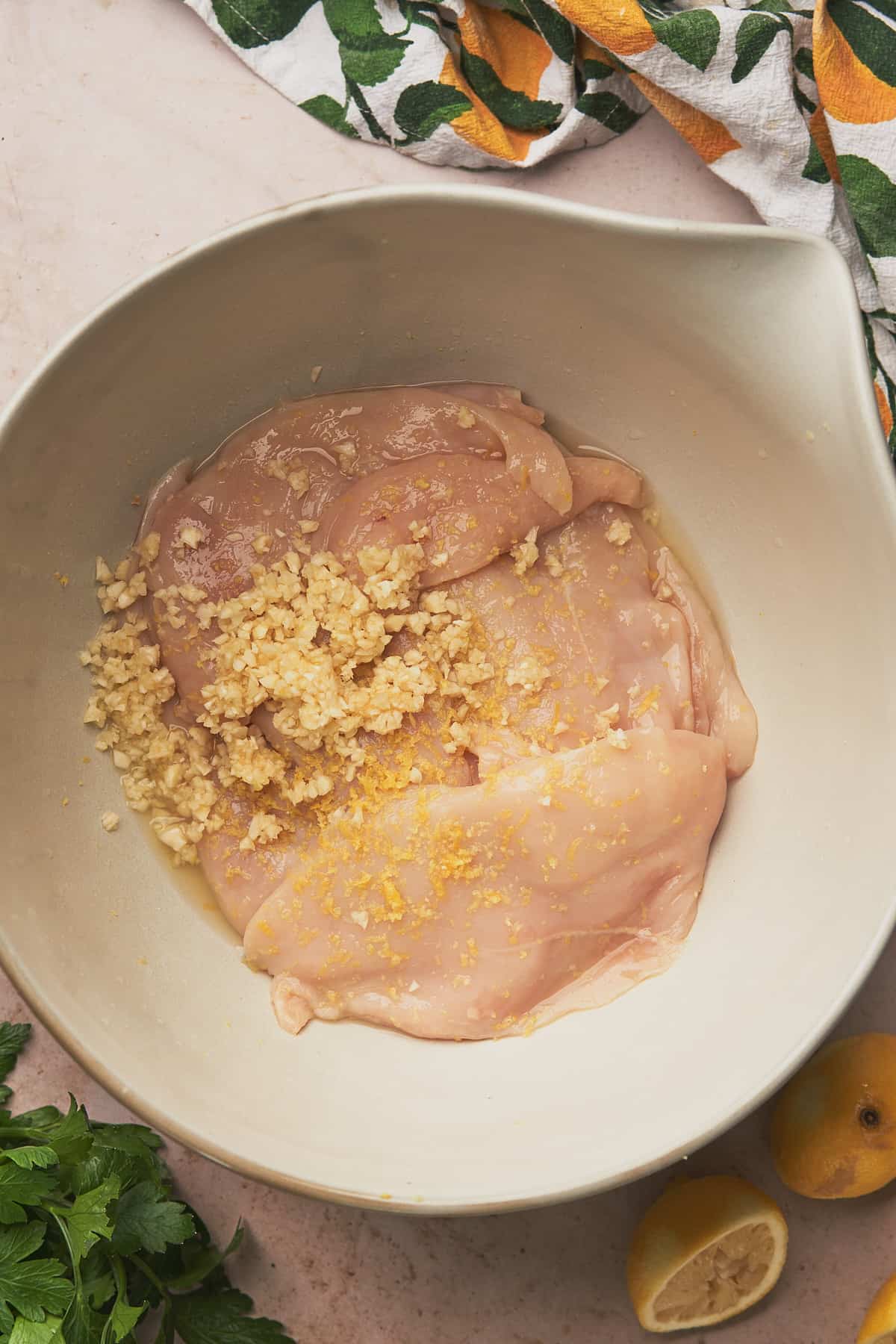 Finally, add all of the dry seasonings.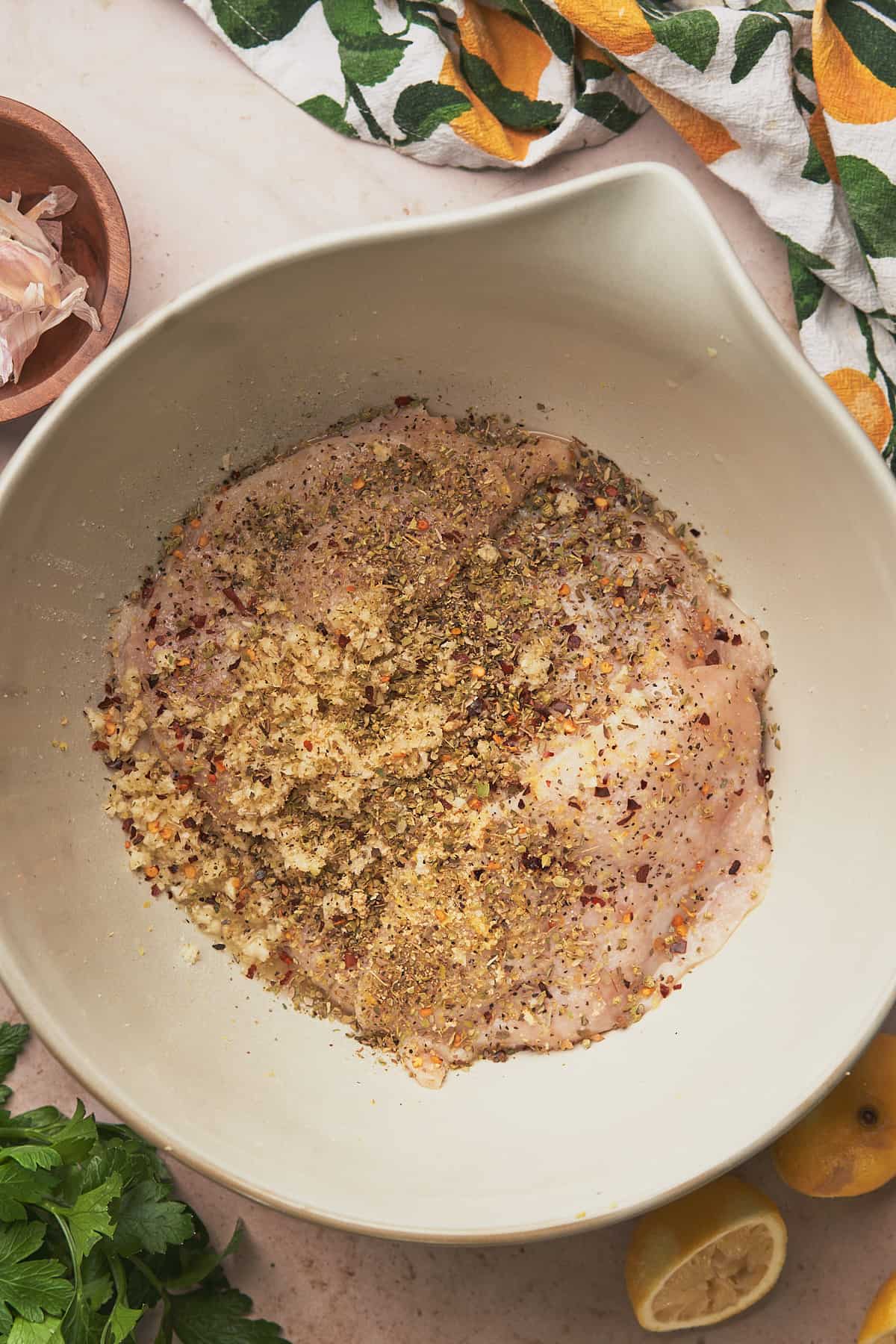 Toss to coat all sides of the chicken completely. Set aside 10-15 minutes for a quick marinade.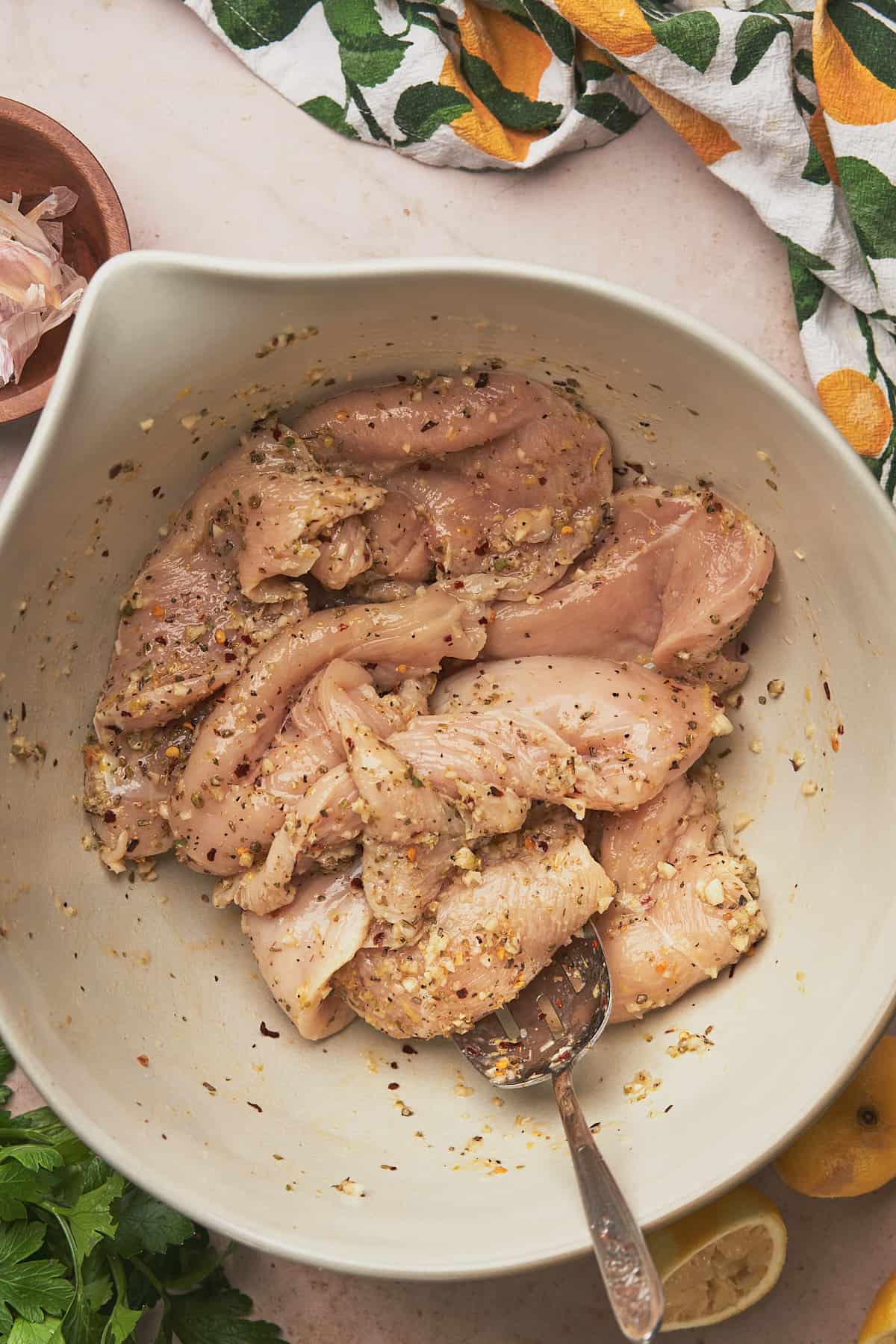 Pro tip: Don't allow the chicken to sit in the lemon juice for much longer than 25 minutes, as the acid from the lemon juice will begin to cook the chicken.
Step 2 - Cook chicken breasts
Preheat a skillet over medium heat.
After the time is up, add the butter and remaining olive oil to the hot pan. Add the marinated chicken in a single layer, being careful not to overcrowd the pan.
Cook until an instant-read thermometer reads at least 165°F into the thickest part of the chicken breast. Depending on the size and thickness of your chicken breasts, time will vary. We used thinner cut breasts and it took about 4-5 minutes on each side.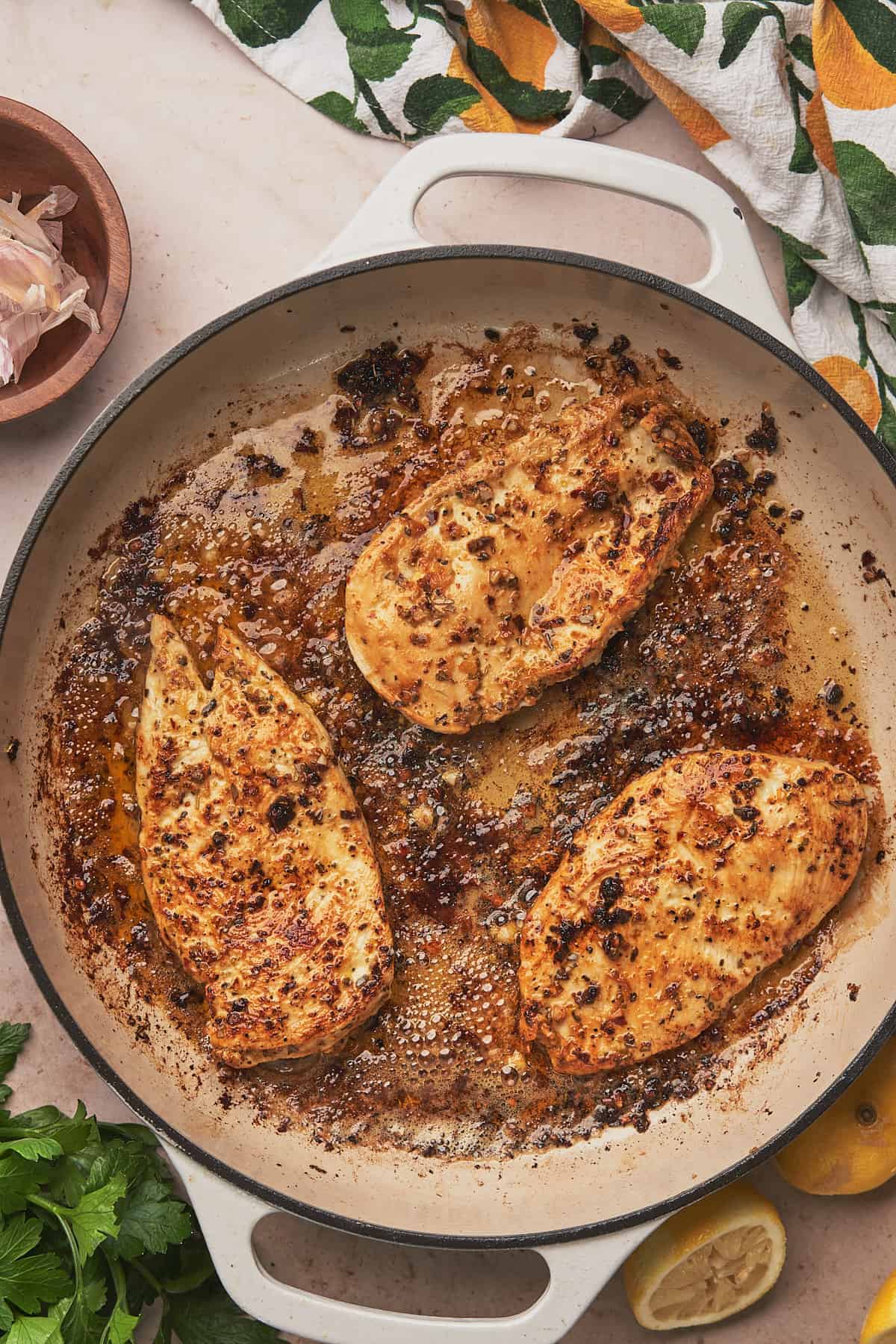 Pro tip: if the pan or chicken begins to dry out too much, you can always deglaze the pan with a little bit of chicken stock, broth, or a little white wine.
Step 3 - Garnish and serve!
Allow the chicken to rest a few moments before digging in. Garnish with fresh herbs and lemon slices.
We also recommend scraping up the juices and brown bits on the bottom of the pan and serving it over top of the chicken. Enjoy!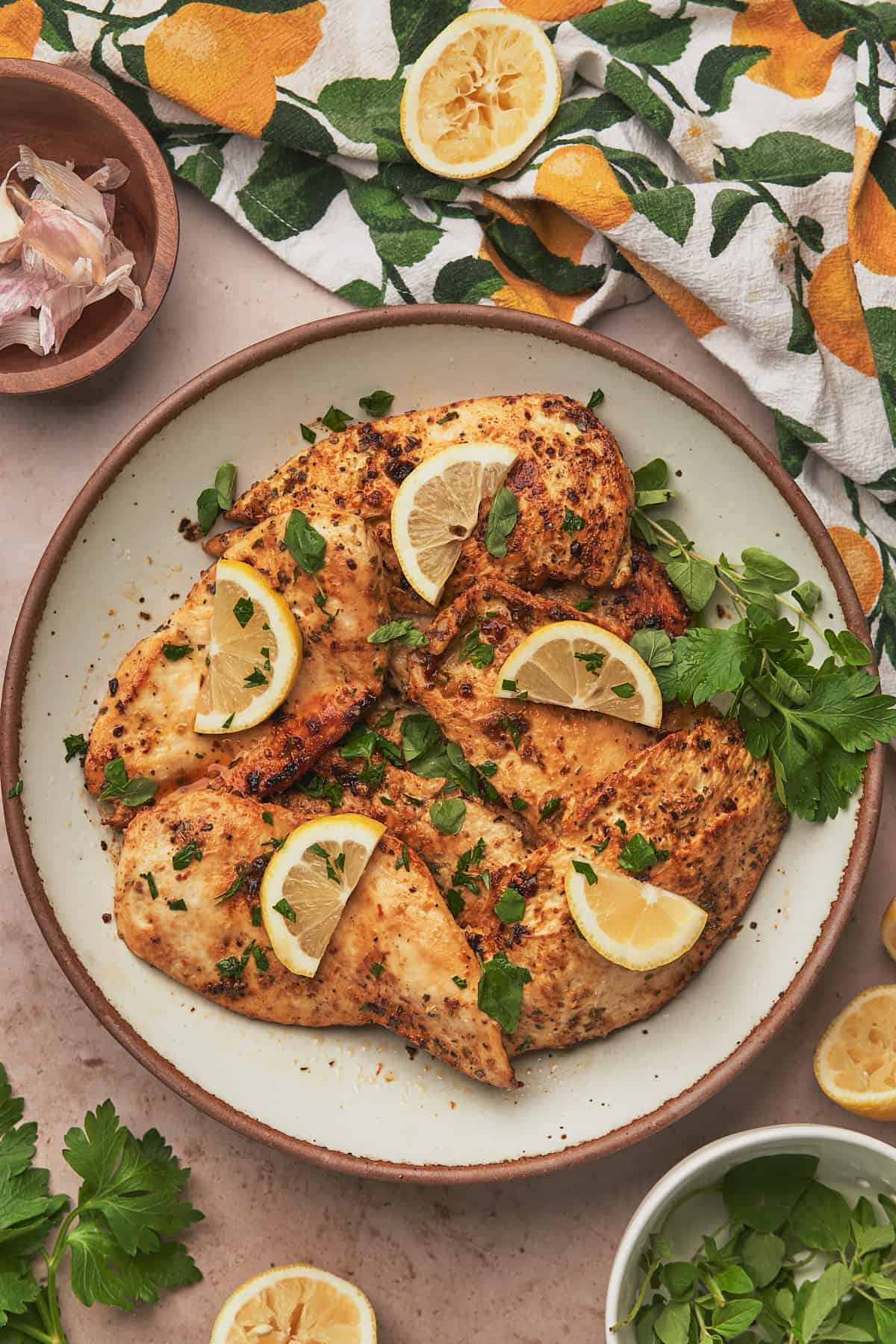 🥗Serving suggestions
Looking for recipes to enjoy this chicken with? Go really simple with this arugula and spinach salad.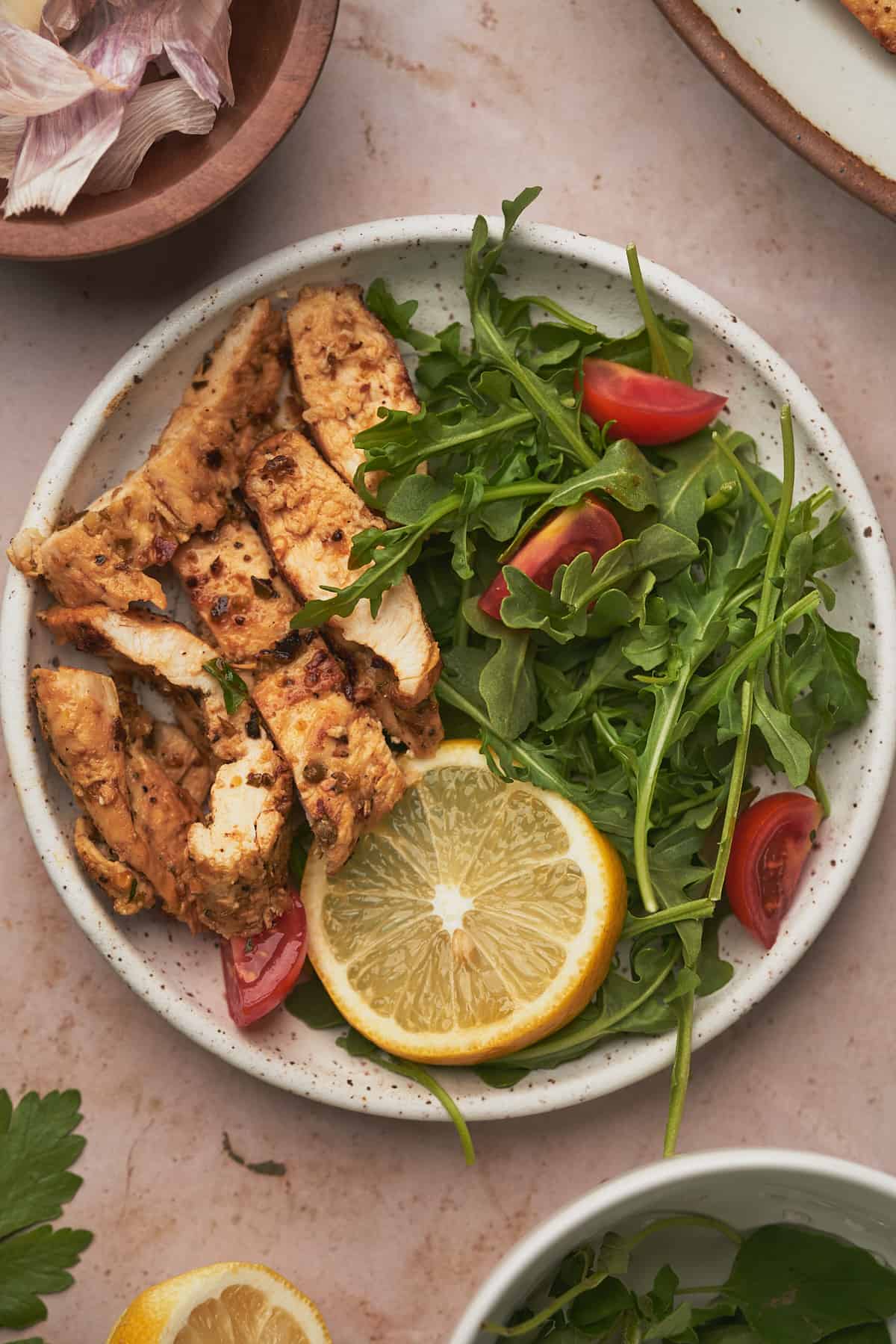 You may also love serving it alongside this burrata salad topped with pesto vinaigrette!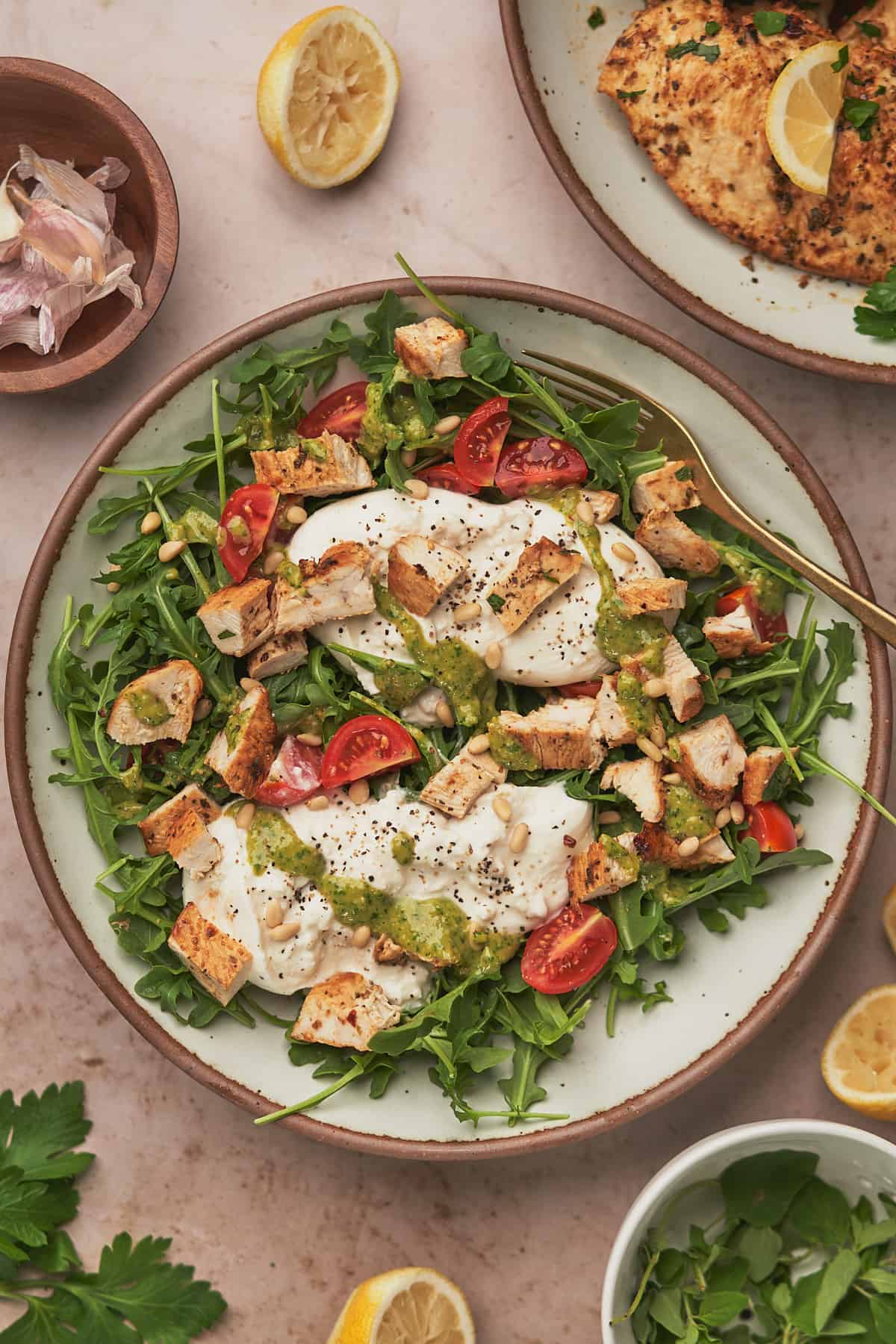 Another classic pair would be to serve with this lemon garlic pasta or this cauliflower mushroom recipe with garlic lemon butter.
✨Tips & tricks
Use fresh, high quality ingredients. There are definitely times we think that short cuts in recipes can be just as tasty, but using the freshest and highest quality ingredients you can will make all the difference here. This recipe has very few ingredients, so each one makes a big impact.
Cook the chicken in batches. Don't overcrowd the pan. We want to make sure the chicken cooks evenly and gets a little bit of browning going on, so this helps ensure we can do that. We know it can be tempting to put all of the chicken in the pan at once, but truly they cook so quickly it's best to give them a little room.
Don't marinate the chicken too long! As mentioned, this is meant to be a quick marinade situation. There's a lot of lemon juice in this recipe, and all of the acid can begin to cook the meat if left too long. That's why we only recommend marinating for around 15 minutes with fresh lemon juice.
Allow the chicken to rest before cutting in. Allowing the chicken, (just like steak or any other protein) the time to rest makes the chicken juicier. This is because the moisture get re-absorbed by the chicken, instead of cutting right in and letting all of the juices escape.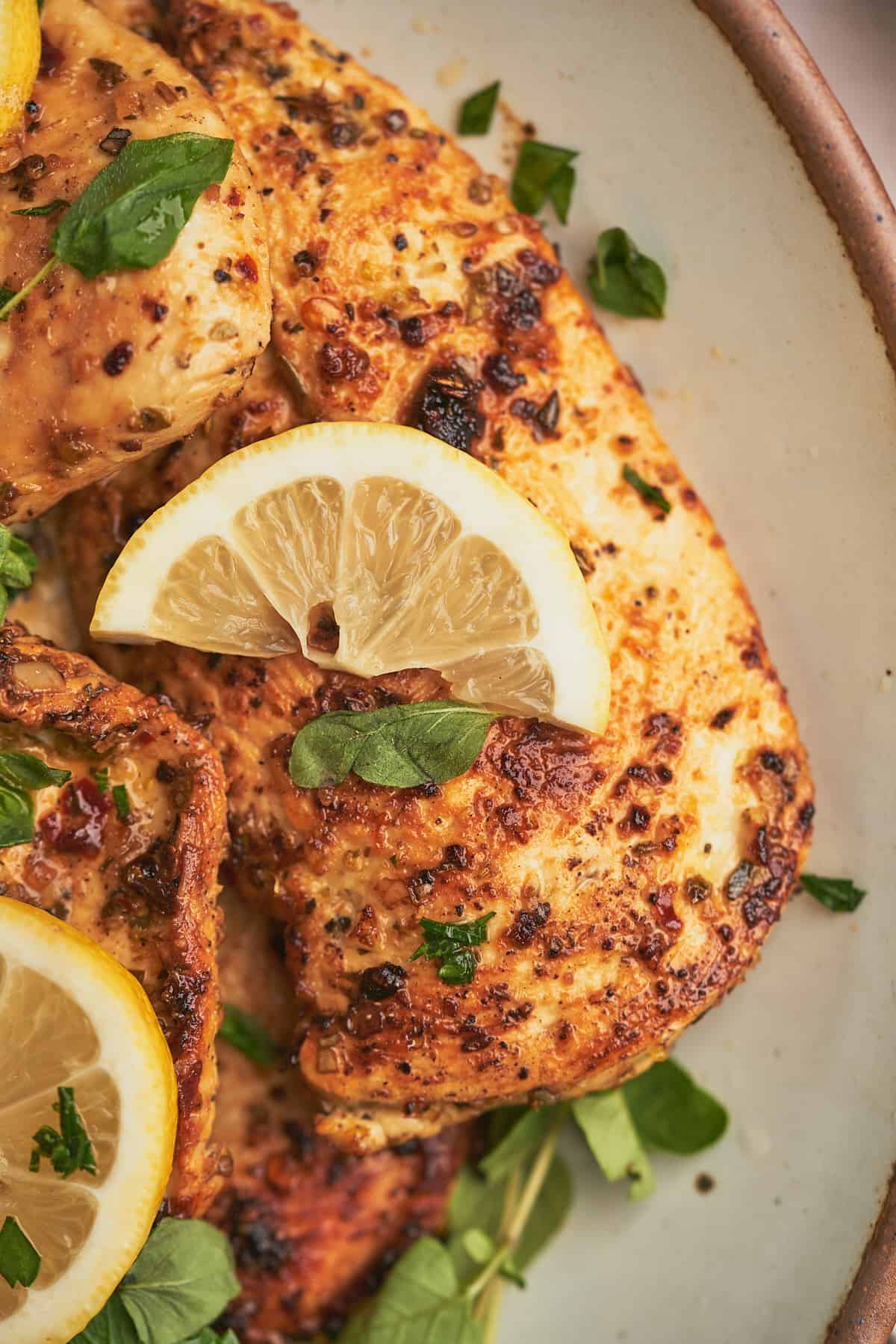 ✏️Substitutions & variations
The ingredients are pretty straightforward, but here are a few simple swaps you can make.
Dairy free - Use a dairy free or vegan butter, or just more olive oil instead.
Spicy - Love spice? Add extra red pepper flakes, or even a tablespoon of crushed Calabrian chilis (affiliate link).
Buttery- If you're looking for something extra creamy, use all butter instead of butter and olive oil.
Use other herbs - We used a little of everything in this recipe, as chicken goes well with many herbs. You could always add dried thyme, rosemary, basil, or sage!
⏲Other cooking methods
Oven baked - To bake the chicken instead, simply preheat the oven to 375°F. Bake for 20-25 minutes on a greased or parchment-lined baking sheet until the chicken reaches at least 165°F.
Air fryer - To make in the air fryer, preheat the air fryer to 375°F, and cook in a single layer, flipping halfway through for roughly 10-15 minutes. Spray your air fryer basket or trays with cooking spray if desired.
💭Frequently asked questions
Can I marinate the chicken overnight?

Yes, but with a catch. Just don't add any of the lemon juice until about 15 minutes before it's time to cook it.

In other words, you can add the olive oil, seasonings, and lemon zest, toss to combine, cover, and set in the fridge overnight. Simply add lemon juice before it's time to cook it up.

How do I know when the chicken is done?

It's really important to make sure your chicken is fully cooked before consuming it, so we highly recommend using a meat thermometer to be sure.

Chicken should always be cooked to a minimum temperature of 165°F.

If you don't have a thermometer, make sure the chicken is completely white with no pink, and when stabbed with a fork, there is a little pushback. The juices should run completely clear.
Can I use garlic powder for this recipe?

Since there are only a few basic ingredients in this recipe, we highly recommend using fresh garlic if possible.

However, you can use garlic powder if that is all you have on hand. One garlic clove is equivalent to ¼ of a teaspoon of garlic powder, so keep this in mind.
🛒Shop this recipe
⏲Equipment
Luckily, this recipe is pretty standard and you really don't need much to make it.
We love our enameled cast iron skillet, as it's super easy to clean, but you can use any skillet you'd like to bring this dish together.
If using enameled cast iron, make sure to use silicone or wooden utensils, so you don't scrape the bottom of the pan.
We use a microplane to finely zest the lemons.
As mentioned, we always recommend using an instant read meat thermometer to ensure the chicken is properly cooked.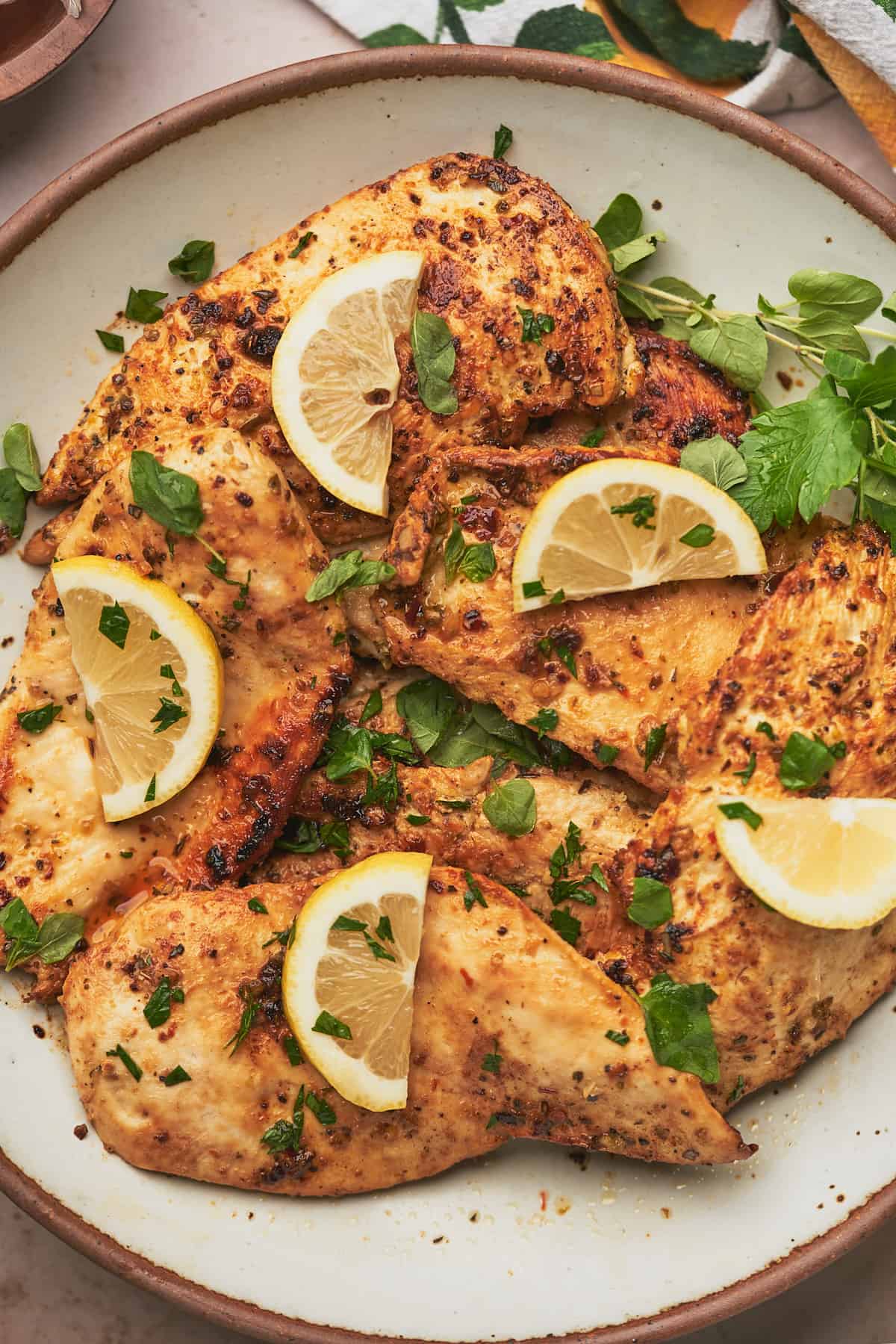 🥣Storage
Store leftovers in an airtight container in the fridge for up to 5 days.
To freeze, allow to cool off completely, before storing in an airtight container for up to 3 months. Defrost in the fridge overnight.
♨️Reheating
To reheat on the stovetop, we'd recommend adding about 1 tablespoon of water to a skillet over medium-low heat. Add the chicken breast, then cover with a tight-fitting lid, and cook until warmed through, about 3-5 minutes.
In the microwave, in a microwave-safe dish, reheat at 70% power in 20 second intervals until completely warmed through, about 1-2 minutes.
In the air fryer, reheat at 300°F until warmed through.
In the oven, place in an oven safe dish with a bit of water. Heat at 325°F until warmed through, about 8-10 minutes.
🌟Leave a review!
Make sure to leave a 5-star review below! This helps other readers find our recipes via Google, and encourages them to try them. Also be sure to leave a comment with your experience!
Take a photo and share with us by tagging us on Instagram or follow along on Pinterest for more ideas!
📖 Recipe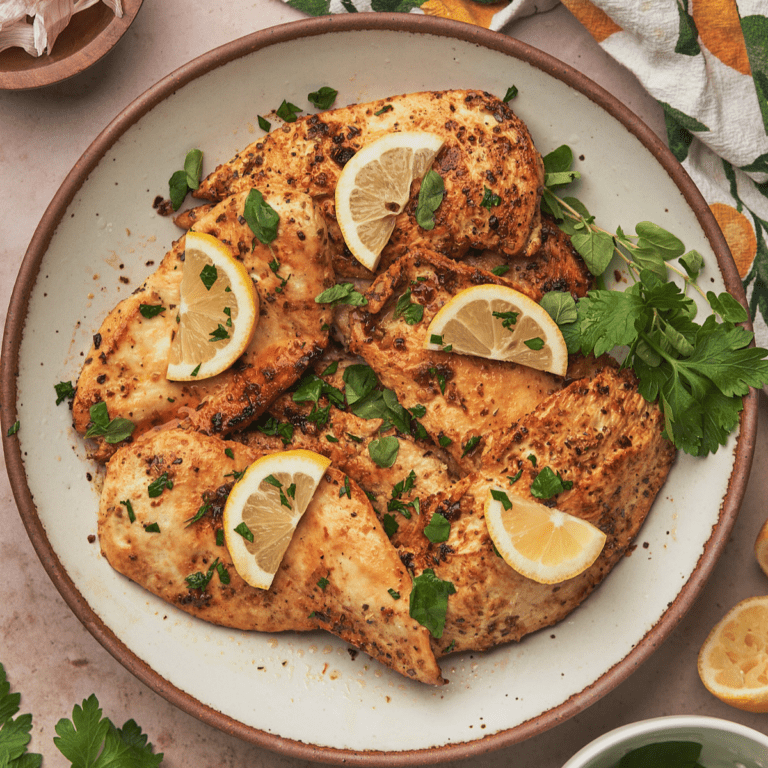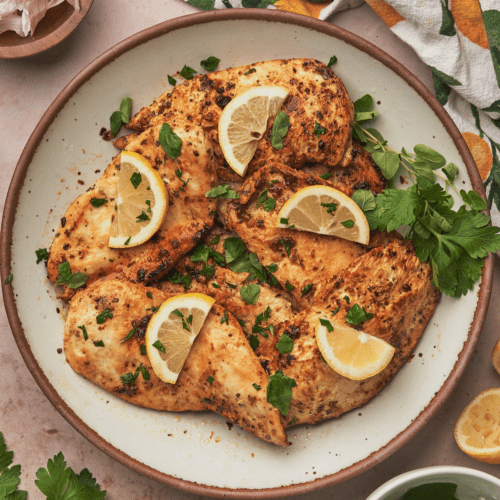 Lemon Herb Chicken
This super simple Lemon Herb Chicken is a versatile, flavorful, and easy chicken dinner! Made with staple ingredients, this yummy chicken is ready in 30 minutes or less.
Ingredients
2

pounds

chicken breasts

8

cloves

garlic, minced

3

tablespoons

olive oil, divided

2

whole

lemons, juice and zest

2

teaspoons

kosher salt

2

teaspoons

Italian seasoning

1

teaspoon

oregano

3

tablespoons

unsalted butter

½

teaspoon

red pepper flakes

(optional and to taste)

½

teaspoon

black pepper

(or to taste)

lemon slices, fresh chopped parsley and oregano for garnish
Instructions
In a large bowl, add raw chicken, about 1 tablespoon of olive oil, the lemon juice and zest, plus all of the salt and seasonings. Toss to combine and coat all sides of the chicken. Set aside for 10-15 minutes to marinate.

Meanwhile, heat a skillet over medium heat. When time to cook, melt butter in a skillet, and add chicken in a single layer. Don't overcrowd the pan, you may have to cook the chicken in batches. Cook for 4-5 minutes on each side, or until the chicken reaches at least 165°F.

Allow to rest for 5-10 minutes before cutting in. Garnish with fresh parsley, oregano, and lemon slices. Enjoy!

Store in an airtight container in the fridge for up to 5 days.
Notes
Spices can be adjusted to suit your personal preferences.
Fresh herbs are optional.
Don't marinate the chicken with lemon juice for much longer than 20 minutes, as the high acidity will cook begin to cook the chicken. 
For a full list of substitutions and variations, please visit the body of this post. 
Nutrition
Calories:
441
kcal
Carbohydrates:
3
g
Protein:
49
g
Fat:
25
g
Saturated Fat:
8
g
Polyunsaturated Fat:
2
g
Monounsaturated Fat:
12
g
Trans Fat:
0.4
g
Cholesterol:
168
mg
Sodium:
1433
mg
Potassium:
894
mg
Fiber:
1
g
Sugar:
0.2
g
Vitamin A:
432
IU
Vitamin C:
5
mg
Calcium:
52
mg
Iron:
2
mg