These Roasted Green Beans with Garlic and Lemon make the perfect easy summer side dish. Really, these green beans are delicious year round. All you need is one skillet to make this yummy low carb and keto friendly side. Start with tons of buttery garlic to coat the beans, then top it all off with some charred lemon for a simple and satisfying green bean side.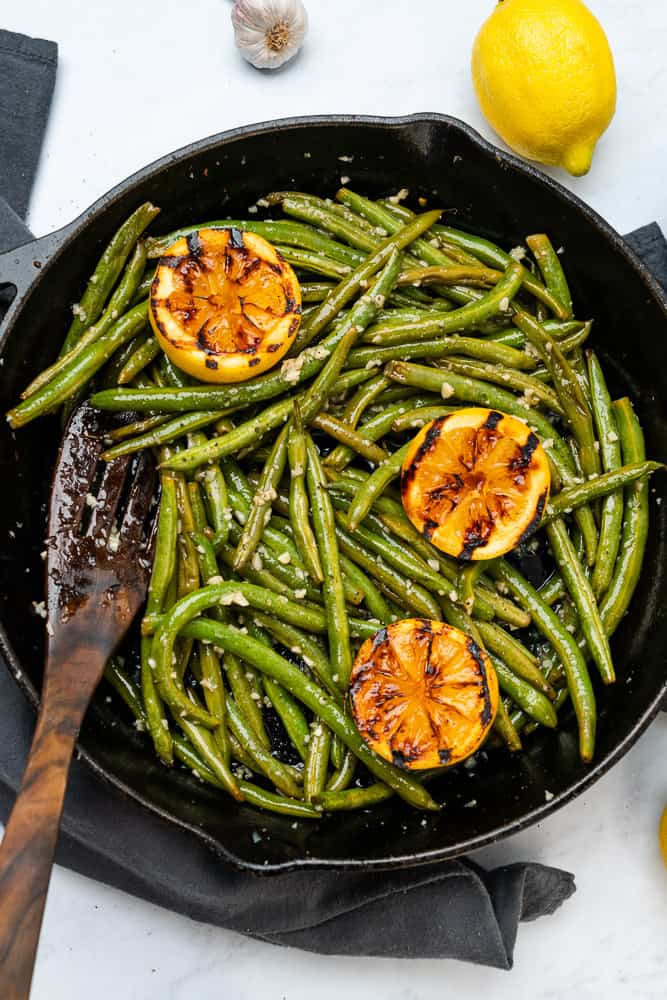 If you're looking for an easy, keto friendly side to a variety of meals, these green beans are so perfect. Plenty of butter, fresh garlic and some juice from charred lemons takes these green beans from plain, to excellent. Pop them into a cast iron skillet

Are green beans one of your favorite vegetables? If so, we're guessing you might be familiar with low carb green bean casserole like this one. It's delicious with green beans that have a little snap still left in them, a homemade creamy mushroom gravy sauce and topped off with some crispy fried onions. While delicious, we do tend to make it more during the holiday season. It's a great option if you're craving it.

We'd also like to make sure we mentioned this green bean salad with feta and lemon. Blanched green beans with salty feta and fresh lemon. It's just as easy as these roasted green beans with garlic and lemon! So there's a few different ways we make green beans on repeat, and we wanted to make sure you knew about those too.

Lastly, we'd like to mention this baked asparagus with lemon, dill and goat cheese if you're in an asparagus mood! Incredibly simple and tasty to suit whatever you're craving, or whatever is in the fridge. We love the combo of lemon and fresh herbs like dill. Add in some creamy goat cheese and this is ready in no time in one skillet.
Ingredients:​
Fresh Green Beans
Butter
Fresh Garlic
Charred Lemon Halves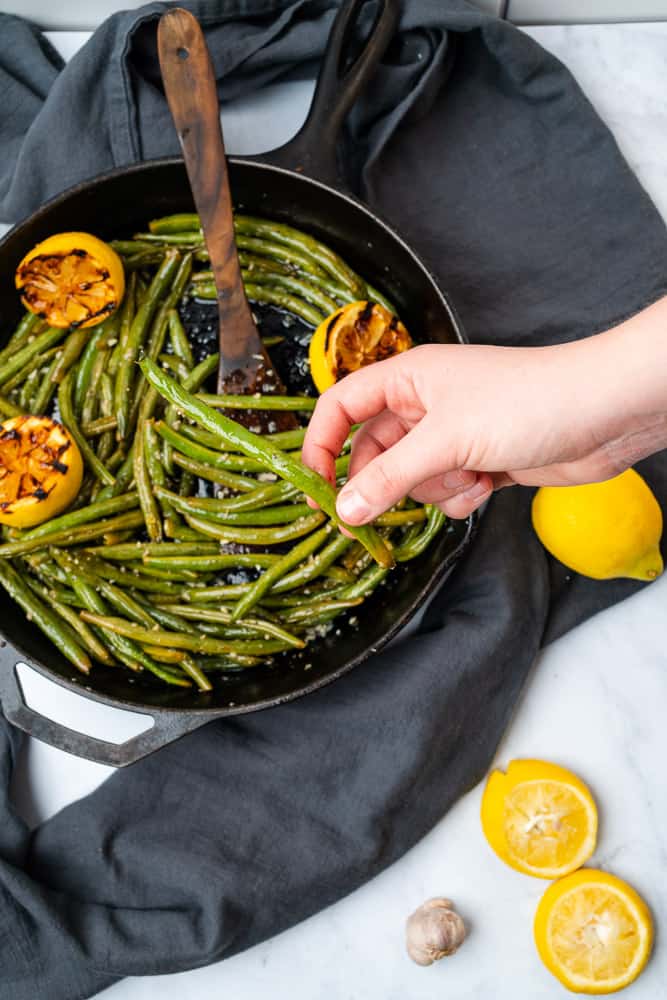 How to Make Roasted Green Beans with Garlic and Lemon:
We'd recommend roasting these green beans at a pretty high heat to make them cook quickly! We preheated our oven to 400°F, and only needed about 20 minutes until these green beans were roasted to perfection. Start by cleaning and prepping your green beans, then mincing up your garlic really fine. Get your lemon juice ready and melt your butter.

Add your cleaned green beans to your cast iron skillet. In a bowl, combine your minced garlic, salt, and the fresh lemon juice. Add to your lemon garlic butter to your beans, and combine well. Place in the oven for about 20 minutes, until your beans are cooked to your liking. Give the beans a stir about halfway thru to ensure even cooking.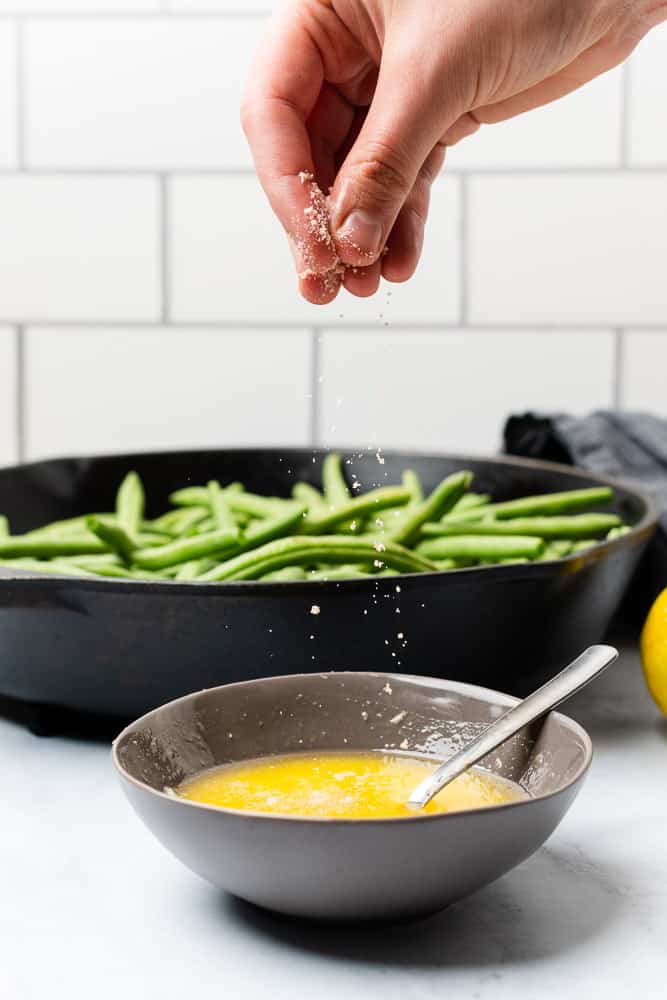 When the beans are in the oven, heat your griddle over medium heat until it's quite hot. Cut your lemons in half, and brush with some oil before adding them to your hot griddle.

Cook for 2-3 minutes until you achieve some nice grill marks, then set aside until it's time to garnish your green beans when you're finished!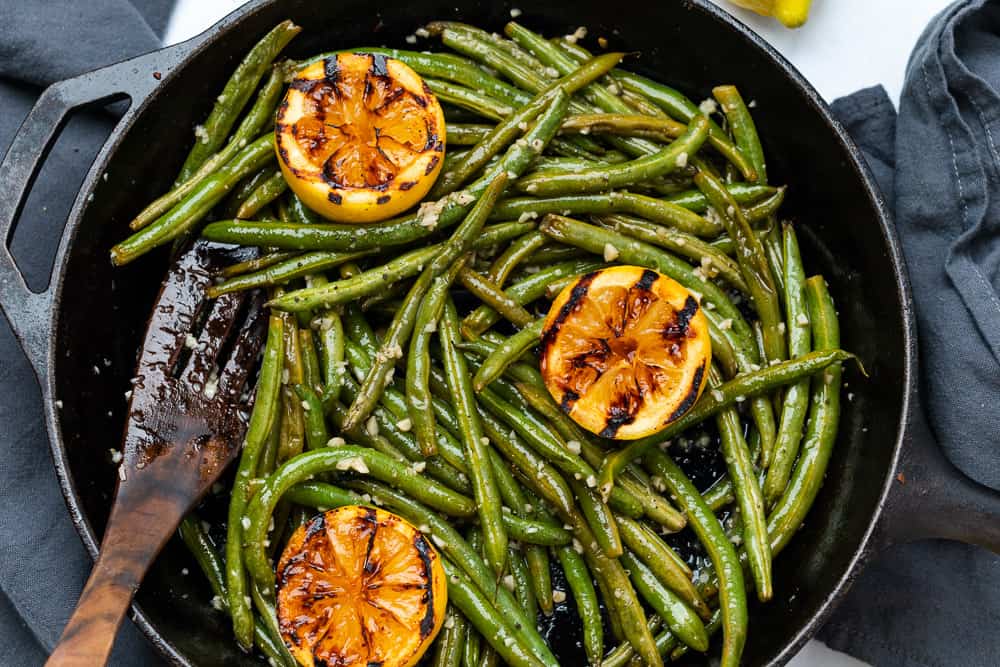 Now, simply serve and enjoy! Enjoy with this keto brown sugar bacon wrapped chicken and a healthy sugar free cherry lemonade that we served with these!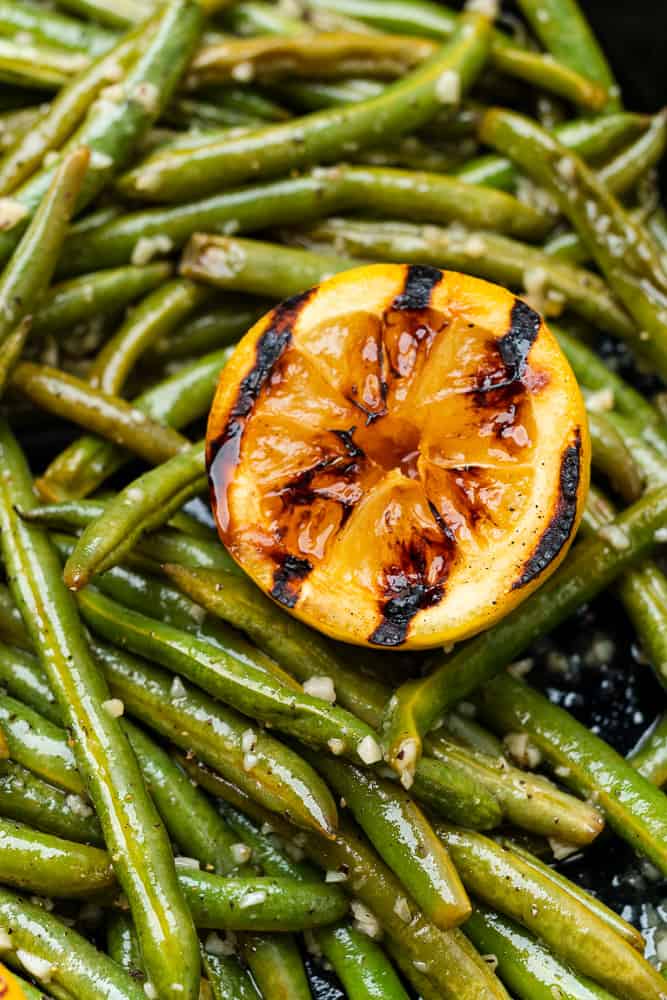 Substitutions:
Garlic- Use garlic powder for an even quicker assembly. You don't have to worry as much about the cooking time either, since garlic powder will not burn like fresh garlic.
Butter- If you are dairy free, you could easily just swap butter for olive oil or avocado oil.
What Should I Serve It With?
These roasted green beans are the perfect side dish for a variety of proteins. We love to pair these roasted green beans with garlic and lemon with our Keto Bacon Wrapped Brown Sugar Chicken, since the chicken is so sweet and rich, these green beans make the ideal light side.

This Low Carb Citrus Glazed Salmon is also a wonderful option, and the strong flavors of lemon and garlic will marry perfectly with the sweet orange citrus notes, and earthy shallots. Another great option would be these Crispy Baked Chicken Wings for a lighter side that pairs perfectly with these delicious wings.
We'd also like to suggest eating these green beans with anything BBQ related, like these Baked Ribs, Keto Maple BBQ Glazed Shrimp or this Keto BBQ Bacon Cheeseburger to balance out the rich, sweet flavors found in these meals. All three of these proteins are made with this Spicy Bourbon Homemade Sugar Free BBQ Sauce, which is a rich, sweet, spicy and flavorful homemade keto friendly BBQ sauce recipe!
How Do I Prepare These Green Beans?

To trim: Trimming green beans for this recipe is so easy. You can simply remove the tough ends or brown bits with a sharp knife, or sometimes even your fingers. Twist off the fibrous ends with your fingertips.

Roasting: Roasting these green beans is probably the easiest way to cook them, since there is so much inactive time for you to work on cleaning up the kitchen or preparing the rest of your meal. Who doesn't like more time to do something else? These green beans are roasted at quite a high heat, and. the 400°F helps this dish come together quick. We do recommend tossing the beans halfway through cooking time (about 10 minutes) and giving it a quick toss to ensure even cooking.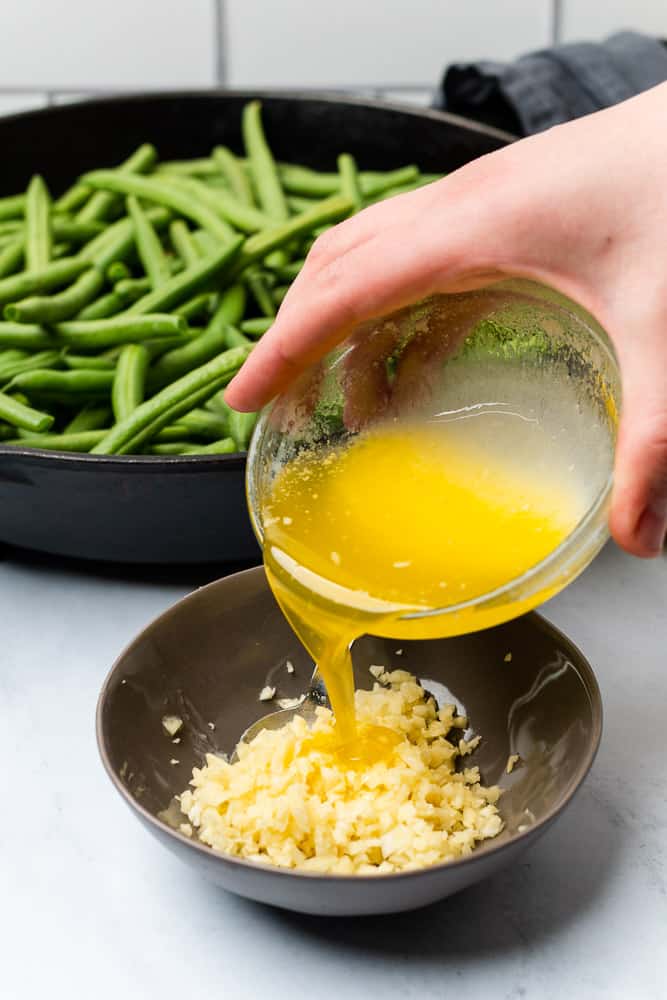 Prepping the garlic: We minced our garlic up pretty small for this application. This was an attempt to coat the roasted green beans with as much garlic as possible. Use a garlic press, a microplane, or a sharp knife to get it really small. Garlic is one of the main flavors for this simple side dish, so use as much as you prefer. We are quite enthusiastic about garlic, and used about 5 large cloves. Be warned that adding garlic adds carbs if you are concerned with that.

Butter or Oil: You could use any combination of these two fats. Sometimes a mix of both for flavor. Our recommendation would be to melt your butter beforehand so you can combine it with lemon juice, garlic and your salt prior to mixing it with your green beans. This simply ensures more even coating of the green beans.

Lemons: utilize as much lemon as you want for this! We used the juice in two ways. Some of the juice goes into your butter mixture before cooking, and the rest of the lemon juice we add later to garnish and to taste after charring the lemon juice. Adding different flavor layers is not only delicious, beautiful and fun, but it also allows you to adjust the flavor a bit so you can customize.
How and Why Should I Char the Lemons?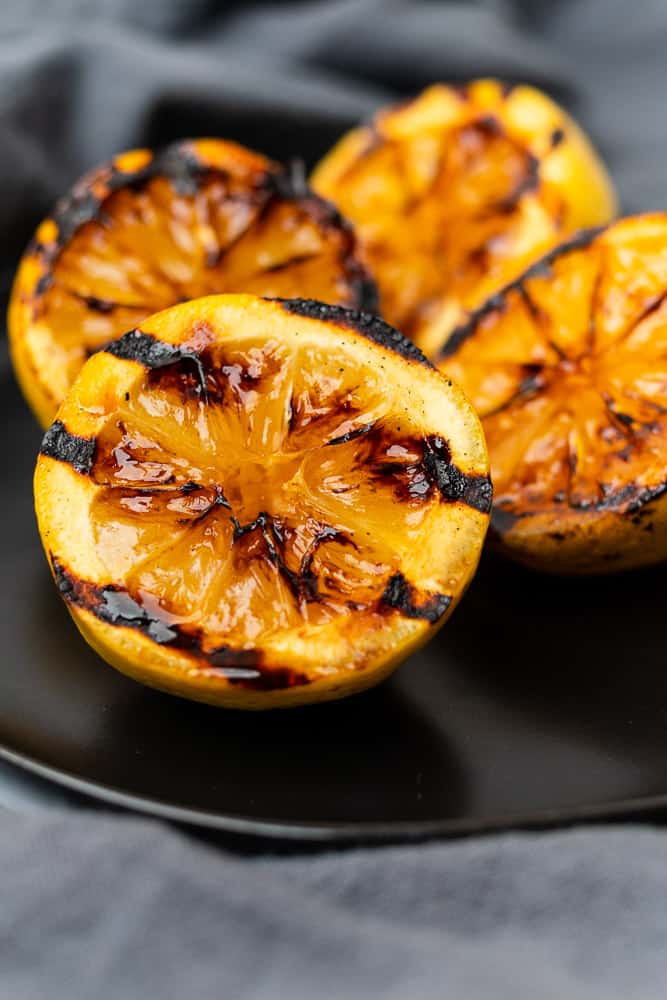 Charring lemons or grilling them is such a simple way to elevate this dish and make it look beautiful! Charring the lemons gives it an added sweetness and extra flavor, as well as helps release some of the juices, which maximizes the amount of lemon juice you can extract from the fruit. To char the lemons, you can simply heat up a cast iron griddle or grill pan over medium heat until it is quite hot.

Cut your lemons in half widthwise, and then brush the halves with some olive oil or avocado oil. We like to brush the lemon halves with oil to ensure they don't stick to your griddle pan or grill. Make sure your cast iron griddle is well oiled as well. Add your lemon halves with the fruit side down to the pan and allow it to sit for about 3-5 minutes, until there are some nice grill marks. You can re-position the lemon halves and repeat the process if you want more grill marks.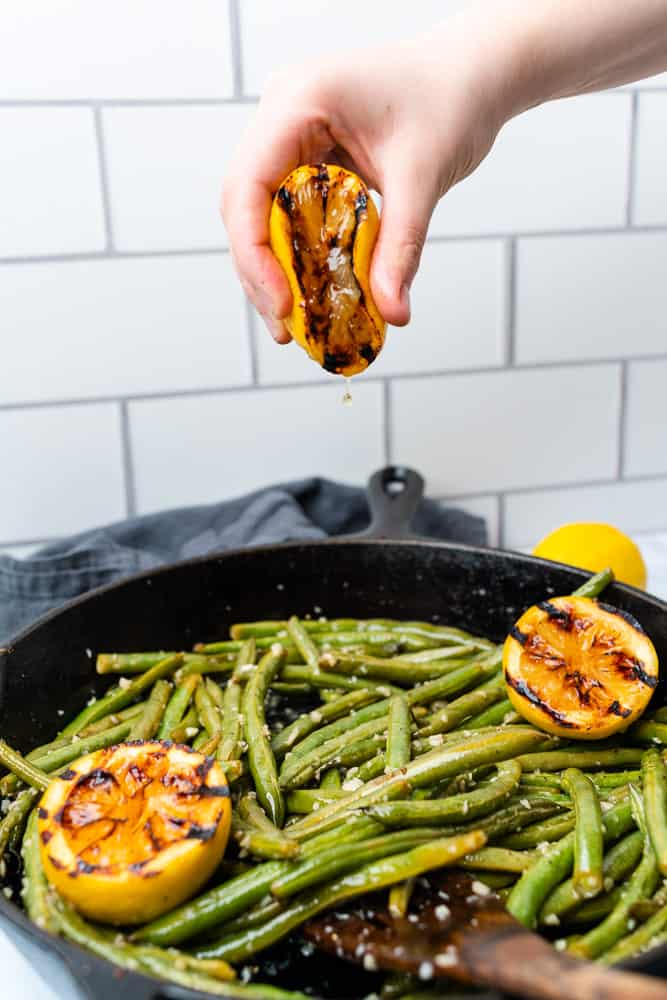 Our Other Favorite Summery Vegetable Sides and Salads: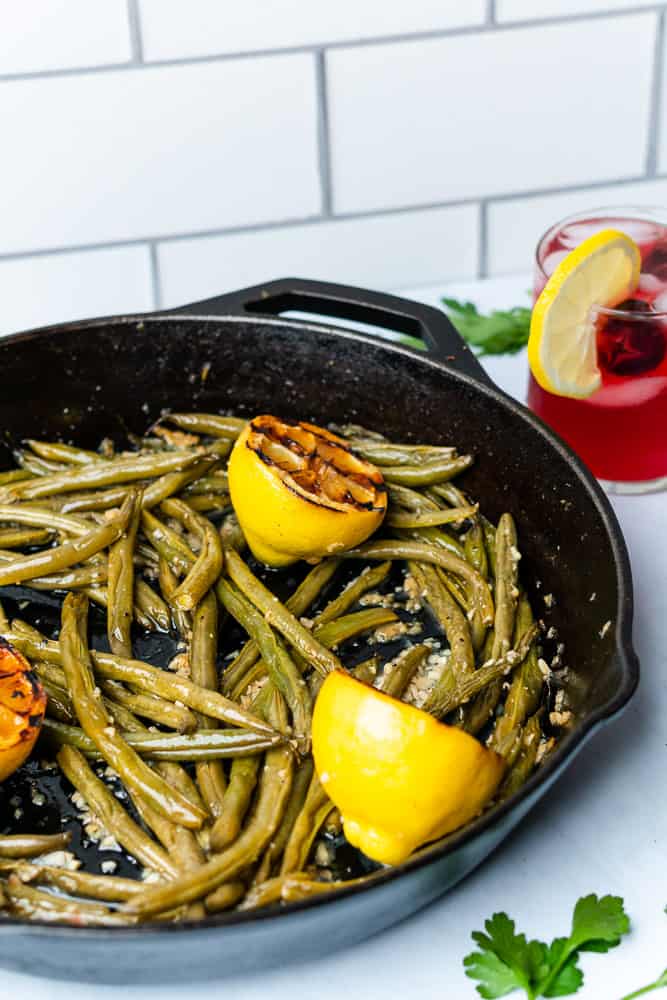 Shop This Recipe:
Want to get supplies for this Roasted Green Beans with Garlic recipe or shop our keto kitchen or pantry? We've linked our favorites above and right here in our Amazon Store! A Full Living is a participant in the Amazon Services LLC Associate program, an affiliate advertising program designed to promote a means for sites to earn advertising fees by linking products to amazon.com. We only share products we use and love. It doesn't cost you anything extra to shop using our links, but we earn a small commission that helps us keep this site going!
---
If you get a chance to try this recipe, let us know what you think, would ya?! Leave us a comment, or catch up with us on Facebook or Instagram, or pin to your favorite Pinterest board for later. We love sharing your versions of our creations over on Instagram @afullliving!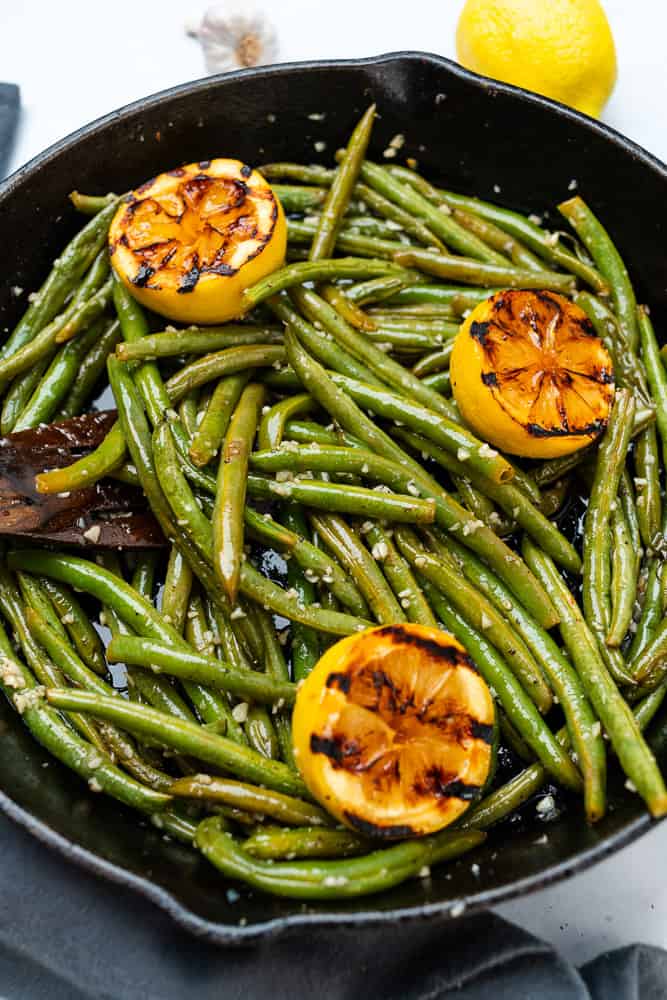 Thanks for stopping by! Be sure to subscribe to our email newsletter so you're the first to know about new recipes we post on our blog.

If you love this recipe, please consider sharing it with a friend and also leaving a rating and comment so others can find this recipe. Thank you for your support!
Until Next Time,
Briana & Chamere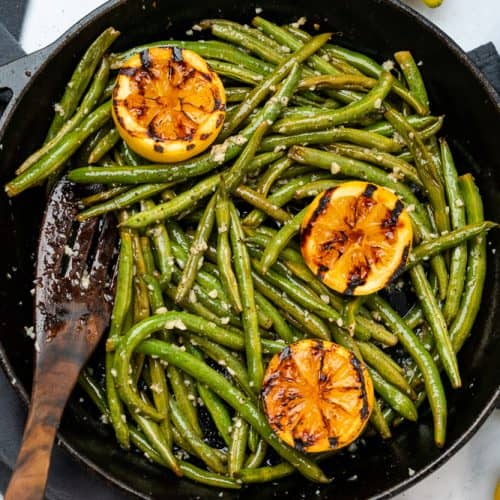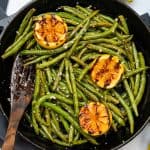 Roasted Green Beans with Garlic and Lemon
These Roasted Green Beans with Garlic and Lemon make the perfect easy summer side dish. Really, these green beans are delicious year round. All you need is one skillet to make this yummy low carb and keto friendly side. Start with tons of buttery garlic to coat the beans, then top it all off with some charred lemon for a simple and satisfying green bean side.
Print
Pin
Rate
Save
Saved!
Ingredients
1

lb

fresh green beans

5

cloves

fresh garlic

5

tablespoon

unsalted butter

2

oz

fresh lemon juice

(about 2 lemons)

1.5

teaspoon

kosher salt
Instructions
Prep the green beans by washing and trimming them. Mince the garlic, melt your butter and half your lemons. Preheat your oven to 400°F.

In a bowl, combine your melted butter, salt, juice of 1 lemon, and your garlic. Add your green beans to your skillet, and coat with the garlic lemon butter mixture. Cook for 20 minutes, stirring halfway thru to ensure even cooking.

While your beans are cooking, preheat your griddle over medium heat. Once your griddle is hot, brush your remaining lemon with some oil and add to the hot griddle to char. Allow it to sit for 2-3 minutes, until there are some nice grill marks. Set aside.

Garnish your green beans with fresh pepper, charred lemons and more salt to taste. Enjoy!
Notes
Store in the fridge in an airtight container for up to 5 days. 
Nutrition
Calories:
113
kcal
|
Carbohydrates:
7
g
|
Protein:
2
g
|
Fat:
10
g
|
Saturated Fat:
6
g
|
Trans Fat:
1
g
|
Cholesterol:
25
mg
|
Sodium:
588
mg
|
Potassium:
182
mg
|
Fiber:
2
g
|
Sugar:
3
g
|
Vitamin A:
814
IU
|
Vitamin C:
14
mg
|
Calcium:
36
mg
|
Iron:
1
mg
These nutrition facts are provided as a courtesy and are only estimates. We cannot guarantee the accuracy.
Did you love it?
If you made this recipe, make sure to show us on Instagram at @AFullLiving or tag #AFullLiving! We love to see what you guys are making!