This Homemade Chicken Pomodoro Recipe is made with fresh tomatoes, garlic, and plenty of fresh basil to create a flavorful pan sauce. Nestle in pan-seared chicken for a perfectly simple recipe. This easy recipe is ready in 30 minutes or less. Your new favorite dinner for the whole family on a busy night.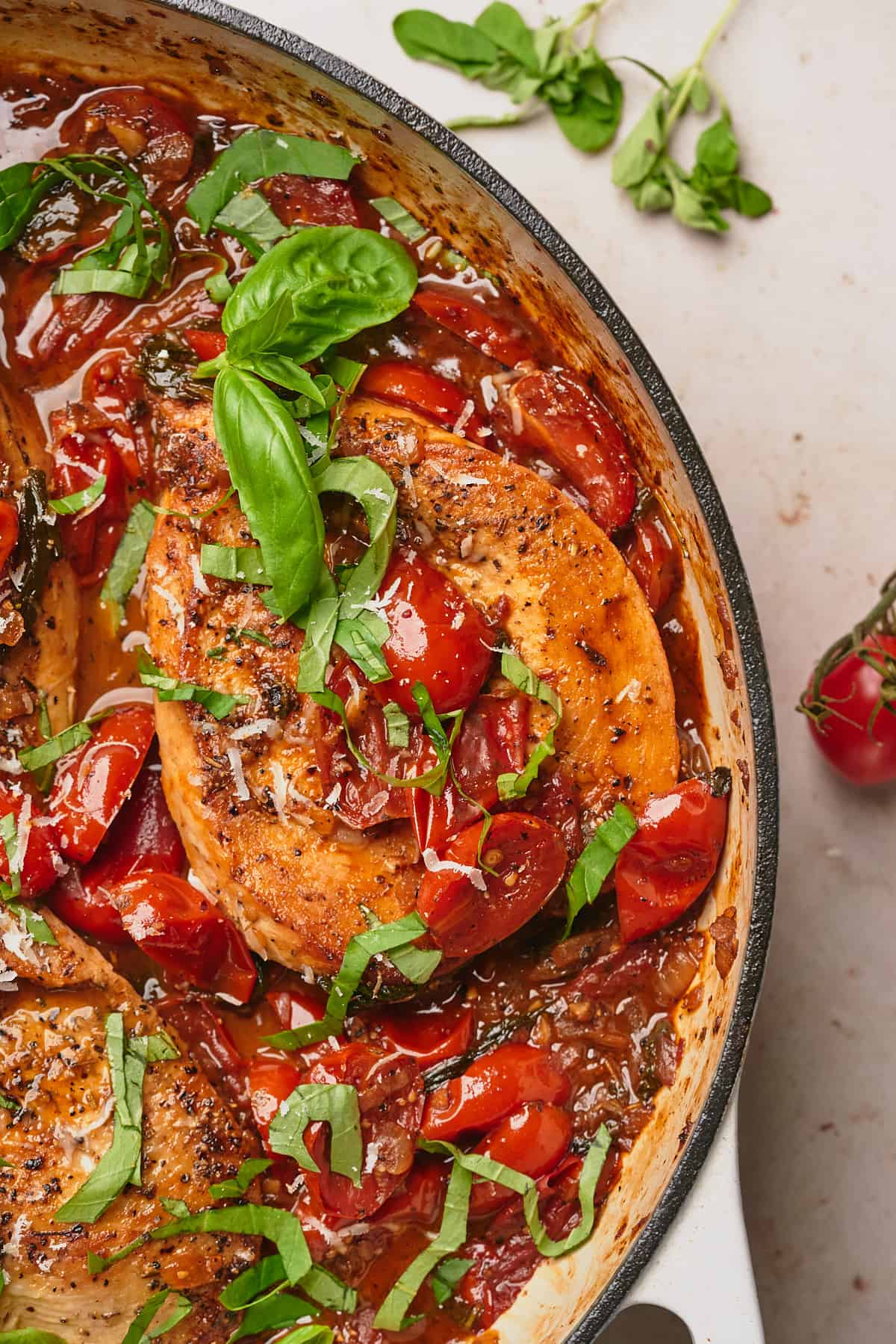 This easy weeknight dinner consists of a fresh tomato sauce made with cherry or grape tomatoes, and lots of flavor. It comes together quickly and easily and is loved by all.
Looking for more tasty chicken dinners? Make sure to check out this pepperoni pizza chicken, lemon herb chicken, or this mozzarella stuffed chicken wrapped in parma ham.
You may also like these Italian sausage stuffed peppers!
Jump to:
❤️Why we love this recipe
Simple ingredients - Made with kitchen staples, and anything you don't already have on hand can be found at any grocery store. You only need a handful of ingredients to bring the whole dish together.
Quick and easy - This dish is on the table in 30 minutes and is made all in one skillet. What more could you ask for?
Naturally gluten-free, low carb & dairy free - This recipe just so happens to be low in carbs, high in protein, naturally gluten-free, and dairy free! This diet-friendly meal is the perfect dish and is never lacking in flavor.
Great for leftovers or meal prep - This dish is simple, yet bursting with flavor, and it's easy to reheat the leftovers and enjoy throughout the week.
🍅Ingredients
Here are the ingredients we used in this dish. Please season to taste, and use what you have on hand. You can find nutrition facts and quantities in the recipe card.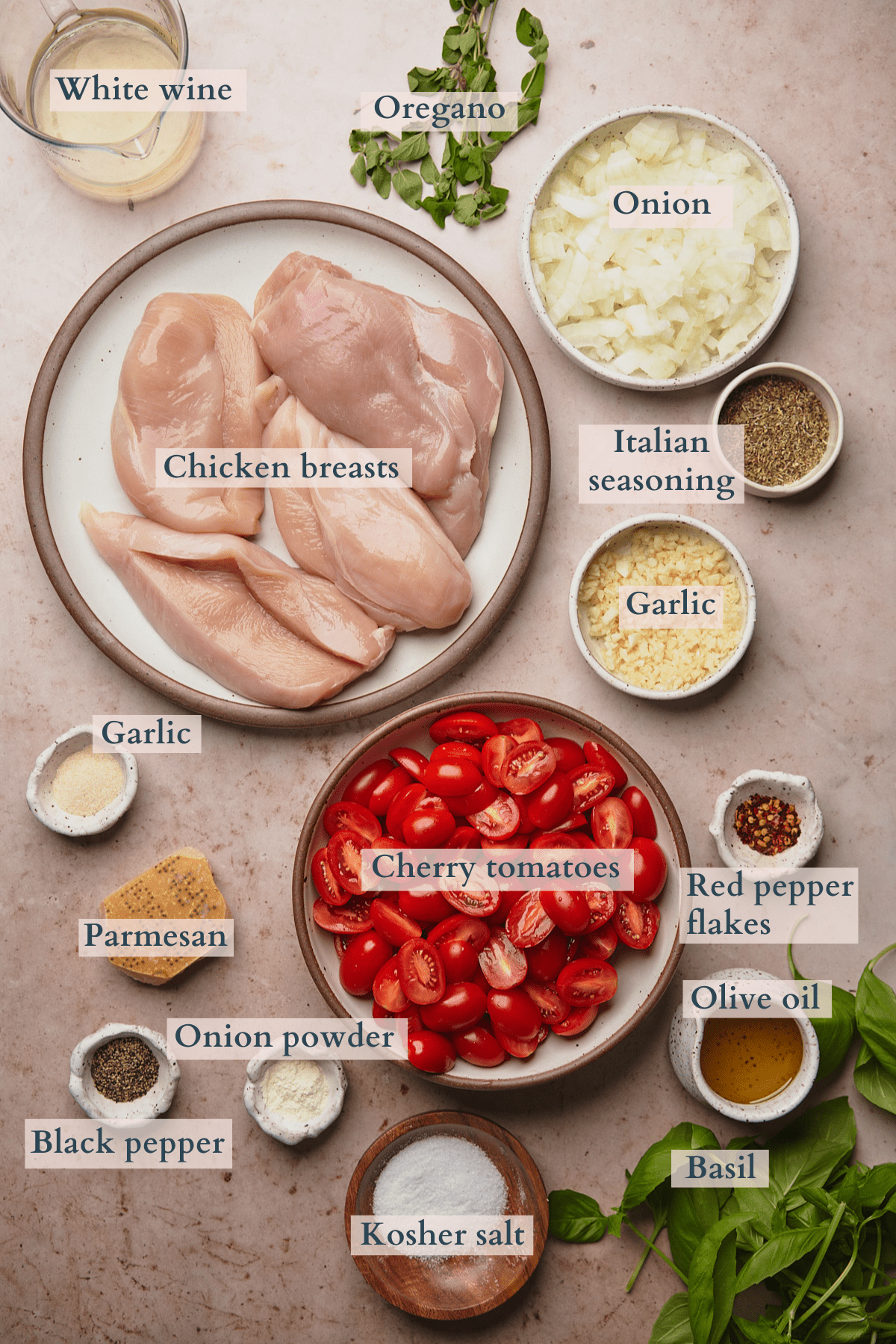 ✏️Ingredient notes
Boneless skinless chicken breasts - We prefer thin chicken breasts or chicken cutlets that cook quickly. You can of course cut the chicken breasts in half yourself. Chicken thighs can also be used.
Fresh cherry tomatoes - The main component of this dish is the homemade tomato sauce, which is made with cherry, grape, or plum tomatoes. We cut them in halves so they cook down quickly.
Extra virgin olive oil
Onion - Diced.
Fresh garlic cloves - Finely minced.
Kosher salt and black pepper
Italian seasoning, garlic powder, and onion powder - To season the chicken.
Red pepper flakes - Optional, for a little kick of spice.
Fresh basil - A key component of the flavor!
White wine - Chicken broth can also be used to deglaze the pan and start the pomodoro sauce.
Parmesan cheese - Completely optional, but we like to garnish our dish with freshly grated parmesan. Skip this if dairy free, the original dish doesn't call for it anyway.
📖Instructions
📋Prep work
Dice onion.
Mince garlic.
Halve the tomatoes.
Preheat a large skillet over medium-high heat.
Step 1 - Sear the chicken
Season the chicken really well on all sides with Italian seasoning, black pepper, onion powder, and garlic powder, plus about 2 teaspoons of salt. Add a drizzle of olive oil, then add in the chicken. You may need to cook in batches to avoid overcrowding the pan.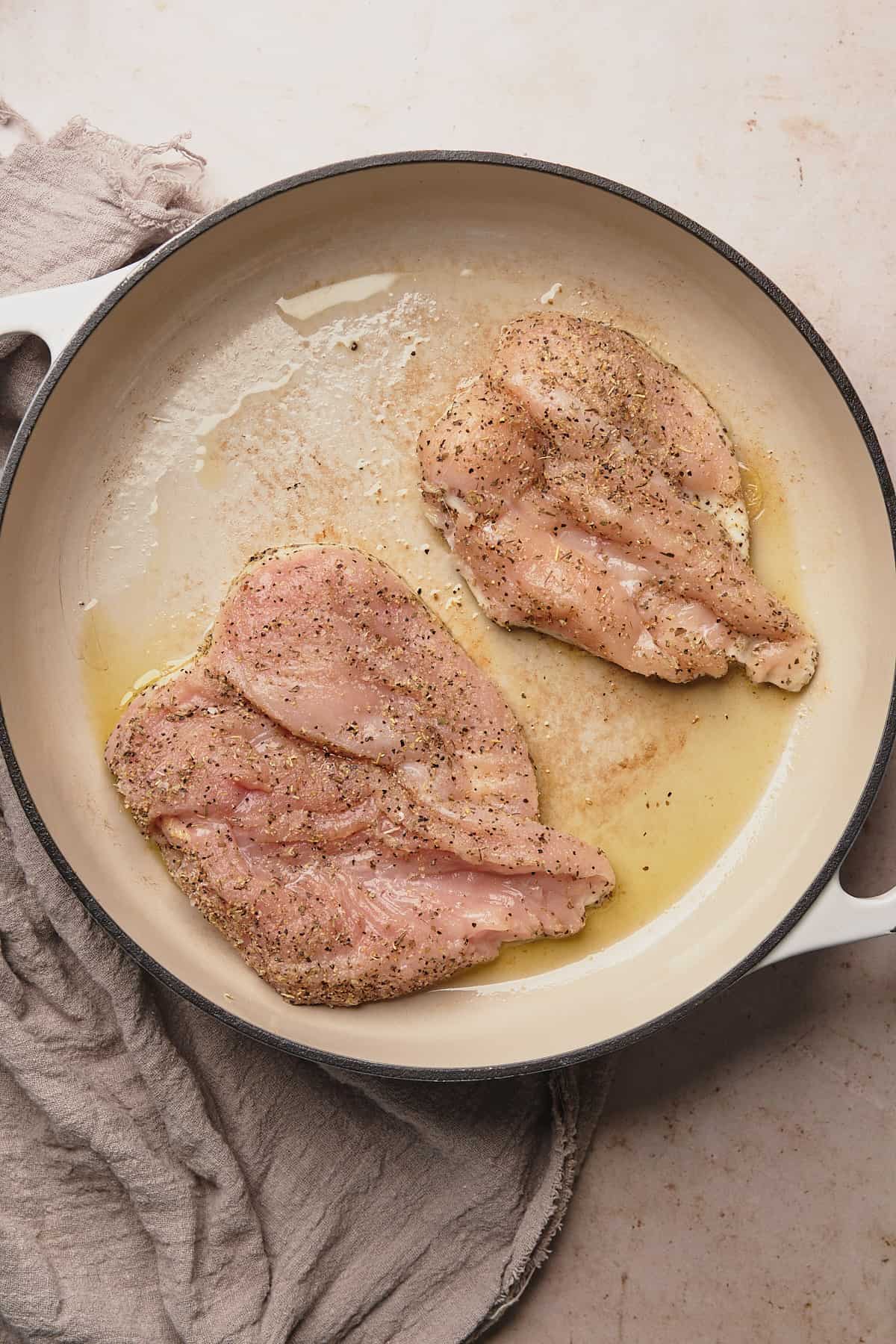 Cook until the chicken is golden brown on both sides and cooked all the way through, until it reaches an internal temperature of at least 165°F, about 4-5 minutes per side depending on the thickness of the chicken. Remove from the skillet and set aside.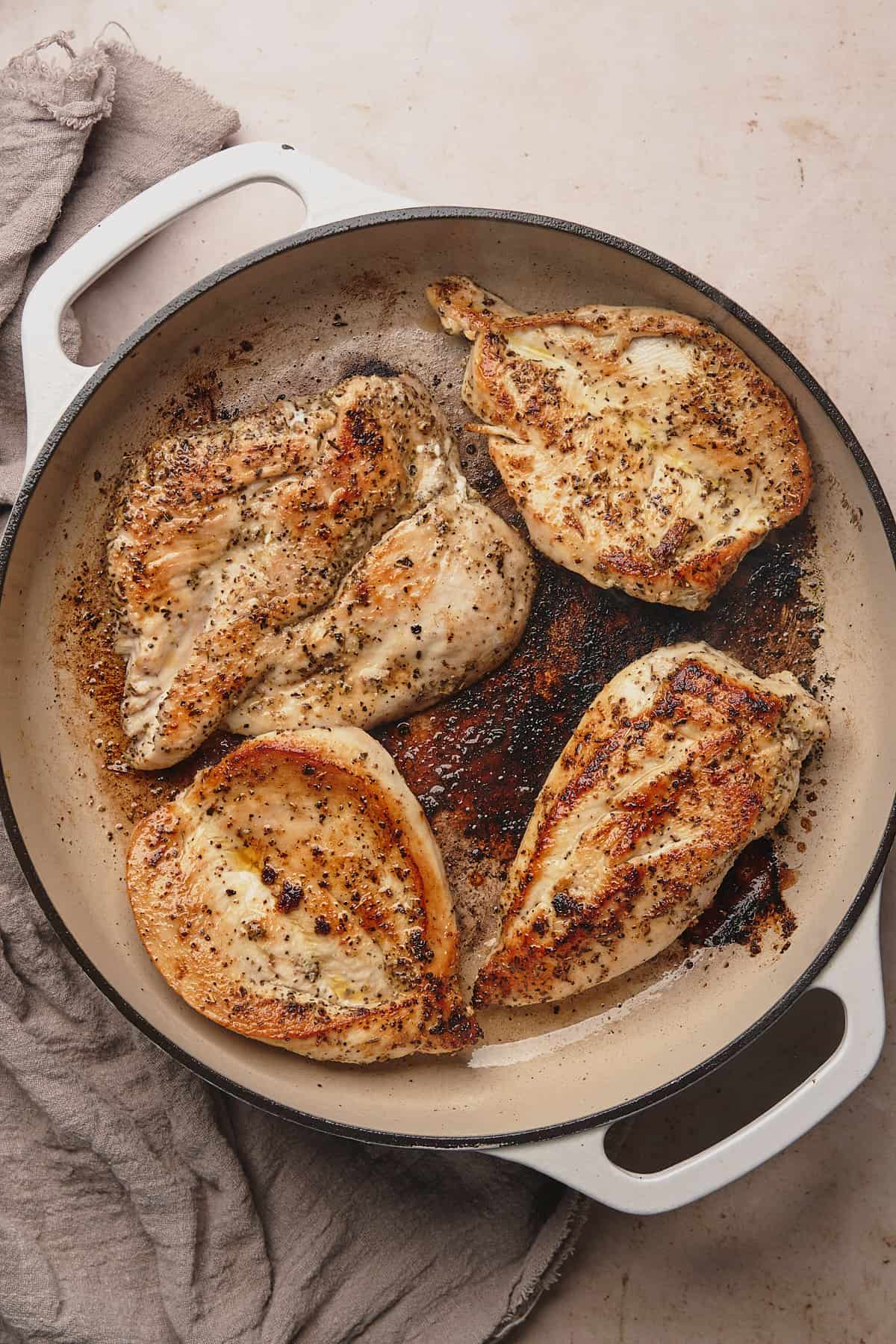 Step 2 - Sauté onion and garlic
Reduce to medium heat, and add more olive oil, onions, garlic, optional red pepper flakes, and a pinch of salt. Cook until softened and translucent, about 5-7 minutes, scraping the bottom of the pan with a wooden spoon to get any brown bits and prevent garlic from burning.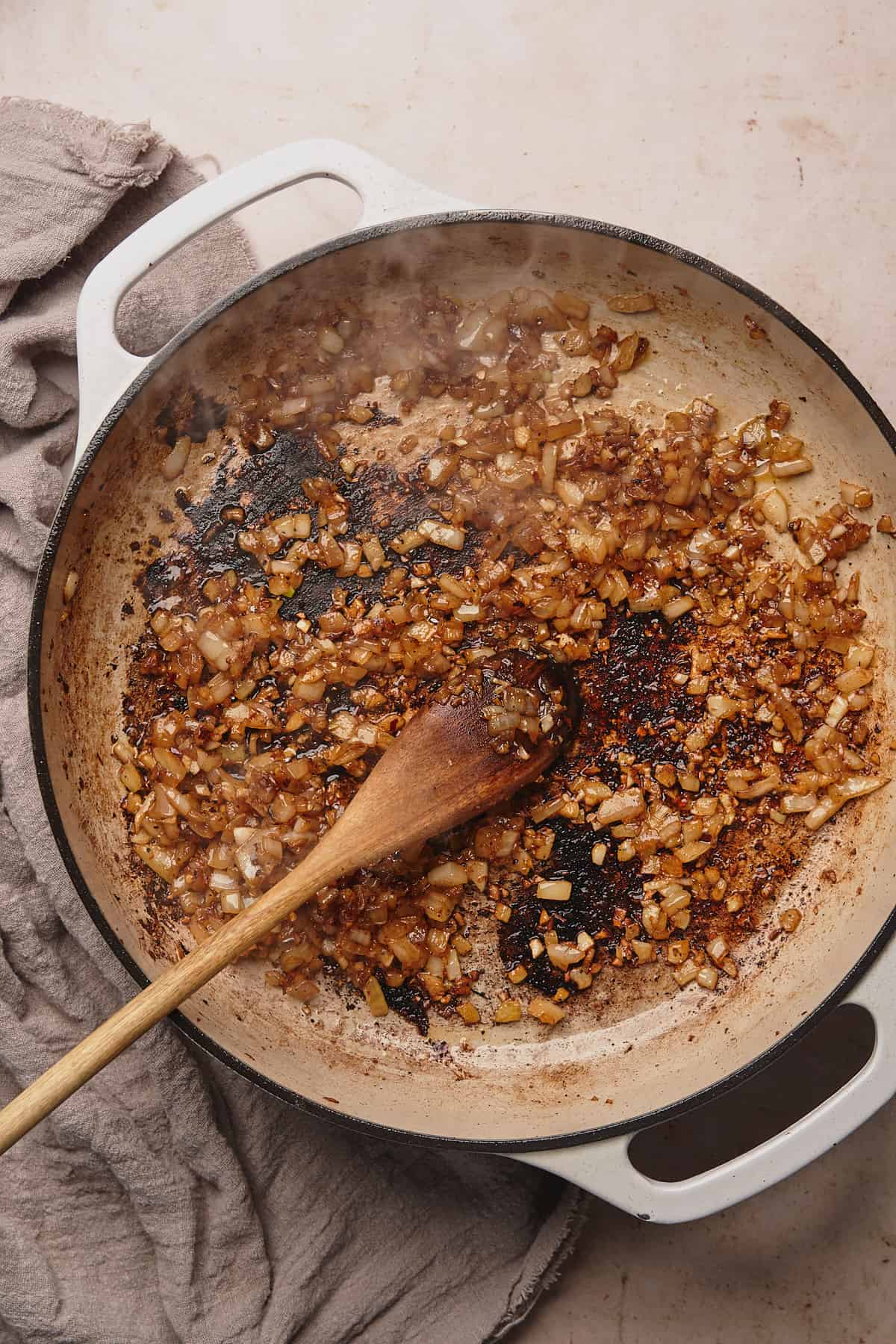 Step 3 - Finish the tomato sauce
Now, add in the tomatoes, white wine, and basil with more salt. Continue scraping the bottom of the pan to lift any brown bits.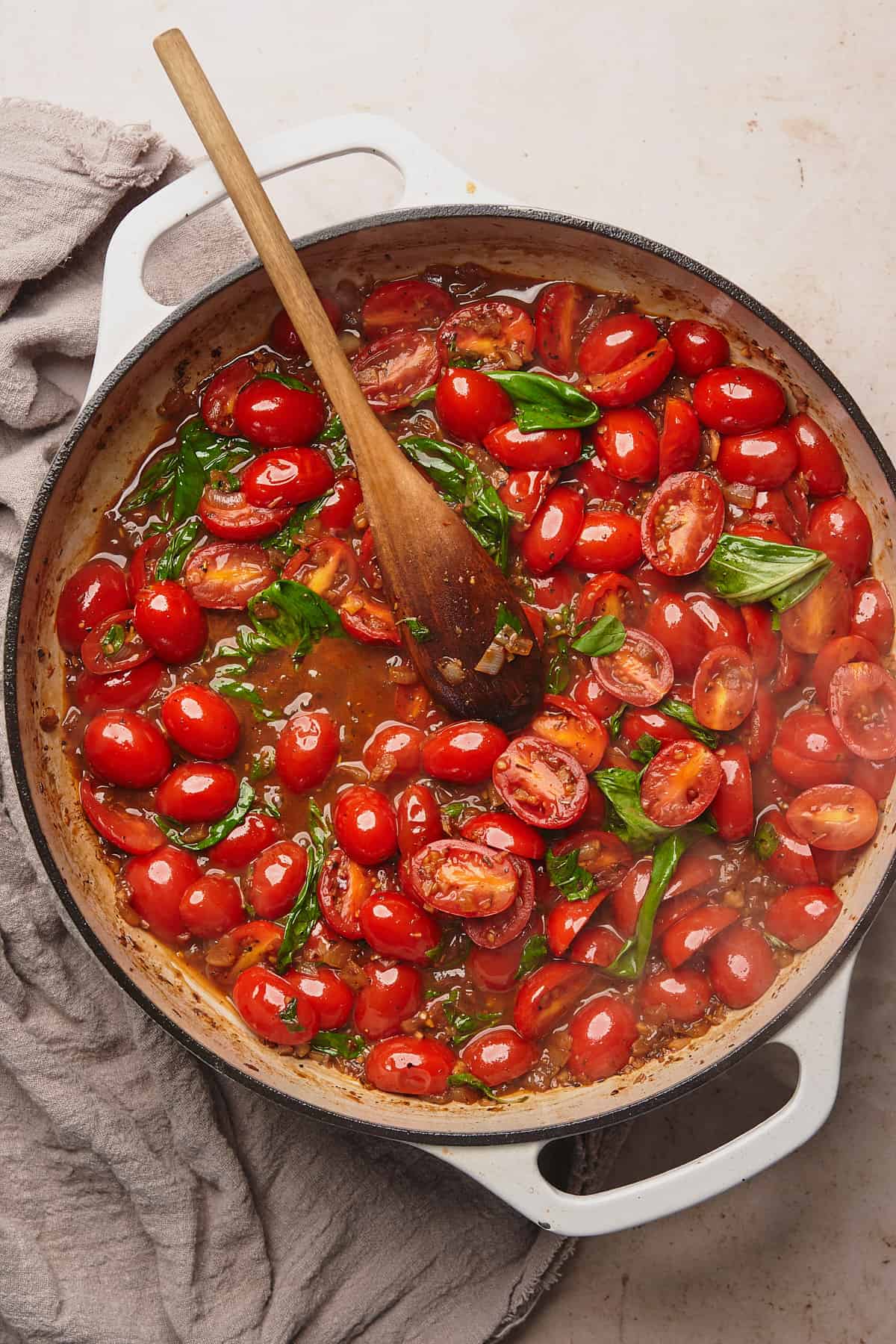 Simmer the tomato mixture for 5-7 minutes, until they have begun to soften and release their juices.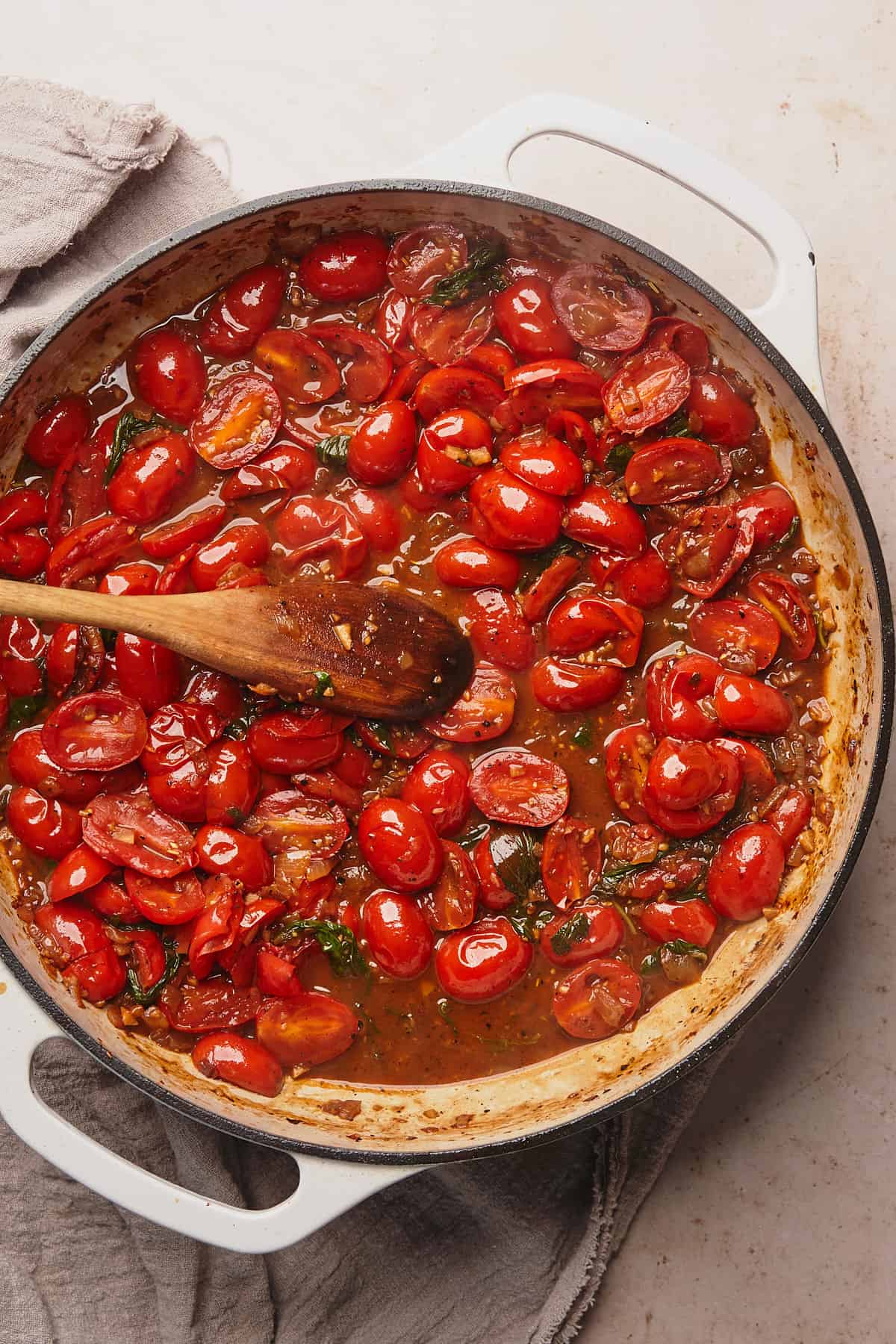 Step 4 - Add the chicken back
Now, add back the cooked chicken to the skillet. Cover, and simmer for 3-5 minutes to warm the chicken through.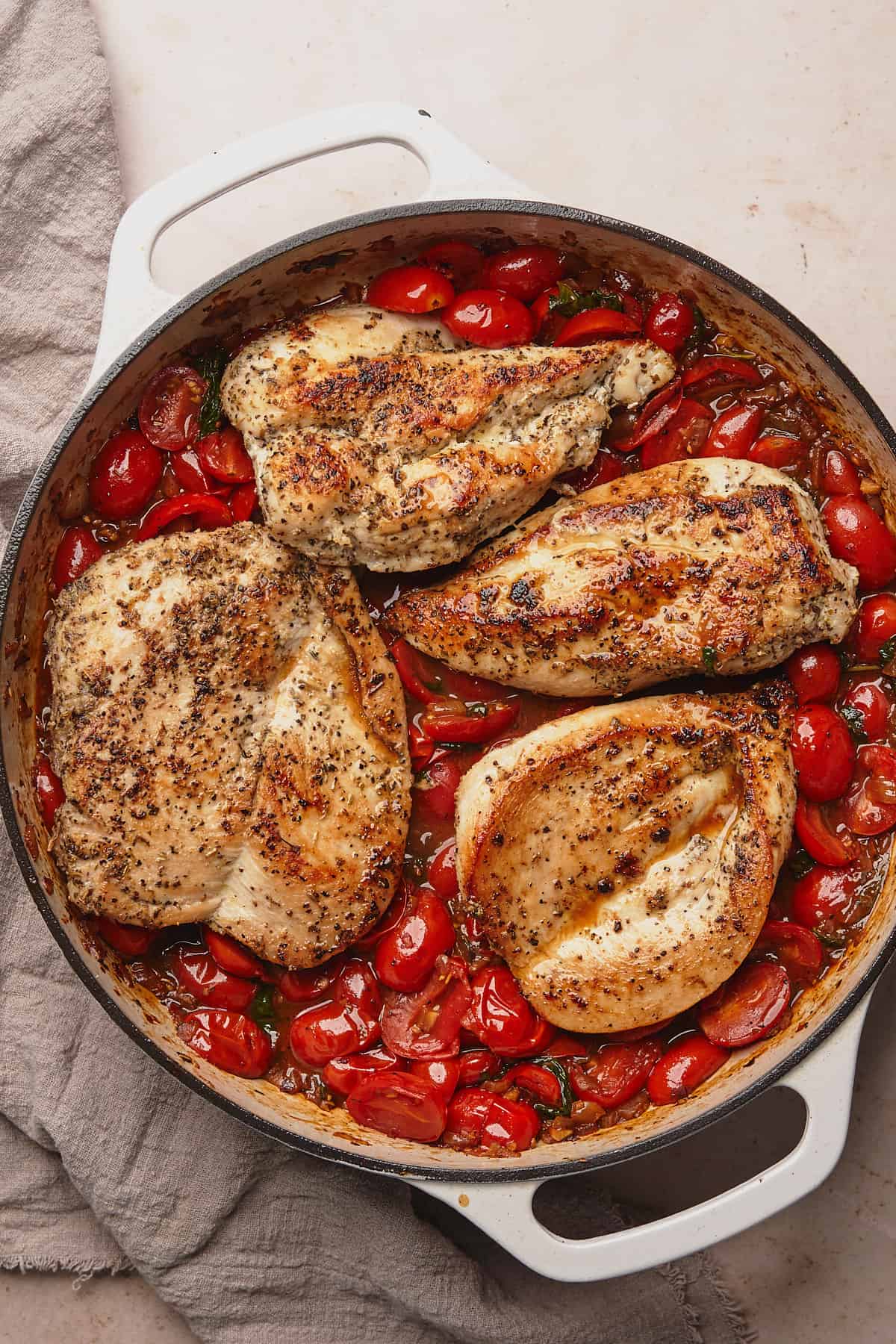 Step 5 - Finish it off
Garnish with more fresh basil and freshly grated parmesan cheese if desired.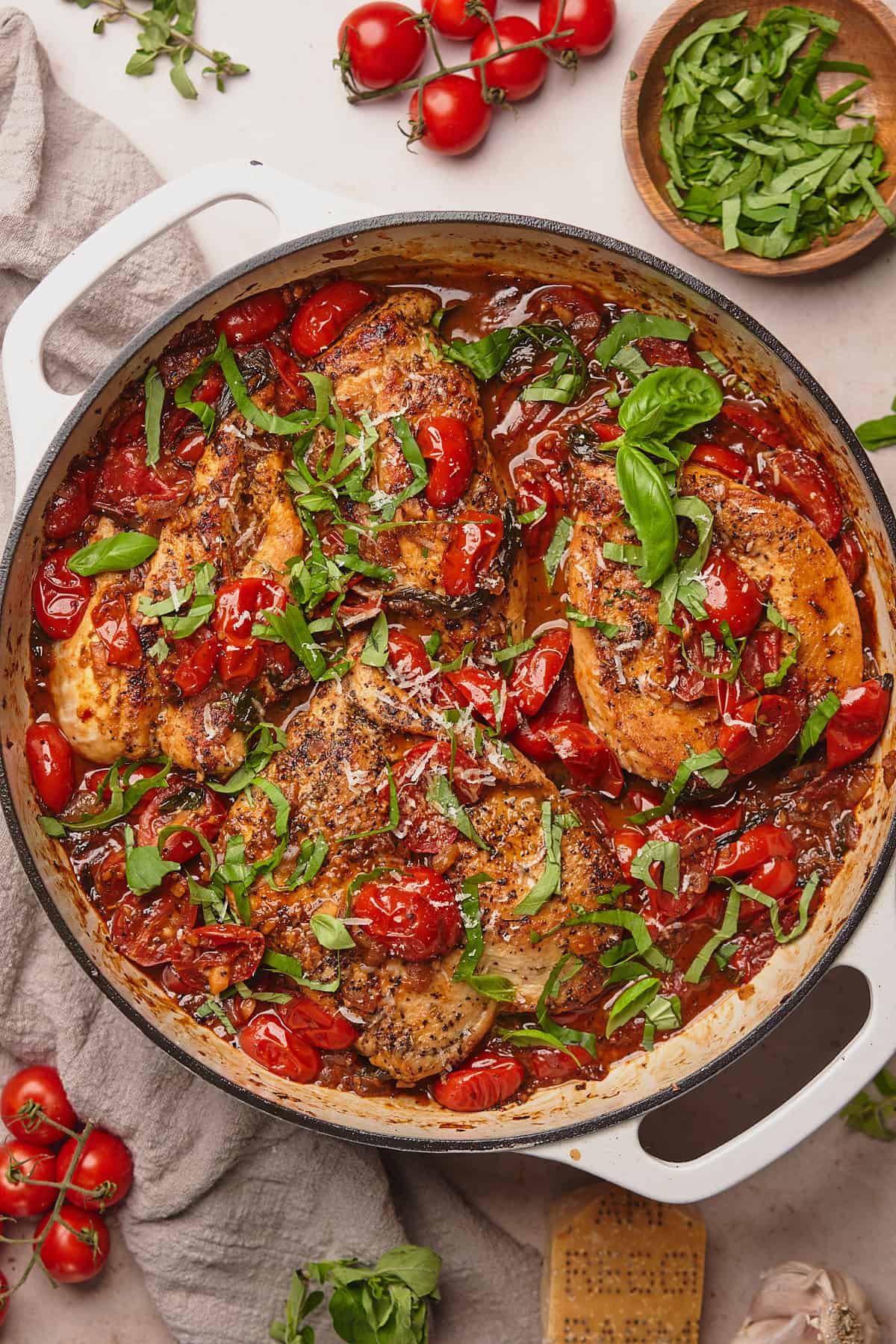 Step 6 - Serve and enjoy
Serve with fresh parmesan and basil if you like. Enjoy!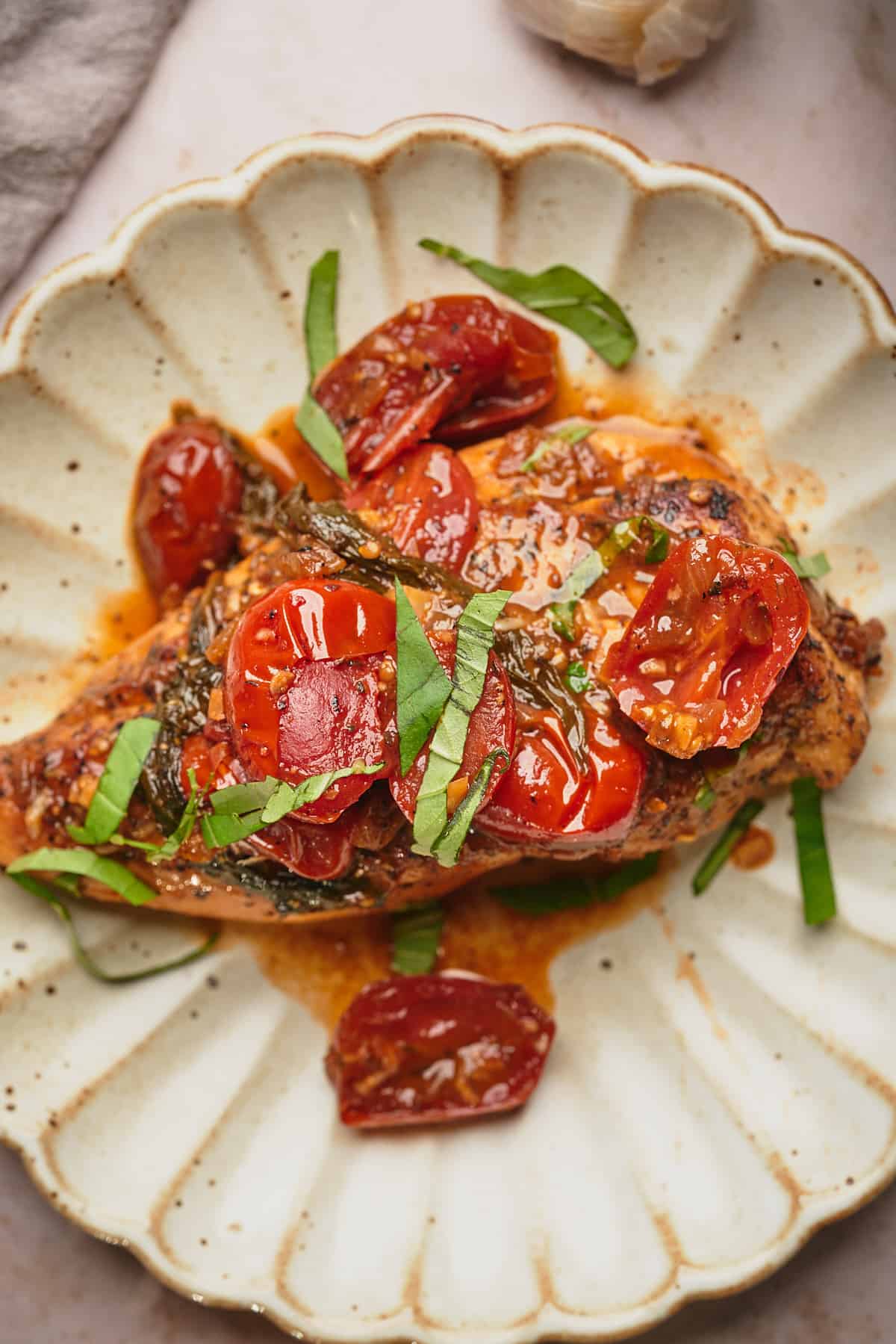 ✨Tips & tricks
Use fresh, high quality ingredients. Whenever possible, use the freshest ingredients you can find! Since there are so few ingredients in this recipe, we like to make them all count.
For a smoother sauce, cook the tomatoes 5-10 minutes longer so there are fewer tomato chunks in the sauce. You can add more wine or broth to the sauce to make it thinner as well. You could also cut the tomatoes into smaller pieces before cooking them down, to encourage them to break down faster.
Don't overcook the chicken. Once the chicken reaches 165°F, remove it from the skillet. This will help ensure the chicken stays juicy and doesn't dry out.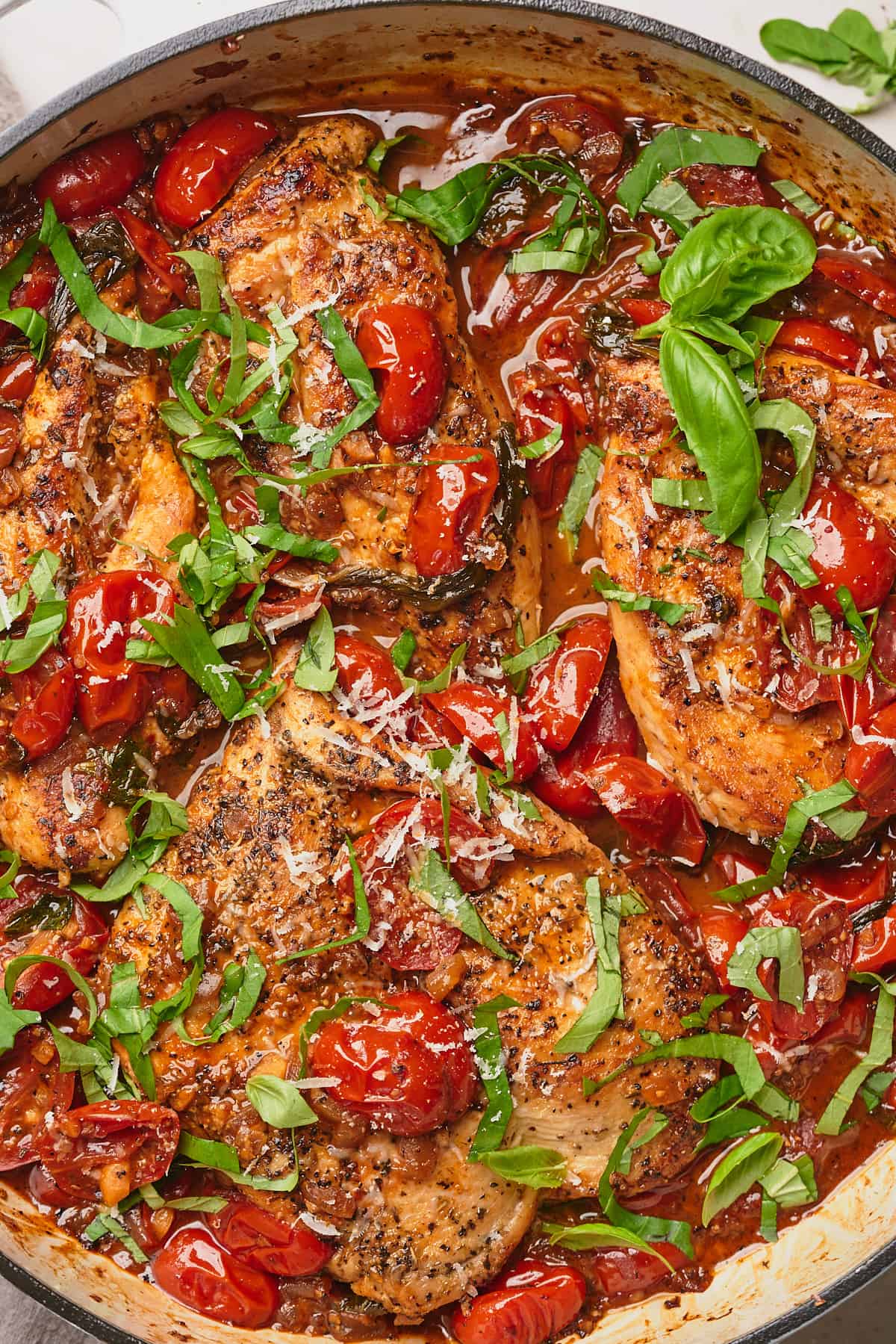 ✏️Substitutions & variations
The ingredients are pretty straightforward, but here are a few simple swaps you can make.
Dairy free - Since this recipe is naturally dairy free (and we just add parmesan cuz we love it) you don't really have to do anything different, except for omit the optional parmesan at the end.
Swap chicken breasts for chicken thighs. You can use either or based on what you have on hand or what you prefer.
Spicy - Love spice? Add extra red pepper flakes, or even a tablespoon of crushed Calabrian chilis (affiliate link).
Add more veggies - Vegetables like bell peppers or zucchini would go great with this mixture.
More herbs - You can always add more herbs. We add fresh oregano, and sometimes parsley, thyme, or rosemary.
Lemon - Add fresh lemon juice and/or zest for a lemony twist!
Swap wine for chicken broth - These are a 1:1 swap. You can also use water if that's all you have, though the first two options will help this dish develop better flavor.
Add sweetness - If your tomatoes are a little on the sweet side, you can add about 1 teaspoon of your favorite sweetener (we love Swerve granular sugar replacement) to help balance out the acidity.
💭Frequently asked questions
What is pomodoro?

Pomodoro sauce is a classic Italian dish bursting with fresh tomato flavor. It's made from fresh tomatoes, garlic, olive oil, and fresh basil.

Pomodoro in Italian means "golden apple". Traditionally, this sauce is made with slightly yellow tomatoes, which resemble apples grown in the area.

Pomodoro sauce can be enjoyed on its own with pasta, or with other additions. We added chicken to make it a whole meal because it pairs perfectly with these flavors.
Can I use canned tomatoes?

Fresh, cherry tomatoes are best for this recipe, but if you only have canned tomatoes on hand, you can use those instead.

We'd recommend something with really amazing flavor, like these San Marzano tomatoes. At a lower price point but nearly comparable quality, we love these Cento tomatoes.
🍝Serving suggestions
⏲Equipment
Luckily, this recipe is pretty standard and you really don't need much to make it.
We love our enameled cast iron skillet, as it's super easy to clean, but you can use any skillet you'd like to bring this dish together.
If using enameled cast iron, make sure to use silicone or wooden utensils, so you don't scrape the bottom of the pan.
We use a microplane to finely grate the parmesan cheese, if using.
This self sharpening knife set has been such an amazing addition to our kitchen! Sharp knives are key!
🛒Shop this recipe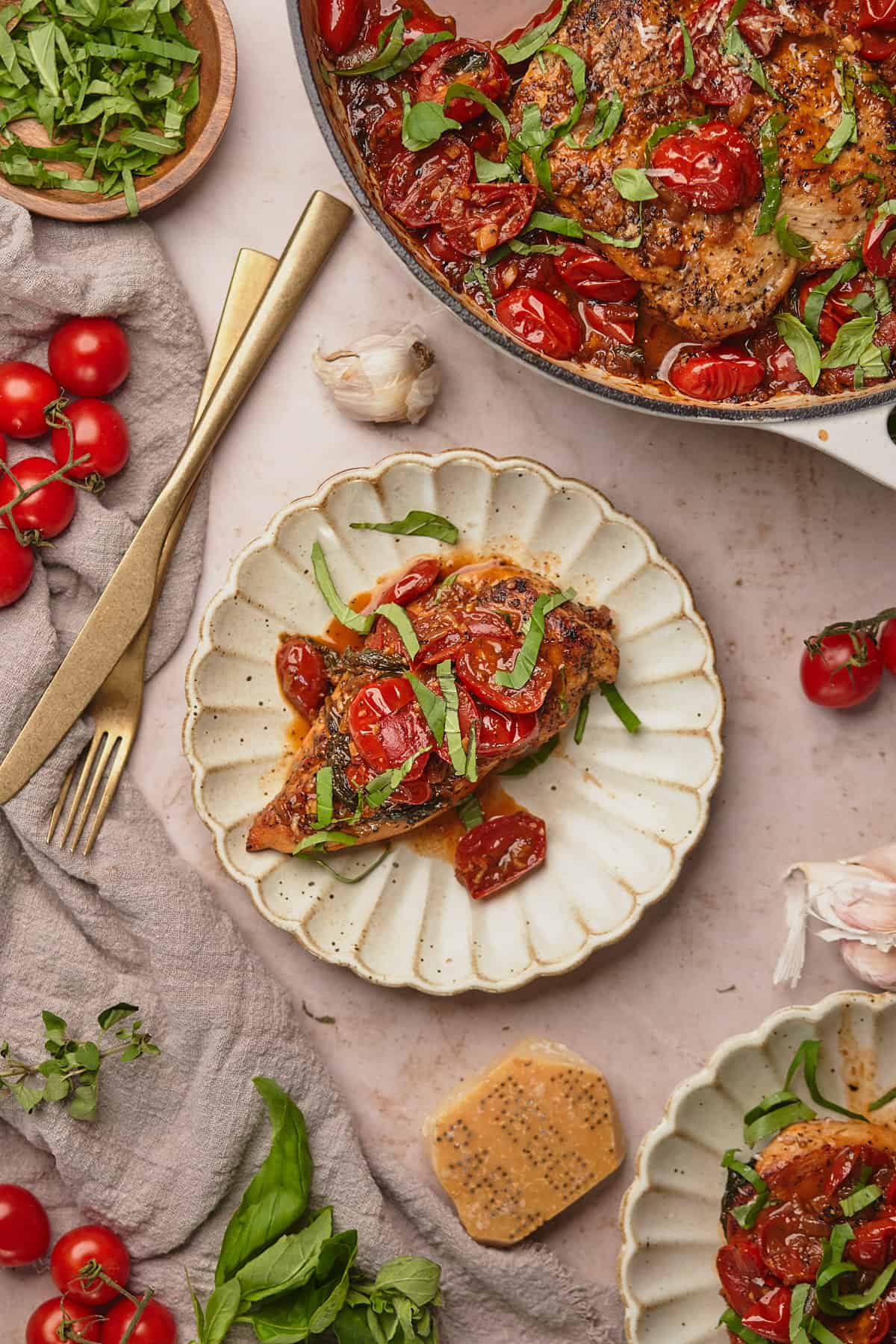 🥣Storage & reheating
This dish saves really well, so it's great to make a big batch and then reheat it throughout the week. Keep in an airtight container in the fridge for up to 5 days.
To reheat on the stovetop, set the heat to medium-low, add a bit more liquid to the skillet, add in the chicken and Pomodoro sauce, and cover until heated through. This should take about 5-7 minutes.
In the microwave, heat until warmed through, this should take about 1-2 minutes.
In the air fryer or oven, add to a heat-safe dish. Heat in the air fryer or oven to 350°F, and heat the chicken until warmed through. This will take about 15 minutes in the oven, and about 5 minutes in the air fryer.
🌟Leave a review!
Make sure to leave a 5-star review below! This helps other readers find our recipes via Google, and encourages them to try them. Also be sure to leave a comment with your experience!
Take a photo and share with us by tagging us on Instagram or follow along on Pinterest for more ideas!
📖 Recipe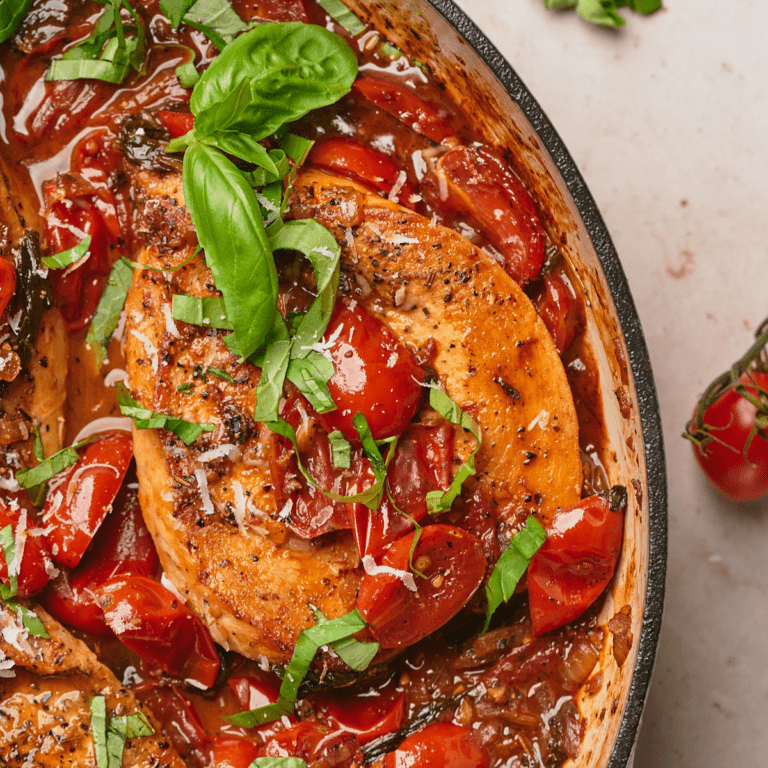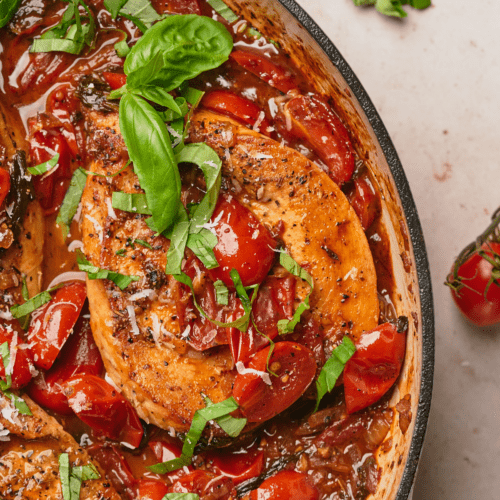 Chicken Pomodoro
This quick and easy Chicken Pomodoro is bursting with tomato and basil flavor. Simple ingredients, with big flavors, ready in one skillet!
Ingredients
For the chicken:
2

pounds

chicken breast cutlets

(about 4-6 pieces)

1

tablespoon

olive oil

2

teaspoons

kosher salt

1

teaspoon

Italian seasoning

1

teaspoon

onion powder

1

teaspoon

garlic powder

½

teaspoon

black pepper
For the sauce:
3

tablespoons

olive oil

1

large

yellow onion, chopped

8

cloves

garlic, minced

1.5

pounds

cherry tomatoes, halved

handful of fresh basil, torn

½ - 1

teaspoon

kosher salt

(to taste)

1

teaspoon

Italian seasoning

¼ - ½

teaspoon

red pepper flakes

(optional and to taste)

¼ - ½

teaspoon

black pepper

(to taste)

6

ounces

dry white wine

(choose sauvignon blanc or pinot grigio, avoid oaky chardonnays)

Garnish with fresh basil, parmesan cheese (optional)
Instructions
Season the chicken breast really well on all sides and coat with 1 tablespoon of olive oil. Heat a large skillet over medium heat. Once the skillet is hot, add an additional 1 tablespoon of olive oil to the skillet. Add chicken breasts in batches being careful not to overcrowd the pan. Cook for 4-5 minutes on each side until an internal temperature of 165°F is reached. Remove from the skillet and set aside.

In the same pan, add more olive oil, the onions, garlic, Italian seasoning, optional red pepper flakes, and a pinch of salt. Stir often to scrape the brown bits from the bottom of the pan. Cook for 5-7 minutes until onions are translucent.

Add in halved tomatoes, more salt, basil, and white wine. Cook until tomatoes have softened, about 5-7 minutes, then add the chicken back to the skillet.

Reduce heat to medium-low, cover the skillet, and allow the chicken to warm through for about 3-5 minutes.

Serve with more fresh basil and optional parmesan cheese. Enjoy!

Store leftovers in an airtight container in the fridge for up to 5 days.
Notes
Chicken broth can be substituted for white wine. 
If using wine, be sure to choose something dry and citrusy but avoid anything oaky. 
Red pepper flakes are completely optional and will make the dish with a kick of spice. 
Parmesan cheese is also non-traditional and optional. 
Nutrition
Calories:
481
kcal
Carbohydrates:
15
g
Protein:
51
g
Fat:
20
g
Saturated Fat:
3
g
Polyunsaturated Fat:
3
g
Monounsaturated Fat:
12
g
Trans Fat:
0.03
g
Cholesterol:
145
mg
Sodium:
2036
mg
Potassium:
1357
mg
Fiber:
3
g
Sugar:
6
g
Vitamin A:
995
IU
Vitamin C:
46
mg
Calcium:
76
mg
Iron:
3
mg