---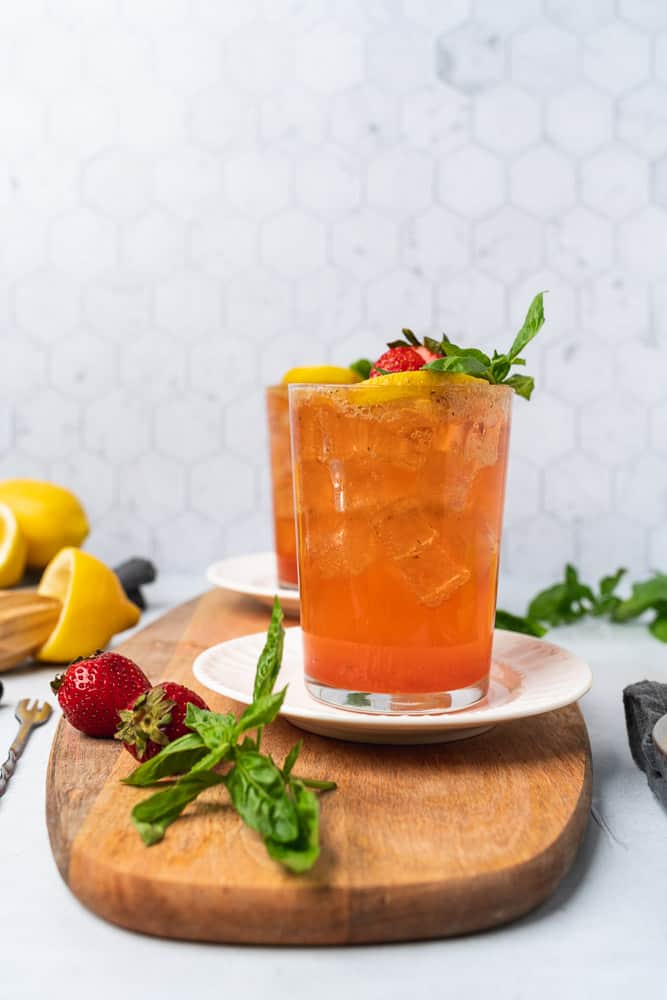 Disclosure: This post is a paid partnership with SoCIAL LITE Vodka. We love their delicious low carb and keto friendly vodka seltzers. All opinions are our own. Thank you for supporting brands that help us to create great content and keep this site running!

If you're looking for a delicious, low carb and keto friendly sparkling strawberry Basil lemonade recipe to enjoy for those warm summer days, you're in luck! This recipe is completely sugar free and bursting with refreshing summer flavor, with a lovely pink hue.
Ingredients:​
SoCIAL LITE Field Strawberry Vodka Sodas
Fresh lemons (to juice and for garnish)
Sugar replacement of choice
Water
Strawberries (for puree and to garnish)
Fresh basil (for puree and to garnish)
Ice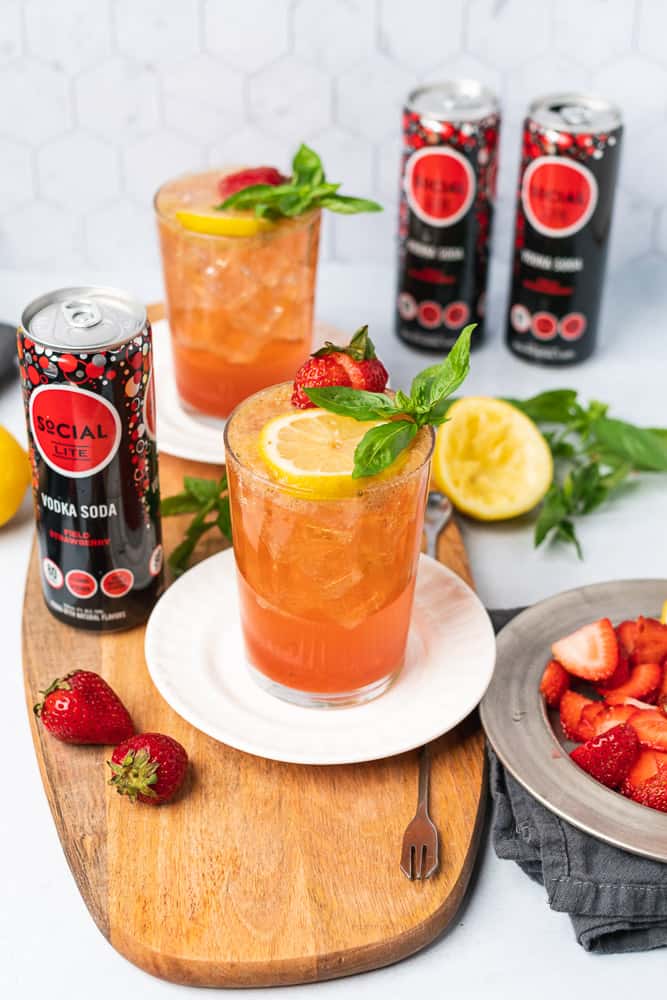 How to Make This Keto Friendly Sparkling Strawberry Basil Lemonade Cocktail:
There's really not too much to this recipe at all. First, we like to prepare our simple syrup so it can cool off before putting this cocktail all together. Then, we like to work on squeezing our fresh lemon juice, since this will take a little while. Combine your simple syrup with your fresh squeezed lemon juice to create your homemade sour mix.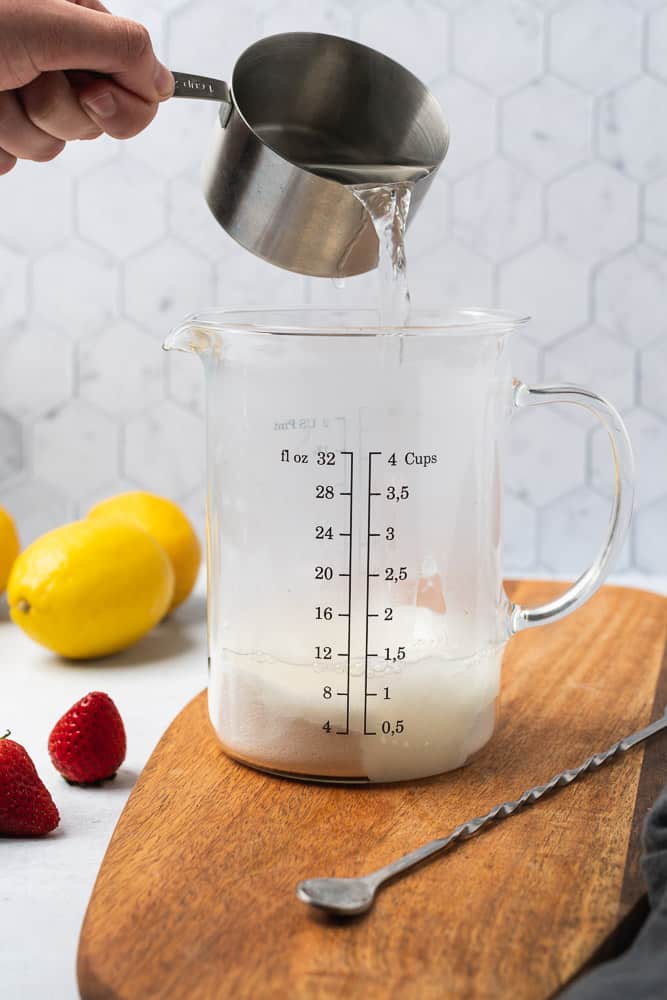 Now, for the strawberry basil puree. After food processing your fruit, herb, and water mixture, use a metal sieve and a wooden spoon to extract all the liquid from the puree. In a large beaker, combine the strawberry basil puree with your sour mix and stir until combined.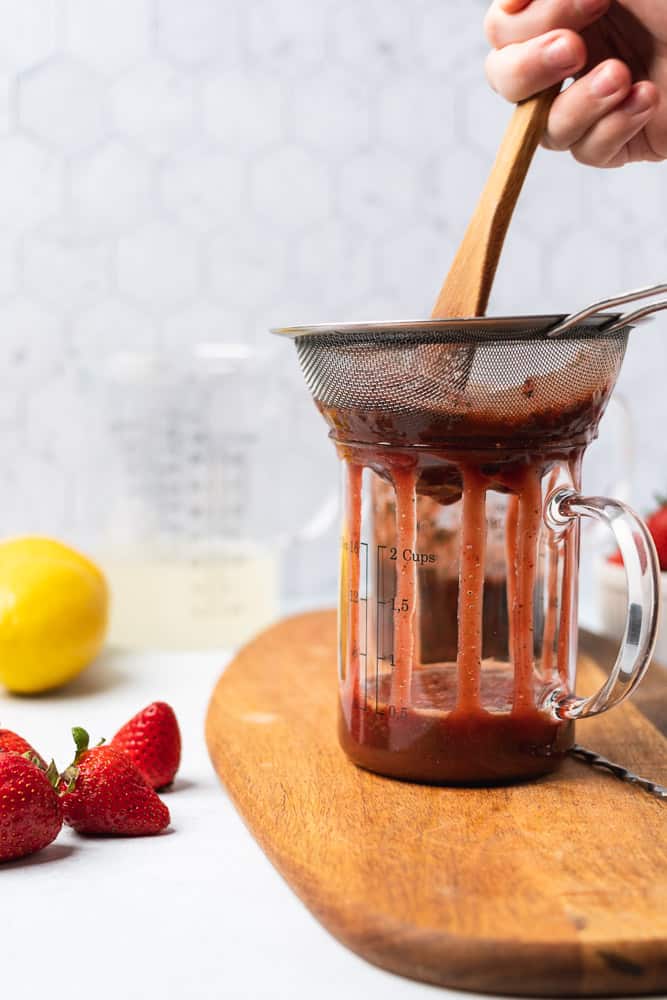 Add about ⅓ cup of strawberry basil sour mix (or more, to taste) to a glass with ice, then combine with one full can of SoCIAL LITE Field Strawberry Vodka Soda. Garnish with strawberries, lemon slices and fresh basil if desired. Serve this strawberry Basil cocktail and enjoy responsibly!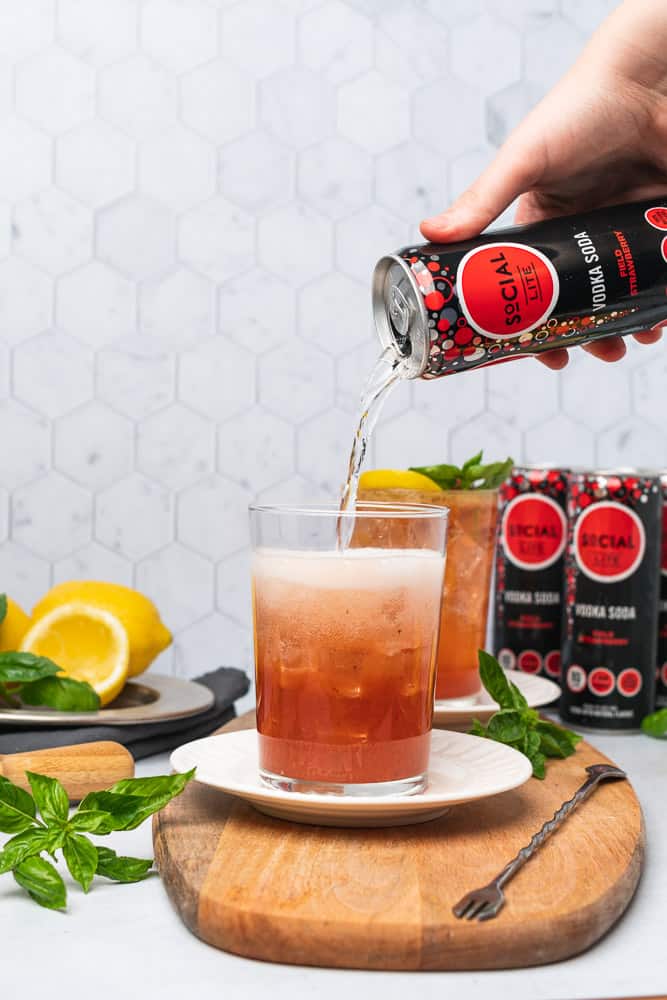 What Is SoCIAL LITE Vodka?
SoCIAL LITE Vodka is a small Canadian Company that makes low carb and keto, gluten free, high quality vodka seltzers. A few of their delicious flavors just made their way to the Chicago area. You can check out their store locator to find where to purchase them at a US store near you. Available in Chicago now are the Field Strawberry, Grapefruit Pomelo and Pineapple Mango flavors, and we found ours at Fresh Thyme.

SoCIAL LITE Vodka's focus was to create delicious vodka seltzers that fit a healthy and active lifestyle. They skipped all the sugar, calories and carbs and came up with a drink that is only 80 calories and 1 carb or less per can. These unsweetened seltzers are made with 100% natural flavors, no artificial ingredients, and are vegan and gluten free. Unlike other vodka seltzers, it's made with premium vodka, instead of malt. The high quality ingredients definitely hit your taste buds right away, in a good way! Bri especially is kind of sensitive to other vodka seltzers on the market, but this drink was a winner. No hangovers are heading your way after drinking these refreshing SoCIAL LITE vodka sodas!

We were thrilled to make a refreshing keto friendly cocktail with this delicious seltzer, and we thought the Field Strawberry flavor was perfect for a sparkling strawberry vodka lemonade. This particular flavor only has only one carb for the whole can. Adding in the fresh basil was a great touch, as well as a great way to use up some of the basil we had overgrowing in our little urban garden.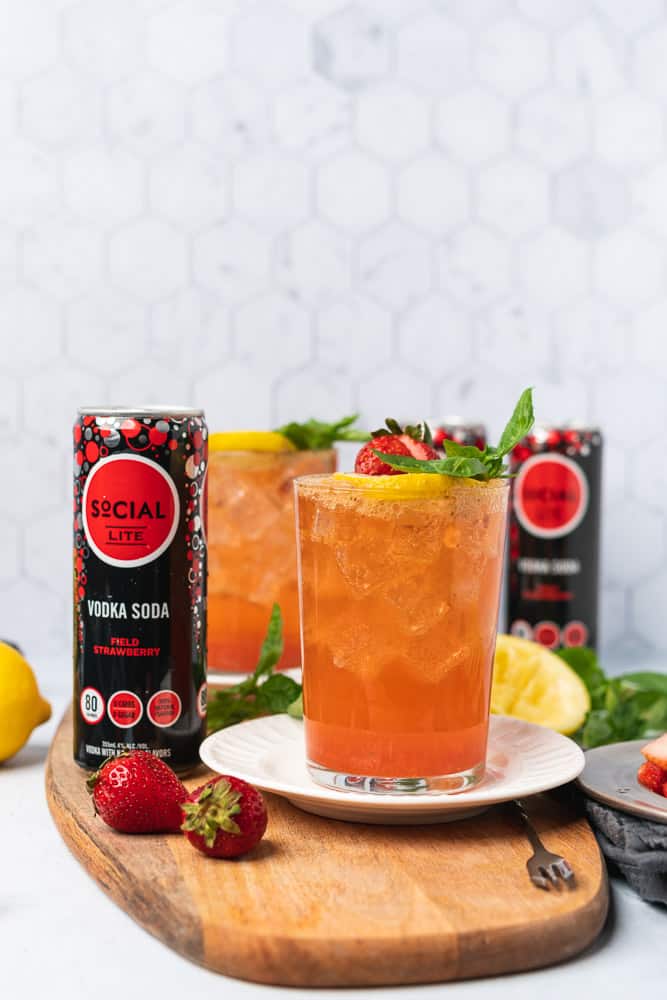 How Do You Make Fresh Sour Mix?
The start of this keto friendly strawberry basil lemonade cocktail is a homemade sugar free sour mix. Homemade sour is a great start to many cocktails! A traditional sour mix is just 2 cups of fresh lemon juice and 1 cup of simple syrup. Taking this standard recipe, we just tweaked it a bit to make it low carb and keto friendly, as well as sweet enough for our taste buds.

To start, you will need to make the simple syrup. Making simple syrup is super easy, whether or not you're working with regular sugar or a sugar replacement. You just need to combine 1 cup of granular sweetener of choice with 1 cup of boiling water, and stir until it dissolves, which is exactly the method for regular simple syrups as well. This will yield about 1.5 cups of sugar free simple syrup.

Depending on the sugar replacement you use, you will want to adjust the sweetness level to your personal preference. The particular replacement we used is slightly less sweet than regular sugar, so we ended up using all 1.5 cups of sugar free simple syrup for our sour mix. Now, to make the sour mix, all you need to do is combine your fresh lemon juice and your simple syrup, and then stir. It will store in the fridge for at least 7-10 days. It's a great starter for many keto friendly cocktails!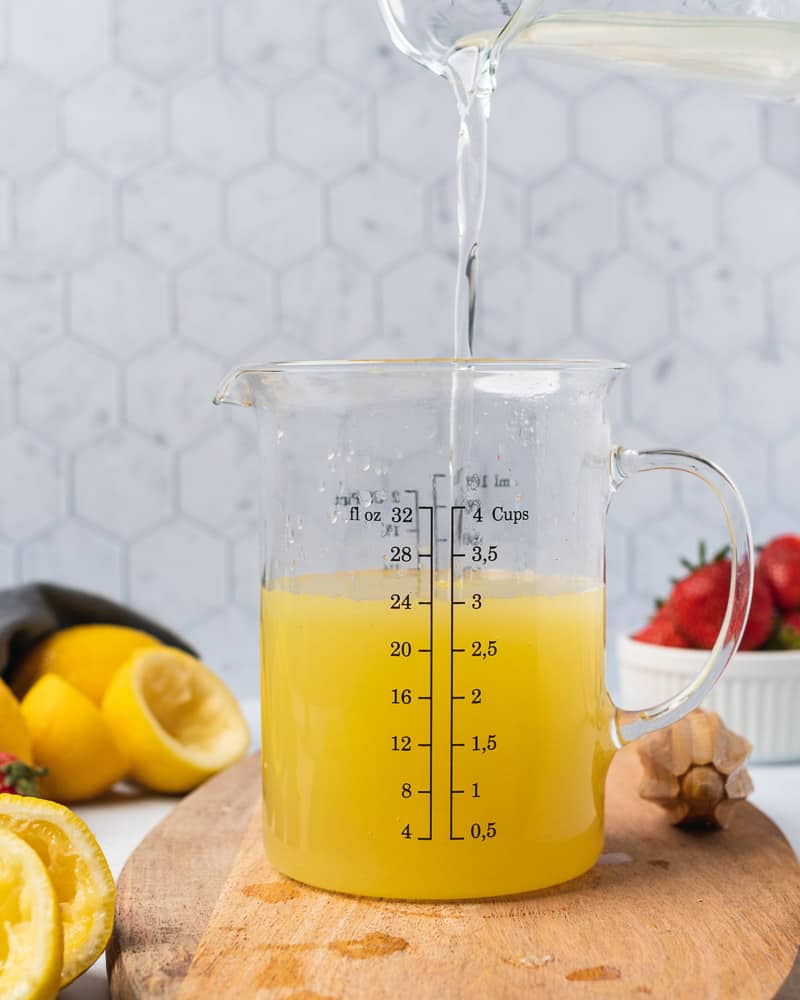 Do I Need Fresh Lemon Juice for This Strawberry Basil Cocktail?
One thing we want to mention is that fresh lemon juice is definitely pretty necessary and preferred. Since this refreshing keto strawberry Basil cocktail has so few ingredients, this ingredient just shines. To get two cups of fresh lemon juice that you need to make your big batch of sour mix, you will need to use about 8-10 large lemons.

Lately we have been using a citrus reamer coupled with a metal sieve to maximize the amount of fresh lemon juice that we can get from the lemons. We use the metal sieve placed over a glass measuring beaker to catch any pulp or seeds that would otherwise find its way into the lemon juice for the fresh sour mix. Alternatively, you could use a heavy duty citrus squeezer to get a lot of juice out with less effort. We have started to prefer a citrus reamer because we think it gets the most juice out of the fruit, but it is more labor intensive.
How Do I Make the Strawberry Basil Puree?
For this sparkling strawberry basil lemonade cocktail, we utilized a super easy to make fresh strawberry basil puree. To make the puree, we simply combine 16 ounces of fresh strawberries with the tops off and cut in half, with roughly 1 ounce of fresh basil leaves, ½ a cup of water and 1 pinch of salt. The salt draws out some of the natural sweetness and flavor from the strawberries and fresh basil. We put all of these ingredients into a food processor (or blender), and slowly add water while pulsing to create a puree that is a little runny. This will help us strain the seeds and bits away a little easier later on.

Alternatively, if you don't mind seeds or bits of fruit or basil in your drink, you could skip straining the mixture all together. It's definitely a personal choice. We'd also like to mention that you can certainly add more than 1 ounce of fresh basil to the mixture if you prefer a stronger basil flavor, but just be warned that the more basil, the more green tint your mixture will have. Adding a few leaves of fresh basil to your sour mix and puree mixture in a pitcher later and letting it sit for a while can help you achieve more of a basil flavor without adding any additional color to your drink. It's your sparkling strawberry vodka lemonade however, so make it how you want!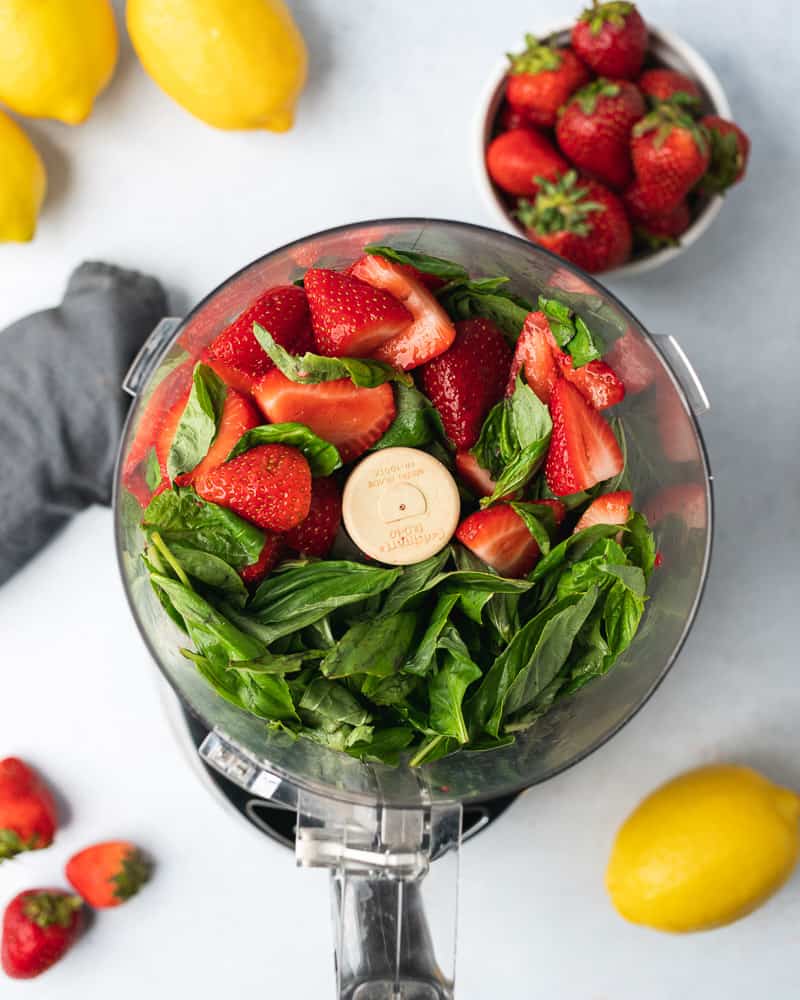 Looking For More Recipes with Fresh Basil and Strawberries?
What If I Want To Use a Different Fruit Puree?
We think that you should go wild with your flavor combos! A couple of weeks ago, we made this sugar free cherry lemonade recipe that would probably lend itself very nicely to the field strawberry SoCIAL LITE vodka seltzer combo. Other ideas for great pairings would simply be peach puree, mango puree, raspberry puree or even blueberry or blackberry puree! Just think of any fruit you would eat alongside strawberries and truly the possibilities are endless. Combine your fruit puree with your sour mix and you have numerous options to combine with your SoCIAL LITE vodka sodas.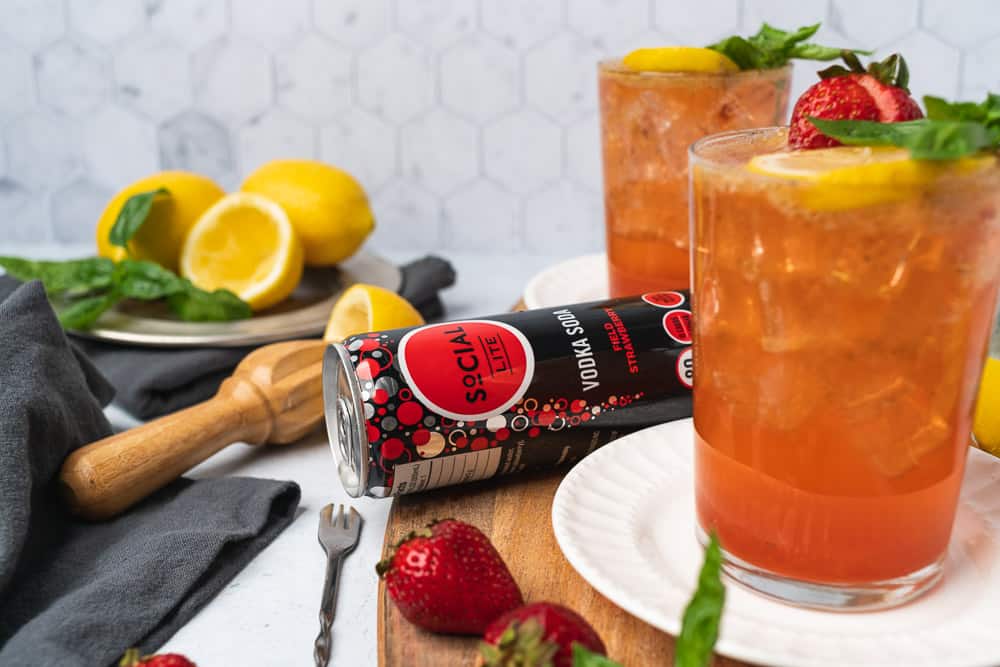 More Recipes To Try:
---
If you get a chance to try this strawberry basil lemonade cocktail recipe, let us know what you think, would ya?! Leave us a comment, or catch up with us on Facebook or Instagram, or pin to your favorite Pinterest board for later. We love sharing your versions of our creations over on Instagram @afullliving!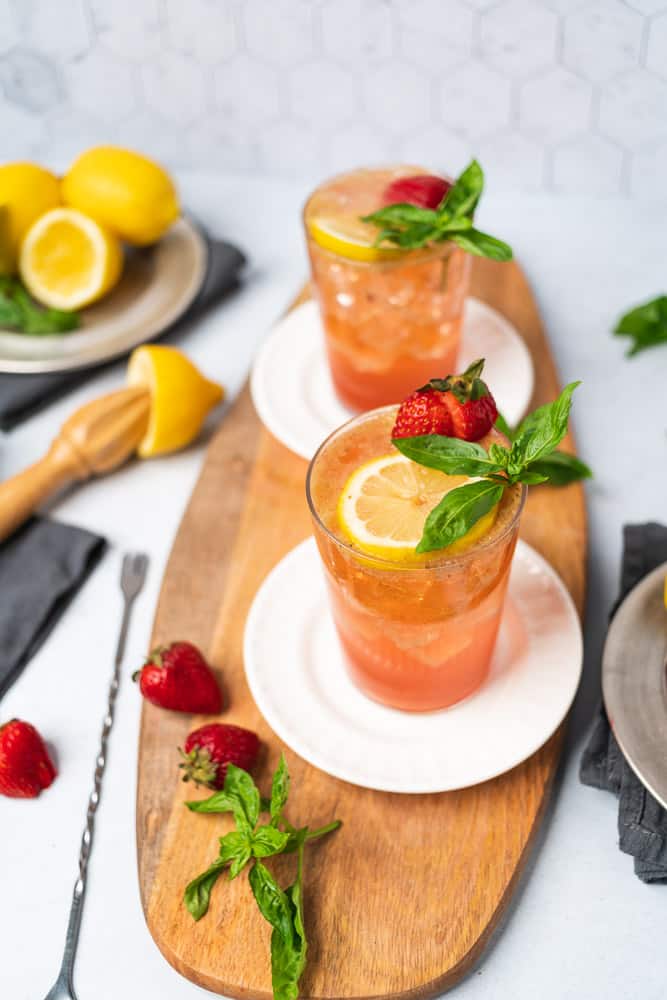 Thanks for stopping by! Be sure to subscribe to our email newsletter so you're the first to know about new recipes we post on our blog.

If you love this recipe, please consider sharing it with a friend and also leaving a rating and comment so others can find this recipe. Thank you for your support!
Until Next Time,
Briana & Chamere
📖 Recipe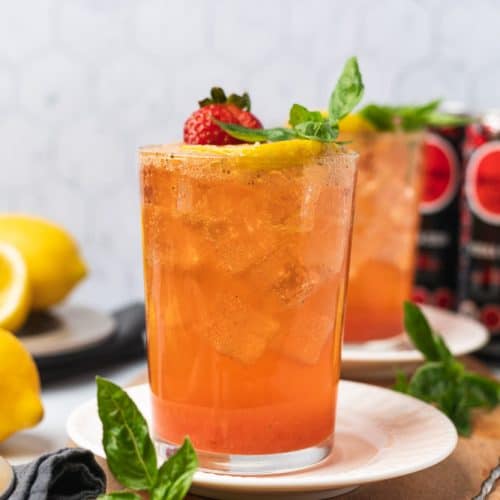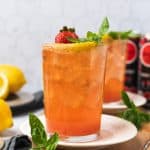 Sparkling Strawberry Basil Lemonade Cocktail
This Keto Friendly Sparkling Strawberry Basil Lemonade Cocktail is totally delicious. Sparkling strawberry vodka soda infused with a fresh strawberry basil puree and a homemade sugar free sour mix with fresh squeezed lemon juice. This refreshing summer sipper is bursting with flavor, but low in calories and carbs. An easy, refreshing way to use up some of your favorite summer produce and herbs. You will love this keto friendly Strawberry Basil cocktail!
Print
Pin
Rate
Save
Saved!
Ingredients
For the sugar free simple syrup (for your sour mix):
1

cup

granular sugar replacement of choice

1

cup

boiling water
For your strawberry basil puree:
1

lb

strawberries, halved and hulled

1

oz

fresh basil leaves

(or to taste)

½

cup

cold water

pinch of salt
For your sugar free strawberry basil sour mix:
1.5

cups

homemade sugar free simple syrup

2

cups

fresh lemon juice

2

cups

strained strawberry basil puree
For one sparkling strawberry basil lemonade cocktail:
Instructions
Make your sugar free sour mix:
Make the simple syrup by combining boiling water with 1 cup of sugar replacement in a glass beaker. Stir to dissolve, then set aside to cool. This will make about 1.5 cups of simple syrup

Using a citrus reamer, squeeze your lemons into a container using a metal sieve to sift out the bits of fruit and seeds that may fall into the juice. About 8-10 lemons will make 2 cups of juice. Combine all of your cooled simple syrup with your lemon juice to make your sour mix.
Make the strawberry basil puree:
In a food processor or blender, combine your strawberries, basil, water and a pinch of salt. Process until smooth, scraping the sides of your food processor with a rubber spatula to make sure everything is well combined. Strain the mixture into a container to get rid of loose bits of fruit, basil, and seeds. This will make roughly 2 cups of strained strawberry basil puree.
To make the cocktail:
Combine your 2 cups of strained strawberry basil puree with your sour mix, stir well until all is combined to make your strawberry basil sour mix.

Add ⅓ cup of strawberry basil sour mix (or more to taste) to a glass with ice.

Pour in 1 full can (12 oz) SoCIAL LITE Vodka Soda to your glass. Stir to combine.

Garnish with basil, lemon slices and strawberries. Enjoy your Strawberry Basil Lemonade Cocktail responsibly!
Notes
This recipe is a large batch and can be scaled easily. For the amounts provided, it makes 14 servings with 14 cans of SoCIAL LITE Field Strawberry Vodka Sodas. To make 1 cocktail, use ⅓ cup strawberry basil sour mix with 1 full can of SoCIAL LITE Vodka Soda. You can of course scale back the servings easily, as the strawberry basil sour mix will save in the fridge for 7-10 days, or up to 6 months in the freezer. 
Sweeteners are not included in the macros, as the sugar replacement we used is not digested by the body, thus will not convert to calories or impact blood sugar. 
Nutrition
Calories:
99
kcal
|
Carbohydrates:
5
g
|
Protein:
1
g
|
Fat:
1
g
|
Saturated Fat:
1
g
|
Sodium:
2
mg
|
Potassium:
91
mg
|
Fiber:
1
g
|
Sugar:
2
g
|
Vitamin A:
113
IU
|
Vitamin C:
33
mg
|
Calcium:
11
mg
|
Iron:
1
mg
These nutrition facts are provided as a courtesy and are only estimates. We cannot guarantee the accuracy.
Did you love it?
If you made this recipe, make sure to show us on Instagram at @AFullLiving or tag #AFullLiving! We love to see what you guys are making!