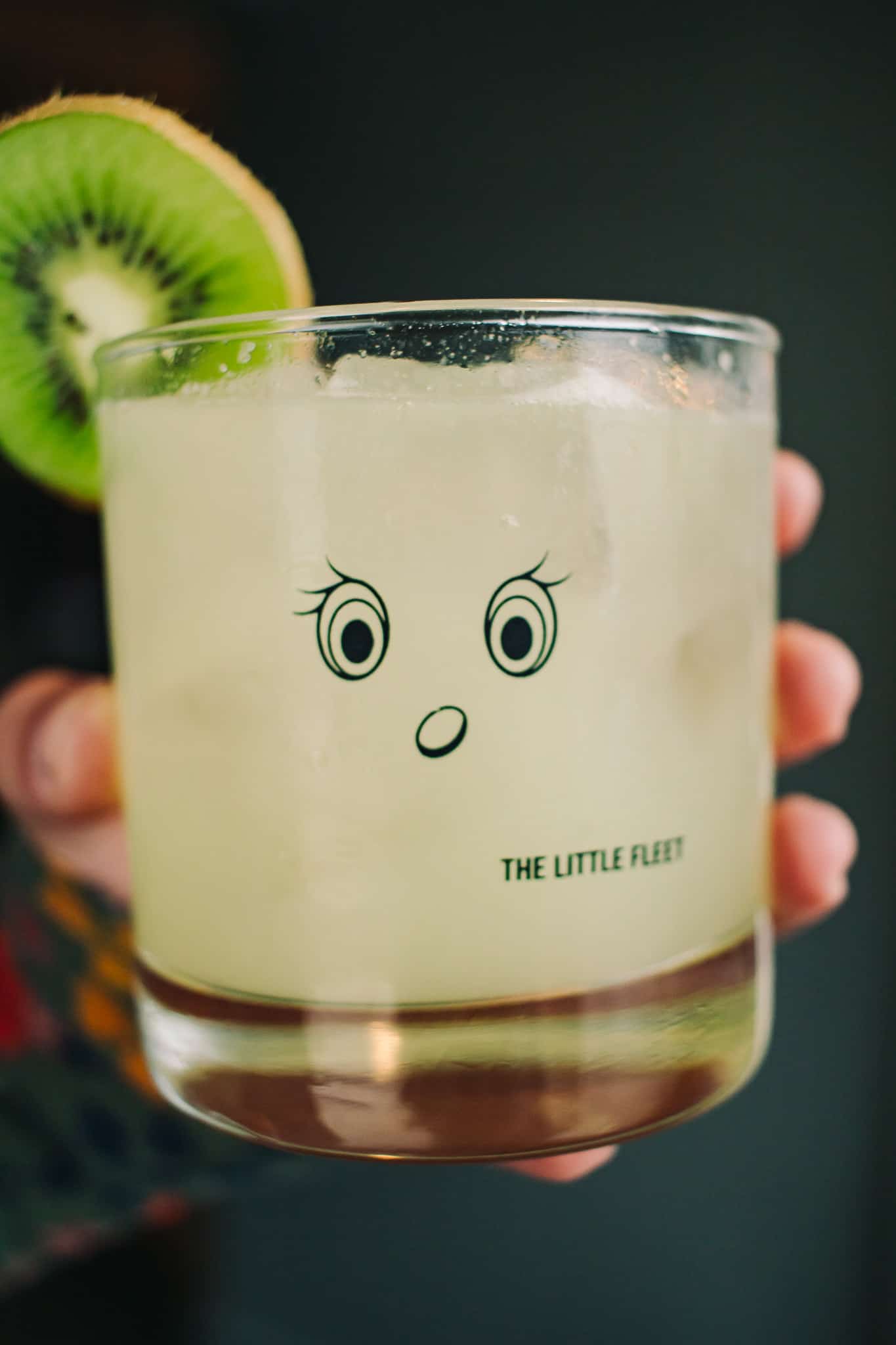 Please note that due to the COVID-19 pandemic some of this information may be outdated. Please reach out to the restaurants directly to ensure they are open, check hours and more.
Hungry on vacation in Traverse City? Make sure you stop at The Little Fleet Food Trucks and Bar! It's one of the cities most buzzing eateries (and bars) that is open in some capacity year round. The bar has new eateries all the time, and the cocktail program is top notch.
One of our favorite spots to eat, as you may have already guessed from this list. You have to come drink and hang out is the Little Fleet! It's popular amongst locals and tourists, and for good reason. Grab a drink, a bite to eat and check out some live music. With a variety of food trucks to choose from, an indoor bar with seating, and an outdoor patio space, there is plenty of room for your whole group to kick back and enjoy, rain or shine. You can even bring your dog along! Read about a few of our favorite food trucks you can find at the Little Fleet, as well as some of our favorite libations at the bar.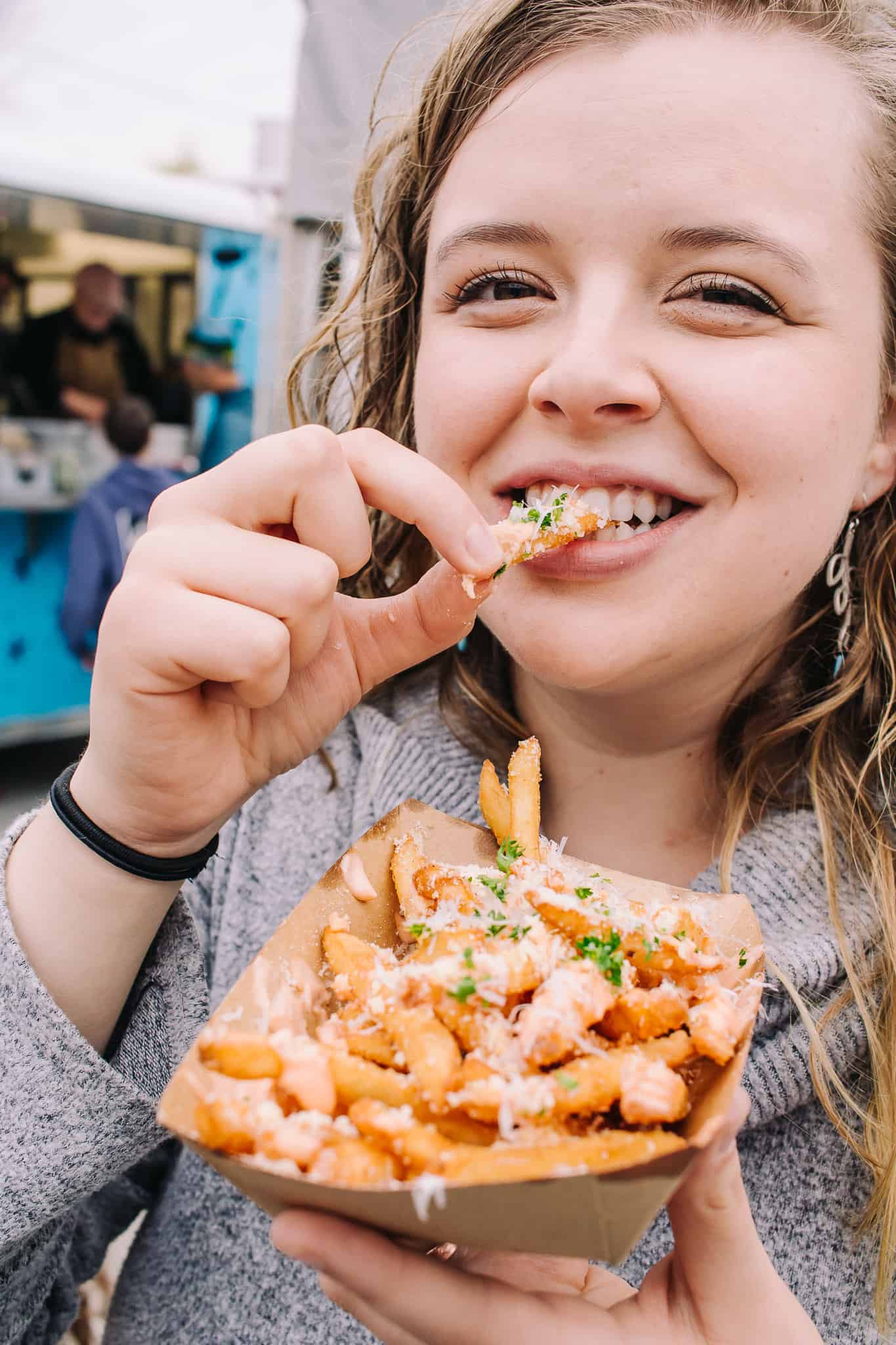 Every time we take a trip to Traverse City, Michigan we have to spend a day of sipping cocktails and grubbing at The Little Fleet. As many of you know, I (Briana) am originally from the awesome little beachside town with a killer food and beverage scene called Traverse City.
Disclosure: This post was originally paid for by The Little Fleet back in 2017 to highlight their bar and food trucks. We try to update it regularly with the help of Traverse City Tourism, or just pay for food ourselves!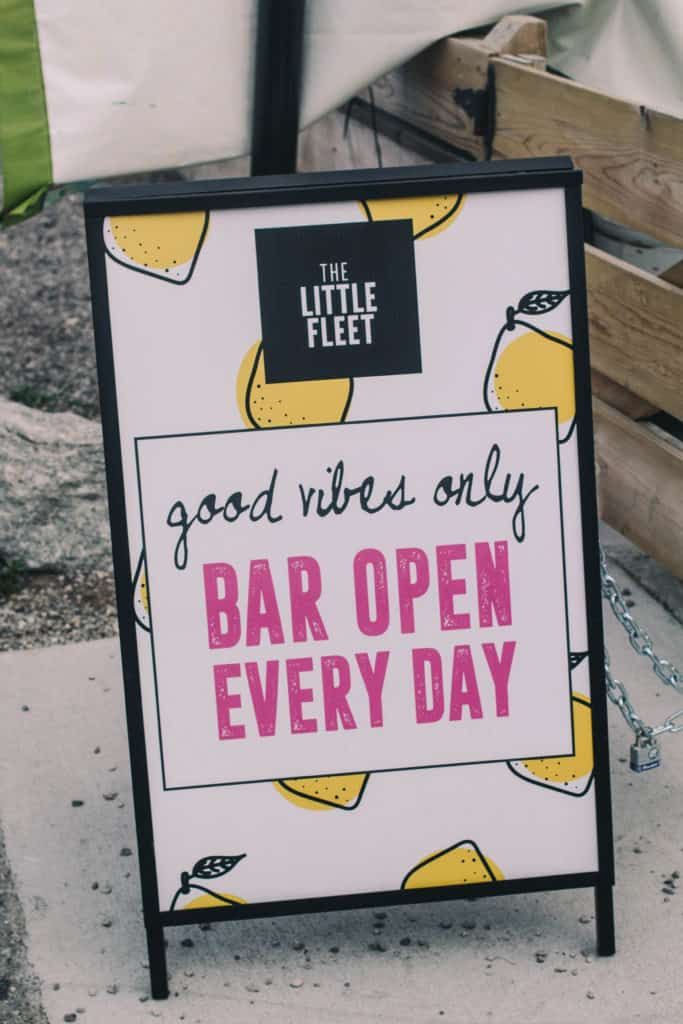 TC (as the locals call it) is home to natural beauty and tons of delicious places to eat & be merry. Here's an updated article about my favorite places to eat in Traverse City if you're in the area! I try to keep it updated as much as possible. You can also check out some more in depth recaps of some of our favorite spots including Poppycocks and Bubba's Burgers. In addition, we wrote a super comprehensive guide of the food and beverage scene should you ever decide to take a road trip from Ann Arbor to Traverse City here!
How The Little Fleet Started:
A few years back, Gary Jonas & his family brought the awesome concept of The Little Fleet from Brooklyn and opened up in downtown TC. The Little Fleet is home to a bar with fresh-squeezed juices for handcrafted cocktails, tons of local beer and wine - as well as an array of food trucks. The food trucks highlight global flavors, as well as the tastes of the region.
Chamere & I had the privilege of spending last Sunday at the Little Fleet to try some seriously delicious cocktails, brews and to grub on some delicious food. Check out what to expect below!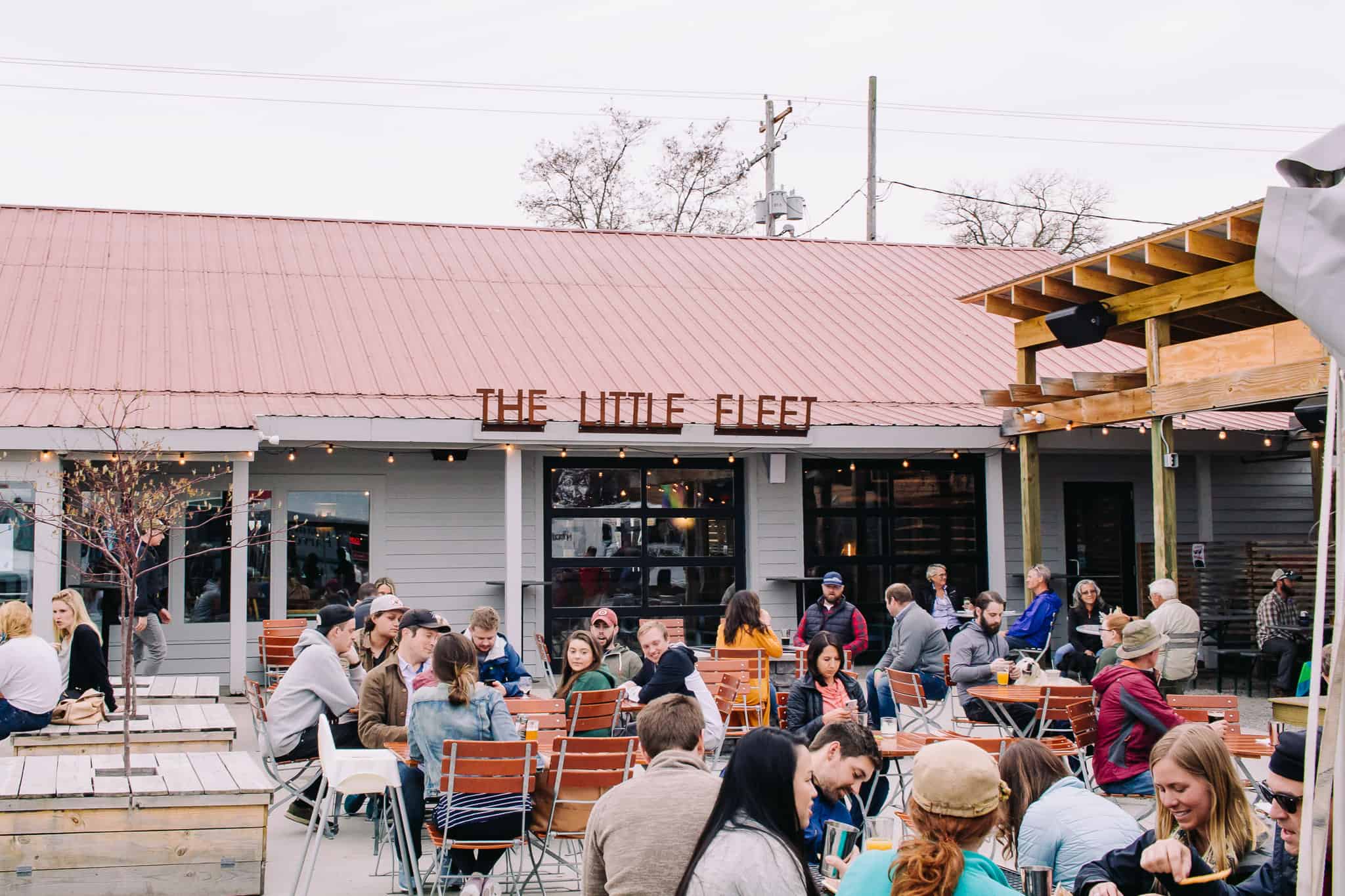 First stop: The Bar at The Little Fleet
The Little Fleet squeezes all of their juices fresh everyday, and you will taste the difference. Of course, all cocktails are made to order and their cocktail program is impressive. The Little Fleet works hard to change up the bar menu with local wines, beers, and cocktails made from local and seasonal produce, often whipping up creations highlighting ingredients at the local farmer's market! We've included some of the drinks we tried but please note that there's no guarantee they will be on the menu when you visit.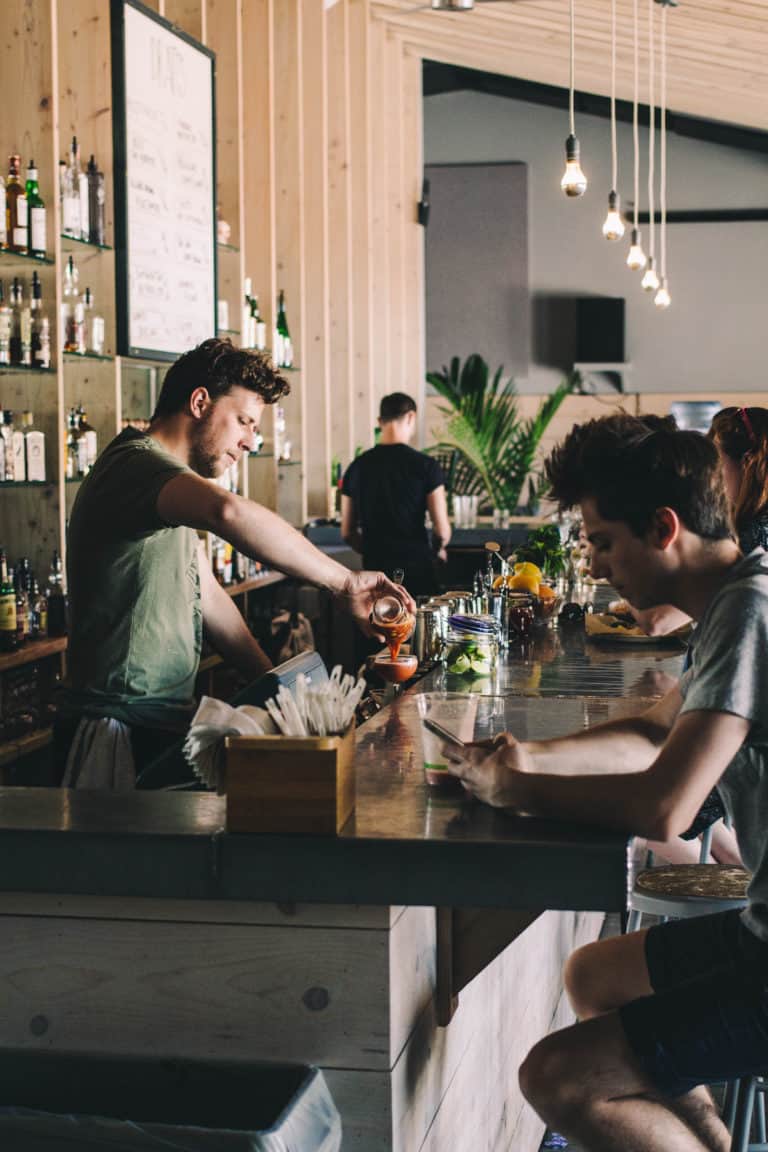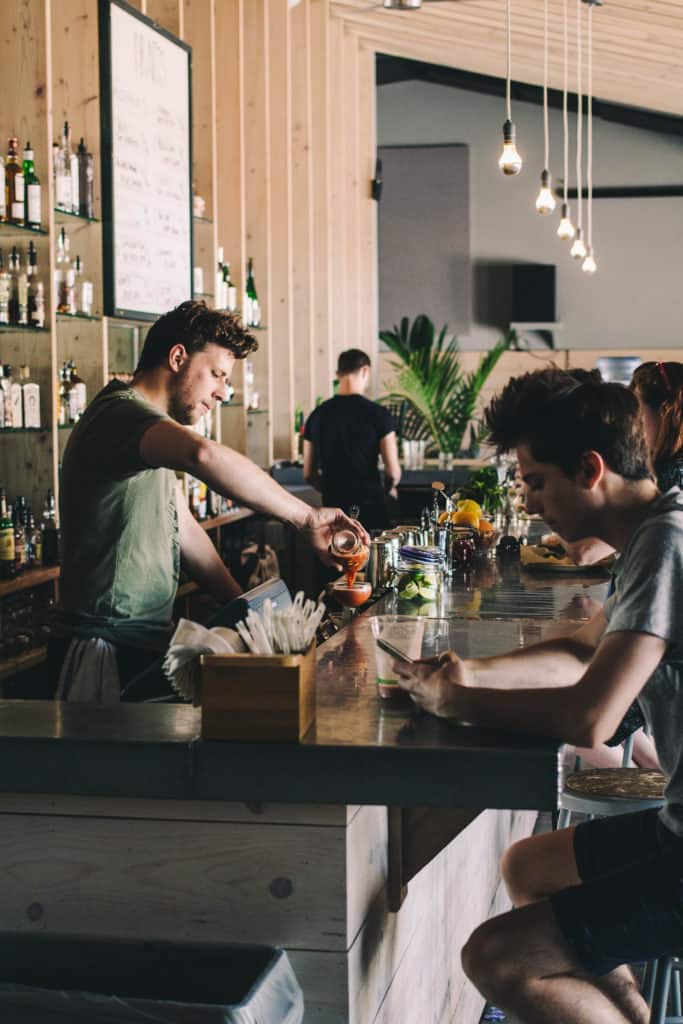 Expect fresh made cocktails like The Oh My Darlin' - a delightful and refreshing drink complete with reposado, bruto americano, fresh squeezed clementine juice and mint. Or the Cuke Skywalker, a refreshing mixture of Tito's Vodka, Pimm's No. 1, lime, cucumber juice & mint.
How fun are these glasses? We wish we had like 15 of these guys to keep us company in our kitchen. Fresh margaritas are always a good choice, right!?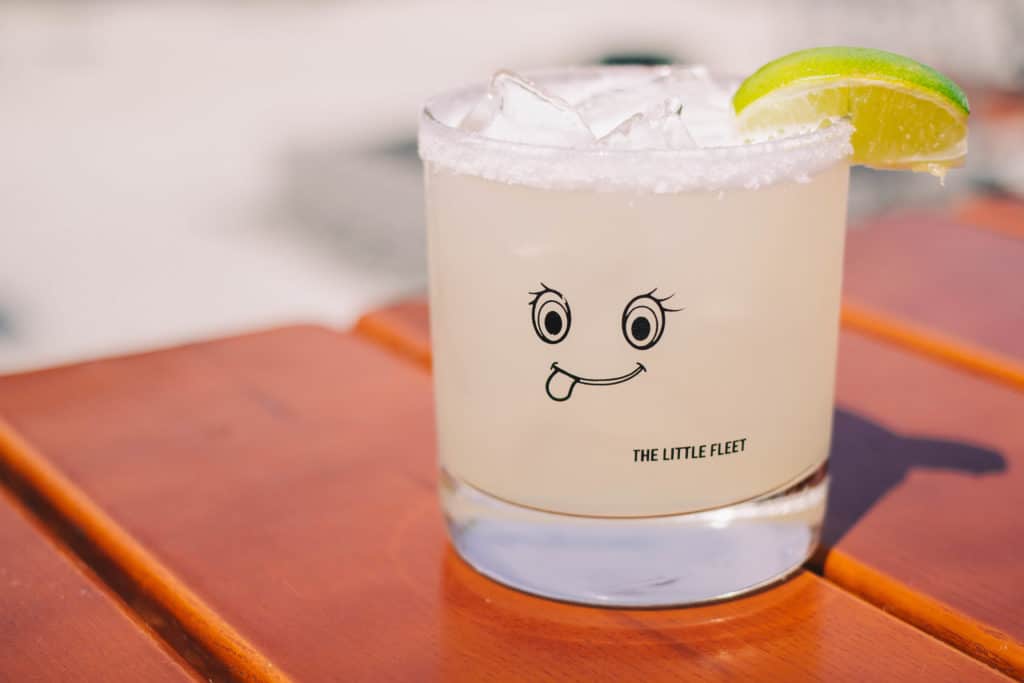 There's always something fresh being mixed up at the bar, including mocktails for those of you who choose not to drink.
Glendale Ave.
Glendale Ave. is a food truck parked at The Little Fleet. They serve serve smash burgers, fried chicken sandwiches, and french fries. They are literally to die for. We kid you not!! Their fried chicken sandwich to this day is the best we have EVER had, and we don't say that lightly.
The Daily Blend
The Daily Blend serves up healthy food on the go. They partner with local farms and brands to create some killer salads, warm bowls, smoothies, coffee drinks & recently, soft serve ice cream.
Pleasanton Bakery
Back up to the bar we went for a Short's Brewing Company draft beer (they are always on tap, along with tons of other Michigan made beers) to go with our pizza from the Pleasanton Bakery. Pleasanton makes their baked goods and pizza in a wood fired brick oven. TASTY!
We had to also try their ice cream cookie sandwich cuz look at it. I mean who REALLY has self control around vanilla ice cream crammed between two homemade ginger molasses cookies? We don't.
Happy's Taco Truck
You gotta stop by Happy's Taco Shop! These guys have some fun flavors and we have tried all of them. Our fave is the lamb cheeseburger or the fried chicken taco!
Rockwich
Rockwich is known for their grilled sandwiches, smoothies, and Moomers Ice Cream. The sandwich pictured is called "The Slow Ride" Complete with pastrami, giardineria, cheddar, arugula and aioli, this impressive sandwich is just one of the stellar options you can get here.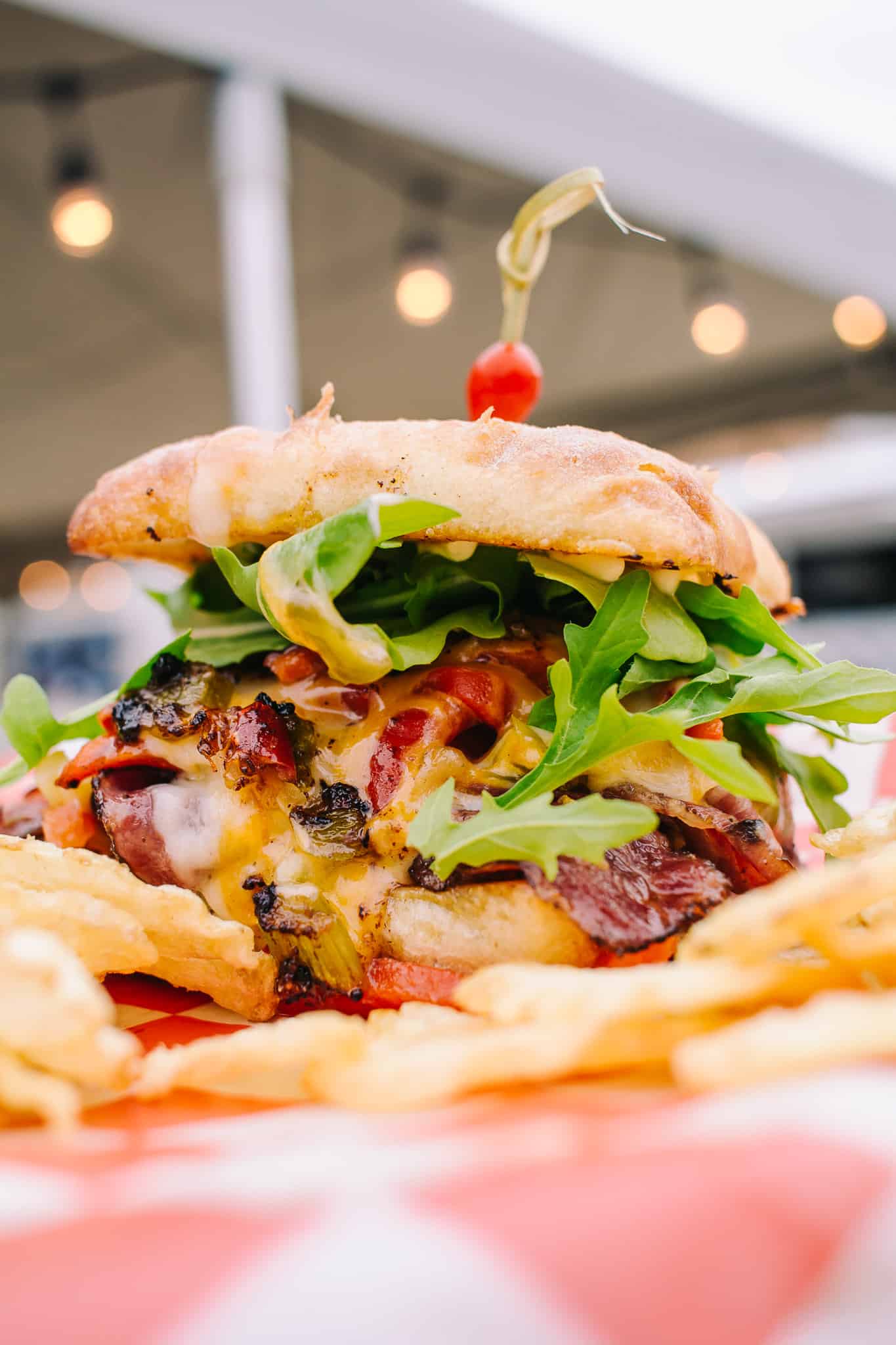 Cordwood BBQ
Is it even a food truck haven without BBQ? We think not! You can find Cordwood parked at the Little Fleet May- October for some really delicious bites!
White on Rice
So, we noticed some locals sitting by us with some sweet flower crowns and we asked if they wouldn't mind modeling for us. We shared our food and drink with them & they put up with us while we took photos. They are eating some sushi from White on Rice alongside the Garden Spritz cocktail, which consists of cynar, basil-celo, sparkling wine and fresh basil. We tried the spicy crab roll, which included lump crab, mango, cucumber and spicy mayo. You also can't miss their baos or Japanese curry. So yummy.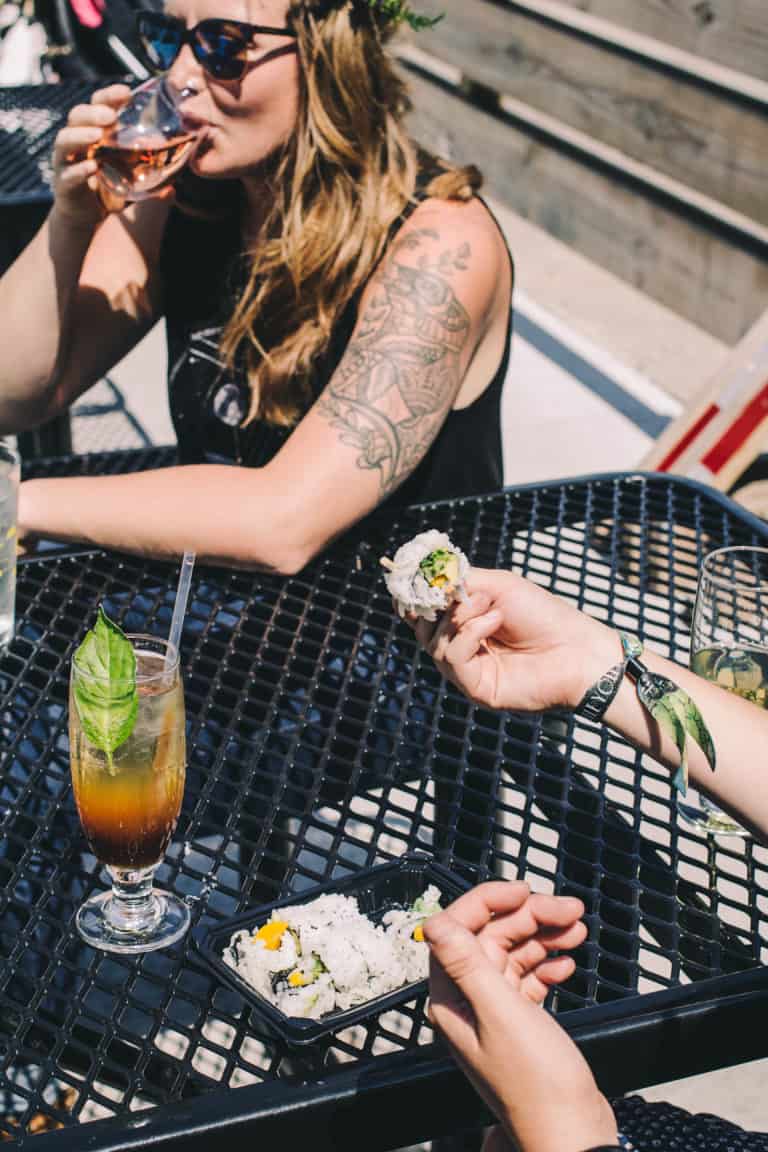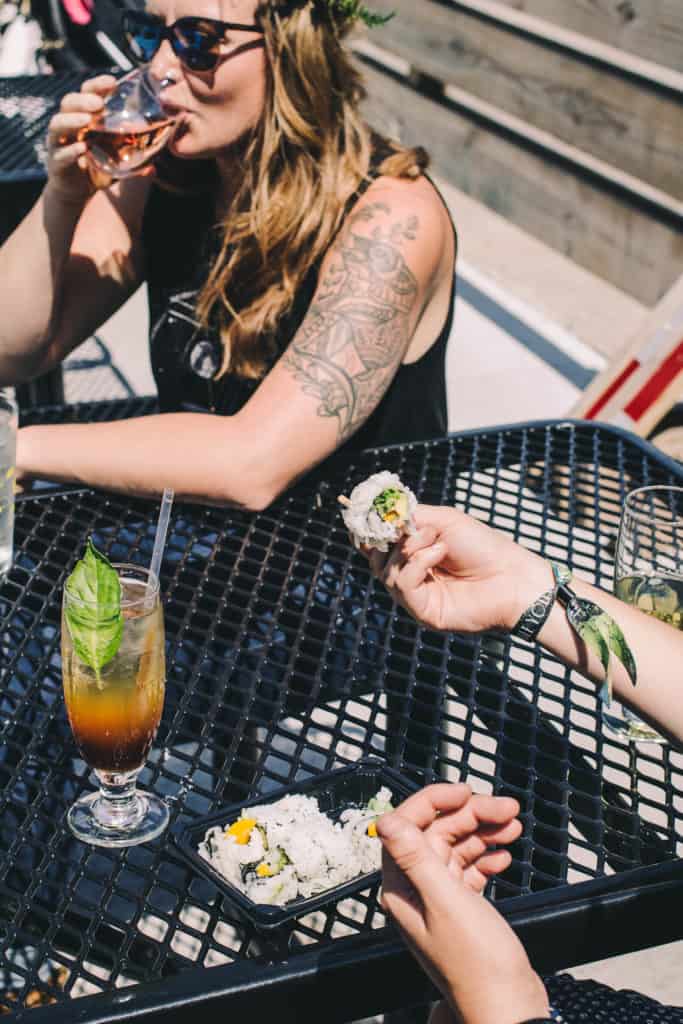 Extra Bits:
Many of the Little Fleet's food trucks are open late night during the summer! So you can go get your buzz-on, and go get fed.

The Little Fleet often hosts events or has live music! Check their

events

or

live music

schedule to stay up to date with all of the happenings.
We hope this guide helps you to decide that you should truly do a day of sipping cocktails and grubbing at the Little Fleet. If you're not from Traverse City, make sure to make a loooong pit stop at the Little Fleet for some serious bites when you come to visit. You'll be sad if you don't!
Be sure to check out our full guide to the best restaurants in Traverse City here. Here's another great write up on some great eateries in Traverse City and Ann Arbor here. If you're in the neighborhood, be sure to pop into Bubba's Burgers or Poppycocks!
If you thought this guide was super helpful, please share it with your friends and leave a comment below! You can also check out some more articles we have done in partnership with Traverse City Tourism here!
Until next time,
Briana & Chamere