Overwhelmed with all the food options? You need to check out an Eat Mexico Gourmet San Juan Market and Street Food Tour in Mexico City! With so much to do and eat in Mexico City, having experienced guides lead you thru one of the food capitals of the world is extremely helpful and super enriching. Here's our experience with an Street Food Tour in Mexico City Eat Mexico!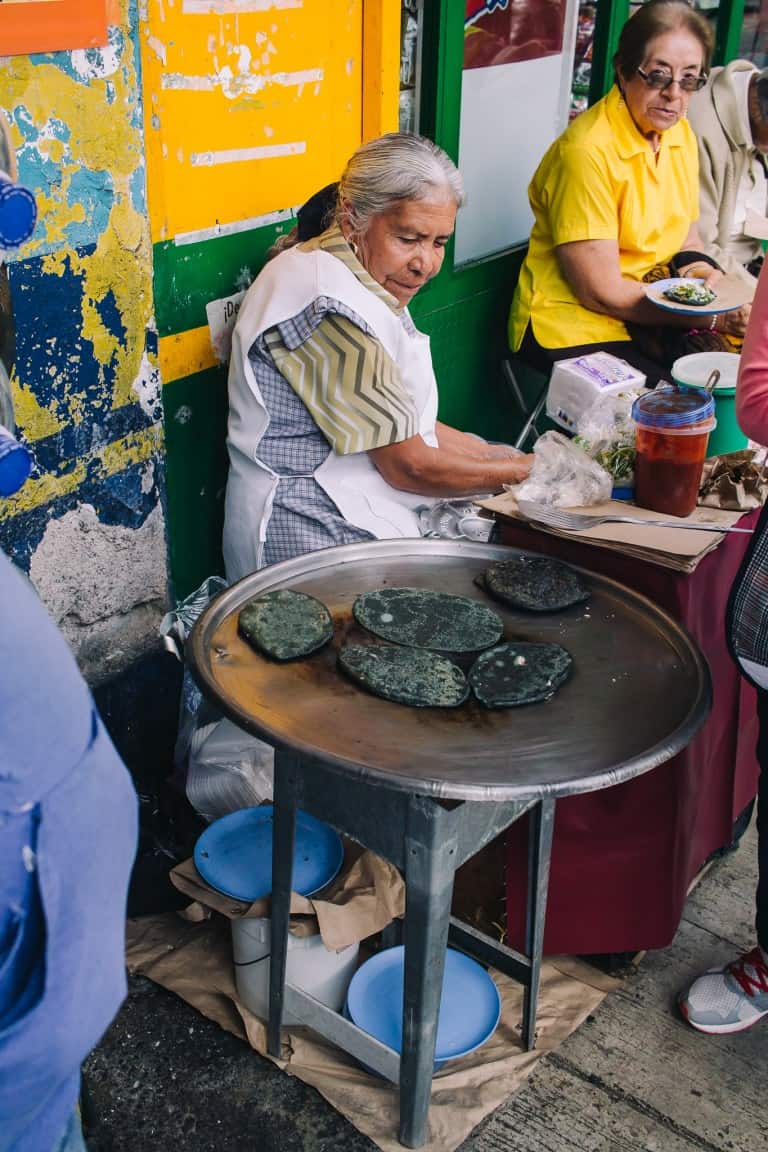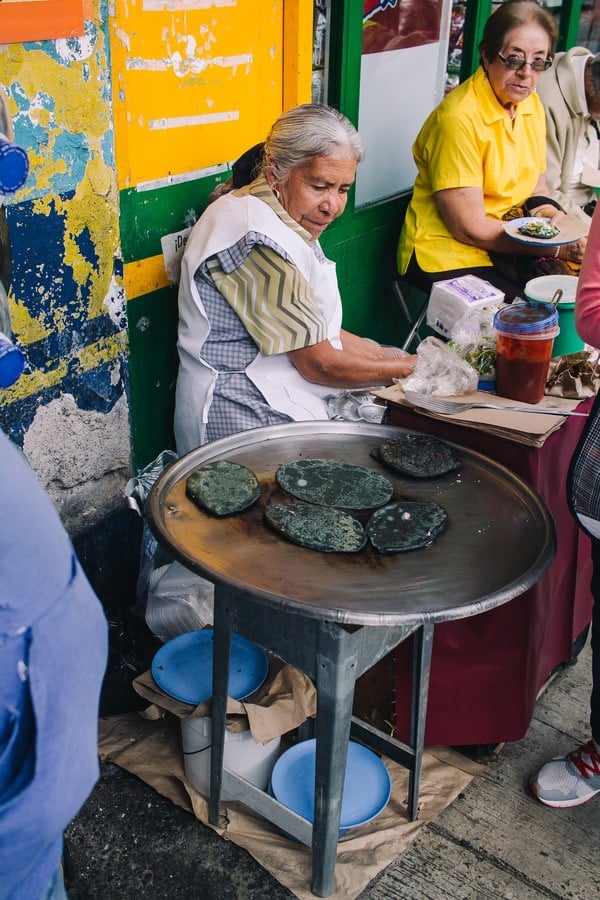 As many of you know if you follow us on Instagram, a few weeks ago we took a vacation to one of the ultimate foodie destinations for Chamere's birthday - Mexico City! We did a lot of our own exploring for food and did quite a lot of research, but in a city the size of Mexico City (the whole metropolitan area has a population of around 30 million people!) we found it wise to get a little bit of help.
What Is Eat Mexico?
We partnered with Eat Mexico to give you a behind the scenes look at some of the street food in the city center (Centro Historico) of Mexico City. Eat Mexico offers street food tours in Mexico City, Puebla, Cancun and Riviera Maya, and the average tour is super small and intimate. Our group consisted of 7 people including both of us and our guide, Fernando! They do offer larger tours if you wish (for corporate events, parties, etc.) so reach out to them if you want to set something up.
They offer tons of different tours of various markets around the city, 7 days a week. Be warned, if you're planning on doing a tour, you need to plan a few weeks in advance, as the tours are small and they book up quick! They are one of the top rated food tour companies, and for good reason. They are even recommended by National Geographic, Eater, Saveur Mag and many more. We thoroughly enjoyed our tour and highly recommend that you do one too! Their tours are a really great way to get a local perspective, tips, and tricks for ordering some of the best food that Mexico City has to offer. Mexican cuisine is complex, so having a bilingual guide that has a background in Mexican gastronomy is invaluable.
Table of contents
First Stop - Seafood Tostadas: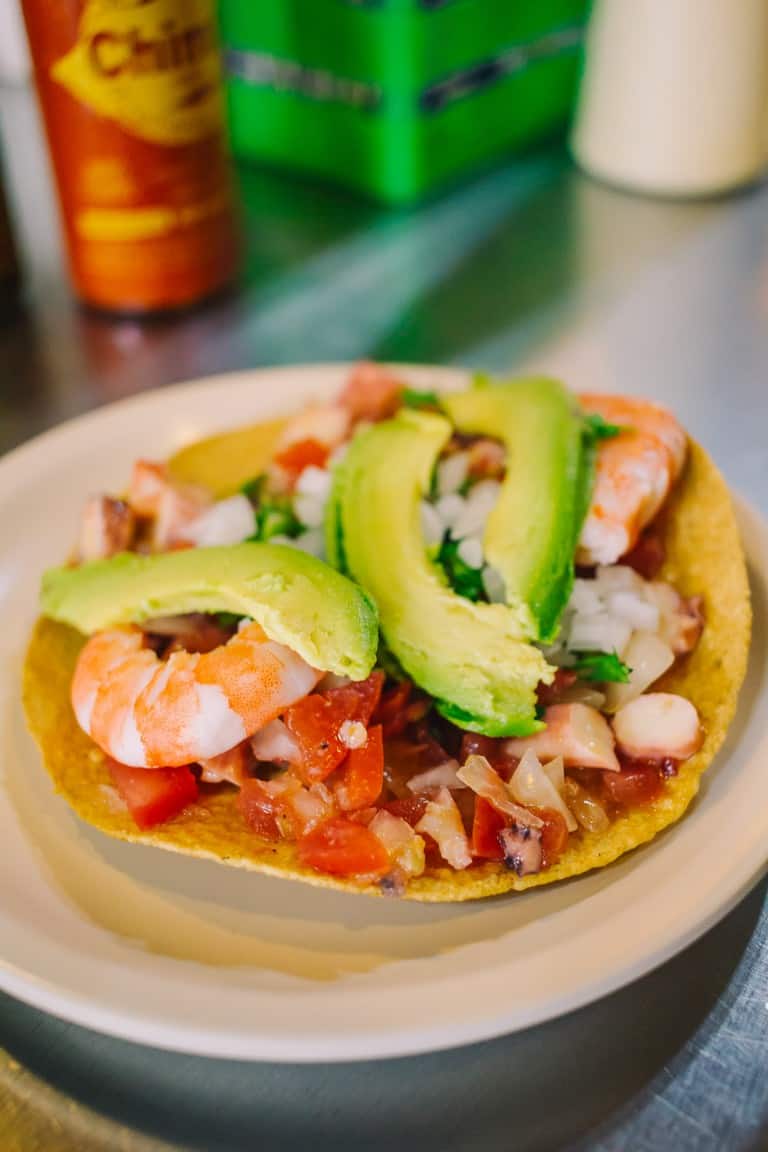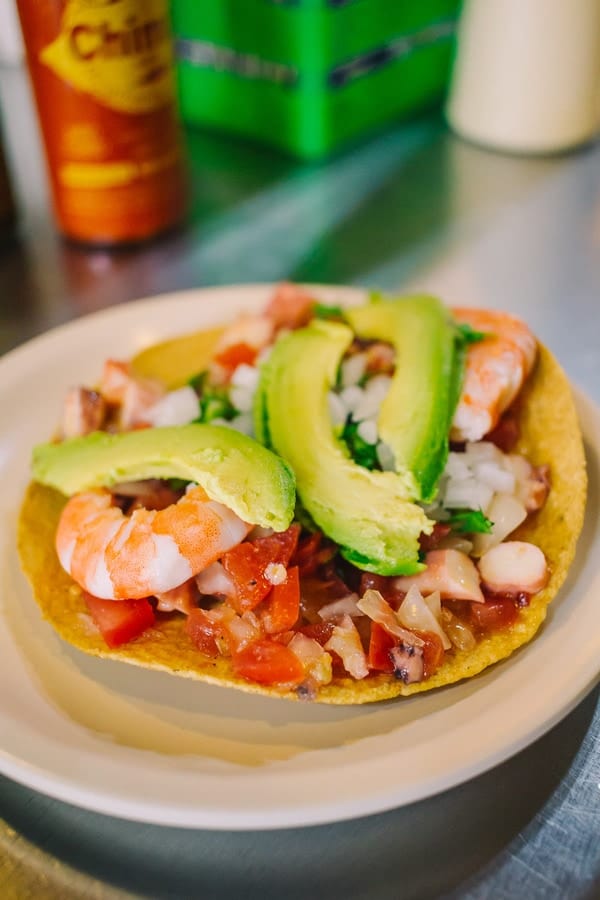 Second Stop - Pulqueria:
Never heard of pulque? You're not alone, the shelf life of this handmade ancient alcoholic beverage is so short, you can pretty much only find it in Mexico! Really though, you can't really find it cuz it isn't exported. Pulque has been a Mexican tradition for over 2000 years. A pulqueria is basically a bar that serves (you guessed it) pulque! The one we visited makes different flavors everyday with fresh fruit puree. Pulque is a fermented (and probiotic) alcoholic drink that is made from the sap of agave plants. Mezcal is made from the heart of certain agave plants, while tequila is made from all of blue agave plant.
The texture of pulque is kind of milky and viscous. Basically somewhat slimy and it's kinda "bubbly" too. You can taste the fermentation. It may not be for everyone, but we honestly loved it. It is a truly unique Mexican experience, so it made for a great stop on the tour! Pictured are 3 different kinds. Raspberry, passionfruit and mamey. The original flavor is unflavored, slightly sour and we enjoyed that one too.
Third Stop - San Juan Market (Mercado de San Juan):
The San Juan Market is a massive market located right in the heart of Mexico City's downtown and a must go during your street food tour in Mexico City. It's a traditional Mexican marketplace that also specializes in exotic meats, cheeses and other products. You can go shopping for day to day items, but the market also kind of caters to chefs and restaurants with their unique offerings. We stopped at a few different sections of the market. Went thru the meat market, into the cured meats and cheeses section, the produce market, as well as a few other vendors that we will keep a secret for when you go on the tour yourself! 

We wandered thru tons of rows of seafood, poultry, some common meats like pork, and some more exotic meats like crocodile, wild boar and even lion meat... (um, whoa!) To be honest if you don't eat meat, we aren't entirely sure if this tour is for you. It's kind of a "hardcore" meat market as our guide Fernando described it. We found the experience super interesting. It's also cool to see how fresh the food is that's supplying the restaurants that shop there. 
*WARNING: PICTURES OF DECEASED ANIMALS TO FOLLOW*
While browsing the market, we tried some locally produced wine, cheese and cured meats, as well as locally produced jams and syrups. We also tried some Oaxacan mezcal, and snacked on some insects. (Our fave... honestly, we like them, here's proof of that here!!) We hope insects become more mainstream in the US soon. They are a super cheap, sustainable protein source that we honestly think tastes really good. Be brave and give them a try! 
Our favorite part of the Gourmet San Juan Market was probably the gorgeous produce section! So much produce that we eat in the US comes from Mexico. Everything at the San Juan Market is indigenous to Mexico, and the fruit and veggies truly taste amazing when you try them at the heart of where they came from. It was cool to try some new fruits we weren't familiar with!
Fourth Stop - Taqueria:
After all the grazing at the market, we headed out for some tacos at a popular neighborhood spot. We got the tacos campechanos. Basically, they are loaded tacos and they are massive. You can find campechanos tacos a lot of places and basically it means it's a mix of different ingredients. To our understanding, you will often find chicharron, longaniza, some sort of beef, nopales, serranos and onions on these glorious tacos! These particular ones also had potatoes! By the way, if we're incorrect in our understanding of campechanos, please let us know!! 
Final Stop - Blue Corn Quesadillas:
After We were so full after everything we ate on our street food tour in Maxican city, we went ahead and (sadly) split a quesadilla at a street stall that whips up some amazing blue corn quesadillas. Many are stuffed with cheese, chorizo, squash blossoms, and chicharron. They're topped with nopales, more cheese, salsa, onions and cilantro. If we weren't so full from our day of eating we could have easily eaten a couple of these. They were so good! The woman running the stand is a pro, and she was so sweet and smiley. 
Final Notes
An average Eat Mexico street food tour in Mexico City will take about 3-4 hours, and you'll be on foot most of the time. Wear comfortable shoes, and bring bottled water as it isn't provided for you - you'll need it. Second, pictures are encouraged, but if you're taking a picture of a person, please ask first to make sure it's okay. We all want to be respectful here! Third, if you liked your tour guide and thought they did a good job, bring some cash to tip them at the end. They will definitely appreciate it. We want to give a huge shout out to our guide, Fernando. He was such an awesome guide!!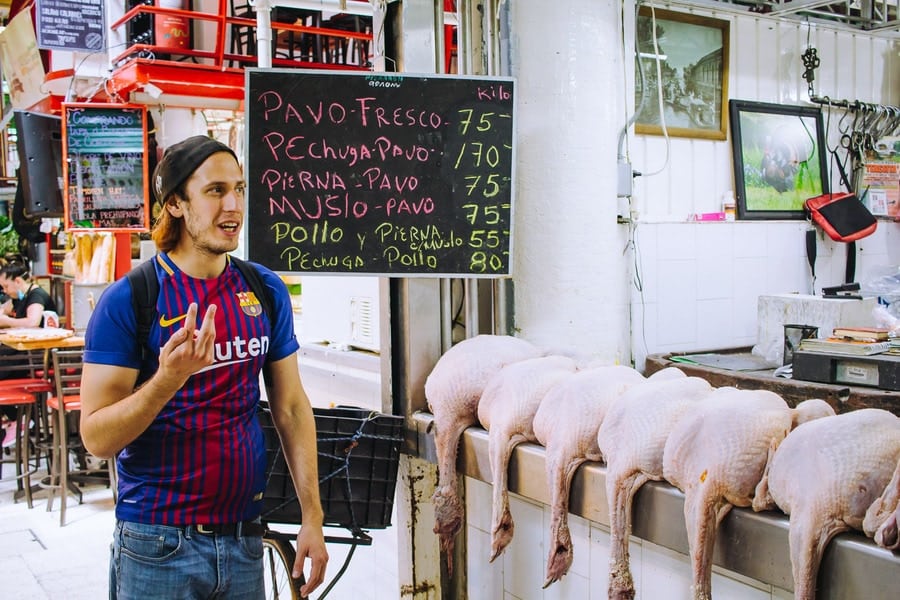 The Eat Mexico team hosted us in exchange for a blog post write up of our experience. Although we did the tour complimentary, all opinions are our own! It's partnerships like these that allow us to bring you fresh content. If you're interested in food and culture, please do an Eat Mexico Gourmet San Juan Market and Street Food Tour in Mexico City!
Until Next Time,
Briana & Chamere