It's the holidays again, so why not take a Holiday Foodie Getaway to Ann Arbor and Traverse City, Michigan! Here you will enjoy some great food, drinks and make quick work of your holiday foodie shopping. Both of these amazing Michigan cities are both under five hours away from Chicago by car, so make a long weekend of it, and visit Traverse City and Ann Arbor this holiday season! Get our local tips on what to do in Traverse City, and a look at us truly exploring Ann Arbor for the first time.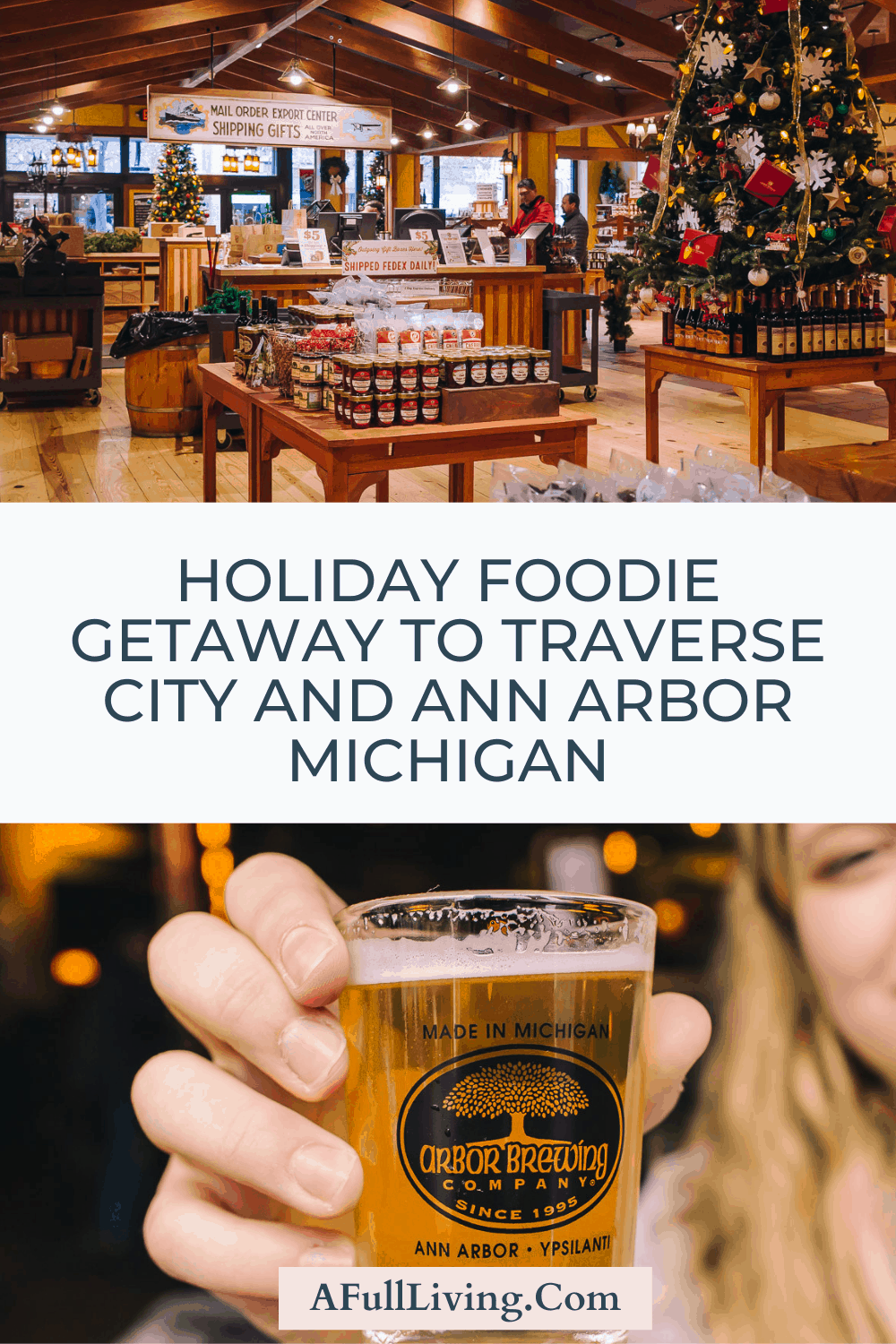 Disclosure: We want to thank Destination Ann Arbor, Traverse City Tourism and The Graduate Ann Arbor for making this trip possible. We were hired to create a more holiday themed foodie itinerary in these cities. We picked the destinations we wanted to showcase, so all opinions are our own. It's sponsors like these that allow us to create fresh content for our website.
Earlier this month, Chamere and I took an almost week-long getaway to Michigan. Getting out of the hustle and bustle of Chicago is sometimes all we need to push restart. Now, if you've been following us for some time now, you probably know that we can EAT, so that's what we set out to do. We also spent some time walking around downtown and browsing shops. If small, boutique and family owned businesses are your thing, these Michigan cities will make you feel all cozy inside.
Now, it gets pretty frigid in these parts - so to be honest we spent a lot of time ducking into cozy coffee shops, hunting for donuts (and a lot of ice cream oddly enough - probably our dessert of choice regardless of the season), and looking for great grub, or a drink. We grabbed a few gifts for ourselves (oops), but trust us when we say that finding gifts for foodie loved ones is an easy task.
We want to give you an itinerary suggestion for eating your way through Ann Arbor and Traverse City.
First Stop: Ann Arbor!
We started our trip in Ann Arbor, Michigan, which both of us were embarrassed to say that we hadn't visited since college. The University of Michigan is surely a huge part of Ann Arbor's soul. The campus kind of sprawls out thru the city, with research, medicine and science painting a nice backdrop. International art and history are a strong focus here as well. Ann Arbor attracts top talent to study, work and live, and was just recently named the most educated city in the US, again.
Ann Arbor is a place where ideas sort of bloom, and so you can imagine the culinary scene here is booming. The international influence is felt here, making this place a foodie's dream. Here you can find a wide variety of food and drink, which in our case, was the focus of this trip. It was amazing to see the local focus in Ann Arbor, which like many other Michigan cities, focuses on utilizing local farms, seasonal ingredients, and crafting amazing food and drink. There's a little bit of everything here.

Ann Arbor is only a 3.5 hour drive from Chicago, so it makes it the perfect getaway from the city. Here's our suggestions on what to eat, drink and do if you have a few days in this lovely Michigan city this holiday season!
Monday, November 12th - Road trip From Chicago, Day 1 In Ann Arbor
Check in: Graduate Ann Arbor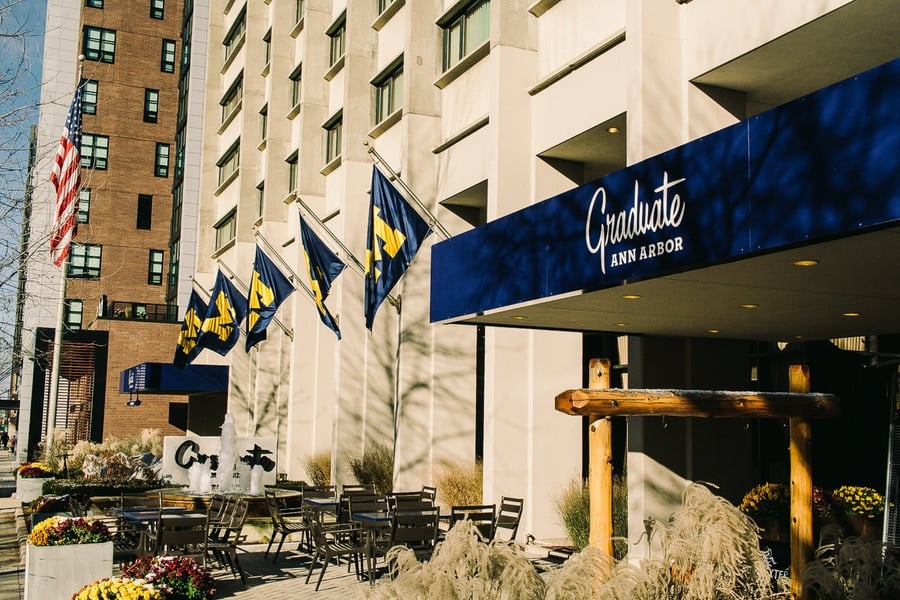 Walking into the Graduate Ann Arbor was such a nice way to start off our trip. When we arrived at the hotel to check in, we were greeted with smiles and such outstanding service. The Graduate is right on the campus of U of M, and the collegiate feel is super fitting. In fact, the name alone says it, but the Graduate hotels are all located in college towns around the US. These gorgeous boutique hotels are currently in 13 other locations around the US, but will be expanding to eight new cities in 2019.

Now, feast your eyes on this gorgeous place. Can't you see yourself here? The location and vibes of this place were perfect, right in downtown Ann Arbor. Most places we visited on our trip were under a 10 minute walk from our hotel, making it ideal and super convenient.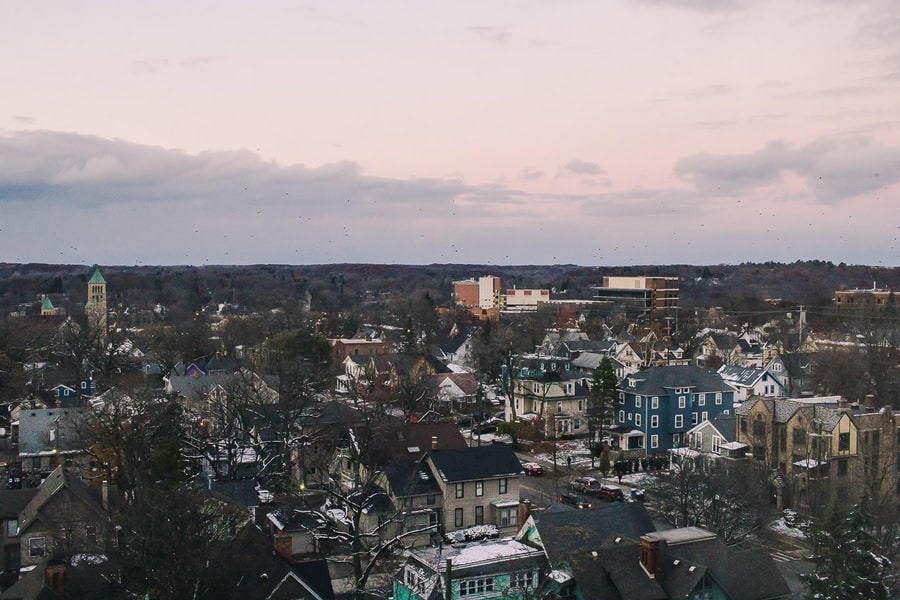 When the Graduate Ann Arbor caught wind of the project that we were doing, they offered to host our stay. Thank you to the Graduate for having us! We can't recommend this hotel enough.
Lunch: Zingerman's Deli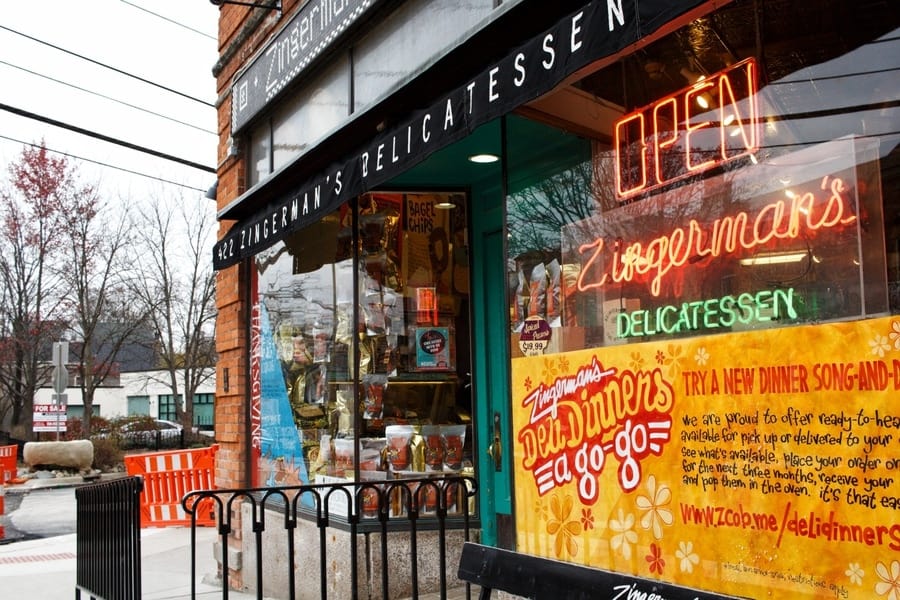 Inside the deli you will be immediately star struck by the gorgeous breads, cheese, meats, baked goods, olive oils and other pantry items you encounter right off the bat. I don't know about you guys, but I could easily drop thousands of dollars in a place like this!!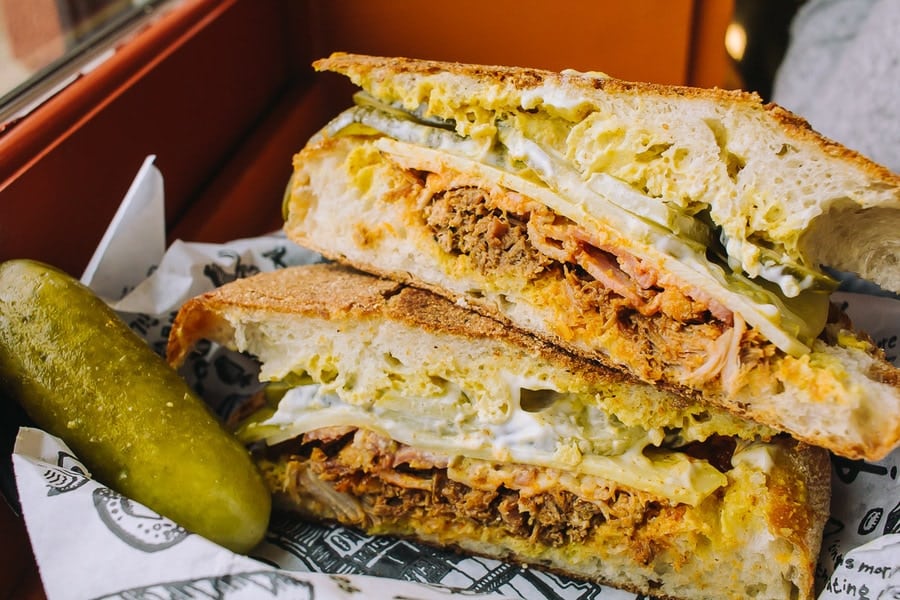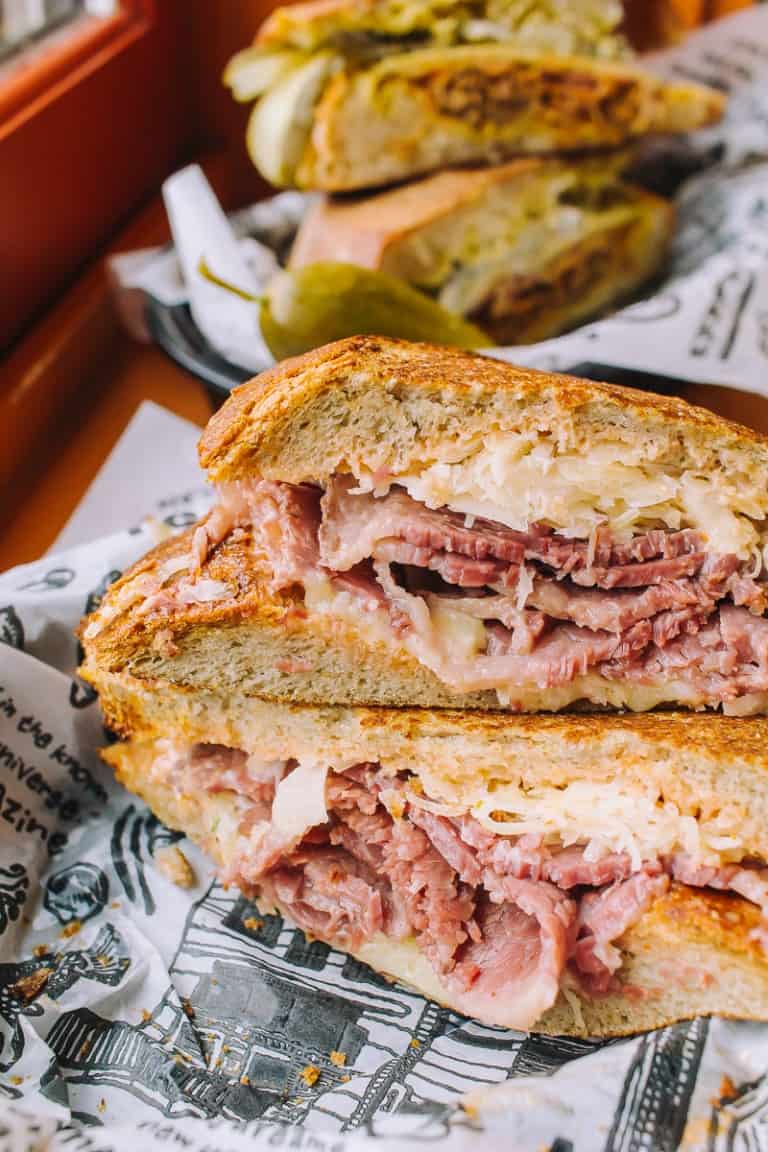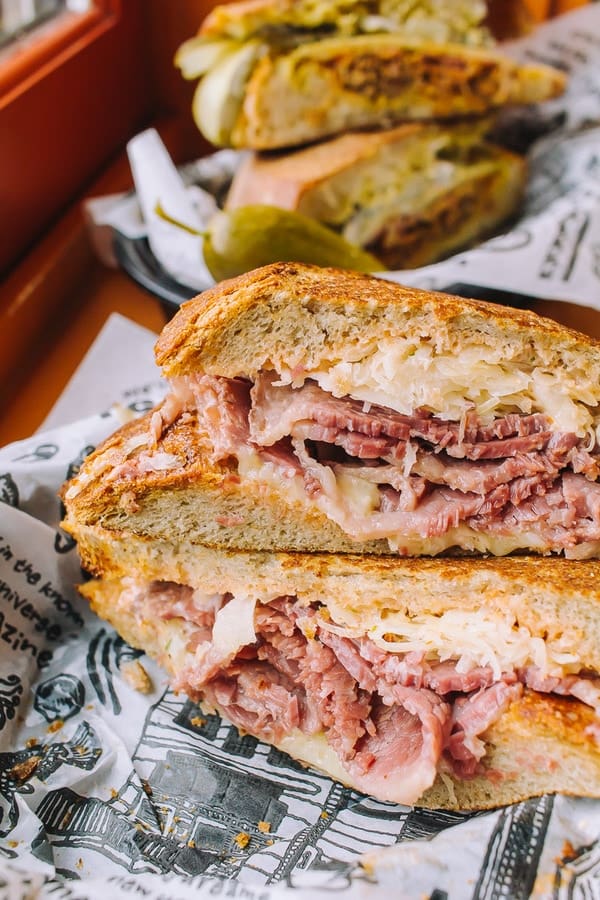 If for some odd reason can't find the foodie gifts you need at Zingerman's, make sure to browse the Kerrytown Market and Shops across the street, too. After lunch, we were stuffed, and it was time for a quick eight minute walk back to the hotel to change and get ready for a nice date night.
Date Night Dinner: Aventura Ann Arbor
Choosing Aventura, a modern Spanish style restaurant and bar was a really great choice. This place is truly sexy, with the moody lighting, exposed brick, candles, and warm, floral decor everywhere. We got a chance to peek at one of the three gorgeous private dining rooms too. The service was really on point and friendly. It was such a nice way to spend the evening!
We played it smart by going to happy hour, which is Monday - Friday from 3 - 6 pm. They offer 25% off tapas with the purchase of a happy hour drink. They also offer 50% off draft beers, $5 sangria, $3 select glasses of wine and more.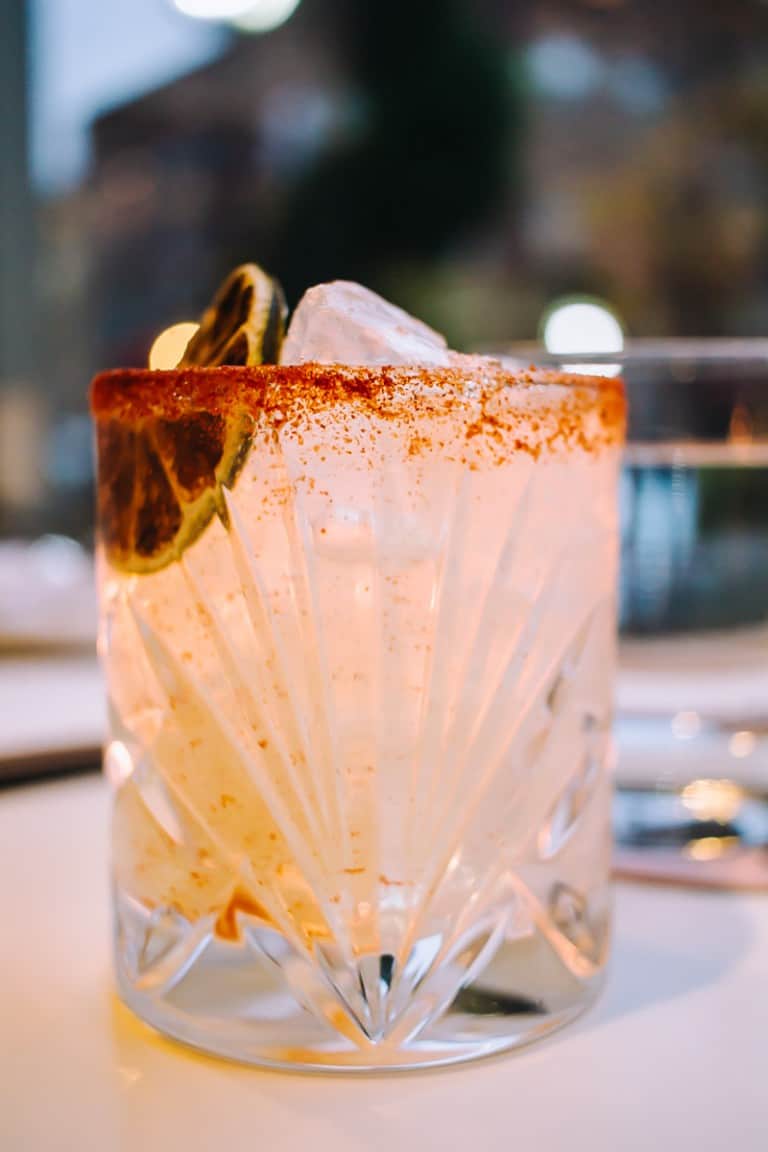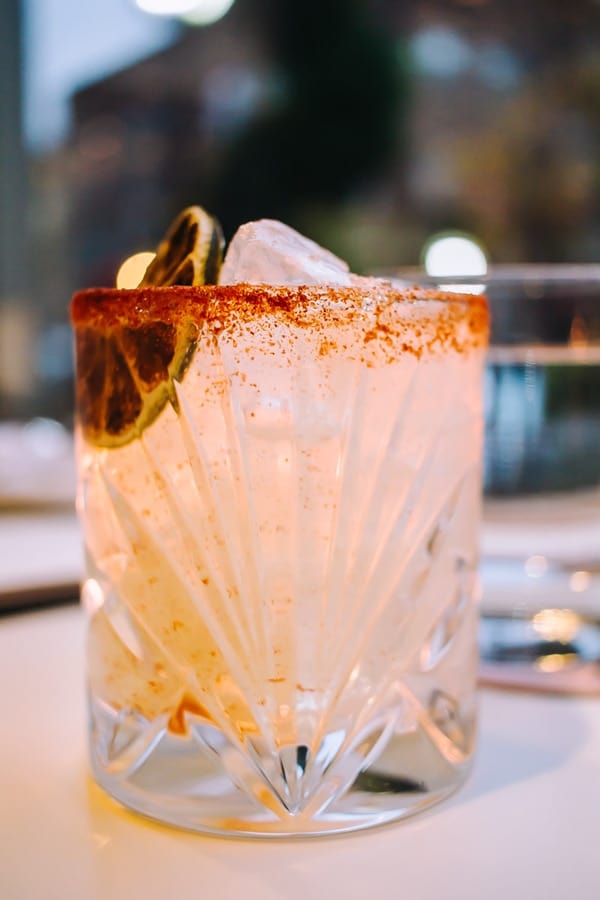 Another fun thing to know, if you're celebrating your birthday here, they will bring you some delightfully light and fluffy churros with a decadent chocolate sauce, complimentary. They offered to bring us one too, when we told them it was our anniversary. Not sure they do this all the time, however. Either way, it was delicious.
Must orders: If you like a savory cocktail with a kick of spice like Briana does, order the Arbolito with blanco tequila, mango-arbol chili shrub, lime and paprika. If we had to pick our top 3 favorite tapas we tried, we would say go with the patatas bravas, gambas bravas, and the bacon wrapped dates with bacon and coffee jam. YUM. We could have easily ordered the whole menu, but decided for once not to gorge ourselves TOO much. Plus we had to save room for ice cream at our next stop!
Dessert: Blank Slate Creamery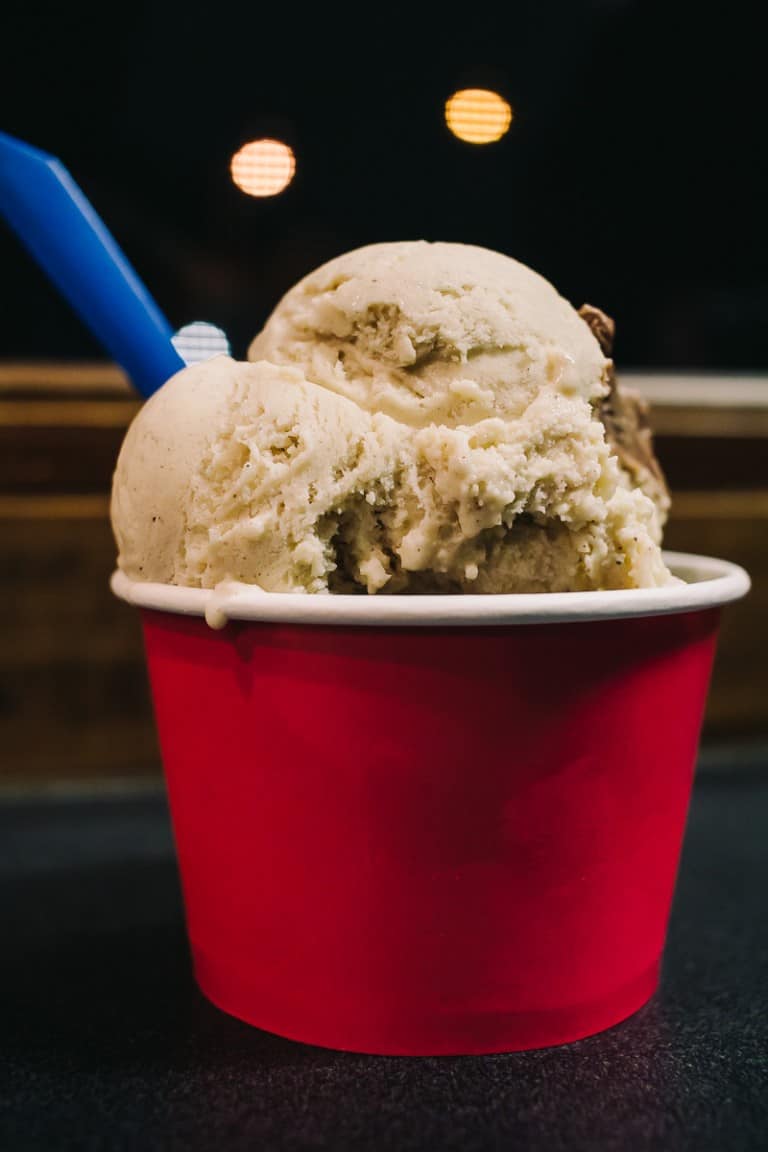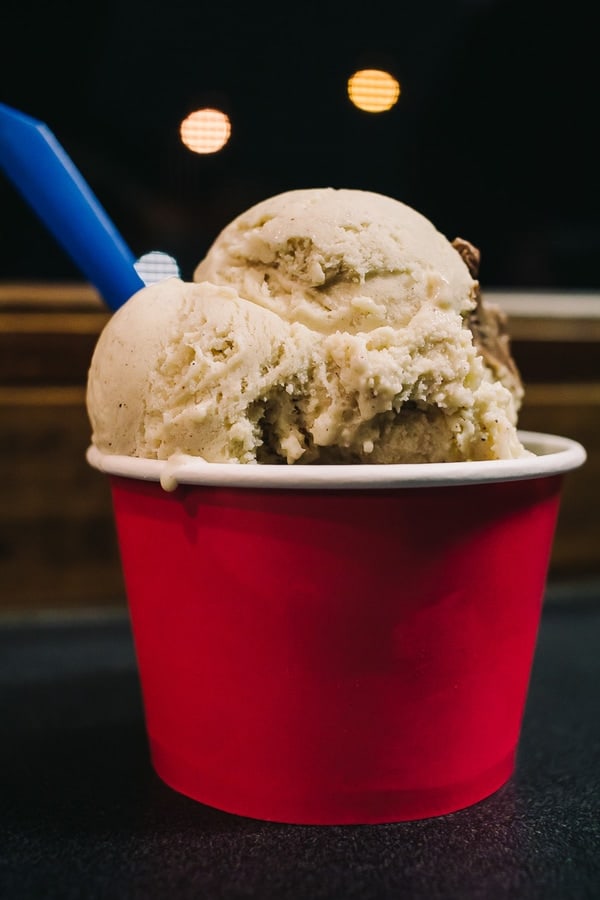 We barely had any room left for dessert, but you better believe we had to try the famous Blank Slate Creamery. These handmade ice creams come in wide variety of flavors, and use local ingredients. They offer around 24 flavors at a time in their bustling downtown ice cream shop.
Tuesday, November 13th - Day 2 in Ann Arbor
Overnight, it snowed! Look at the gorgeous view from our 10th floor hotel room. The snow made everything look so peaceful, crisp and clear. The Graduate offered some amazing views of the city. Time to get ready for the day and head out for breakfast!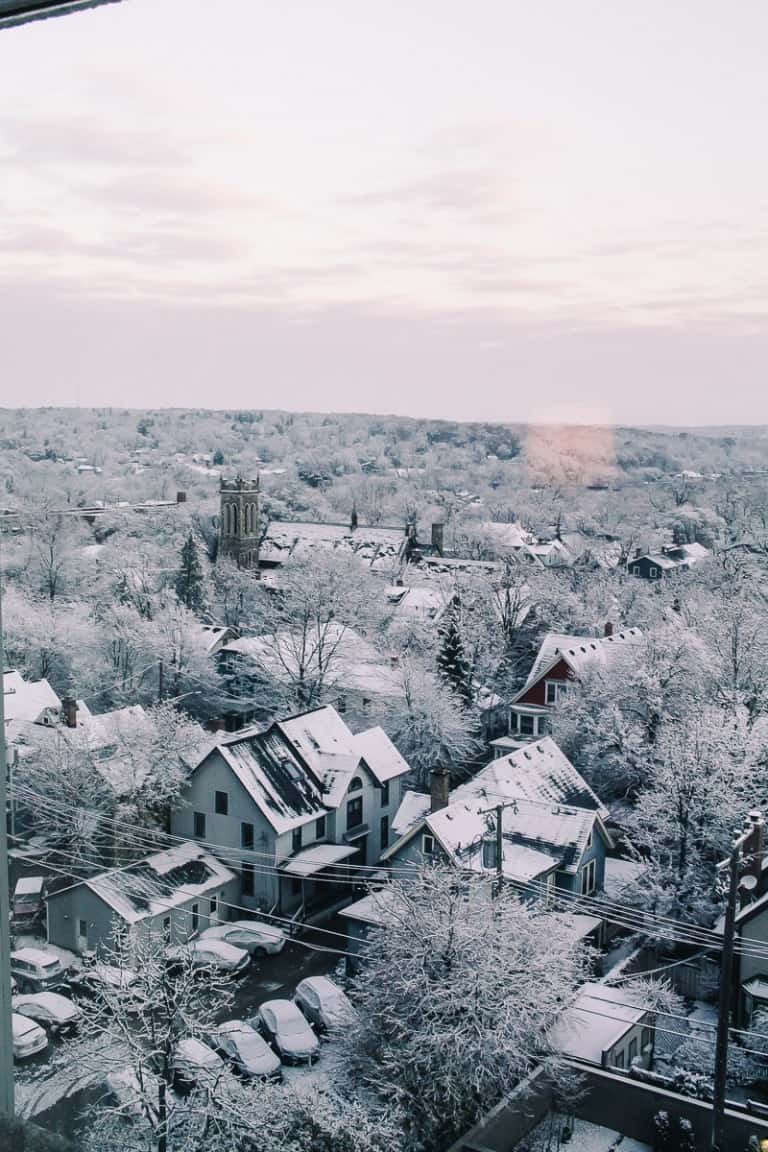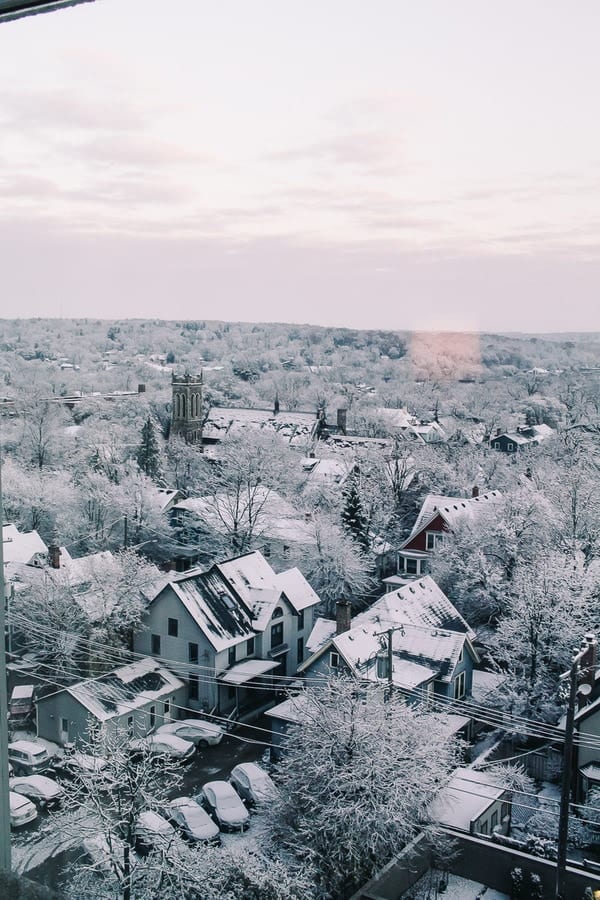 Breakfast: Cafe Zola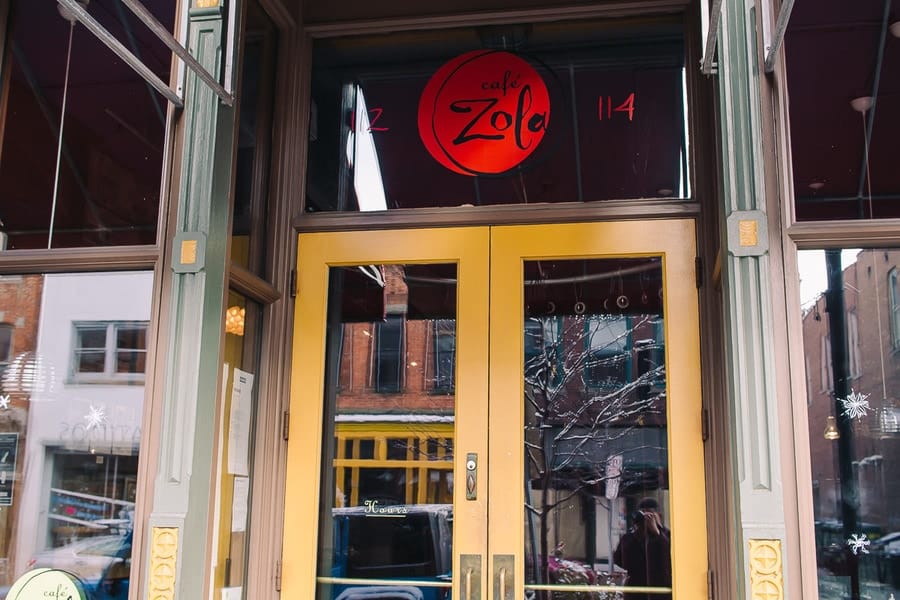 Cafe Zola has been around since 1996, an Ann Arbor staple, and they are often busy, so you might need a reservation during peak hours.
We really loved the Nutella Banana Crepe, the Turkish eggs and the Adana Kofte. A great way to start the morning.
Midday: Tea and Macaroons At TeaHaus Ann Arbor
After breakfast we made our way over to the famous TeaHaus, which is a tea room run by a tea sommelier. Owner Lisa has hand selected over 170 different top quality, loose leaf teas to drink in the store, or take home. We did both! Bought some to take home as well as tried a few teas in the store. You can also order their teas online to be shipped to you.
They are also known for their baked goods, the giant macarons in particular. Boy were they good! A couple of our favorite flavors were the Maple Walnut, Sweet Potato, and Chocolate Cherry. They offer a vegan macaron that was as beautiful as it was delicious too. These also have many tea infused treats like cakes and candies that they sell in store.
Chamere is a huge tea enthusiast, and even he was having a hard time deciding what to pick. When you walk in, you can pick up a binder full of information about the different teas to help steer you in the right direction. The staff here is so helpful and steps in when they recognize that have no idea which tea to pick. They help you figure out your tea preferences, and their knowledge guides you to pick a great cup of tea. You can smell and look at all the loose leaf tea before you decide on one too, which is really cool.

Pro tip: They offer a full English tea service that you will need to call ahead for to reserve. It's only $30 per person and includes all the tea you can drink, plus small bites and lots of desserts.
Midday Walk Around The University of Michigan Campus
Now this campus is really gorgeous, even when cold and snowy. There are lots of free museums you can check out, artwork to ponder, and lush, open spaces to hang out in to pass the time. Here's a quick peek at the campus.
At the time of our visit, we got a major coldspell, so it was freezing! After walking around the campus, we needed to warm up, so decide to find a spot to grab a beer.
Beers At Arbor Brewing Company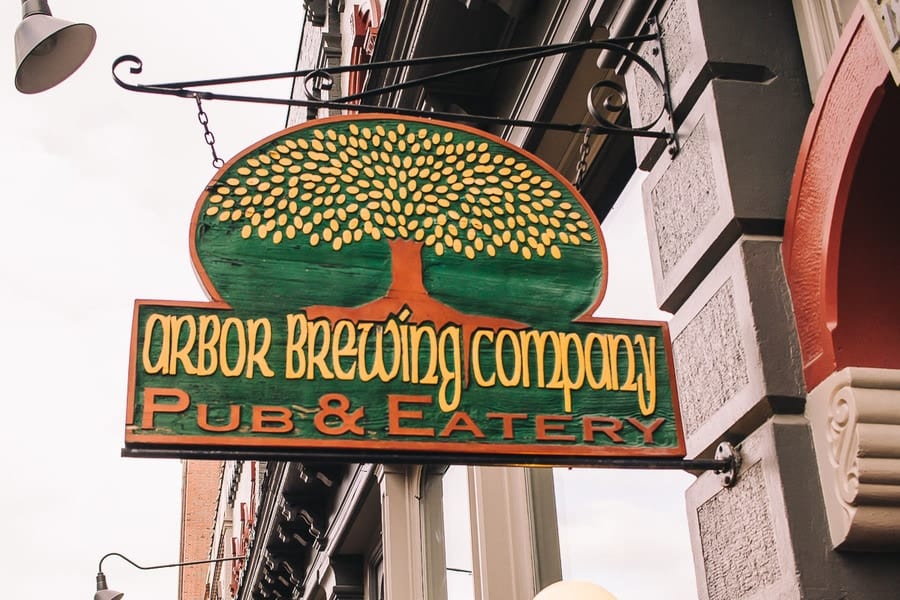 Right downtown Ann Arbor is the Arbor Brewing Company. These guys are pretty well known for being the leaders in Ann Arbor's craft beer industry. They've been making and serving great beer since 1995. At the brewpub, they have a huge selection of their handcrafted beers on tap. We both opted for a beer flight so we could taste a few.
They have a really tasty looking food menu as well, but we only drank beer this time around and didn't try anything. The head brewer came out and introduced himself and offered to give us a little tour of the place, which was really cool!

Next time we have our sights set on trying the fried chicken sandwich along with the chocolate stout cake along with some beer. We really loves the vibe here. We were only saving our appetite for the next spot down the street.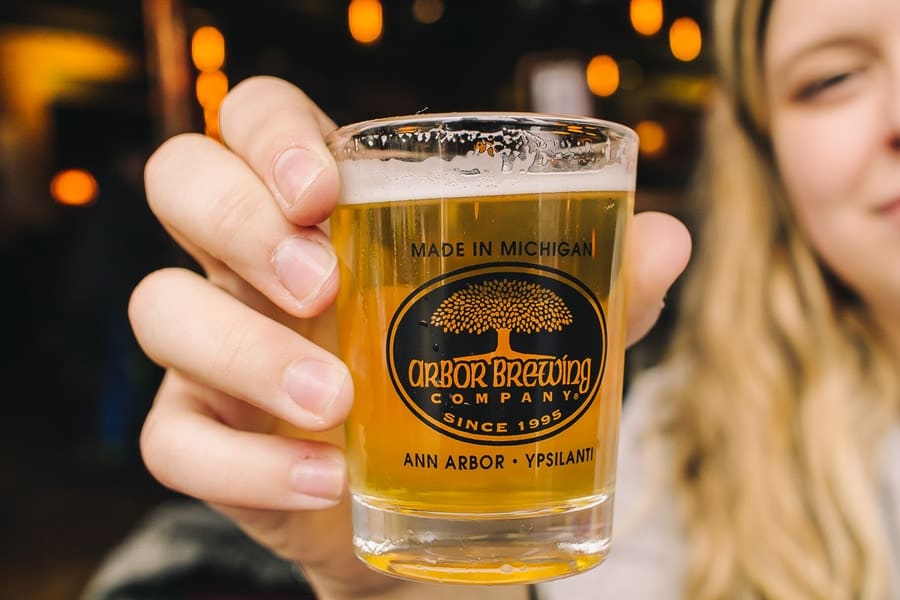 Lunch At Fritas Batidos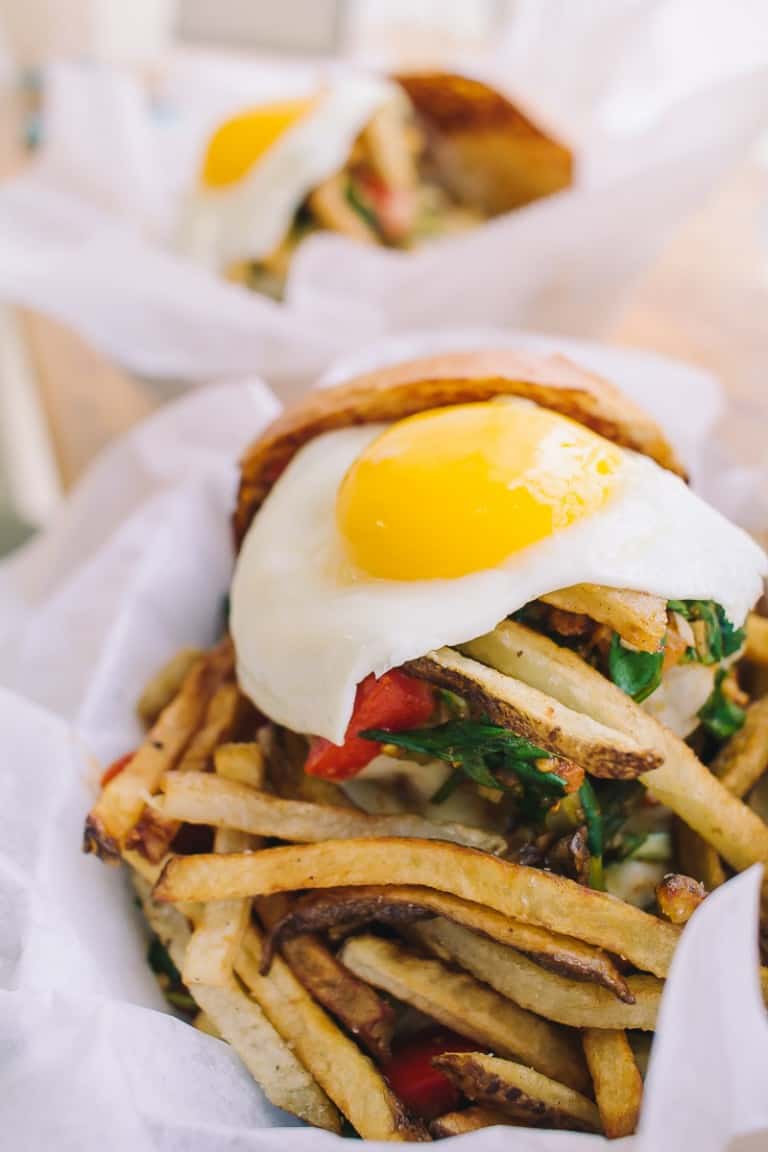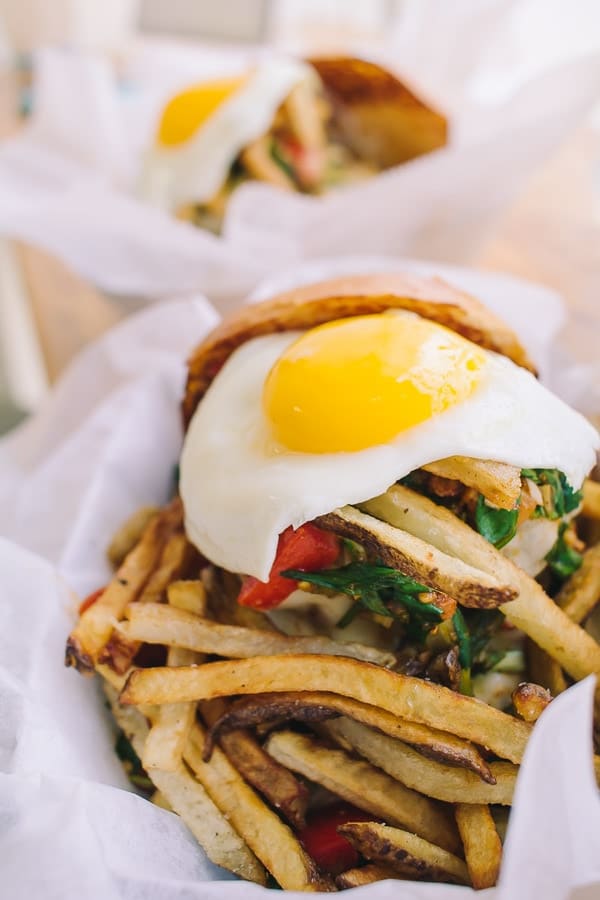 Frita Batidos also came highly recommended for their delicious Cuban street food. They are known for their "frita" or Cuban style burgers served on an egg bun with shoestring fries and the "batidos" or tropical milkshakes that you can get spiked with rum. Owner Eve has a pretty impressive background, spending over 25 years honing her skills as a chef in the industry, earning numerous honors and recognition - even competing in the James Beard Awards.
Her focus is also seasonal and local whenever possible, so some of the ingredients change as the year goes on. She also sources all the meat locally, and you can truly taste the quality.
This place gets seriously PACKED, so you know that's a great sign. Everyone has to get their fill.
We tried a chorizo and beef frita served "loco" style with all the toppings including: muenster cheese, sunny side up egg, cilantro lime salsa, avocado spread, slaw and a sweet chili mayo. We also split a chocolate batido, minus the rum, and an order of the garlic twice fried plantains. YUM. After this meal, we needed a nap, but we left stuffed and satisfied!
Pro tip: drop by for happy hour, Sunday - Thursday from 4 - 6 pm, and the last hour of service every night. They offer some great deals on drinks, burgers and fries.
Beer and Snacks For Dinner at HOMES Brewery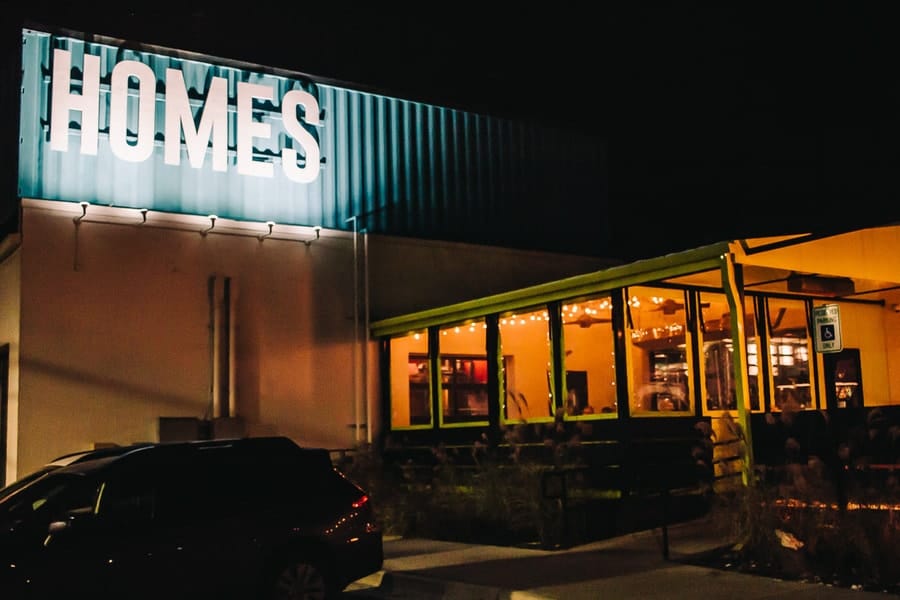 After Frita Batidos, we took a brief hiatus at the hotel for about an hour or so until HOMES Brewery opened up at 4 pm. This super hip brewpub serves some really impressive crafted on-site beers and delicious Asian street food inspired snacks. They are largely known for bao buns, noodles, and loaded fries.
We opted for the kimchi fries this time around, which were quite enjoyable! We simply didn't have room in our stomachs for anything else which is kind of a bummer. We really loved the beer and vibe of this spot. It got quite packed around 6, as they were gearing up for Trivia night.

They have an extensive selection of beers on tap. We would totally recommend what we ordered, but they change things around daily. So we believe that you're in really good hands with these guys.
Dessert and Coffee at La Dolce Vita
If you've been following us for a bit, you probably know that Chamere has a major sweet tooth, so no day is complete without dessert. Briana is also a bit of a caffeine addict, and truth be told, both of us needed a little pick me up to try to hold the food coma off! La Dolce Vita was the perfect pit stop.
La Dolce Vita is a dark, sexy cigar lounge inside of the Chop House that serves gourmet desserts, coffee, wine and cocktails. The Chop House serves up premium steakhouse cuisine. This setup would make a great date night. We did also see that this place got stupid busy, with lots of large parties in their private dining spaces located in the basement portion of the space.

We ordered a couple coffees, the Bananas Foster Bread Pudding and the Chocolate Melt cake. Everything was truly indulgent and incredibly delicious. Make sure to add this to your list of swanky date night spots in Ann Arbor. We held off on the cocktails, as we were headed to another spot to get a few of those.
Cocktails At The Last Word Bar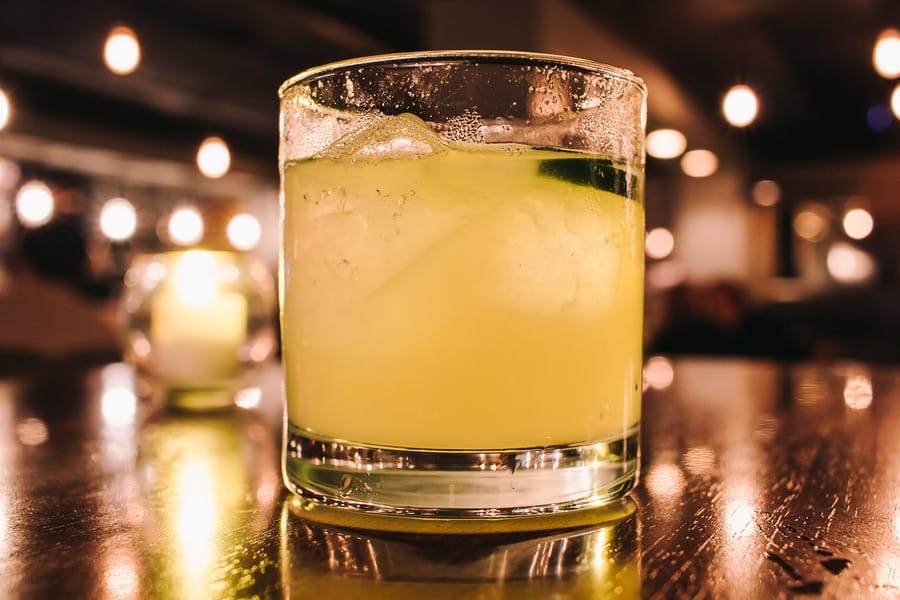 We both opted for "Chapter Three" Cocktails which are lighter cocktails. There was also a section for heavier cocktails, dessert cocktails, wine and whiskey complete with a glossary of terms.

With low lighting we had fun getting this shot complete with plenty of bokeh in the background of Briana's Los Lobos cocktail, complete with tequila, lime, pineapple, agave nectar and pink peppercorn. Super refreshing.

There's a cocktail for everyone here- even if you are just starting to explore this area. Service is great too, so if you have any questions about what to order, they will definitely help you out.
Date Night Activity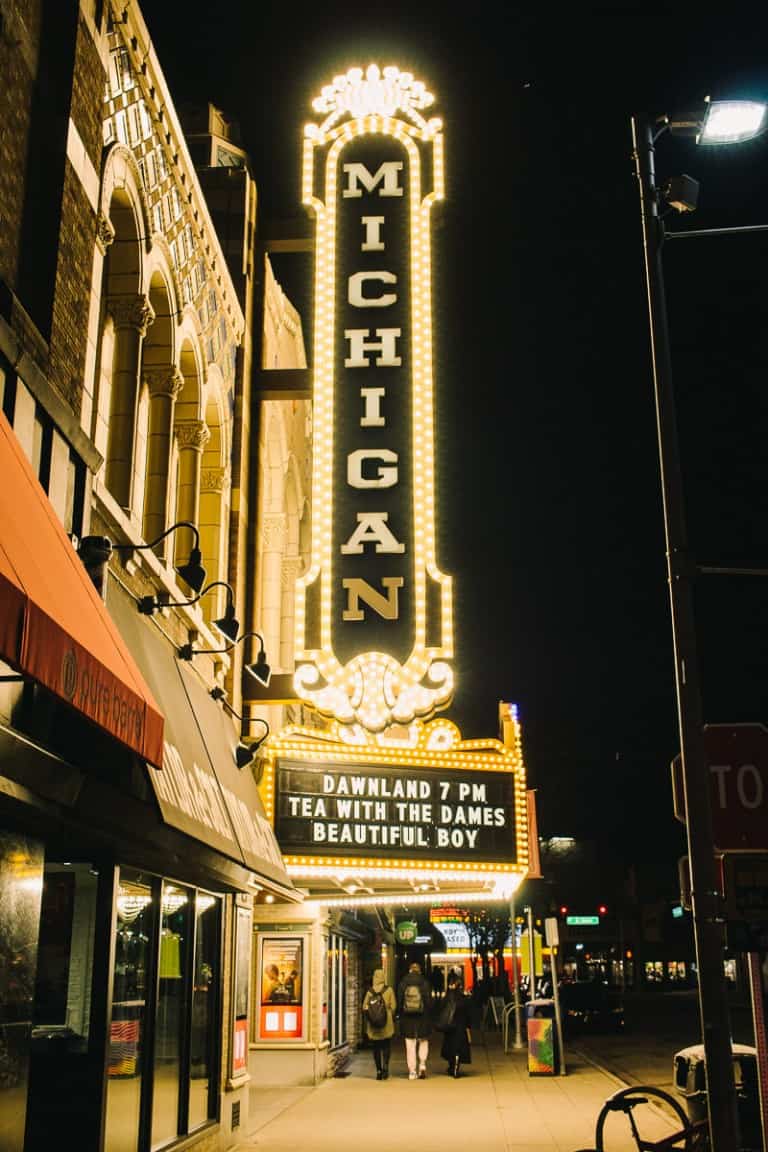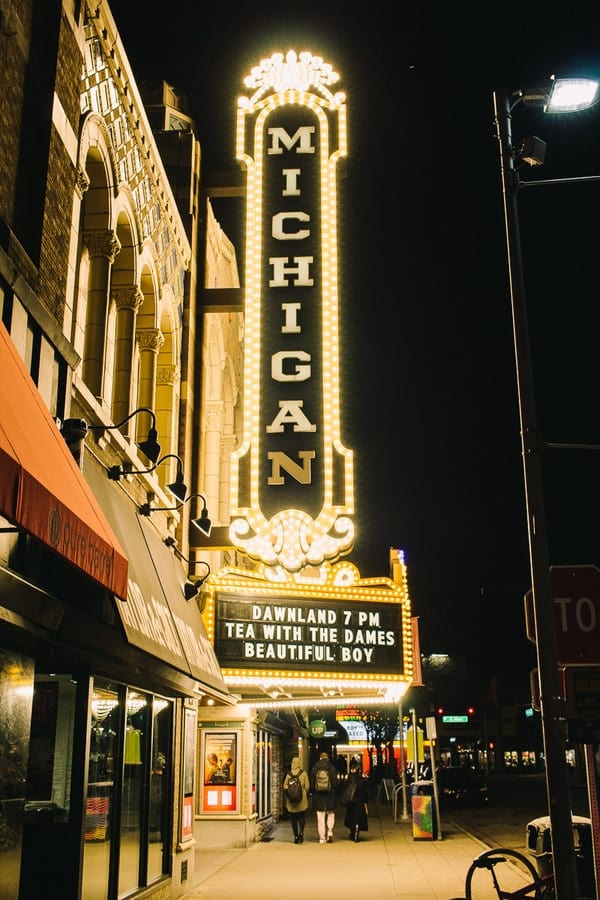 After The Last Word we initially intended to visit the Michigan Theater for a show, until we found out the showtime got moved to later in the week. This would be a great place to check out an independent film, stage production or musical. Some shows you will need to order tickets ahead of time, others are shown on a first come, first serve basis and are free. Just make sure to pay better attention to their website than we did, so you don't miss something you want to see! You may also enjoy the Ark, which is a great place to see live, local music.

We strolled back to the Graduate to head in to go to sleep, as most shops were closed. Another great night in Ann Arbor!
Wednesday, November 14th - Last day in Ann Arbor, Roadtrip to Traverse City
Somehow it was already our last few hours in Ann Arbor, before we were heading out to go home to Traverse City. We had time for a few more activities, so we squeezed in as much as we could!
Morning Coffee at Comet Coffee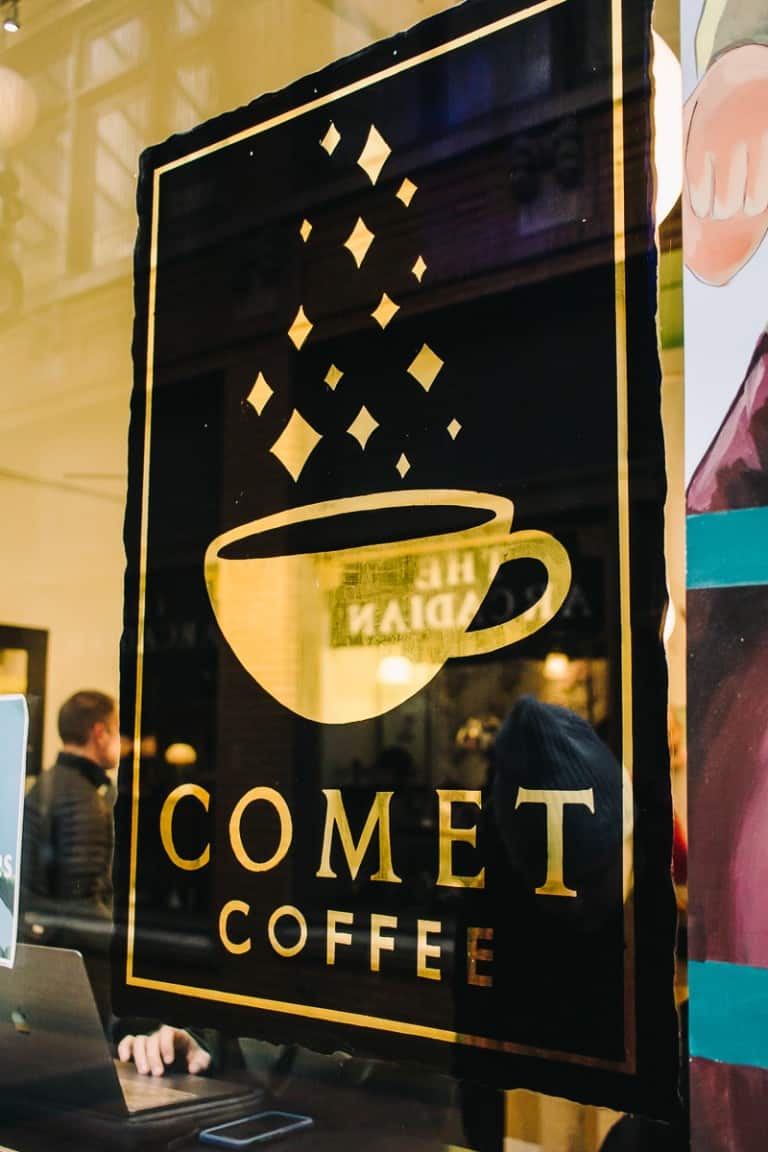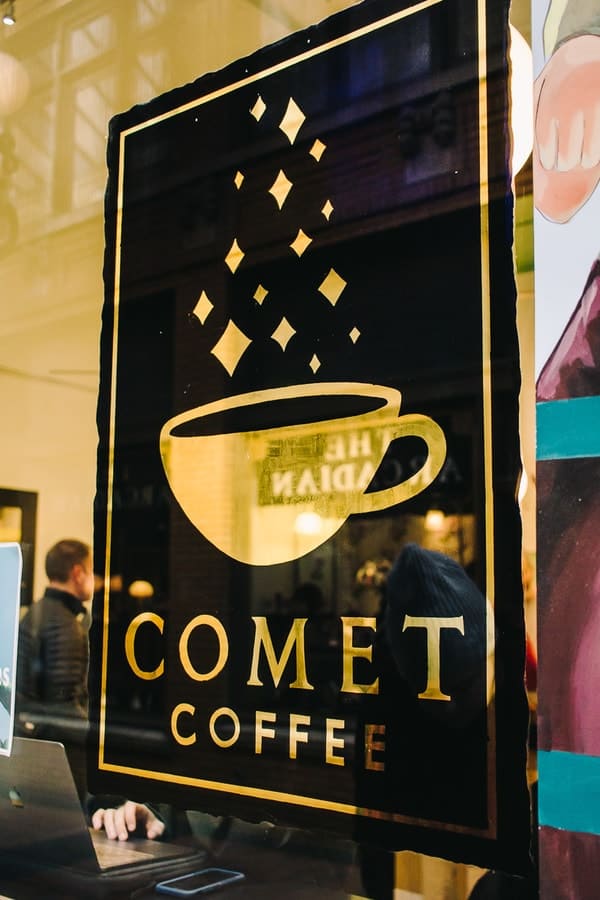 Comet Coffee is a hip coffee shop is located inside of Nickels Arcade, which is now officially a historic building in Ann Arbor. Nickles Arcade is not a place you play arcade games, but rather an outdoor strip of commercial shops enclosed with a passageway, and it was first opened in 1915. It's really picturesque for taking your coffee insta-shots like we did.
Comet Coffee gets super busy, like it was when we were in. We asked the people working there if this was common and they confirmed that it was often very busy. The small space was crowded with people getting their morning brew and pastries to go, and there's a little bit of space to work in there with a laptop too.
We grabbed a latte and almond croissant to go. Look how cute the coffee sleeve is! Comet Coffee sells branded merchandise as well.
Walked Around Graffiti Alley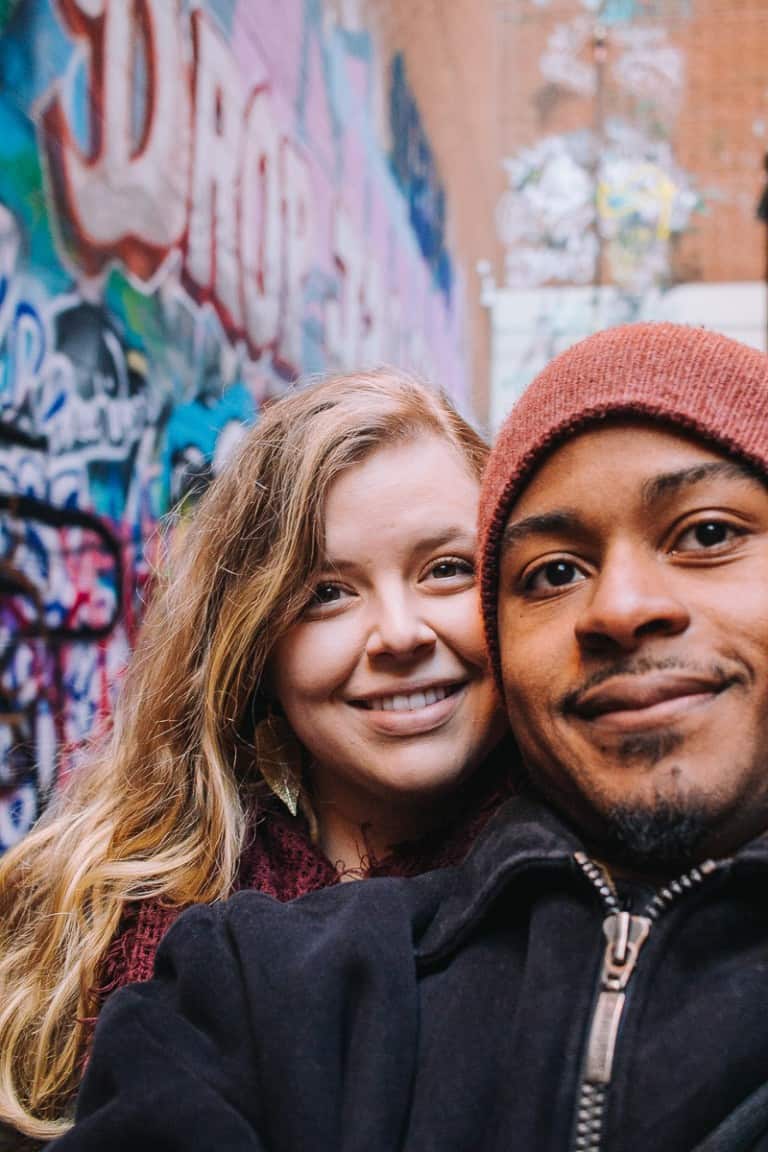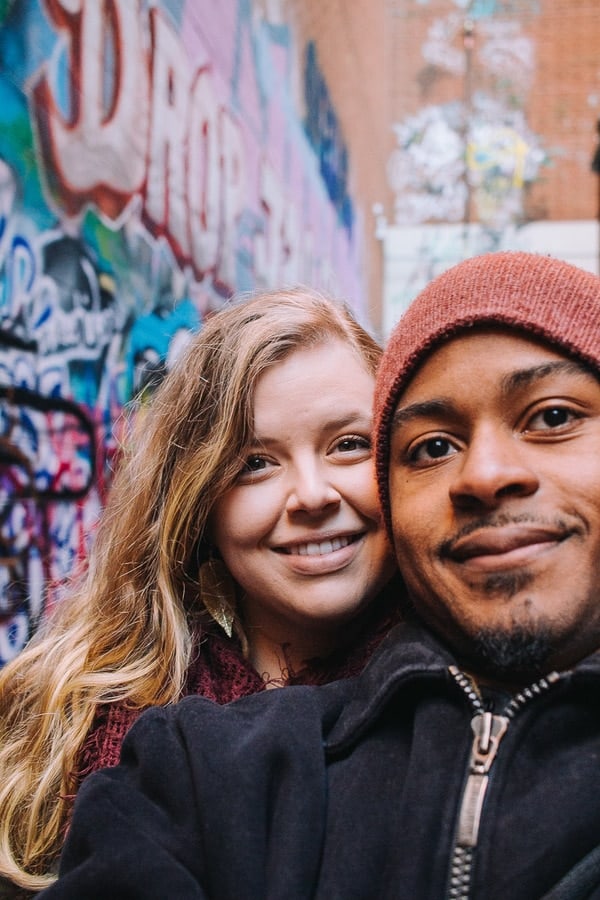 After grabbing our morning brew, we headed over to Ann Arbor's constantly changing Graffiti Alley. Although it was freezing out, we used this as an opportunity to snap a few photos of us, as it turns out, we don't have that many nice ones of us!
If you like street art, make sure to walk thru here, as the art is always changing.
Quick Pit Stop Back At Zingerman's Deli For Lunch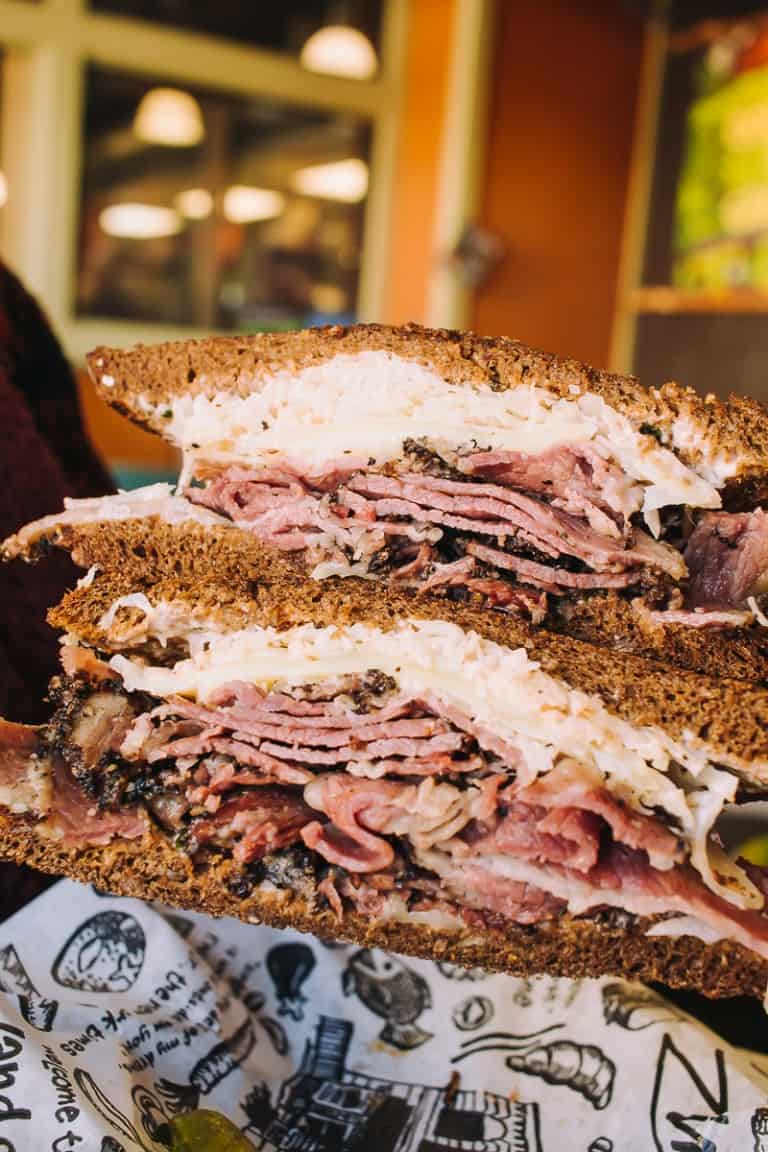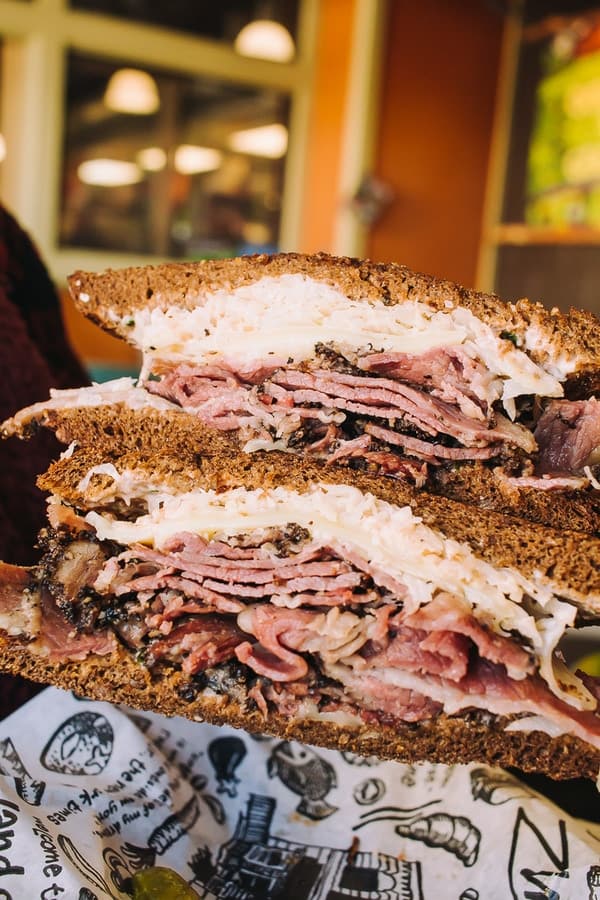 After walking around, we decided it was time to grab a quick bite before hitting the road. Since we started our trip at Zingerman's it only seemed fitting to end our trip that way too. As we said before, Zingerman's is the heart and soul of the culinary scene of Ann Arbor, so browsing the Ann Arbor Farmers Market, the Kerrytown Market & Shops and having one last glorious Zingerman's reuben seemed like the perfect way to end our trip.
It was time to get on the road to head up north to Traverse City, which is a 3.5 hour drive from Ann Arbor. So we said so long for now, Ann Arbor! You were great to us! Until next time. If you want to check out a behind the scenes look, here's our highlight reel on Instagram!
Next Stop: Traverse City
After arriving in Traverse City, we decided to lay low for the first night and relax by the fire with Briana's family, and the family dogs. We were basically in a food coma, so relaxing for the first night seemed fitting! In case you didn't know, Briana is originally from Traverse City, Michigan, so we spend a lot of time up north visiting her family and enjoying everything the area has to offer.

This lakeside city is known for being a summer getaway, but we don't think you should overlook it in the fall or winter either. Traverse City's downtown has over 150 boutique shops, restaurants, and bars making it a foodie's paradise. Traverse City is known for its hyper local focus, with hundreds of farms, vineyards, breweries, distilleries and more supplying restaurants and shops with the bounty of this region of the world.
These are Briana's picks on where to eat, drink and shop, especially if you are spending a lot of time in the downtown area. Most places are ones she frequented growing up in Traverse City, and a few are new spots that have become like old favorites. We love supporting the businesses that build a strong backbone in the culinary scene here, from old to new. We did more of a shopping focus in Traverse City, as we are here eating often. Don't worry, we still ate plenty of food, but we just spent more time browsing the shops! If you want our ultimate guide to Traverse City's Best Restaurants, be sure to check out this guide.
Wednesday, November 15th - First Full Day In Traverse City
Morning Coffee At Mundo's Roasting & Co.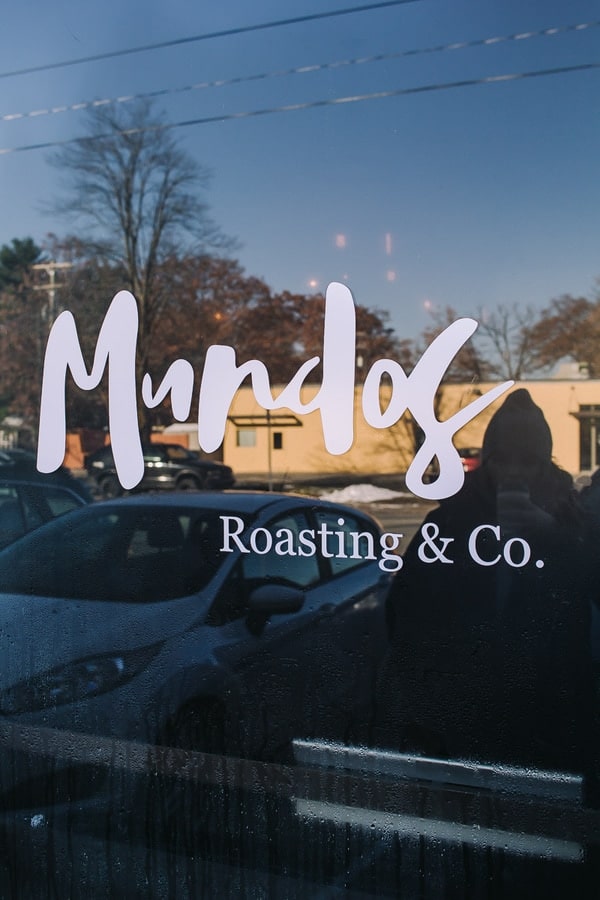 This place is fairly new to town actually, and they've been open for a little over a year. Now that we found out about Mundo's Roasting & Co., it's going to be our go-to spot to get a great cup of coffee and get stuff done. The decor is on point, with a mix of rustic with lots of wood, complete with white walls, hanging light bulbs, and plenty of cozy couches and plants.
These guys do coffee justice with their freshly roasted, small batch, single origin coffee beans that you can pick up to take home, or enjoy in the coffeeshop. All of their coffee is sourced ethically too, so you can feel extra good about drinking it!
They make all their latte syrups in house, along with some gorgeous pastries. We tried a couple of lattes as well as a cup of drip coffee. The quality and flavor of their coffee is very apparent. So stop and stay awhile, grab some roasted beans to go and even a candle by Traverse City Candle Company, that hand pours all of their candles in town with nostalgic scents that remind me of my childhood growing up in Traverse City.
Dessert Pit Stop At Potter's Bakery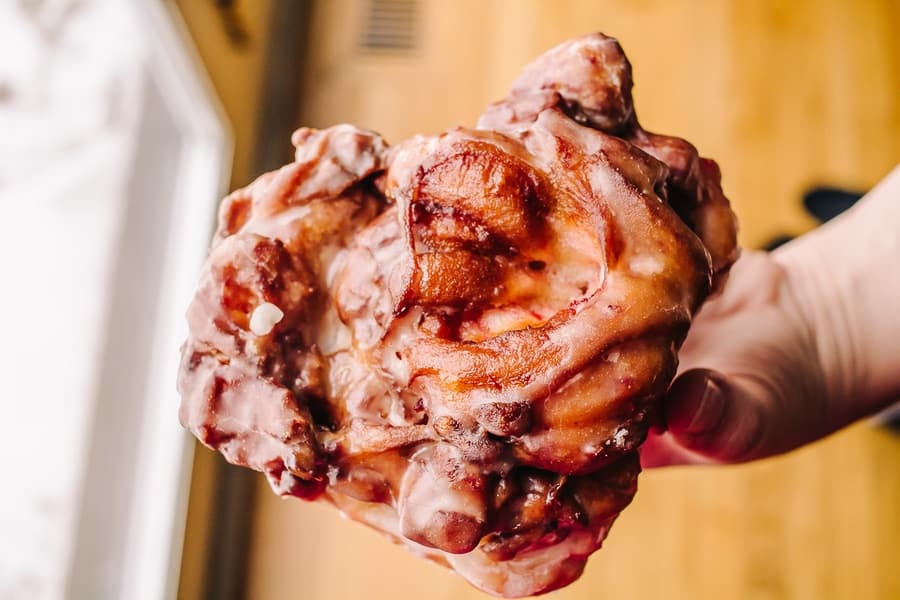 This would be a great place to get fresh made holiday gifts for the dessert lover as well. Their prices are reasonable, and they are super friendly. Support a local staple and you will be glad you did!
Lunch and Light Foodie Shopping: Folgarelli's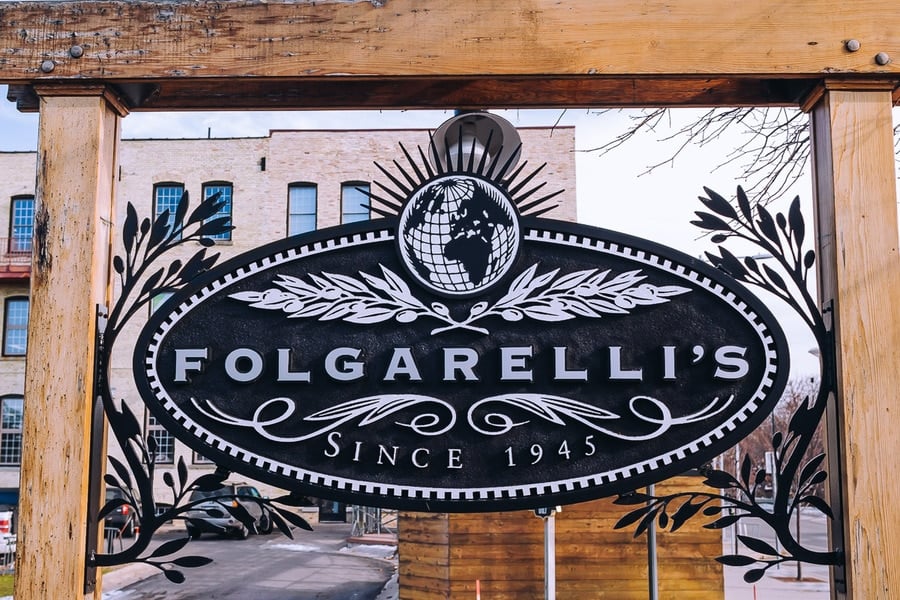 Since we had no "real" food yet, it was time to head over to Folgarelli's for a sandwich and browse for foodie gifts. You might be vaguely familiar with these guys, as I've mentioned them here before, and we gotta reiterate that this place is a must!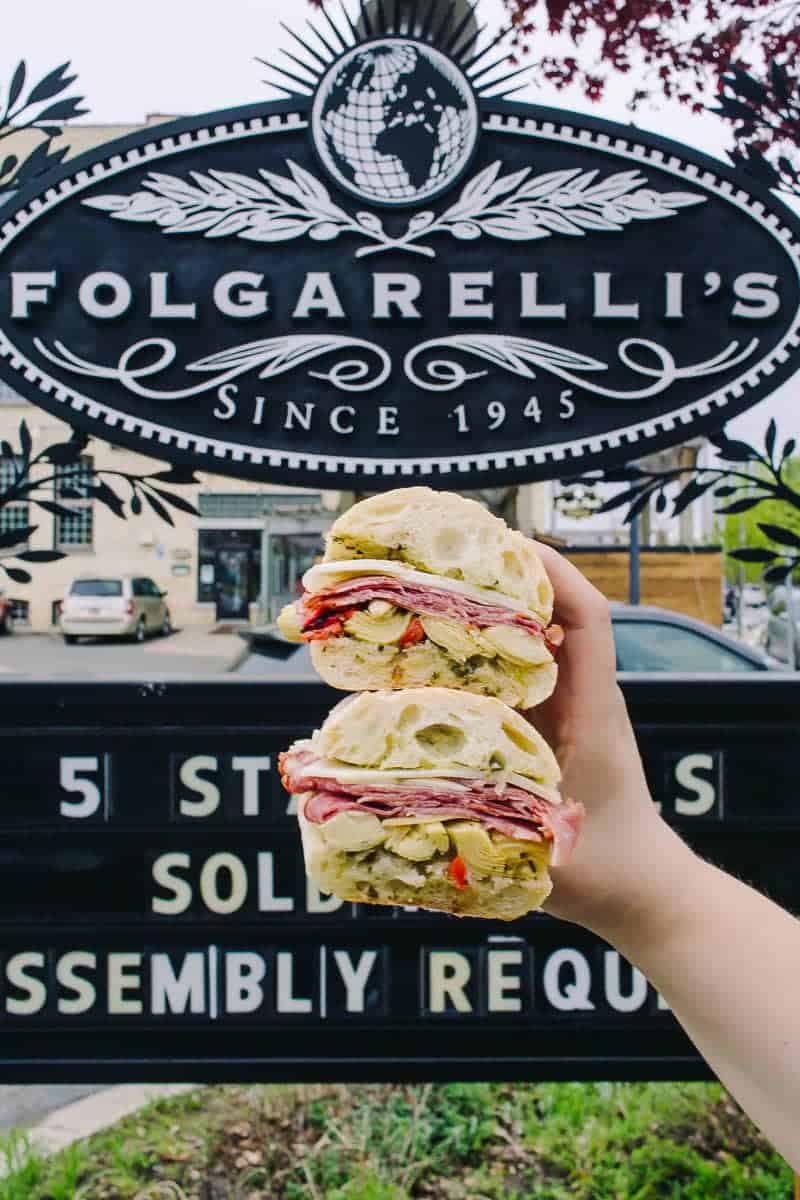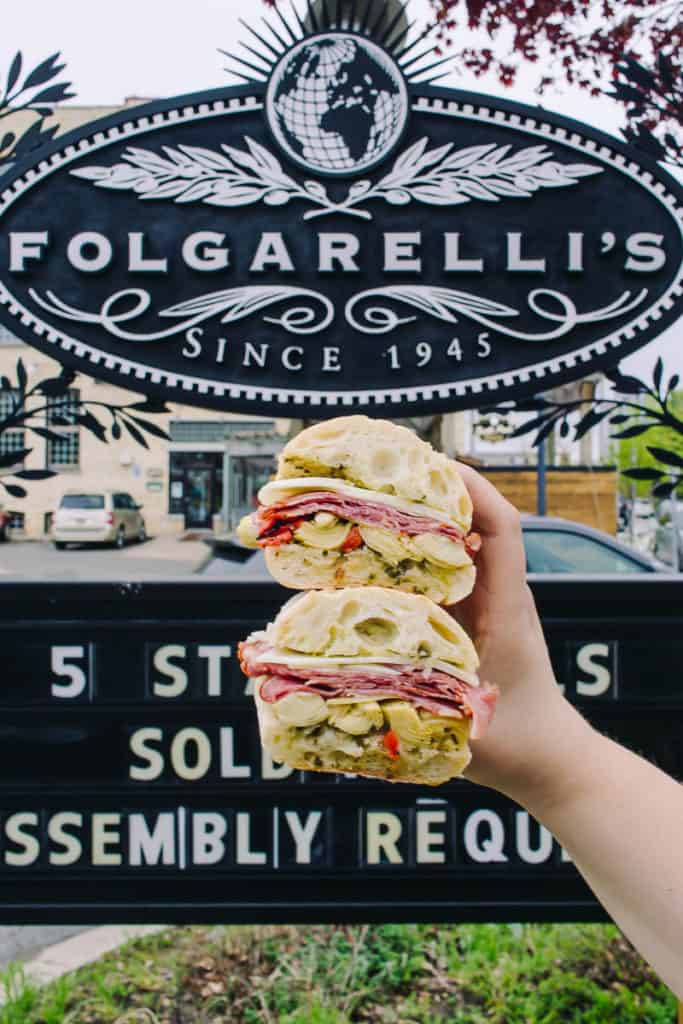 Folgarelli's is a gourmet food market and wine shop, that sells sandwiches, meat, cheese, wine and plenty of other specialty sides and imported pantry items. I know if it were me, I would love getting gifts from this place, they have a lot to offer! They've been in business since 1945, so again, another local favorite.

Browse for gifts while you wait for your sandwich to be made fresh. Don't let the low price of these sandwiches fool you - spend $8 - $10 and you can get a gigantic sandwich.
Pro tip: If you call ahead, you can have them build you a beautiful custom charcuterie platter for your holiday party.
Foodie Shopping Downtown Traverse City
After a quick bite at Folgarelli's, it was time to visit Downtown Traverse City to continue the foodie shopping. There are over 150 restaurants, bars and boutique shops in the downtown area for you to enjoy. You can find some truly unique gifts that will delight any food lover. Here's some of Briana's Favorites.
Fustini's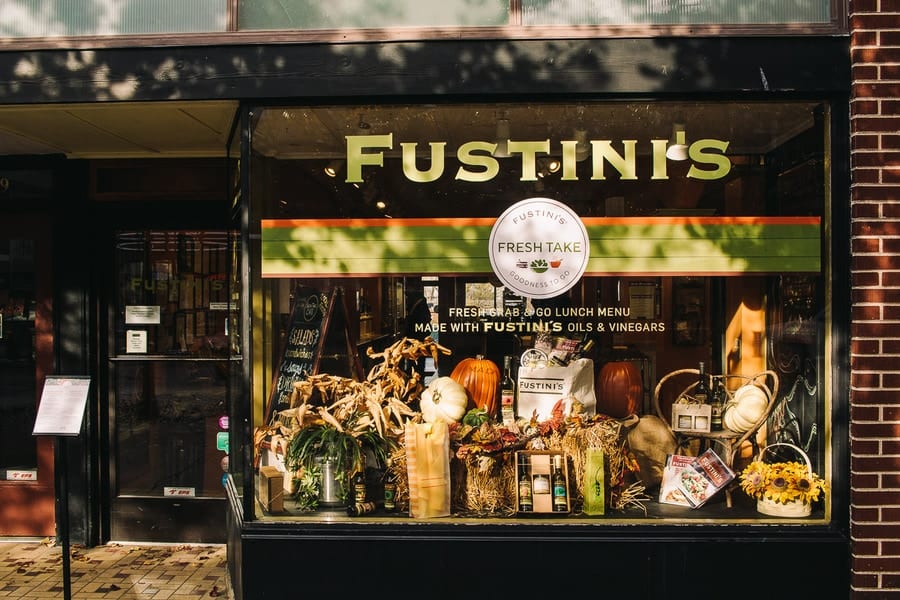 You can even take a cooking class at Fustini's, but you will have to plan ahead, as they get busy. If you want to make some food at home, grab a cookbook to check out some of Fustini's amazing recipes, or check out some of their awesome recipe videos on their website. If you're hungry and don't feel like cooking, in the store you can shop at the Fresh Take cafe, which uses Fustini's products alongside products from local companies and farms.

We tried a ton of products and decided on taking home a mini four pack of infused olive oils. We chose leek, garlic, sage & mushroom, and aji chili infused olive oils.
Cherry Republic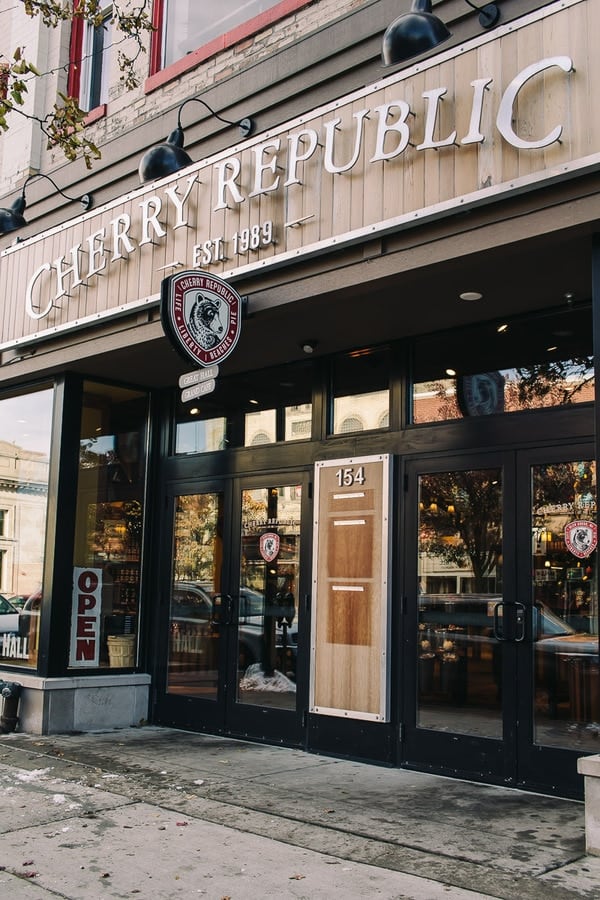 Another pretty well known business in the area is Cherry Republic. They have a locations in downtown Traverse City, Ann Arbor, Glen Arbor, Frakenmuth, Charlevoix, and Holland. Not surprising that Traverse City, which produces 75% of the United States' tart cherries, and is known as the cherry capital of the world, is home to a giant Cherry Republic store.
This store has grown a lot over the years. Growing up it was much smaller than it is today, but nowadays, go in there for a true experience. They carry hundreds of locally crafted cherry products, from jam, BBQ sauce, chocolates, coffee, wine, salsa and more. You can sample almost everything in the store so you can ensure you're making the right choice. There's an ice cream bar and cafe, coffee bar, wine tasting table, and even a spot for kids to play while you shop and sample everything. You will definitely find things you want to take home here, and if need to ship products back home, you can do that right from the store.
Nifty Things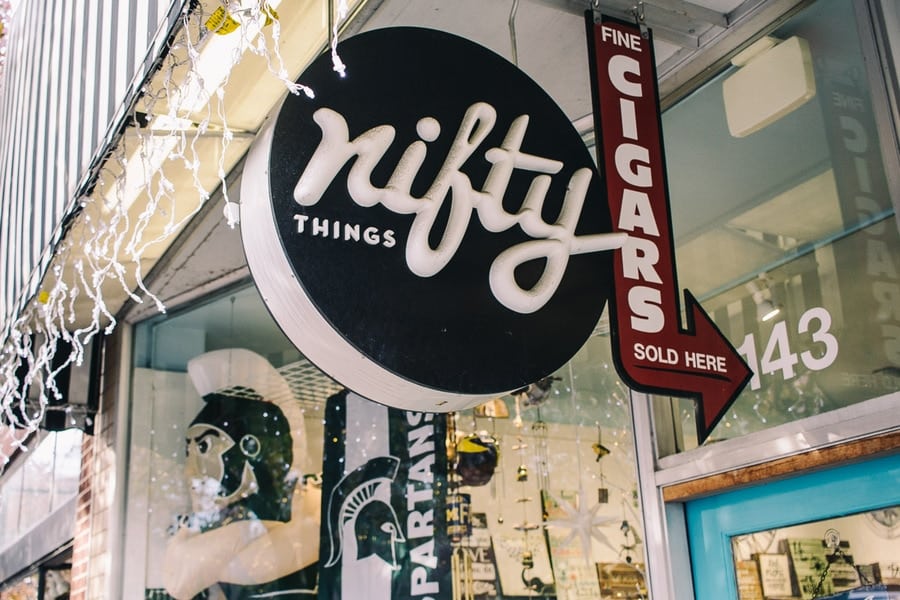 Nifty Things is apparently one of the most popular stores downtown, and carries thousands of unique gifts. You can find some really cool kitchen, home and entertaining gadgets and gifts here. It's easy to spend a couple hours in this unique store!
Peppercorn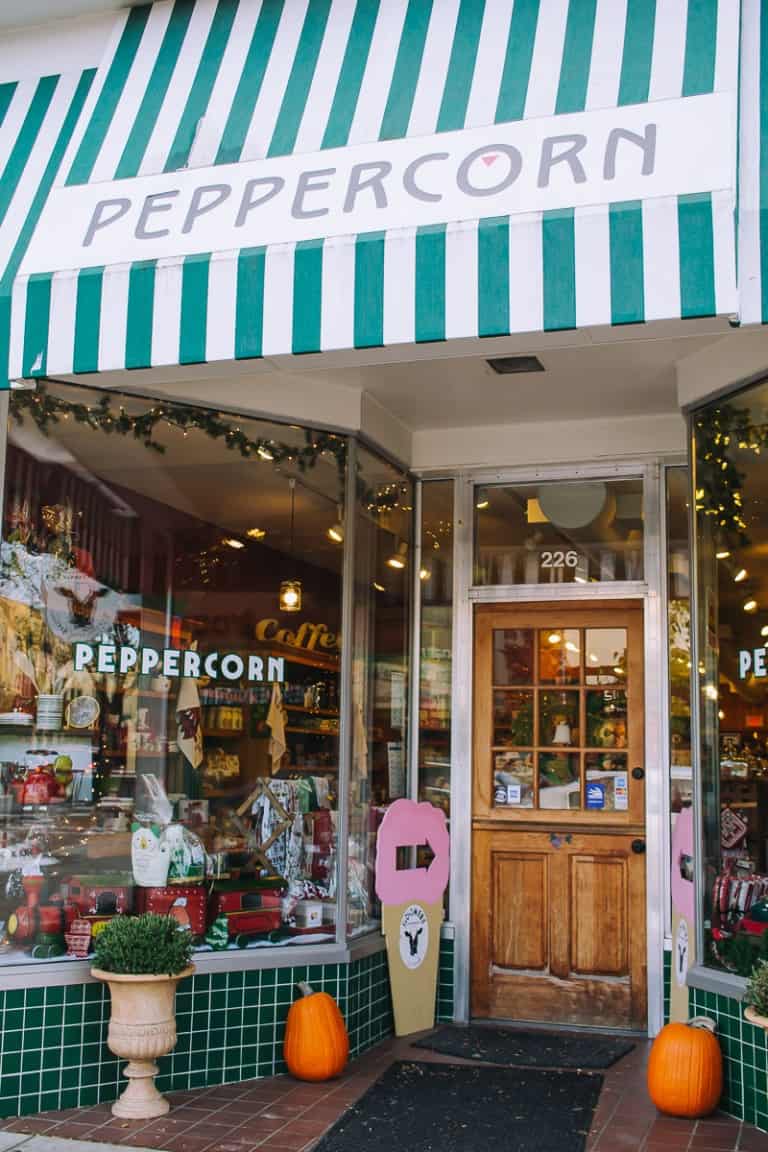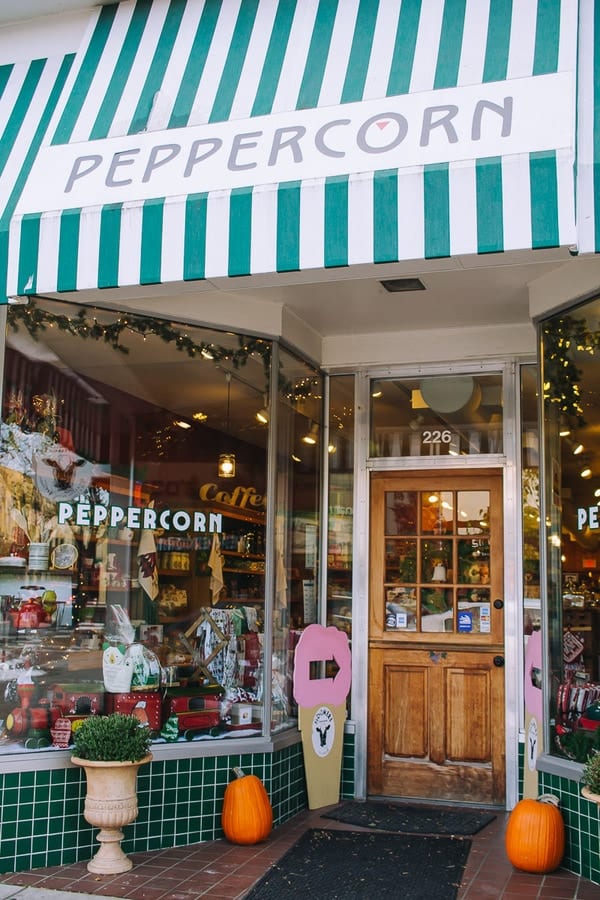 Peppercorn is a gourmet kitchen store, with tons of local products, kitchen gadgets, linens and even some select flavors of America's Best Ice Cream, Moomer's!
American Spoon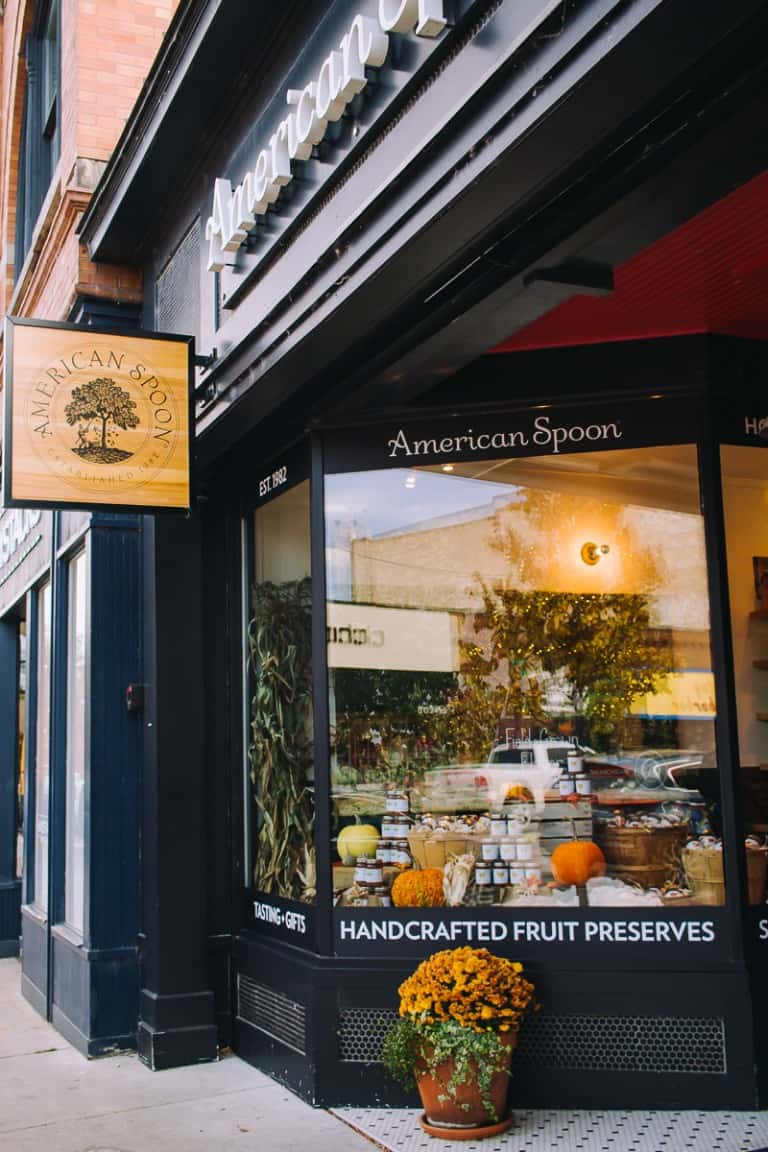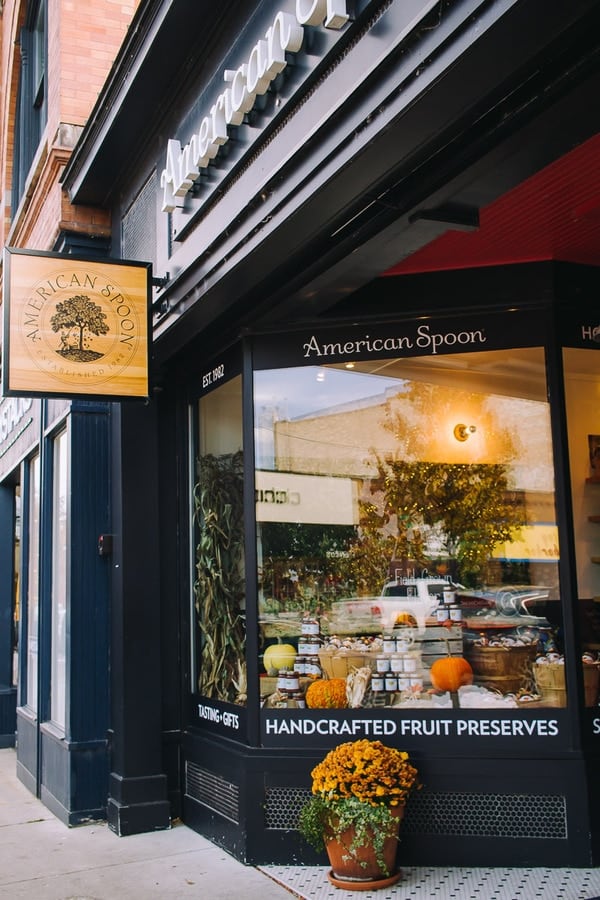 American Spoon is another Northern Michigan favorite. American Spoon handcrafts small batches of artisan fruit spreads, jams, sauces and other foodie gifts. Their top quality products are absolutely delicious. We've tried many items over the years and truly fell in love.
Grand Traverse Pie Company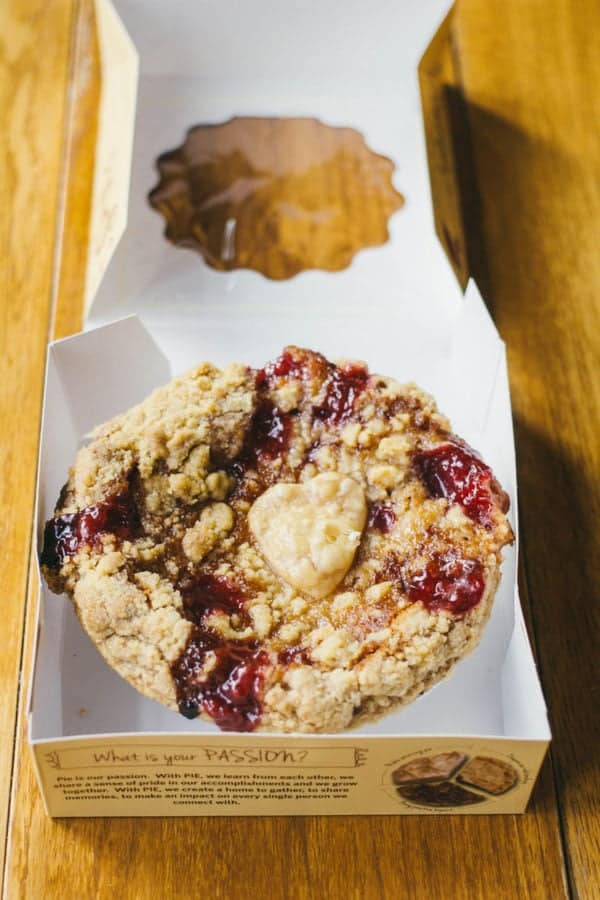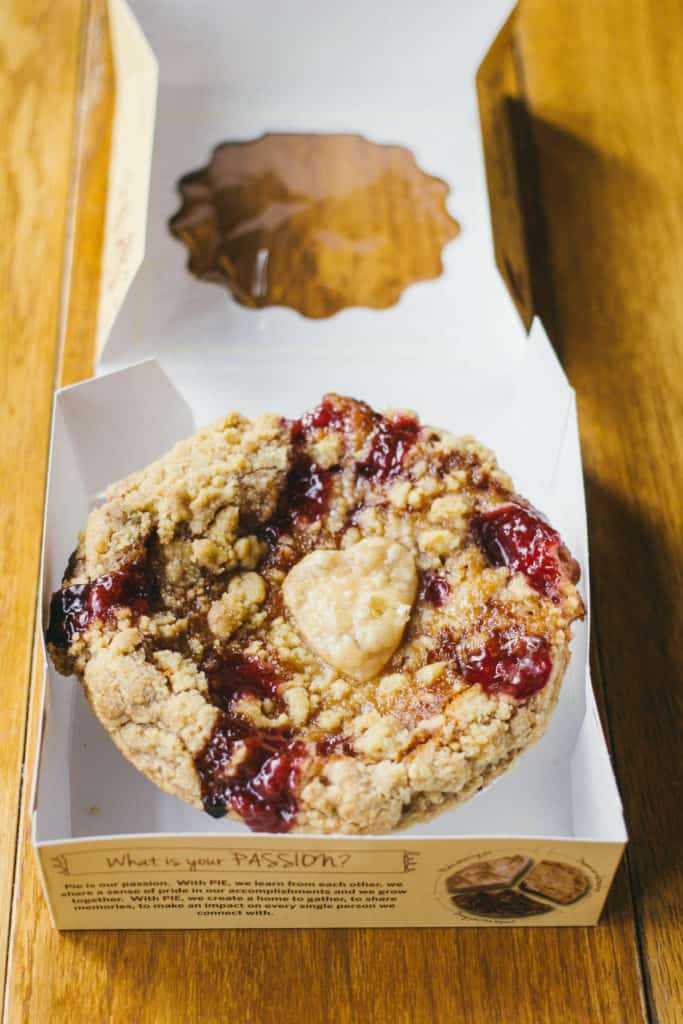 Another favorite of Briana's. These pies are to die for. To be honest, we feel like once you have Grand Traverse Pie Company pies, nothing will compare. These days they have 15 locations throughout Michigan and Indiana, but check out the flagship store right in the heart of Downtown Traverse City. You're also doing good shopping as well, when you purchase from GT Pie, you're helping care for, and provide housing and resources for at risk youth. You can ship pies right from the store to your loved ones this holiday season. We're certain they will love them!
Dessert Stop At Milk & Honey
If you tire of all of the shopping, stop on in to Milk & Honey for some ice cream, locally roasted Roaster Jack coffee or a quick bite at their small deli. They are fairly new to downtown Traverse City, but man are we glad they're there! They make handmade ice cream featuring local, organic and non GMO ingredients. They actually even make a keto friendly vanilla ice cream, and offer a couple vegan flavors! Isn't that awesome?! We tasted the keto vanilla and it sure was tasty. We opted for the regular stuff this time, but we love that we have that option for the next time we come by.
After a long day of browsing shops and eating our faces off, we decided to head home to Briana's moms and lay low again.
Wednesday, November 16th - Last Day Of Eating
Early Lunch At Slabtown Burgers
Our first stop of Friday was stopping at one of Traverse City's best burger joints, Slabtown. This place is pretty neat inside. It's an old home converted into a cozy restaurant, in the Slabtown district of town, that used to known for logging back in the day. They serve up a great selection of burgers, fries, soups, wraps and milkshakes.
We love stopping here. The prices are great, and the food is always delicious. We recommend getting a burger, some chili fries and a milkshake and really pigging out! It's no longer a hometown secret anymore, as these guys came in at #5 on TripAdvisor's Top 10 list for America's best burger joints. They deserve all the praise. Apparently, they serve up to 800 pounds of burger in an average day, so you know they're busy. Get here!
Happy Hour At The Parlor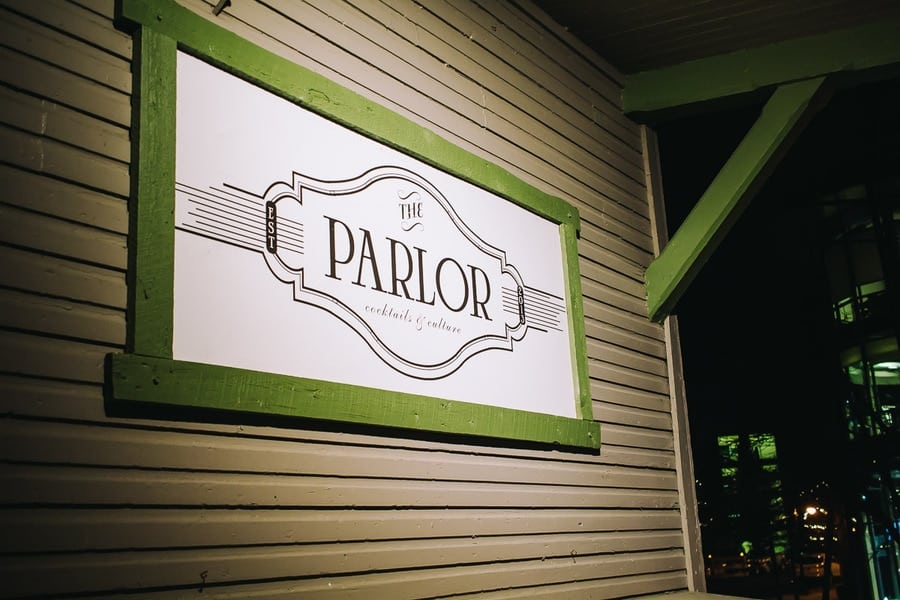 After lunch at Slabtown, we headed downtown to The Parlor for happy hour drinks. Every Monday - Thursday from 4- 7 pm at the Parlor they have happy hour, which is 25% off food, and 50% drinks. The Parlor is a cool, cozy space that serves craft cocktails and American bites to hungry and thirsty patrons.
We came only for drinks this time, but their food is supposed to be very good. One of the coolest cocktails we've ever had was the "Smoke Stack", which is ged bourbon & Michigan maple syrup that is infused with apple and cherry wood smoke. Definitely a sipper, but if you like bourbon & a smoky drink, you will love this! The presentation is obviously very cool too, as they torch the wood used in it tableside and let the smoke build up inside the glass.
Make sure you add the Parlor to your list for Happy Hour and Cocktail spots.
Dinner and Beer At The Filling Station Microbrewery
This place was actually a "new to me" spot for Briana, but the Filling Station Microbrewery is a favorite amongst locals and beer lovers. They brew their own beer in what used to be a train stop, converted into a brewpub that serves delicious flatbreads made in a wood fired oven and house made craft beer.

This place has been here since 2012, and although it was our first time there, this spot is a new favorite, and we can't wait to come back!
If you want to see a more behind the scenes look at our time in Traverse City, check out our Instagram highlight reel! After all of that food and drink, it was time to lay a little low over the weekend with Bri's family. We had an early Thanksgiving dinner together and took it easy, before our 4.5 hour trip back to Chicago on Sunday morning.
Be sure to check out our Best Restaurants in Traverse City guide, and detailed write ups about Poppycocks, The Little Fleet and Bubba's Burgers. We also have numerous articles on Traverse City Tourism's website.
If you're thinking about taking a holiday foodie getaway to Traverse City and Ann Arbor Michigan, please do, and let us know in the comments below if you've been before, are a local in either city, or plan to visit anytime soon!
Until next time,
Briana & Chamere