Last updated on August 23rd, 2018
Poppycocks: Old Roots and New American Cuisine & Cocktails in Traverse City

Written by: Briana DeBolt & Chamere Orr
Photos by: Chamere Orr
Check out more of our work here or on our Instagram pages @pantrygrubs & @minusoneofficial.
It's no secret why Poppycocks has been a staple for dinner, drinks and live music in downtown Traverse City since 1989. Their New American cuisine is inventive, flavorful, seasonal and as often as possible, locally sourced. Don't miss their recently revamped and extensive cocktail menu, complete with homemade syrups, infused liquors & fun additions like cotton candy!
A little over a week ago, Chamere and I went back up north to my hometown – Traverse City, Michigan. (We won't bore you with all the details about Traverse City's food scene, if you want to read more about it check out this article or this one!) Instead we'll focus on a favorite that's been around for over 28 years – Poppycocks. Poppycocks is a family owned and operated business. Many staff members have been with the restaurant for years, and you can tell in the way that everyone moves around the place that they are like one big family too.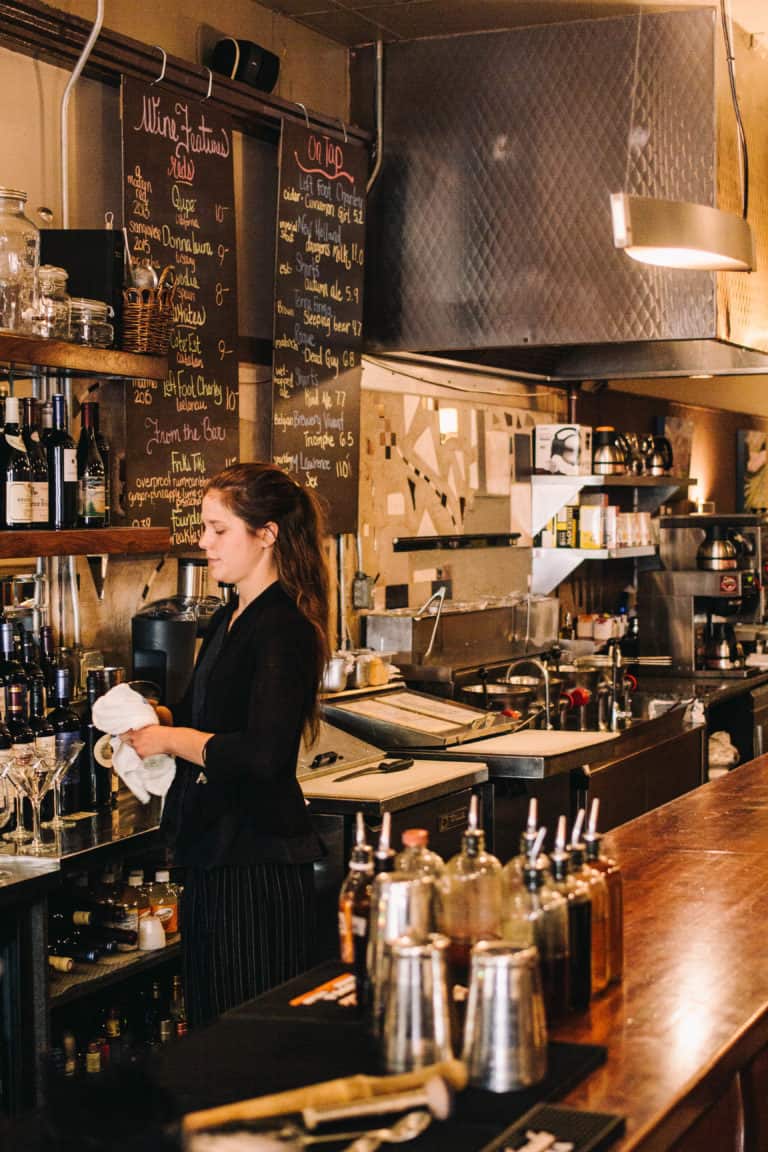 As a kid, some of my fondest memories was visiting Poppycocks with my family, and it's amazing to be able to go back over 15 years later and enjoy the same level of delicious food and service. The only difference this time is that this time around, I'm old enough to enjoy their delicious craft cocktails – which are amazing by the way. So let's dig into what we tried!
The first appetizer we tried were the whitefish cakes.
If you're a fan of whitefish, you will love this appetizer. Panko crusted whitefish cakes with a roasted corn & bacon soubise, house made green chili jam and microgreens. Also, take note of the gorgeous presentation. You're going to be seeing a lot of that!
Don't miss the Bahn Mi Dirty Fries!
Seriously, these were incredible. Apparently they are a best seller too… go figure! Sweet potatoes are one of our favorite foods in life, and when you combine that with ingredients found on a bahn mi you have heaven. The crispy sweet potato fry base is topped with five spice rubbed pork belly, pickled daikon & carrot, fresh jalapeno, cucumber, cilantro and Sriracha aioli. Yum.
Next was one of our favorites, the coconut curry mussels.
Chilean blue mussels, red curry coconut broth, heirloom cherry tomato concasse, cilantro and chives served with a grilled baguette. This curry broth was incredible. Packed with flavor, it was creamy, a bit sweet, with a little kick of spice. Huge fan of this dish.
Now onto main courses. First, a fall favorite the acorn squash pot pie.
This is a seasonal dish at Poppycocks and is vegetarian. We really enjoyed this squash. Roasted acorn squash, caramelized fennel, onions, spinach, double cream brie, parsnips, sweet potatoes, mushroom marsala cream and topped with a parmesan herb puff pastry.
And the bourbon butter salmon!
This dish was inventive and stunning, the salmon was perfectly cooked and it was sort of a fun play on surf and turf. Bourbon butter poached salmon, tarragon gnocchi, broccolini, lamb belly confit, blueberry demi glace and fried parsnip curls.
So naturally after all of the delicious things we tried we were getting kind of stuffed but we still had to try some cocktails and a little dessert…
For tequila lovers or people that love spicy cocktails, try the Catch a Fire!
This one was our favorite by far. We looove a great spicy cocktail and this one was just right. Jalapeno washed tequila, fresh grapefruit juice, juniper syrup, grapefruit shrub, lime and  smoked rosemary salt. Absolutely delicious.
The Into the Mystic was too creative not to try. Complete with cotton candy!
A pretty magical cocktail, the Into the Mystic is complete with New Holland Blue Haven Blueberry Gin, blueberry jam, fennel syrup, lemon and house made cinnamon cotton candy. Seriously – so fun. Be sure to try this one. It was a little bit too sweet for my personal taste, but we found this one to be so inventive with the flavors and presentation. Well done!

If you love pears, order a Bosc A Nova!
This cocktail was literally sparkling.. Can you tell by the picture? So beautiful. Valentine White Blossom Elderflower vodka, pear puree, lemon juice and prosecco sparkling.
Last but most certainly not least, the Friki Tiki.
Don't you just love the fresh mint and the dried pineapple flower? Like we mentioned, presentation on point! If you love rum and pineapple, try the friki tiki with Overproof Rum, fresh pineapple juice, pistachio falernum, Green Chartreuse and lime!
After we threw back those amazing cocktails, we had to try a little dessert.
We finished off with the coconut lemon cloud.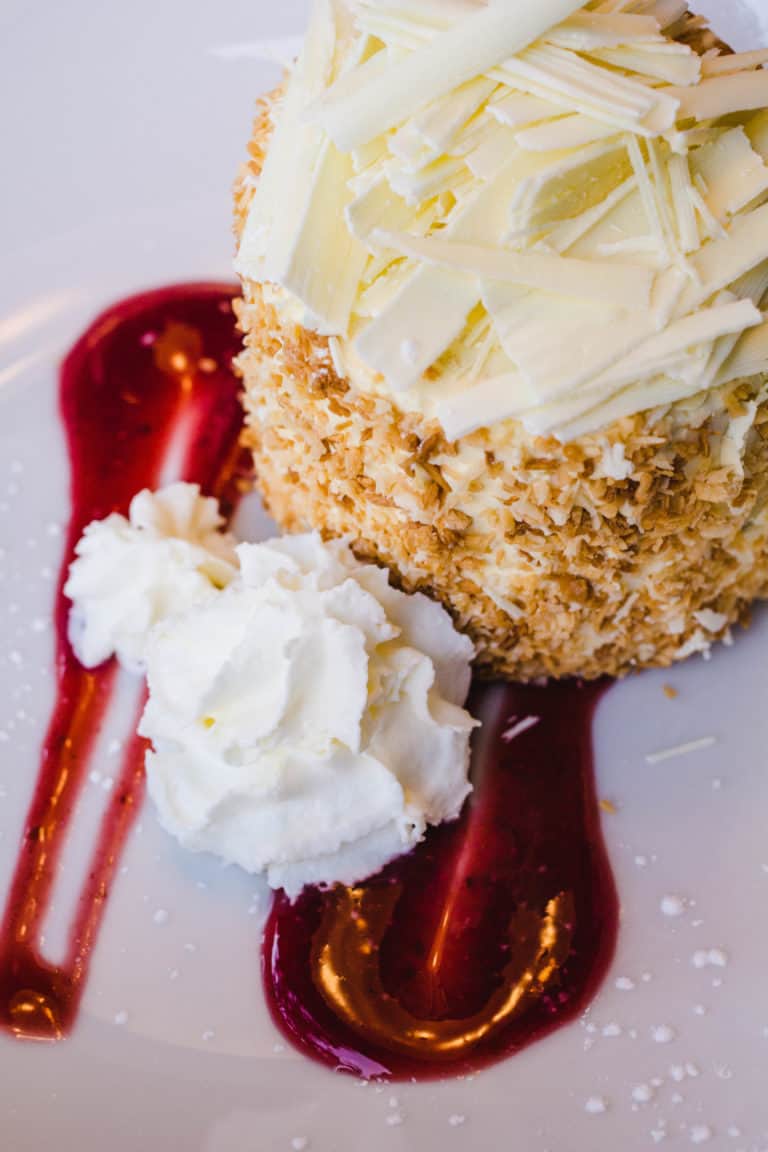 You know we had to choose something with coconut… the coconut lemon cloud did not disappoint. A coconut cake filled with lemon curd, topped with coconut buttercream, coconut and white chocolate curl with a raspberry puree.
Extra bits:
Poppycocks does a great job of providing some excellent vegetarian and gluten free options on their menu and everything is clearly marked.

Dishes change seasonally, and there are also numerous daily specials on the chalkboard at all times. They also have some great specials for weeknights, our favorite being a bottle of wine and 2 entrees for date night on Wednesdays- for only $45!




Poppycocks hosts a happy hour everyday from 5 – 6 pm for great drink specials.  




There is often live music- check their website often to find out when they will have entertainment next.

They feature artwork of local artists in their restaurant! So cool.



If you guys have been to Poppycocks or plan to go, please leave us a comment to let us know! We hope you enjoyed our recap of our experience at Poppycocks. If you found this writeup helpful, be sure to share it with your friends.
Until next time,
Briana & Chamere
* Full disclosure: This post is sponsored, but all opinions are our own. We are selective with the restaurants we chose to work with and work with our favorite establishments.