Planning a vacation to Traverse City in Northern Michigan? We have you covered with a list of the best Traverse City restaurants, according to locals! Want to check out the food trucks, grab some ice cream or baked goods? In need of some Sunday brunch or a farm to table meal from local farms? Looking for some grab and go food or an award winning meal? How about some local beer and wine with a view of the West Grand Traverse Bay? There is something for everyone, and all of these picks come highly recommended from someone who was born and raised in Traverse City.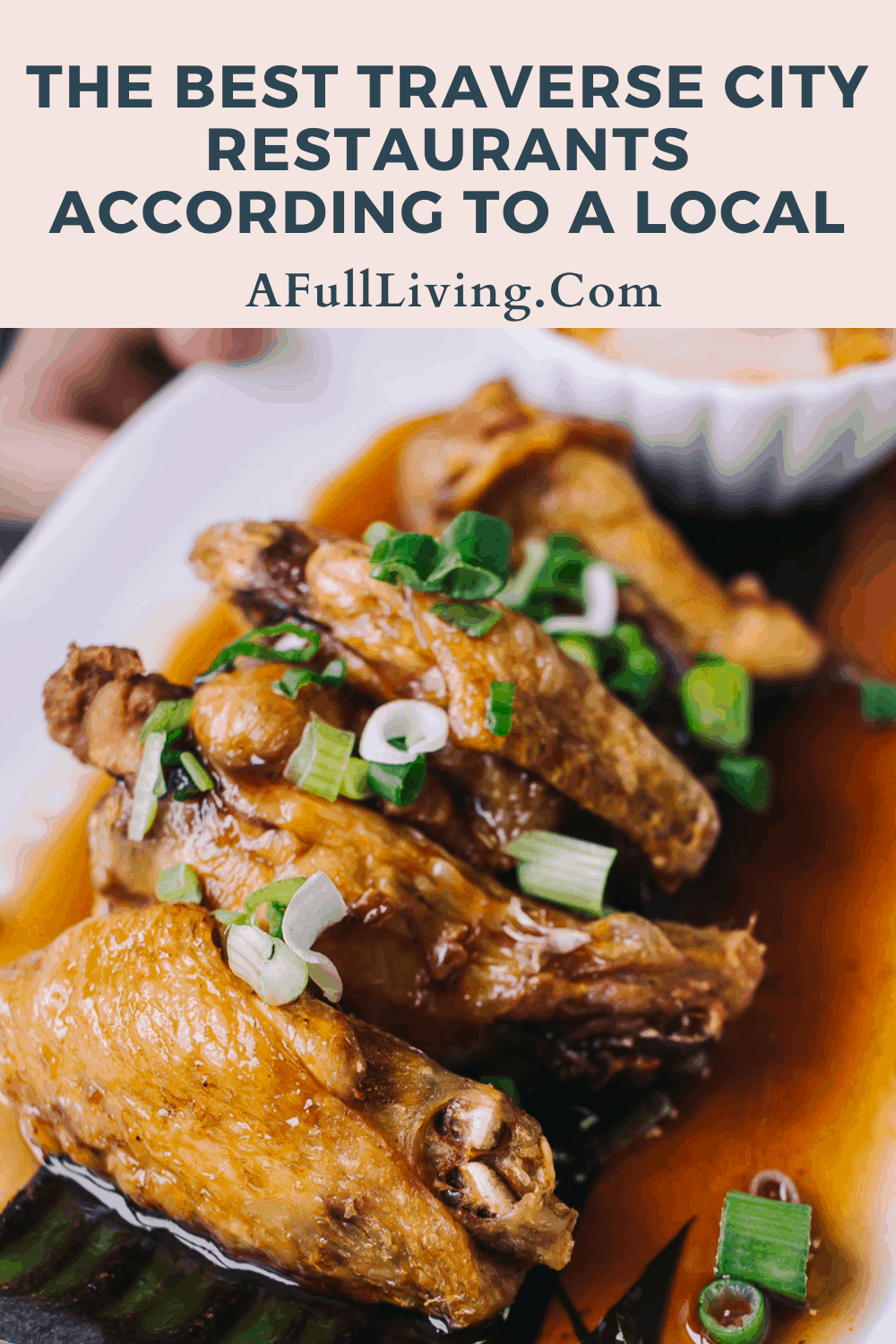 Notice: Please note that this list was written before the COVID-19 pandemic. While all restaurants are still operating, you will have to check in with each spot individually to learn more about their hours, delivery vs. dine-in options, and more.
Fast Casual and Grab & Go:
Need a quick bite to go, or want to dine in at a no-frills type of establishment with authentic, delicious and reasonably priced eats? There's tons of options!
1. SAMSARA
If you're looking for authentic Southeast Asian cuisine, you must try Samsara! Samsara is located in Chums Corners, so a little bit outside of downtown and is slightly tucked away, but totally worth the visit. Owner Samantha Malasy runs this hidden gem with her fiancé Kevin, and they're serving 100% authentic dishes from Thailand, Cambodia, Laos, Indonesia, Malaysia and Vietnam.

Sam says all of the dishes were things she grew up eating in her Laotian home, and she refined her dishes and skills while traveling. Her fiancé Kevin is Cambodian. You can totally taste the passion and love that goes into their cooking. The food is beautiful and delicious. Sam will happily walk you through the menu to determine the appropriate spice level for your palate.

Our top picks are the jheun fried gai (fried chicken wings), kah poon (red coconut curry chicken soup), loc lah (stir fried beef in garlic sauce with onions, vermicelli bowl with beef and shrimp, chicken larb, and satay khmai (chicken marinated and grilled with a lemongrass curry paste) and Thai iced coffee with coconut cream! Samsara is definitely one of the best restaurants in Traverse City.
Pro Tip: Samsara is closed on Mondays and Tuesdays. Be sure to visit their Facebook for updates!
2. TAQUEIRA TC LATINO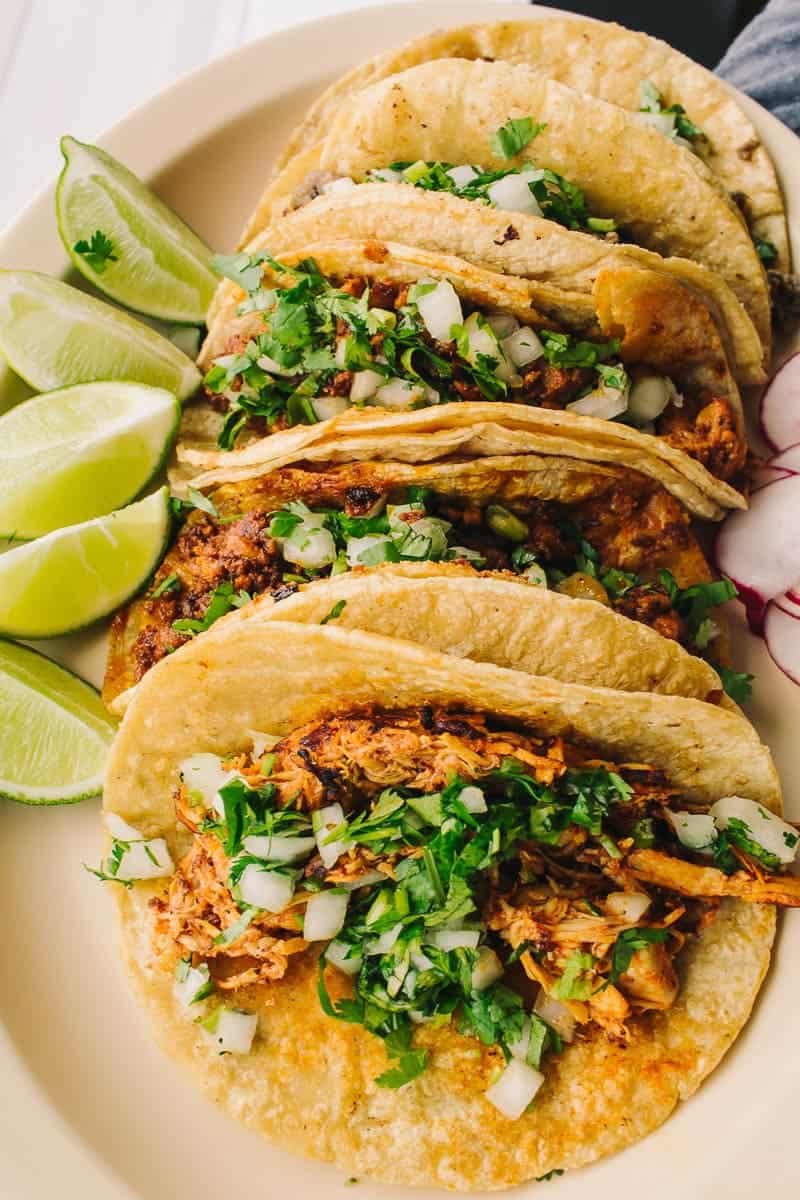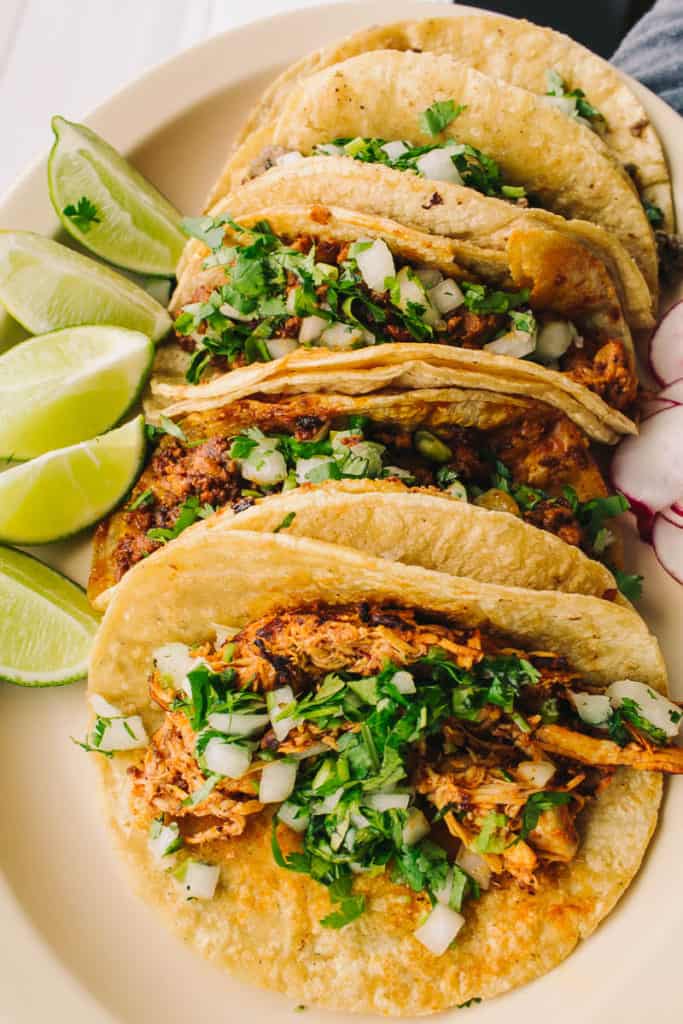 If you're in the mood for authentic, Mexican cuisine at a fantastic price, this spot is for you. Taco Tuesday wouldn't be complete without a trip to TC Latino, a small taqueria that whips up amazing food. 3 tacos at this place should be more than enough to satisfy you, and you'll only spend $6! They have lots of sweets and horchata if you have a sweet tooth. Grab some some small snacks, drinks and spices to go home too. In our opinion, this is probably the only authentic taqueria in town, unless you're visiting their recently opened second location. 😉 You'll be glad you came!

Pro tip: Like many other places on this list, it's one of the best Traverse City restaurants for a reason and is often quite busy, especially during lunch and dinner rush. You should call ahead to place your order, or be okay with waiting a few minutes. If you'd rather cook at home and want authentic Mexican ingredients, visit TC Latino Grocery store!
3. RAD.ISH STREET FOOD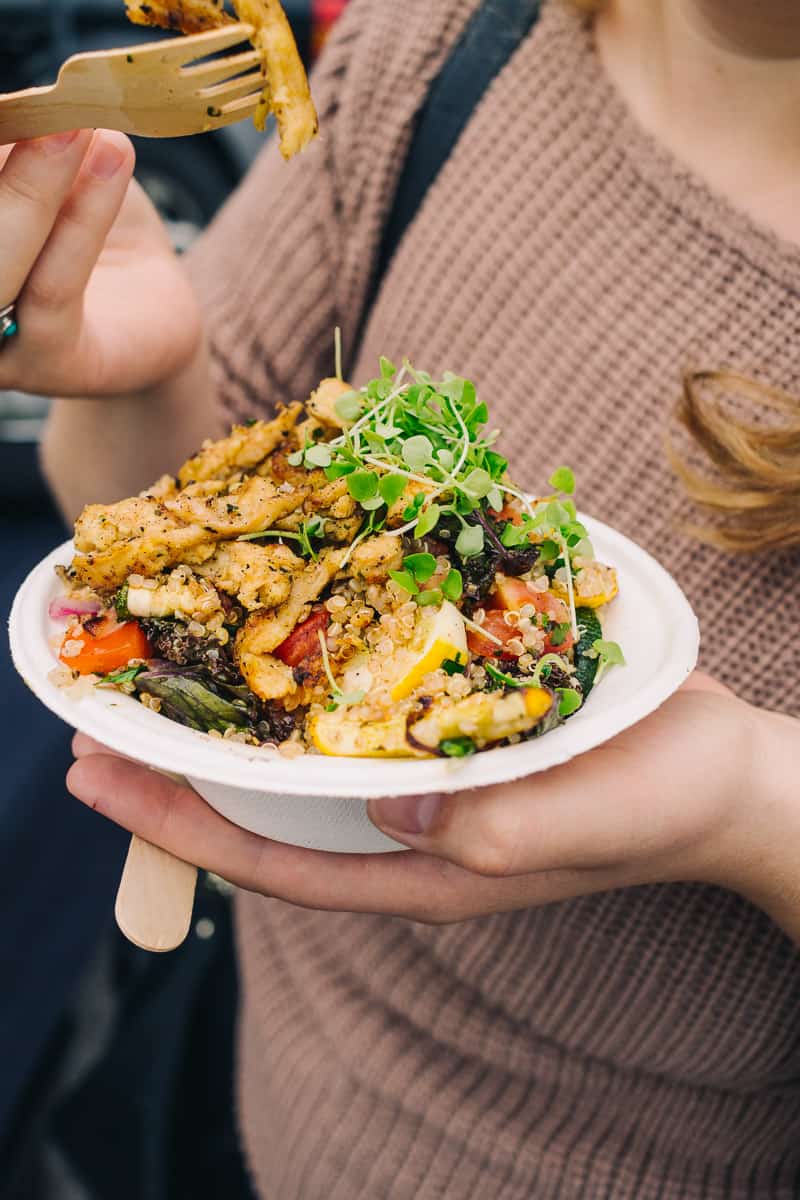 Looking for vegan food anyone? You're in luck, because Rad.ish Street Food is serving up some seriously drool worthy and 100% plant based foods at both of their locations. 85% of their ingredients are sourced from local farms and businesses. They have two wonderful creative concepts, vegan sushi and vegan Mexican street food. All 100% delicious, and that's really saying something considering we eat a lot of meat in our house! Ryan and Lisa are a husband and wife team, and they are just the nicest people ever. We first met them at the Sara Hardy Downtown Farmer's Market where they used to have a food stall before opening up two spots to sell their food full time.

Pro tip: Closed Mondays and Tuesdays. Follow them on Instagram for more updates.
4. SLABTOWN BURGERS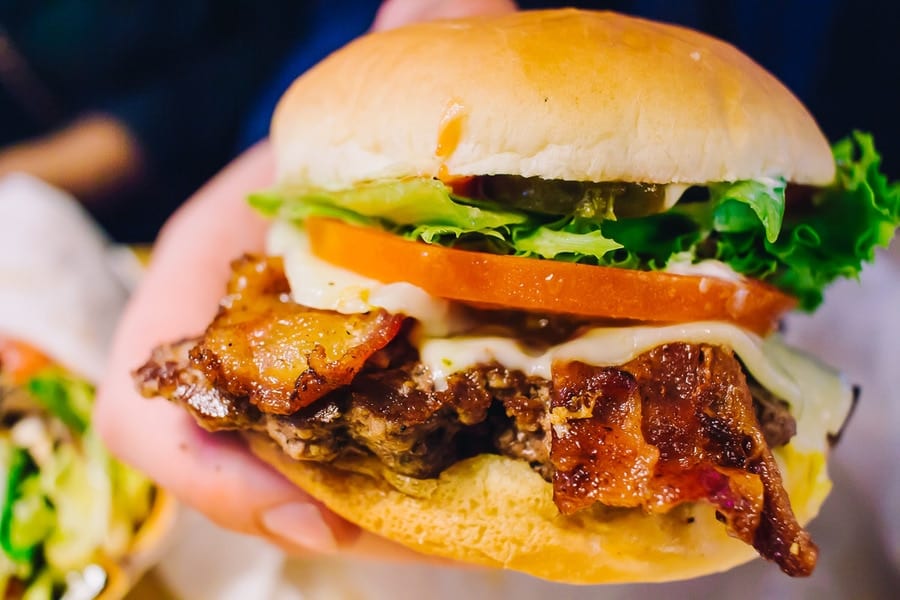 We are huge burger enthusiasts, and Slabtown is not to be trifled with when it comes to burger making! We paid them a visit recently during a foodie road trip to Traverse City and we can 100% understand why Slabtown constantly ranks at the top of Trip Advisor's "Best Burgers in America" list. Seriously, they have so many options when it comes to handcrafted beef and veggie patties in a no-frills atmosphere. In addition to burgers, you can find: homemade fresh-cut fries, homemade soups, wraps, salads, hot dogs, chicken and deli style sandwiches. A recent visit to their website told us they now offer gluten free and low carb (YES!!!) buns!
Pro tip: Open Tuesday- Sunday from 11 am - 8 pm. Grab food to go, dine-in or eat on the patio. These guys get slammed, so be prepared to wait if you come during busy lunch and dinner rushes.
5. FOLGARELLI'S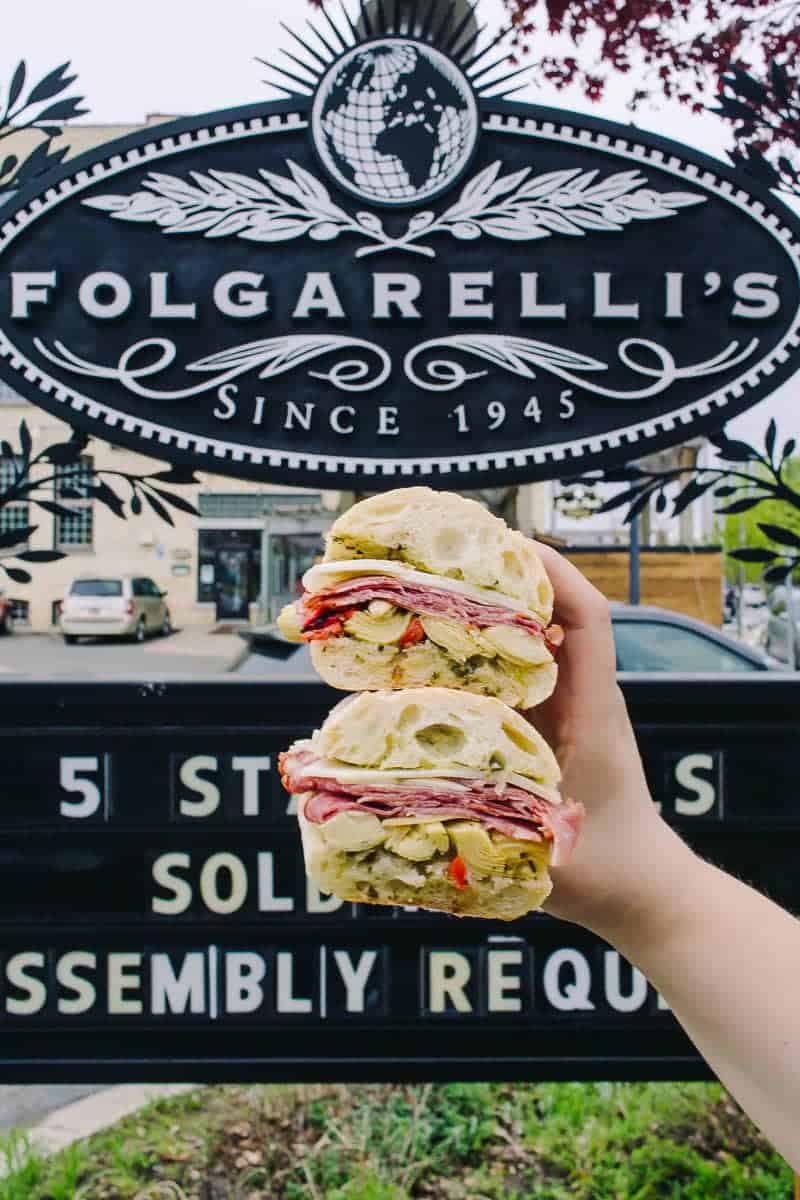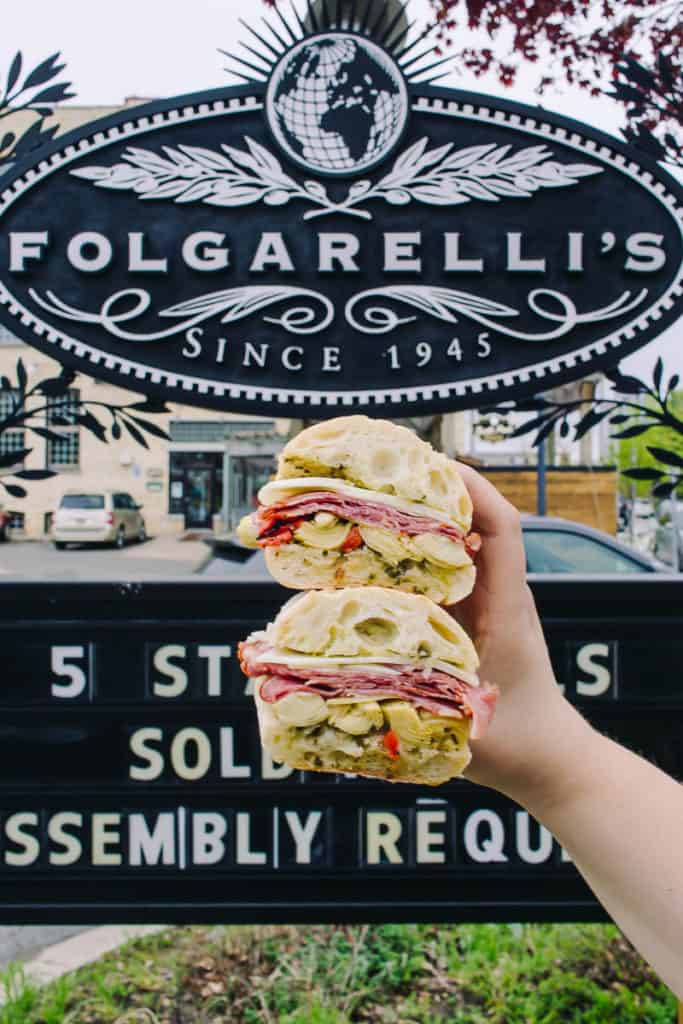 Folgarelli's is a gourmet, old world Italian food, wine and deli shop. These guys have been in business since 1947, and they've got it down to a science. Amazing food, friendly service and great prices - makes it one of the best deals and experiences in town. Their Italian subs are to die for, massive, and made of the best possible ingredients. Most of them will only run you between $8-12! This no frills, family owned deli is a must visit when in Traverse City.
Pro tip: There are just a few tables inside, but they have a full patio to eat outside for the summer. There's free parking in their lot, but spots are limited if you go at busier times. Many just take lunch & wine to go. They have an impressive wine selection with over 2000 labels! Folgarelli's also caters.
6. MARY'S KITCHEN PORT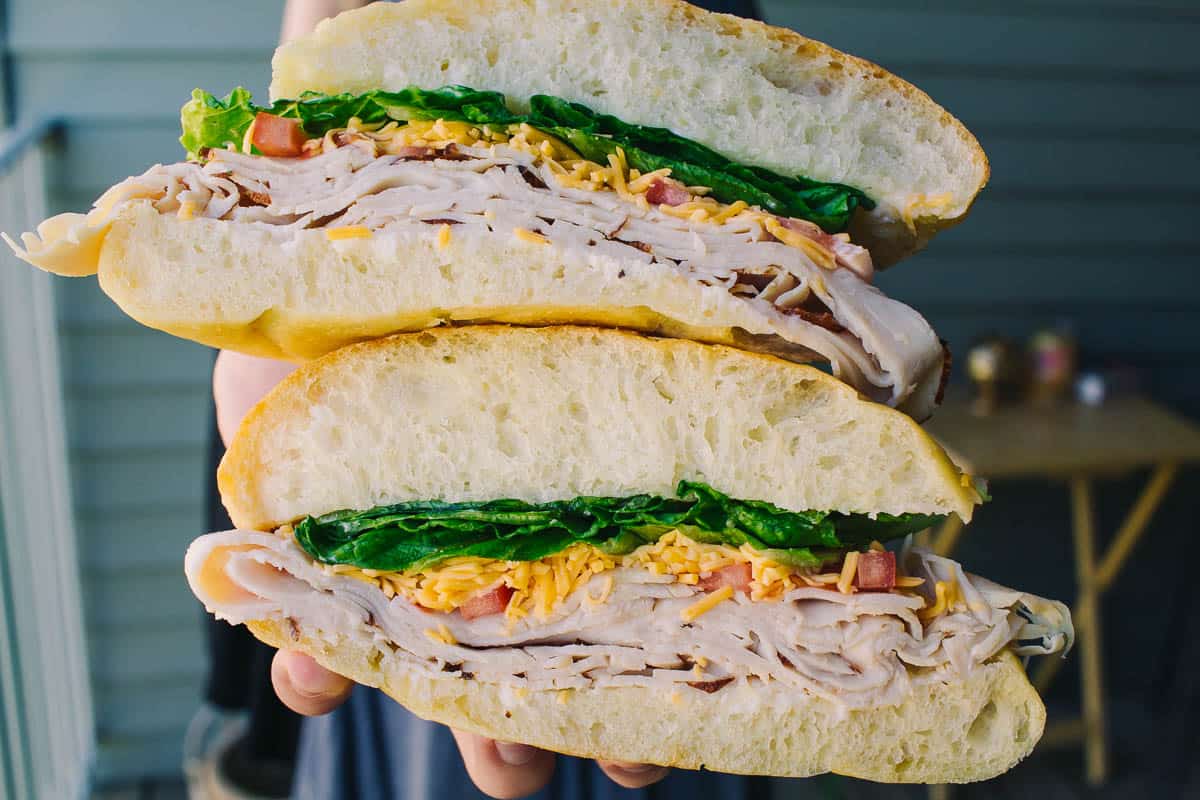 A staple in town, everyone knows and loves a Mary's Kitchen Port Turkey Gobbler! Stacked, but simple with high quality ingredients. You can grab a super satisfying and high quality lunch here, or shop around for some kitchen inspiration. They make sandwiches (like the Gobbler), fresh salads, delicious baked goods, sides, soup & some delicious raspberry iced tea.
Pro tip: It's grab and go, and they get busy at lunch time. They are only closed on Sundays during the summer. However, their hours do vary and if you're coming at a different time of year, look into it before you head over. There's nothing worse than heading over for a Gobbler in the snow only to find out they are closed!
Eat and Imbibe:
Looking for restaurants in Traverse City with both great food and libations? While both things apply to many of the restaurants on this list, here's our top picks!
1. 7 MONK'S TAPROOM
7 Monks is a taproom that serves fantastic food with a location in Traverse City. They have over 45 beers and ciders on tap at any time, and most of them are local. Grab lunch or dinner here, and you can expect some seriously insane savory goodness.

Two of the best things we have ever ate (to this date) are here - their mac and cheese topped with spicy fried chicken tenders, and their bacon jam burger. The staff is super knowledgeable if you're not sure what beer you want, they will help you pick out the right one! Grab a cold beer to wash it down, and you'll be in heaven (just wear your stretchy pants)! The combo of great beer and wine (and cider!) plus the great food makes 7 Monks one of the best restaurants in Traverse City.
Pro tip: Grab a Crowler to go - most of the beers on tap are available to bring to the beach, or wherever you're headed!
2. BUBBA'S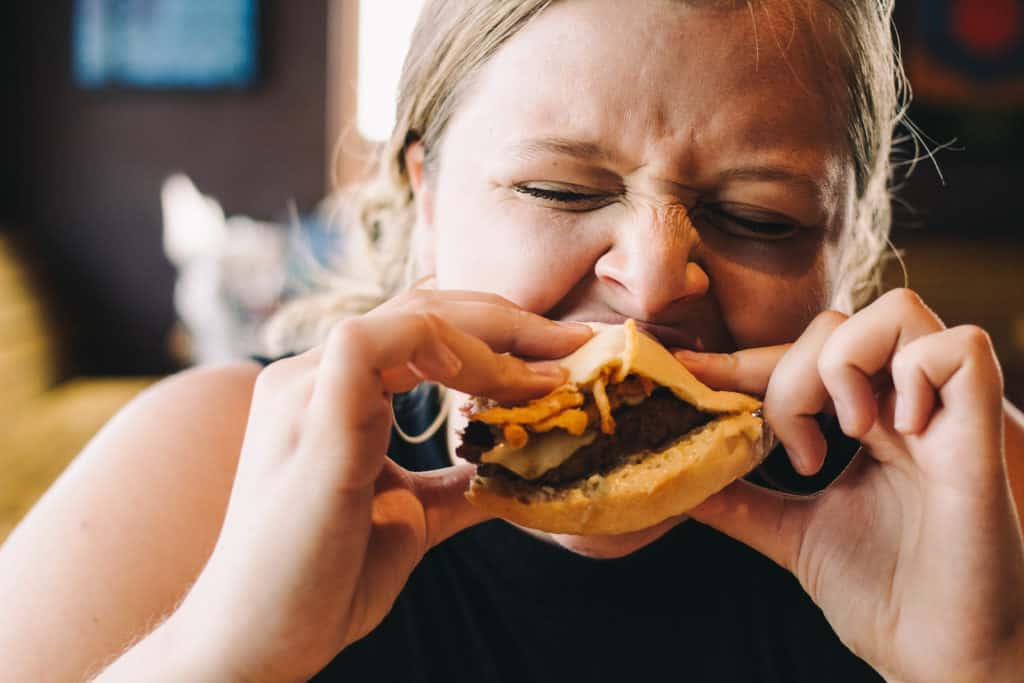 Pro tip: They have "Bubba Time" Monday thru Friday every week from 3 - 5:30 pm, where you can get 25% off your meal.
3. THE FILLING STATION
The Filling Station Microbrewery is a favorite amongst locals and beer lovers. They brew their own beer in what used to be a train stop, converted into a brewpub that serves delicious flatbreads made in a wood fired oven and house made craft beer. This place has been here since 2012, and it's super busy all the time!
4. THE PARLOR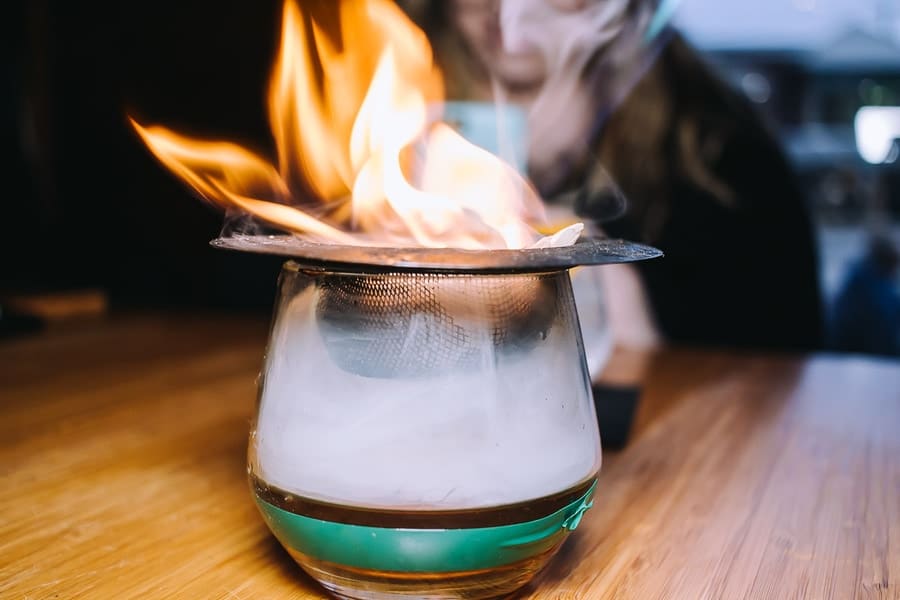 The Parlor is a great spot for happy hour drinks and bites. It's a cool, cozy space that serves craft cocktails and American bites to hungry and thirsty patrons.
One of the coolest cocktails we've ever had was the "Smoke Stack", which is ged bourbon & Michigan maple syrup that is infused with apple and cherry wood smoke. Definitely a sipper, but if you like bourbon & a smoky drink, you will love this! The presentation is obviously very cool too, as they torch the wood used in it table-side and let the smoke build up inside the glass. We hope to head back soon to get pictures of their very delicious grub!

Pro tip: Every Monday – Thursday from 4- 7 pm at the Parlor they have happy hour, which is 25% off food, and 50% drinks.
5. RED MESA
The sour mix that these guys make fresh daily at Red Mesa for their margaritas is enough to get us in there often. Briana and her friends used to love coming to this spot. Vibrant yet casual, delicious, and a great value with super high quality ingredients. What's not to love?

Red Mesa serves up some fantastic Latin American inspired dishes. You will find a wide range of options inspired by the Caribbean, Mexico, Central & South America. If you like things spicy, check out their impressive hot sauce collection!
Pro tip: They have happy hour everyday from 3 - 6 pm, which gets you $1 off any drink and $3 select appetizers. Tuesdays are especially happy here too, where you can $3 Casa Margaritas or draft beers, and $2 off the premium margaritas!
For Date Night:
Date night is not a problem in Traverse City, with tons of award winning establishments, many at a very reasonable price. Check out our favourite Traverse City Restaurants!
1. RED GINGER
Ahh, the infamous Red Ginger! Growing up, this was the spot Briana always asked her grandpa to take her for her birthday. What better way to celebrate than sushi? Red Ginger is an upscale Asian fusion restaurant, serving sushi and more. It's one of the best Traverse City restaurants, and has been pretty much since they opened in 2007. You might have noticed by the way we've been describing it, this place is a little pricey. It's worth the price tag for their delightful food, exceptional service and chic ambiance. 
Pro Tip: Definitely make a reservation. You pretty much should anytime you want to eat here in the dining room. Another thing that's worth mentioning, these guys have a great happy hour, every day in the lounge from 3 - 6 pm. This is a great spot to check out during Traverse City restaurant week. Lastly, there is a business casual/elegant dress code for eating in the dining room, but you're welcome to dine in the lounge or bar area if you're wearing casual clothes.
2. POPPYCOCKS
Poppycocks is a long time favorite, and it was a pleasure to write this detailed post with them. They are easily one of the best restaurants in Traverse City and they have certainly stood the test of time as a local favorite. Poppycocks serves modern American fare, with food that is inspired by global cuisine. They often have live jazz, and their selections of cocktails and wine are seriously impressive. On Wednesday nights they have an amazing dinner special, $45 for a bottle of wine and 2 entrees. Can you believe that?! You'll love it here.

Pro tip: These guys do accept reservations, and we highly recommend making one if you are coming in at dinner time, especially for Wednesday nights! Lunch is a little slower and just as good too if you're feeling spontaneous.
3. APACHE TROUT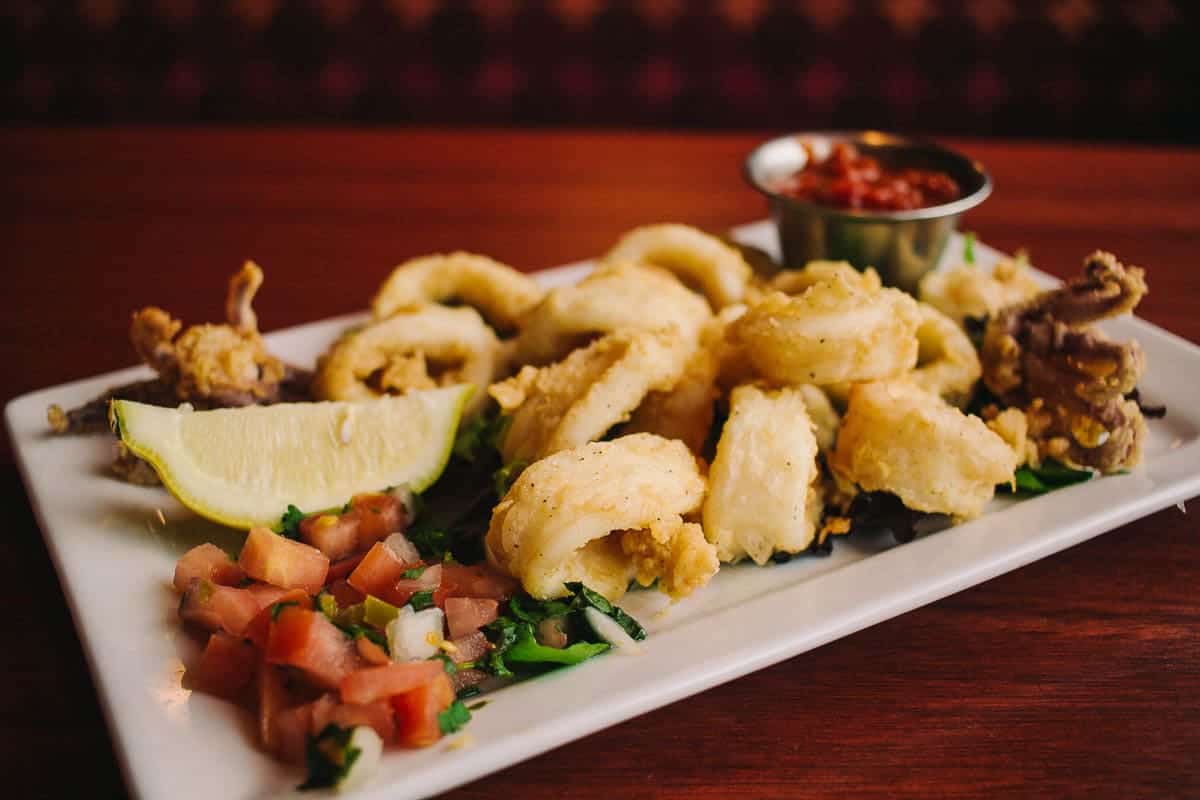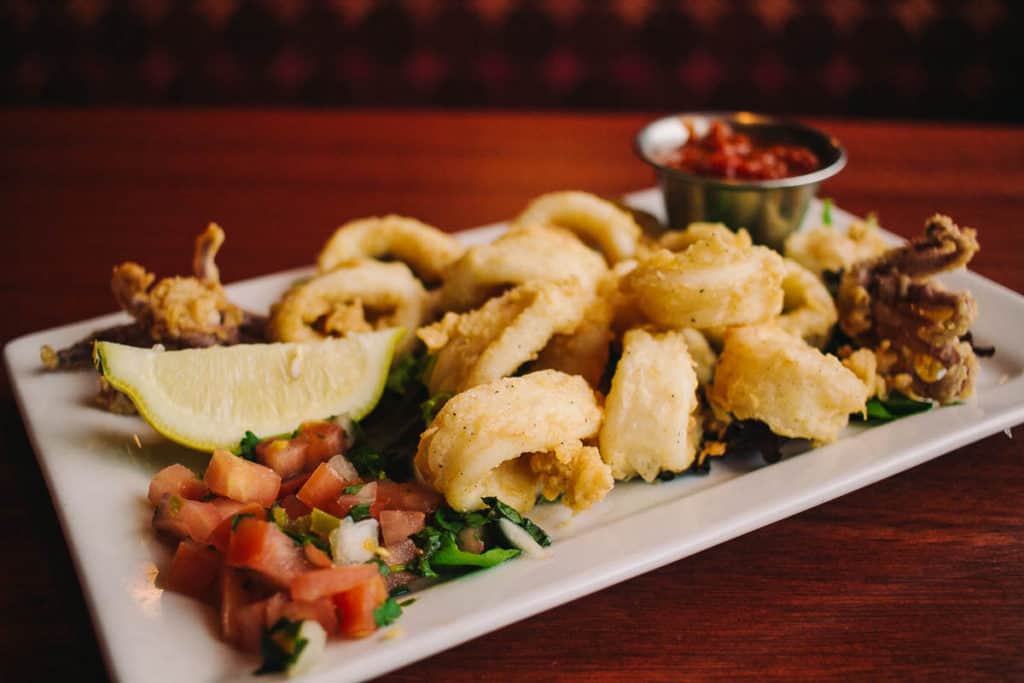 Time and time again, Apache Trout is solid, with excellent service and one of the best views in the city. Situated right on the West Grand Traverse Bay, there isn't a seat is the house where you can't see the water. It's so beautiful that not only makes it one of the best Traverse City Restaurants for date night, but also for a night out with friends and family. They have an incredible outdoor seating space right on the water. Apache Trout is known for its seafood and steaks. So grab a bottle of wine, and have some delicious food with a view with your loved ones.
Pro tip: They don't accept reservations here, so they are often on a wait. Grab a drink at their outdoor bar (if it's not raining) while you wait for a table.
4. SORRELLINA
Sorellina is another spot that Briana often frequented when going out to eat with grandpa or mom. Sorellina recently expanded and moved to a new location and we are loving the new space! It's elegant and cozy, with huge windows overlooking the sidewalk right downtown on Front Street, so it's fun for people watching and brings some incredible light into this gorgeous space. Sorellina has been delighting hungry patrons since 2012, serving authentic Italian favorites, as well as contemporary Italian creations. 
Pro tip: Another great spot for happy hour. You can sit in the lounge and enjoy tasty small plates, excellent cocktails and wine by the glass for super reasonable prices. Best part is, it's available all day, every day!
For Coffee & Dessert:
Coffee and dessert are probably our favorite part of the day, so they needed their own category!
1. MUNDO'S ROASTING AND CO.
Now that we found out about Mundo's Roasting Company, it's our go-to spot to get a great cup of coffee and to get stuff done. The decor is on point, with a mix of rustic with lots of wood, complete with white walls, hanging light bulbs, and plenty of cozy couches and plants.
These guys do coffee justice with their freshly roasted, small batch, single origin coffee beans that you can pick up to take home, or enjoy in the coffeeshop. All of their coffee is sourced ethically too, so you can feel extra good about drinking it!
They make all their latte syrups in house, along with some gorgeous pastries. We tried a couple of lattes as well as a cup of drip coffee. The quality and flavor of their coffee is very apparent.
2. MORSELS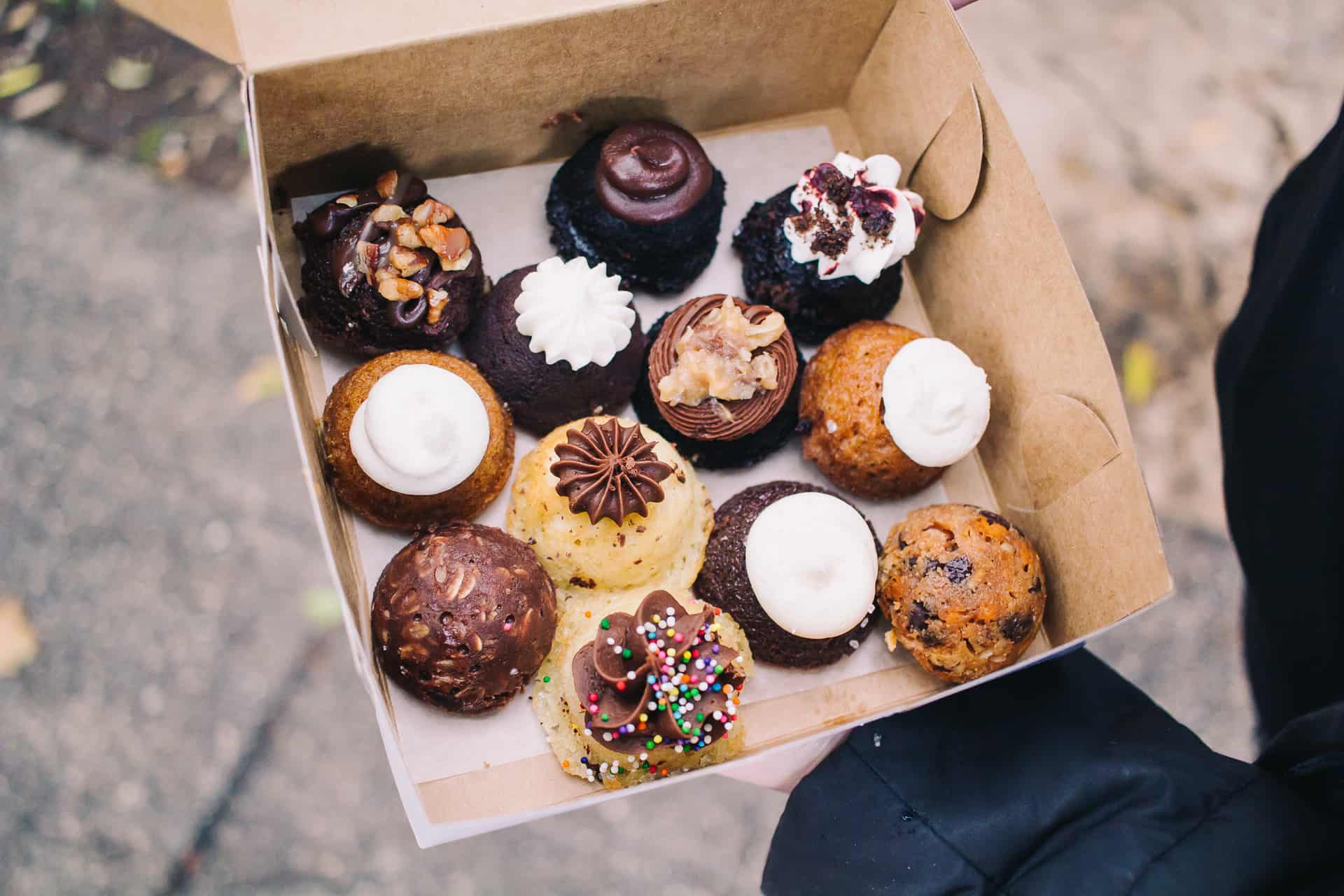 Morsels is seriously adorable, and delicious. They specialize in bite-sized baked goods, espresso and brew-to-order coffee. They're also open for breakfast and lunch, although we haven't eaten a meal there before. If it's anything as good as their mini cupcakes, we bet it's scrumptious.
3. POTTER'S BAKERY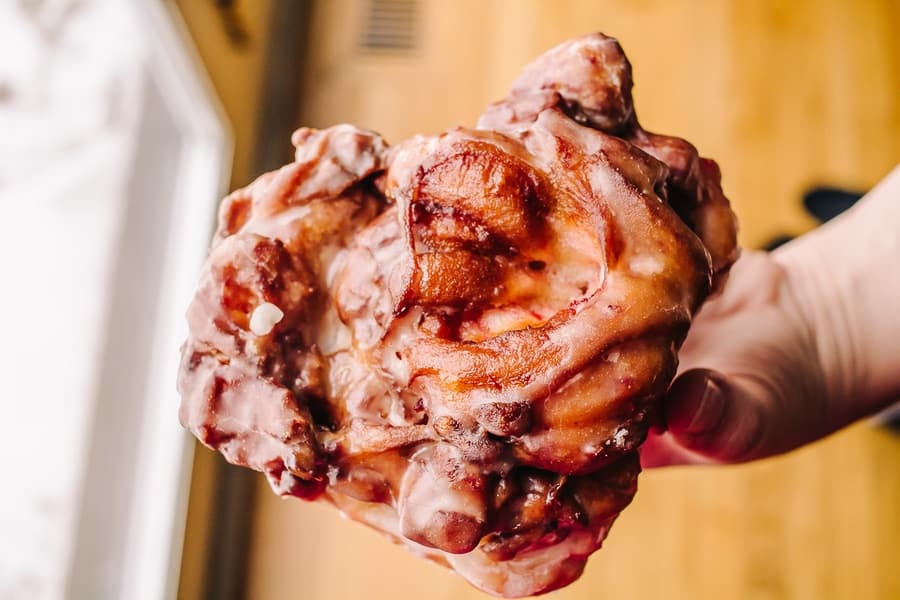 Growing up, Potter's Bakery was the ultimate treat. If someone brought in some Potter's treats for their birthday at school, everyone was freaking out. These guys have been in business since 1929, and they are incredible at what they do. They churn out tons of cakes, cookies, donuts, bread, muffins and other specialty items. They can handle large orders, but call ahead because they get a lot of them. We love the cherry and apple fritters, but you can't go wrong!
4. MOOMERS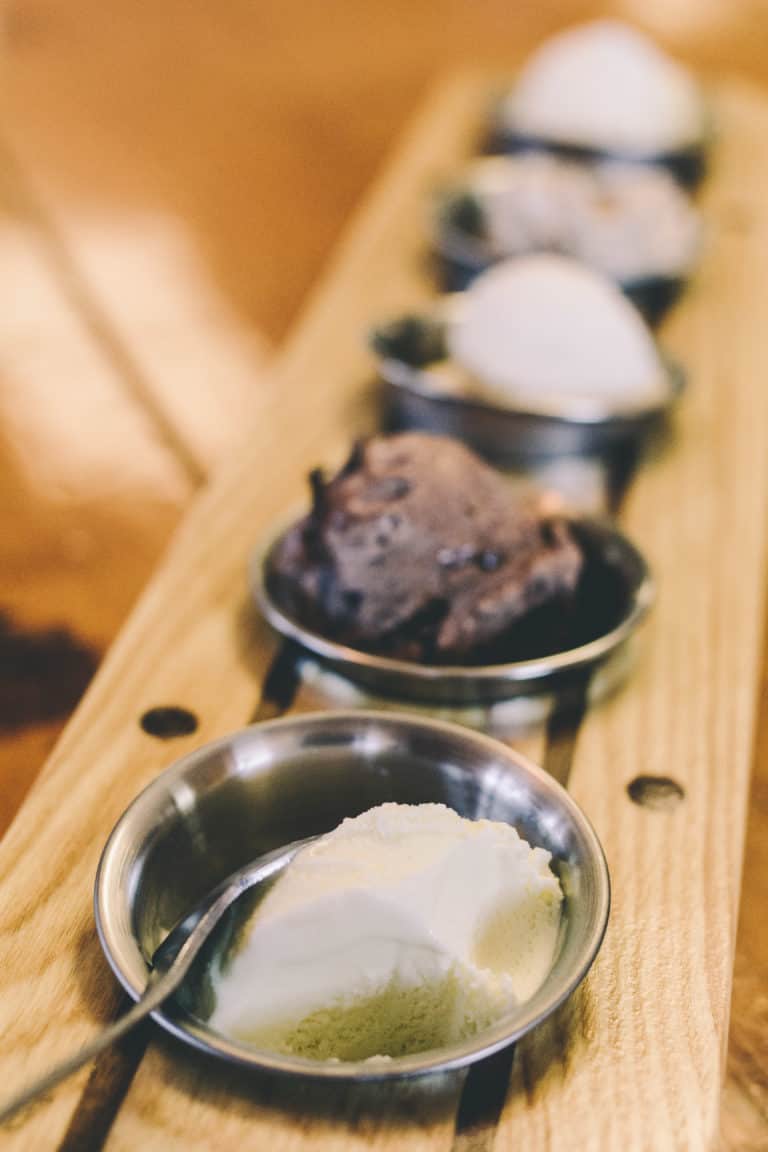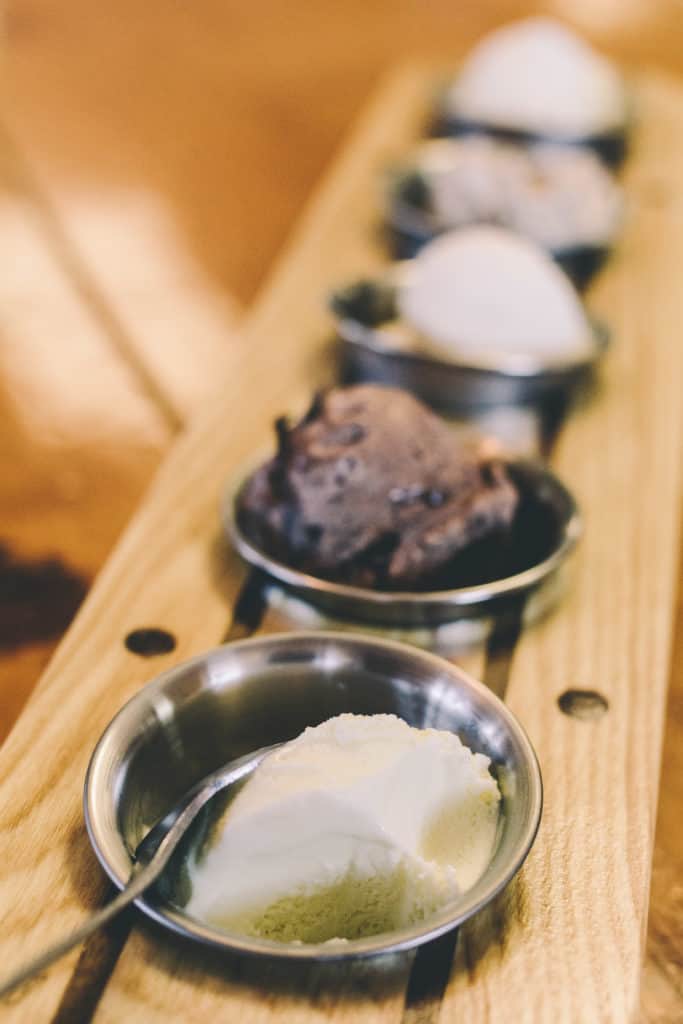 You guys might already be a bit familiar with Moomers, cuz we stop there almost every trip home.  Moomers was named "Best Scoop" by Good Morning America,  and just recently, the top ice cream Parlor in America by USA Today.
Moomers is one of the most unique places you can get ice cream, where you can watch the cows that produce the dairy hang out and eat in the backyard. The line is out the door in the summertime, but it moves quick. Moomers has created over 160 flavors of creamy and delicious ice cream. About 20 are available each day, and they rotate often, so good luck picking a favorite!
Pro tip: They do close after Christmas until early March, but make exceptions for some special orders if pre-arranged.
5. BARDON'S WONDER FREEZE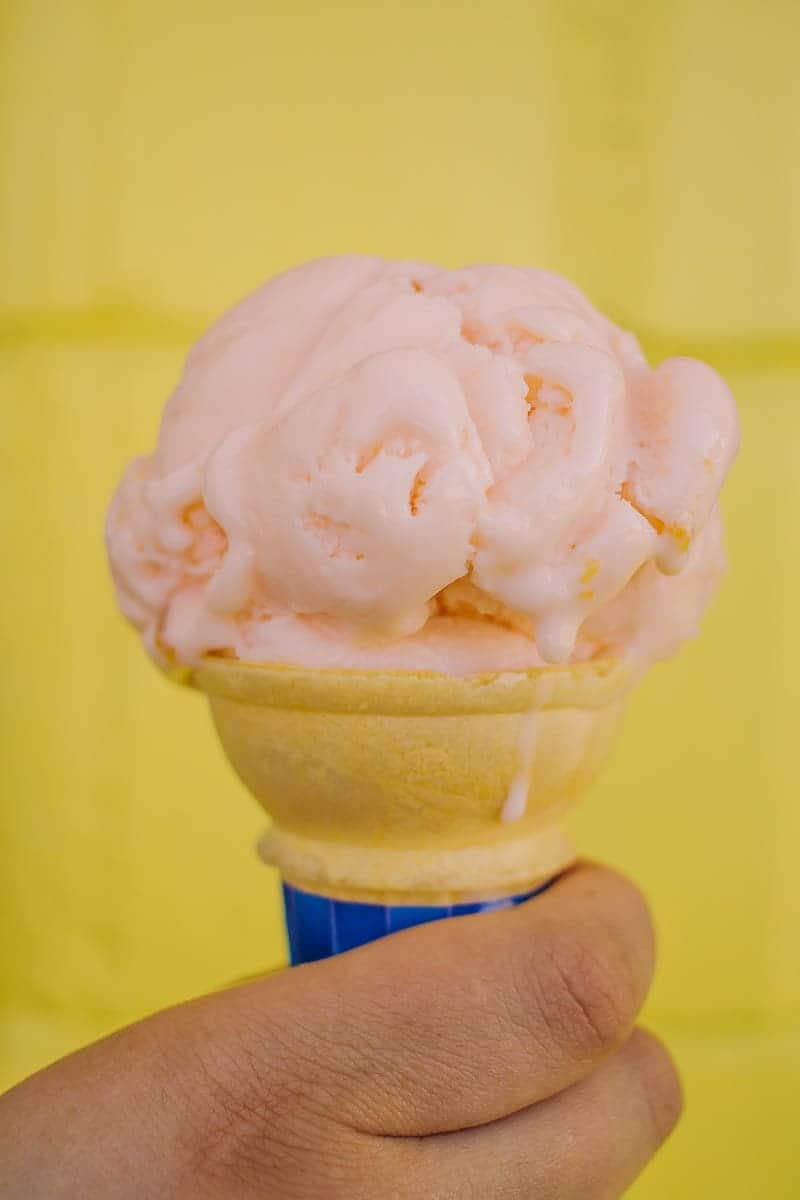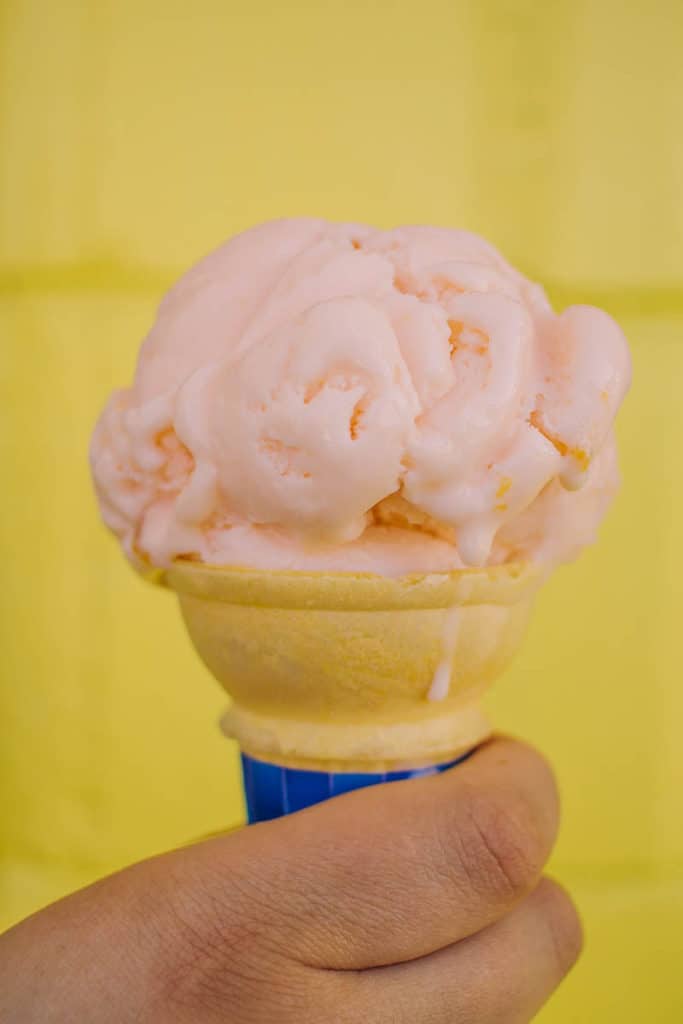 Another staple in Traverse City is Bardon's Wonder Freeze. My mom used to go here as a kid and hang out with her friends, and we did just the same thing growing up.This old school walk-up window ice cream parlor has about a million different flavors, and they are famous for their peach frozen yogurt.

Even though I'm normally a vanilla with some sort of chocolate bits kind of girl, the peach frozen yogurt makes me feel nostalgic, and so I always opt for it. You can't go wrong with a sundae or a dipped cone, either!  Great prices, great portions, great value. (Are you sensing a theme here?)
Pro tip: Bardon's is cash only, and parking is kind of tough when they get busy, so maybe park somewhere in the area and walk. There aren't a ton of tables, so you might have to stand or walk with your treats.
6. GRAND TRAVERSE PIE COMPANY
Although you can get a great lunch at Grand Traverse Pie Co. and it's one of our favorite spots, the thing you absolutely should order here is pie. I guess the name speaks for itself, right? If you're really feeling like tasting the spirit of Traverse City, get cherry crumb, but we have never tried a flavor we didn't like.

Their pies are seriously delicious. We've become such pie snobs now, because the portions are generous, the price is right and to us, they are simply some of the best pies on this earth. We didn't realize until we started trying some "Insta famous" pie shops in Chicago what a gem we had on our hands with Grand Traverse Pie Company, cuz we really don't have a favorite pie shop in Chicago. Please pay this place a visit in Traverse City!
Pro tip: These guys ship nationwide so you can have pie for any special occasion! You can also join the Pie Dough Club to earn points and get free pie when you sign up, and for your birthday!
For Brunch:
Brunch is essential - especially while on vacation! Check out the top brunch restaurants in Traverse City.
1. BRASSERIE AMIE (FORMERLY PATISSERIE AMIE)
Pro tip: We definitely pick this place as our top spot for brunch, they offer it 7 days a week. You can't miss it. Dinner is just as good, and is served Friday & Saturday night from 5 -9 pm. Brasserie Amie would also be an excellent spot for date night as well, and they accept reservations only for their dinner service. If you're coming for brunch on the weekends, get there early or expect to wait a bit.
2. THE TOWNE PLAZA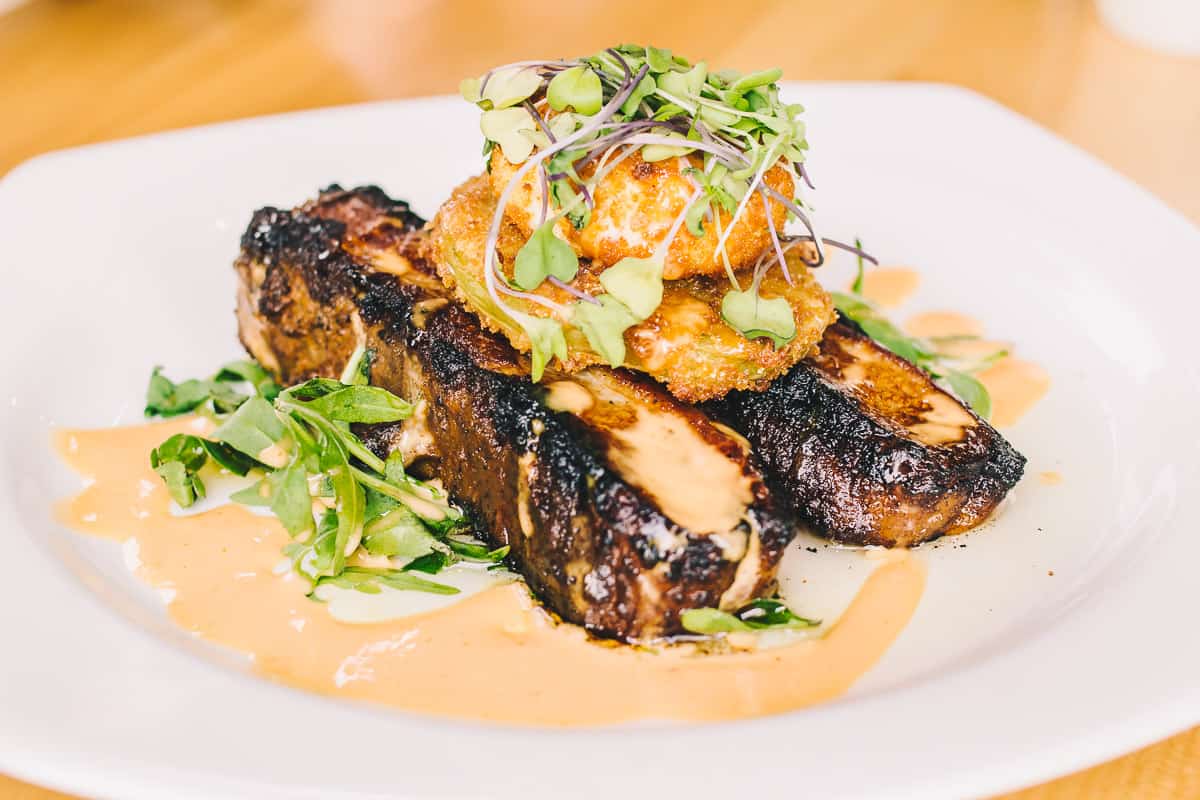 The Towne Plaza is an intimate, comfortable spot that you'll hear all the locals raving about. Pork lovers rejoice - Chef Chris Hoffman blends pig and seasonal produce (that he purchases whole from local farmers) with influence from some of his favorite culinary destinations including New Orleans, Italy and France. The result is some killer American food.  
The huge windows, beautiful wood tables, and decor give it an almost rugged, cabin-like feel with views of downtown Traverse City. The lighting is also perfect to Instagram your food, which is always a bonus for us.
Don't worry if you aren't a fan of pork, we also tried the Chicken Benedict, the Shrimp in Broth, and the Wild Game Chili. If none of these float your boat, fill up with pancakes, charcuterie, benedicts and more. Lunch service starts at 2 pm and dinner goes late until the evening, so you can get your fix all day long.
3. RED SPIRE BRUNCH HOUSE
If you find yourself exploring or shopping in need of a bite at the Grand Traverse Commons, don't pass up the recently opened Red Spire Brunch House. Tucked away in the long, winding halls of the Mercato is one of Traverse City's best kept secrets for brunch and comfort food. Enjoy Red Velvet Pancakes, sandwiches, benedicts, omelets, and salads. You can even warm up with a brunch cocktail.
The Food Trucks and Drinks:
The Little Fleet and the food trucks at the The Little Fleet deserved their own category, because its truly a world of its own. This is one of your MUST STOP spots in Traverse City, seriously! You can't even say you've eaten at the best restaurants in Traverse City if you haven't been here, seriously!
1. THE LITTLE FLEET
Another spot on this list you might already be familiar with if you have seen this post, but it certainly deserves a spot. The Little Fleet is the perfect summertime spot to grub and drink. There's no better place to make sure everyone is happy than a sea of food trucks attached to a bar with extensive beer and wine, plus cocktail options!

There is something for everyone there. From soft serve, salads, burgers, tacos, bbq and even sushi, you can get it all with the perfect beverage to match. Really, their cocktails are some of our favorites in town, with fresh squeezed juices and fun local flavors. We have to make a special mention of Glendale Ave. with their INSANE fried chicken sandwich. To this day, it's our most favorite fried chicken sandwich like ever. YOU MUST TRY IT!
Other Places in Traverse City You Must Visit:
1. SARA HARDY DOWNTOWN FARMER'S MARKET
While not a restaurant, if you're planning a picnic or to cook at home while in Traverse City, make sure to take a trip to the Sara Hardy Downtown Farmer's Market, that takes place every Wednesday and Saturday through October. The Wednesday market (8:00 am - noon) begins the first Wednesday in June. The Saturday market (7:30 am - noon) begins the first Saturday in May.
Here you can find produce and tons of other goodies like fresh baked bread, bouquets of flowers, artisan salts, dressings, spreads, dips, oils, homemade cheese, baked goods and jams, cold brew coffee, kombucha and much more. We think you will be pleased with the selection. You can often find street food vendors selling delicious food as well.
2. FUSTINI'S COOKING CLASSES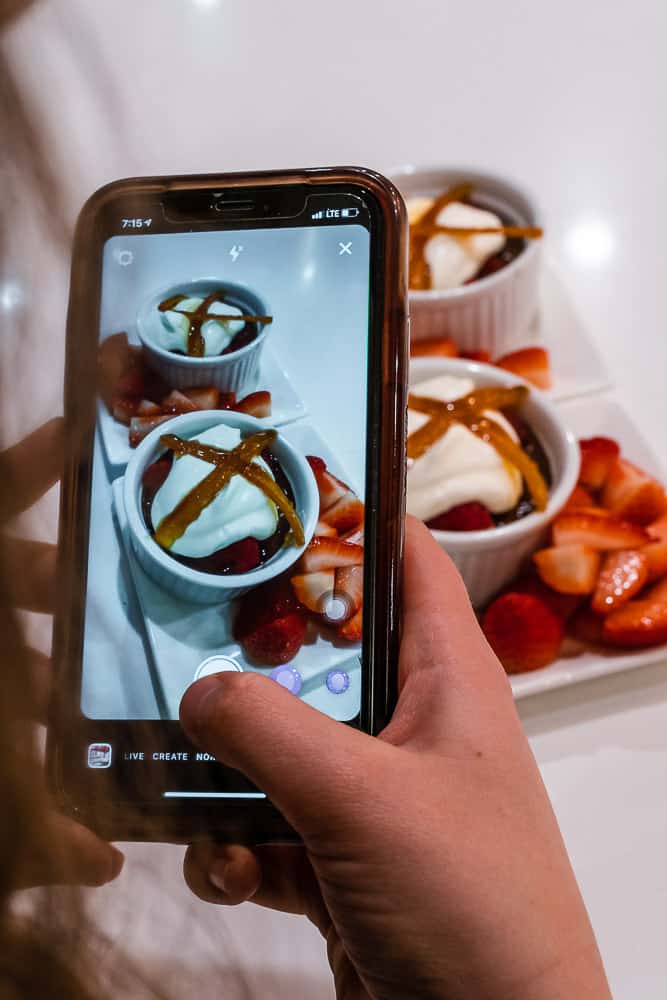 Do you love to cook? If you're looking for unique foodie activities to do in Traverse City, sign up for a cooking class at Fustini's Oils and Vinegars! Fustini's School of Cooking is designed for anyone who loves to cook -- and eat. All skill levels are welcome, and there are a variety of different classes to choose from nearly every day of the week.

You can choose between a hands-on class, or just a demonstration. Either way, you will learn some new kitchen skills, utilize some locally sourced ingredients, and delicious Fustini's infused olive oils and vinegars, and no matter what you decide, you will always get to eat the final product. You can read more about our experience (in partnership with Traverse City Tourism) here!
Until next time,
Briana & Chamere