Wander Your Way at the Loews Chicago O'Hare Hotel this season. Whether you're in town for business, or just need a little break or staycation, the Loews Chicago O'Hare Hotel is an excellent spot for a getaway. Enjoy a delicious dinner at The Ashburn inside the hotel or go shopping with the Upgrade Your Style Package. Treat yourself, you deserve it!
Chamere and I have a pretty unique work schedule, and we work from home most of the week. Even though we wear our pajamas most of the time, getting out of the house for a little staycation once in awhile is a wonderful gift we can give ourselves. When the Loews Chicago O'Hare Hotel offered to host our stay, we gladly accepted their kind offer.
The Loews Chicago O'Hare Hotel recently went thru a major renovation, giving them an upgraded look. We have to say, it's beautiful! To celebrate their facelift, they are offering hotel guests a great package, called the Upgrade Your Style Package. When we visited, we were lucky enough to experience this great offer. Check out how pretty the guest room is!  Until December 31, 2019, you can too. The Upgrade Your Style Package includes overnight accommodation in one of their stylish new guest rooms, a Fashion Outlets Saving Pass, a $50 gift card to use anywhere at the Fashion Outlets, complimentary breakfast at the Ashburn, as well as complimentary parking for 1 car per night!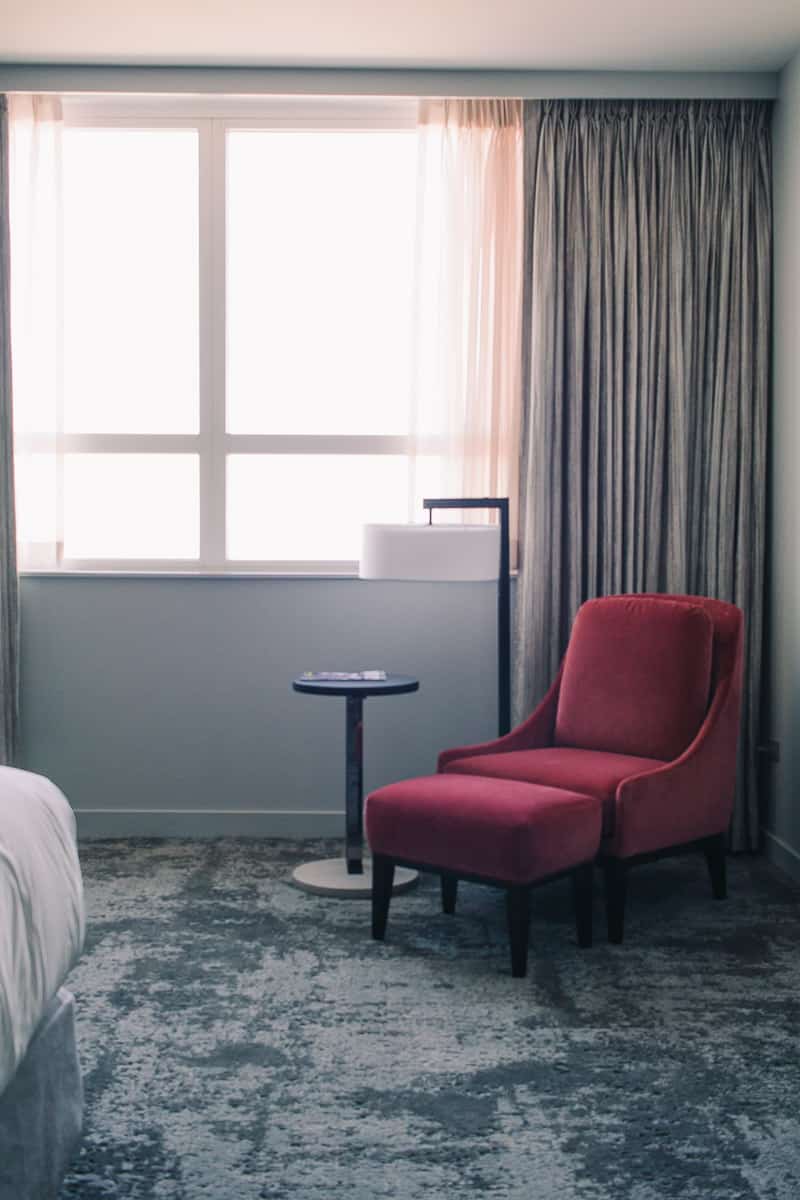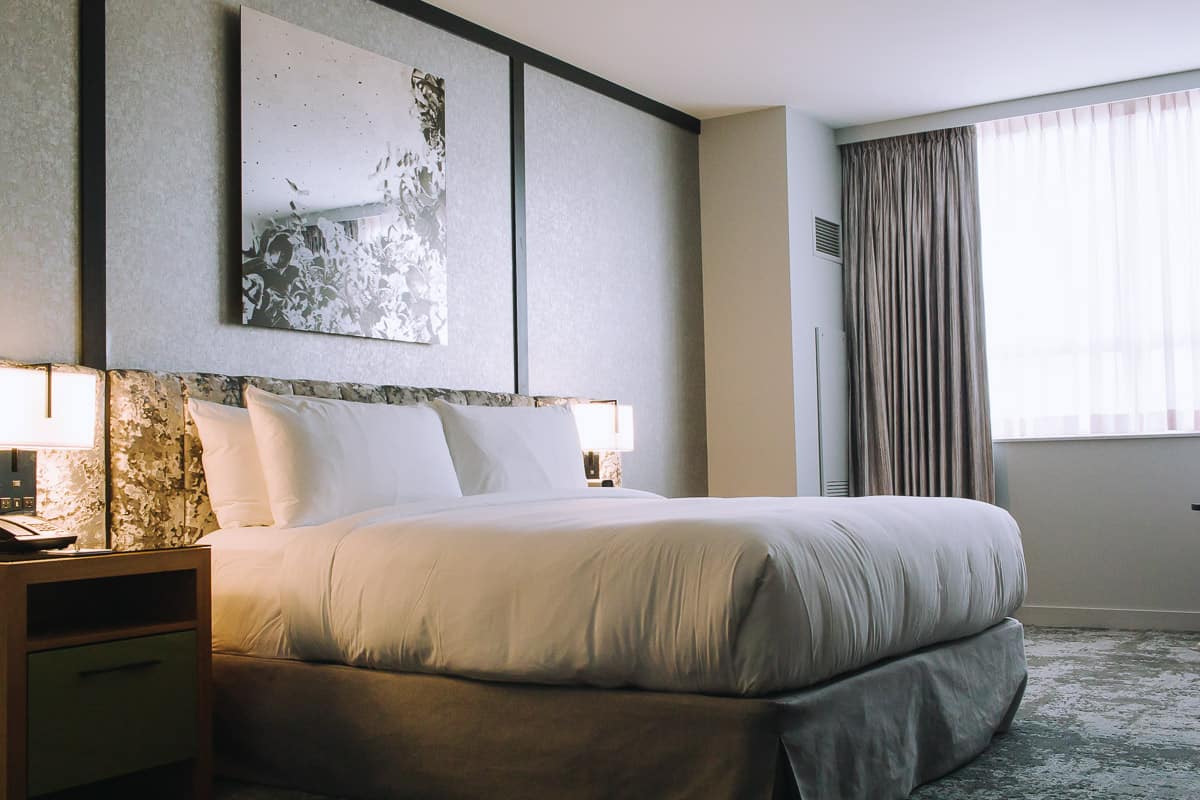 The hotel is located just a few blocks away from the Fashion Outlets of Chicago, and at the time of stay at the Loews Chicago O'Hare Hotel we were preparing for an upcoming vacation to Mexico City, so our gift card was put to good use! We'll walk you thru every aspect of our stay, from arriving, to touring the hotel's mini "art gallery", to eating dinner at the Ashburn to breakfast the next morning.
Watch the Planes Roll In At The Loews Chicago O'Hare Hotel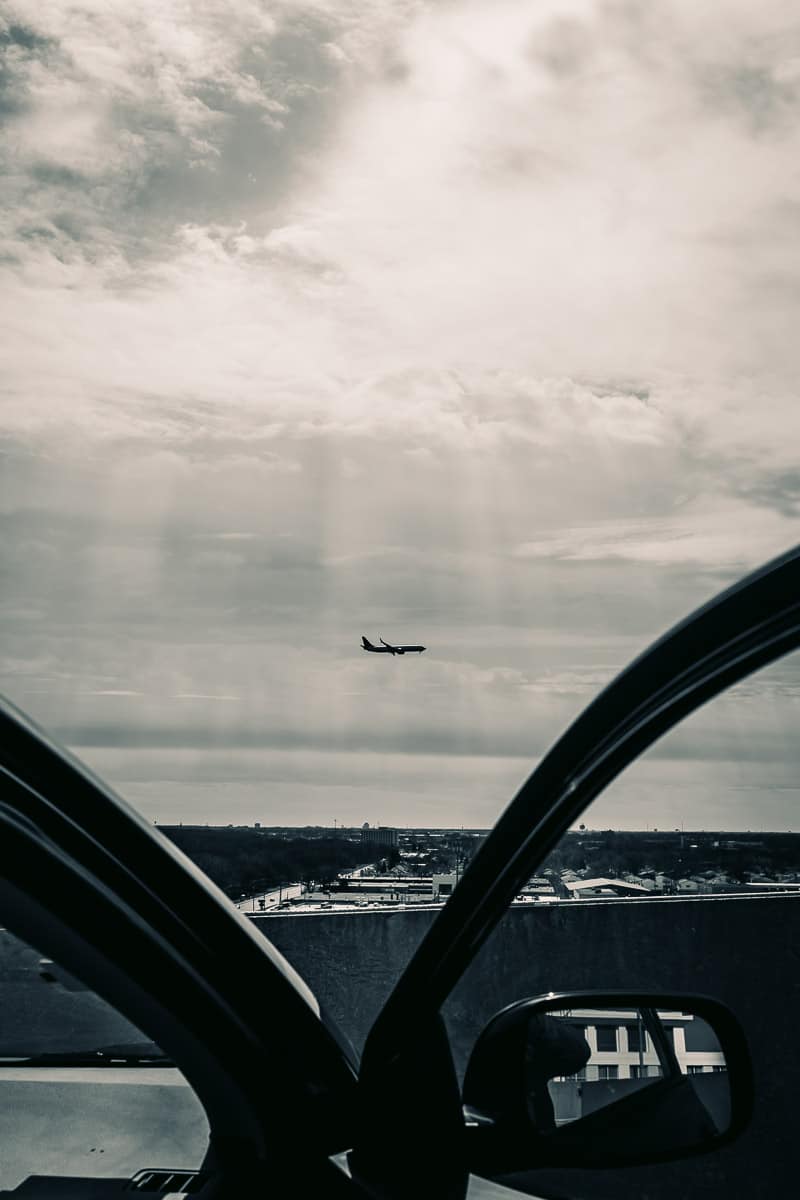 When we arrived at the hotel, we spent a few moments on the top of the parking garage watching the planes roll in at Chicago O'Hare International airport. We found this to be a pretty cool activity, as O'Hare is one of the heaviest trafficked airports in the world, so there is no shortage of incoming planes! We also thought this would be a good time for a photo opportunity.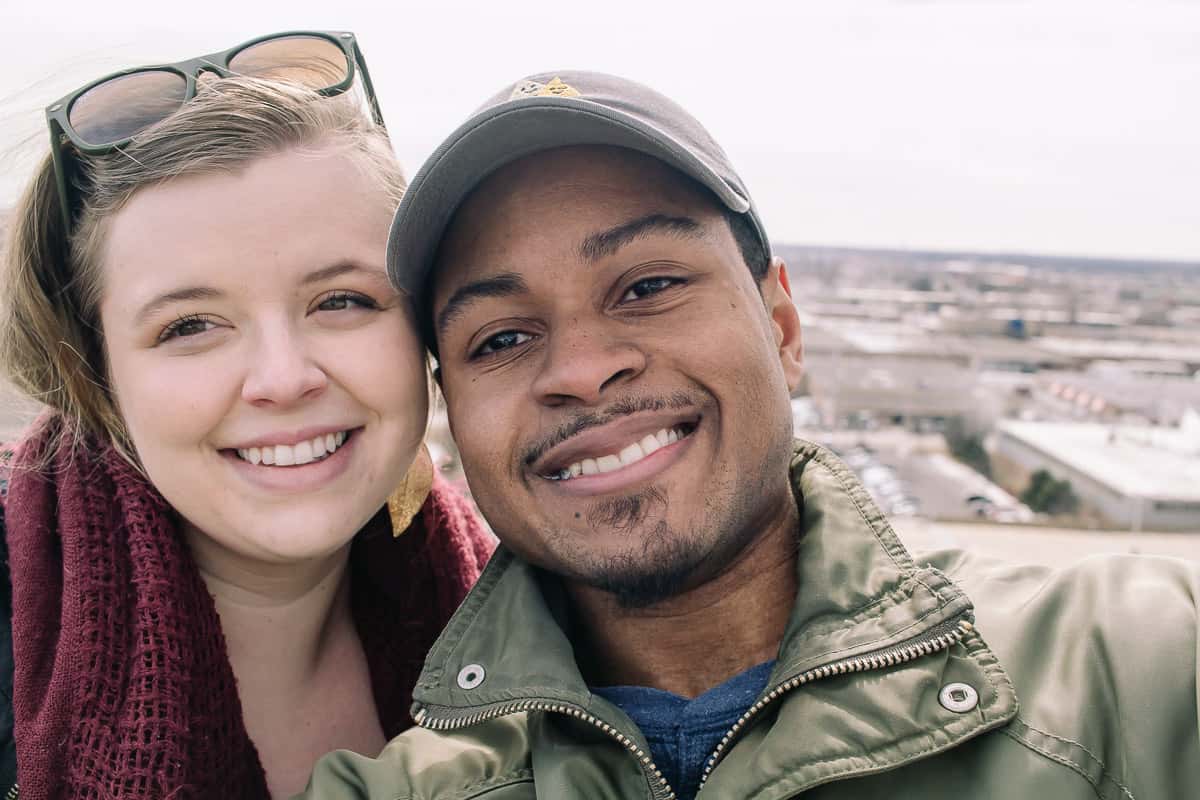 Touring the Loews Chicago O'Hare Hotel
When The Loews Chicago O'Hare Hotel is pretty unique in the sense that it is basically an art gallery, displaying works that are all for sale (aside from the Johnny Cash poster by the elevators, so don't ask to buy it!) from local art galleries. It's sort of a unique partnership that they have, so you can skip the art museum. You can read more about that here. We wandered around a little bit, here's a few of our favorite pictures.
Dinner at the Ashburn
We really love eating at the Ashburn. It's a contemporary American gastro pub that has a wide selection of drinks and things to eat. It's inspired by the first flying field, so you will notice the nod to aviation. The restaurant is relaxed and comfortable as you can see!
We tried to keep it mostly healthy and low carb (by skipping the bread and chips) but Chamere couldn't resist ordering their insane bread pudding with bacon jam for dessert! People tend to overlook the hotel restaurant, but really, this isn't your average spot. We love eating here. The service is always outstanding and we love the food and drinks!
After Dinner Shopping & Relaxation
After dinner we walked over to the Fashion Outlets and did a little shopping. I've linked our Instagram stories here that show a behind the scenes look at what we bought, as well as a full room tour! After returning from shopping, we each took a bath and relaxed in our robes before it was time for bed. Honestly, it was the perfect way to spend the evening! When it was time for bed, we were well fed and the super comfortable bed helped us get right to sleep. If you guys have more energy than us, head over to Parkway Bank Park to enjoy a live show or comedy. There's plenty to do here!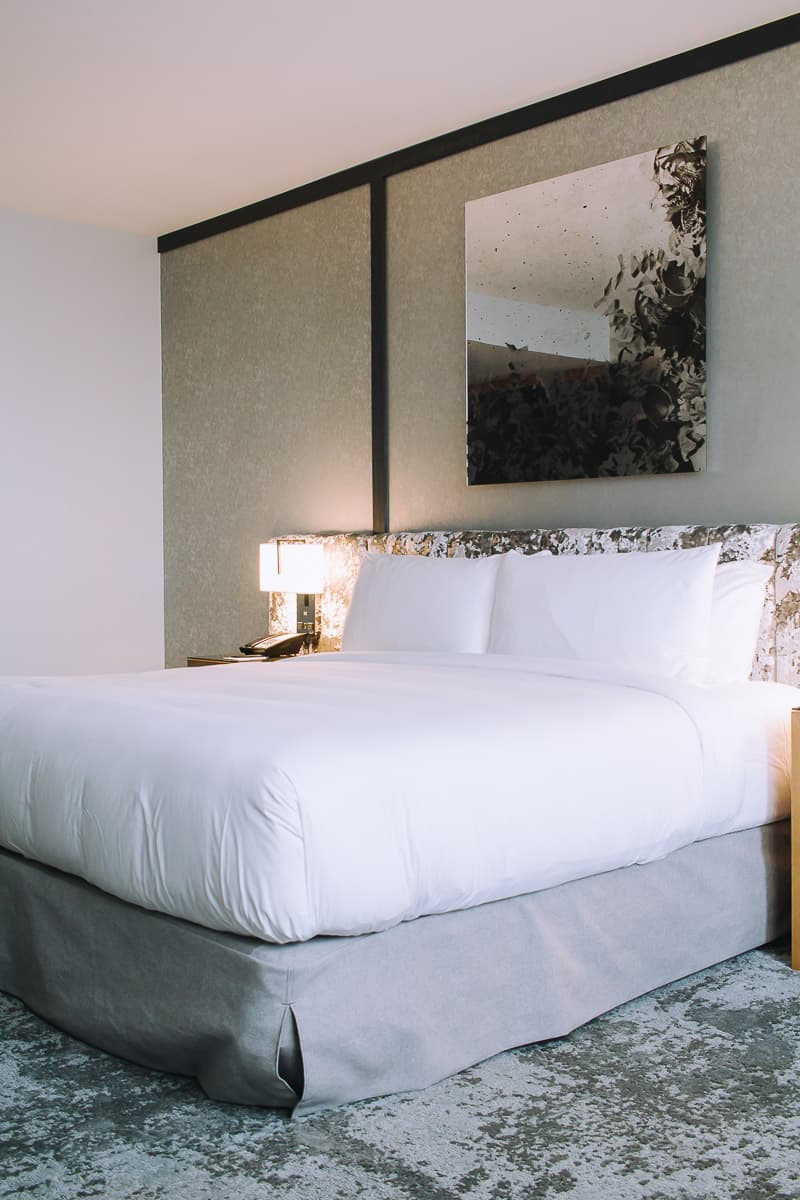 Rise & Shine - Time for Breakfast at the Loews Chicago O'Hare Hotel
We woke up early to watch all the early morning planes fly in. We watched it all right from our bed. As we mentioned before, the Upgrade Your Style Package includes a complimentary breakfast at the Ashburn. There are tons of options for breakfast. They have a made-to-order omelette and waffle station, along with breakfast sandwiches, eggs, bacon, sausage, fruit, cereal and oatmeal, toast and pastries, yogurt, you name it. One of our favorite things they offer is house cured salmon. Seriously delicious! Juice and coffee are also included in your breakfast.
We hope we've shown you how to Wander Your Way at the Loews Chicago O'Hare Hotel! Thanks again to the great folks at Loews for hosting our stay. We hope you guys get a chance to enjoy a wonderful night at one of these fantastic properties!
Until Next Time,
Briana & Chamere