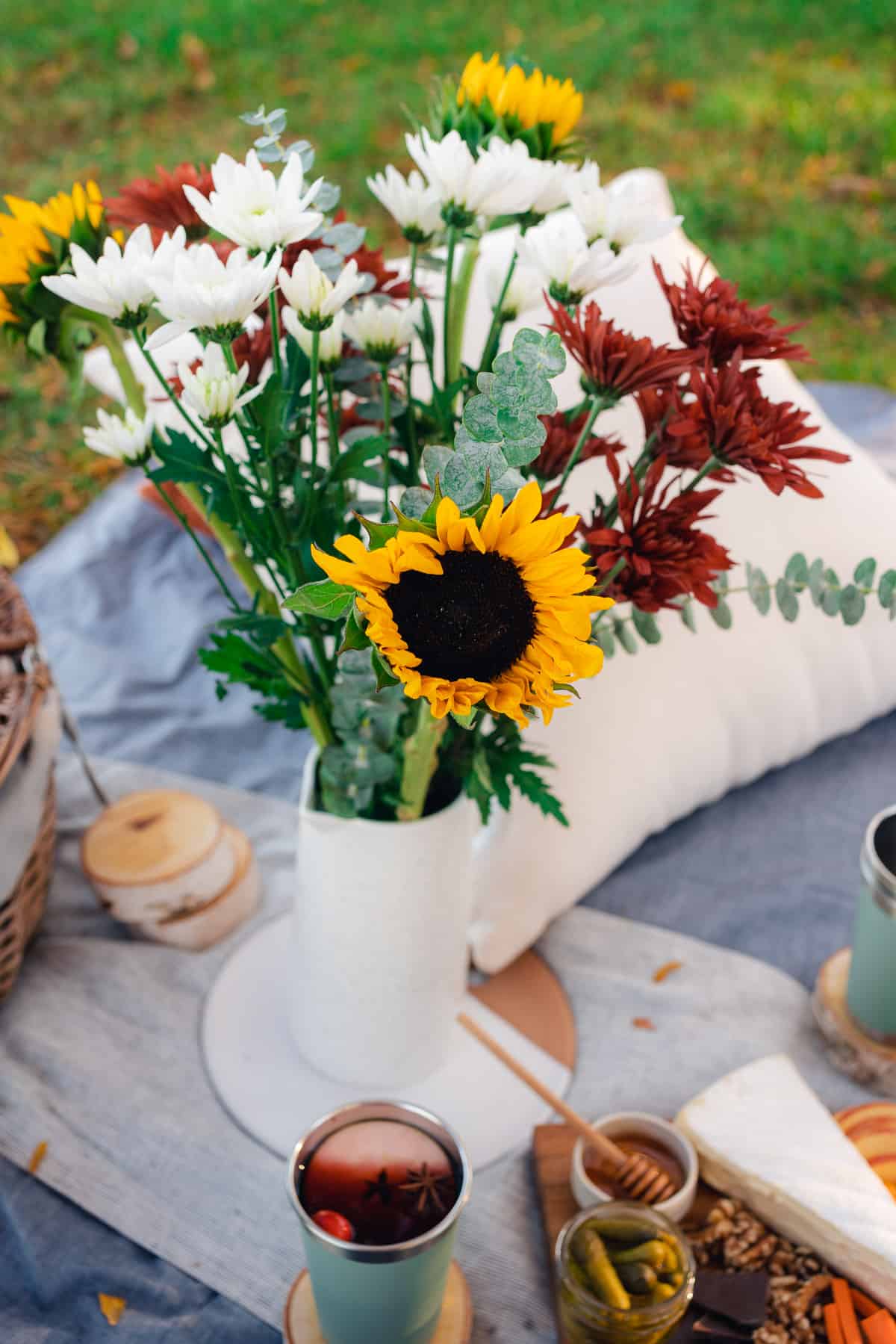 Disclosure: This is a paid partnership with Dometic. We'd like to give a huge thank you to Dometic for fueling our most amazing fall adventure yet! Dometic makes mobile adventuring easier with their award winning coolers, drink ware, and portable power solutions. They gave us the ultimate glamorous fall picnic setup with their tumblers and portable refrigerated cooler.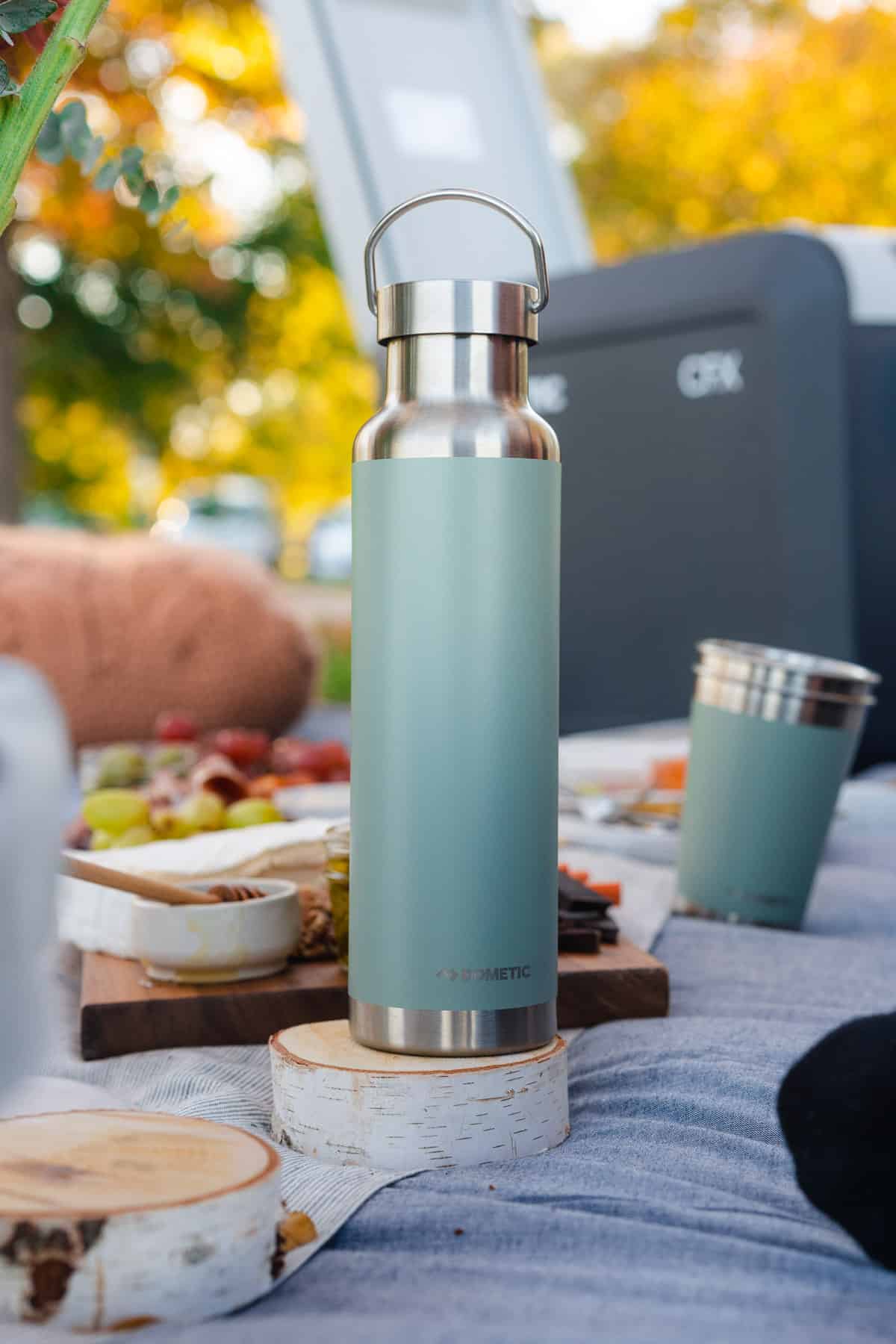 How to Plan A Picnic Date in a Big City:
We love getting out in nature, but we also live in the sprawling metropolis that is Chicago, so sometimes that means getting creative! We went to our favorite lakefront park, on the Far North Side. The fall colors were absolutely fantastic, and watching the water while people walked, jogged and biked nearby was so relaxing!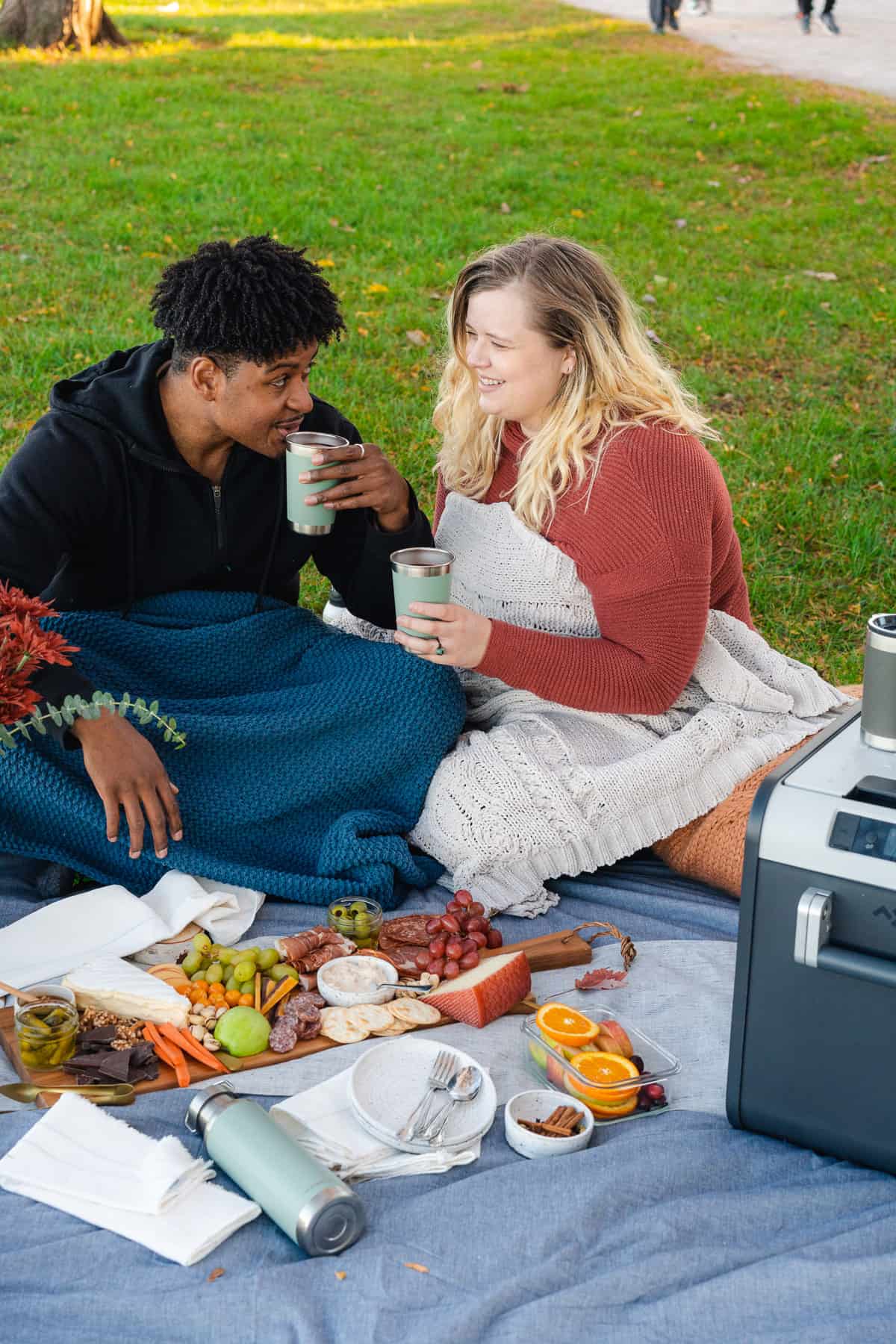 When packing warm drinks and an awesome charcuterie board spread, loading up with pillows, blankets and flowers, we were ready for the coziest night by the water.
We hope this goes without saying, but no matter where you're going, always follow these Leave No Trace Guidelines, be respectful and clean up after yourself. 🙂
City Picnic Location Ideas:
Lakefront or beach - If this is an option in your area, there is something just inherently relaxing and romantic about watching and listening to the water. Chicago has over 26 miles of public beach space, and we're always finding a reason to head to the lakefront area with its sprawling lakeside parks.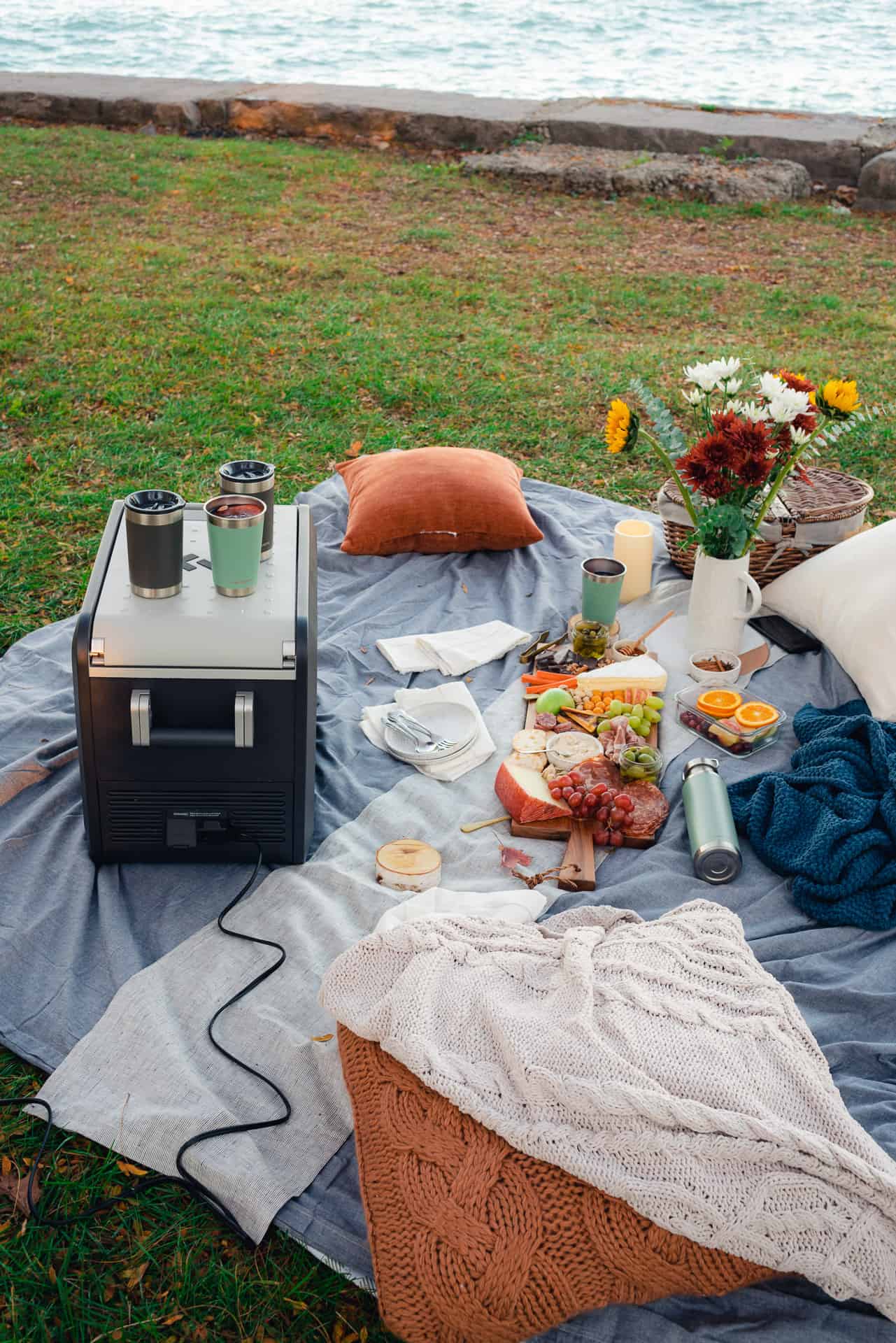 Nature preserve or State Park - Find somewhere nearby that you can make into a day trip. We have lots of options near Chicago.
Local park - Find a quaint park near you with some green space. There are too many great parks in Chicago to name them all, which is a luxury problem for city living if you ask us! This list is a great place to start when picking out locations, and we can personally vouch for all of them!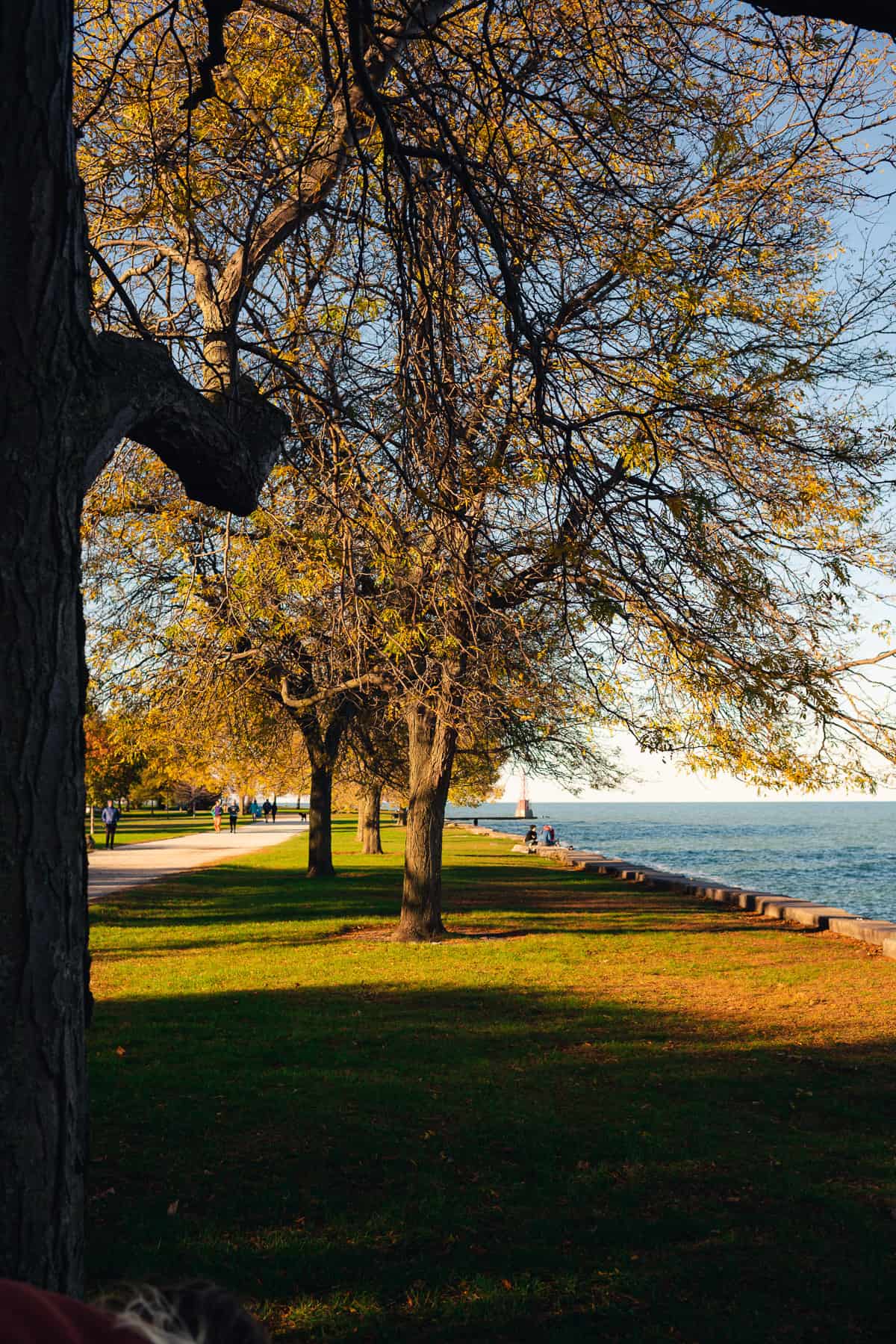 Back balcony or back yard - We're fortunate to have small back deck that we sometimes utilize when we're not in the middle of gardening projects! Honestly, any space can be made into a cozy picnic!
A drive-in movie - What better way to cozy up? A drive in movie is the ultimate location for cuddling up, having a snack and a warm drink together!
Something to consider: In any public place, there are rules for eating, drinking (especially alcohol in glass bottles), and grilling. Always double check your location's rules before heading out.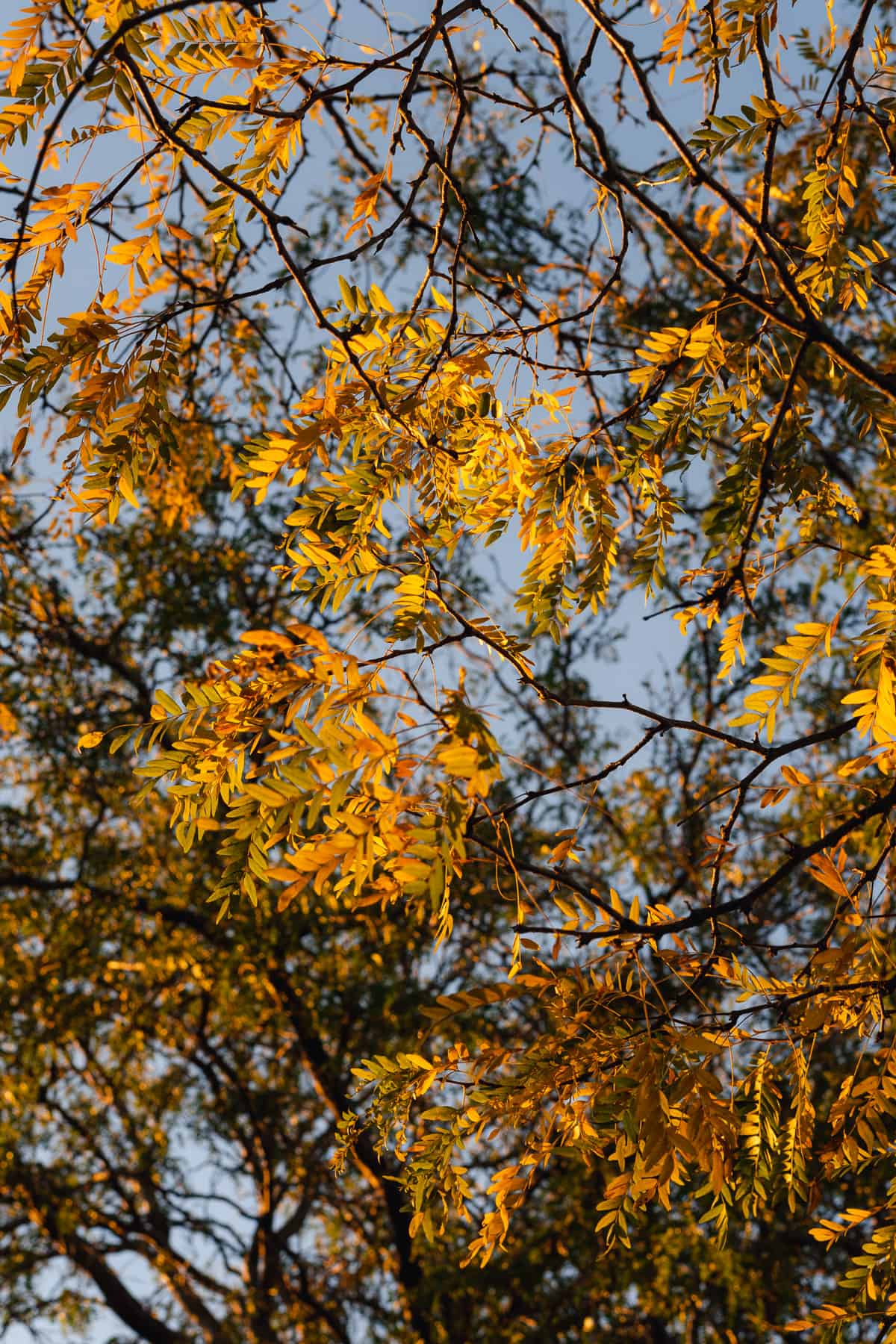 Romantic Date Night Activity Ideas:
Here's a few of our favorite activities for a low key yet romantic outdoor date.
Make a charcuterie board- Choosing food that is easy to customize, like a charcuterie board, cheese board, or any other snack situation instantly elevates the mood and scene. These options are hands on and collaborative which is romantic in itself. This also ensures you can snack at your own pace, and not be too weighed down by the food, while also eating something substantial.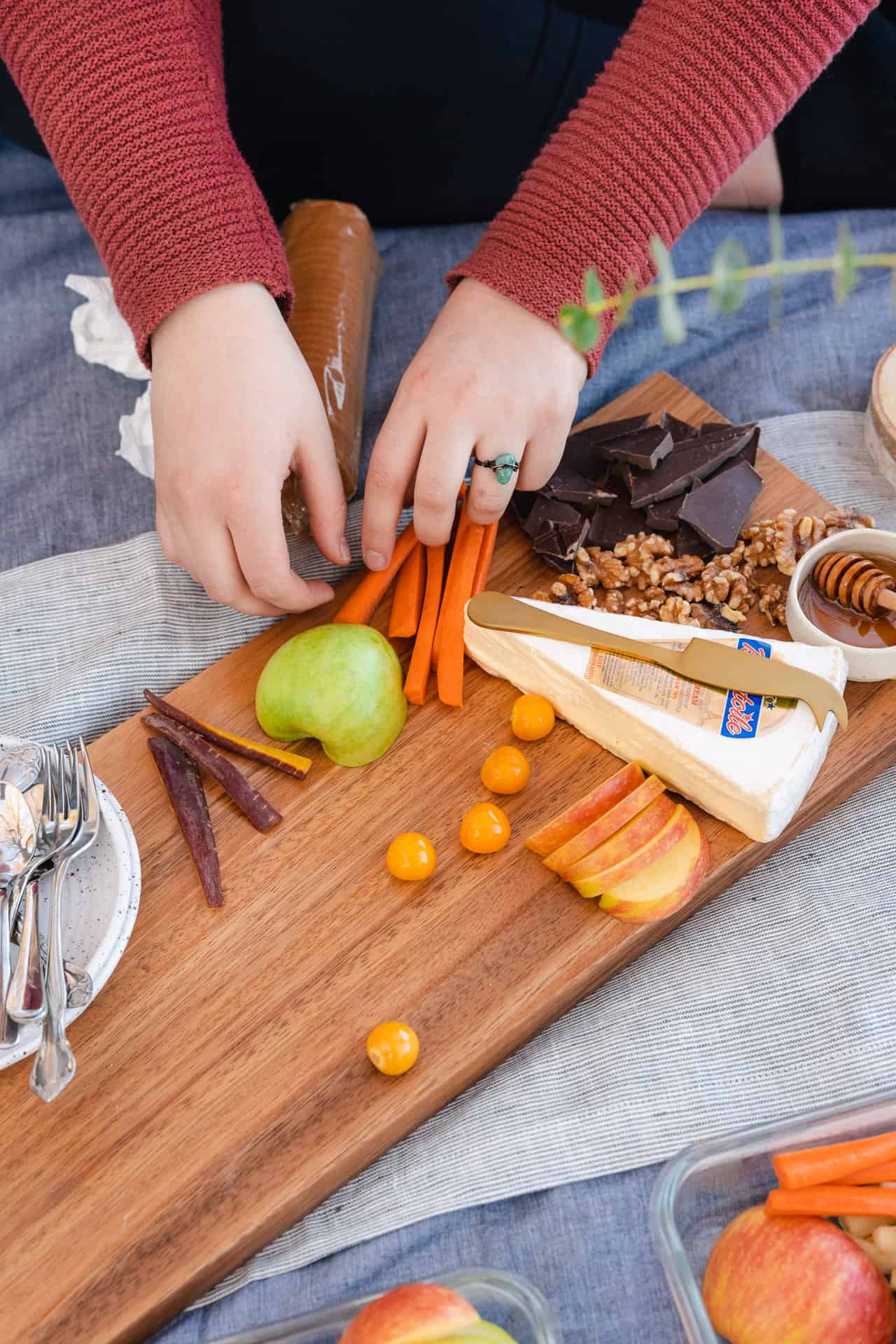 Bring a festive drink - We recommend something wine based to pair well with your cheese board. Our sugar free mulled wine was toasty warm, and the flavors were perfect for fall. Having a homemade element to the picnic is perfect, it's literally made by your hands with love, so we highly recommend making something to sip on at home before heading out.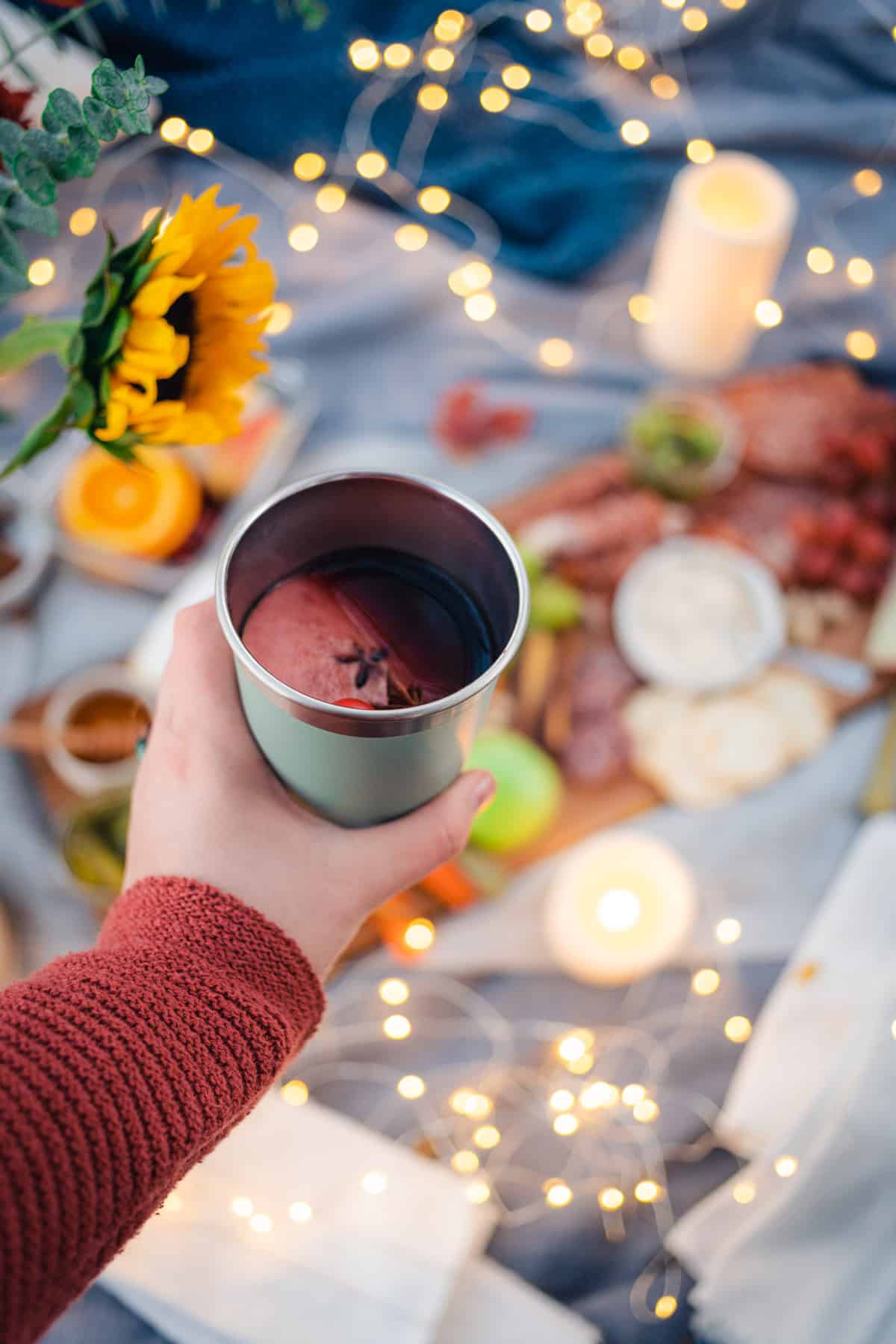 Bring a board game or puzzle - Here's a list of some games that are great for two players.
Paint together - Grab some watercolor paints, or even canvases and get creative together!
Listen to a podcast or music - Bring a small speaker to play music or a podcast on and vibe out.
Do a photoshoot - Capturing memories in such a lovely setting is so romantic. We grabbed a couple of our cameras so we could take photos of each other. An instant film camera immediately becomes a fun activity, and then you have something physical to hold onto for the future.
Tips For Cool Weather Picnics:
Layer up with cozy sweaters and jackets!
Sip on a warm drink (like mulled wine) and keep it warm in a quality tumbler. Dometic's thermal tumblers keep drinks hot for 6 hours, plus they are sleek, sustainable & can fit easily in the drink compartment of your backpack.
Pack plenty of cozy blankets and pillows.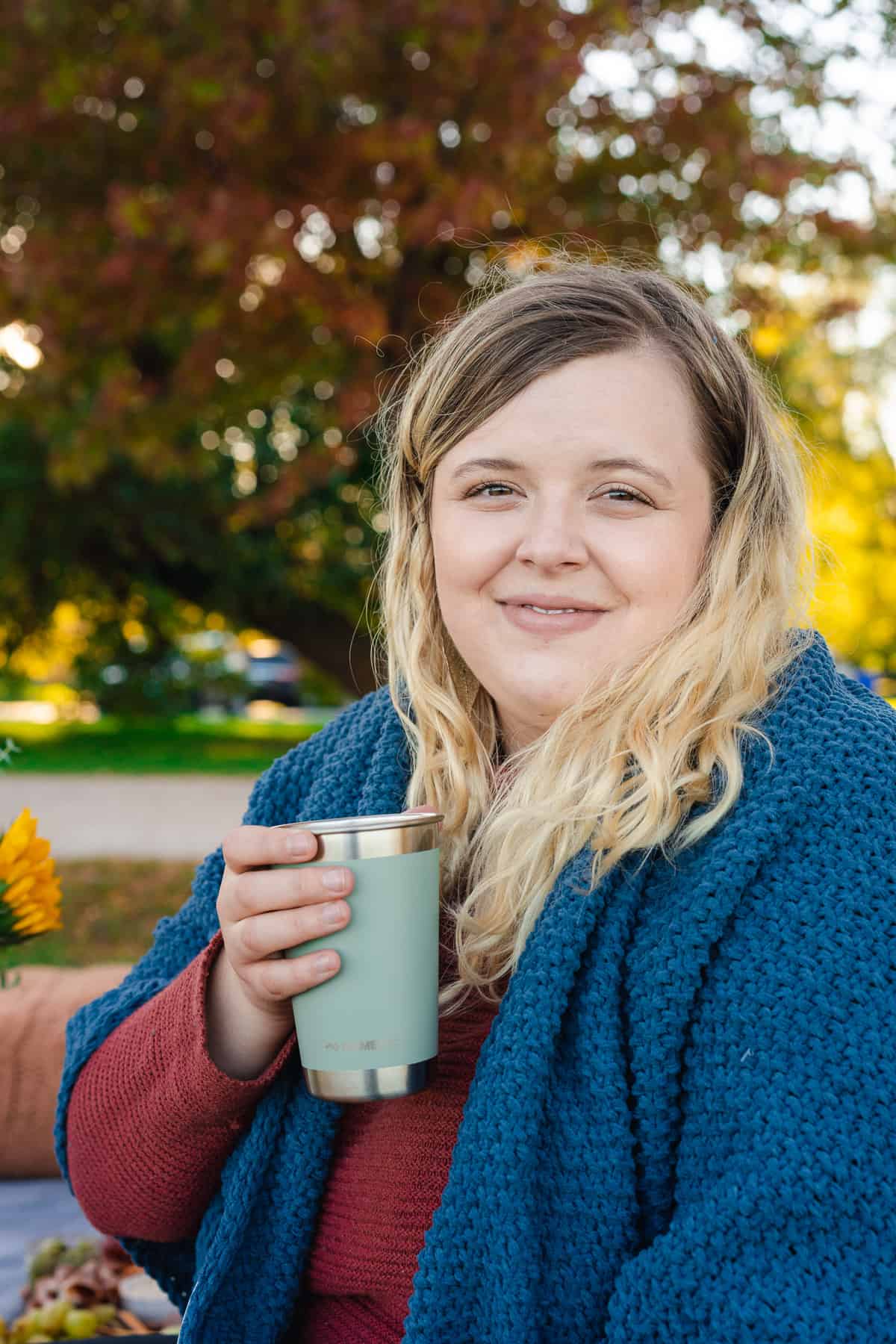 Picnic Date Food & Drinks:
Let's get into our exact spread, shall we? We opted for sugar free mulled wine and a charcuterie board, so we'll show you how we prepared them.
How To Make Sugar Free Mulled Wine:
Gather your supplies.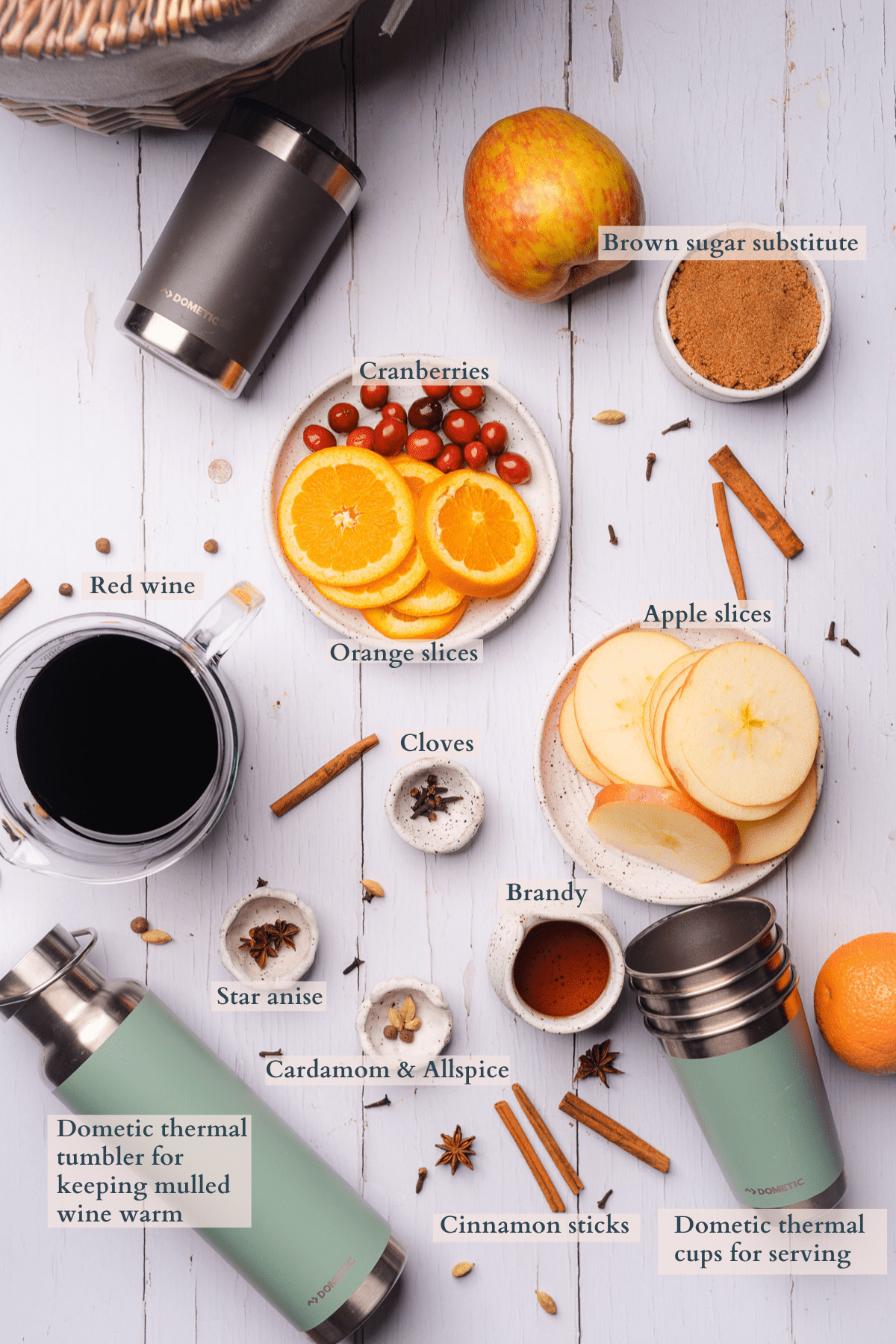 You'll need:
Red wine - Choose something light and fruity, but not too sweet.
Mulling spices - Use your favorite whole warming spices. We used cinnamon sticks, star anise, cloves, allspice and cardamom.
Sugar substitute - We prefer to use a brown sugar substitute, as it adds a nice molasses like flavor without adding any sugar or calories. If you're not watching your sugar intake, feel free to use regular brown sugar, or any sweetener of your choice. Sweeten to taste.
Brandy - You can opt to leave it out if you prefer. You could also use some spiced rum, whiskey or bourbon instead.
Fruit - Slice up some orange rounds, apple slices and add in a few cranberries.
Grab a large stock pot, or dutch oven. Over medium-low heat, pour in the red wine.
Add in the brandy, fruit, and then the sweetener to taste. (Start slow with the sweetener, then add more as needed).
Now, add in your warming spices. You want to keep an eye on the wine the whole time, so it doesn't boil. It should be warm enough so that it is just below bubbling, then you will want to turn the heat to a simmer. Boiling the mixture would make the alcohol cook off.
Allow to simmer for at least 10 minutes, but up to a few hours.
After you're satisfied with the flavor of the mulled wine, you will want to strain away the fruit and whole spices, then discard.
Ladle the mulled wine into a pitcher to make pouring into your tumblers easier.
Pour the mulled wine into tumblers to keep warm.

Pro tip: make sure to bring extra spices, orange slices, apple slices and cranberries to garnish your mulled wine in the cups! We put ours in tupper ware and store inside of our CFX3 25 to keep the fruit cool.
Once setup at your picnic, pour the mulled wine from the tumblers into your thermal cups and garnish!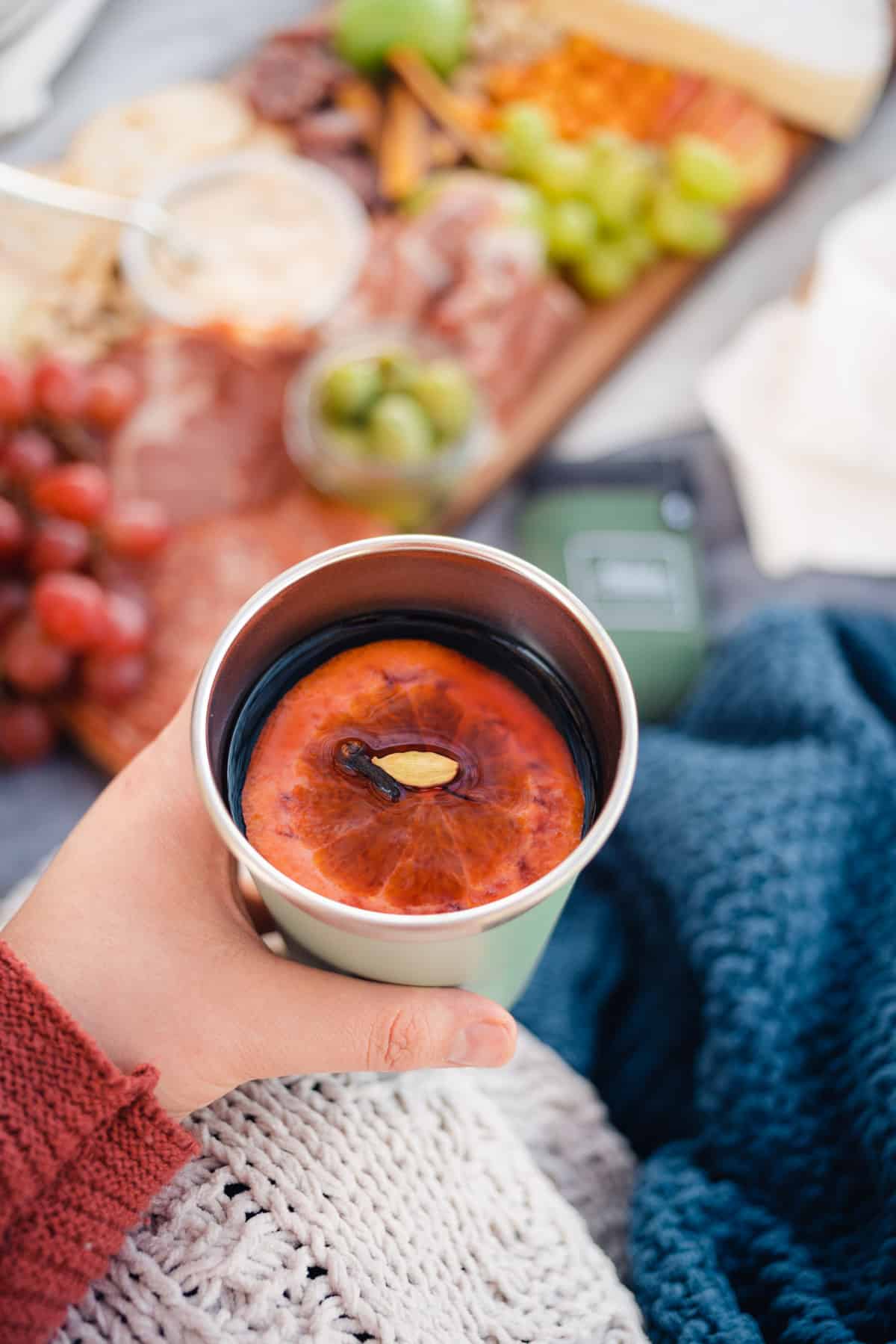 More Ideas for Fall Picnic Cocktails:
Keep these drinks warm or cool in your Dometic tumblers. Drinks can be kept hot for 6 hours in the tumblers, while cold drinks can keep cold for 12 hours.

For drinks that require being topped off with anything carbonated like sparkling wine, diet ginger beer, club soda, etc., pre-mix the cocktails (without the final touches), store in the tumblers, and pack the final ingredients and garnishes in your cooler.
Don't store anything premixed with carbonated ingredients in the tumblers, and instead, add those to top when it's time to serve. Anything premixed with bubbly ingredients will either burst or go flat after sitting for awhile!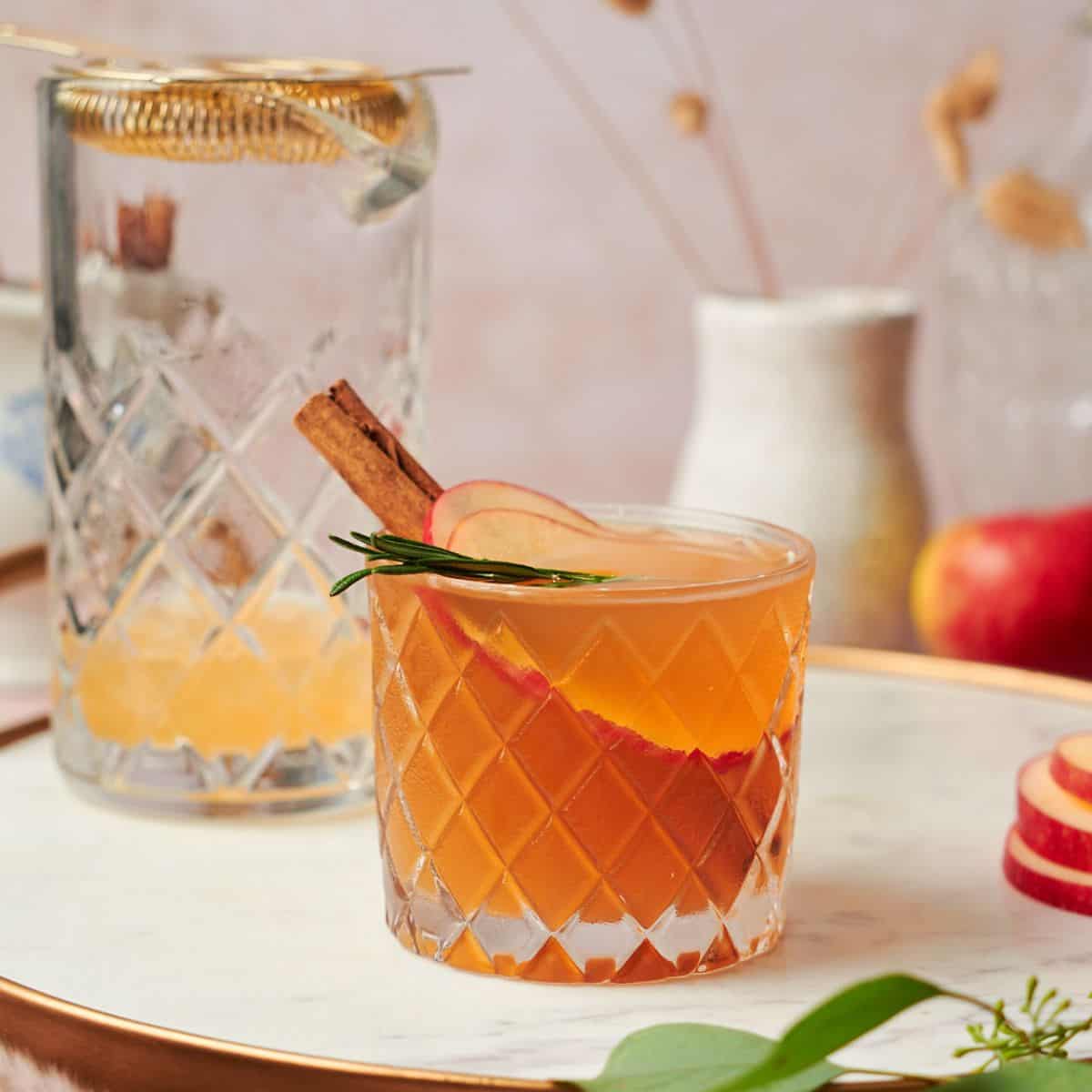 Bourbon Apple Cider Cocktail
This Bourbon Apple Cider Cocktail is made with warming fall flavors and simple ingredients, and is the ideal cocktail for any fall gathering. Made with only 4 simple ingredients in 5 minutes or less!
Get The Recipe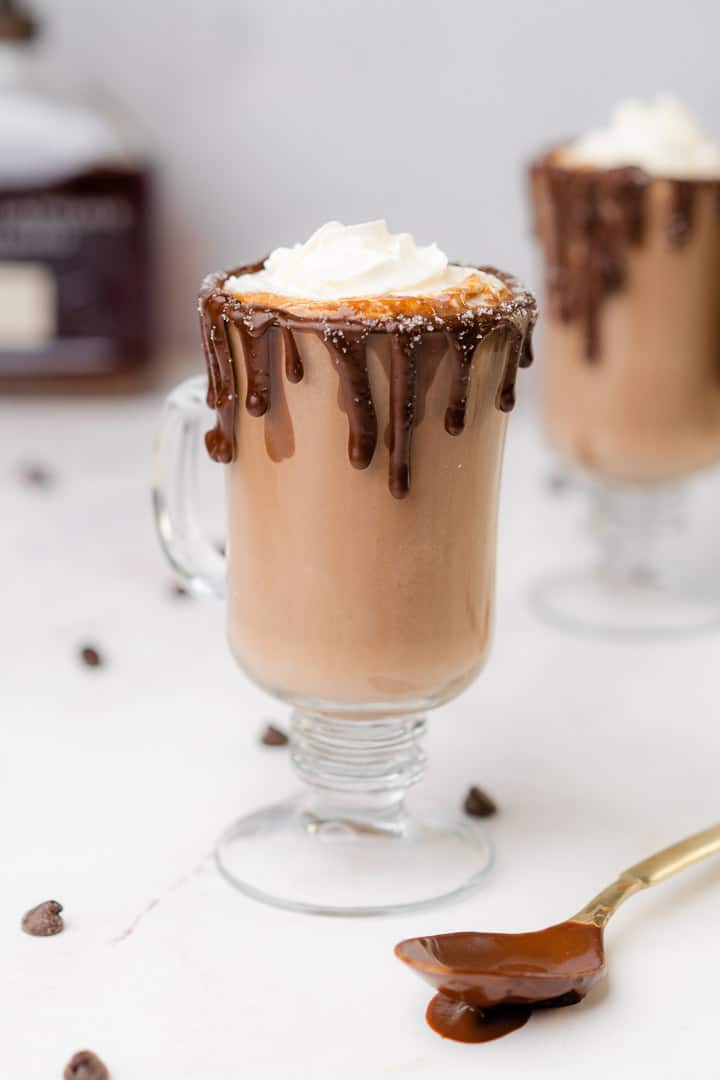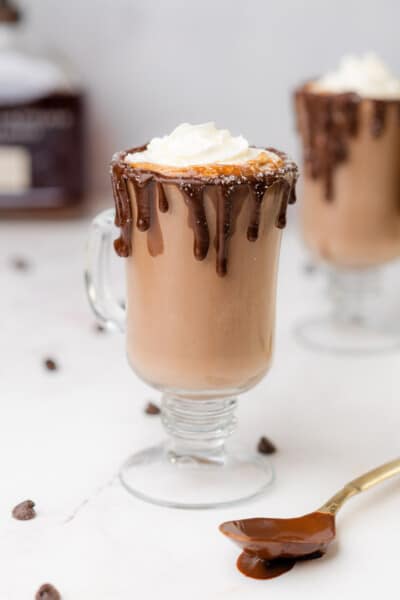 Salted Bourbon Hot Cocoa Recipe
This Low Carb Salted Bourbon Hot Cocoa is the perfect alcoholic treat to warm you up from the inside out! Rich and creamy hot cocoa, spiked with bourbon, topped with whipped cream and plenty of salted dark chocolate drizzle. This delicious low carb and keto friendly drink is an indulgent treat with minimal impact on your blood sugar because it's sugar free and low in carbs.
Get The Recipe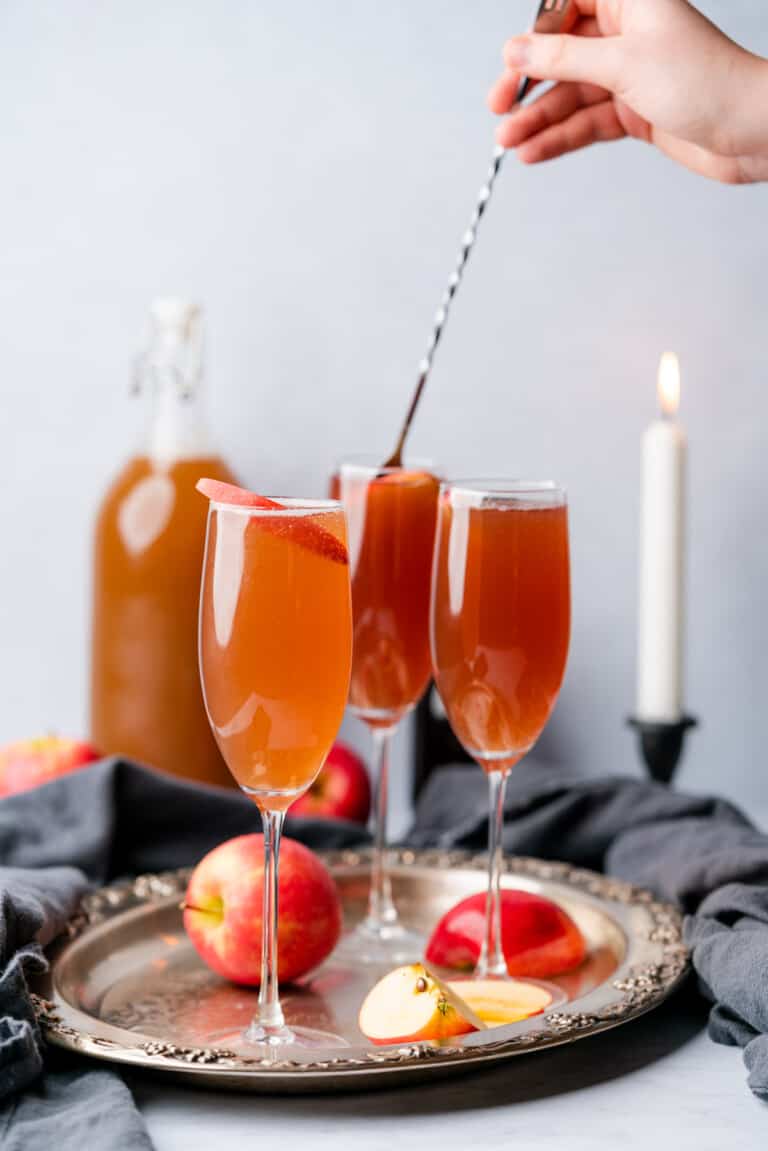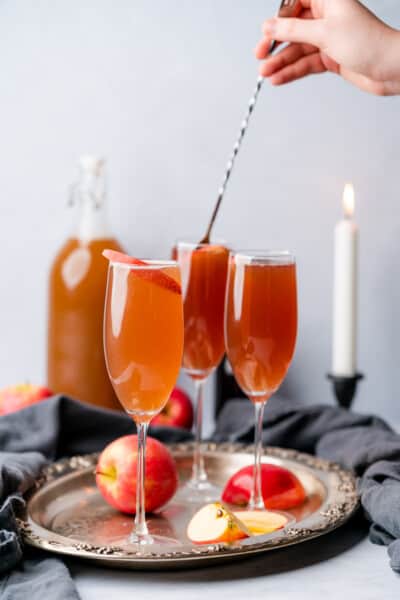 Apple Cider Mimosa with Spiced Rum (Low Carb)
Enjoy the flavors of autumn with this apple cider mimosa recipe with spiced rum! This easy to mix up is the perfect recipe for the entire fall and holiday season. Making the components on your own lowers the sugar content, making the holidays a little healthier, without sacrificing flavor. Combine our low carb sugar free spiced apple cider with our homemade sugar free keto grenadine, spiced rum, and prosecco for a wonderful low carb spiced apple spritzer!
Get The Recipe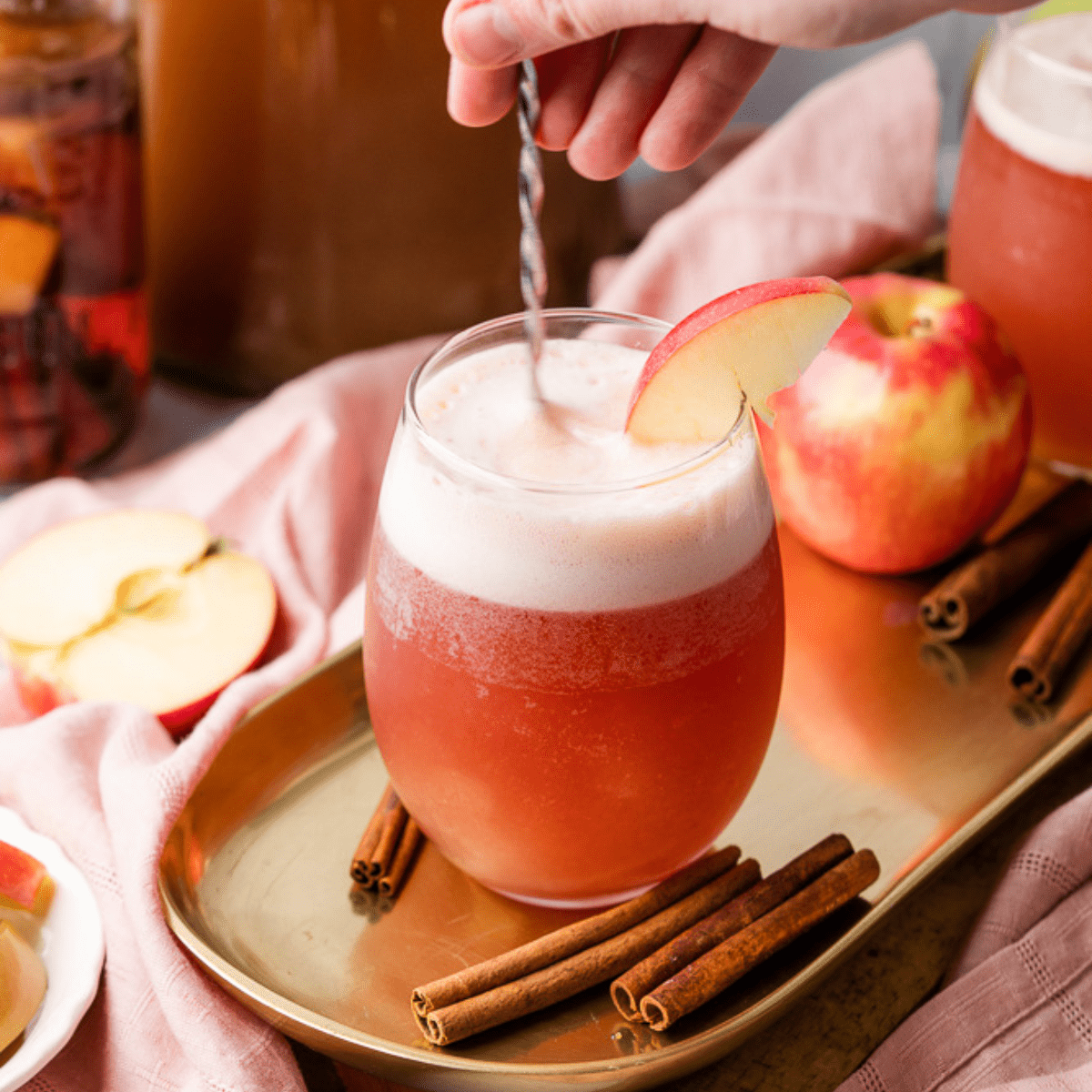 Apple Cider Bourbon Cocktail
This Apple Cider Bourbon Cocktail is the fall harvest cocktail of your dreams! Combine apple cider with grenadine, apple cider vinegar, apple cinnamon infused whiskey, and lemon juice, and top with ginger beer. Add a little edible glitter for a fancy feel.
Get The Recipe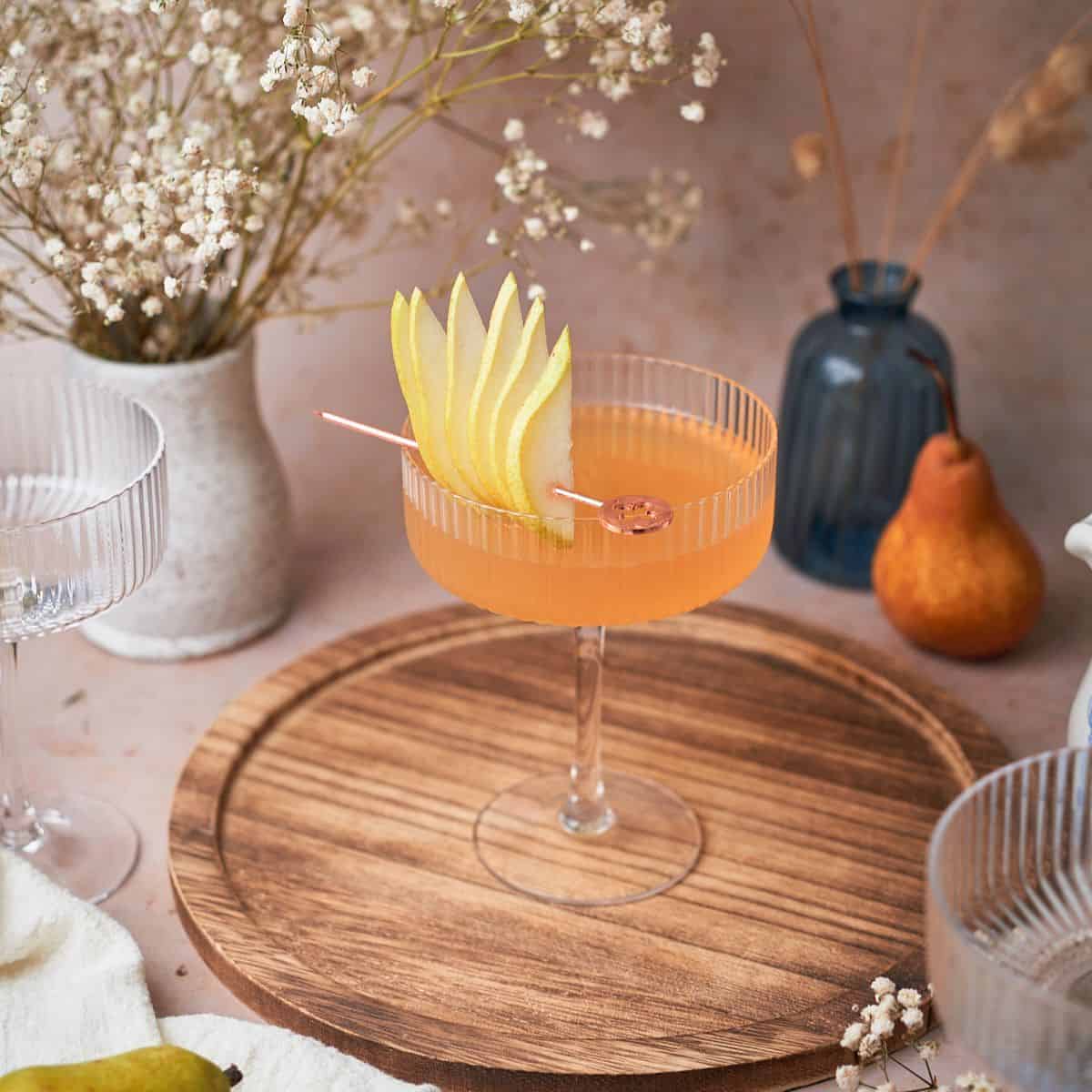 Pear Martini
This Spiced Pear Martini is the perfect fall, winter, or holiday cocktail! If you're looking for a new cocktail to make this year, this easy drink is a great way to use up fresh ripe pears. It's simple with warm, comforting flavors, we know you'll love it!
Get The Recipe
How To Build A Picnic Charcuterie Board:
There are so many great things about building a charcuterie board. You can pack everything ahead of time, then assemble when it's time to eat, so nothing gets soggy. It's easy to customize to make sure everyone has something they enjoy, and has items suited to their diet type. Plus, it's light enough to not weigh you down o na date, but filling enough where you won't go hungry.
It is important to take care that everything is at a safe temperature before digging in. We love that we kept our meats and cheese perfectly cool in our CFX3 25. Pack ice packs or ice in a regular cooler to ensure your food stays cold enough.
To build the charcuterie board, you will need the following:
An assortment of at least 2 cured meats.
At least 2 cheeses.
Seasonal fruits and veggies.
Olives and/or pickles
Nuts
Crackers
Dip
Honey for drizzling
Something sweet like dark chocolate if desired.
Bring some kitchen tools and serving ware with you. You'll need a few things to help your picnic run smoothly.
A table runner and a wooden board. This will elevate the scene! The wooden board is the perfect home for your grazing platter. It also weighs down your setup so nothing will blow away.
Small cutting board & knife. For cutting up meats and cheeses on the spot.
Real plates, bowls and jars for serving. This makes the scene even prettier, but it's practical too. Heavier bowls will help weigh everything down so it doesn't blow away. These plates and bowls are also zero waste. You will need a few bowls or jars for small things like pickles, olives, etc.
Real silverware. Don't forget forks, knives and spoons to use to eat with, scoop and grab. Again, more stable, pretty and sustainable than single use plastics.
Cheese knives. Don't forget a few specialty knives to cut into and spread the cheeses with.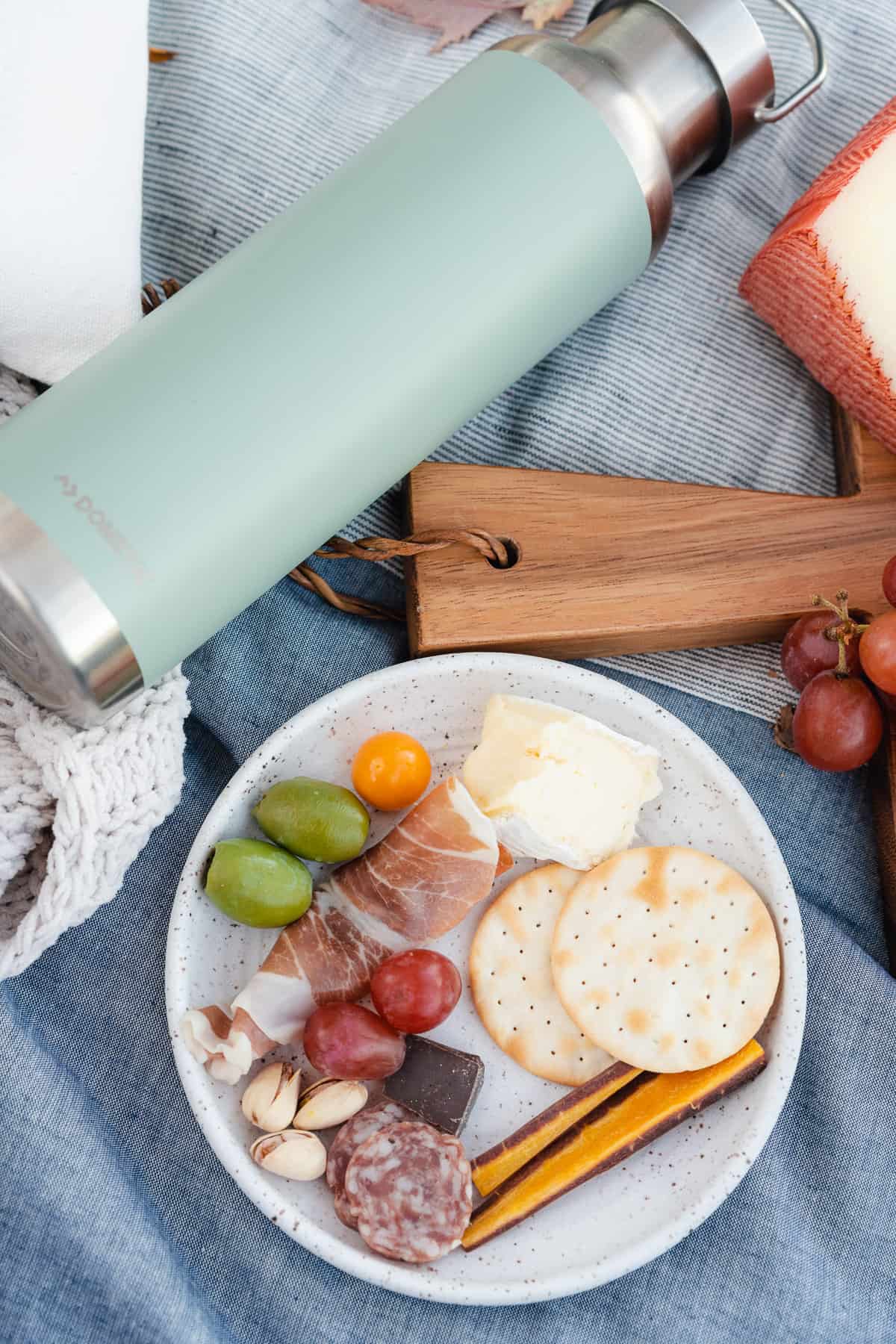 A few other things to remember:
Don't forget a trash bag and bags for recycling - Have bags to make sure you dispose of waste and leftovers properly. Be courteous, and don't leave anything behind.
Food storage containers - Make sure you have something to bring leftovers home in.
Hand sanitizer and wet wipes - To keep your hands clean and dry.
Paper towels - In case of any spills.
Water - Don't forget to pack water!
A picnic blanket - like this Matador blanket we will be giving away as apart of our giveaway. This will keep your other blankets and pillows dry if the ground is wet.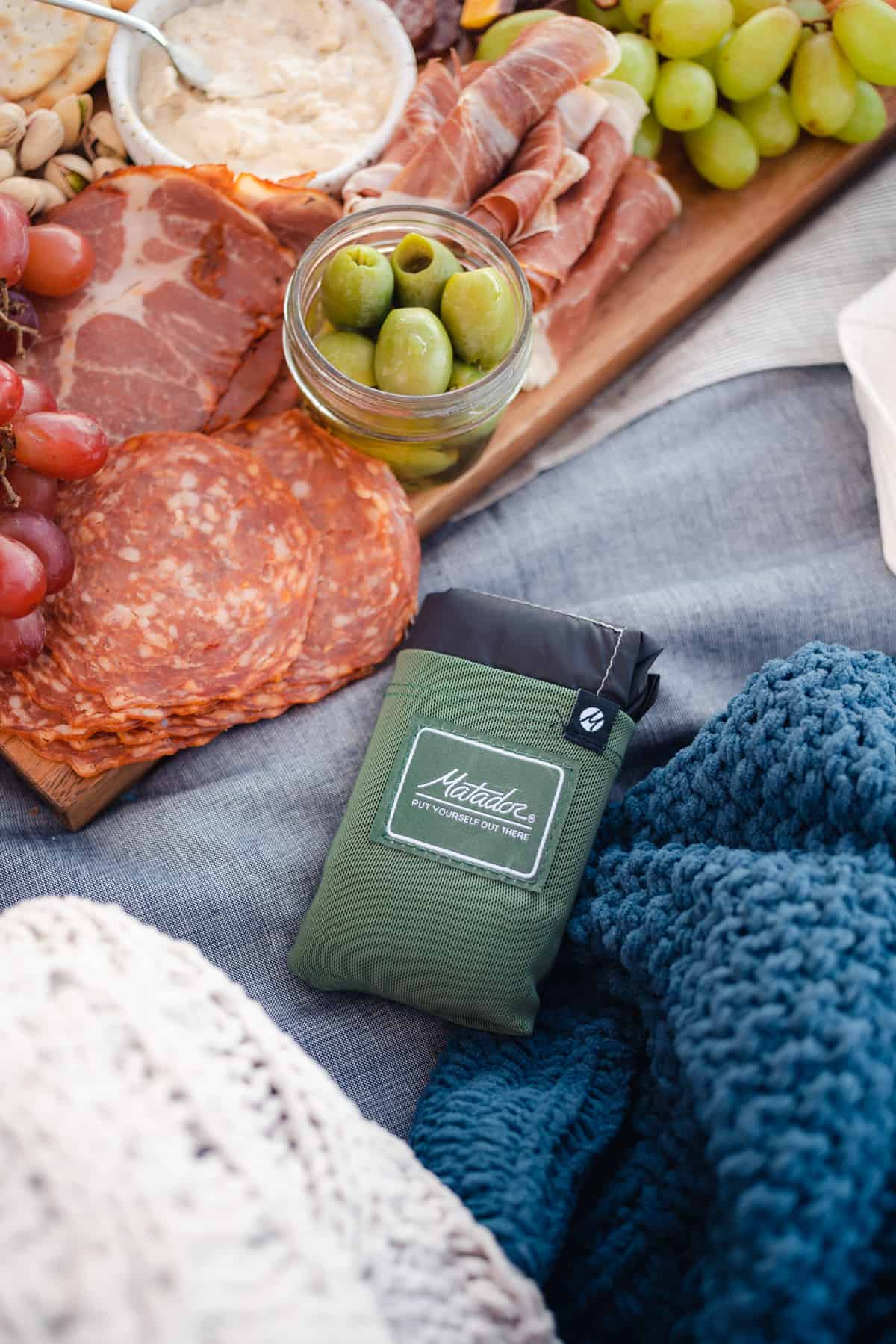 Other Snack Ideas For Your Picnic:
How To Add Special Romantic Touches To Your Fall Picnic:
Blankets & pillows- Bringing throw blankets and pillows to sit on and cuddle up with really makes everything really sweet and romantic. Plus, they will keep you warm.
Fresh flowers- Totally optional, but highly recommended to make your picnic simply gorgeous.
Ambient lighting - We opt for battery powered twinkle lights and candles to make everything sparkle. Battery powered seems to be the theme for today! It's safer than using real candles, and that way you won't run into any trouble.
Picnic basket - It's just classic and cute. It's a great way to carry your flowers, lighting, and anything that doesn't need to be kept warm or cool, like crackers, nuts, chocolate, etc.
Cloth napkins - Linen or cloth napkins just make everything feel more elegant.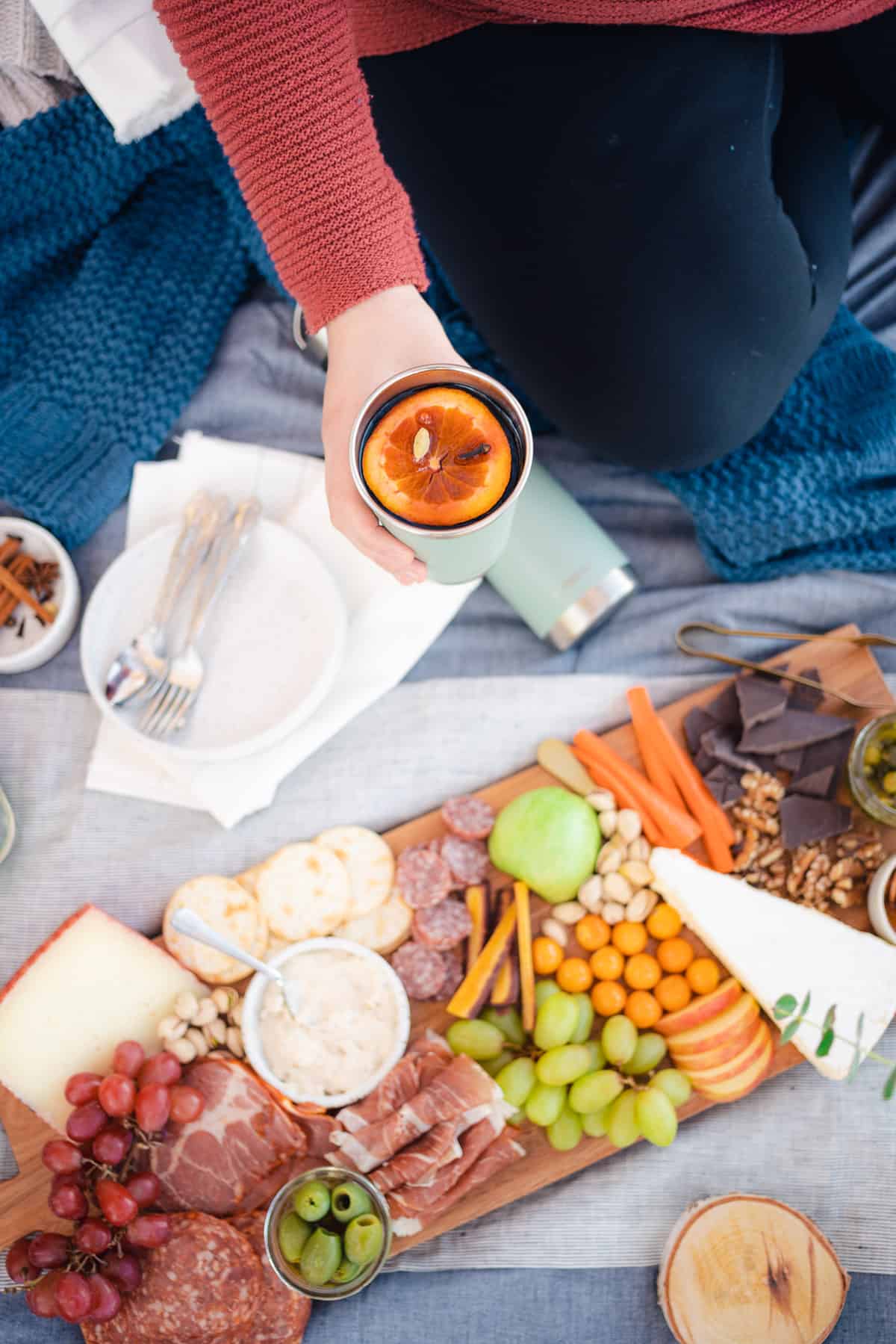 Shop This Post:
Want to get supplies for this recipe or shop our keto kitchen or pantry? We've linked our favorites above and right here in our Amazon Store!
A Full Living is a participant in the Amazon Services LLC Associate program, an affiliate advertising program designed to promote a means for sites to earn advertising fees by linking products to amazon.com. We only share products we use and love. It doesn't cost you anything extra to shop using our links, but we earn a small commission that helps us keep this site going!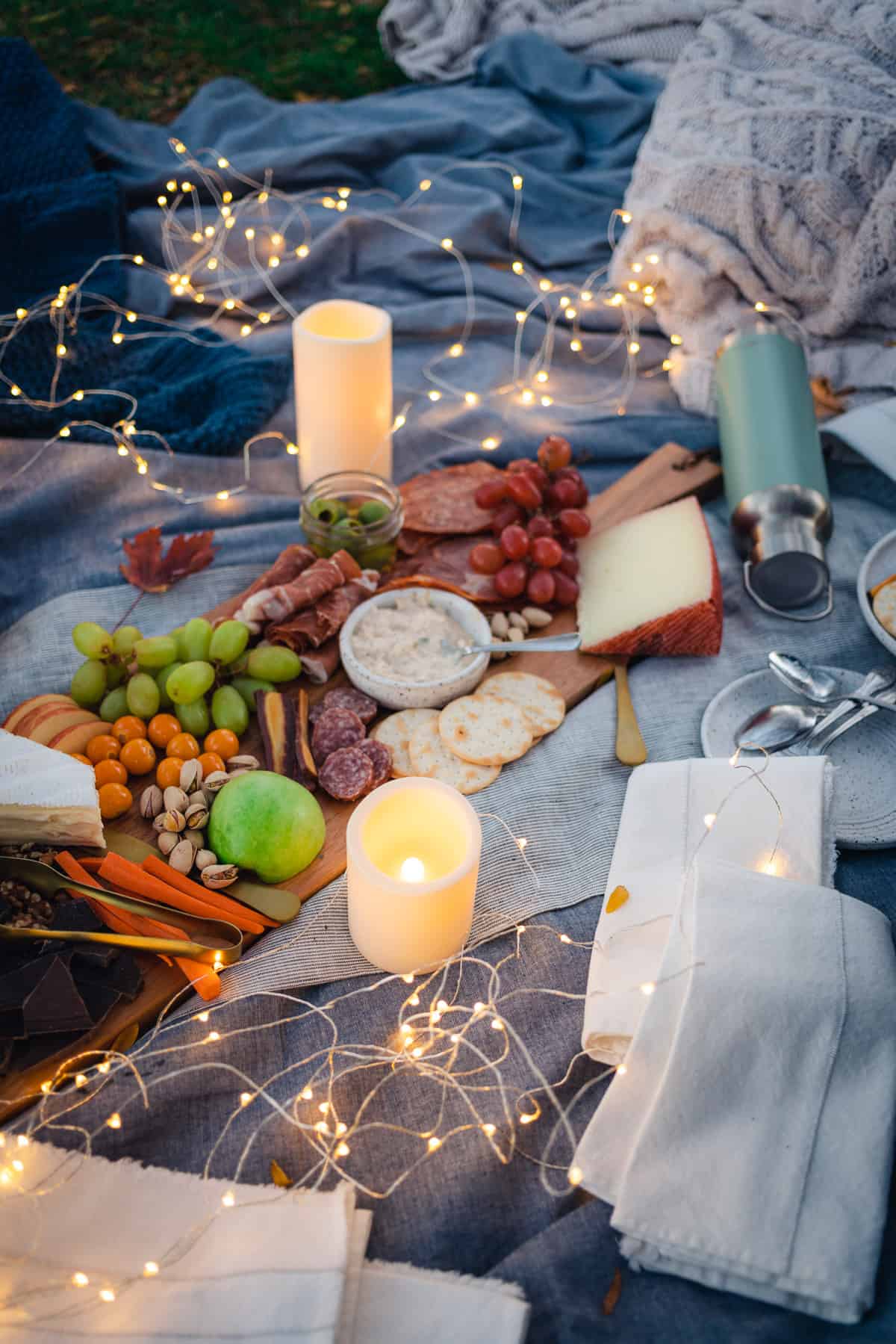 Leave us a comment, or catch up with us on Facebook or Instagram, or pin to your favorite Pinterest board for later. We love sharing your versions of our creations over on Instagram @afullliving!
If you could please leave a comment and/or a rating if you loved our mulled wine recipe & guide, we would be forever grateful! (Ratings helps users find our recipes, since users say that they like them!)
Thanks for stopping by! Be sure to subscribe to our email newsletter so you're the first to know about new posts that go up on our blog. This post is also available as a Google Web Story!
Until Next Time,
Briana & Chamere
📖 Recipe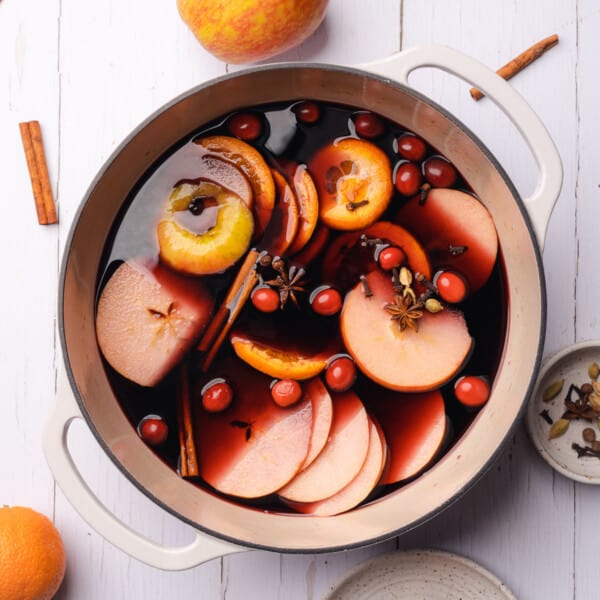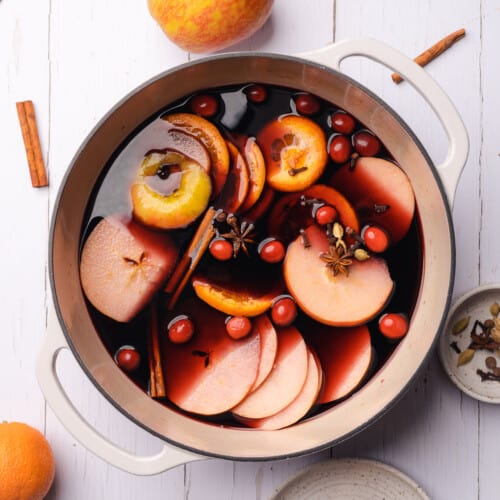 Sugar Free Mulled Wine
A delicious, warm and spiced sugar free mulled wine with fruit, brandy and mulling spices!
Ingredients
750

milliliters

red wine

4

ounces

brandy

(could substitute brandy, whiskey, or spiced rum)

1

medium

navel orange, sliced into rounds

1

medium

apple, sliced

½

cup

brown sugar replacement

(96 grams)

handful of cranberries (optional)

8

whole

cloves

3

whole

cinnamon sticks

3

whole

cardamom pods

2

whole

allspice

2

whole

star anise

Garnish with: cranberries, apple slices, orange rounds, cinnamon sticks and spices
Instructions
Add all ingredients to a large stock pot over medium-low heat. Gently warm, stirring to dissolve sweetener. Don't allow the mixture to boil. Gently simmer for at least 10 minutes, or up to a few hours to heat the wine and infuse it with flavor.

When desired taste is reached, strain away whole spices and fruit pieces. Ladle into tumblers to take it to go so it stays nice and warm! Serve in thermal cups, top with desired garnishes.

This will keep at room temperature for up to 3 days, or covered and refrigerated for up to 1 week.
Notes
Use whatever your favorite mulling spices are to taste. Taste frequently if simmering for a long time, as the drink will become more spiced overtime. Once spice level you like is achieved, remove spices and discard. 
Brandy or other alcohol is optional and can be left out. 
Sweeten to taste, adding more sweetener gradually to suit your preferences. 
Nutrition
Calories:
266
kcal
Carbohydrates:
16
g
Protein:
1
g
Fat:
1
g
Saturated Fat:
1
g
Polyunsaturated Fat:
1
g
Monounsaturated Fat:
1
g
Sodium:
9
mg
Potassium:
345
mg
Fiber:
2
g
Sugar:
9
g
Vitamin A:
115
IU
Vitamin C:
23
mg
Calcium:
33
mg
Iron:
1
mg