We put together a quick list of 14 dishes in Thailand you must try, so you don't get stuck just ordering the Pad Thai. (Although we do suggest you try the pad Thai at least once!) This is not an exhaustive list. Trust us, we could go on and on and on. To help kickstart your travel adventures, some authentic local foods in Thailand you must try!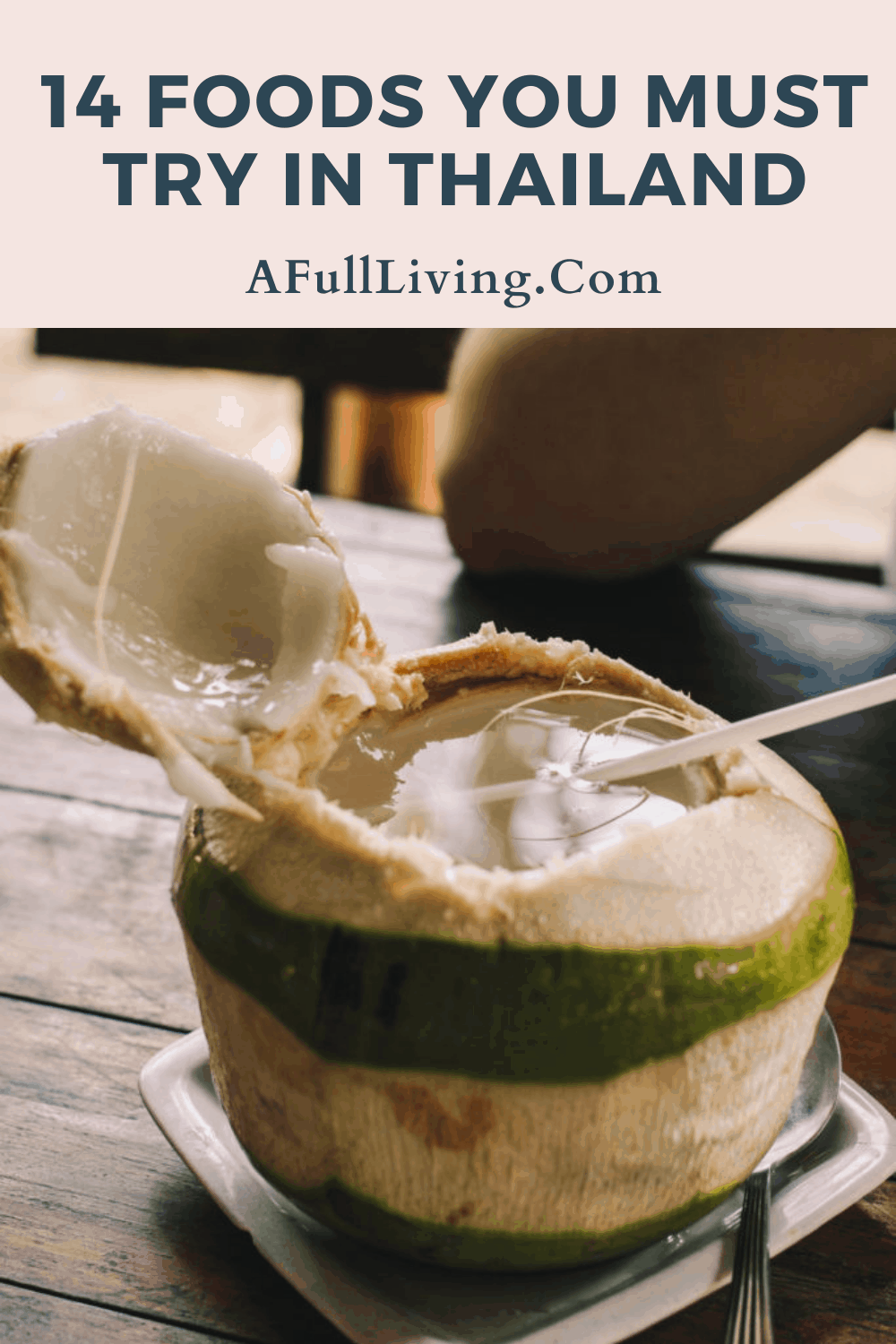 Here's 14 Dishes in Thailand You Must Try!
Thai food is the best. Yeah, we said it! It's so unique with its amazing ability to balance sweet, spicy, sour, salty and umami. We simply can't get enough! We attempted to rank the top 14 foods in Thailand you got to try from number 14, to number 1, but you know, it's pretty subjective obviously!
#14 - PAD THAI
We might get laughed at for this one by the most seasoned travelers, but pad Thai is a famous and classic dish known by anyone who has dabbled in Thai food. Although we don't recommend ordering this and only this, you should keep in mind that you are in the place of origin of this dish and you can expect nothing other than the highest quality of flavors. You can find it everywhere, but it's the cheapest, most popular and the tastiest on the street. Don't stick to only what's familiar, but make sure to order Pad Thai at least once!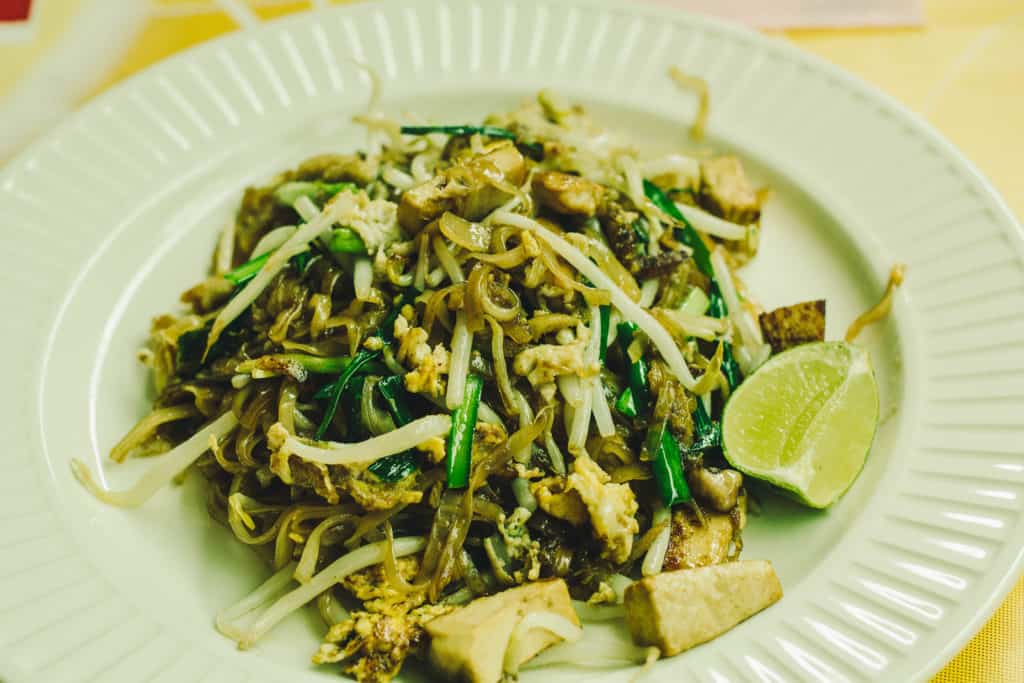 #13 - SOM TUM, GREEN PAPAYA SALAD
This Thai dish can be found on the street and eaten by the locals anywhere you go in Thailand. It consists of crunchy, unripe (or green) papaya, tomato, green beans, chili, lime, fish sauce and is sprinkled with peanuts. Make sure to try it with some sticky rice, and you have yourself a light meal. Unfortunately, we didn't get a picture, but we promise, it's pretty!
#12 - INSECTS
We know what you're thinking… Insects?! So weird. Yes - you dont consider having insects when you are looking forgreat dishes in Thailand and this will certainly take you far outside your comfort zone. But you will likely be surprised by the taste. We actually really enjoyed the silkworm in particular. They are salty and a little crunchy when fried.  Half of the experience is the taste while the other half is the well - the fact that you're eating an insect. So.. bragging rights?
#11 - ROTI BANANA PANCAKE
Nothing beats the theatrics and the flavor of a Roti being made. It's cooked on a hot grill with butter, a thin dough, fresh bananas, and the toppings and fillings of your choice, it's one of those things I still dream about. The dough is whipped onto a grill multiple times almost like a pizza crust before being placed on a hot, buttery skillet, and then stuffed with bananas and whatever else you want inside. You can get these all throughout Thailand as ready available street food. Pro tip: order it with an egg. Sounds kinda weird, but the combo is actually delicious and filling! It is similar to a crepe. It's like a really deliciously thin crispy pancake stuffed with heavenly goodness.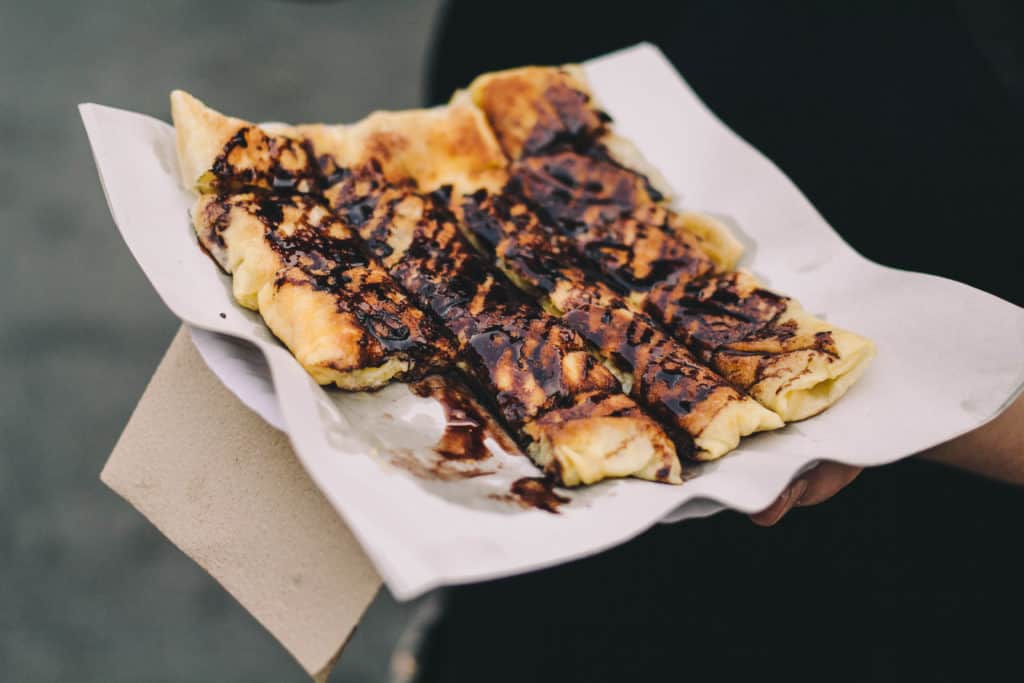 #10 - GENG KHAEW WAN GAI (GREEN CURRY CHICKEN)
Truly a classic. Thai green curry chicken is pretty popular back here in the states, but again, you must try this yummy dish in Thailand at the sour for an authentic taste! Warning: it's very spicy, so we do recommend eating it with a side of rice!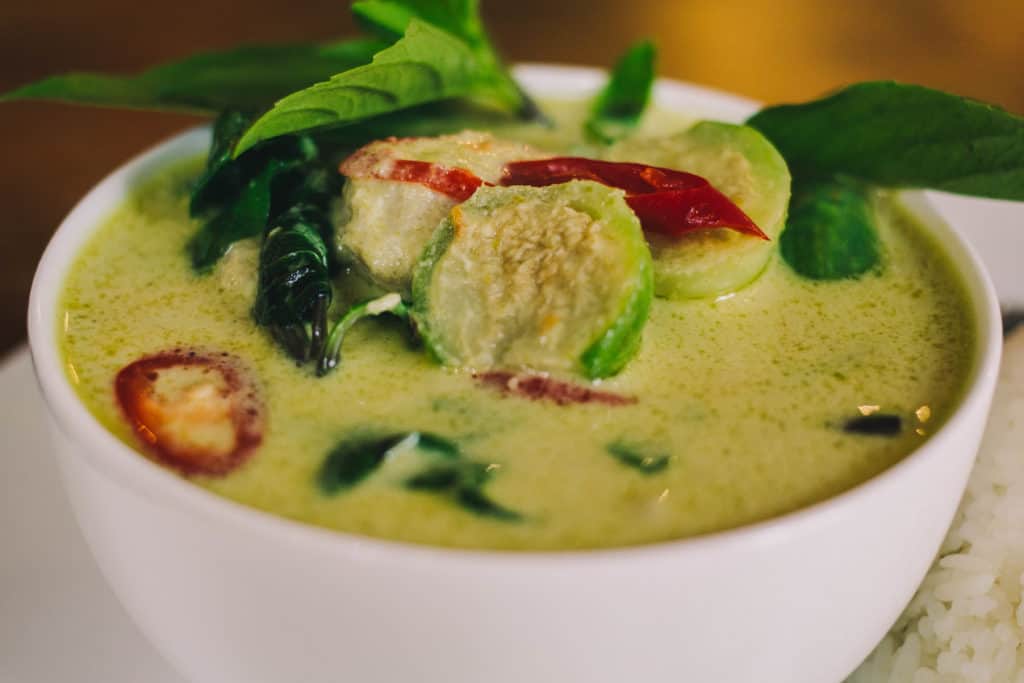 #9 - FRESH COCONUTS
In Thailand, the heat can be unforgiving. You are going to need to hydrate constantly! As much as we advocate for water, make sure you add delicious coconut water into the mix. The coconut water cools down your body very quickly and is full of electrolytes and minerals. If you get a spoon with your coconut, make sure to scrape the meat inside and eat that too. We really enjoy watching a local open one up with a meat cleaver in their hand and a huge smile on their face. The costs range from 30 to 60 baht which is about $1-2! Refreshing and they don't break the bank while you're traveling.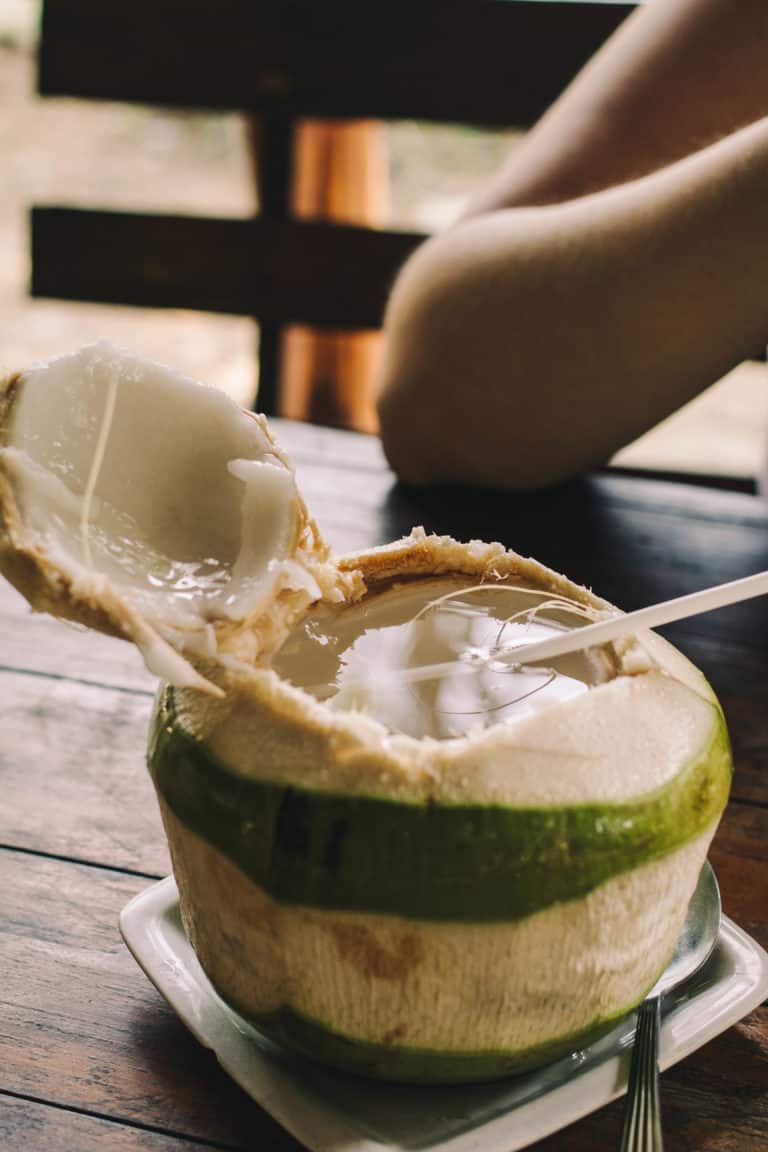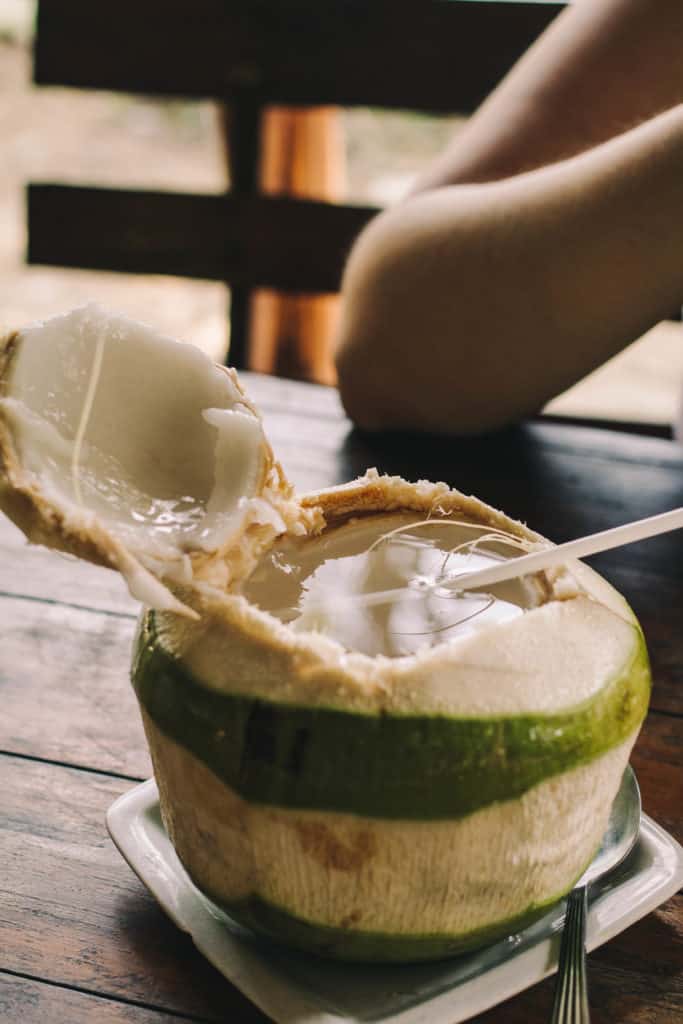 #8- THAI RICE SOUP OR JOK
This rice porridge or Jok (also known as congee) is often eaten at breakfast time, or when you are feeling sick. I have to admit, I've tried making it at home since we returned. It's so comforting! It uses pieces of broken jasmine rice and is cooked for a long time in chicken broth, with ginger, garlic, and soy sauce until the rice breaks up and becomes like a porridge. You will find it with all kinds of toppings or ingredients added inside. Commonly they are: chili powder, scallions, cilantro, fish sauce, sriracha, minced pork or pork meatballs, egg and crispy fried garlic. We hope to get a picture eventually!
#7 - THAI ICED COFFEE & THAI ICED TEA
Similar versions of this tea and coffee can be found all over Southeast Asia. This drink is made from cold tea or coffee and sweetened condensed milk. It is cool and refreshing. This drink in Thailand can be found in dozens of street stalls.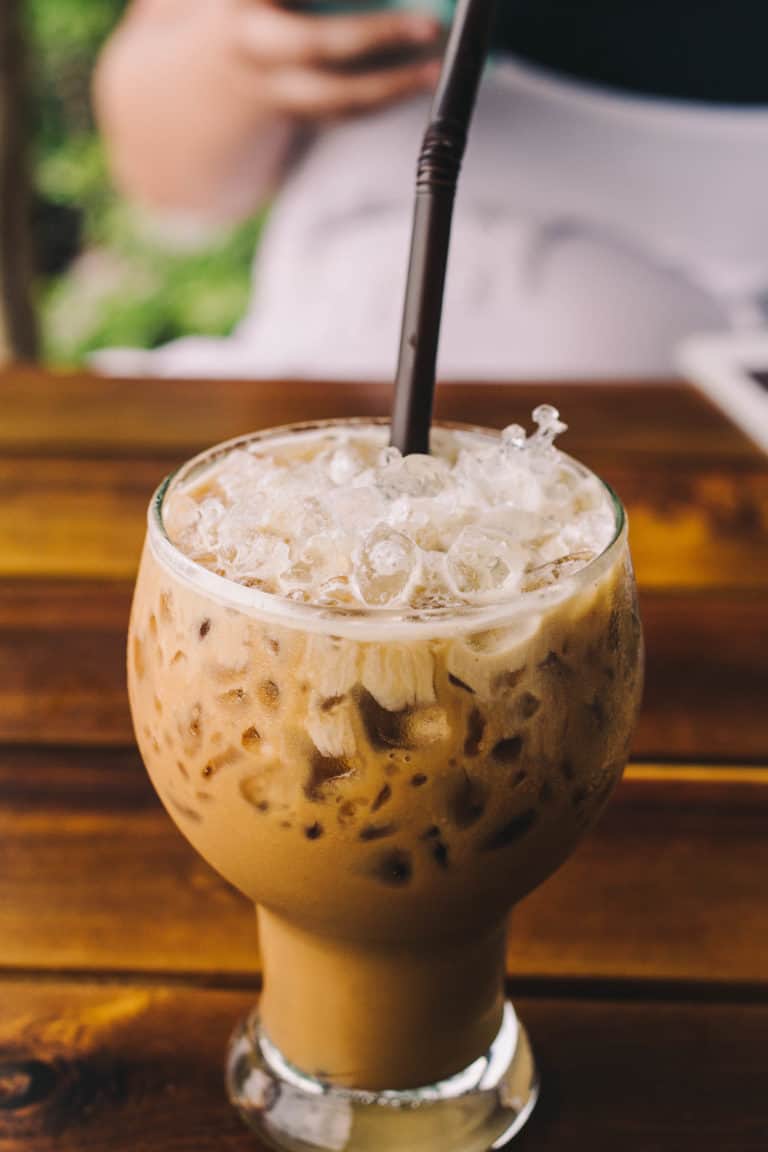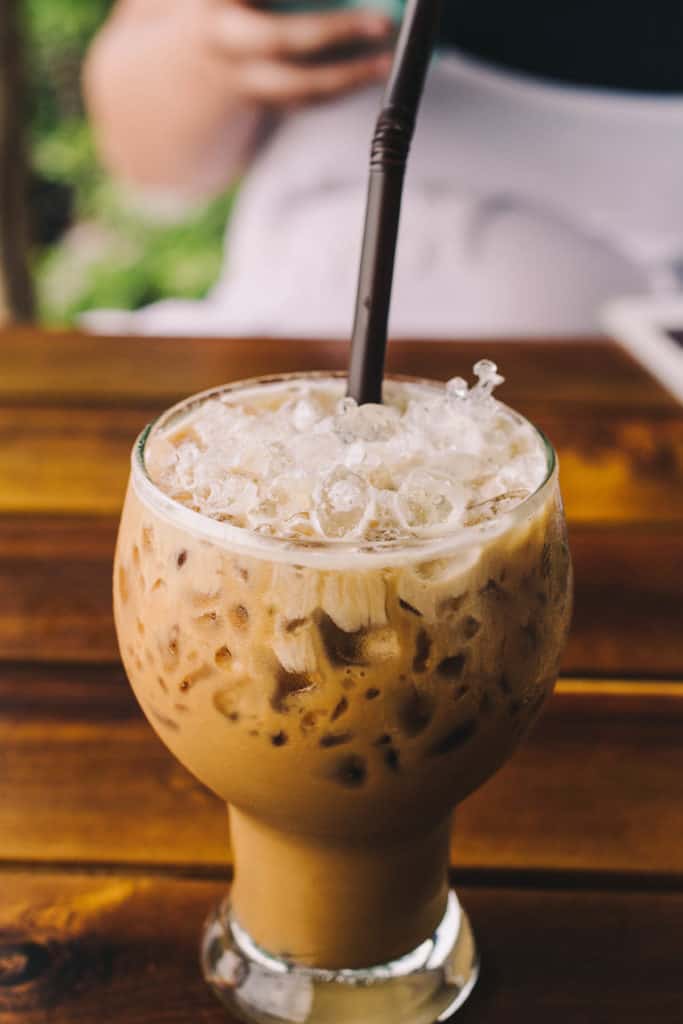 #6 - FRESH FRUIT AND SMOOTHIES
The fruit in Thailand is unmatched, we're serious! These fresh fruit smoothies in Thailand can be found in street stalls and cafes all over. Our favorites were pineapple (pictured), banana, coconut and mango. There are also many native fruits you should try like dragon fruit, guava, and lychee. While you can find some of these in the US, the flavor and quality of the homegrown fruit is so much more impactful and apparent. Once you try them there, you'll never want to leave.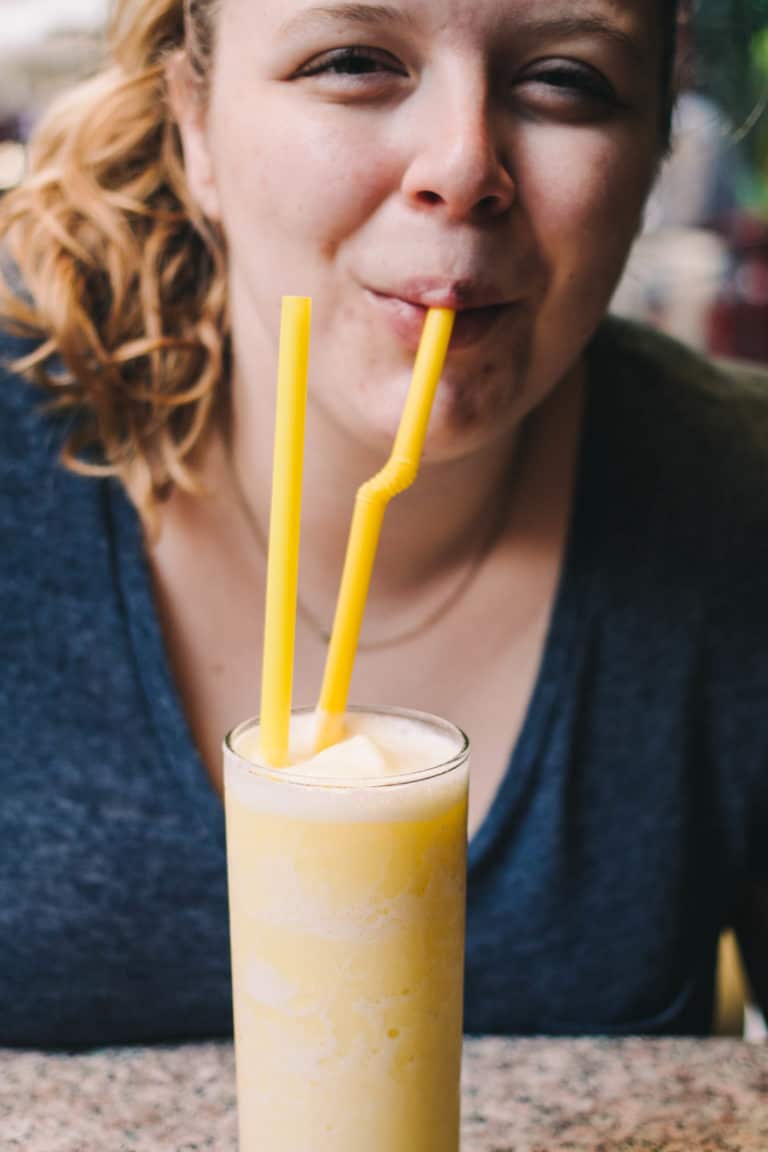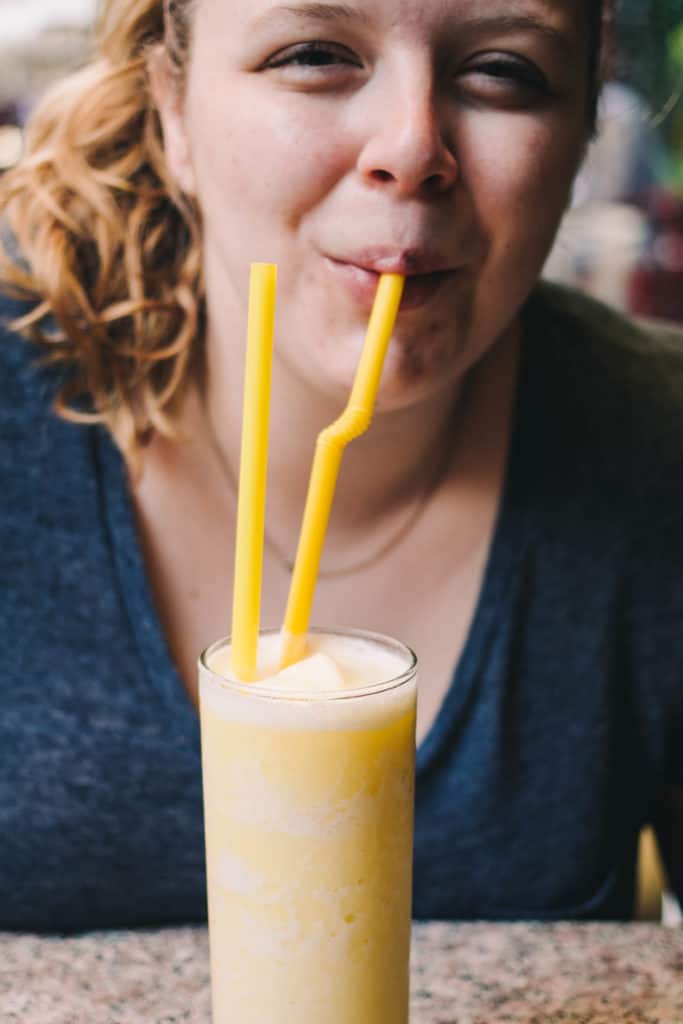 #5 - MINCED PORK WITH HERBS
This dish in Thailand became one of our go-to dishes. It consists of minced pork cooked with shallots, chili, garlic, fish sauce, lime and fresh herbs, often served with green beans, cucumber and rice. It's the perfect mix of spicy and savory, with lots of fresh elements added in. We added pictures of two kinds you should try. The second one is cooked with basil and more of a sweet and spicy soy sauce. Delicious!
#4 - KHAI JIAO (THAI OMELETTE)
We're huge fans of omelettes, and the Thai omelette blew our minds. This Thai food is perfectly crispy on the outside and fluffy and flavorful on the inside. It's made by combining eggs, lime juice, fish sauce, water and rice flour or corn starch and whisking it together until frothy. The key is that it is placed in a skillet with lots of hot, smoking oil to fry it up quickly. It's served with rice, cucumber slices and some hot chiles (if you dare!)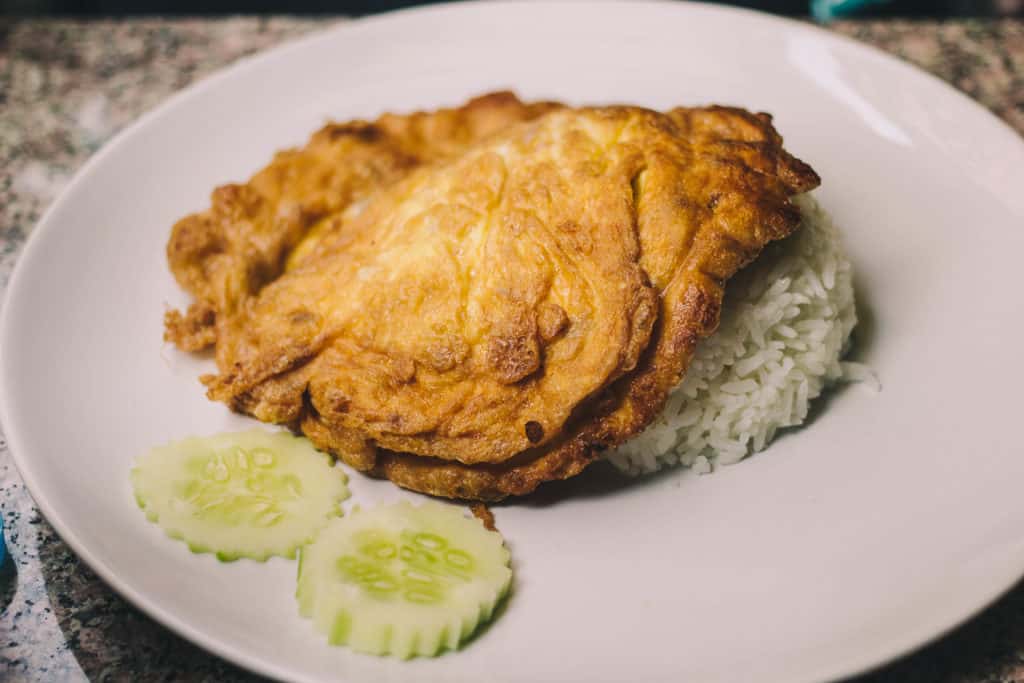 #3 - BANANAS IN COCONUT MILK (THAI DESSERT)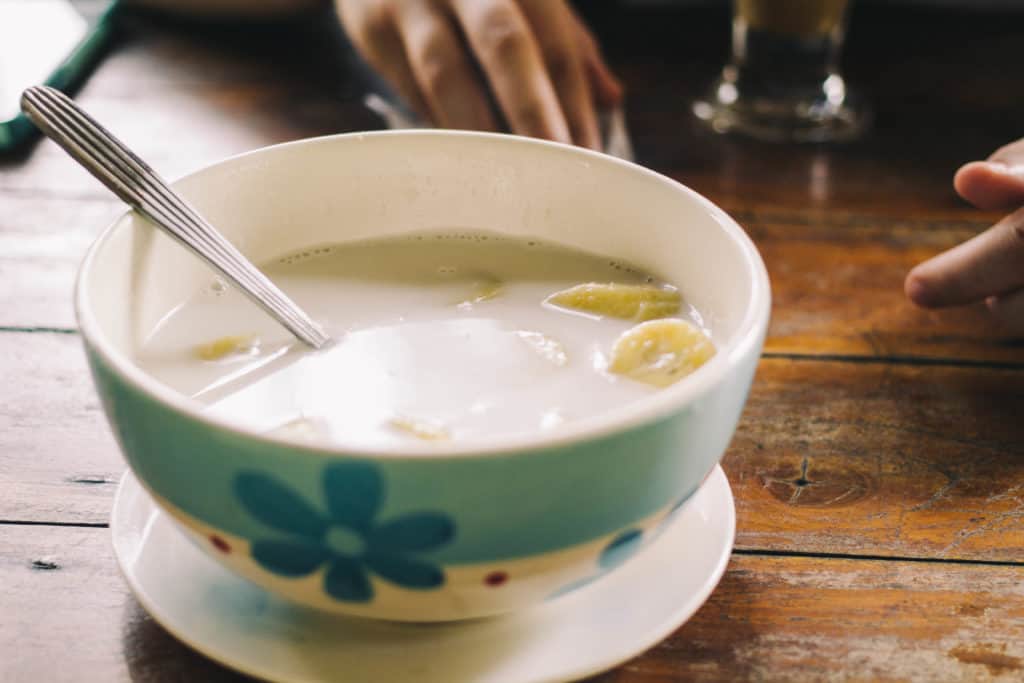 #2 - MANGO STICKY RICE
Mango sticky rice is a classic (and perfect) Thai dessert that takes sticky rice, coconut milk and fresh mango and creates magic. This dish in Thailand is sweet, super fresh and tangy, and has a hint of salt to make it perfectly balanced. Mangos and many fruits in Thailand taste candy-like since they are grown there and ripened to perfection. Don't leave Thailand without trying this dessert!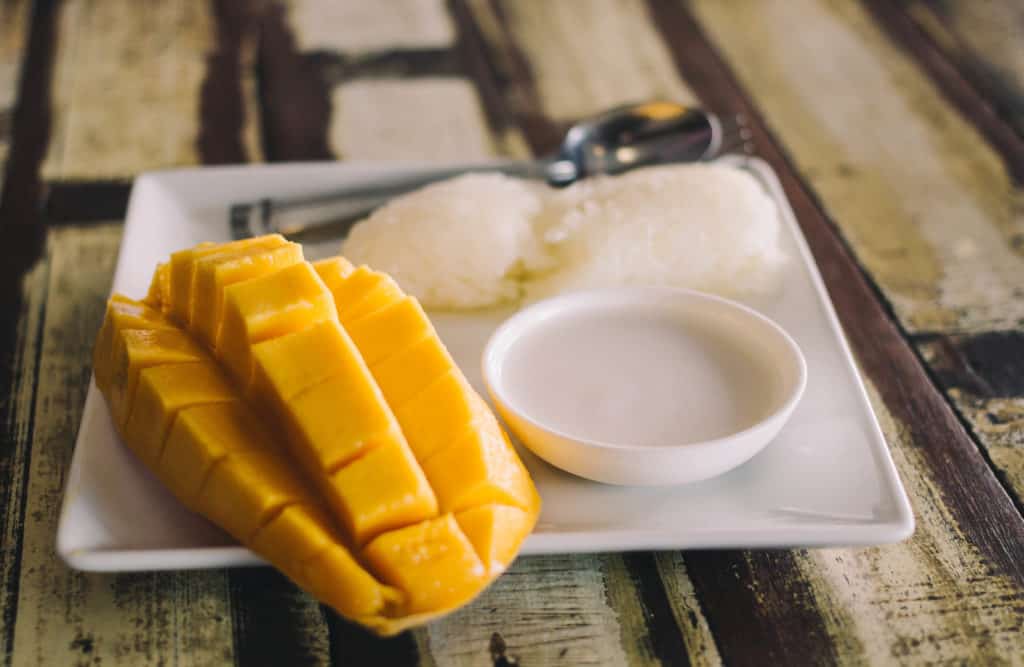 #1 - KHAO SOI
We present Khao Soi, this one is actually our number one dish that you MUST try, the problem is, this Thai dish is found in Northern Thailand almost exclusively - but we STRONGLY encourage a trip to Chiang Mai anyway, so - here goes! It consists of a creamy, coconut curry broth, that is spicy and rich. You will find curried egg noodles in there and meat (often chicken or beef) slow cooked in the broth. On top, enjoy some crispy, fried curried egg noodles, and garnished with shallots, crispy pickled greens and lime. This dish in Thailand alone is enough to take that 13 hour flight back to Thailand. A secret among the locals that has become a treasured memory among the tourists. Its flavors are impeccable and it is foolish to miss this dish when you are visiting.
If you feel like cooking yourself, we have a few recipes on our website that are inspired by Thai cooking! Try these Low Carb Coconut Lime and Thai Basil Cupcakes, Thai Green Curry Deviled Eggs, or this Low Carb Thai Basil Chicken.
Until next time,
Briana & Chamere