Planning a trip to Chiang Mai, Thailand? If you don't have Fah Lanna Spa on the top of your list of things to do when in Chiang Mai, make sure you change that! Fah Lanna Spa is a luxurious and tranquil oasis in the heart of Chiang Mai's old city especially if you are looking for a great massage in Chiang Mai. Taking one step inside of Fah Lanna Spa will transport you to a fantastic, one-of-a-kind relaxation experience, Northern Thailand style. You will quickly see why Fah Lanna Spa has received numerous awards for being Chiang Mai's Best Spa. Don't miss this beautiful place!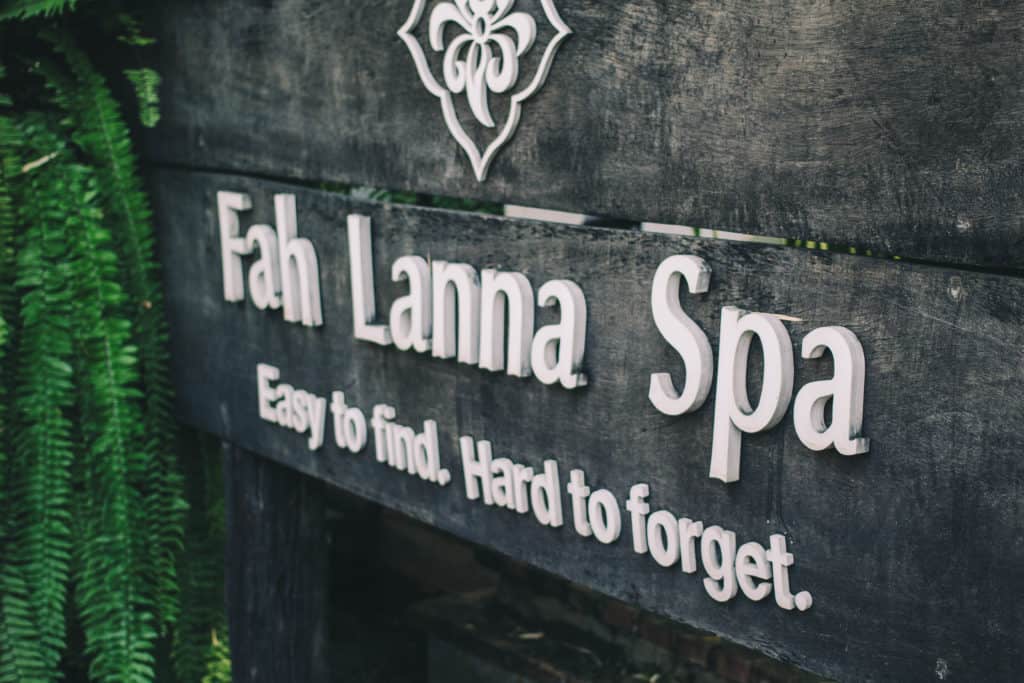 Disclosure: We exchanged our spa treatment and meal at Fah Lanna Spa in exchange for this post. All opinions are our own.
When we first decided to make our way to Chiang Mai, Thailand it quickly became apparent we would need to go to the spa while we were there. What also became very apparent was the particular spa we should visit - that spa being Fah Lanna Spa. The spa had tons of raving reviews, various awards and was named the best spa in Chiang Mai. Everything about the spa is authentic. From brewing their own ginger and pandan tea for guests, to the lovely scents and ingredients that flow through the spa, you get the spirit of the Lanna people throughout.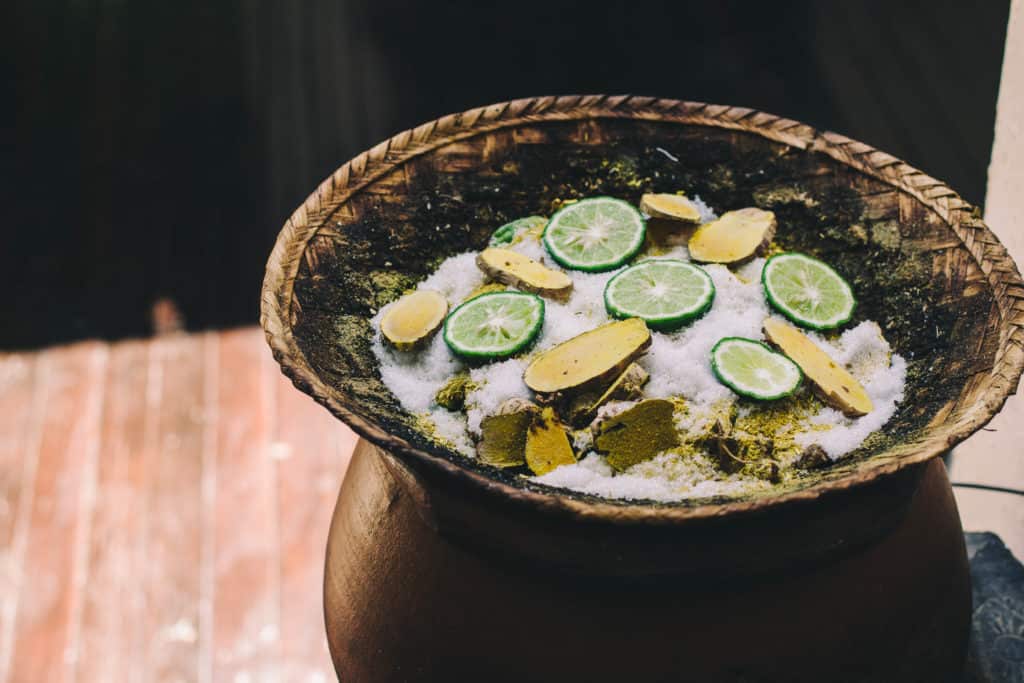 The Heart of Fah Lanna Spa
We asked what inspired the owners idea behind the business, their eloquent reply was:

"The owners are regular people that share a dream: As you will see and hopefully feel, the spa was created by feeling. They wanted to create something that is beautiful, inviting, down to earth, welcoming. A place where you feel comfortable and at home. Our philosophy really describes it best:
"We are children of the North, the former kingdom of Lanna. We appreciate our arts and culture and we love nature: our rice paddies and the mountains. We enjoy seeing people happy, their faces adorned with beautiful smiles. All this contributed to something that we built with love. It is called Fah Lanna Spa."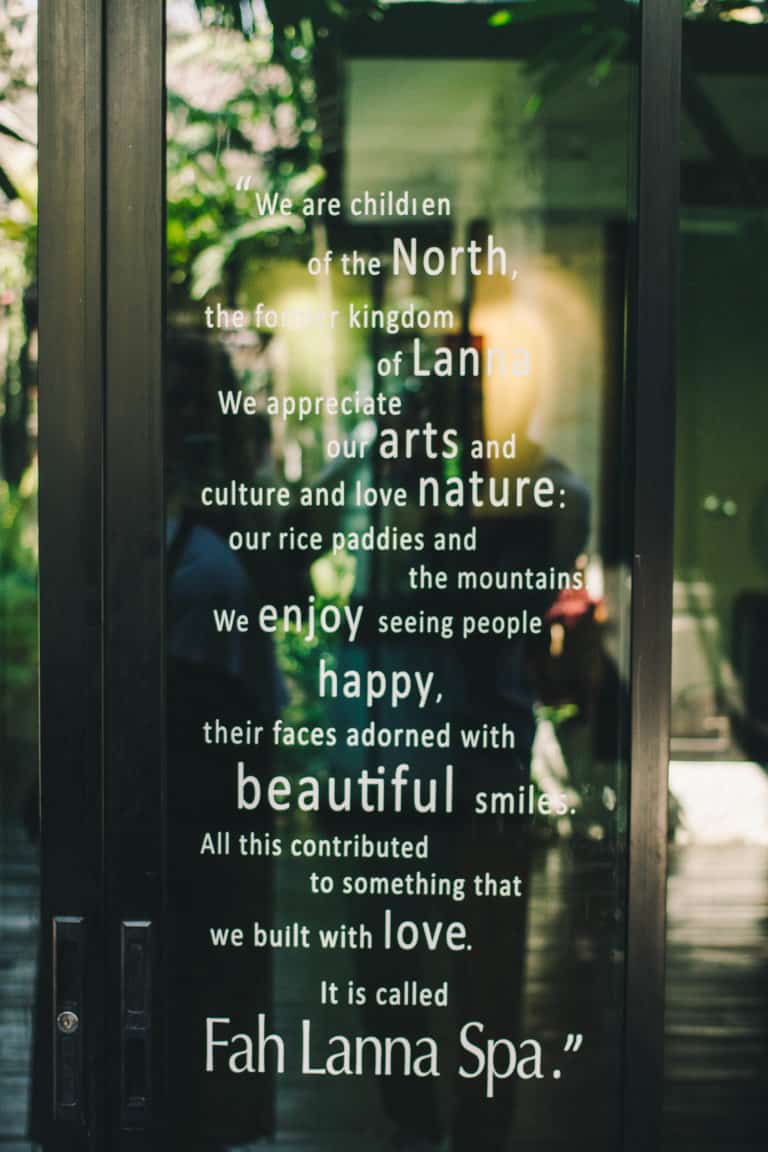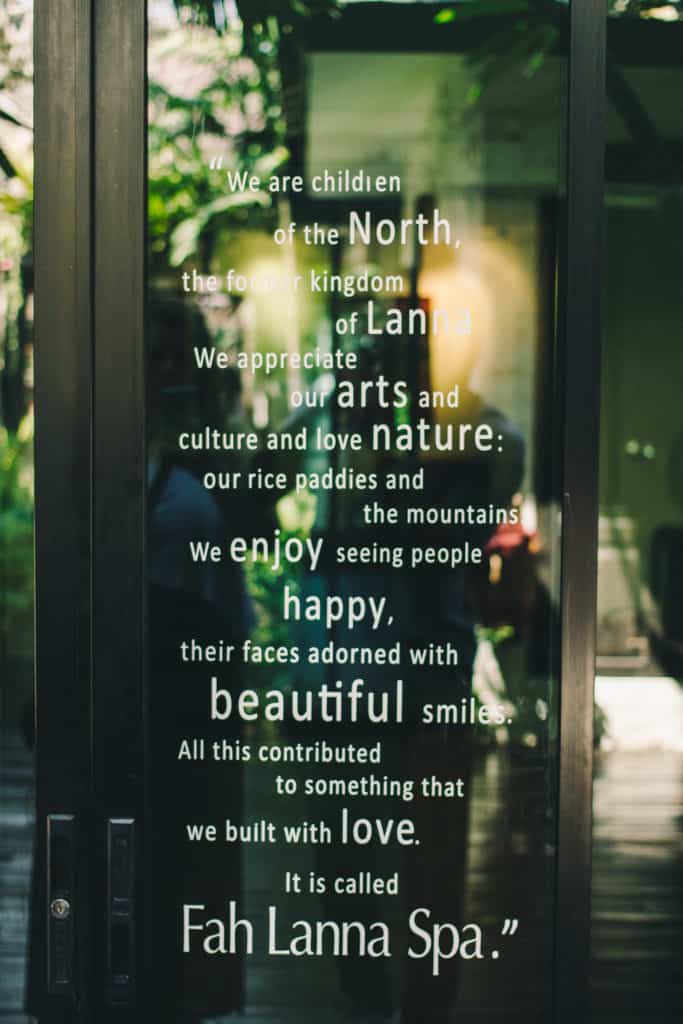 What To Expect At Fah Lanna Spa
Fah Lanna — spa in chiang mai, offers many services including more traditional Thai treatments like tok sen - a therapy specific to Chiang Mai, that uses a mallet made of Tamarind wood to knock all over the meridian lines of your body. The vibrations go deep to heal your muscles and body. There are also Thai herbal ball massages- which are designed to relieve pain and inflammation using a heated ball compress filled with herbs to massage the body using gentle, circular motions. In addition, Fah Lanna offers facials, body scrubs, oil massages and even pedicures.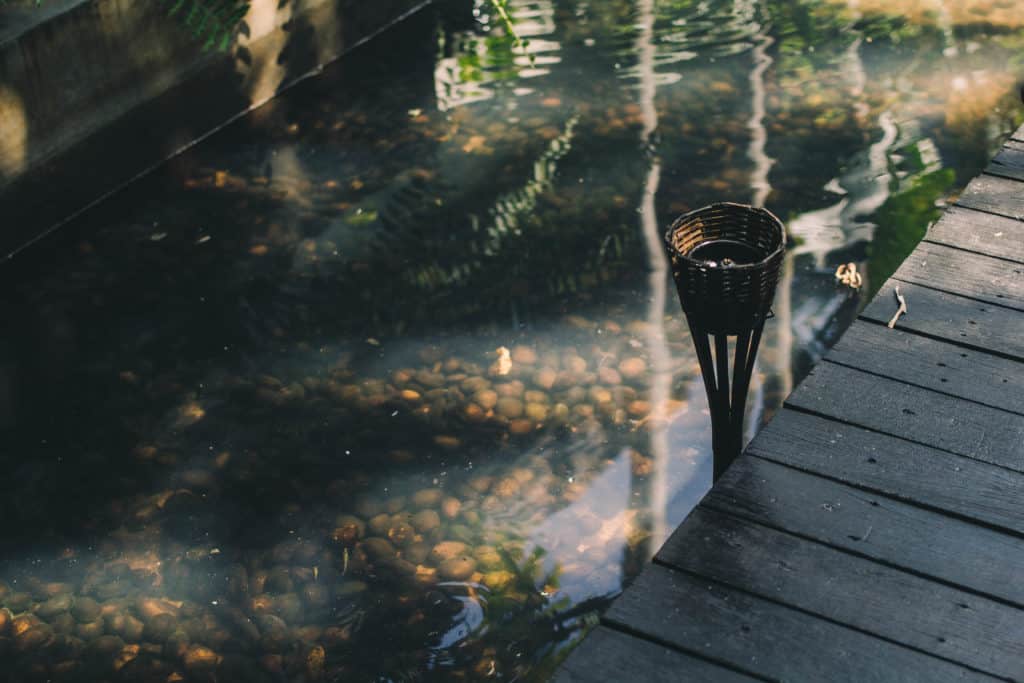 We tried the traditional Thai massage and thoroughly enjoyed the experience. Traditional Thai massage is not so much super relaxing, we would say it is more invigorating. Thai massage is an ancient practice developed by Buddhist monks that combines acupressure, Ayurvedic principles and assisted yoga poses.

It's a dry massage (no oil) and you will be fully clothed the entire massage. It shouldn't feel painful - maybe slightly uncomfortable when working out knots, but you will leave feeling amazing! We would recommend trying a massage that is unique to Thailand. It is one of the most authentic experience you can have. We have to mention how reasonable the prices are! A traditional Thai massage in Chiang Mai at fah lanna spa will run you 485 baht or about $14.58 for an hour!
A huge plus is that you get to walk from room to room or the lobby using the boardwalk. Iconic honestly doesn't feel like it covers it. Lot's of people love taking pictures of this boardwalk for Instagram!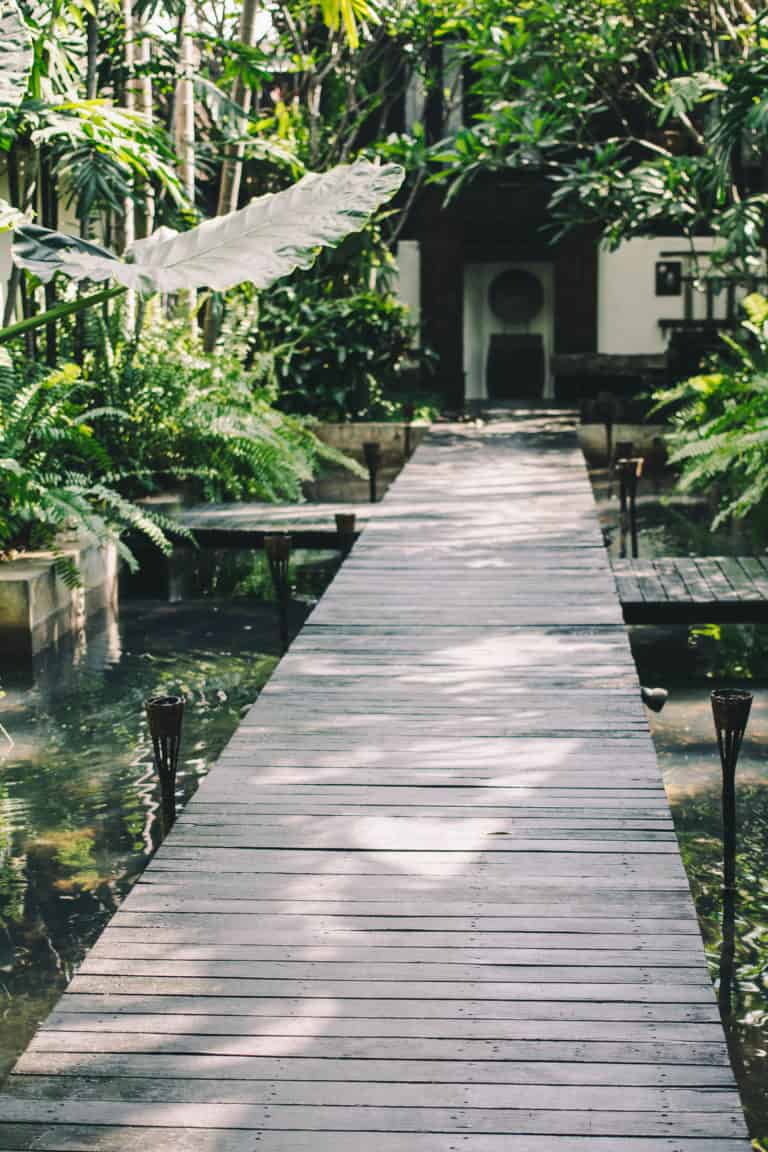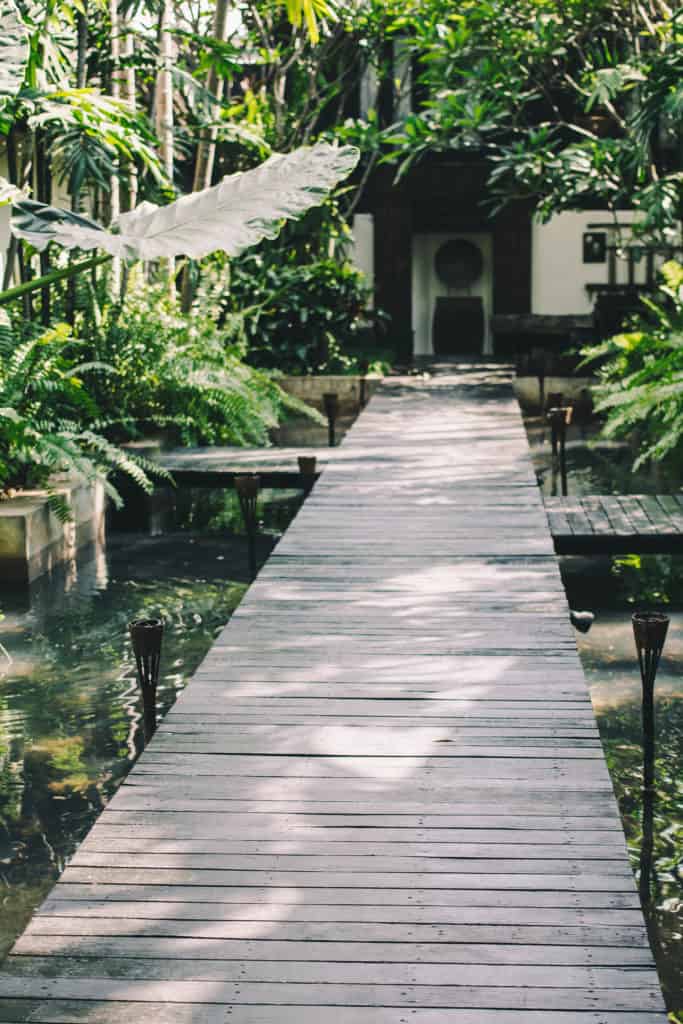 The Experience
When you first arrive, you will be overwhelmed with the beauty and tranquility of this place. You will also be given a complimentry drink right away. Every guest is welcomed to Fah Lanna spa with a roselle tea drink to cool down the body. Fun fact - the roselle tea is then turned into jam that is put on many menu items. These guys at Fah Lanna are super resourceful. They also source their products locally, supporting the local economy.
We had Ms. M, the guest relations manager show us around for the day. She was informative and so welcoming. We felt right at home with her as our host!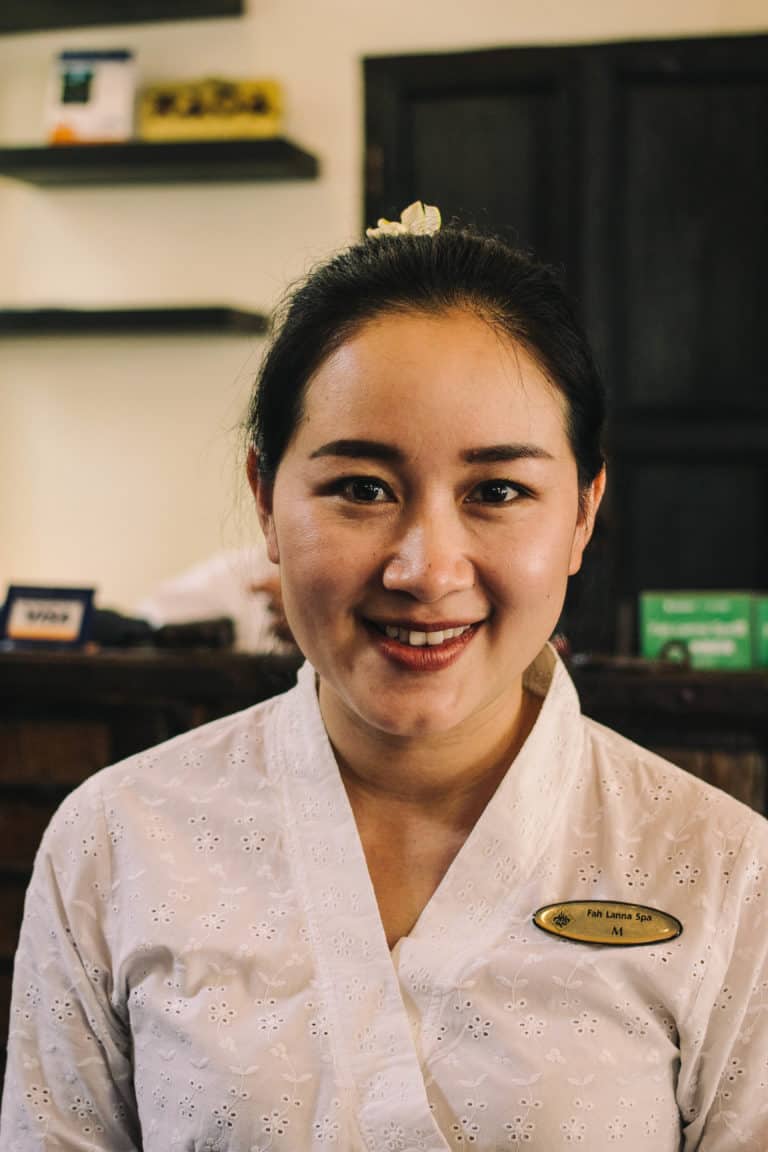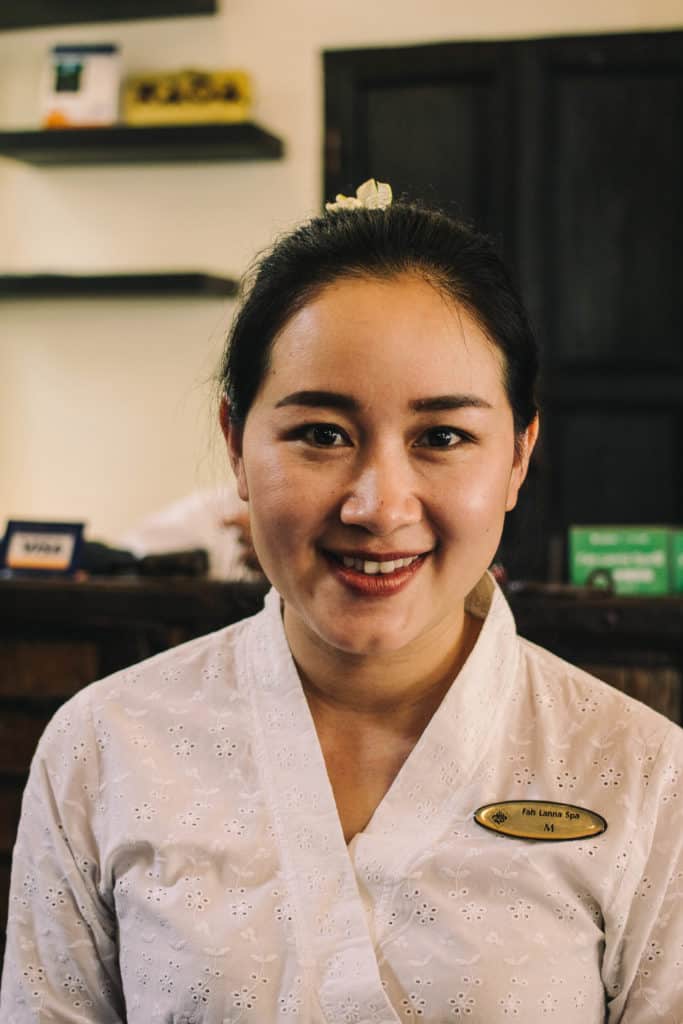 Before the massage treatment can take place, Ms. M sits with you and has you fill out a card to talk about an injuries you may have, and any place on your body that might need a little more work. You fill out a card like this: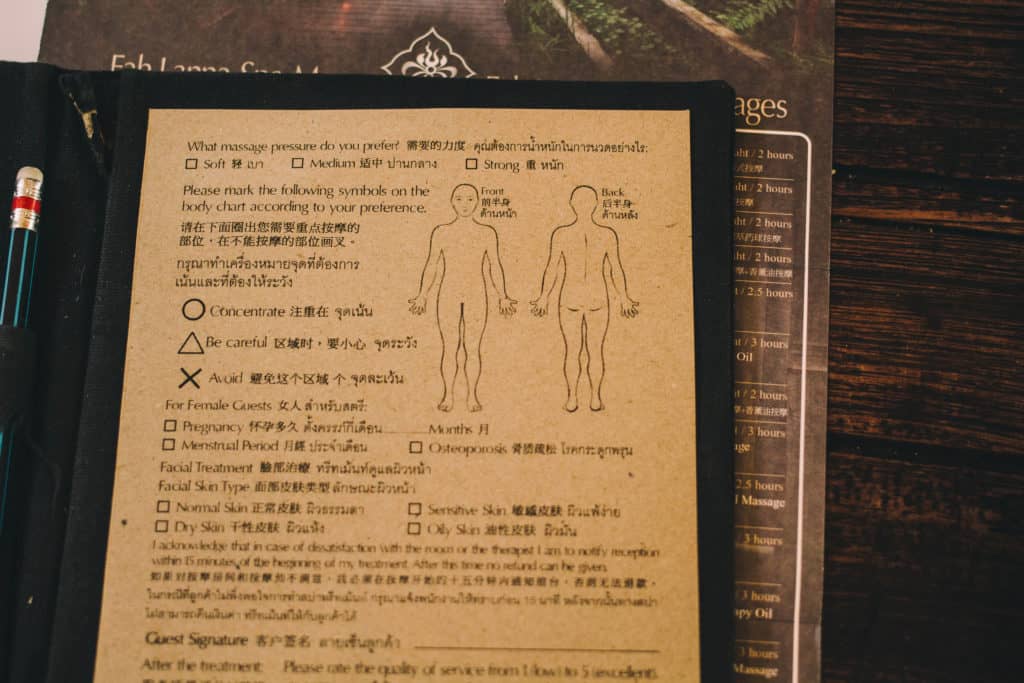 All guests are treated to some ginger and pandan tea, as well as some light snacks before the treatment. This is meant to relax, nourish and comfort. Before the treatment. After the consultation, it's off to enjoy the treatment!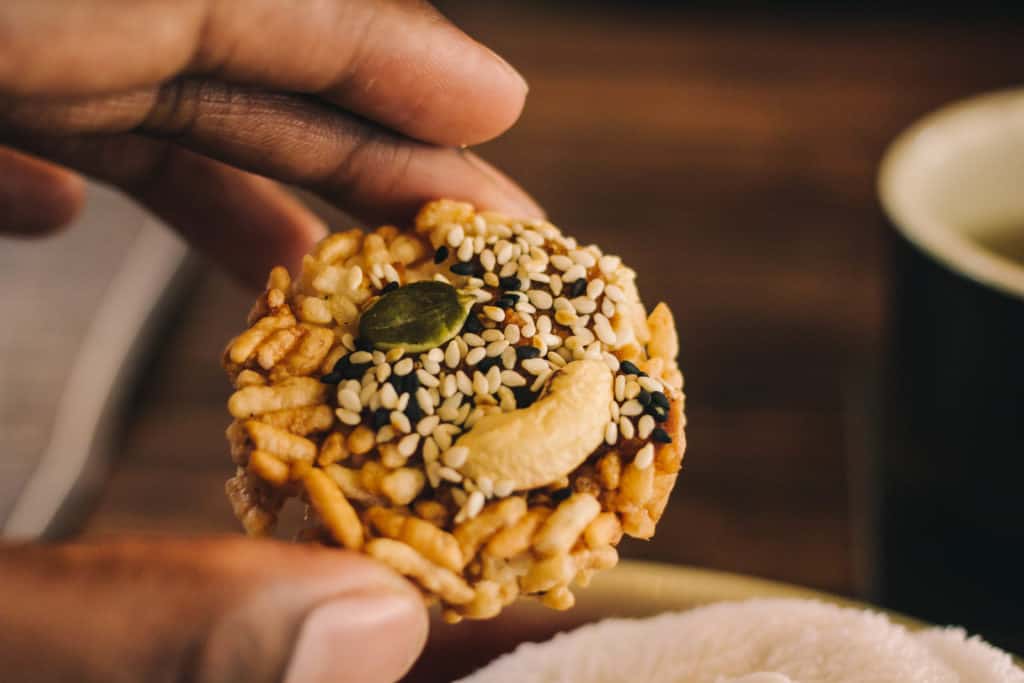 The Different Treatment Rooms
Before starting our own individual massage treatment at Fah Lanna Spa, we were shown around the beautiful spa and all of the different treatment rooms. Each room is named after a nearby village, and is decorated accordingly to reflect what each village is most known for.
We look forward to going back to Fah Lanna spa in Chiang Mai over the years and receiving treatments in each of the various rooms.
Lunch At Fahtara Coffee Following Our Treatment
After our rejuvenating and wonderful Thai massage, we went to Fahtara Coffee, which is of course the restaurant/cafe attached to (and apart of) Fah Lanna Spa. It's also standalone as a cafe, so you can visit it any time even if you aren't receiving treatment at the spa. There is both indoor and outdoor seating to fit your mood! We chose to sit inside, as the sun was blazing in the early afternoon.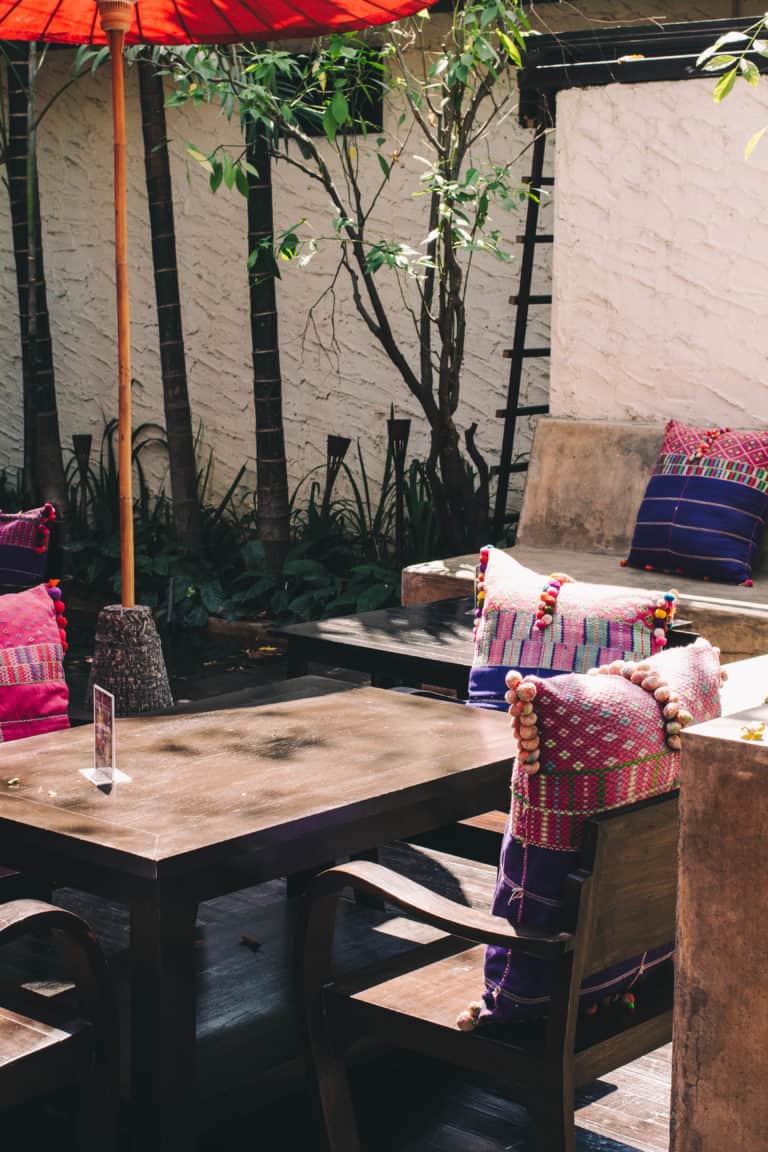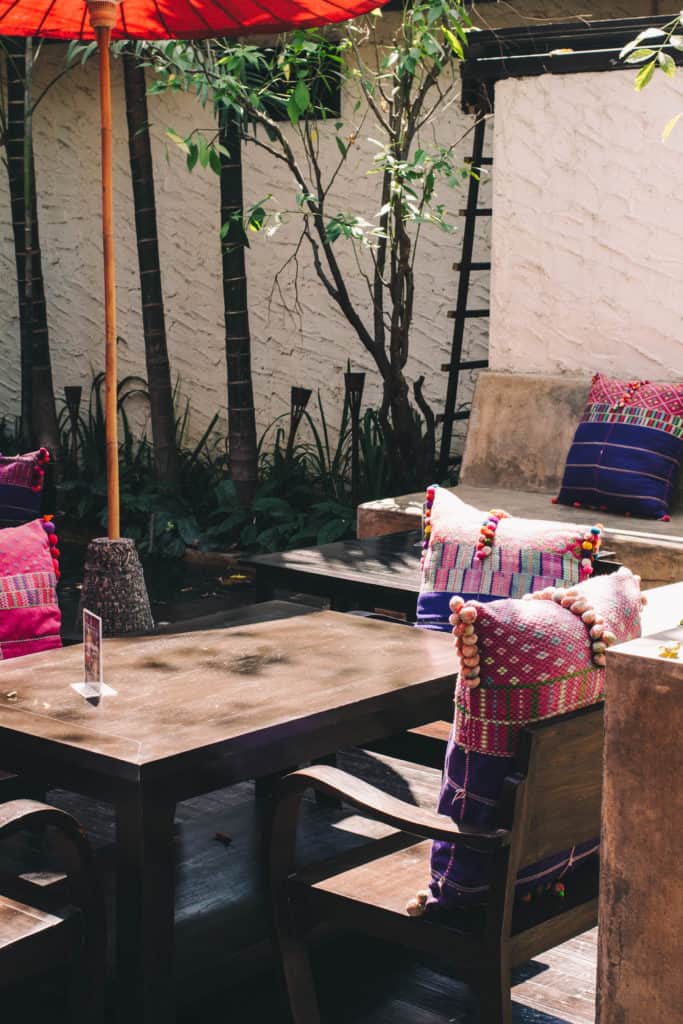 The menu was almost overwhelming with all of the amazing choices. There is delicious Thai food, as well as International dishes, desserts and tons of refreshments. It was lovely to cool off in the air conditioned and relaxing space inside of Fahtara Coffee.
We tried a variety of dishes and drinks at Fahtara, and loved every bite. The spicy squid salad and "Fahtara Tropical" - a mint and lemongrass lemonade were so refreshing and vibrant.
We couldn't pass up a bowl of green curry with chicken either. It's truly one of our favorite Thai dishes, as you may have seen on our Top 14 Favorite Thai Dishes List.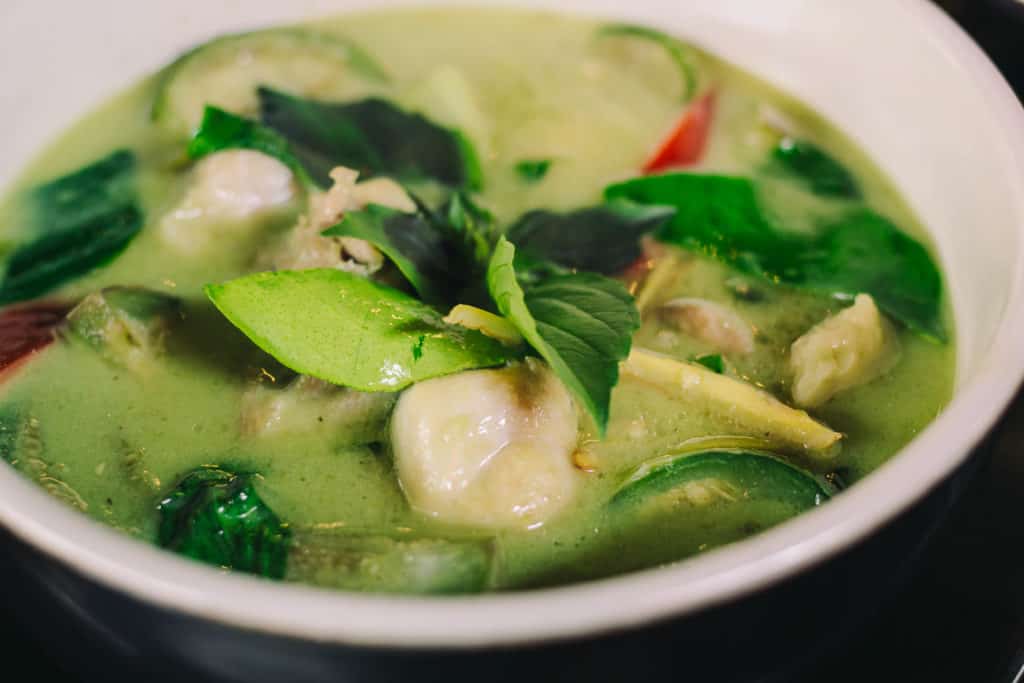 Everything we tried was absolutely fabulous. The chefs here are not fooling around. Dishes are fresh, beautiful and incredibly balanced. You absolutely cannot go wrong! The only thing we wished we would have done different was save room for dessert, and we forgot to get a picture of our red curry with duck! We are huge fans of Thai food and Thai inspired food, so you can check out a few of our Thai food inspired recipes like these Low Carb Coconut Lime and Thai Basil Cupcakes, Thai Green Curry Deviled Eggs, and Low Carb Thai Basil Chicken!
Some other important things to note about Fah Lanna:
Apart from great massages and awesome food at Fah Lanna spa in chiang Mai also supports local initiatives, and partners with many local companies that give back, like Build a School Project, Elephant Nature Park & Bring the Elephant Home Foundation, Free the Slaves, Care for Dogs and the Thai Freedom House (supporting refugees). You can read more about their connection to these incredible charitable organizations here.
Speaking of ethical tourism, we actually paid a visit to Dumbo Elephant Spa in Chiang Mai, an ethical way to hang out with elephants in Thailand. You can read more about that here.
Fah Lanna spa in Chiang Mai goes above and beyond to take care of their employees and treat them like family. Many of them have been with the company for a long time, and the owners truly believe in happy employees first, as they feel this will translate to happy customers. The owners even pay for schooling for their employee's children.
Last but most certainly not least, Fah Lanna spa is constantly raking in all kinds of awards, including (but not limited to) Traditional Thai Experience, Amazing Day Spa, and Day Spa of the Year in 2019. In 2018, Leading Experts Luxury Health and Wellness, and Thailand Cosmetic contest. Also the Thailand Tourism Award of Excellence and Thai World Class Spa in 2017, the year we visited!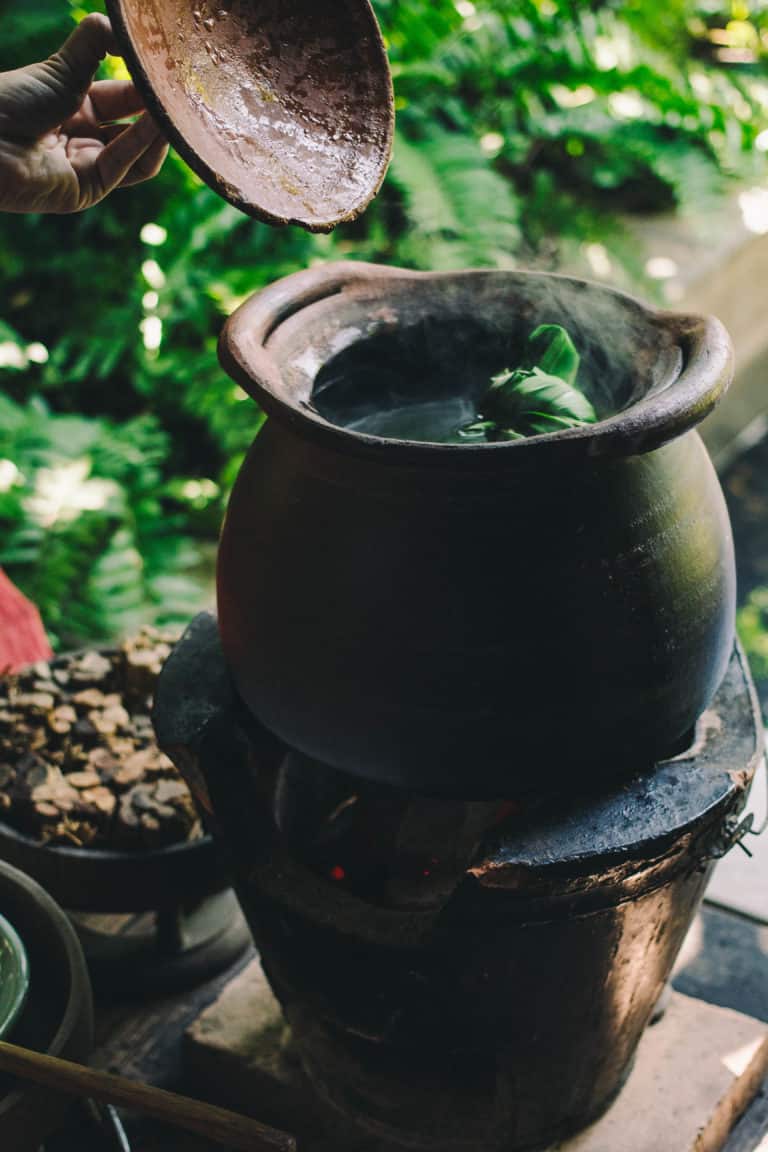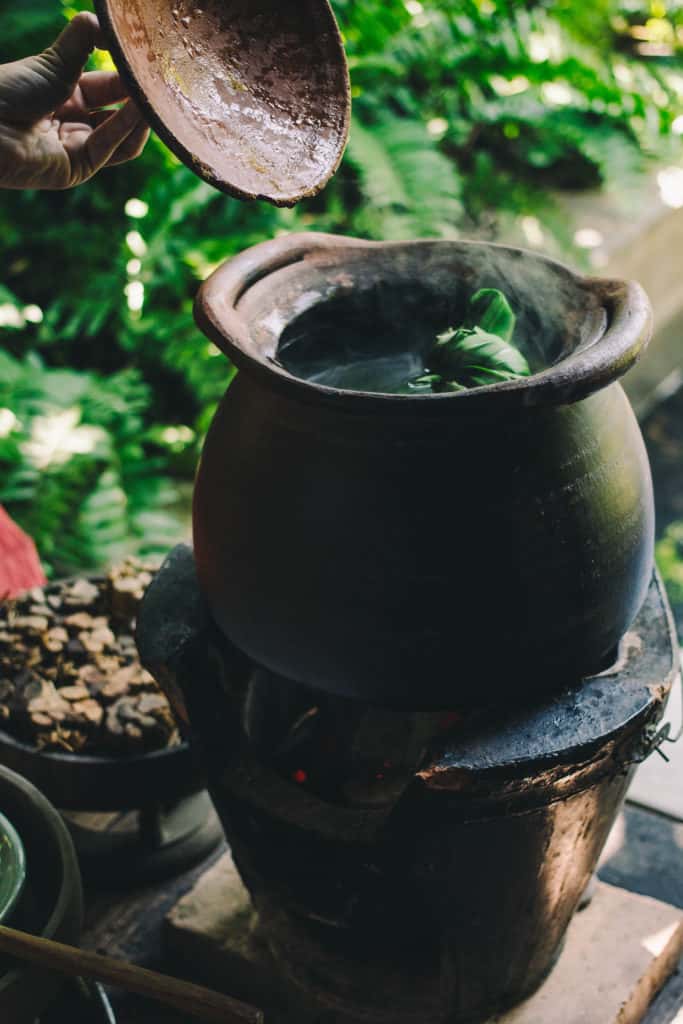 If you make a trip to Fah Lanna or Fahtara Coffee, please send them our love and give us a shout!
If you liked this post, please share it with your friends. Have you been to Thailand before? Planning a visit to Fah Lanna Spa? Leave a comment below!
Until next time,
Briana & Chamere