---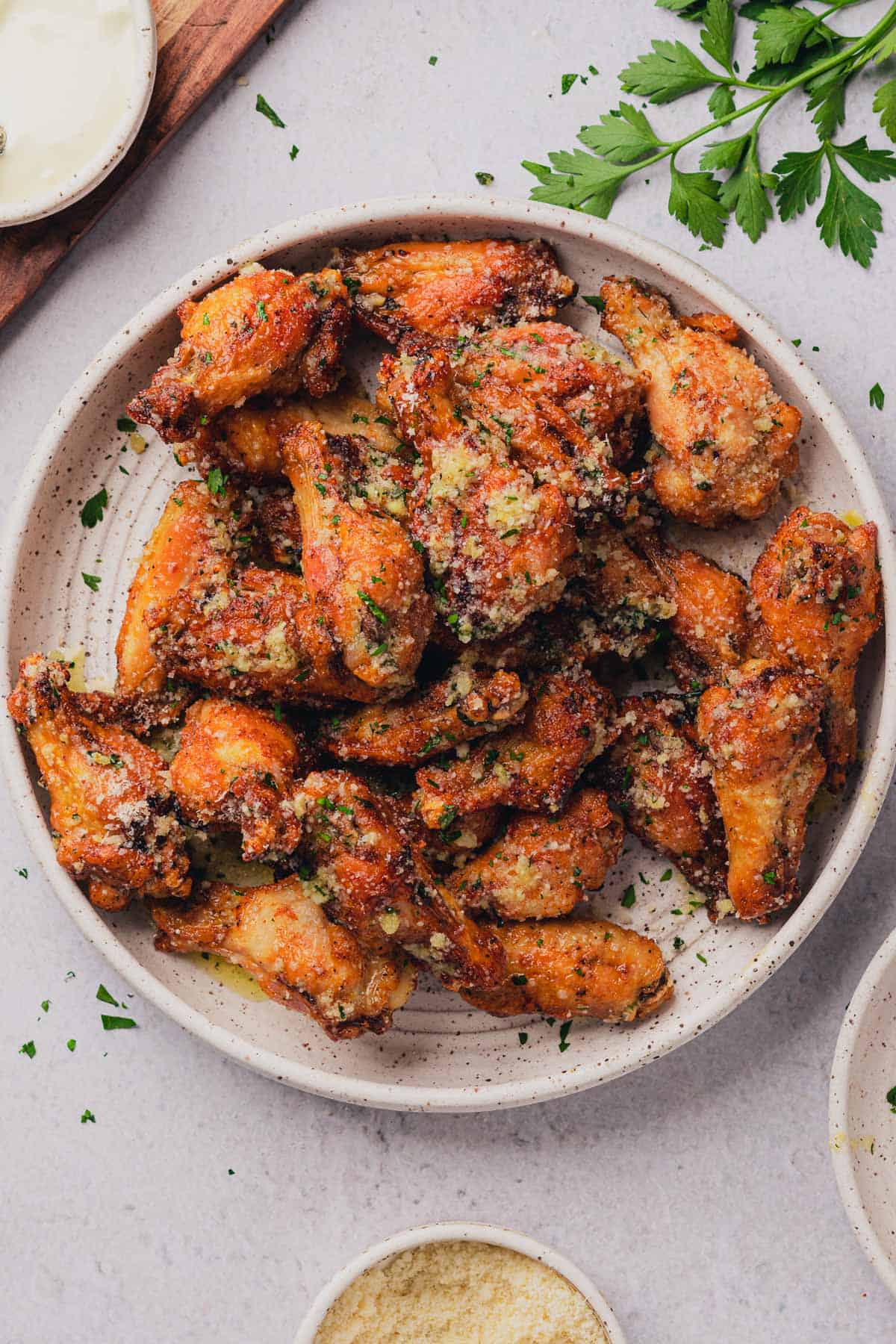 When everyone started getting an air fryer, we wondered what exactly the hype was all about at first. Soon, after we had our own, we couldn't get enough! (This is our air fryer by the way, we love it!) Perfectly crispy wings with minimal effort? Sign us up! Cooking dinner has never been easier.
This recipe is truly delicious, and certainly a crowd pleaser. It's ideal for game day, or really anytime. I mean, who doesn't love crispy wings with a delicious parmesan cheese butter sauce?
These savory delights are the perfect appetizer for a crowd, or an easy weeknight main course. The best part about this simple recipe is you get great flavor with just a few simple ingredients.
Read through to find out more about how these yummy wings come together in a few simple steps. You can find the full list of ingredients below. Or, you can skip to the recipe card to get right into it. We do recommend reading this post fully if you have any questions, since we take time to answer them in the body of the text.
You can also view these garlic parmesan wings as a Google Web Story!
Ingredients:​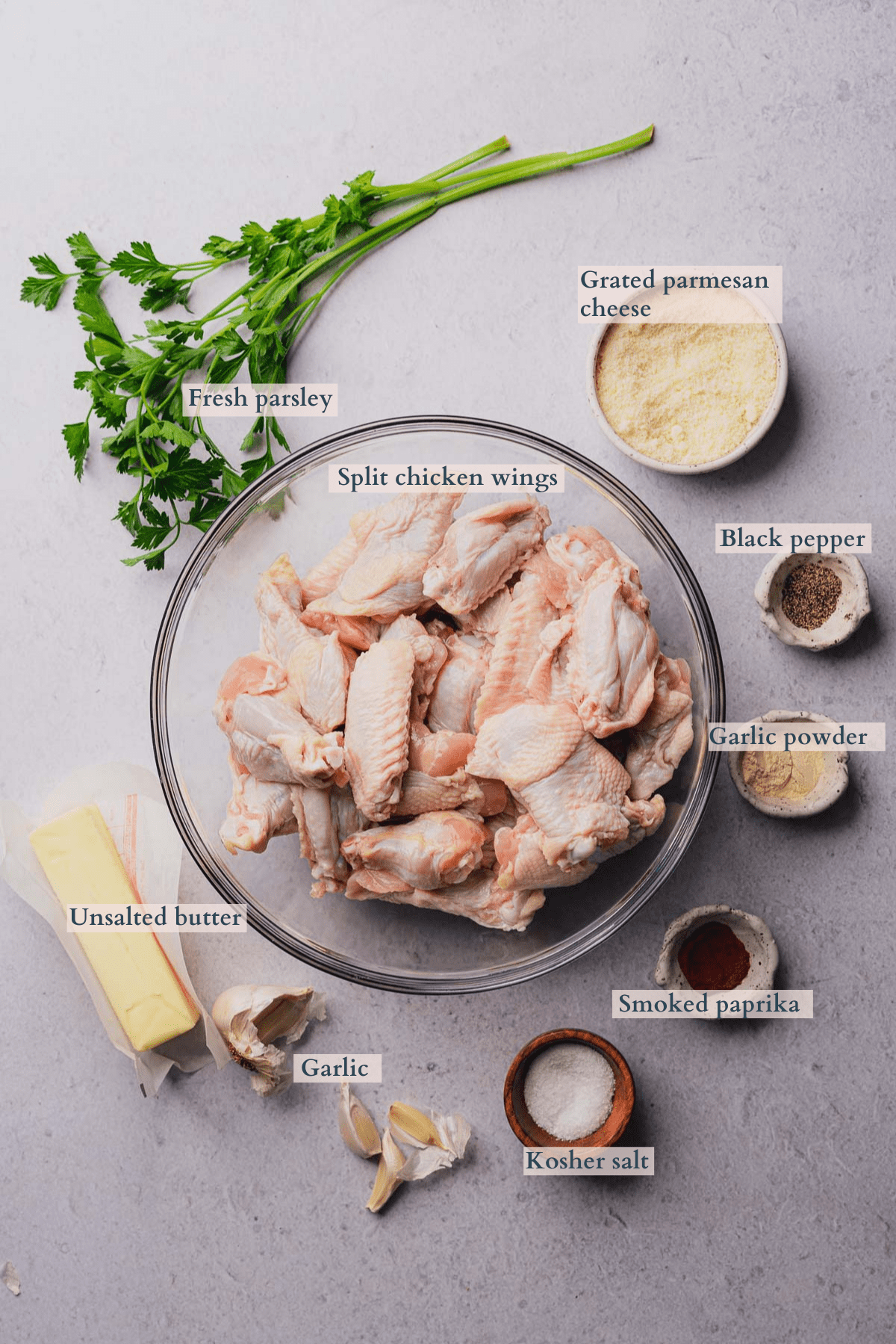 Split chicken wings - You could also use extra virgin olive oil. Basically, we want an oil with a higher smoke point to ensure we can cook the potatoes at a high heat in the air fryer.
Dry seasonings - Kosher salt, black pepper, smoked paprika and garlic powder are the only dry seasonings we use for this. Red pepper flakes or cayenne could be a great addition as well if you like a little spice.
Unsalted butter - We use real butter (and a whole lot of it!) to create the delicious buttery garlic parmesan sauce. If you prefer to use olive oil, you can probably do that with no issues, but you won't get that rich buttery flavor. Also, we do recommend using unsalted butter since we add salt to it, as well as use salty parmesan cheese. You want to avoid making these wings too salty.
Garlic - Fresh garlic, finely minced is going to be your best bet here. If you prefer, you can use garlic powder instead, but we think fresh garlic is definitely the best option here.
Parmesan - We like to buy freshly grated cheese from the deli section to make the parmesan coating, but you can also use the kind that comes in a plastic container, or even shredded. It's your call.
Fresh parsley - For garnish. It add a bit of freshness and a pop of color, but it is otherwise totally optional.
Serve with: your favorite dipping sauces, and veggies. We love using ranch dressing and some celery to serve. Feel free to also dip in buffalo sauce if you like.
How To Make Garlic Parmesan Air Fryer Wings:
Prep Work:
Allow chicken wings to sit out at room temperature for about 30 minutes or so for best results.
Pat wings dry with paper towel to remove excess moisture.
Preheat your air fryer to 400°F.
If your air fryer isn't non-stick, we'd recommend spraying your air fryer basket or trays with cooking spray, or lining with parchment paper.
Step 1: Season the Wings
Place wings in a large mixing bowl, and season generously with the dry seasonings (salt, pepper, garlic powder and smoked paprika). We use tongs to toss the wings.
We'd also recommend having a small bowl of salt and pepper on the side to season the wings as needed once they are cooked.
Step 2: Arrange on Air Fryer Trays or Baskets
Add chicken wings in a single layer to your air fryer basket or trays. Bake for 35-40 minutes, flipping halfway through or until chicken wings are golden brown and crispy.
*Pro tip: Use a baking sheet to transfer air fryer trays to and from the air fryer and avoid spills!
Step 3: Make the Easy Garlic Parmesan Wing Sauce
While your wings are cooking and have about 10 minutes left in the air fryer, make your sauce.
In a small saucepan, add butter and melt over medium heat. Reduce heat to low and then, to the melted butter, add garlic, and parsley. sauté for about 5-8 minutes, moving the garlic around the pan constantly to gently fry it without burning.
Once cooked, stir in parmesan cheese, reserving some for topping later. Taste the sauce and adjust seasonings to suit your preference.
Step 4: Toss Chicken Wings & Serve!
Grab another large, clean bowl and add the cooked wings to it. Gently pour over the buttery garlic parmesan sauce and toss wings.
Garnish with more parmesan cheese and parsley, then dig in! Serve your favorite dipping sauce, veggies or a side salad. Enjoy!
Tips For The Best Air Fryer Chicken Wings:
For crispy chicken wings, don't overcrowd the air fryer baskets or trays. This is also just good general advice. Don't pile chicken wings up on top of each other, or else they will not cook evenly. For best results, place them in a single layer.
Reheat these gently in the air fryer or in the microwave the next day to avoid burning garlic or cheese. Lower the air fryer heat to 350°F, and check on them every 2-3 minutes, turning every so often.
Cook time may vary from each air fryer, or the amount of wings you are cooking. To ensure chicken wings are fully cooked, make sure they reach an internal temperature of at least 165°F before consuming.
Frequently Asked Questions:
Can I Use Whole Wings Instead of Split Wings?

Yes, you can use whole wings instead of split if you prefer. Just be aware that this may impact the cooking time of this crispy air fryer chicken wings recipe.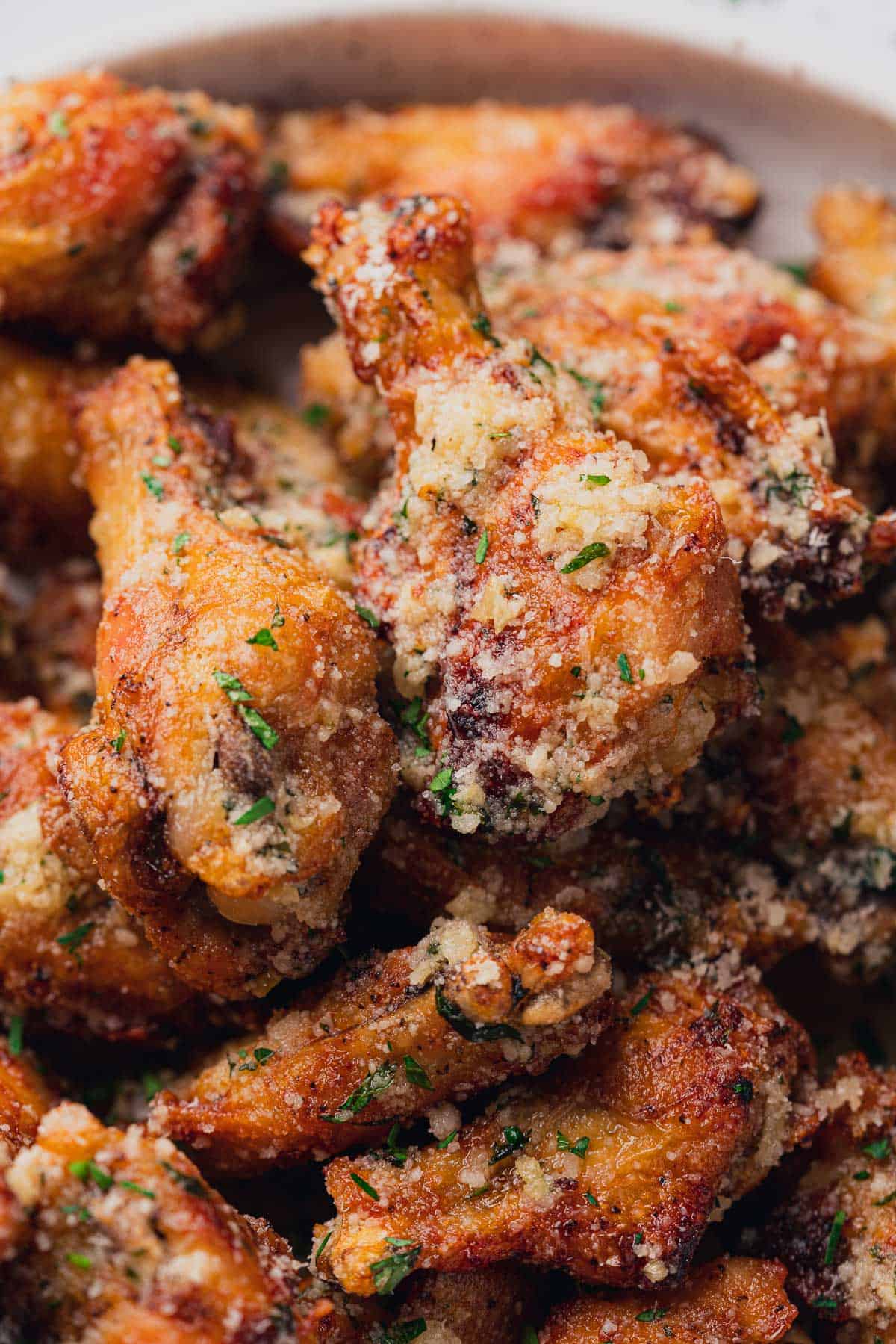 Do I Need To Use Baking Powder for Extra Crispy Wings?

No, you don't need to use baking powder for this garlic parm wings recipe. The air fryer is exceptional at making things extra crispy just by nature.

We do have a few other chicken wing recipes that are cooked a different way that require baking powder to make the skin crispy.

This super crispy baked chicken wings recipe that calls for baking powder to help dry out the skin when baked in the oven, but it isn't necessary for this recipe.

You may also enjoy these low sugar mango habanero chicken wings!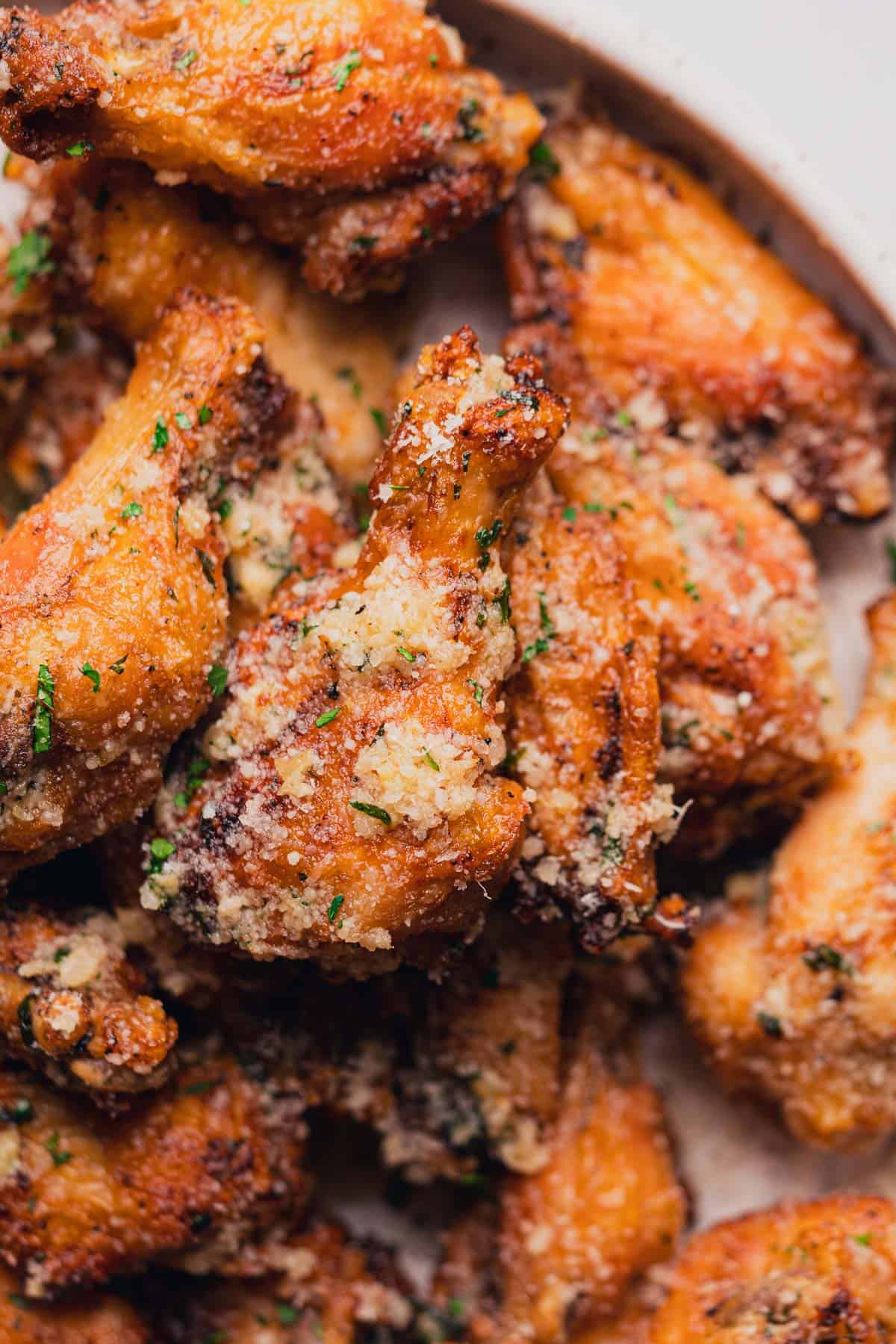 More Air Fryer Recipes To Try:
Air frying is a great way to get delicious, healthy food on the table in no time. The other great thing about using an air fryer is you avoid a huge mess!
Air Fryer Cheesy Spaghetti Squash... coming soon!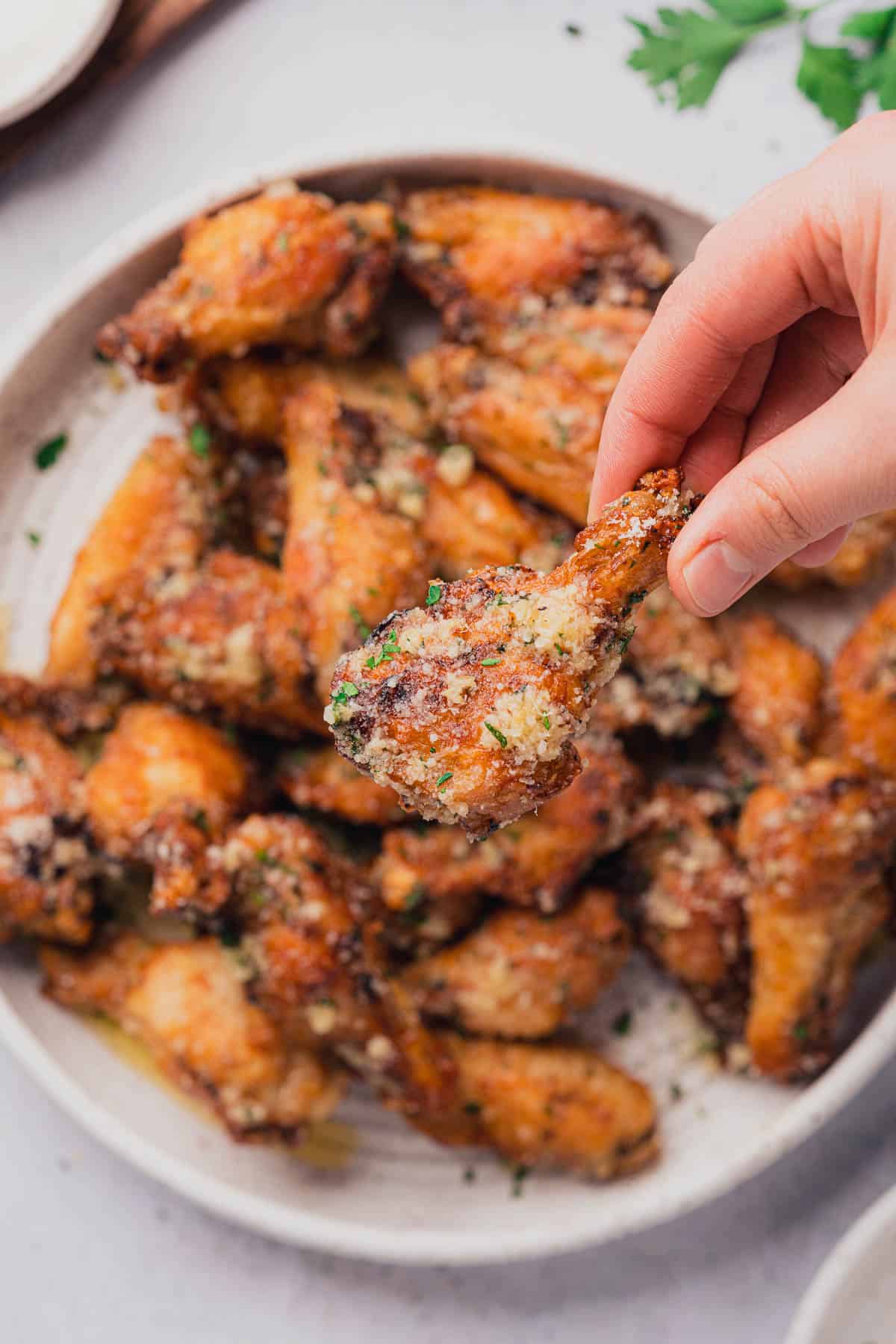 Shop This Recipe:
Want to get supplies for this recipe or shop our kitchen or pantry? We've linked our favorites above and right here in our Amazon Store!
A Full Living is a participant in the Amazon Services LLC Associate program, an affiliate advertising program designed to promote a means for sites to earn advertising fees by linking products to amazon.com. We only share products we use and love. It doesn't cost you anything extra to shop using our links, but we earn a small commission that helps us keep this site going!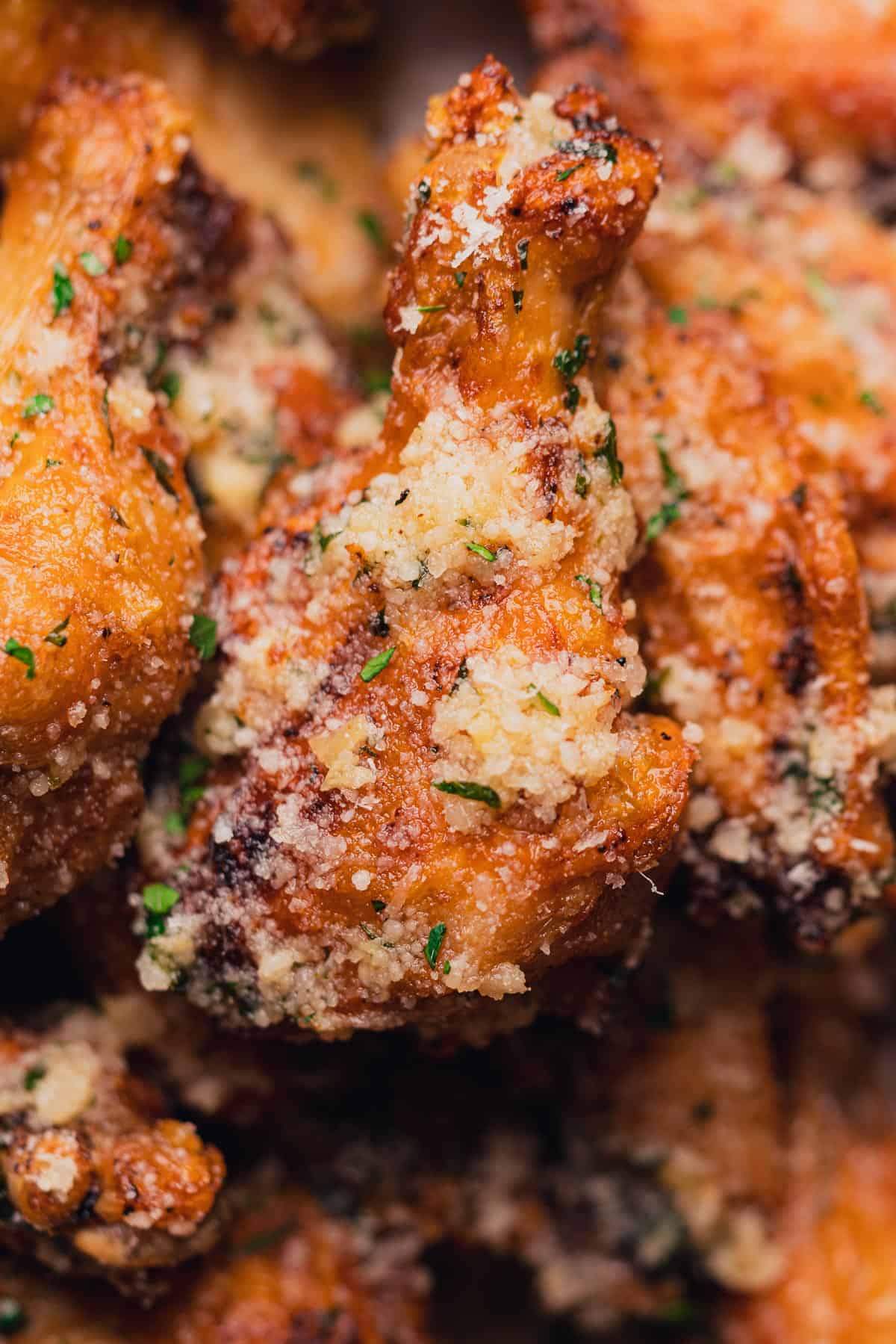 If you get a chance to try this recipe, let us know what you think, would ya?! Leave us a comment, or catch up with us on Facebook or Instagram, or pin to your favorite Pinterest board for later. We love sharing your versions of our creations over on Instagram @afullliving!
If you could please leave a comment and/or a rating if you loved this recipe, we would be forever grateful! (Ratings helps users find our recipes, since users say that they like them!)
Thanks for stopping by! Be sure to subscribe to our email newsletter so you're the first to know about new recipes we post on our blog.
Until Next Time,
Briana & Chamere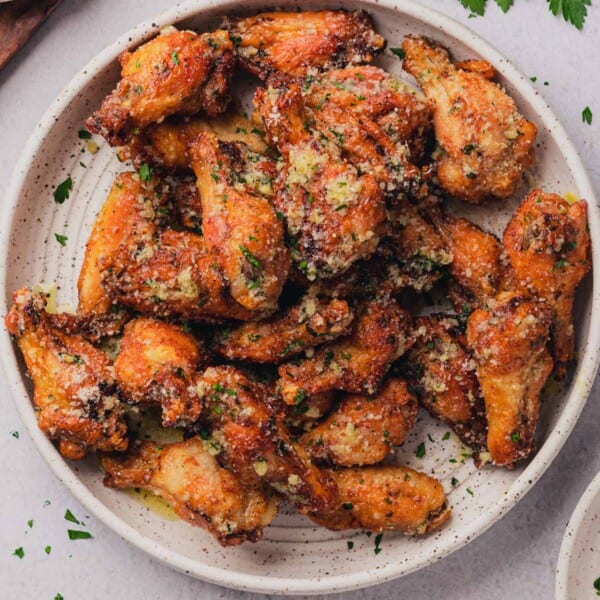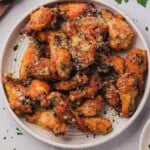 Air Fryer Garlic Parmesan Wings
These Air Fryer Garlic Parmesan Wings are SO easy to make! Luscious, buttery, garlicky and super crispy with plenty of parmesan cheese.
Print
Pin
Rate
Ingredients
For the chicken wings:
3.5

pounds

split chicken wings

1

tablespoon

kosher salt

2

teaspoons

garlic powder

1/2

teaspoon

black pepper

1/2

teaspoon

smoked paprika
For the buttery garlic parmesan sauce:
1/2

cup

unsalted butter

4

cloves

garlic, minced

56

grams

grated parmesan

(about 8 tablespoons or half a cup)

2

tablespoons

fresh parsley

1

teaspoon

kosher salt

(to taste, add

Garnish with: grated parmesan, parsley (optional)
Instructions
Preheat your air fryer to 400°F. Dry the wings with paper towel, then coat with dry seasonings and toss in a large bowl to coat the wings in seasoning.

Add chicken wings in a single layer to your air fryer basket or trays. Bake for 35-40 minutes, flipping halfway through or until chicken wings are golden brown and crispy.

When there are about 10 minutes left on the timer for your air fryer, melt butter in a sauce pan on medium-low heat. Add in garlic and parsley, then reduce the heat to low and sauté for about 5-8 minutes, moving the garlic around the pan constantly to gently fry it without burning. Then, stir in parmesan cheese and add salt to taste.

When wings are fully cooked, removed from the air fryer and toss in a large, clean bowl with the garlic butter parmesan sauce. Garnish with fresh parsley and parmesan if desired. Enjoy!

Store in the fridge in an airtight container for up to 4 days.
Notes
Depending on the size of your air fryer, you might have to cook the wings in a few batches. 
This recipe is easy to scale back if making fewer wings, and it will also lower your cooking time to make a smaller batch.  
If using garlic powder instead of fresh, you can simply the powder along with the parsley after butter has melted, and warm for a couple of minutes. 
For reference, you will need roughly 1 teaspoon of kosher salt (or a little more) per every pound of wings, we added the salt in various stages between cooking the wings and in the sauce itself. 
Nutrition
Calories:
501
kcal
|
Carbohydrates:
2
g
|
Protein:
30
g
|
Fat:
41
g
|
Saturated Fat:
18
g
|
Polyunsaturated Fat:
6
g
|
Monounsaturated Fat:
14
g
|
Trans Fat:
1
g
|
Cholesterol:
159
mg
|
Sodium:
1801
mg
|
Potassium:
273
mg
|
Fiber:
1
g
|
Sugar:
1
g
|
Vitamin A:
959
IU
|
Vitamin C:
3
mg
|
Calcium:
134
mg
|
Iron:
2
mg
These nutrition facts are provided as a courtesy and are only estimates. We cannot guarantee the accuracy.
Did you love it?
If you made this recipe, make sure to show us on Instagram at @AFullLiving or tag #AFullLiving! We love to see what you guys are making!