This Italian Grinder Sandwich is something many of us grew up eating, that has just recently taken TikTok by storm. Our version pulls out all the stops and gets a little fancy with a variety of meats, cheeses, fresh and dried Italian herbs, a spicy Calabrian chili mayonnaise, an arugula grinder salad on top, and more. It's a fabulous and huge sandwich meant to share!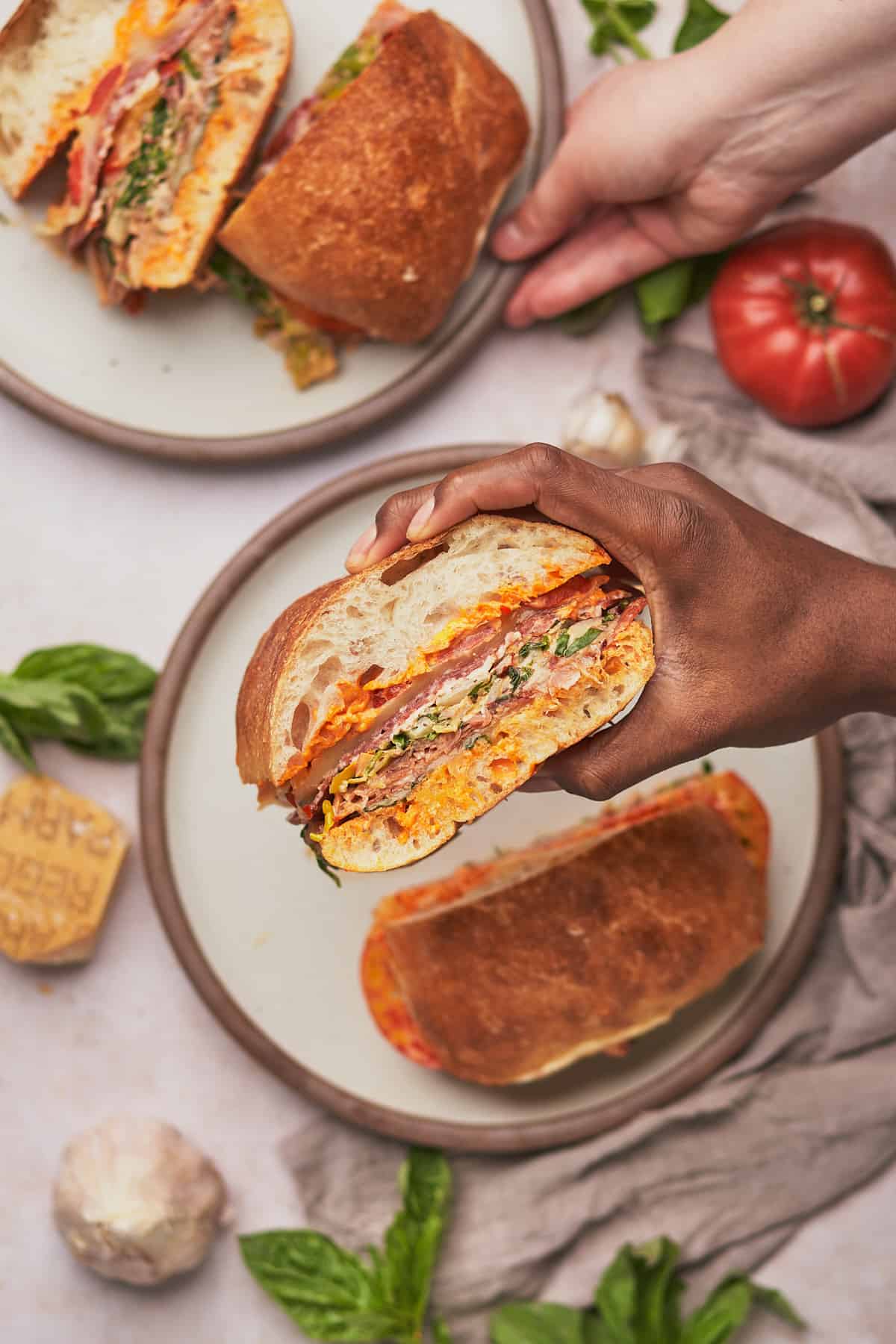 This version of the TikTok grinder sandwich is next level. It's a hot submarine sandwich, also known as a hoagie or grinder, topped off with a fabulous arugula and romaine grinder salad. It's a loaded sandwich recipe, and can serve at least 4 people!
We've tried many of the TikTok trends, and decided to put our own spin on a couple of them! Be sure to try out this keto dalgona coffee, this custard yogurt toast, or these delicious corn ribs!
You may also enjoy this Italian antipasto platter, this whipped ricotta recipe, or these marinated mozzarella balls.
Jump to:
❤️Why we love this recipe
Made with high quality, fresh ingredients - This sandwich takes pretty much all of our favorite cured meats, and Italian cheeses and transforms them into an incredibly satisfying bite. The ingredients are high quality, fresh, and create a decadent sandwich!
Perfect for larger get togethers - Need to bring a show stopper to a party? Make these grinder sandwiches and impress everyone, and this recipe is meant to feed a crowd. Everyone will be blown away with the incredible taste of these plus they are easy to cut up and portion out to whoever is hungry. This sandwich can feed 4 as an entire meal, and probably 8-12 as a snack.
Customizable - Though our version has a little bit of a long list of ingredients, you can easily customize to suit your needs and preferences.
🍅Ingredients
Here are the ingredients we used for this sandwich. You can find full quantities and nutritional information in the recipe card. Please note that our version is a bit spicy and you can add or remove ingredients as you please, or see fit.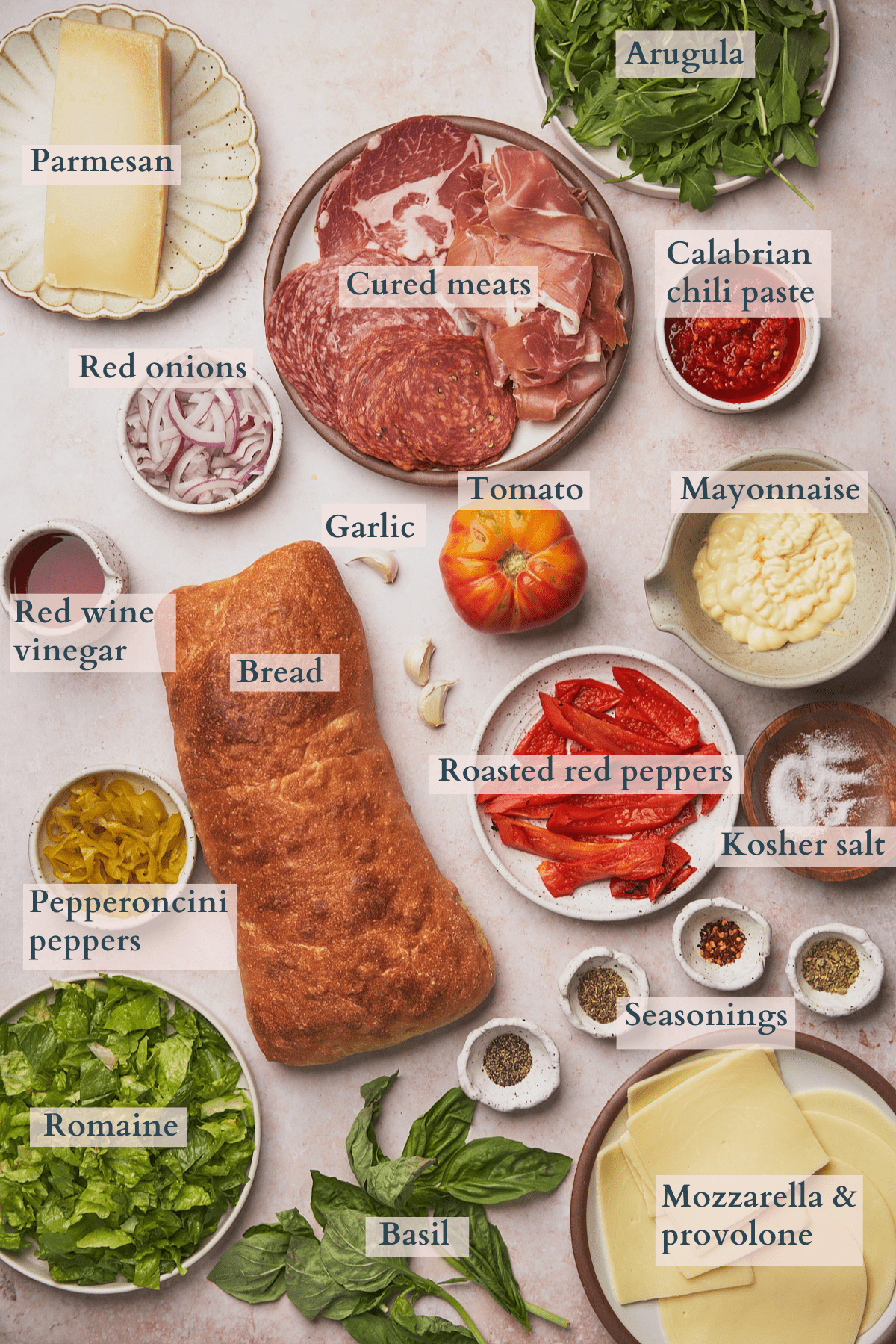 ✏️Ingredient notes
Calabrian chili garlic mayo
Mayonnaise - The grinder sandwich calls for a mayonnaise-based dressing, so we make that for the grinder salad, and also slather spicy Calabrian chili mayo all over the bread as well.
Fresh garlic - Could be substituted for garlic powder, but at this point, we're going all out with this sandwich and suggest fresh garlic, grated!
Calabrian chili paste - Add to taste for an incredibly delicious, slightly smoky, and very spicy flavor.
Salad ingredients
Dried seasonings - Kosher salt, black pepper, oregano, Italian seasoning, and red pepper flakes.
Red wine vinegar - Adds a little acid to the grinder salad.
Parmesan cheese - Freshly grated.
Pepperoncini peppers
Thinly sliced red onions
Arugula & romaine - You could use one or the other, or, iceberg lettuce as is traditionally used. We think this combo has more flavor, and holds up a little more.
Fresh basil - Optional, but really adds a lot of great flavor. We add some basil ribbons to the salad, as well as some basil to the sandwich before melting the cheese.
For the sub
Cheeses - We opted for a few kinds of cheese here, including provolone cheese, mozzarella cheese, and freshly grated parmesan cheese.
A variety of meats - We opted for a mixture of spicy Calabrese salami, Genoa salami, capocollo, and prosciutto.
Italian bread of choice - Make sure to choose something sturdy enough to hold all the meats, cheeses, and extras. We opted for an entire loaf of ciabatta bread, and this sandwich can easily feed 4 people. You could go with any crusty bread, including French bread, and Italian bread.
Roasted red peppers - Optional, but incredible on this sandwich if you're a fan of this yummy ingredient.
Tomato - We went all out with the best heirloom tomato slices we could find, and garnished them with a little bit of salt and pepper, plus olive oil. You can use a beefsteak tomato.
Olive oil - To drizzle the tomato with before serving.
📖Instructions
📋Prep work
Thinly slice red onions.
Measure out seasonings.
Preheat the oven to 425°F, and line a baking sheet with parchment paper.
Step 1 - Make the chili garlic mayo
In a small bowl combine grated garlic, mayonnaise, and Calabrian chili paste to taste. Mix to combine and set aside.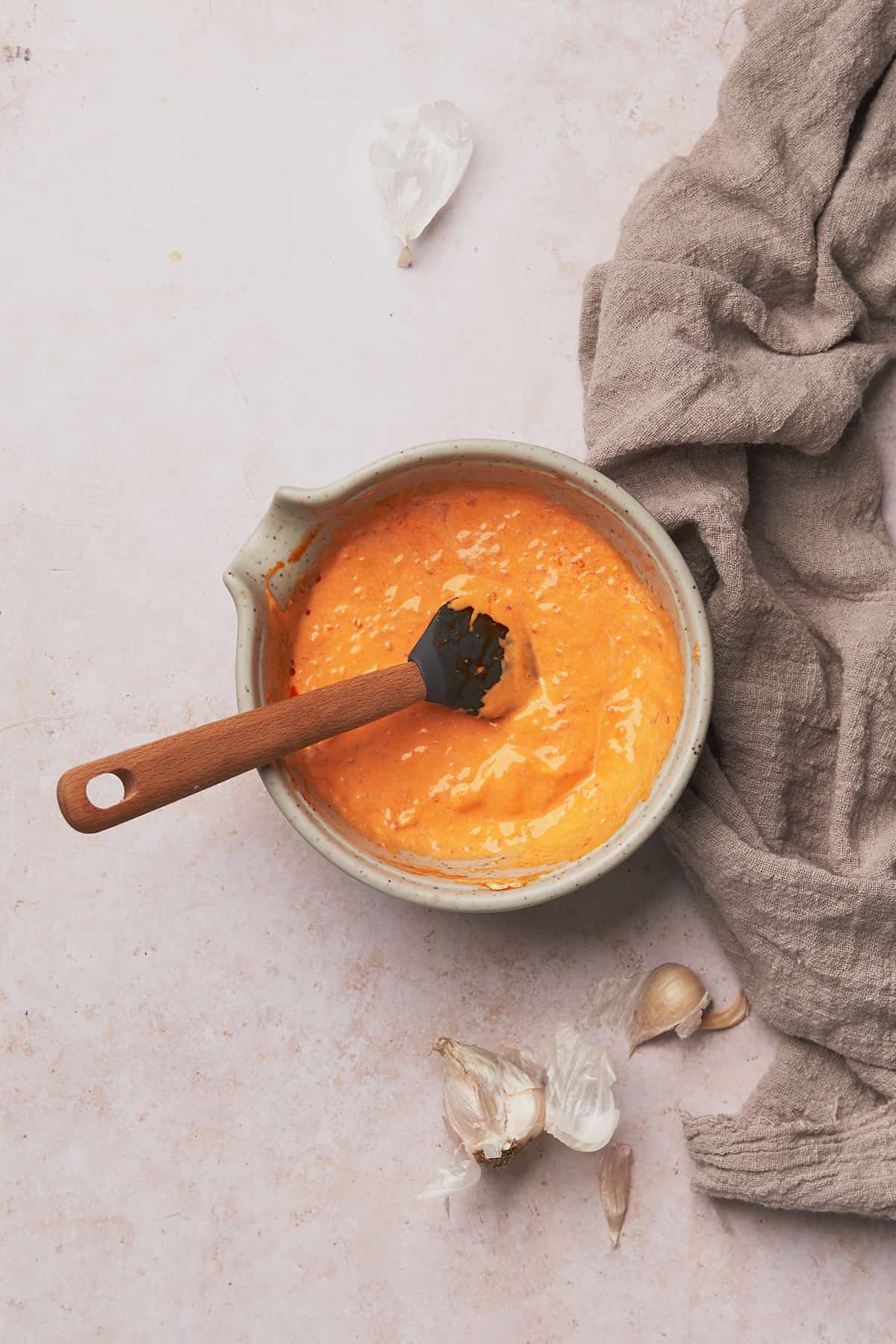 Step 2 - Cover bread with mayo
Cut the ciabatta loaf, or your bread of choice in half and slather both sides with the chili garlic mayo.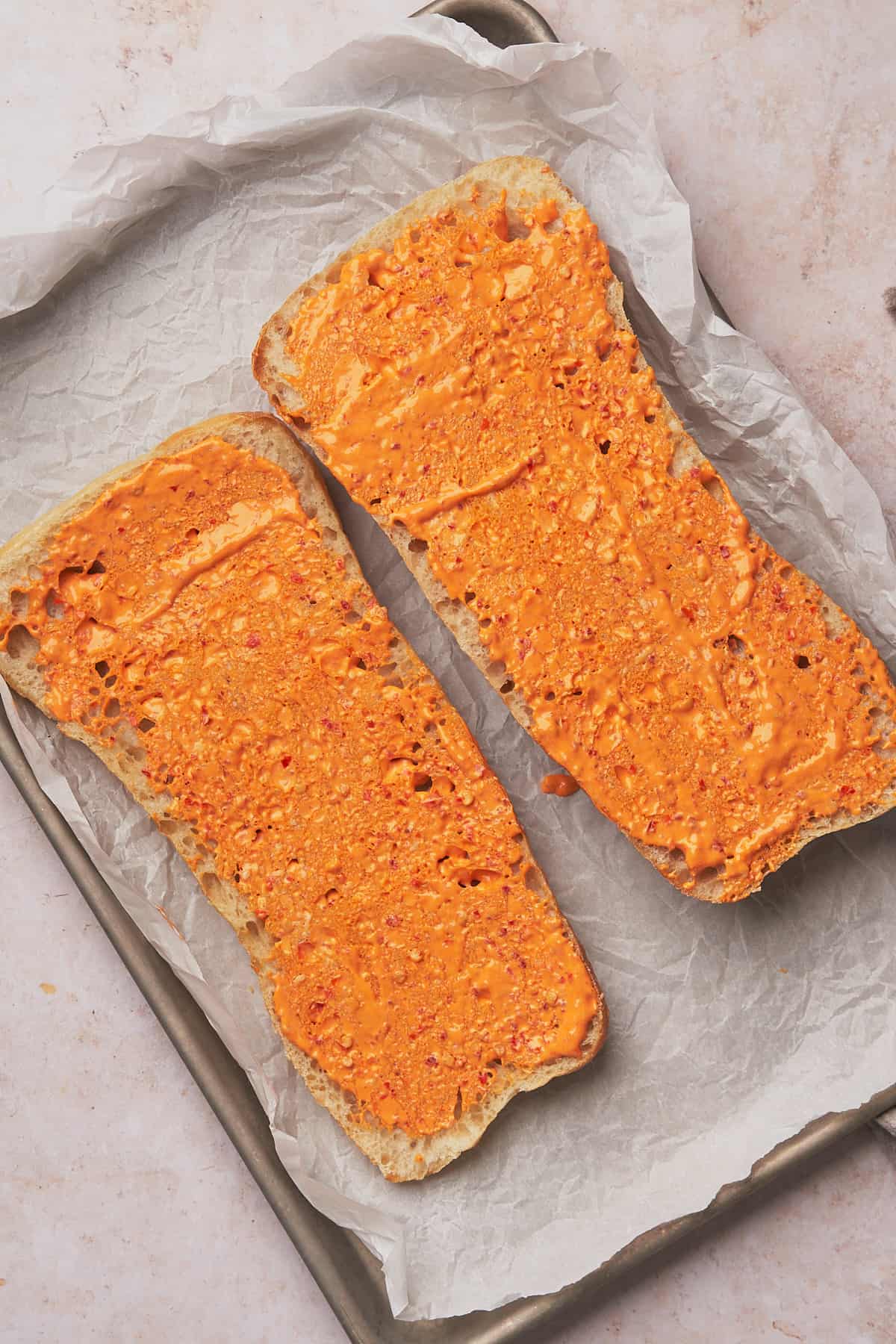 Step 3 - Add some veggies, herbs, and cheese
Layer roasted red peppers on one side and fresh basil leaves on the other. Both of these ingredients are optional. Grate fresh parmesan cheese over top.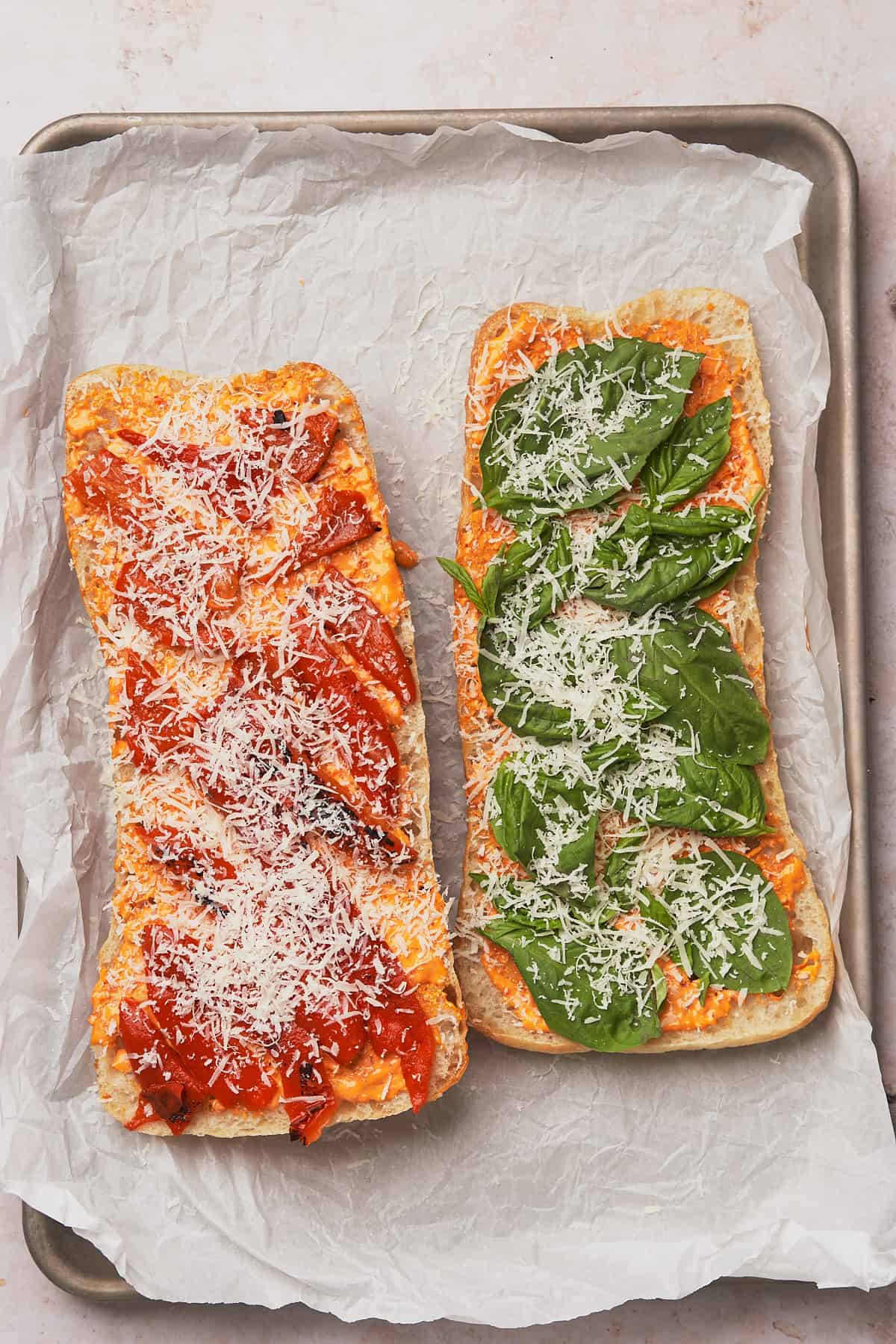 Add mozzarella and provolone cheese slices, layering over top.
Step 4 - Bake
Bake to melt the cheese at 425°F for roughly 5-7 minutes.
Step 5 - Add the meats
Now it's time to layer on your favorite cured meats.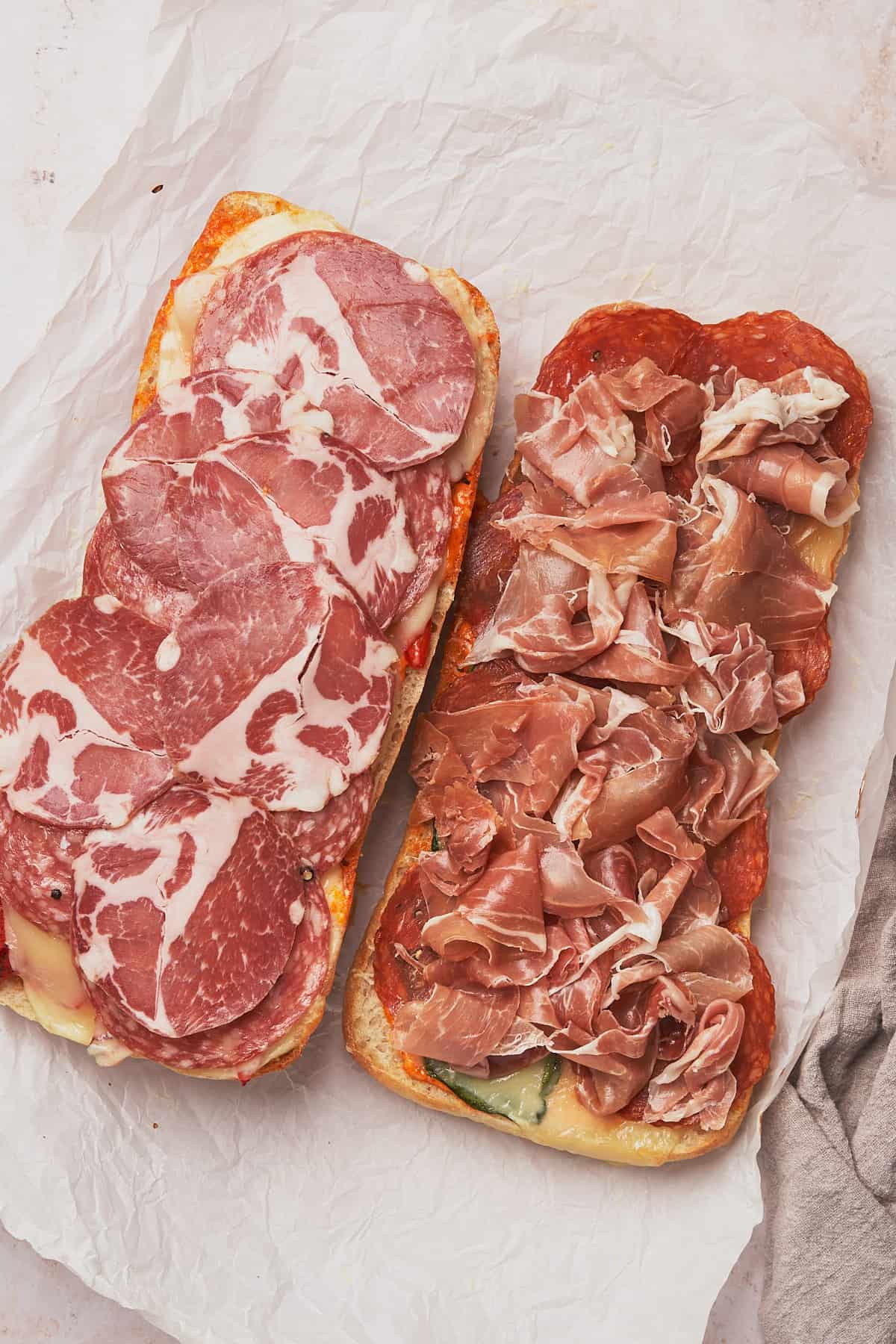 Step 6 - Make the grinder salad
In a large mixing bowl, add arugula, romaine, chili garlic mayo, red onions, pepperoncini peppers, freshly grated parmesan cheese, and all of the dry seasonings. Toss to combine.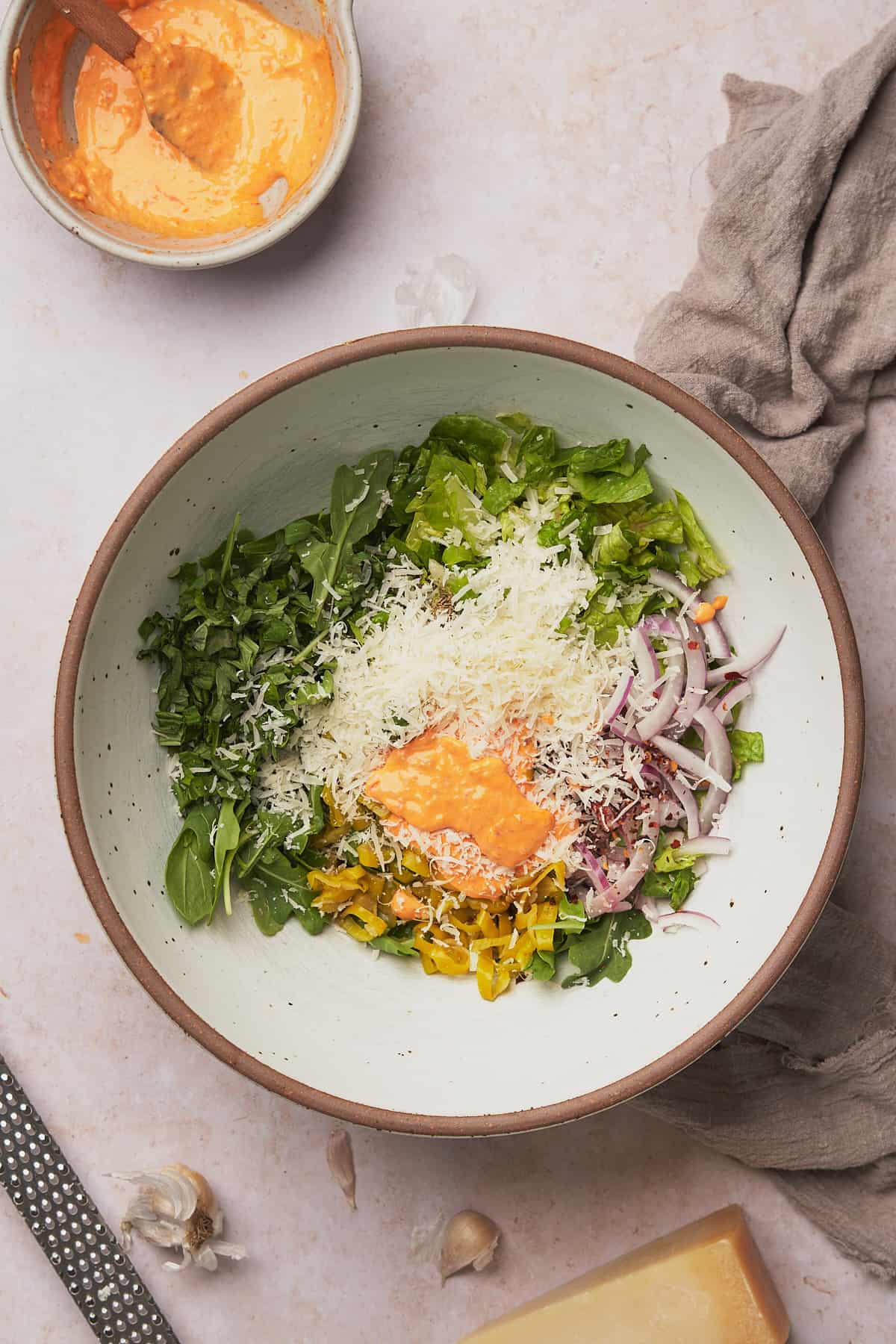 Step 7 - Add the finishing touches
Add the thinly sliced tomato with a little salt, pepper, and olive oil on one side of the bread, and the grinder salad on the other side.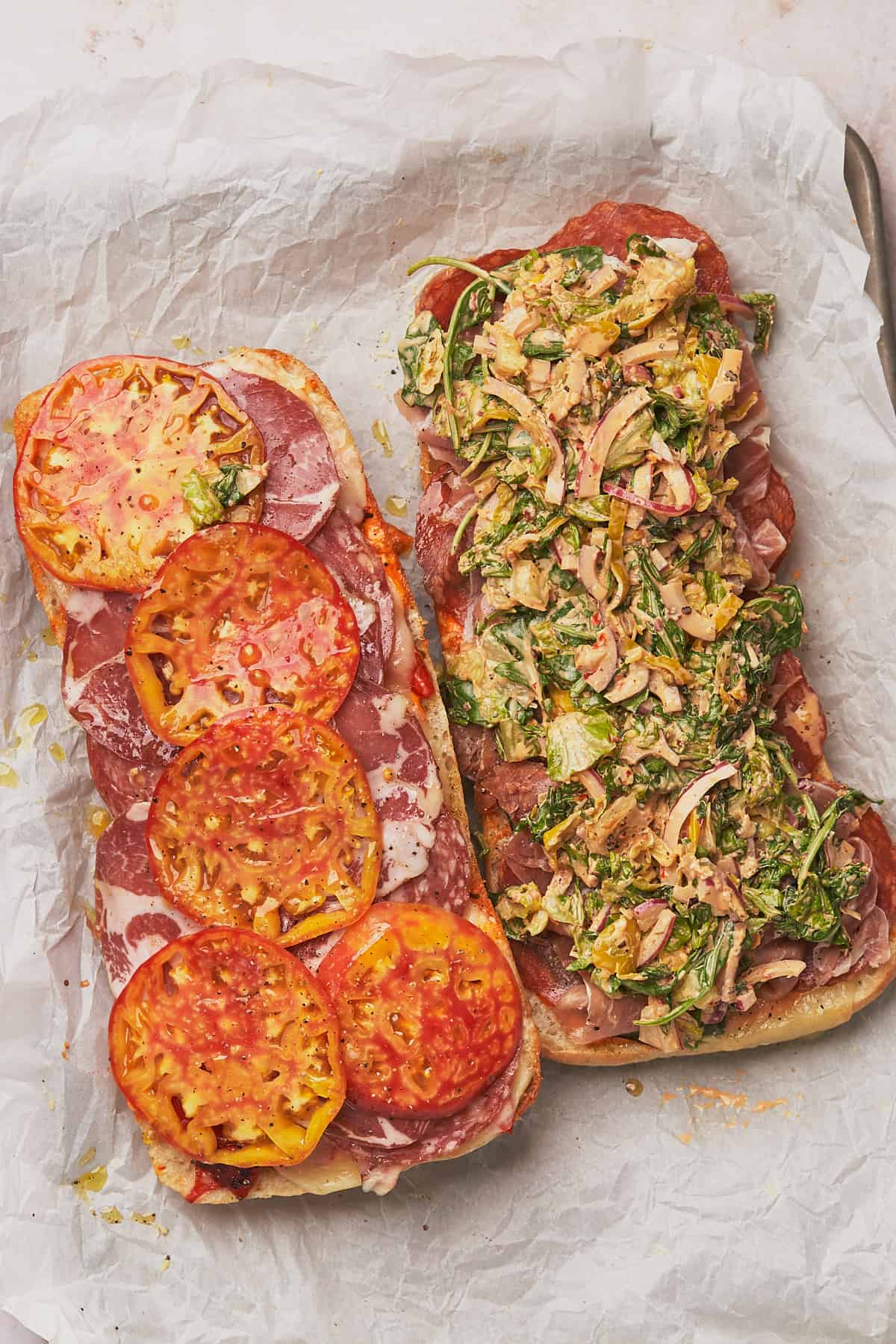 Step 8 - Dig in!
Now it's time to cut into the sandwich and enjoy it right away! Cutting this sandwich into four pieces made for some really hefty servings, or a whole meal.
Cutting this sandwich into eight parts is great to share with others as a substantial snack.
You will probably need some toothpicks to hold it together and be warned, this sandwich is super messy!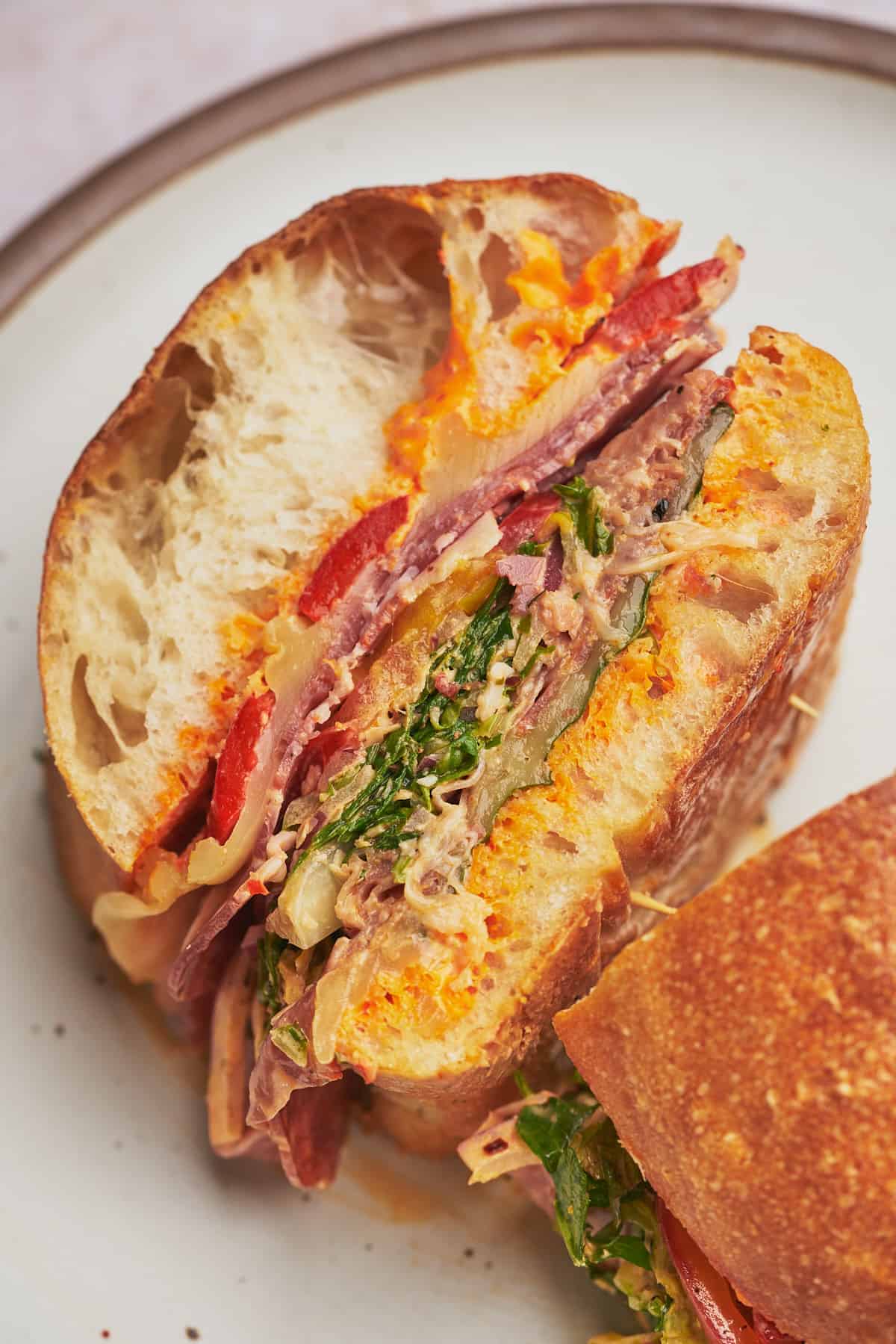 ✨Tips & tricks
Use fresh ingredients. The freshness of the veggies combined with the savory, salty, and spicy deliciousness of this sandwich just works. Use the freshest ingredients possible.
Don't skip the extra steps if you can help it. This recipe is maybe a little more work than some other sandwich recipes out there, but we promise, every step is totally worth it! If you can help it, try to include as many as the ingredients as you can for a burst of flavor. You won't regret it!
Enjoy right away. This sandwich tastes best right away, and doesn't save particularly well. Make and serve right away!
To help the salad from going soggy, make it right before it's time to top the sandwich. This goes hand in hand with the previous tip, as this sandwich is meant to be assembled and eat right away.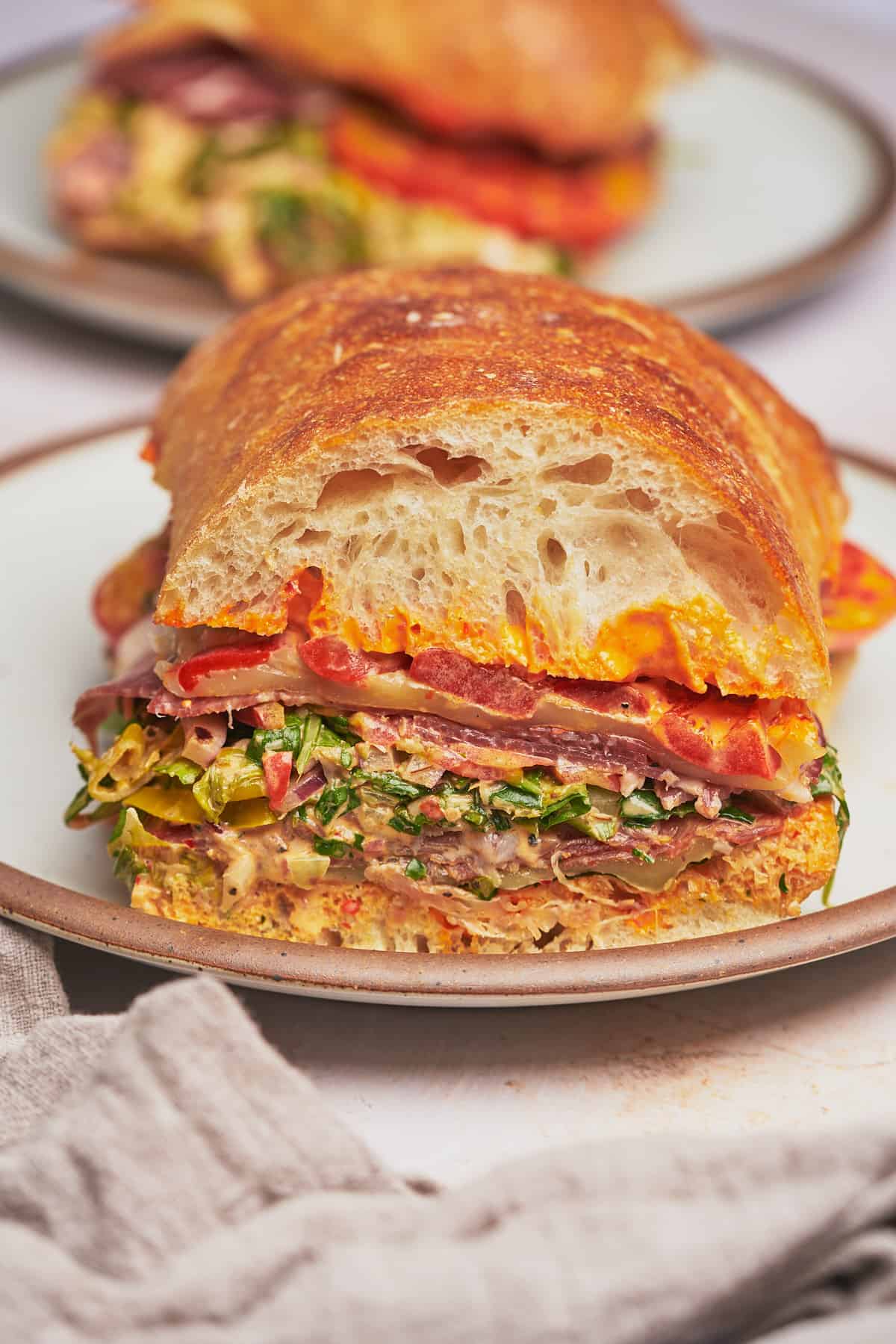 ✏️Substitutions & variations
The ingredients are pretty straightforward, but here are a few simple swaps you can make to suit your preferences, diet type, or what you have on hand.
Add more veggies - Love veggies? Try adding olives, green bell peppers, or banana peppers to the grinder salad mixture!
Use shredded iceberg lettuce - If you're not a fan of romaine or arugula and just prefer the original salad, use iceberg.
Less or more spicy - If you're not as big on spices as we are, that's no problem and an easy fix! You can omit any of the spicy meats, chili flakes, or Calabrian chili mayo to suit your preference. Alternatively, you could always add more spice with more red pepper flakes, or spicy cheese slices like pepper jack.
Use different cold cuts - If you love roast beef or smoked turkey on your grinder salad sandwich, don't let us stop you from using your favorites!
Use Italian dressing - For a more classic taste, you can use a little Italian dressing in place of vinegar and olive oil.
Swap the vinegar - Alternatively, you could also use white vinegar, apple cider vinegar, or balsamic vinegar in place of red wine vinegar.
Want a more simple Italian sandwich? You can truly omit ingredients as you see fit. The key to this sandwich the basic way is some sort of hoagie roll or crusty bread, a creamy salad topping, and just layers of meat and cheese!
Gluten free - Just make sure to use your favorite gluten free bread. Everything else should be naturally gluten free!
No mayo? No problem. Use plain Greek yogurt or sour cream instead of mayo.
💭Frequently asked questions
What is a grinder?

The grinder is essentially the same thing as a sub or a hero. The grinder name came from the "toothsome ness" of the sandwich since it's a large, hefty bite!

Can I use an air fryer or toast oven to make this?

Yes, absolutely! Essentially all you need to do is melt the cheese, so use whatever method works best for you.
🛒Shop this recipe
⏲Equipment
Luckily, this recipe is pretty standard and you really don't need much to make it.
We love this knife set since it comes with an awesome bread knife, which you will need to cut this sandwich, as well as a sharp chef's knife, to get the tomato slices nice and thin.
We use a microplane to finely grate the parmesan cheese and garlic.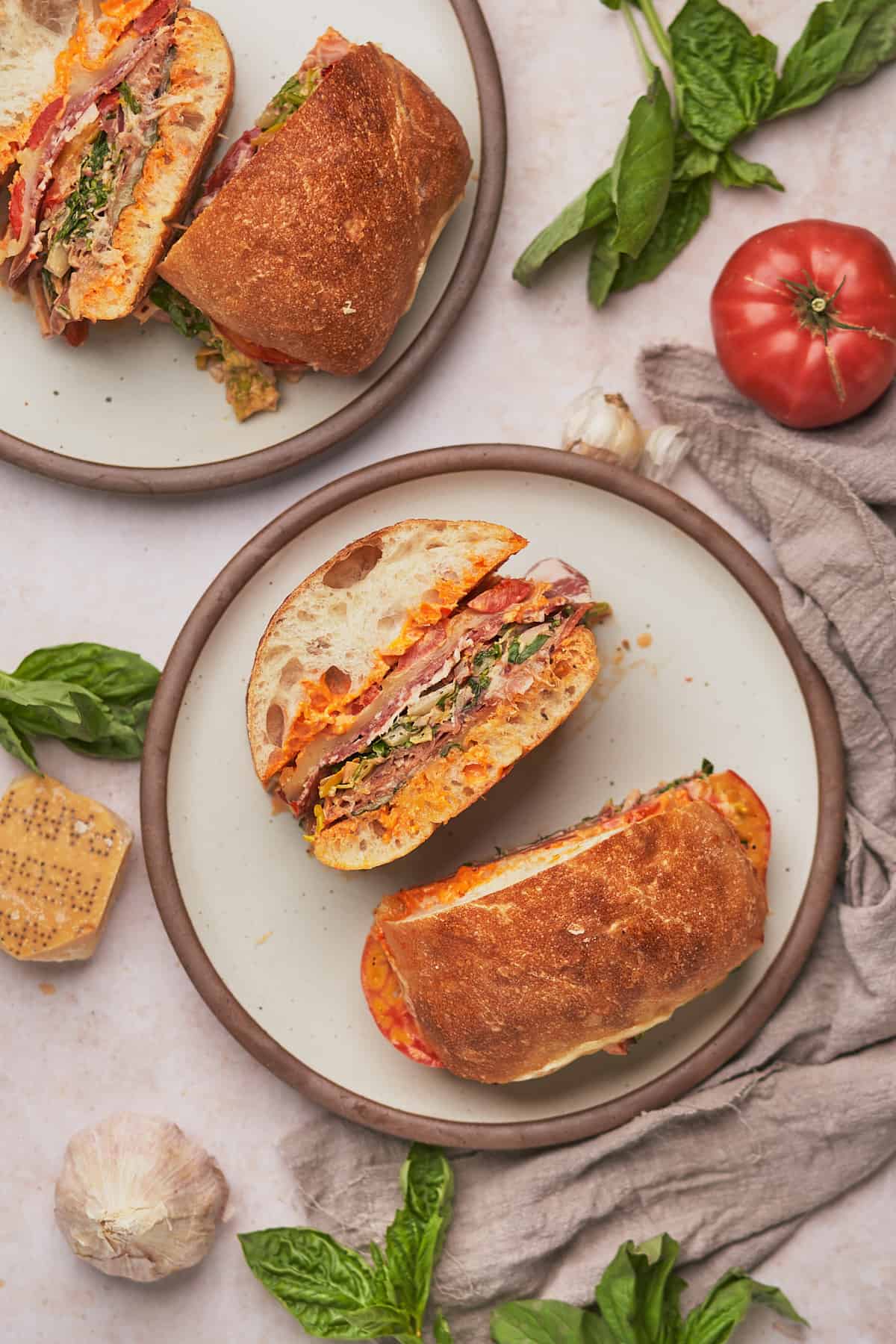 🥣Storage
This grinder salad sandwich is most definitely enjoyed fresh, as the salad topping begins to get soggy pretty quickly. However, it will keep in an airtight container in the fridge for up to 2 days.
For best results, leave off the tomato, mayonnaise, and creamy arugula salad topping until just before serving to prevent the sandwich from getting soggy.
We don't recommend freezing this recipe.
🌟Leave a review!
Make sure to leave a 5-star review below! This helps other readers find our recipes via Google, and encourages them to try them. Also be sure to leave a comment with your experience!
Take a photo and share with us by tagging us on Instagram or follow along on Pinterest for more ideas!
📖 Recipe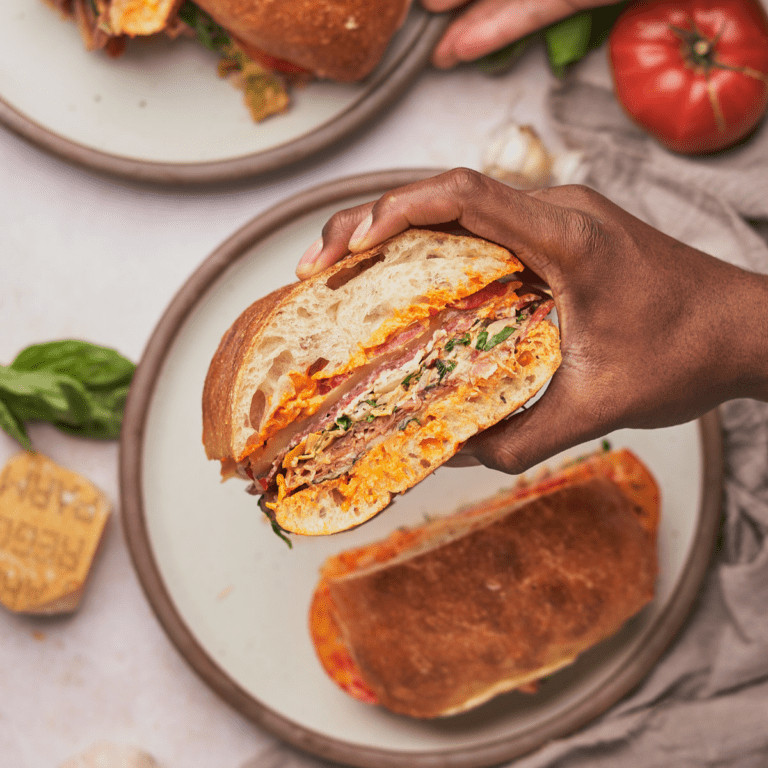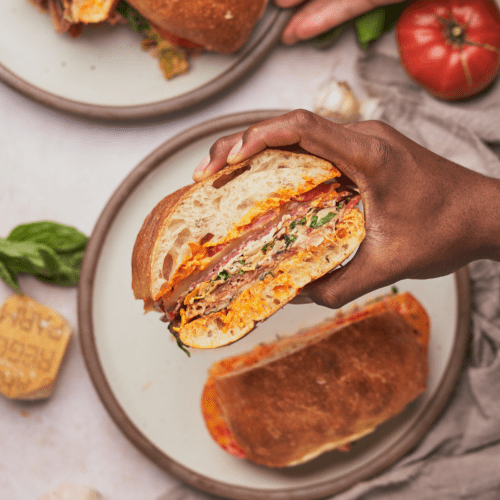 Grinder Sandwich (Spicy Italian Sub)
This Spicy Italian Grinder Sandwich takes the TikTok trend to the next level! Made to feed a crowd, this irresistible sandwich is loaded up with meats, cheeses, fresh herbs, veggies, and a little heat!
Ingredients
Calabrian chili garlic mayo:
1

large

loaf ciabatta bread

126

grams

mayonnaise

(10 tablespoons)

75

grams

Calabrian chili paste

4

cloves

garlic, grated
Grinder sandwich:
5

slices

provolone cheese

5

slices

mozzarella cheese

1

whole

roasted red pepper, cut into strips

handful of basil and freshly grated parmesan to top sandwich

10

slices

Calabrese salami piccante

(spicy salami)

8

slices

prosciutto

6

slices

Calabrese salami

6

slices

capocollo

1

medium

heirloom tomato, thinly sliced

olive oil, salt, and pepper to dress the tomato
Grinder salad:
2

ounces

baby arugula

2

ounces

baby romaine, chopped

¼

medium

red onion, thinly sliced

mayo to taste from above

½

teaspoon

kosher salt

½

teaspoon

coarse black pepper

½

teaspoon

Italian seasoning

½

teaspoon

oregano

¼

teaspoon

red pepper flakes

2

tablespoons

red wine vinegar

18

grams

parmesan cheese, freshly grated

50

grams

pepperoncini peppers
Instructions
Preheat the oven to 425°F and line a baking sheet with parchment paper. Make the chili garlic mayo by combining all ingredients well. Spread some mayo over both sides of the bread, reserving some for later.

Layer on roasted red peppers, whole basil leaves, and freshly grated parmesan cheese over top. Add the mozzarella and provolone slices. Bake for 5-7 minutes until the cheese is nice and melted.

Layer on the meats on both sides of the bread.

On one side of the bread, add the thin slices of tomato, with a drizzle of olive oil, salt, and pepper.

Now, make the grinder salad by combining the arugula, romaine, pepperoncini peppers, red onions, parmesan cheese, red wine vinegar, and seasonings. Use tongs to toss, and top one side of the sandwich with it.

Carefully press both sandwich halves together, and cut into pieces. Enjoy right away!
Notes
We don't recommend making this sandwich too far in advance, or it will become soggy. 
The nutrition facts make a very large serving at 4 portions, but this recipe is can be scaled up to 8 servings, or even 12 servings. 
Use your favorite spices, herbs, meats, and cheeses to taste.
Arugula and romaine can be swapped with shredded iceberg lettuce. We prefer arugula as it has more flavor and is sturdier than iceberg, but it is your choice. 
Make the salad last, so it has less time to become soggy. 
Please visit the body of the post for more substitutions and variations. 
Nutrition
Calories:
841
kcal
Carbohydrates:
65
g
Protein:
30
g
Fat:
51
g
Saturated Fat:
16
g
Polyunsaturated Fat:
17
g
Monounsaturated Fat:
16
g
Trans Fat:
0.1
g
Cholesterol:
75
mg
Sodium:
2271
mg
Potassium:
515
mg
Fiber:
3
g
Sugar:
4
g
Vitamin A:
2238
IU
Vitamin C:
22
mg
Calcium:
287
mg
Iron:
2
mg