This gorgeous Low carb Gin and Tonic is the Keto Cocktail of the summer. Combine the beautiful Empress 1908 Gin with it's remarkable indigo hue and botanical flavors with a homemade herb infused sugar free simple syrup, limes, some herb ice cubes, and diet tonic water. Top it all off with some more fresh herbs for a fragrant, refreshing and stunning cocktail with less than 2 net carbs per drink!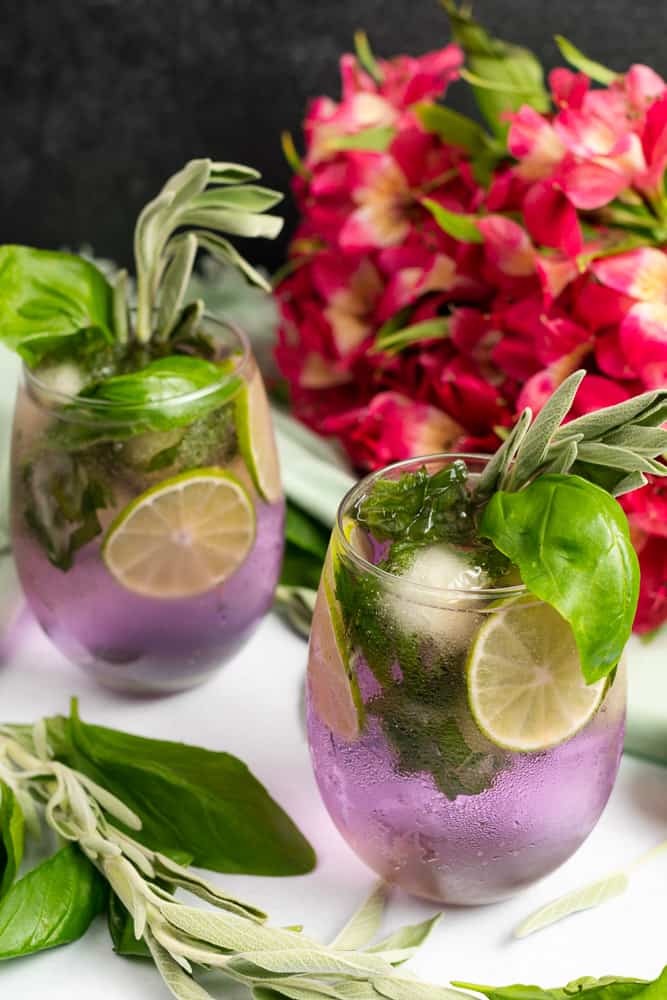 This keto gin and tonic recipe was created as a part of paid collaboration with Empress 1908 Gin over on Instagram. We weren't required to make a blog post for the collaboration, but this cocktail was too pretty not to share, so we wanted to make sure you guys got to see it. 🙂
Ingredients:​
Empress 1908 Gin, you could use any gin
Homemade herbed ice cubes, for fun!
Lime slices
Homemade basil, sage and mint sugar free simple syrup
Garnish with: fresh basil and sage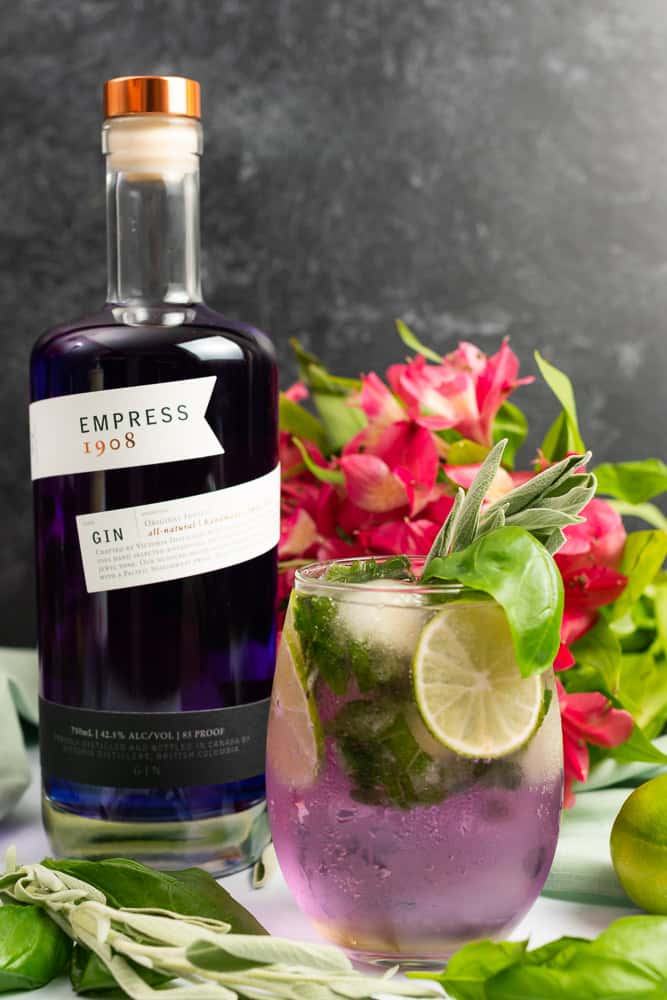 How to Make this Keto Gin and Tonic:
Prepare your ice cubes if you want to add herbs 4-6 hours ahead of time. Make your simple syrup ahead of time if you want as well, or at least start with this step. To put the drink together, add ice cubes, and limes slices to a glass, then pour in the optional simple syrup to taste.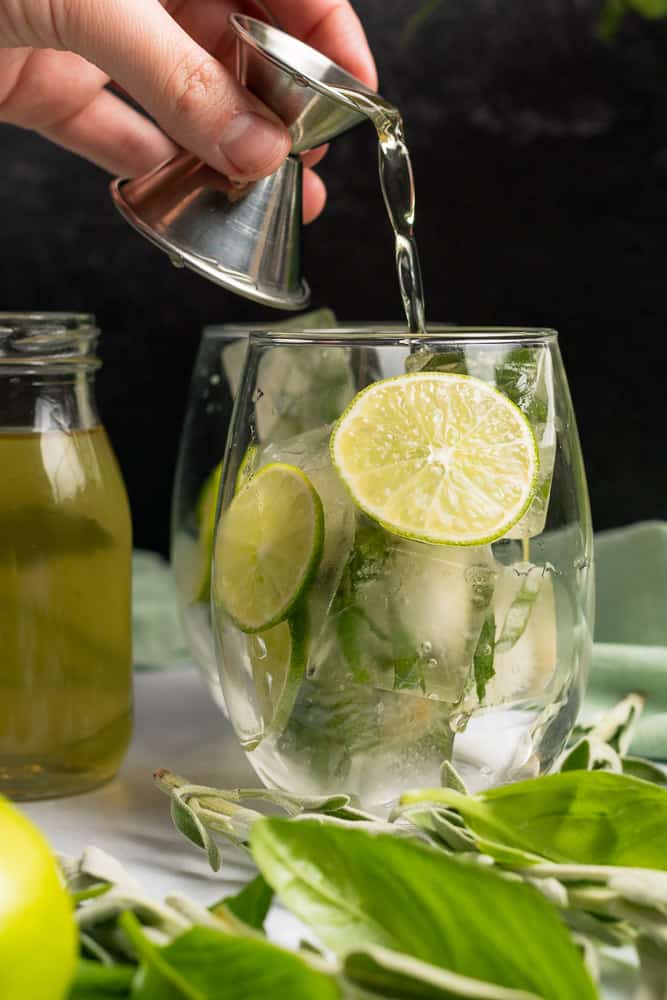 Now, add in your gin, then top with tonic water and give it a good stir.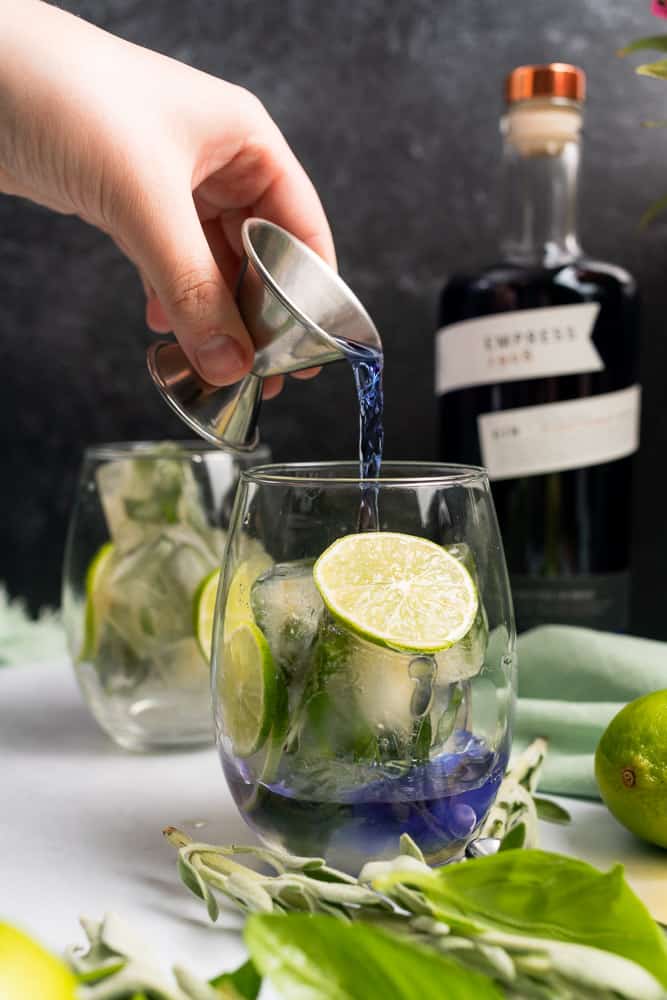 Now, simply garnish with more herbs, and enjoy your keto gin tonic cocktail!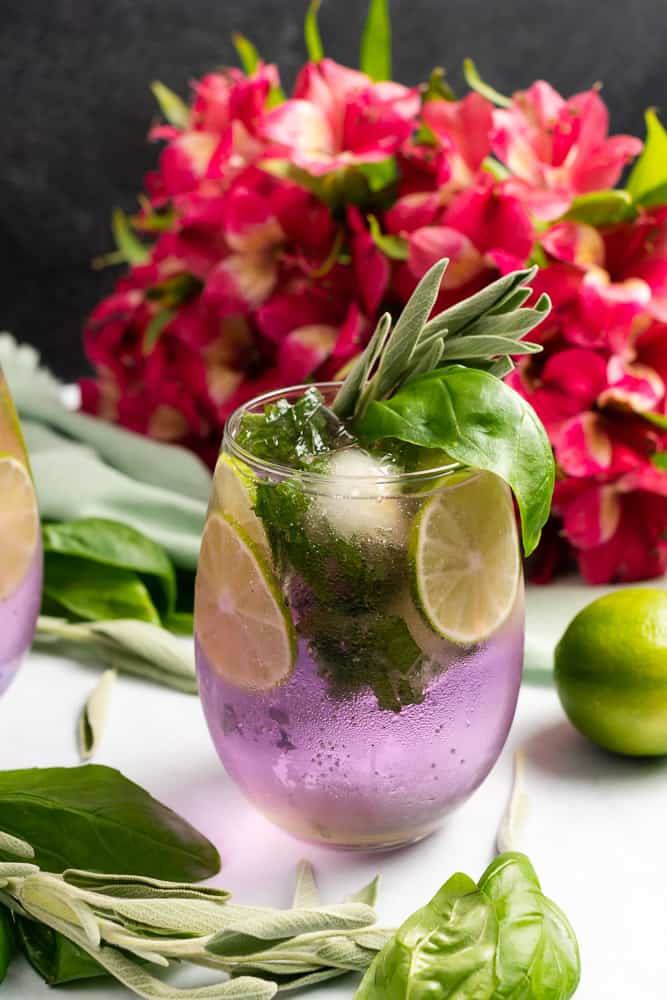 Substitutions:
Empress 1908 Gin- This is an optional ingredient, but my is it pretty and has such a lovely taste! Feel free to swap it out for your favorite gin.
Limes- You can use any citrus you like, like a slice of grapefruit, lemon, or orange!
Diet Tonic Water- You can use whatever tonic you like. We use diet, since we are low carb, but use whatever you want. Sparkling water would also be fine. Just note that the tonic water is what makes the Empress Gin change color, if that's what you're going for!
Optional Ingredients:
Herb Ice Cubes- These are just for fun and are totally optional. Feel free to just use regular ice.
Herbed Sugar Free Simple Syrup- Again, optional, just added to round out the bitterness and add a lovely herbed flavor to the drink.
What is Empress Gin and Can I Use Any Gin?
As we mentioned, we used Empress 1908 Gin for the gin base in this cocktail. It's small batch gin made with butterfly pea blossoms that create that lovely indigo hue. It's fun to experiment with, because it changes colors to a slightly pink-ish color when you add tonic water or citrus. It has a lovely, earthy and botanical flavor, since it's made with the butterfly pea blossoms, fairmont empress tea, juniper, grapefruit peel, coriander seed, cinnamon bark rose petal and ginger root!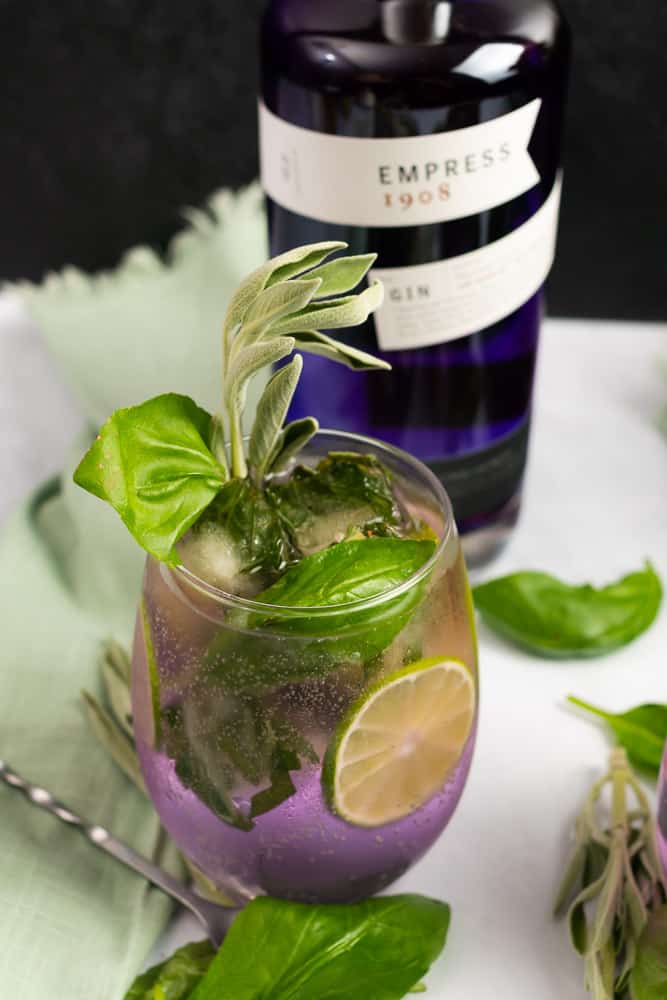 While you can order Empress 1908 Gin online or buy it in stores, but if you're looking to make this gin with the gin you have on hand, feel free to use your favorite gin.

If you're looking for more delightful gin based cocktails, try out some of our favorites, like this sugar free blackberry ginger gin smash or this low carb pomegranate and ginger gin bennett.
How Do I Make the Sugar Free Summer Herb Simple Syrup?
We love making all kinds of sugar free simple syrups to elevate our keto cocktails at home. Please note, that this is an optional ingredient, and many people wouldn't include simple syrup in their gin and tonic. If you're like us and prefer a drink with a little subtle sweetness and herbaceous flavor, the sugar free simple syrup is a great way to balance out the bitterness of tonic water without adding any calories!

To make the simple syrup, you will need 1 cup of water, and 1.25 cups of allulose. Allulose is our preferred sugar free sweetener for many applications, because it acts and tastes just like sugar. It's slightly less sweet than sugar, which is why we add a bit more to our simple syrup. For this, we boiled our herbs (we used mint, sage, and fresh basil) in the water for a few minutes to really get that flavor into the syrup. Then, we add the allulose, stir, and let it sit for about 20 minutes before straining away and discarding the used herbs. You will just want to set it aside and let it cool for about 15 minutes or longer so it's not super hot when you add it to the drink.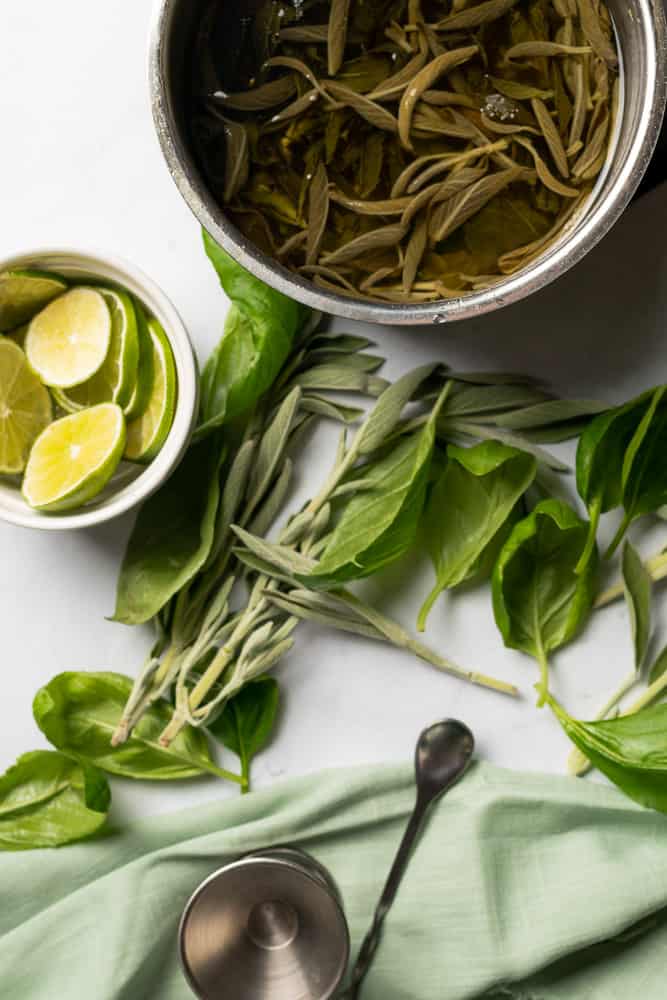 Again, the simple is optional, so feel free to skip this step. We'd also like to note you can easily swap out the allulose for regular sugar if you don't keep track of or think about the extra carbs. Just note that adding the sugar instead will definitely add a lot of calories to this drink. We don't recommend using any other sweetener for this aside for maybe honey, agave, sugar or allulose. Other sugar free sweeteners will crystallize when they get cold, which doesn't make for a great texture when you want to use the syrup later. This syrup will keep for an indefinite amount of time in the fridge. We aren't experts, but we think that as long as it looks and smells fine, it's probably safe to use. Truly we have used our simple syrups for months after we have made them.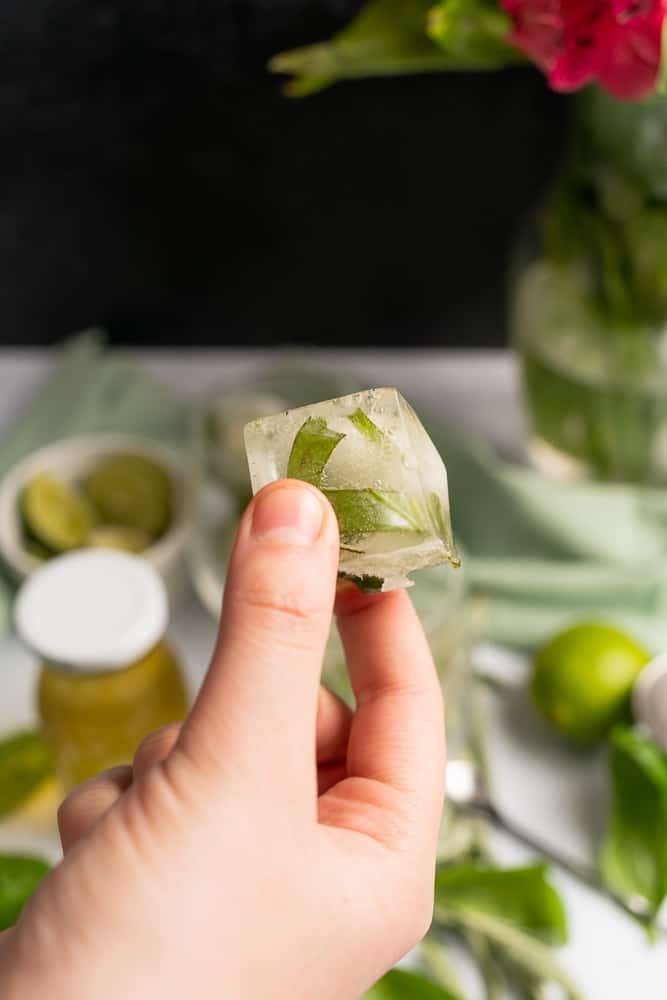 Another fun thing we did to elevate this drink was to make herb infused ice cubes. We simply cut up some mint, sage and basil and froze them inside of an ice cube container to add a little extra flair to the drink.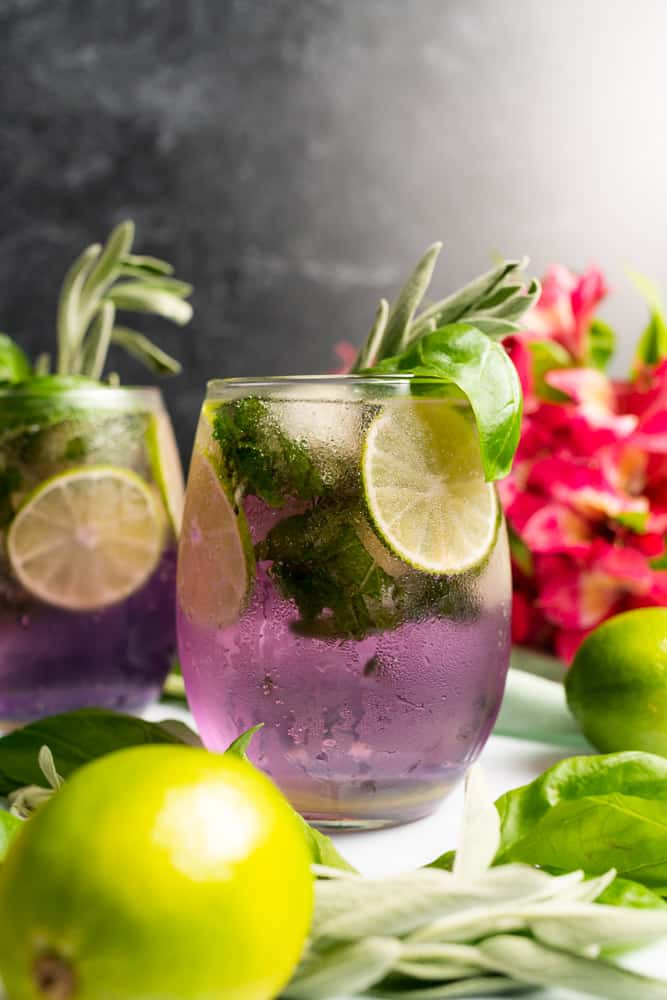 Shop This Recipe:
Want to get supplies for this low carb gin and tonic recipe or shop our keto kitchen or pantry? We've linked our favorites above and right here in our Amazon Store! A Full Living is a participant in the Amazon Services LLC Associate program, an affiliate advertising program designed to promote a means for sites to earn advertising fees by linking products to amazon.com. We only share products we use and love. It doesn't cost you anything extra to shop using our links, but we earn a small commission that helps us keep this site going!
More Recipes To Try:
How Many Carbs In A Gin and Tonic?
A lot of people are interested to know if the gin and tonic is keto or not. We did some digging and found that most gin tonic cocktail recipes contain somewhere between 12g to 24g of Carbs per serving. However, we made sure that our recipe contains very low carbs so it's totally keto friendly. Our per serving of gin and tonic only contains 3g of carbs which is great for anyone on a low carb diet.
If you get a chance to try this gin tonic cocktail recipe, let us know what you think, would ya?! Leave us a comment, or catch up with us on Facebook or Instagram, or pin to your favorite Pinterest board for later. We love sharing your versions of our creations over on Instagram @afullliving!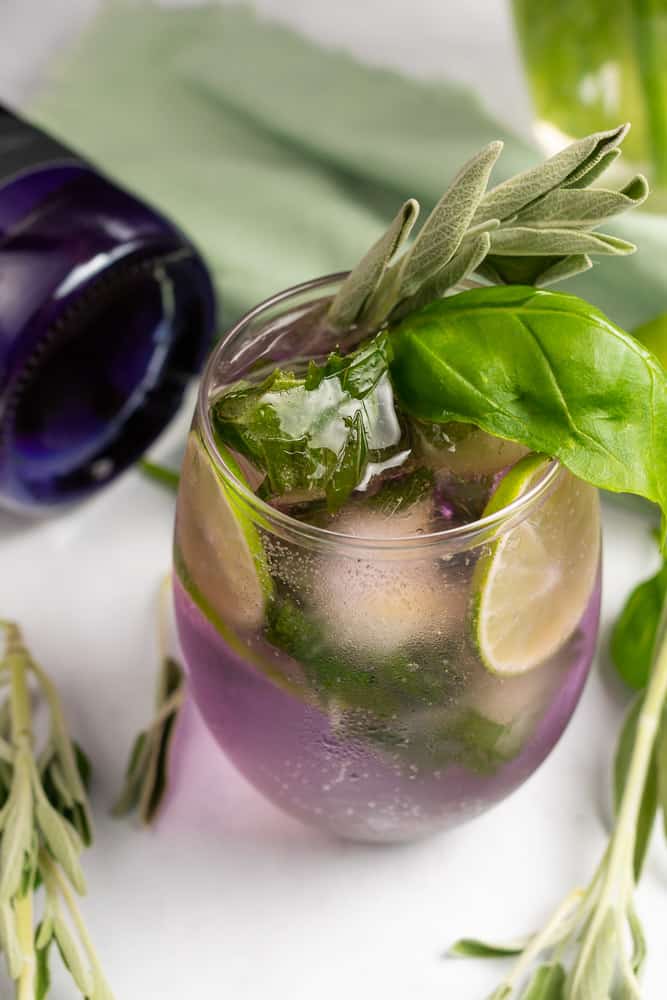 Thanks for stopping by! Be sure to subscribe to our email newsletter so you're the first to know about new recipes we post on our blog.

If you love this recipe, please consider sharing it with a friend and also leaving a rating and comment so others can find this recipe. Thank you for your support!
Until Next Time,
Briana & Chamere
📖 Recipe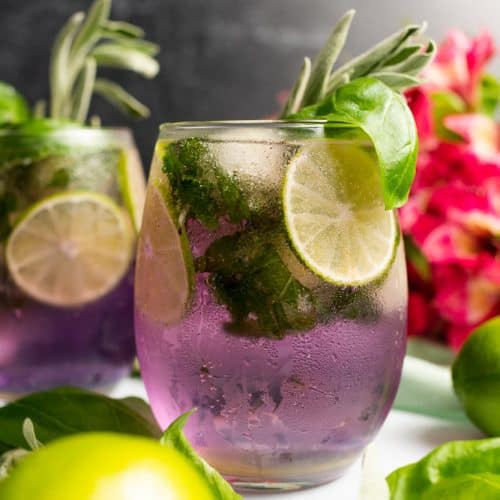 Keto Gin and Tonic with Summer Herbs
This gorgeous Low carb Gin and Tonic is the Keto Cocktail of the summer. Combine the beautiful Empress 1908 Gin with it's remarkable indigo hue and botanical flavors with a homemade herb infused sugar free simple syrup, limes, some herb ice cubes, and diet tonic water. Top it all off with some more fresh herbs for a fragrant, refreshing and stunning cocktail with less than 2 net carbs per drink!
Ingredients
For the herbed sugar free simple syrup:
1

cup

water

1.25

cups

allulose

handful of fresh herbs (we used sage, basil and mint)
Instructions
Prepare your herbed ice cubes ahead of time if you want by cutting up herbs of choice and then freezing them into an ice cube mold. Let them freeze for 4-6 hours. This is optional, you could use regular ice.

To make your simple syrup, combine your herbs, water and allulose in a pan. Bring to a boil, then simmer for 15 minutes. Strain away the herbs and discard. Store the simple syrup in the fridge to cool until you're ready to use it.

In a glass, add ice cubes, lime slices and then add in your optional herbed simple syrup.

Pour in the gin, tonic water, and give it a good stir. Garnish with fresh herbs.
Notes
We'd like to note that we don't include sugar alcohols for allulose in carbs or sugar, as it is not shown to spike blood glucose in most people, and is not digested by the body. 
Nutrition
Calories:
139
kcal
Carbohydrates:
3
g
Protein:
1
g
Fat:
1
g
Saturated Fat:
1
g
Sodium:
13
mg
Potassium:
30
mg
Fiber:
1
g
Sugar:
1
g
Vitamin A:
14
IU
Vitamin C:
8
mg
Calcium:
16
mg
Iron:
1
mg