---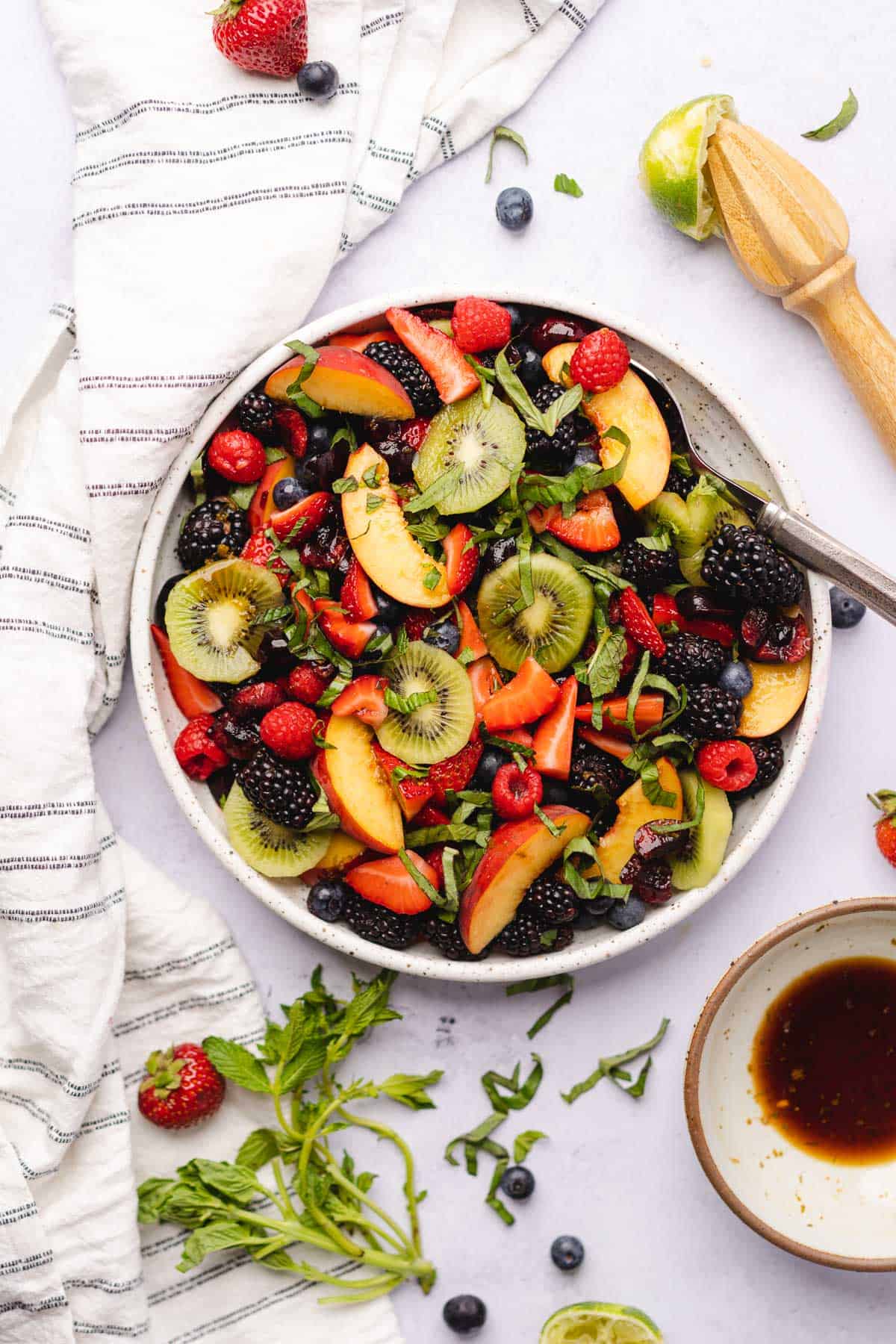 It's only 8 net carbs per serving and uses a variety of different fruits. You can lower the carb count even further by substituting some of the fruits for more keto berry varieties. You can serve it as a dessert with some heavy whipping cream, or on it's own for a perfect summer side dish.
We include lots of process pictures in the body of the text, as well as ideas for substitutions and more. Feel free to skip to the recipe card if you'd like to get right into it. This recipe is also available as a Google Web Story here!
Ingredients:​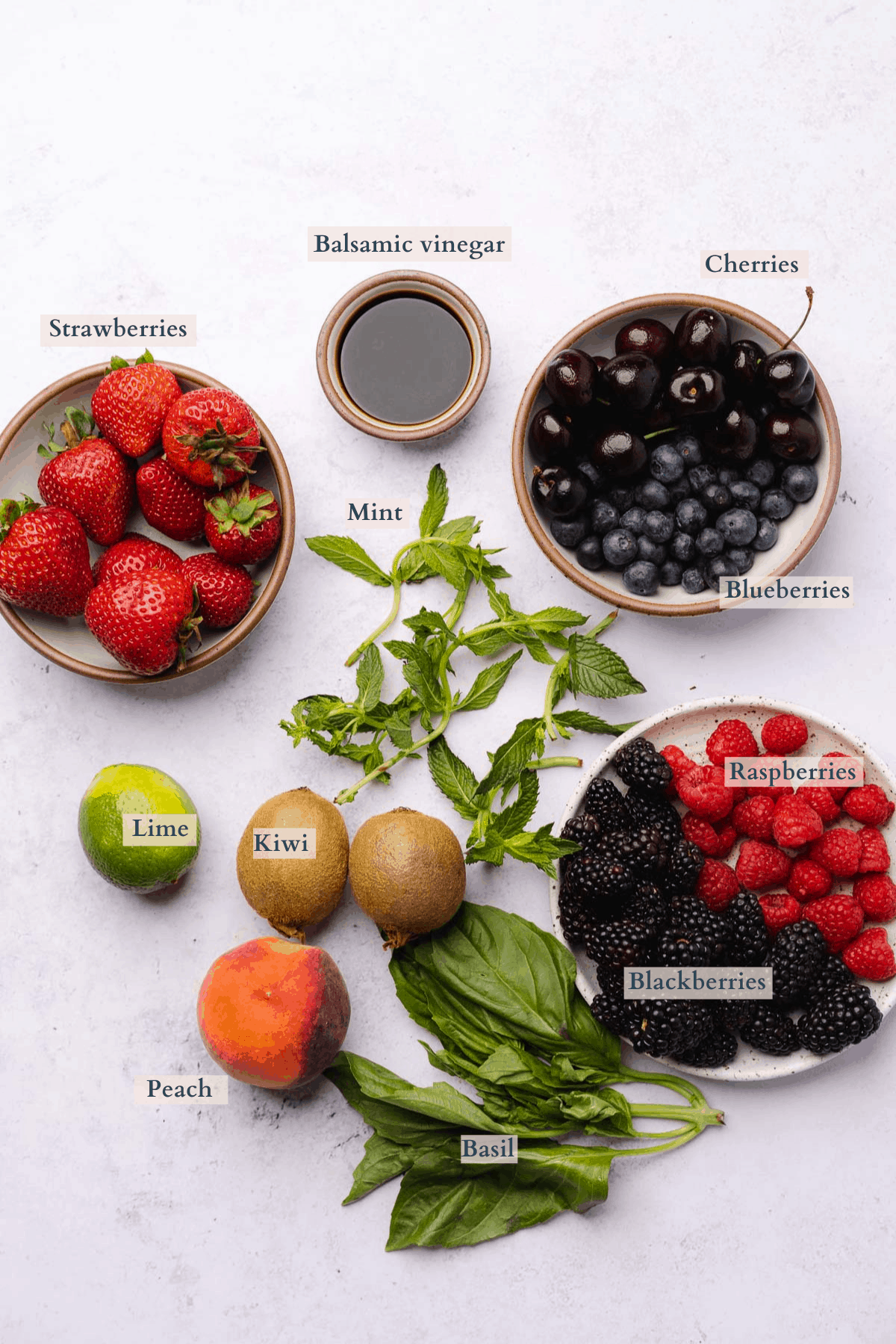 The berries - We used a mixture of strawberries. raspberries, blackberries and blueberries to make this delicious fruit salad. This is essentially a berry salad, with some extras! Berries are your best bet for the majority of this salad, are they are the lowest in carbs in sugar, although it does vary from each type of berry. I'll give a run down of different fruit nutrition facts later on so you can mix and match to fit your macros!
The remaining fruit - Add to taste (and to suit your preferences), but we love the addition of a small amount of peaches (or nectarines), cherries and kiwi! While these are a bit higher in carbs than some of the other fruits, they can still fit in moderation for a strict keto diet.
Basil & mint - Fresh herbs are totally optional but we highly recommend a combo of these two. Totally delicious.
Lime juice & zest - Simply delicious, and adds a lot of flavor and brightness without adding sugar! Feel free to use lemon juice and zest if you prefer.
Balsamic vinegar - An easy way to add some sweetness, acidity and flavor to your fruit salad!
How to Make A Keto Fruit Salad:
In a bowl, start by combining balsamic vinegar with lime juice and zest. Whisk to combine, then set aside.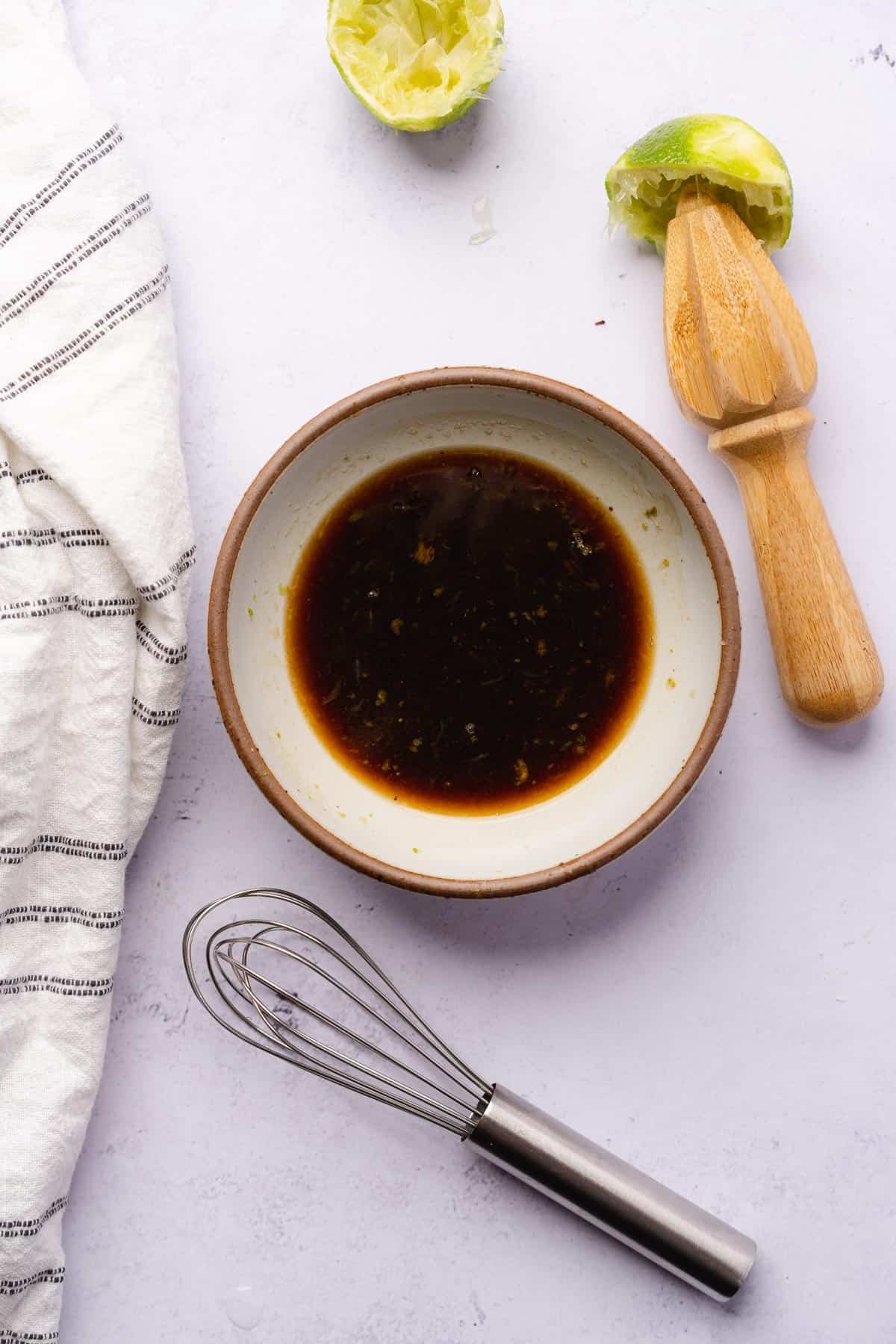 Add a layer of berries and cherries to a large serving platter to serve as the base of the salad.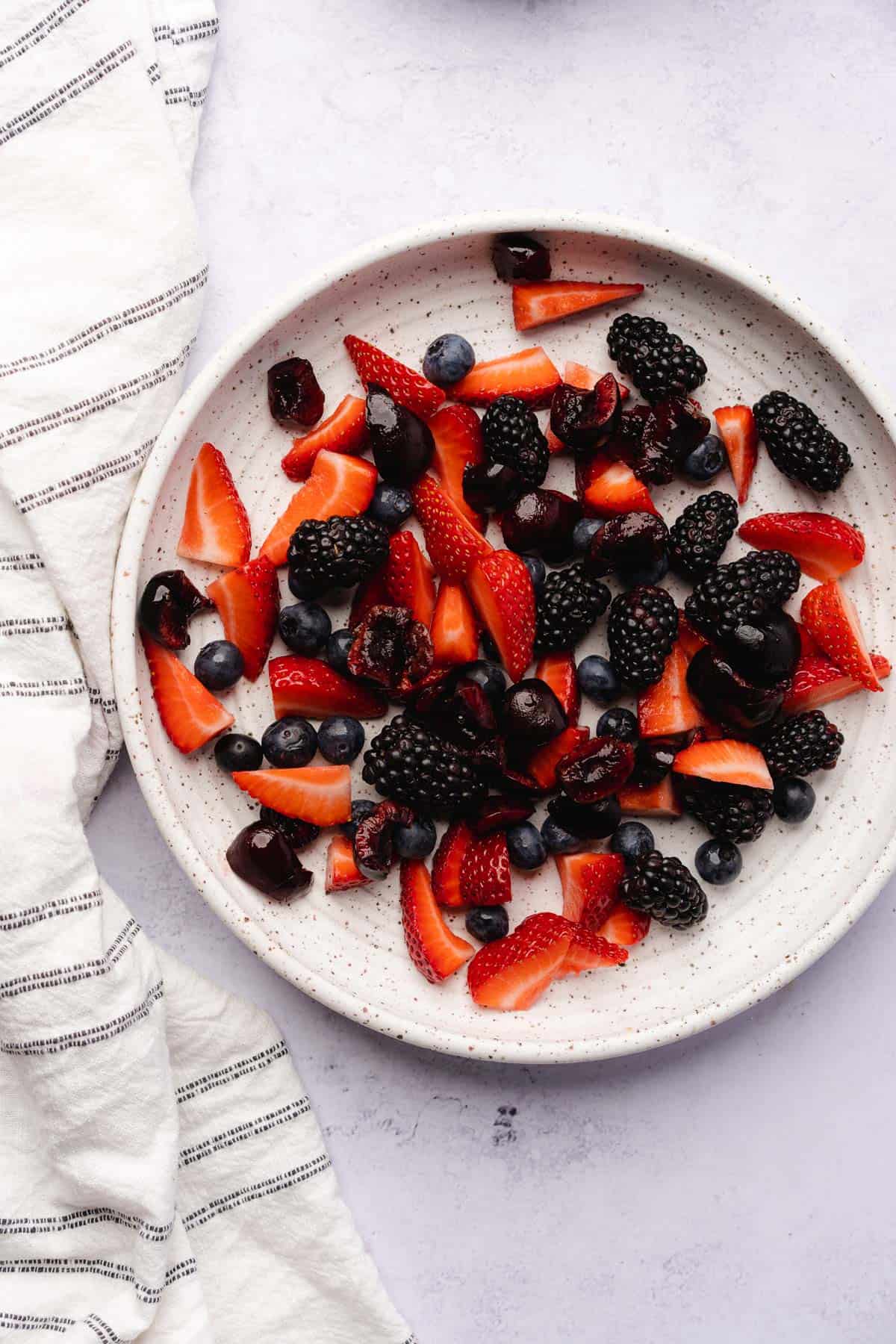 Layer on some of the peaches and kiwi, then drizzle with some of the dressing.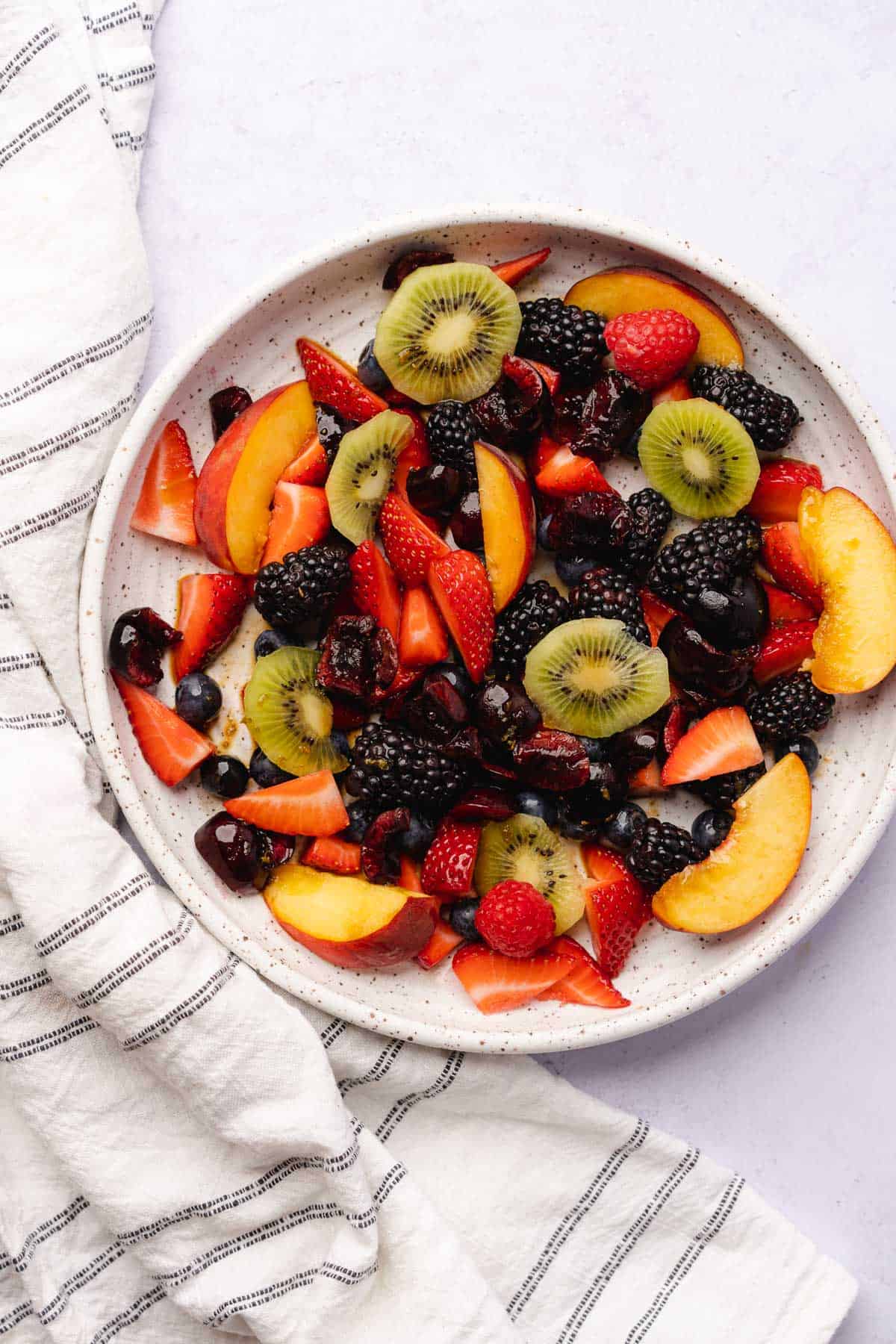 Sprinkle on the fresh herbs.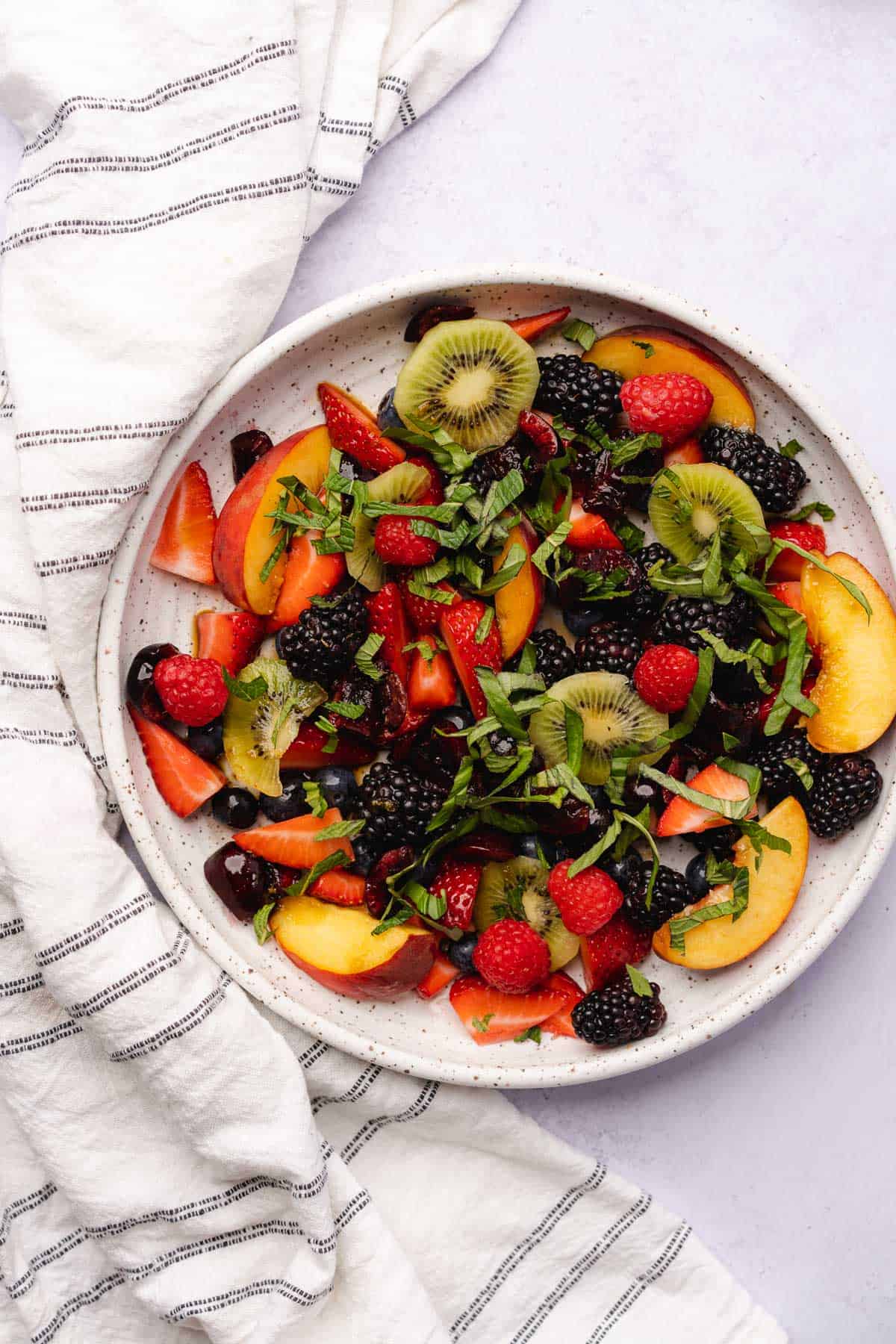 Continue layering with the fresh fruit, herbs and dressing to make sure everything is well incorporated, then dig in!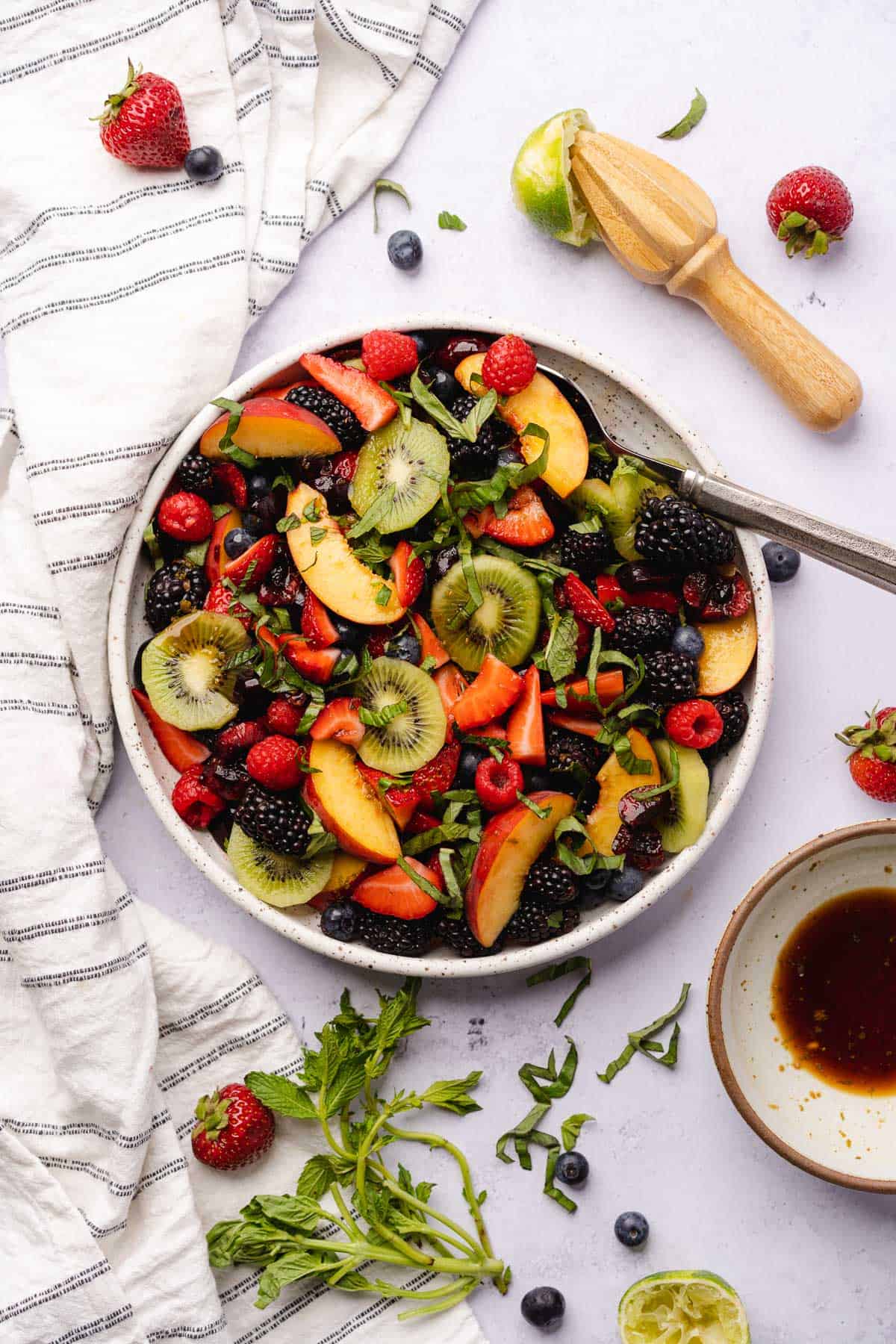 Enjoy plain, or serve with a side of low carb whipped cream or ice cream as a dessert! Enjoy!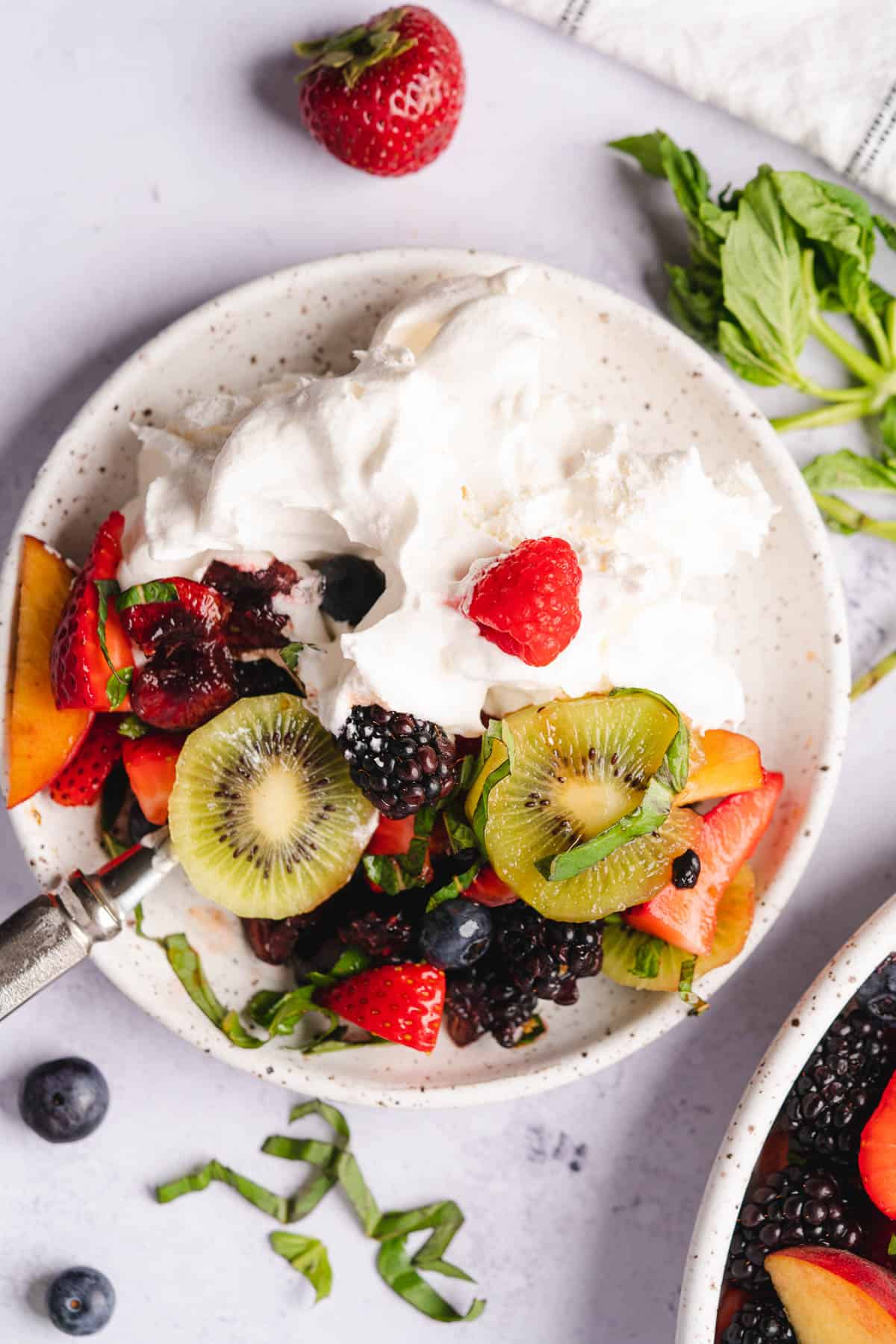 Carb and Sugar Counts For the Salad Ingredients:
Like we mentioned before, feel free to mix and match your favorite fruits to make this fruit salad fit perfectly into your low carb diet. Below are the sugar and carb counts of the low carb fruits we used to make this salad.
The nutrition sources are provided by the USDA and are per 100 grams of each fruit.
Raspberries - 12g total carbs, 7g fiber and 4.4g of sugar. 5g net carbs
Blackberries - 10g total carbs, 5g fiber and 4.5g of sugar. 5g net carbs
Strawberries - 8g total carbs, 2g fiber and 4.9g of sugar. 6g net carbs
Peaches - 10.1g total carbs, 1.5g fiber and 8g sugar. 8.6g net carbs
Cherries - 12g total carbs, 1.6g fiber and 8g sugar. 10.4g net carbs
Blueberries - 14g total carbs, 2.4g fiber and 10g of sugar. 11.6g net carbs
Kiwi - 15g total carbs, 3g fiber and 9g sugar. 12g net carbs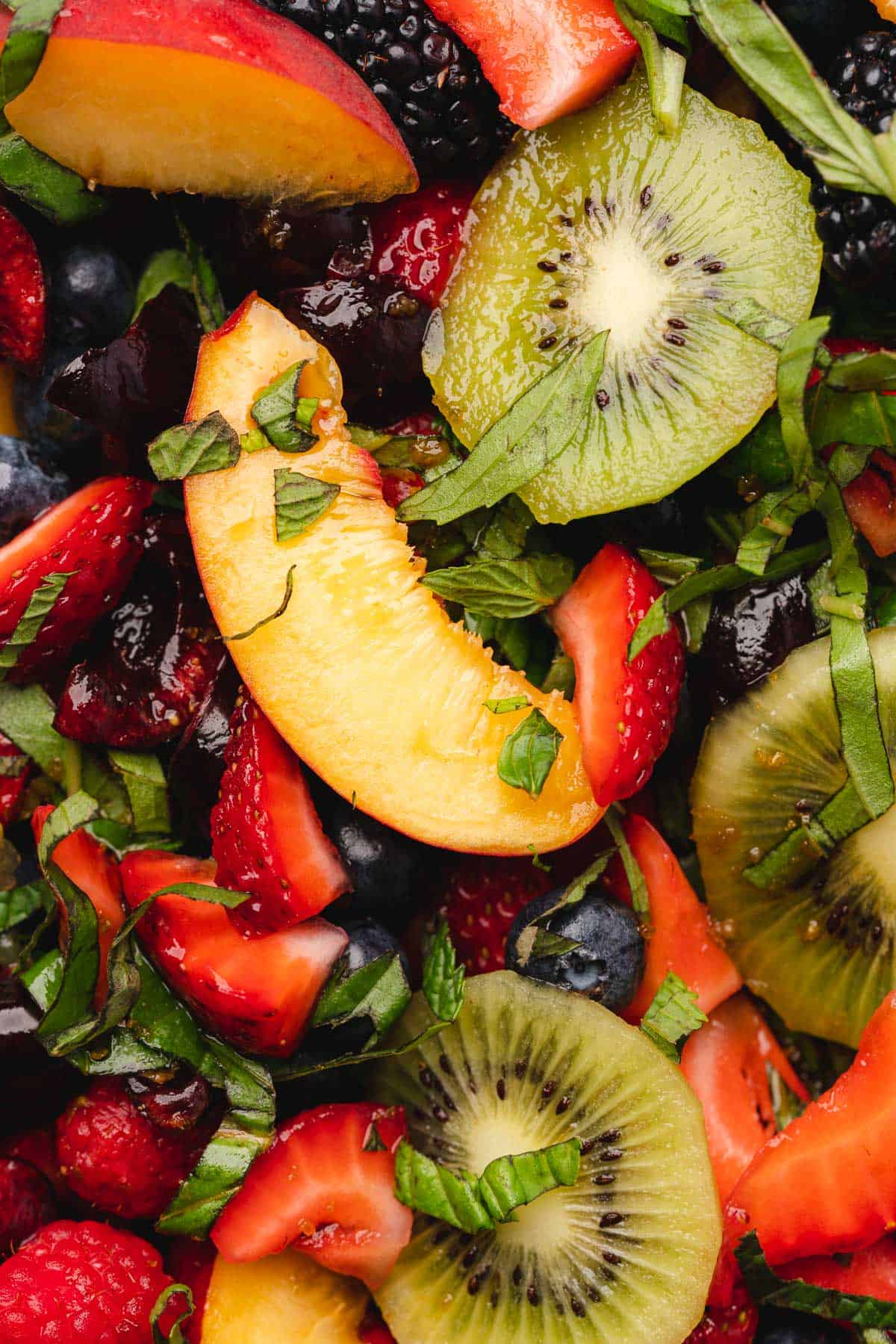 More Low Carb Fruits:
If you don't have all the fruits listed, here are some more low carb fruits or additions you might want to add!
Avocado - Yes, avocado is technically a fruit! Add a bit to this salad for a super creamy and slightly savory bite! It's also a great source of fiber and low in net carbs, since it has 8.6g of total carbs and 6.8g fiber per 100 grams, making only 1.8g net carbs.
Starfruit/Carambola - This fun shaped (and tasting!) fruit is super keto friendly. It's sweet and a little tangy, and kind of reminds us of the texture of grapes. It's 6.7g total carbs, 2.8g fiber and just under 4g sugar and only 3.9g net carbs per 100 grams of the fruit!
Gooseberries - 10.2g total carbs, 4.3g fiber make these tart berries 5.9g net carbs per 100 grams.
Watermelon - One of our favorite summer fruits! It's surprisingly low carb at only 7.5g total carbs, 0.4g fiber and 6.2g of sugar per 100 grams. In other words, only 7.1g net carbs for 100 grams of watermelon.
Cantaloupe - If you like melon, cantaloupe is similar to watermelon at 8g total carbs, 0.9g fiber and 8g sugar per 100 grams, making it 7.1g net carbs.
Honeydew - Slightly higher in carbs in sugar than its other melon relatives, honeydew has 9g total carbs, 0.8g fiber and 8g sugar per 100 grams, making 8.1g net carbs.
Nectarine - 11.1g total carbs, 1.7g fiber and 8g sugar per 100 grams of nectarine, making it slightly higher in carbs and sugar than it's relative, peaches, but still only 9.4g net carbs.
Clementine - 12g total carbs, 1.7g fiber and 9 grams of sugar make up these tasty little citrus fruits. This brings them in to about 10.4g net carbs per 100 grams.
More Keto Salad Recipes To Try:
Need more ideas? Be sure to check out this massive list of over 85+ low carb and keto friendly recipes on our site!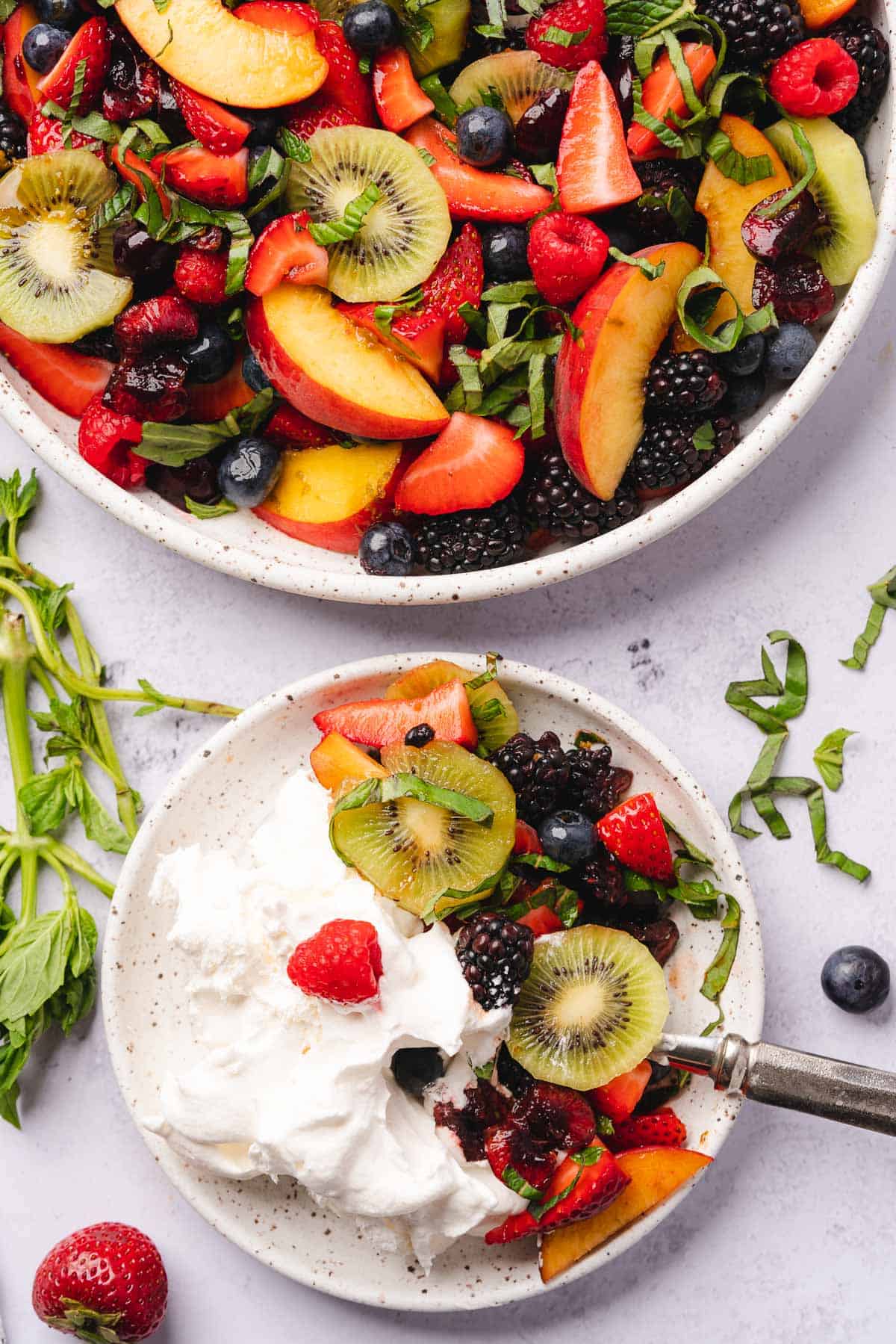 Shop This Recipe:
Want to get supplies for this recipe or shop our keto kitchen or pantry? We've linked our favorites above and right here in our Amazon Store!
A Full Living is a participant in the Amazon Services LLC Associate program, an affiliate advertising program designed to promote a means for sites to earn advertising fees by linking products to amazon.com. We only share products we use and love. It doesn't cost you anything extra to shop using our links, but we earn a small commission that helps us keep this site going!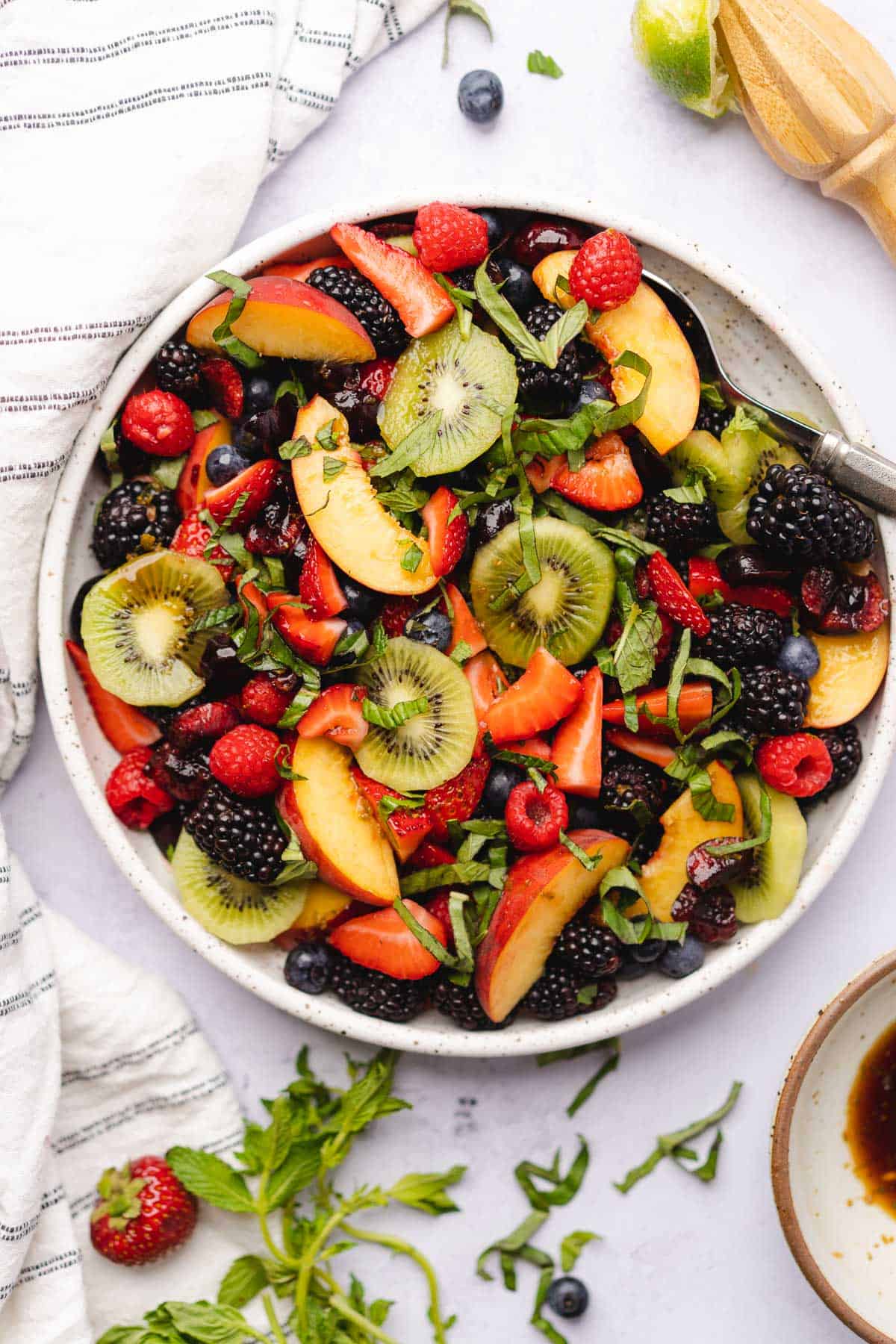 If you get a chance to try this recipe, let us know what you think, would ya?! Leave us a comment, or catch up with us on Facebook or Instagram, or pin to your favorite Pinterest board for later. We love sharing your versions of our creations over on Instagram @afullliving!
If you could please leave a comment and/or a rating if you loved this recipe, we would be forever grateful! (Ratings helps users find our recipes, since users say that they like them!)
Thanks for stopping by! Be sure to subscribe to our email newsletter so you're the first to know about new recipes we post on our blog.
Until Next Time,
Briana & Chamere
📖 Recipe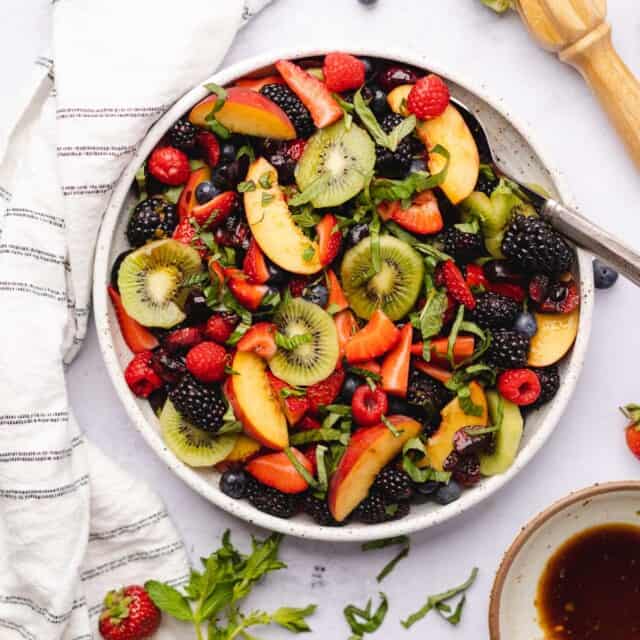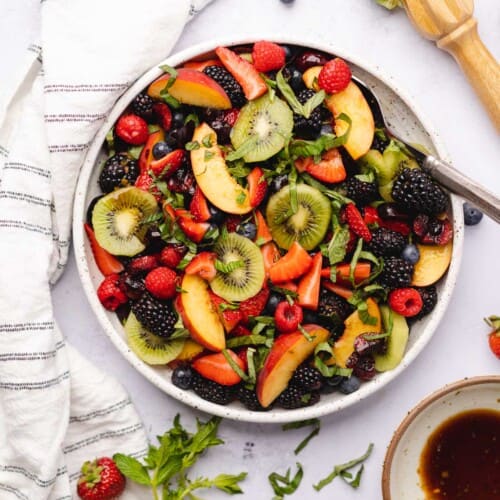 Keto Fruit Salad
Enjoy the best fruits of the summer with this colorful keto friendly fruit salad recipe! This bright, colorful and sugar free salad is dressed with a delicious balsamic and lime dressing, and garnished with fresh herbs.
Ingredients
8

ounces

strawberries, quartered

6

ounces

blackberries

6

ounces

raspberries

4

ounces

cherries, de-pitted and cut into pieces

3

ounces

blueberries

2

whole

kiwis, cut into bite sized pieces

1

medium

peach, cut into thin strips

1

ounce

lime juice

(juice of 1 lime)

2

tablespoons

basil

2

tablespoons

mint

2

tablespoons

balsamic vinegar

1

teaspoon

lime zest
Instructions
In a bowl, start by combining balsamic vinegar with lime juice and zest. Whisk to combine, then set aside.

Layer on fruit and herbs then garnish with herbs, then drizzle with dressing. Serve right away, or with yogurt, whipped cream or ice cream.

This dish is best enjoyed fresh, but can be enjoyed up to 2 days after preparing if kept in the fridge in an airtight container.
Notes
Use any low carb fruits you prefer for this salad. You can use any amount of each fruit you prefer to lower the carbs. Here's some other ideas for more low carb fruits: watermelon, cantaloupe, honeydew, starfruit, clementine, nectarine, gooseberries or even avocado for a savory bite. 
Balsamic vinegar does have some naturally occurring sugar in it, but it does vary from brand to brand. Check the nutrition facts to find the lowest version you can find. 
Feel free to add sweetener to the balsamic vinegar mixture to suit your preferences. You could also sprinkle the fruit with your favorite sugar free sweetener. 
Lime juice and zest could be substituted for lemon juice and zest.
Herbs are optional, but very delicious. 
Nutrition
Calories:
46
kcal
Carbohydrates:
11
g
Protein:
1
g
Fat:
1
g
Saturated Fat:
1
g
Polyunsaturated Fat:
1
g
Monounsaturated Fat:
1
g
Sodium:
2
mg
Potassium:
163
mg
Fiber:
3
g
Sugar:
7
g
Vitamin A:
171
IU
Vitamin C:
25
mg
Calcium:
20
mg
Iron:
1
mg