For a delicious and healthy dinner for the whole family, try this Easy Keto Greek Salad with Ground Lamb! Lemony herb flavored ground lamb - ready in minutes makes a craveworthy dinner. A simple and nutritious salad that you will actually want to eat with homemade tzatziki, feta, plenty of fresh herbs and vegetables.
---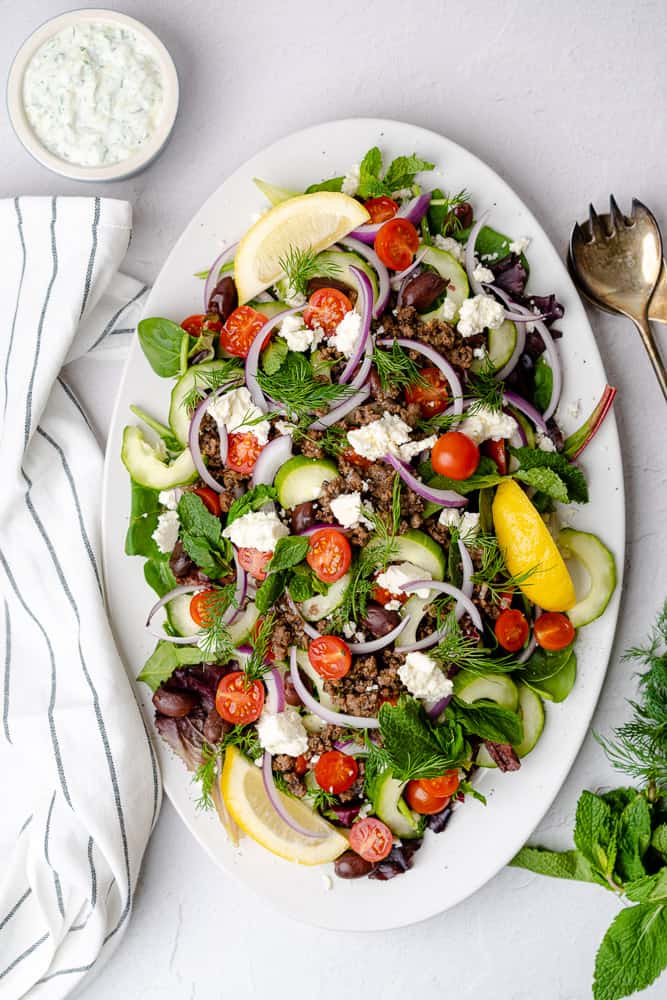 For a truly tasty dinner that quick and easy, you will want to eat the rainbow with this vibrant Greek-inspired salad. Ground lamb cooked with lemon, herbs, onion and garlic, fresh cucumbers, onions, olives and fresh herbs make each bite truly enticing. For a quick and easy dinner, make this fresh and colorful keto Greek salad with ground lamb in no time! Don't forget plenty of feta cheese and some homemade tzatziki yogurt to serve. This flavorful salad is as tasty as it is pretty to look at, and makes a great dinner or lunch for busy days. These simple ingredients layered together create a super flavorful bite. Fresh, acidic, rich, tangy and salty all at once. So satisfying!

Now if you know anything about the type of recipes we put out, you know we are big into indulgent comfort food for all occasions. To be quite honest, salad is one of the things we honestly eat the least of for dinner, but luckily salads like that sort of fix all that! We're officially a salad for dinner household, at least once a week thanks to this delicious salad. This salad is great year round, whether it's warm and summer time , or winter and you're dreaming of warmer days. Now we also love simple and straightforward, and often have ground lamb in our fridge or freezer. So if you're looking for things to make, definitely consider this hearty and simple keto Greek style lamb salad!
Ingredients:​
Ground lamb - You could use any cut of lamb that you prefer, but we love having ground lamb around in our fridge and freezer. It's an affordable way to enjoy lamb, and it's incredibly delicious. We sauté it with olive oil, onions, garlic, dried oregano, dill and lemon juice, so it's full of flavor!
Yellow onion - For cooking with the ground lamb. You could substitute for onion powder if you prefer!
Garlic - We will use garlic in the homemade tzatziki sauce, as well as when we sauté the lamb. Fresh is really best here, at least for the tzatziki sauce. Garlic powder would work totally fine when cooking the lamb if you'd like.
Olive oil - The key cooking oil for all Mediterranean cuisine. Flavorful and nutrient dense, plus it's just the flavor profile you're going for with this recipe. High quality extra virgin olive oil is going to be the best for this. We use it to cook the lamb, as well as in the Tzatziki sauce.
Fresh dill- Another key flavor component. We add a bit of fresh dill when browning the lamb, but also to top the salad, and in our tzaztiki sauce. You could use some dried dill, but fresh is best for this recipe, especially for the tzaztiki sauce.
Kosher salt - Diamond Kosher Salt is our new favorite salt source. It's much easier to control (in terms of saltiness) when it comes to various types of salt, compared to different types of salt! Not all salts are created equal, and different types of salt are waaaay saltier than others. We love the diamond crystal shape. The texture is amazing it dissolves really well, and it's perfect for seasoning food gradually.
Black pepper- Not much to say about this but fresh cracked black pepper just makes everything more delicious, doesn't it? Add to taste!
Oregano- We use dried oregano to season our lamb, but of course you could use fresh.
Lemons - We incorporate fresh lemon juice when cooking the lamb, as well as in the tzatziki sauce, and as wedges on the side of the salad when serving. Can't beat fresh lemon juice for this.
Greek yogurt - Full fat Greek yogurt is the base of our cool and creamy tzatziki sauce.
Mint - For garnish and also to mince up for the tzatziki sauce.
Spring mix- The base for our salad. Not a traditional ingredient, but definitely adds bulk and nutrients. You could substitute with whatever you prefer, maybe iceberg or romaine lettuce.
Red onion- Cut into thin strips to top the salad.
Tomatoes- Look for the juiciest, ripe tomatoes you can find. We used cherry tomatoes!
Cucumber- For making the tzatziki sauce, as well as sliced on top of the salad. Grated cucumber goes into the tzatziki sauce, then chunks of cucumber on top of the salad. We used English cucumber, so we didn't need to peel the skin since it's not bitter and not too thick.
Feta cheese- Feta in brine is best if you can find it, but this is an essential component of the salad.
Pitted Kalamata olives - Quality kalamata olives are preferred for this keto Greek salad, but black olives could in pinch.
How to Make This Easy Keto Greek Style Salad with Ground Lamb:
Start by cooking your ground lamb with olive oil, onions, garlic, lemon juice, and seasonings in a cast iron skillet. Once browned, set aside.

Make your tzatziki sauce by combining Greek yogurt, grated cucumber, dill, mint, lemon juice, salt, pepper and olive oil. Set aside.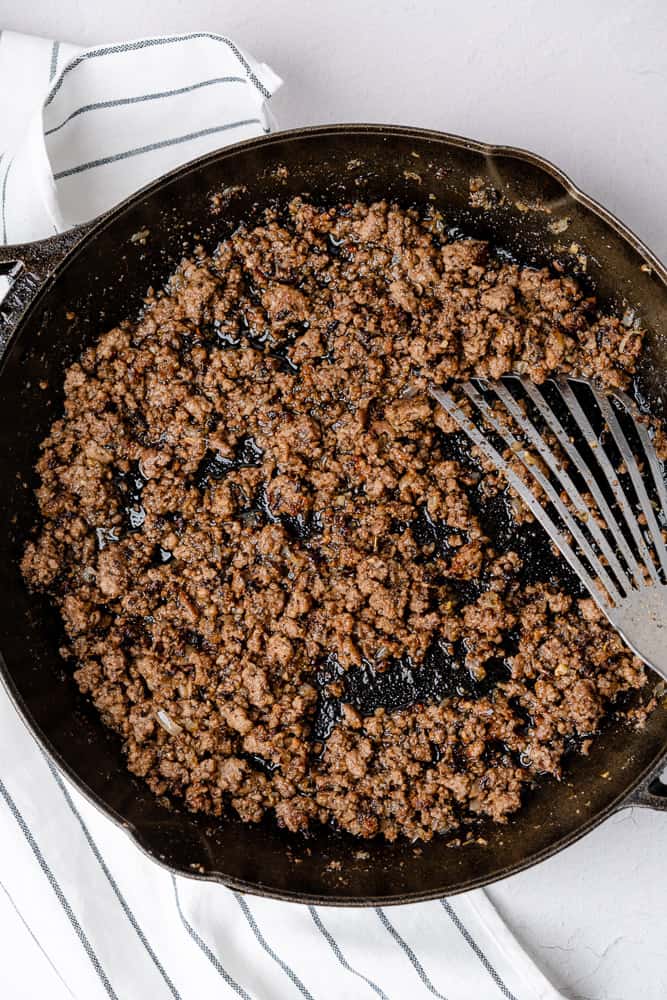 Layer your spring mix with tomato wedges (or cherry tomatoes), red onion, cucumbers, blocks feta, herbs and the ground lamb meat. Drizzle with a little bit of olive oil, a squeeze of lemon, and crack on some black pepper and salt. Serve this Keto Greek Salad with homemade tzaztiki sauce.
What Is Tzatziki Sauce?
Tzatziki sauce is a traditional dip or sauce found many cuisines of Southeast Europe and the Middle East. It is originally a Greek recipe, and it's made with Greek yogurt, cucumbers, garlic, salt, olive oil, vinegar or lemon juice, and herbs like dill, mint, parsley and thyme. Our quick version uses dill and mint. It's cooling, super flavorful and filling since it's made with yogurt!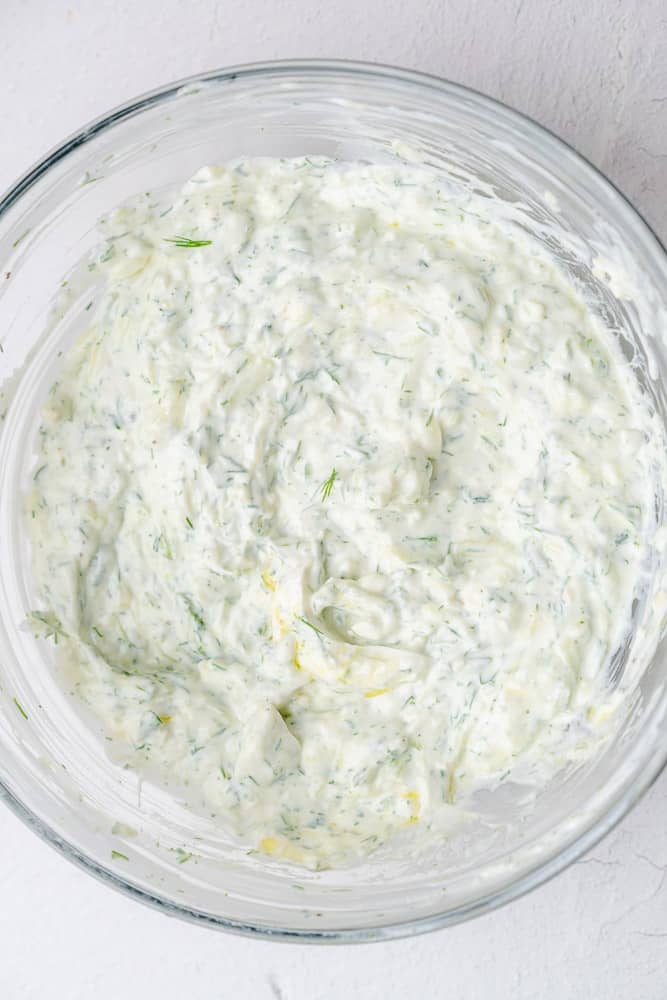 How To Make Tzatziki Sauce:
In a large bowl, combine your Greek yogurt with grated and peeled cucumber, minced garlic, salt, pepper, lemon juice, olive oil, minced dill and mint. Let it sit while you prepare the other ingredients. That's it! You can make this a day or so in advance if you like, but you should probably consume within 3 days of preparing. This will help the flavor develop even more if you make it ahead of time.
Do I Need To Use Fresh Herbs, Lemon and Aromatics?
You are going to want to use mostly fresh herbs and aromatics where you can, especially for the Tzatziki sauce. Honestly, fresh garlic, herbs and lemon juice are essential for the Tzatziki sauce! For cooking the lamb, you could use onion and garlic powder, and any dried herbs you want. For the sauce, we do recommend using fresh herbs especially.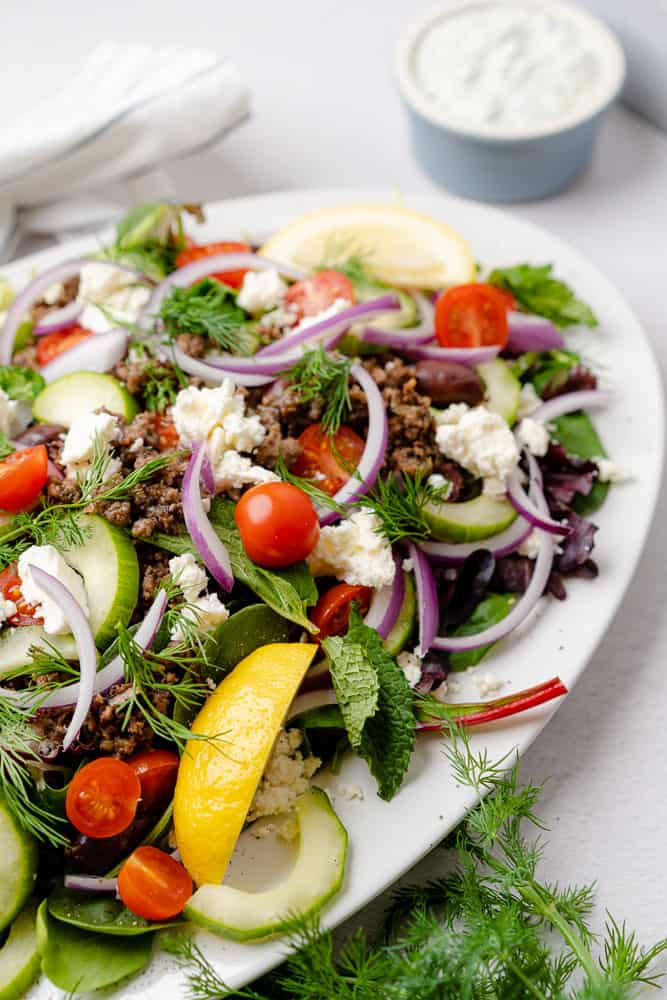 Will This Keto Greek Salad with Ground Lamb Save As Leftovers?
Truth be told, this is definitely gonna be the best on the day of. But if you want to save the leftovers, we'd recommend just not putting the Tzaztiki sauce on the salad. It would be best to store all of the components separately if you can, especially since the lamb is best served warm. You don't want anything to get soggy. Overall we think this dish is best served right away.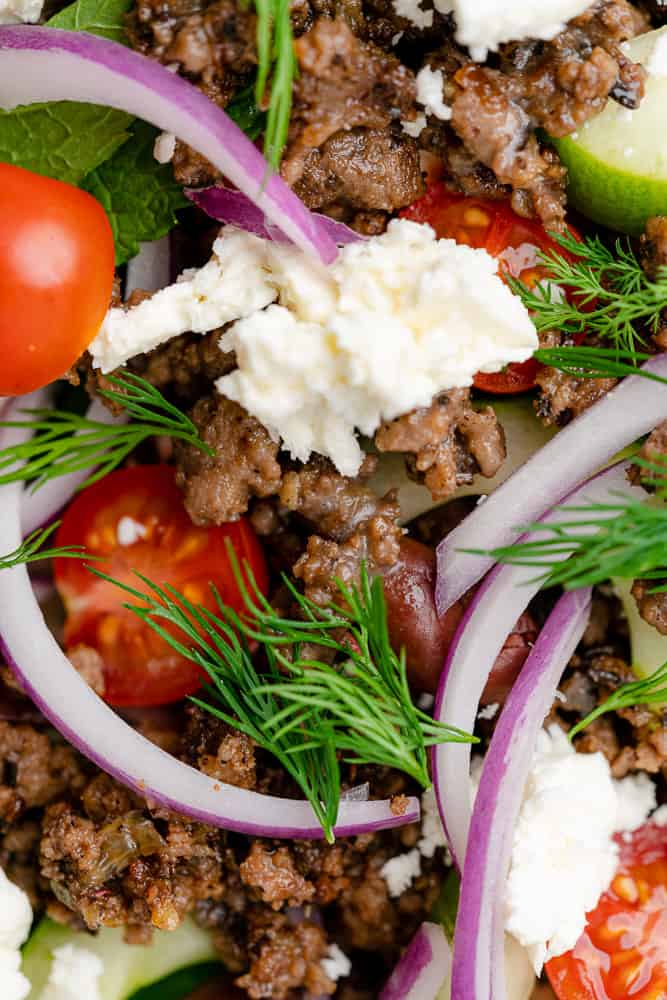 Why Is This Recipe Called "Greek Style"?
Let me start by saying that our recipe is not an authentic Greek recipe. I want to be clear on that! You can scour the internet and find authentic Greek food everywhere, but authentic this recipe is not. I wanted to make a spin on one of my favorite foods with what I had at home. I had some ground lamb in the fridge that needed to be used up, as well as some spring mix, so I used them! Spring mix and ground lamb are not authentic ingredients however. Whenever we make a recipe with what we have at home, it's not always super true to the traditional recipe. We hope this is a show of respect when enjoying cuisines that we didn't grow up eating.

Greek salads are one of the most popular Greek dishes both in and outside of Greece. Known as Horiatiki - a Greek Village salad, there's a pretty common set of ingredients. While the Greek salad varies from location to location around Greece, the common consensus is that the staple ingredients are: tomato, cucumber, olive oil, olives and feta. You may often find bell peppers in this salad as well. Traditionally the vegetables would be served in large chunks, and the salad would simply be dressed with olive oil and some vinegar. Here is a really great tutorial on how to make an authentic Greek salad!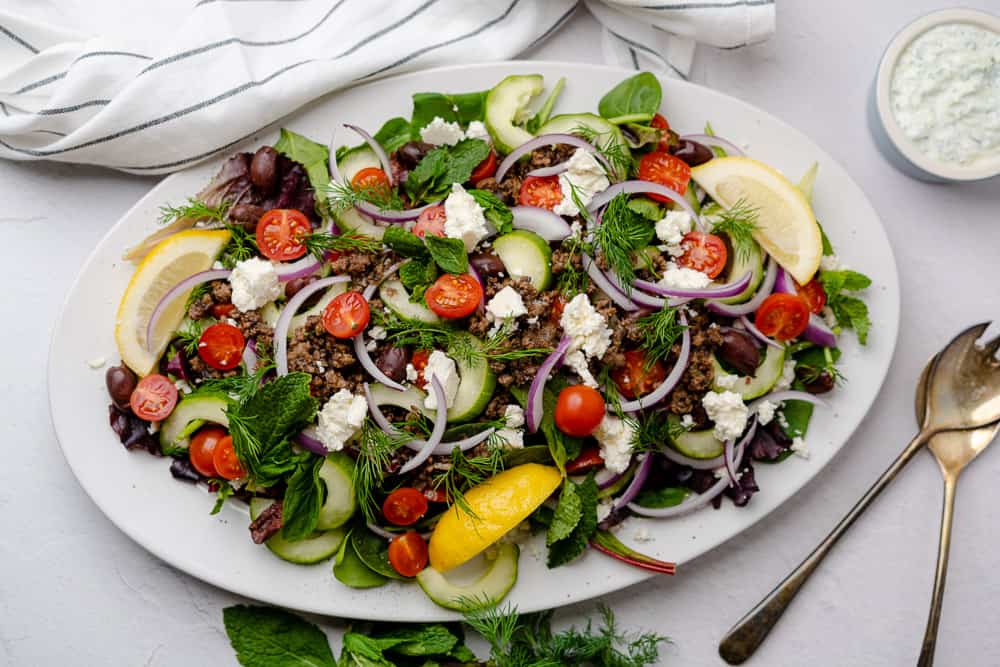 If You Love This Lamb Salad, Here's Some More Recipes You Will Love: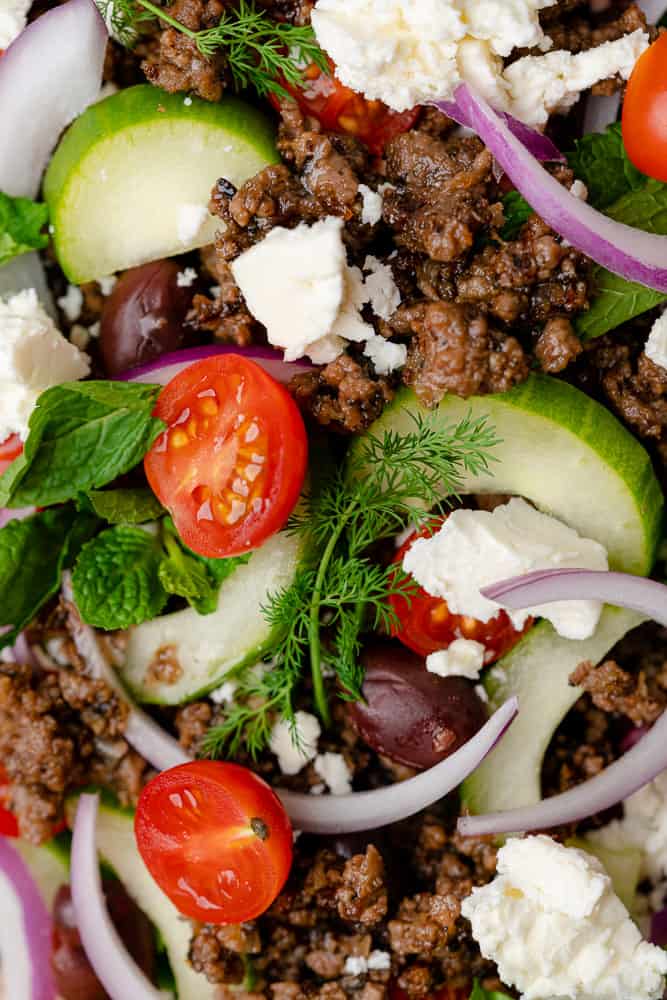 Shop This Recipe!
Want to get supplies for this keto Greek Salad recipe or shop our keto kitchen or pantry? We've linked our favorites above and right here in our Amazon Store! A Full Living is a participant in the Amazon Services LLC Associate program, an affiliate advertising program designed to promote a means for sites to earn advertising fees by linking products to amazon.com. We only share products we use and love. It doesn't cost you anything extra to shop using our links, but we earn a small commission that helps us keep this site going!
---
If you get a chance to try this keto Greek style Salad recipe, let us know what you think, would ya?! Leave us a comment, or catch up with us on Facebook or Instagram, or pin to your favorite Pinterest board for later. We love sharing your versions of our creations over on Instagram @afullliving!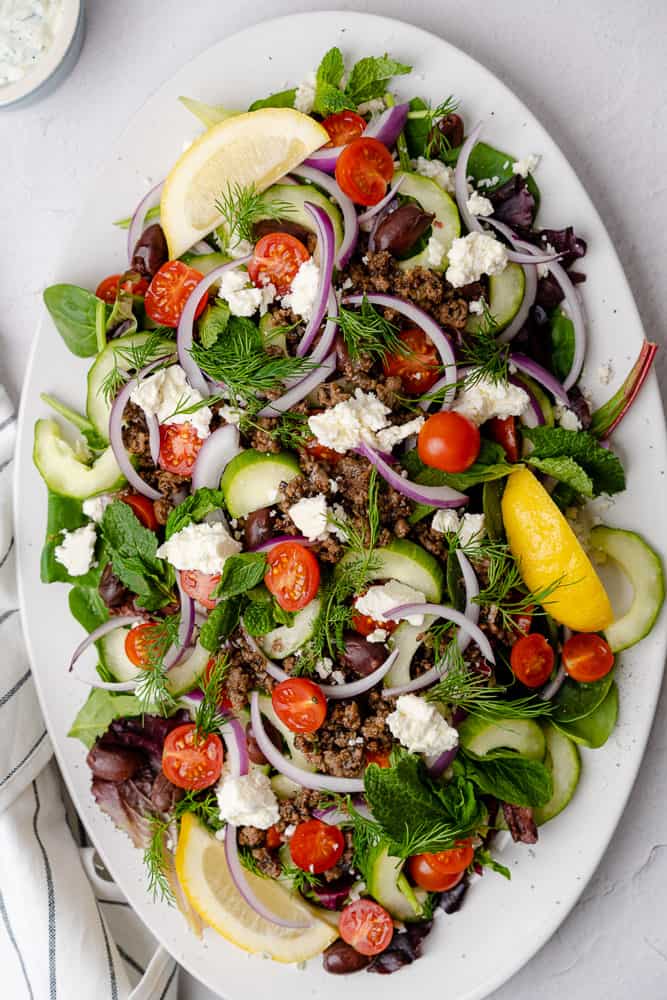 If you could please leave a comment and/or a rating if you loved this recipe, we would be forever grateful! (Ratings helps users find our recipes, since users say that they like them!)
Thanks for stopping by! Be sure to subscribe to our email newsletter so you're the first to know about new recipes we post on our blog.
Until Next Time,
Briana & Chamere
📖 Recipe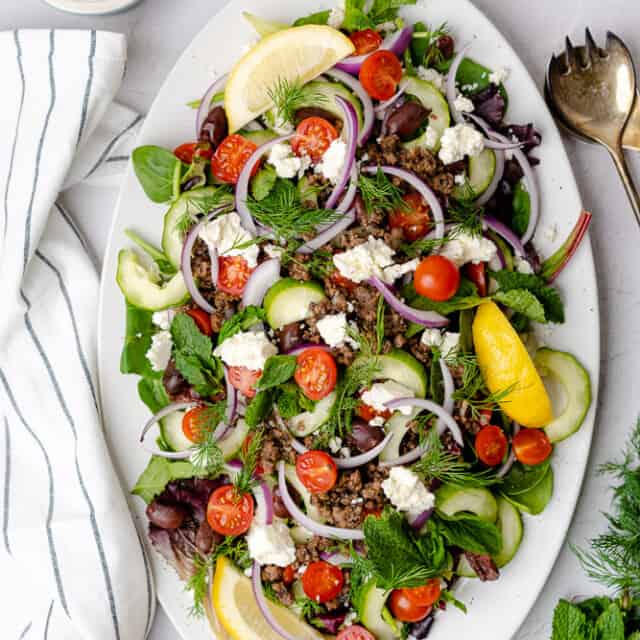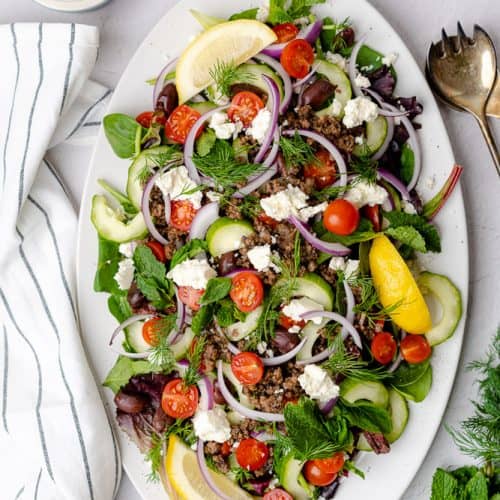 Easy Keto Greek Salad with Ground Lamb
For a delicious and healthy dinner for the whole family, try this Easy Keto Greek Salad with Ground Lamb! Lemony herb flavored ground lamb - ready in minutes makes a craveworthy dinner. A simple and nutritious salad that you will actually want to eat with homemade tzatziki, feta, plenty of fresh herbs and vegetables.
Ingredients
For the ground lamb mixture:
For the Tzatziki sauce:
1

cup

full fat plain Greek yogurt

1

cup

grated cucumber

(about half of 1 large English cucumber)

1

half

lemon, juiced

1

tablespoon

extra virgin olive oil

3

tablespoon

fresh dill, chopped

2

tablespoon

fresh mint, chopped
For the salad:
4

oz

spring mix

¼

whole

red onion, sliced thin

3

oz

tomatoes, cut into wedge or in half (if cherry tomatoes)

6

oz

feta cheese

½

whole

English cucumber, cored and cut in half moons

2

oz

kalamata olives

your cooked ground lamb

olive oil, a squeeze of lemon, some salt and pepper to top the salad

lemon wedges, fresh herbs and Tzatziki sauce to serve
Instructions
Warm your skillet over medium heat, then add in the olive oil, garlic, onion and ground lamb along with some oregano, dill, salt, pepper and lemon juice. Cook through, then set aside.

In a bowl, combine your yogurt, grated cucumber, dill, lemon juice, olive oil. salt and pepper to create your tzatziki sauce. Set aside until serving.

Layer ground lamb on a bed of spring mix with feta cheese, tomatoes, cucumbers, and red onion. Drizzle with a little olive oil, and fresh squeezed lemon juice. Add a little fresh cracked black pepper, some salt and oregano on top of the salad. Garnish with fresh herbs, lemon slices and serve with tzatziki sauce.
Notes
To save, store in the fridge separate from the tzatziki sauce to keep the salad from getting soggy. 
Nutrition
Calories:
595
kcal
Carbohydrates:
7
g
Protein:
33
g
Fat:
48
g
Saturated Fat:
21
g
Trans Fat:
1
g
Cholesterol:
137
mg
Sodium:
572
mg
Potassium:
549
mg
Fiber:
1
g
Sugar:
4
g
Vitamin A:
605
IU
Vitamin C:
9
mg
Calcium:
233
mg
Iron:
3
mg