---
We love a great cocktail, but hate all the added sugar that this is normally found in drinks like a rum runner! Fortunately, we found a way to enjoy this drink without all the added sugary liqueurs by preparing our own.
Yes, admittedly it will take a little extra time (but extremely little effort and ingredients!!) to prepare your own liqueurs at home, but they will keep in your pantry indefinitely, and you will be super happy to have them to mix up fun and festive drinks for the rest of the year.
This rum runner cocktail recipe is officially low carb, with only 11 net carbs and 9g of sugar per drink. Compare that to a regular rum runner cocktail that usually has about 37g of sugar and carbs per serving! YIKES! No thanks.
So go ahead, mix these up to enjoy those long summer nights, or in the middle of winter when you wish you were on a beach somewhere!
We include lots of process pictures in the body of the text, as well as ideas for substitutions and more. Feel free to skip to the recipe card if you'd like to get right into it. This recipe is also available as a Google Web Story here.
Ingredients:​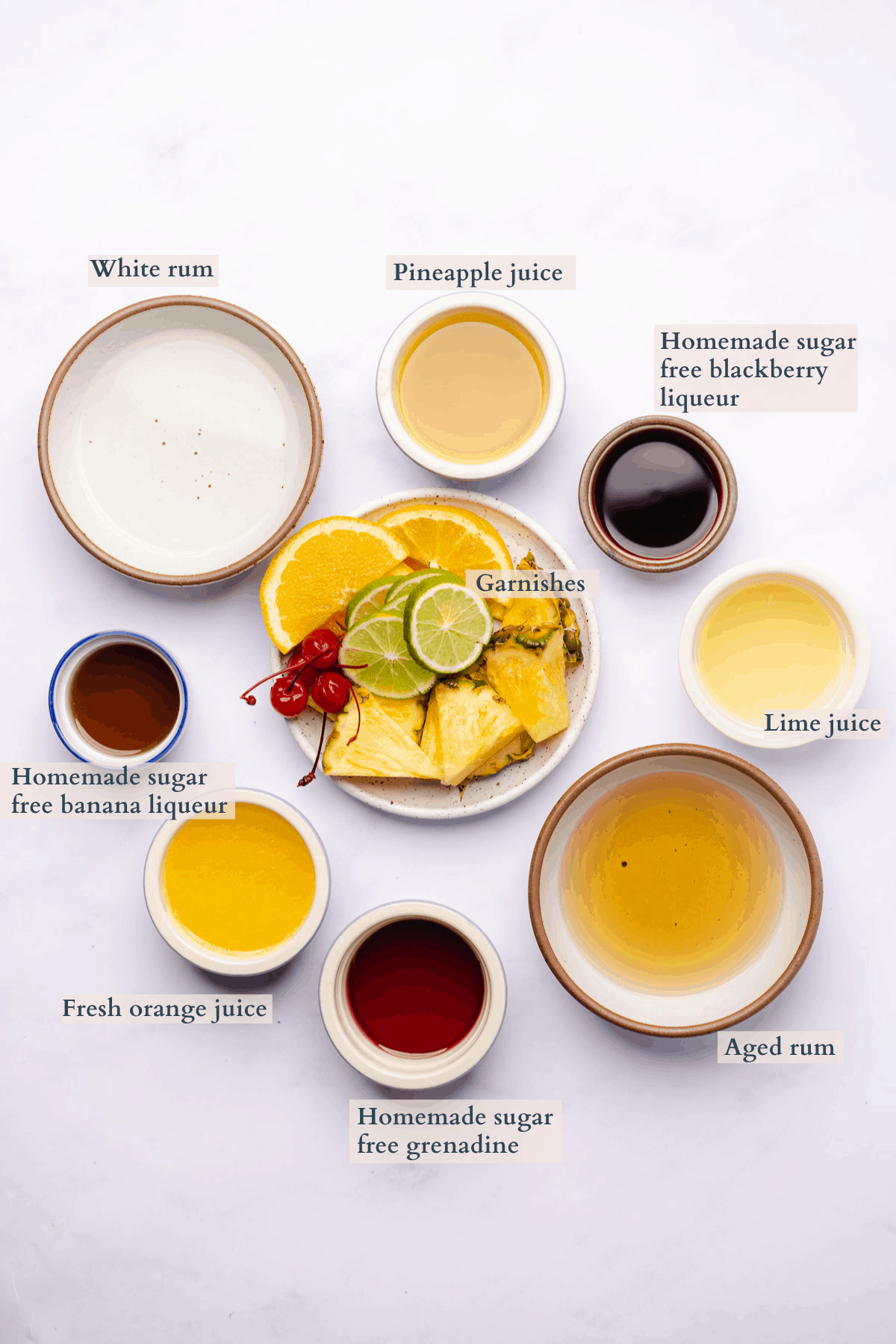 White & aged rum - We use a mix of rums. Just look out for added sugar in various brands!
Homemade blackberry liqueur - You will need to make this crème de mûre about 1 week in advance, but trust us, it's probably our favorite low carb liqueur in our low carb liquor cabinet, and it's so easy to make!
Banana liqueur - We make our own banana liqueur at home, so it's easy to swap out regular sugar for allulose! Check out this post for the full details on how easy it is to make at home. Again, you will need at least 3 days (preferably 7) to make this liqueur.
Sugar free grenadine - You can make this on the same day if you want, just make sure it cools down before adding it to the cocktail shaker. Find the recipe here.
Pineapple juice - Look for something with no added sugar.
Orange juice & lime juice - Freshly squeezed!
Garnish with - orange slices, lime slices, pineapple wedges, maraschino cherries
How to Make A Low Carb Rum Runner:
Before you get started, you will need a little to infuse your liquors to make liqueur. You will want about 1 week for the blackberry liqueur and banana liqueurs.
Grenadine can be made on the day of, but can also be made up to 10 days in advance.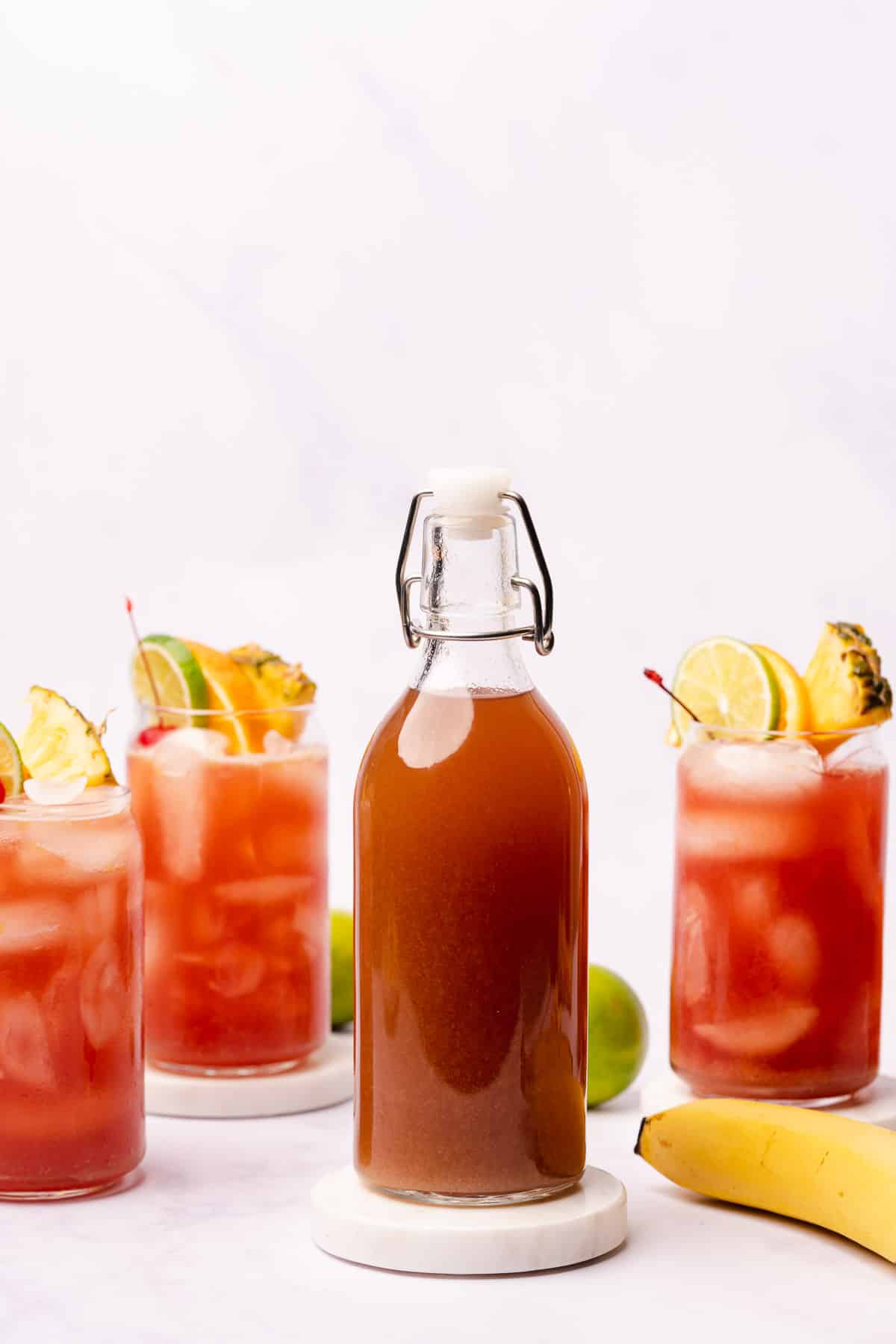 Now that your low carb bar is stocked, let's get started!
Add pineapple juice and banana liqueur to an ice filled cocktail shaker.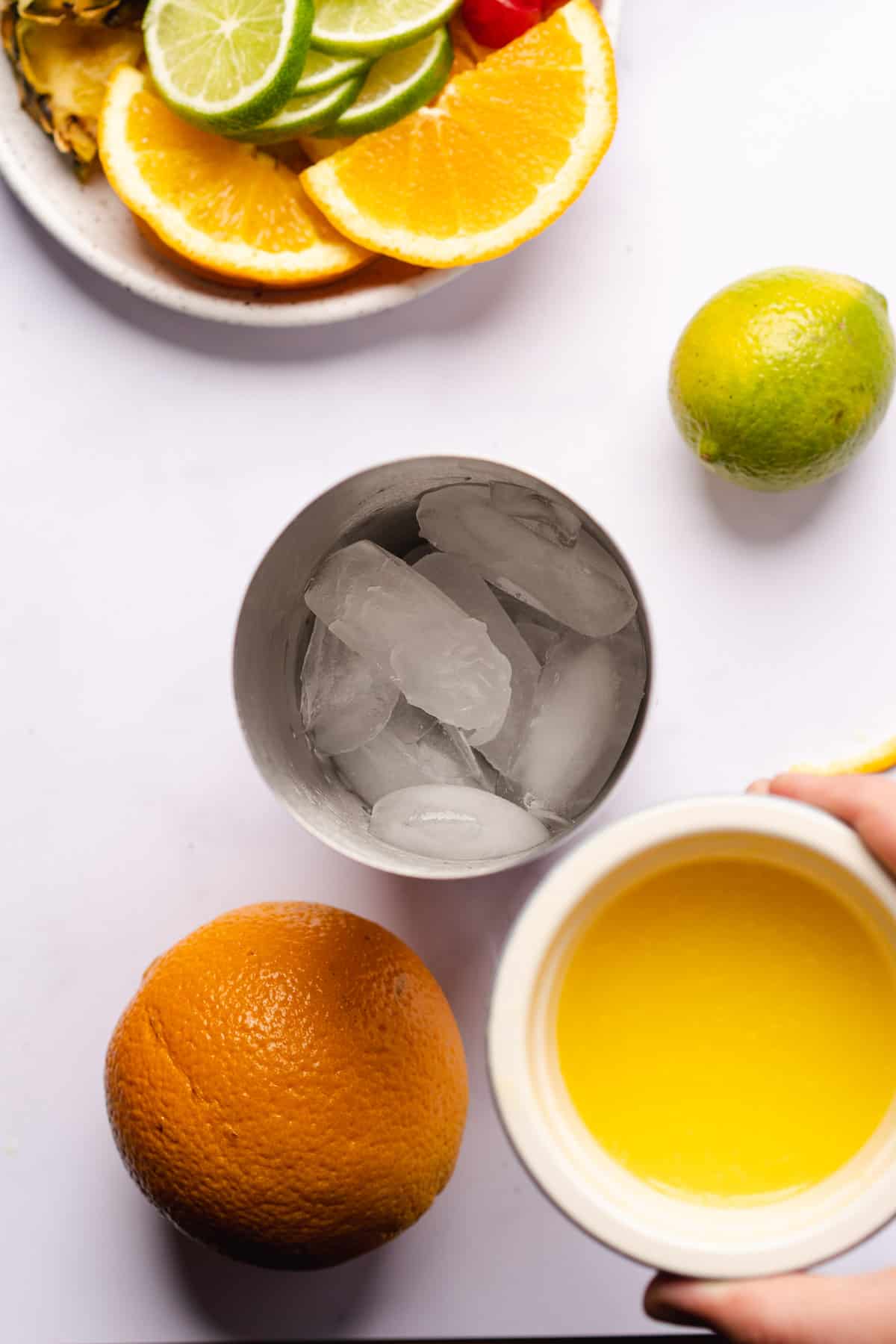 Add in dark rum and white rum to the cocktail shaker.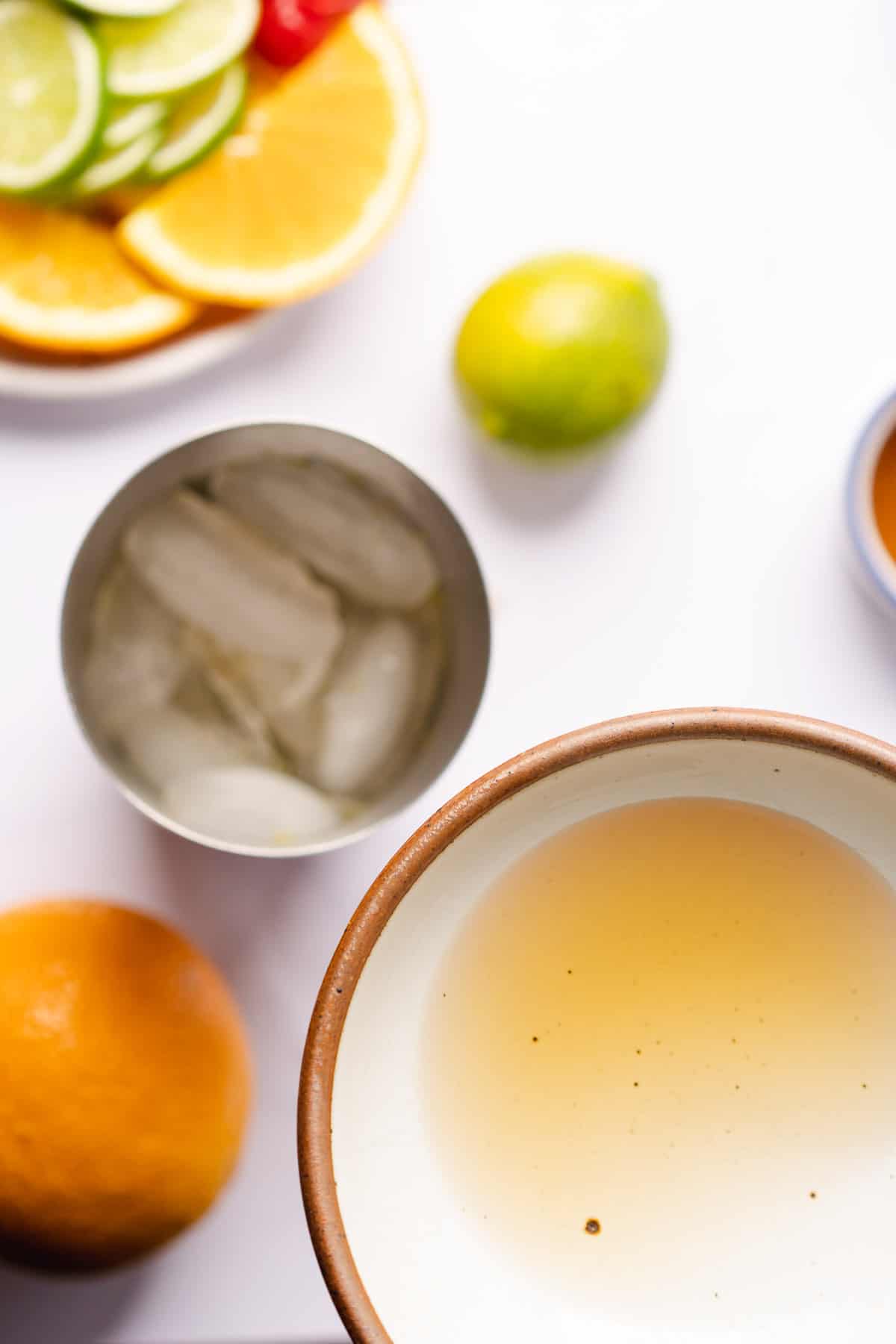 Pour in the fresh squeezed orange juice, followed by the grenadine and fresh lime juice.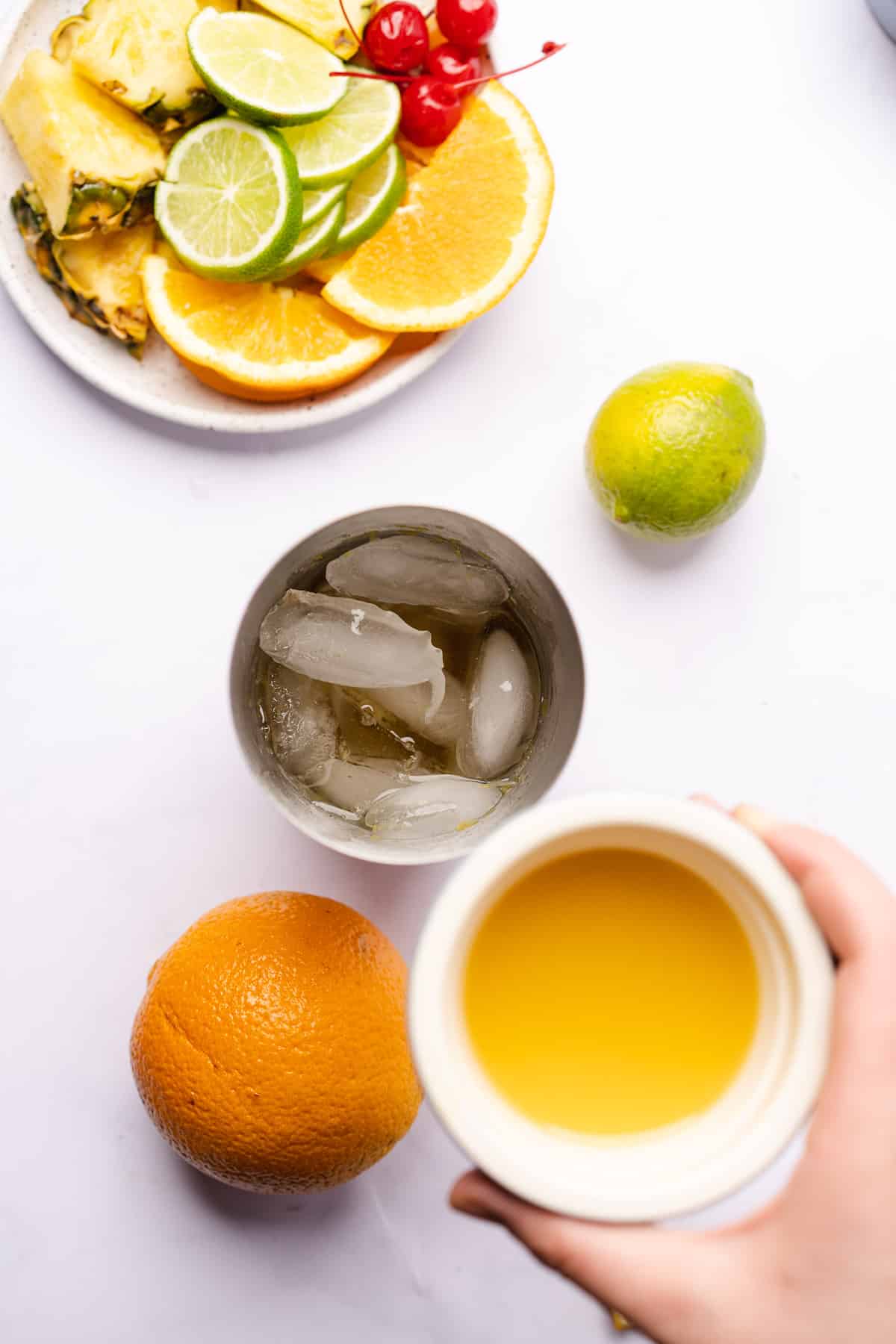 Lastly, pour in the blackberry liqueur, and shake up very well. Strain into an ice filled glass.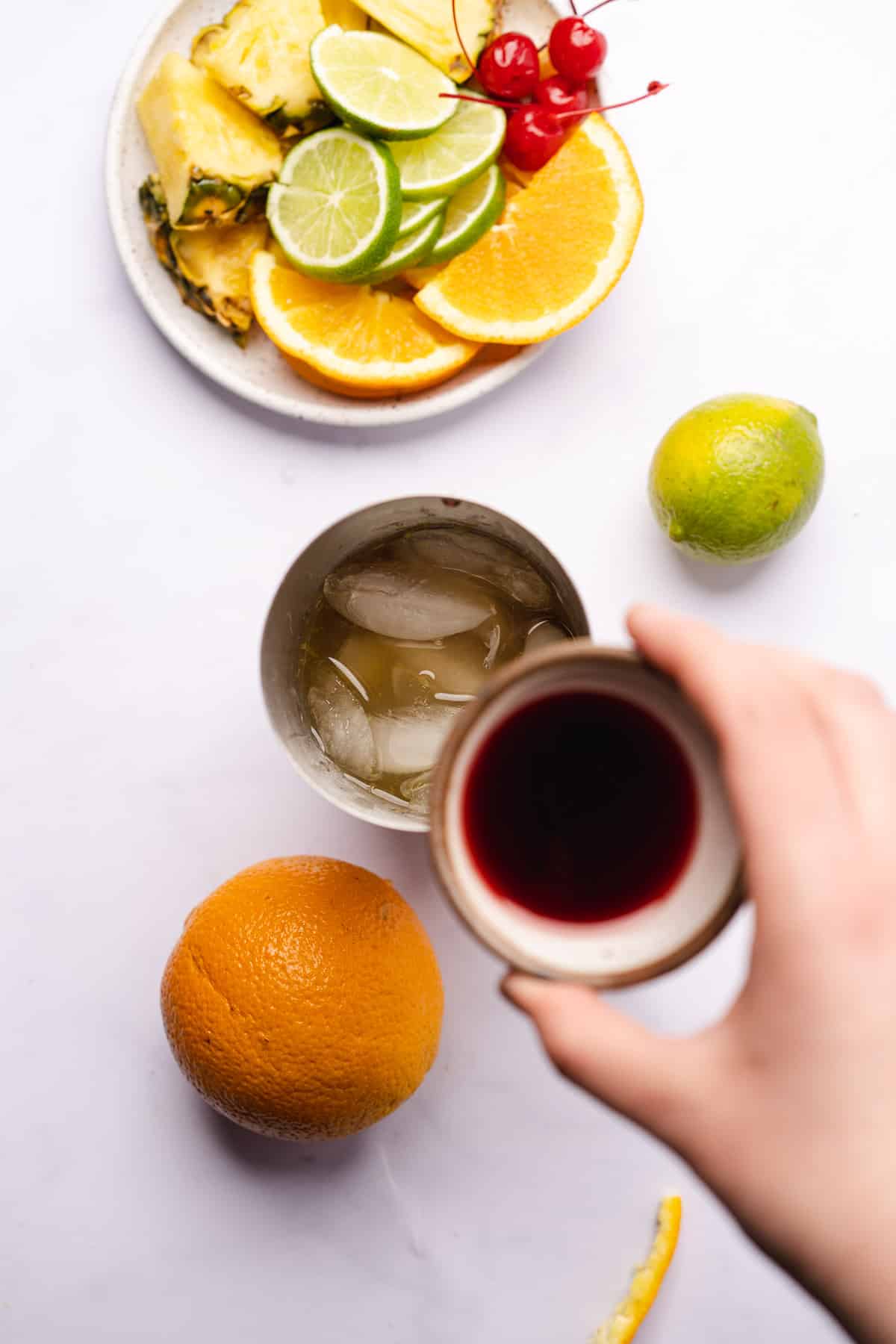 Tips For The Best Low Carb Cocktails:
Use the freshest pineapple juice you can find. Using fresh squeezed orange and lime juice will also taste the best. Just make sure to watch out for added sugar in anything store bought.
You can certainly use regular versions of the liqueurs and grenadine, but they will add a significant amount of sugar and carbs.
What Is In A Rum Runner?

The exact ingredients and amount of each ingredient in a rum runner cocktail will definitely depend on the recipe. You will find however that most version of the recipe include at least one type of rum, banana liqueur, and grenadine.

You will also often find lime juice, pineapple juice, blackberry liqueur, and fresh orange juice.
More Recipes To Try: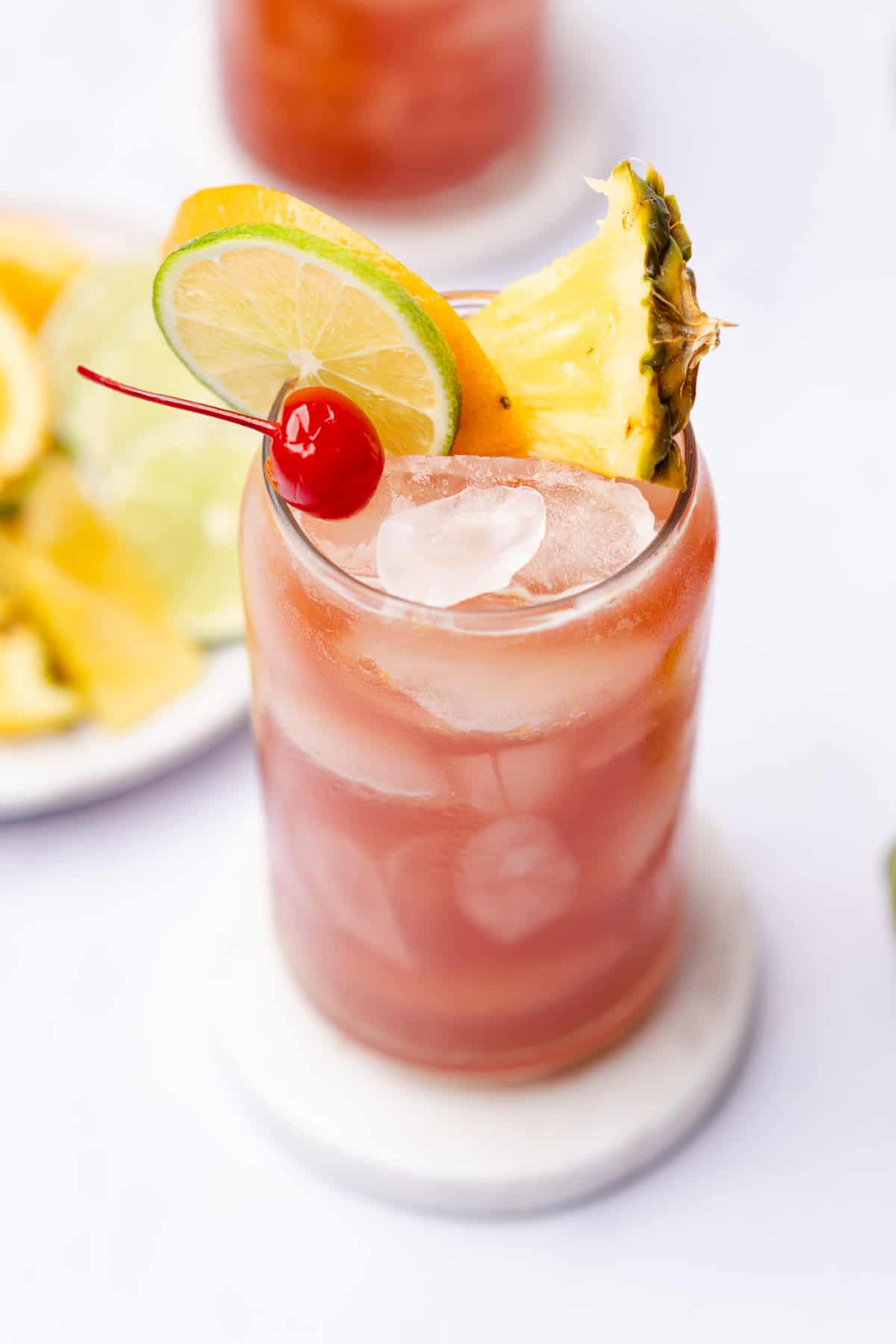 Shop This Recipe:
Want to get supplies for this recipe or shop our keto kitchen or pantry? We've linked our favorites above and right here in our Amazon Store!
A Full Living is a participant in the Amazon Services LLC Associate program, an affiliate advertising program designed to promote a means for sites to earn advertising fees by linking products to amazon.com. We only share products we use and love. It doesn't cost you anything extra to shop using our links, but we earn a small commission that helps us keep this site going!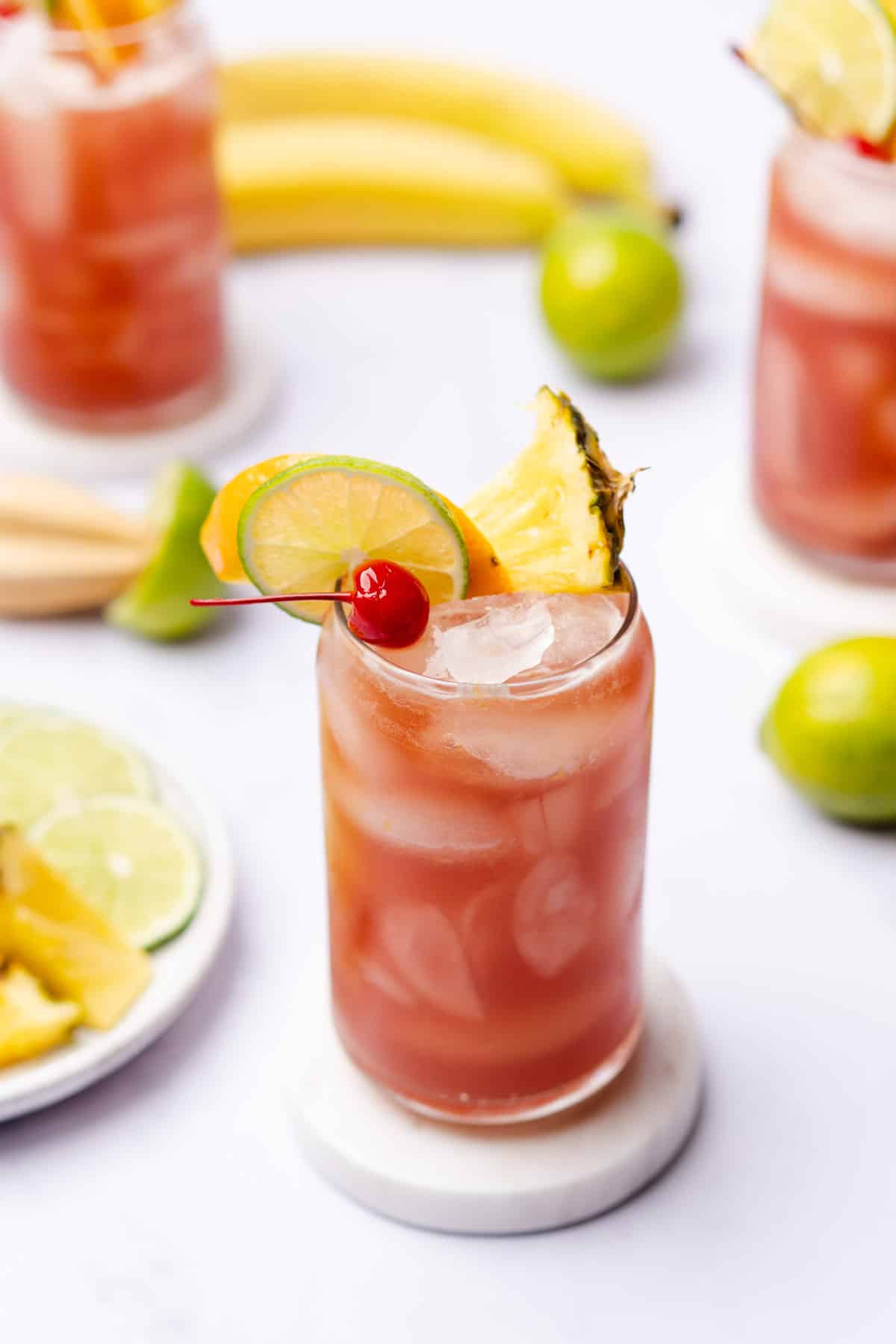 If you get a chance to try this recipe, let us know what you think, would ya?! Leave us a comment, or catch up with us on Facebook or Instagram, or pin to your favorite Pinterest board for later. We love sharing your versions of our creations over on Instagram @afullliving!
If you could please leave a comment and/or a rating if you loved this recipe, we would be forever grateful! (Ratings helps users find our recipes, since users say that they like them!)
Thanks for stopping by! Be sure to subscribe to our email newsletter so you're the first to know about new recipes we post on our blog.
Until Next Time,
Briana & Chamere
📖 Recipe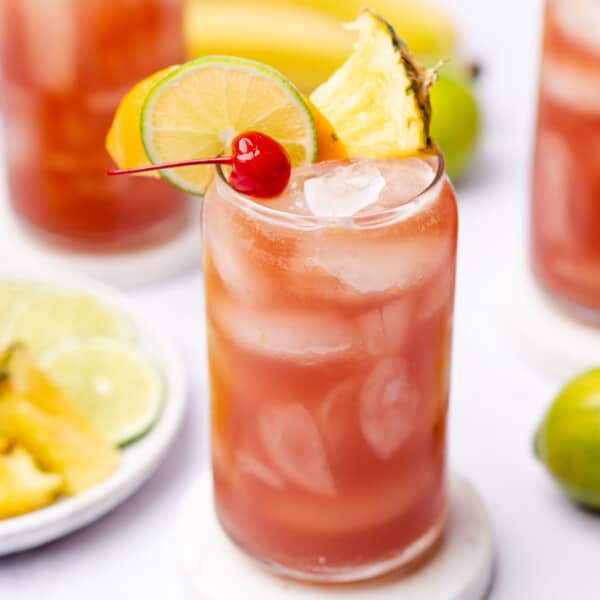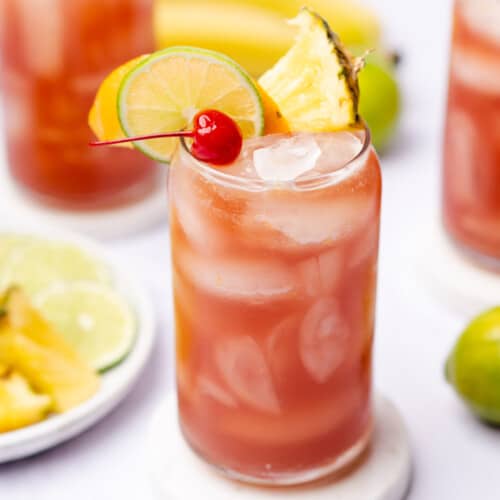 Rum Runners Cocktail Recipe (Low Carb)
These Rum Runners have about half the regular sugar than the traditional drink, since it's refined sugar free! A fun and fruity beverage.
Ingredients
2

ounces

fresh pineapple juice

2

ounces

fresh orange juice

2

ounces

white rum

2

ounces

aged rum

1

ounce

lime juice

1

ounce

homemade sugar free grenadine
Instructions
Add all ingredients to an ice filled cocktail shaker, shake really well for about 30 seconds, then strain into an ice filled glass.

Garnish with maraschino cherries, orange & lime slices, banana and a pineapple wedge. Enjoy right away!
Notes
This drink was carefully crafted with new sugar added versions of the liqueurs you see here, meaning we used our own recipes, and they will need to be made in advance. You will need to make the banana liqueur and the blackberry liqueur about 1 week in advance. Grenadine can be made the same day if you prefer. Feel free to use store bought versions, but know that it will greatly increase the carb and sugar count. 
Use no sugar added and freshly squeezed versions of the citrus and fruit juices.
Garnishes are not included in the nutrition facts. 
Nutrition
Calories:
219
kcal
Carbohydrates:
13
g
Protein:
2
g
Fat:
1
g
Saturated Fat:
1
g
Polyunsaturated Fat:
1
g
Monounsaturated Fat:
1
g
Sodium:
4
mg
Potassium:
186
mg
Fiber:
2
g
Sugar:
9
g
Vitamin A:
83
IU
Vitamin C:
23
mg
Calcium:
11
mg
Iron:
1
mg