This Easy 7 Layer Dip with Chorizo is the ultra satisfying appetizer you've been craving. Mouthwatering chorizo, seasoned sour cream, salsa, zesty guacamole, and a few vegetable toppings. Easy to make and enjoy, this twist on your classic 7 layer dip recipe will become an instant favorite.
---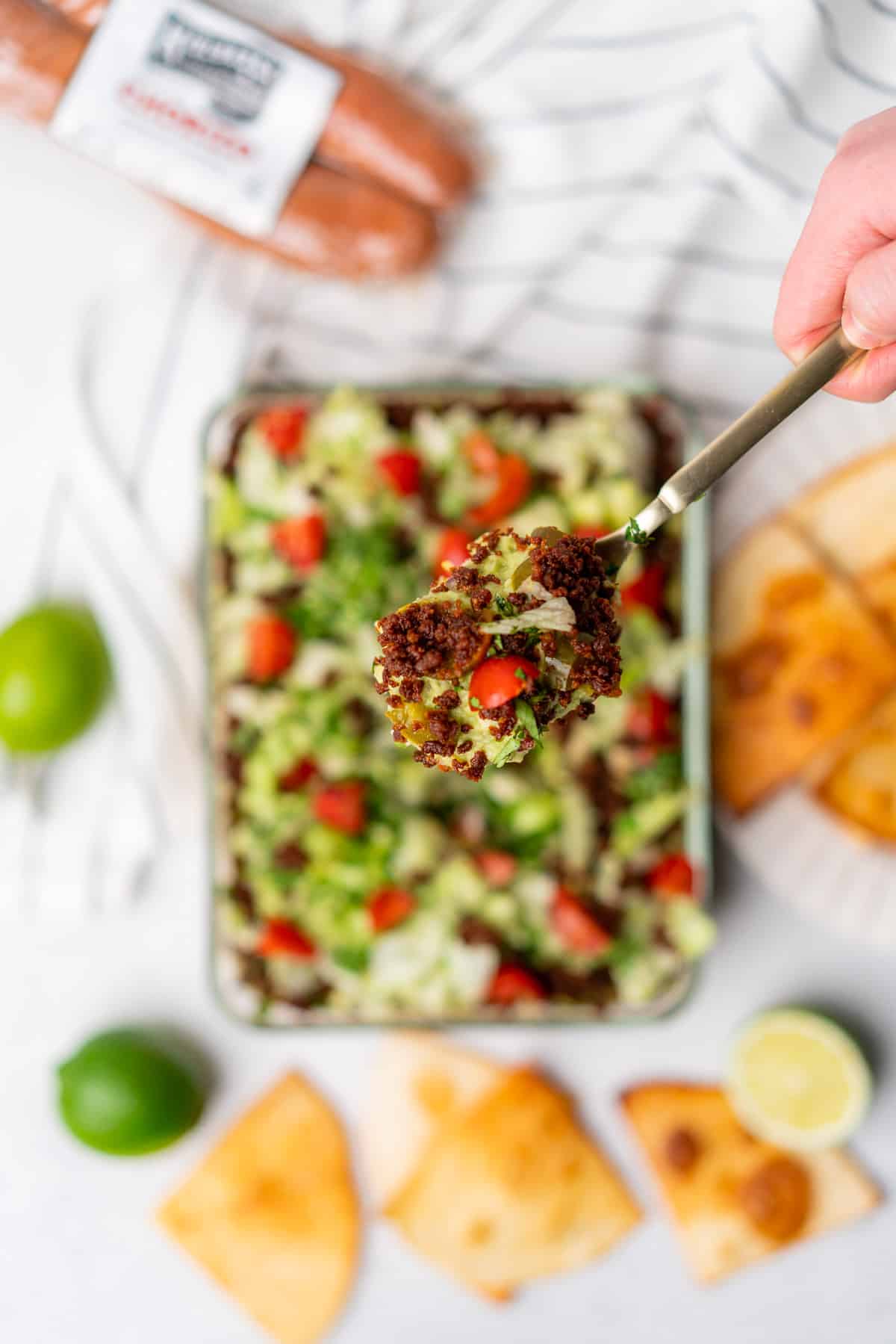 Disclosure: This recipe is a paid partnership with our awesome friends at Kiolbassa Smoked Meats! We are huge fans of their very high quality, amazing smoked sausages, chorizo, and bacon. This family owned company only focuses on using the best ingredients to make mouthwatering products. Everything is slow-crafted in small batches. No fillers, just authentic recipes.

You can always count on anything that you get from Kiolbassa to taste amazing, be completely gluten free, and have a very short ingredient list. They also guarantee your money back if you don't love their products. Who even does that anymore?! (Amazing people who are confident in their ability to produce the best smoked meats around, that's who!) You can read more about their story here! Thank you for supporting brands that help make A Full Living possible!
About The Recipe:
Now, onto this recipe! If you're looking for an easy and satisfying football or game day snack or appetizer, you've come to the right place. This keto friendly taco dip recipe is a twist on your Tex-Mex favorite, made low carb and even more flavorful with Kiolbassa Smoked Meats Chorizo. Though this dip is technically more than seven layers, it's incredibly easy to make, and delicious!
We start with a base of a seasoned sour cream layer, then add chunky salsa, shredded cheese, a quick and easy zesty homemade guacamole, pickled jalapeños, and then top with juicy and delicious Kiolbassa Chorizo, and any other toppings you desire. We love a little bit of lettuce, cilantro, and tomatoes.
One of the best things about this dip is that you can make it ahead of time, then just top with the fresh vegetables before serving. This makes putting together a spread so much easier. If you were missing this appetizer favorite, this chorizo 7 layer dip is probably just what you're looking for!
Skip the ground beef and refried beans this time around, you're in for a low carb taco dip that's only 5 net carbs per serving. Feel free to skip to the recipe card if you're ready to get right into it. We do cover common questions, tips, and tricks in the body of this post to keep reading if you're wondering something. You may also benefit from the step by step photos below.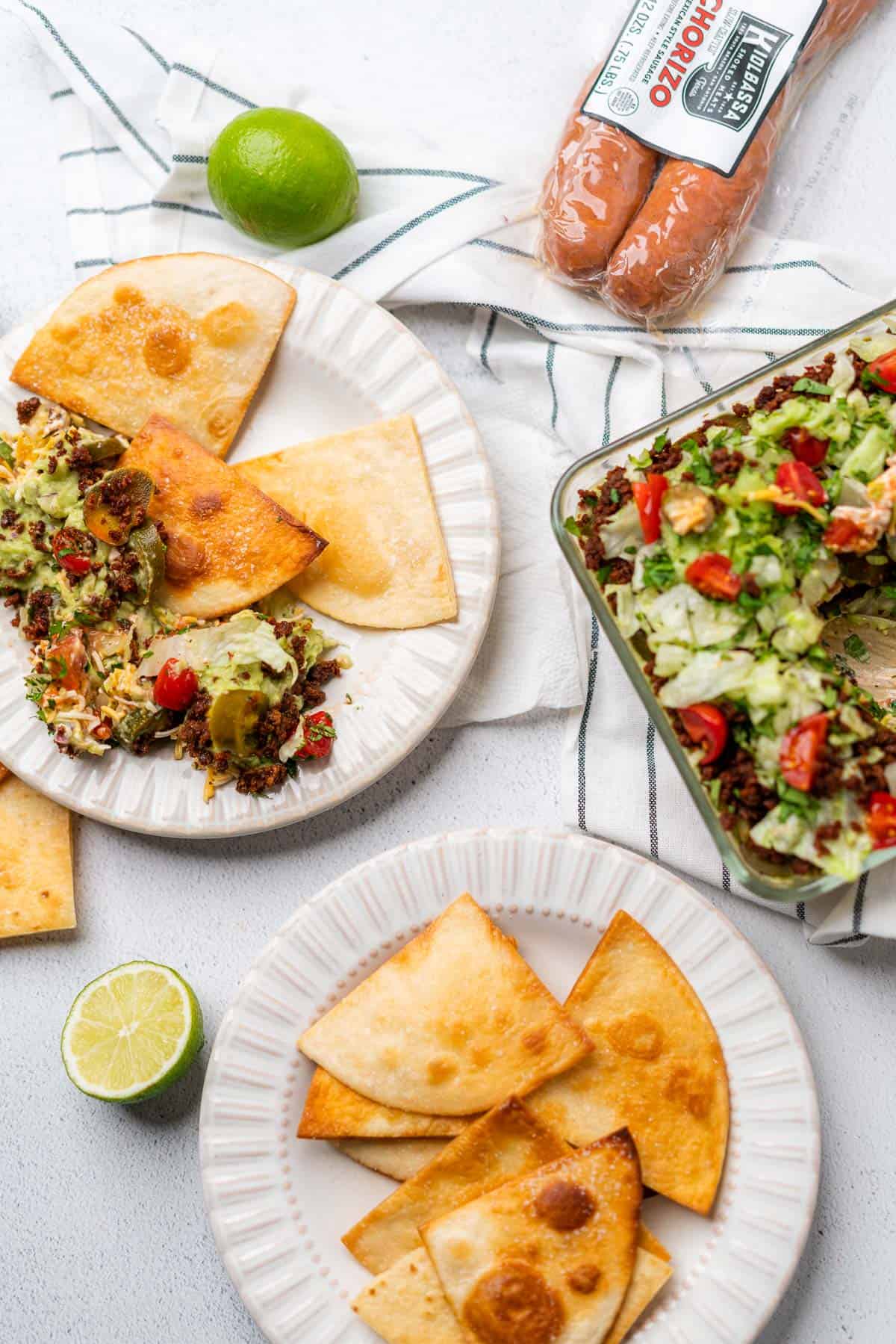 Ingredients:​
Kiolbassa Mexican Style Chorizo - The star of the show, you can't get better than Kiolbassa Smoked Meats Chorizo for this dip! A twist on your classic seasoned ground beef for keto taco meat, this mouthwatering chorizo is well seasoned, you don't need to add anything to it. It's also a very fat heavy protein, so don't worry about browning it with any additional cooking oil or anything either! The fat will render out as it cooks, and the chorizo will fry in it. YUM. Before we add to the top of the dip however, we will want to make sure we drain the excess fat. A lot of oil sitting at the top of your dip will just drain down and make other layers soggy, so it's best to leave it off.
Seasoned Sour Cream Mixture - We start with a creamy base layer of sour cream mixed with a blend of a homemade taco seasoning, fresh garlic, and a squeeze of lime. It's flavorful, yet cooling and creamy to pair well with some of the spicier elements of this dip. You can mix up your own taco seasoning blend, or just use store bought. We have a recipe for taco seasoning later on in the post. Some people prefer to use seasoned cream cheese instead which also works if you prefer.
Chunky Salsa - We used our favorite store bought variety, and then strained away the liquid at the bottom. Straining the liquid away will help the dip from getting too soggy, wet and will ensure that the layers don't bleed together. You could also use pico de gallo in place of salsa. We went with a medium salsa, but we live for spice, just pick your favorite.
Shredded Cheese - Totally a preference on the type of cheese you want to go with here. Some good choices would be a Mexican blend or Chihuahua cheese. Pepper jack or cheddar cheese would likely be delicious as well.
Guacamole or Avocado Layer- We really quickly made a guacamole/avocado spread layer with a mixture of avocado, lots of fresh lime juice, some minced red onion, olive oil, salt and pepper. Of course you can make yours however you like, or even grab your favorite pre-made guacamole at the store to save even more time.
Pickled Jalapeños - Totally optional, and it can be skipped if you don't like jalapeños. You can always substitute for black olives or really anything else you prefer!
The "7th" Layer - This is technically like, 3 "layers" in one I guess. We top with some shredded iceberg lettuce, a little cilantro, and some chopped up tomatoes. Again, pico would be a great choice instead. You can use some sliced black olives too. You really can't go wrong here, but if you are going to make your seven layer dip ahead of time, then make sure to leave the fresh toppings off until right before serving. The lettuce, cilantro and tomato will wilt and get soggy.
What To Serve With The Dip:
We went with some quick homemade low carb tortilla chips. To make them, we just cut up some store bought low carb tortillas, fried them in some avocado oil, and dusted them with a little salt when they were finished. Pork rinds or your favorite vegetables would be great to eat with this 7 layer dip as well, or just eat it by the spoonful!
How to Make This Chorizo 7 Layer Dip:
This recipe is now available to view as a Google Web Story!
Preheat a large skillet over medium heat, add your chorizo to the hot skillet, cooking and crumbling until cooked through. Once cooked, drain the extra fat. We usually transfer the cooked chorizo to plate lined with paper towels. Set aside until it's time to assemble the dip.
In a medium sized bowl, combine sour cream with minced garlic, fresh squeezed lime juice, and taco seasoning. Combine, and then spread as the base layer of your casserole dish.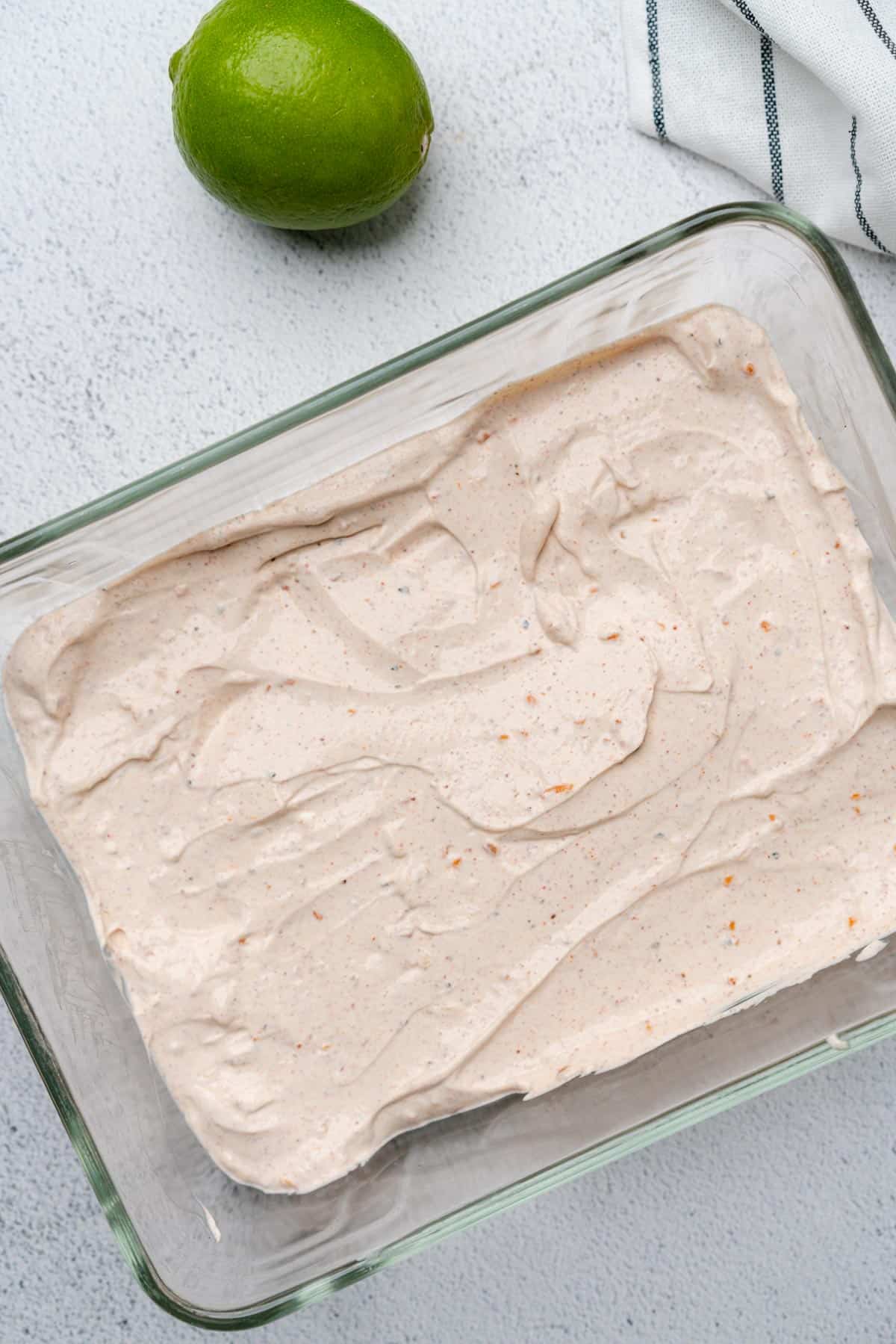 Next, we will strain away the extra liquids from our salsa, then add that as the second layer.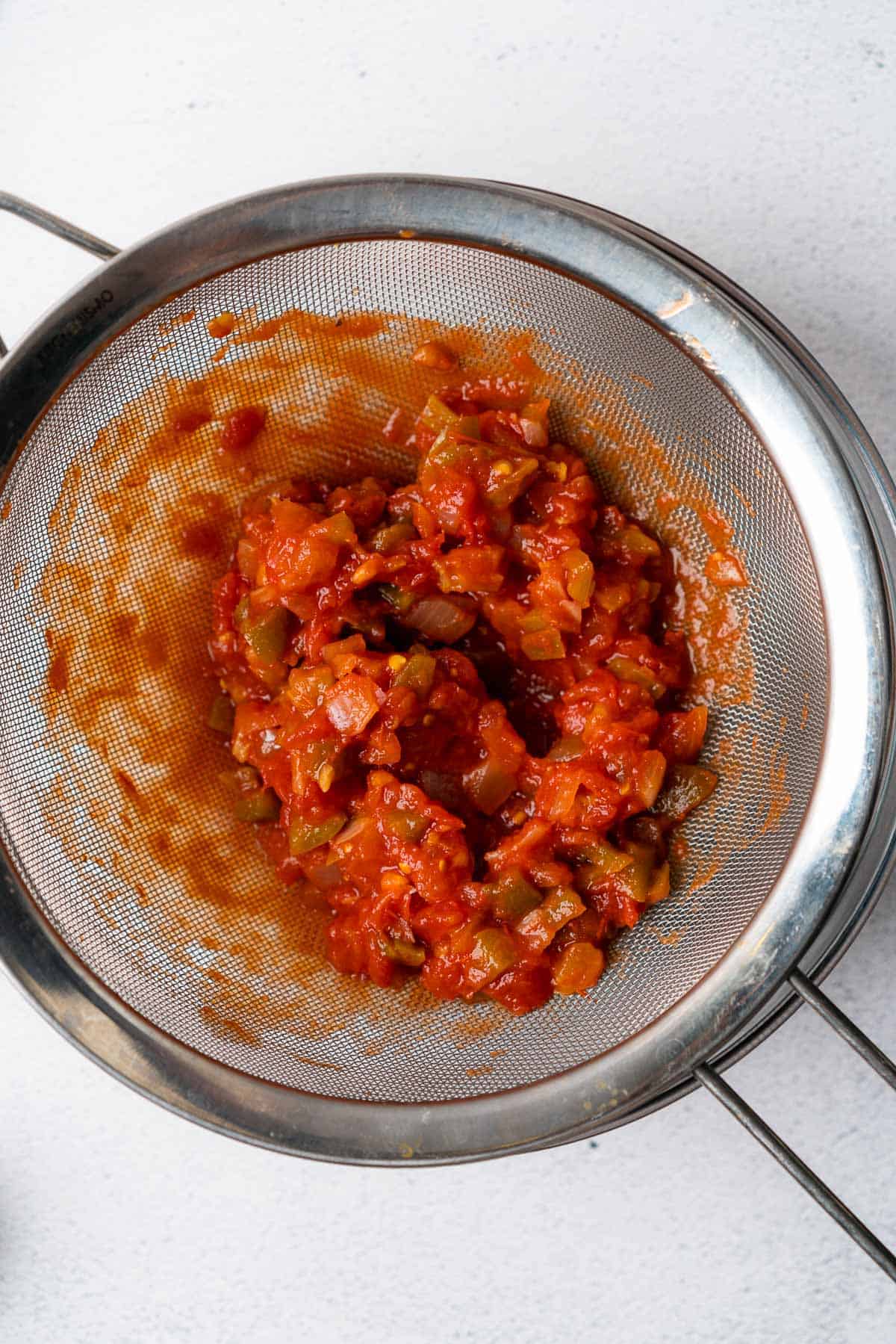 Sprinkle on shredded cheese for the third layer.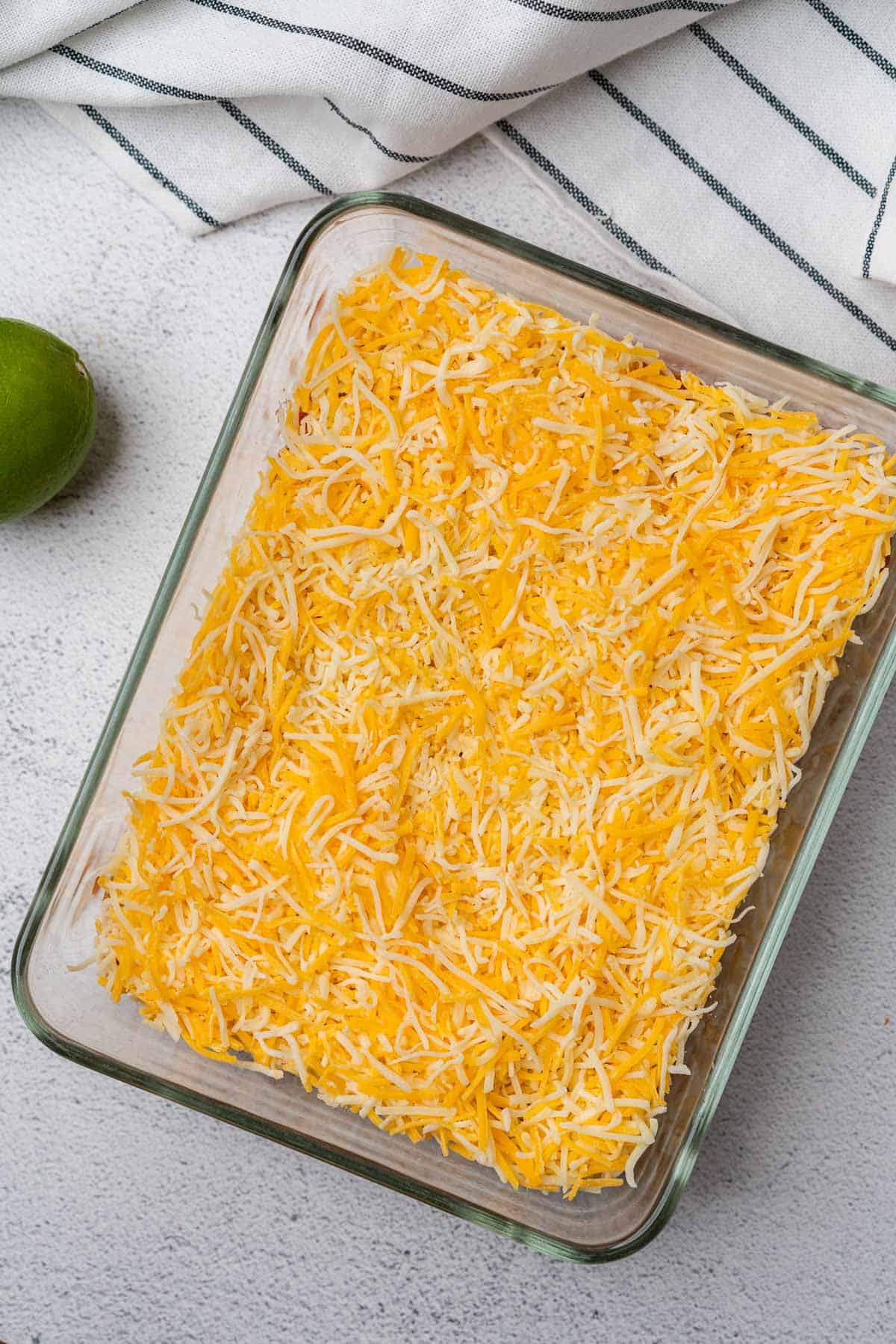 For the fourth layer, in a separate bowl combine avocados, lime juice, minced red onion, salt and pepper. Combine, then spread on top of the cheese.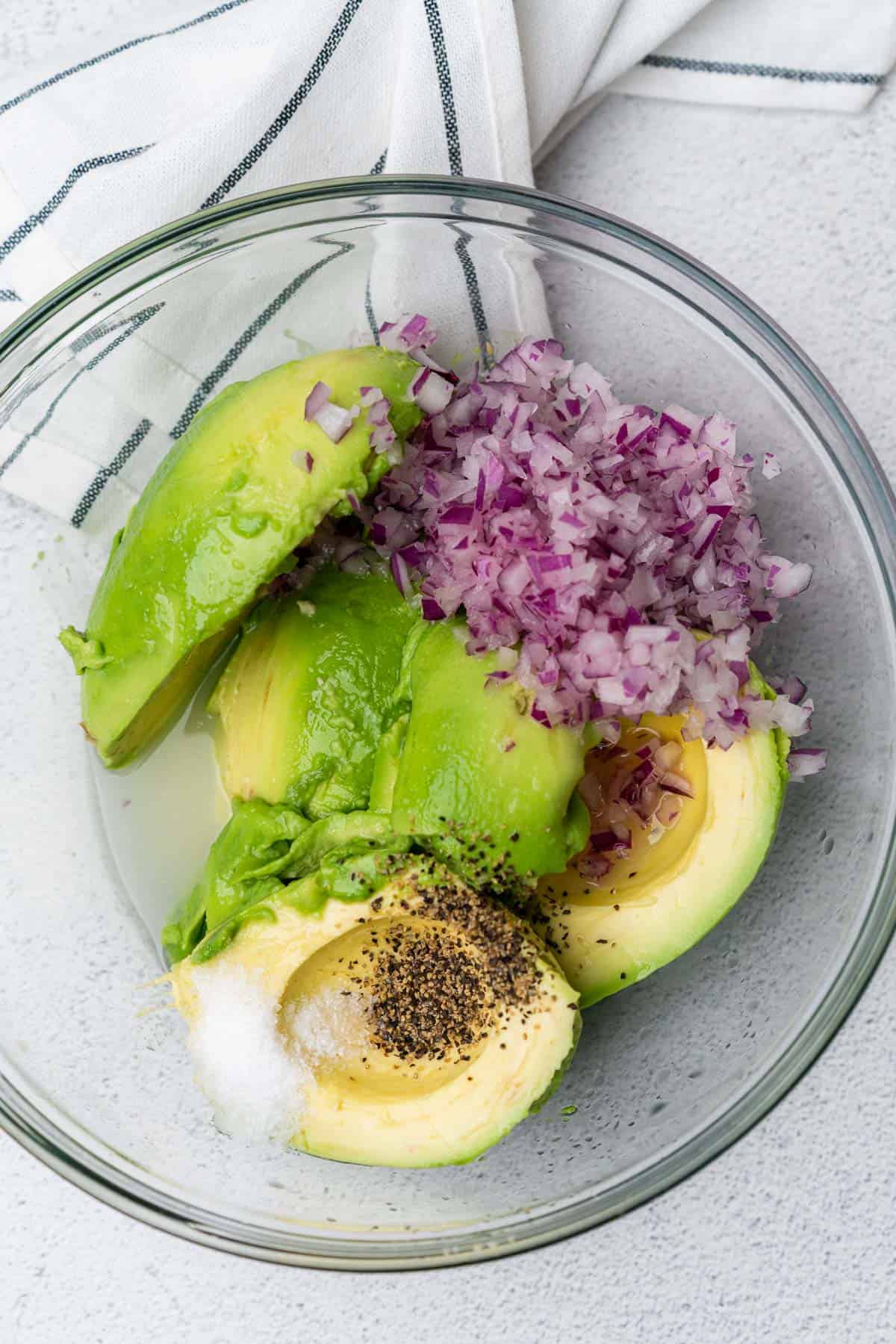 Place pickled jalapeños over top of the guacamole layer for the fifth layer.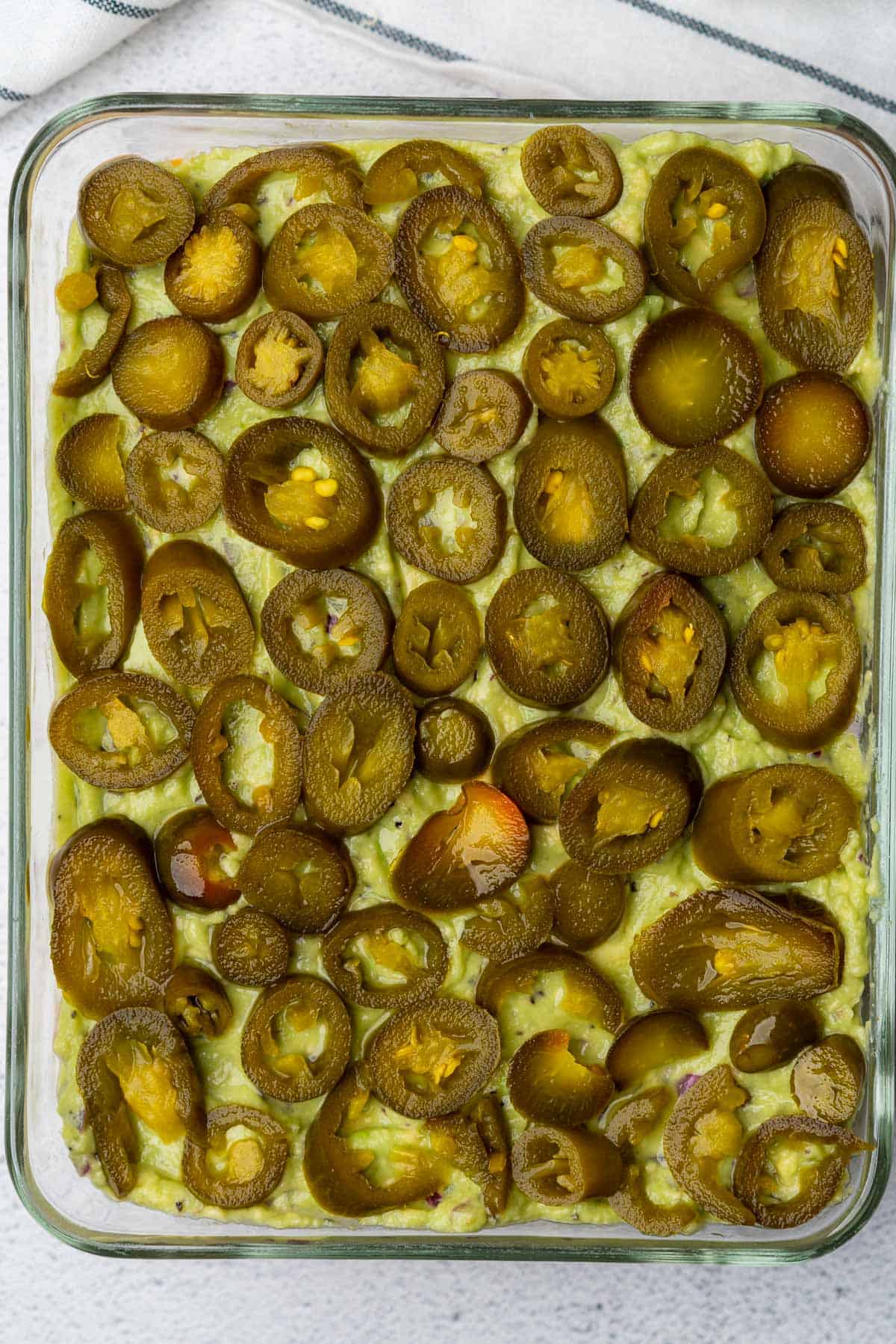 Now, add your cooked and crumbled chorizo for the sixth layer.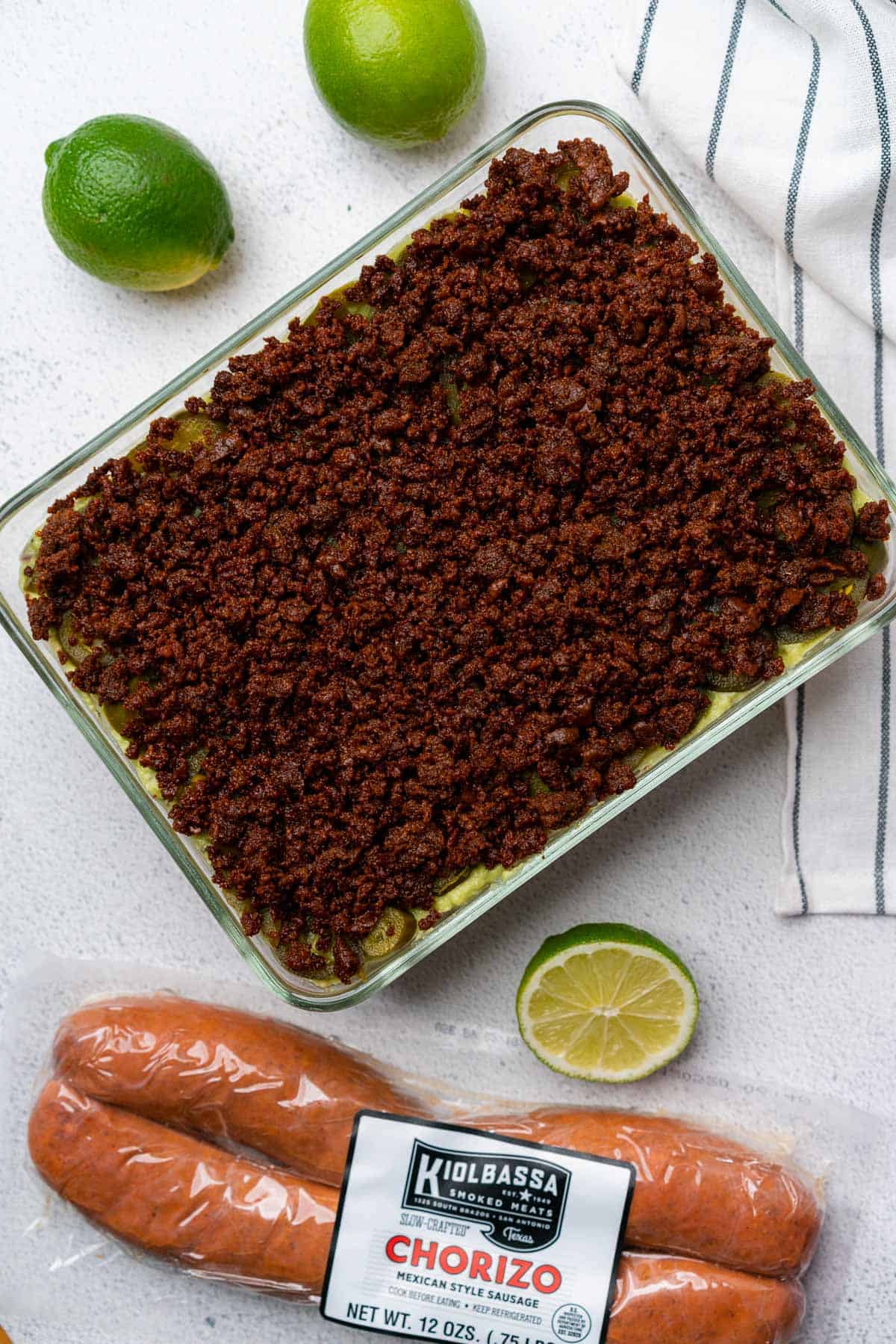 Finally, for the seventh layer, add chopped lettuce, tomatoes and cilantro to taste. That's it! Dig in and serve this 7 Layer Dip immediately.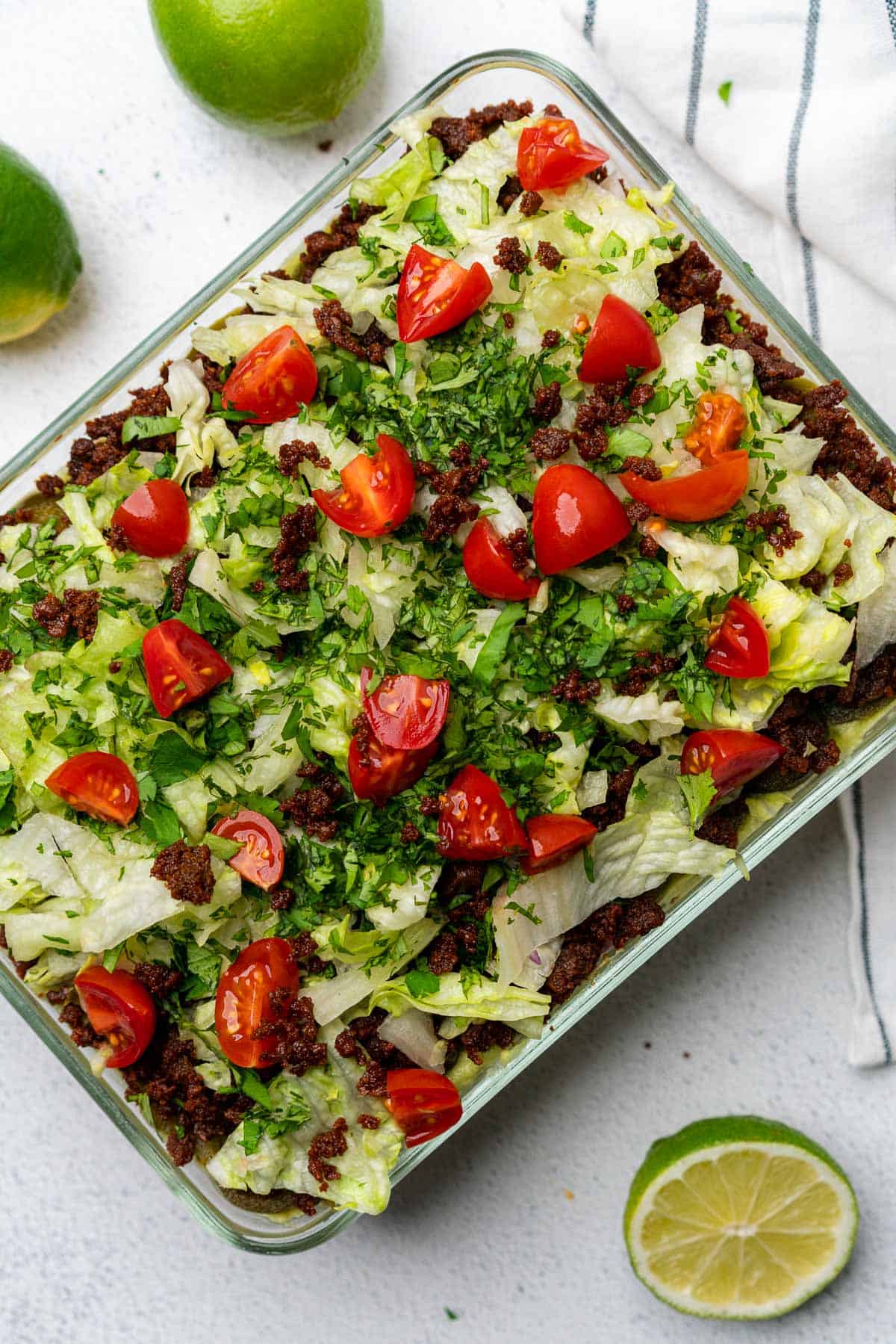 How Do I Properly Prepare Mexican Style Chorizo For The Dip?
Kiolbassa's Mexican style chorizo comes uncooked, and inside the casings. We remove the casings and crumble up the sausage and cook it until it is nice and brown. You probably don't want to leave the casings on for this application, since it will be much easier to spread over top if browned and crumbled.

Don't worry about any extra fat, salt or seasoning to your skillet when frying the chorizo. It's a very fatty protein and the fat will render out all on it's own! Cook until golden brown on all sides, then drain on paper towel or by discarding the excess rendered fat from cooking.

When making this 7 Layer dip, we like to drain away the extra fat before adding it, because it will become greasy on the dip and leak onto the other layers. It would likely cause your dip to become really soggy, so it's better in this case to discard it.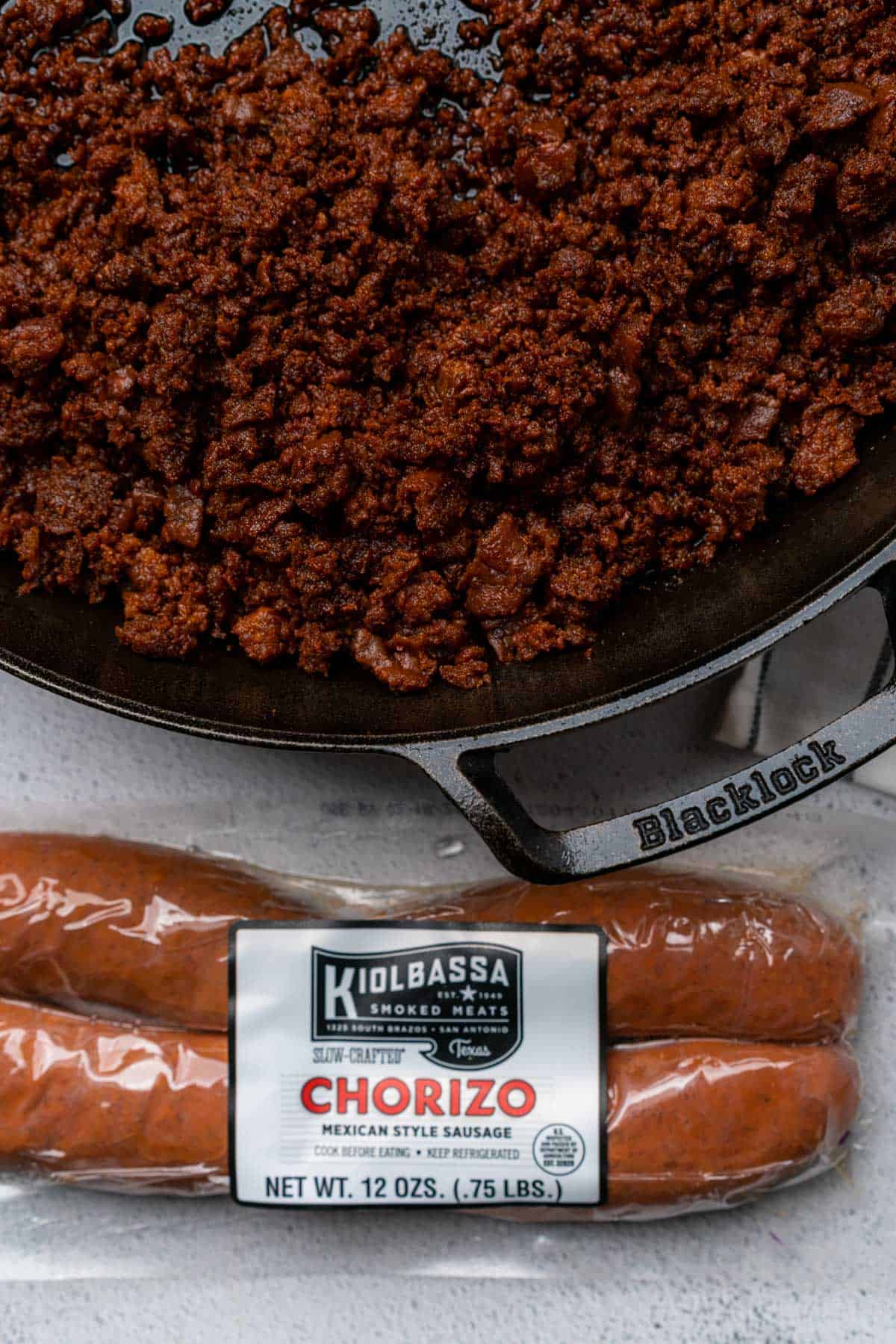 Can I Make This Dip Ahead of Time?
Yes, you can, mostly! This 7 Layer dip will store in the fridge for a few days, but it's best to leave off the fresh toppings at the top if you plan to make it ahead of time. Lettuce, cilantro and fresh tomato will get sort of soggy as they sit, so it's much better to add those fresh elements right before serving.
Pico de Gallo vs. Jarred Salsa:
Truth be told, this is really a matter of preference. While overall we probably prefer pico de gallo in general over store bought, chunky salsa, the chunky salsa will keep better for layering purposes. Pico, while incredibly delicious, will release a lot of moisture the longer it sits since the vegetables are so fresh. While this is fine if you're going to eat it right then and there, it might lead to sogginess if you plan to make it ahead of time. Another quick note about preparing the jarred salsa. We chose a chunky salsa, as we mentioned before, and used a metal sieve to strain away some of the extra liquid.
How To Prepare Your Own Taco Seasoning Blend:
This Americanized or Tex-Mex version of seasoning that is often used to season ground beef for Tex-Mex dishes is easily store bought, but it's also to easy to make it at home. We love to make our own blends at home because it's cost effective, easy, and very customizable. You can add as much or as little of each spice as you want to suit your preferences. The following is our seasoning blend that we make to add to the sour cream, garlic and lime juice mixture. To mix up some seasoning blend ( you will have leftover) we just like to combine our spices in a bowl and then store away for later.

In a medium sized bowl, combine the following:
1 tablespoon chili powder
½ tablespoon cumin
1 teaspoon onion powder, garlic powder, oregano, paprika (we like smoked paprika) and kosher salt.
½ teaspoon black pepper
¼ teaspoon cayenne pepper
** or to taste, with all of these seasonings listed!

We'd like to mention that this recipe for taco seasoning is meant to be a LARGE batch. DO NOT use it all for this one recipe! One of our followers over on Instagram told us recently that they used the whole batch of homemade spice mix for this cajun chicken alfredo and we felt so bad. As much as we love spice, using this whole batch of cajun seasoning not what you want to do. To make this seasoning blend, simply combine all the spices in a bowl, then and store in a jar for later use. For this recipe will use about 1 – 1.5 tablespoons total of this seasoning blend.
How To Make Your Own Low Carb Tortilla Chips:
Serving crispy low carb tortilla chips for dipping alongside this 7 layer dip is too easy. You can of course just serve this with your favorite low carb vegetables or pork rinds instead, but there's truly no replacement for these crispy delicious chips! Keto tortilla chips are super simple to make too. All you need to do is cut up a tortilla into pieces, to make a chip size that you desire. Heat up your avocado oil in a skillet over medium heat. Wait until the oil is hot and shiny, then drop in the chips. Fry for about 1 minute on each side, or until golden brown. Once brown on both sides, remove from the skillet and set aside. Sprinkle with salt. Repeat the process until you have all the chips you want!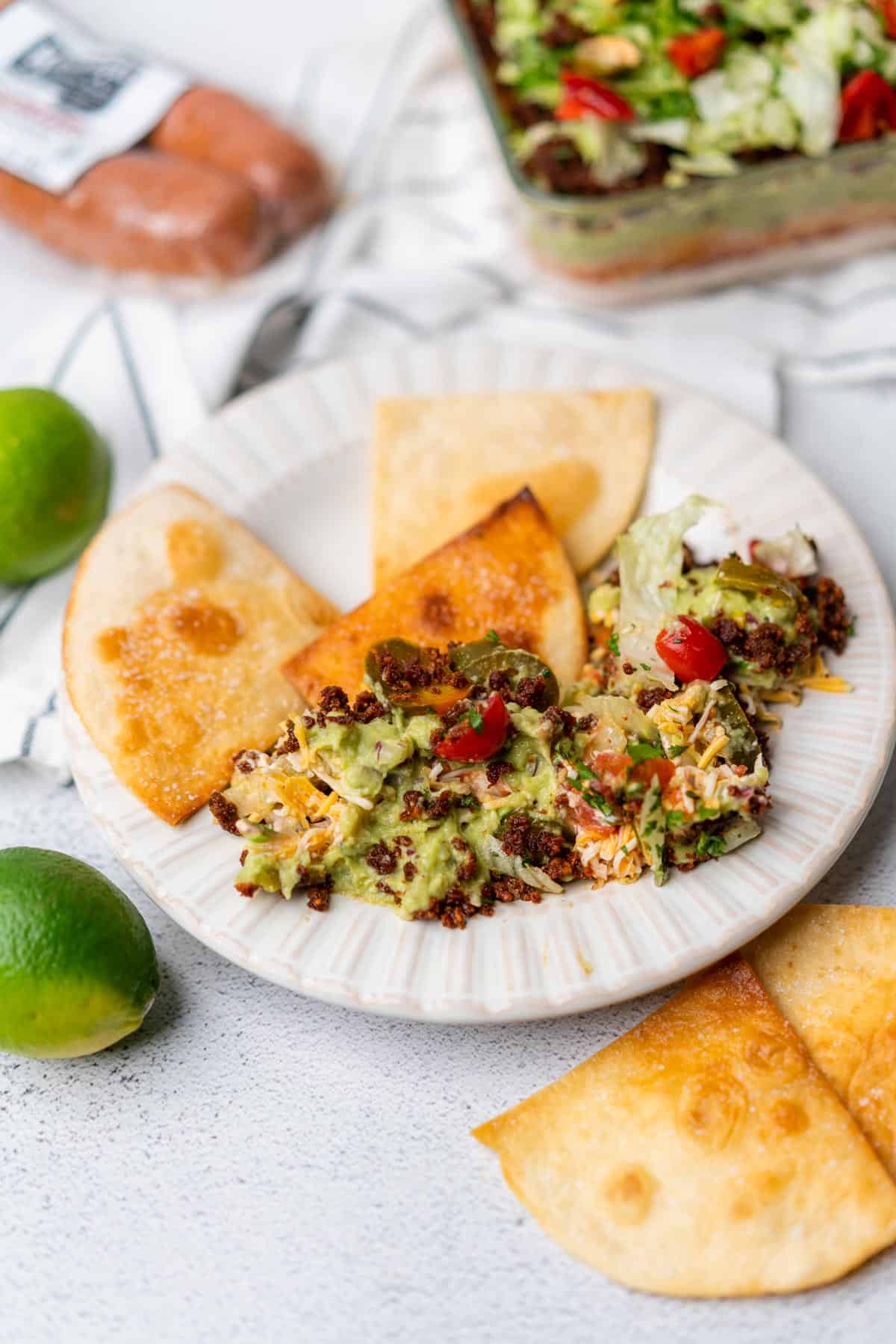 Here's Some More Recipes Featuring Kiolbassa Smoked Meats:
Check out some favorites of ours that feature Kiolbassa products!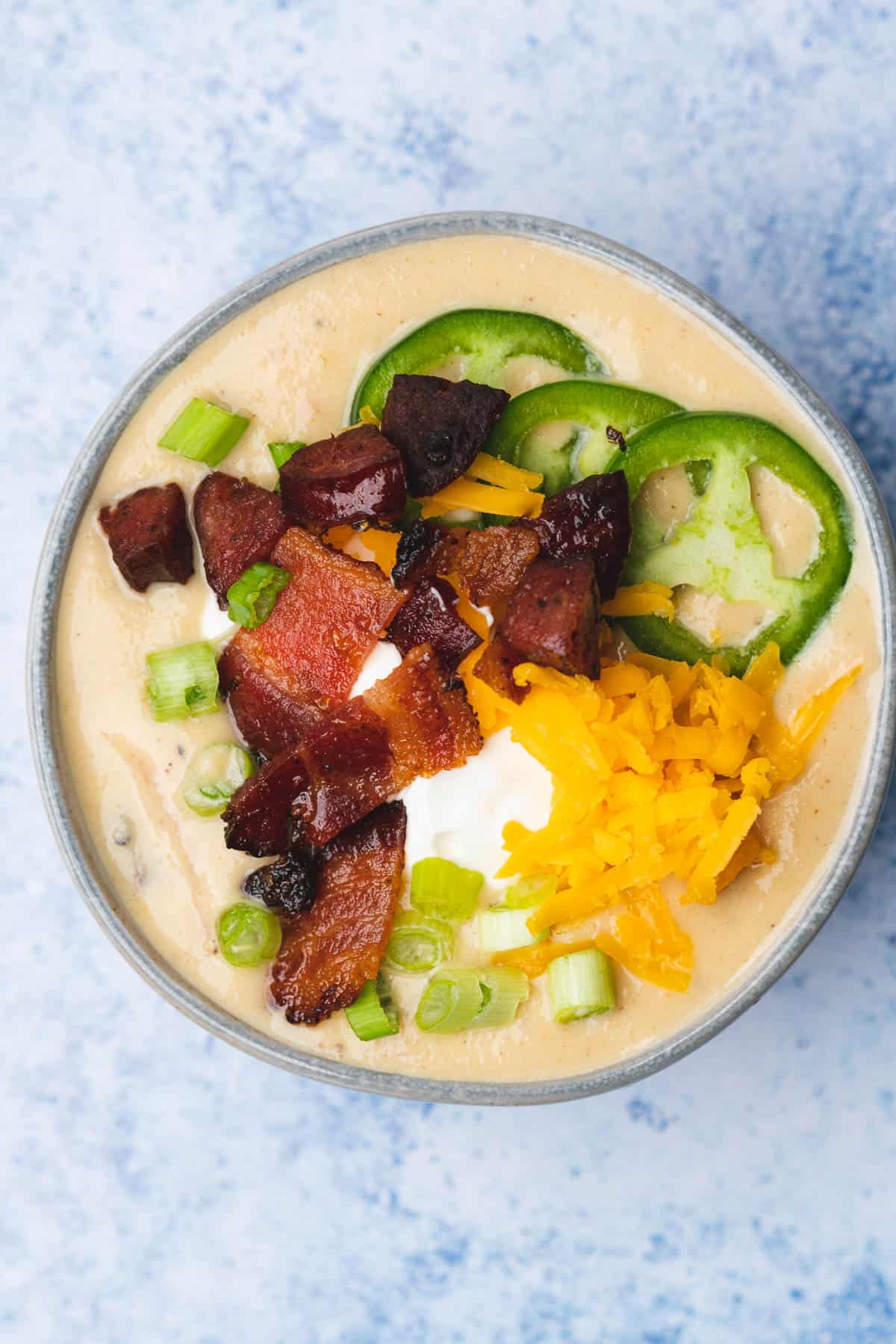 Shop This Recipe!
Want to get supplies for this 7 Layer Dip recipe or shop our keto kitchen or pantry? We've linked our favorites above and right here in our Amazon Store!
A Full Living is a participant in the Amazon Services LLC Associate program, an affiliate advertising program designed to promote a means for sites to earn advertising fees by linking products to amazon.com. We only share products we use and love. It doesn't cost you anything extra to shop using our links, but we earn a small commission that helps us keep this site going!
---
If you get a chance to try this seven layer dip recipe, let us know what you think, would ya?! Leave us a comment, or catch up with us on Facebook or Instagram, or pin to your favorite Pinterest board for later. We love sharing your versions of our creations over on Instagram @afullliving!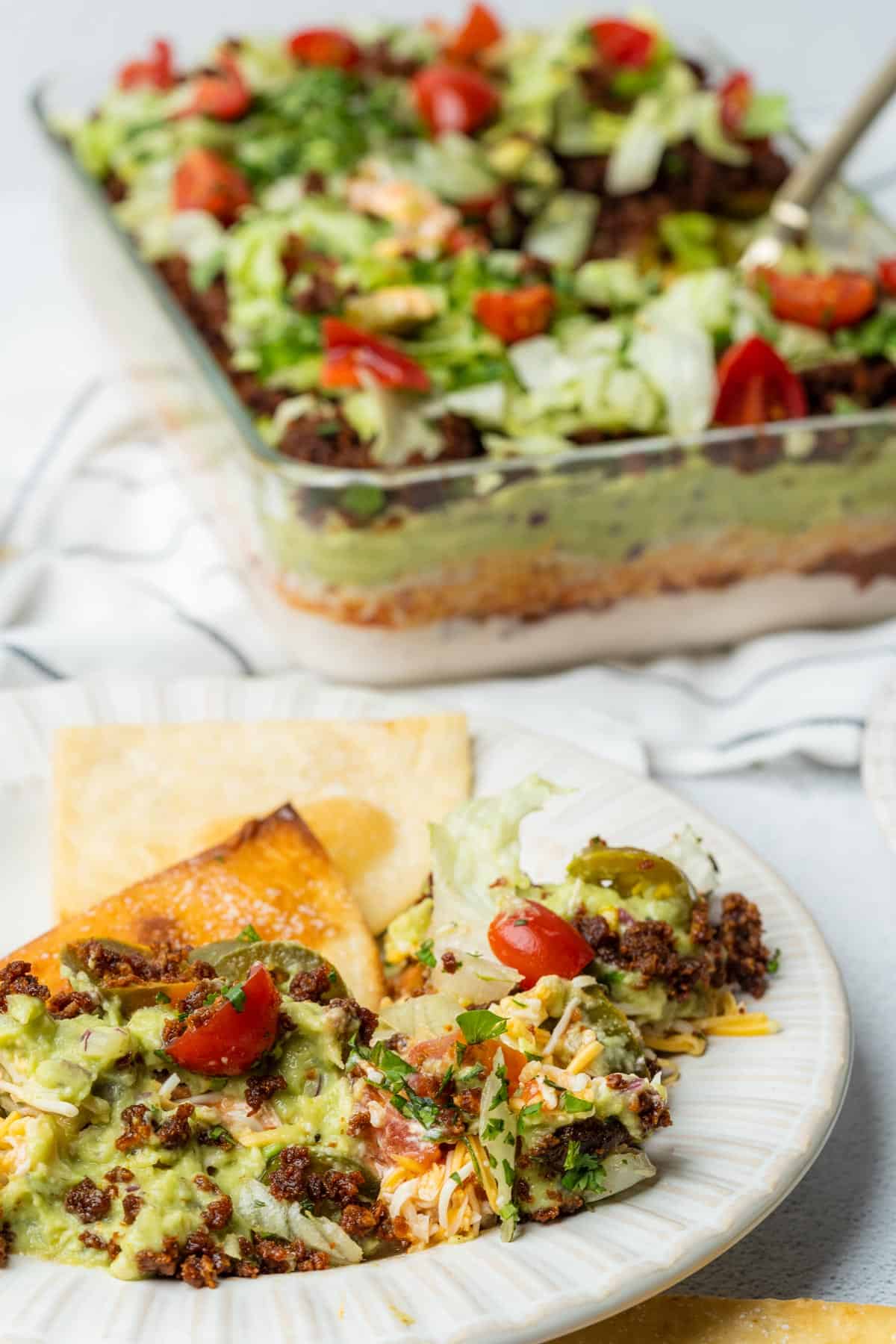 If you could please leave a comment and/or a rating if you loved this recipe, we would be forever grateful! (Ratings helps users find our recipes, since users say that they like them!)
Thanks for stopping by! Be sure to subscribe to our email newsletter so you're the first to know about new recipes we post on our blog.
Until Next Time,
Briana & Chamere
📖 Recipe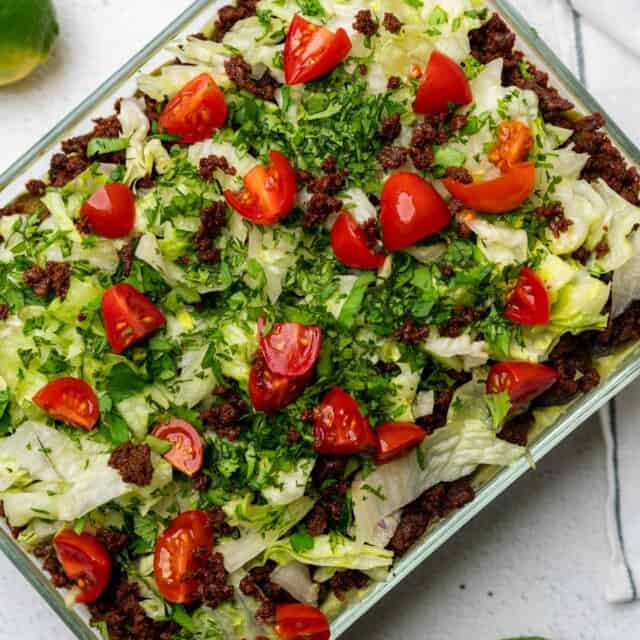 7 Layer Dip with Chorizo Recipe
This Easy 7 Layer Chorizo Dip is the ultra satisfying appetizer you've been craving. Mouthwatering chorizo, seasoned sour cream, salsa, zesty guacamole, and a few vegetable toppings. Easy to make and enjoy, this twist on your classic 7 layer dip will become an instant favorite.
Ingredients
For the seasoned sour cream layer:
1

cup

sour cream

½

whole

lime, juiced

1

clove

garlic, minced

1

tablespoon

taco seasoning, homemade or store bought
For the guacamole layer:
2

large

avocados

¼

large

red onion, finely minced

½

teaspoon

kosher salt

¼

teaspoon

ground black pepper

1.5

whole

limes, juiced
Remaining Layers:
12

ounces

chunky salsa of choice, drained of excess water

6

ounces

shredded cheese of choice

4.5

ounces

pickled jalapeños, sliced

2

packages

Kiolbassa Smoked Meats Chorizo, casings removed, cooked and crumbled then drained of fat 

(Two 12-ounce packages)

1

cup

shredded iceberg lettuce

½

cup

cherry tomatoes cut into pieces

½

cup

chopped cilantro
Instructions
Preheat your skillet over medium heat, and add the crumbled chorizo. Cook until completely done and browned, about 12-15 minutes, then drain the excess fat from the chorizo and set chorizo aside.

In a medium bowl, combine sour cream, 1 tablespoon of taco seasoning, juice of ½ a lime, and minced garlic. Taste, then add salt and pepper if desired. Layer your seasoned sour cream layer in the bottom of a 6 cup glass baking dish.

Add a layer of chunky salsa, then a layer of shredded cheese.

For the guacamole layer, combine avocado, remaining lime juice, salt, pepper and minced red onion and mash with a fork until desired consistency is reached. Spread the guacamole over top of the cheese layer.

Now layer on pickled jalapeños, and top with cooked chorizo. Finish it all off with diced tomatoes, lettuce shreds and cilantro. Dig in and serve immediately!
Notes
Keep in the fridge and eat within 3 days of preparing. 
Can be prepared ahead of time, but be sure to leave off lettuce, tomatoes and cilantro until it's time to serve, or they will become soggy. 
Make sure to drain the excess fat from the chorizo before adding to the dip, or else it will make the dip soggy. 
Nutrition
Calories:
250
kcal
Carbohydrates:
7
g
Protein:
10
g
Fat:
21
g
Saturated Fat:
8
g
Cholesterol:
44
mg
Sodium:
751
mg
Potassium:
255
mg
Fiber:
2
g
Sugar:
2
g
Vitamin A:
791
IU
Vitamin C:
5
mg
Calcium:
102
mg
Iron:
1
mg