---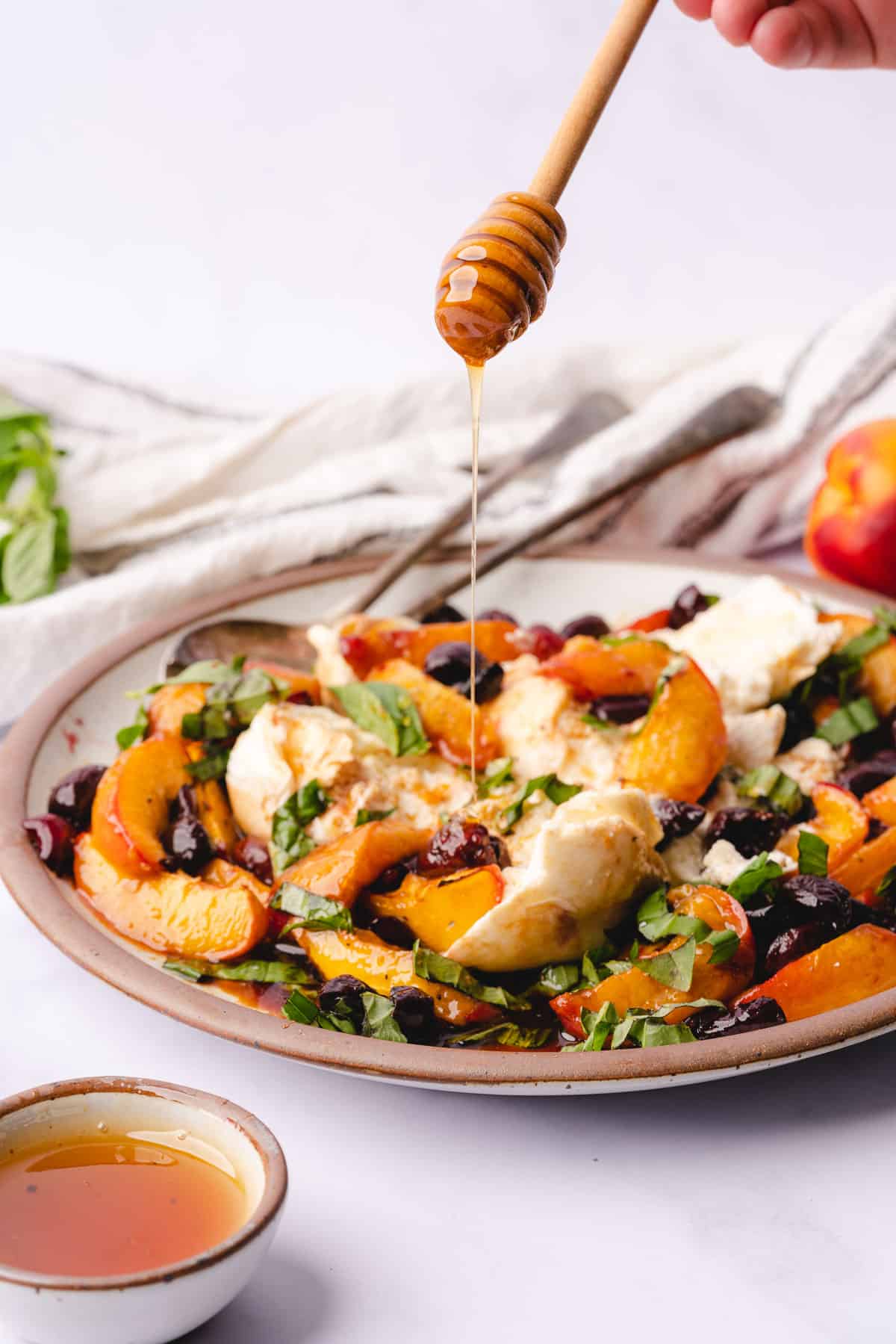 If you need some easy ideas to make at home this summer, you're in luck. We can't get over this dish with complex flavors. Savory and sweet, tart and rich, creamy and fresh, these baked nectarines and cherries will excite your palate. You only need a few ingredients to make some truly special food.
Often baked nectarines are served super sweet, with vanilla ice cream or greek yogurt, and baked with some brown sugar, butter cinnamon sauce. While that sounds delicious (and something we will work on for later this season probably 😂) we wanted to go a more sweet and savory route! We hope you enjoy this delicious dish. You'll probably wonder why you waited so long to start baking your nectarines and cherries!
Feel free to skip to the recipe card if you're ready to get right into it. We do cover common questions, tips, and tricks in the body of this post to keep reading if you're wondering something. We do also include tons of step by step pictures in the body of the post. This post is also available as a Google Web Story!
Ingredients:​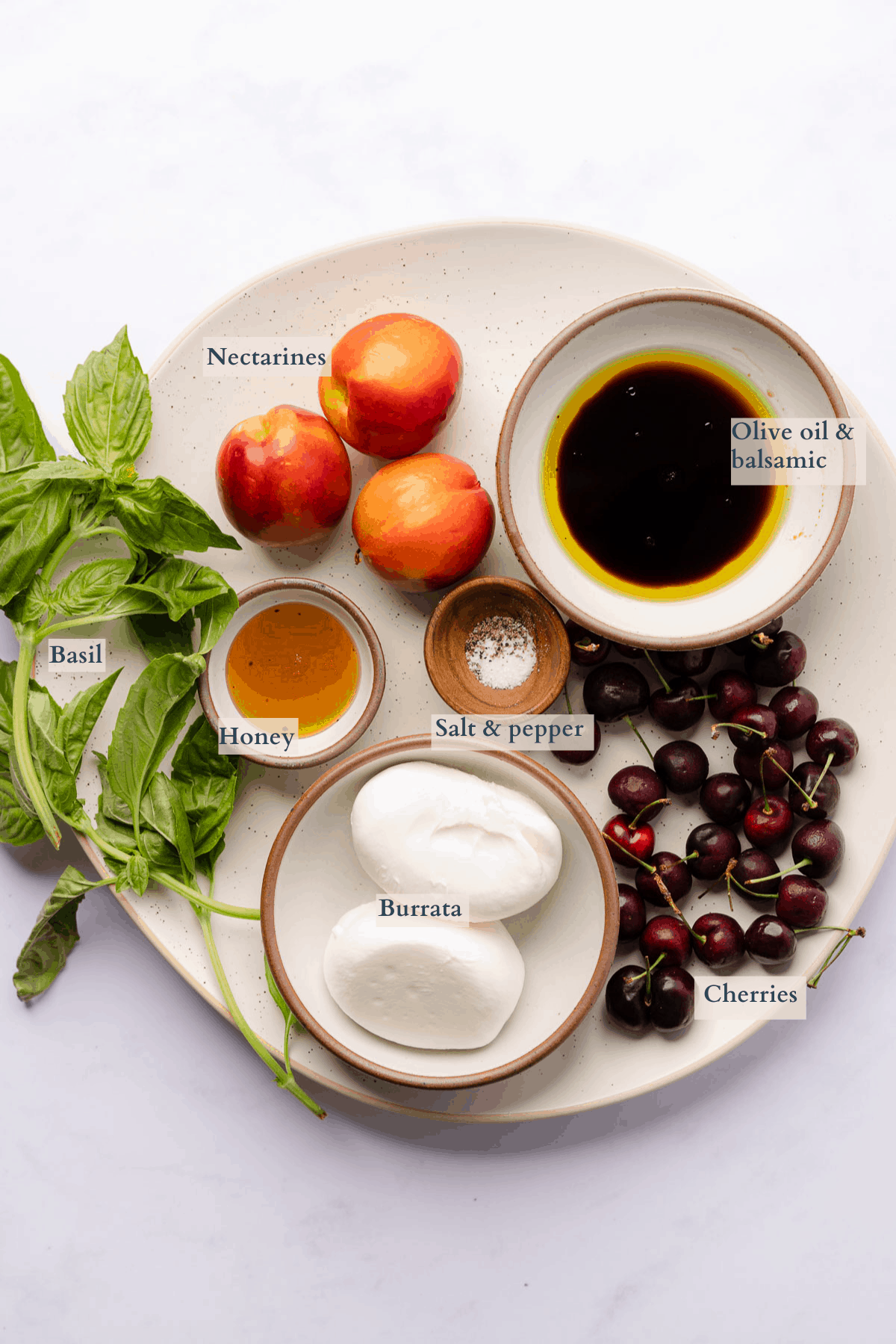 Nectarines & cherries - Some of our favorite fruits harvested in the summer! These delicious stone fruits are delicious raw, but especially baked!
Olive oil & balsamic vinegar - We like to mix these two up and coat the fruit with it before going into the oven. Balsamic vinegar gives that perfect sweetness and acidity, and olive oil is just a lovely, savory addition. We add the rest at the end to serve.
Honey - Not a low carb ingredient, and you could easily substitute for something more low carb if you prefer, like sugar free maple syrup or a sugar free honey substitute. When adding a small amount spread over multiple servings, we don't think it makes a huge difference in carb count.
Salt and pepper - Just a couple simple seasonings to enhance the flavor, both sweet and savory.
Fresh basil - This herb is so versatile, and it's the perfect fit for these flavors. Plus it screams summer!
Fresh burrata cheese - We picked some up at the local farmer's market, and we're just in love. We love this creamy delicious cheese. If you have some burrata from the supermarket that's in brine, make sure to keep it unopened until it's time to use it if possible. Once the package is open, even in brine, it will only keep for up to 2 days.
How to Make These Baked Cherries and Nectarines with Burrata:
Pitt your cherries and cut them in half. Take the pits out of the nectarines and cut them into eighths. Preheat your oven to 400°F. Arrange the fruit on parchment paper on a baking sheet.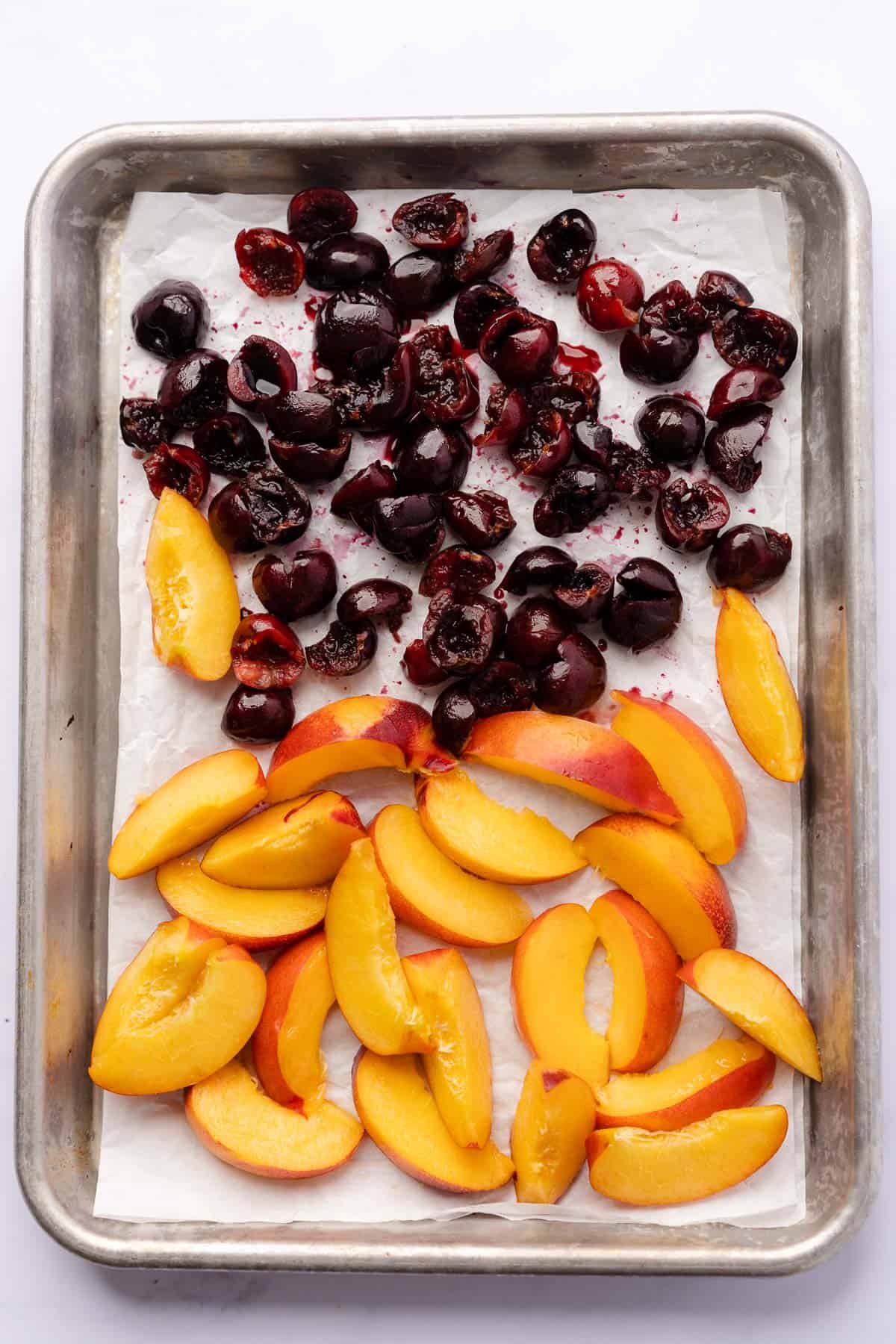 Drizzle the fruit with half of the honey, balsamic vinegar and olive oil. Sprinkle with salt and pepper.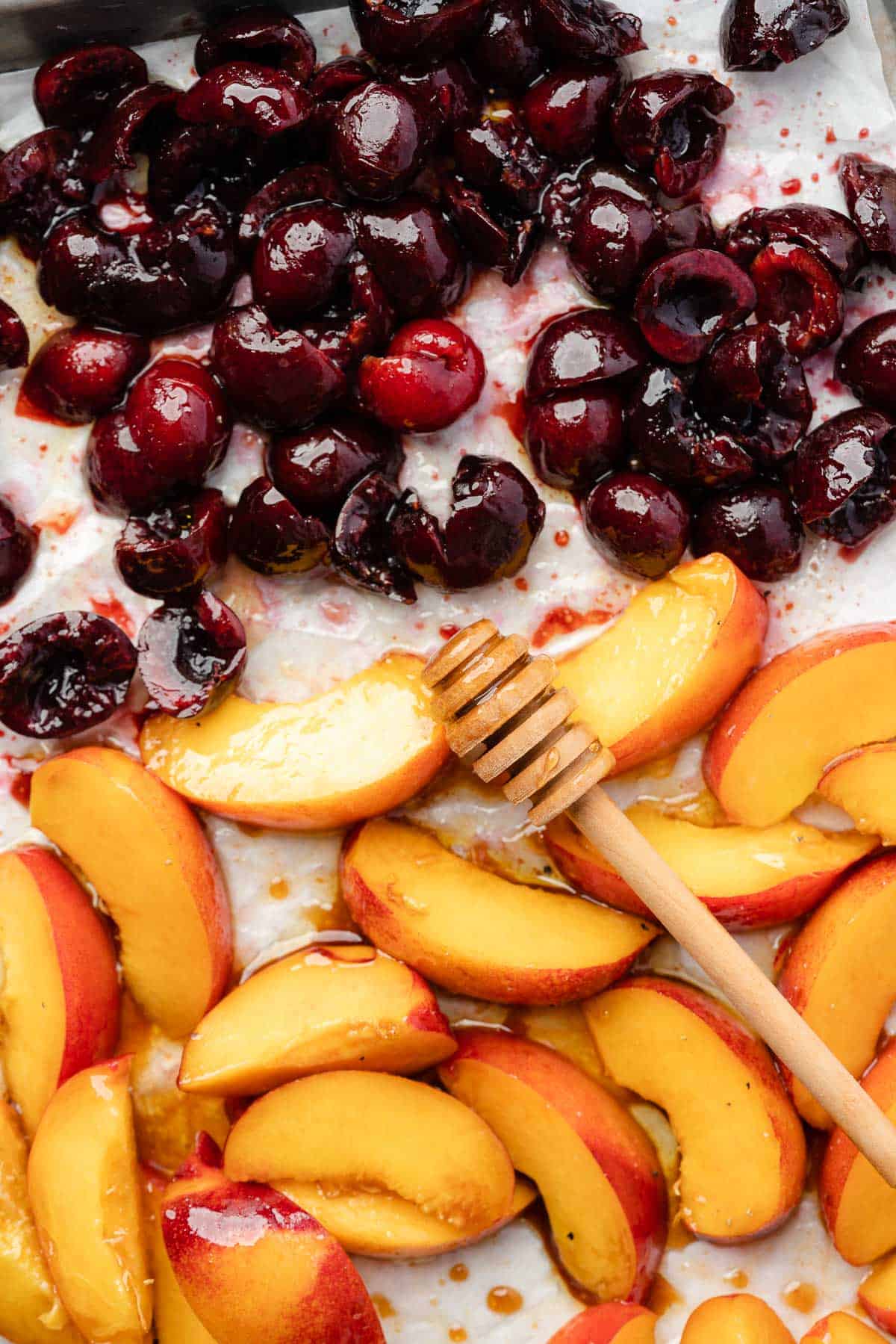 Bake for 25-30 minutes until the fruit has softened.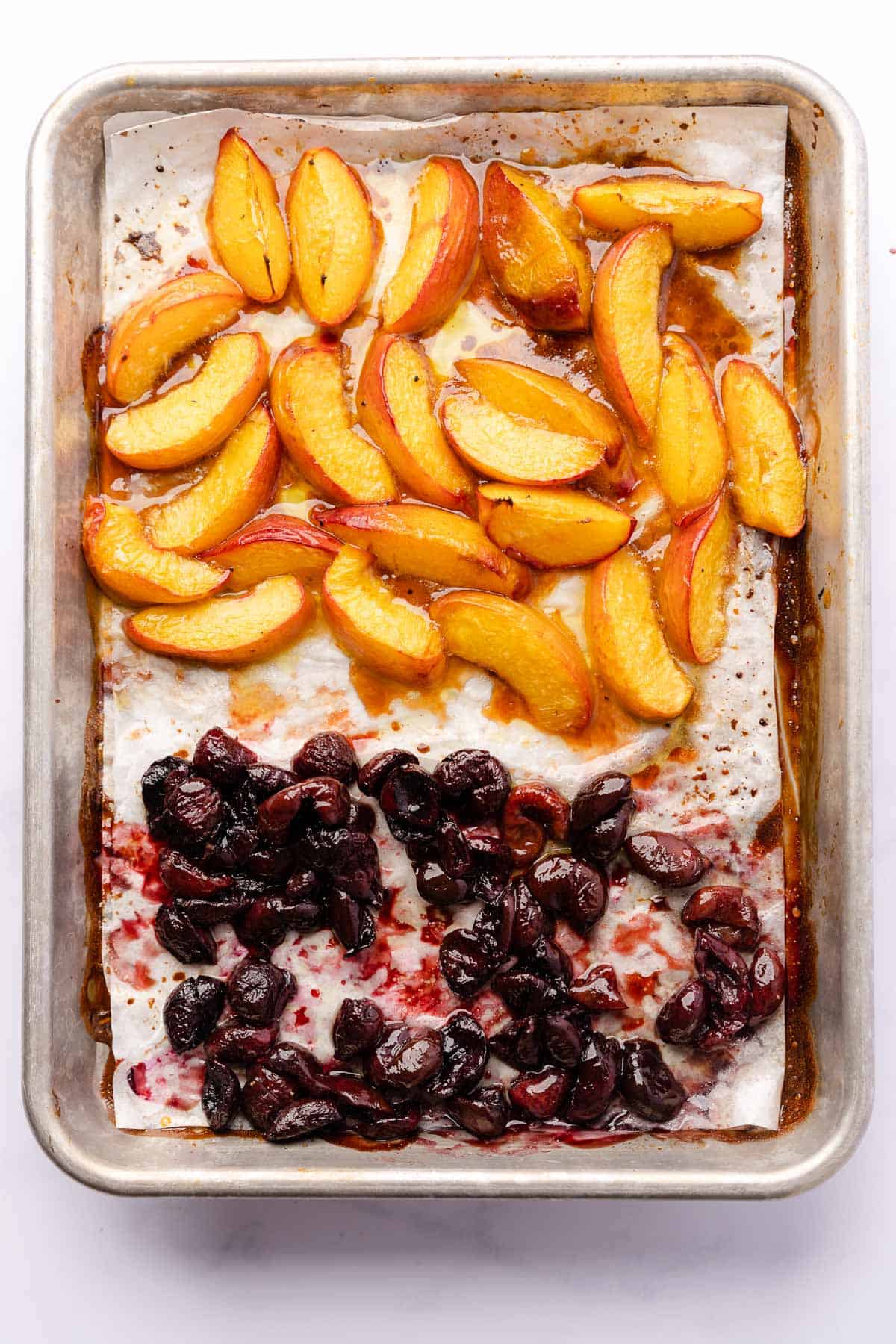 Arrange the fruit on a serving plate. Add the burrata cheese in the center. Sprinkle with basil, remaining salt and pepper, then drizzle with the remaining honey, balsamic vinegar, and olive oil. Dig in!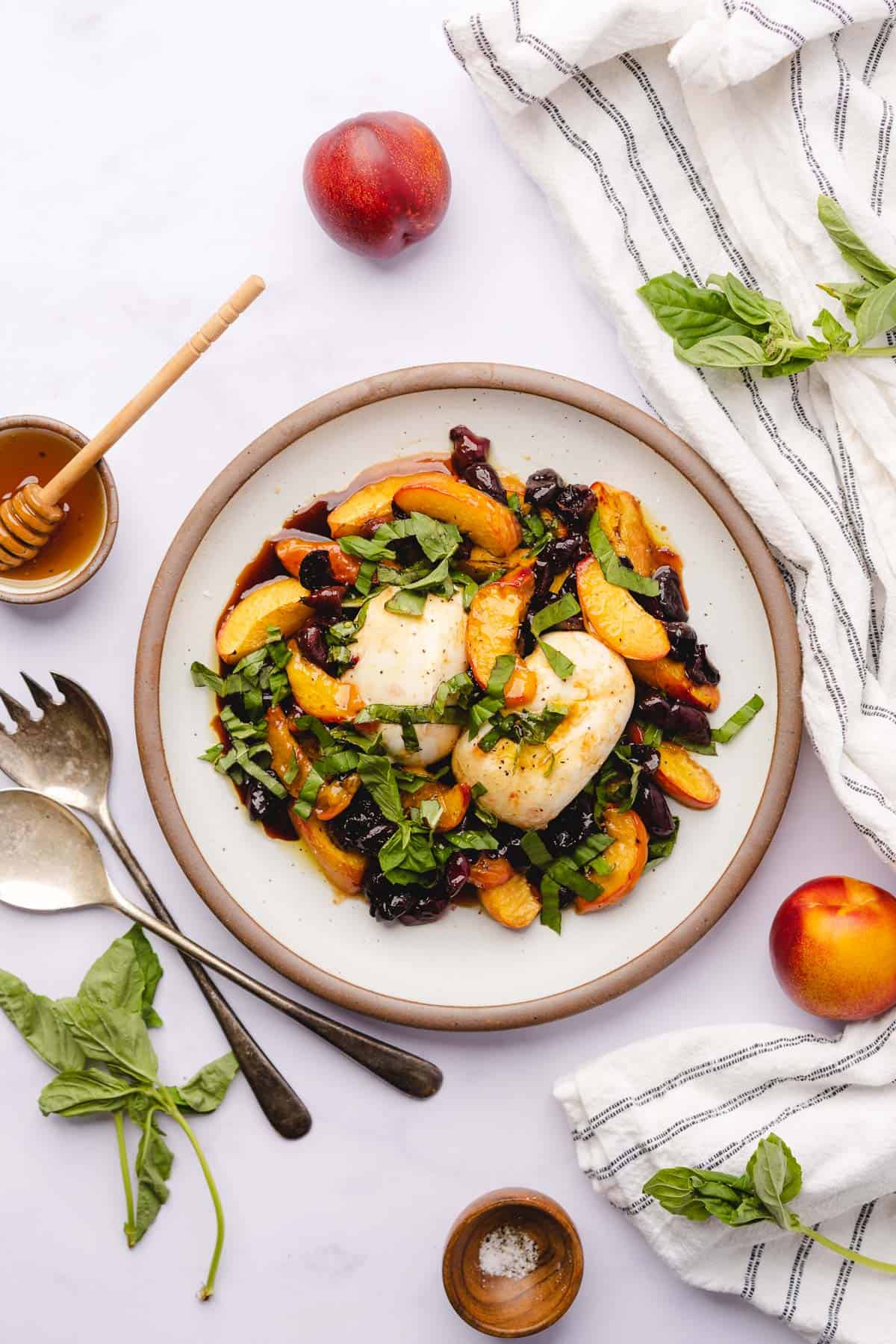 Tips For This Dish:
This dish is best enjoyed right away. If you need to save any leftovers, eat it within 2 days tops after preparing it.
You can swap nectarines for peaches if you prefer.
You can use mozzarella cheese instead of burrata if you'd like.
How To Pit A Cherry:
Pitting a cherry is incredibly simple, with or without special tools! We recently just caved and bought a cherry pitter, but you don't need one.
To easily remove a cherry pit, place a cherry on top of an empty wine bottle. Take a chopstick, and push it through the center, and the pit will push through the other side, and will land in the bottle below.
How To Remove The Nectarine Kernel:
Nectarines have a large kernel or pit in the center that needs to be removed before enjoying. To remove it, make sure your nectarine is properly ripened. To tell if a nectarine is ripe, it will have a sweet and fragrant smell. It will also be a little soft but also slightly firm, meaning it will give a little when pressed. If your nectarine is still too firm, allow it to sit at room temperature (out of the sunlight) to allow it to ripen for a day or so.
To remove the kernel in the center, use a paring knife and slice into the stem side of the nectarine. Cut all the way around the nectarine. Remove the knife blade, then, using your hands, gently twist the fruit in opposite directions so the fruit pops open.
Take the tip of your knife and carefully remove the kernel.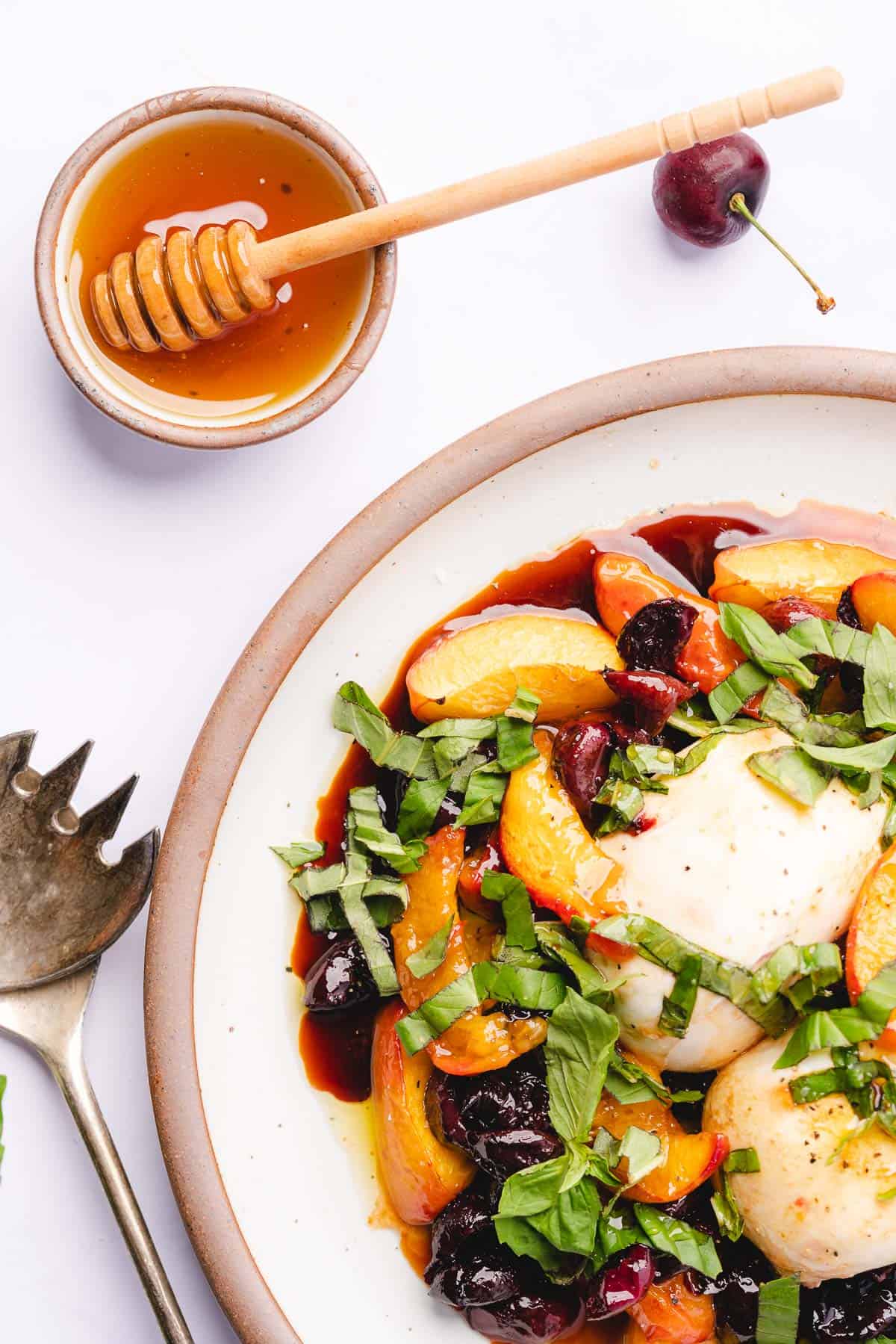 More Recipes To Try:
Need more ideas? Be sure to check out this massive list of over 85+ low carb and keto friendly recipes on our site!
Shop This Recipe:
Want to get supplies for this recipe or shop our keto kitchen or pantry? We've linked our favorites above and right here in our Amazon Store!
A Full Living is a participant in the Amazon Services LLC Associate program, an affiliate advertising program designed to promote a means for sites to earn advertising fees by linking products to amazon.com. We only share products we use and love. It doesn't cost you anything extra to shop using our links, but we earn a small commission that helps us keep this site going!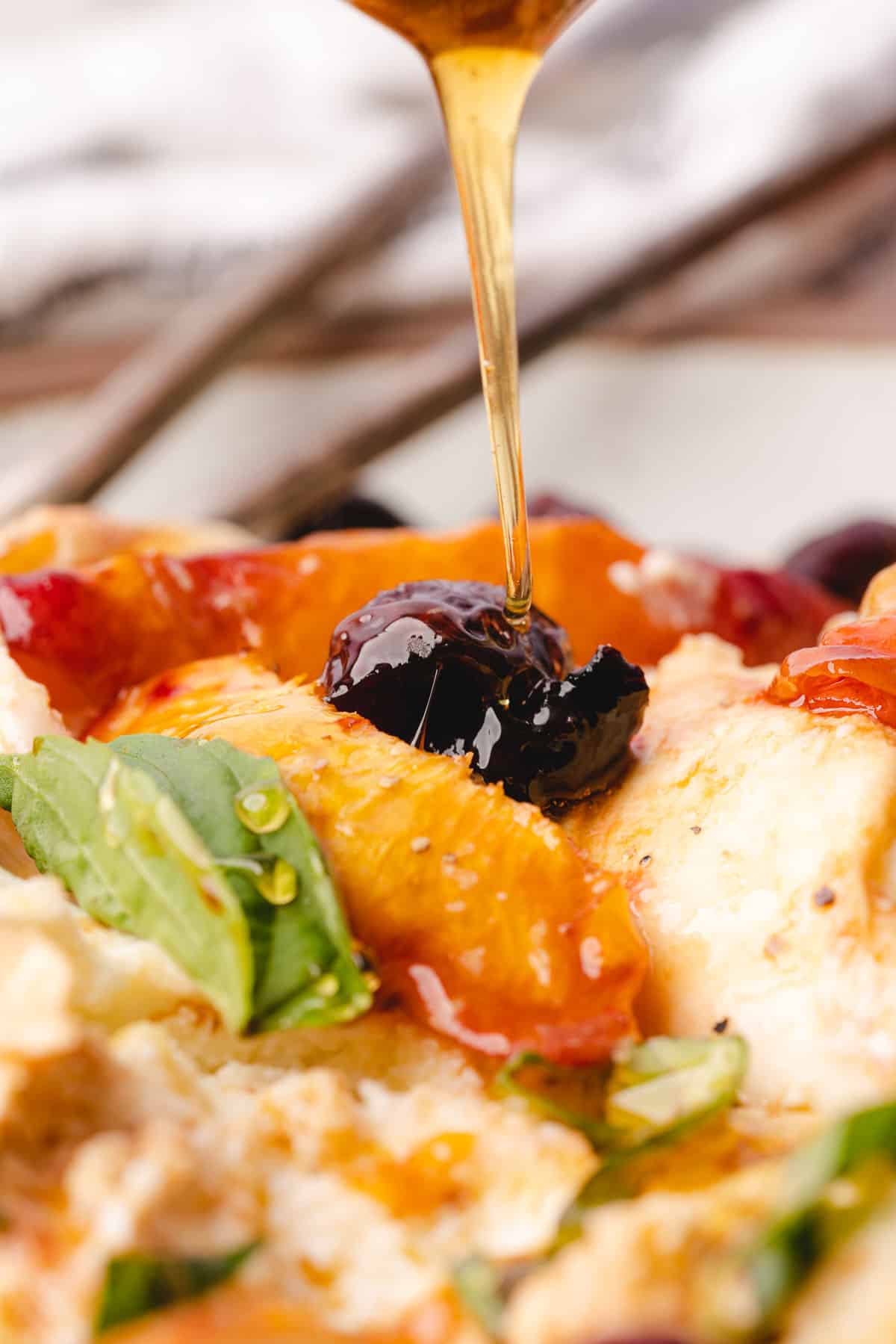 If you get a chance to try this recipe, let us know what you think, would ya?! Leave us a comment, or catch up with us on Facebook or Instagram, or pin to your favorite Pinterest board for later. We love sharing your versions of our creations over on Instagram @afullliving!
If you could please leave a comment and/or a rating if you loved this recipe, we would be forever grateful! (Ratings helps users find our recipes, since users say that they like them!)
Thanks for stopping by! Be sure to subscribe to our email newsletter so you're the first to know about new recipes we post on our blog.
Until Next Time,
Briana & Chamere
📖 Recipe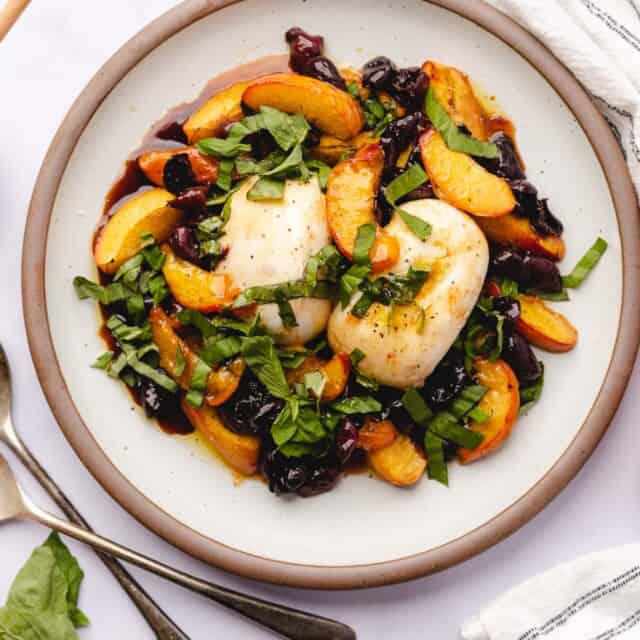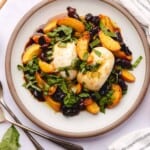 Baked Nectarines and Cherries with Burrata
Summer time is the best time of year, made even tastier by this sweet and savory stone fruit dish! Nectarines and cherries baked with a little bit of balsamic vinegar and honey to elevate the sweetness. A little salt and pepper, fresh basil and burrata cheese make for a savory dish that takes only a few minutes in the oven.
Print
Pin
Rate
Save
Saved!
Ingredients
3

whole

nectarines, cored, pitted and cut into eighths

5

ounces

sweet cherries, pitted and cut in half

2

tablespoons

balsamic vinegar, divided

2

tablespoons

olive oil, divided

1.5

tablespoons

honey, divided

¼

teaspoon

kosher salt, divided

⅛

teaspoon

ground black pepper, divided

8

ounces

fresh burrata cheese

1

ounce

fresh basil ribbons
Instructions
Preheat oven to 400°F. Arrange the fruit on parchment paper on a baking sheet. Drizzle with half of the balsamic, olive oil and about half of the honey. Sprinkle with salt and pepper, reserving some for serving later. Bake for 25-30 minutes until softened.

Remove from the oven and arrange on a serving tray. Place burrata in the middle, then top with fresh basil, remaining salt, pepper, olive oil, honey and balsamic. Dig in! 

This is best served fresh, but will keep for up to 2 days in the fridge.
Notes
This dish is best enjoyed right away. If you need to save any leftovers, eat it within 2 days tops after preparing it.
You can swap nectarines for peaches if you prefer.
You can use mozzarella cheese instead of burrata if you'd like.
Nutrition
Calories:
259
kcal
|
Carbohydrates:
14
g
|
Protein:
10
g
|
Fat:
21
g
|
Saturated Fat:
9
g
|
Polyunsaturated Fat:
1
g
|
Monounsaturated Fat:
5
g
|
Cholesterol:
40
mg
|
Sodium:
148
mg
|
Potassium:
115
mg
|
Fiber:
1
g
|
Sugar:
12
g
|
Vitamin A:
796
IU
|
Vitamin C:
4
mg
|
Calcium:
321
mg
|
Iron:
1
mg
These nutrition facts are provided as a courtesy and are only estimates. We cannot guarantee the accuracy.
Did you love it?
If you made this recipe, make sure to show us on Instagram at @AFullLiving or tag #AFullLiving! We love to see what you guys are making!