This Hamachi Crudo Recipe is fresh, light, and an easy way to impress your friends. Also known as yellowtail crudo or carpaccio, this marvelous dish is a great option for special occasions, as well as everyday snacks or light meals.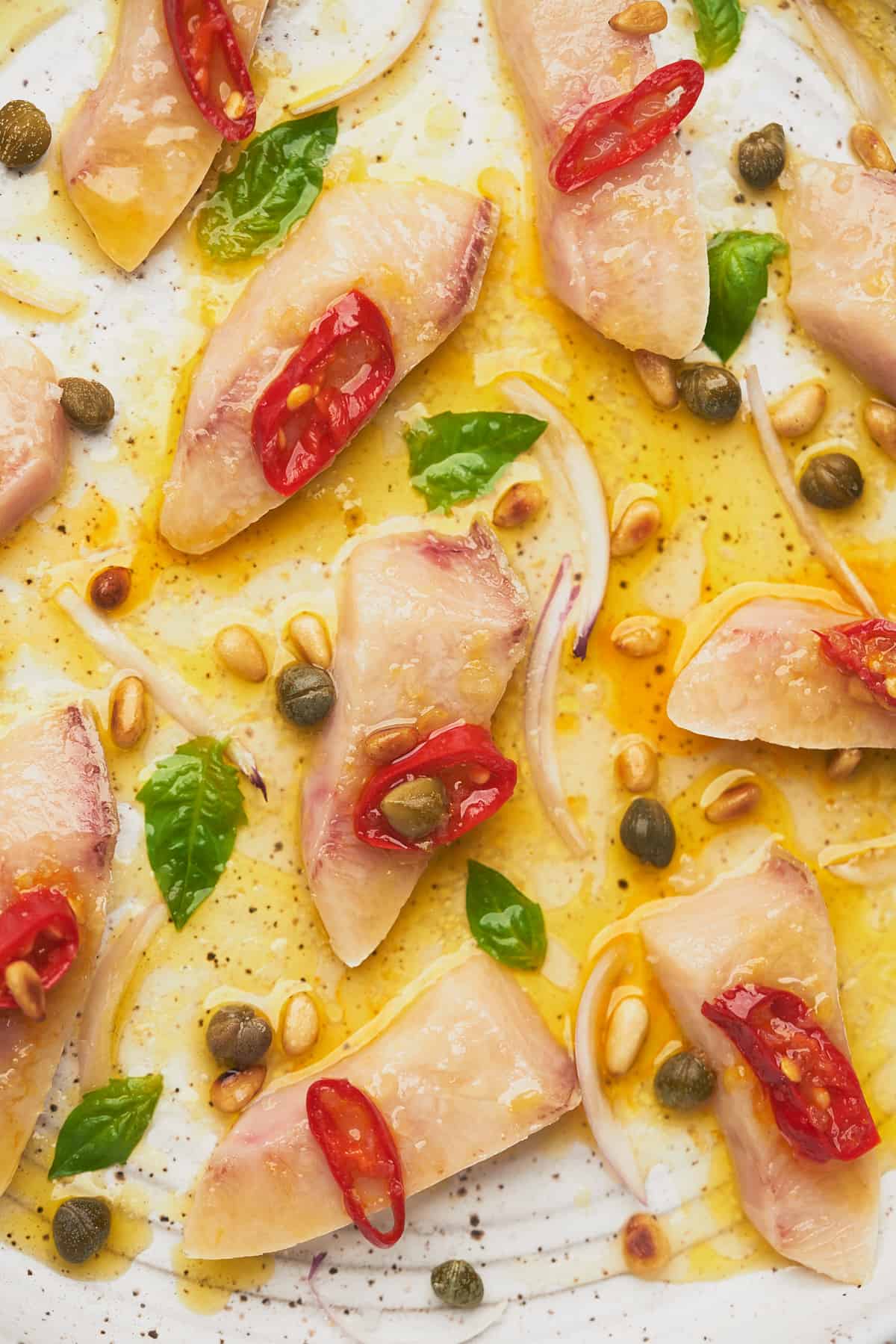 If you've been intimidated to try this delightful raw fish dish at home, don't be. We'll walk you through everything you need to know to make this hamachi carpaccio perfectly, every time.
Truthfully it's ready in minutes, but it's an excellent way to impress guests with its stunning presentation. You'll be delighted by the simple preparation and the delicious flavor profiles.
If you love seafood, be sure to try out this Finnish salmon soup, or this shrimp and broccoli skillet.
Jump to:
❤️Why we love this recipe
Fresh & light - This dish makes for the most delicious bite. It's buttery, citrusy, with a hint of brineyness and salt, sweetness, pungent flavors of shallots, plus a nutty crunch from pine nuts, a bit of spice from Calabrian chilis, and finally, a delicious herbaceous aroma and flavor from the basil!
Perfect for entertaining - This is an entertainers dream, as the presentation is show stopping, but many components can be made ahead and assembled quickly when it's time to serve.
Naturally gluten free, dairy free, low carb, and high protein - As long as you like to eat raw fish, this recipe will probably work for your diet, unless you're vegetarian or vegan of course.
Customizable - The great thing about this dish is that you don't have to garnish the same way we did. You can make substitutions or leave ingredients out as necessary to fit what you have on hand or what you prefer.
🐟Ingredients
Here are the ingredients we used for the hamachi carpaccio. The garnishes can be altered to suit your preferences. You can find full quantities and nutritional information in the recipe card.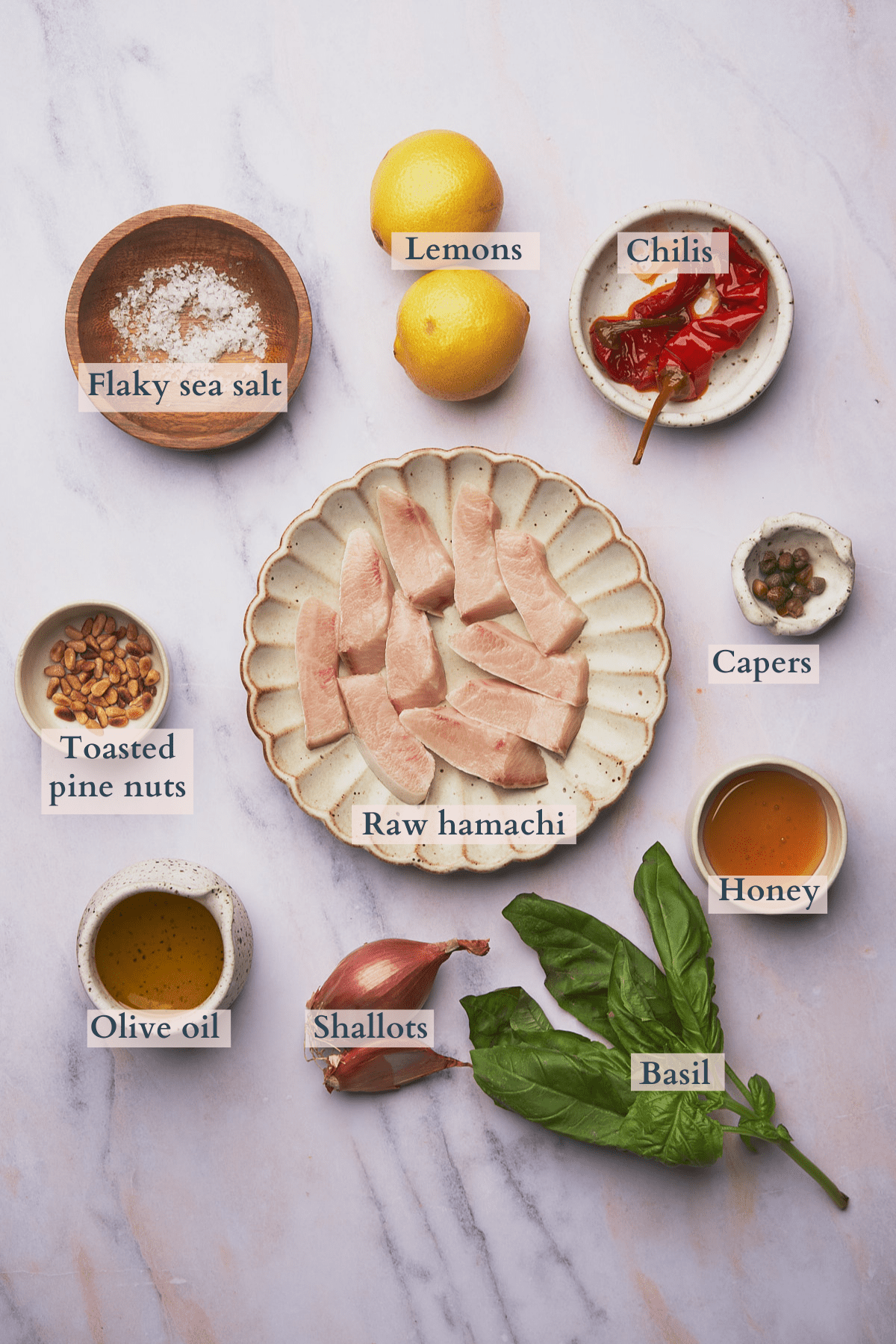 ✏️Ingredient notes
Hamachi or yellow tail - Use the freshest fish you can find, and since you will be eating it raw, look for sushi-grade fish. Ask your fishmonger to help you pick it out. We bought ours pre-sliced at H-mart, and it was labeled "yellowtail sashimi". It saved us a step of cutting and we already knew the quality was top notch since it was sold with the intention of being eaten raw.
Extra virgin olive oil - Use high quality olive oil, as this will be one of the main flavor components of the dish.
Lemon juice & zest - Use organic lemons if possible, since we will be grating the zest into the dressing.
Honey - Technically optional, but we love adding a bit of sweetness to the dressing, as it just ties the dish together.
Flakey sea salt - This dish should be served with high-quality, flaky sea salt to complement the flavor.
Capers - Optional, for a little brininess in the dish.
Shallots - Sliced very thin. This adds a mildly pungent flavor.
Calabrian chilis - This is optional, and great if you like a little bit of spice. Calabrian chilis are native to Italy and make for a delicious zip of spice, and smokiness.
Basil - We used tiny leaves of basil for garnish and amazing flavor.
Pine nuts - Also optional, but this flavor ties in perfectly with the Italian flavor profile.
📖Instructions
📋Prep work
Cut hamachi or yellowtail into very thin strips (if preparing the fish at home). It can be helpful to store the fish in the fridge for 30 minutes or so right before cutting, as this will make it easier to slice. Always slice fish against the grain. Be sure to discard the skin, as while it is edible, it has a very bitter and unpleasant flavor.
Thinly slice shallots, and chilis.
Toast pine nuts (optional). The pine nuts can be enjoyed raw, but toasting them adds a lot of flavor. In a skillet over medium-low heat, add pine nuts to the hot skillet and move them around frequently, until they are golden brown and release a nutty aroma. This will take 2-5 minutes. Set aside to cool.
Zest and juice the lemons.
Step 1 - Make the citrusy dressing
Start by combining lemon juice and zest, olive oil, honey, and a little salt in a small mixing bowl. Whisk with a fork or small whisk to combine.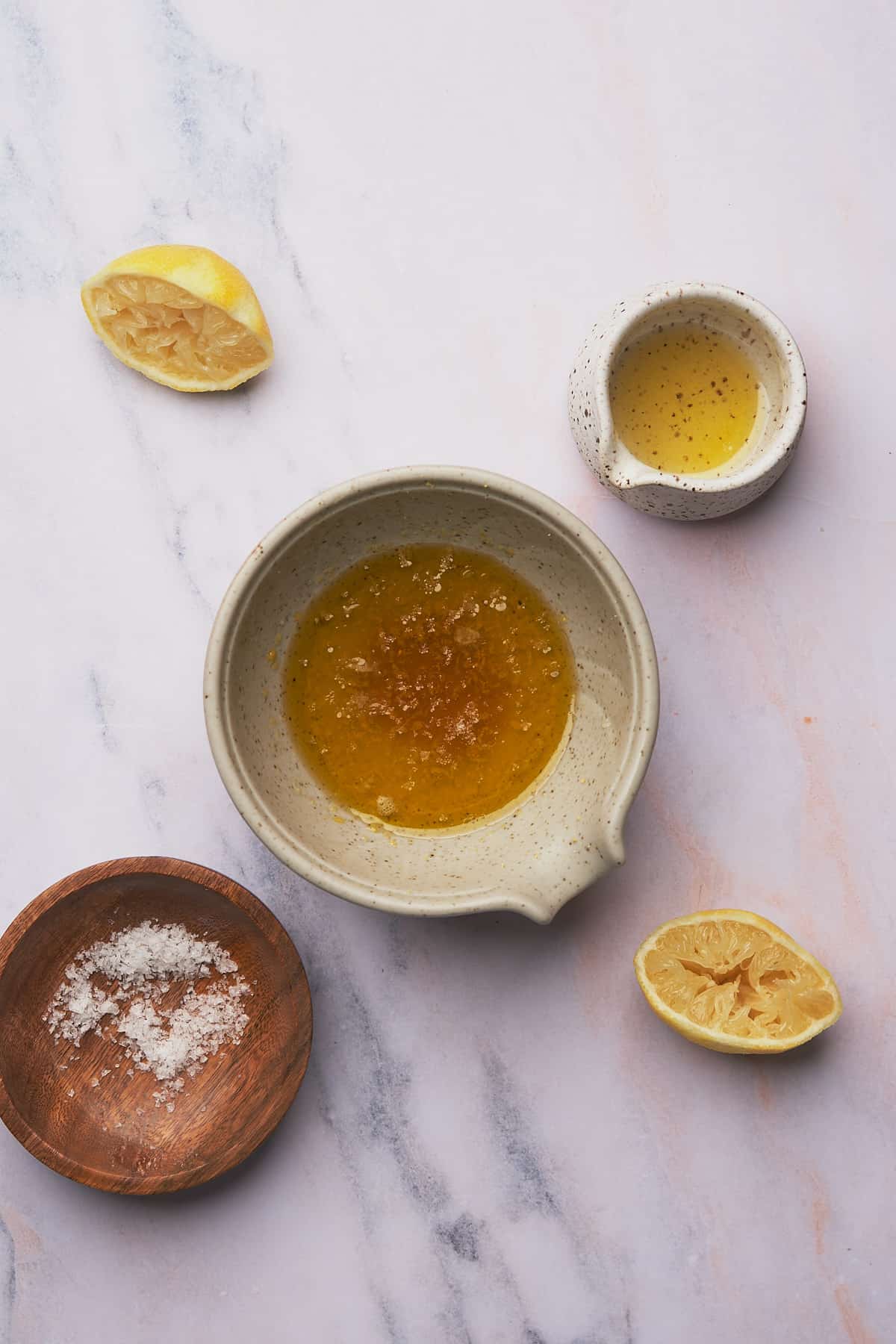 Step 2 - Arrange the fish
On a serving plate, arrange pieces of yellow tail. We like using a large round platter and going with a more organic shape, but you can also line the fish pieces up in a straight line on a rectangular plate.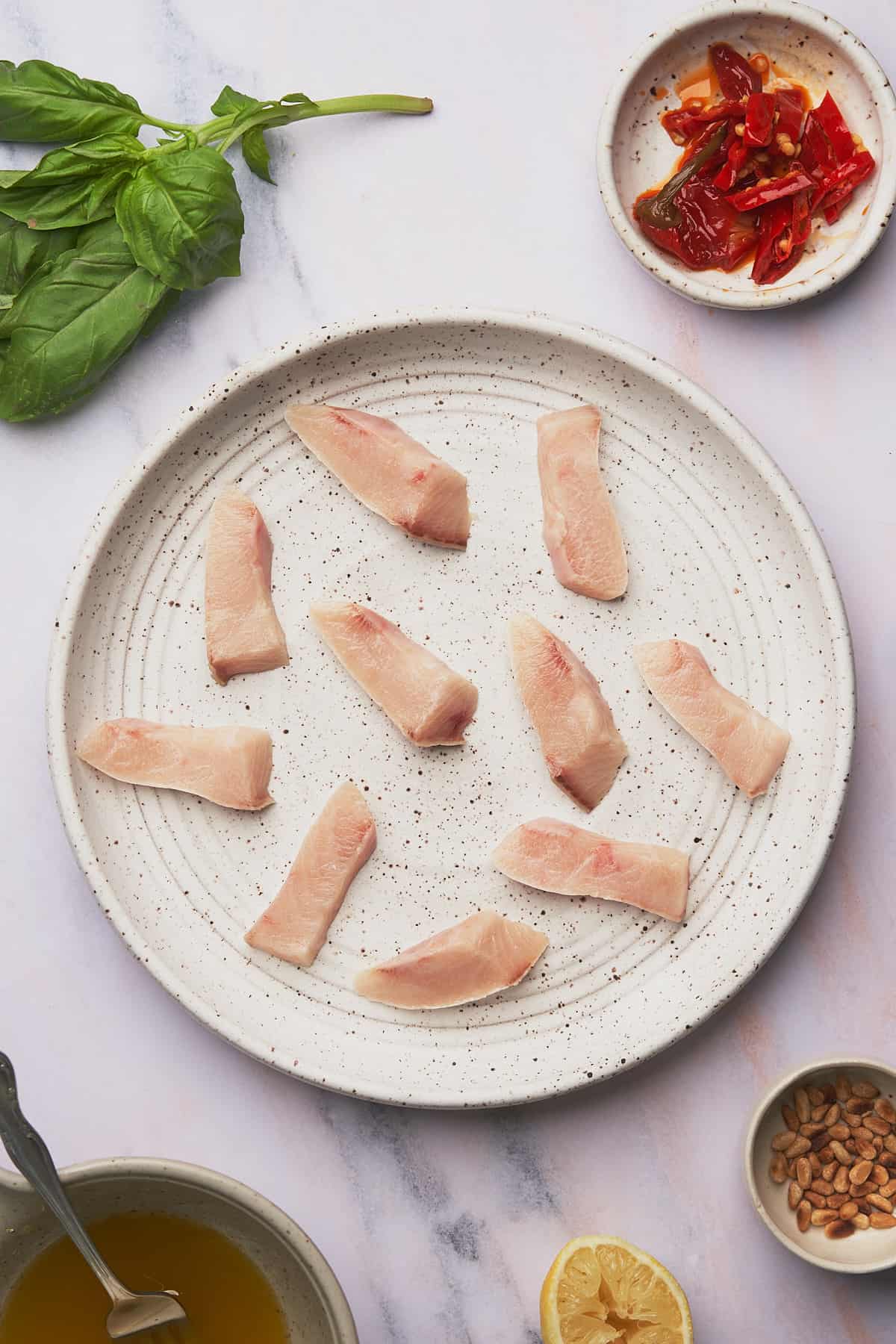 Step 3 - Drizzle with dressing
Drizzle the plate with some of the lemon juice, honey, and olive oil dressing.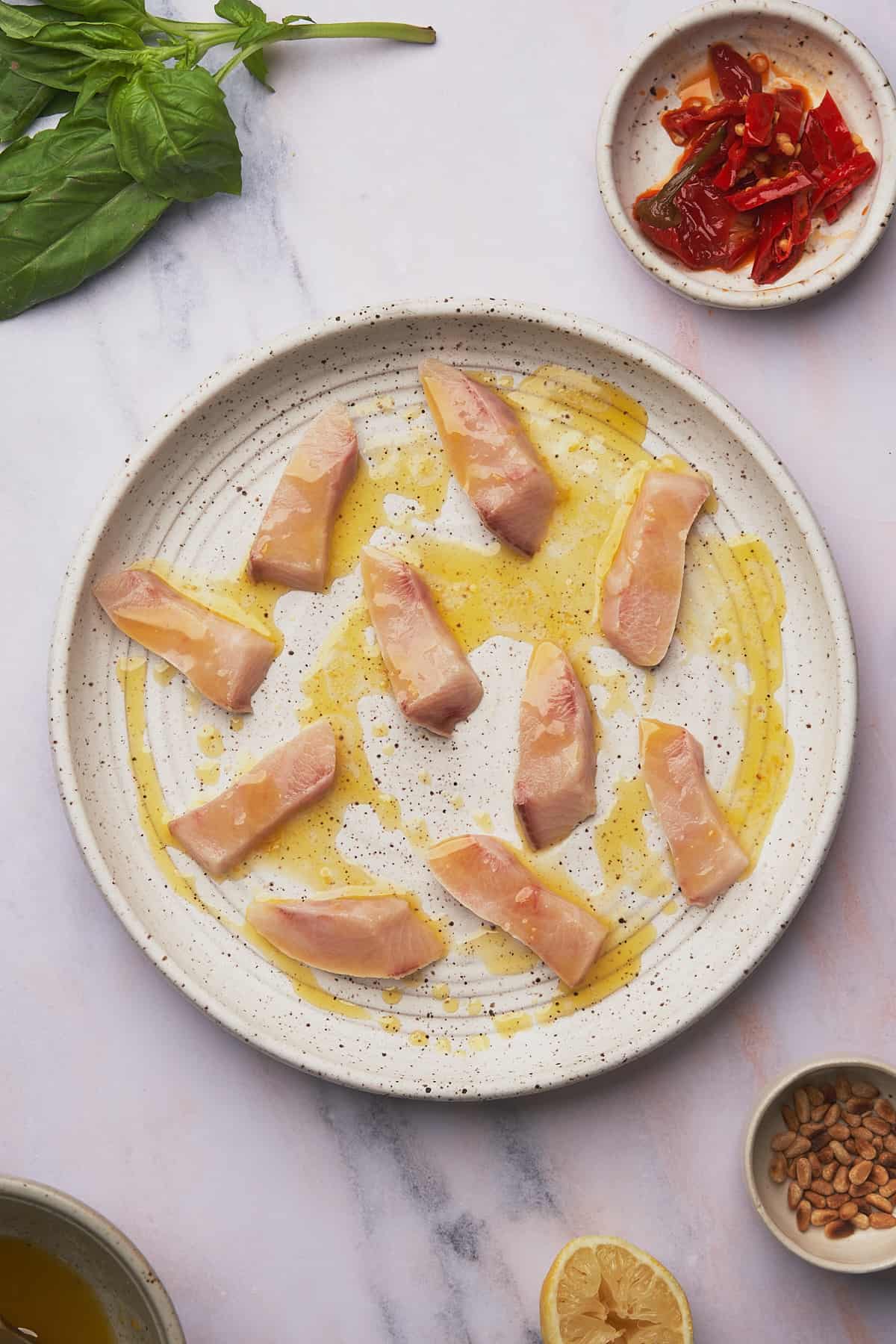 Step 4 - Garnish
Layer on the capers, and a slice of Calabrian chili on top of each piece of fish.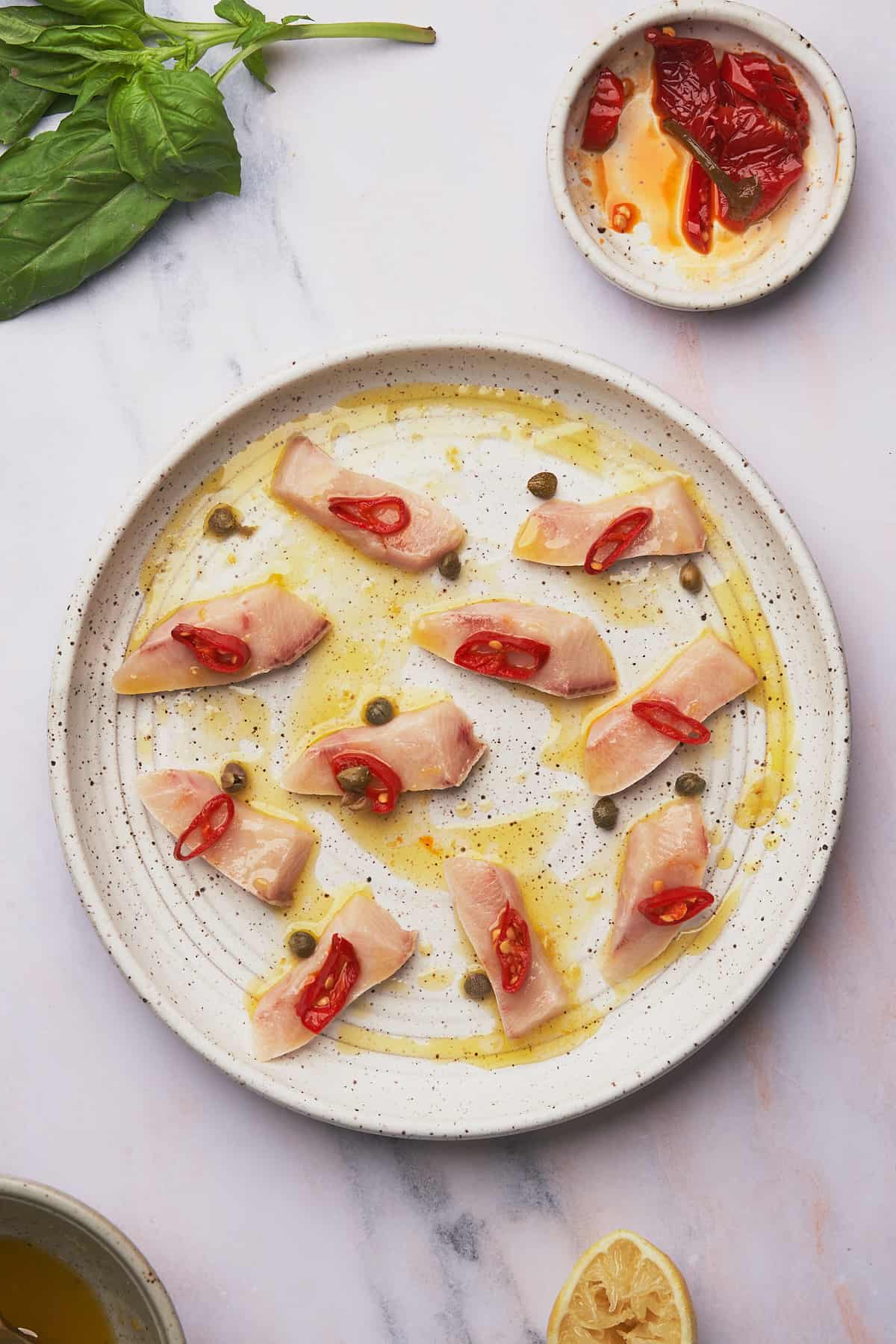 Layer on toasted pine nuts, and thin slices of shallot.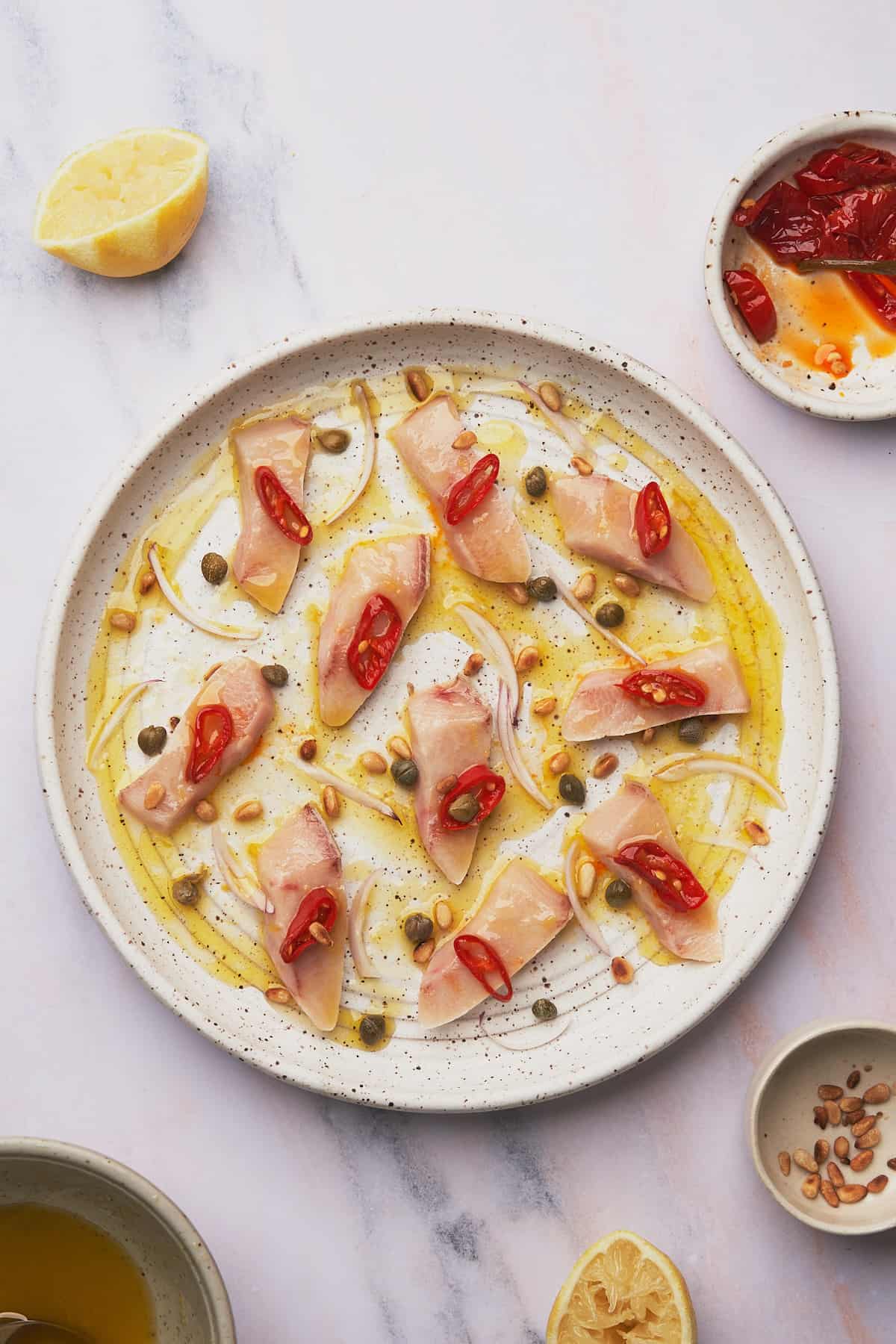 Step 5 - Finish plating & serve
Lastly, add basil, then sprinkle with a pinch of sea salt, and drizzle with more citrus dressing. Serve and enjoy!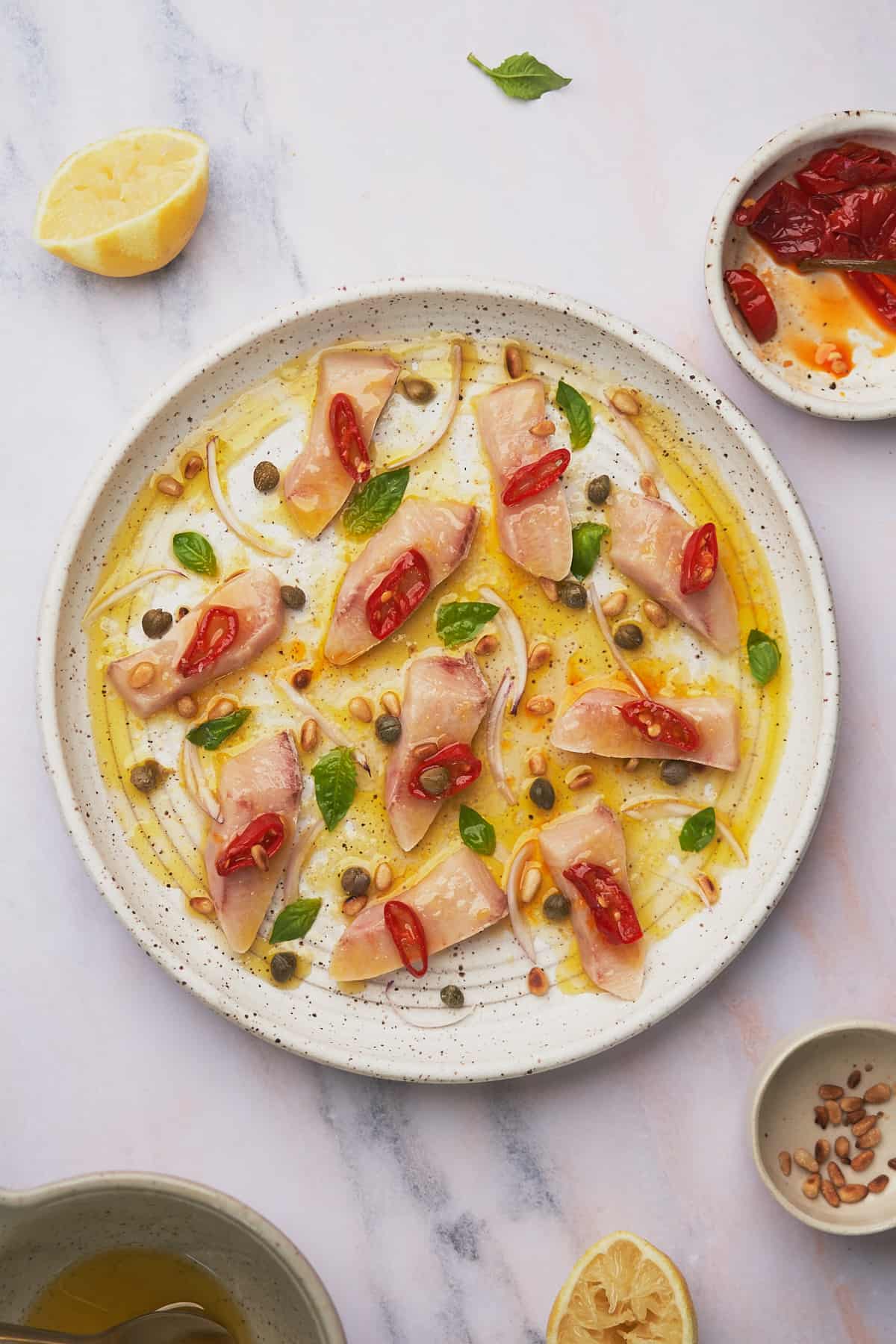 💭Frequently asked questions
What is hamachi?
You may have seen hamachi referred to as yellowtail or amberjack, and both are also correct! 'Yellowtail' refers to the actual yellow tail of the fish, along with a yellow stripe that runs down the side of its body.

The stage of life also impacts the name of the fish. Hamachi refers to when the fish is 6 pounds, and Buri is when the fish reaches 10 pounds.

Hamachi can be found in the Northwest Pacific Ocean, caught off the coasts of China, Korea, Japan, California, and Hawaii. Japan in particular has really popularized the fish, as you will often see it served as hamachi sashimi at sushi restaurants.
Is yellowtail or hamachi the same as tuna?

No, in fact, it's not, though they are very commonly mixed up! Yellowfin tuna is a very popular fish, and the names sound quite similar.
Where do you buy hamachi?

Hamachi or yellowtail isn't always easy to find depending on where you live. Many specialty stores and Asian supermarkets will carry it.

We purchase our hamachi from H-mart, a Korean supermarket. You can also purchase frozen hamachi or yellowtail online from various online fish markets.
What does hamachi taste like?
Hamachi is soft and buttery texture and flavor. It's a bit oily and rich, while still being very versatile. Hamachi can be eaten raw or cooked. Generally, it's eaten raw, due to its mild flavor and awesome texture.
What does crudo mean?

Crudo literally translates to 'raw' in Italian. It's referred to as a serving technique similar to carpaccio and can be applied to fish, shellfish, and beef.

Crudo of any kind is generally prepared with a simple base of salt, olive oil, and citrus juice or vinaigrette of some kind.

Other toppings can vary widely, and there is an emphasis made on beautiful presentation. 
What's the difference between sashimi and crudo?

So now that we've been over what crudo is, you may be asking what the difference is between Japanese sashimi and Italian-style crudo.

Truth be told, there isn't really a definitive answer to this, but most experts state that sashimi focuses more on the fish being the star of the show, while crudo preparations focus more on beautiful garnishes. They are often incredibly similar, however, and focus on the raw state of the fish.

You may find this fish served with ingredients like soy sauce or ponzu sauce and yuzu at a Japanese restaurant.
🧊Raw fish consumption safety
Raw fish can be safe to eat, as long as you follow the FDA's guide to safely handling and consuming raw fish.
Your yellowtail or hamachi should always be considered sashimi grade fish to be safe for raw consumption. Though sushi-grade hamachi is not a regulated term (like all types of sushi grade fish), there are certain standards set in place for fish that are meant to be consumed raw. You can read more about them here!
The fish should not have an overwhelming fishy smell. The hamachi should have a firm texture, and there should be no milky white or slimy texture to the fish.
The hamachi should not be left out at room temperature for any longer than 2 hours, and should always be stored in the fridge.
To prevent foodborne illness, don't allow more than 48 hours to elapse between purchasing the fish (if purchased raw) and serving it.
Vulnerable groups should not consume this dish or raw seafood. This includes pregnant people, young children, older adults and the elderly, as well as those with weakened immune systems.
✨Tips & tricks
Make sure to slice the ingredients very thin, for delicate, delicious bites of fish.
Don't overpower the dish with too many or too much of a certain garnish. The garnishes are meant to enhance the flavor of the fish, but not overpower it.
Use the freshest fish possible. We hope this goes without saying, that since you're eating it raw, make sure it's sashimi-grade hamachi.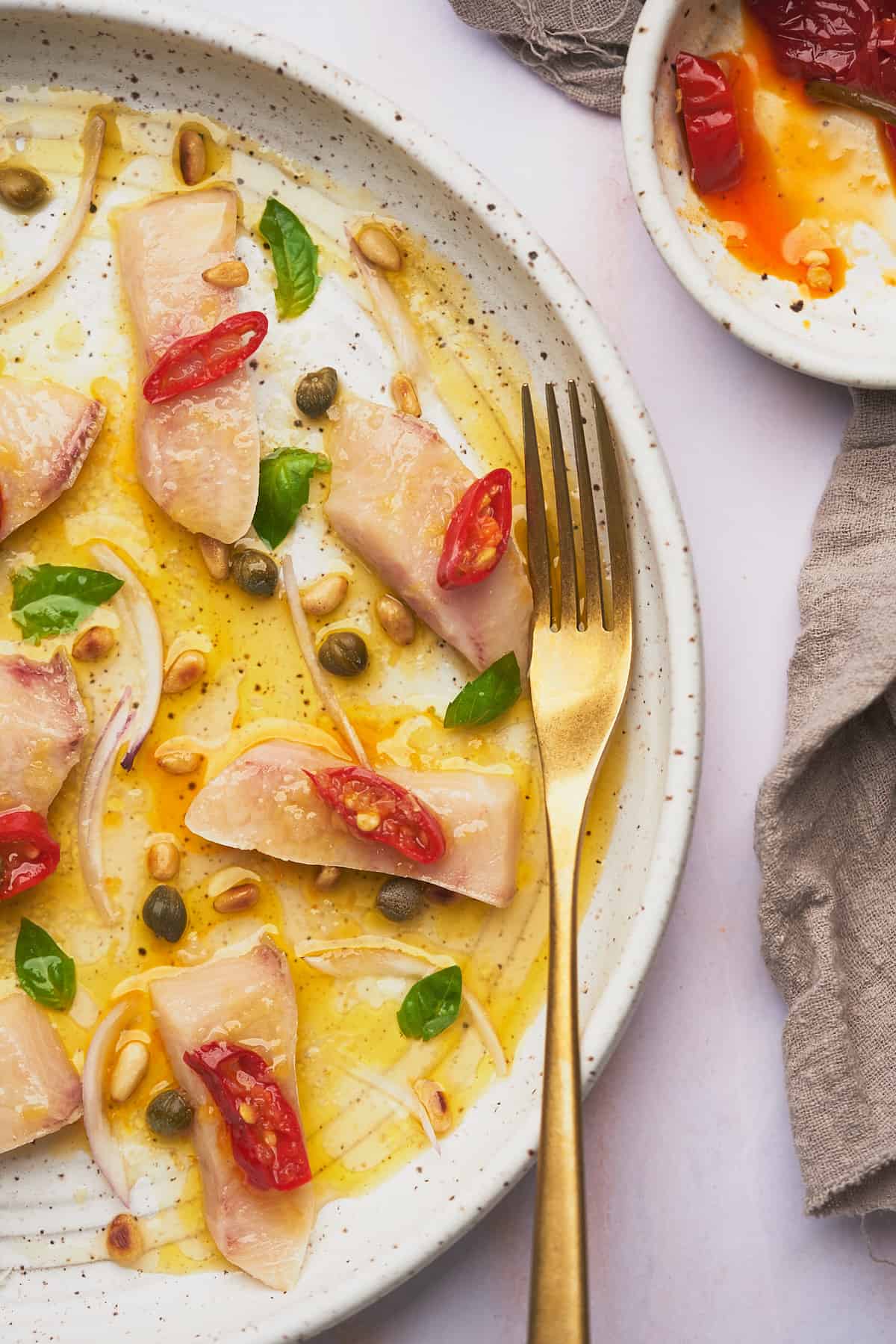 ✏️Substitutions & variations
The ingredients are pretty straightforward, but here are a few simple swaps you can make.
You can easily make this dish with other sushi-grade fish like salmon, tuna, or scallops.
You can swap out the lemon for your favorite citrus juice, like lime juice, or grapefruit juice.
Add micro greens, or edible flowers to enhance the presentation.
Swap out shallots for a few thin slices of red onions.
Add a clove or two of garlic, finely grated with a microplane. We love garlic, but don't go overboard here, as you want to let the flavor of the fish shine.
Don't like spice? No problem, just leave the chilis off!
You can remove any of the elements that you don't like, aside from the lemon juice, olive oil, and salt of course.
⏲Equipment
This recipe is actually very simple. While this dish is very fancy in presentation, there is not much needed to make it.
Make sure you have a very sharp knife for getting nice and thin slices of fish.
We also use a microplane to finely zest the lemons.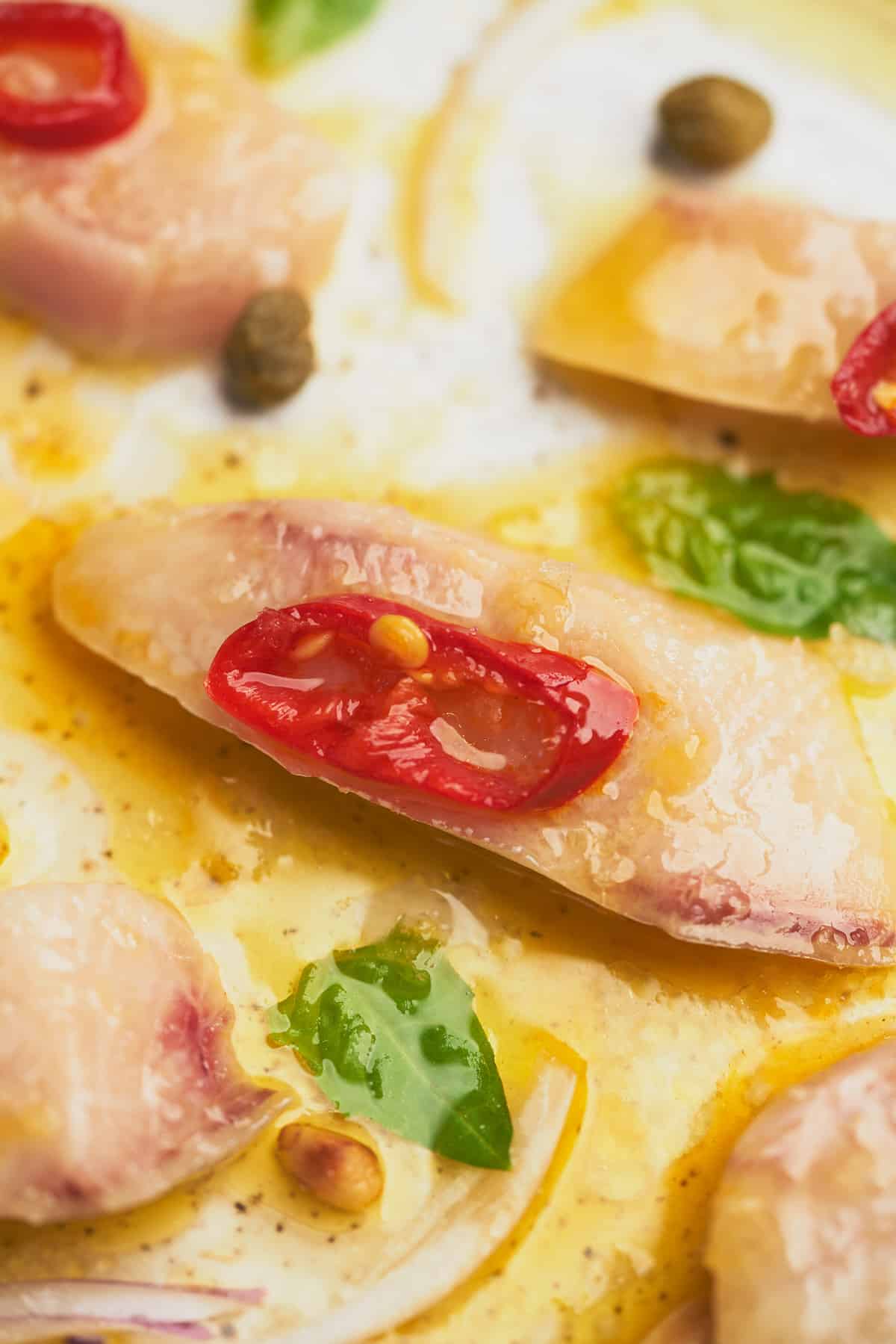 🍾Wine pairing
Since this is an Italian-style preparation of this fish, we'd recommend sticking to Italian white wines or rosé if possible. We'd recommend something on the drier side, that's crisp & citrusy.
Luckily, most Italian white wines fall into this category. Think Pinot Grigio, or even brut prosecco if you want something sparkling. You can also reach for a bottle of Sauvignon Blanc if none of those options are available to you.
Stay away from oaky Chardonnays in this instance, as you want something lighter and crisper to complement the yellowtail.
🥣Storage
If preparing in advance, you can cut up fish slices and prep ingredients as far as 24 hours in advance. Store the fish in a fridge, covered with plastic wrap. When it's time to serve, assemble & enjoy!
While this dish is best enjoyed fresh, you can store leftovers in an airtight container in the fridge for up to 24 hours.
🌟Leave a review!
Make sure to leave a 5-star review below if you love this dish! This helps other readers find our recipes via Google, and encourages them to try them. Also be sure to leave a comment with your experience!
Take a photo and share with us by tagging us on Instagram or follow along on Pinterest for more ideas!
📖 Recipe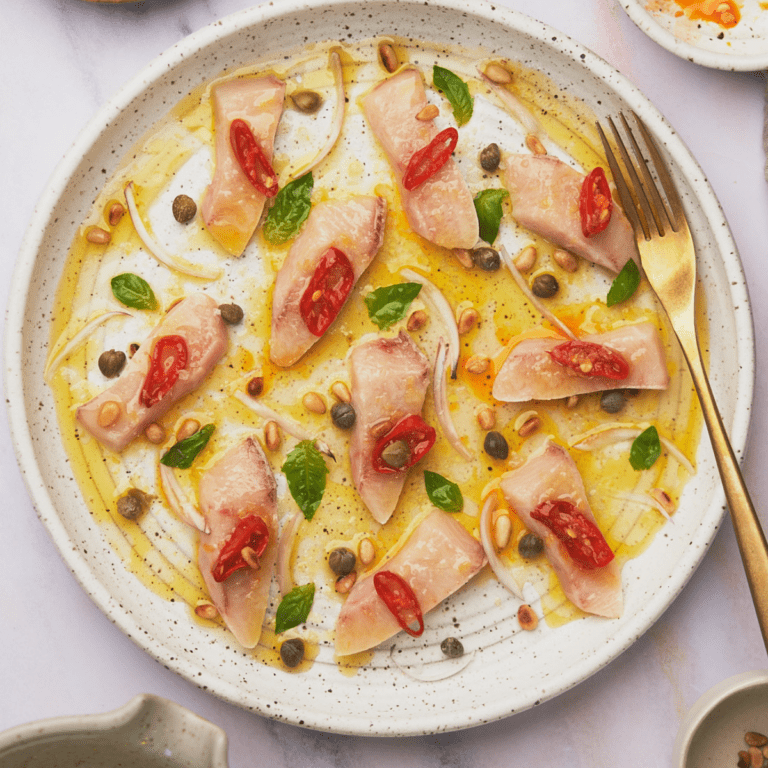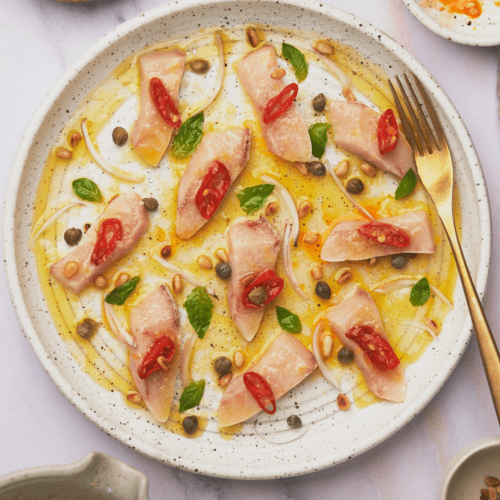 Hamachi Crudo
Light and refreshing, this delicious Hamachi or Yellowtail Crudo is the perfect appetizer to impress your guests. Made with sushi-grade Hamachi and a few kitchen staples in just a matter of minutes!
Ingredients
Citrus dressing:
2

tablespoons

extra virgin olive oil

(use something high quality)

1

medium

lemon, juice and zest

½

tablespoon

honey

(optional and to taste)

pinch of sea salt
Hamachi and garnishes:
4

ounces

sushi-grade Hamachi, thinly sliced

(also known as Yellowtail or Amberjack)

½

medium

shallot, thinly sliced 

1-2

whole jarred Calabrian chilis, sliced into rounds

(optional and to taste)

1.5

teaspoons

capers

(optional and to taste)

1.5

teaspoons

pine nuts, toasted

(optional)

½

teaspoon

flaky sea salt

10

micro

basil leaves
Instructions
In a small bowl, combine olive oil with lemon juice and zest, a pinch of flakey sea salt, and honey. Use a whisk or fork to combine.

Arrange slices of hamachi or yellowtail on a serving plate. Top with Calabrian chilis, pine nuts, capers, and shallots. Finish with more dressing, basil, and flaky sea salt. Enjoy!

This dish is best enjoyed fresh but can be stored in the fridge in an airtight container or covered with plastic wrap for up to 24 hours.
Notes
Keep this dish refrigerated right up until it's time to serve, and do not allow it to sit out at room temperature for more than 2 hours. Visit the FDA website to find out more about safely consuming & handling raw fish. 
Feel free to make swaps or leave off elements of the dish you don't want or like as needed. The only necessary ingredients are the fish, olive oil, salt, and lemon juice. Visit the body of the post for suggestions. 
Nutrition
Calories:
119
kcal
Carbohydrates:
6
g
Protein:
7
g
Fat:
8
g
Saturated Fat:
1
g
Polyunsaturated Fat:
1
g
Monounsaturated Fat:
5
g
Cholesterol:
10
mg
Sodium:
332
mg
Potassium:
216
mg
Fiber:
1
g
Sugar:
4
g
Vitamin A:
276
IU
Vitamin C:
32
mg
Calcium:
24
mg
Iron:
1
mg