As you know, we have been following a low carb diet for years now. We find many personal benefits to eating lower carb, cutting out sugar, or following a keto diet. Cutting back on carb counts help us feel our best!
Does this mean your favorite cocktails are out of the equation?
Well, not exactly. If you have been following us for a while, you know by now that we that we don't entirely eliminate something when we can find a healthy substitute. The same is the case with cocktails, we made these low carb and keto cocktails for you to enjoy without worrying about the carbs.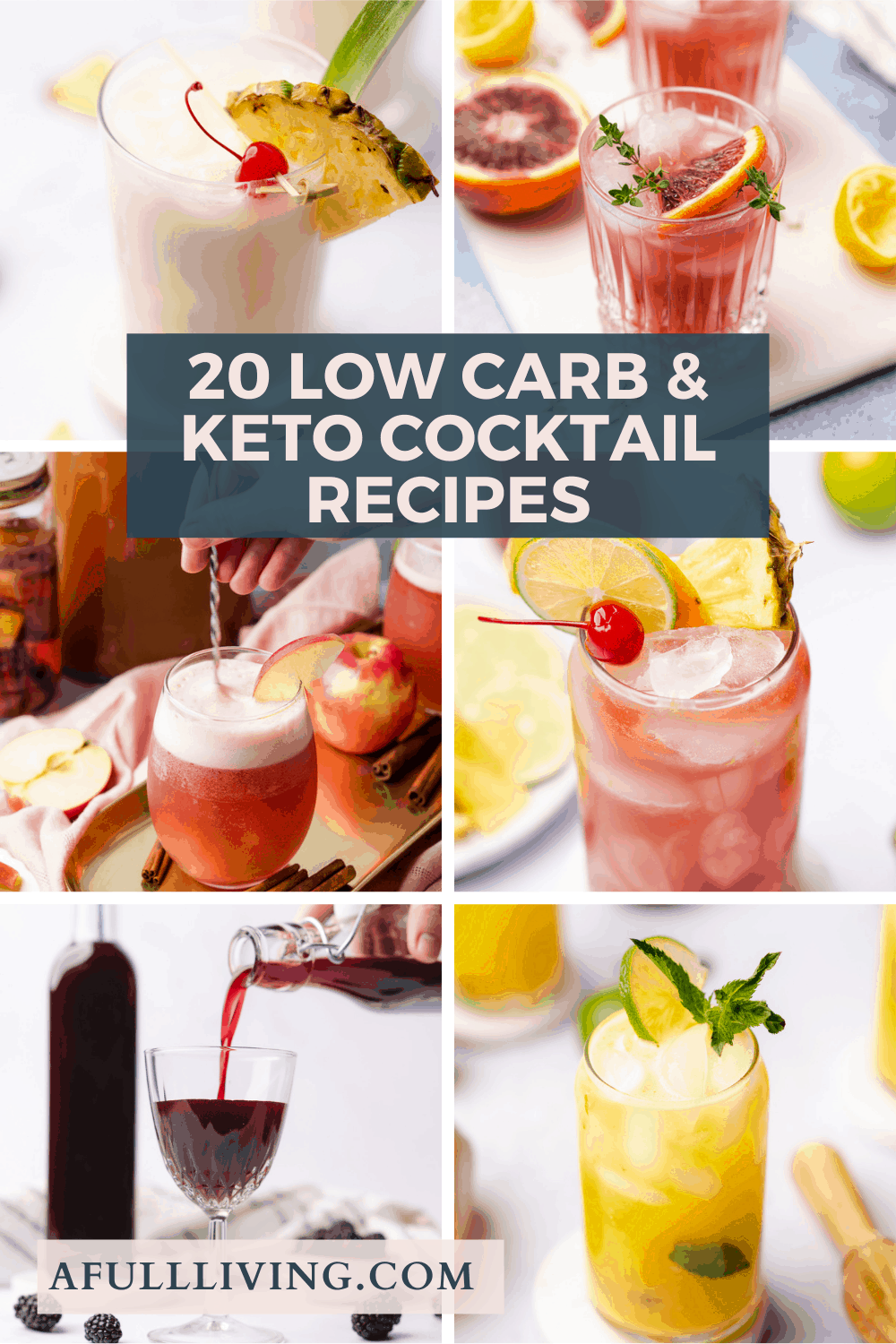 It's fine to have a cocktail occasionally with friends or after a long and hard day but needless to say that even though these are keto friendly, they aren't technically healthy. So, as long as you enjoy these low carb cocktails in moderation and responsibly, you are going to be fine.
Related: 92 Easy Low Carb and Keto Recipes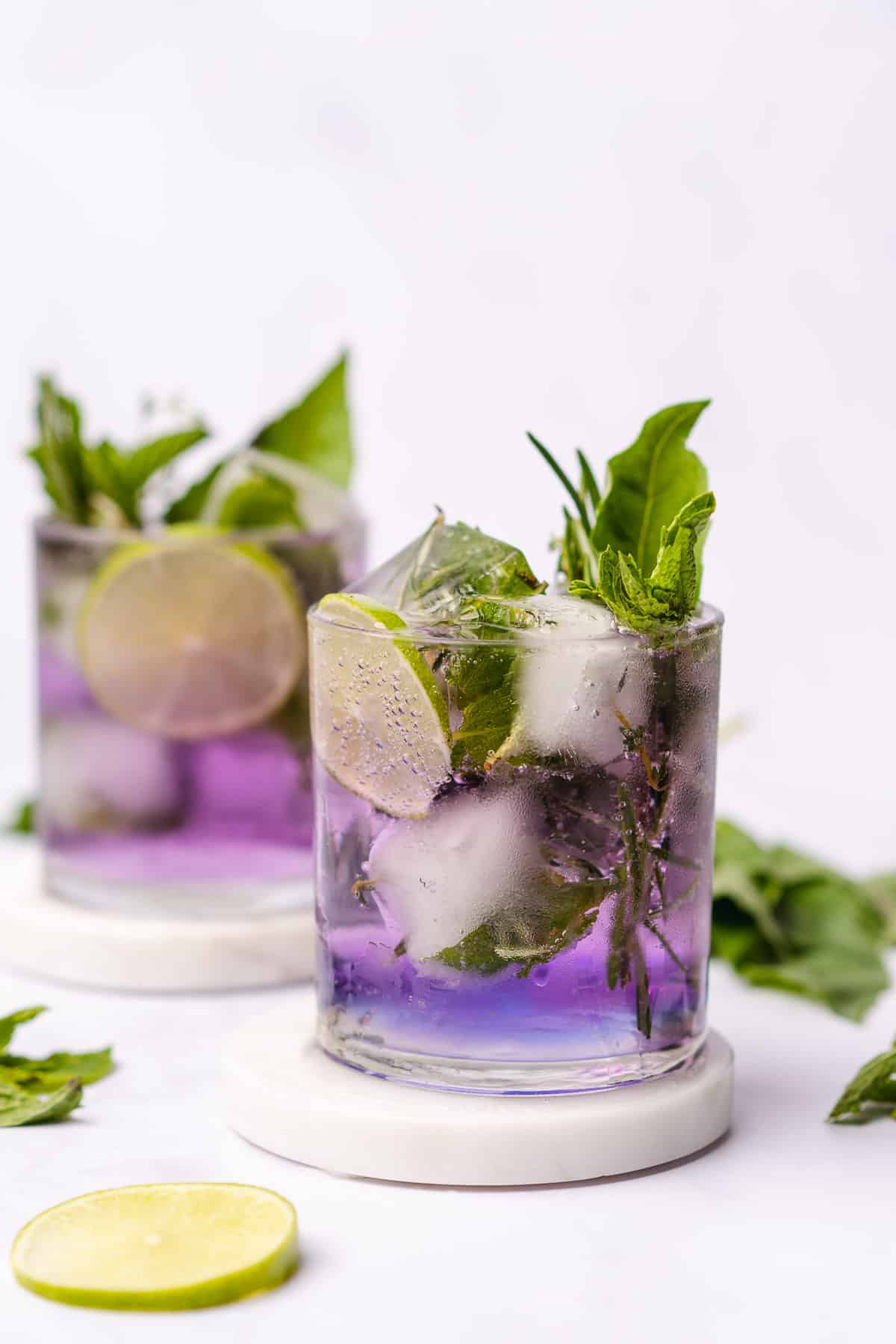 1. Keto Gin and Tonic Recipe
Admit it that carbs are precious when you are on keto and you definitely don't want to exhaust your daily limit on a single drink. Well, it's no problem when you can have this Keto Gin and Tonic with Summer Herbs. It's a refreshing keto cocktail of the summer. Normal gin and tonic recipes out there use regular tonic water which is full of carbs, so we used diet tonic water. You don't have to worry about carbs because it's just 2g of them in the whole cocktail. The homemade infused simple syrup gives it a wonderful, subtle touch that will leave you wanting more!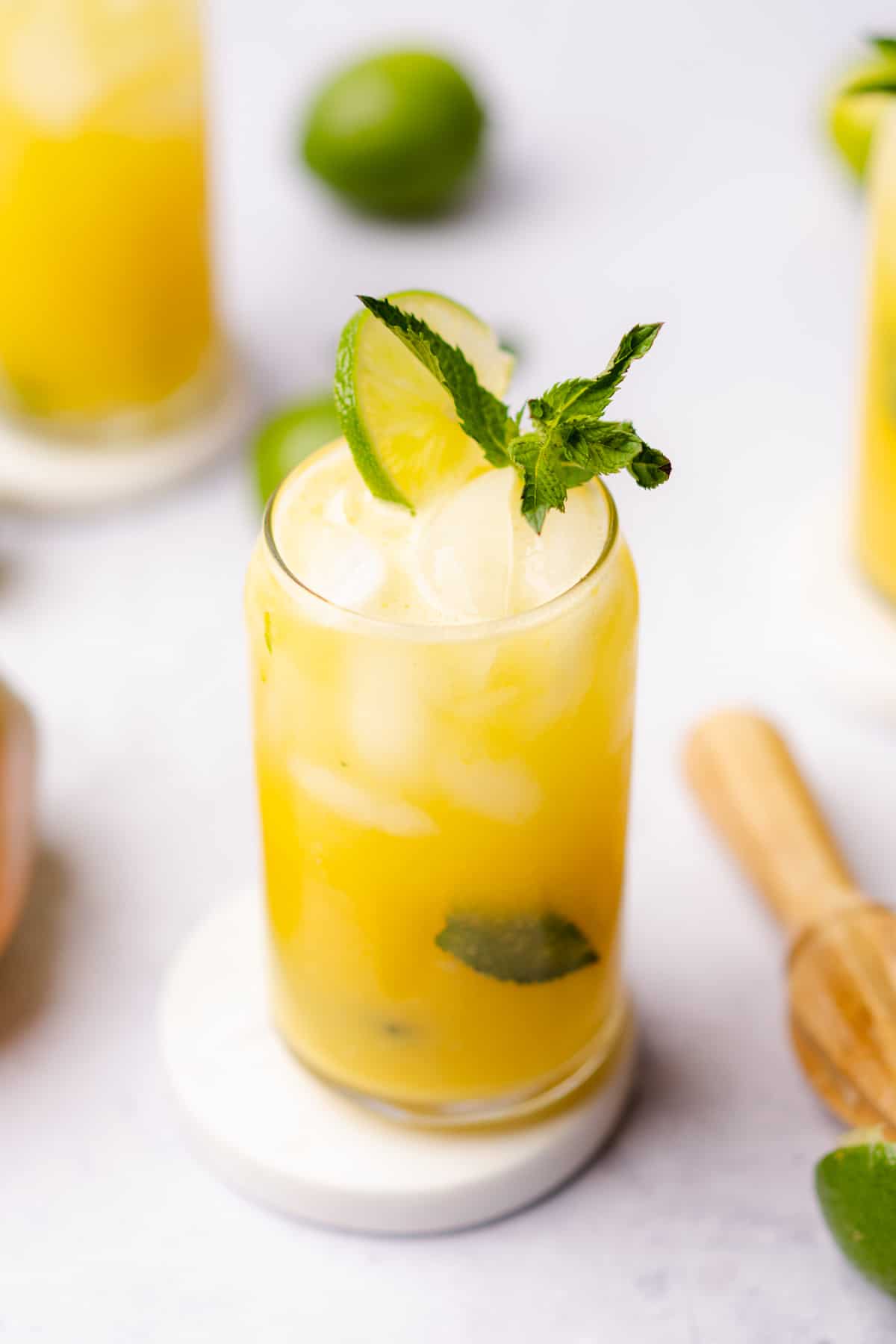 2. Mango Mojito Recipe (Sugar Free)
Summer season is all about sunrays, refreshing drinks, and yummy cocktails. We like to have something special to help us cool off, like a Low Carb Mango Mojito. It's a perfect low carb cocktail for the summer with a refreshing combination of mangoes, rum, mint and light rum. Even if you don't want to add booze, you can just enjoy a mango mocktail, your call. You can make this sugar free cocktail in 12 minutes and it's going to be your instant favorite. A new summer classic!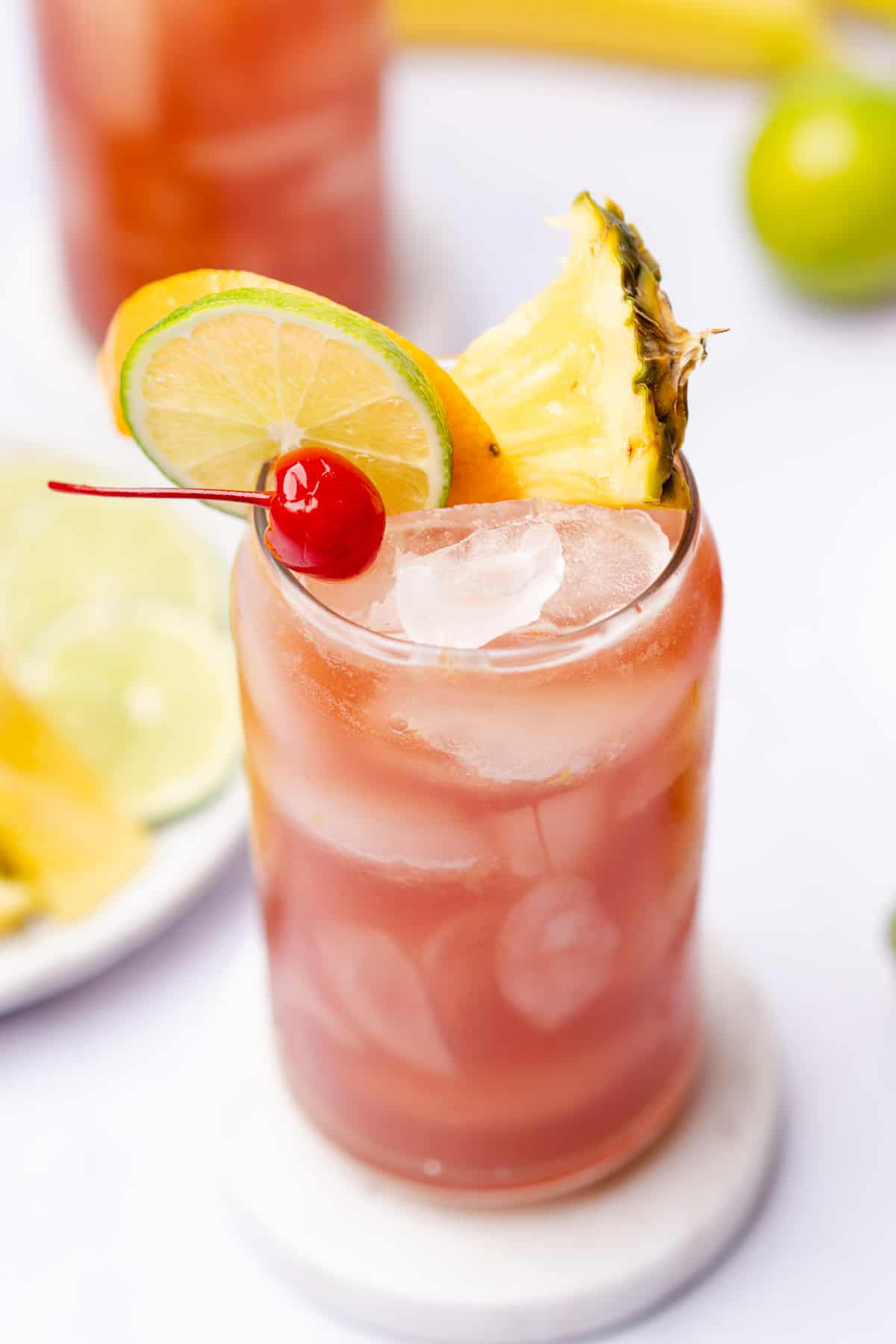 3. Rum Runners Cocktail Recipe
It's great to have a fruity cocktail but most cocktails like a rum runner are loaded with sugar. We found a way around it by preparing our own liqueurs. This Rum Runners Recipe is a low carb cocktail recipe with almost half the carbs from the other recipes out there and free from refined sugars. The taste is lovely, so enjoy a great combo of rum, grenadine, and banana liqueur in the long summer nights or in the winters, it's your call.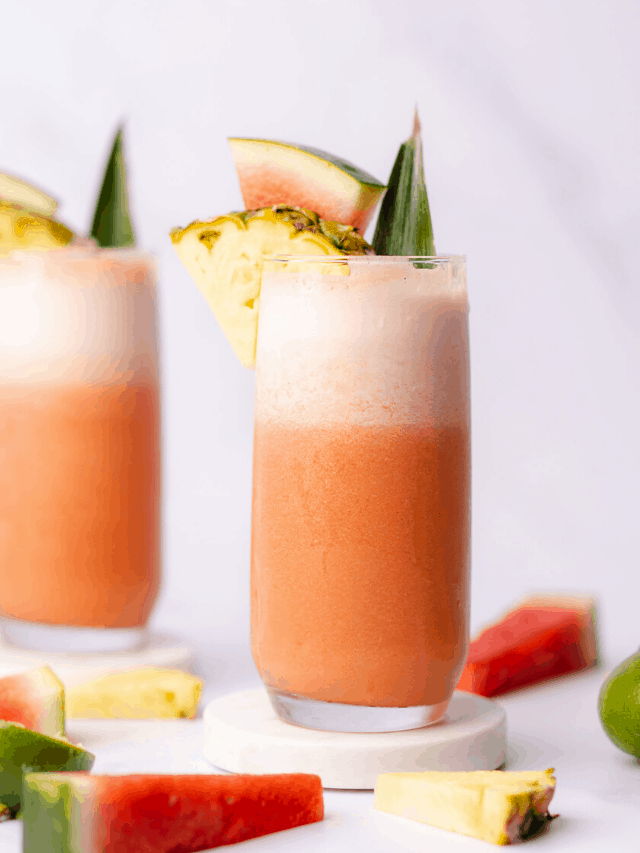 4. Pineapple Watermelon Daiquiri (No Sugar Added)
Who says you can't have pineapple on low carb?! How about a low carb summer cocktail to make for your friends and family at the next get together? Try this No Sugar Added Pineapple Watermelon Daiquiri. It is a quick and easy low carb cocktail that can be made in minutes in a blender. Even if you aren't on a low carb diet, you'll agree that tons of added sugar isn't great so it's great to have a cocktail that's refreshing and have a naturally sweet taste because of pineapple and watermelon.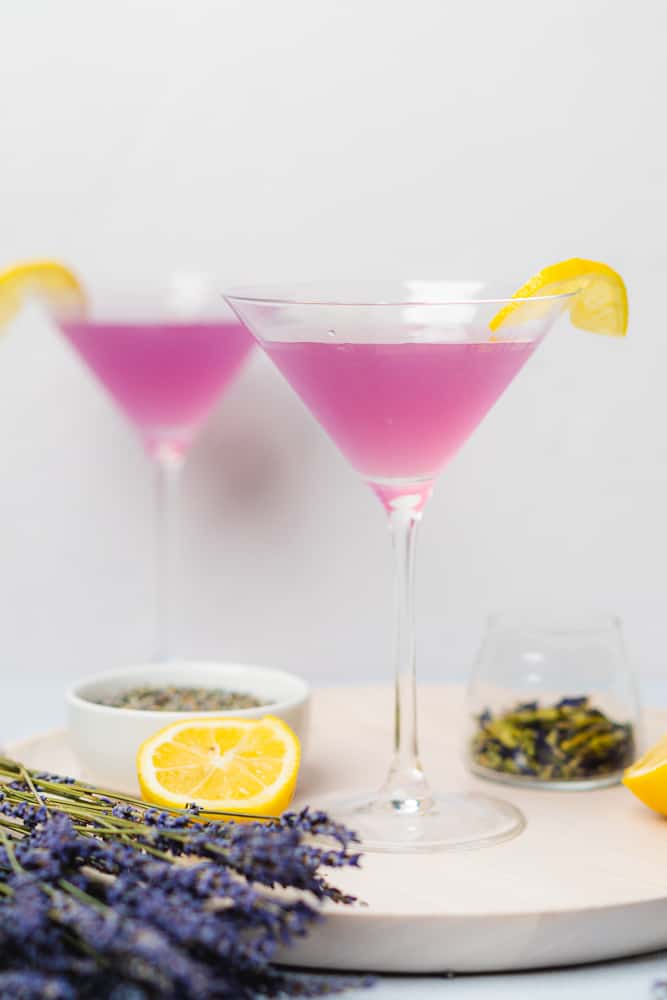 5. Easy Lavender Martini Recipe
Lavender is something we love in our household. If you are ever in mood for a floral and keto cocktail recipe which is super easy to make, this Easy Lavender Martini Recipe is the clear choice. You can make this vodka martini in the summers or spring, whatever your heart desires. It's elegant, floral aroma and refreshing taste are going to blow your mind! We make our own sugar free lavender syrup to keep the carbs count down and a single lavender martini have only 1g of net carbs per serving. Try this low carb cocktail and it's going to be your go-to recipe.
6. Keto Piña Colada
There are a lot of Keto Piña Colada recipes out there but what's special about our recipe is that we make this with the real pineapple! Most people think pineapple isn't a low carb friendly fruit, but we managed to make this keto cocktail under 5g net carbs per serving. It's sweet, refreshing and lusciously creamy and you can make it with a few staple ingredients. A few minutes of your time and you can enjoy your low carb Piña Colada.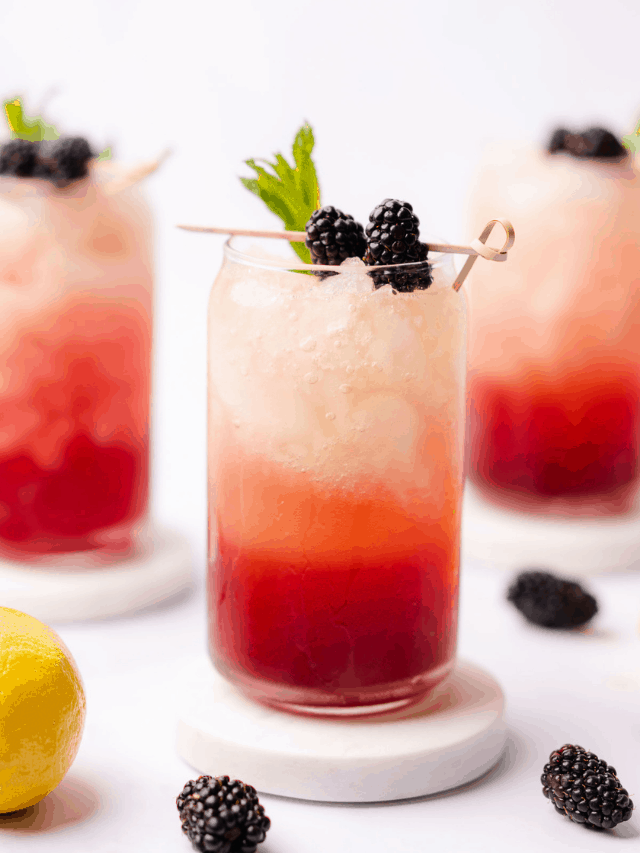 7. Bourbon Bramble — Sugar Free Keto Cocktail
A Bramble is a combination of a gin cocktail, lemon juice and creme de mure; and this cocktail is a variation on the classic recipe. If you want to beat the heat on a hot summer day, this Bourbon Bramble is the perfect solution. We even make our sugar free blackberry liqueur to keep it a keto cocktail. It's super easy to make and it's just under 3g of net carbs per serving.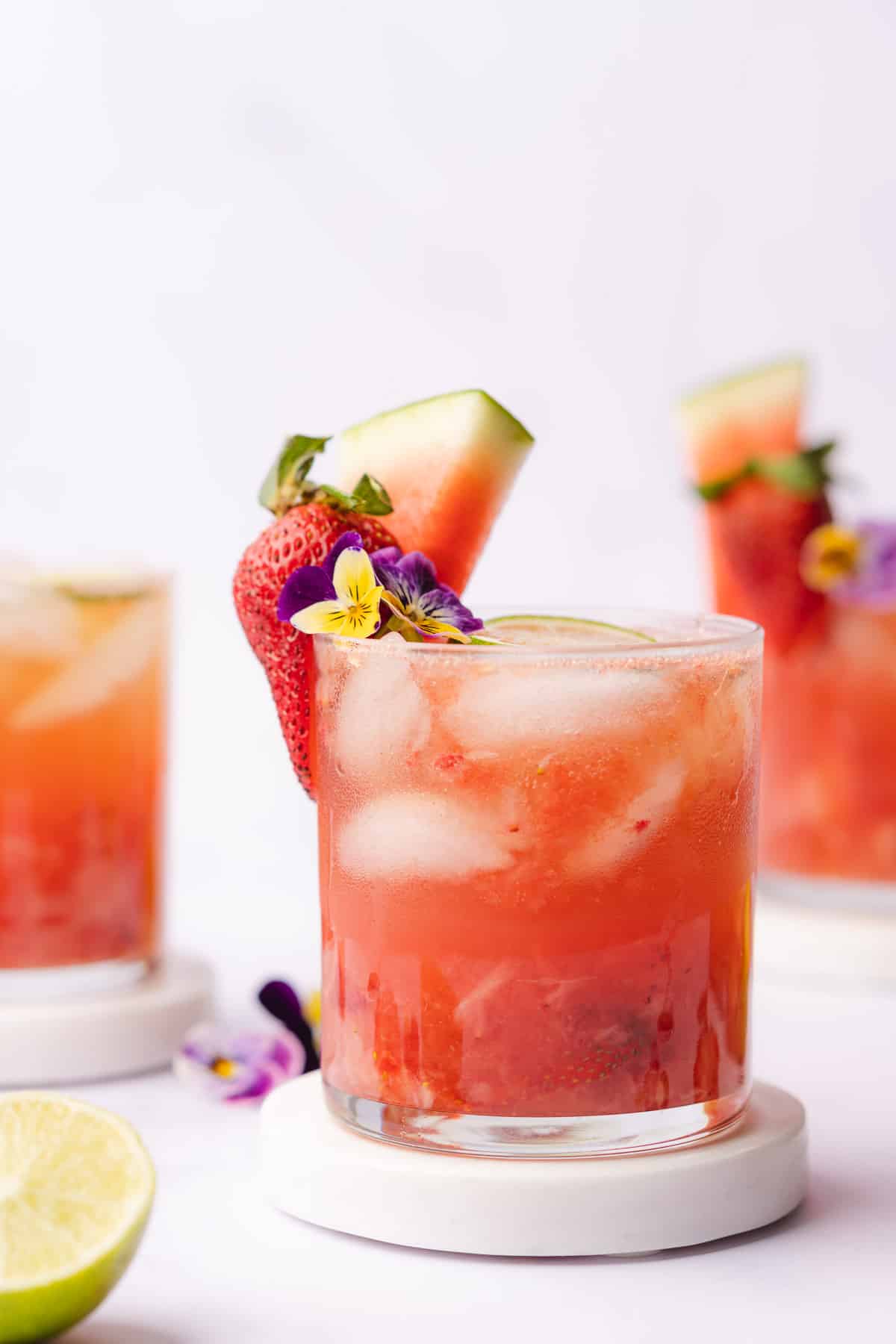 8. Watermelon Wine Spritzer with Strawberries
By now, you might have noticed that how much we love including fruits in our recipes (especially when it's summertime and we have plenty of fresh fruits). This Watermelon Wine Spritzer is a low carb cocktail made with vodka, wine, watermelon and strawberries. You are going to be in love with the crisp fruity and refreshing flavor. It's only 4g carbs per serving, so enjoy a drink or two on us!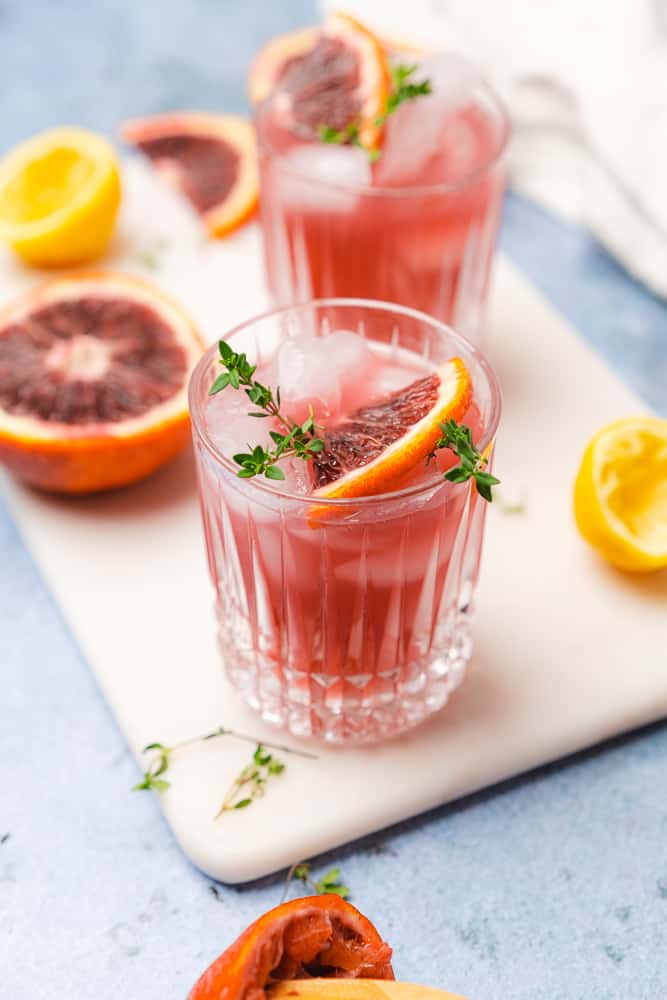 9. Blood Orange Gin Cocktail
We can't get enough of using blood oranges. Making a cocktail with them just had to happen and it's amazing! Topped with some savory herbs, it's a sweet and balanced drink that you are going to keep coming back to. Although you can make this Blood Orange Gin Cocktail throughout year but you can get your hands on fresh blood orange in the winter season so we prefer them fresh. It's easy to make, delicious and refreshing. It only requires 5 simple ingredients and 7 minutes of your time to prepare.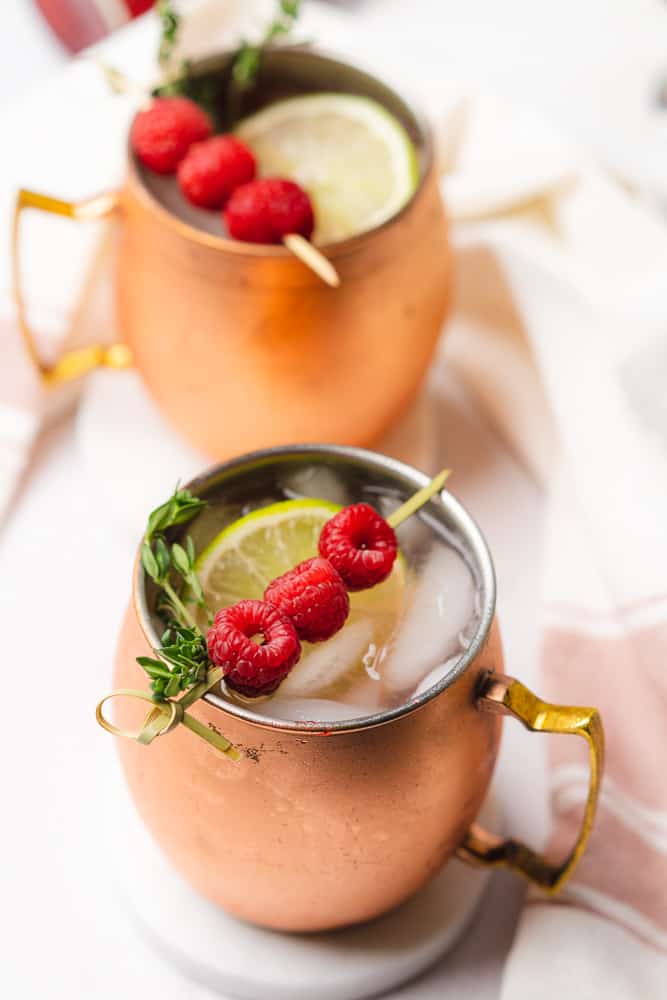 10. Raspberry Moscow Mule
Who doesn't love a good Moscow Mule every now and then? This Raspberry Moscow Mule is a sugar free and keto variation of the classic version. While most of the recipes out there have around 20g of carbs per serving, we managed to keep it 3g net carbs per serving. This keto cocktail is very light, refreshing and perfect for all occasions but it feels extra delicious when the weather starts to warm up. All it takes is 5 minutes of your time to prepare and you can store it for up to 7 days.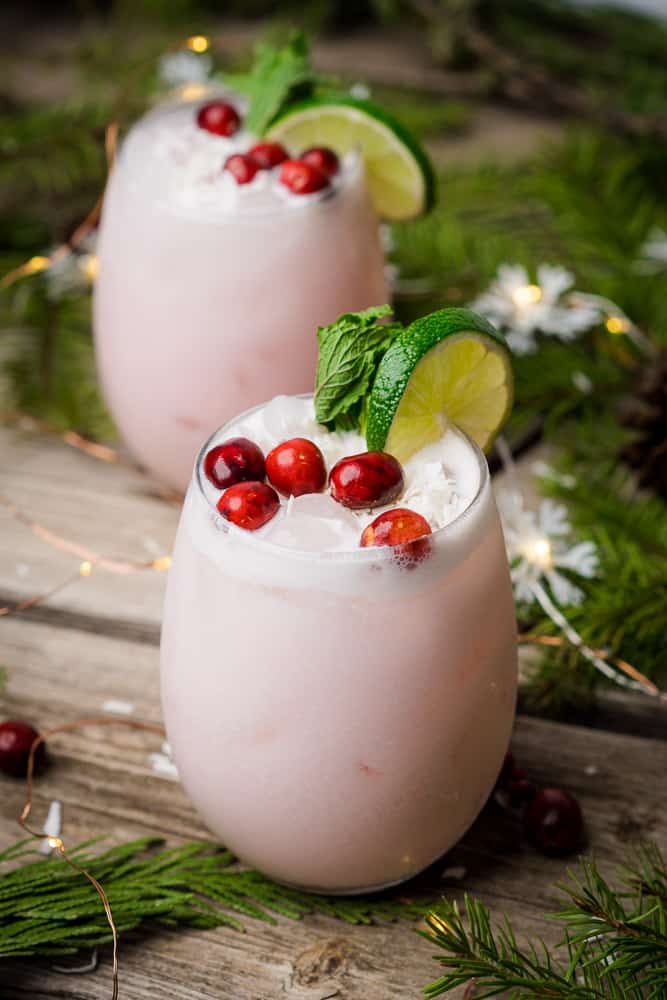 11. Cranberry Coconut Mojito Recipe
Want to try a different yet delicious keto cocktail this Christmas? Truthfully, you can enjoy it year round, but this Cranberry Coconut Mojito Recipe is decadent, rich and festive which makes it a great Christmas cocktail. Not only is this cocktail low carb, keto friendly, and gluten free, but it's also vegan. You can make this easy cocktail in under 7 minutes and it has only 3g of net carbs per serving.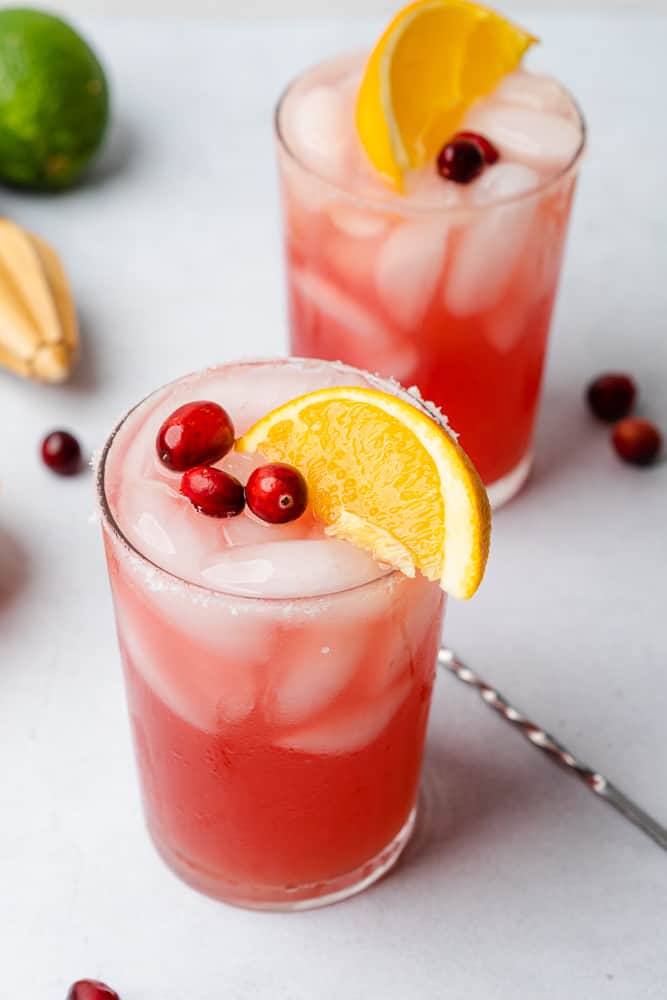 12. Prosecco Margarita with Cranberry
There is nothing like a cold and crisp sip of margarita, and we made it even more fun for fall and the holidays! This Prosecco Margarita with Cranberry is the keto cocktail of your dreams and perfect for entertaining guests. Don't worry about any unnecessary carbs or calories with this drinks! It's only going to take a few minutes to mix them up and it only has 4g of net carbs per serving.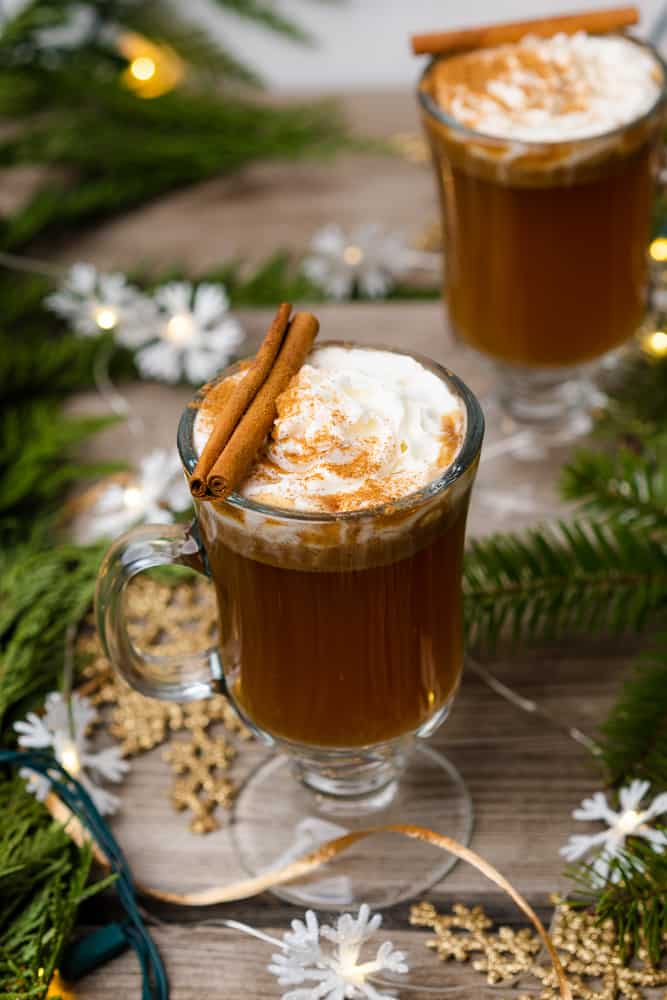 13. Keto Hot Buttered Rum Recipe
When you are on a low carb or ketogenic diet and you feel like having a warm holiday cocktail, this Keto Hot Buttered Rum is for you. It's decadent, creamy, delicious which makes it perfect for a special occasion like a family get together or Christmas. This buttered rum is made with a few simple swaps to take out all of the sugar, and it only has 1g of net carbs per serving.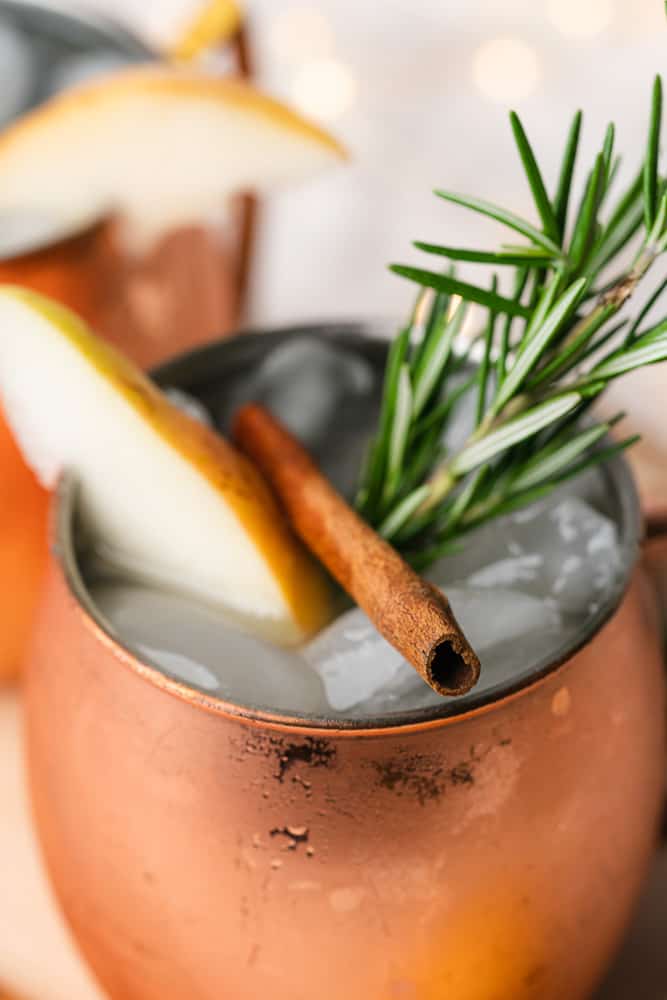 14. Keto Spiced Pear Moscow Mule
We love when the summers are coming to an end and we get to welcome fall. This Keto Spiced Pear Moscow Mule is an amazing low carb cocktail for autumn and winter. Of course you can enjoy this cocktail at any time of the year, but when the weather starts to cool down, this Spiced Pear Moscow Mule will make you feel cozy. It takes a bit more time to prepare than the other cocktails on this list, but you'll understand that it's worth the effort after your first sip.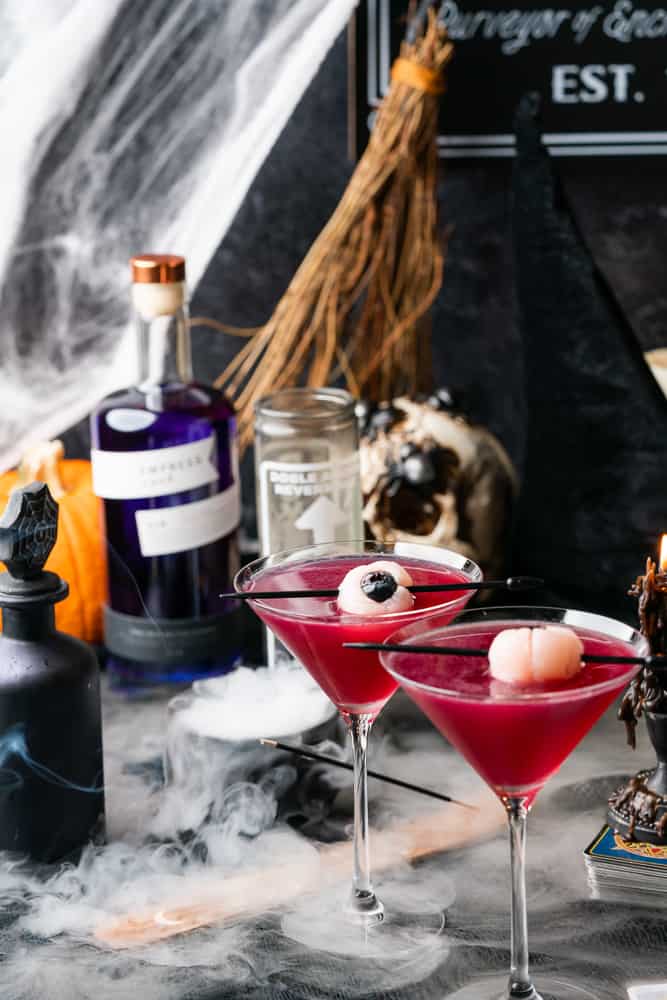 15. Purple People Eater Drink
Halloween is truly our favorite holiday and we love making spooky desserts, dishes and cocktails for the occasion. This Purple People Eater Drink with a topping of lychee and blueberry "eyeball" is the perfect cocktail you can make for this Halloween. With only 5g net carbs per serving, this cocktail tastes amazing without a horrific hangover or kicking you out of ketosis.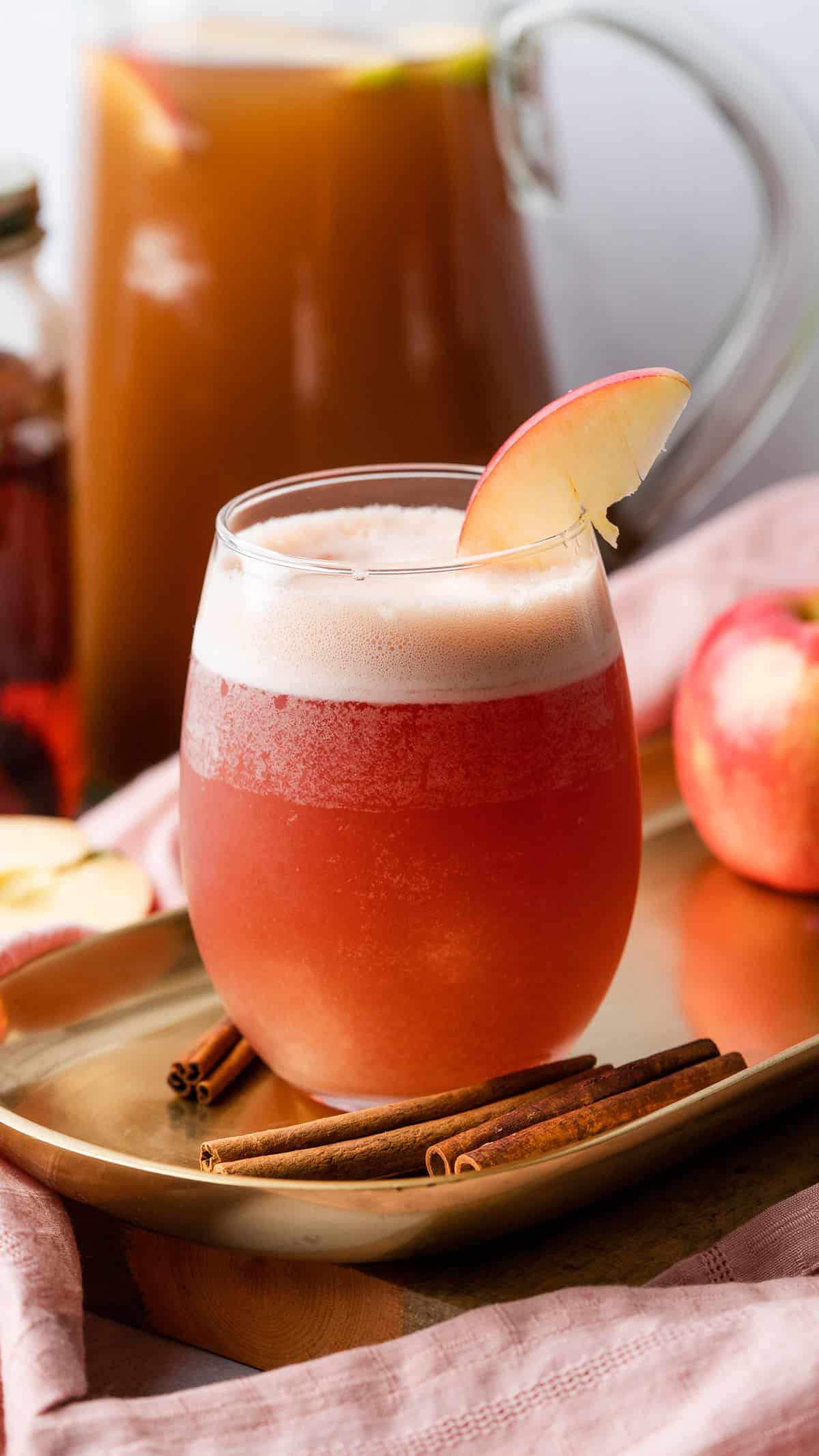 16. Apple Cider Bourbon Cocktail
Since we love fall so much we have a bunch of cocktail recipes for the season! This Apple Cider Bourbon Cocktail is the low carb cocktail of your dreams and free from refined sugar. We wanted to make this low carb and the regular grenadine and apple cider are loaded with carbs, so we used our homemade keto grenadine and sugar free apple cider for this recipe. If you have all the ingredients at hand, you will only need 5 minutes to prepare it.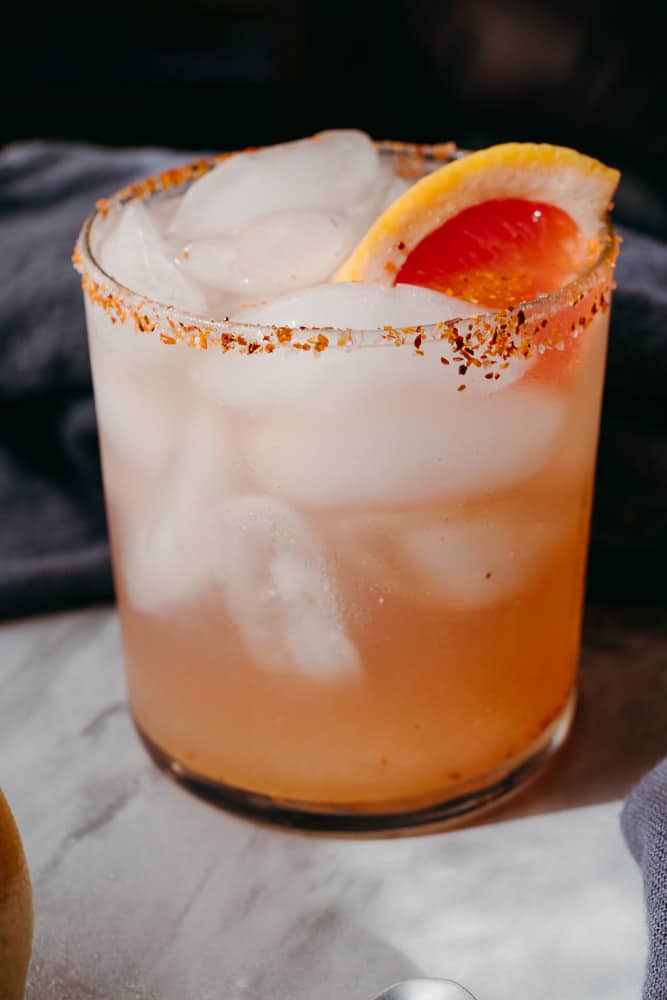 17. Rosé Paloma Cocktail with Ginger
How about the perfect cocktail to cool down with on a hot day? This Rosé Paloma Cocktail with ginger is boozy, refreshing, unique, low carb and great for summer. It's a great balance of citrus and sweet with a hint of ginger. With a net carbs count of 4g per glass, you will only need 10 minutes of your time to make this cocktail from scratch.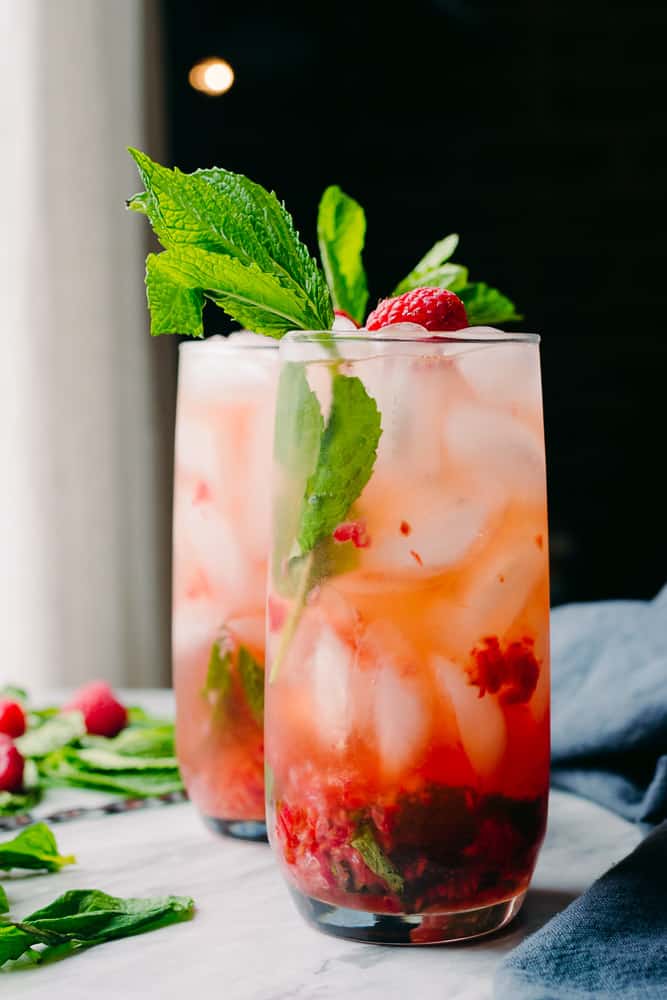 18. Sugar Free Raspberry Mint Julep
Are you a fan of juleps, the classic bourbon cocktail? Well, this Sugar Free Raspberry Mint Julep is a sugar free spin on the classic bourbon cocktail. It has the same boozy punch but it's low carb and has a lovely raspberry flavor. It's so easy to make that you don't even need a cocktail shaker for this one and it will only take 5 mins to make it. We tried to cut back n carbs as much as we could and this turned out to be 1g of net carbs per serving.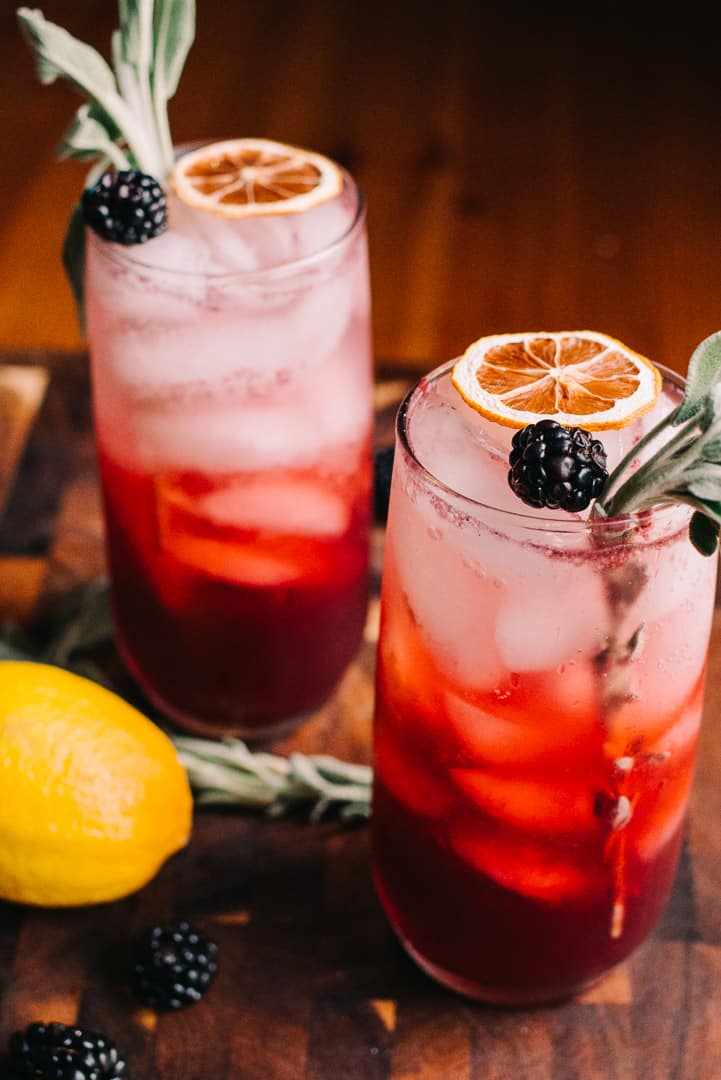 19. Blackberry Ginger Gin Smash
If you are fond of fruity cocktails like us, you should definitely try this Blackberry Ginger Gin Smash. This keto cocktail is colorful, full of flavor and refreshing. You are going to love it if you are a gin lover. Because we wanted to make it keto, we made the ginger simple syrup ourselves. Which is why it took a little bit longer but you can make your simple syrup in advance if you want to put together this keto cocktail quickly. A single serving of this Ginger Gin Smash only has 2g of net carbs.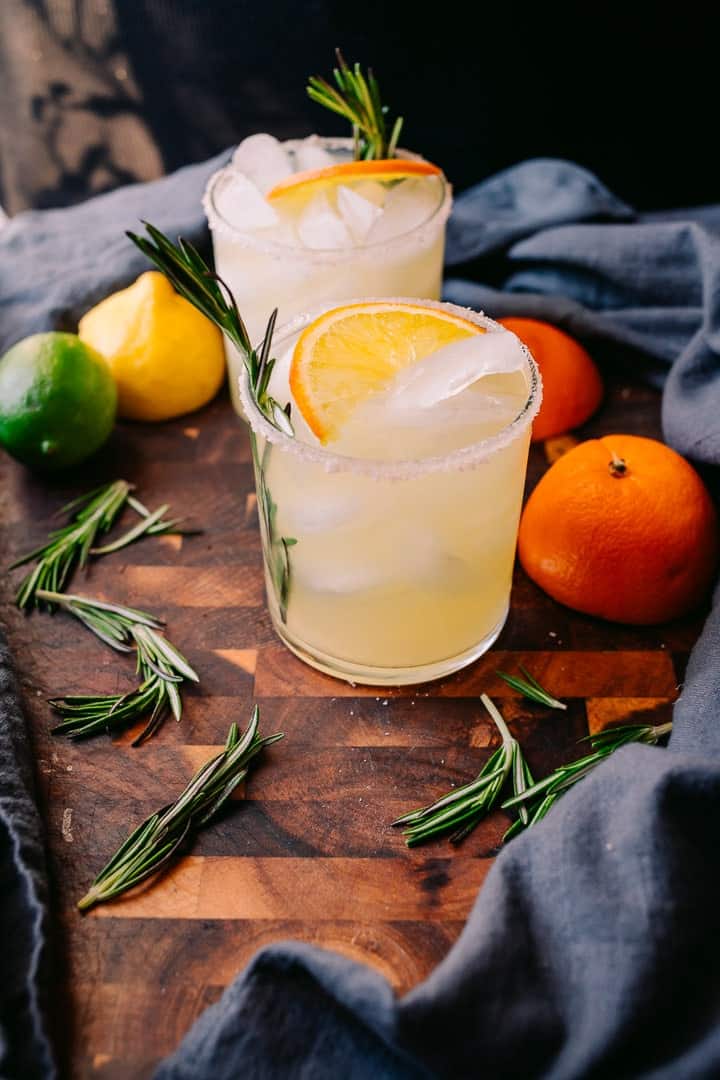 20. Keto Rosemary Margarita
How about we show you a festive cocktail recipe for you to enjoy the holidays this year at home? This Low Carb Rosemary Margarita is a sugar free spin of your favorite tequila drink. You will have most of the ingredients during the holiday season so it won't be any trouble making it. This cocktail is citrusy, herbaceous, sweet and refreshing with a boozy punch. Since we used sugar free rosemary simple syrup to sweeten this cocktail, it's only 4g of net carbs per drink.
Does Alcohol Kick You Out of Ketosis?
Alcohol doesn't actually kick you out of ketosis but it slows it down. Our liver can convert alcohol into ketones but what it does is instead of converting the fats into ketones, our liver will process the alcohol first. So, it will slow down the process of converting fats into ketones.
However, it doesn't mean you can't enjoy a keto cocktail on a low carb diet as far as you are being in the limits and enjoy them responsibly.
Can Drinking Alcohol Slows Weight Loss on Keto?
Since studies have shown to slow down the fat burning process it is likely that your weight loss is going to slow down if you are consuming alcohol regularly. However, if you are consuming alcohol occasionally and in reasonable amounts, you should be fine.
No matter if you are on keto or not, consuming cocktails loaded with refines sugars isn't a great idea. That's why we have compiled a list of 20 low carb and Keto Cocktails that we have made and tried over and over again and trust us, they're super delicious.
If you love this list and found some low carb cocktail recipes to try, or maybe you even made something you loved? If you could share this post with your friends and follow along with us on Facebook, Instagram or pin to your Pinterest board, it helps us tremendously by spreading the word!
Leave us a comment below to let us know you enjoyed this list as well. We love hearing from you!
Until Next Time,
Briana & Chamere