Last updated on August 23rd, 2018
A Day of Sipping Cocktails and Grubbing at The Little Fleet
Written by: Briana DeBolt
Photos by: Chamere Orr
Check out more of our work here or on our Instagram pages @pantrygrubs & @minusoneofficial.
On our last visit to Traverse City, Michigan we had to spend a day of sipping cocktails and grubbing at The Little Fleet. As many of you know, I (Briana) am originally from the awesome little beachside town with a killer food and beverage scene called Traverse City.
TC (as the locals call it) is home to natural beauty and tons of delicious places to eat & be merry.  I wrote an article about some of my favorite places to grub in TC a while back if you want to have a look here.  A few years back, Gary Jonas & his family brought the awesome concept of The Little Fleet from Brooklyn and opened up in downtown TC. The Little Fleet is home to a bar with fresh-squeezed juices for handcrafted cocktails, tons of local beer and wine – as well as an array of food trucks. The food trucks highlight global flavors, as well as the tastes of the region.
Chamere & I had the privilege of spending last Sunday at the Little Fleet to try some seriously delicious cocktails, brews and to grub on some delicious food. Here's a sneak-peek of the delicious drinks and dishes we tried.
First stop: Little Fleet Bar & The Roaming Harvest
How fun are these glasses, first off? We wish we had like 15 of these guys to keep us company in our kitchen. We started off the day with a fresh squeezed margarita. The Little Fleet squeezes all of their juices fresh everyday, and you will taste the difference.
Had to stop by The Roaming Harvest to grab some Korean Beef tacos & the Blackened white fish tacos to go with the margarita. The Roaming Harvest has a brick and mortar restaurant in downtown TC in addition to their food truck, and they are committed to sourcing ingredients locally and using what's seasonal. I've ate at the old one, before they upgraded to a new location. You may remember that post.
2nd stop – The Daily Blend
The Daily Blend serves up healthy food on the go. They partner with local farms and brands to create some killer salads, warm bowls, smoothies, coffee drinks & recently, soft serve ice cream.
First, we had to get a Loma Farms salad – kale, quinoa, carrots, radish, cucumber, pumpkin seeds, sprout mix & lemon orange vinaigrette.
Annnnd we also just had to get a twist cone… cuz life is about balance (amIright!?!) plus twist ice cream cones are symbolic of our relationship. HA dumb joke alert.
3rd stop – Back to the Little fleet bar & Pleasanton Bakery
Back up to the bar we went for a Short's Brewing Company draft beer (they are always on tap, along with tons of other Michigan made beers) to go with our pizza from the Pleasanton Bakery. Pleasanton makes their baked goods and pizza in a wood fired brick oven. TASTY!
We had to try the blanco. Complete with bechamel sauce, marinated artichokes, ricotta cheese, shiitake mushrooms, caramelized onions and white truffle oil. SWOON.
We had to also try their ice cream cookie sandwich cuz look at it. I mean who REALLY has self control around vanilla ice cream crammed between two homemade ginger molasses cookies? We don't.
4th stop- The Little Fleet bar (again) for more cocktails & White on Rice
So, at this point you're probably starting to think we're alcoholics. To be honest, we rarely drink so going to the Little Fleet is a bit of a party for us. Plus we had a lot of food to go with this stuff, so quit passing judgement would ya?!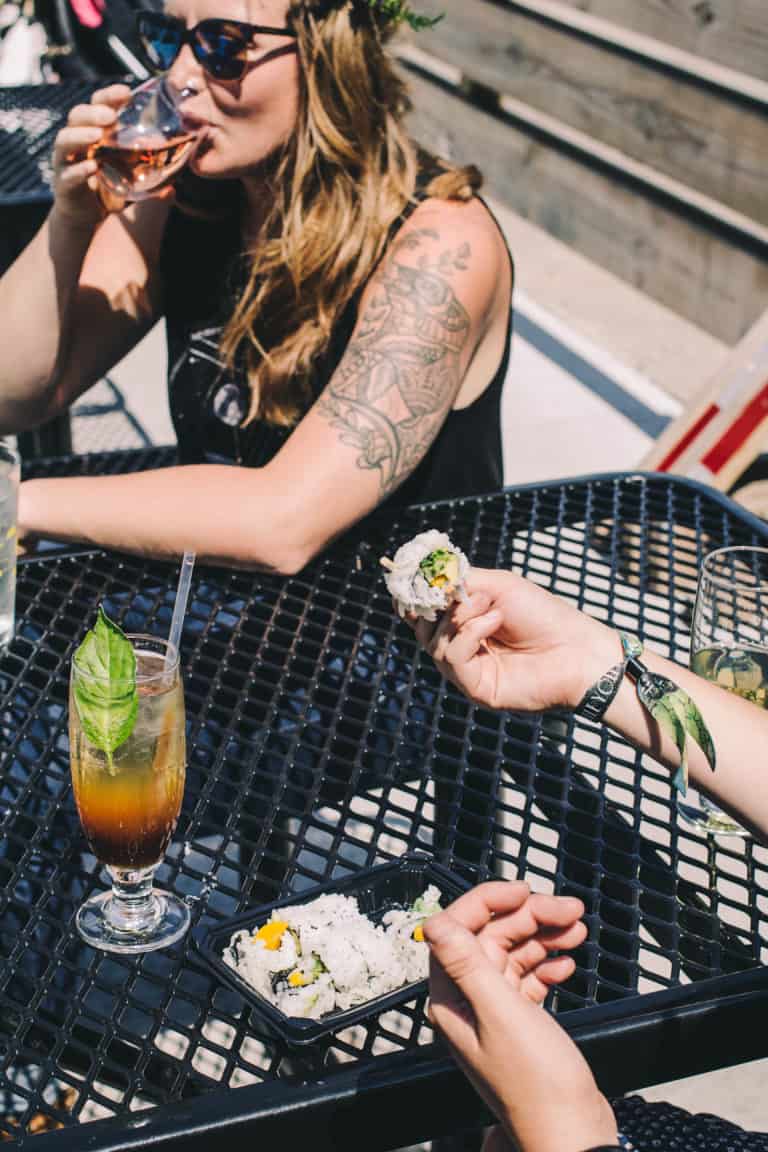 So, we noticed some locals sitting by us with some sweet flower crowns and we asked if they wouldn't mind modeling for us. We shared our food and drink with them & they put up with us while we took photos. They are eating some sushi from White on Rice alongside the Garden Spritz cocktail, which consists of cynar, basil-celo, sparkling wine and fresh basil. We tried the spicy crab roll, which included lump crab, mango, cucumber and spicy mayo.
After all this we decided to each get another cocktail for each of us. Crazy, I know. I had the Oh My Darlin' – a delightful and refreshing drink complete with repesado, bruto americano, fresh squeezed clementine juice & mint.
Chamere tried this drink, initially probably because of the name, Cuke Skywalker, but we both really enjoyed it. A refreshing mixture of Tito's Vodka, Pimm's No. 1, lime, cucumber juice & mint.
That's all we ate that day folks!! We know, we ate a disgusting amount, we agree. Unfortunately, we didn't have the appetite to stop by a couple of our other favorite food trucks Happy's Taco Shop & Cordwood BBQ, but we included a couple pics from our visit to both trucks earlier this summer.
These guys have some fun flavors and we have tried all of them. Our fave is the lamb cheeseburger or the fried chicken taco!
Check out this pulled pork sandwich, or how about those ribs?!
Extra Bits:
Many of the Little Fleet's food trucks are open late night during the summer! So you can go get your buzz-on, and go get fed.

The Little Fleet bar creates a weekly cocktail using ingredients from the local farmers market. The latest creation is this one:





GOTTA LOVE THIS CONCEPT!

The Little Fleet often hosts events or has live music! Check their

events

or

live music

schedule to stay up to date with all of the happenings.

There are a few other food trucks we still have to check out next time we are in town. We will be sampling some menu items in the fall, so check back!

Although we were compensated by the Little Fleet for this post, all opinions are our own. Besides, we reached out to the Little Fleet in the first place because we always end up  there to grub and drink. We feel it is a MUST visit spot in Traverse City.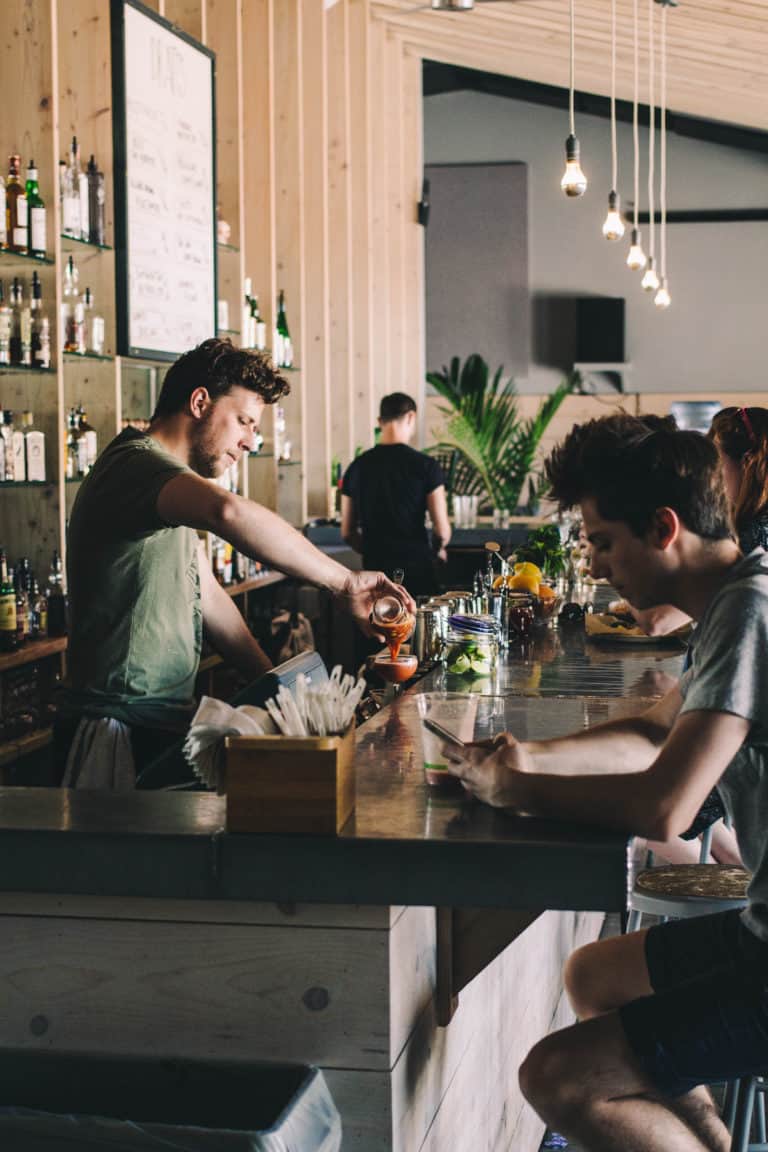 We hope this guide helps you to decide that you should truly do a day of sipping cocktails and grubbing at the Little Fleet. If you're not from Traverse City, make sure to make a loooong pit stop at the Little Fleet for some serious bites when you come to visit. You'll be sad if you don't!
If you thought this guide was super helpful, please share it with your friends and leave a comment below!
Until next time,
Briana & Chamere